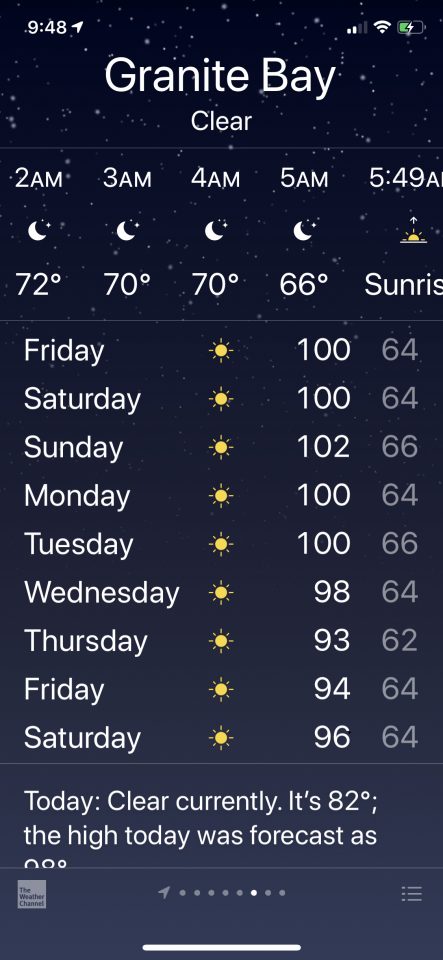 According to The Old Farmer's Almanac:
"The Dog Days of summer are traditionally the 40 days beginning July 3 and ending August 11, which coincide with the dawn rising of Sirius, the Dog Star. This is soon after the Summer Solstice (June 20th) which of course also indicates that the worst summer heat will soon set in."
While in many parts of the country, the dog days of summer will hit full force in the next few weeks, in my zone 9 Granite Bay garden, those days are here NOW. 
Just take a look at the temps we're having (and this isn't the first week to look like this, either!!)
Now is the time of year when my plants are either going to survive or quite literally burn to a crisp before my eyes.  Did I get them in the ground early enough to establish strong roots?  Am I watering them with just the right amount of water with my irrigation system (not too much, not too little?)  Are they TRULY full-sun, like the tag says, or are they crying out for shade?
It's all I can do to wake up early each morning to spend an hour or so in the garden dead-heading and doing a few garden chores before the scalding sun makes its appearance.  But what I CAN do is take advantage of this downtime to make notes of what I need to relocate, or even remove altogether, once the temps begin to cool off again.
I wanted to share with you some of the plants in my garden which are doing really, really well in this heat.  Many, in fact, seem to thrive with these temperatures.  And in my opinion, anything that's doing well out there right now is all right by me!
If your garden is looking a little less-than-stellar right now, you might consider adding a few of these perennials to your garden (once fall arrives, that is – don't plant anything in this heat!!)
1. Stokesia 'Blue Frills'  (Stokes Aster)  zones 5-9 & deer-resistant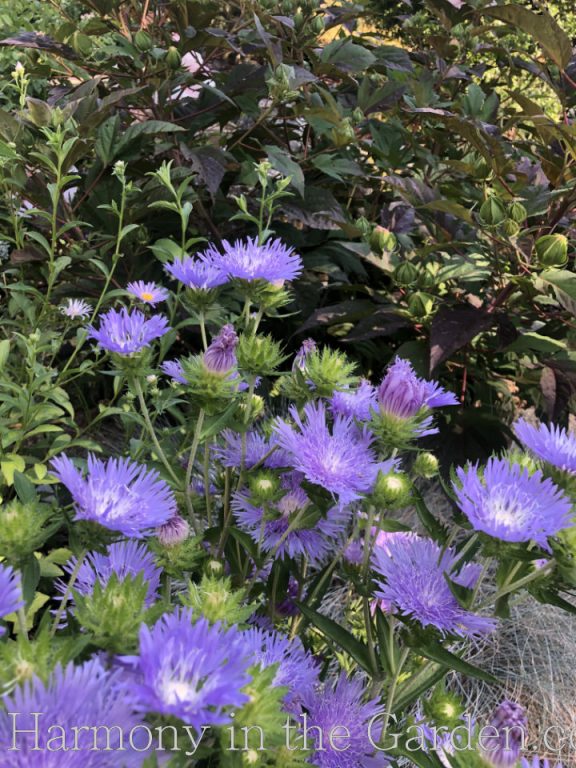 In general, stokesias are pretty cool flowers.  
Many traditional varieties are in shades of light blue), but check out the color of 'Blue Frills'!  These flowers are a vivid bluish-purple on upright stems with dark green foliage – a welcome addition to the parched garden.
The flowers are HUGE (3-4" across) and bloom once the garden really starts to heat up in mid-summer.
Every type of pollinator adores this plant, and whenever I need a photo of a butterfly, I head out to the stokesia. 
They're a perfect front-of-the-border plant, growing to 2'x2' and are happy in my full-BAKING HOT-sunny border.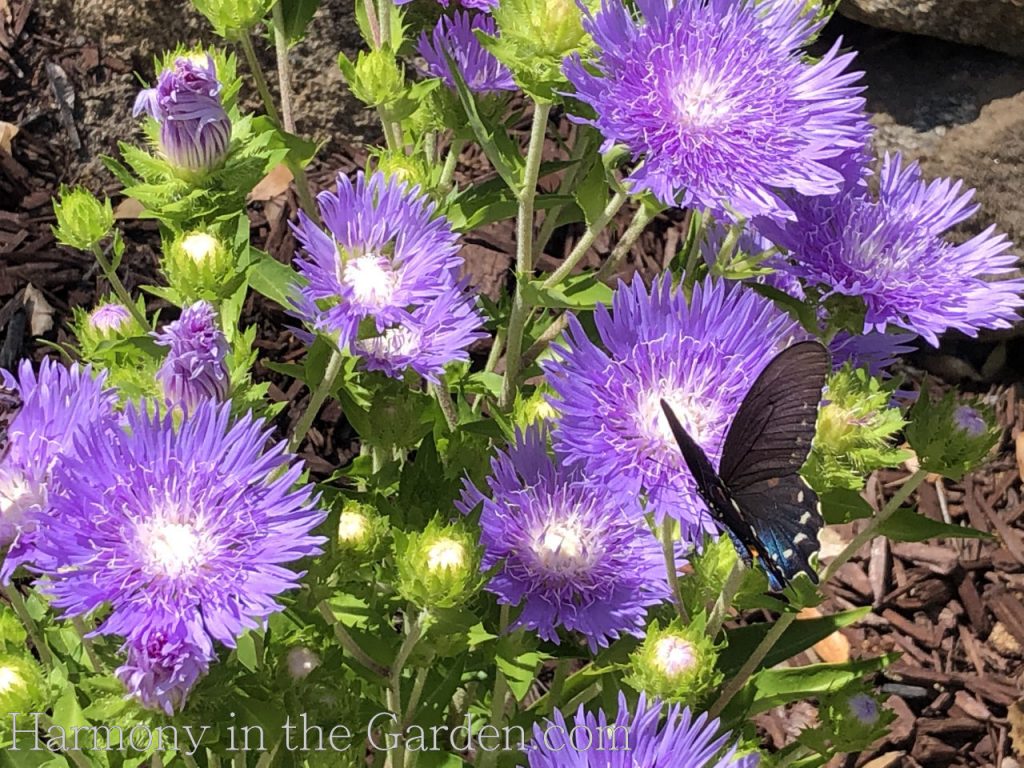 2. Helenium 'Short & Sassy'  (Sneezeweed) zones 4-9 & deer-resistant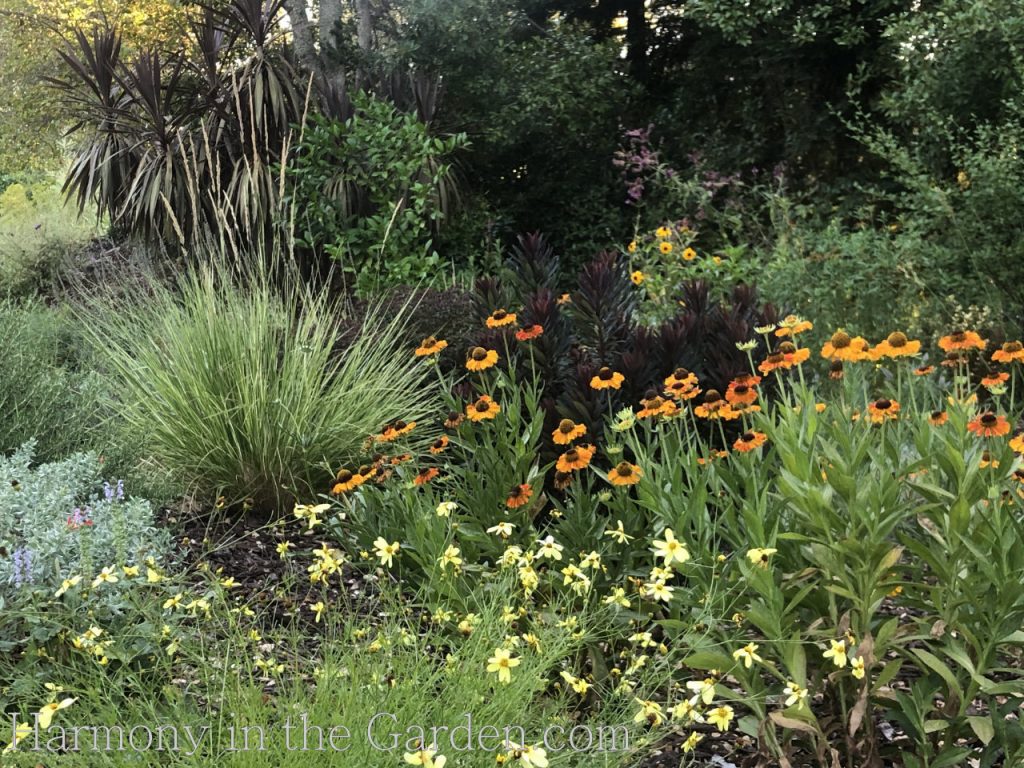 The common name of helenium is 'sneezeweed,' which is such an unfortunate nickname! 
Contrary to popular belief, they don't cause people to sneeze at all.  Apparently, eons ago the helenium leaves were used as some sort of snuff – hence their misleading nickname.
This compact variety has a much longer bloom time than other heleniums, and it's the perfect size to tuck in front of my euphorbia 'Blackbird.'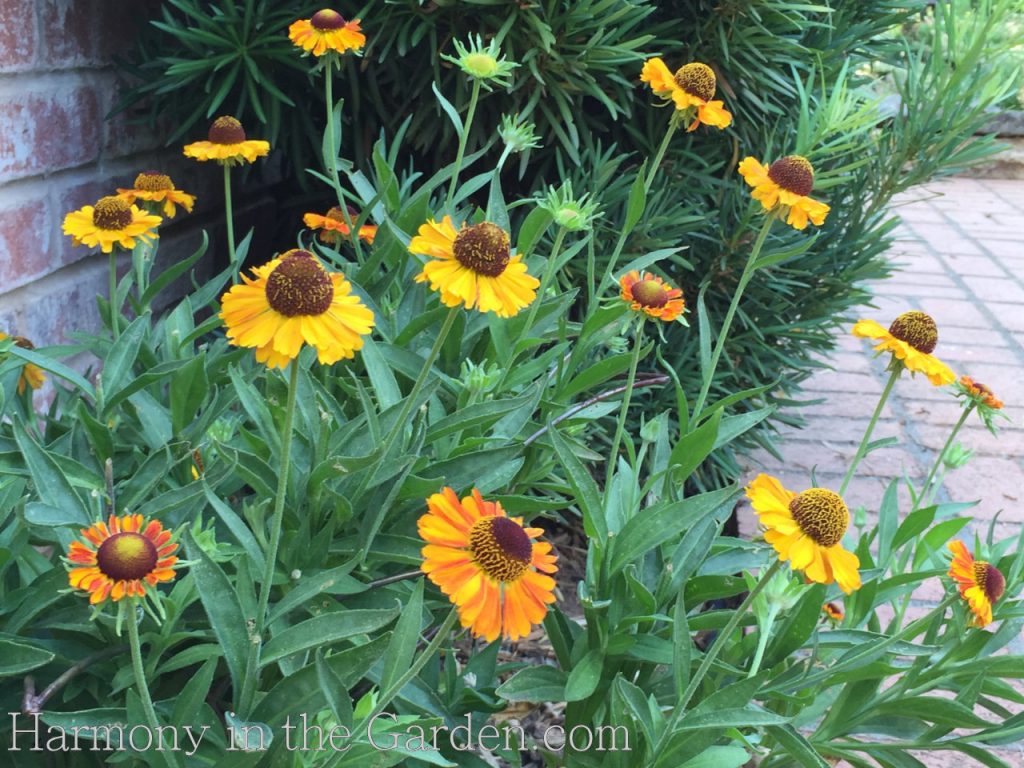 Growing to a manageable 2'x2', 'Short & Sassy' pumps out the cheery orange and yellow blooms for a solid 4-6 weeks. 
Mine is STILL blooming after 6 weeks! 
3. Phygelius CandyDrops ™ 'Tangerine'  zones 8-9 & deer-resistant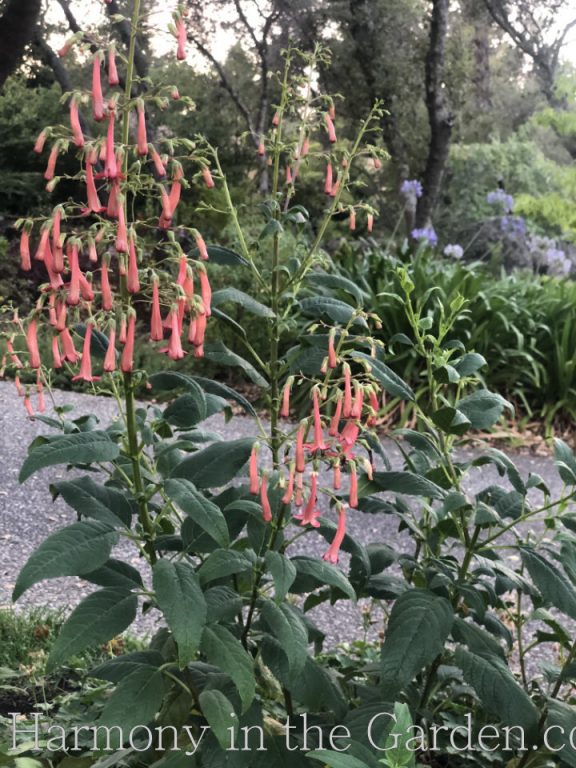 This compact variety was originally bred for containers, where mine lived for several years.  When I moved up here three years ago, I looked in an oversized container that I had brought with me and saw that I must've stuck it in there (temporarily, I'm assuming) for the move up here.   
It bloomed and bloomed with TOTAL NEGLECT on my part (I was busy unpacking and all the chaos that comes with moving), so I decided to rescue it and plant it in the garden. 
Since then, it's rewarded me with weeks and weeks of soft apricot blooms. 
It's smaller than other more common varieties (which can grow up to 4' and can often look woody & unkempt) and tops out at about 2-feet. 
It's happiest in partial sun (especially in my hot climate), with moderate water (it's planted near the bottom of my garden to take advantage of the overspray from a nearby lawn.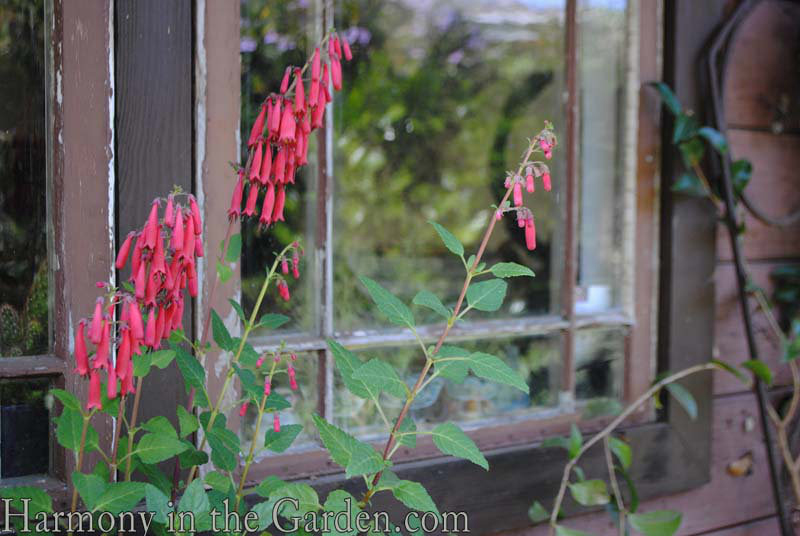 Hummingbirds ADORE phygelius, too, as do hummingbird moths!
I used to have the CandyDrops ™ 'Red' in a window box placed just outside of my office window, and loved to watch the hummingbirds while I worked.
4.  Hibiscus 'Perfect Storm'

  zones 5-9 & deer-resistant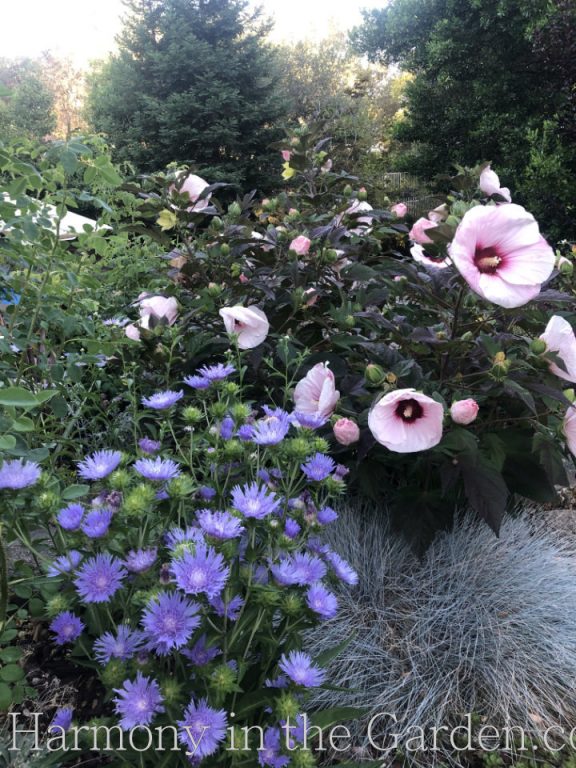 Confession:  I don't really like tropical flowers, like hibiscus, and I don't really like the color 'pink' in my garden. 
Yet, one of my very favorite perennials is this unbelievably tough Hibiscus hybrid.
The huge, and I mean HUGE (7-8" at least) pink and white flowers bloom non-stop throughout the summer, but honestly – it's the foliage that I'm wild about.
Take a look at the inky, mauve and green foliage (yes, that's another stokesia planted in front of it!)  
Unlike other maroon-colored foliage that often bleaches out to green during the heat, this one holds its own throughout the summer.
It doesn't need to be coddled, either, surviving in this hot spot in my garden without flinching.  I water it, along with my other plants, 2-3 times a week during the summer – that's it. Even during a week of 100+ temps!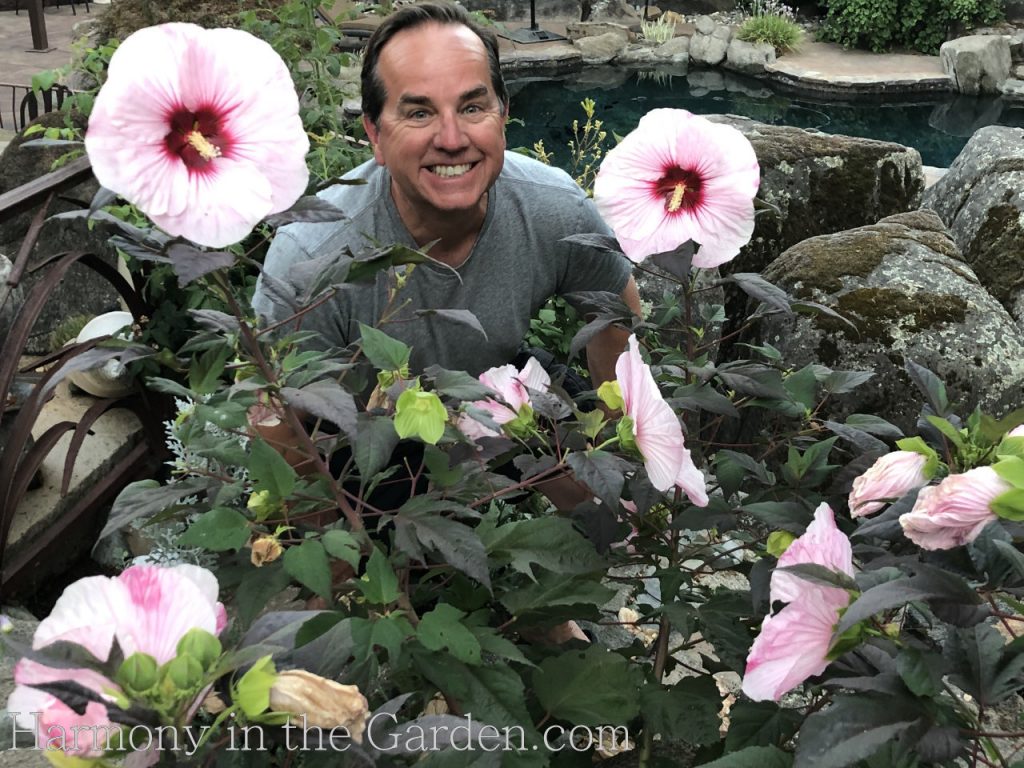 Here's my husband, Tom, who couldn't resist climbing in the middle of the hibiscus to show just how large the flowers are – ha!
Pruning this hibiscus is a little different than other perennials since it's one of the very last plants to emerge in spring.  In fact, to remind you where it's planted, it's best to leave a few deciduous stems standing throughout the winter.  Since it's so late in emerging in the spring, it's easy to forget about it, and you might accidentally damage it by trying to plant something new in the blank space.
Be patient, though, as it will eventually emerge, and once it does, it soars to 4×4 and will reward you with all the dark, dusky, flowery beauty you could want!
5. Euphorbia 'Diamond Mountain'  zones 9-11 & deer-resistant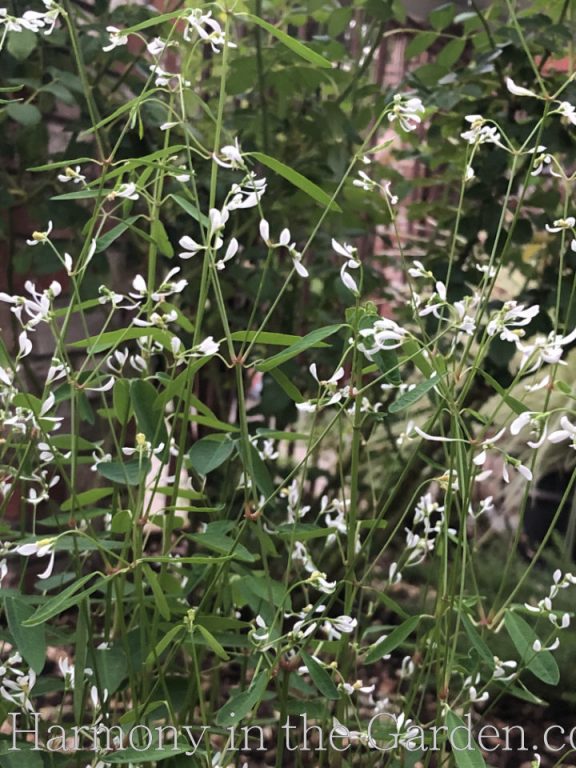 If you've read my blog for any time, you know I love euphorbias!
'Diamond Mountain' (from Proven Winners) is a really unique variety, growing to 3'x3′ with teeny little white flowers that appear to float in a cloud above the glaucous foliage.
Mine has re-seeded a few times (which I LOVE), making it easy to transplant around the garden. 
It dies back each year but then returns again with warmer temperatures. 
There are other varieties similar to this, with the main difference being the size of the plant ('Diamond Snow' and 'Diamond Frost' are only about 2'x2 or smaller – perfect for containers!)
6.  Phlox paniculata  zones 4-8 & deer-resistant
The best variety of phlox, by far, is the old fashioned pink garden phlox.  This clump came from my grandmother's garden and out-performs any phlox  I've grown before. 
Blooming with 4' tall plumes of the most delicious smelling flowers for 6-8 weeks, it attracts hummingbirds, butterflies and I've even spotted a hummingbird moth in the early evening!
I also grow the 'David's Choice' variety (with white flowers) but it hasn't had time to bulk up yet.  Despite arriving in the mail two years ago in the tiniest little pots I've ever seen, it still produces flowers that last for weeks at a time.  'David' is also powdery mildew-resistant, in case that's a problem in your garden.
7. Rudbeckia triloba (Brown-Eyed Susan)  zones 4-8 & deer-resistant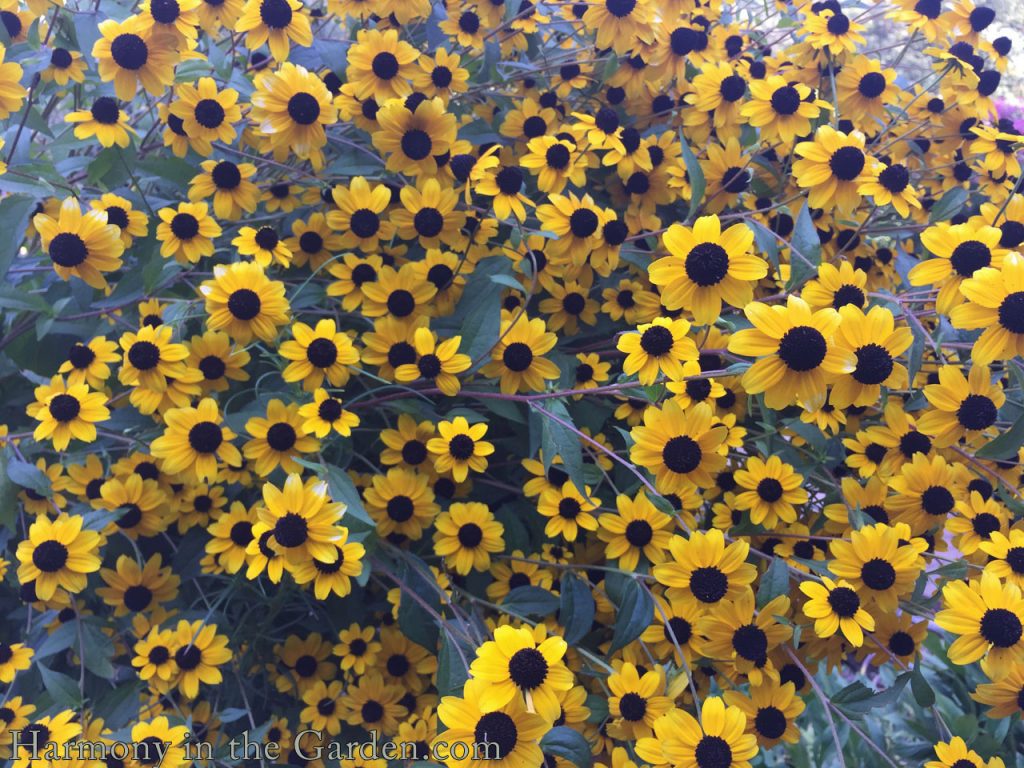 This is another old-fashioned favorite in my garden, which I look forward to every summer. 
Once the heat arrives, it quickly grows to 4-5' tall and is FILLED with a million little gold flowers, attracting every pollinator in town. 
It's a short-lived perennial, but since it produces a fair amount of seedlings, I always have more to plant once the mother plant eventually dies.
As these plants can quickly become top-heavy, I like to place peony-rings (like these from Gardener's Supply) over the top of the newly-emerging plant. 
As the plant grows, the foliage and flowers quickly obscure the rings and provide a summer's worth of support.  I also use these supports with other tall perennials, such as verbena bonariensis and helenium 'Mardi Gras'.  
8. Echinaceas (Coneflowers) zones 4-9 & deer-resistant
I know, I know….there's SO MANY varieties on the market that they've become a little common (and dare I say, boring and perhaps garish?)  Personally, I don't care!  Anything that produces an abundance of flowers that insects love, in the blistering heat of summer, has my vote.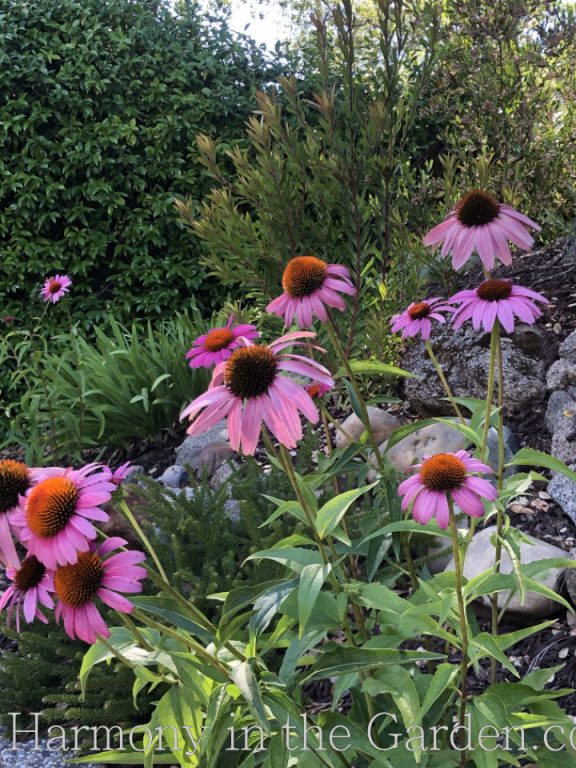 The center of the flower makes an ideal landing pad for insects, doesn't it?  This is something to remember when visiting the nursery, with all their amazing double-flowered varieties that have been created.  While beautiful, the over-abundance of petals make it nearly impossible for insects to feed off of, which is why I plant the single petal varieties.
I've learned to love the bright pink flowers of the echinacea purpurea, though, as it really does add some much-needed color to my garden right about now. 
This time of year, the garden sort of fades out a bit, with plants feeling the grind of summer's brutal heat and lack of water.  It's nice to have pops of color that scoff in the face of heat.  Besides, my mother gave me three large clumps from her garden, which makes me love them that much more.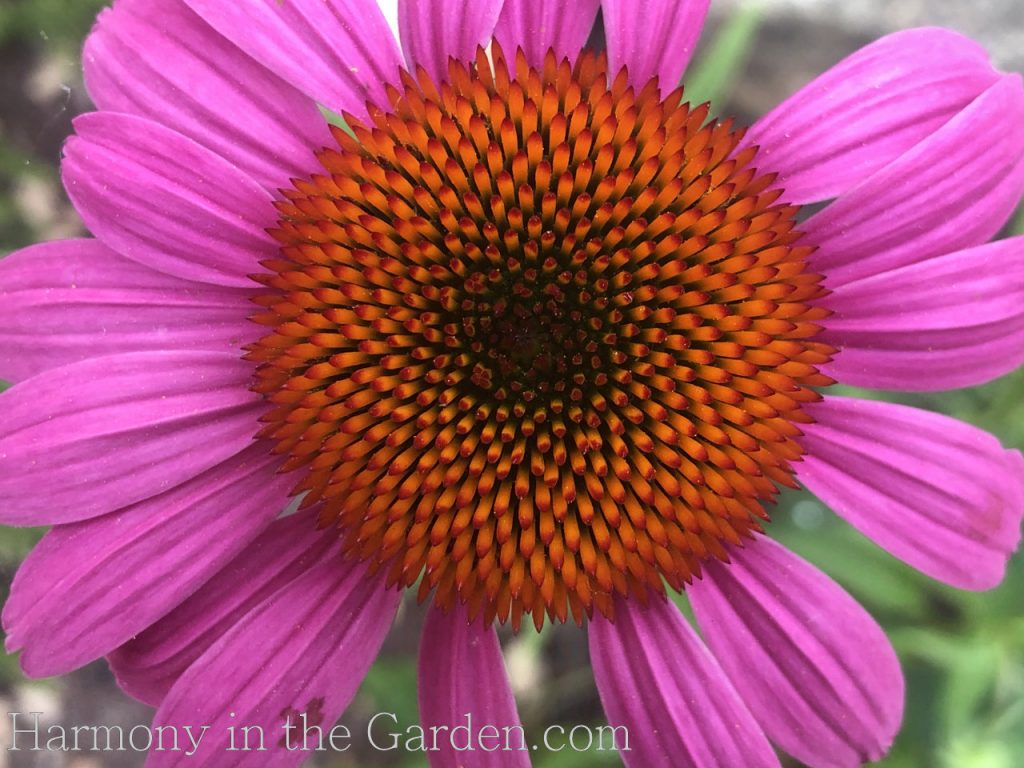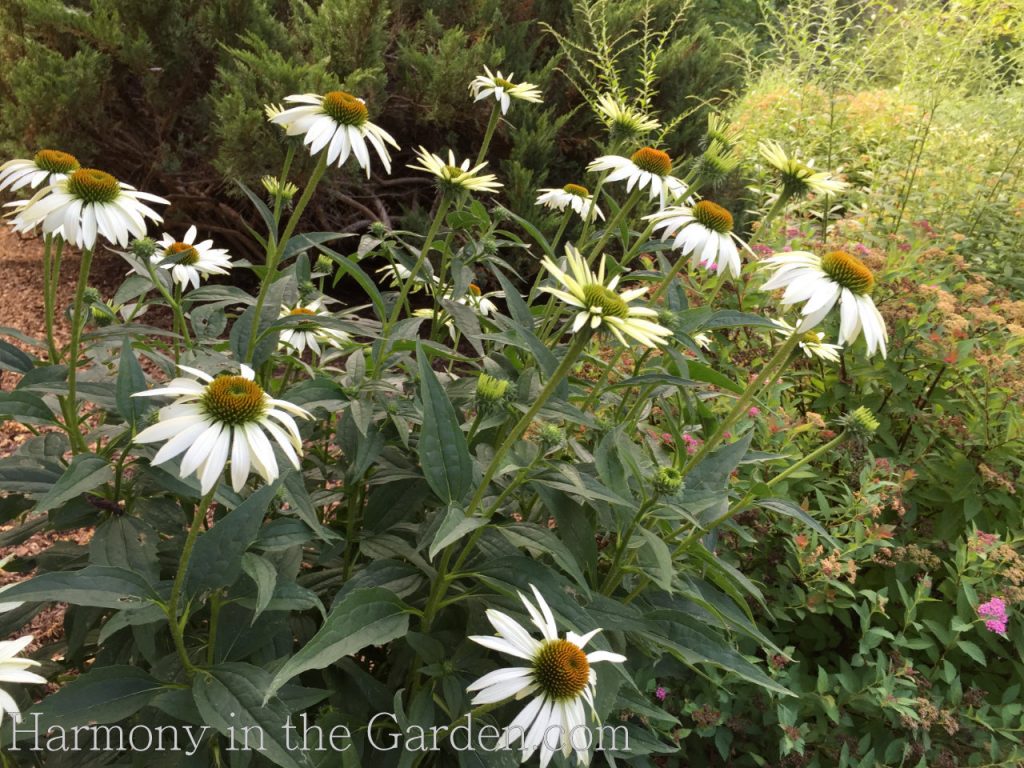 I prefer the less in-your-face colors, like the compact 'White Swan' that grows to about 2-3' (versus 4' of the purpurea variety.) 
The cream-colored petals softly frame the golden center and fit in with any color scheme you might have in the garden.
9. Calycanthus 'Aphrodite' (Carolina Spice)  Zones 5-9 & deer-resistant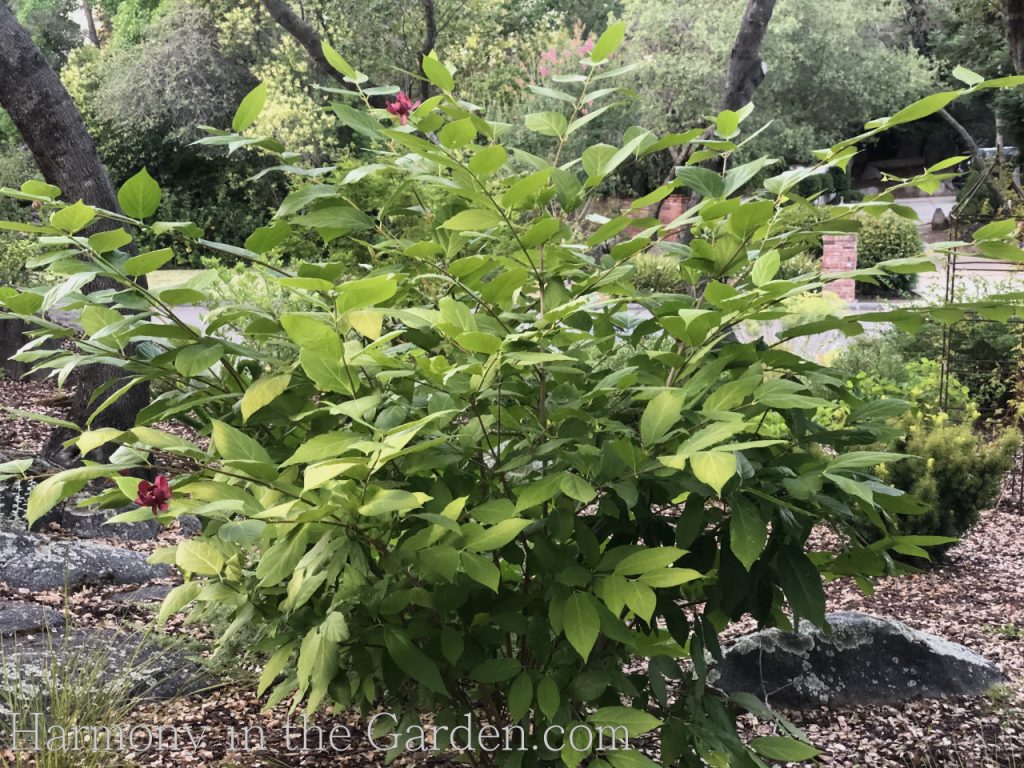 Yes, I realize this isn't a perennial – it's a shrub.  BUT – I have to sneak it in here because it's SO AMAZING. This variety of Carolina Spice Bush has slightly fragrant, oversized cranberry-red flowers that re-bloom!  
It's covered with flowers in the spring, but I see that just now it has begun flowering again, though not as profuse.
Also, the crisp green foliage hasn't wilted one single day in this heat (with very little water, too, I might add.) 
I've had this planted in the ground now for about three years, and this year it's really taken off, easily reaching 6×6.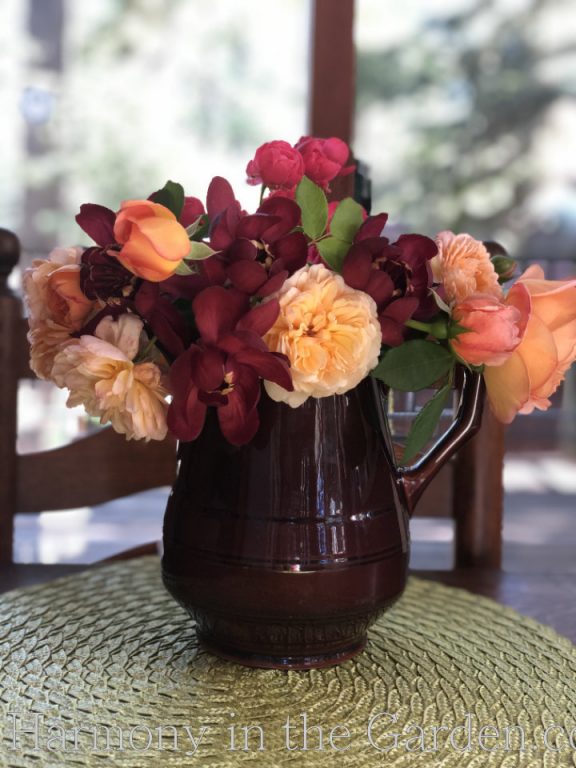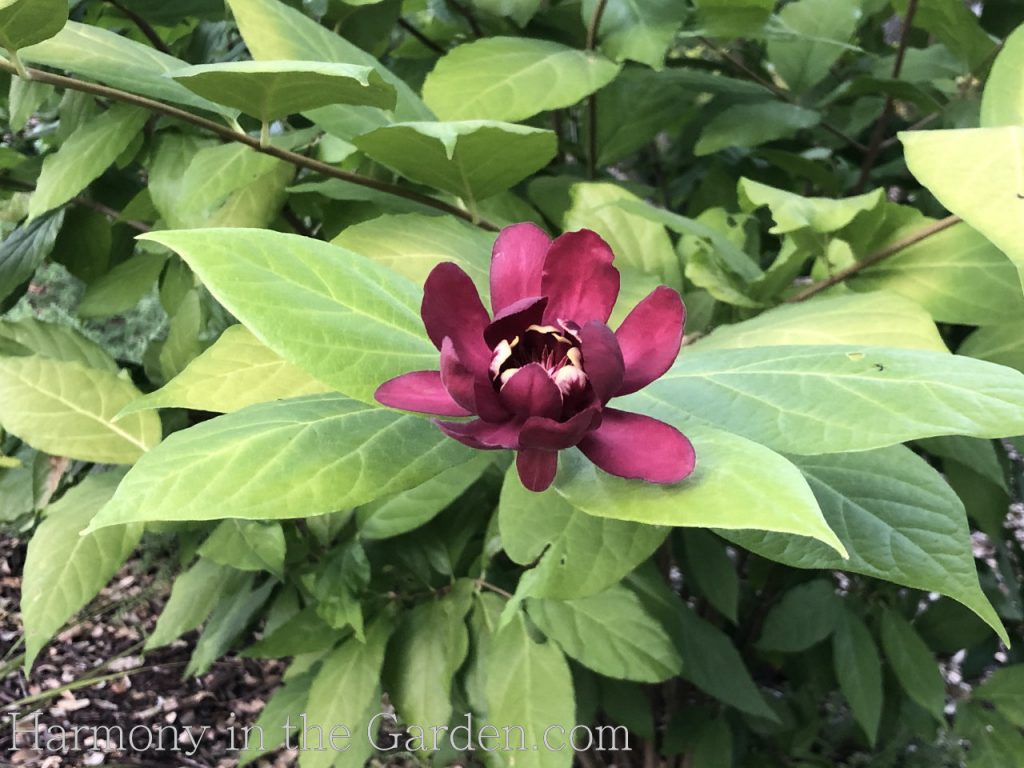 And as a bonus, I didn't realize what magnificent cut flowers they make, outlasting the roses in my bouquet! 
The internet will tell you it's scented, but nobody in my family can smell a thing.  However, once picked, I noticed the flowers had a fig-like scent, which was delicious
10. Anigozanthos (Kangaroo Paws) 'Harmony' and 'Tequila Sunrise' zones 10-11 & deer-resistant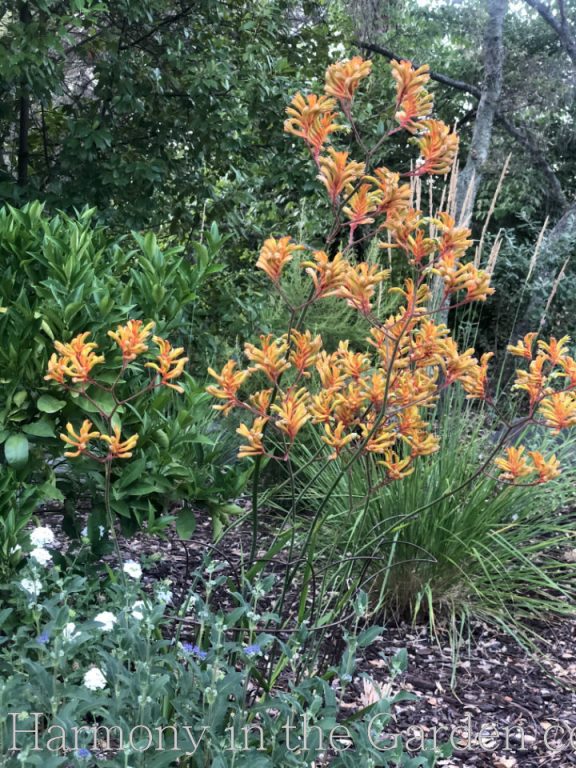 For those of you who garden in colder climates, I'm sorry to tempt you with these tender beauties (maybe you could grow them as annuals?) 
Personally, I'd be lost without them in my garden and those that I design.
While there are many varieties in the nurseries, in my experience, the only ones I bother with are the yellow 'Harmony' and the orange 'Tequila Sunrise' (sometimes 'Big Red,' too.) 
These are the really tall ones, growing to 5', and have proven to be the most reliable, returning each year bigger and better than the last.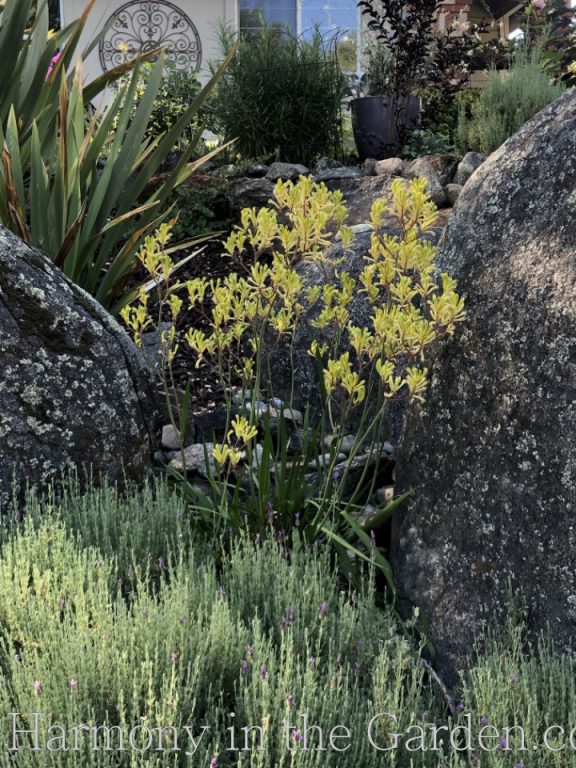 They're from Australia, so they scoff in the face of the sun, and want very little water (too much is the kiss of death for them!) making them the perfect plant for my hot garden.
Here I've tucked the yellow 'Harmony' in very tight spaces naturally occurring between the existing granite boulders. 
As I knew the soil would be shallow and fast-draining, they were the perfect choice for these spots.
Oh, and as a side note – my Francoa is STILL blooming, not showing any signs of slowing down!
What's looking good in your gardens right now?  We all need some garden inspiration during the dog days of summer that lie ahead, so please share with us!