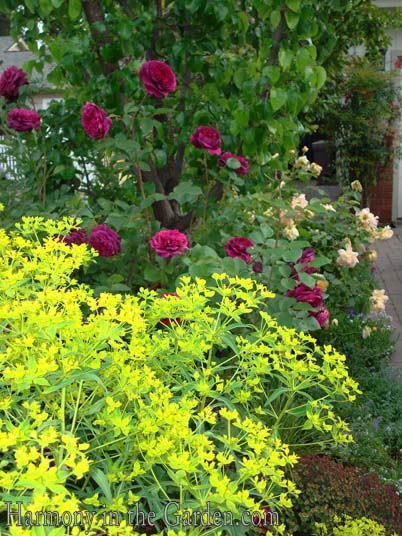 This weekend my garden will be one of several featured during the 5th annual Garden Bloggers Fling Garden Tour.
Am I nervous having my personal garden shown to 75+ of our country's most amazing, talented, and influential garden bloggers?  Uh…YES!
So every day this week I've been working in my garden, trying to keep up with what Mother Nature has been dishing out (crazy winds, rain, and 100 degree temps – all within a single week)!
While my roses are now shriveled by the heat and my delicate annuals have been blown to smithereens, my euphorbias look fantastic – seeming to take it all in stride.
Despite the fact that their stems leak a sticky white sap that can cause rashes and possibly blisters, they're one of my Top 10 favorite plants.
Why?  Because they're extremely drought tolerant, they're awful tasting to gophers, deer & rabbits (thanks to the irritating sap), and they bloom for several weeks at a time.
The only thing that these plants hate is over watering.  It's crucial to  give them really good drainage so they don't develop root rot – the #1 cause of death.
When the flower stalks (which are actually 'bracts') start to turn a light tan color, it's time to prune them.
Instead of cutting everything to the ground in a bad haircut sort of way, I prefer to judiciously prune out the old stalks a few at a time to make way for the new ones that are growing at the base of the plant.  If you do it this way, your plant will look good for most, if not all, of the year.
Below are some of my  favorites and how I like to use them in my garden.

 1.  Creating unusual color echoes
In my book, Refresh Your Garden Design with Color, Texture and Form I write a lot about using a plant's subtle details to create unusual color echoes in the garden.  Euphorbias are some of my favorites to use for this purpose.
Euphorbia martinii 'Ascot Rainbow'
Not only are the stems and foliage of this variety tinged with soft shades of pink and yellow, but its flower bracts are just as colorful.  In fact, it's the flower's blue variegation and the raspberry colored 'eye' that were the inspiration for pairing it with nearby Echeveria imbricata (Hens n Chicks) and a magenta colored Nemesia.
This is a lovely little euphorbia, growing to a manageable 2'x2′, making it an ideal choice for the front of a border.  It's hardy down to zone 6a and appreciates a little afternoon shade.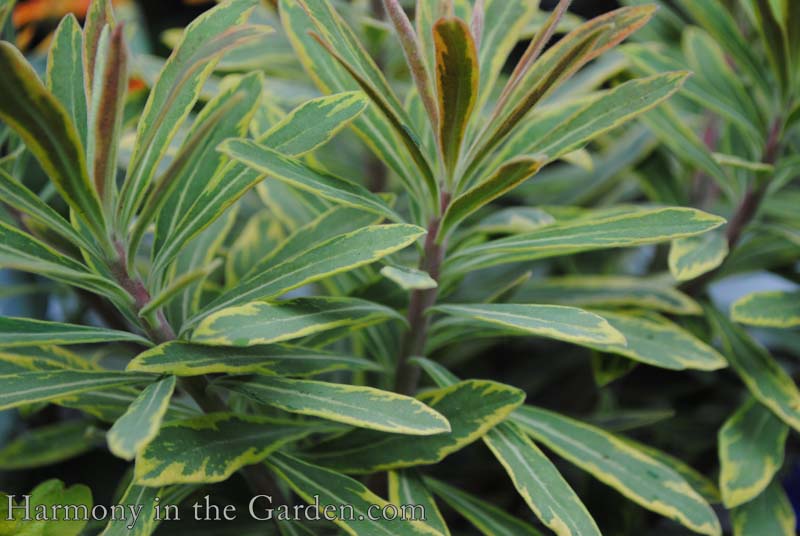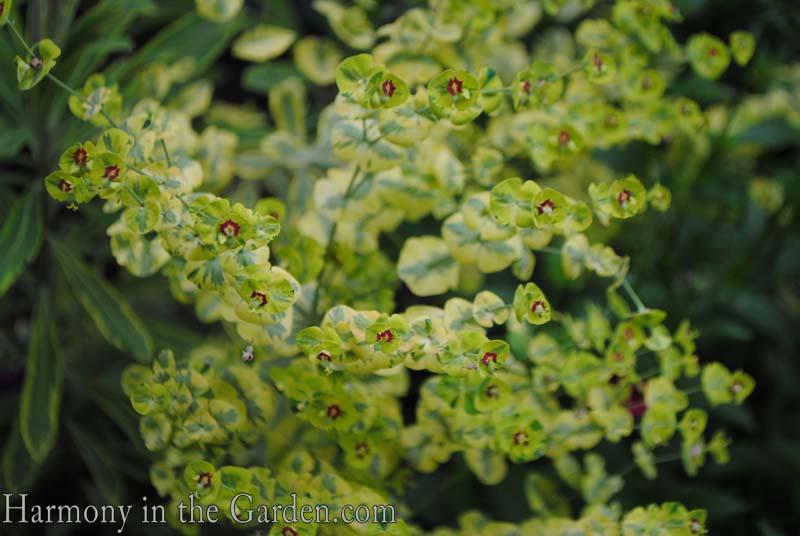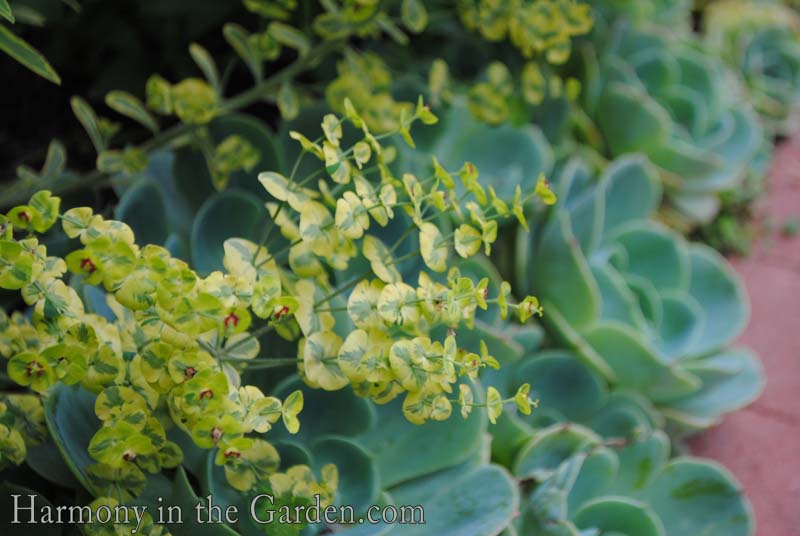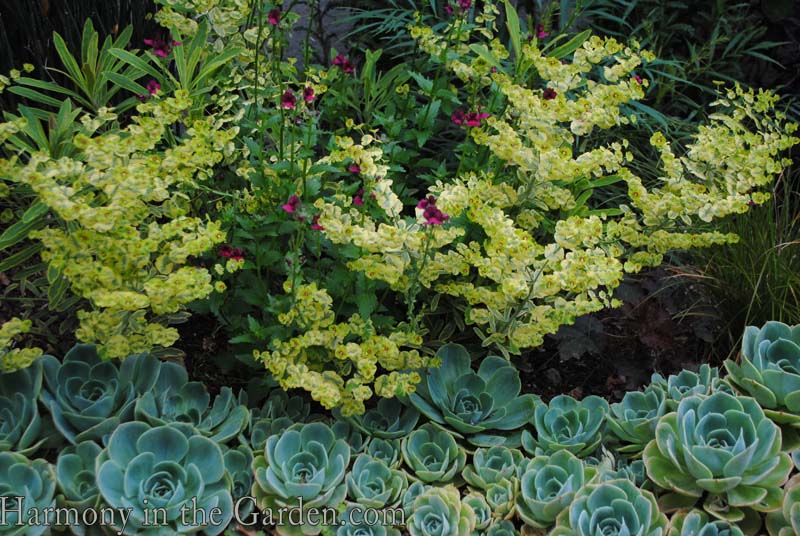 Euphorbia amygdaloides 'Purpurea'
Another favorite euphorbia for creating color echoes as its subtle maroon colors change throughout the year from olive green to light maroon.
As if that isn't enough, the flowers will emerge in early spring in shocking shades of chartreuse which add much needed color to a newly emerging garden.
In this bed, I pulled out the dark peachy-coral colors from the aging flower bracts and echoed them with surrounding Heuchera 'Peach Flambe' and a 'Chantilly Peach' Antirrhinum majus (from Annie's Annuals).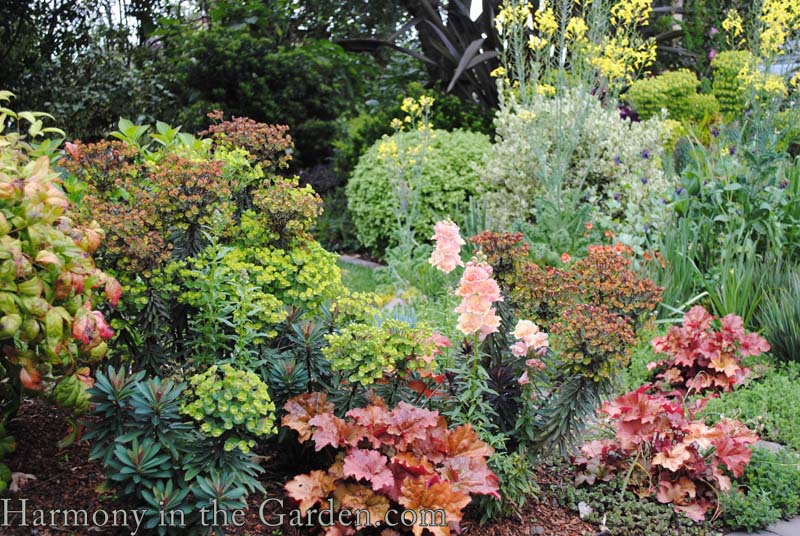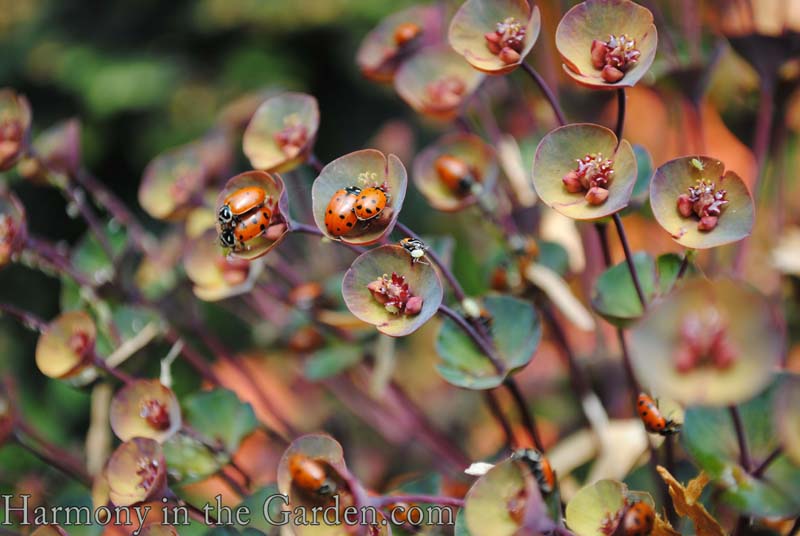 2.  Adding motion using a plant's form
Another somewhat elusive element in the garden is something I call 'visual motion'.  I'm not talking about literal motion, like the swaying grass on a breezy day, but a plant that gives the illusion of movement without any breeze whatsoever.
Euphorbia myrsinites is one of my favorites for this purpose, creating twirly excitement wherever you plant it.
Sprawling to just 1′ high x 3′ wide, its perfect scrambling over the sides of a window box or cascading over a stone wall.
Once the blooms are spent, just prune it to the ground and it'll quickly push out new growth again over and over again throughout the year.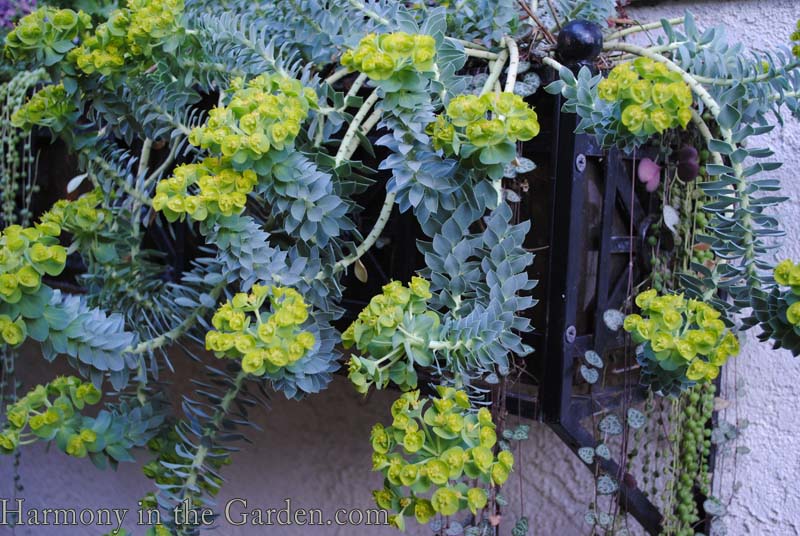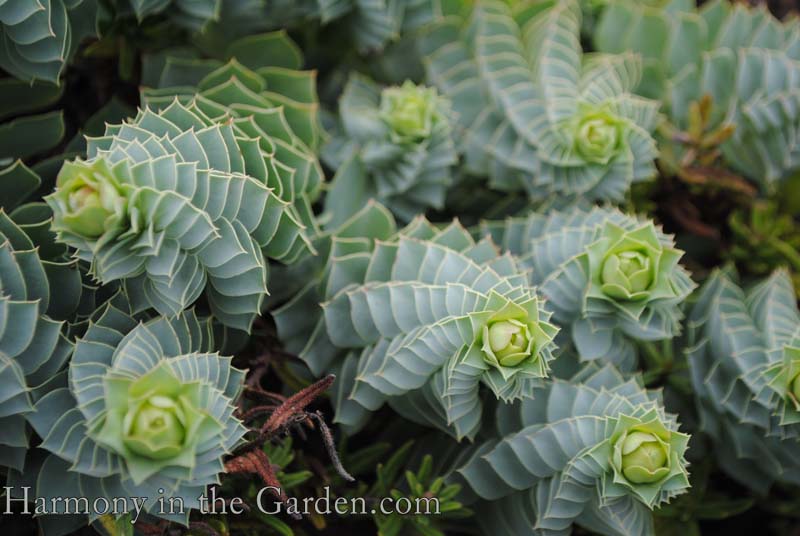 3.  Adding a contrasting color
With the majority of plants falling within shades of green, it's important to include those with contrasting foliage colors to help them stand apart from their neighbors.  Euphorbias are an ideal choice, with foliage in shades of steely blue, light maroon, deep burgundy, silver, and variegated.
Euphorbia 'Glacier Blue'
With its silver variegation, this euphorbia commands attention wherever you place it.  When nestled against dark green foliage, such as the Cestrum newellii and Oakleaf Hydrangea, the creamy white flowers of this euphorbia takes on a silvery tone which adds an exciting pop of color.
This variety grows to 3'x3′ and can take a substantial amount of shade compared to the others mentioned above.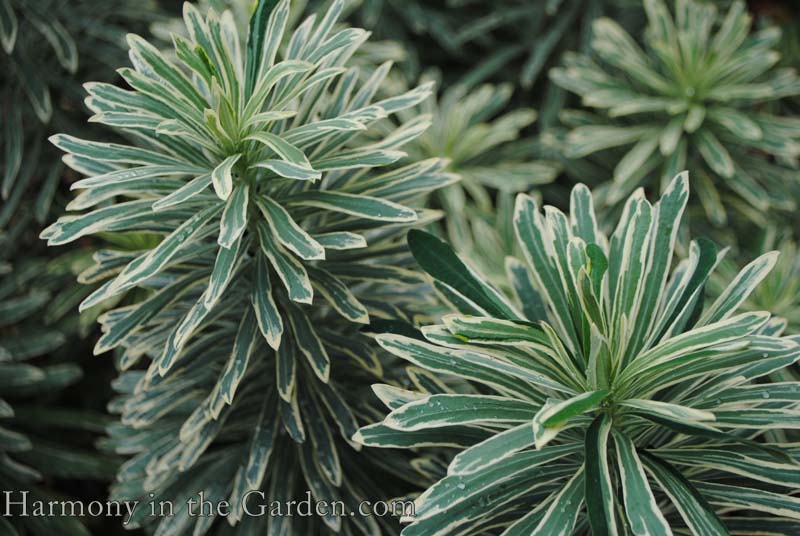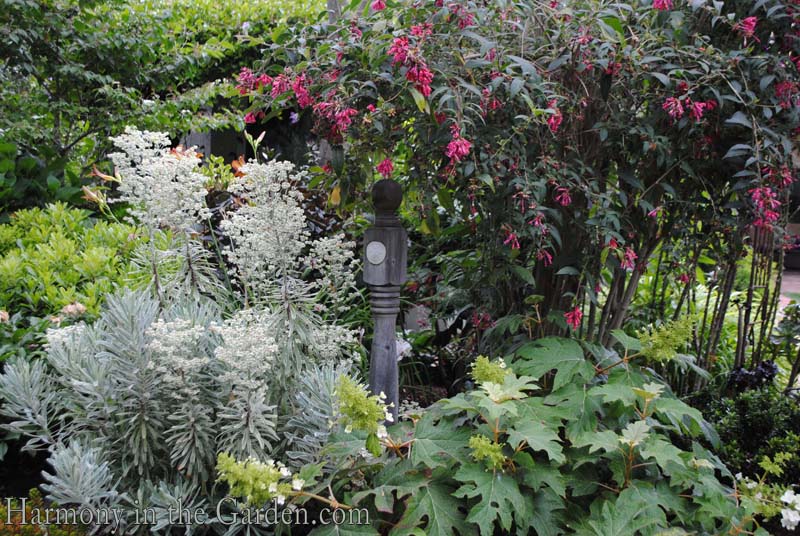 Euphorbia 'Blackbird'
Probably the deepest, darkest burgundy colors of all, this euphorbia is one of my favorites for adding dramatic, shadowy colors in the garden.
I've found it to be a bit more temperamental than the others, particularly susceptible to root rot as a result of too much water, but well worth the effort. Growing to 3'x3′, full sun will bring out the darkest maroon colors.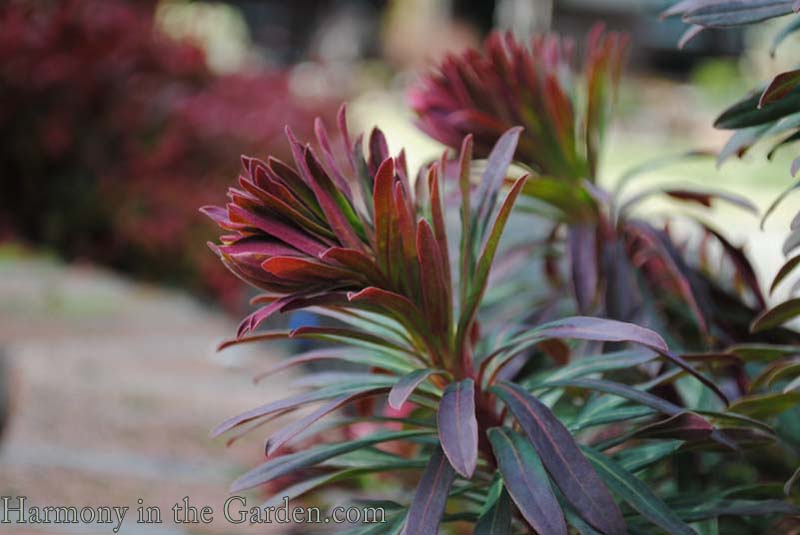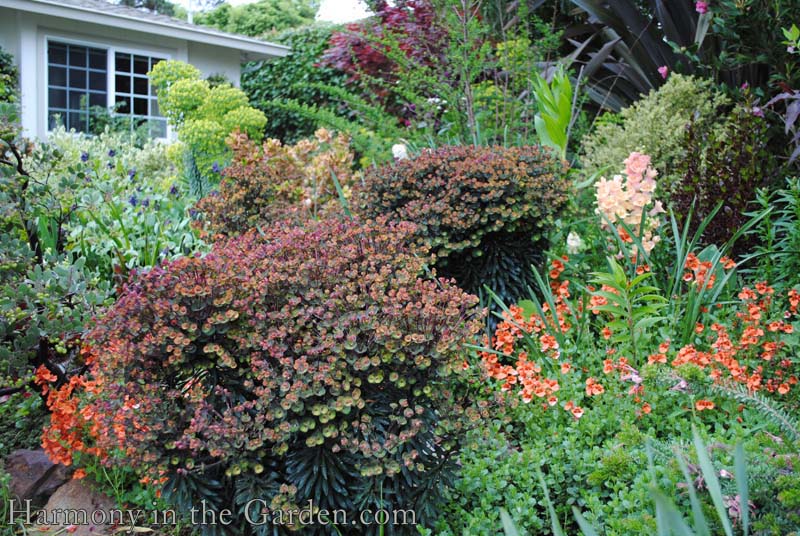 Euphorbia characias 'Wulfenii'
I can't write a post about euphorbias and not include the gorgeous blue foliage of 'Wulfenii'.  A freely reseeding variety (which translates into 'plant one and you'll have them for life!') I've seen 'Wulfenii' growing to a towering 4'x4′.
And when covered with its acid-yellow blooms in early spring, it's a show-stopper.
In fact, every spring I'm guaranteed to have new clients describe 'the most amazing Dr. Seuss-like plant with chartreuse orbs' and I always know exactly what they're talking about.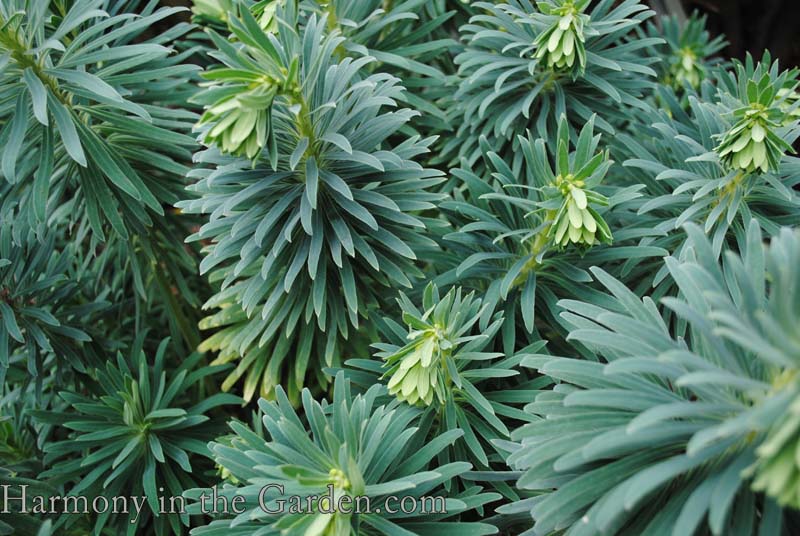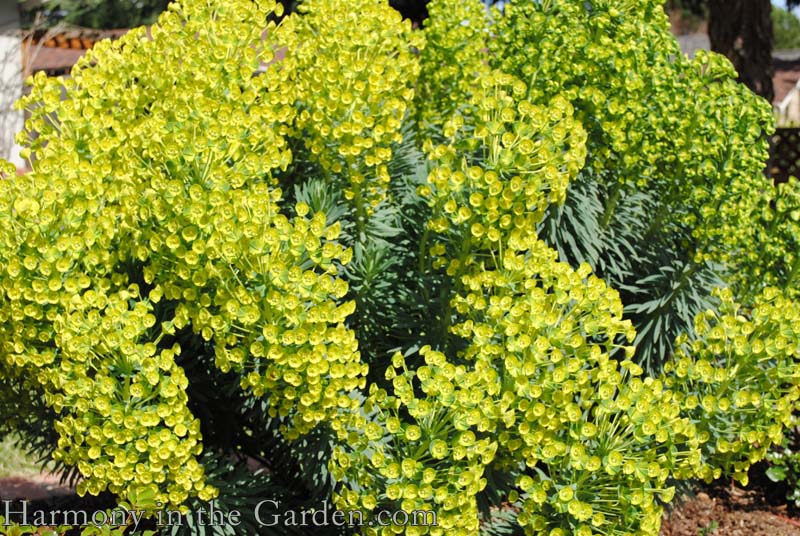 Have I left any of your favorite varieties out?  If so, please let me know – I'm always on the hunt for another one to try in my garden!