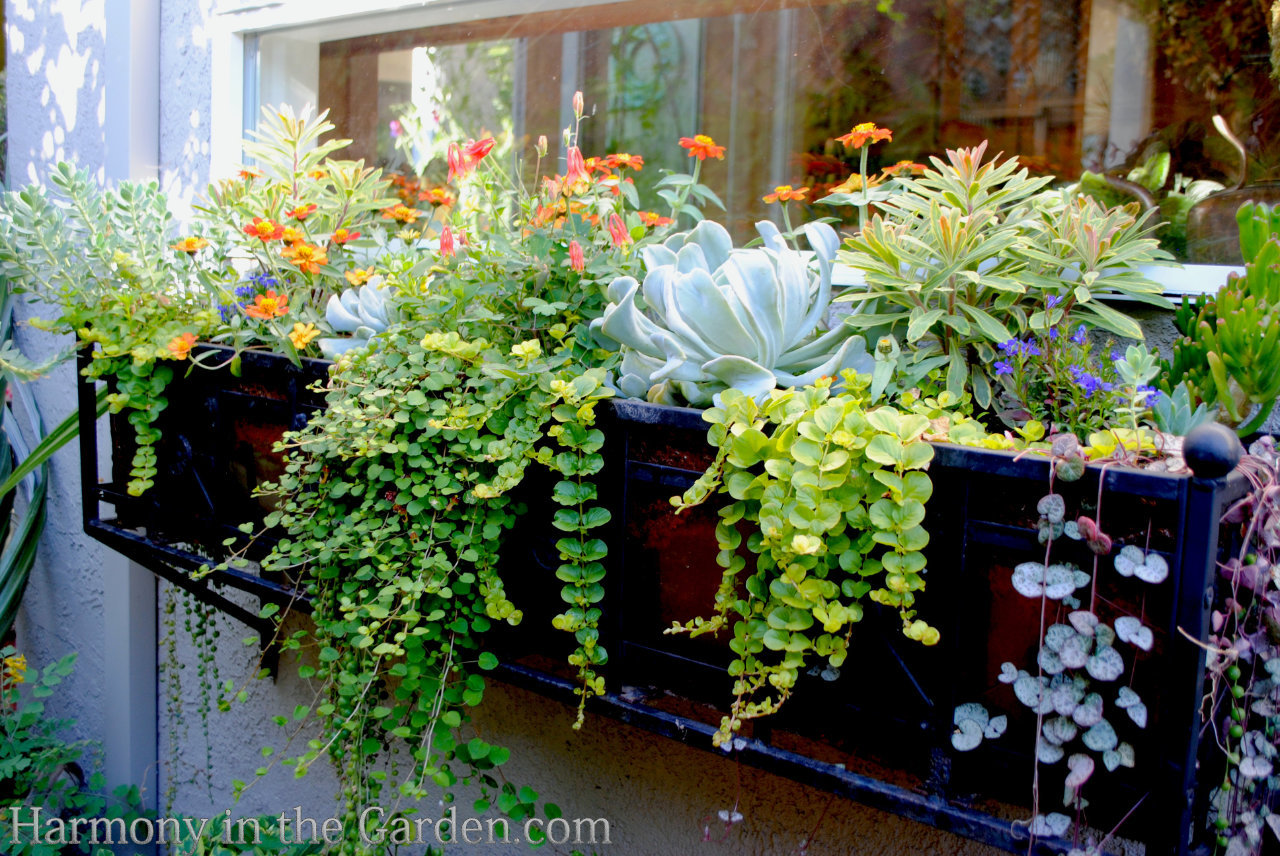 I love designing a window box for all four seasons. 
Not only because window boxes provide yet another opportunity to plant, but because they're a fantastic way to add vertical interest in the garden.
When standing in line at the grocery store, I can easily pass by all the fashion magazines, except for articles like '10 Ways to Wear 1 Dress.'  Then I'm hooked!
So, with a slightly different twist, here's my own version where the star isn't the little black dress, but a copper and iron window box that I change throughout the year.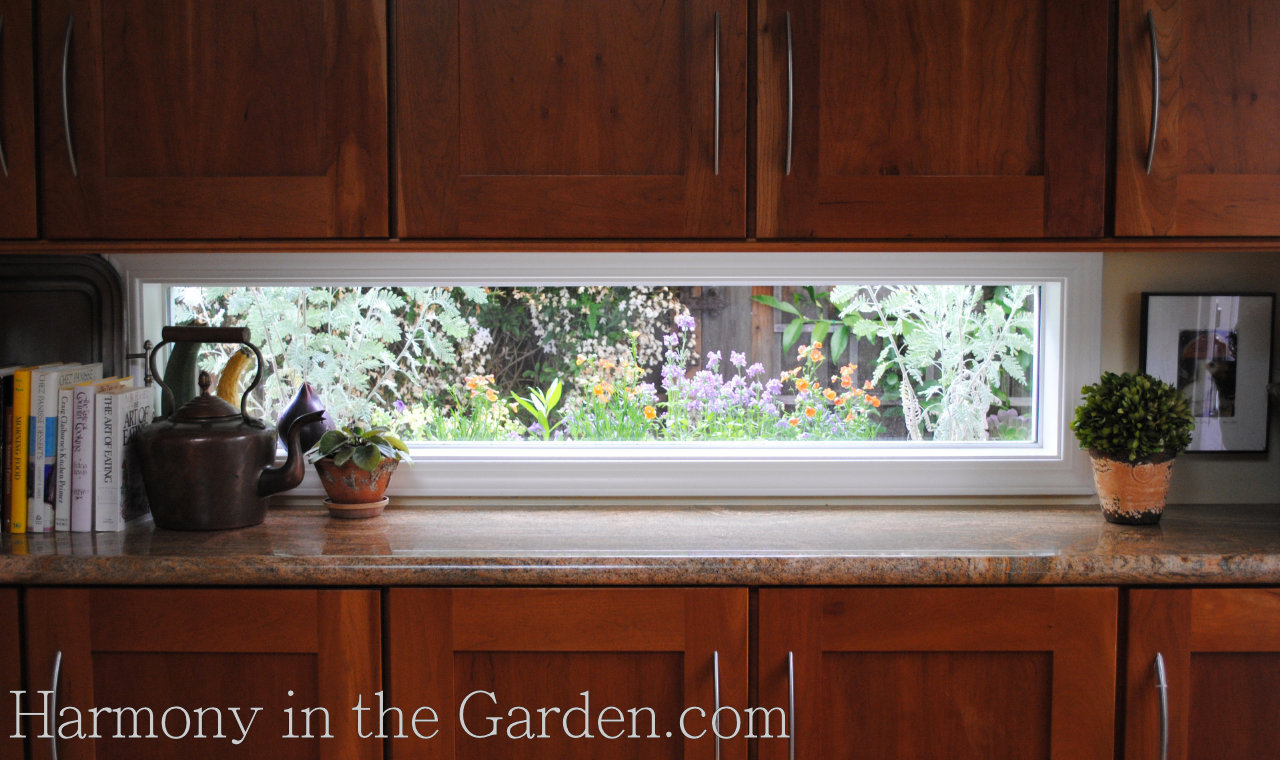 The window box I'm featuring in this blog post is one that I found many years ago at Smith & Hawkins (RIP.)
It's mounted at the base of a narrow kitchen window, which allows me to discreetly watch all the hummingbirds that visit.
Sometimes I feel like a peeping Tom, spying on these little birds while sipping my cup of coffee.
2.  Introducing Fall Colors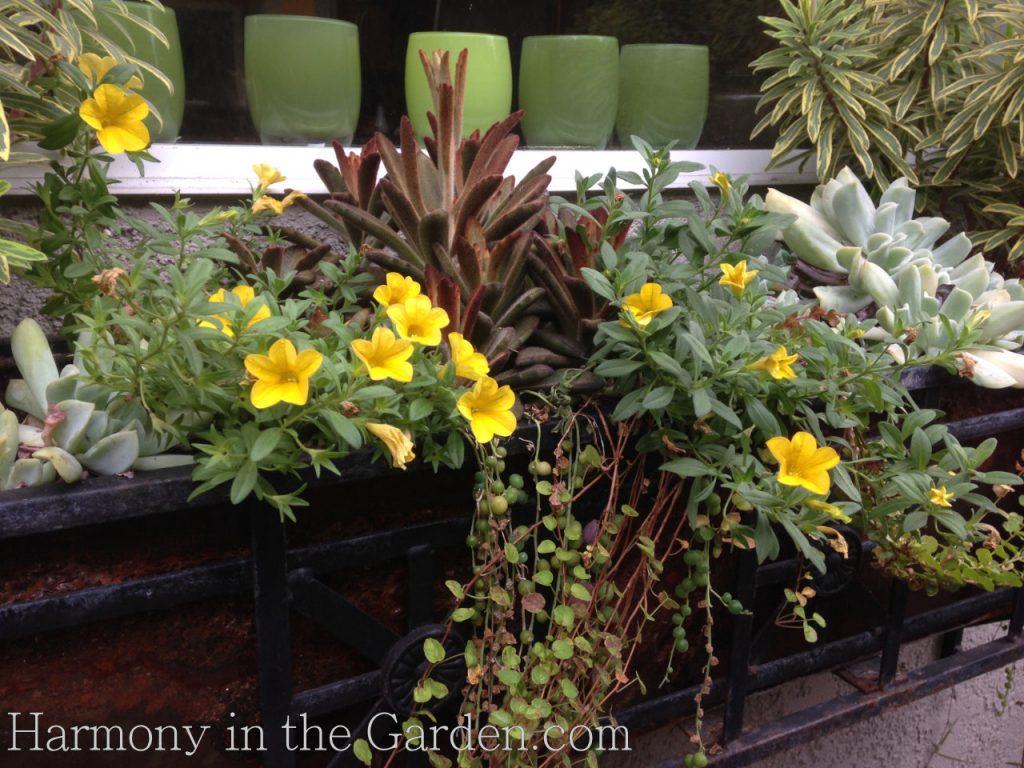 When re-designing my window box for fall and winter, I decided to keep the echeveria 'Topsy Turvy', the euphorbia 'Ascot Rainbow', and the trailing Creeping Fuchsia. 
I added a long-lived kalanchoe tomentosa 'Chocolate Soldier', with its fuzzy brown foliage as the centerpiece, along with vibrant yellow flowers of a calibrachoa.
This color combination is one of my favorites, with the kalanchoe tempting anyone who passes to stroke its fuzzy leaves.
3. Delightfully Drought Tolerant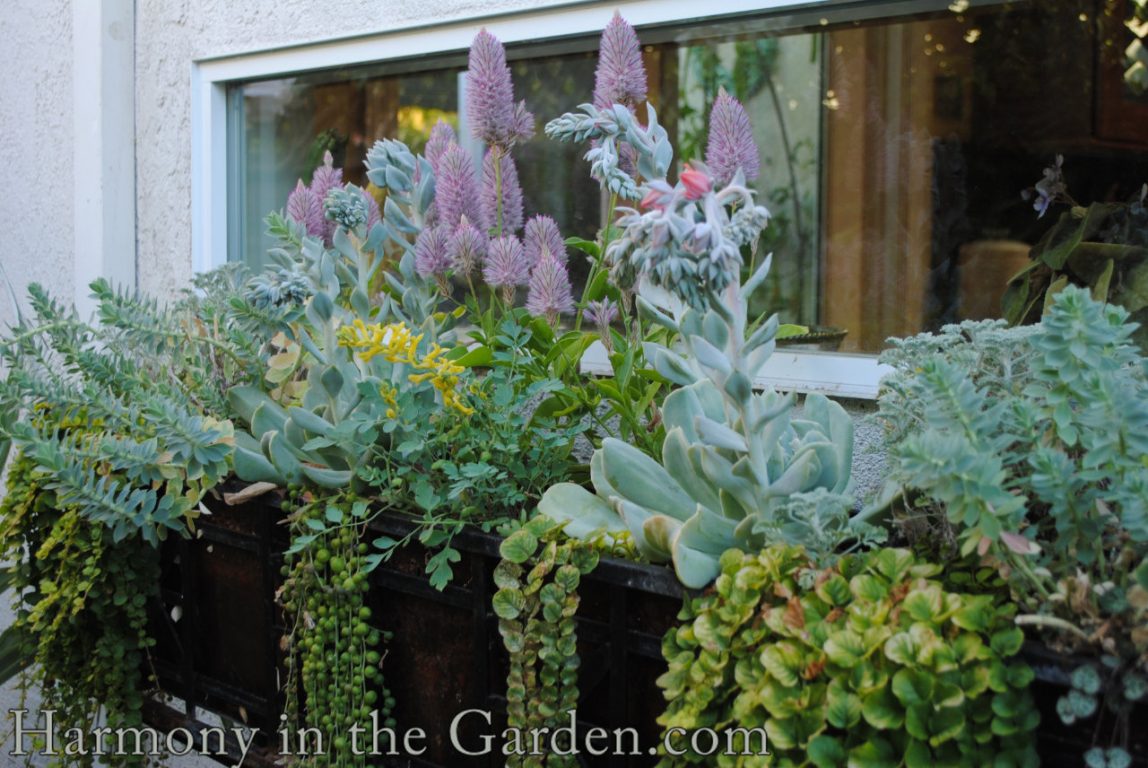 The following summer, I swapped out fall's dark colors with lighter, softer shades of  glaucous blue, silver, pink, and yellow. 
The plants chosen also needed to require very little water to prevent root-rot in the neighboring succulents.
Hands down, the star of this season's window box is the low-water ptilotus 'Joey.'  Its unusual pale pink and silver flowers look like feathers interwoven with slender hot pink threads.
Ptilotus (also called Mulla Mulla) is the perfect companion plant to neighboring echeveria 'Topsy Turvy' and euphorbia myrsinites.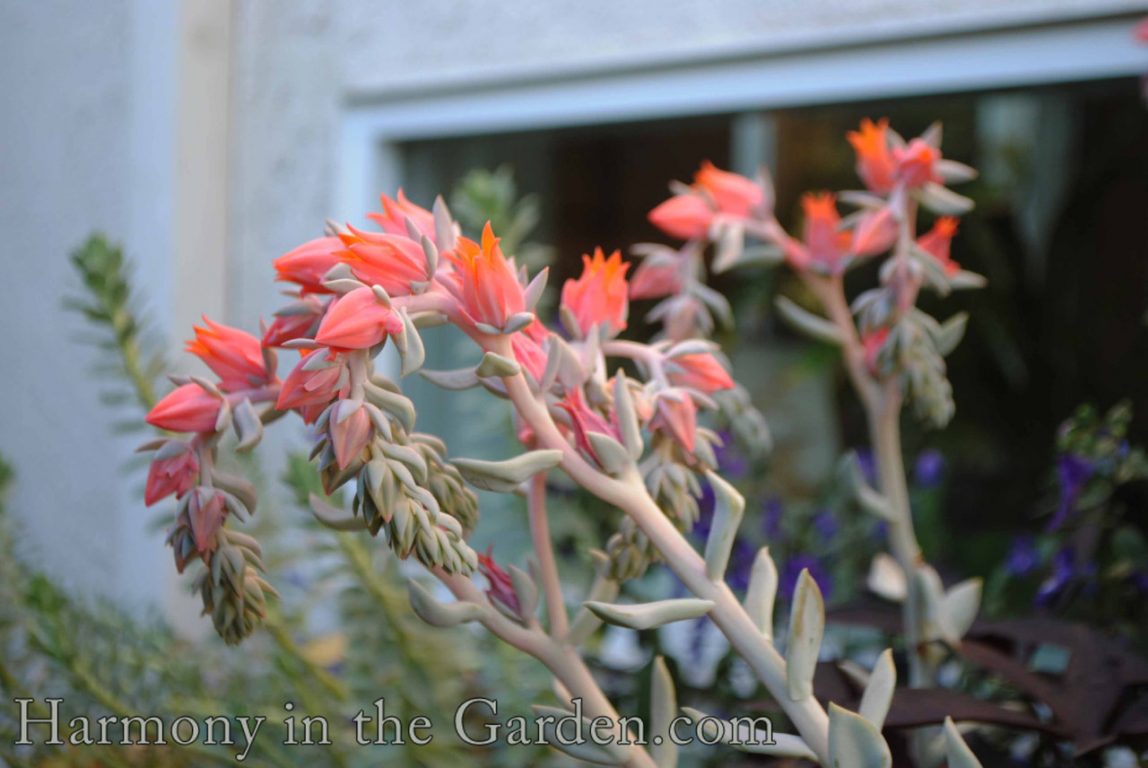 Once the 'Topsy Turvy' blooms (usually in mid-summer) it's a veritable hummingbird feast.
Colorful salmon and pink flowers slowly unfurl on long, slender stems, and last for weeks at a time. 
The burst of color is a welcome addition to this otherwise tranquil color combination.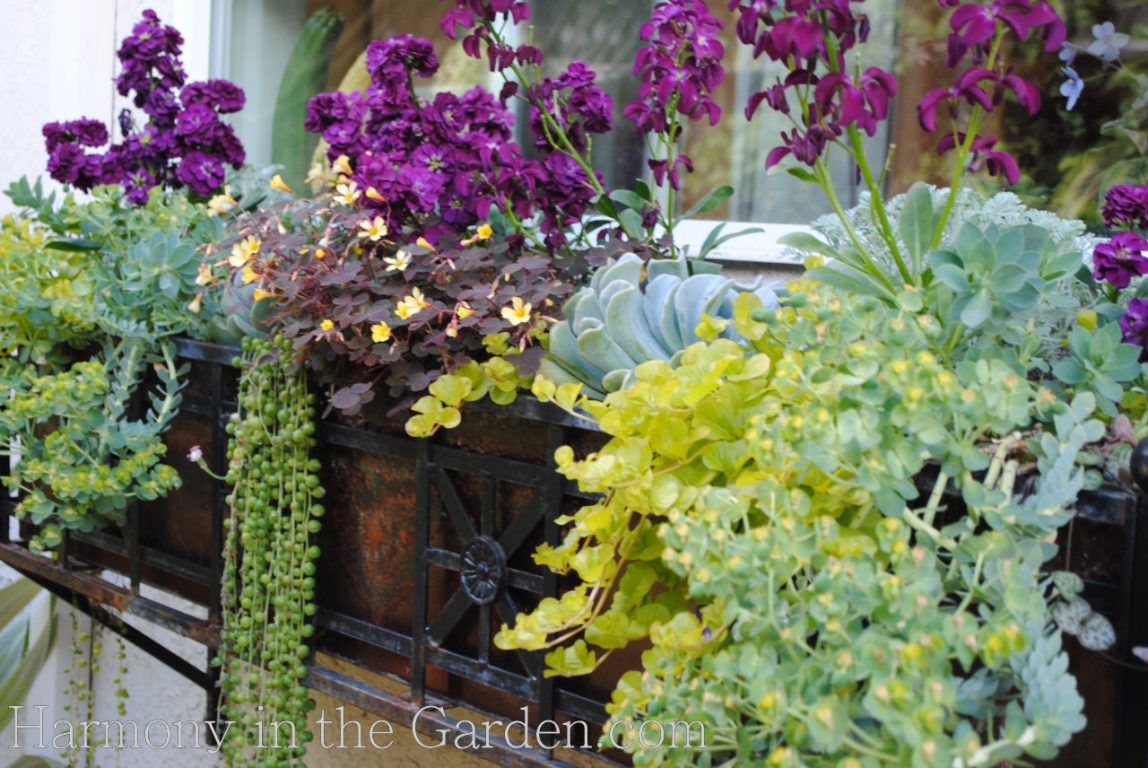 For my new fall window box, I decided to keep in place the existing echeveria 'Topsy Turvy' and euphorbia myrsinites.
I added darker and more vibrant colors (like magenta, burgundy, and lime green) to help highlight the changing seasons.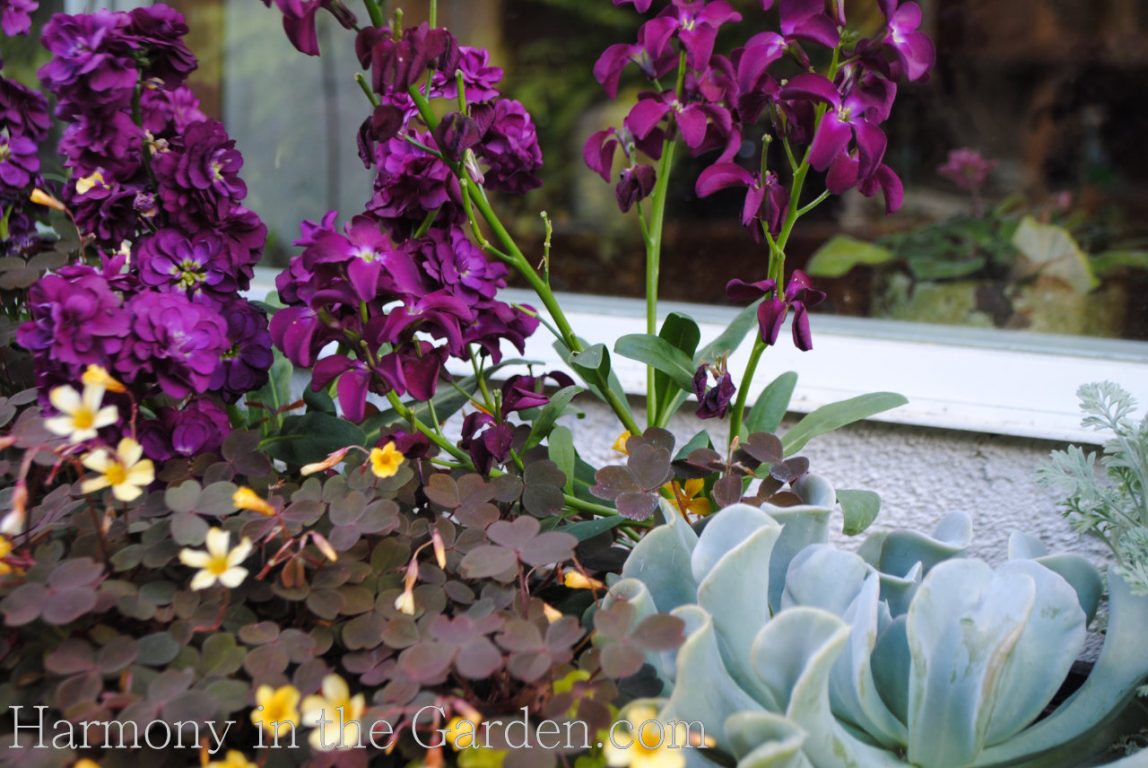 I'll admit, at first I wasn't a big fan of the dark burgundy oxalis 'Zinfandel' combined with the magenta flowers of the stock, and the silver-blue of the echeveria.
Which surprised me, because I love glaucous colors combined with purple (click here for proof!)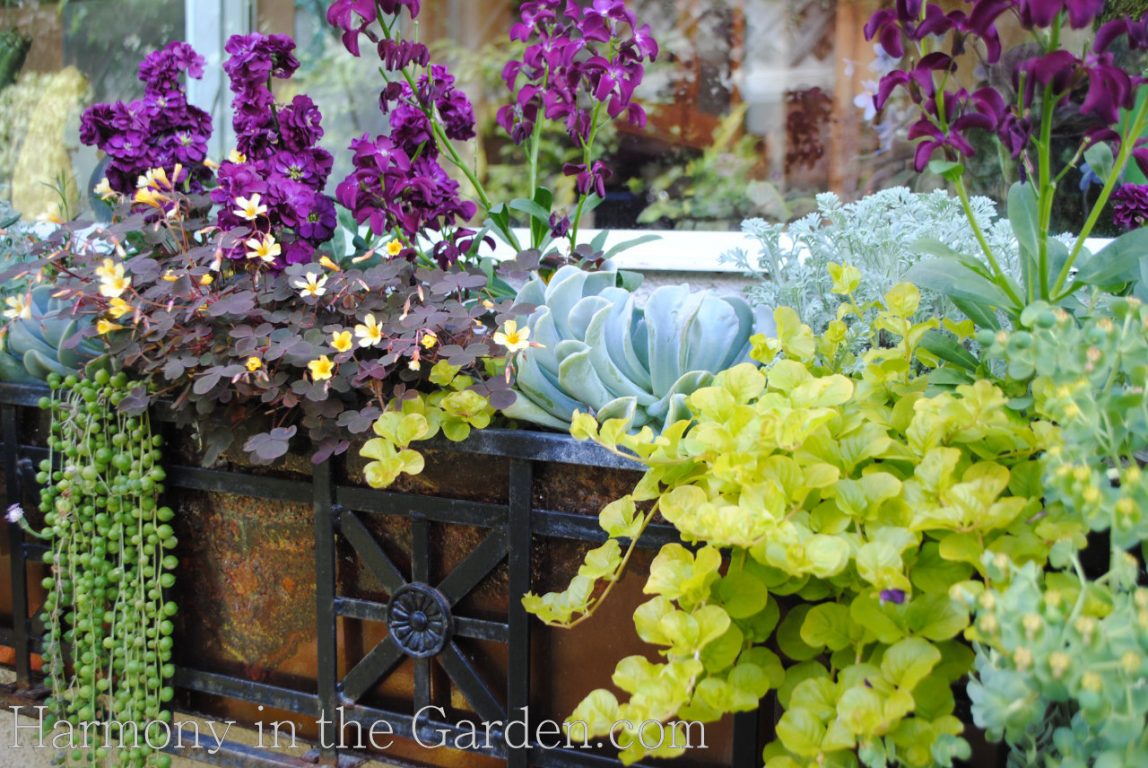 So, my solution was to create a color echo by adding a bright chartreuse Creeping Jenny (lysimachia) to harmonize with the yellow colors of the oxalis flowers.
By the way, this oxalis isn't invasive like the dreaded oxalis weed variety!  It's one of the many lovely ornamental varieties on the market (click here to read about some of my favorites!)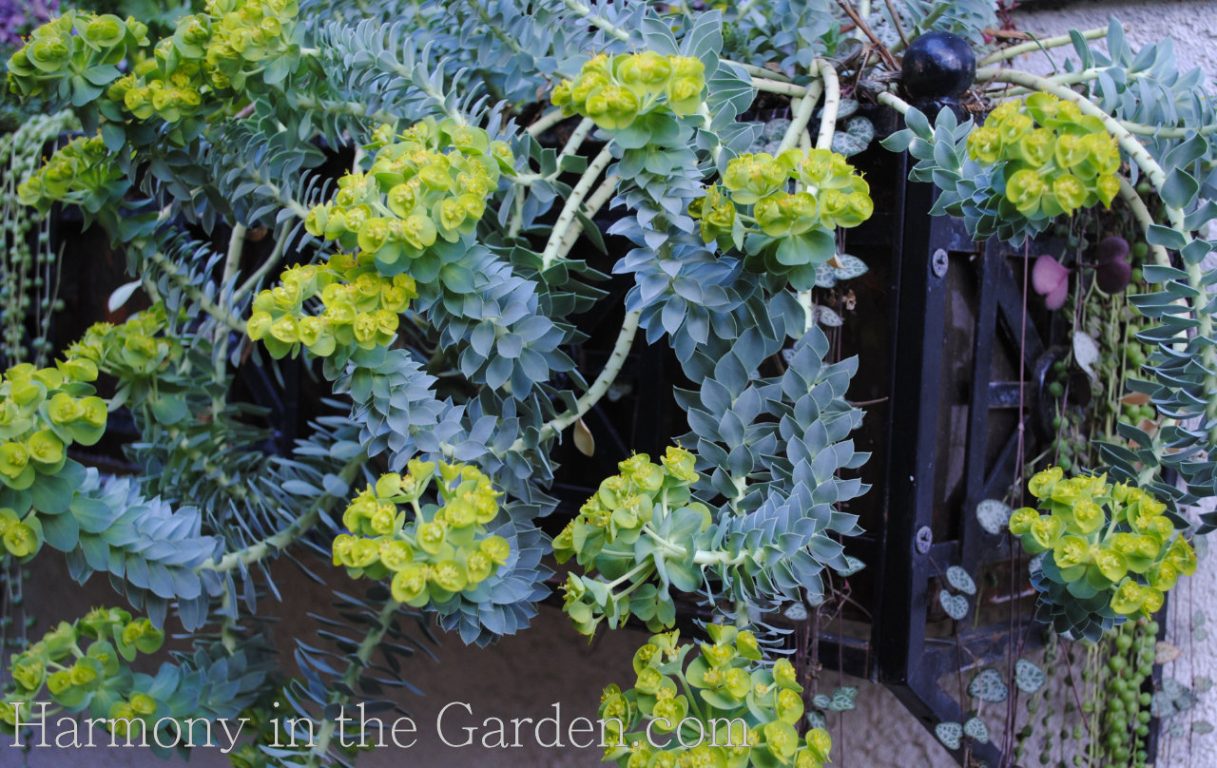 And, when the euphorbia myrsinites blooms, with its acid-yellow flowers, the chartreuse color echo is amazing. 
Isn't it funny how adding a particular color can tie everything together?
5.  Echoes in the Shade (for those of you counting, yes this is 5, even though the title says 4!)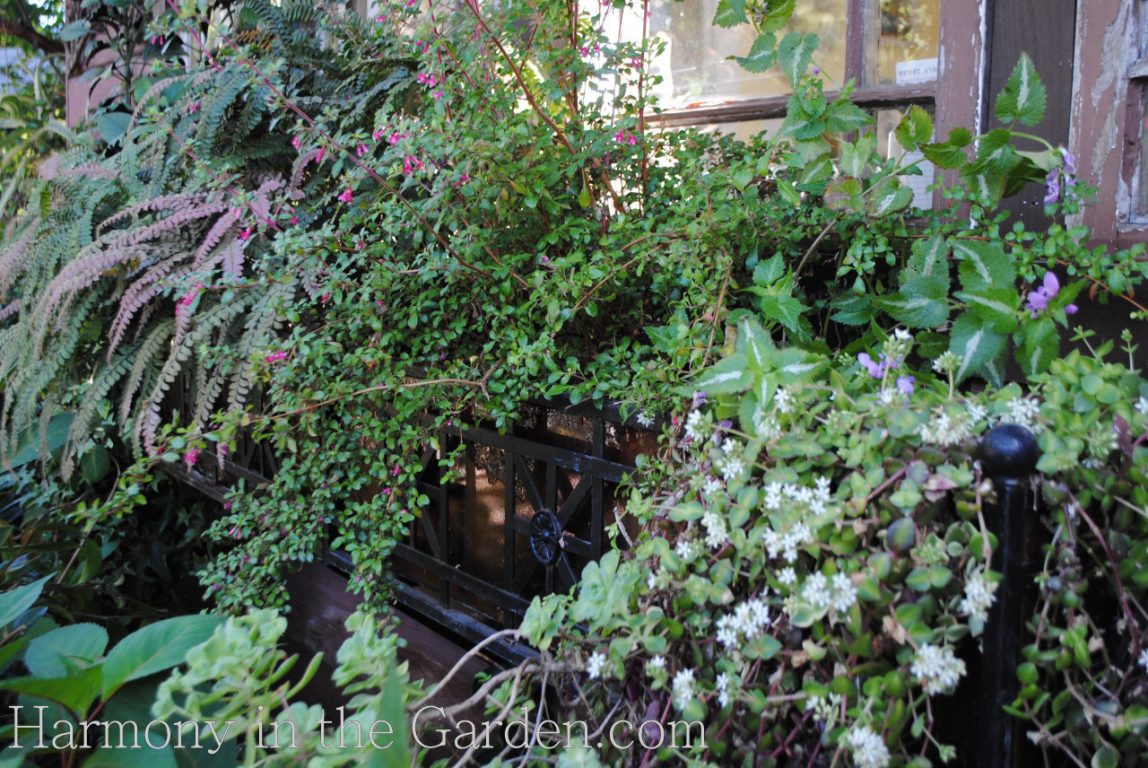 I was so thrilled with my copper window box that I bought one more to mount on the north-facing wall of my office (click here to see this magical transformed space!)
However, unlike my other window box (where I change its design seasonally) I wanted this one to look good every day of the year.
Therefore, instead of relying on  fleeting flowers for color, I focused on foliage for year-round interest.   
I also wanted to emphasize the lush feeling of this shady part of my  garden, so I chose plants with various shades of green and burgundy.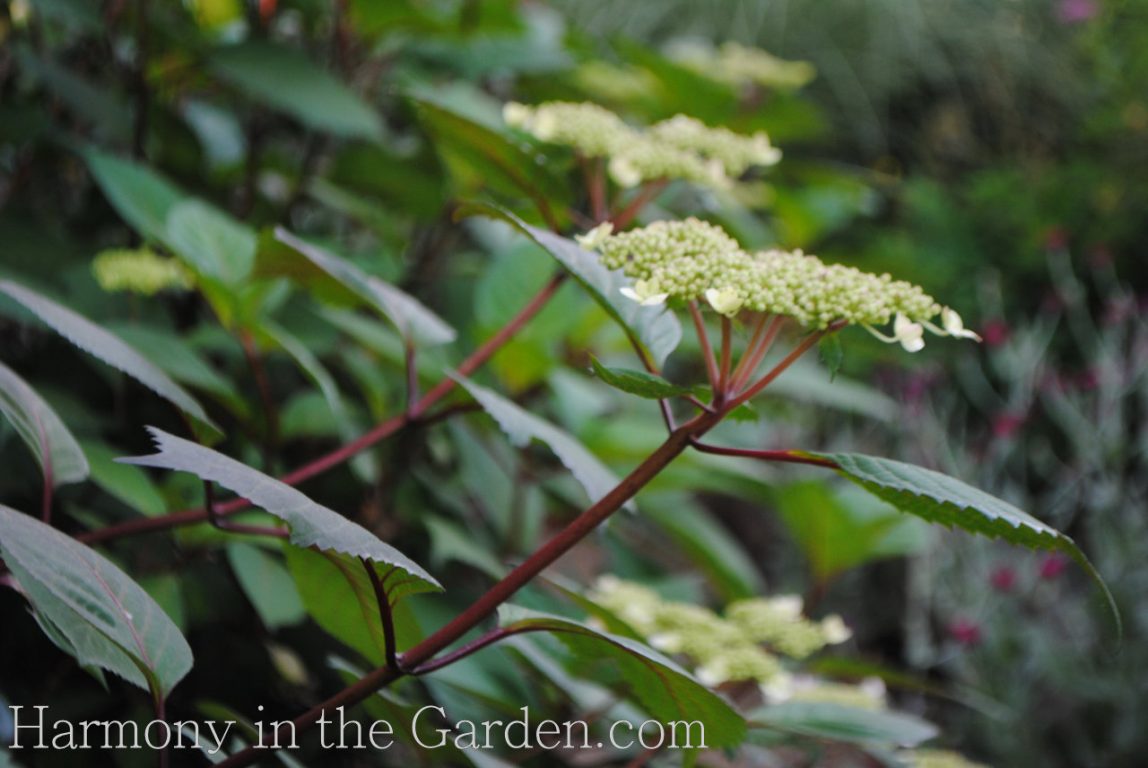 Burgundy and maroon colors are found in just about every plant in this window box:
– the stems of the 'Lady in Red' hydrangea
– the stems of the crassula 'Calico Kitten' succulent (below, left)
– the new foliage of the Rosy Maidenhair Fern  (adiantum hispidulum)
– the tiny little flowers of the fuchsia thymifolia (below, right)
And FINALLY – one last set of window boxes!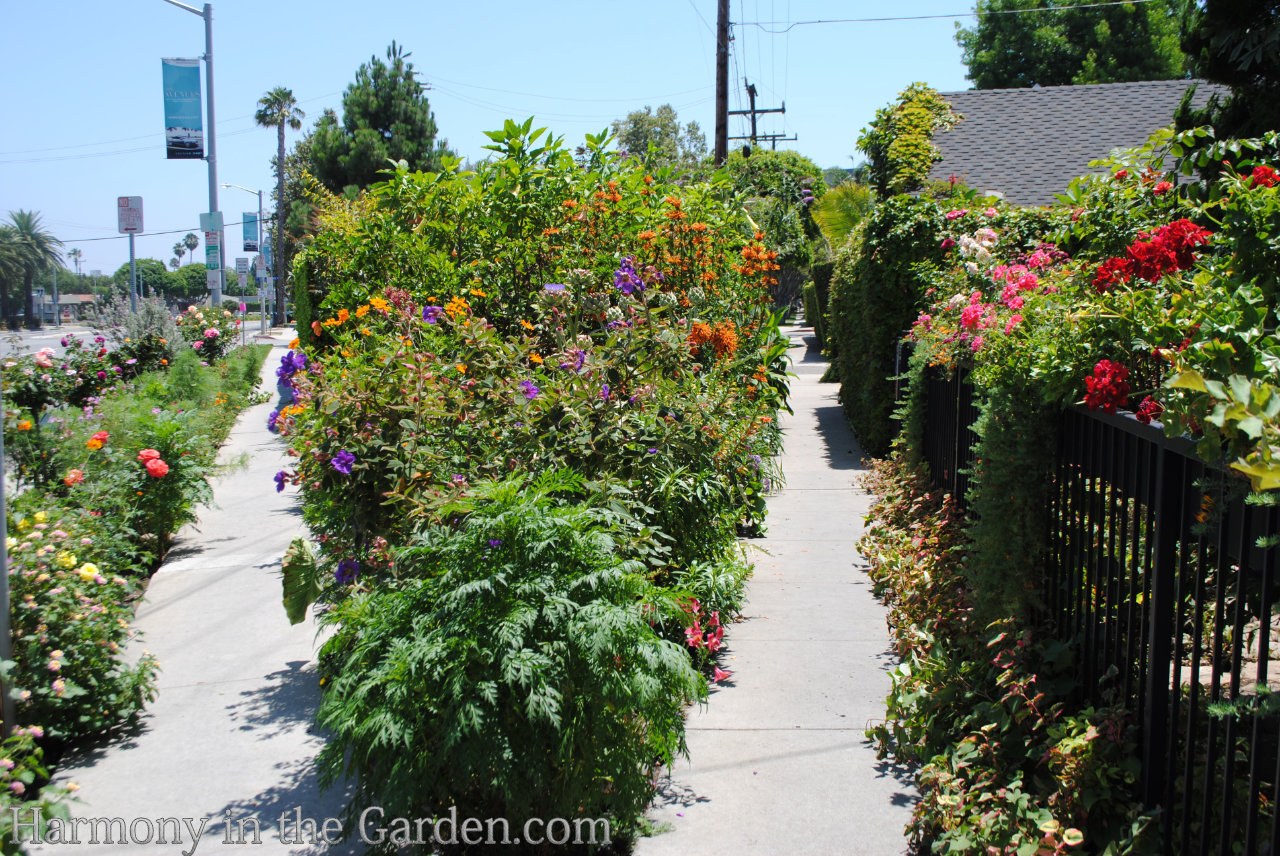 Several years ago, my daughter and I spent the summer living in Los Angeles. 
We explored every corner of that amazing city, and one of my favorite surprises was stumbling upon this incredible (and very public) garden on a busy corner.
Everywhere you looked, this small space was jam-packed with TONS of gorgeous flowers.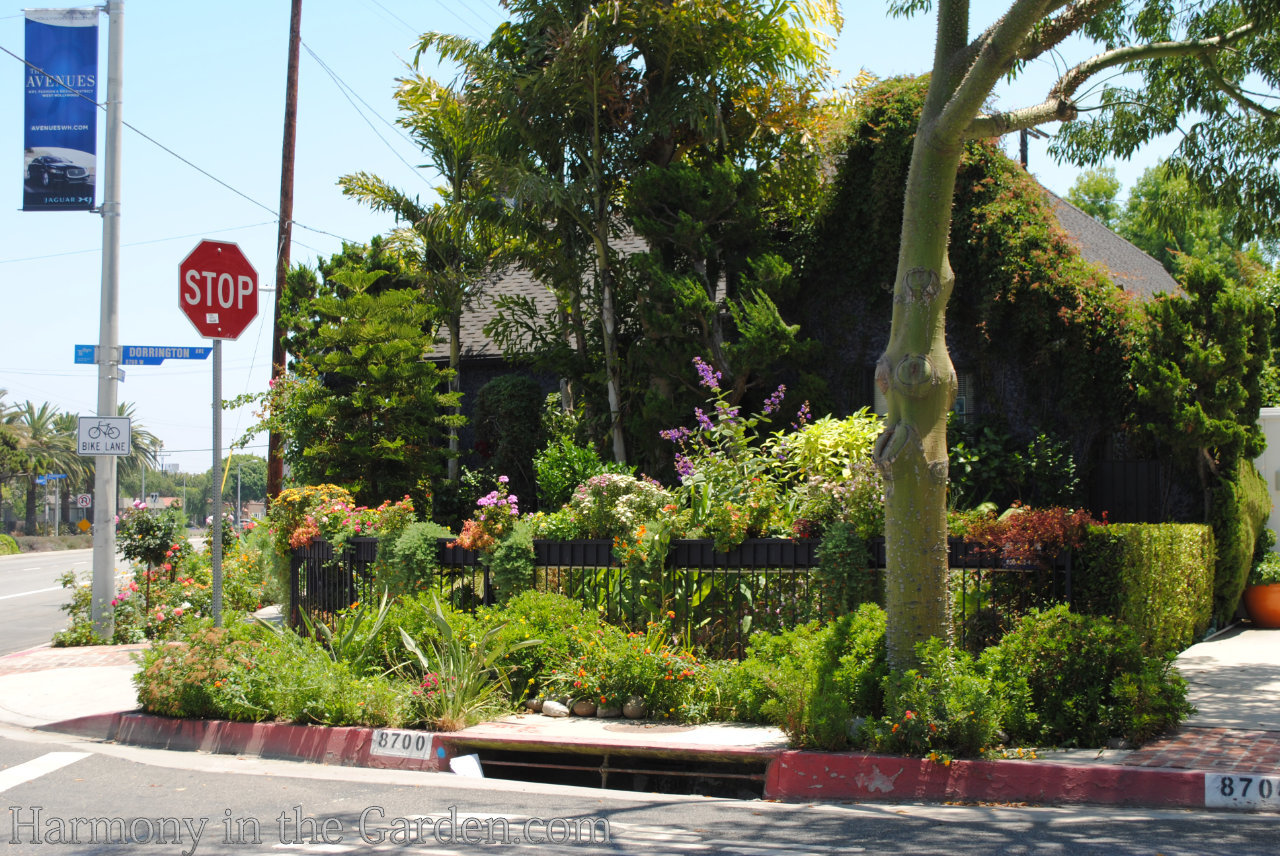 The owner even had overflowing window boxes placed along the top of the wrought-iron fence.  
Alas, I tried to find this garden on google maps and I think it's long-gone (if I'm wrong, someone please correct me!)
I hope you've been inspired to create your own window boxes.  And, if you'd like to see even more examples (several of which include caladiums) click here.