I first met Baylor Chapman almost a decade ago when researching gardens for my first book, Garden Up!  (remember seeing these beautiful succulent shutters, below?  They're Baylor's.)
I've since written about her floral design studio, Lila B. Design, and the fantastic community courtyard where she lives (click on the links to read more.)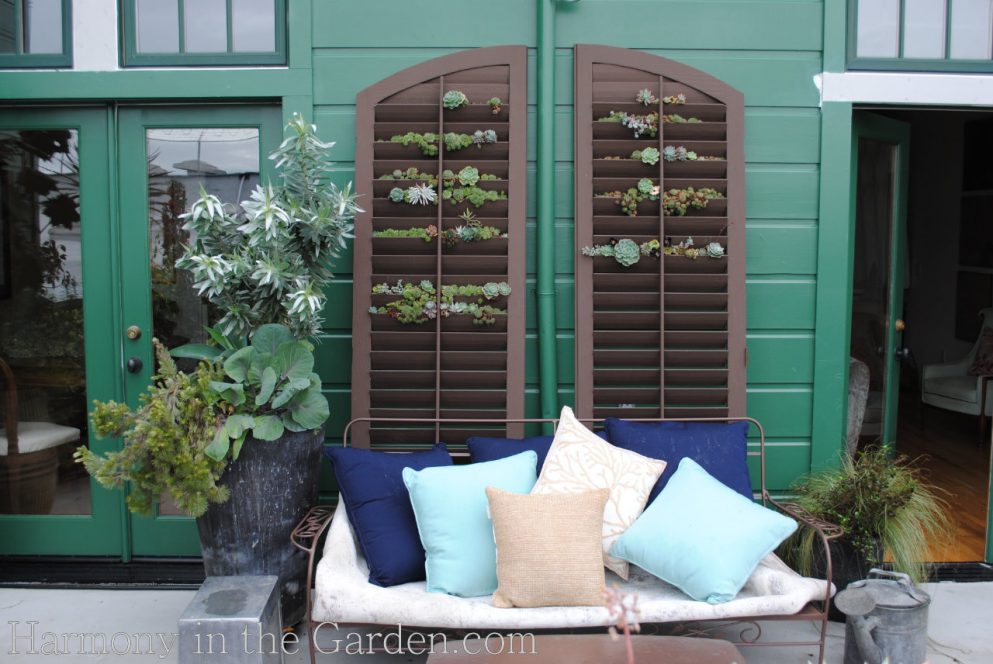 Well, when I found out Baylor had a new book coming out, Decorating with Plants:  What to Choose, Ways to Style, and How to Make Them Thrive, I was thrilled not only for myself but for my daughter, Emily, as she has recently shown an interest in houseplants.
A few months ago Emily moved from Los Angeles to San Francisco and has since been focused on decorating her new, beautiful apartment and realizing that its' not complete without a few plants.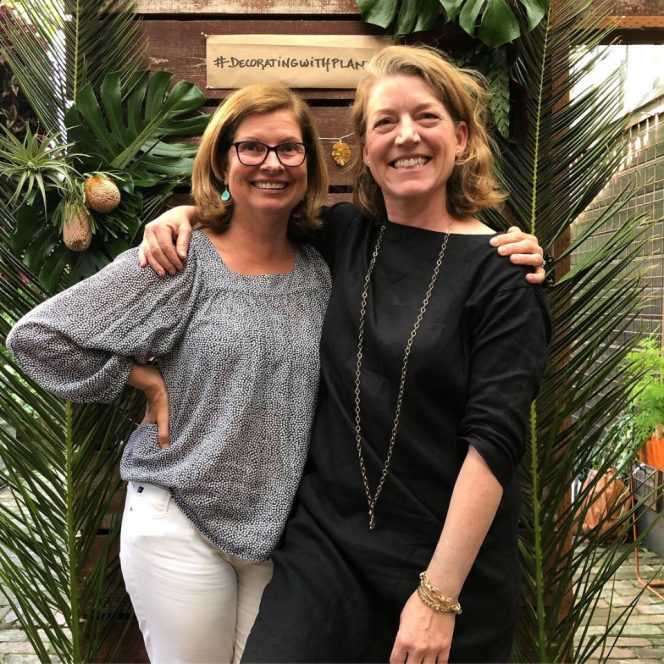 Let me get this straight – my daughter lives just a few hours from me now (hooray!) and wants to learn more about plants ?  Pinch me!
So, of course, the day we helped move her in, I had to whisk her away to Flora Grubb Gardens to show her the coolest nursery in town.  And, as if that wasn't enough inspiration for Emily, we were also invited to Baylor's book launch party in San Francisco.
Of course, I had to drive down for this event.  Not only to support Baylor (that's her in the photo on the right) but to be honest, it's not every day a mom gets to show off her 'cool friends' to her daughter.  And yes, I'll admit that my coolness factor rose a few rungs on the ladder that day!
It was a perfect early spring day in San Francisco – ideal for a garden party.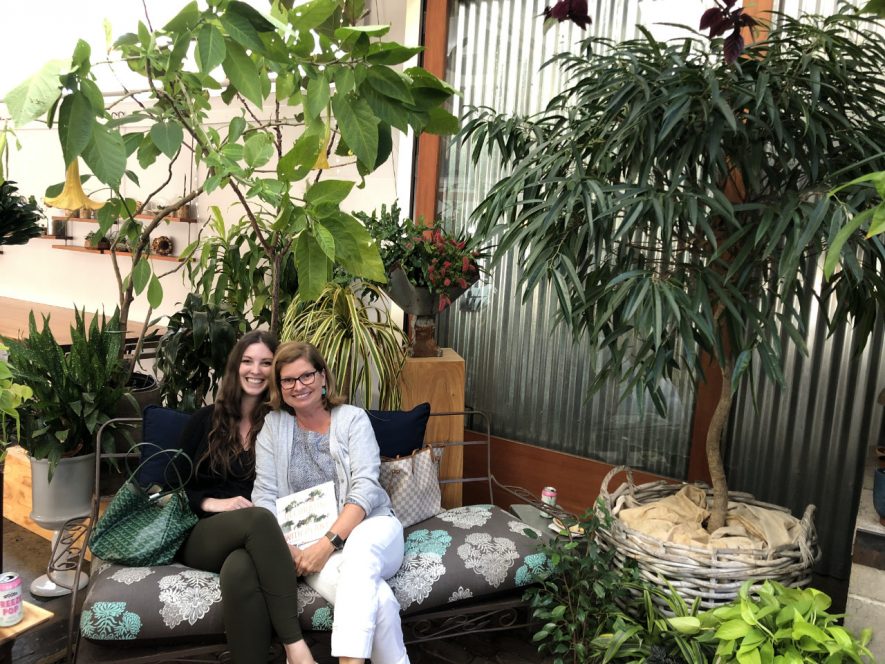 Needless to say, Emily was hooked with no chance of return.
I bought a copy of Baylor's book after having first promised to give it to Emily after I read it (btw: that's Emily on the left, trying to steal my book.)
Hmmm, now that I think about it I'm pretty sure she's never even read one of my books!  Oh well.  At least Baylor's book worked its magic on converting my daughter into a full-fledged garden lover. 
Heck, Emily even volunteered to go on a Mother's Day Garden Tour with me last weekend -with seven gardens, no less – but more on that later.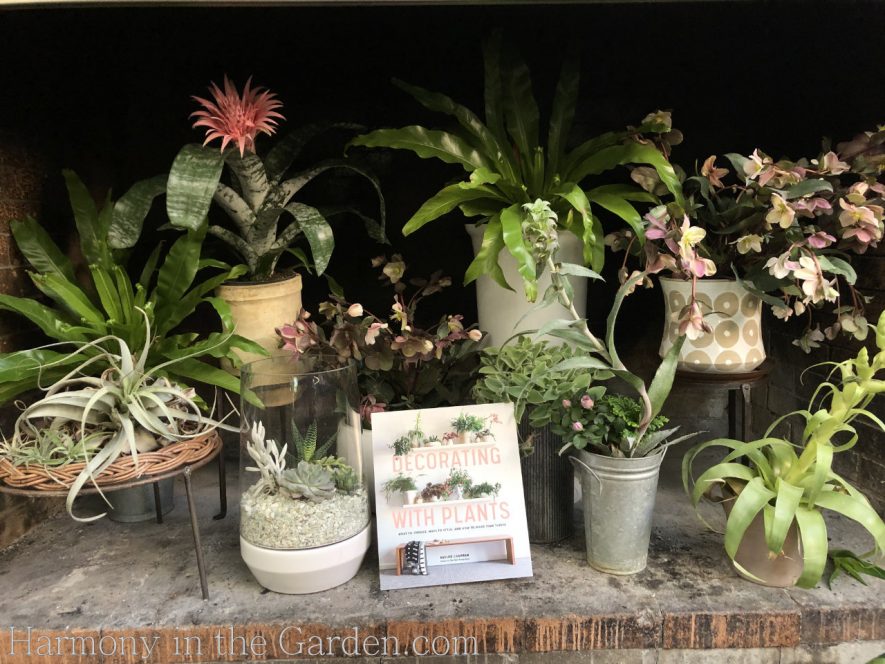 I've now read Decorating with Plants cover to cover, and can wholeheartedly say it's my favorite houseplant book ever.  Why?
For one reason, her photos are inspiring, clean, crisp, and doable in a sense that anyone of any level of gardening experience can achieve a similar look.
Simply put, Baylor's design aesthetic is current, elegant, contemporary – a breath of fresh air.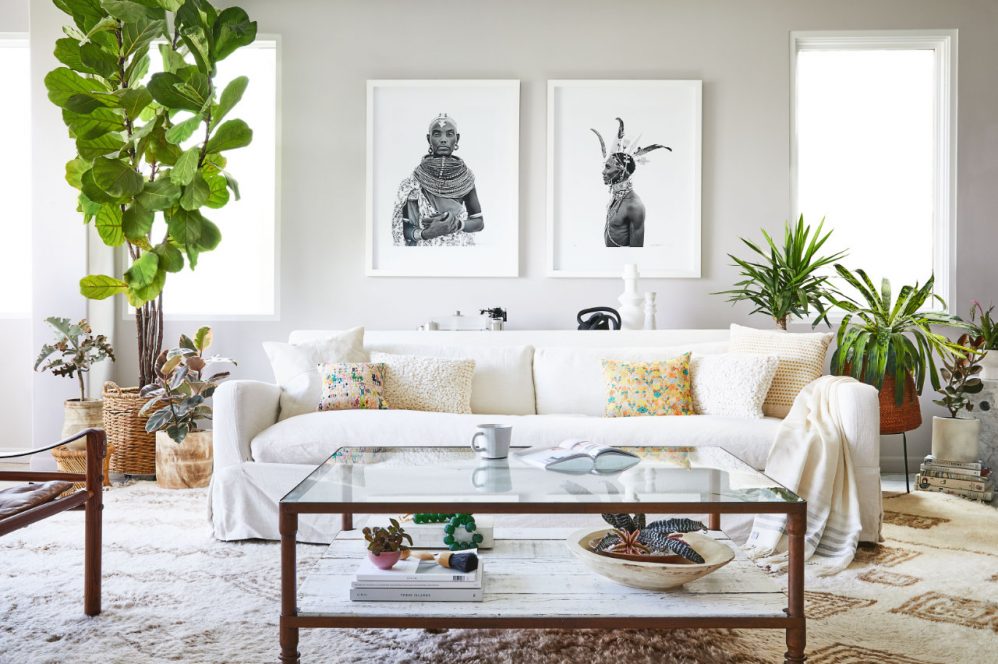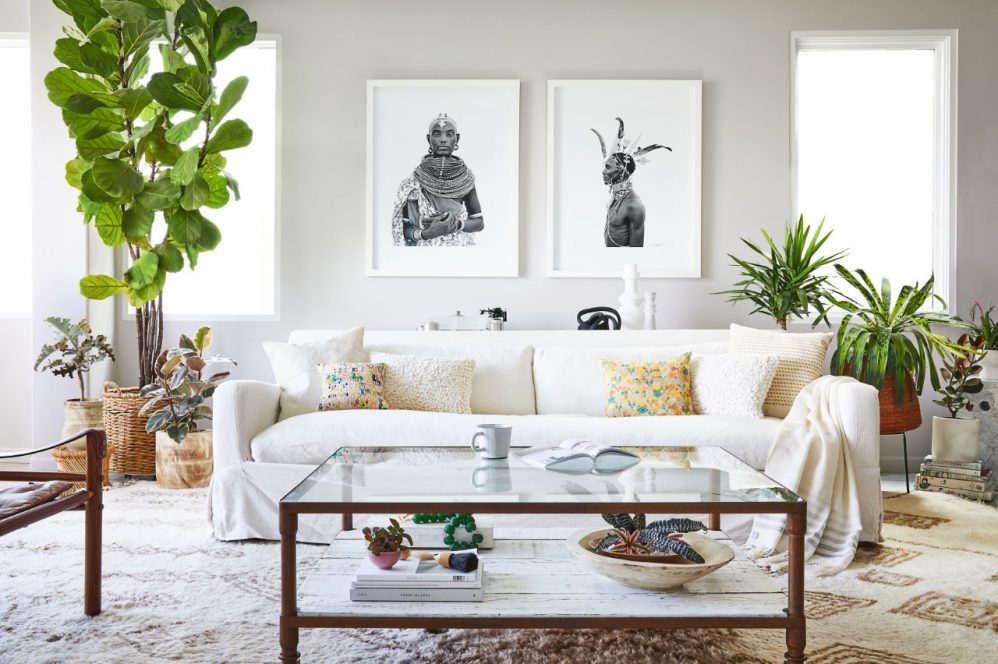 The book begins with a 'Getting Started' section, ideal for beginners, thoroughly explaining the basics of houseplants.
Moving on to the next section is Baylor's 'Go To Plant List', where she details 28 of her favorite and easiest houseplants (how to take care of them, ideal growing conditions, and interesting tips and facts for each plant.)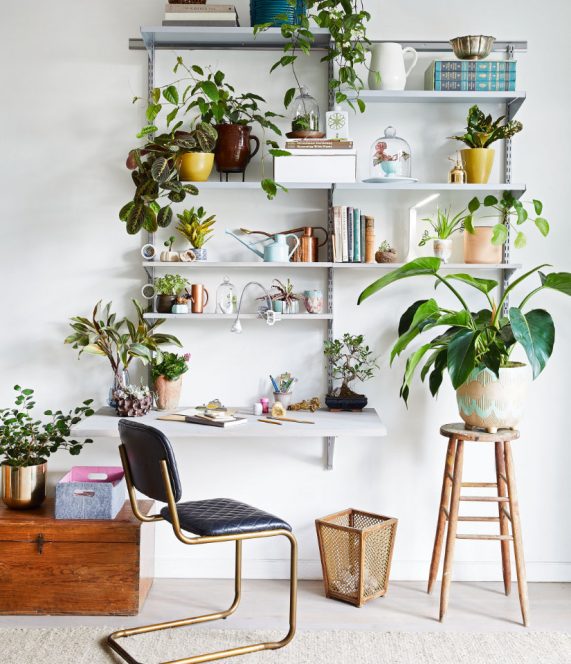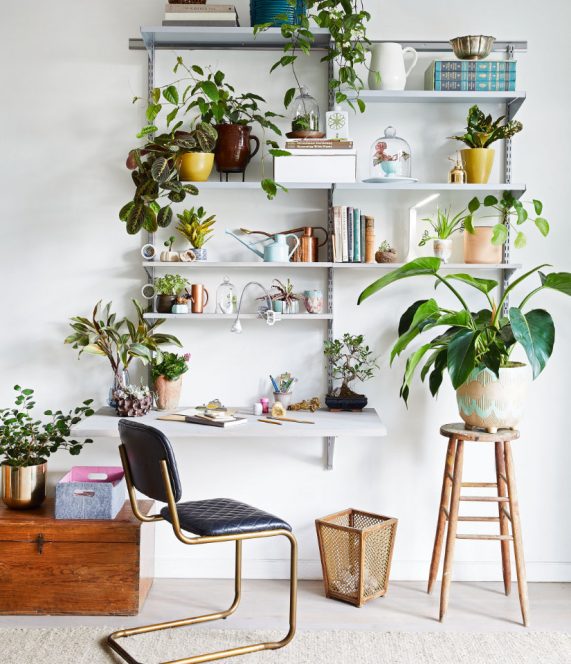 Armed with knowledge about what houseplants will thrive in your home, the next section of the book is 'A Room-By-Room Guide'.
Using more inspiring photos, Baylor walks you through various rooms of your home to demonstrate different ways you might use plants to enhance the room's decor.
Trust me, after reading this book you'll never look at your home the same.
In fact, I was so inspired by Baylor's examples that I've taken photos of various rooms in my own home that I'll use for reference the next time I go to the nursery to shop for houseplants.

……………………………………..Giveaway Time! …………………………………..
(SORRY – GIVEAWAY NOW OVER)
UPDATE:  Congratulations, Jenny Houser!  You won a copy of Baylor's book (I've just sent you an email).  Thanks for submitting your comments, everyone, they were all so nice to read.
Oh, and Baylor left a comment for you all, as well!   Here it is: 
Goodness, gracious, Thank you, Rebecca, for the oh so lovely post. I LOVED that you and your daughter attended the party – and am tickled that we've been in contact so many times since that first visit many years ago. THank you for all the good stuff you share with your readers – and your clients. You make a lot of people smile. And WOW, thank you for all the kind words, everyone. It was a real treat to hear about your love (or your kid's love!) of plants and to see some familiar names too. Cheers to growing plants and sharing beautiful news. – Baylor
Baylor Chapman has generously offered a SIGNED copy of her book to one of my lucky readers.  To enter, all you need to do is leave a comment below – it's as easy as that!
And please remember that even though I can't respond to giveaway blog comments (if I do, it'll skew the random number generator I use to pick the winner), please know that I read every one and appreciate what you all have to say!
The Fine Print:  A random winner will be chosen by midnight May 28th, 2019 and contacted within 24 hours. If the proposed winner forfeits or does not claim the prize by June 1st, the prize will be re-awarded based on the sponsor's sole discretion. All prizes will be awarded.
Please provide your first and last name to enter this contest so I can immediately contact you if you win. The winner agrees to allow his/her first name to be mentioned in conjunction with this giveaway.
This giveaway is limited to U.S. residents only, who are over the age of 18 years old. No purchase necessary to win. This sweepstake is also void where prohibited by law (wherever that is, I'd sure hate to live there!) and by entering this giveaway, you agree to these conditions.