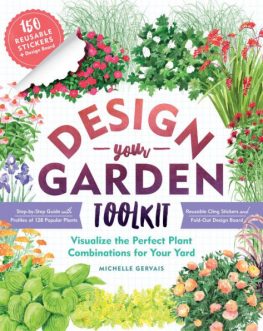 Recently my good friend, Michelle Gervais (who was also the former garden editor of Fine Gardening magazine for many, many years) asked me to take a look at her new book 'Design your Garden Toolkit.'
I jumped at the chance, knowing that her years of knowledge and down-to-earth approach would make for a fantastic book. But it's so much more.
Michelle makes learning about the fundamentals of garden design easy to comprehend (perfect for new gardeners out there).
She not only simplifies garden design into bite-sized segments but also profiles 128 plant selections (not too few, not too many in my opinion).
But one of the best parts of the book are the stickers.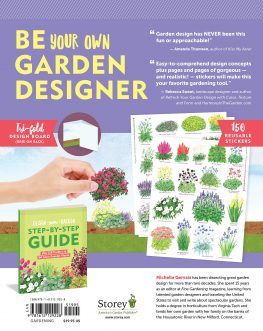 Have any of you seen the stunning adult coloring books on the market over the past few years? (here's one of my favorites, by Debra Lee Baldwin)
If you've tried them, you've probably found them to be incredibly relaxing, creative, and a welcome break from the day-to-day routines we all fall into.
Well, Michelle's book includes 150 beautifully illustrated (and botanically correct), high-quality, and reusable stickers, as well as a heavy-duty fold-out design board.
Stickers are the new colored pencils!
But knowing a book is great is one thing, but getting to see the magic it can create in your family is quite another.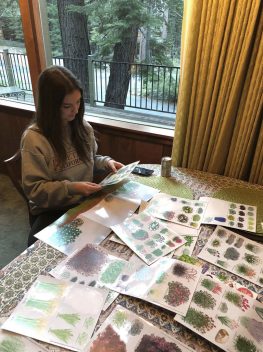 A few weeks ago I spent a long-weekend at Tahoe with my mother and daughter. We had been working in the garden for two days and were exhausted one night after dinner.
Michelle's book was sitting on the table, and before I knew it my daughter (who, thank the good Lord above, has FINALLY been bitten by the gardening bug!) grabbed the book and started thumbing through it. She's met Michelle many times and was curious to see what her new book was all about.
Having loved playing with stickers throughout her childhood, she was pretty darn excited to see them once again!
She quickly began getting into her 'sticker zone' (which I hadn't seen in many, many years!) and started designing her ideal garden.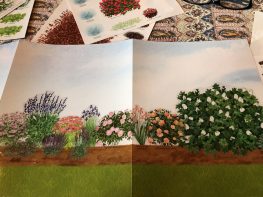 I quietly sat there not saying much for fear it would break the spell, and watched as her garden bed began to take shape with pretty shades of pink and white.
But being someone who loves to teach others about garden design, I very nonchalantly asked 'what if you combined a large-leafed plant next to that smaller-leafed one for more contrast…'
I pushed my luck and tried again: 'I wonder what that bed would look like in the winter with only flowering perennials? Are there any plants that would look good year-round?"  But instead of rolling her eyes at me, she stuck with it and re-arranged the bed again, adding a few evergreen plants.
Could it possibly be that she was learning a bit about design?
Oh, you bet my heart was racing!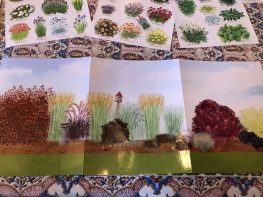 She then wiped the slate clean and surprised me with this:
'Okay mom, now I'll design a bed that you'd design.' I couldn't WAIT to see what this would look like.
But to my delight, she started to say things like 'even though this isn't MY taste, I know it's what you like…' and added some tall grasses.  And not just one, but several, saying she knows I like to have more than one of a plant.
YES, YES, YES!   I DO love grasses (want proof?  Click here and here)
Then she said '…and I know you love dark, moody colors' and began adding maroon foliaged plants.
(OMG – pinch me! Was this really happening?)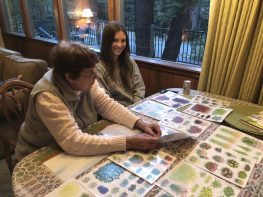 But wait – it gets even better!
My mom (who many of you know by now is an amazing gardener in her own right) saunters over and says she wants a turn.
So now she gets into her own 'sticker zone' and begins designing a garden bed.
My daughter and I watched as she worked away, swapping this sticker for that one (and narrating why she was doing it, helping to give yet another design perspective for my daughter) and the magic began to happen.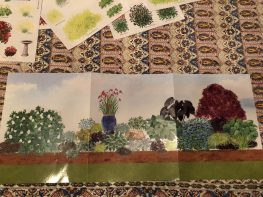 My mom talked about how she creates layers within a garden bed using field stones to add height (there was a lovely stone sticker, but she wanted about ten more – ha!), and how she likes to use chartreuse with maroon for lots of impact.
I quietly sat there, watching as my mother and daughter had so much fun designing and re-designing their garden beds, trying not to let them see my eyes welling up with pride.
Three generations bonding over my good friend's book.
Priceless.

And now for the giveaway!    Michelle Gervais has generously offered a SIGNED copy of her book to one of my lucky readers.  To enter, all you need to do is leave a comment below – it's as easy as that!
Even though I can't respond to giveaway blog comments (if I do, it'll skew the random number generator I use to pick the winner), please know that I read every one and appreciate what you all have to say!
……………………………………..The Fine Print…………………………………..
(SORRY – GIVEAWAY NOW OVER)
UPDATE:  Congratulations, Laurel Johnson!  You won a copy of Michelle's book (I've just sent you an email)   Thanks for submitting your comments, everyone, they were all so nice to read.
A random winner will be chosen by midnight July 2nd and contacted within 24 hours. If the proposed winner forfeits or does not claim the prize by July 9th, the prize will be re-awarded based on the sponsor's sole discretion. All prizes will be awarded.
Please provide your first and last name to enter this contest so I can immediately contact you if you win. The winner agrees to allow his/her first name to be mentioned in conjunction with this giveaway.
This giveaway is limited to U.S. residents only, who are over the age of 18 years old. No purchase necessary to win. This sweepstake is also void where prohibited by law and by entering this giveaway, you agree to these conditions.
A few more details:  This giveaway is limited to U.S. residents only, who are over the age of 18 years old. No purchase necessary to win. This sweepstakes is VOID WHERE PROHIBITED BY LAW (wherever that is, I'd sure hate to live there!)  By entering this giveaway, you agree to these conditions.