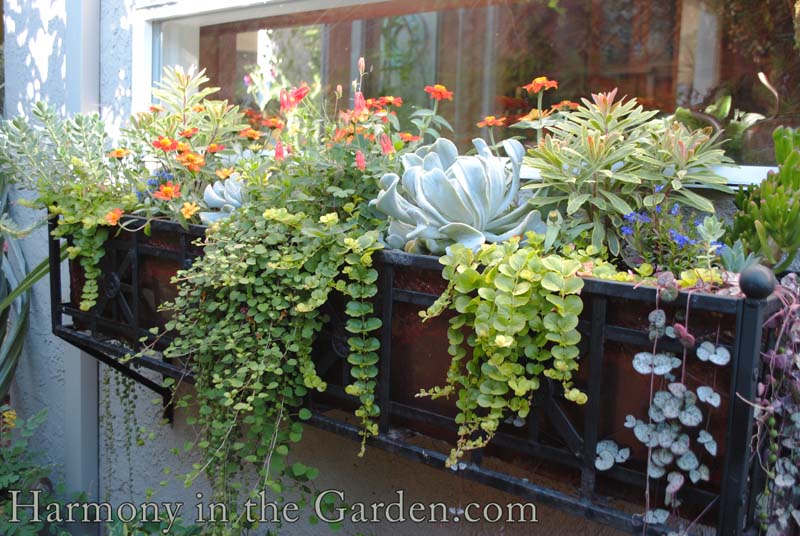 I don't typically read fashion magazines, but living with a teenage daughter means a stack of them are usually lying around the house in one room or another.
While I can usually pass them by without feeling the urge to read about 'The Top 10 Must-Have Heels For Summer', I'll admit I'm a sucker for titles such as '10 Ways to Wear 1 Dress'.
So with a slightly different twist, here's my version, where the star isn't the little black dress, but a copper and iron window box.

1.  Hummingbird Haven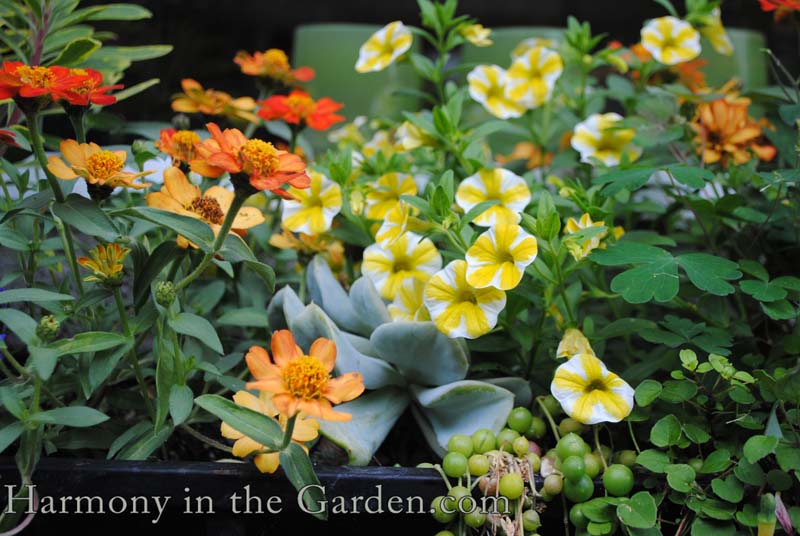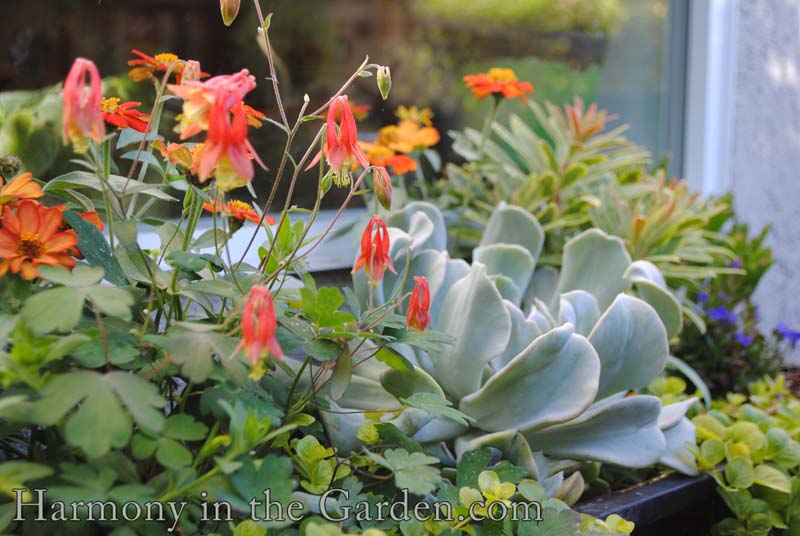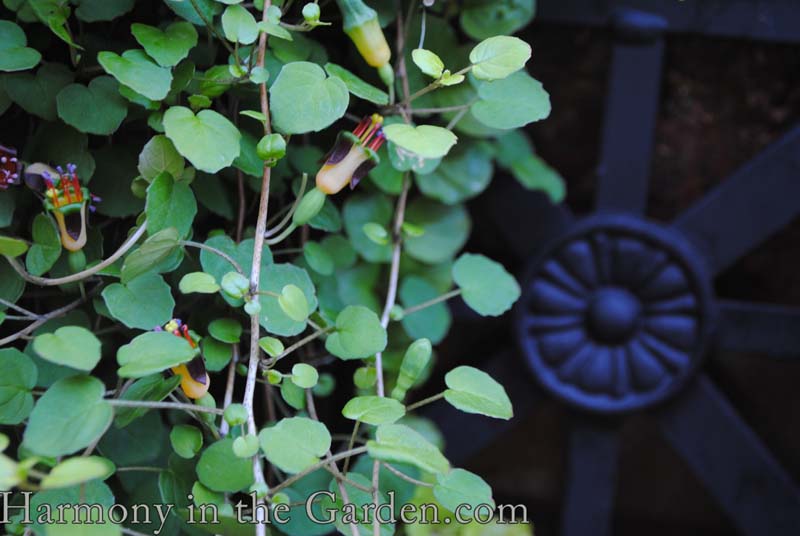 This is one of my favorite combinations, as the window box is at the base of a narrow window that I have in my kitchen, allowing me to discreetly spy on all the hummingbirds that visit while cooking dinner.
A few of their favorite nectar-rich plants are:
Trailing 'Creeping Fuchsia' with its tiny fluorescent flowers
'Lemon Slice' Million Bells, dwarf Zinnias and Lobelia

2.  Delightful & Drought-Tolerant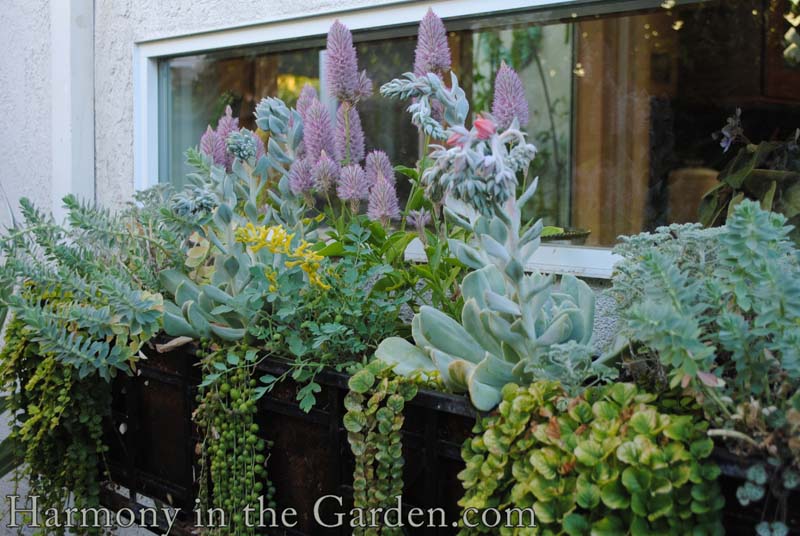 Last summer I planted the same window box as above with colors in soft pastel shades of silver, pink, and yellow.
The emphasis here was creating a serene color combination using plants that would require very little water.


Hands down, the star of this window box is the ptilotus 'Joey', with its feathery pale pink flowers tipped with silver ,and a tiny little spot of bright pink.
It's the perfect companion plant to neighboring low-water succulents, echeveria 'Topsy Turvy' and euphorbia myrsinites.
In fact, most people kill poor Joey with kindness, giving him much more water than he'd ever need.
And when the 'Topsy Turvy' blooms it's a veritable hummingbird feast. Colorful salmon and pink flowers slowly unfurl on long, slender stalks that last for weeks, adding a burst of color to this otherwise tranquil color combination

3.  Cool Blues & Purples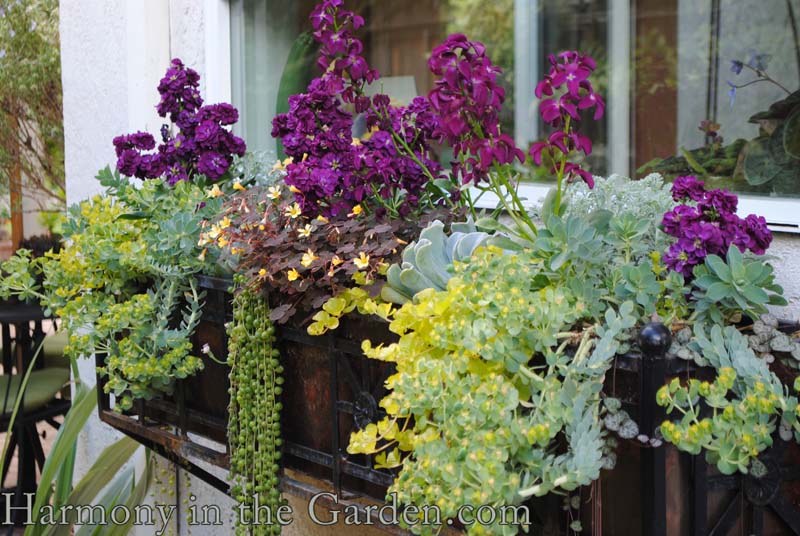 Keeping the same echeveria 'Topsy Turvy' and euphorbia myrsinites in the window box (see above),  I decided to mix it up a bit by including rich and vibrant colors in the blue, magenta, and burgundy families.


I'll admit at first I wasn't a huge fan of the dark burgundy/brown foliage of the ornamental oxalis 'Zinfandel' combined with the stock's magenta flowers and the silver-blue of the echeveria.
In an attempt to find a unifying color (and to emphasize the yellow oxalis flowers) I included chartreuse in the form of the Creeping Jenny (lysimachia).
But once the euphorbia decided to bloom I was thrilled with the entire color combination.
Isn't it funny how adding a certain color can tie everything together again?

4.  Echoes in the Shade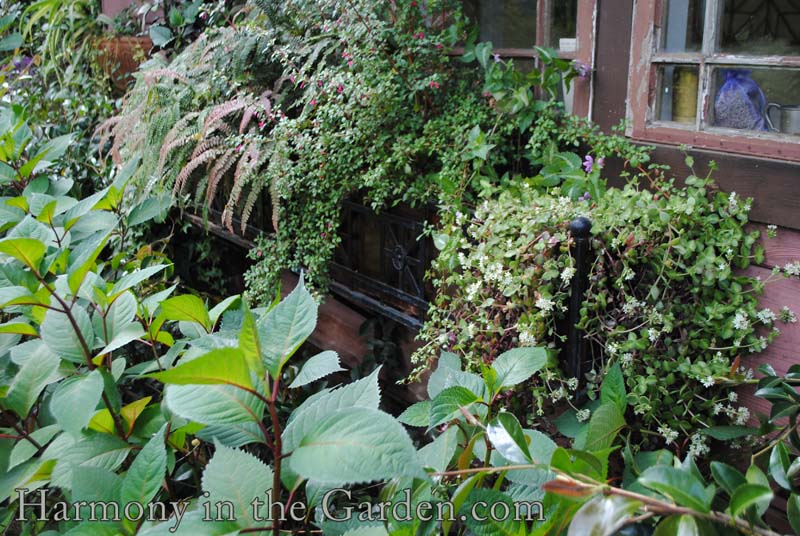 When I bought the first window box, I loved it so much I bought another and mounted it on a north-facing wall on my office.
I wanted this box to look good every day of the year, so instead of focusing on flowers, I focused on creating foliage color echoes.
By using echoes found in the various elements of plants (stems, flowers and foliage) there's sure to be color in every season.


Burgundy tones are found in just about every plant in this window box:
– the stems of the crassula 'Calico Kitten' succulent
– the new foliage of the Rosy Maidenhair Fern  (adiantum hispidulum)
– the tiny little flowers of this fuchsia thymifolia
– the stems of the 'Lady in Red' hydrangea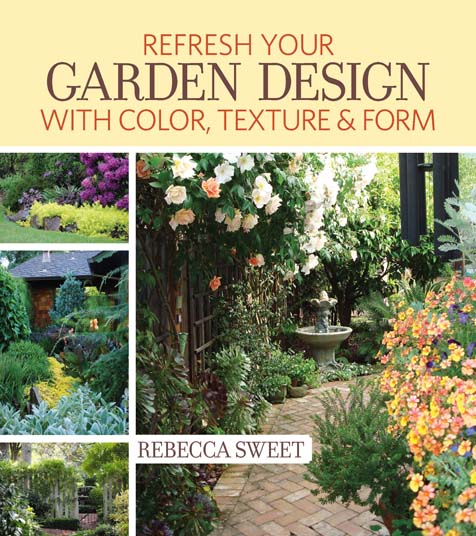 Color echoes, Correcting a Color Combination, Color Palettes are but a small sampling of what I write about in my new book  'Refresh Your Garden Design with Color, Texture and Form'.
And I'm thrilled to let you know that it's now available for pre-order on Amazon!
After designing hundreds of gardens over the past 15 years, I wanted to write a book focused on helping others become their own garden designer.
By breaking down traditional garden design principles into easy-to-understand and, more importantly, easy-to-implement solutions you'll not only learn how to identify what has gone wrong with your garden, but how to fix the problem.
All the while simultaneously transforming your garden into a rich and layered tapestry.
I am very proud of this book and hope you enjoy reading it as much as I have enjoyed writing it!