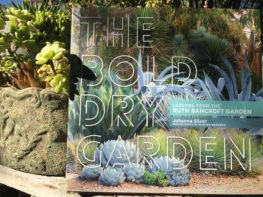 A few weeks ago I had the pleasure to attend a party celebrating Timber Press's new release, The Bold Dry Garden, written by Johanna Silver (who is also the garden editor for Sunset magazine).
The event was held at one of my favorite places, The Ruth Bancroft Garden (appropriate, as that's the subject of the book!)  Not only did I get to spend the morning in a beautiful garden, but Ruth herself was there (no small feat as she's 108 years old!) as well as other key horticulturalists and gardeners mentioned in the book.
After listening to Johanna discuss her personal experience getting to know Ruth and her garden, I couldn't wait to get home so I could dive into the book.
Let me just say that this is one of the most beautiful books ever.  Some might call it a coffee table book, as the oversized hardback book is chock full of mouthwatering photos (taken by award-winning Marion Brenner).  But unlike other coffee table books, where the tendency is to flip through and look at the pretty photos, this is one that you'll eagerly read from cover to cover.  Here are a few reasons why…

Ruth's Story

The book opens with an in-depth look at Ruth Bancroft herself, and I must say it's as engaging as any fictional character. In a nutshell, Ruth is amazing.
From an early age, she developed an insatiable desire for collecting and studying things found in nature, including an extensive seashell collection that ended up in the California Academy of Sciences.
Her life-long curiosity and laser-focused vision of what her suburban property could be are inspiring, to say the least.  Ruth recently celebrated her 108th birthday and still visits her wildflowers, cacti, and succulents as often as she can.
One of the things I found particularly charming was this page (above), taken from one of Ruth's childhood books 'When The Root Children Wake Up', by Sibylle von Olfers.  As a child, Ruth would spend hours examining the details of the different flowers, and I have to believe this was one of the earliest seeds planted in her imagination.


The Garden
Even if you don't live in the Bay Area, this is a garden of great significance and one that you'll want to discover.
Did you know, for example, that this is the garden that inspired the Garden Conservancy Program?
And that the Ruth Bancroft Garden was it's very first garden?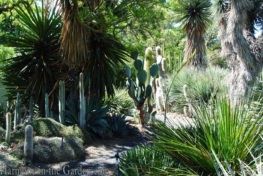 Long before xeriscaping, drought-tolerant, and conserving water were everyday terms in our gardening conversation, Ruth realized that California's rapid population growth would have a disastrous effect on its water supply.
So in the 1970's, Ruth made it her mission to create a sustainable and water-wise garden that bucked the trend of wall-to-wall lawns surrounded by thirsty foundation shrubs.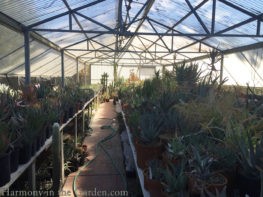 Here's an interesting fact, made even more fascinating once you visit the garden and walk among the giant, towering specimens of succulents and cactus:
Ruth started this garden with the smallest plants she could find, primarily 4″ pots with the occasional 1-gallon.  Thriftiness wasn't the main reason, but rather her insatiable curiosity:  she wanted to observe the plant's entire life cycle, no matter how many years it took.
Rare is the person who has that much patience in the garden!


Behind The Scenes
Throughout the book you'll discover secrets to Ruth's success and tips you can use in your garden.
For example, you'll learn the importance of rocks in the garden; how to choose them, best sizes to use, and what shapes work best.
Design strategies that Ruth has implemented are brought to light, thanks to Marion Brenner's jaw-dropping photographs.  You'll see repetition in form and color, contrast in shapes and texture, and the importance of drifts in the garden.


The Stars of the Garden
Rivaling Ruth for 'star-status' is her expansive collection of cactus and succulents.
The plants are grouped into manageable sections (sempervivum, sedum, agave, aeonium, yuccas, and cactus to name a few) along with other low-water plants that grow in the garden (protea, terrestrial bromeliads, and California natives).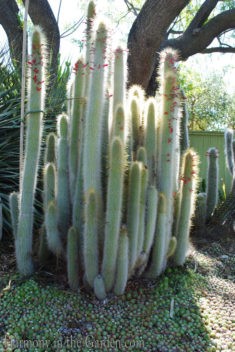 Best of all, the photos were taken over the course of a year, with Johanna and Marion visiting the garden on a weekly basis.
Marion has captured individual plants in all their glory, bursting forth with colorful displays of blooms, as well as during their quieter months when they go dormant. This gives the reader a clear picture of what that plant will look like throughout the year.
It also is a valuable resource for those wanting to create a garden that blooms throughout the year, understanding what will bloom in spring, summer or fall.
The photos below are from my past visits to the garden (and pale in comparison to Marion's) but will hopefully give you an idea of what you will find in the book.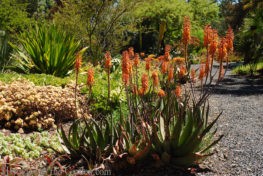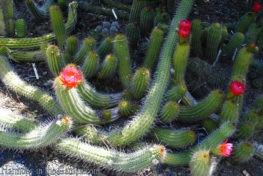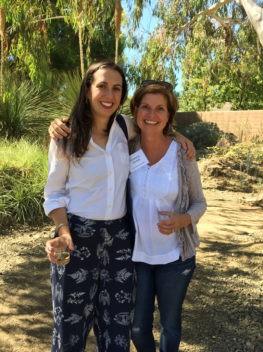 I believe Johanna summed it up best when she said:
'With climate change on the horizon, we are faced with the opportunity to channel the Ruth in all of us.  Without knowing how it will all turn out, can we challenge ourselves to be adventurous in our plant choices, attentive to climatic cues, undaunted by failure, and contented by our gardens?'
And now for more fun – a giveaway!
Timber Press and Johanna have generously offered this stunning book to one of my lucky readers.  To enter, all you need to do is leave a comment below – it's as easy as that!

………………………………………………………………The Fine Print…………………………………………….
*********Update – congratulations Sue Mings!  You're the winner of The Bold, Dry Garden!  As soon as you send me your mailing address, we'll get the book out to you asap.  Thanks again, everyone!
A random winner will be chosen by midnight October 2nd and contacted within 24 hours. If the proposed winner forfeits or does not claim the prize by October 9th, the prize will be re-awarded based on the sponsor's sole discretion. All prizes will be awarded. Please provide your first and last name to enter this contest so I can immediately contact you if you win. The winner agrees to allow his/her first name to be mentioned in conjunction with this giveaway.
This giveaway is limited to U.S. residents only, who are over the age of 18 years old. No purchase necessary to win. This sweepstake is also void where prohibited by law and by entering this giveaway, you agree to these conditions.