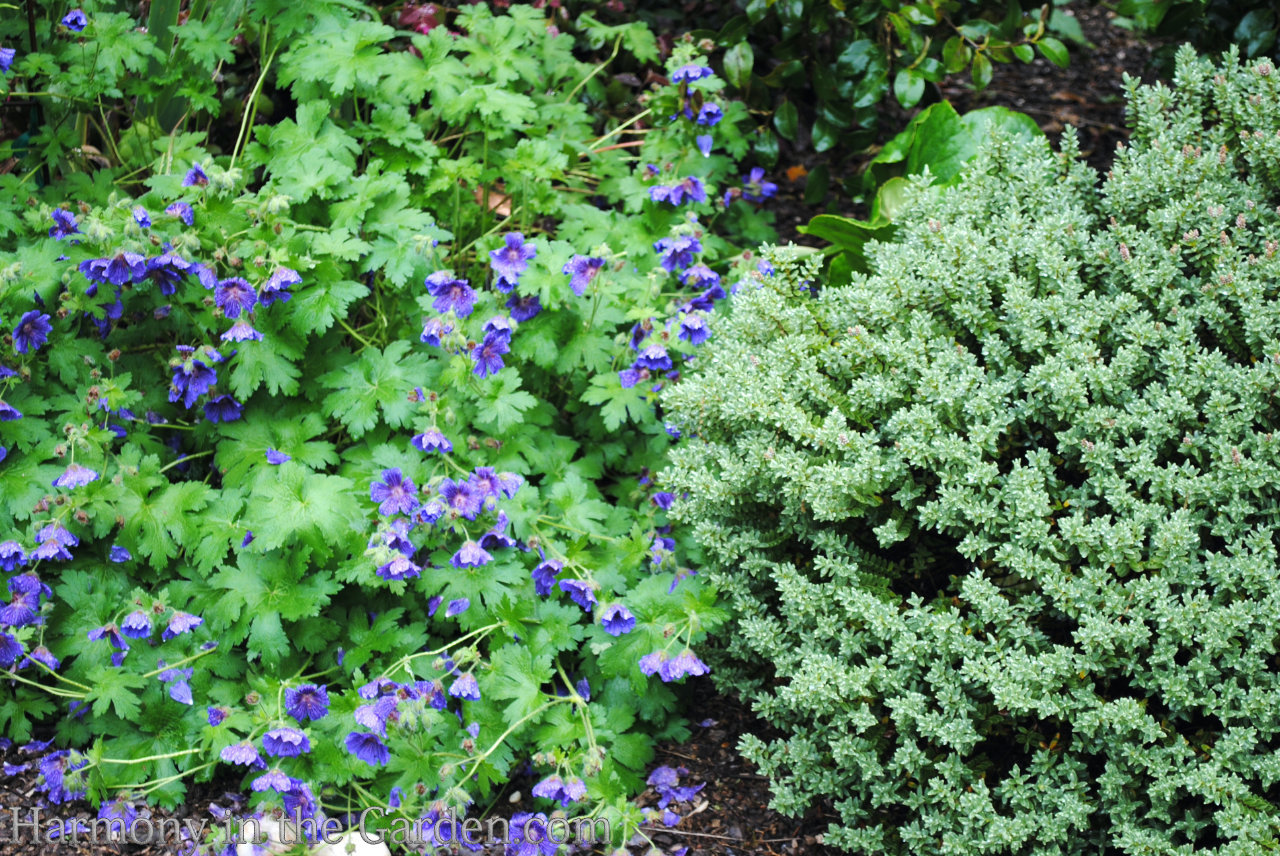 Geraniums and pelargoniums may look fragile and delicate, but they're actually some of the hardest working plants in my garden. 
Why?
They're ignored by browsing deer, they take our never-ending drought with a grain of salt, and I even have a some in our zone 6 Lake Tahoe garden that don't mind being buried under snow all winter!
They not only survive my challenging environment, but they offer loads of unexpected design opportunities.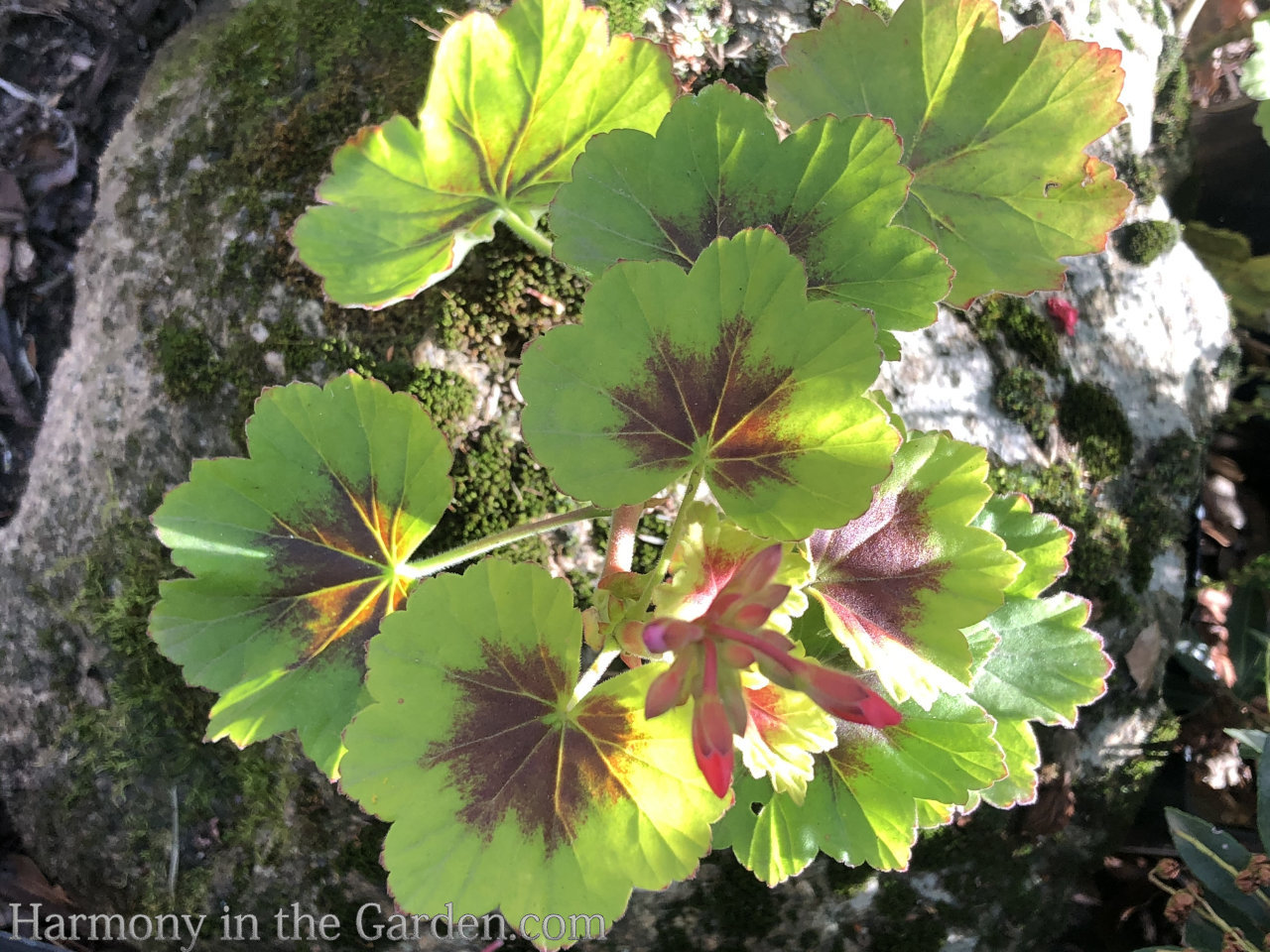 In this post, I'll share some of my favorite ways to use them in the garden to achieve a variety of desired effects.
But before we get started, it's important to spend a moment on the differences between geraniums and pelargoniums.
While they're both in the same family – geraniaceae – the similarity ends there.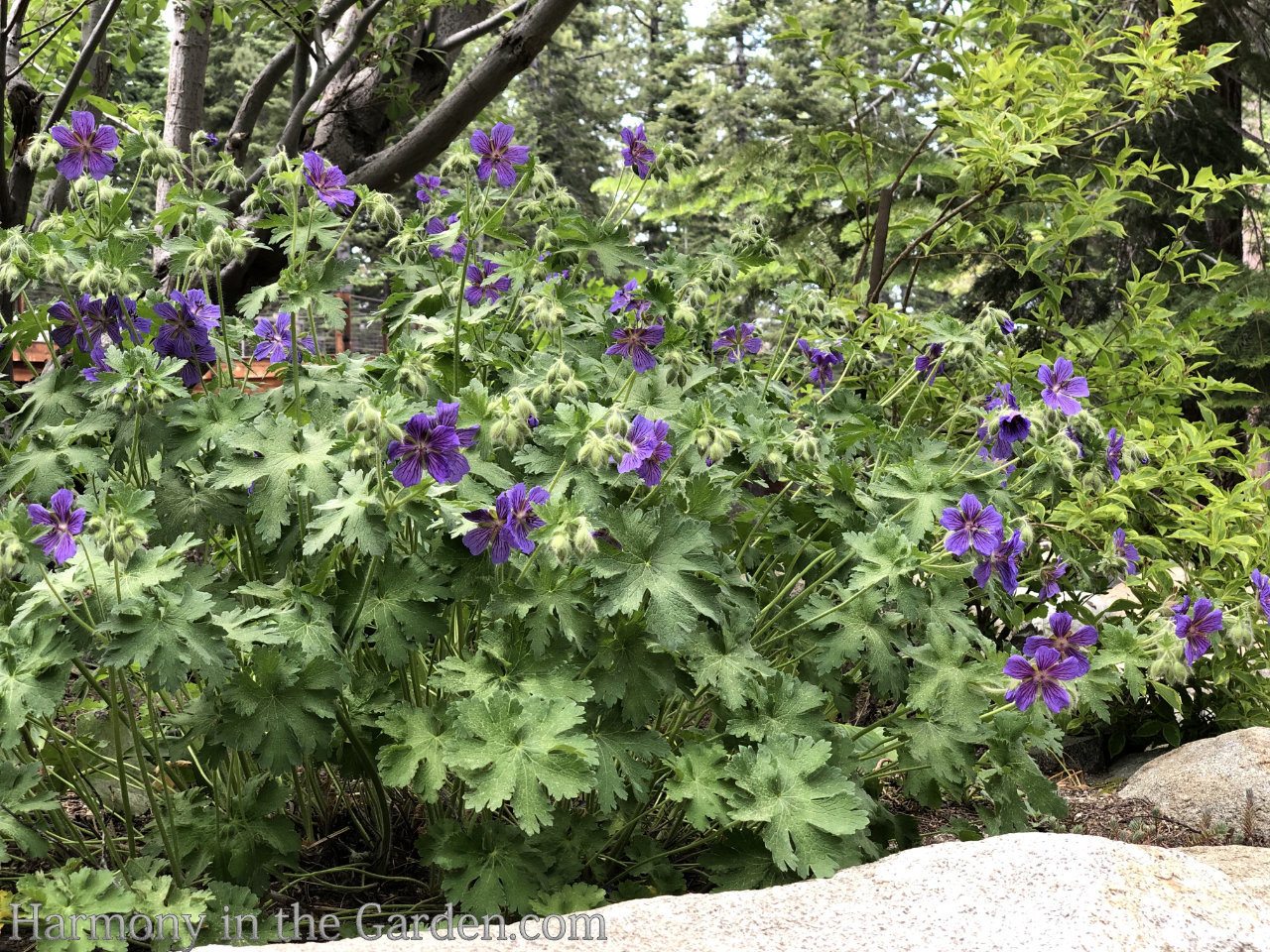 Geraniums are also known as Hardy Geraniums, True Geraniums, or Cranesbill Geraniums (the seedpods look like a crane's beak, hence the name)
These are much tougher than pelargoniums and are considered cold hardy perennials, with many varieties surviving down to zone 5.  
Geraniums have thin, wiry stems that support clusters of flowers and little fuzzy buds.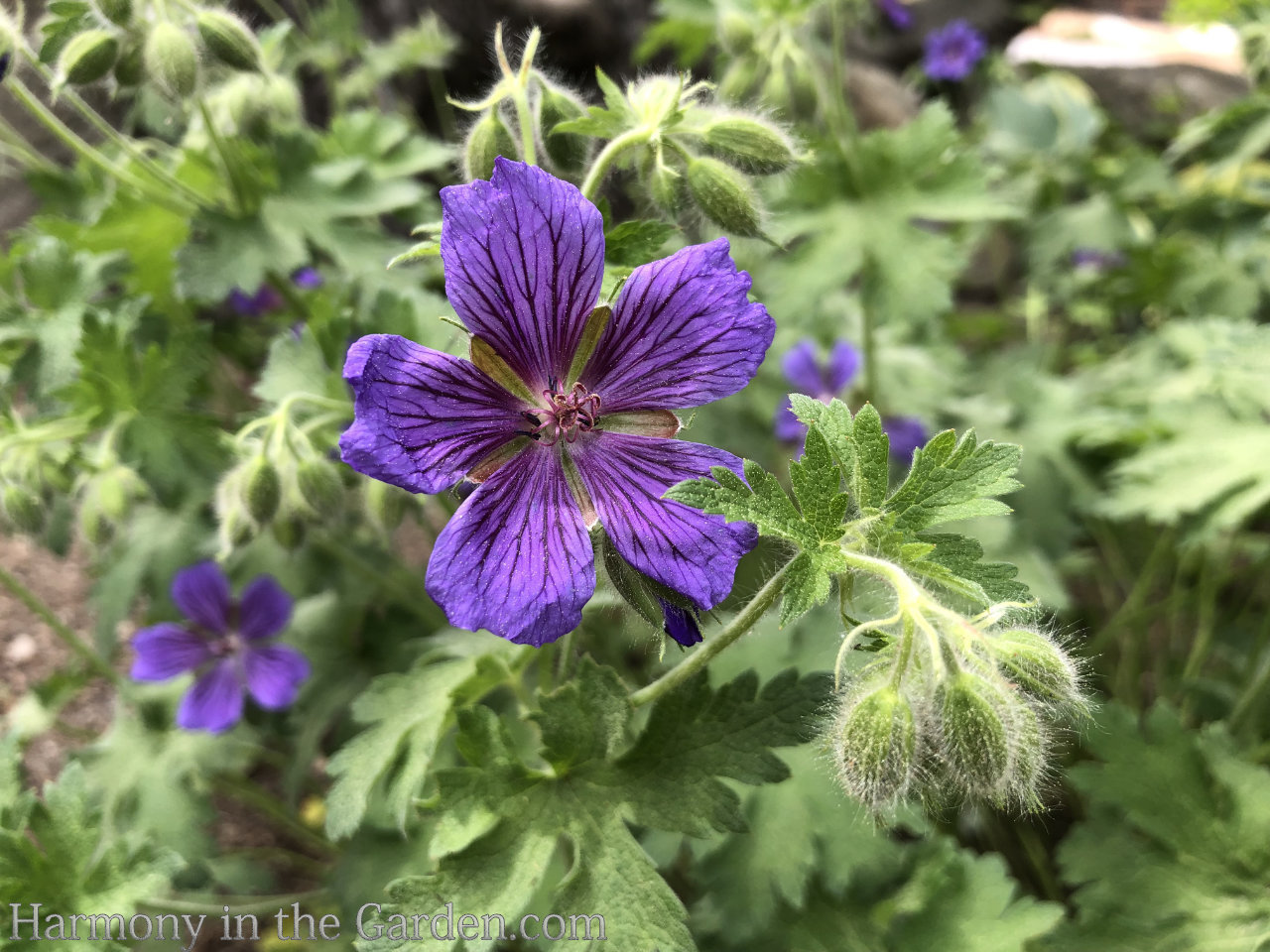 Typically, each cheery geranium flower is small (about .5-1.5″ wide), symmetrical, and has five single petals.  Not always, but usually.
Geraniums also tend to grow lower to the ground and are often used in front of the border or as a ground cover.
While some varieties have colorful foliage, they aren't usually as splashy as the 'zonal geraniums' (which aren't geraniums, but pelargoniums – sorry…I'm getting ahead of myself.)
Nevertheless, their foliage is still an attractive feature of the plant, as you'll see below.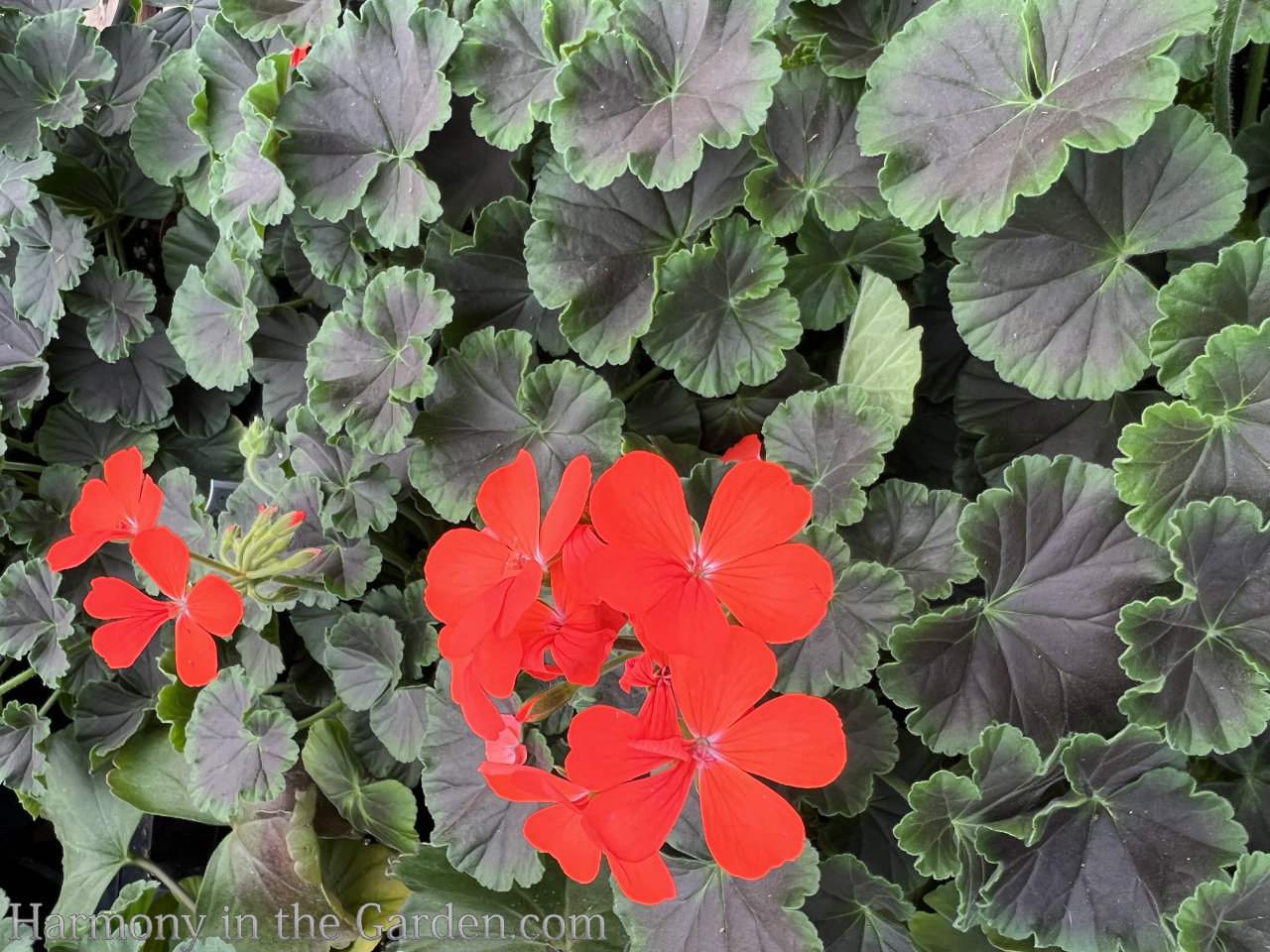 Pelargoniums, on the other hand, are more tender than 'true geraniums', and are generally considered annuals in areas with prolonged frost.
The flowers of the pelargonium are often asymmetrical, with 2 upper petals and 3 small lower ones.  
Most pelargoniums are only hardy down to zone 8.  
If you live in a colder climate,  you can overwinter them in a greenhouse, or in the house near a brightly lit window.
Pelargoniums can grow taller than geraniums, with stems becoming woody and a bit leggy.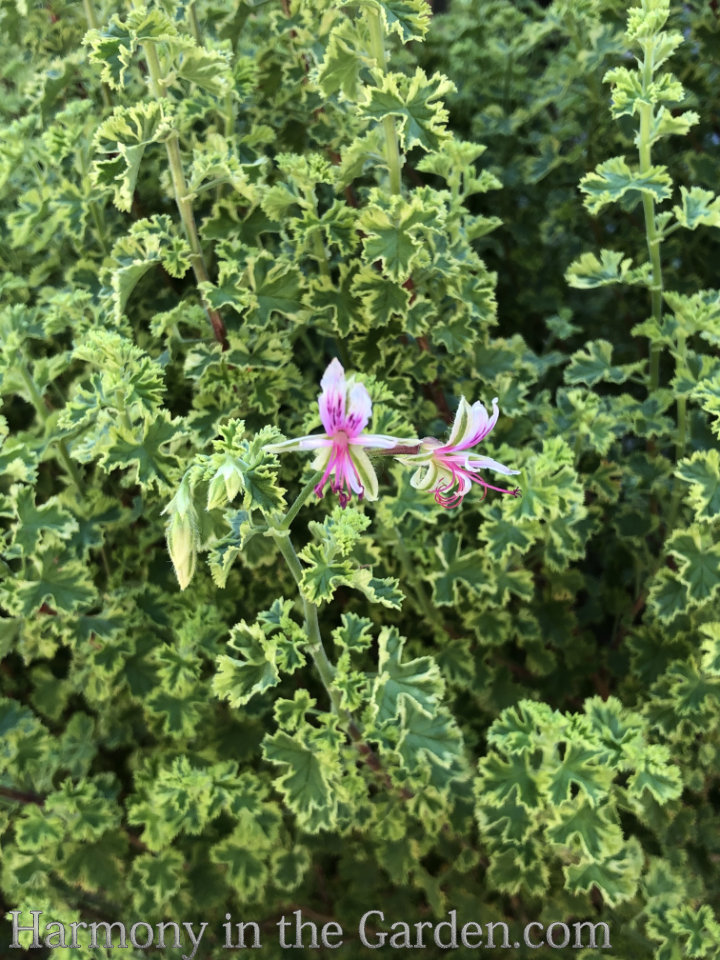 Here's where things get a little tricky. 
Many plants that people think of when they hear 'geraniums' are, in fact, pelargoniums.  
For example, the Zonal Geraniums  (like the 'Brocade Fire Night', below) aren't geraniums, but are actually pelargoniums.
Or the Scented Geraniums (like the 'Golden Lemon', left), which aren't geraniums either – you guessed it, they're pelargoniums.  
Confusing, I know.  You're not alone!   Anyway, now that we've cleared things up, let's discuss how I use these in the garden.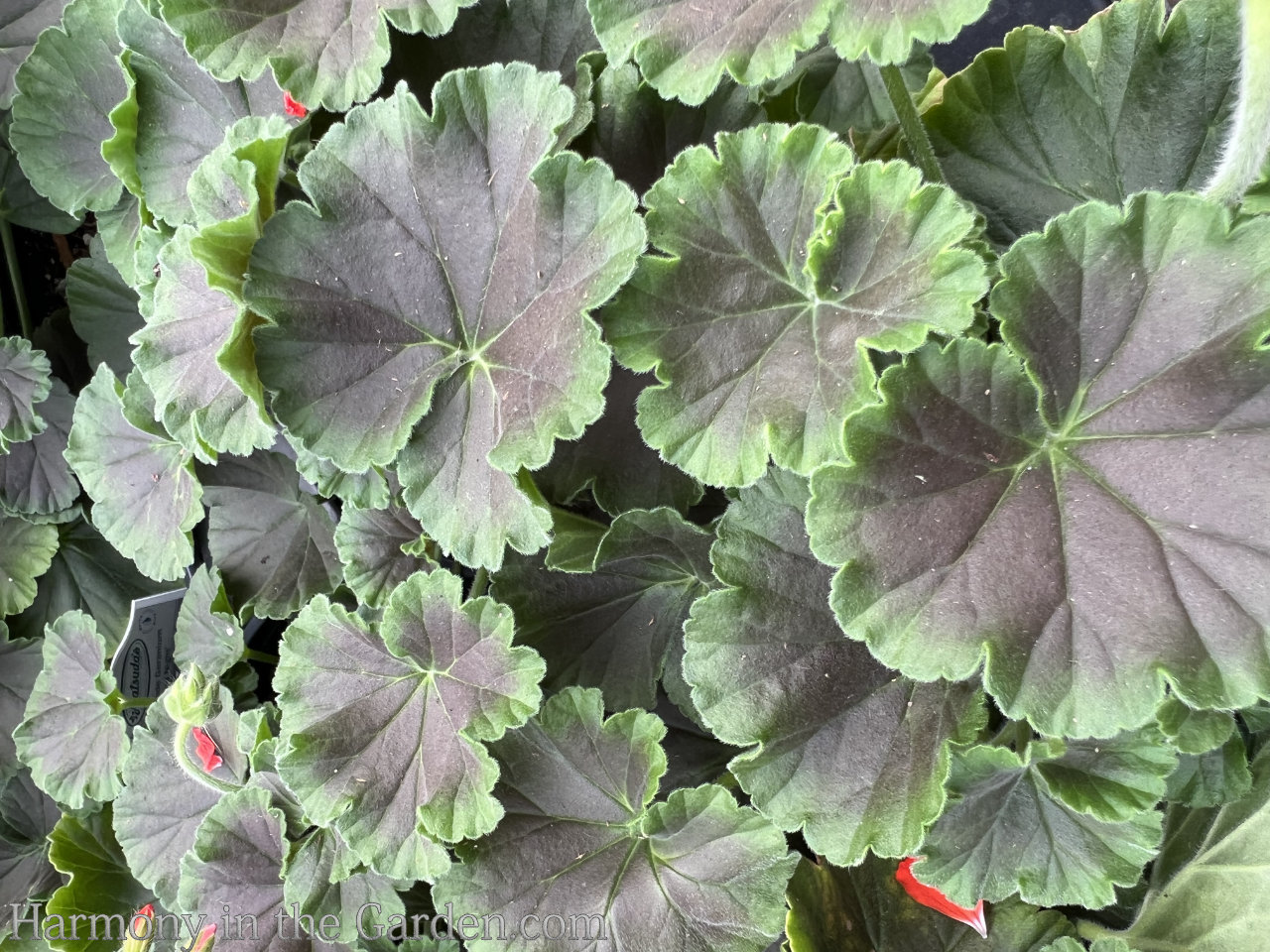 How I use Geraniums and Pelargoniums in the Garden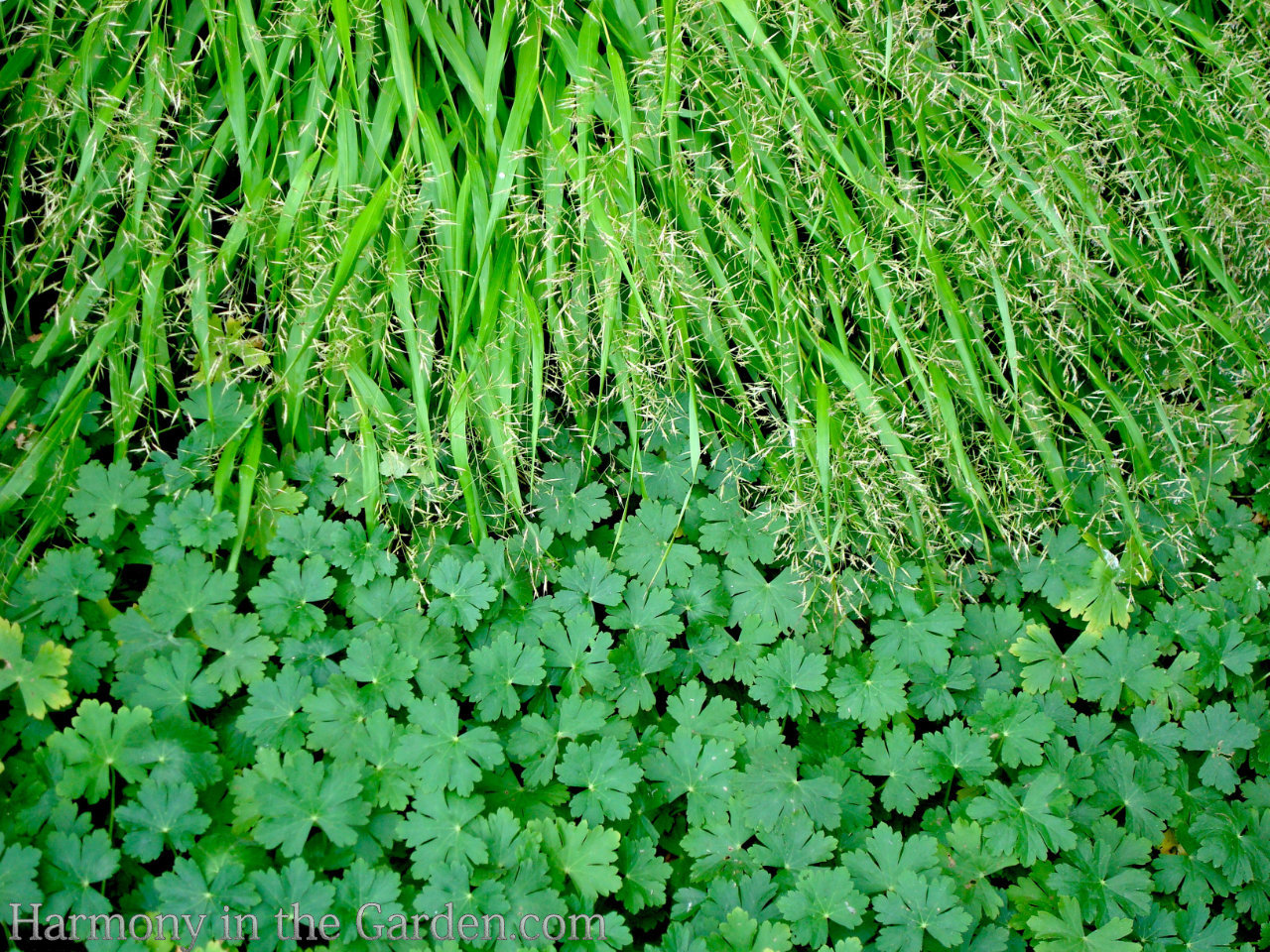 Create Contrast with Foliage
With many geranium and pelargonium varieties, foliage is the star of the show (versus the flowers, some of which can be a little nondescript.)
And, as we know, flowers are fleeting, but foliage sticks around for a loooong time, allowing for a wide range of design opportunities.
Depending on the shape and size of the leaf, I'll often try and create exciting foliage combinations for maximum impact.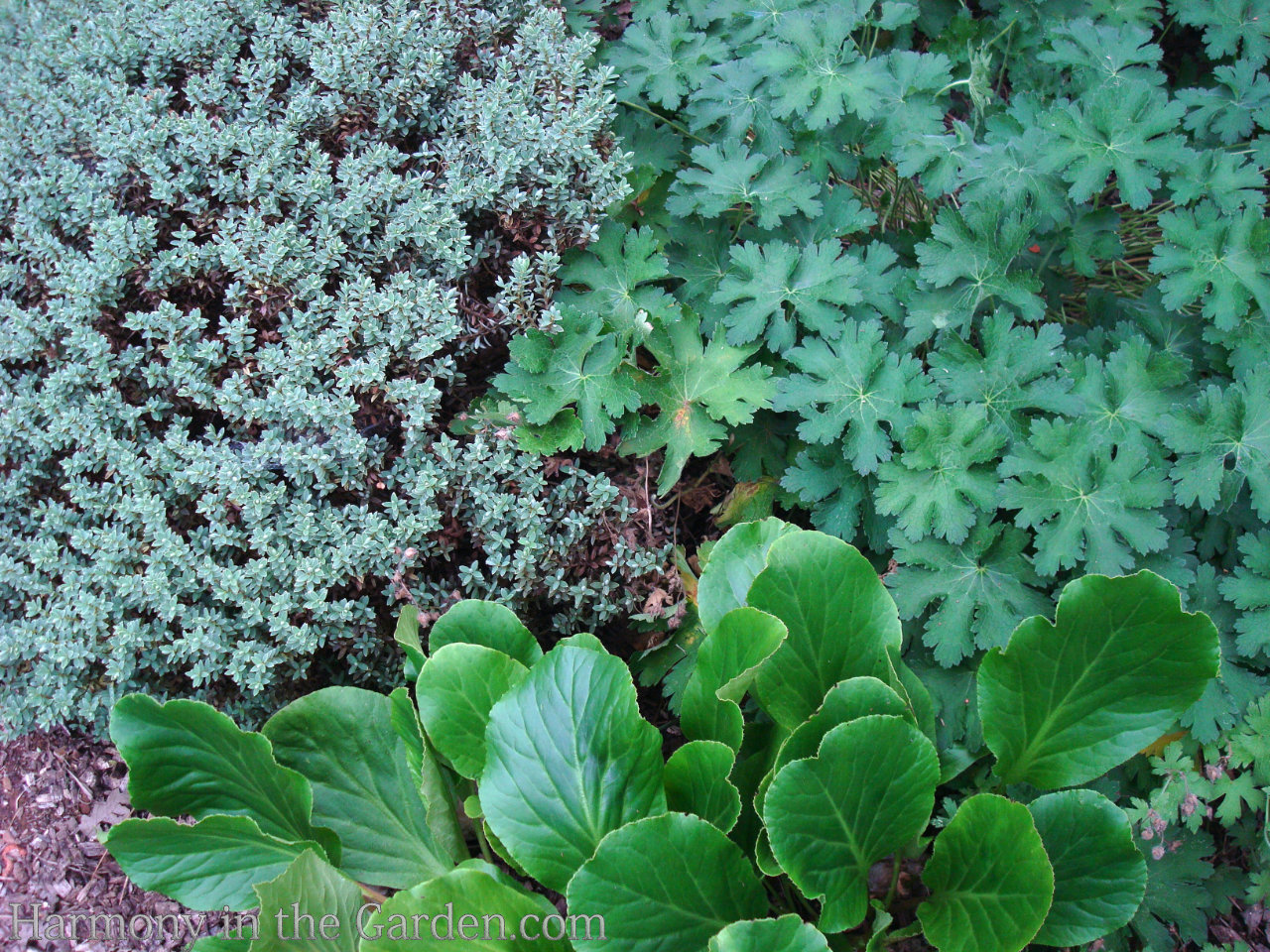 In this example, there's loads of contrast thanks to the foliage of the oversized and glossy bergenia, the teeny-tiny gray hebe, and the deeply-lobed geranium.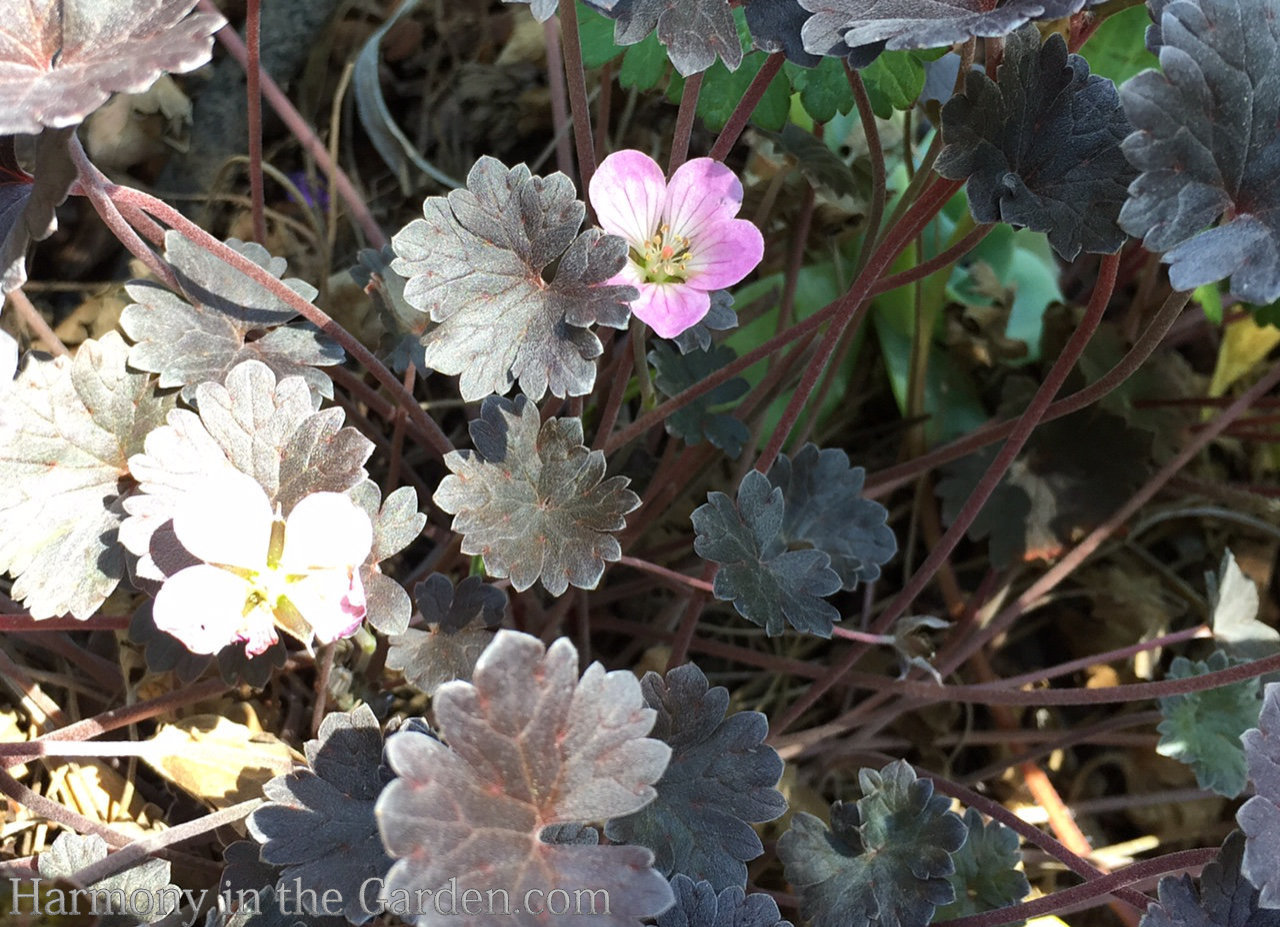 Maroon and burgundy foliage are some of my favorites to use in the garden, offering welcome contrast when placed near gray and green foliage.
Whenever I spot a dark-leaved geranium variety, I always snap them up.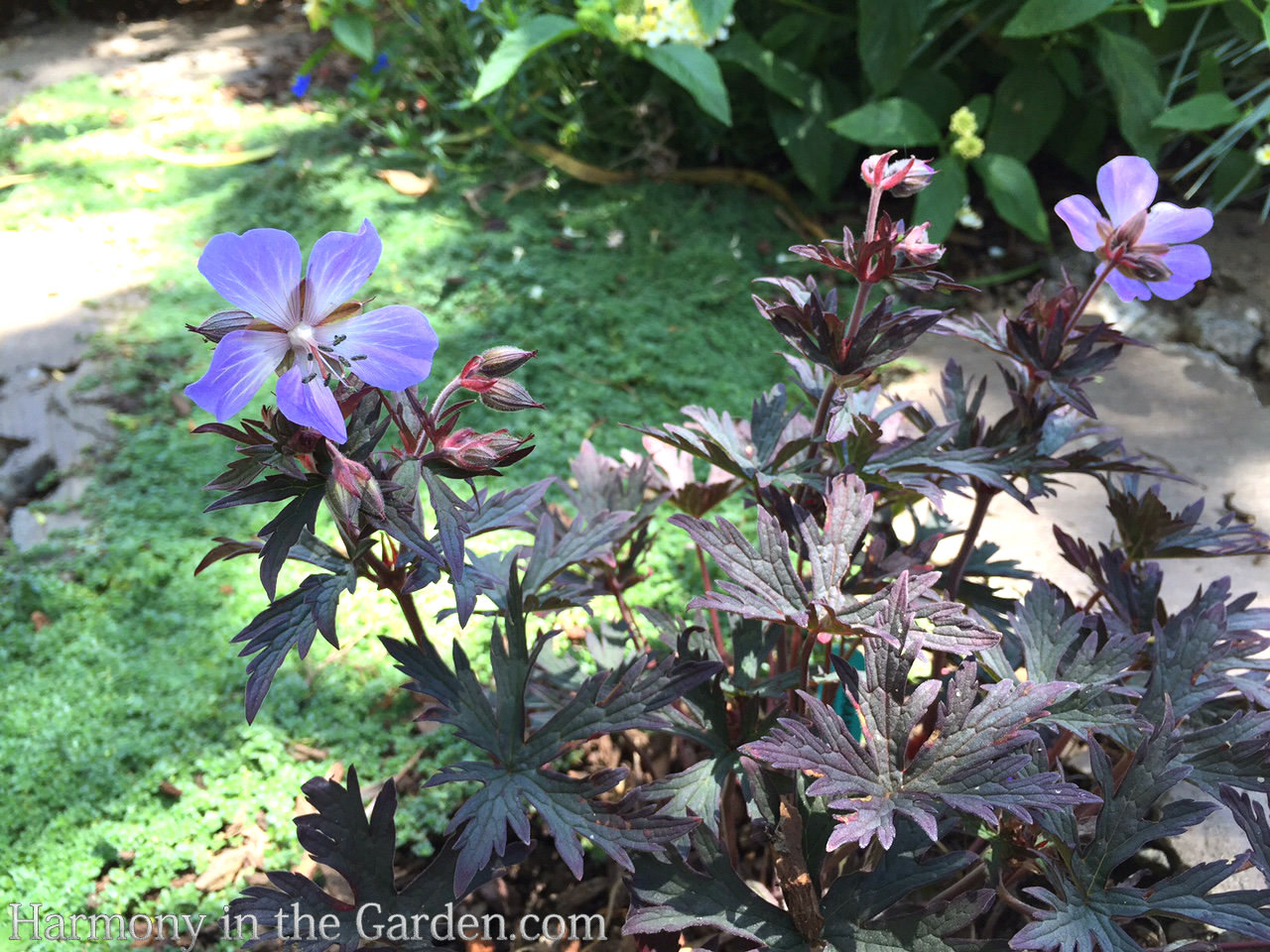 However, in my experience, the varieties with maroon foliage aren't quite as hardy as those with green. 
But that doesn't stop me from buying them as they're so darn pretty!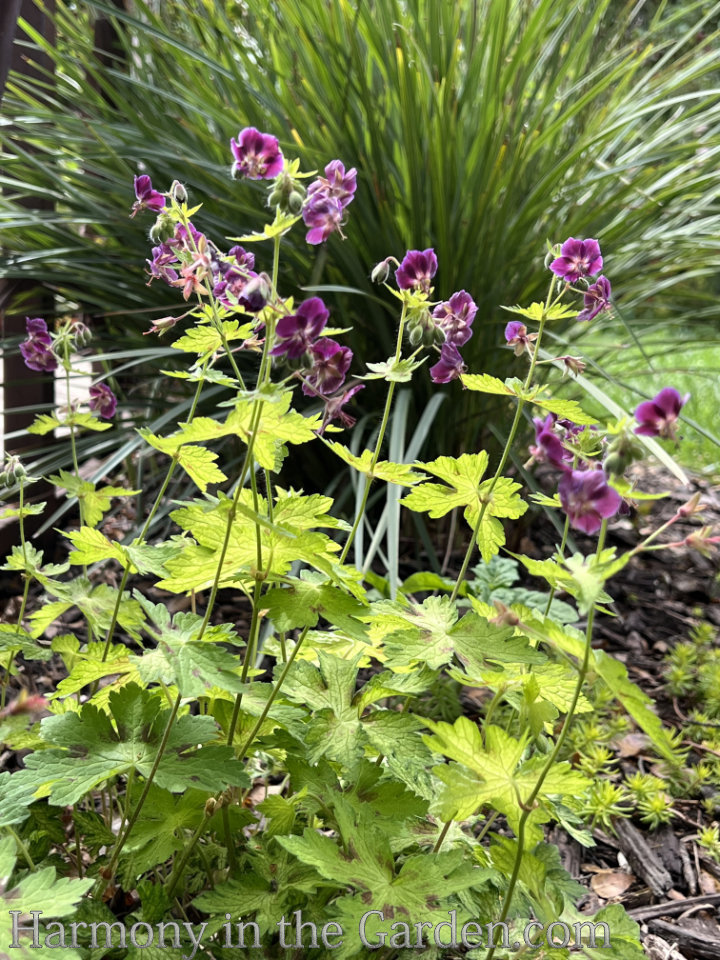 A few varieties have spotted foliage, like the Mourning Widow (left and below.) 
And when in bloom, their rich, dark violet blooms offer a stunning repetition of the soft maroon spots on their leaves.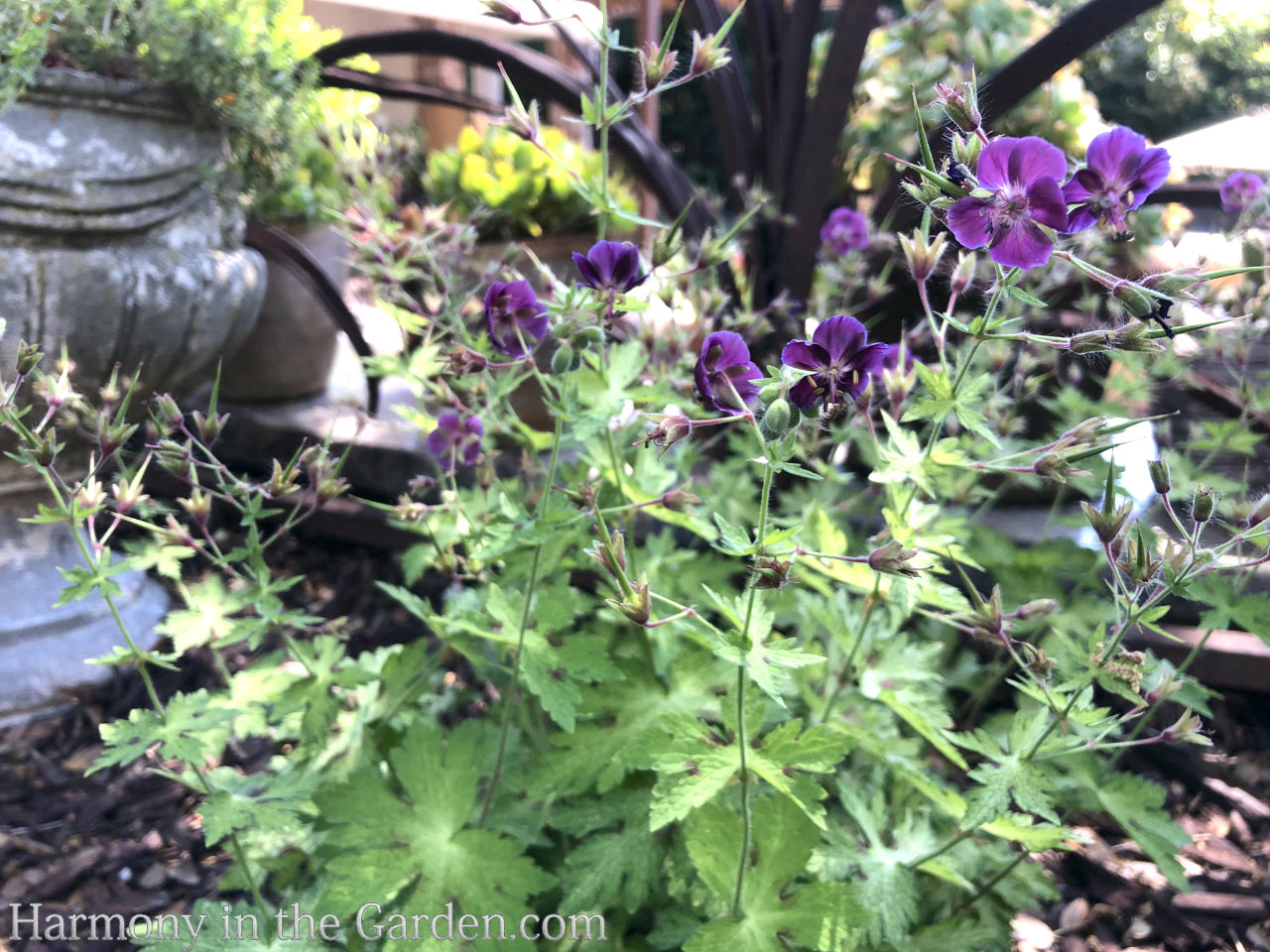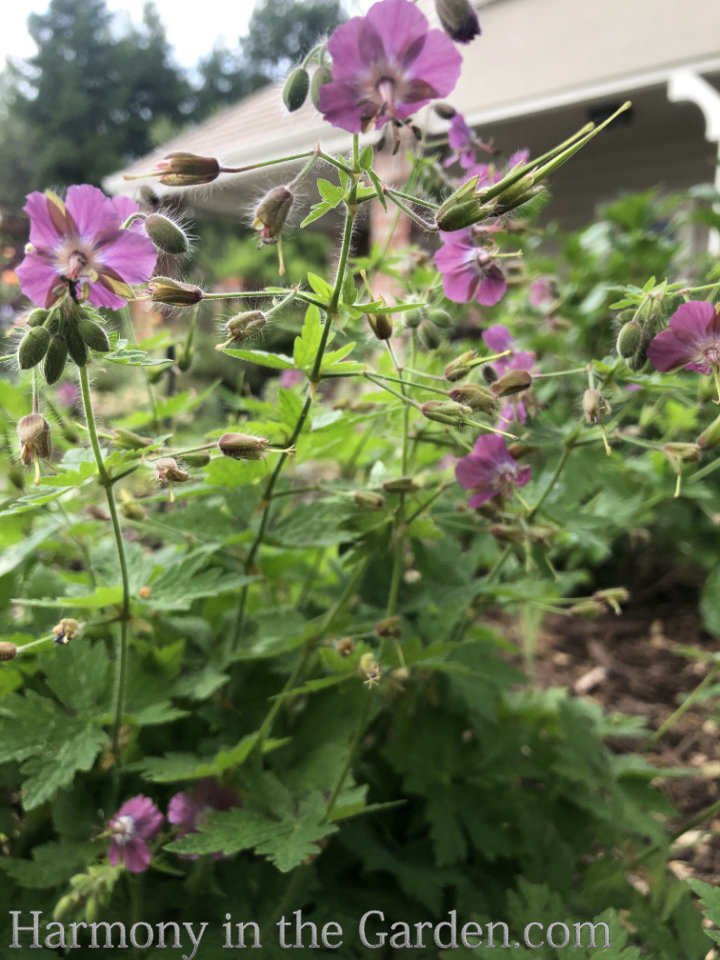 Another variety with spotted leaves is  'Claudine Dupont.'
When planted next to the Mourning Widow (above)  the soft mauve flowers make a lovely combination.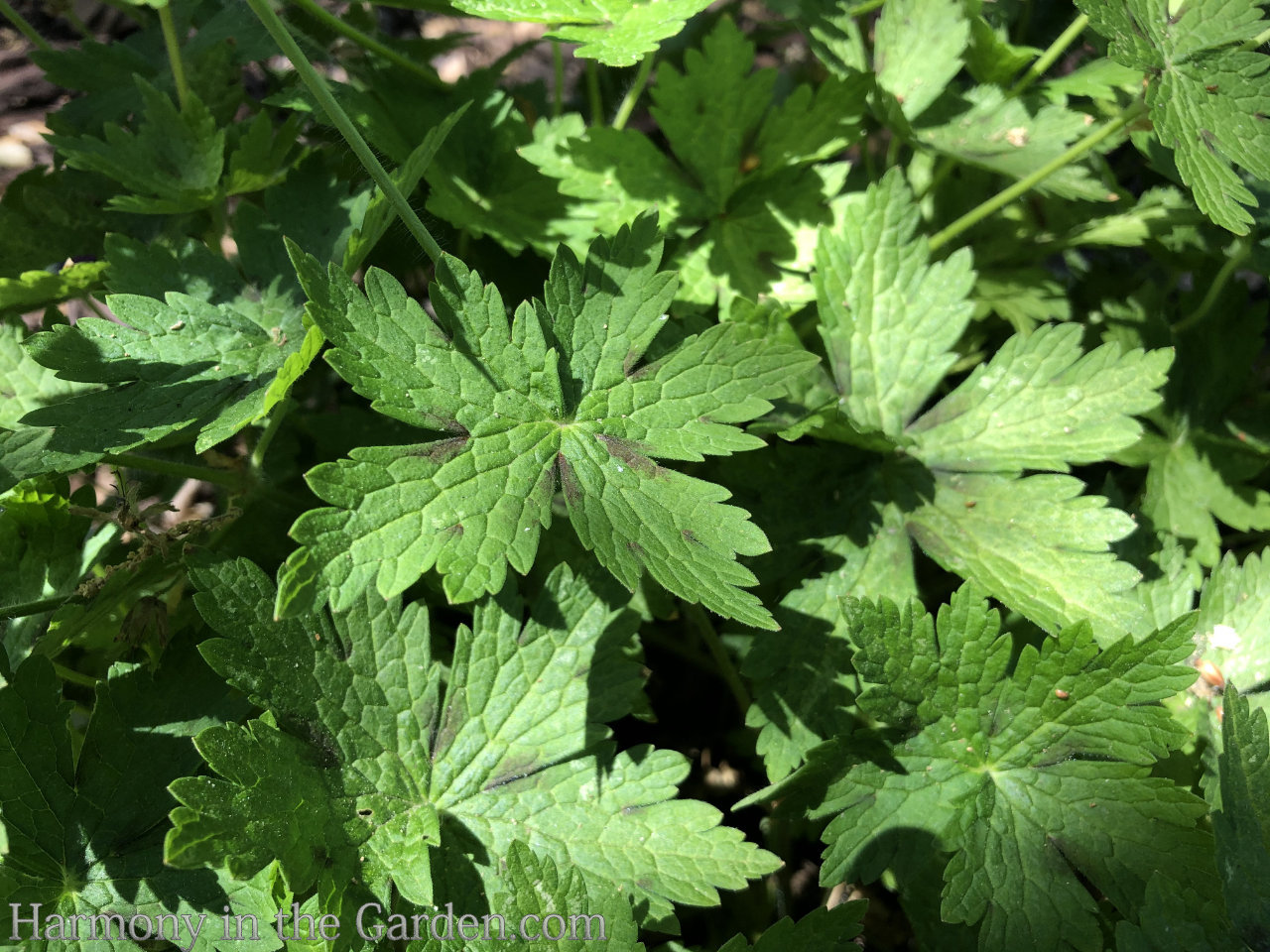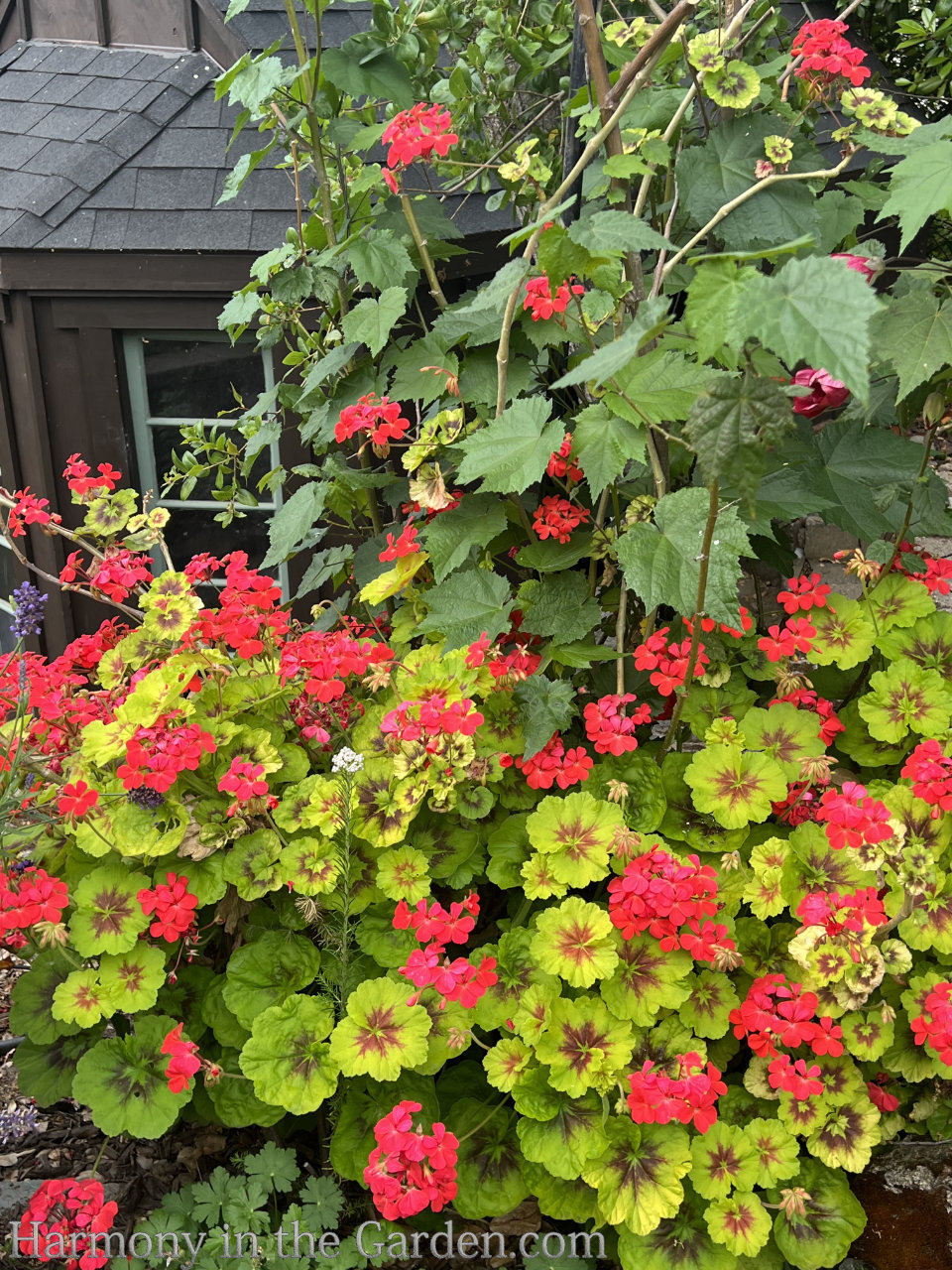 Believe it or not, I used to pick off the few coral-red flowers that would randomly pop up on this 'Occold Shield' pelargonium, as I felt it distracted from that fabulous foliage.
However, with all the rain we had this past winter, I couldn't believe all the flowers, and how gorgeous they looked!    Never again will I prematurely remove the flowers!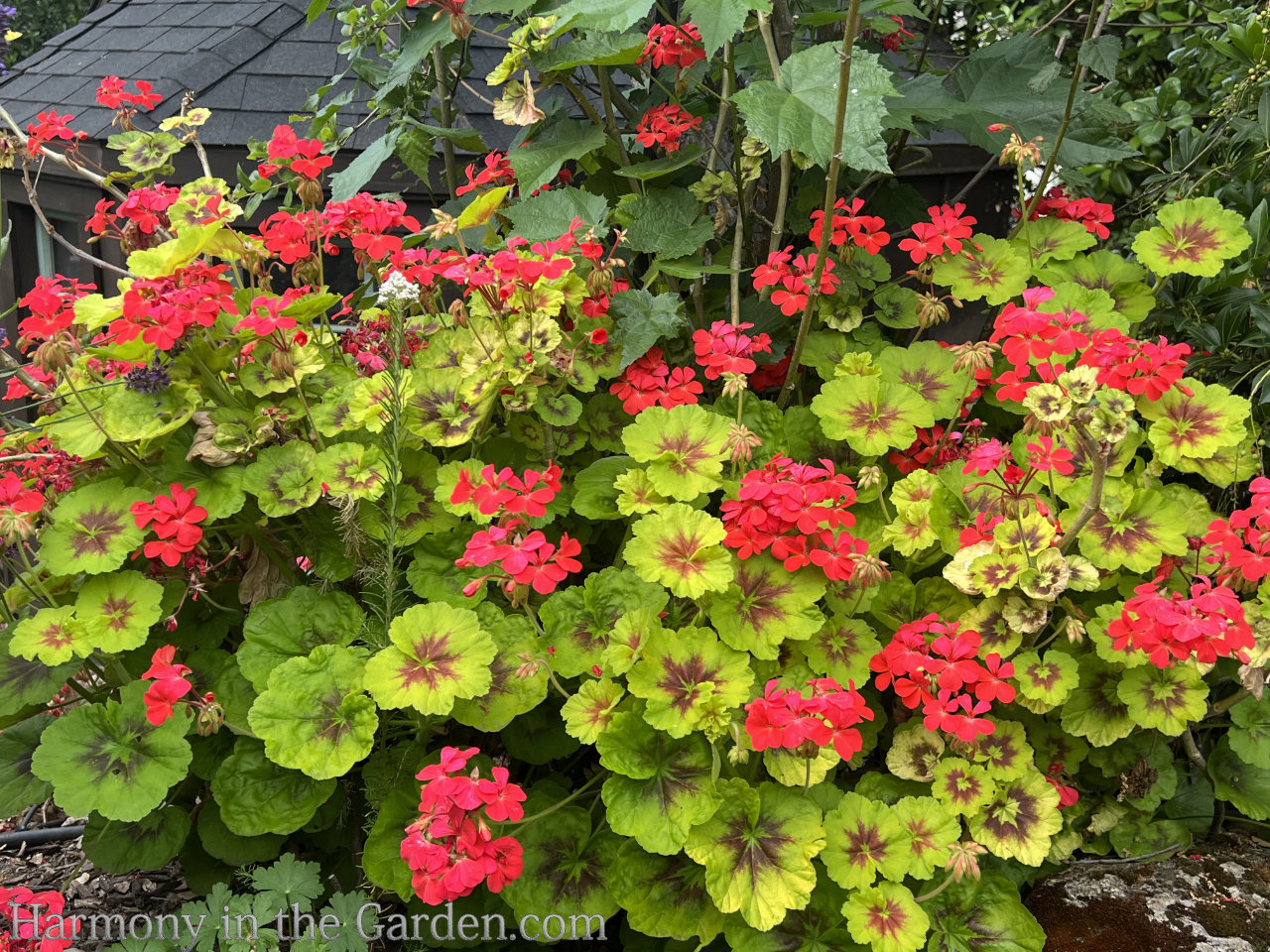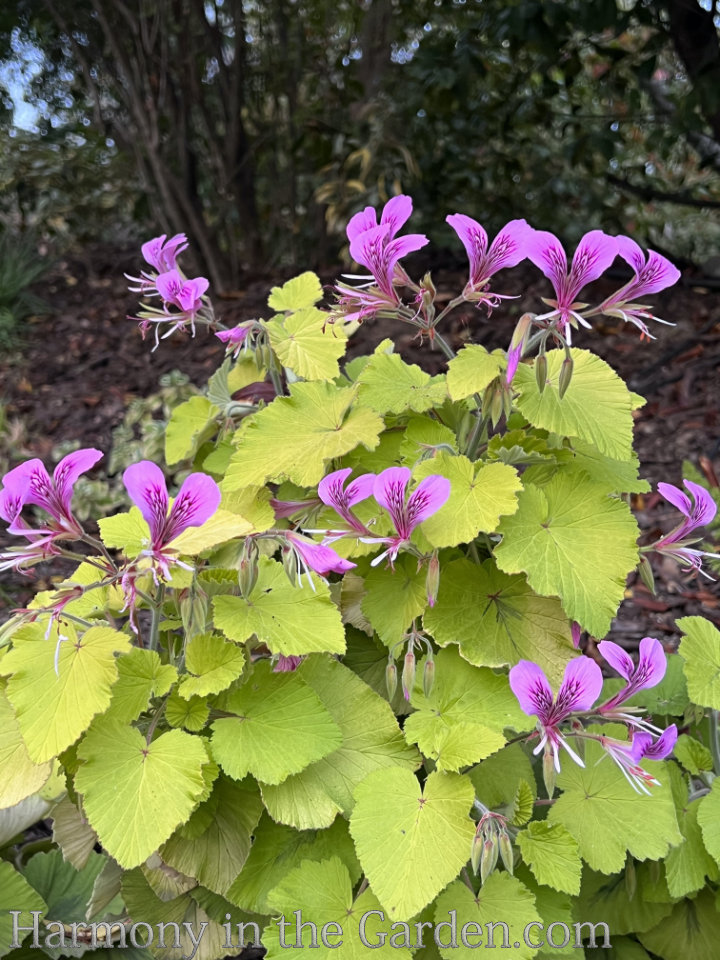 When I first spotted the vibrant chartreuse leaves of the pelargonium cordifolium 'Caroline's Citrine,' I was certain it would be too fragile to survive in my garden.  But, always hopeful, I bought it anyway.
I'm delighted to say that it has survived three years now without ever showing ANY signs of distress!
It receives very little water in this part of my garden (competing with thirsty bay tree roots) and hasn't wilted once in our recent frosty temps of 30-degrees. 
I'm not a huge fan of the bright pink flowers, but luckily it doesn't bloom that often. so I can appreciate that gorgeous foliage.  
The leaves are huge too, growing up to 5-inches long.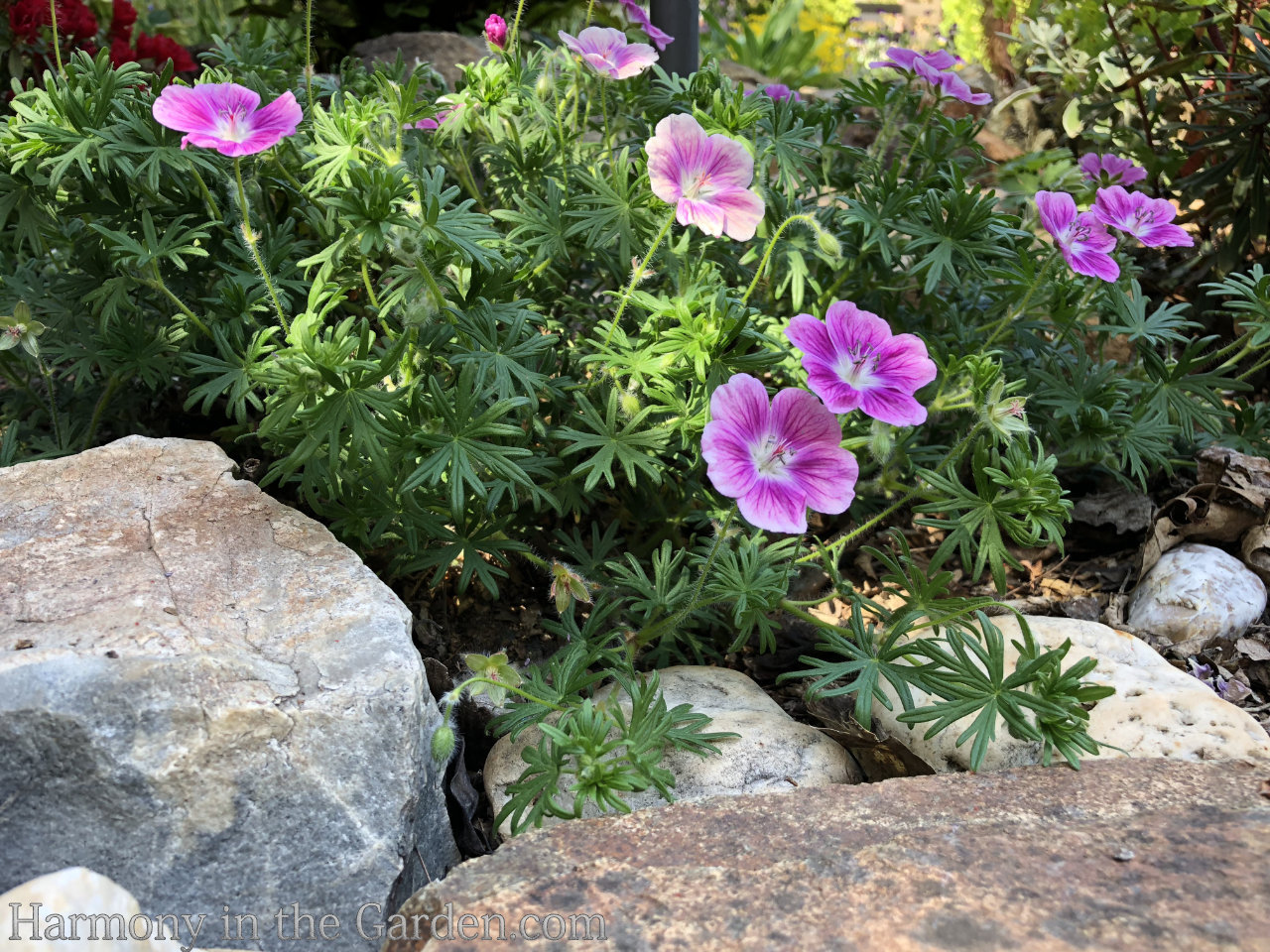 Unlike many other true geraniums, the foliage of 'Elke' is finely-dissected and fern-like, making it a welcome contrast in my garden.
While hot pink isn't my favorite color in the garden, I make an exception for 'Elke.' 
The flowers, edged in soft pink, are quite refreshing when combined with the dark green foliage.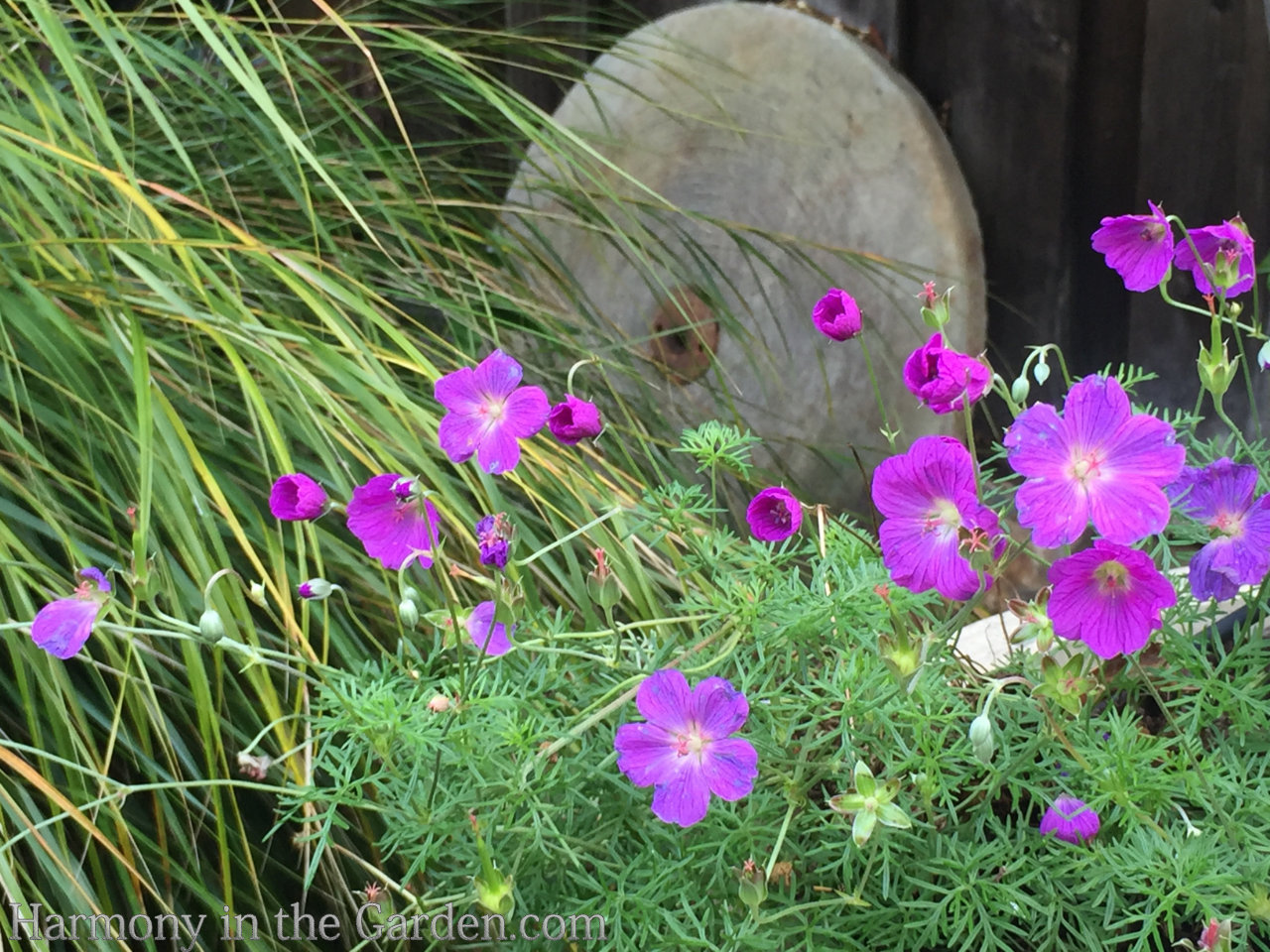 The Bloody Cranesbill (such an awful name, isn't it?) is another variety with ferny foliage and vibrant magenta flowers.
Planted near the delicate blades of the hakone grass, the contrasting foliage makes a stunning combination (with or without the flowers.)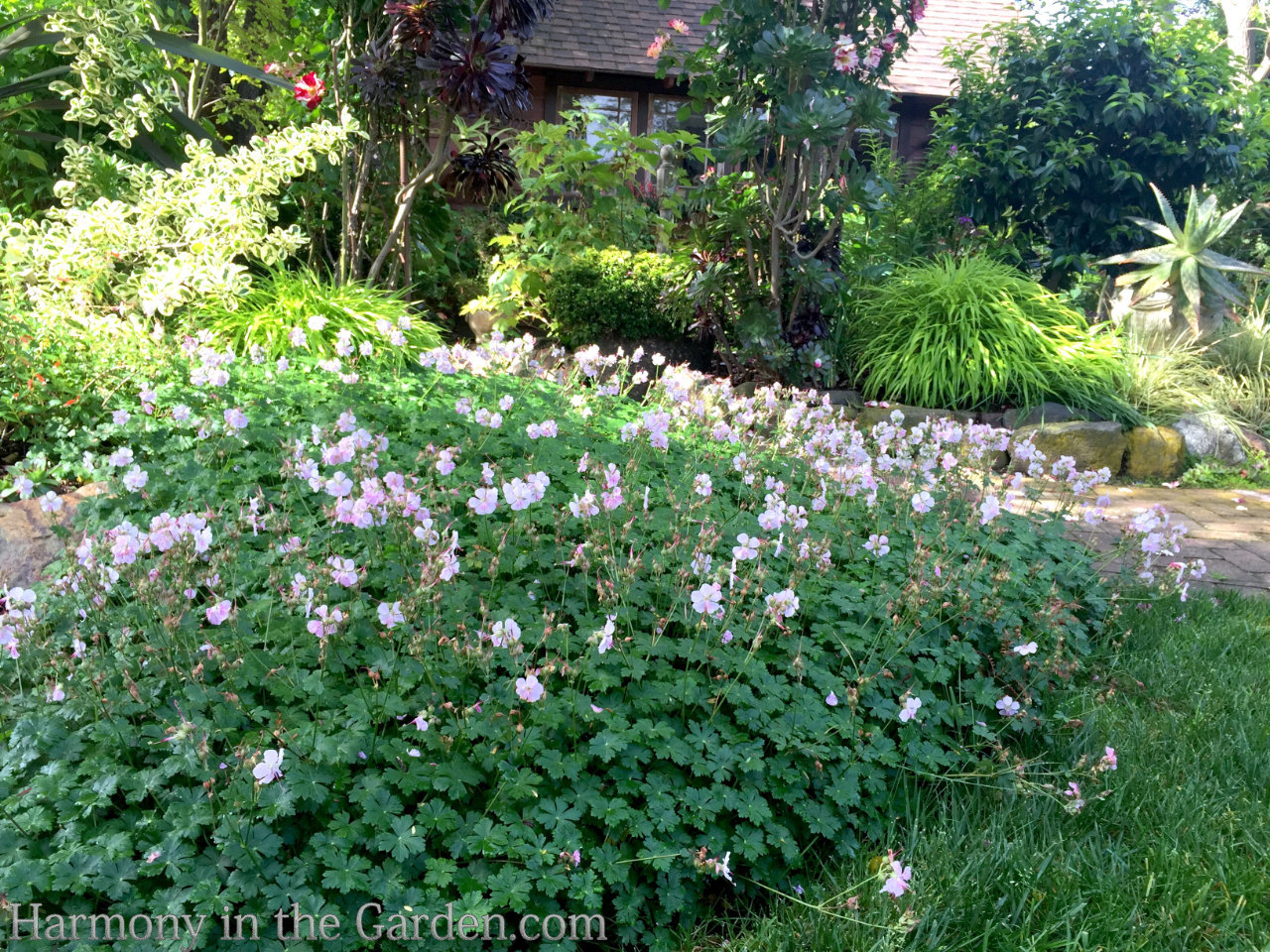 Geranium 'Biokovo' is hands-down my favorite variety for creating a low-maintenance, evergreen drift in the garden. 
Some varieties might have more colorful flowers than the pale-pink 'Biokovo,' but this variety has proven the most prolific and most reliable.  
It's quite dense and fast-growing, forming a low-growing, impressive drift that can be appreciated up close and from a distance.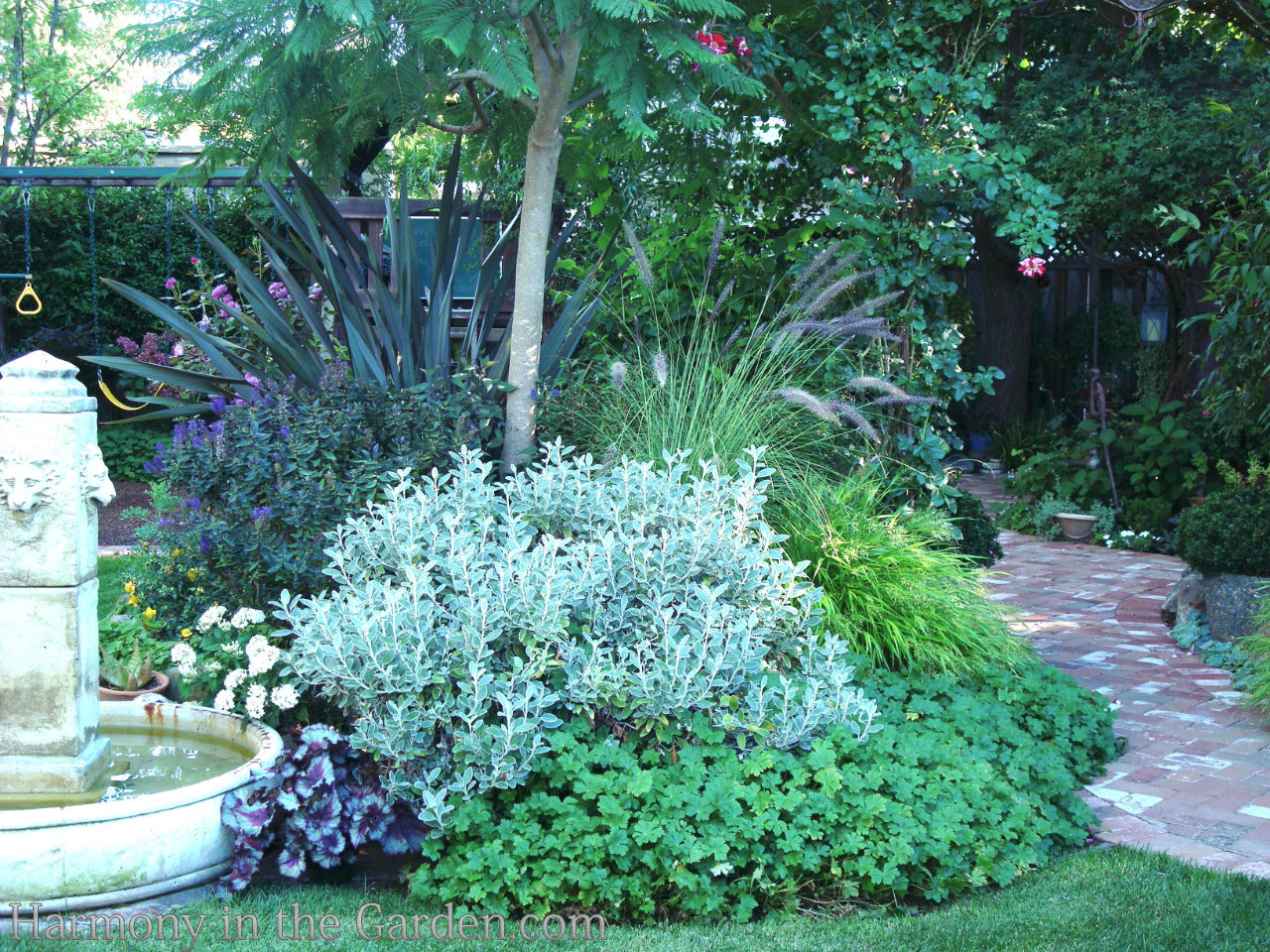 There are other varieties that quickly and easily spread to create weed-suppressing  drifts. 
A few of my favorites are g. macrorrhizum (aka: Bigroot Geranium) or the ubiquitous (but nevertheless stunning) 'Rozanne,' with larger blue flowers with a white center.
However, in the decades that I've been using 'Biokovo,' I feel it's the most well-behaved and looks just as beautiful when not in bloom (left.)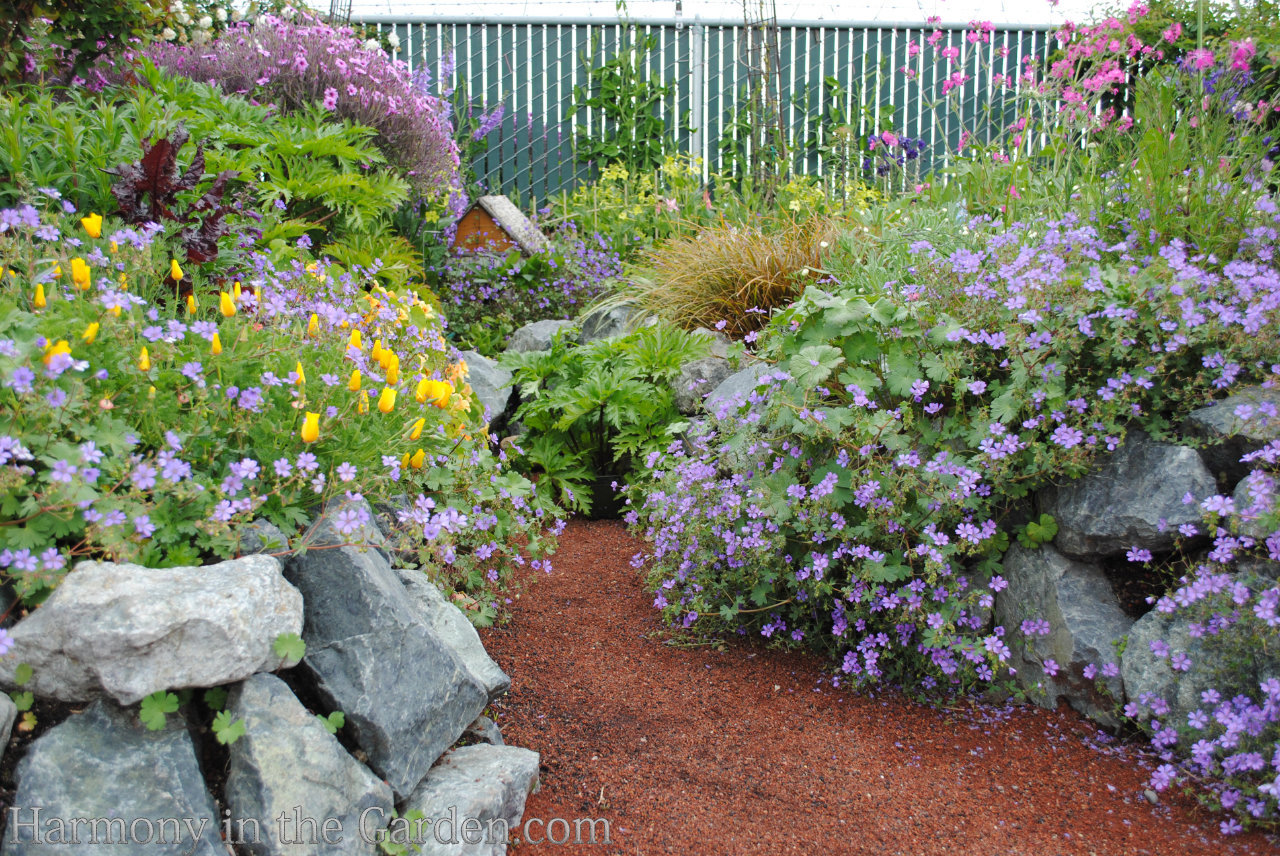 One of my favorite plants to softly drape over a stone wall, or raised terrace, is the geranium 'Bill Wallis.'  
It's a delicate geranium, gently winding in and around other plants, popping up here and there with its tiny, vibrant flowers.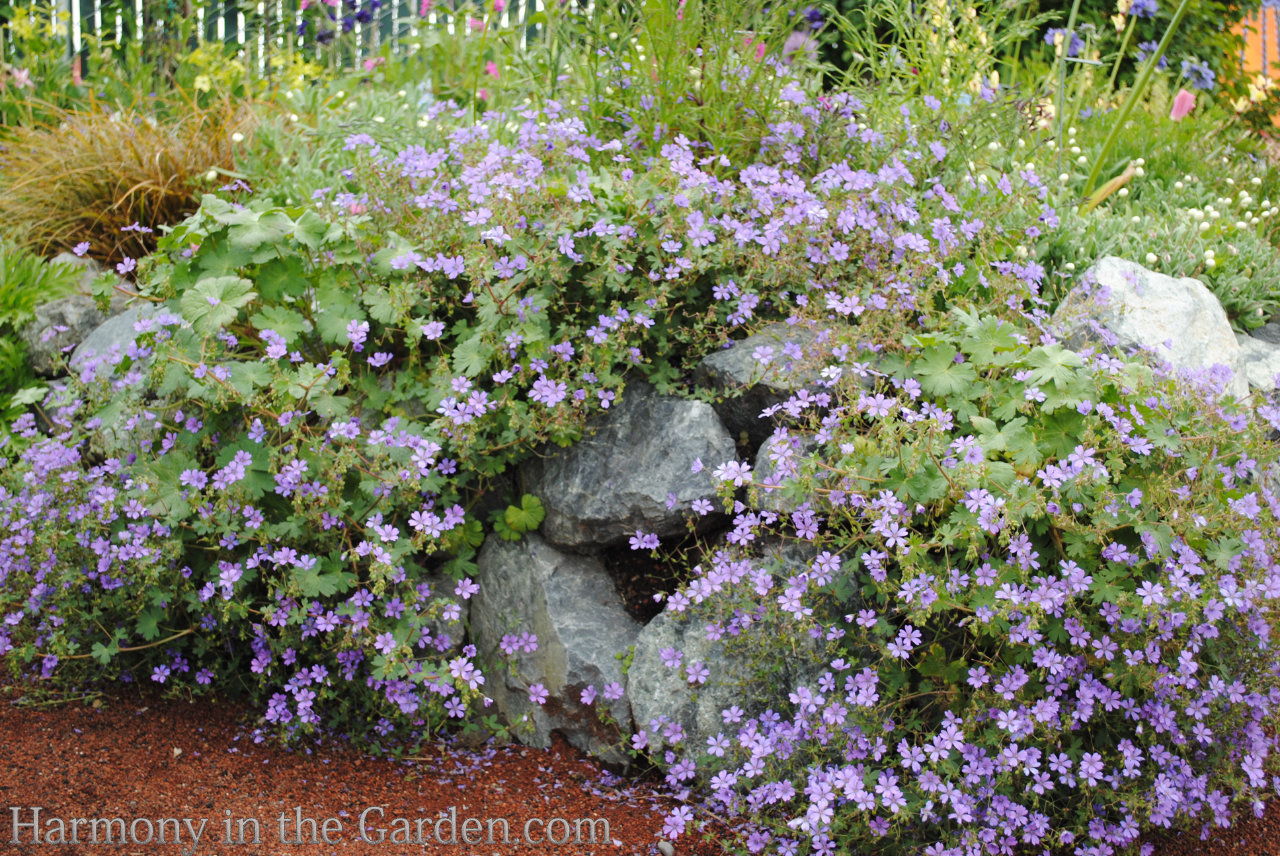 Like other true geraniums, its shallow roots make it a cinch to remove (or re-plant somewhere else in your garden) should it outgrow its space.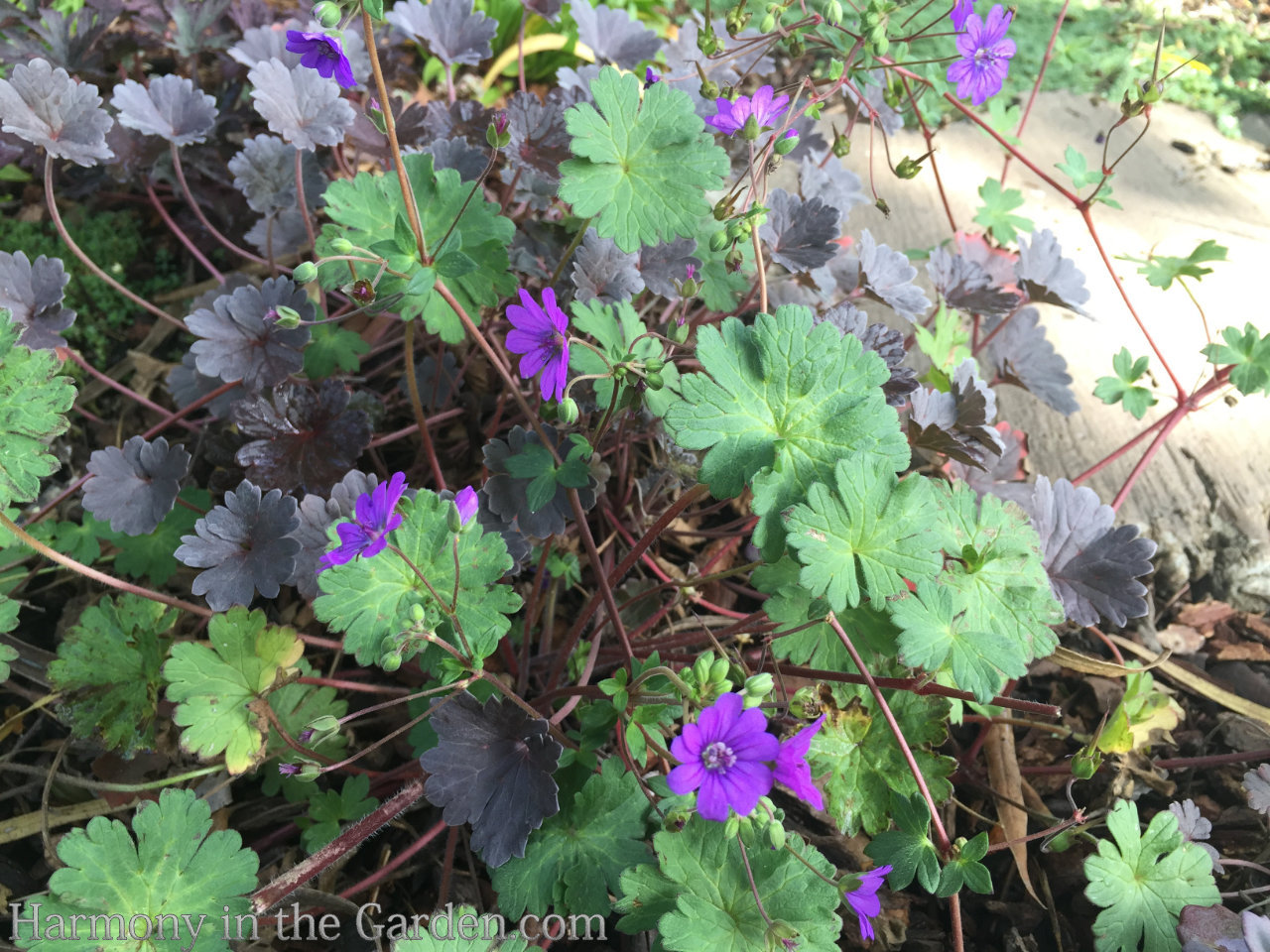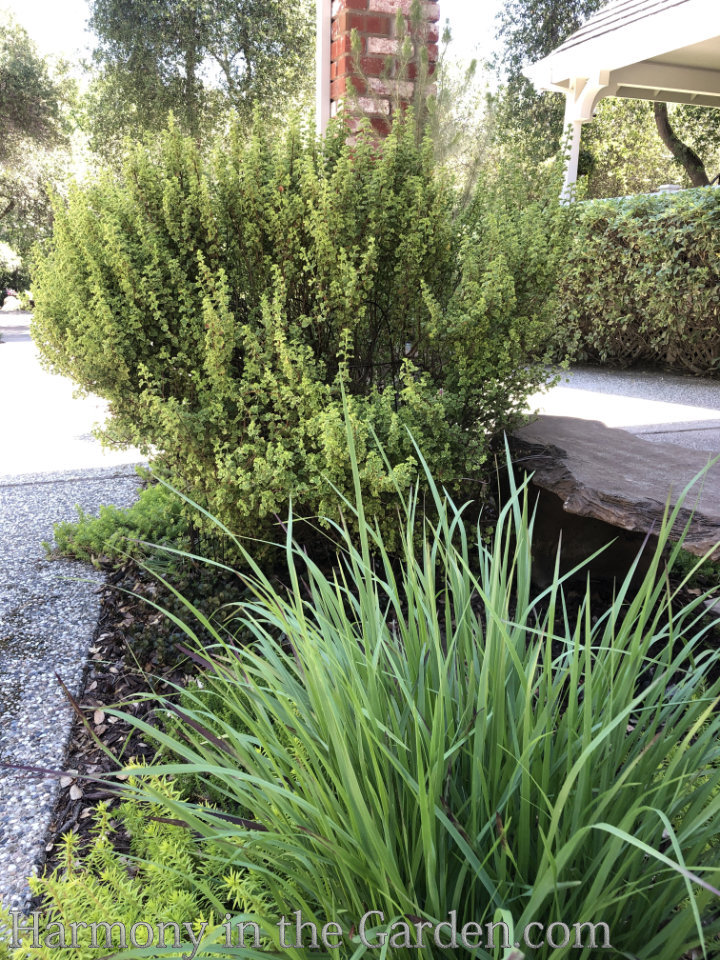 I'm in love with scented geraniums and have several planted throughout my garden.
Scented geraniums prefer lots of sun but I've found they survive better in partial shade when planted in super hot climates. 
In my awkward driveway strip (left and below) my 4′ tall Lime-Scented geranium is the star, with succulents and grass planted in front of it. 
In the below photo, I love how the lime color makes the purple  of the tradescantia pallida 'Purpurea' even more vibrant.  A fantastic color combo.
 (click here for more about this awkward strip.)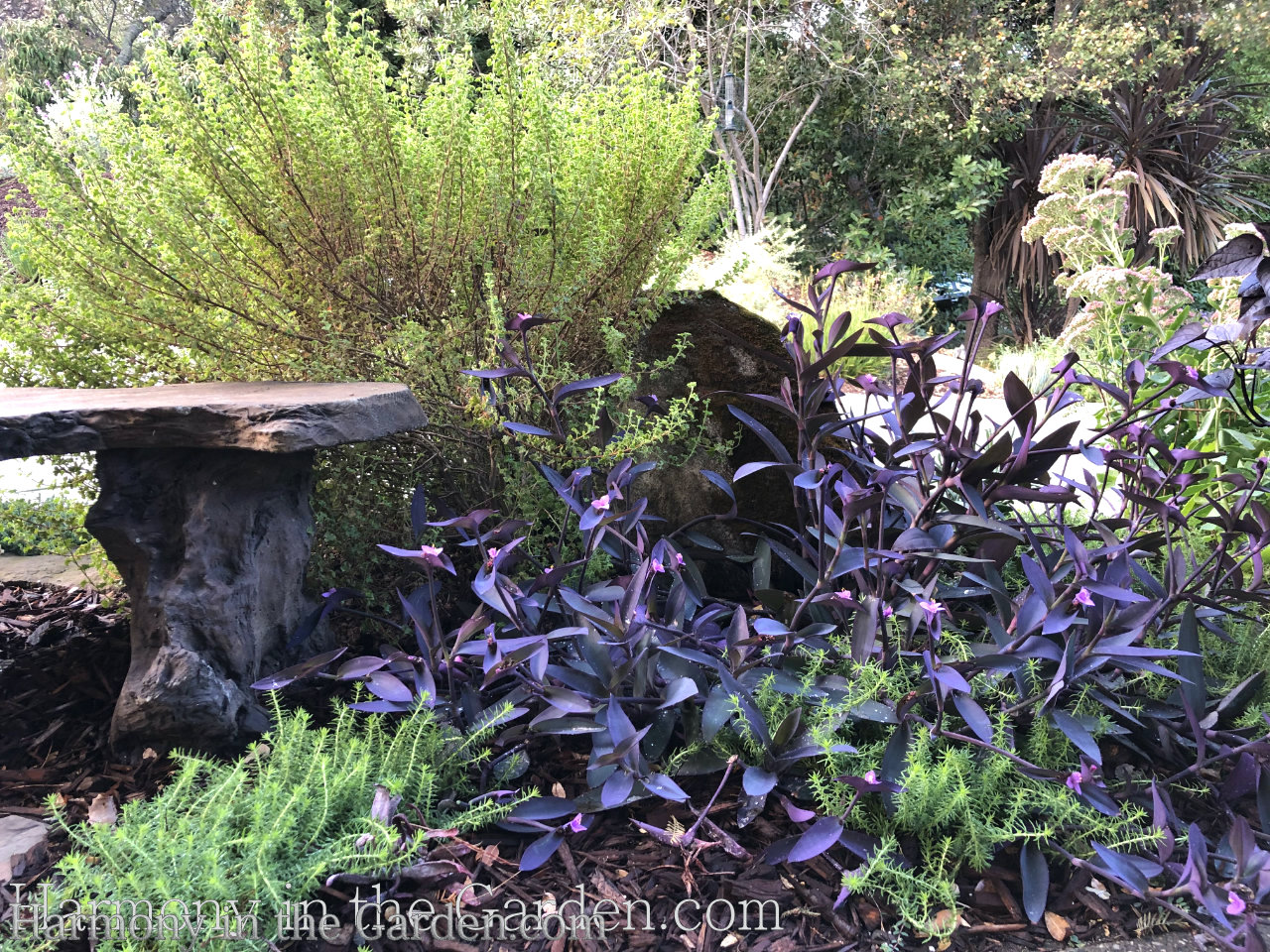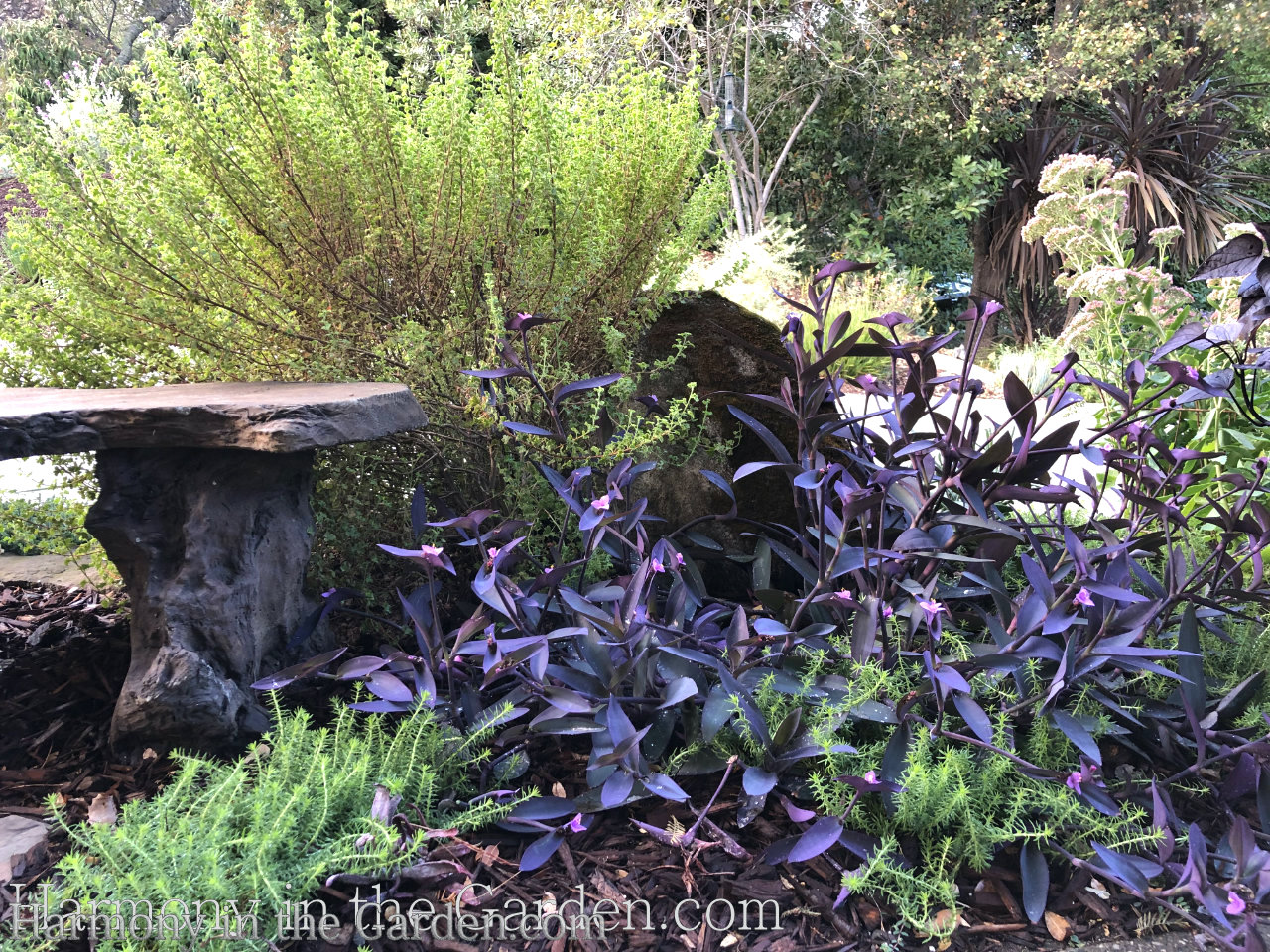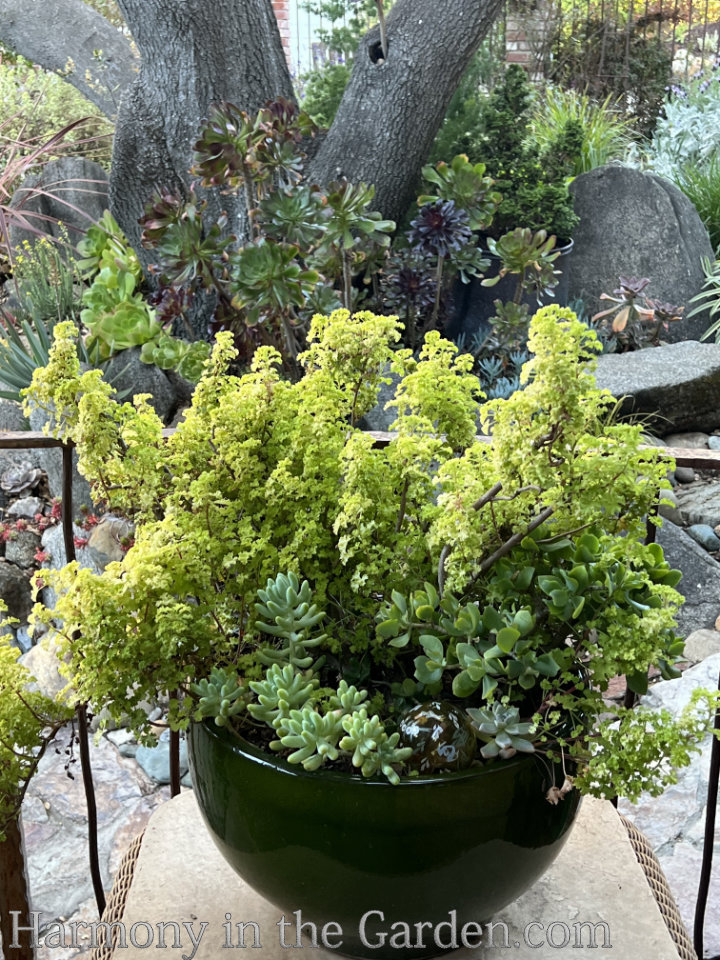 Pelargoniums really don't like wet feet, so make sure their roots dry out between watering. 
And speaking of water, mine are fairly drought tolerant with a bit of water twice a week in summer.
In my garden, they're very low maintenance.  In fact, the only time I prune them is if they outgrow their container or perhaps develop an errant branch. 
Otherwise, they tend to take care of themselves year-round.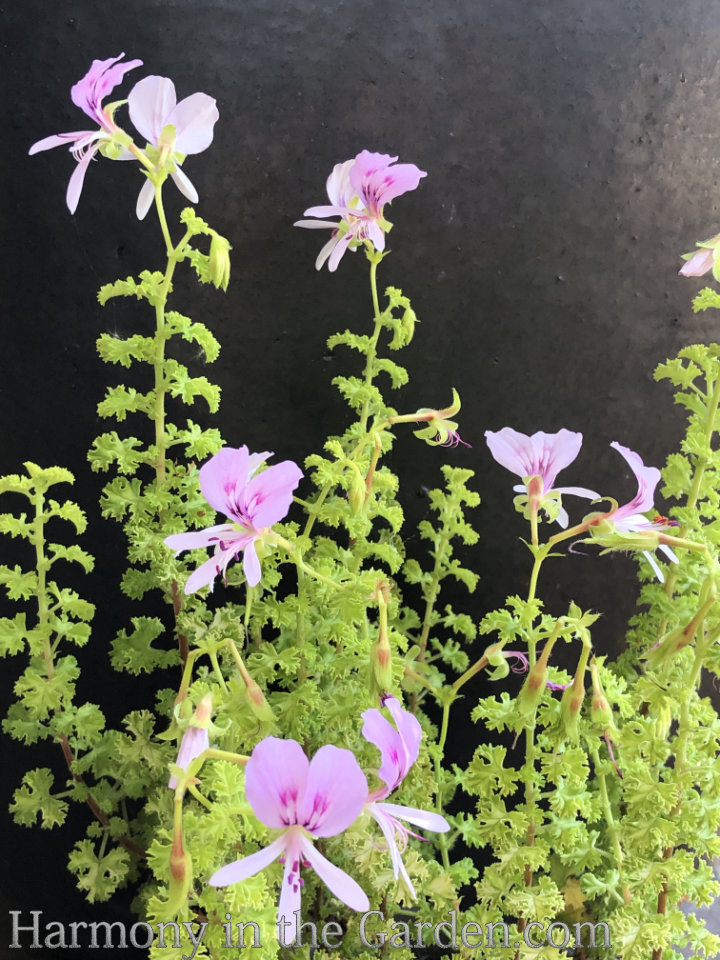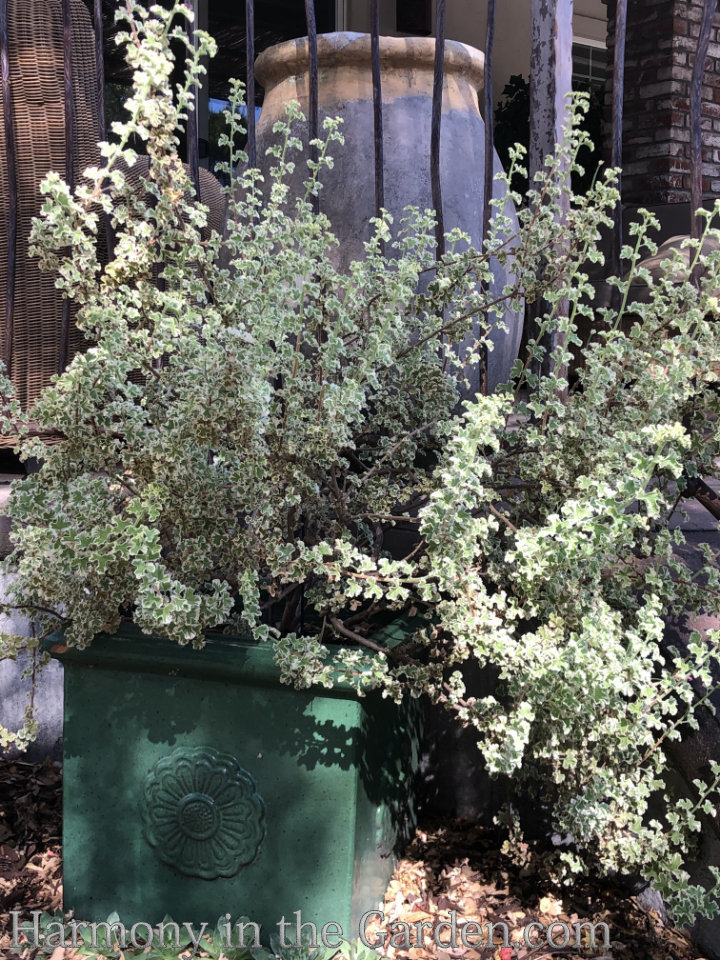 Scented pelargoniums are some of my favorites to include in year-round containers.  
When placed on a patio (like the 'Lime' above, and 'Prince Rupert', left), it's so much easier to appreciate their heavenly fragrance.
And since it can be difficult to maintain consistent moisture in containers, the forgiving scented pelargoniums are a perfect choice.   
Scented pelargoniums are so much tougher than they look, and have lasted for years in my containers.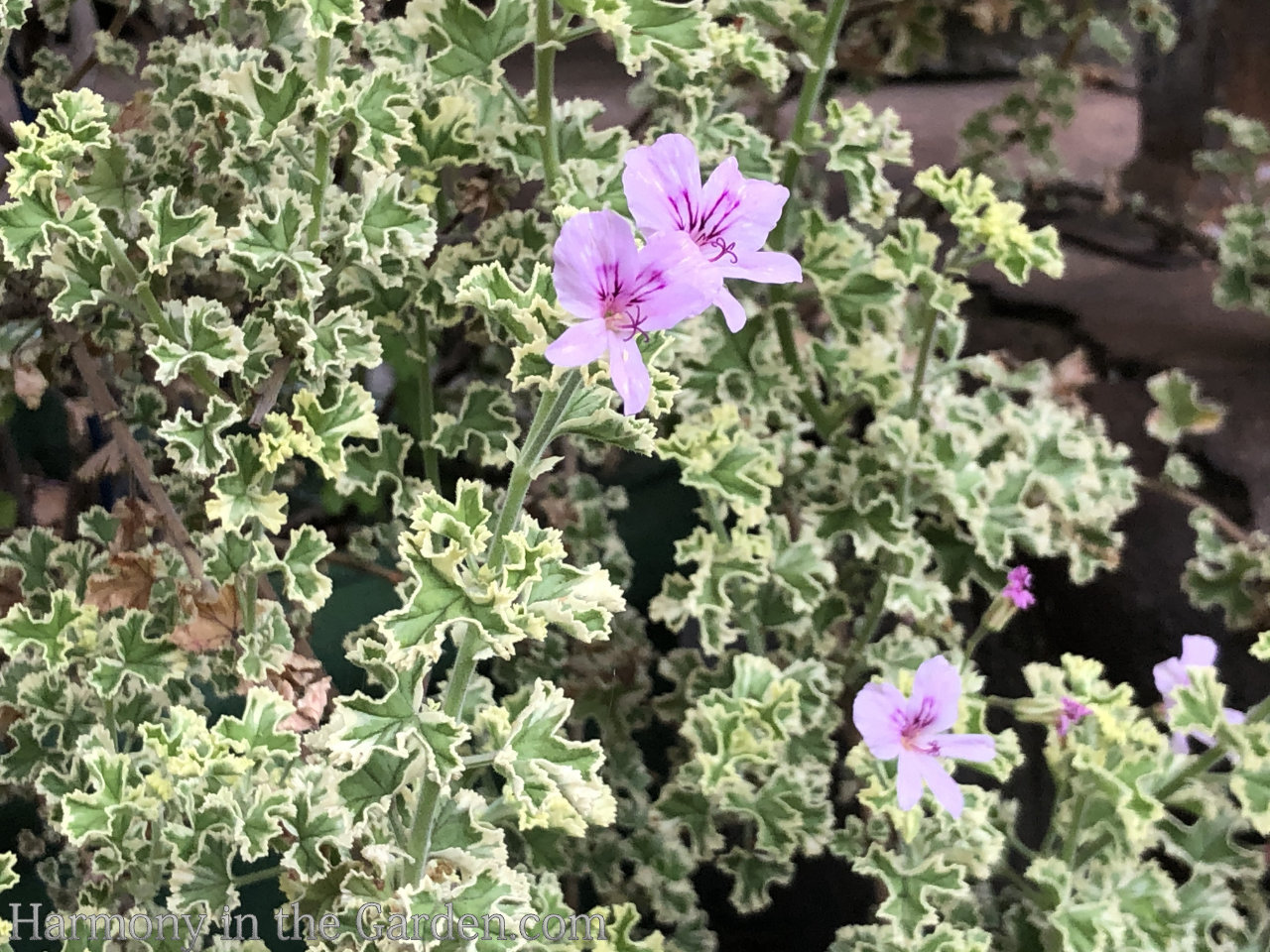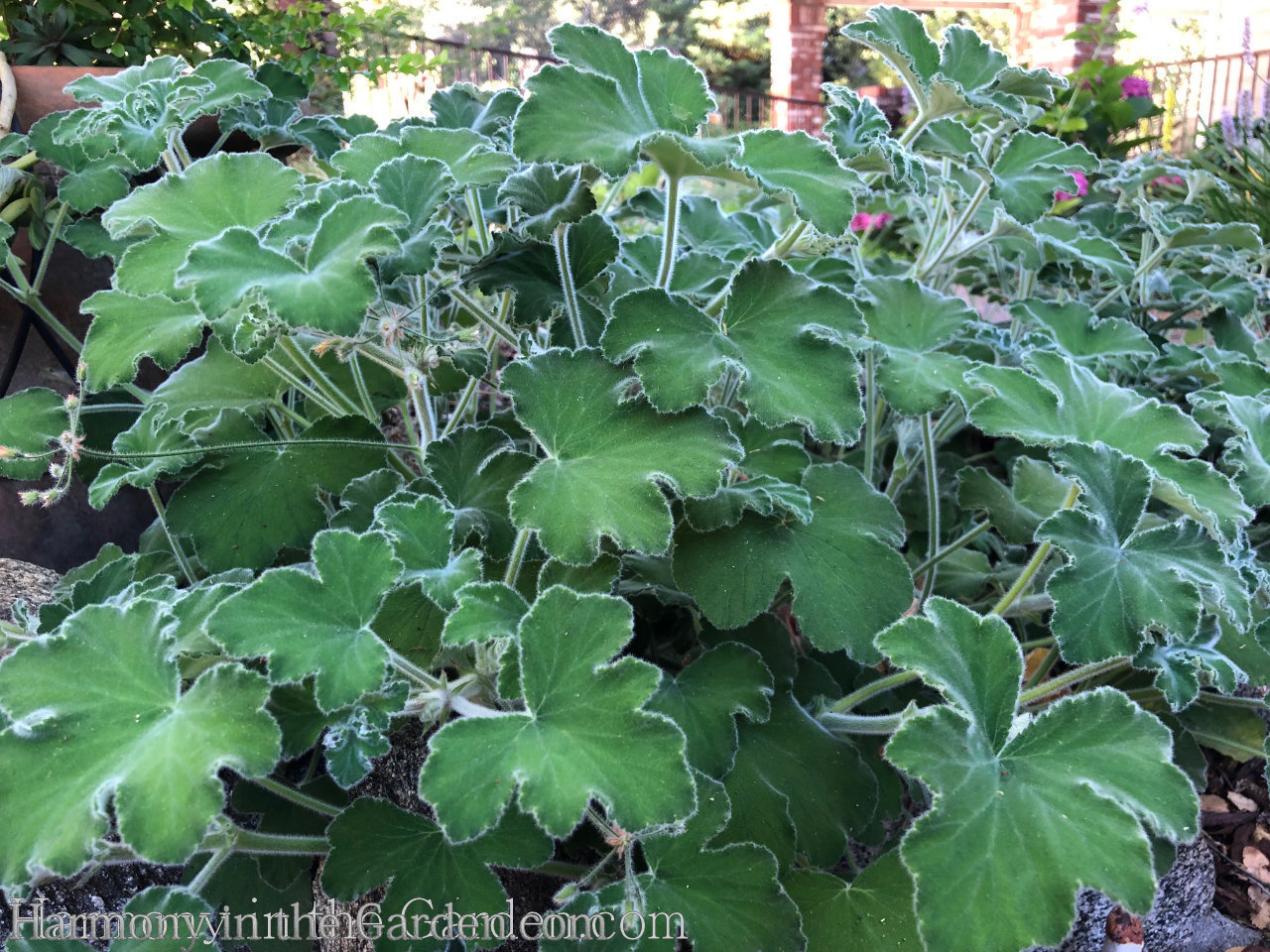 Softly brush a single oversized, 5-inch velvety leaf of this scented pelargonium, and you'll be surrounded with a cloud of refreshing minty paradise.
In my opinion, it's one of my favorite scents (not to mention textures) in the garden. 
It's more tender than the other pelargoniums in my garden, often freezing to the ground if temps dip into the low-30's.  Luckily, it always bounces right back. 
It quickly grows to 2'high x 4'wide, making it a fantastic and fast-growing spiller or groundcover.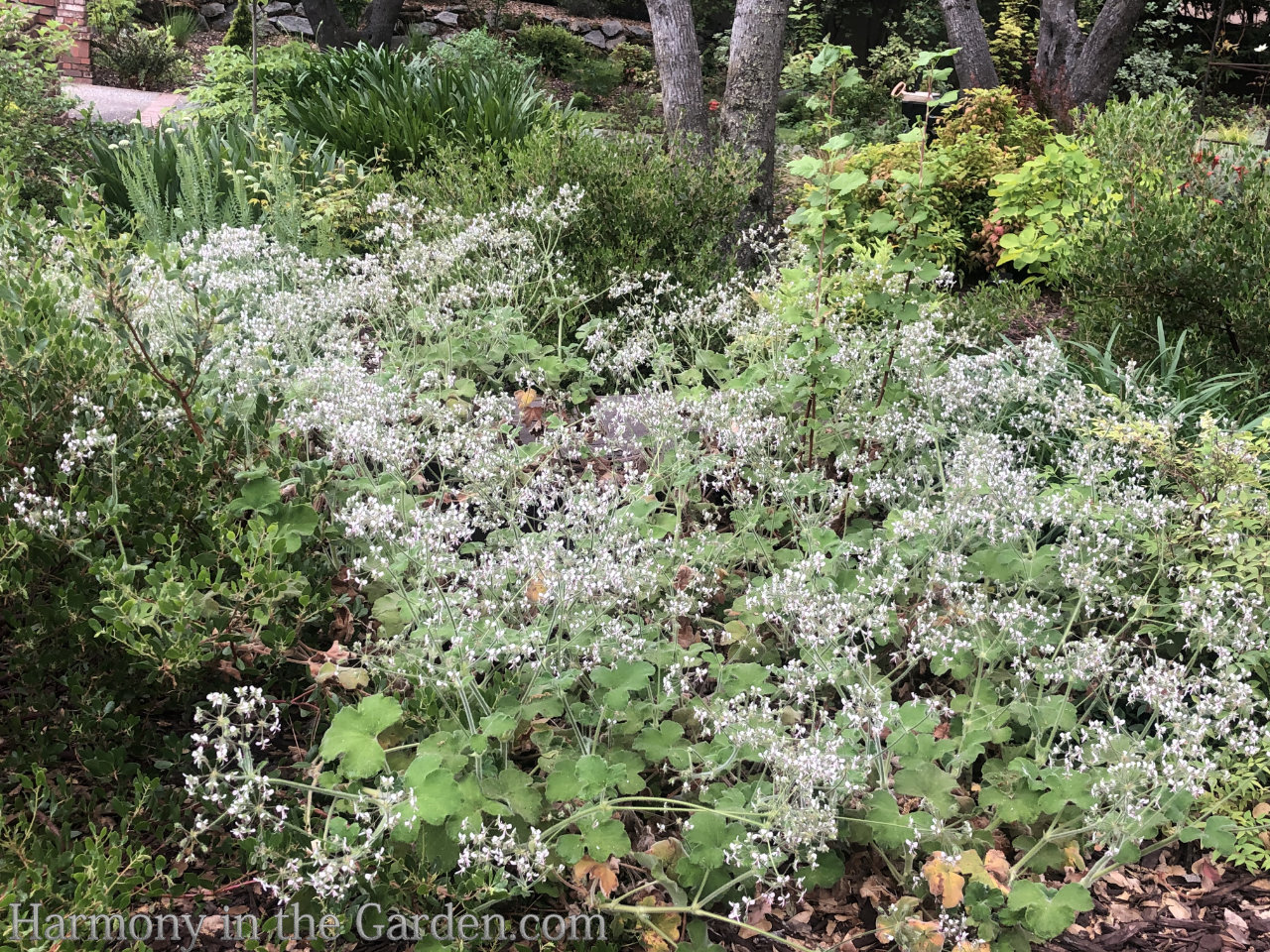 The foliage is unbelievably velvety, and I often carry around a single leaf in my hand while strolling the garden, lost in its delightful feel and fragrance. 
In fact, click here to read why it's an excellent choice in a therapy garden.
When in bloom, the entire plant is covered with hundreds of tiny white flowers, looking like a delicate white cloud landed in your garden.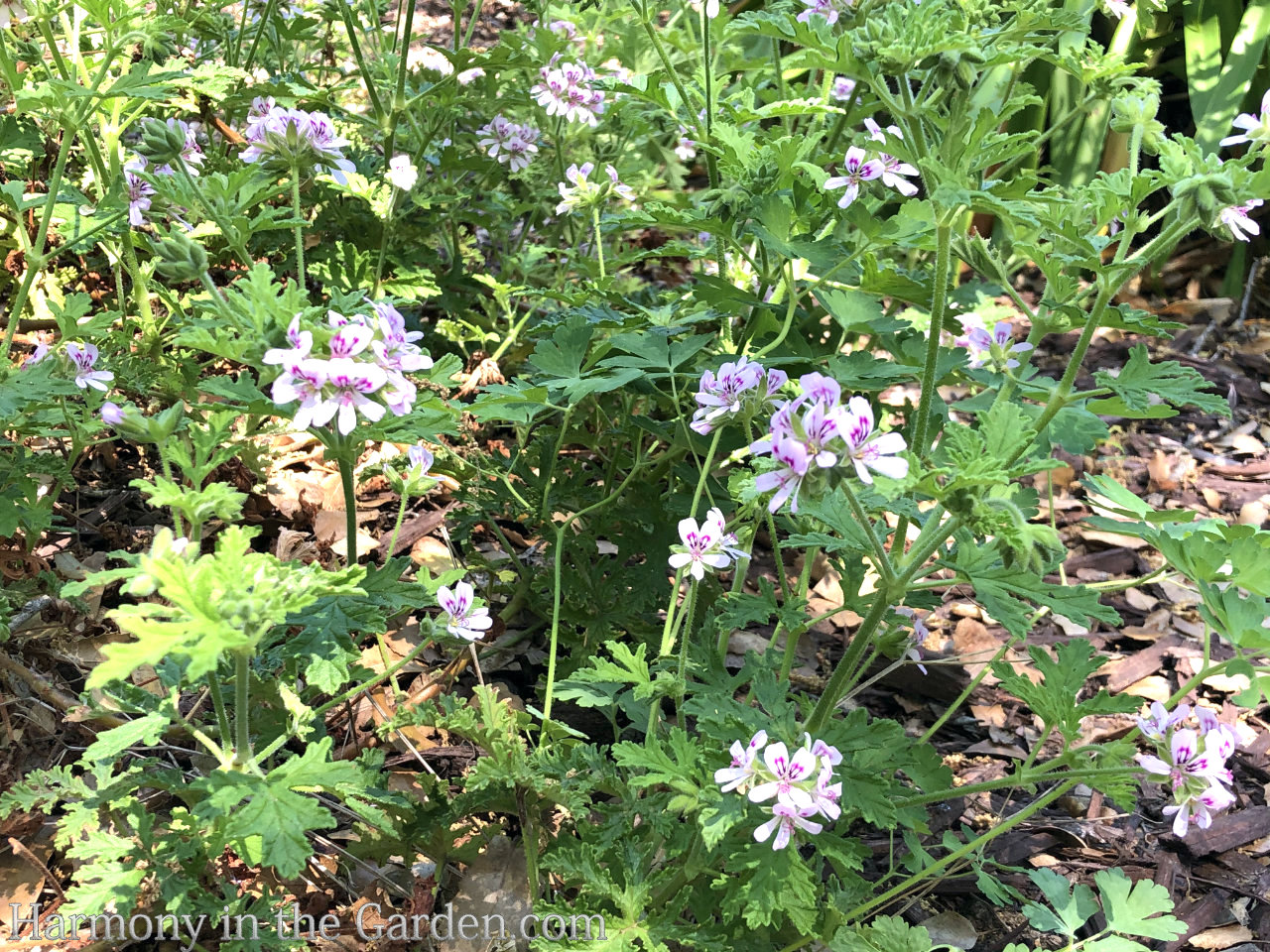 Also known as Attar of Rose, this trailing pelargonium's rose-scented foliage is one of my favorites ever. 
It can become a little rangy, loosely growing to 2' x 4', so I have it planted under my oak trees so it can sprawl to its heart's content. 
Deer have never bothered it, nor has drought, as it receives very little water.
And when I want a mental pick-me-up, I pick a small branch and bring it inside to perfume my home. 
Click here for an interesting article regarding how it's used in the perfume industry.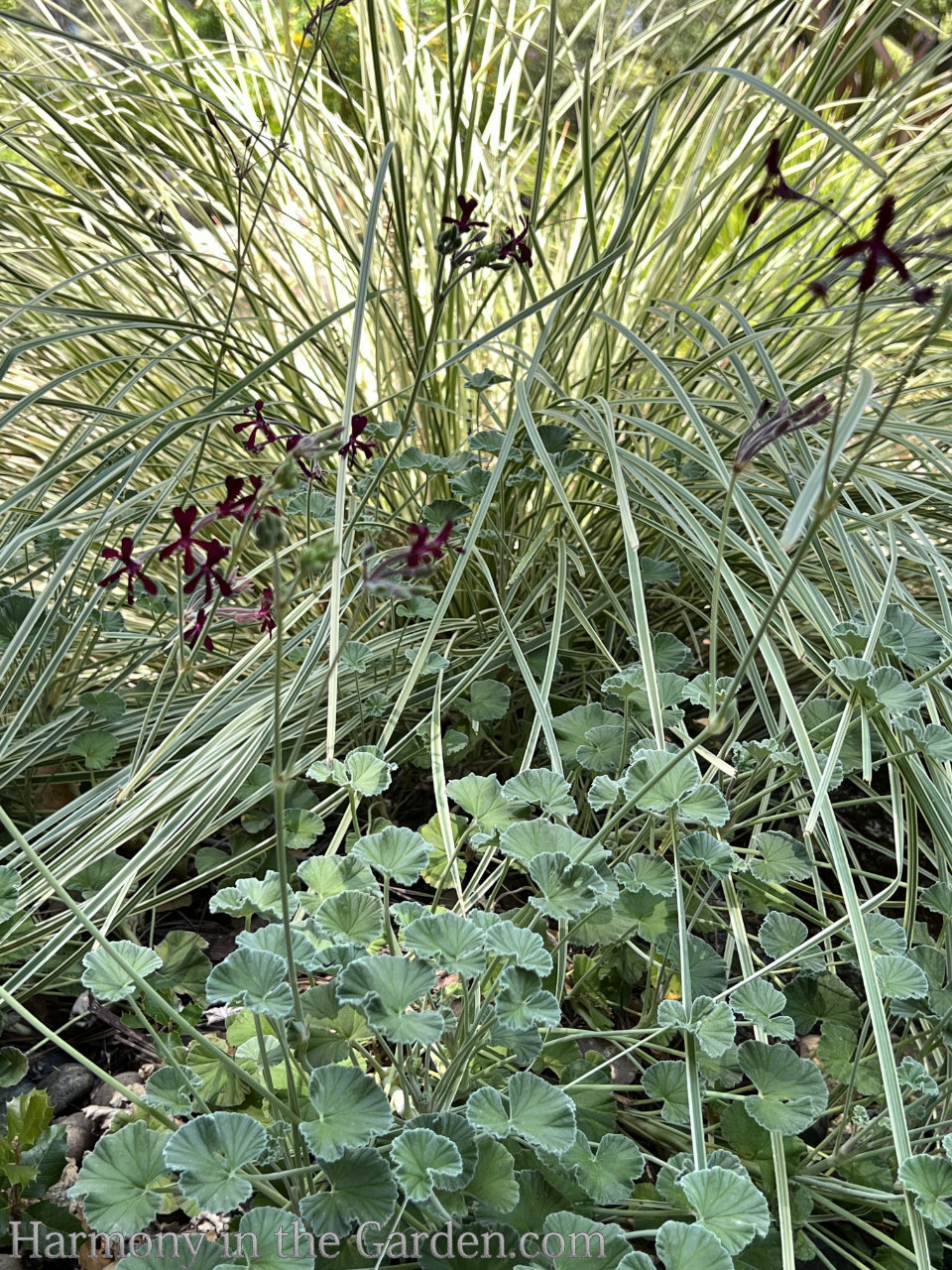 I've had this clove-scented pelargonium for years. 
I just love the tiny, velvety leaves coupled with the dark maroon starry flowers that wave on tall, slender stems.
Here I have it nestled near a variegated lomandra 'Platinum Beauty' to highlight the contrasting foliage shapes.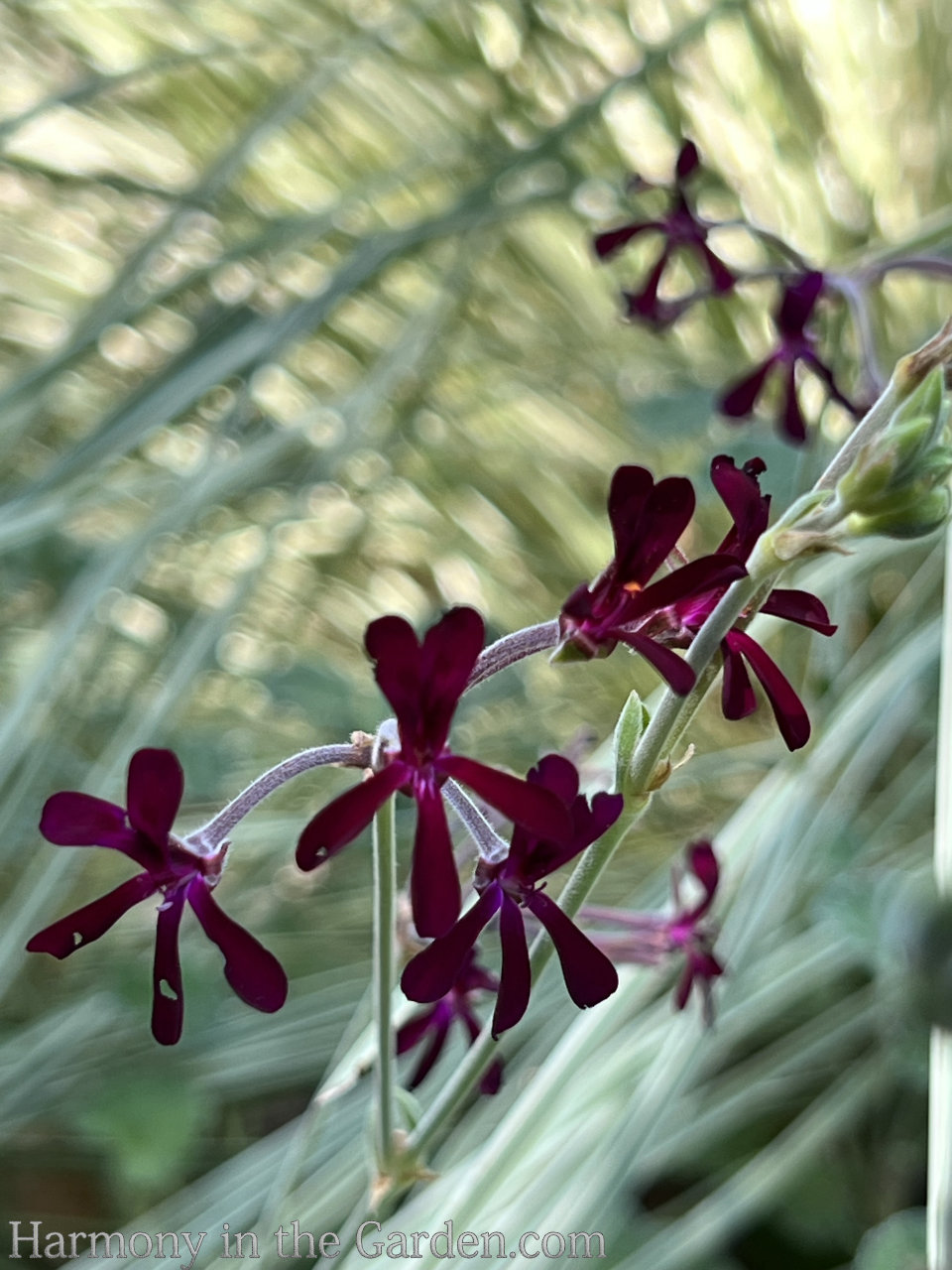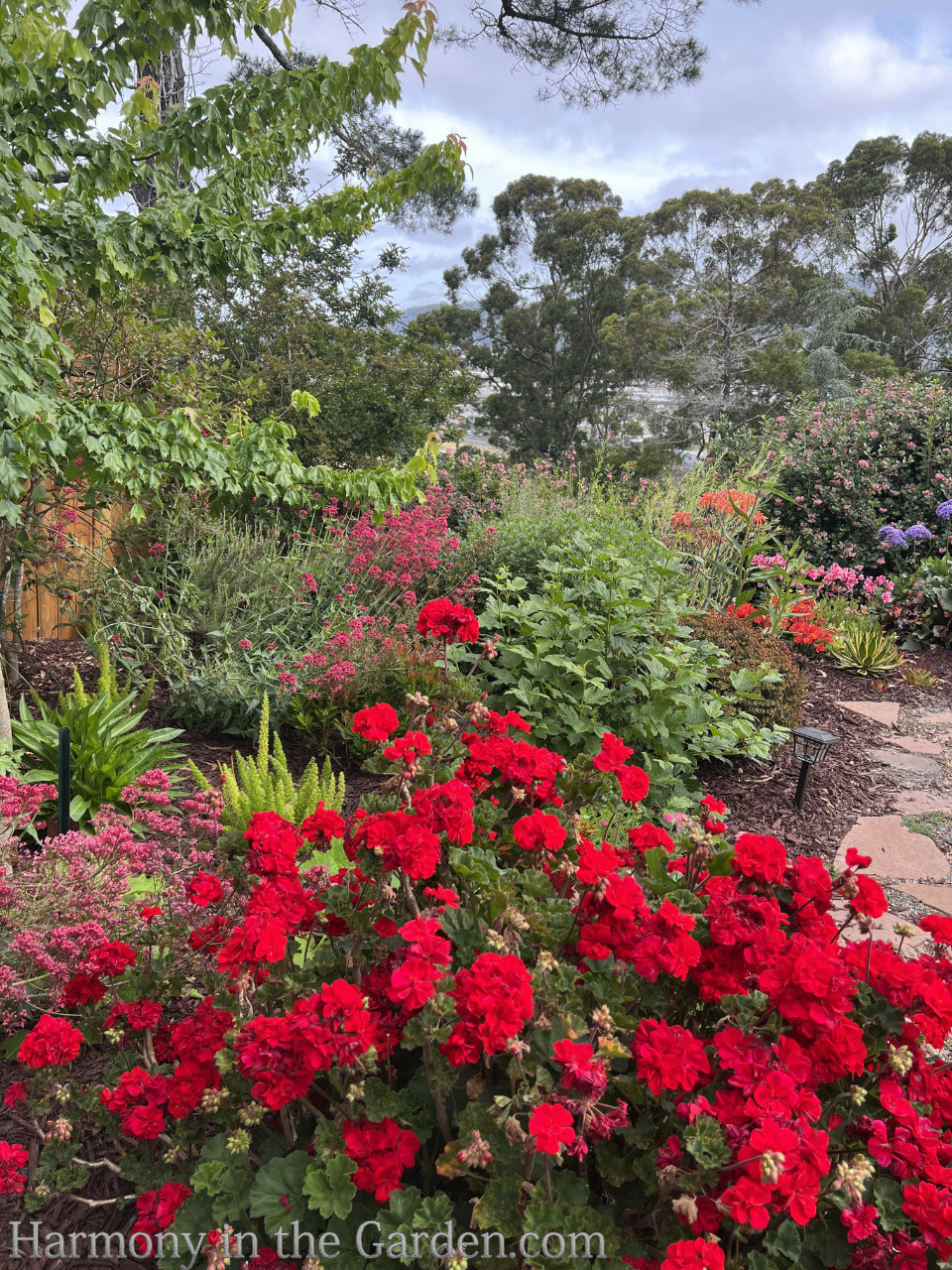 This post wouldn't be complete without telling you a story about the common geranium (which we now know isn't a geranium but actually a pelargonium!)  
My grandmother had a huge deck around her home in Lake Tahoe, bordered with a twenty or so pots of geraniums in shades of pink, red, white, and everything in between.
When I was young and would visit her, she'd let me hand-water all of the pots (a chore I loved doing, feeling like I was such a big girl.)
Then (and here's where it gets a little gross) she'd ask me to pick off and dispose of all of the cutworms that were eating her flowers (another chore I cherished.)  
The worms were always crazy colors, either pale pink or yellowish or sometimes a dark plum color, dictated on whatever color flower they were devouring, I suppose.  
It was sort of like an icky Easter egg hunt, and I loved it.
And what happened to all of her geraniums in the snowy winter?  
She'd haul them all down into the basement, where she set up under grow lights on a long table.  My poor grandfather would have to maneuver around this jumble of plants to get to his garage, but I think he secretly enjoyed it.
As children, my brother and I loved playing in this basement with all the humidity, greenery, and life surrounding us, while looking out the basement windows at the world covered in snow.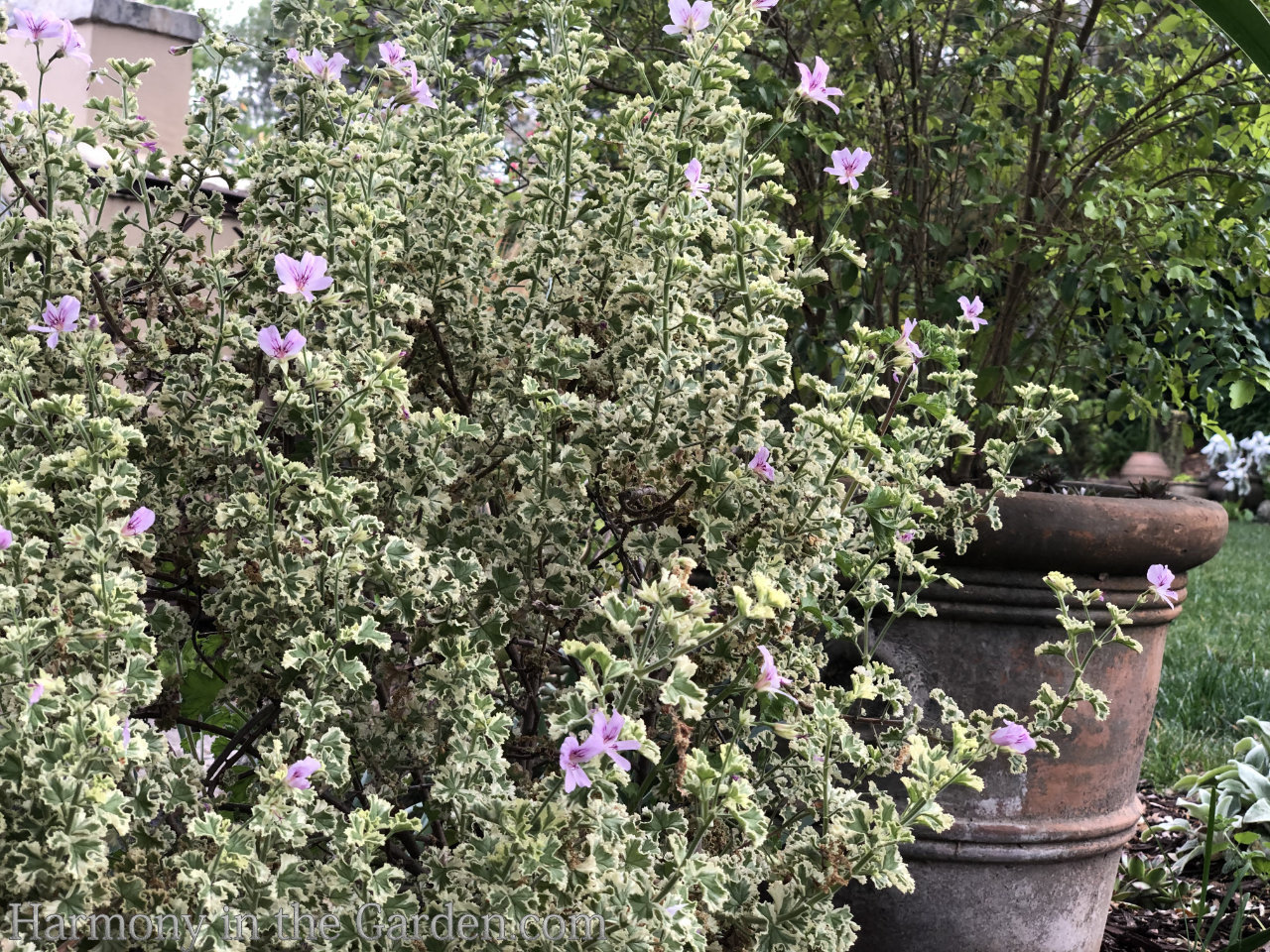 Oh, and for those of you who are looking for scented pelargoniums, two of my favorite sources for scented pelargoniums are Mountain Valley Growers and Geraniacea. 
If you can't find what you're looking there at either of these nurseries, it may not exist – ha!  These sites are filled with so much information and amusing stories, I think you'll really enjoy them!
UPDATE:  Contest is now closed.  Congratulations Dennis L., you won the Dramm  spray nozzle, and to Chris G. for winning the Syphonjet and Fertilizer system!  Your prizes will soon be coming your way within the few weeks.  
And thanks everyone else for entering the giveaway, I loved your comments and geranium suggestions.  It seems I need to add a few to my garden  🙂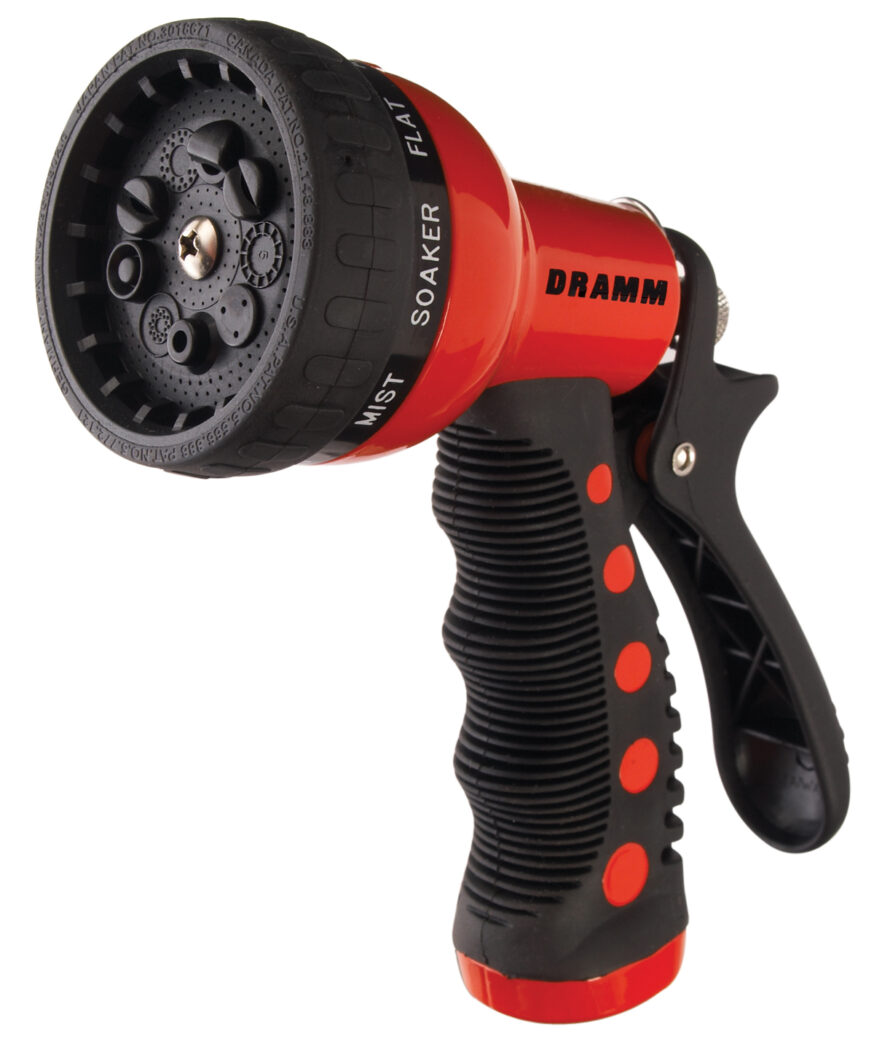 Dramm garden products is generously offering two different garden products to two of my readers!
The first prize is a Revolver Spray Nozzle (I LOVE these and have several of them throughout my garden)

To enter, all you need to do is leave me a comment in the comment section below (do you have a favorite geranium?  A secret source for scented pelargoniums?  Any comment will do!) 
I'll use a random number generator to choose the winners and their prize.  It's that easy!
And please know that even though I can't respond to giveaway blog comments (if I do, it'll skew the random number generator I use to pick the winner), please know that I read every one and appreciate what you all have to say!
Good Luck, everyone!
The Fine Print:  TWO random winner(s) will be chosen by midnight March 21st and contacted within 24 hours. If the proposed winner forfeits or does not claim the prize by March 28th, the prize will be re-awarded based on the sponsor's sole discretion. All prizes will be awarded.
Please provide your first and last name to enter this contest so I can immediately contact you if you win. The winner agrees to allow his/her first name to be mentioned in conjunction with this giveaway.
This giveaway is limited to U.S. residents only, who are over the age of 18 years old. No purchase necessary to win. This sweepstake is also void where prohibited by law (is there such a place?  If so, I'd sure hate to live there!) and by entering this giveaway, you agree to these conditions.