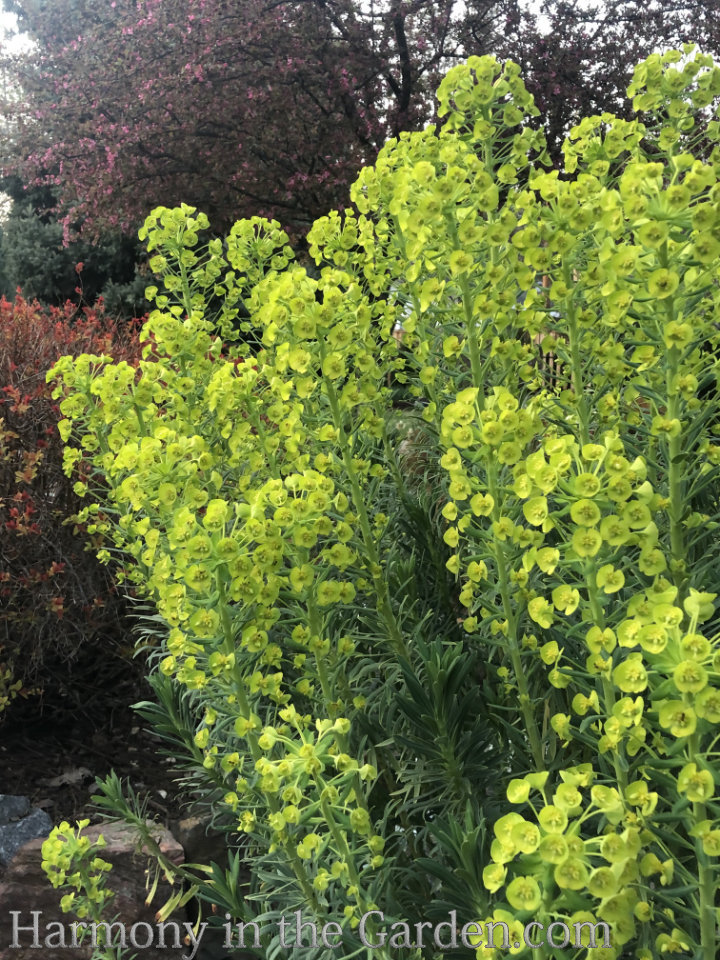 Once the blistering heat of summer arrives (any day now!) my euphorbias will take center stage in the garden.
Their heat-loving quality is just one of the many reasons why they're a staple in my garden.
They're also extremely drought-tolerant, they're awful tasting to gophers, deer & rabbits (thanks to their irritating sap), and they bloom for weeks upon weeks at a time.
The main thing euphorbias hate, however, is over-watering.  It's critical that they have fast drainage, so they don't develop root rot, which is the #1 cause of death.
If you think your soil might have too much clay in it, I'd recommend throwing a few handfuls of garden grit in the bottom of the hole (click here to see what I use).  
Below are some of my favorite varieties of euphorbia, and the different ways I design with them.
1.  Create Unusual Color Echoes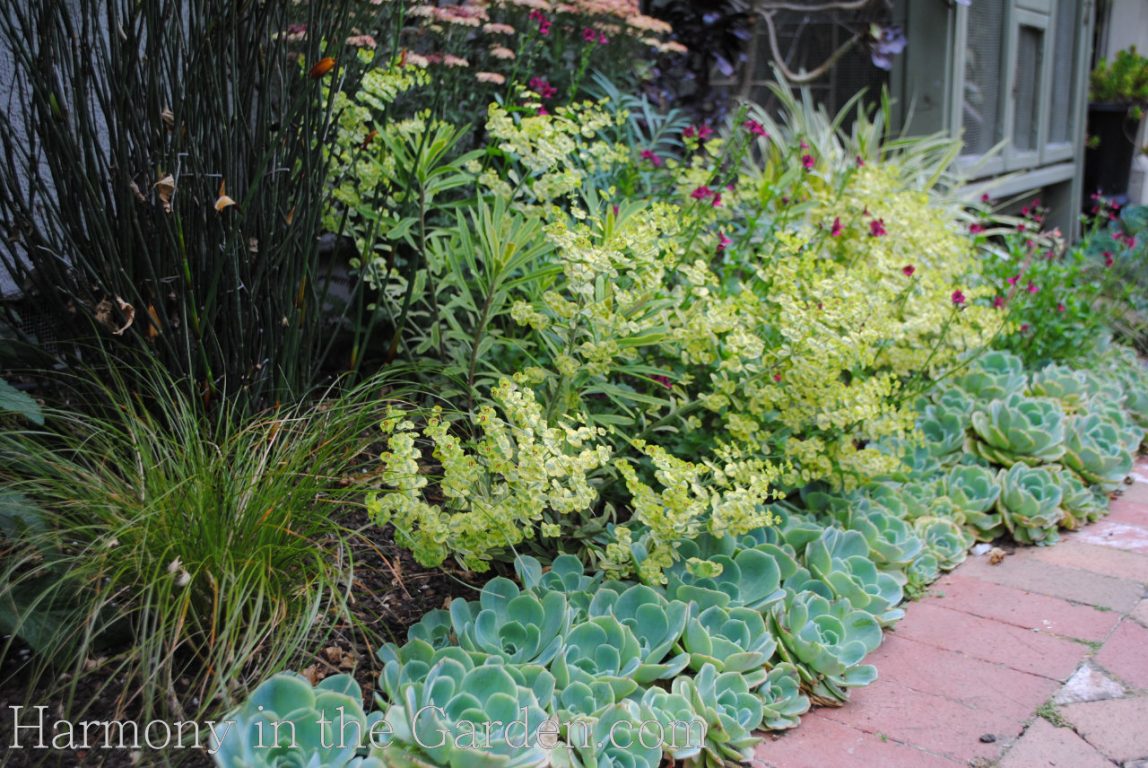 Euphorbia martinii 'Ascot Rainbow'
Not only are the stems and foliage of this variety tinged with soft shades of pink and yellow, but its flower bracts are just as colorful.  
In fact, it's the flower's blue variegation and the raspberry-colored 'eye' that was the inspiration for pairing it with nearby Echeveria imbricata (Hens n Chicks) and a magenta-colored Nemesia.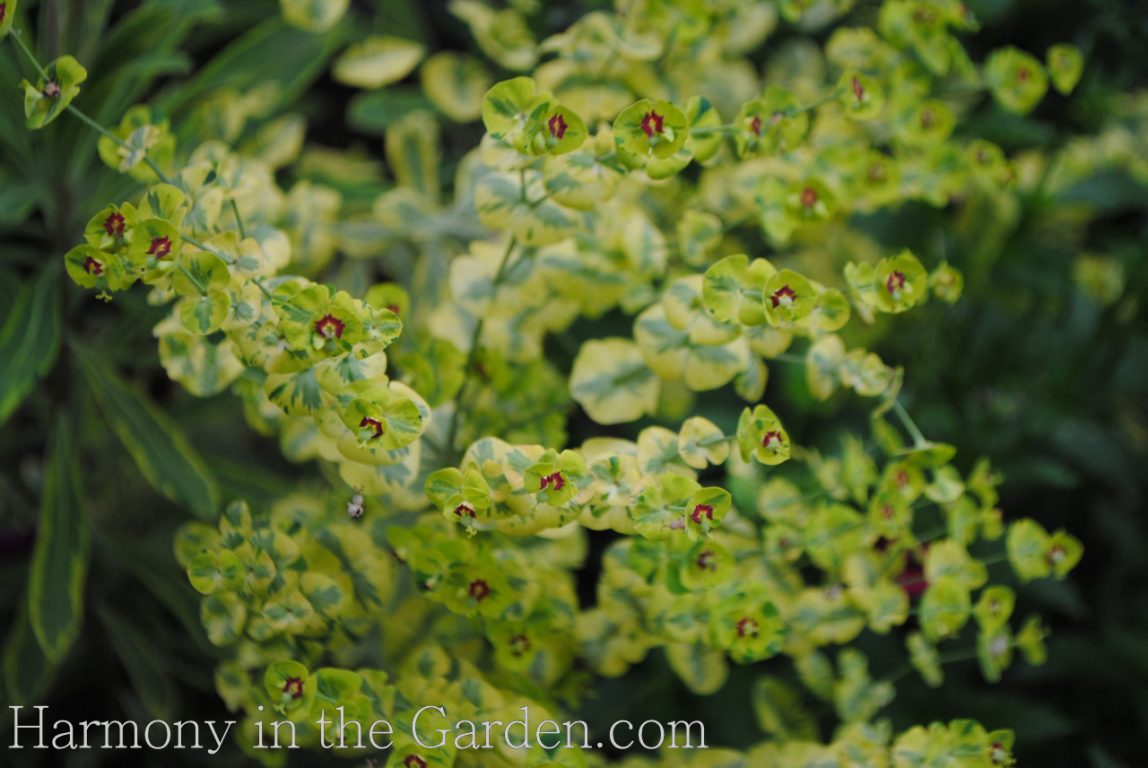 This lovely little euphorbia, grows to a manageable 2'x2′, which makes it an ideal choice for the front of a border.
'Ascot Rainbow' appreciates a little afternoon shade (as is common with variegated plants), and I've found that it isn't nearly as long-lived as the other following varieties.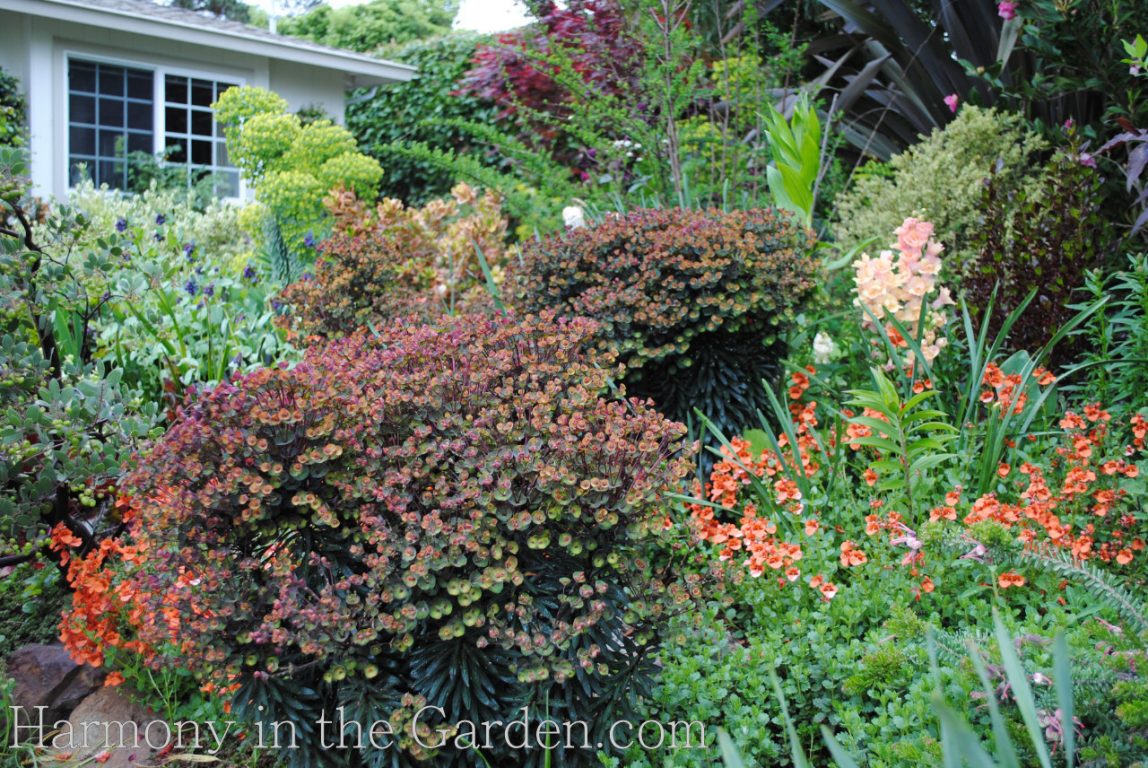 Euphorbia amygdaloides 'Purpurea'
This is another favorite euphorbia for creating color echoes, as the softer shades of burgundy change throughout the year from maroon to a soft, olive green.
As if that isn't enough, the flowers will emerge in early spring in shocking shades of chartreuse, which add much-needed color to a newly emerging garden.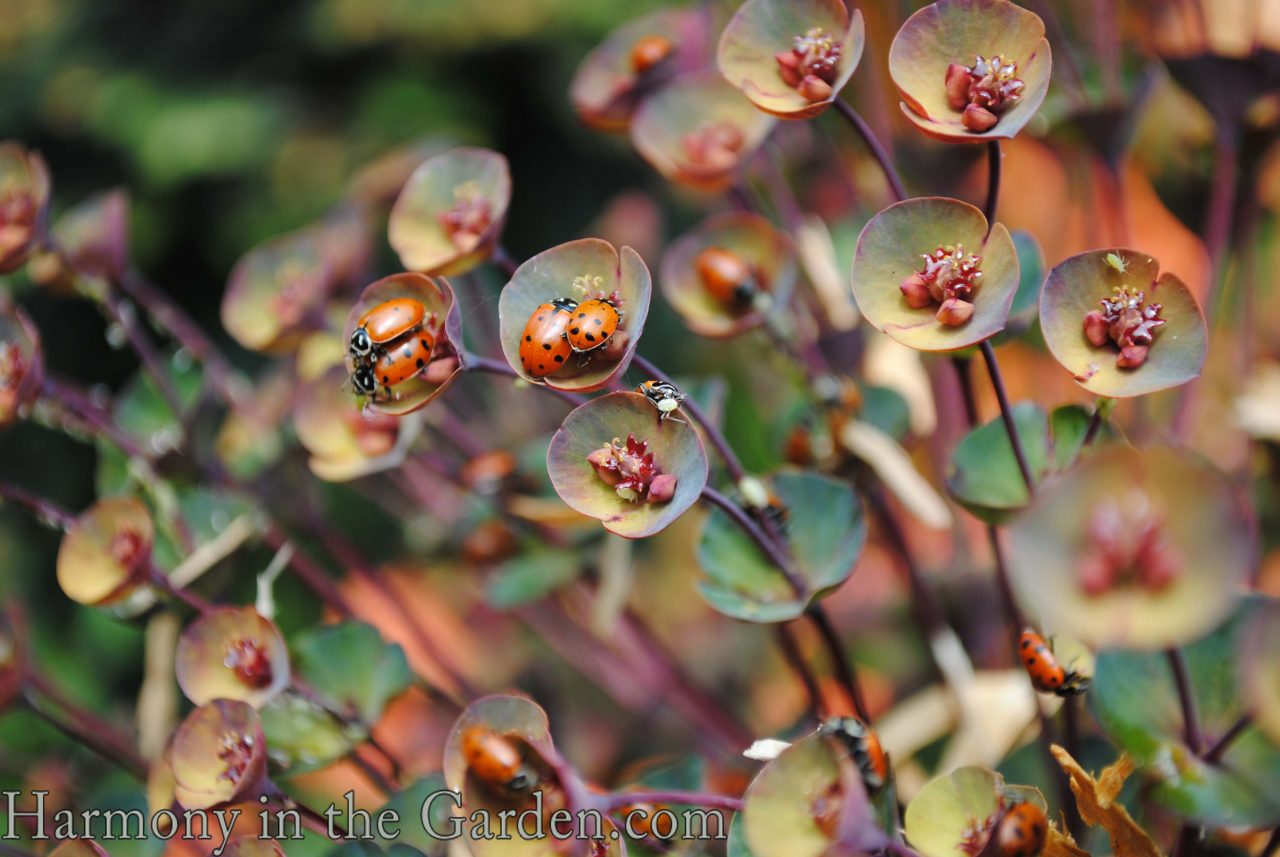 In the above bed, I pulled out the dark peachy-coral colors from the aging flower bracts and echoed them with surrounding heuchera 'Peach Flambe' and Antirrhinum majus 'Chantilly Peach' (from Annie's Annuals).
Oh, and did I mention that ladybugs ADORE the flowers?  That's because aphids will sometimes hide in the tiny little flower bracts, but luckily they're no match for the ladybugs.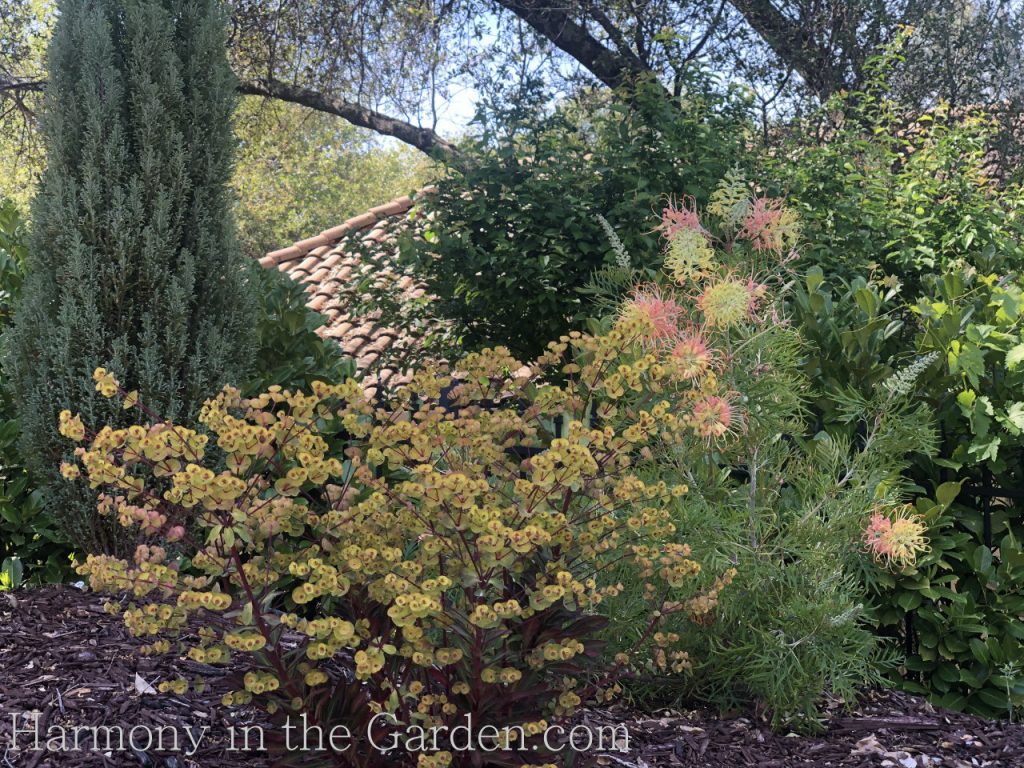 Euphorbia 'Miner's Merlot'
This is another 2'x2′ variety that I've recently planted in my new garden, and I think I love it even more than the 'Purpurea' above. 
It has some of the darkest burgundy foliage I've seen, with flowers that mature to beautiful gold-caramel colors.
 In this part of my garden, I've paired it with a grevillea 'Peaches & Cream' to highlight the soft yellow and gold tones (click here to read more about gorgeous grevilleas!)
2.  Add Motion Using a Plant'sForm
Another somewhat elusive element in the garden is something I call visual motion.  
I'm not talking about literal motion, like a swaying grass on a windy day, but a plant that gives the illusion of movement without any breeze whatsoever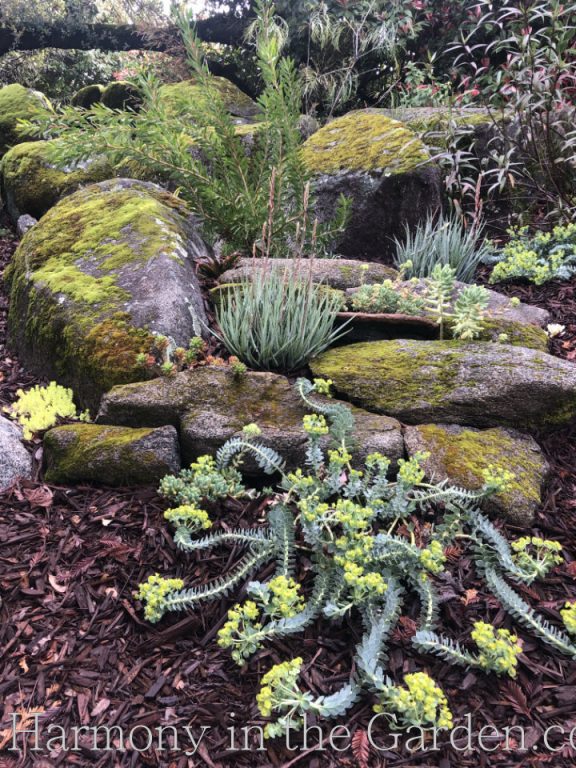 Euphorbia myrsinites is one of my favorites for this purpose, creating twirly excitement wherever you plant it.
Sprawling to just 1′ x 3′, its perfect cascading over a stone wall.   
Once the blooms are spent, just prune it to the ground, and it'll quickly push out new growth again over and over again throughout the year.
It's a super tough variety, too, thriving in the hottest conditions as well as freezing temps.  I've even seen it growing without any additional water in a neglected parking lot in Nevada's high-desert!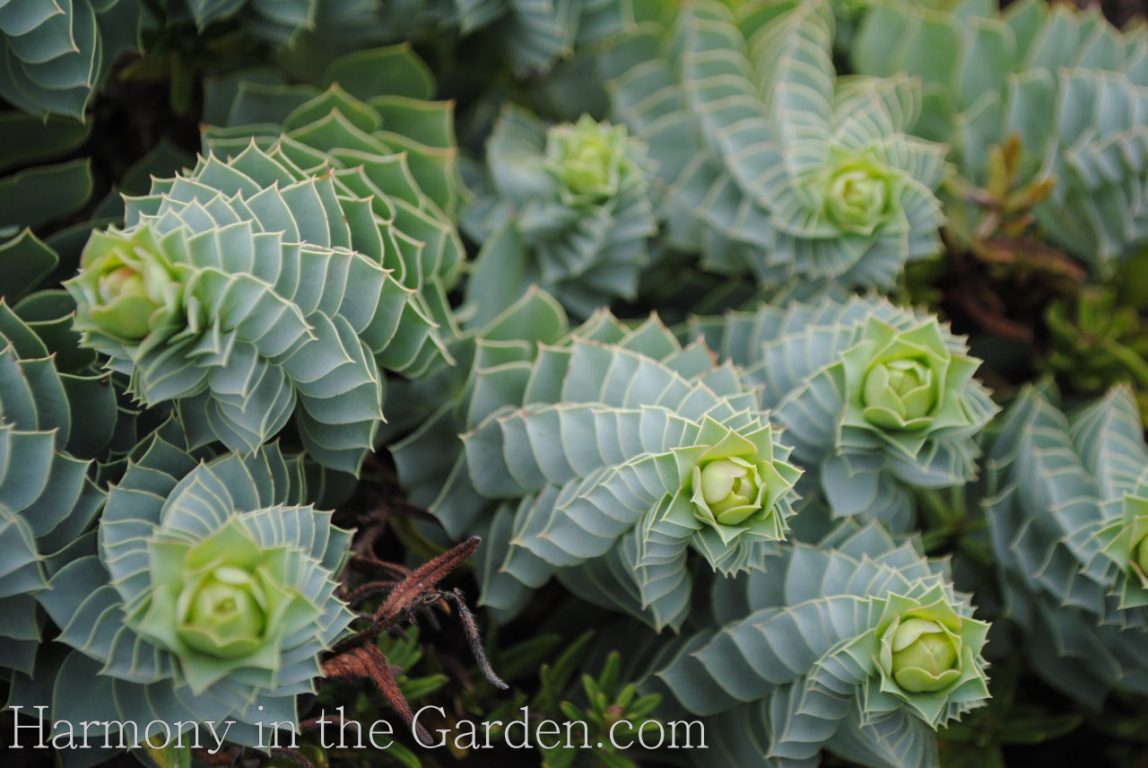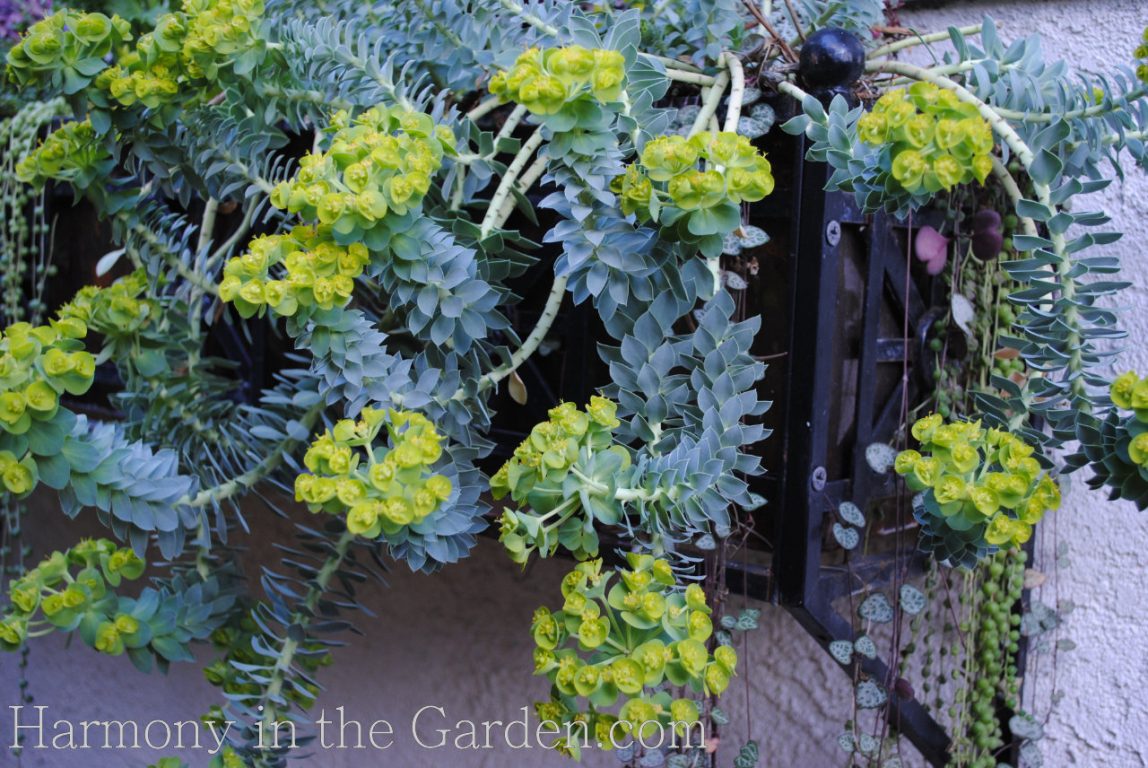 I love using this variety in window boxes, too, as it's much easier to see the cascading flowers when they're eye-level.
In fact, if you click here, you can see both the euphorbia myrsinites and the euphorbia 'Ascot Rainbow' in two different window box combinations!
3.  Add Contrasting Color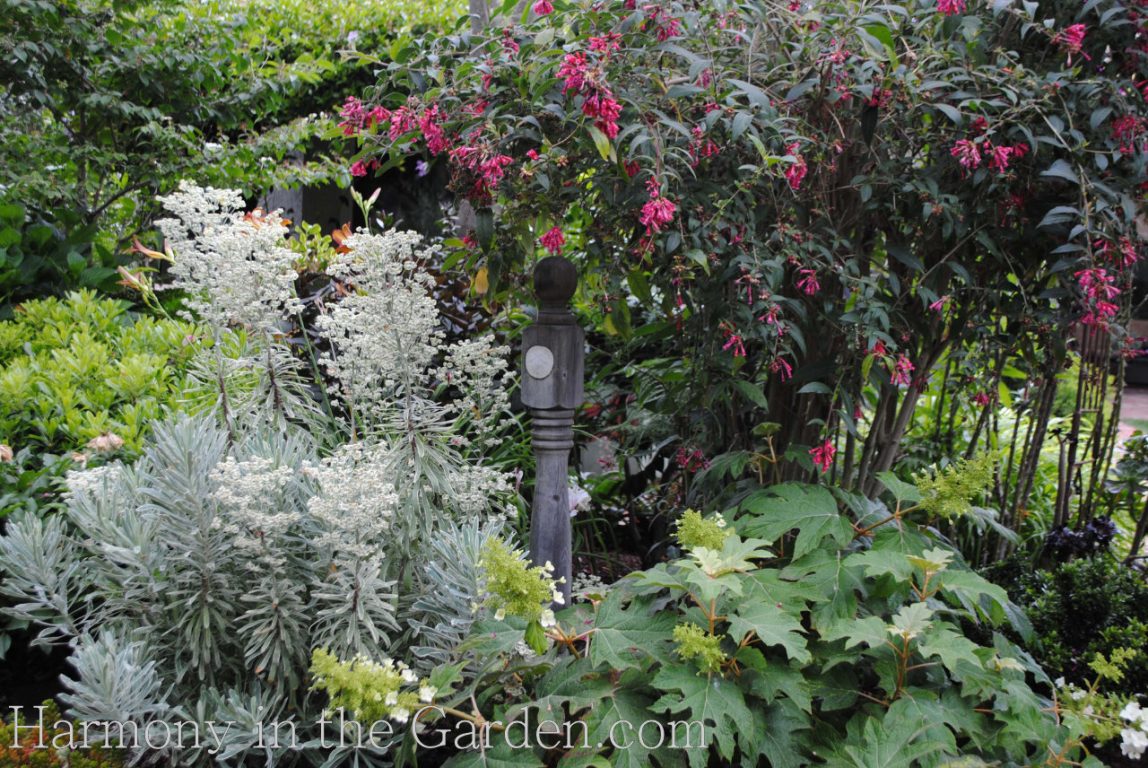 Euphorbia 'Glacier Blue' & 'Tasmanian Tiger'
Both varieties are variegated, with 'Tasmanian Tiger' having more silver in the foliage.  'Glacier Blue' is much shorter (24″ vs. 3′) and has more blue-green variegation.   
When nestled against the dark green leaves of the cestrum newellii and oakleaf hydrangea, the variegated foliage adds an exciting pop of color.
Similar to the 'Ascot Rainbow,' above, these variegated varieties appreciate a bit more afternoon shade.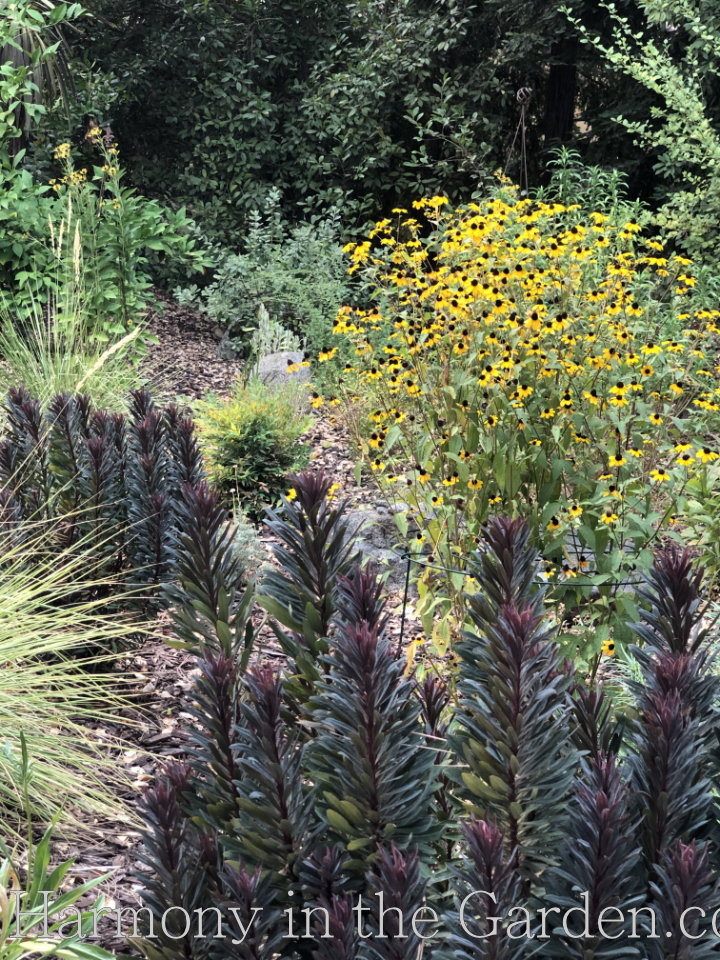 Euphorbia 'Blackbird'
'Blackbird' has some of the deepest, darkest burgundy foliage of all (especially in full sun.)
It's one of my favorites for adding drama to the garden.
This variety is particularly susceptible to root rot (as a result of too much water,) so make sure you have fast drainage!
The tag says it grows to 2'x2,′ but when it's happy in full, baking hot sun, it can quickly reach 3'x3'.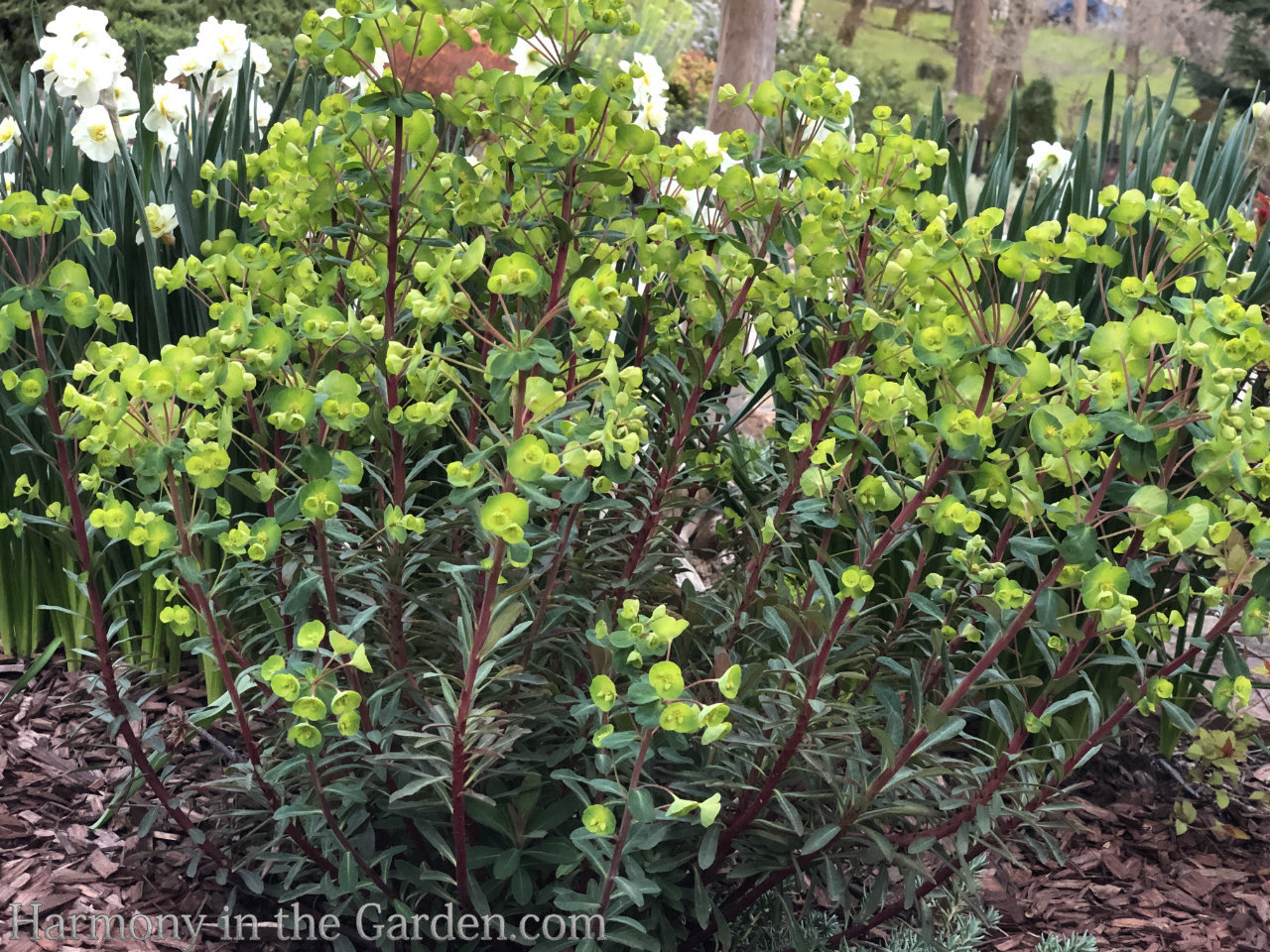 Euphorbia amygdaloides 'Charam' (aka: 'Red Wing')
An incredible variety for the front of the border is 'Charam' (also sold as 'Red Wing.)  
It grows to a tidy 2'x2′ mound with very compact blooms, but my favorite quality of all is the contrasting red stems.
I LOVE the bright green and deep red combo, with the blue-ish tones in the foliage.  A must-have, for sure.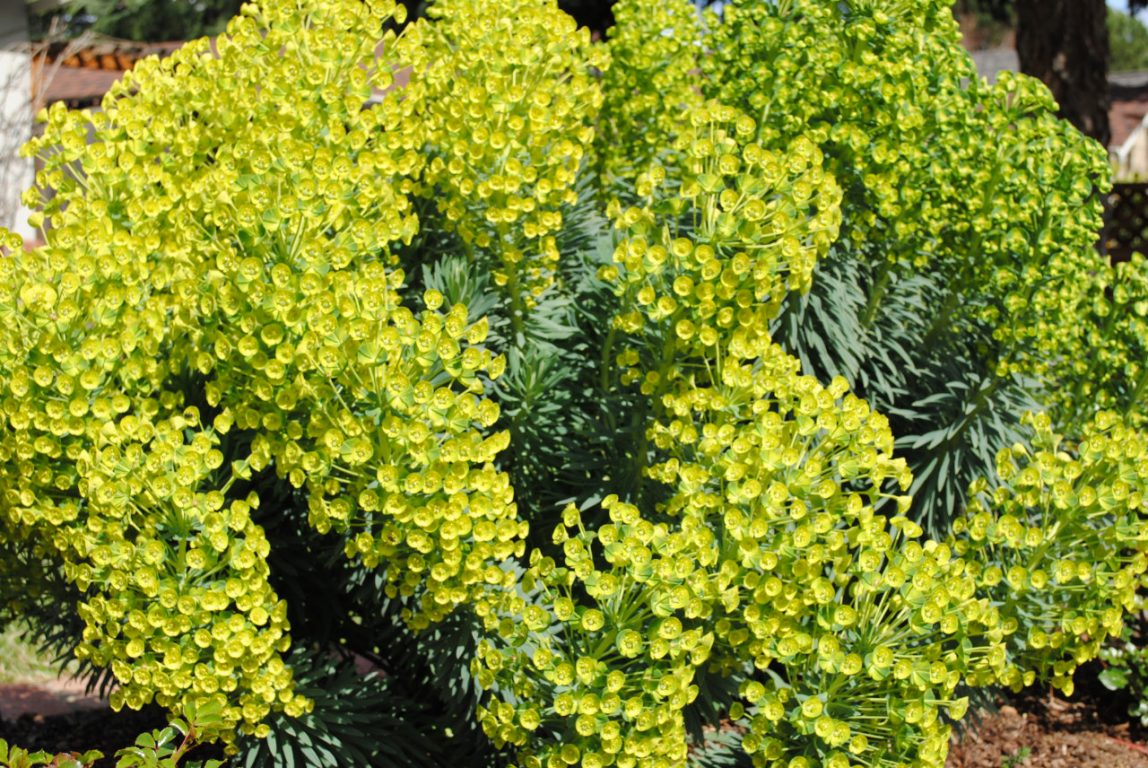 Euphorbia characias 'Wulfenii'
I can't write a post about euphorbias and not include the gorgeous blue foliage of 'Wulfenii.'  
A freely reseeding variety (which translates into 'plant one and you'll have them for life!') I've seen 'Wulfenii' growing to a towering 4'x4′.
And once it's covered with its chartreuse blooms in early spring, it's the very definition of 'show-stopper.'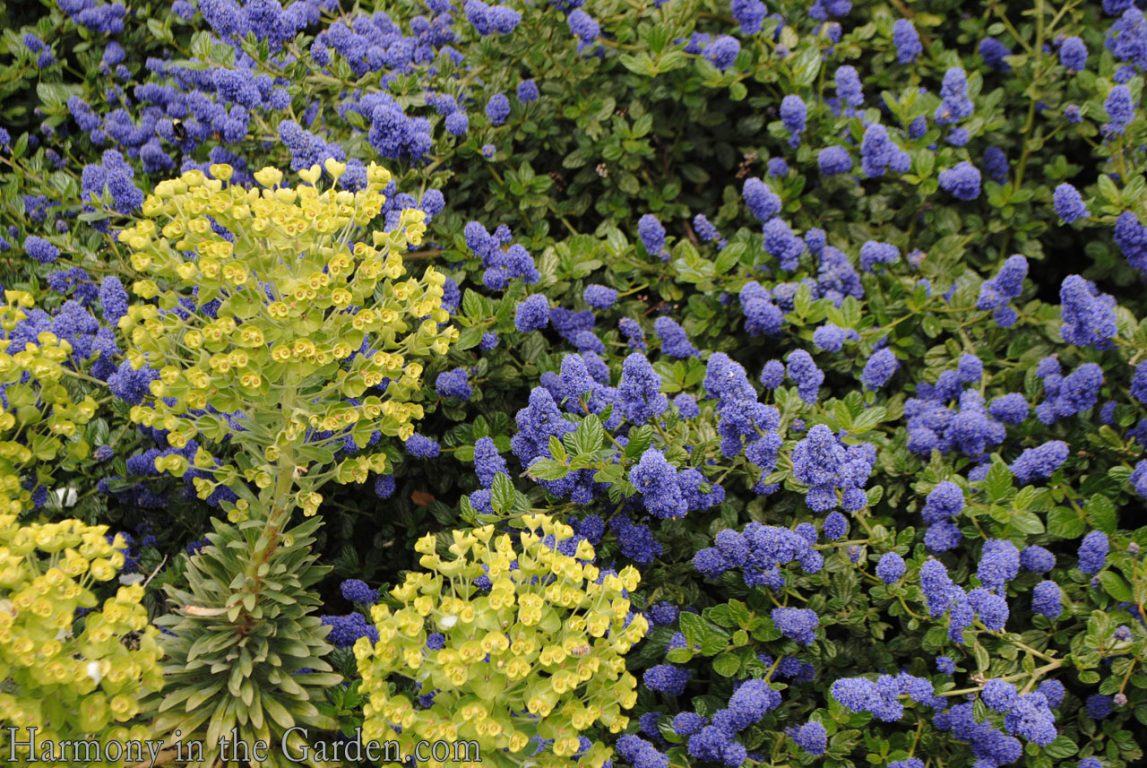 In fact, every spring I seem to have at least one new client who tries to describe the most amazing plant they've ever seen…'with Dr. Seuss-like chartreuse orbs!' and I always know what they're referring to!
Doesn't this 'Wulfenii' look amazing paired with the blue flowers of this ceanothus?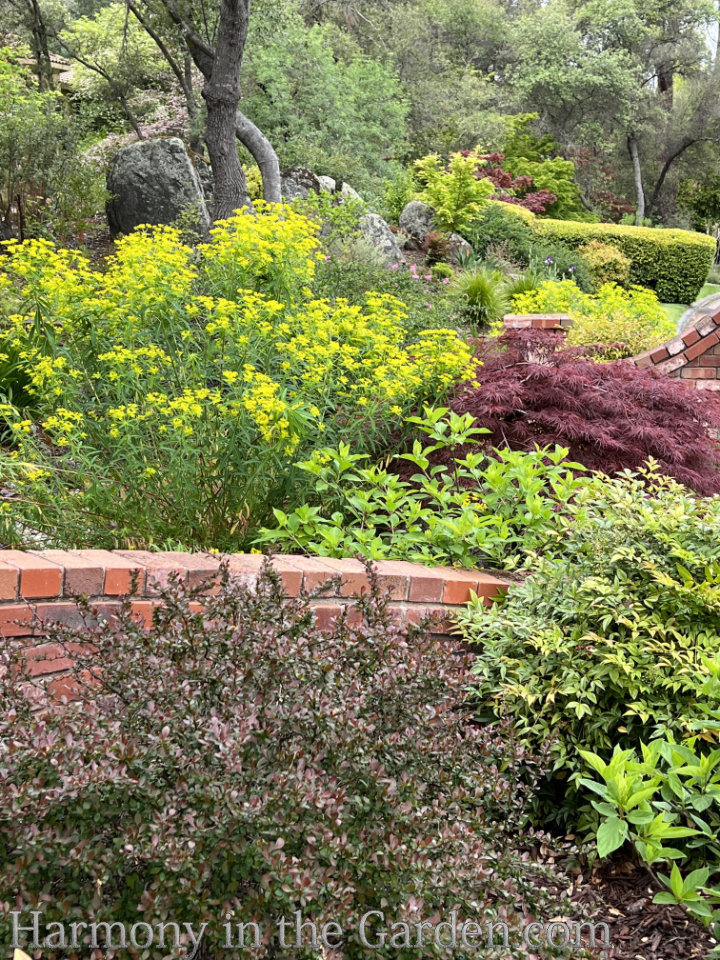 Euphorbia ceratocarpa
While this variety's foliage isn't maroon, blue, or even variegated, I decided to put it in this category because of its fresh and bright green color (it's the oversized plant with the acid-yellow blooms behind the brick wall.)
It's hands-down my very favorite euphorbia of all, not only because it's perfect for waking up a hot and tired garden, but because it is the longest blooming euphorbia I've ever seen. 
More often than not, I'll still have flowers on this plant in December!
It's a biggie, quickly growing to an impressive 5'x5' so make sure you give it enough room – the middle or back of the border is ideal.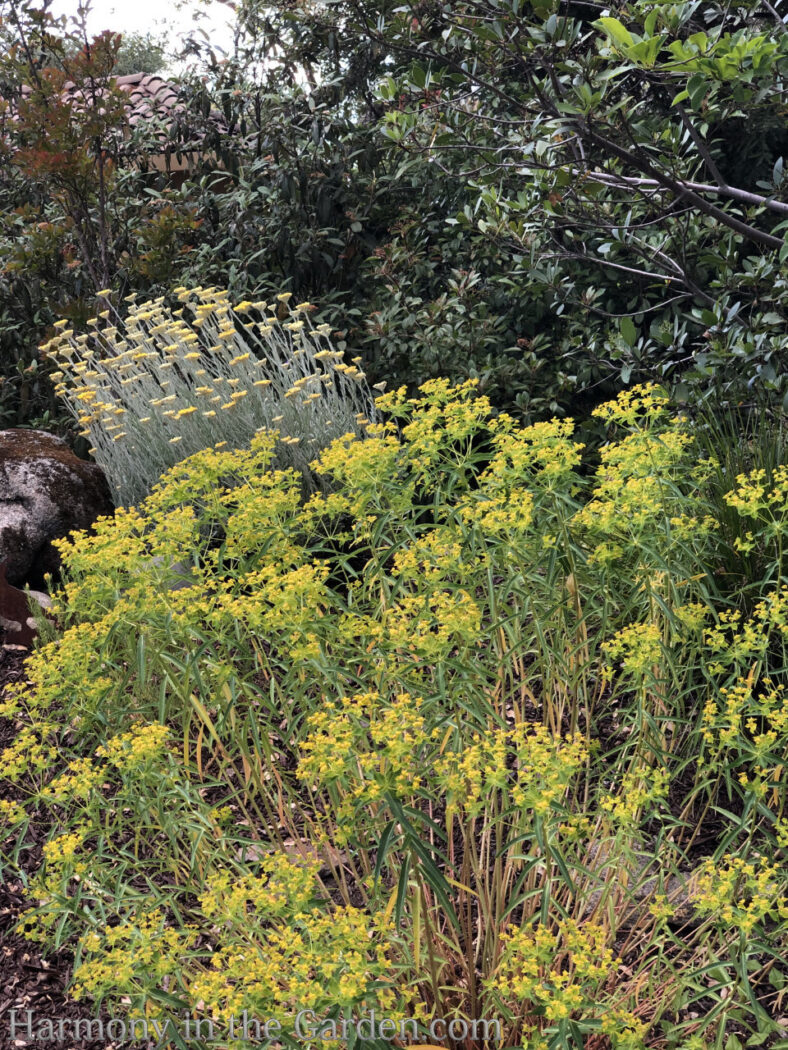 The foliage and flowers are looser in form than some of the other varieties, giving it a light and airy quality.
The only downside is that it's virtually impossible to find in the nurseries. 
But if you're lucky (or plant from seeds that are plentiful on the internet,) you'll be able to easily propagate it via cuttings and the occasional seedling.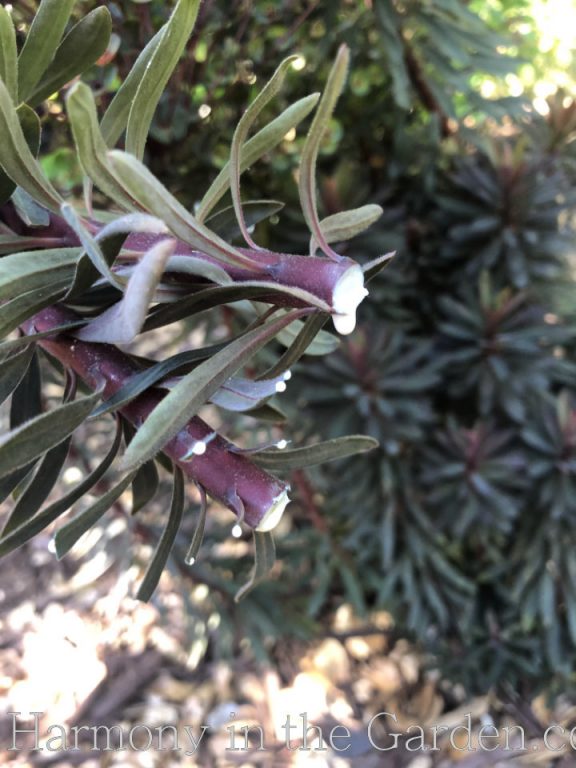 I'd be remiss if I didn't let you all know that all euphorbia stems leak a thick white sap that in some people can cause pretty bad rashes and blisters.  
I'm knocking on wood as I write this, but I've been planting euphorbias in gardens for 20 years now, and the sap has yet to cause any problems for me.  
However, I definitely wouldn't plant them where young children would be tempted to pick a bouquet of flowers.
So consider yourself warned – they're gorgeous, but they can be nasty, so handle with caution!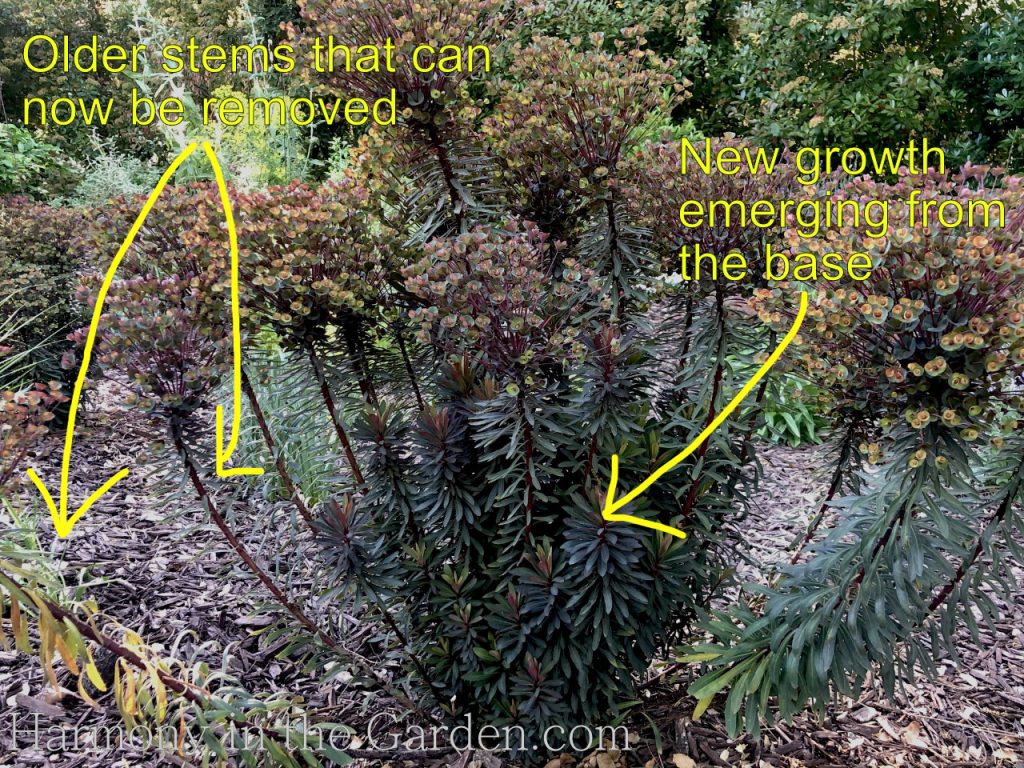 The flower bracts of euphorbias last for months at a time, but a lot of people ask when and how to prune them.
Once the flowers start to turn a light tan color, it's time to prune them.
Instead of cutting everything to the ground in one solid swoop (in a bad haircut sort of way) I prefer to selectively remove some of the old stalks a few at a time, over the course of a few weeks.
 If you prune it this way, your plant will look good for most, if not all, of the year.
Have I left any of your favorite varieties out?  If so, please let me know – I'm always on the hunt for another one to try in my garden!