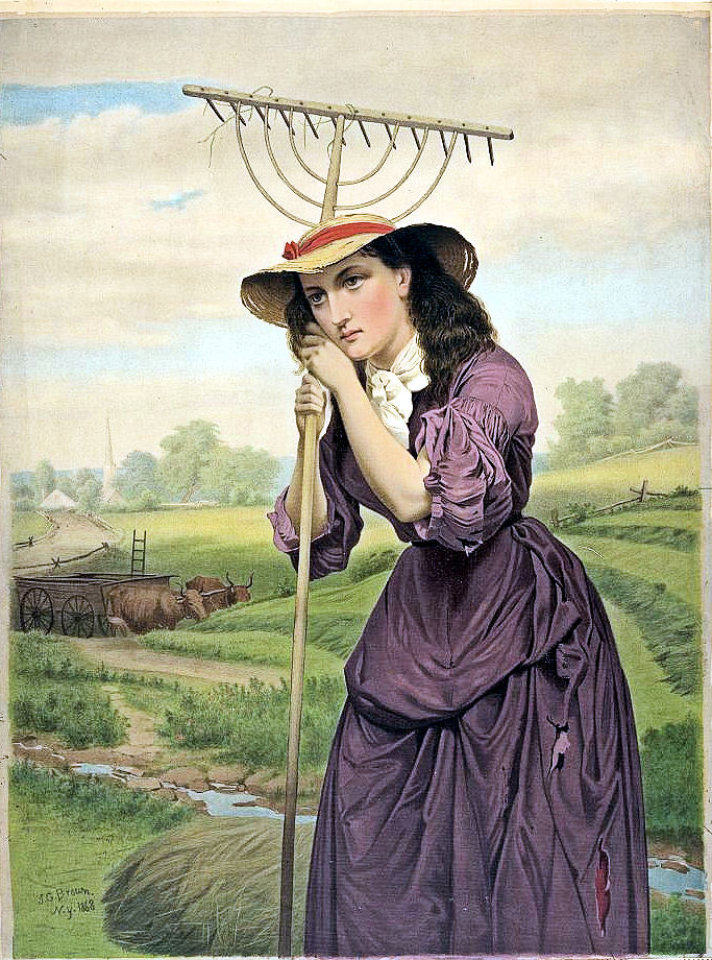 Who needs some late-summer sizzle in the garden right about now?  August through September can be a tough time for the garden.  Heck, it can be a tough time for gardeners, too!
This image pretty much sums up how many of us are feeling at the end of summer – especially THIS summer. 
I can relate to this woman,  complete with a tattered dress and smoke-filled skies.  Just swap out her lush green hillside with California's crispy brown hills, and the picture would be complete.  
I'm beginning to feel like Mother Nature has it in for my garden, thanks to an unrelenting attack of moles, hordes of turkeys who consider my garden their playground, a fox who won't stop defecating on my beautiful granite boulders (enough already – we all know this is your territory!) and, of course, the deer. 
And don't even get me started about the horrific wildfires, which are beyond tragic.  I am SO ready for this summer to be over!
However, as burned out as I'm feeling, my garden continues to thrive (with a little damage here and there from the critters mentioned above.) 
In this post, I'll share with you some of my favorite plants that sizzle just as I'm beginning to fizzle.  These are the plants that keep the show going until the fall-bloomers step on stage.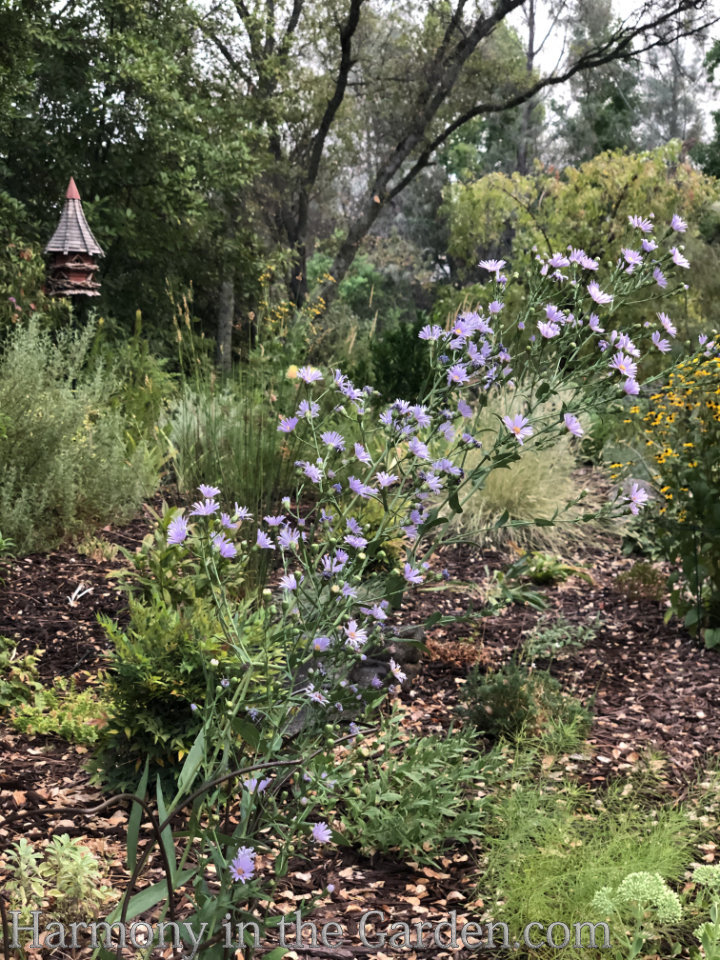 Aster laevis (Smooth Aster) zones 4-9
I have loads of aster varieties throughout my garden, as they're indispensable for blooming their little hearts out during this transitional time in the garden. 
Anything that blooms for weeks at a time, nourishes tons of pollinators, and withstands marauding deer and rabbits has my vote!
The Smooth Aster is unique in that it's tall and airy looking.  It quickly grows to 3-4' on tough stems that don't easily flop over. 
I've staked mine up for the first few years to keep clumsy deer from treading on them.  Leaves are long and smooth to the touch versus other asters (hence its common name.)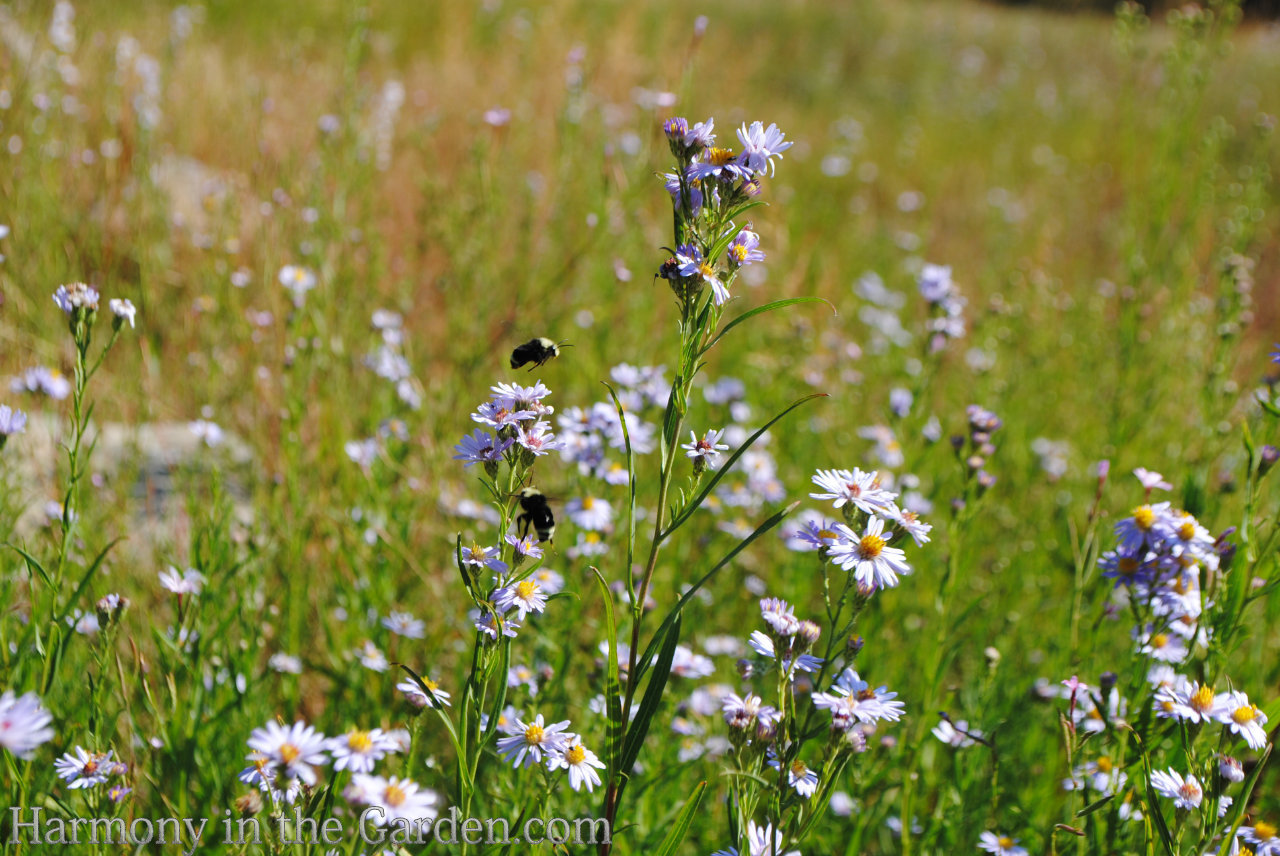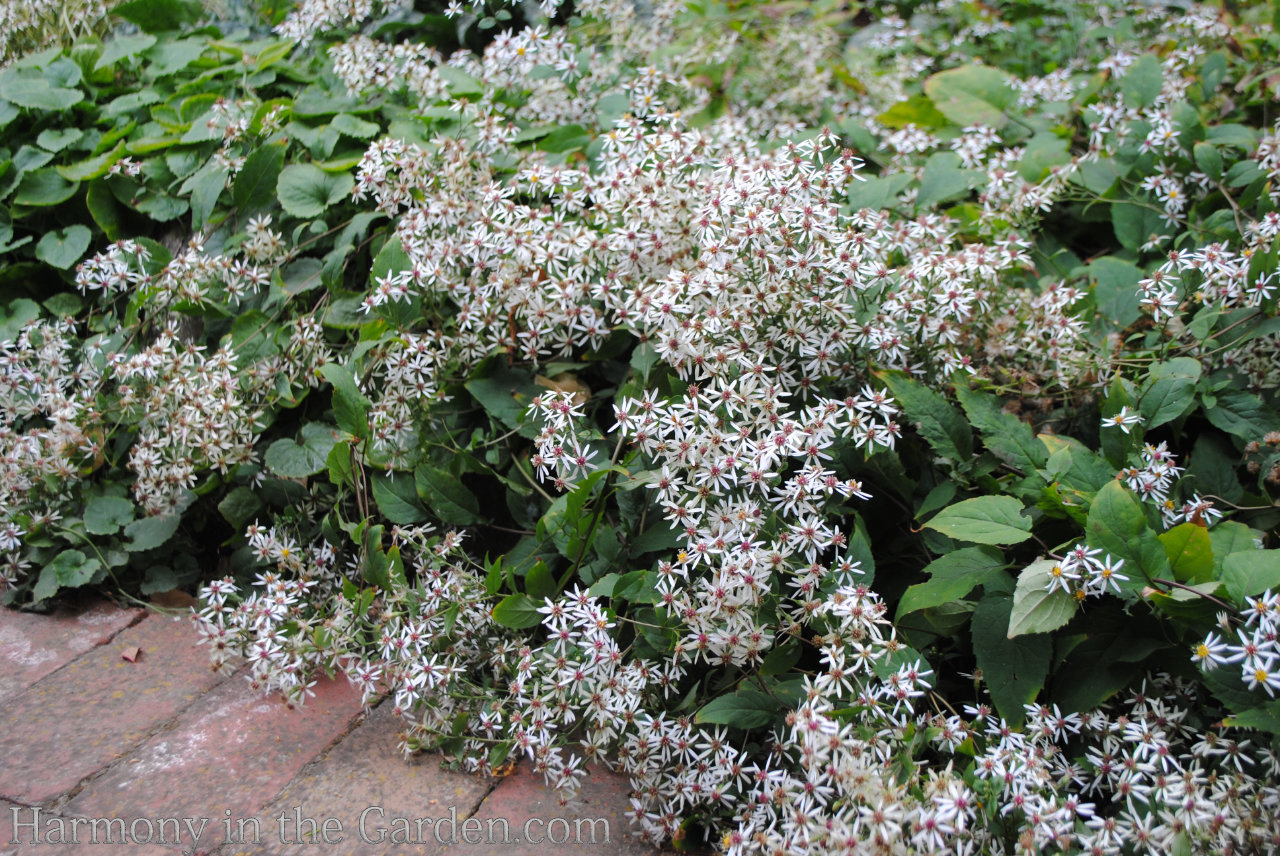 Aster divaricatus (Wood Aster) zones 3-9
This is my favorite groundcover aster, perfect for cascading down a rock wall. 
The Wood Aster prefers shade, with a bit of morning sun to encourage blooms.
Despite the internet saying it's somewhat thirsty, in my gardens in Los Altos, Granite Bay, and Lake Tahoe, it thrives with fairly low water.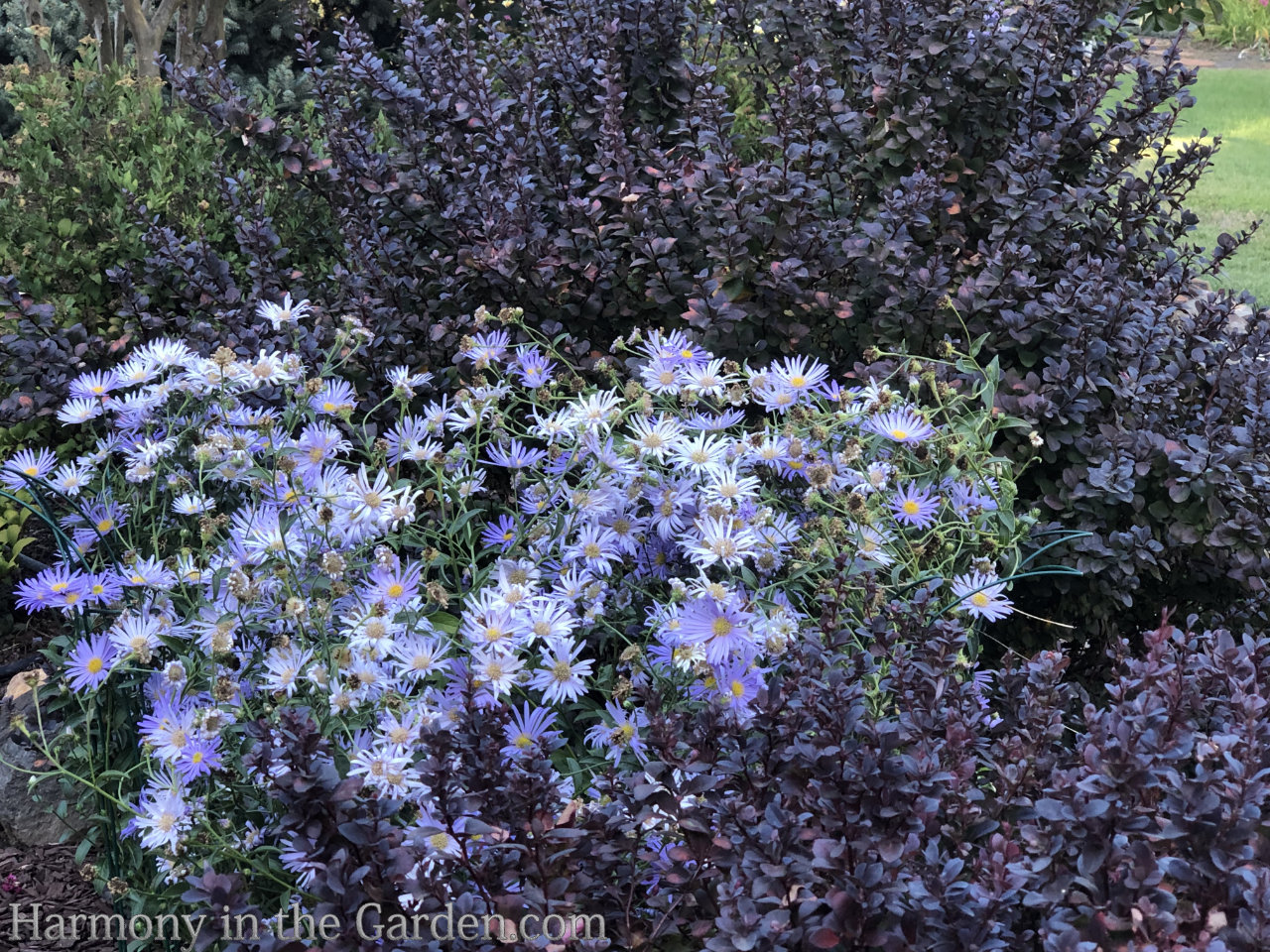 Aster frikartii 'Monch' zones 5-9
I have several of these throughout my garden, most in full sun but some in partial shade (fewer flowers, but heck, at least they bloom!) 
They look particularly stunning nestled among the dark foliage of Berberis 'Concord.' 
In fact, maroon and glaucous/blue is one of my favorite color combos (click here to see why!)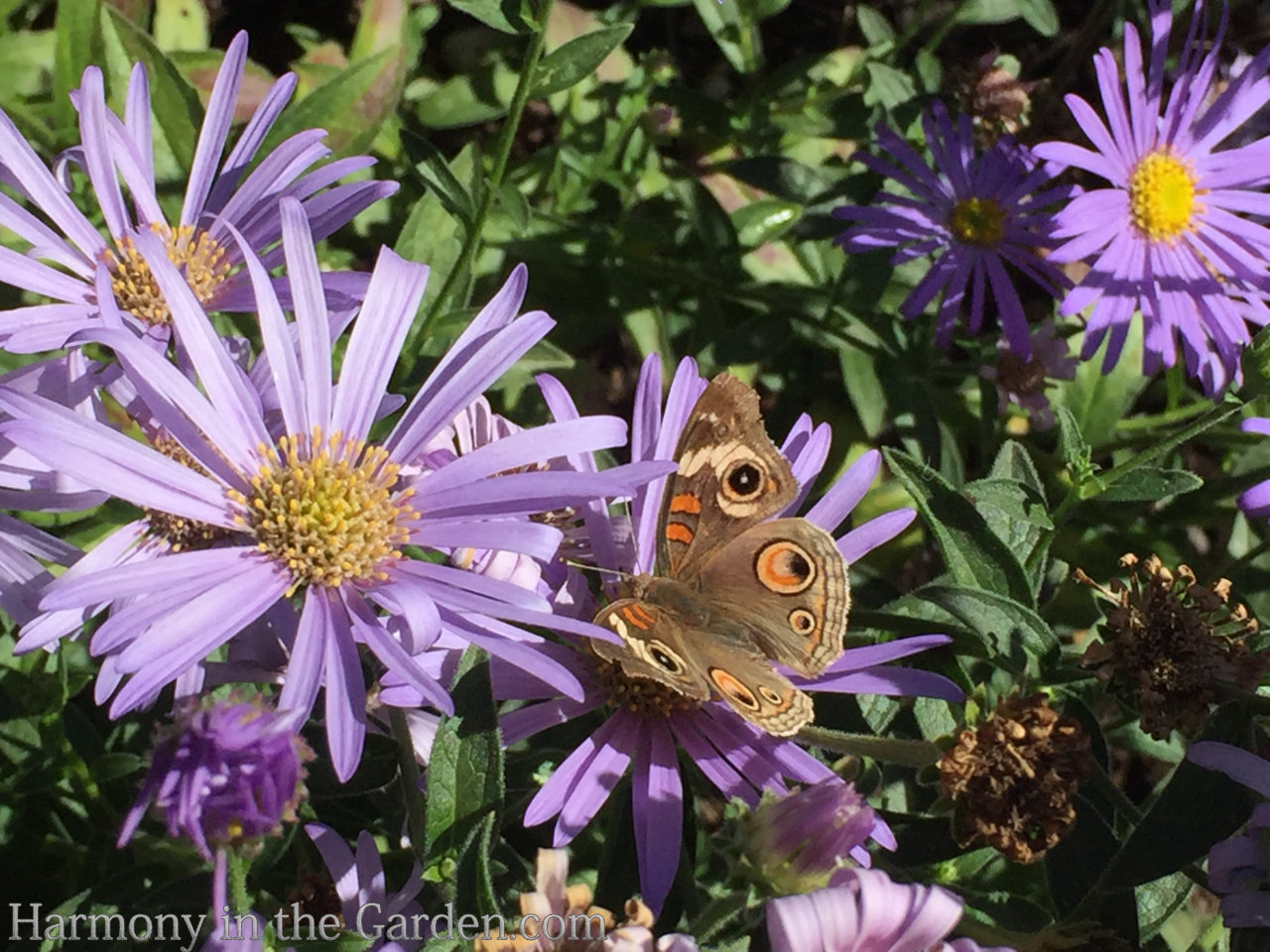 Blooming from July through September, I think the butterflies love them almost as much as I do. 
Oh, and don't be so quick to cut back the spent flowers of 'Monch' as they can add another element of interest to the winter garden (below.)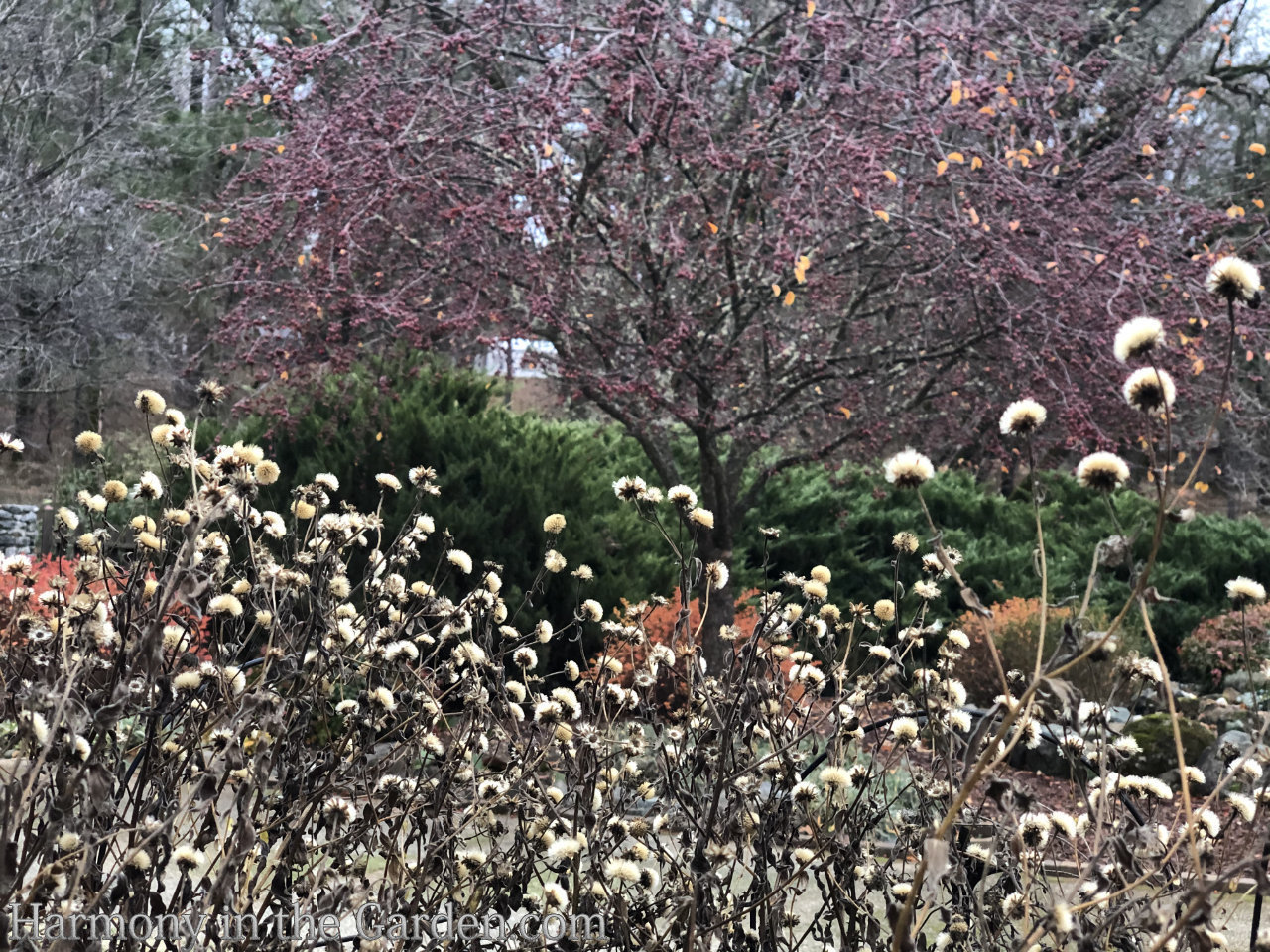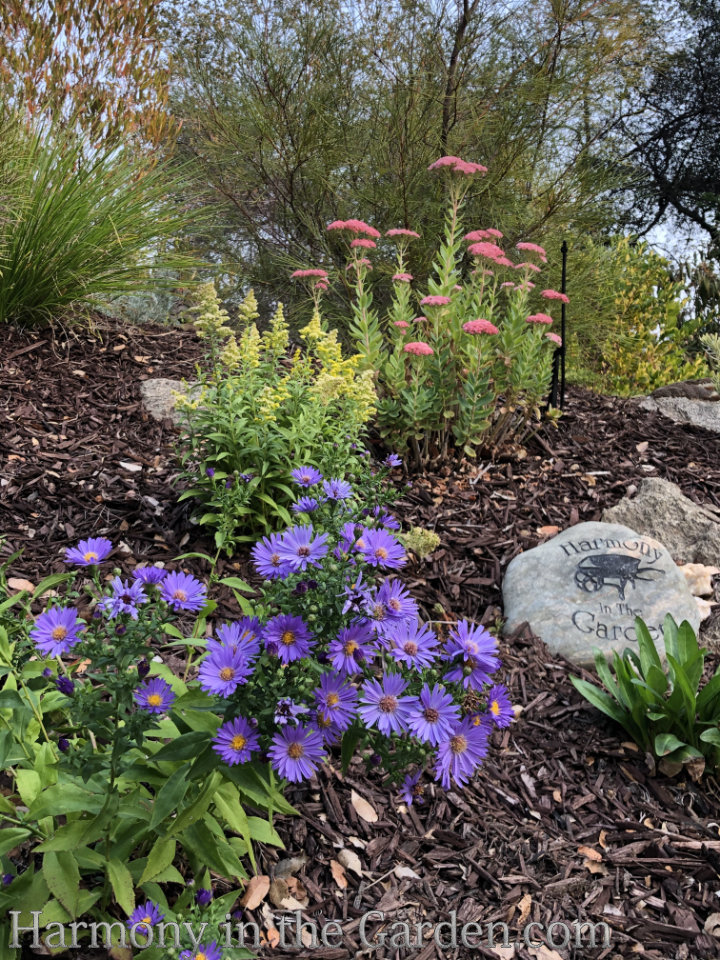 Aster 'Barbados' (New England Aster or Michaelmas Daisy) zones 5-9
This variety is a bit thirstier than the others (after all, it's called a 'New England' aster which is a clue!) but it still does really well in my garden with moderate water.   In the photo (left) you can see it growing with yellow solidago 'Little Lemon' and sedum 'Autumn Joy – two other amazing late-summer bloomers.
And below, it's also growing behind my agave desmetiana.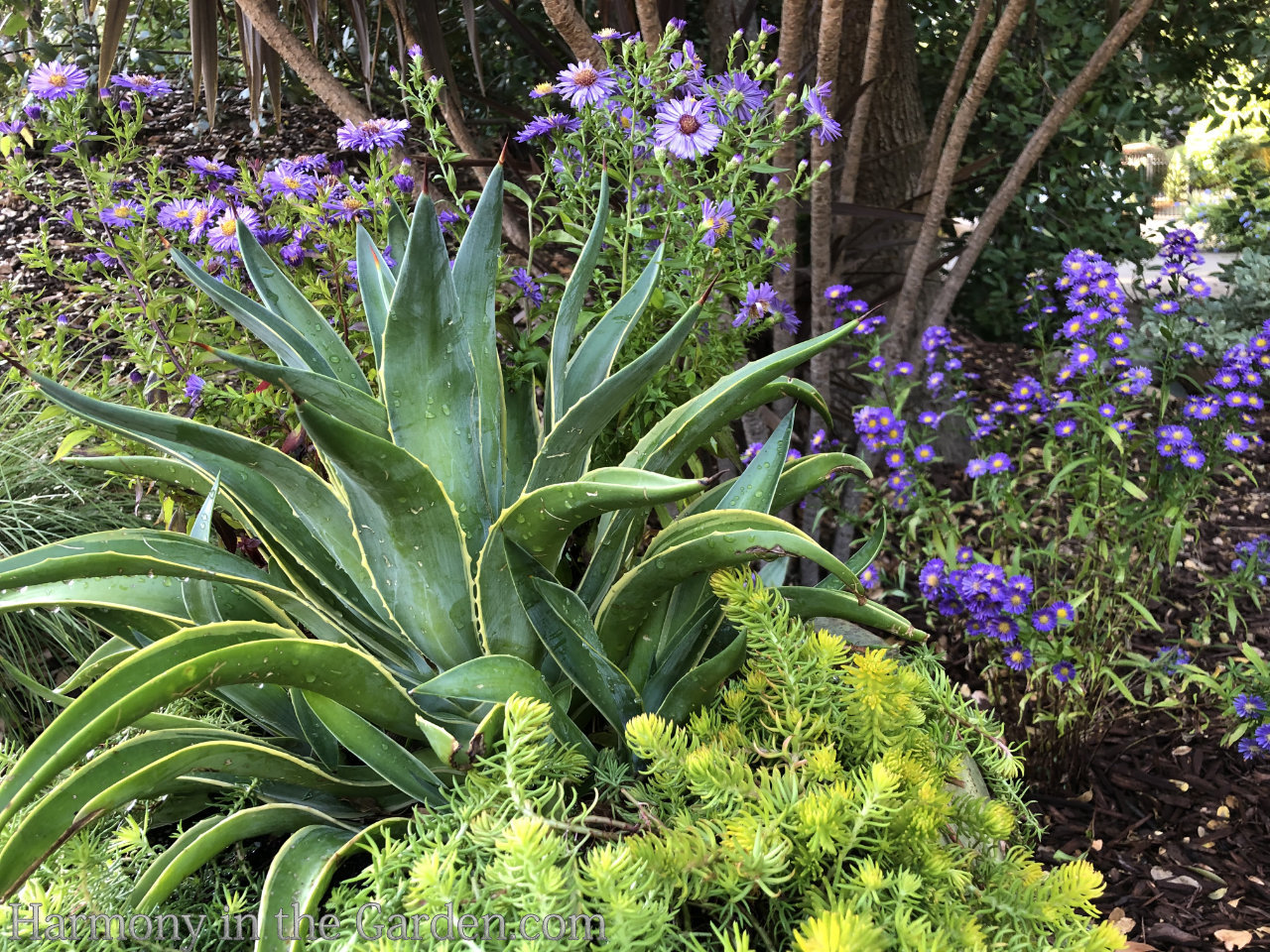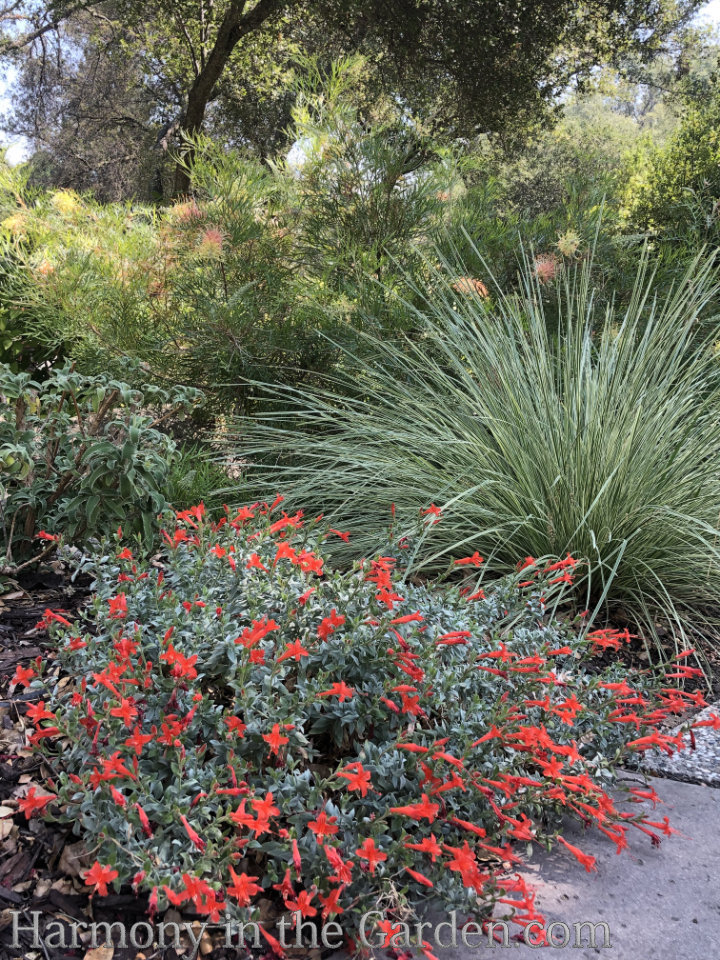 Zauschneria 'Everett's Choice' (California Fuchsia)        zones 8-11
Man, oh man, my California Fuchsias are in their prime right now!
'Everett's Choice' is my go-to variety of choice, as the foliage tends to have a greenish tint to it (versus many other varieties that have glaring, steely-gray foliage.) 
Combine that beautiful foliage with the tiny scarlet, red-orange trumpets that cover the 1 1/2′ mound, and you have a hummingbird's buffet.
This particular planting combination gets all-day sun, with reflected heat from my driveway.  The zauschneria, lomandra 'Platinum Beauty', and grevillea 'Peaches and Cream' (behind) is perfection, looking good throughout the majority of the year.  
What more could you want?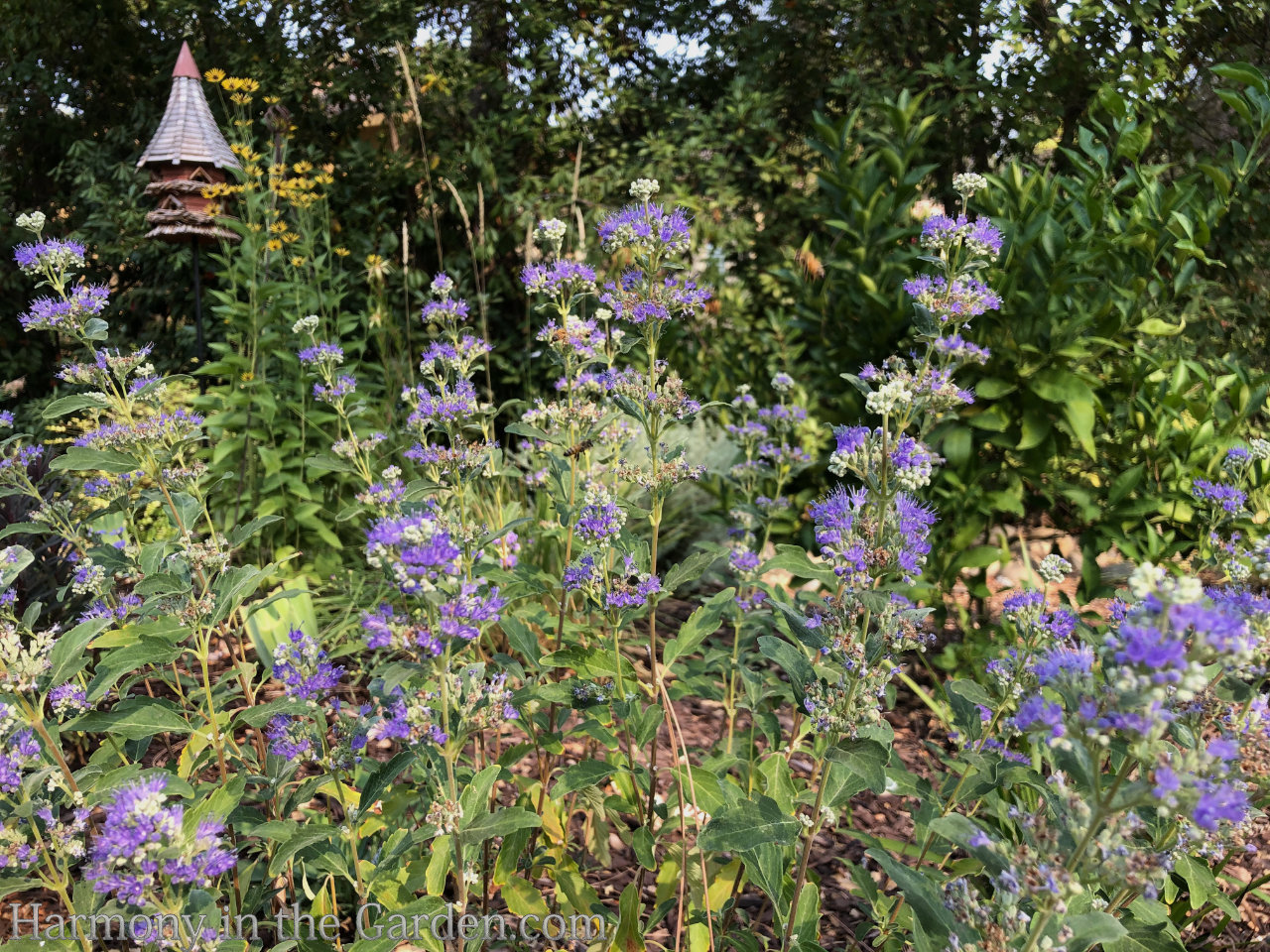 Caryopteris 'Beyond Midnight' (Bluebeard)  zones 5-9  
This variety was given to me by Proven Winners many years ago and is still one of my favorite late-summer bloomers. 
Starting in late July, this Bluebeard will bloom through the end of September.  The blooms are darker than many other varieties, and the shrub is more compact. 
I wish you could see how many bees are on this plant (look closely, and you can find at least 4!)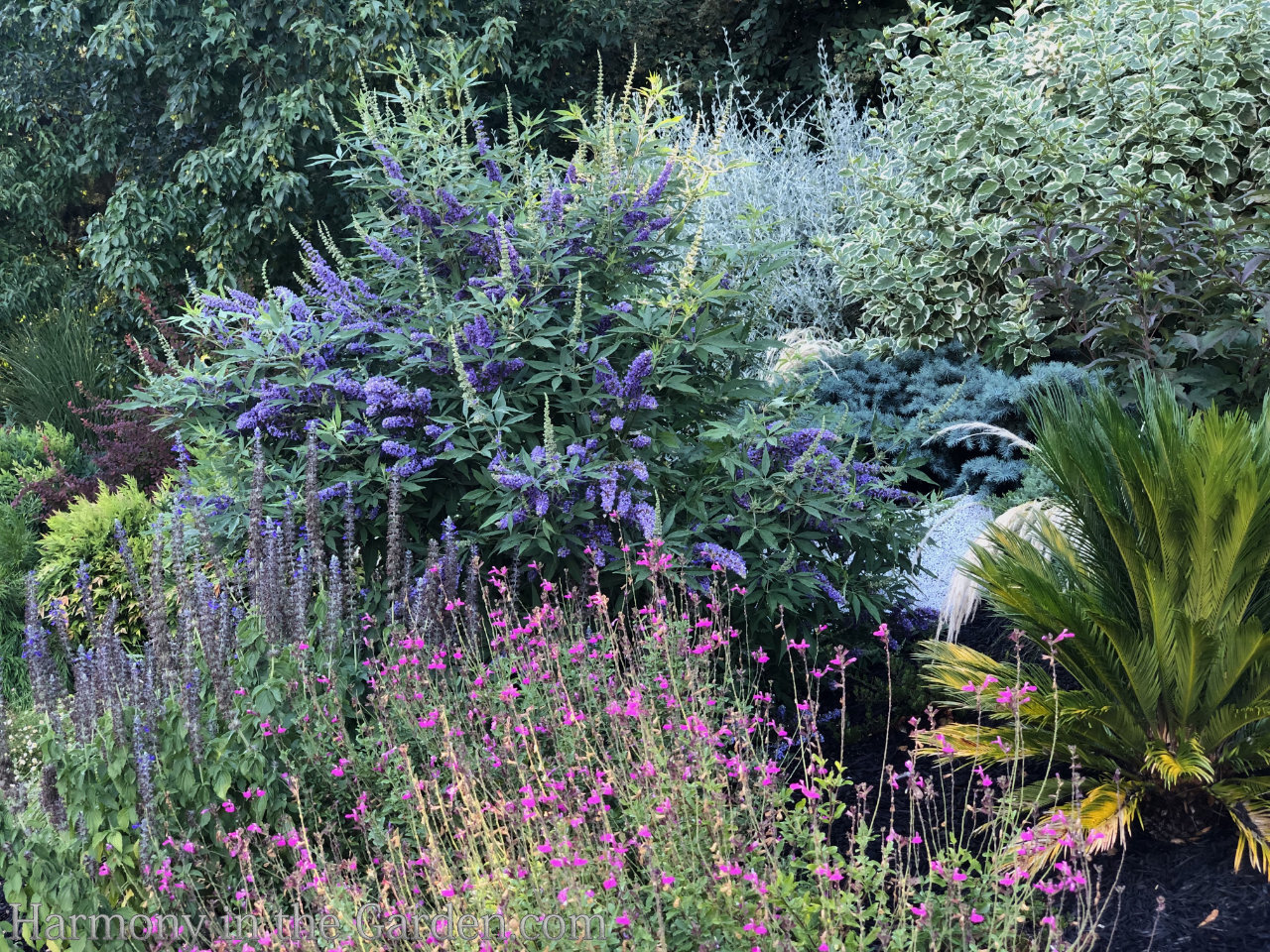 Vitex agnus-castus (Chaste Tree) zones 5-9  
The vitex is a non-stop bloomer, starting in July and going all the way through to the first frost (it's the large shrub with lavender-colored blooms, left.)
It's a biggie, growing into a large shrub/small tree (15'x15' or more!)
However, 'Blue Diddley' is a smaller Proven Winner variety that I'm dying to get my hands on, growing to a much more manageable 5'x5'.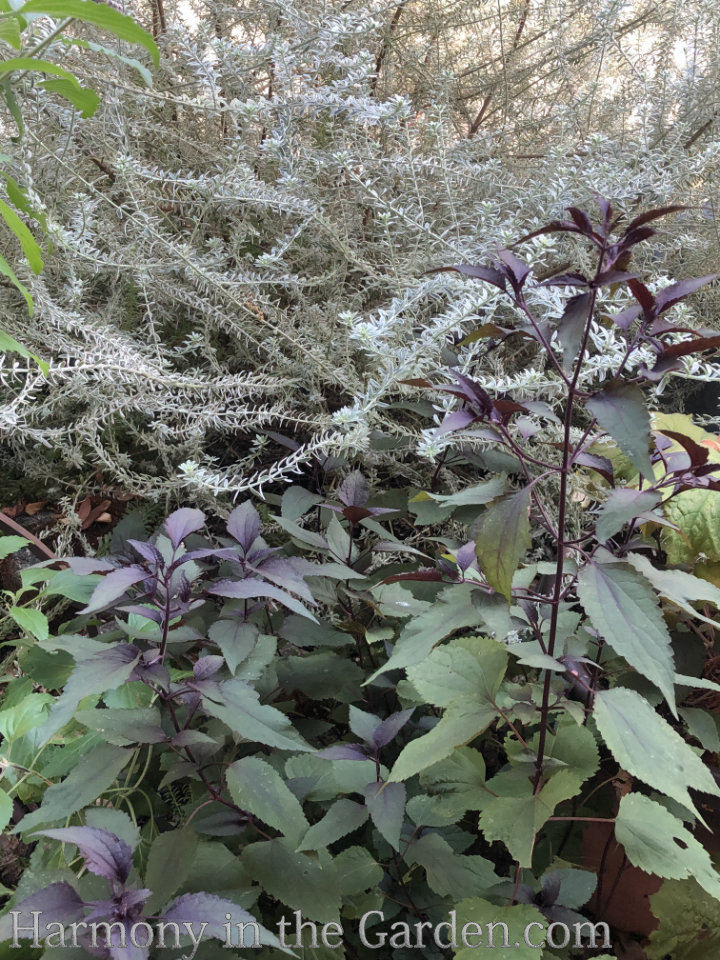 Eupatorium rugosum 'Chocolate' (Snakeroot) zones 4-8
Why, oh why, is this called 'snakeroot?'  If it had a more glamorous name, I'm sure it would be found in more people's gardens! 
I've planted these for years, and mine is just now beginning to explode with little white clouds of flowers.  I love this reliable perennial, not just for the flowers but also for the moody maroon/dark green foliage. 
It looks amazing even when not in bloom (especially when paired with the variegated foliage of westringia 'Smoky,' left.)  It's not only deer resistant but rabbit resistant, too!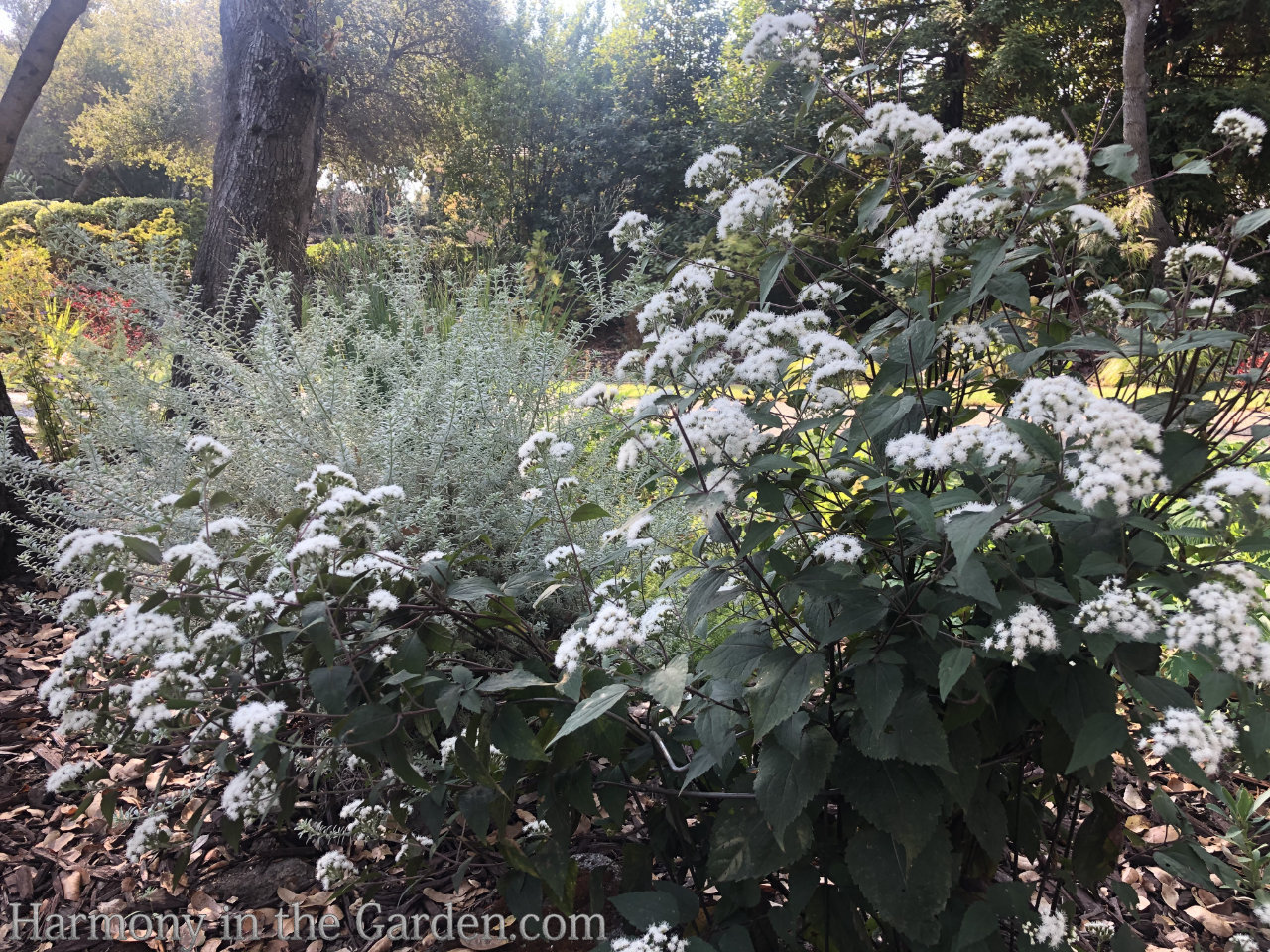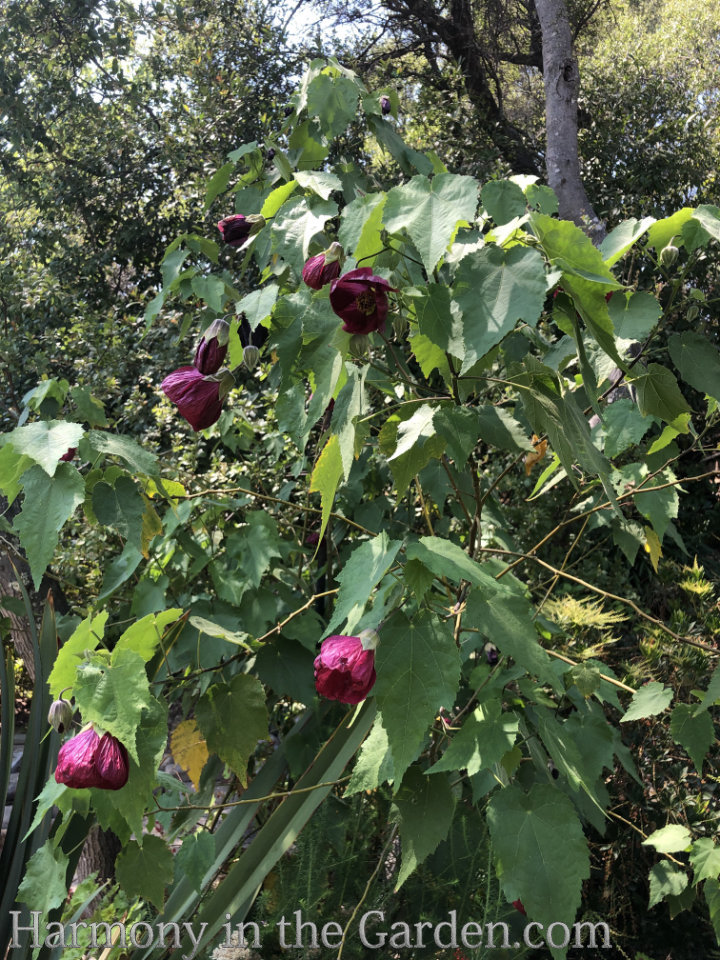 Abutilon 'Nabob' (Chinese Lanterns)  zones 8-11 
'Nabob' is one of my favorite abutilons, with its oversized, dramatic, deep-red blooms. 
It's a tall variety, growing 6-feet (or more), so I like to plant mine where it can support itself with neighboring tall shrubs (like the pieris, next to it.) 
In my last garden (below), I planted 'Nabob' at the feet of my gorgeous 'Sally Holmes' rose, where it happily grew through the canes of the rose. 
It was one of my favorite plant combos ever.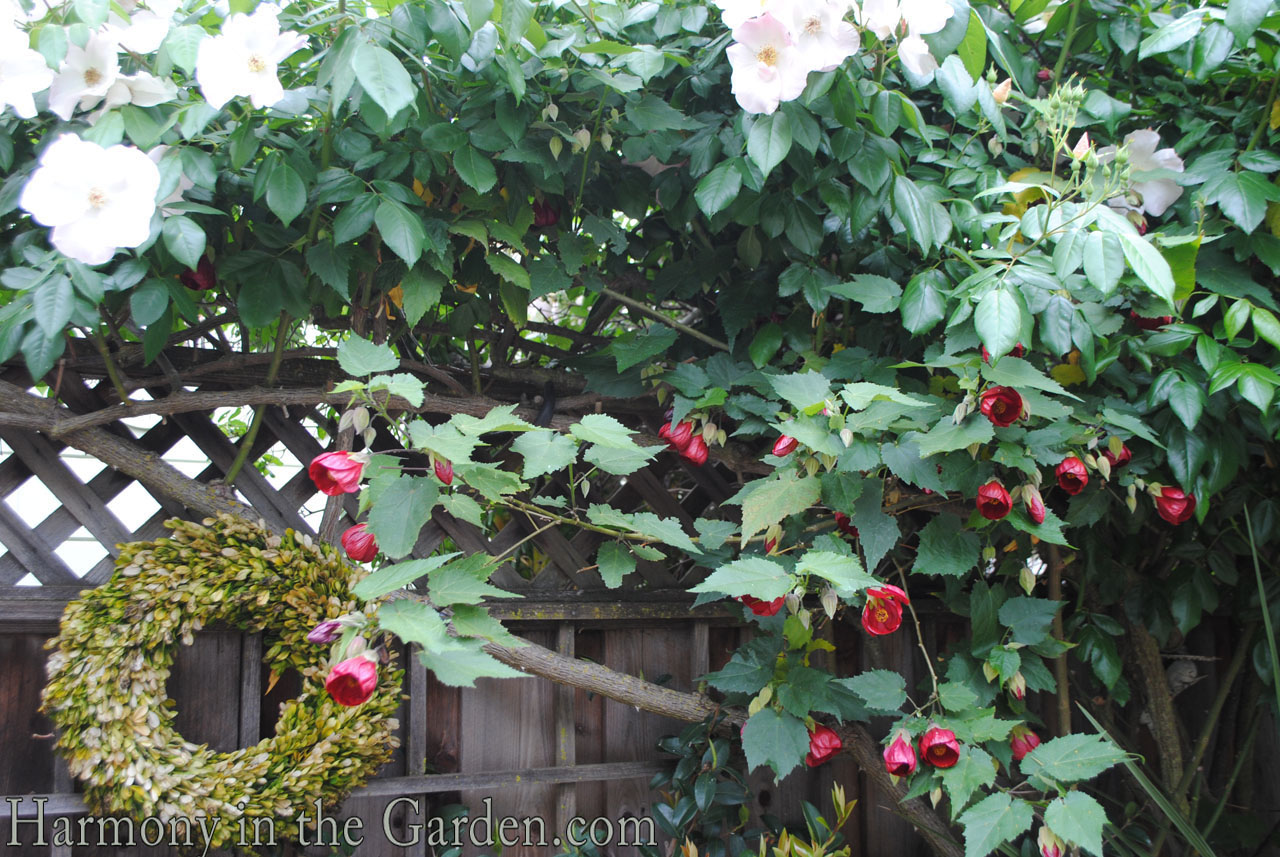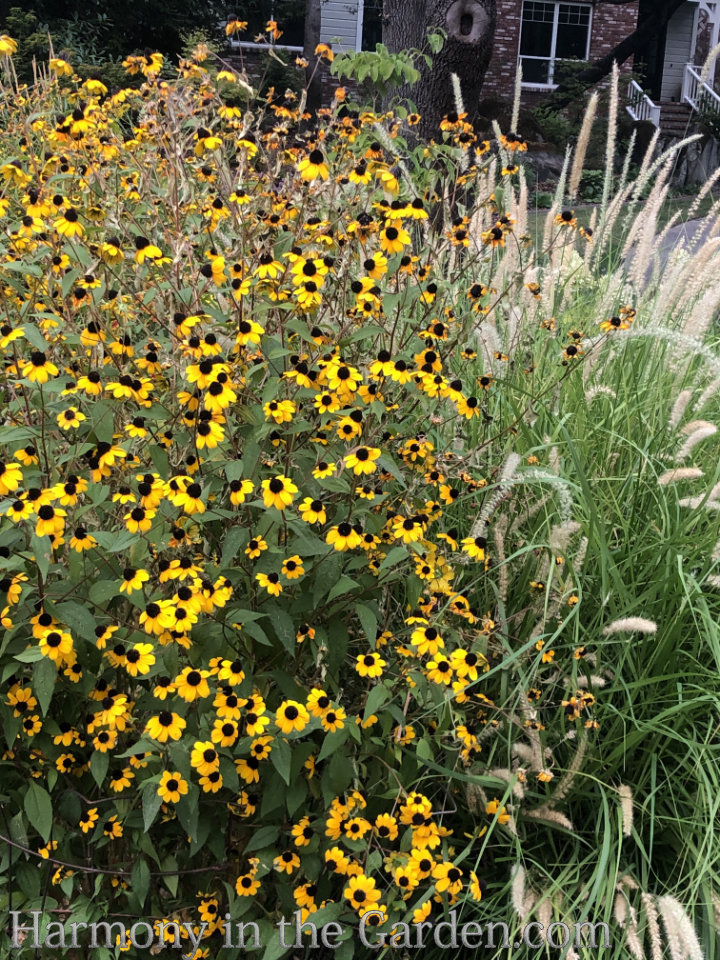 And last, but not least, a post about late-summer bloomers just wouldn't be complete without mentioning rudbeckias. 
I know I write about them all the time, but they're  such a bright spot this time of year – adding tons of cheery yellow blooms, much-appreciated height to the garden, and providing a rich source of nectar for pollinators.
Rudbeckia triloba (left and below) happily re-seeds throughout my garden, and can soar to 7-feet when happy.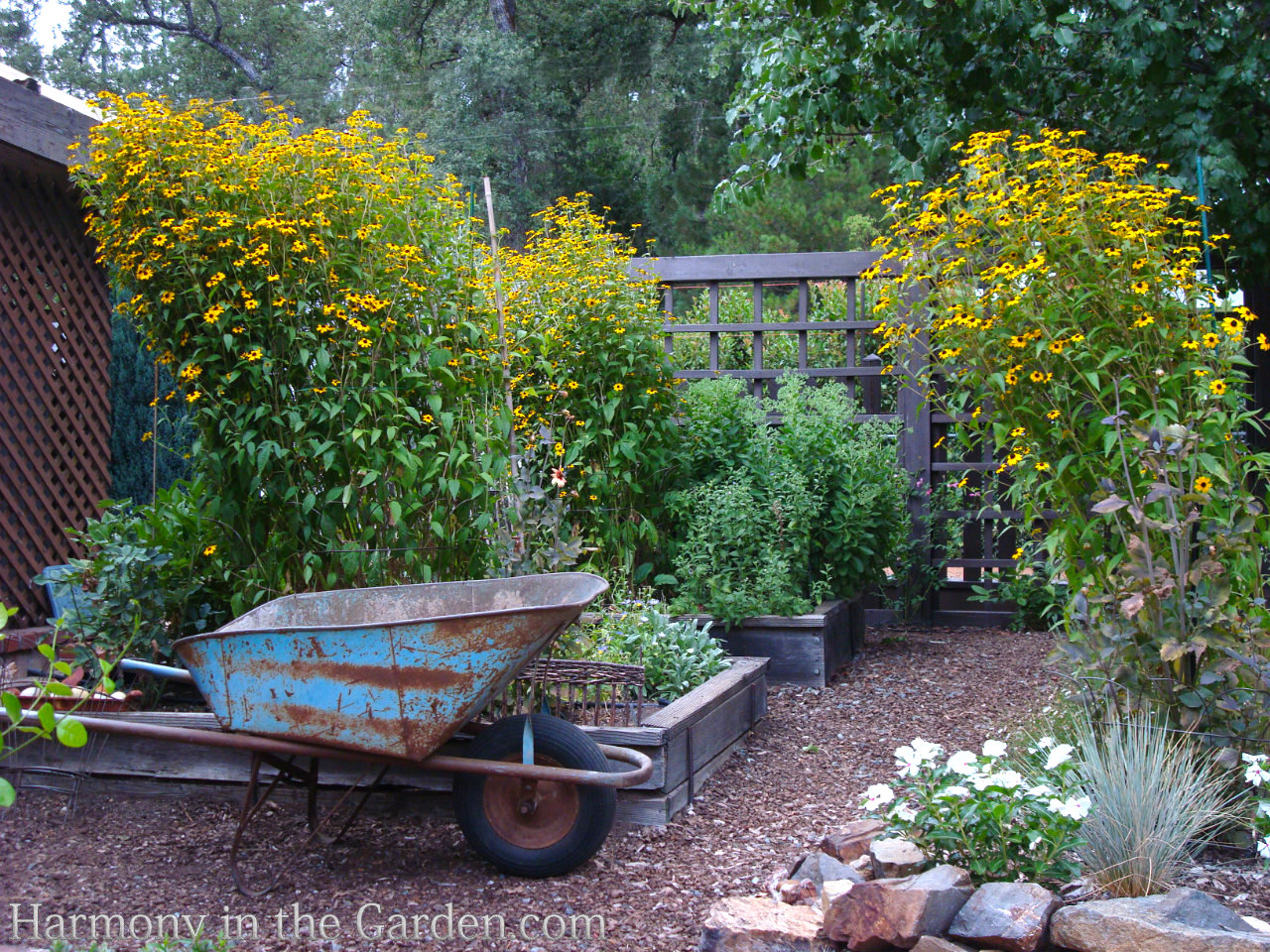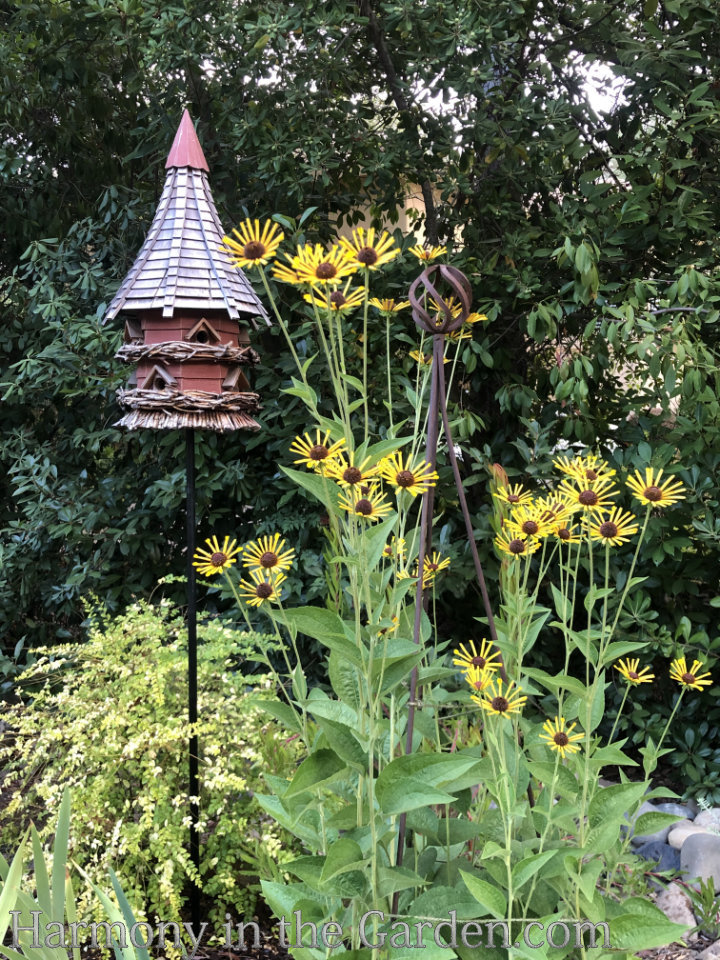 Rudbeckia 'Henry Eilers', with its unique spoon-shaped petals, makes a statement right about now, blooming all the way through fall.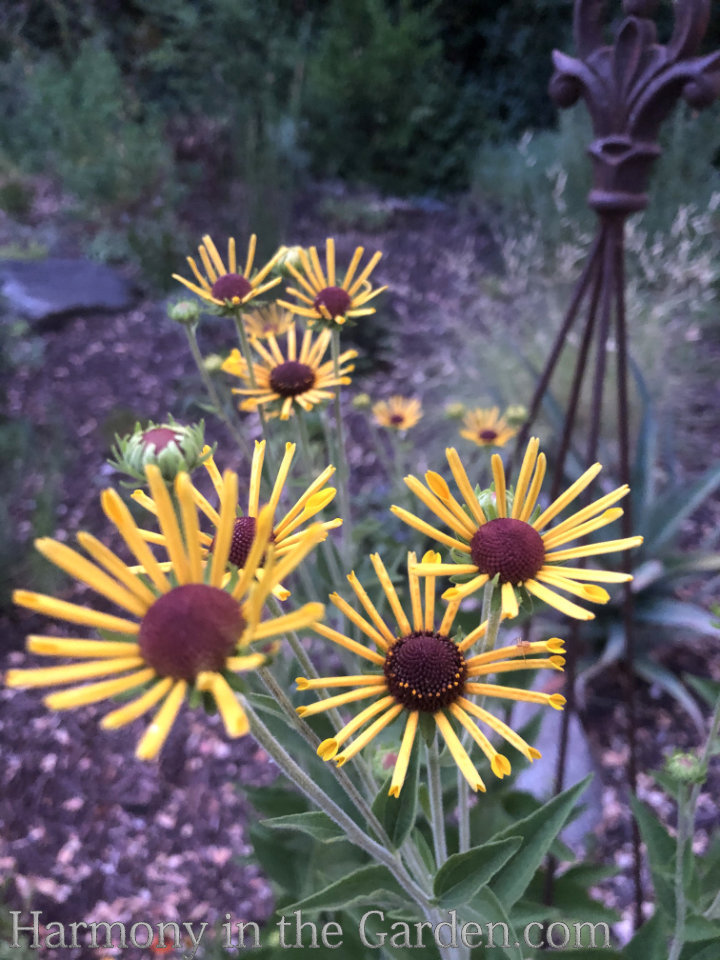 I have a few blank spots in my garden right now where some plants have died, and I need some suggestions of what to plant. 
Does anyone have any late-summer favorites?  If so, please share what's growing in your garden right now!