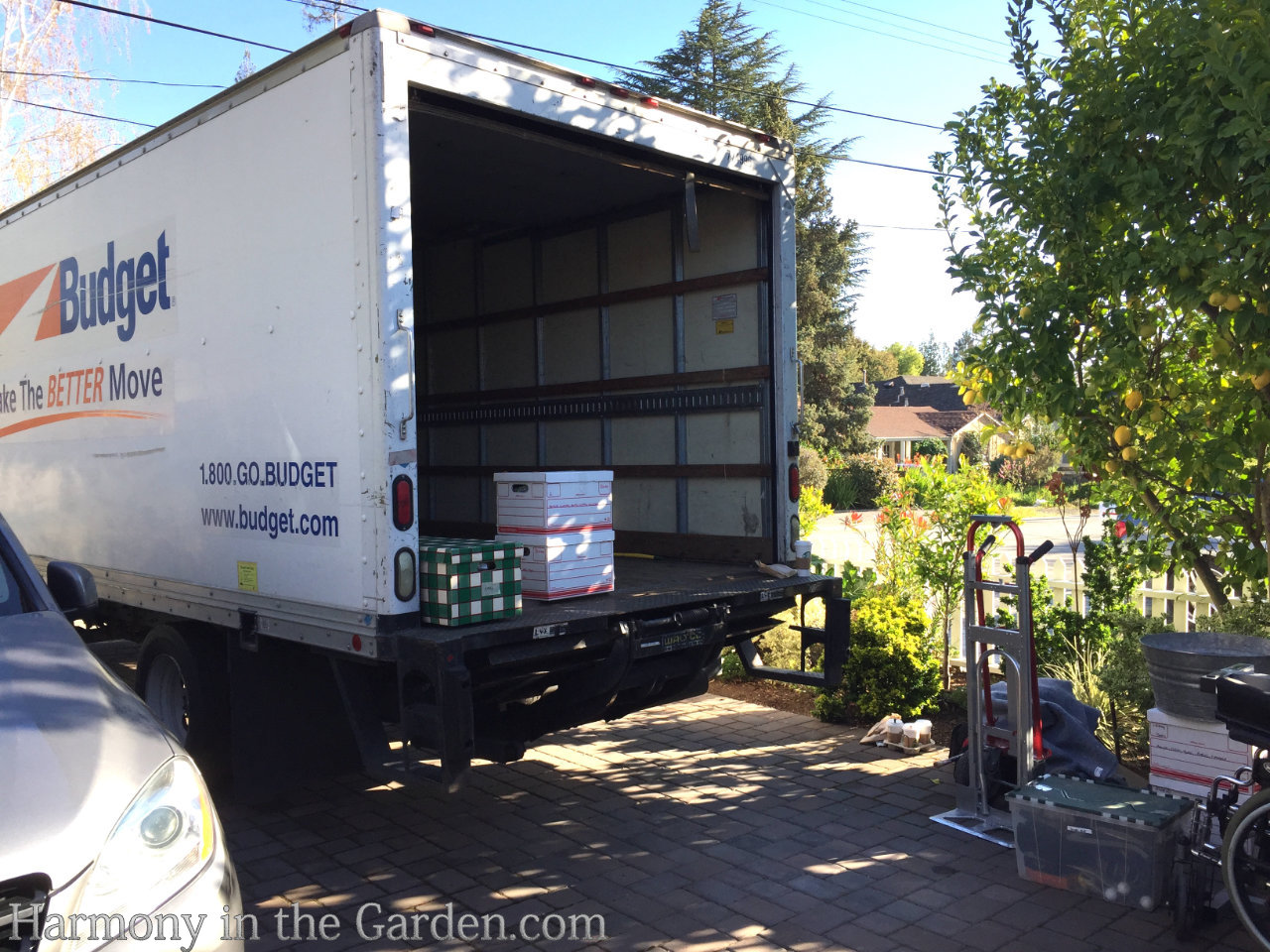 Saying goodbye to your garden with pressed flowers can help make this emotionally challenging event a bit more bearable.  
I remember just a few years ago when I said goodbye to my garden of 30+ years – hoo boy, was that hard.  
While I came up with some helpful coping strategies to make the transition easier (click here to read), it was still an emotional roller coaster. 
Oh, how I wish I had thought of pressed flowers as a way to take a bit of my garden with me.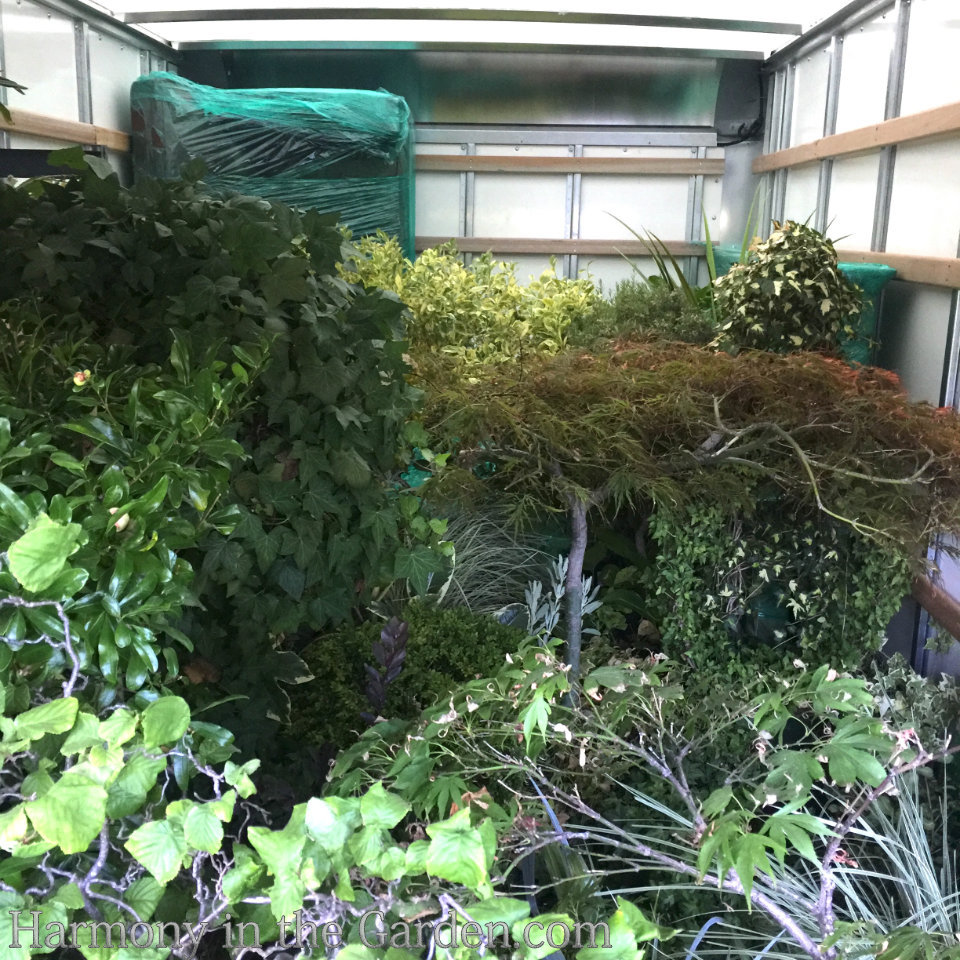 Instead, we rented this giant truck, and hauled my babies with us – ha! (yes, this is a truck solely dedicated to haul my plants.)
Alas, I didn't think of it then, but I did with the next big move.
Last year, I went through this process all over again but on a different level – helping my mother move.
With my father's passing, their 1.5-acre garden was just too much for my mom to take care of by herself. 
So, my mother decided to say goodbye to her garden, embark on a new adventure, and move to a home with a much more manageable garden.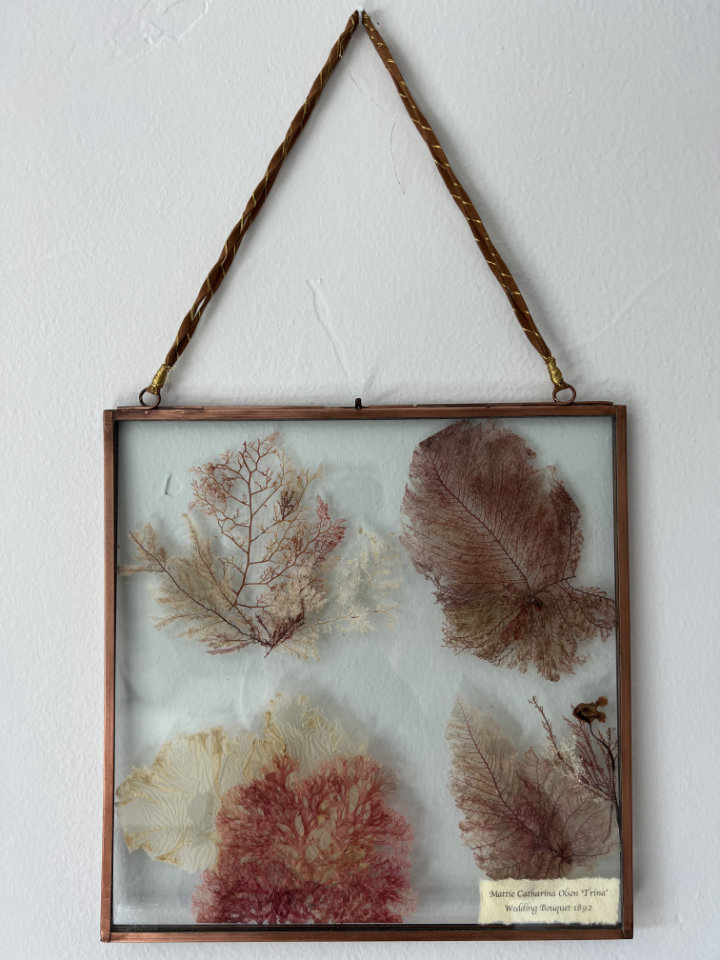 After a year or so of getting mentally (and physically) ready to move, BAM – the pandemic hit! 
Talk about an emotional wrench thrown into the mix.   Even though she was packed up and ready to move, she had to stay put for one more year.  
During that very looooong year of being house-bound (seems like eons ago, doesn't it?), we decided to organize all of our old family photos and heirlooms once and for all.  
One day while sorting mementos,  I discovered an old Bible that belonged to my great-great-grandmother. 
And, pressed between some of the pages were flowers from her wedding bouquet – dated 1892!   
I CAREFULLY took the fragile flowers from her bible and glued them into this frame.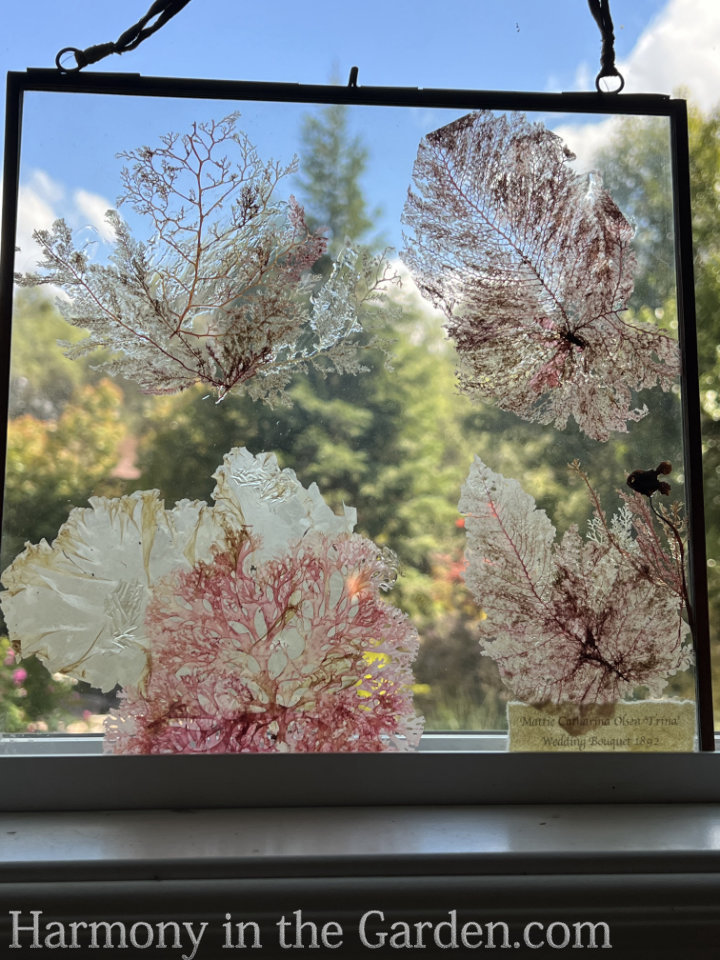 I just had to place it in this window for a minute to show you all the intricate details, and how beautiful it is.  🙂 
I'd never keep it in a window, though, as the UV rays would damage the flowers.
That's when the lightbulb went off and I remembered my long-forgotten love of pressing flowers.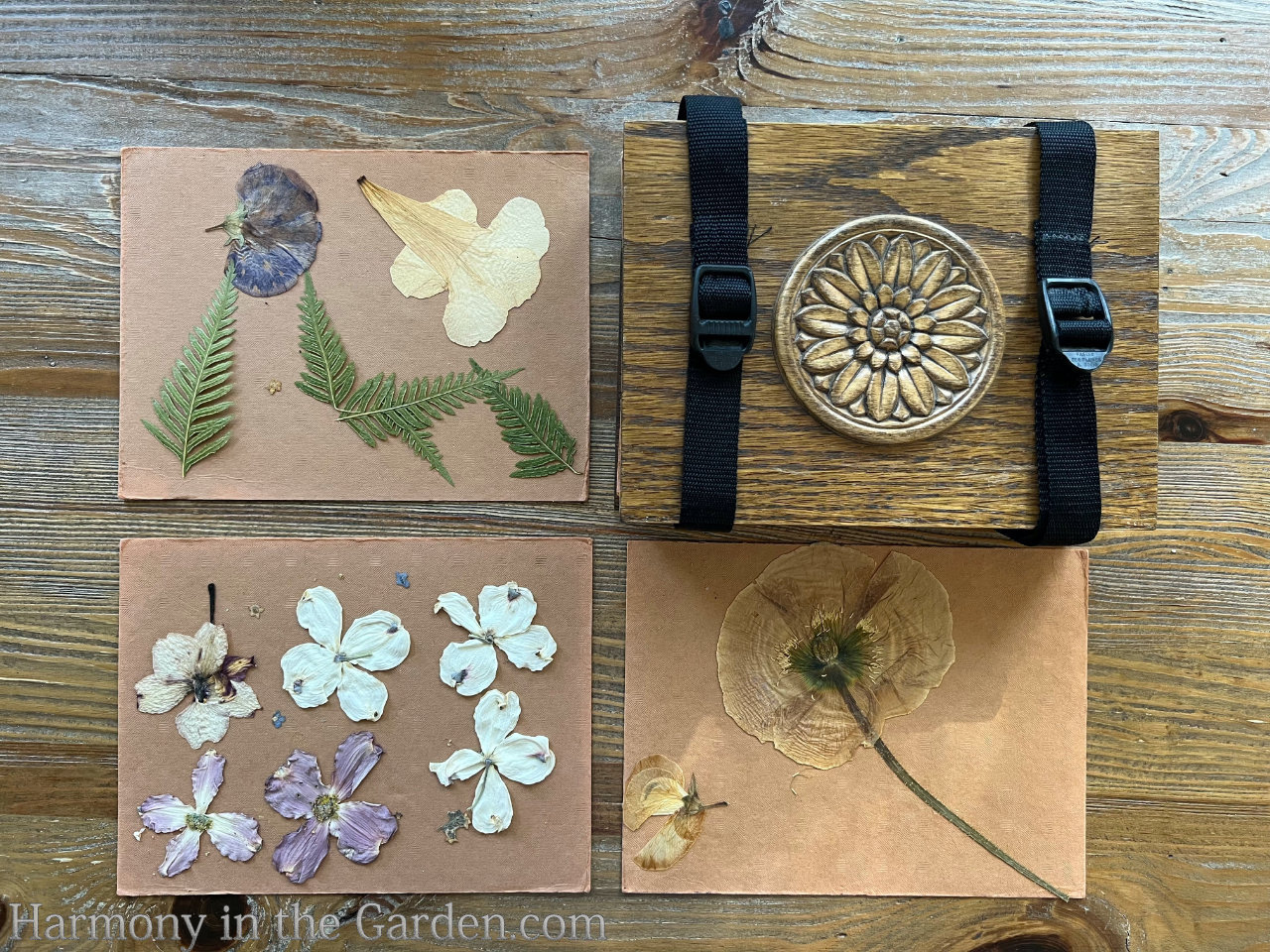 Pressing flowers has been part of my life ever since I was a little girl. 
In fact, whenever I thumb through some of my grandmother's old books, a faded flower will appear on the pages that I pressed years and years ago.  
Even my younger brother got involved at one point and, with the help of my father, made this cute little flower press for my 16th birthday. 
I've kept it ever since and love the little forget-me-knots still pressed between the pages.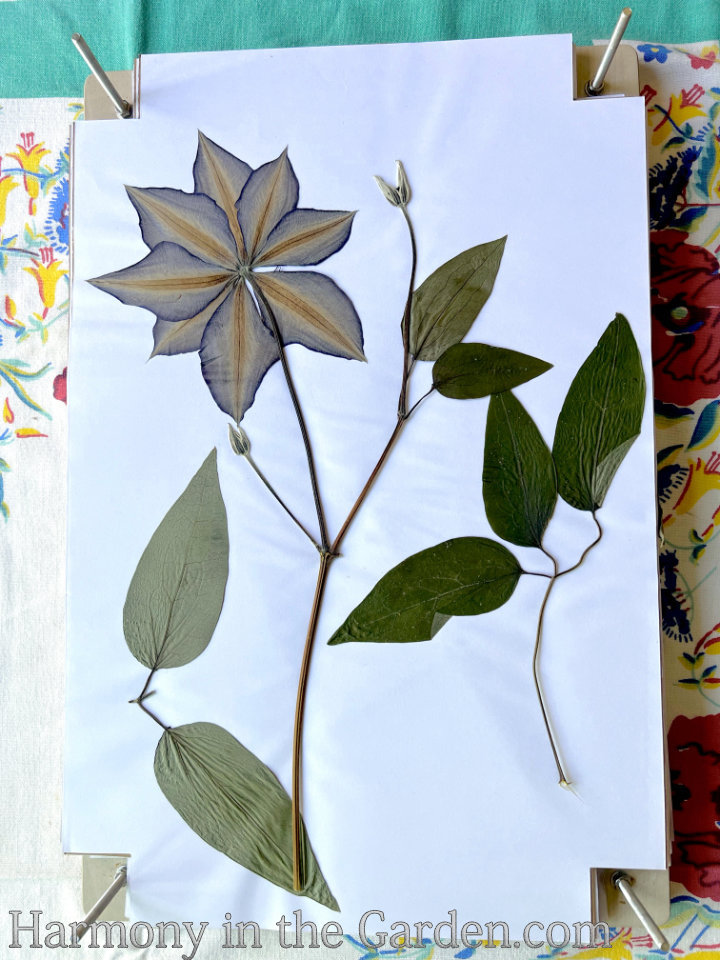 Last year, once Covid was under control, it was finally time to sell my mother's home.   
A  few weeks before it was to be listed, I felt quite emotional – more than I was when it came to leaving my own garden. 
I then remembered all those pressed flowers from gardens past and realized the flowers in my mother's garden are memories just waiting to come with us on this new journey.
So, my husband surprised me with a flower press for my birthday, to help spur me on with this idea.
This is the flower press I used, and while they're a little pricey, they're worth every penny. 
They're much larger than others I've found, which makes it easy to press larger specimens (like the clematis, left, with its long stem and tendrils.)  
The larger presses are also heavy, which is needed when pressing lots of flowers at once.  Flimsier and lightweight presses don't always apply even pressure, which results in unevenly pressed flowers. 
And, as a bonus, each press comes with two refill packs, which I guarantee you'll quickly fill up once you begin!  I'll warn you – it's addicting!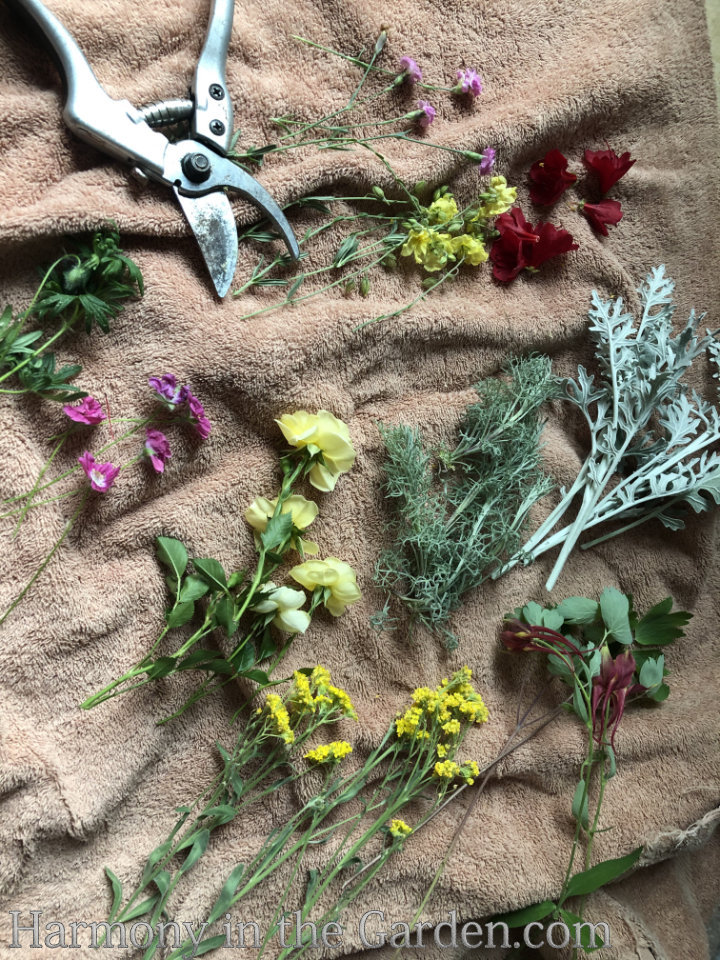 As I sat in the quiet of my mother's home, it filled my heart with such happiness to carefully choose which flowers would come along with us on this new journey.
I picked the flowers mid-morning, after any dew had evaporated, and then arranged them on the pages by color.  You can arrange them any way you like, but for me, it was a relaxing and creative way to group them. 
It's been an insanely busy year (as you can imagine), but here we are – one year later. 
My mother is now happily settled into her new home and garden, moving forward again in this new phase of her life.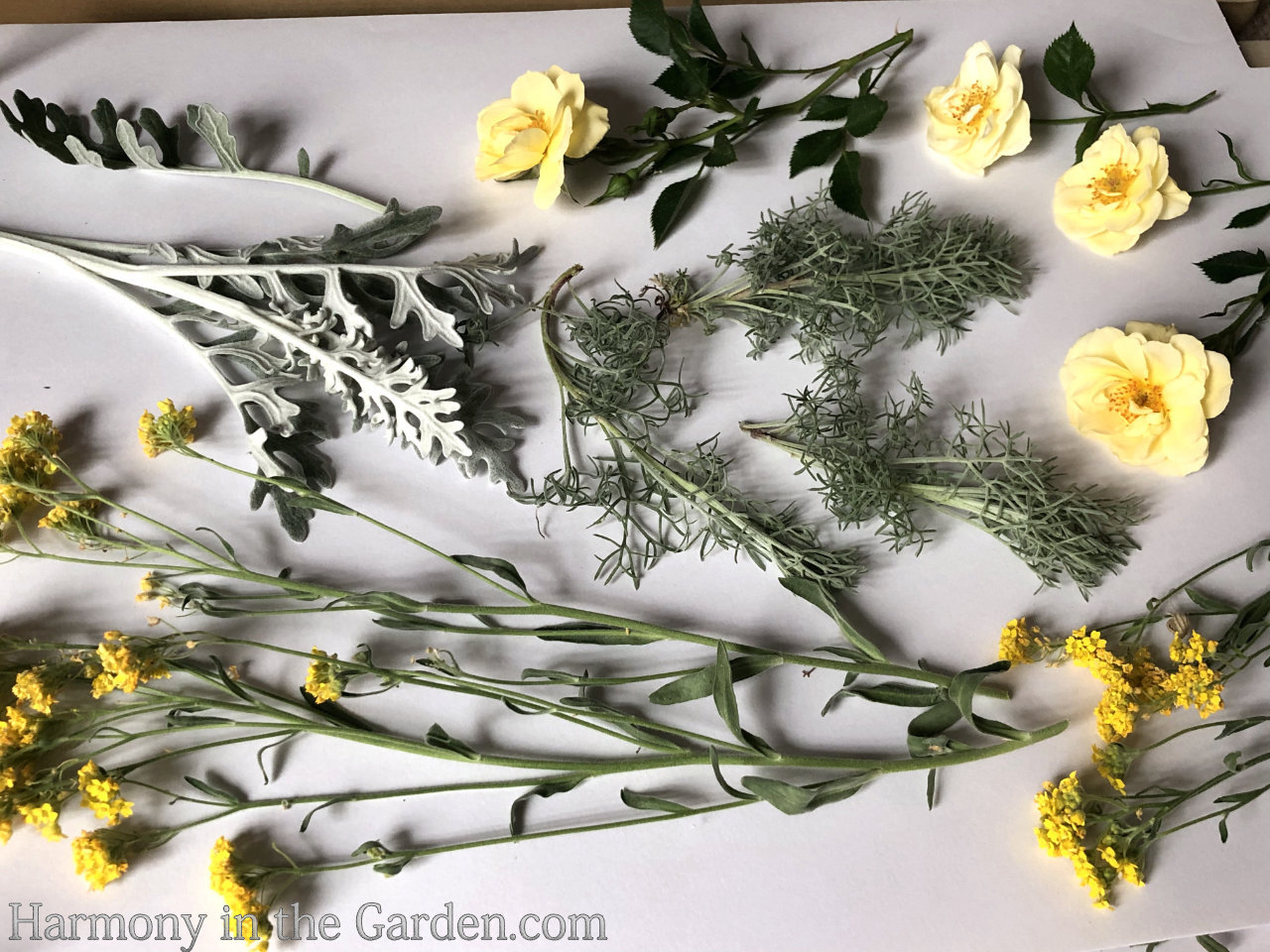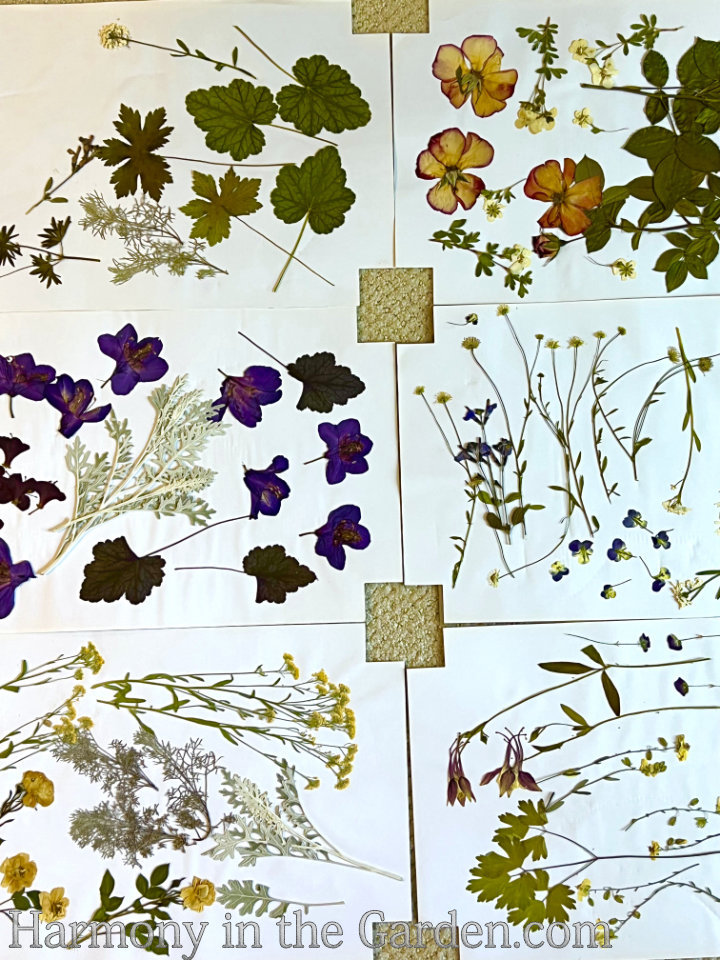 It will be Mother's Day soon, so I wanted to create something really special using all those 'flower-memories' I pressed last year. 
I found the flower press and began taking it apart, not knowing what I'd find. 
I held my breath with anticipation with each layer I exposed, not remembering what I had pressed. 
And each layer was better and better – I felt like a kid on Christmas morning!
I bought the largest clear glass frame I could find here and spent a peaceful afternoon re-creating her previous garden into something entirely new and different.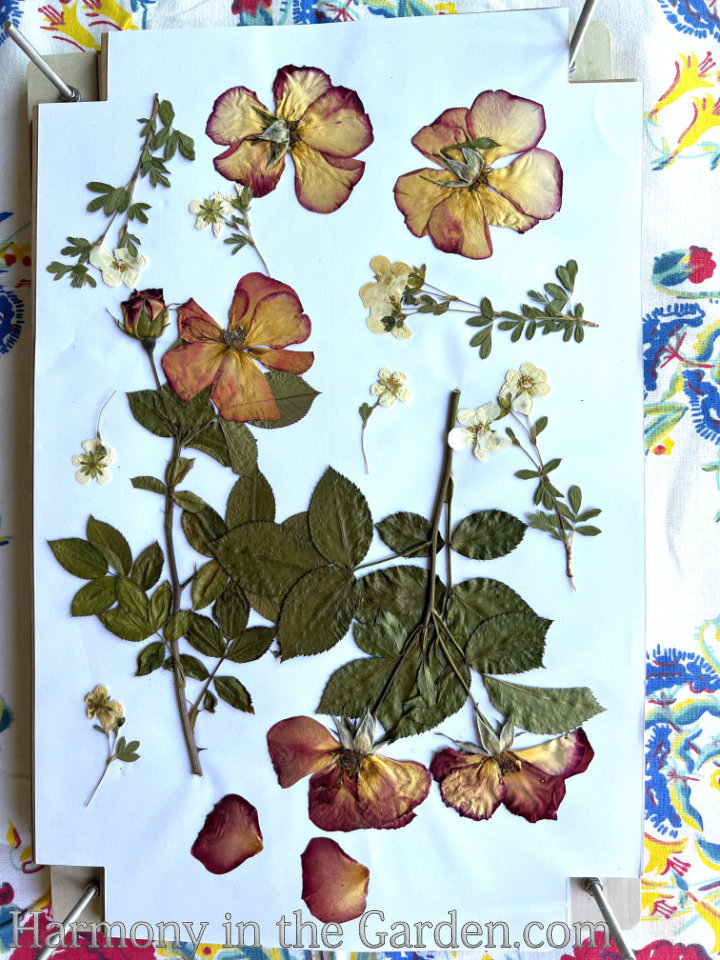 Each flower chosen were favorites of my parents, and it was so FUN to see how the colors turned out once pressed (like their 'Playboy' rose, below and left.)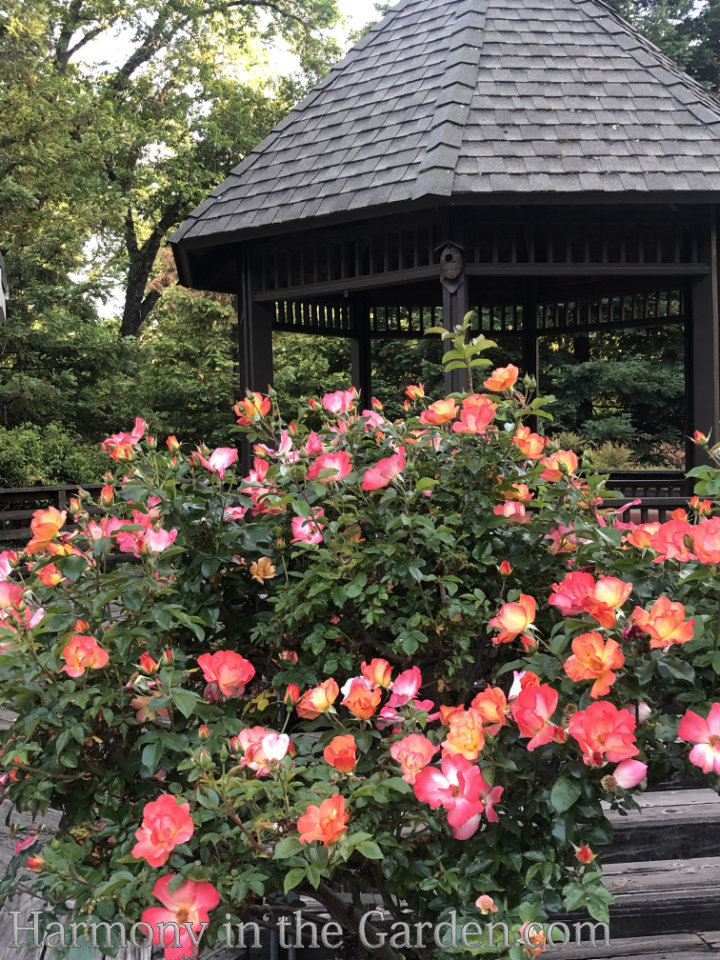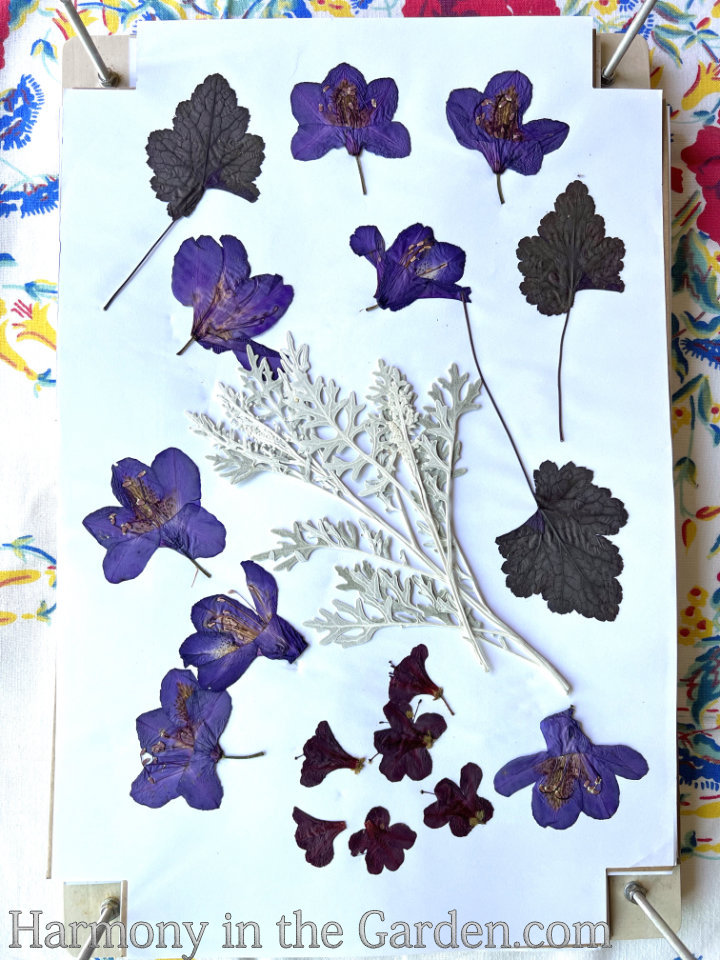 Or, my father's favorite 'Red Eye' rhododendron (below.)
Even though the flower colors on the shrub are a hot magenta, when pressed they turn into shades of deep, rich purple.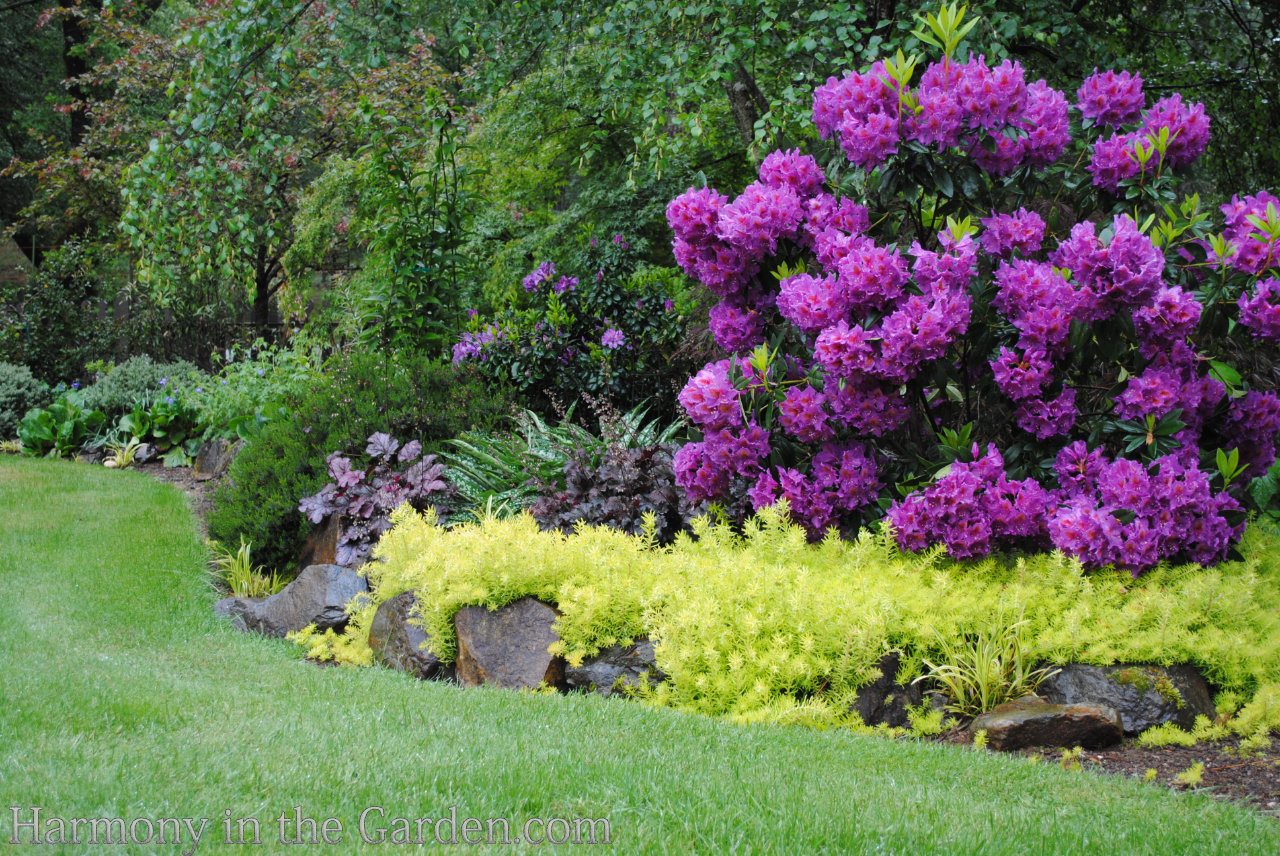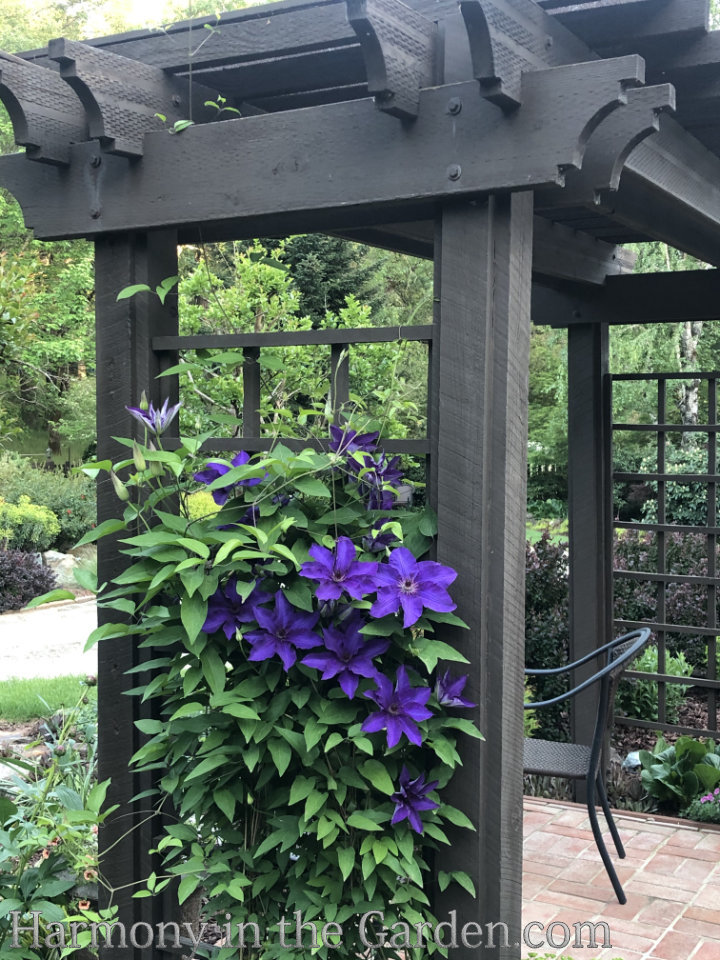 My favorite pressed flower of all, though, is the 'President' clematis that scrambled over the trellis my father built. 
Here's an interesting fact re: pressing that clematis. 
While the color of the flower is to-die-for (the deepest purple I've ever seen), it seemed kind of dark and gloomy when pressed (see photos, below.)
But when flipped over, it looked amazing with the stripe down the center of each petal! 
So, I flipped it around for the focal point of my creation.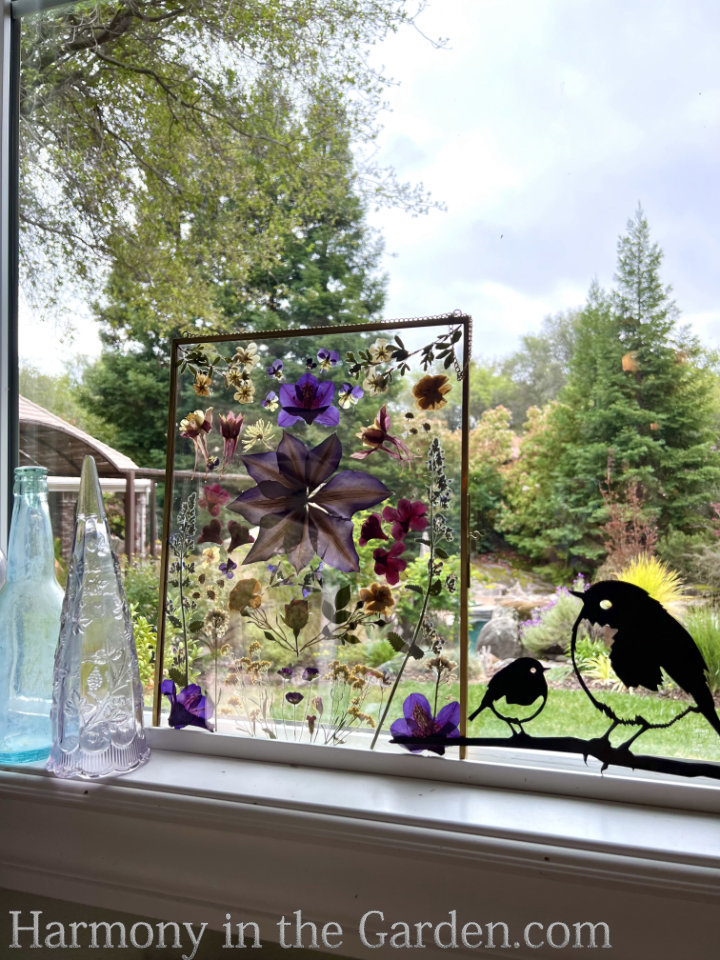 Ta-Da! Here it is!  
My mother hasn't seen her gift yet (it isn't Mother's Day, after all), but I'm hoping when she sees her garden again, it brings her the same happiness and joy it brought me. 
If you or someone you know will be saying goodbye to their garden, I highly recommend pressing flowers as a way to make a difficult transition a little easier.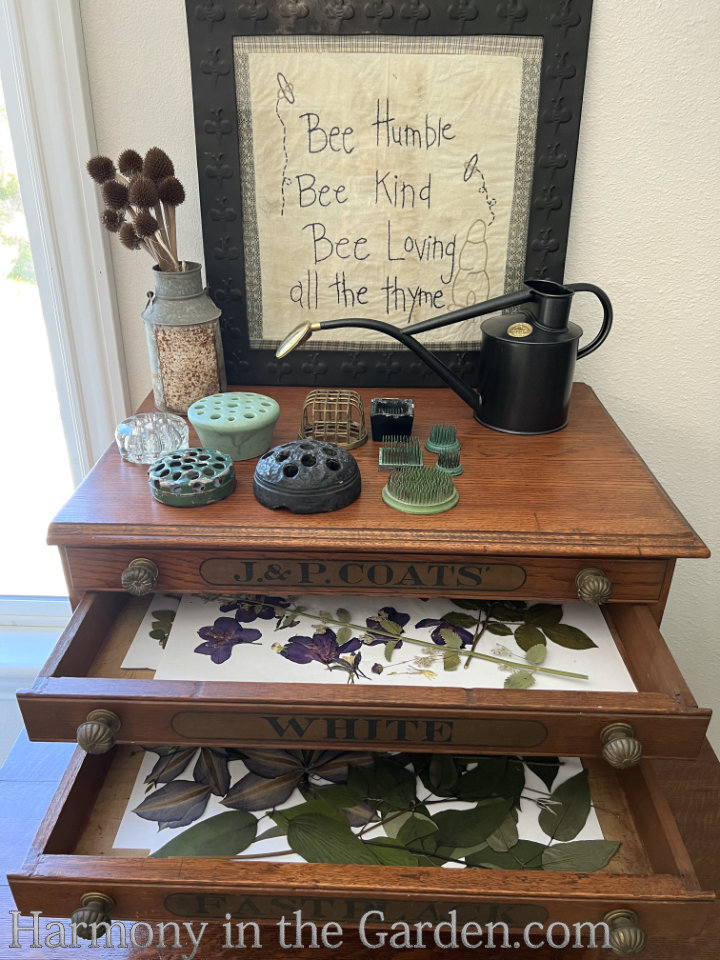 For additional reading, I found a few really, REALLY interesting articles you might enjoy.  
The first was written by the curators of the Merchant's House (one of my favorite little courtyard gardens in New York City – click here and scroll down to see why, and click here to read their article.)
The other article is here, and has to do with the Victorians' fascination with pressing seaweed. 
I ended up down this rabbit hole because I've been racking my brain trying to figure out what flowers my great-great-grandmother pressed (because they sure look like seaweed to ME!) 
I highly doubt she had enough money to travel to the ocean, considering she lived on a farm in Kansas, so it's a mystery for sure.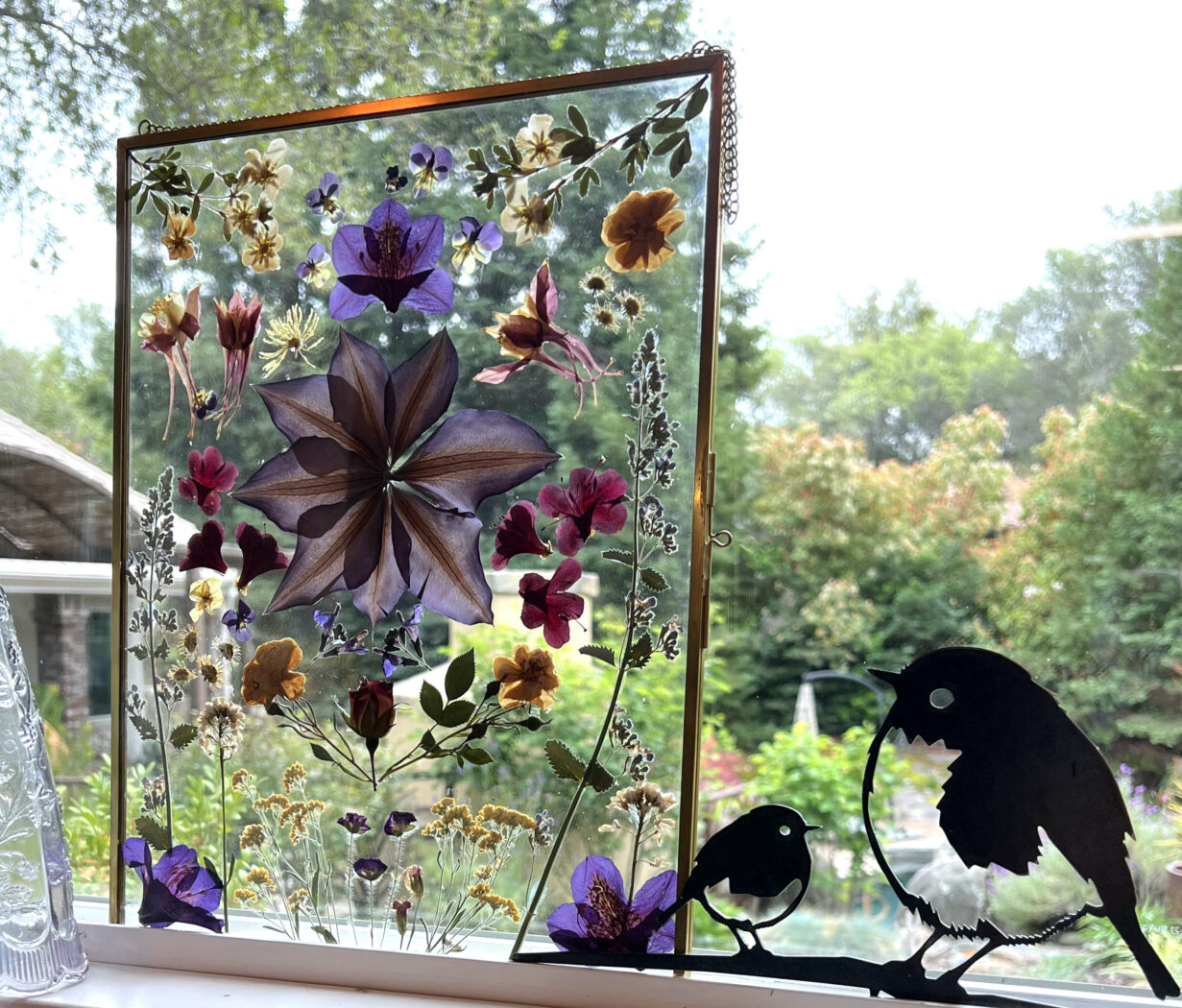 If interested, I'll also include a few links for products that were helpful for me.
First, I used Aileen's glue which was recommended by others who press flowers for a living.  It dries fast and clear so work quickly and neatly (especially if gluing on clear glass, like I did.)
And secondly, this is an inspirational how-to book that has given me a ton of ideas for future pressing, called The Art of Pressing Flowers & Leaves.
I hope you've enjoyed this post and if you make any creations of your own, I'd love to see them!