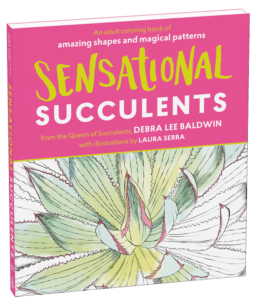 I've been home from my trip to New York for ten days now and have been excited to share with you some of the gardens I visited but life seems to have gotten in the way – for now, at least.
On the last day of my trip, I received a phone call from Dan, my ex-husband, letting me know that he was in a terrible biking accident and has been in the hospital's ICU for the past ten days.
An avid biker, he hit a bump while going fast which pitched him to the ground resulting in 9 broken ribs, a broken collar bone, a broken shoulder, a broken nose and a collapsed lung.
And yes, he was wearing a helmet (or I'd be writing an entirely different post today.)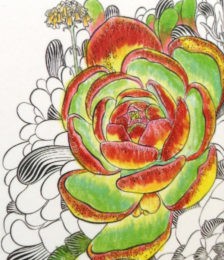 Despite our divorce, Dan and I have remained friends over the past 20 years, making it our priority for our daughter's sake.  As a result, he has become part of our extended family.  Since his family lives far away, and we live so close to Stanford hospital, my husband and I offered to take him home with us while he convalesces.  I've spent the past week helping him manage his pain and assisting with every basic task.
But most importantly, I've been trying to keep his mental outlook as positive as possible, knowing full well how important it is to keep depression at bay in a long-term situation such as this.
So when I received an email from my good friend Debra Lee Baldwin, offering me the opportunity to review her newly released adult coloring book, Sensational Succulents, I jumped at the chance thinking it might help Dan.

Debra contacted Timber Press, who immediately Fedex'd a copy to us.  In a nutshell, I can't emphasize enough what a gem this book is.



It's as if this book was written specifically for Dan, who is an artist and professional graphic designer, as well as a passionate succulent collector.  To put it mildly, he was blown away by the beauty and detail of each illustration. Working from Debra's original photographs, the illustrator, Laura Serra, translated them into highly detailed works of art.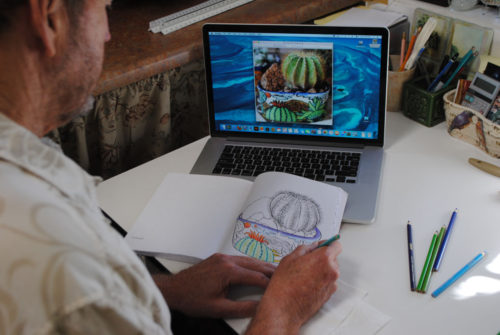 After careful consideration, Dan chose a page to color, but unfortunately the only pencils I had to offer were those my daughter used many years ago.  And since he broke all the bones on his 'coloring hand' side he could only color a tiny bit at a time due to the pain.
But nevertheless, I set him up in my office, opened all the windows, turned on my fountain and left him alone to create.
He quickly dove in and spent a few happy hours doing something he loves to do, letting the worries and pain drift away – even if for a short while.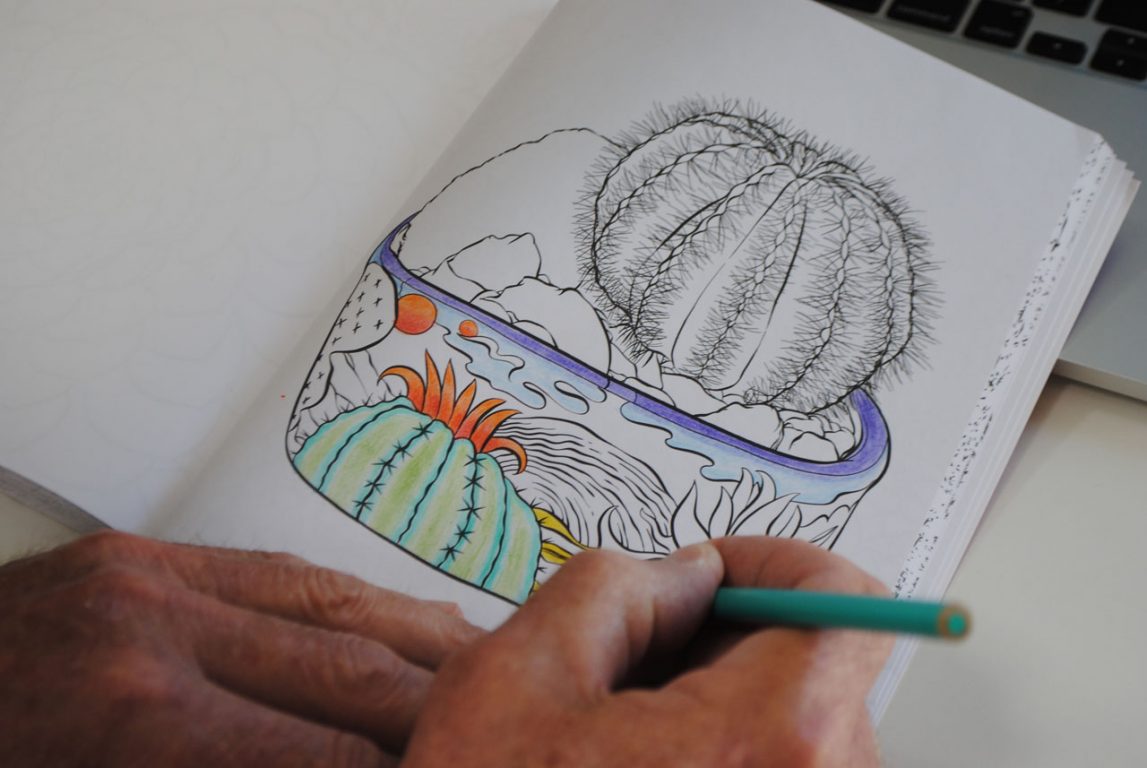 The reason why the simple act of coloring can be so helpful for people is explained by Debra:
"I assumed that the stress-reducing properties attributed to coloring were overstated until…I met a therapist who told me she recommends coloring to patients recovering from traumatic loss.
'When your right brain is engaged,' she said, 'your left brain is free to process data and solve problems…the creative aspect of coloring is empowering because you're in charge of the outcome.'

While adult coloring books have been gaining in popularity for a wide variety of reasons, seeing the therapeutic effects it has on someone in so much pain has reinforced my conviction in the healing power of creativity.
If you'd like a chance to win a copy of this fantastic book, you're in luck!  Debra Lee Baldwin and Timber Press are hosting a giveaway on my blog.  To enter, all you need to do is leave a comment below!
……………………………………….The Fine Print…………………………………………….
*********Update – congratulations Sandi Leonard!  You're the winner of Debra's coloring book!  As soon as you send me your mailing address, we'll get the book out to you asap.  Thanks again, everyone!
A random winner will be chosen by midnight June 19th and contacted within 24 hours. If the proposed winner forfeits or does not claim the prize by June 23rd, the prize will be re-awarded based on the sponsor's sole discretion. All prizes will be awarded. Please provide your first and last name to enter this contest so I can immediately contact you if you win. The winner agrees to allow his/her first name to be mentioned in conjunction with this giveaway.
This giveaway is limited to U.S. residents only, who are over the age of 18 years old. No purchase necessary to win. This sweepstake is also void where prohibited by law (wherever that is, I'd sure hate to live there!) By entering this giveaway, you agree to these conditions.