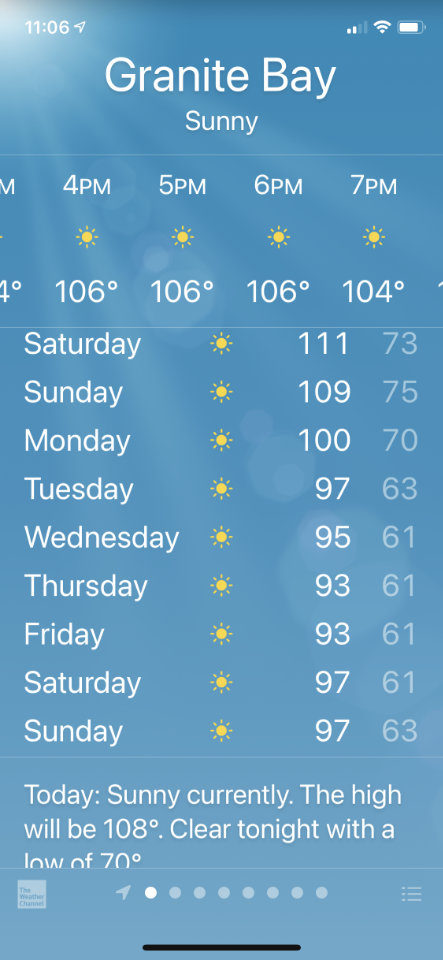 Holy Cow, it's been HOT here!  
Over the past few weeks, we've had temps that skyrocket to 112 and back down again, over and over again.  In fact, take a look at this weekend's temps, and you'll see why I needed to update last year's post, formerly titled Top 10 Perennials for Blistering Summer Heat.   
'Top 10'  isn't nearly enough!  I have so many more plants to share with you, most of which are deer-resistant, too. 
And yes, I have lots of deer (and foxes, a resident skunk, and a hoard of juvenile turkeys hanging around these days,) so my garden is regularly perused by hungry wildlife. 
My garden has not only survived these incinerator-like temperatures, but it actually looks pretty amazing. 
So here it is – my updated list which includes ten more heat-loving flowering plants for HOT summer days
Calylophus hartwegii 'Texas Gold' (Sun Drops)  zones 5-9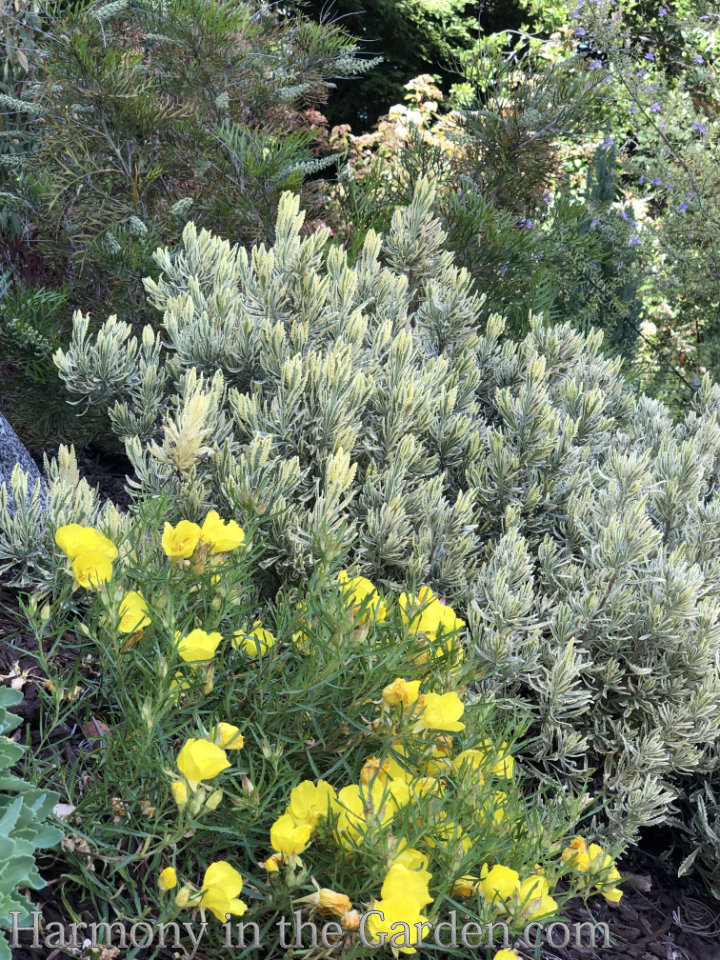 This tough little Western native is covered with cheery yellow blooms that bees adore.  
I planted my first one last October, and it bloomed for six months straight before taking a much-needed rest. 
SIX MONTHS! 
I've since planted several more with the same results, non-stop blooms that don't wilt in the hot summer sun.
It loves well-drained soil and full sun (even reflected heat!) making it ideal to plant next to my hot driveway.
As soon as it stops flowering, I'll lightly cut it back to give it a rest before it ramps back up again in a few weeks.
Dianella revoluta 'Cool Vista'  zones 8-10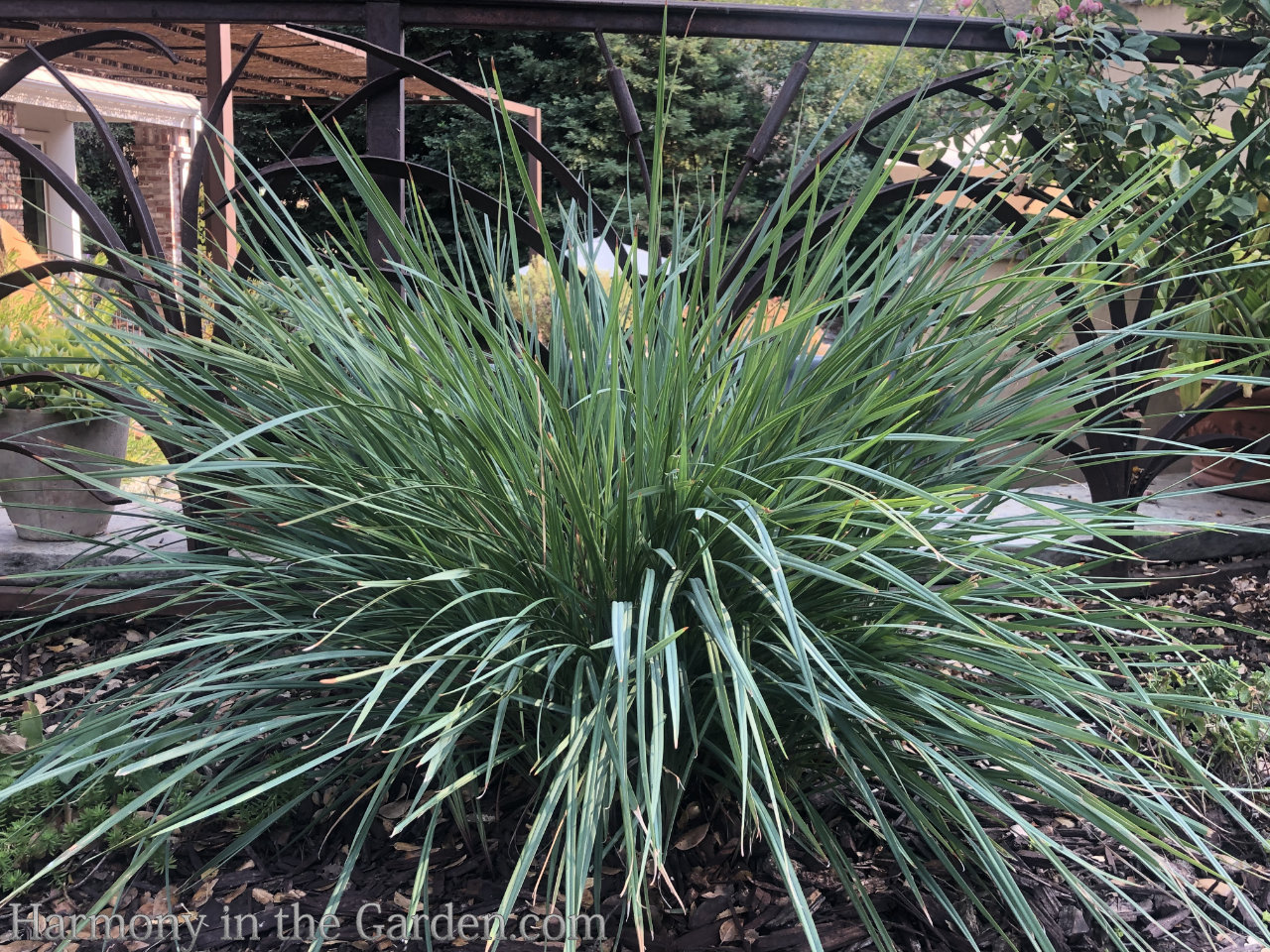 You may be wondering why I've included a grass in a list of flowering plants.  Give me a moment to explain, and you'll see why!
I've planted loads of dianella varieties over the years, and most of the time they end up scorched and look like they're permanently having a bad hair day. 
Not 'Cool Vista,' though – quite the opposite!  Another winner, from Sunset Plants, this variety incredible every single day of the year and almost seems to thrive on neglect.   It's the ONLY variety of dianella that I plant.
Its iron-clad toughness would be reason enough to plant this gorgeous glaucous-blue evergreen grass, but wait – there's more!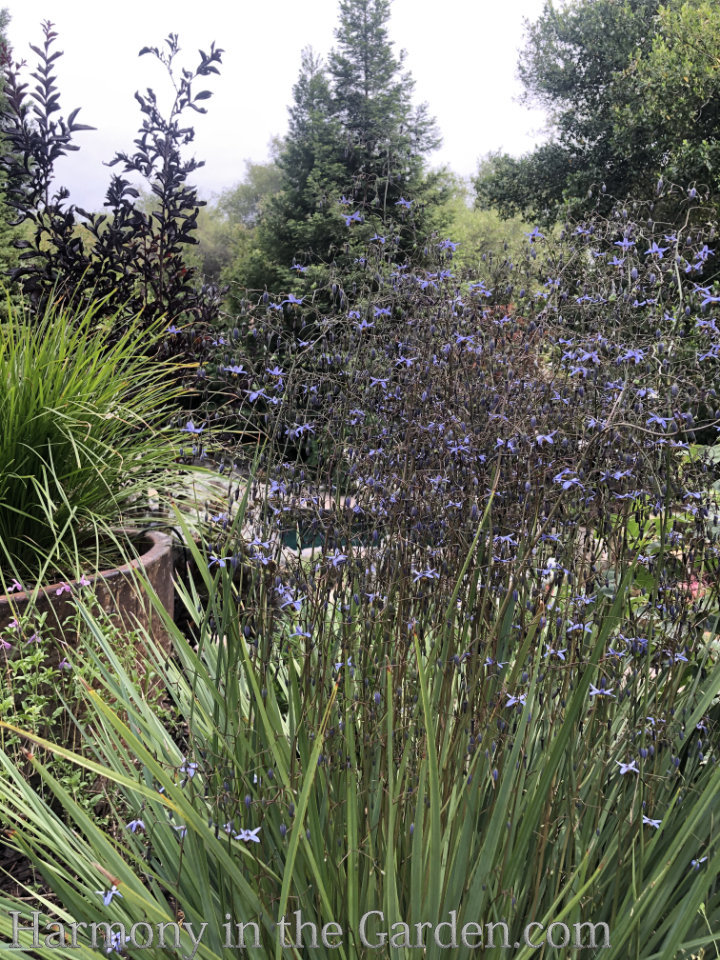 After a few years, the grass produces clouds of tiny blue star-like flowers held high above the plant's wiry stems. 
Each flower has a yellow 'eye' and lasts for several weeks. 
While small, the sheer number of blue flowers makes a statement (especially when viewed up close.)
But don't be so quick to dead-head these flowers, or you'll miss the incredible eggplant-like berries that slowly develop.
I can't get enough of this incredibly vibrant, deep blueberry-like color and am thrilled they remain on the plant for at least four weeks. 
Once they've dropped off, I spend about 5 minutes pruning out the dead stems and am once again left with a tidy clump of blue-green foliage.
Leonotis leonura (Lion's Tail)  zones 8-11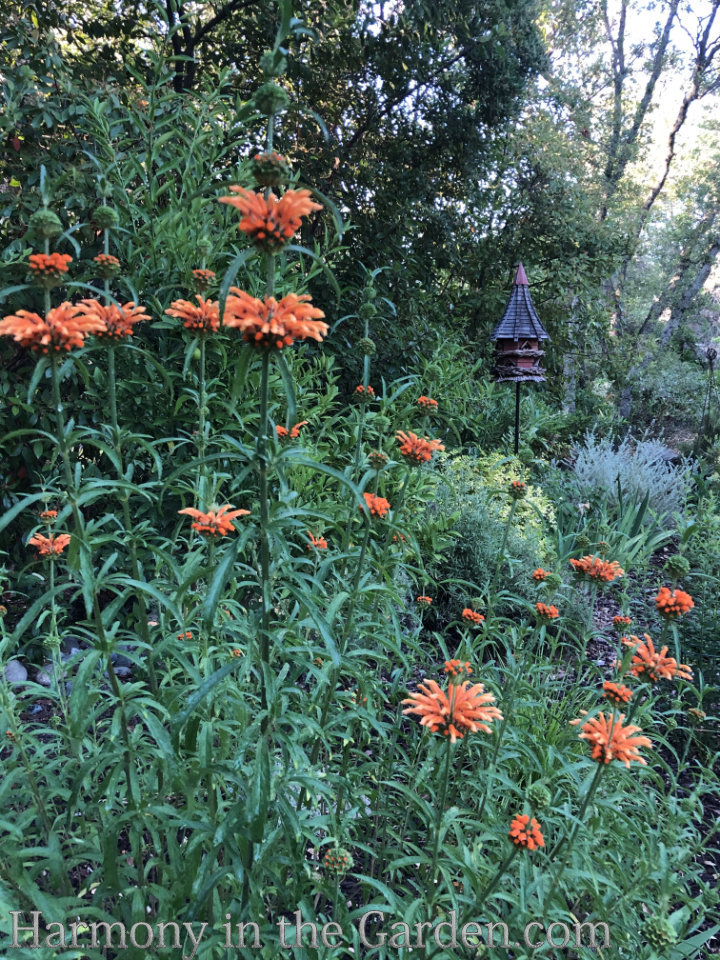 I'm so lucky Lion's Tail is evergreen in my garden (vs. an annual in cold climates) as it's one of my favorites for adding a long-lasting burst of orange. 
However, I've heard repeatedly that some people are frustrated with their Lion's Tails because they look rangy. 
The trick is to give it a HARD haircut after blooming (usually mid-July) – hard, as in at least 1/2 to 2/3. 
The plant will quickly bounce back and fill in with more lush, dark green growth that will soar to giant proportions once hot weather hits again next year. 
The Lion's Tail in my garden towers over 6', and has more velvety orange flowers than I can count – it's simply stunning! 
Laughing in the face of 110 days, the flowers continue to bloom for several weeks, eventually forming attractive dried seed heads.
Salvia pachyphilla 'Mulberry Flambe' (Mojave Sage) zones 5-9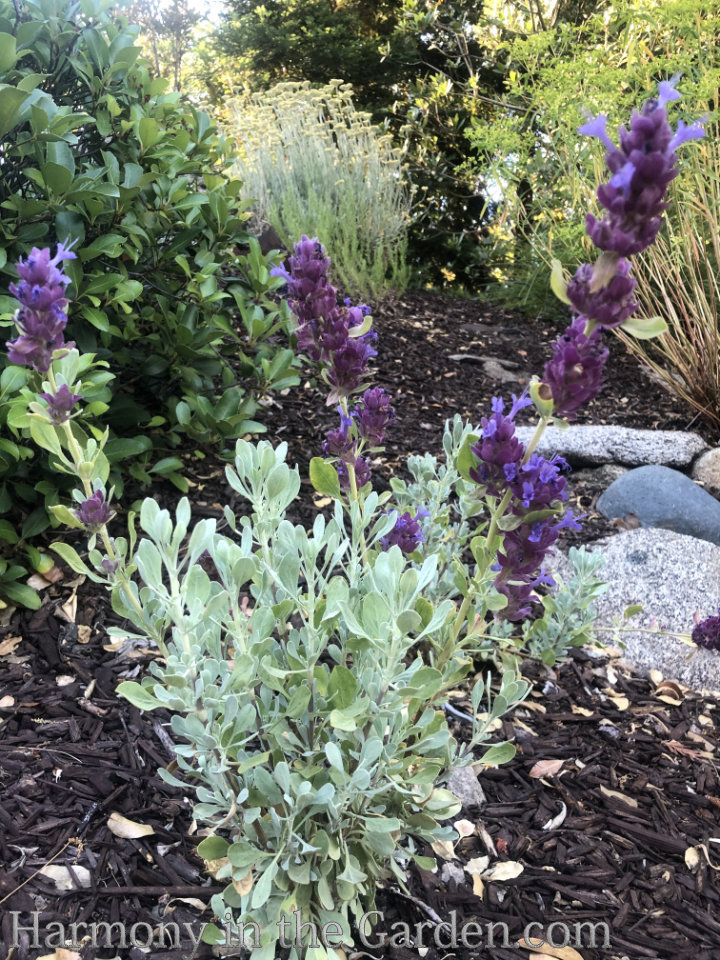 As you may recall, salvias are an integral part of my garden (click here for my favorites that bloom throughout the year.) 
So when I saw the color of these salvias flowers from High Country Gardens, I knew I had to try them. 
I especially appreciate their small and compact habit, growing to just 18" x 2'. Mine has quickly grown to full size in just a few months, and the blooms have been non-stop for three months now and counting.
As a bonus, the silvery-green-gray foliage is incredibly fragrant, smelling just like hiking in the hills.
Platycodon grandiflorus (Balloon Flower)  zones 3-9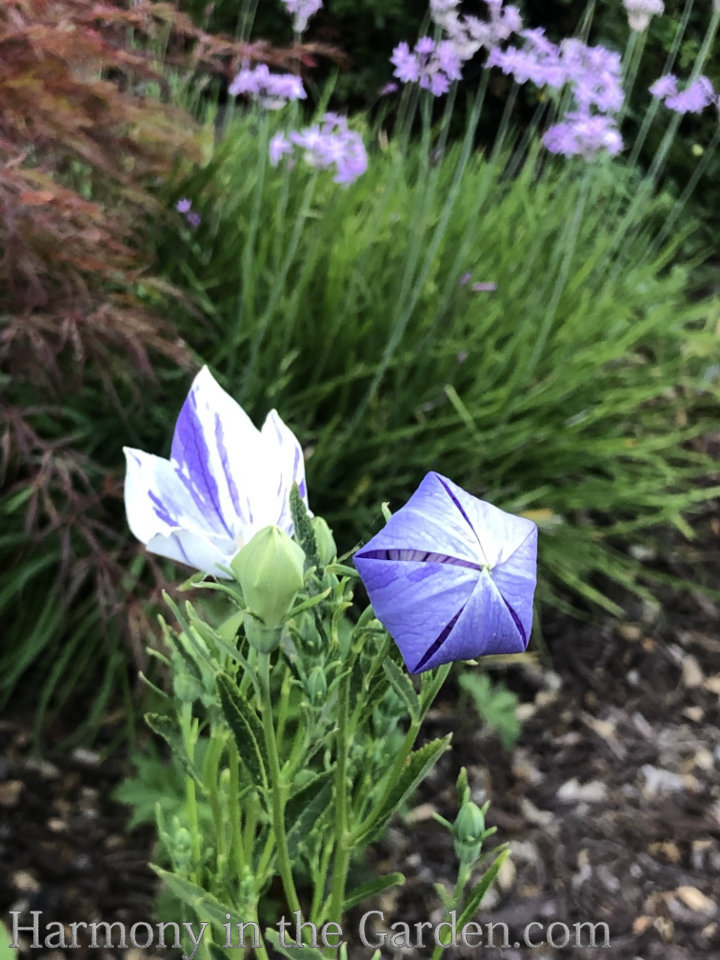 I've carefully nurtured these plants for the past three years, grown from seeds I collected many years ago.  I'm so happy they're finally coming into their own!
When reading about them online, it seems like starting them from seed shouldn't be this tricky, but in my garden, they've taken their sweet time becoming established. 
However, once they've decided to stick around, there seems to be no stopping them!
Take one look at the flower bud, and you can see why it's called 'Balloon Flower,' but it's the crazy colors that randomly appear on the flowers that I love.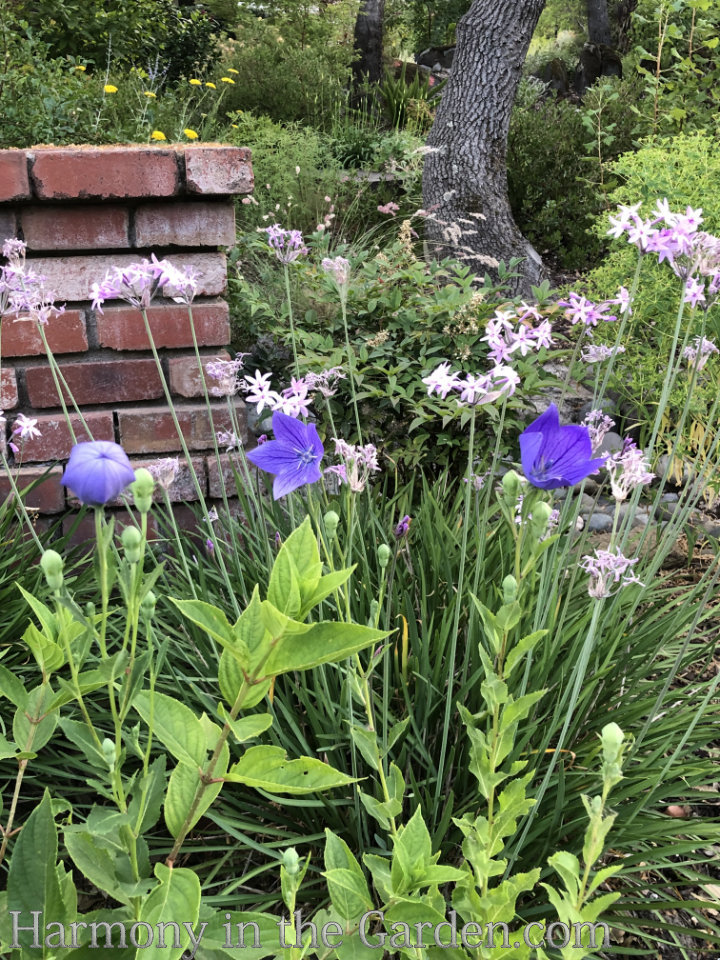 Some flowers are a beautiful periwinkle blue, some are purple, and some are striped.
They're located at the very bottom of my garden, wide open to browsing deer, and they haven't been munched at all. Nor have they wilted in the heat – definitely worth the long wait!
Agapanthus  (Lily of the Nile)  zones 8-10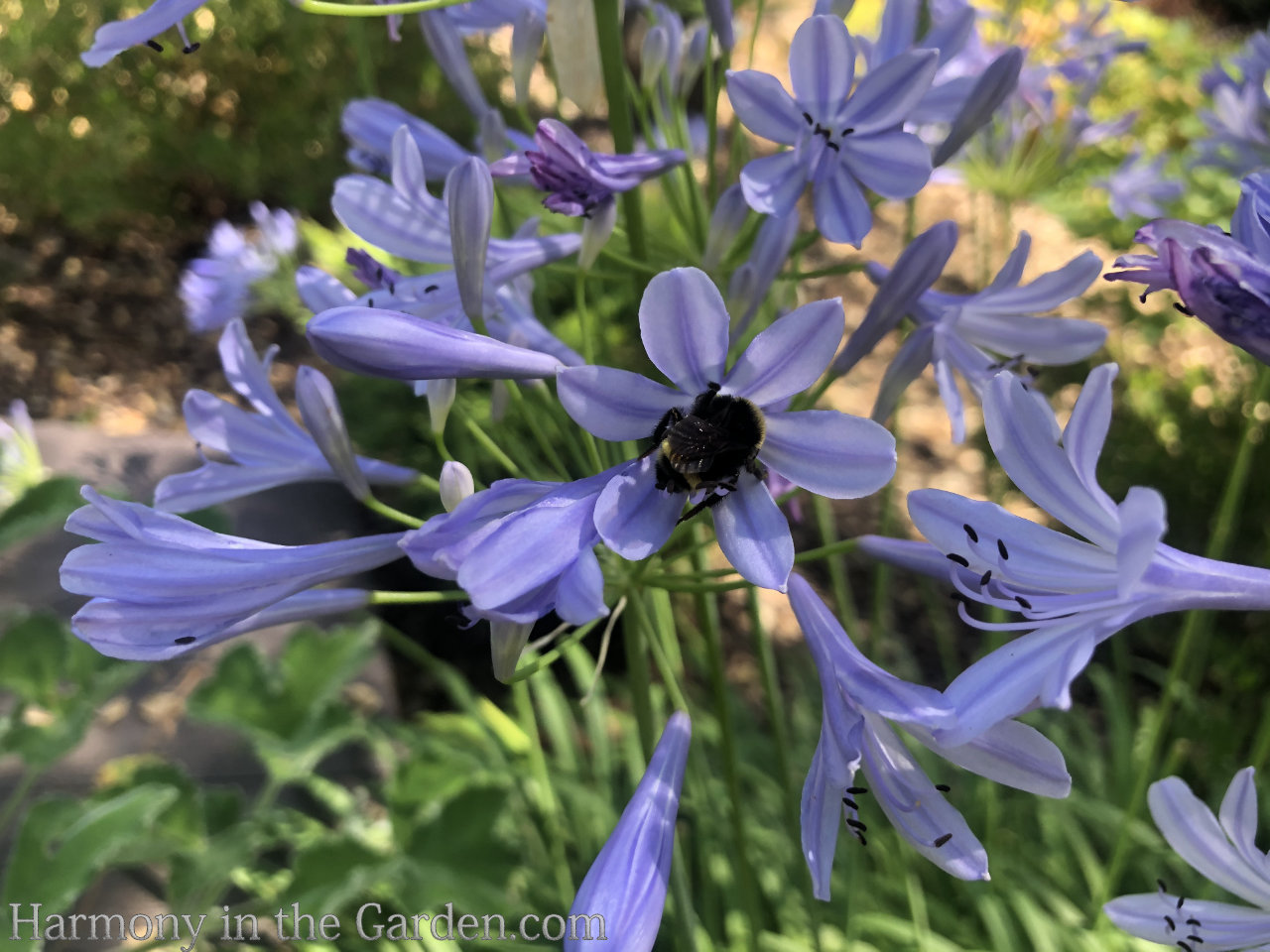 I've never been a huge fan of agapanthus because (I'll admit) they're just so darn common.  They seem to grow everywhere here in California to the point of being a bit boring.
After moving to my new garden and experiencing all the new challenges I've had to face (intense heat, browsing deer, non-functioning irrigation system, etc.) I've had a change of heart. 
I LOVE AGAPANTHUS!  Anything that showers me with flowers with little to no attention from me has my vote!
Over the past few years, I've tried a few new varieties from Sunset's Plant Collection, which have risen to the top of my list.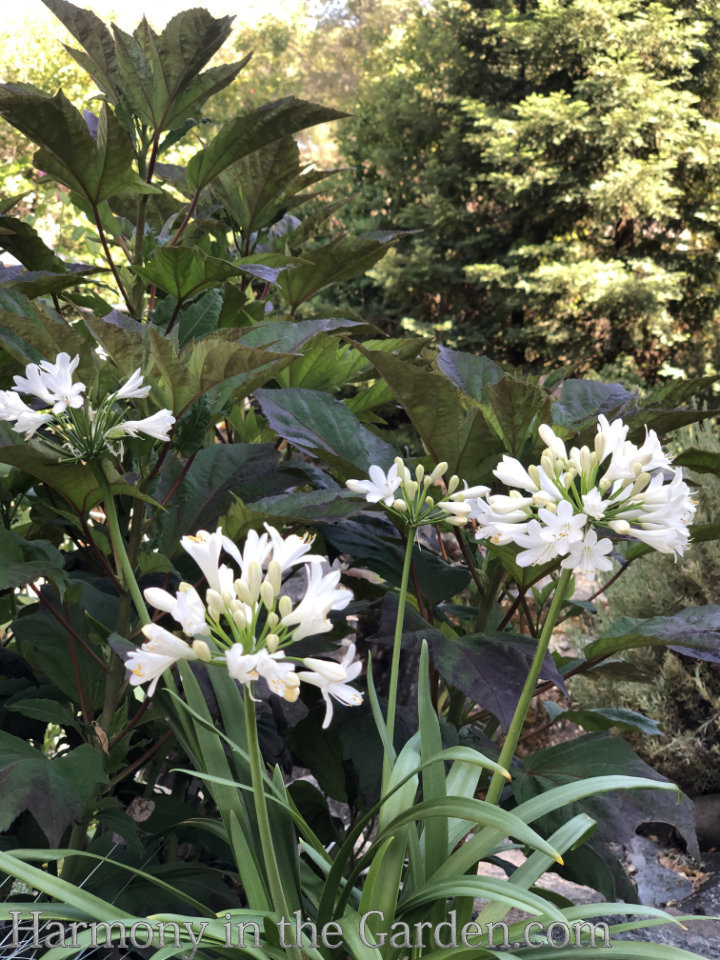 The first is Sunset's agapanthus 'Ever White,' which is a sweet little dwarf variety, growing to just 1 ½' x 1 ½'. 
I love the small size, as many common varieties grow to gigantic proportions (I have old clumps here that are at least 6' wide and 6' tall when in bloom!) 
'Ever White' is perfect for the front of the border, and the crisp, cool white flowers are a welcome sight on a sweltering hot day. 
And did I mention they re-bloom?  This means I can enjoy the flowers throughout the summer, instead of other varieties that bloom only once.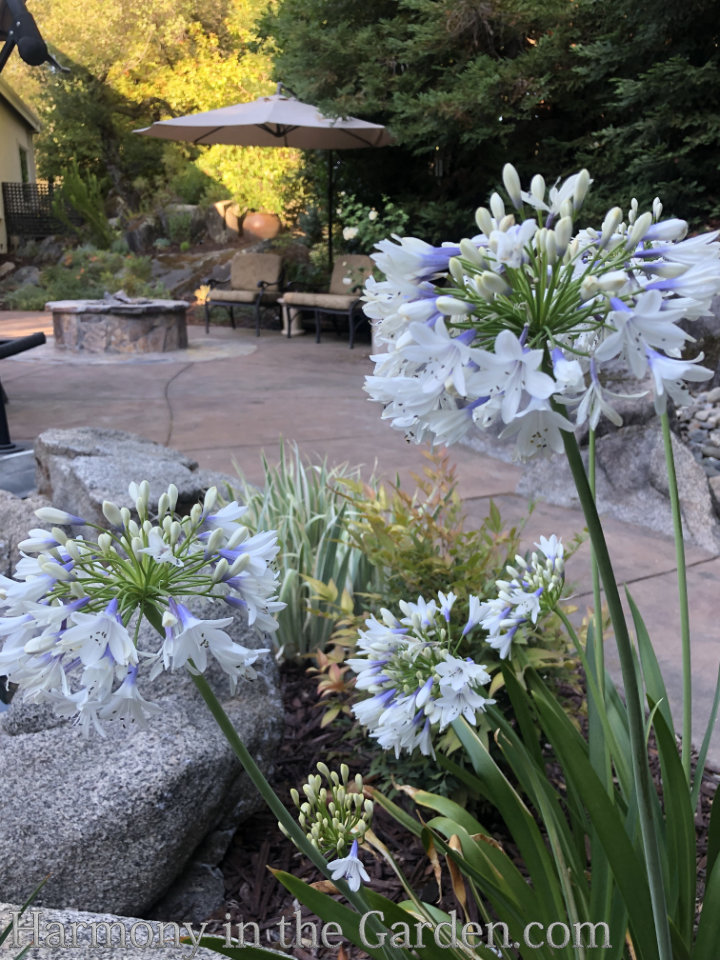 The second variety is 'Indigo Frost,' which has to-die-for blue and white flowers that stand out among the more typical shades of solid blue. 
It's a little taller than 'Ever White', growing to about 2'x2' (add an extra foot once the flowers start to bloom.) 
While agapanthus flowers are like candy for deer, they tend to leave the strappy leaves alone.  
So, once the flowers begin to bloom, I spray the plant with Deer Out, and it works like a charm – deer stay away for weeks at a time.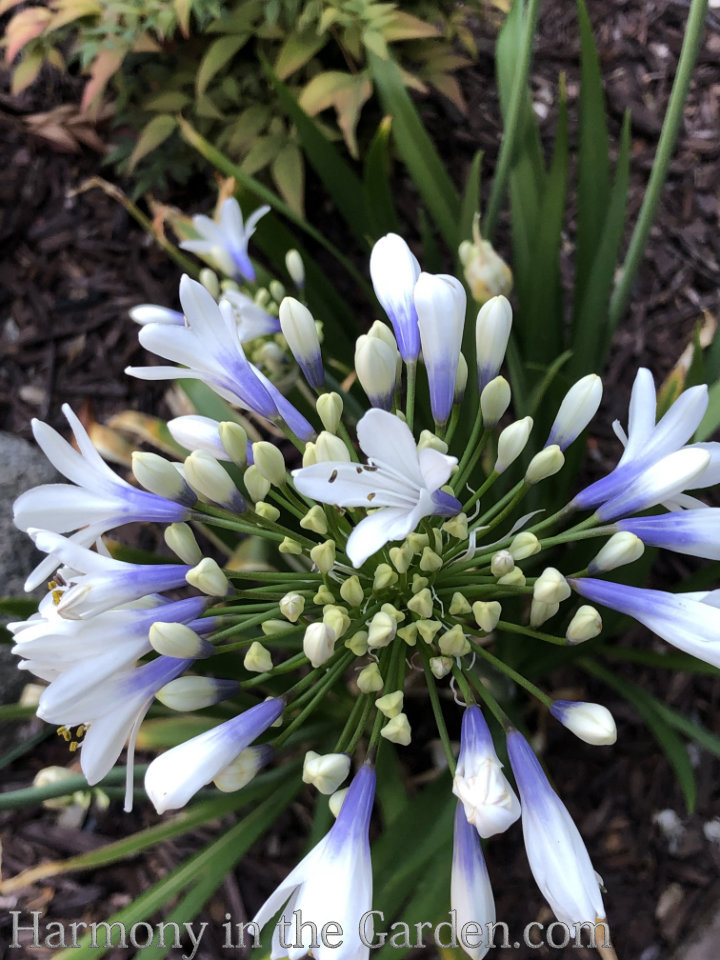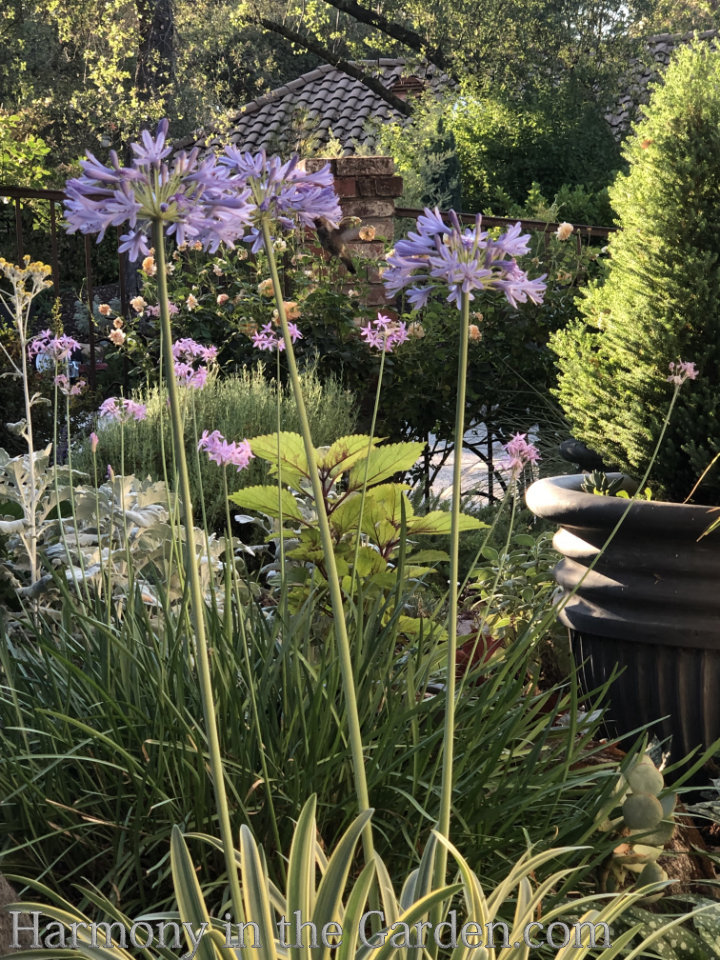 The other variety I love is 'Summer Sky', which I found (of all places) at Home Depot.  I've since seen many variegated varieties in the nurseries that look the same but with different names.
I originally bought it for the foliage, and how it complemented the blue succulents (below) but the tall blooms of light blue flowers are just as lovely.
The hummingbirds think so, too (if you look closely you can see one on the middle flower, left.)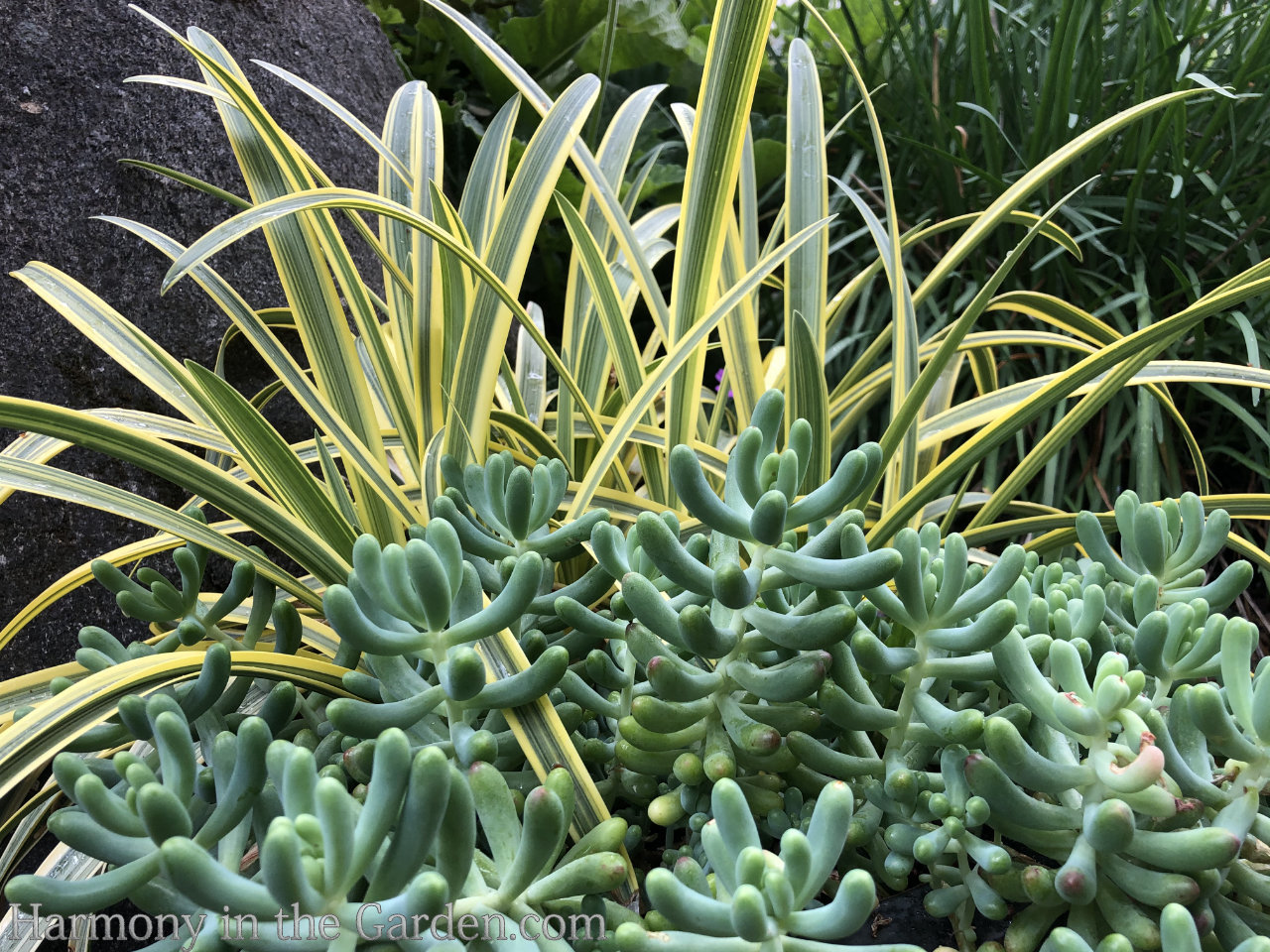 Echinacea pallida  (Coneflower)  zones 4-9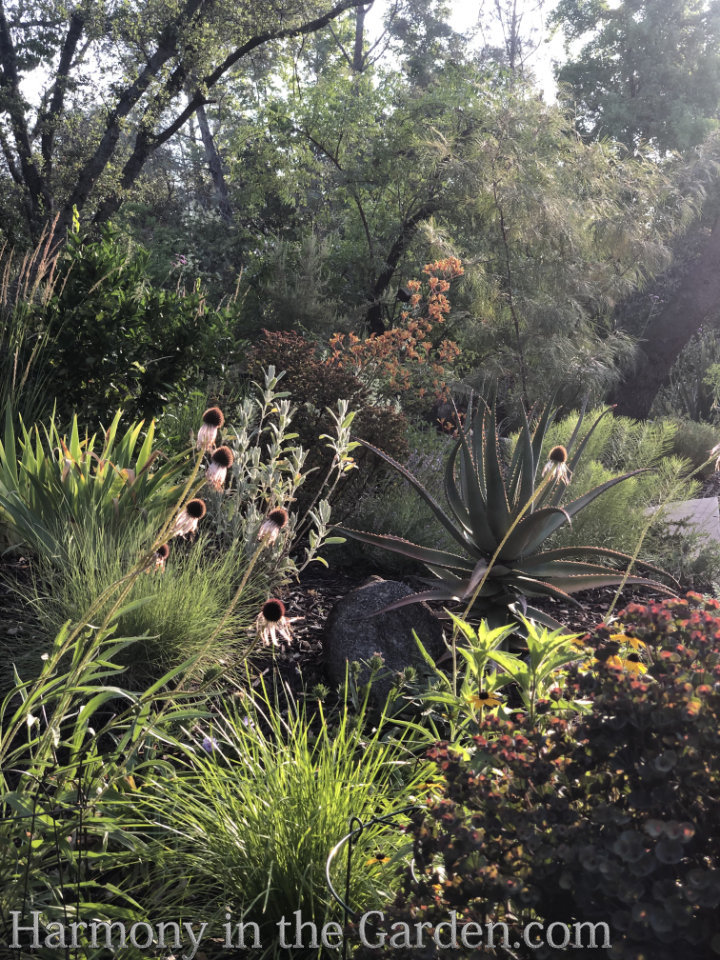 I included echinaceas in my previous list, but this variety is a new one for me.  I first saw it at Wave Hill Garden (below) and just had to try them in my garden.
This is a native variety that grows wild in prairies and one that I've coveted for years.  I finally bought some online from Prairie Nursery, and I'm thrilled to see them flourish in my garden.
Its pale pink petals are thinner and longer than other varieties, gently drooping downwards, appearing fragile and delicate.
Yet, they're just as tough as other varieties (thank heavens!)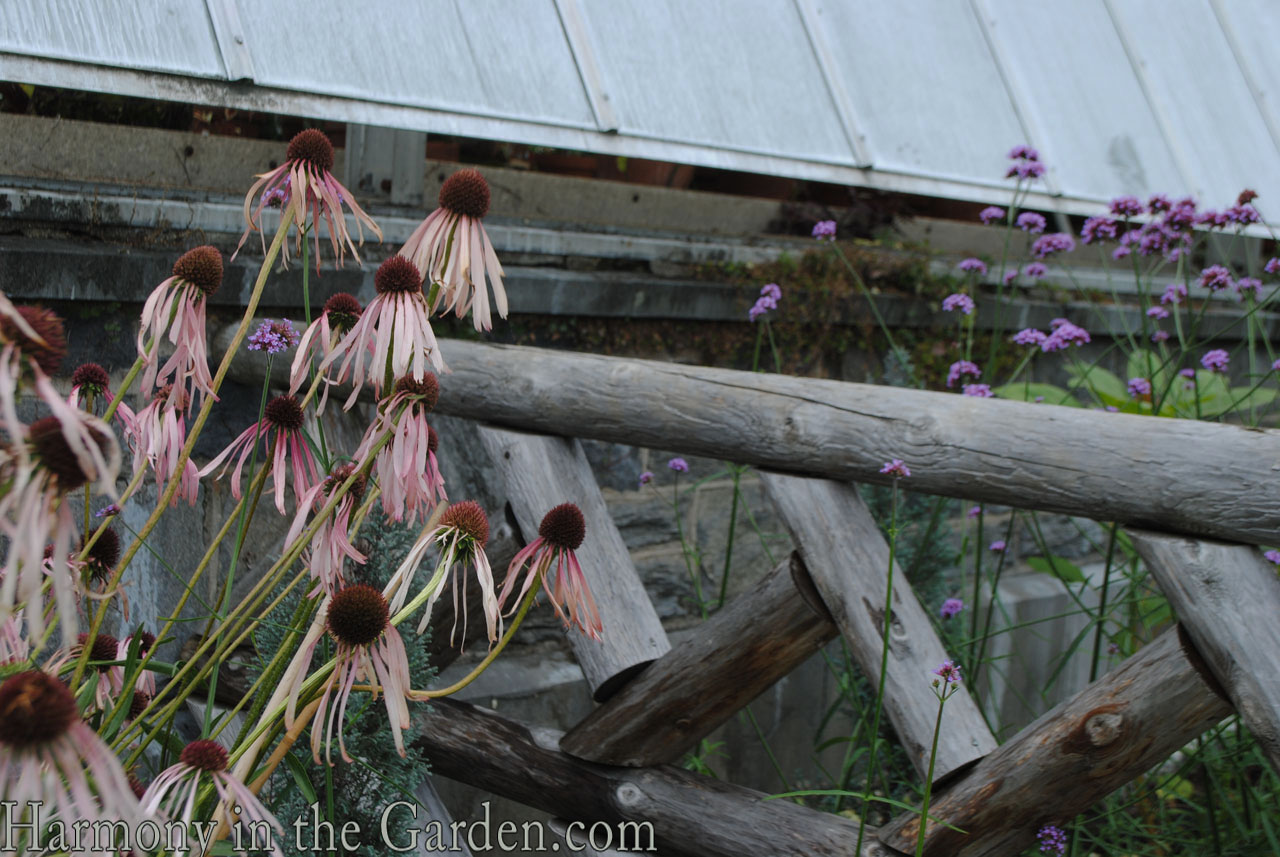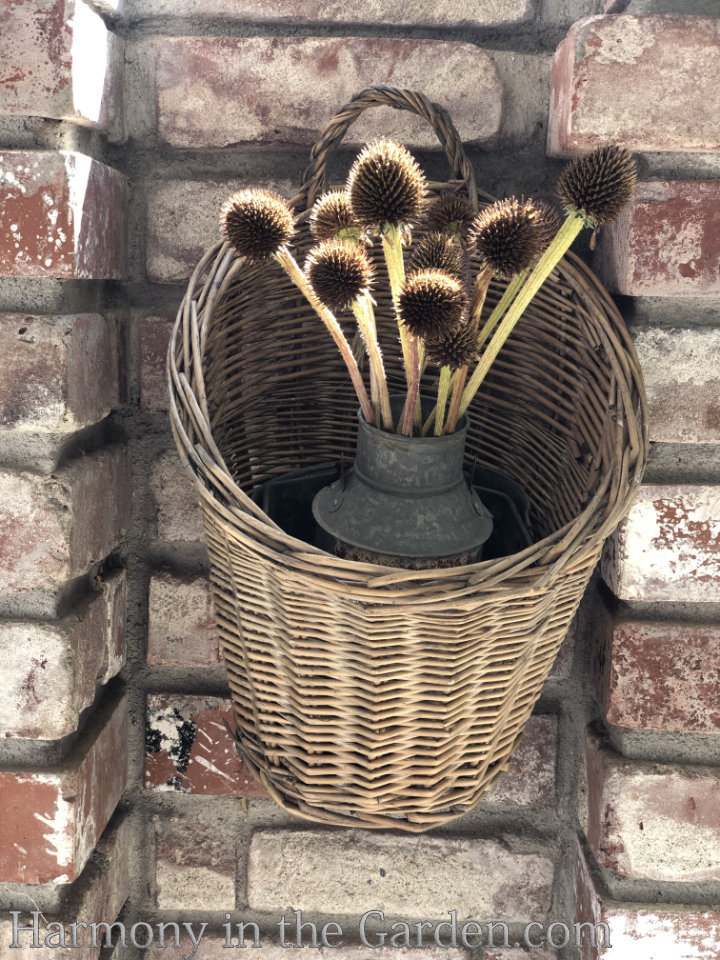 E. pallida blooms a bit earlier than my other varieties and almost finished, with only a few petals lingering on the prickly, stiff balls.
The dried seed-heads are perfect for gathering up and placing throughout the garden, lasting for weeks at a time.
Crocosmias 'Lucifer' and 'George Davison' zones 5-9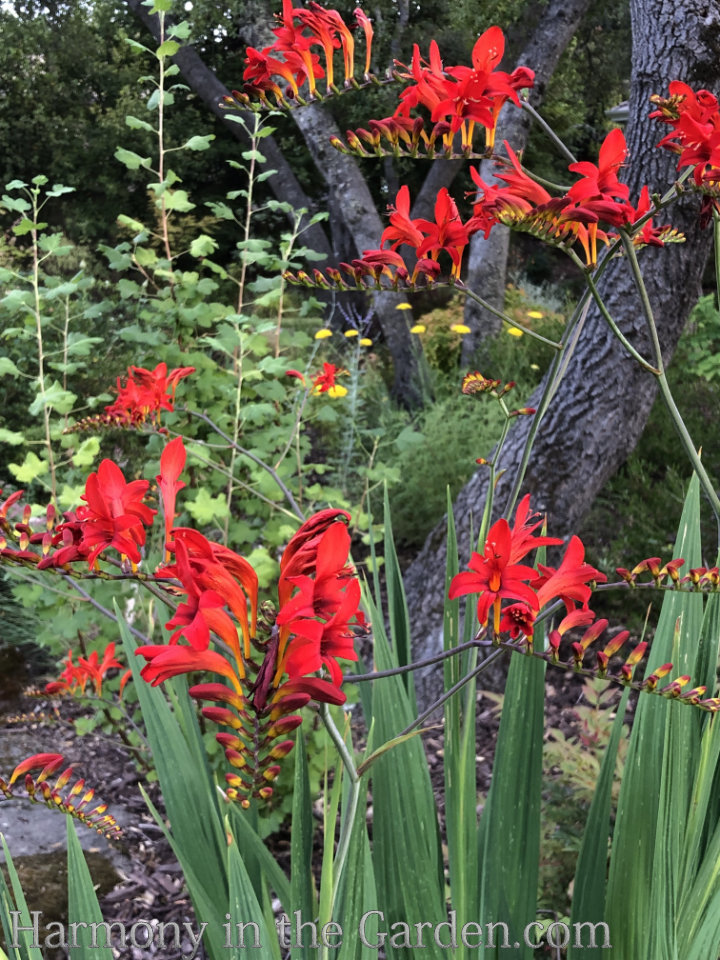 Flowers can often lose some of their 'oomph' and color in intense heat, not so with 'Lucifer!'  
The scarlet-red flowers last for weeks at a time and are a beacon for every hummingbird in the neighborhood. 
It looks like I photoshopped this image, but I didn't – they're that brilliant!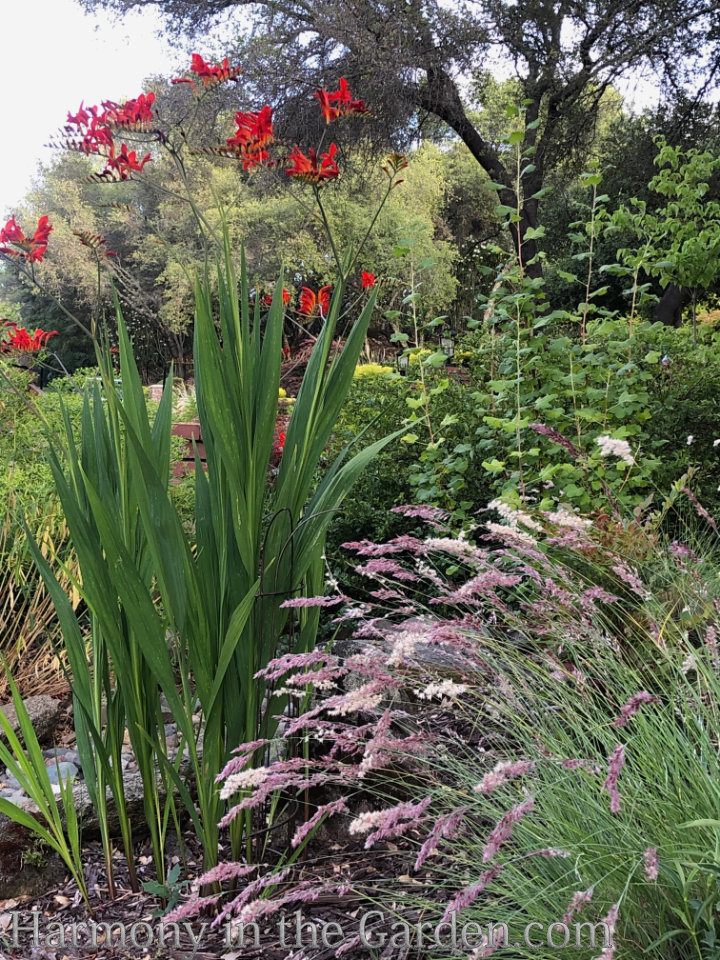 The clumps of strap-like, pleated foliage are striking enough, but when the elegant flowers begin to bloom on the long, wiry stems, the effect is mesmerizing. 
Especially when they rise above the weeping melinus 'Pink Crystals' grass. 
Over the years, clumps of 'Lucifer' can grow to 4' wide, so make sure you give it plenty of room to spread (or, you can always divide it and give some to your friends!)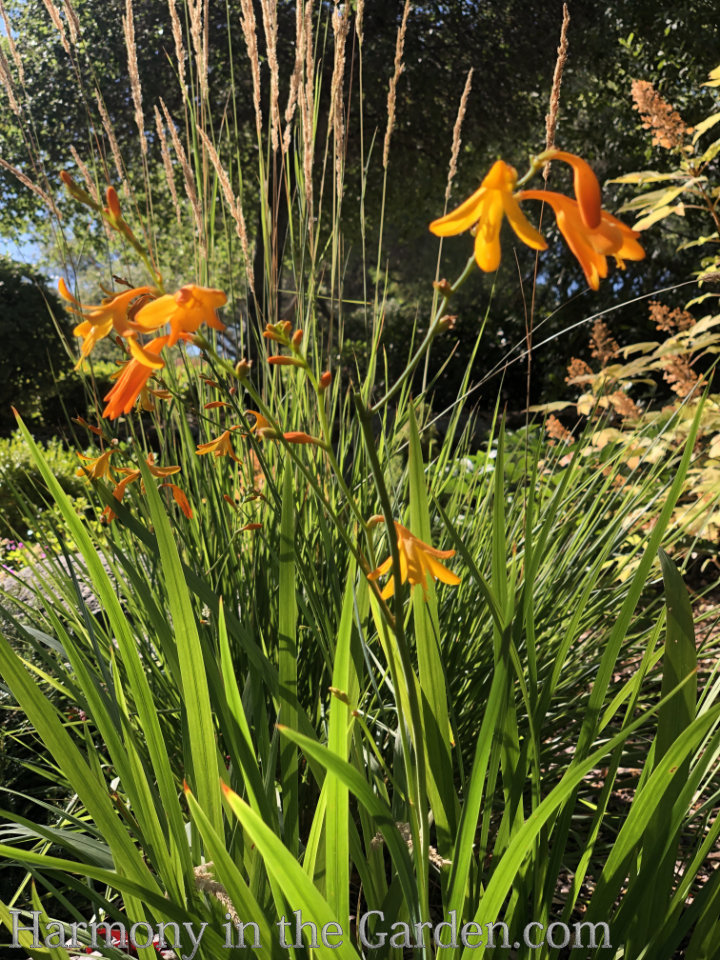 I also have a smaller crocosmia, 'George Davison,' that begins blooming after 'Lucifer' stops, which is ideal for extending the bloom-time in my garden. 
It only grows to 18"x18," making it much easier to divide if necessary. 
The flowers are a soft yellow-orange color that blends with just about any surrounding colors (I especially like them mingling with green grasses and purple salvias.)
Hydrangea paniculatas  zones 3b-9
I know what you're thinking – hydrangeas that don't get fried in the sun?  Well, of course mine aren't in the full sun, but they DO get 5 hours of morning sun (which is still pretty darn hot when it's a 110-degree day,) and none of them burn!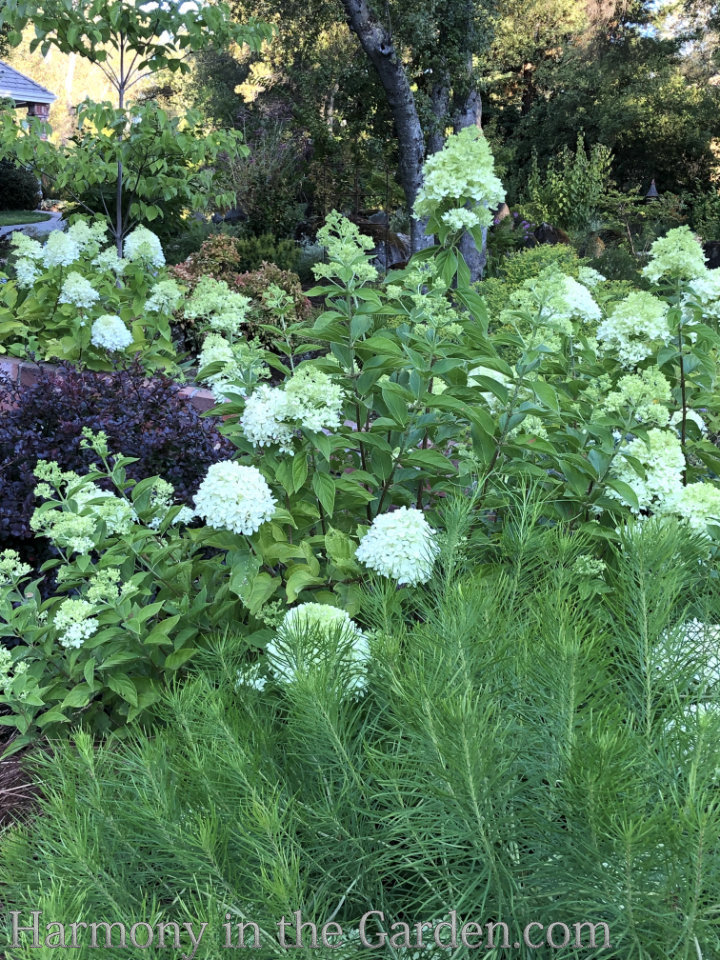 One of my favorites is the hydrangea paniculata 'Little Limelight,' planted near the bottom of my garden where the naturally occurring water table is higher (therefore providing more water than elsewhere in my garden.)
They're amazing, aren't they? 
This is their second full year, and I can't find a single scorched leaf or petal on these delicate-looking blooms.  
The creamy white blooms, tinged with lime-green, makes them appear fresh and lush.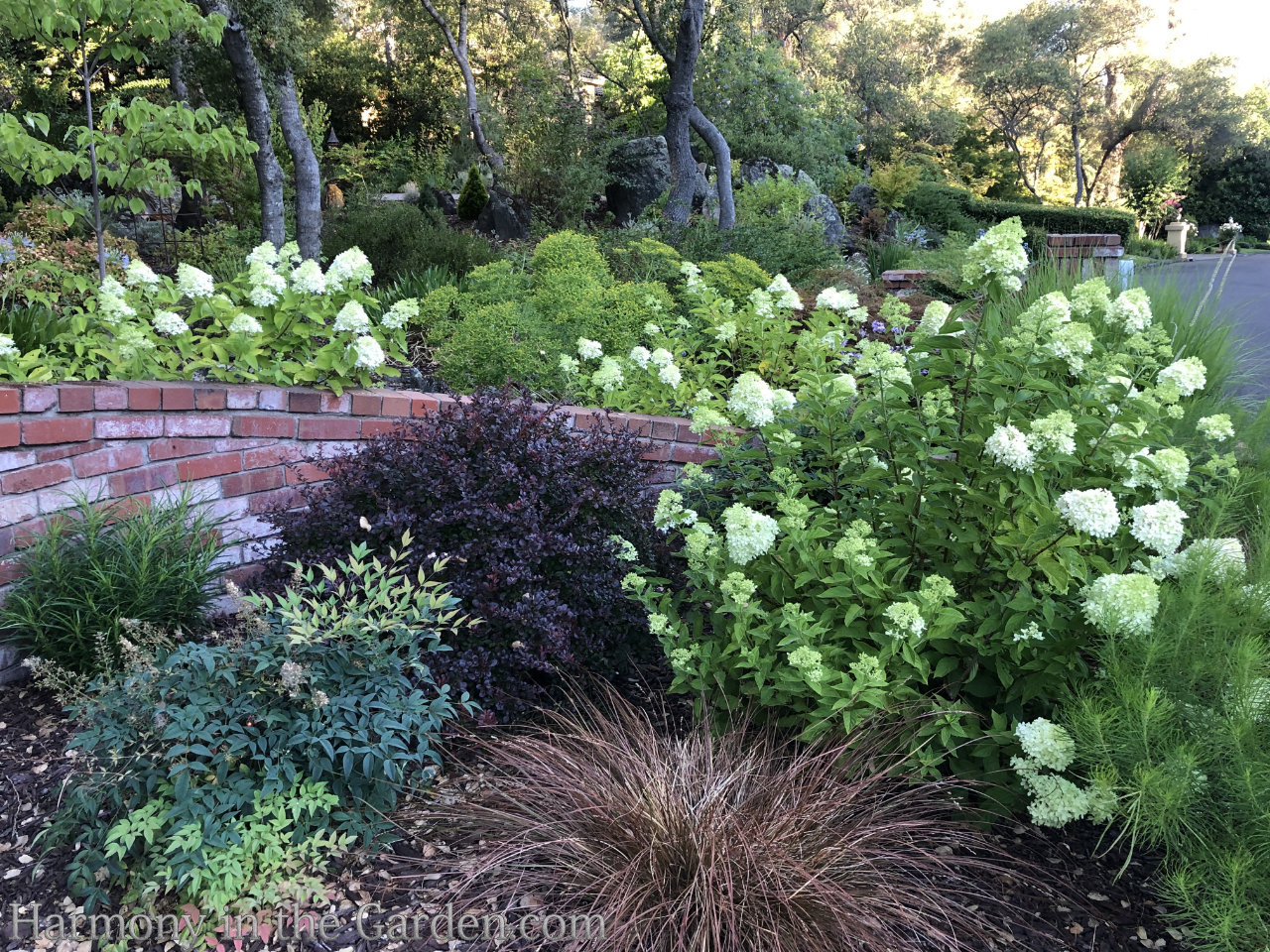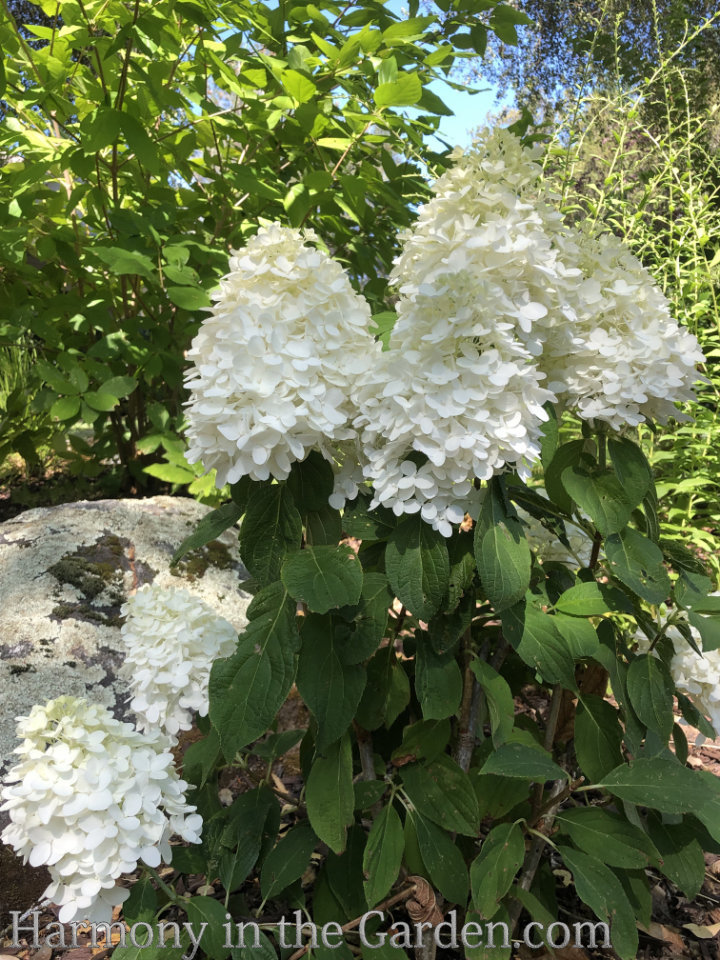 Another favorite is a new one that Sunset Plants gave me to trial in my garden, called 'White Wedding.'
 I'm SO GLAD they gave me this hydrangea because I can already tell it'll rival 'Little Limelight' for my #1 favorite. 
 'White Wedding' is more compact than many paniculate varieties, growing to 3-5'x5-6'.
Just LOOK at the full, oversized, creamy white heads that almost have a frothy appearance. They look like they'd be fragile, yet they laugh in the face of the heat.  
Honorable Mentions – this list could go on forever, but I couldn't forget these oldies but goodies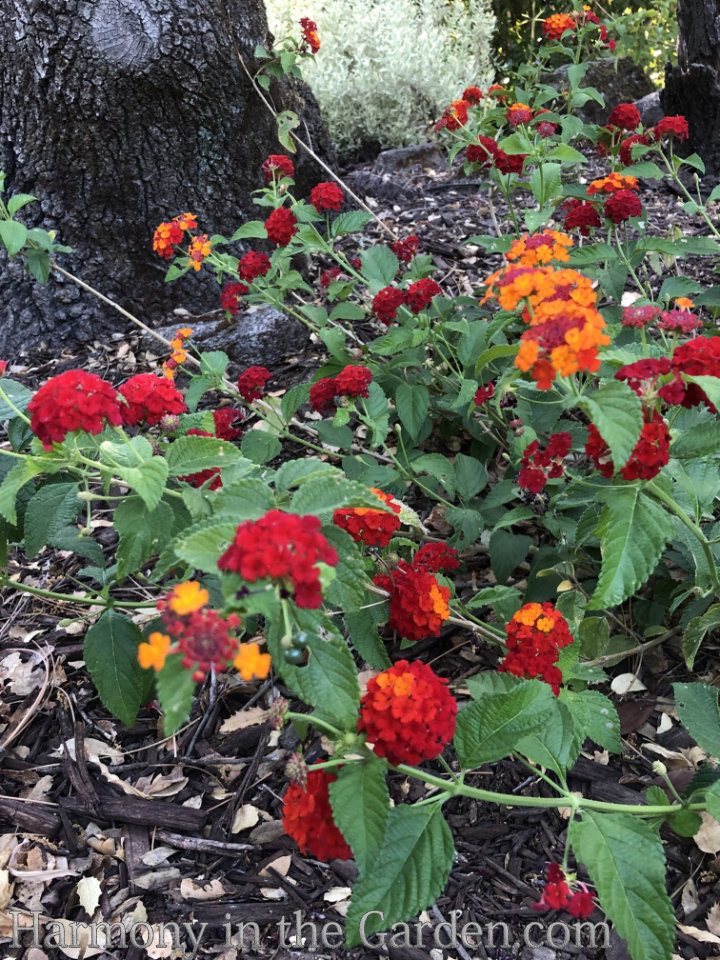 Lantana (annual except in mild winter climates, like mine)
Similar to Agapanthus in that I've typically turned my nose up at them, I've fallen back in love with these tough, non-stop blooming perennials.
One of my favorite varieties is 'Dallas Red' as it has the most vibrant, rich colors I've seen.  
They look pretty horrible in the winter (many people think the plant has died and proceed to rip them out!) but they bounce back again once the heat arrives.
Pollinators adore them, as do hummingbirds, and deer won't touch them.  
Tons of flowers in every color imaginable, very little water, what's not to love?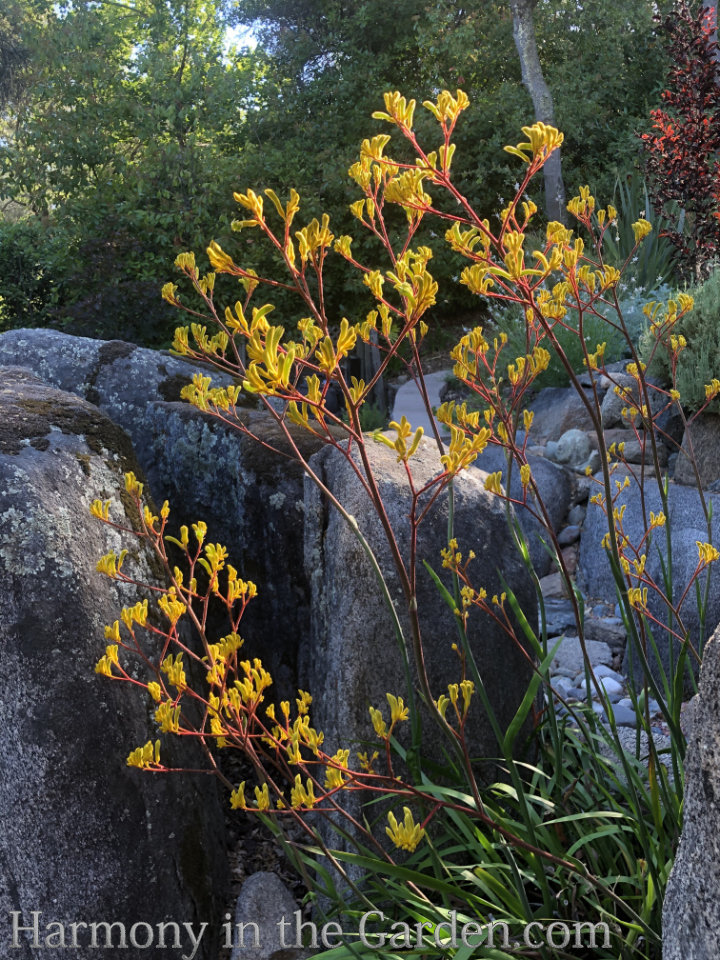 Anigozanthos (Kangaroo Paws)  zones 9-11
I've written about these a lot over the years, and  here they are again – the two varieties that I plant the most.
'Harmony' (left) with soaring 4-foot stems of golden yellow blooms, and 'Tequila Sunrise' (below) with 4-foot stems of velvety dark-orange flowers.  
Other varieties don't tend to hold up as well and/or are short-lived, but these two have been reliable performers for me.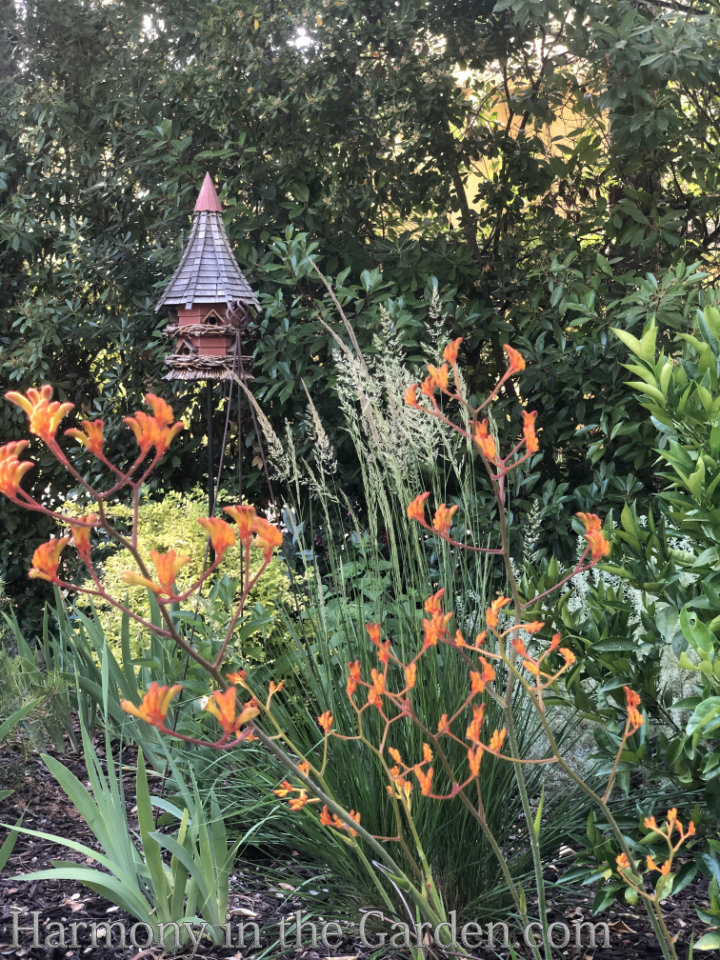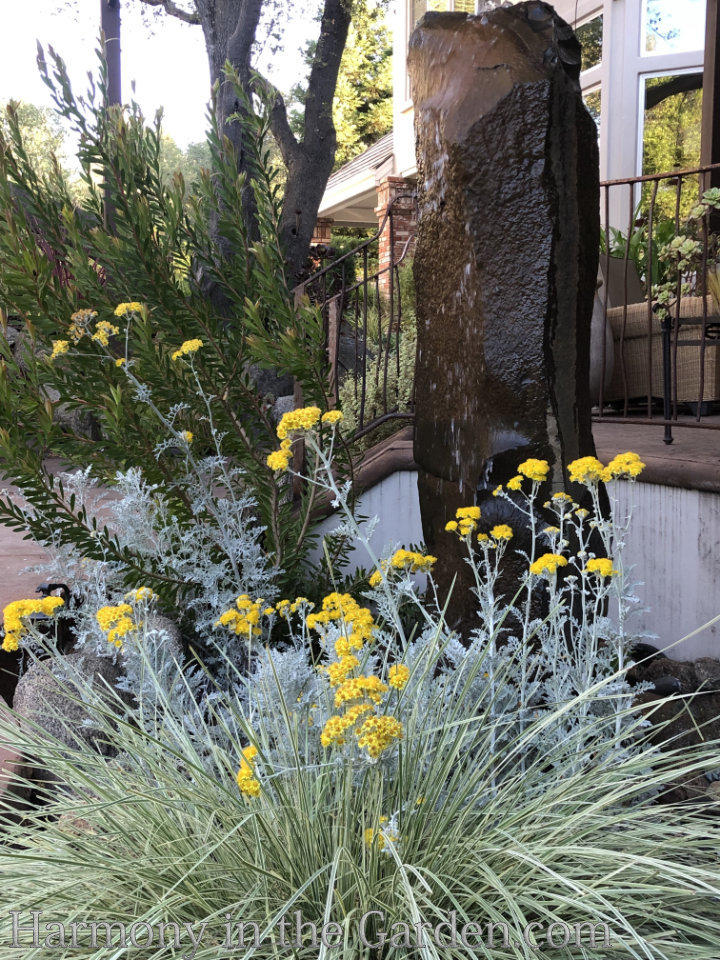 Artemisia stelleriana (Dusty Miller) zones 5-10
While I tend to appreciate dusty millers, I'm usually not a fan of their yellow flowers. 
These particular flowers, however, are the exception.  
Planted near my overly tall and somewhat ill-placed fountain (click here to read more about this) I love how they twist around, casually mingling with the neighboring Leucadendron.
  This one is planted in the hottest area of my garden, too, and never seems to mind when I forget to water it for a few weeks.  A winner, for sure.
And last, but not least – my mystery plant!
I'm hoping one of you knows what this is!  It has been blooming for the past six months straight, the heat doesn't phase it, and the hummingbirds adore it. 
The flowers look like verbena, but that's NOT what it is.  I remember the tag saying it would be evergreen in milder climates, and that it's a prolific bloomer (which is it.) It's a bit wispy, growing to 24″ x 24."  Any thoughts?
UPDATE:  A kind reader has ID'd this plant:  It's a bouvardia ternifolia (Firecracker Bush)  Thank you!!  Now I need to find a few more   🙂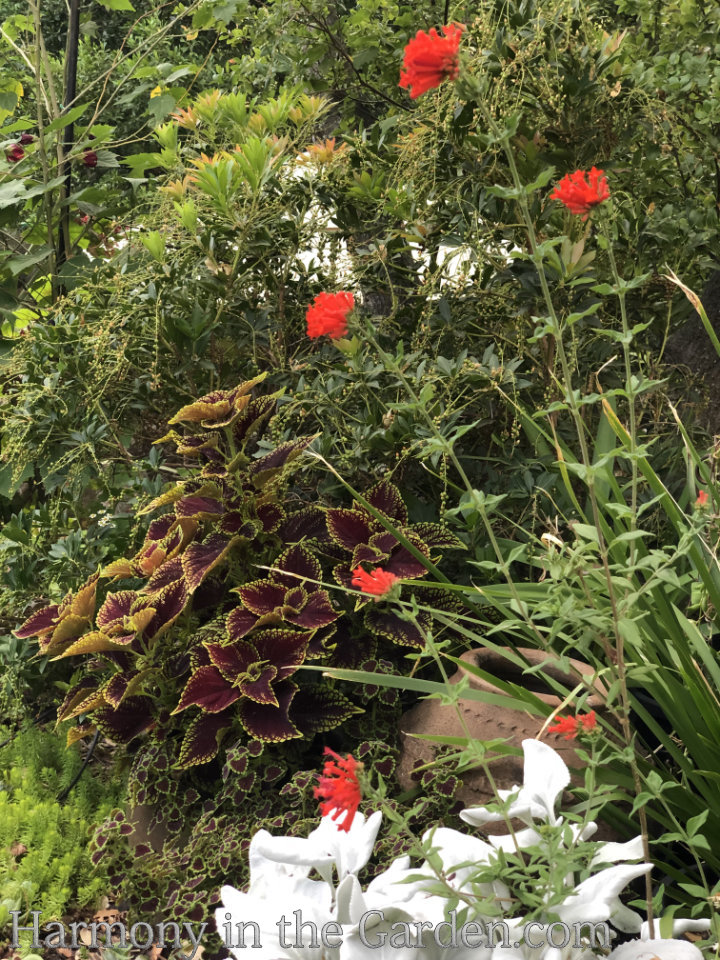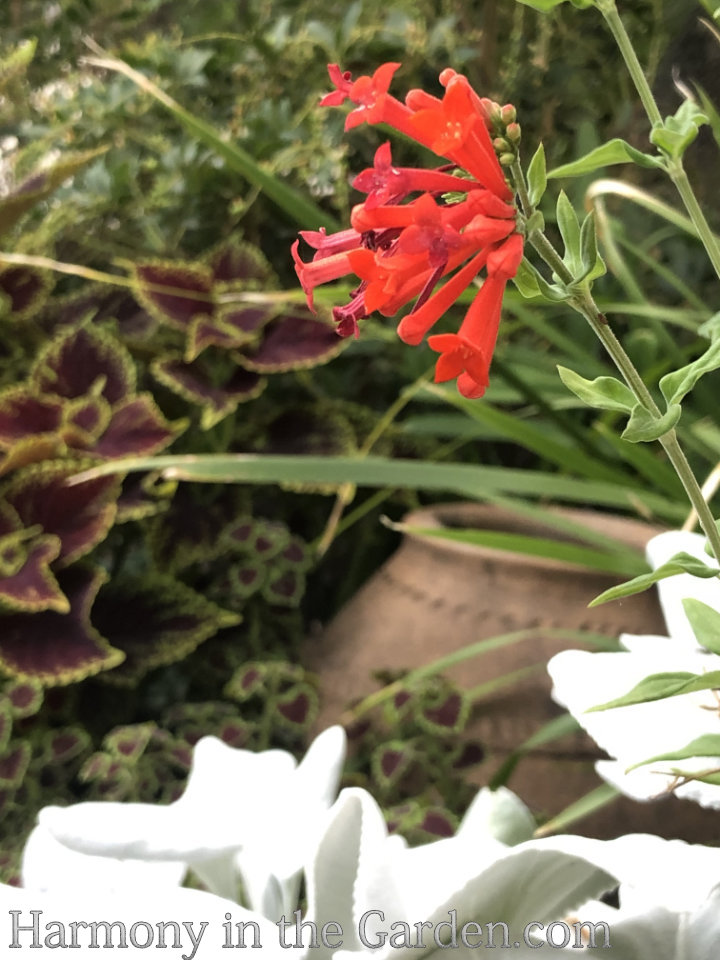 Want to learn about even more plants that will thrive in your summer garden? 
Click here to read my post about my favorite super-tough native plants.  
And even though they're not all blooming now, they ARE taking this heat in stride, with no wilted or burned leaves. 
Oh, and one more interesting link to share with you!  If you're like most of us, experiencing weather patterns that are crazier than ever, you might enjoy these interesting articles, thanks to Old House Gardens.
Please share with us any plants that are thriving in your garden, despite whatever weather is thrown at them.  We could all use some inspiration!