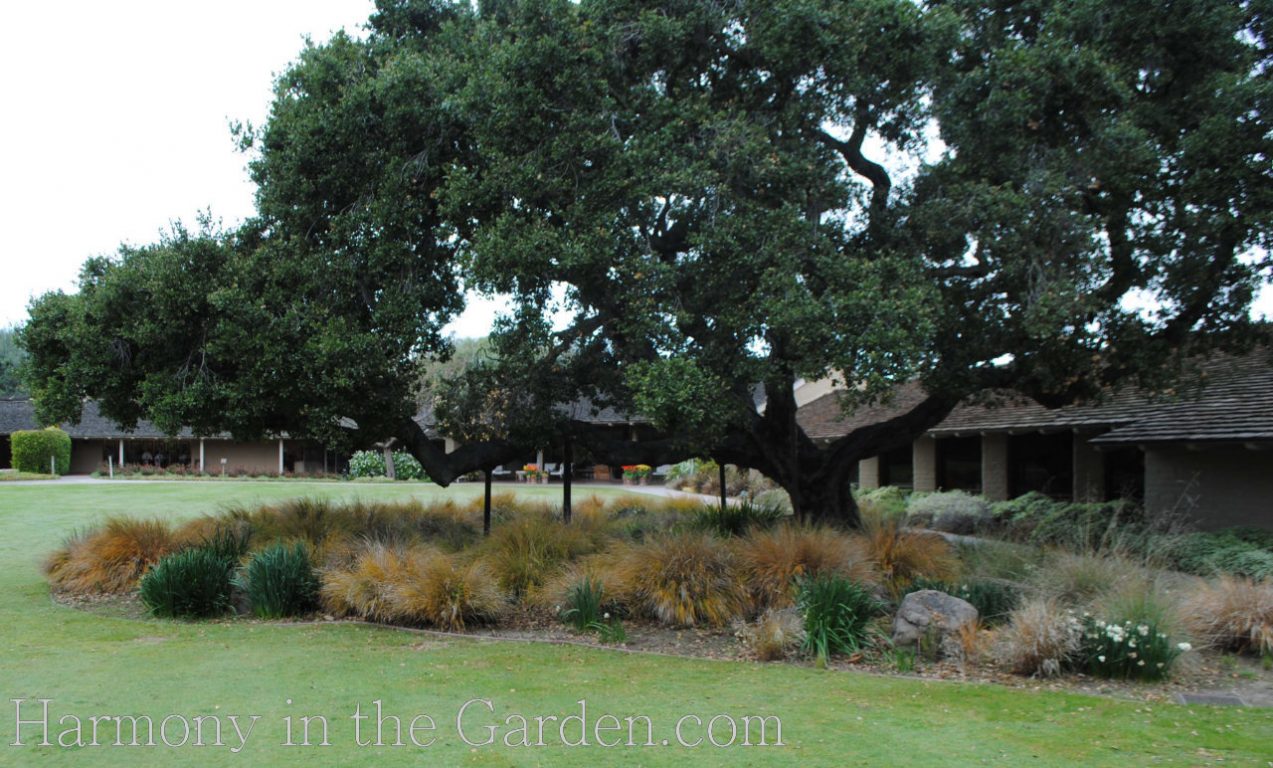 Gardening under oaks and learning to love dry-shade plants go hand-in-hand.  
Sensitive to summer irrigation, fertilizers, and root disturbance means creating a garden near an oak tree requires a delicate touch.  Indeed, it can be tricky to accomplish.
That's why the careful selection and placement of dry-shade-loving plants is critical for the tree's overall health. 
(Does anyone recognize this tree?  It was the iconic, old oak tree tree located at Sunset Magazine's  Headquarters in Menlo Park.  See how they wisely planted low-water plants under it's drip-line? )
Native to our Mediterranean climate (wet winters followed by hot, dry summer) means the Live Oak trees (quercus agrifolia) that grow in my garden don't want summer irrigation.  The heat from summer, combined with consistently moist soil, will encourage pathogens and root rot in oak trees, often killing them in just a few years.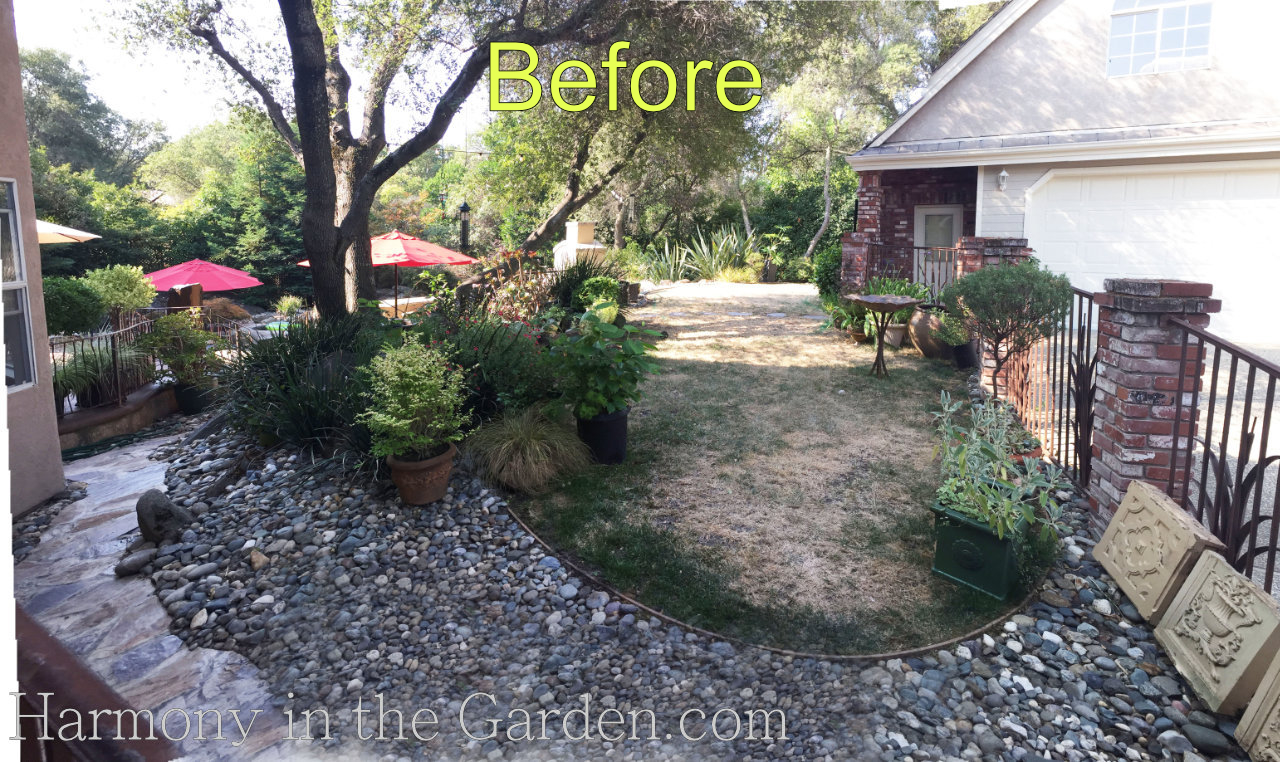 So you can imagine the horror I felt when I first moved into my new home and saw a prominent oak tree in my back garden surrounded by an expanse of water-guzzling lawn.   
(You may remember this 'Rain Garden' post, where I also had to deal with a dead oak tree that was killed by lawn.)
Even though I have several other oak trees throughout my garden, this one is my favorite. 
And because it's such a special tree, I had to do everything I could to maintain its health.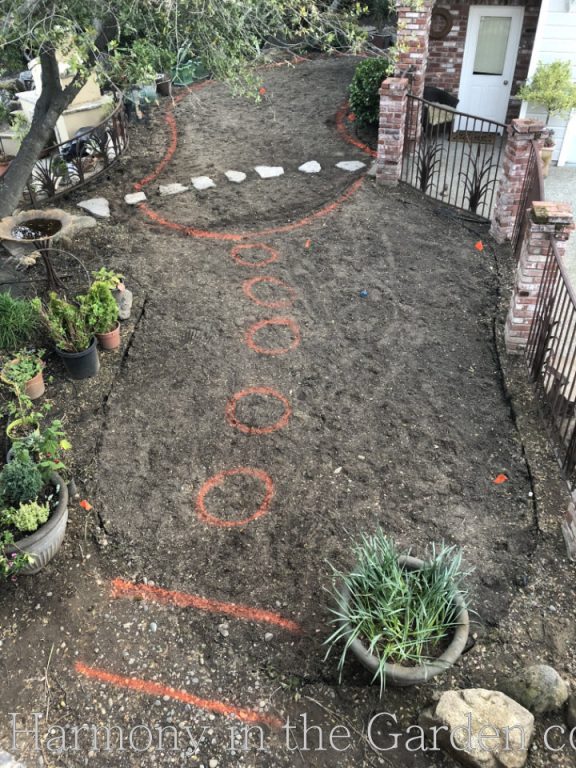 The first thing I did was to slowly reduce the lawn's water over several months, until the lawn was finally dead. 
This allowed the oak tree's sensitive roots to get accustomed to the change in water, thereby avoiding shocking (and damaging) the tree.   
I then carefully removed the dead lawn while the soil was still dry, as wet soil would compact when walked on, damaging the tree's roots.
Next came the fun part – designing the space!
As I've mentioned before, when designing gardens, I like to use landscape paint to experiment with shapes of pathways, garden beds, etc. 
This is exactly what I did here, experimenting with the placement of future garden steps that would lead to a new, much smaller lawn (away from the oak tree's roots.)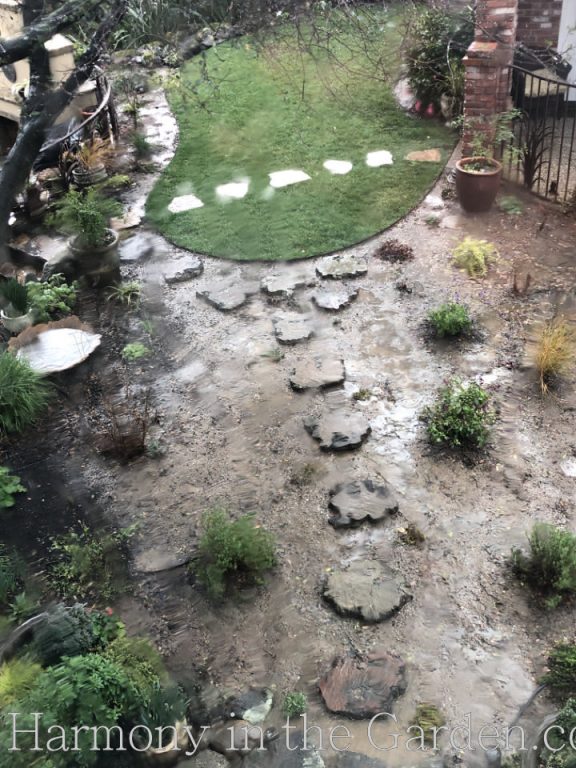 I also needed to address another problem. 
This part of the garden sloped down towards the house, which channeled rain runoff right into the side of my house!  
So I decided to create a few layers of steps that would fix this problem (you can see the future placement of them in the above photo, designated by the orange lines.)
I knew just the stonemason to use – my mother!   
She's incredibly talented working with rocks of all sizes (my family calls her the rock-whisperer.)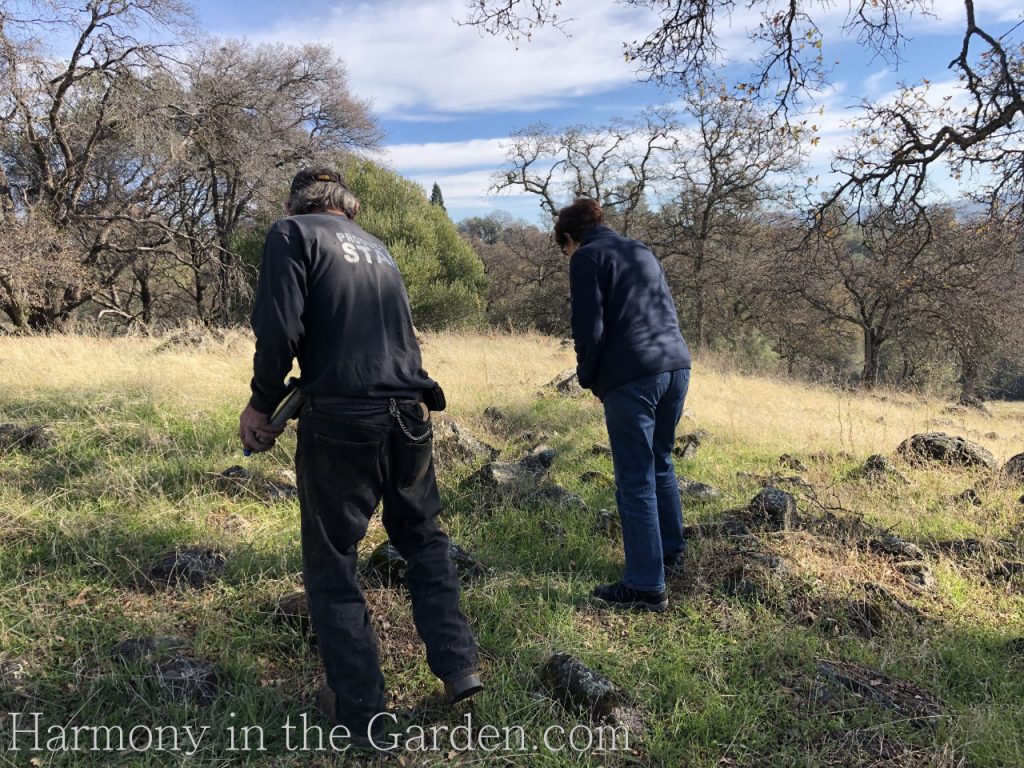 But the problem we faced was trying to source granite boulders that would match the existing ones already in my garden.
After hearing about a-guy-who-knew-a-guy (you know how that goes!), we ended up in the hills at his property, hand-selecting the perfect stones for my future garden steps.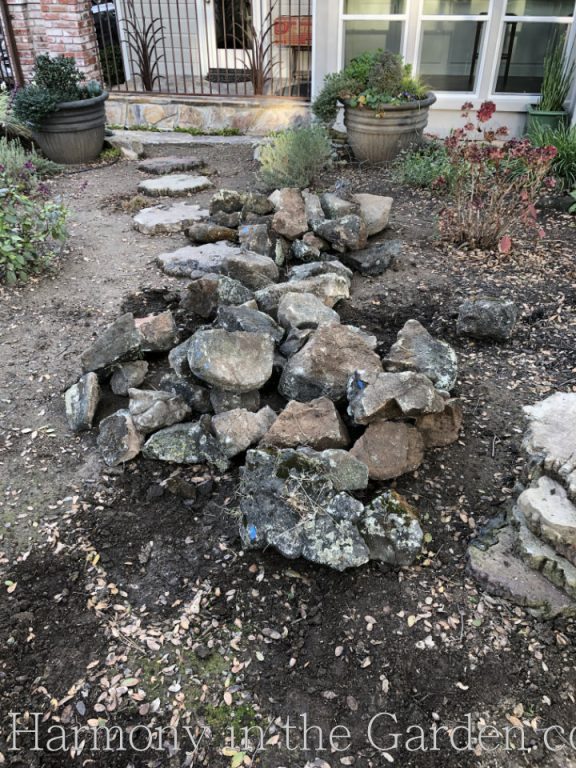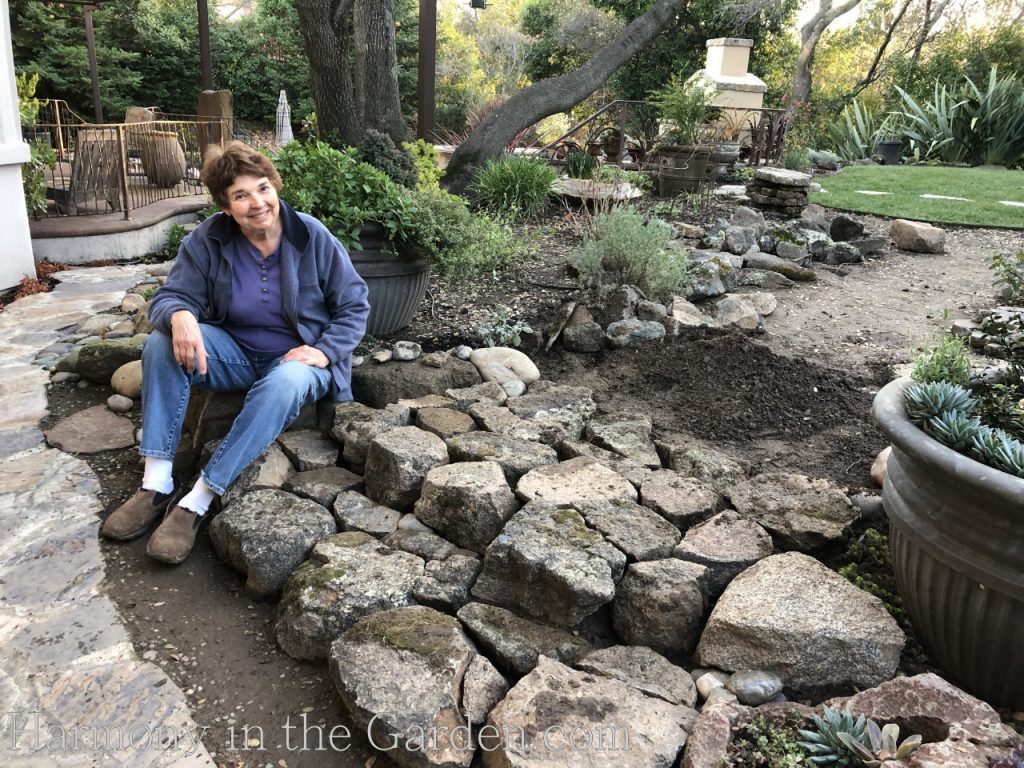 The stones were delivered a few days later and my mother got to work (after first wondering what she had gotten herself into!)   
I absolutely LOVE these steps, each stone carefully chosen, placed, and secured by my mother – like a giant jigsaw puzzle.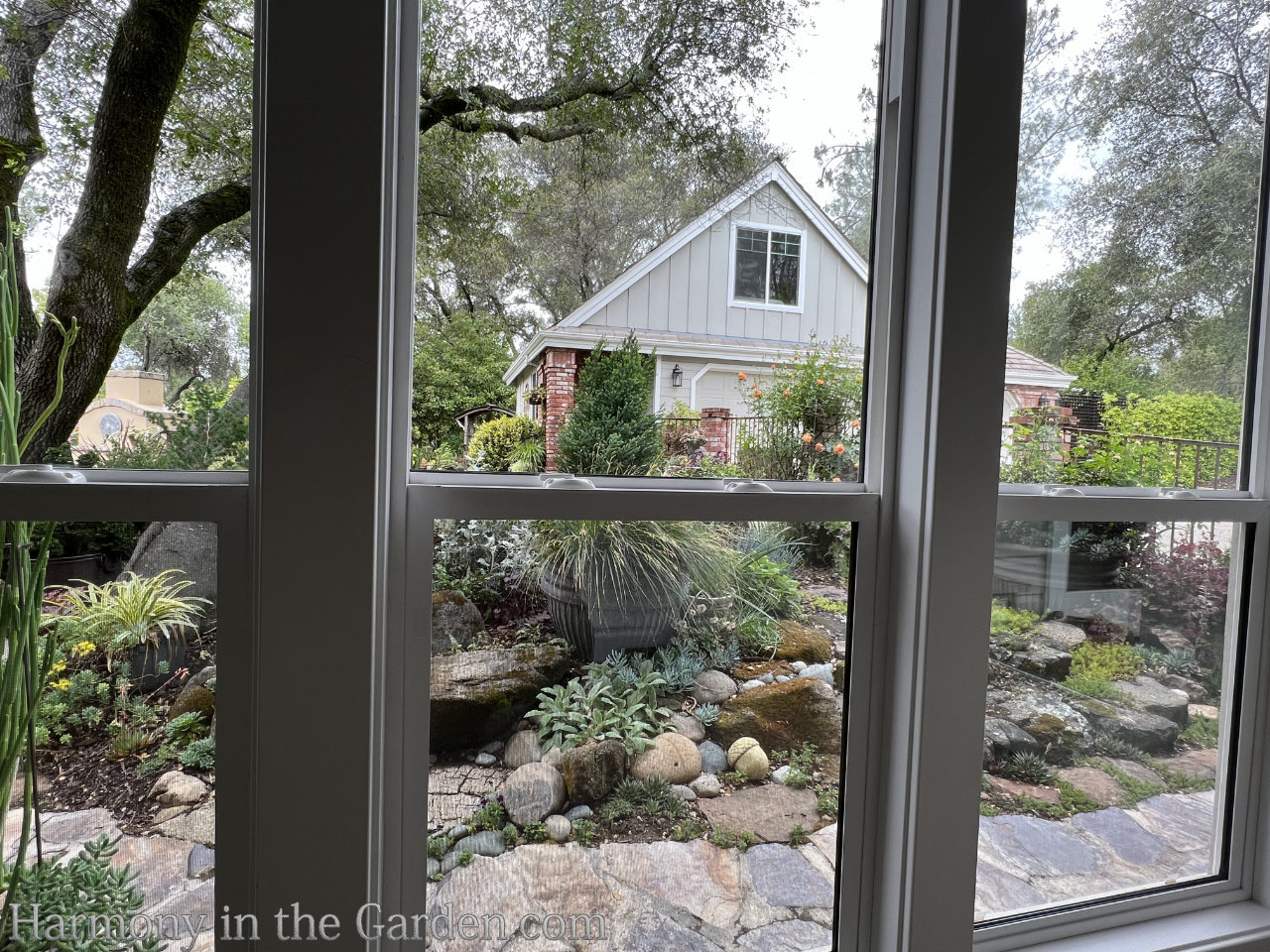 Now that the overall layout of the garden was in place, I needed to focus on the plants.
I realize most experts would advise not planting anything under oaks, but placing the plants (preferably natives) at least 6-feet from the trunk.
However, since this area is so visible from inside my home, I wanted to create a more traditional garden that would blend in with the surrounding planting beds. 
So, in order to successfully accomplish this, I kept the following in mind when choosing which plants to use:   
1. Oak trees have VERY fragile roots that can easily be damaged by digging large holes for shrubs.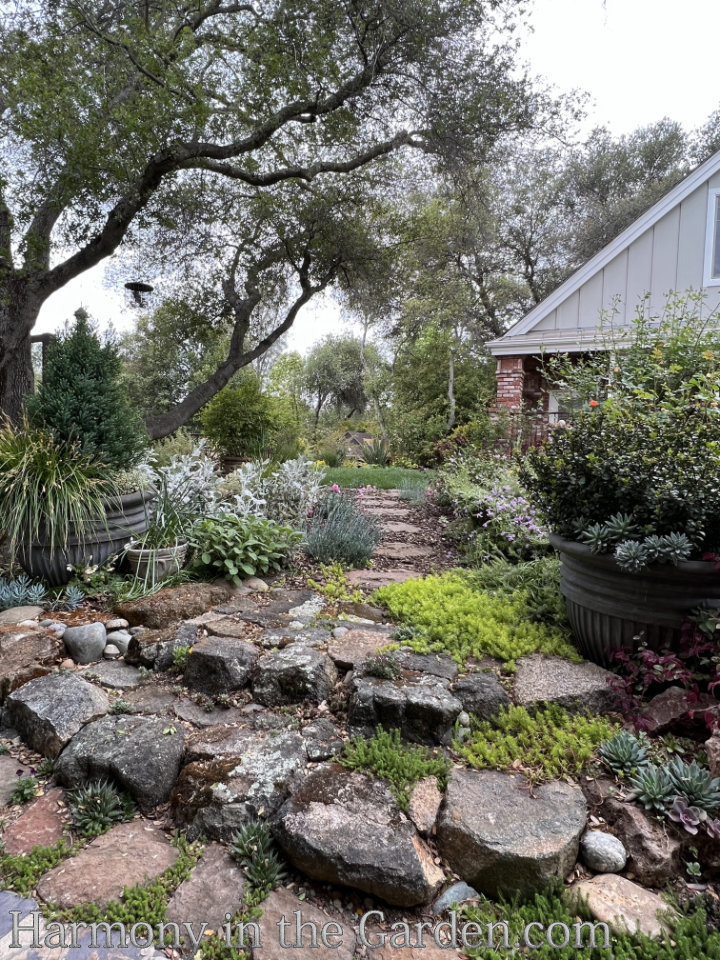 To avoid damaging the tree roots, I planted cuttings and small specimens (nothing larger than a 1-gallon.)
Another trick I used to add height and interest without planting a large shrub in the ground, is placing oversized containers within the garden bed. 
I placed two oversized containers on either side of the stone steps, adding a bit of formality, and adding to the 'traditional landscape' feeling of the space.   
The large containers also allow me to plant larger shrubs in them, adding much-needed height.
The container below (left) contains chamaecyparis thyoides 'Red Star' and below (right) is Monrovia's 'Scallywag' holly, with Sunset's 'Purple Pixie' loropetalum at its feet.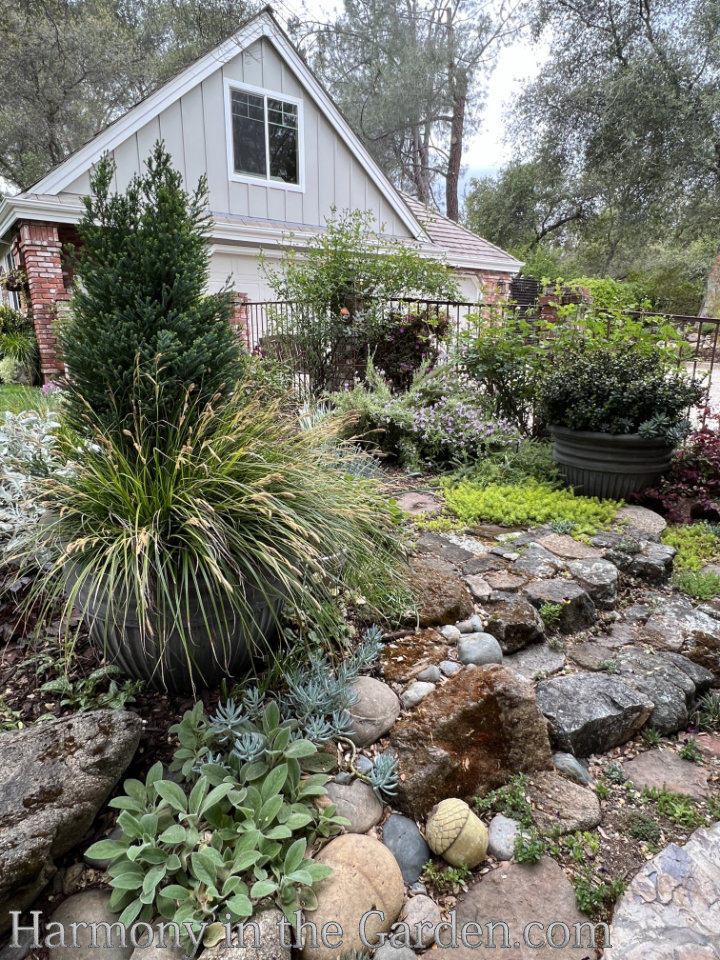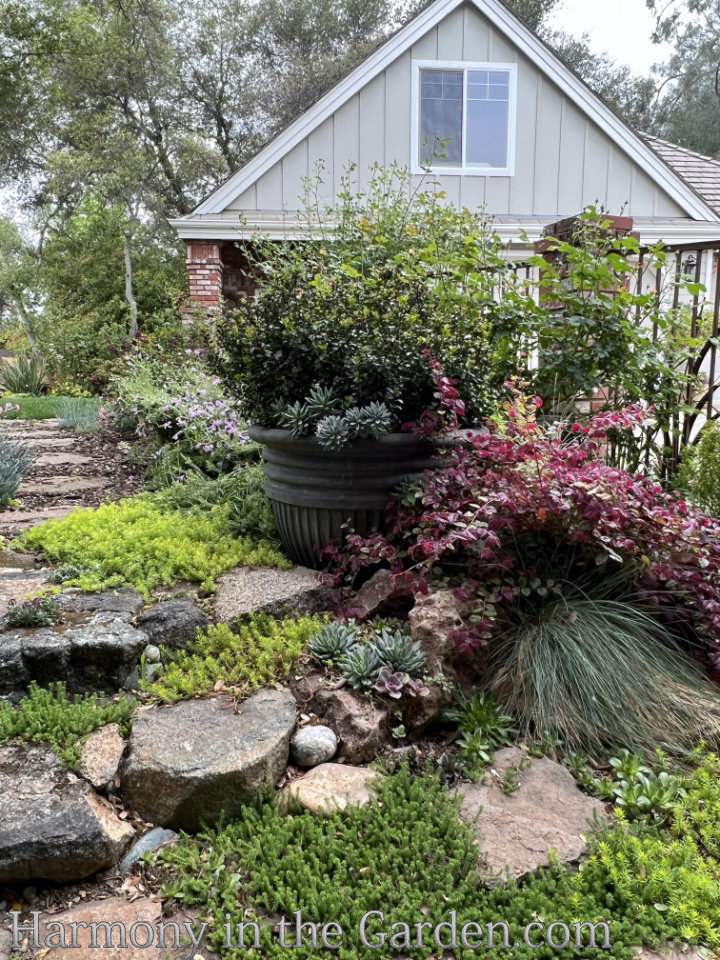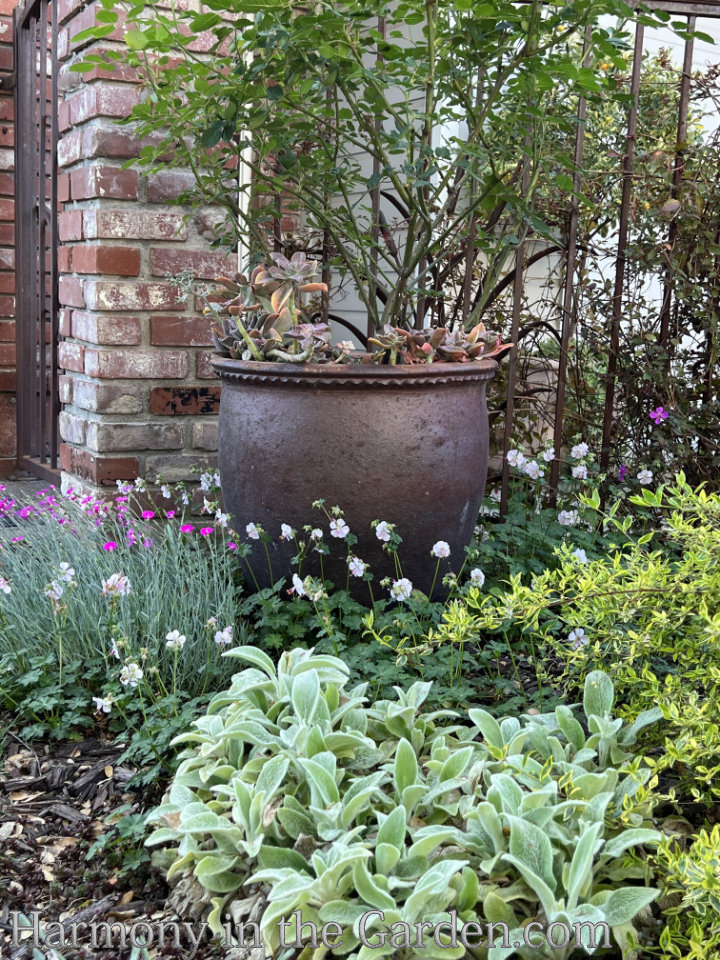 Another plus of using containers placed within the garden bed is that I'm better able to control where to add water.
Using large containers (versus those that are smaller) means the vast majority of the water remains in the containers instead of quickly running out of the bottom.
This is a great strategy when planting thirstier plants (such as the rose planted in the above container.)   
Surrounding this container is a mix of dianthus 'Firewitch', stachys 'Primrose Heron', and geranium 'Biokovo'.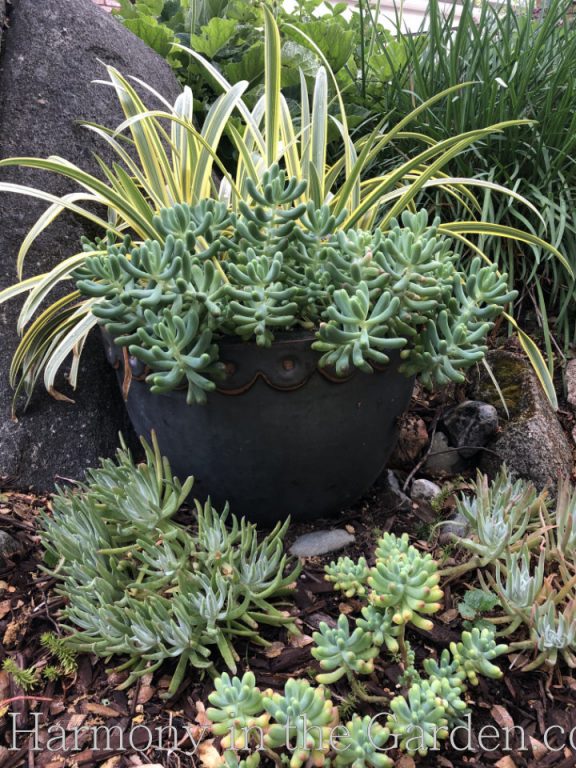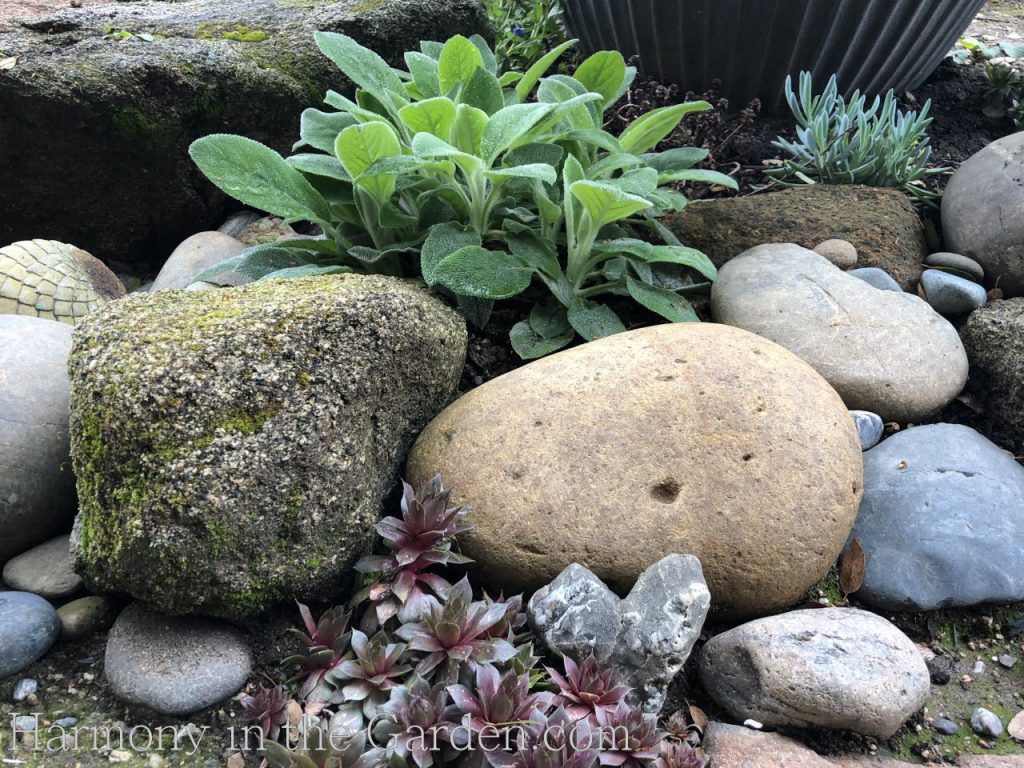 The small amount of water that drains from the container is quickly consumed by the smaller plants at their base.
Plants like succulents and Lamb's Ears thrive on the little water that escapes the bottom of the containers.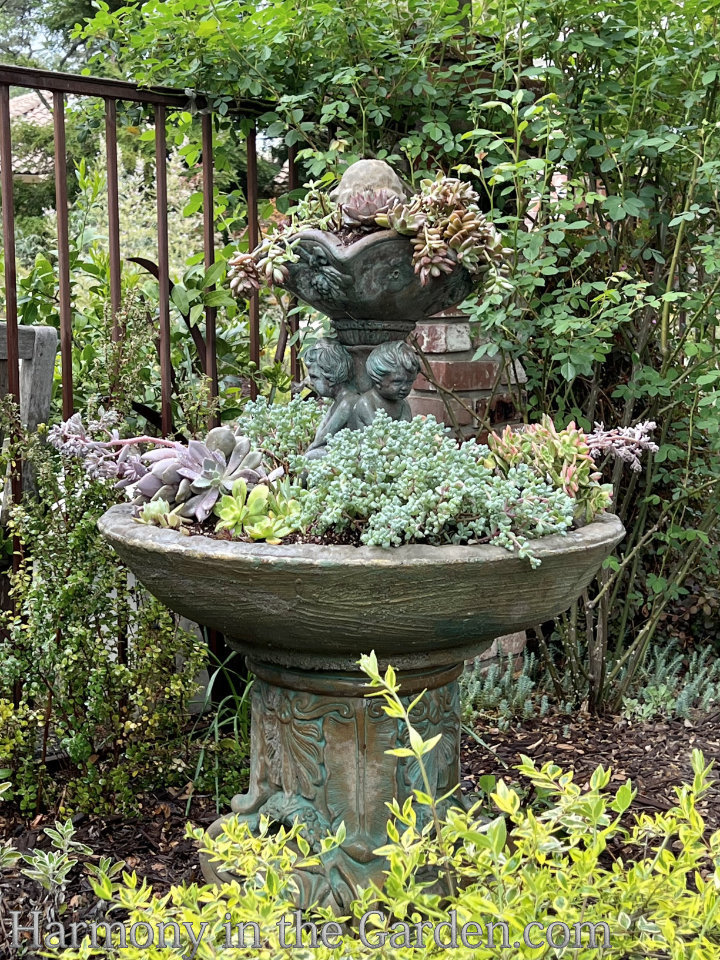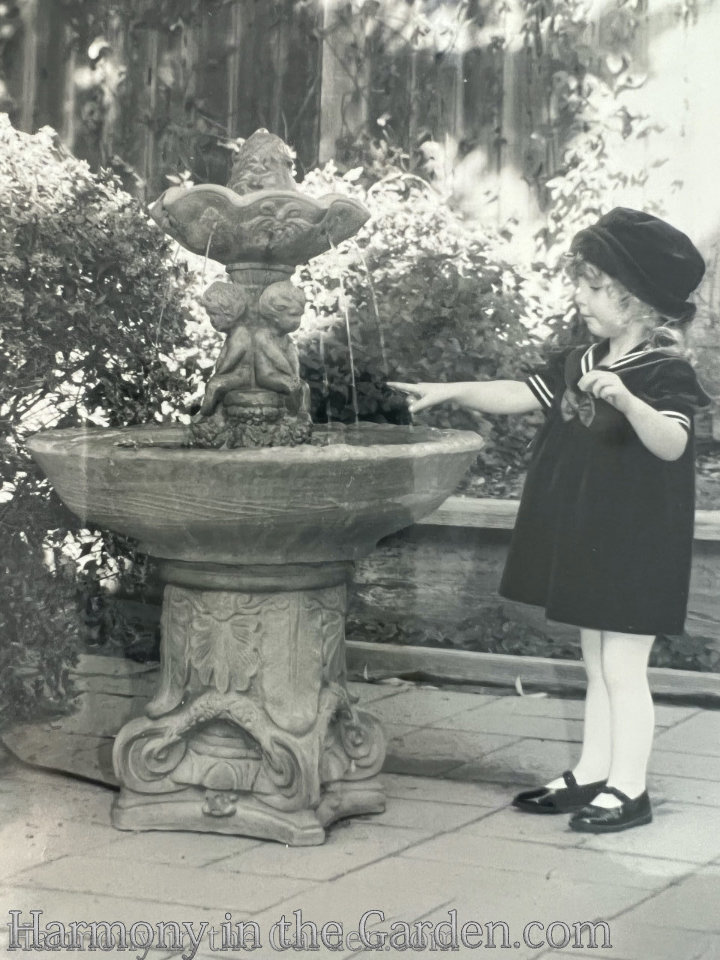 While planting succulents in fountains is nothing new, this is one of my favorite containers of all. 
As you can see from the above photo, I've had this fountain for over 20 years (that's my daughter, btw, who's now almost 27!) 
While I no longer use this as a working fountain, it makes an ideal home for a succulent collection.  And, any water that gathers from rain easily drains out of the hole in the bottom of the bowls.  
2. The roots in the area closest to the Oak tree's trunk are especially sensitive, so it's not wise to plant anything next to the tree.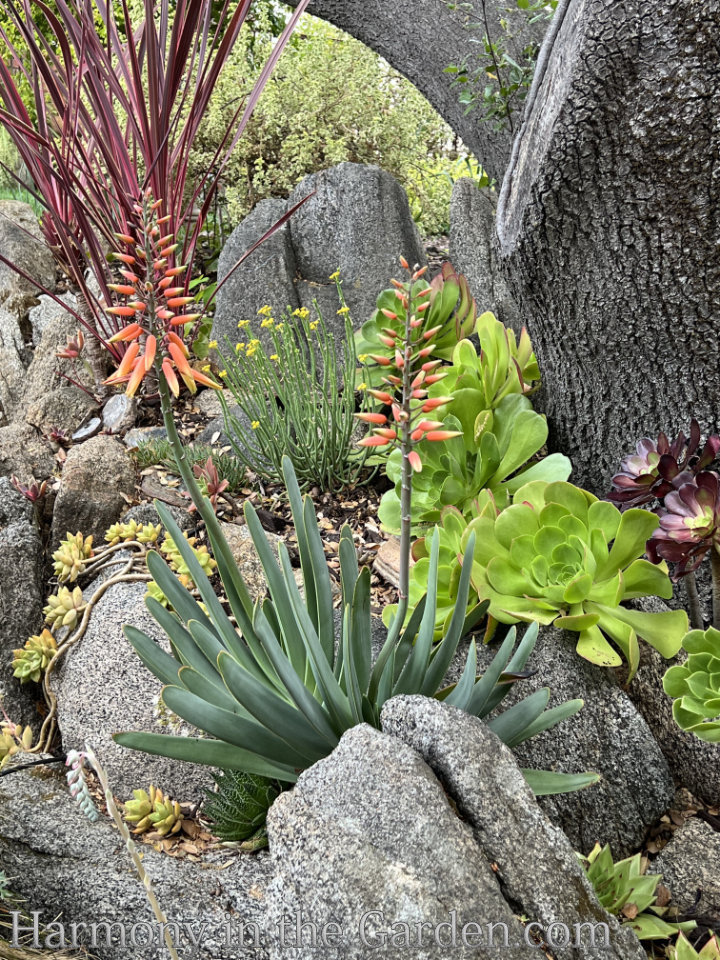 In my garden, however, I made some exceptions.  
In addition to the previous wrap-around lawn, there were also large established clumps of society garlic and a cordyline 'Pink Star' planted right next to the trunk.   
Since these plants were thriving without any additional irrigation, I decided to let them remain.  I was concerned I'd damage the roots by removing such large plants.
On the other side of the oak tree is a stone wall, surrounded by boulders that create shallow pockets. 
These pockets of soil were ideal for my low-water (and shallow-rooted) succulent collection.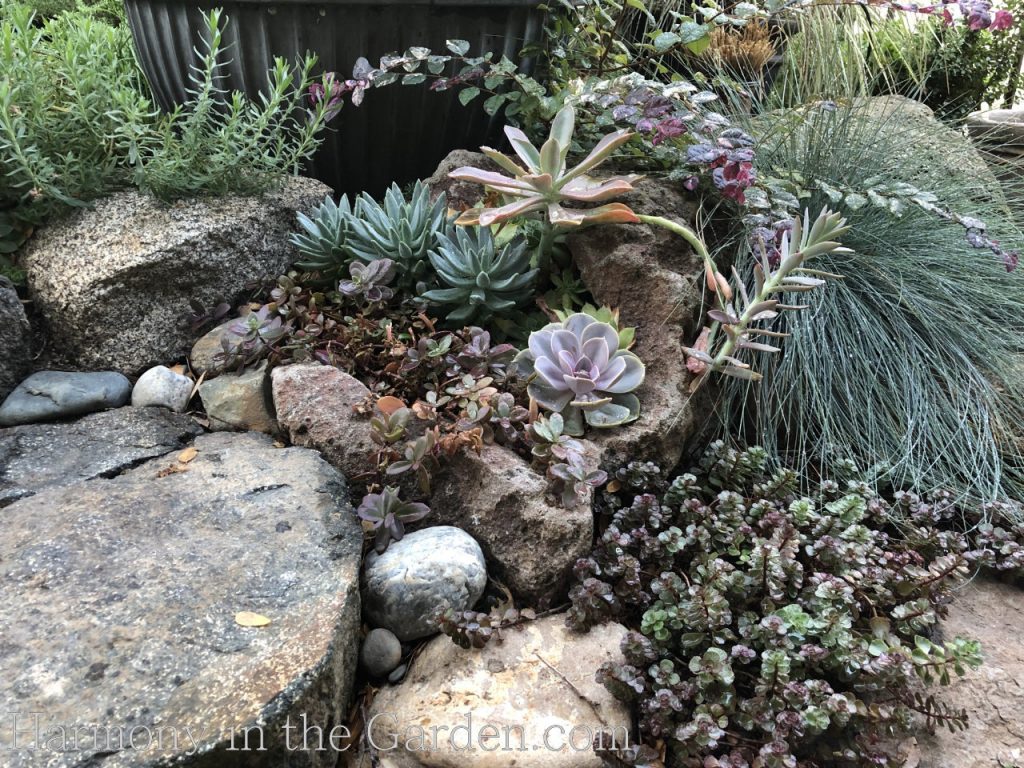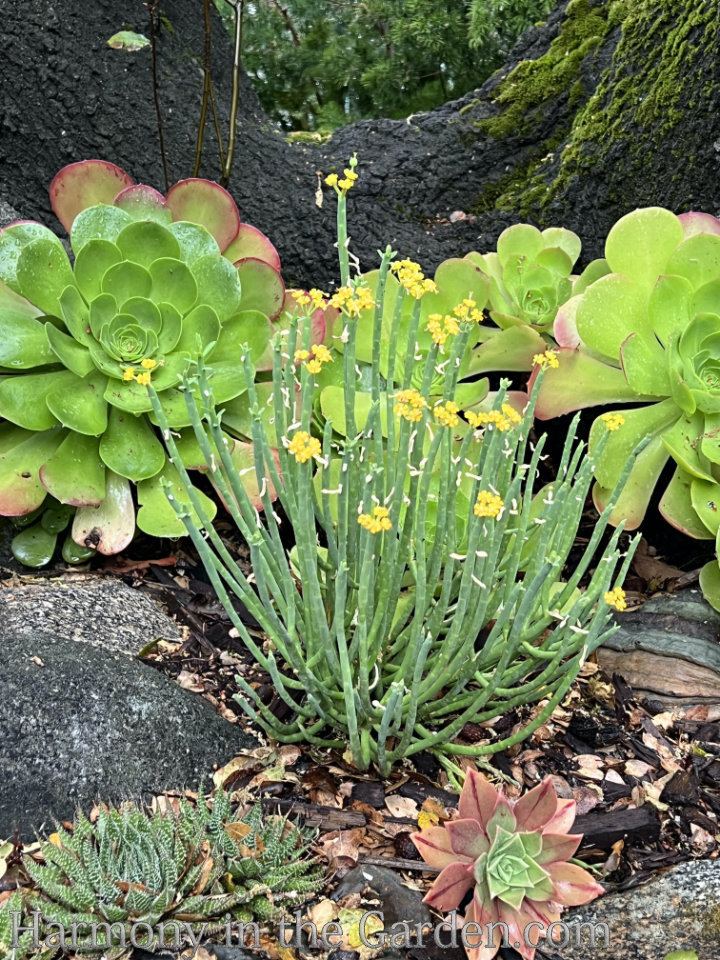 In addition to low water succulents, I've tucked in non-living elements as well (lowest water of all – ha!)
Some of my favorites items (shells, unusual rocks I've found, trinkets, etc.) have made their way into all the nooks and crannies of this area.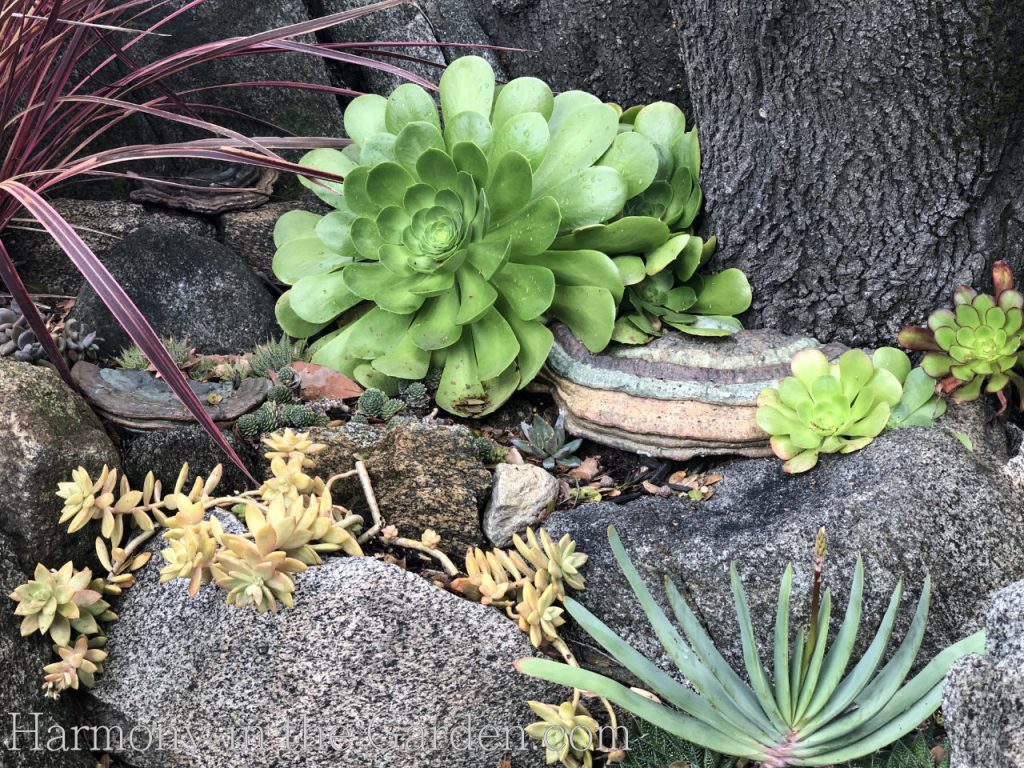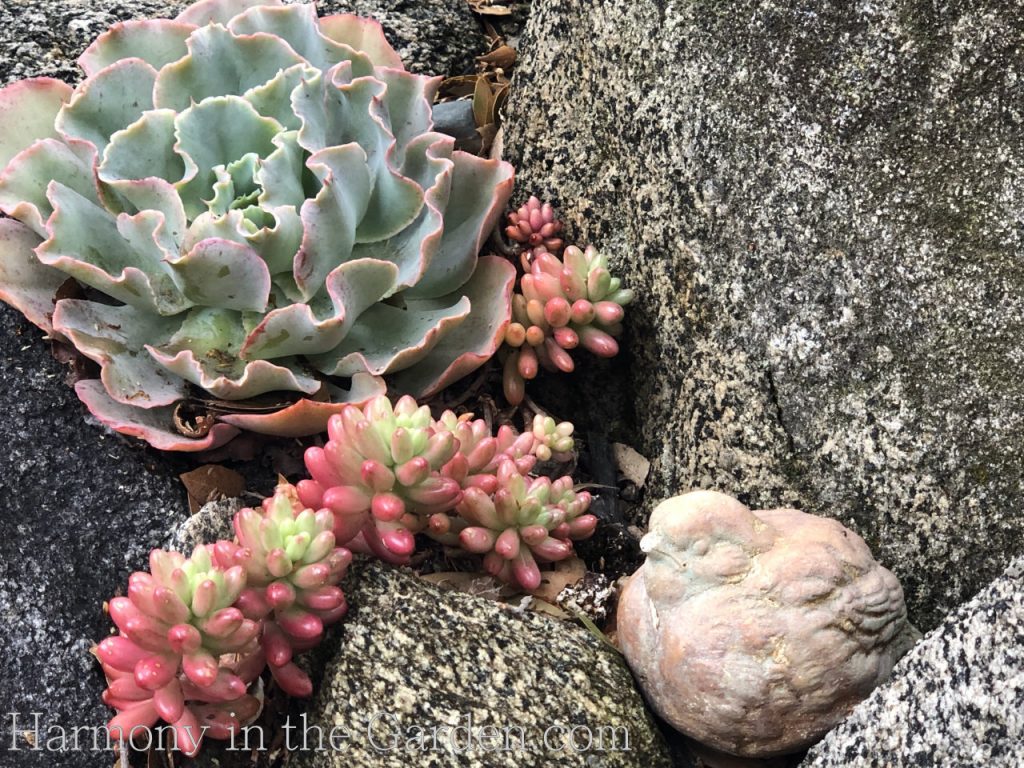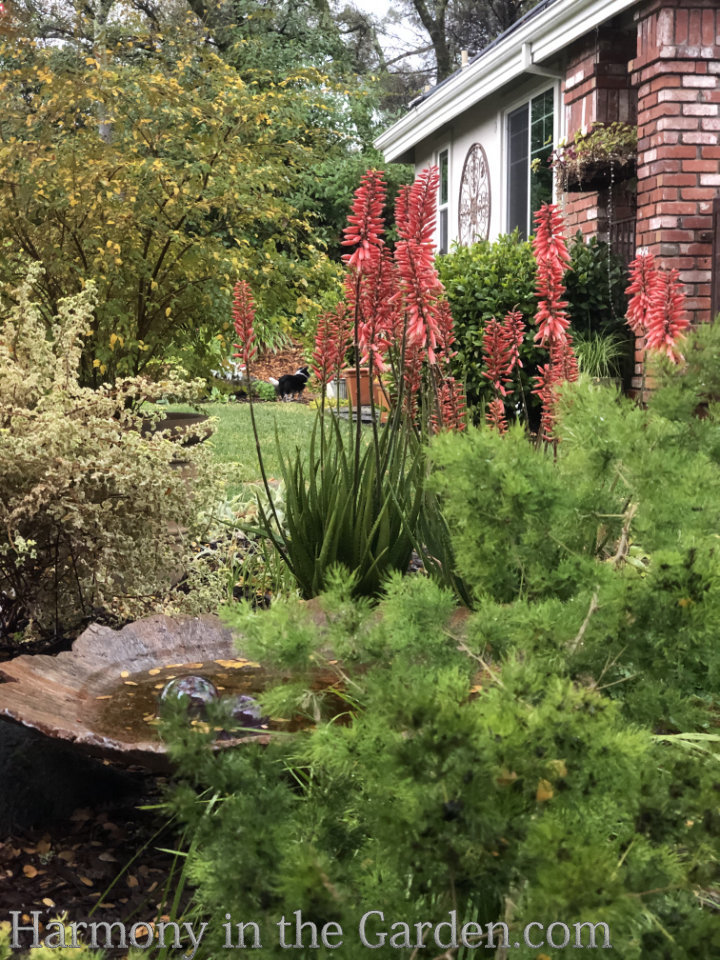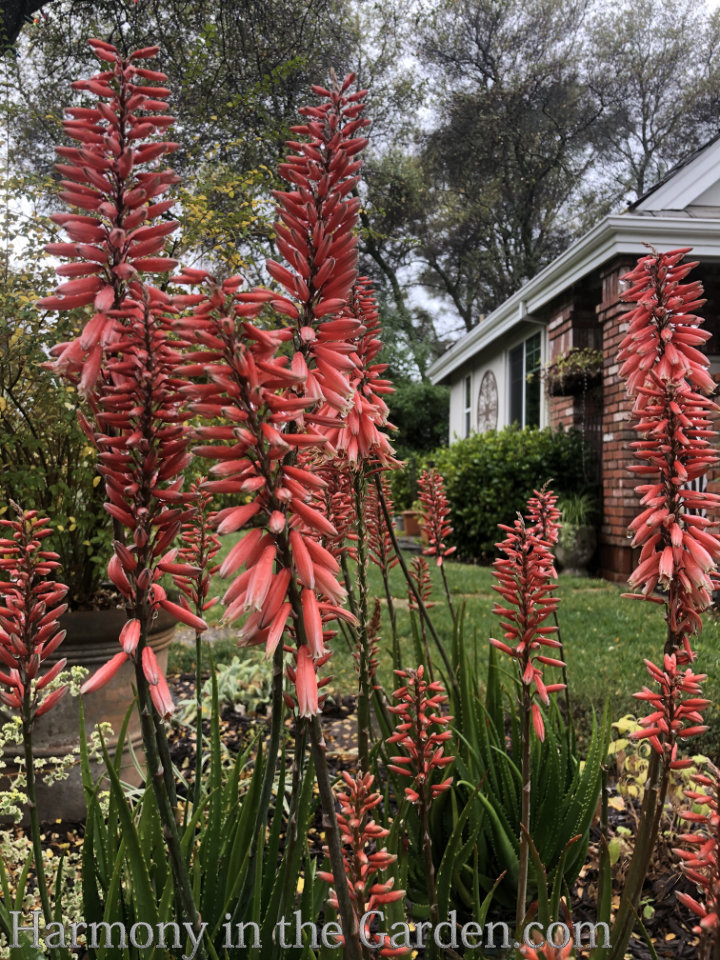 3. Avoid using plants that require consistent feeding.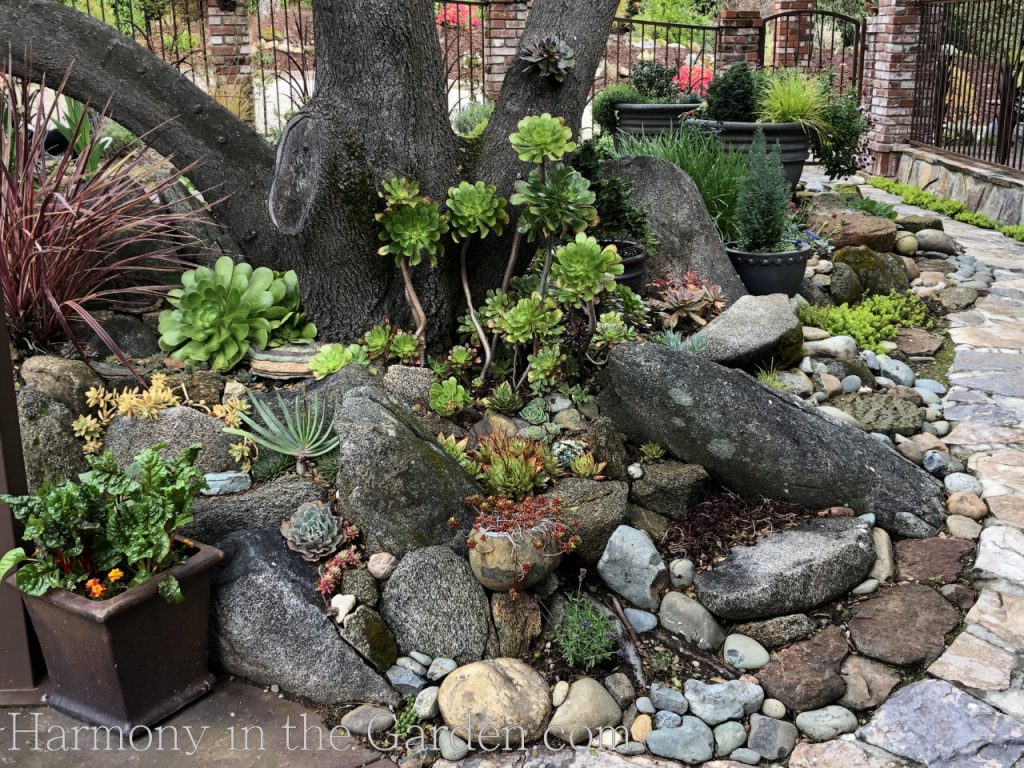 Not only do plants near oak trees need to thrive with little water and the shade cast from the tree, but they shouldn't require regular fertilizer, either.
Remember -the roots from an oak tree are sensitive to anything non-native to the area!   
I also mulch with 2-3" of organic matter, and leave the leaves that fall (though, I do keep them lightly raked when they begin to pile up too much.)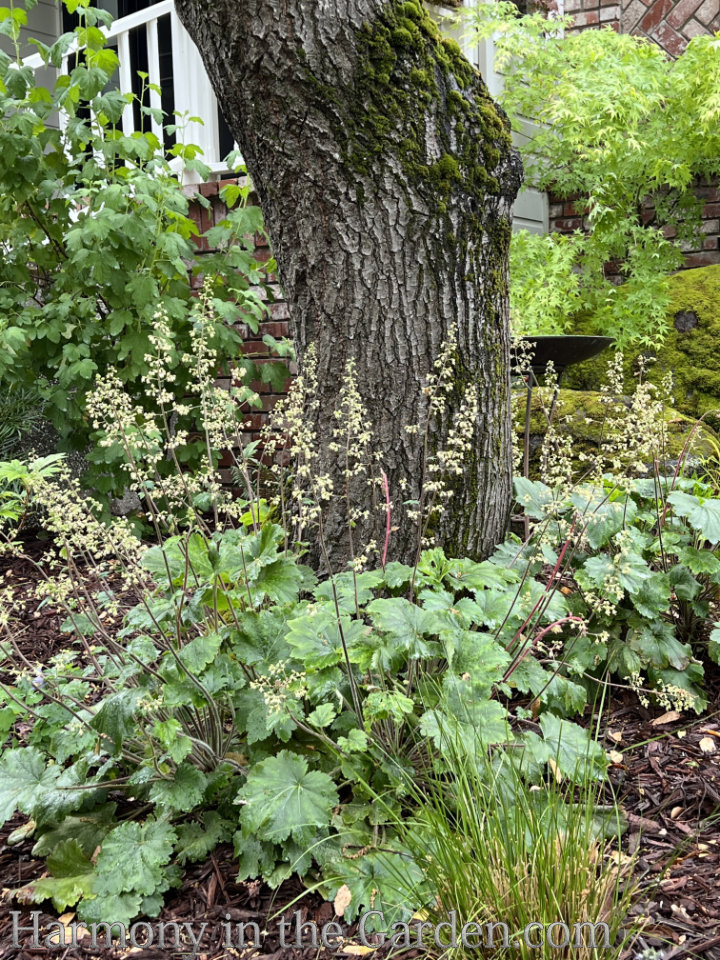 Many people have asked how I water the plants in this area.  I irrigate them using individual drip emitters. 
However, I run the water as infrequently as I can, depending on the temps outside.  I shut off the irrigation during the cooler months, and during the hottest months (above 100 degrees) I'll water this area once a week. 
Some of my favorite native plants that have done really well under my oak trees with no additional fertilization are the heuchera maxima (left) and h. 'Wendy' (below.)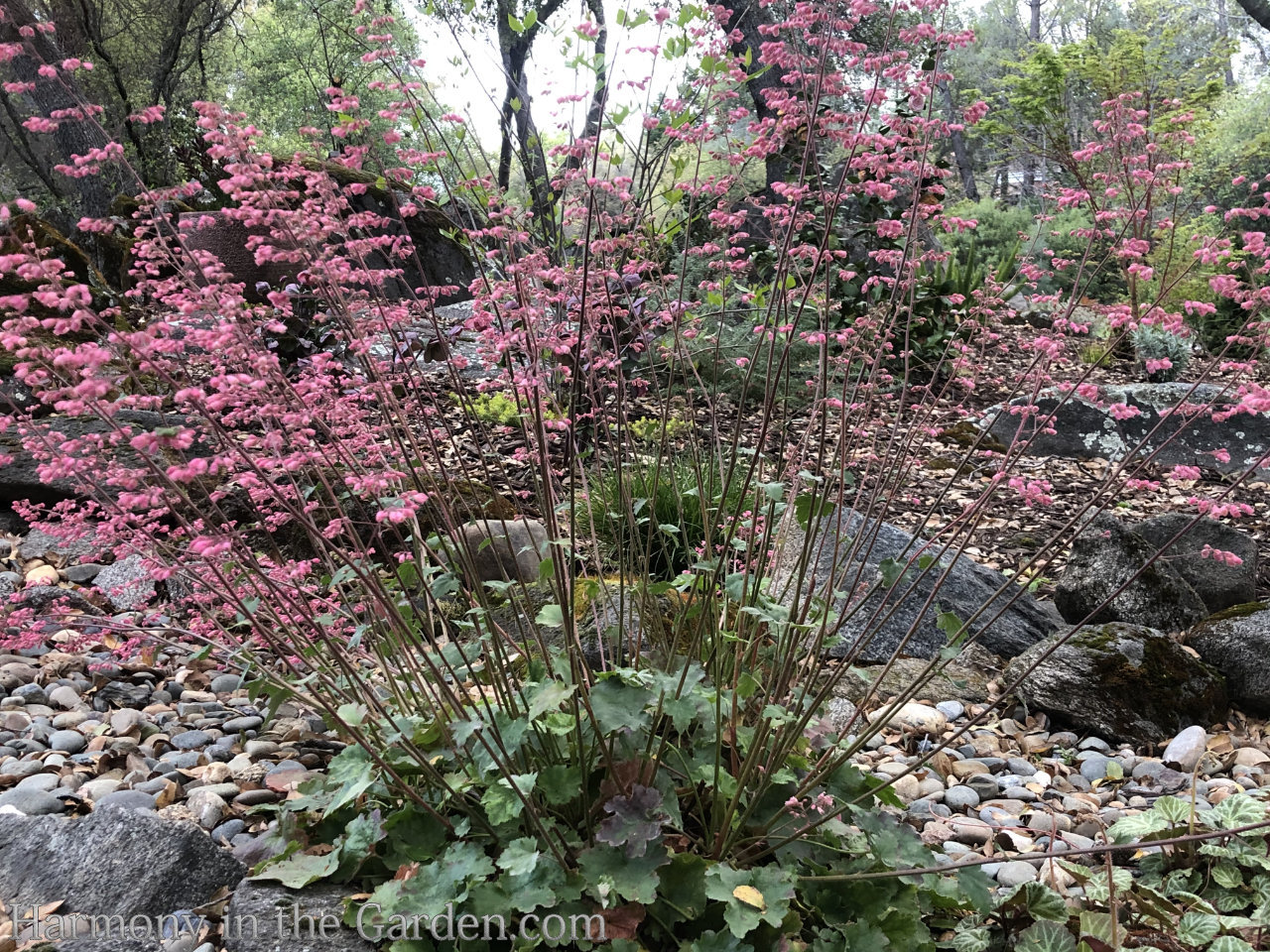 Below are low-water, shade-tolerant native epimediums 'Ellen Willmott' (with dainty orange flowers,) and e. sulphureum with its brilliant yellow blooms and maroon-tinged foliage.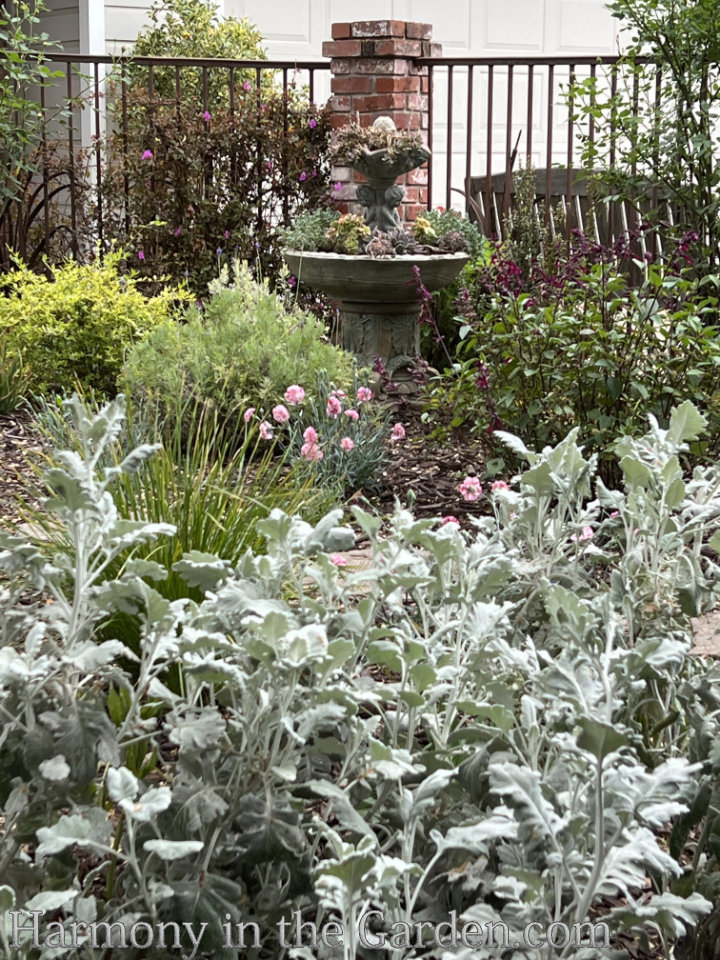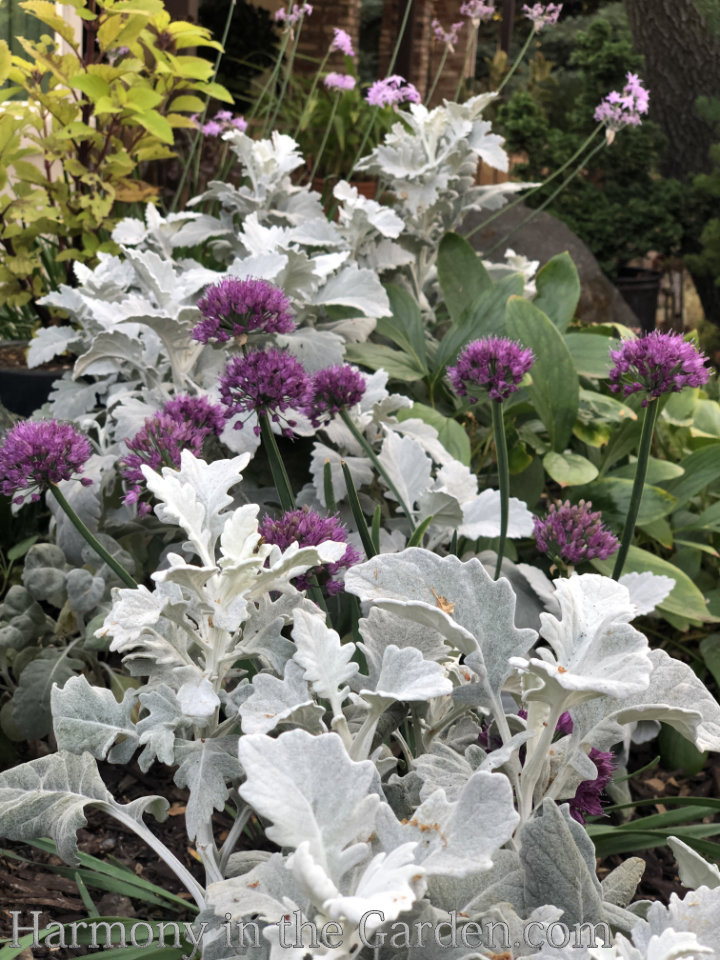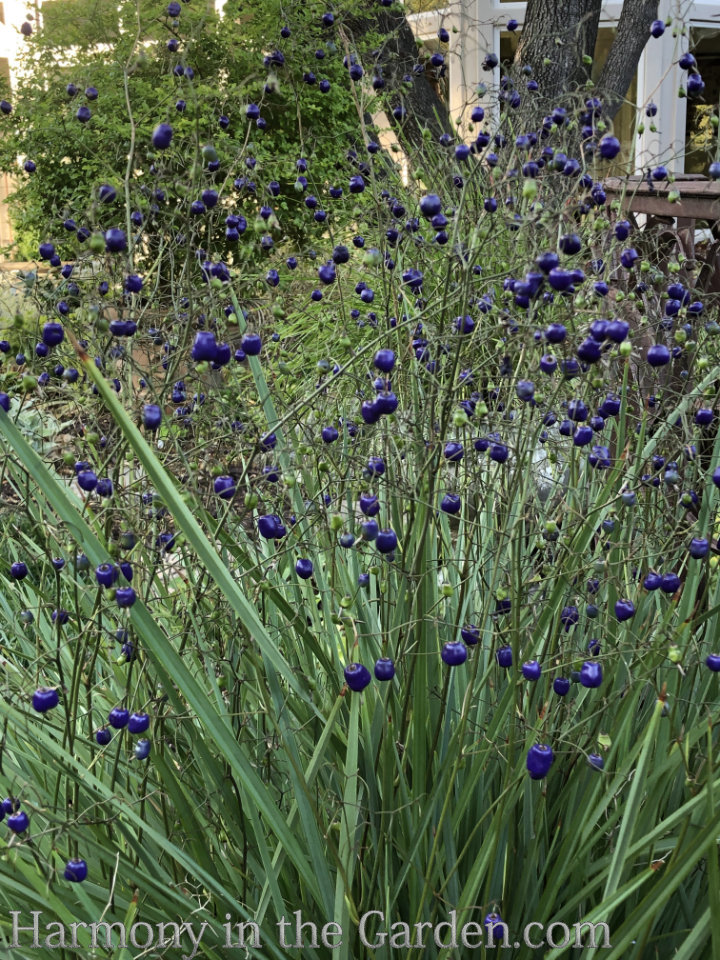 Dianella 'Cool Vista' (from Sunset's Plant Collection) is among my top three favorite grasses and so darn versatile!
Click here to see more pics of this grass (including it's teeny-tiny blue flowers) and how I design with other ornamental grasses.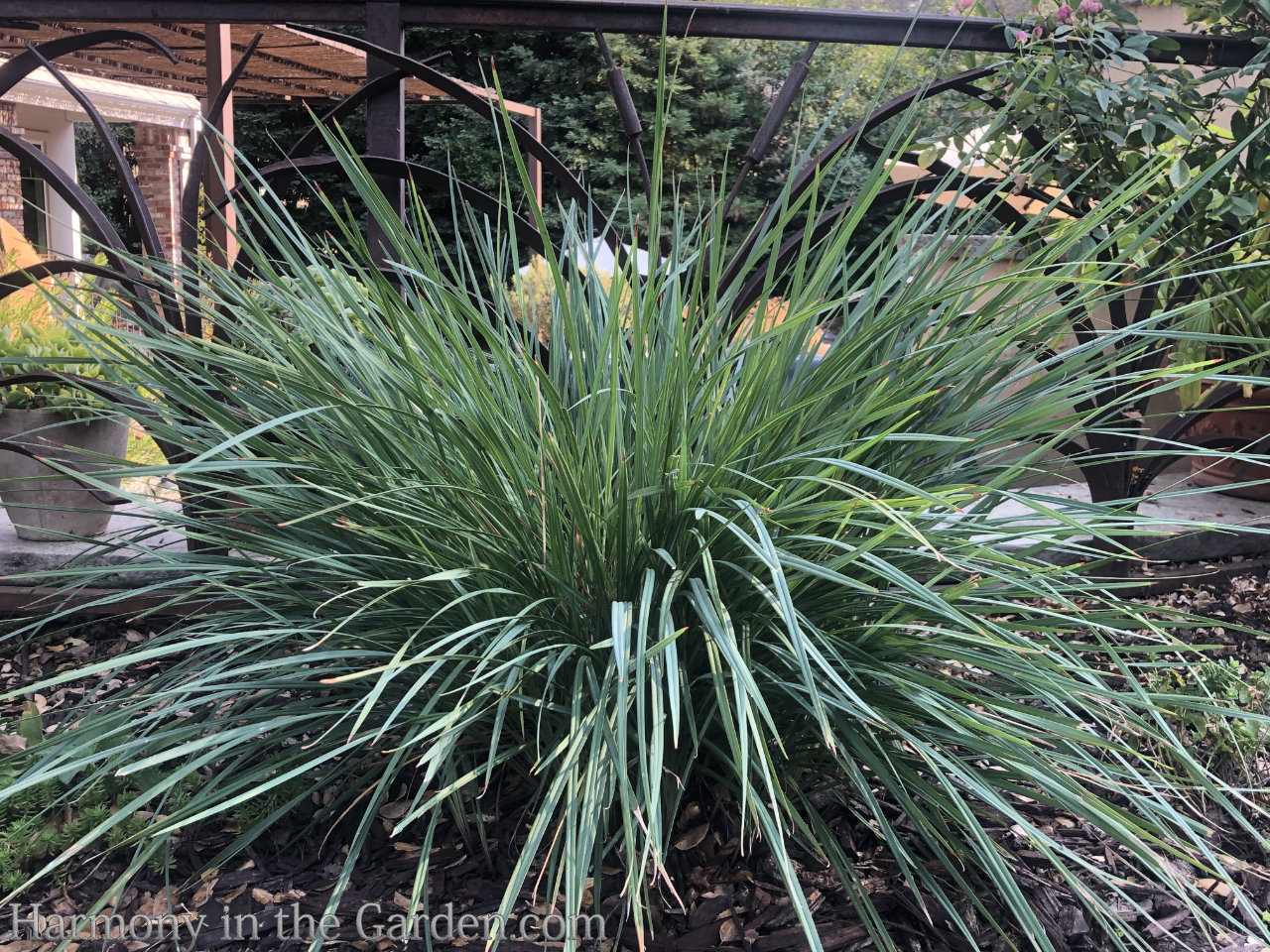 The area outside of the tree's drip line, is where I indulge in plants that like more sun and water.
Remember the post about my roses?   This is the area where they're planted – right outside of the drip line, along the fence (below.)
Okay, ready for my (partial) plant list?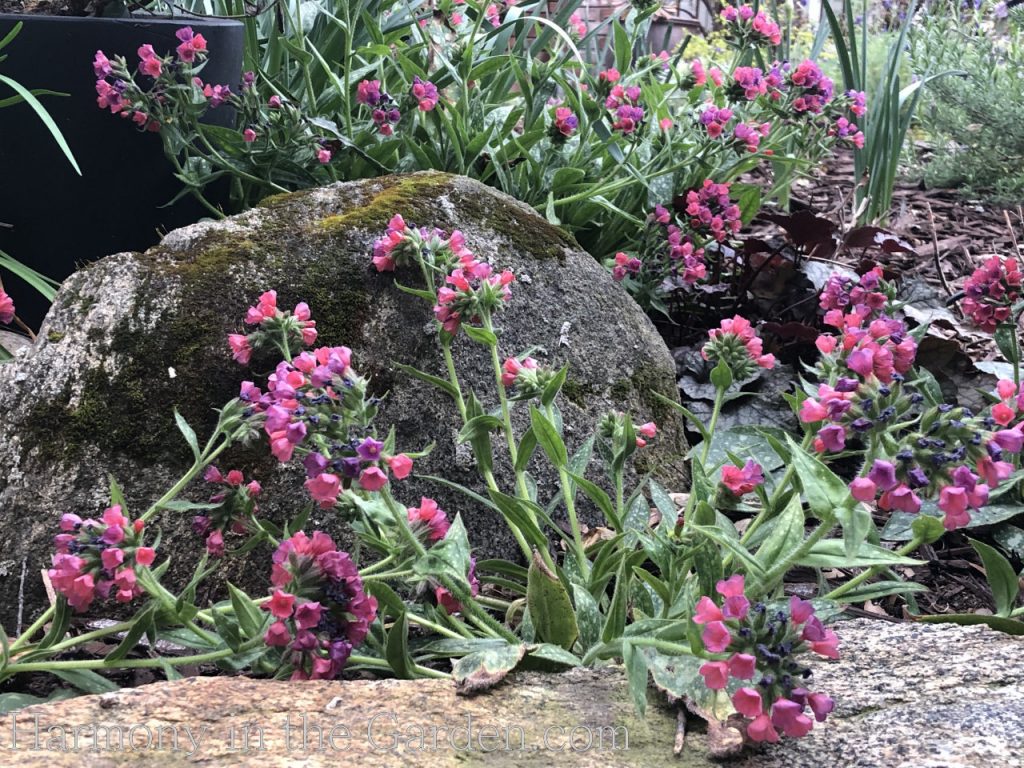 As you'll see, some plants in this area are native, some aren't. 
However, all are low water, happy in filtered shade, aren't heavy feeders, and can be found in 1-gallon or smaller containers.
I do irrigate my plants using individual drip emitters, running the water as infrequently as I can, depending on the temps outside.  
Pulmonaria 'Raspberry Splash' (above)
Salvia spathacea (Hummingbird sage)
Ceanothus 'Carmel Creeper', 'Ray Hartman', 'Yankee Point'
Epimedium sulphureum & 'Ellen Willmott' 
Eriogonum grande rubescens
Lavender 'Meerlo' (click here for four-season lavenders)
Salvia sonomensis 
Euphorbia 'Diamond Mountain' (more euphorbias, here.)
Pelargonium crispum 'Prince Rupert' & 'Golden Lemon'
Bergenia crassifolia
Heuchera 'Wendy' and heuchera maxima
Tulbaghia violacea  (Society Garlic)
Crassula multicava 'Red'
Agapanthus  'Summer Skies
Asparagus retrofractus (Ming Fern)
Stachys 'Primrose Heron'
Geranium phaeum 'Springtime'
Geum 'Petticoat Peach'
Salvia elegans (Pineapple Sage) (click here for more salvias)
Muscari 'Mt. Hood'
Dianthus 'Whetman Stars'
Sedum pachyphyllum
Strawberry 'berried treasure'
Chamaecyparis thyoides 'Red Star'
Iris 'Albo Variegata'
Festuca californica
Helictrichon sempervirens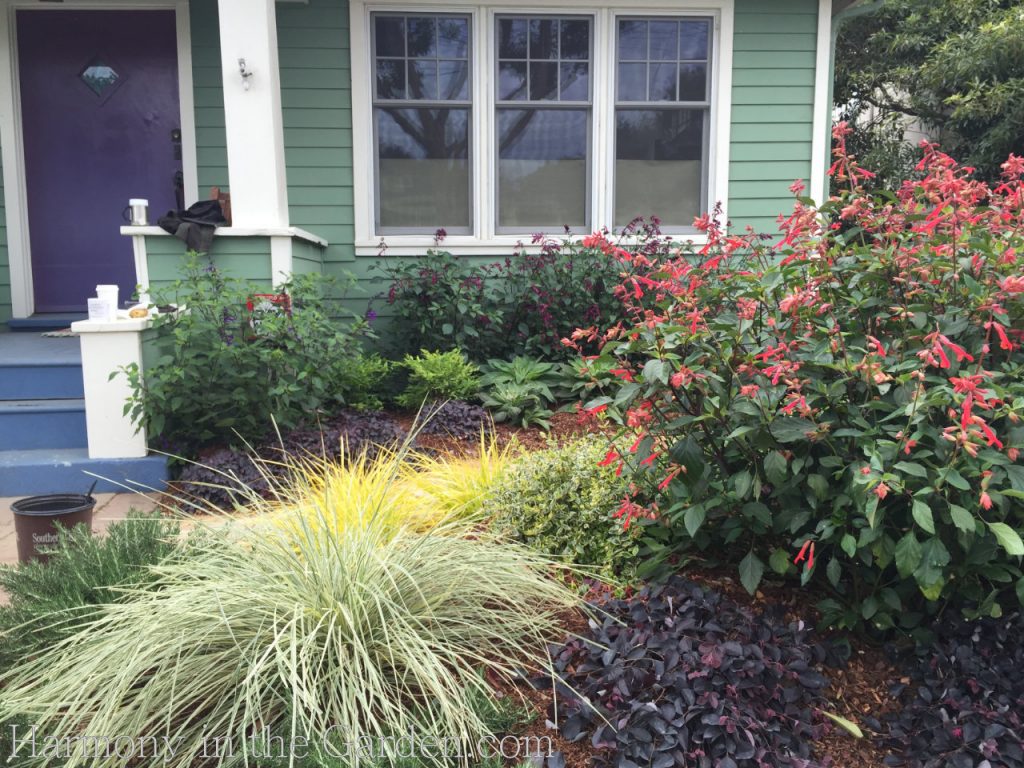 And finally – does anyone remember that sweet little garden I designed for Sunset Magazine? 
If not, click here to read the article.
While designing that garden I fell in love with lots of plants in their Western Garden Collection.
And since then, I've used their plants in tons of gardens over the years, with the following doing really, really well under my oak trees:
Salvia 'Love and Wishes'
Ligustrum 'Sunshine' (yes, it's a privet, but it doesn't reseed!!)
Festuca 'Beyond Blue'
Lomandra 'Platinum Beauty'