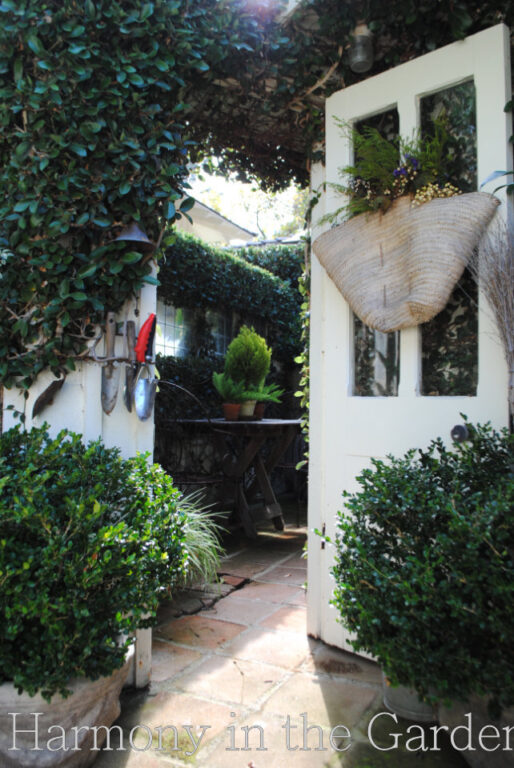 Welcome to Lani Freymiller's magnificent monochromatic garden!
What's a monochromatic garden?  It's one that uses a very limited color palette.
I've noticed that gardeners are often reluctant to try their hand at creating a monochromatic garden for fear of it looking a tad uninspiring. 
Which is understandable, as it can be a tad tricky to use one main color with jaw-dropping results.  
Luckily, Lani has some fantastic tips to share with us!
Her limited use of colors (with an emphasis on shades of green, with the occasional silver and soft yellow) result in what I refer to as a green and serene feeling. 
Lani's skillful use of repetition and contrast of colors, textures, and form is nothing short of masterful, and is the key to success in a monochromatic garden.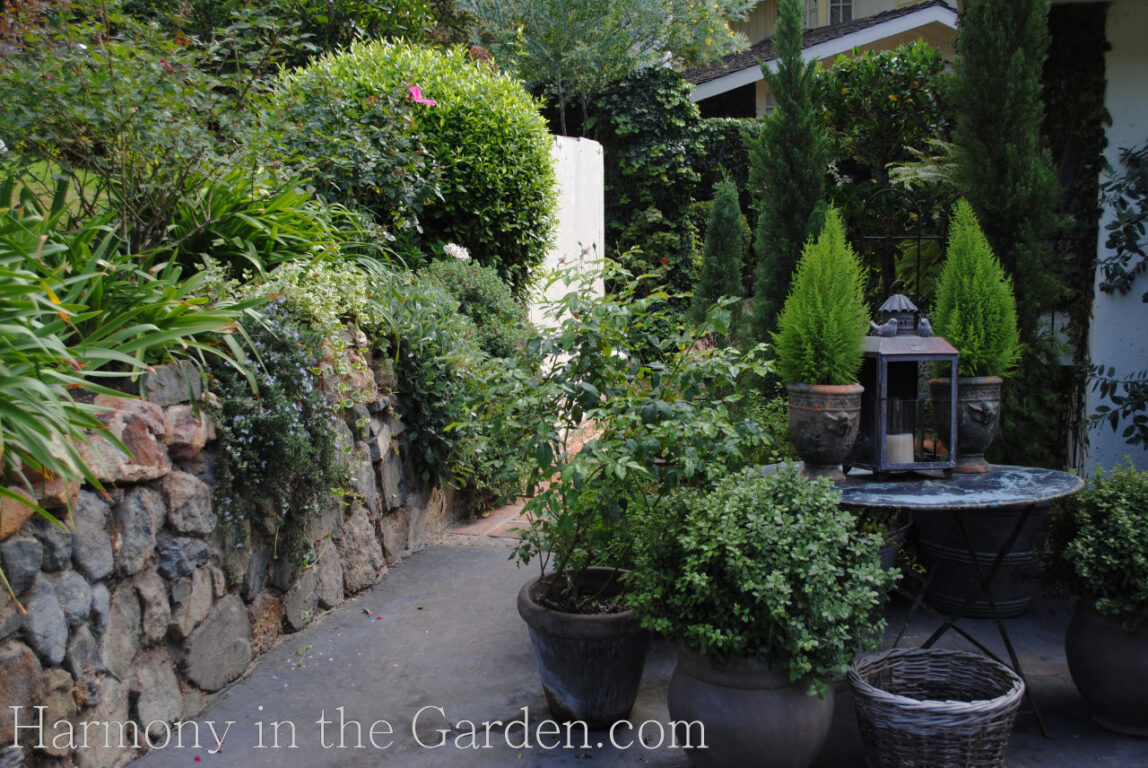 Take a close look at this photo.  Notice the asphalt?  Yep – this is HER DRIVEWAY!
Hands-down, the most beautiful driveway I've ever seen.
Notice the vignette on the corner of the driveway and garage.  A genius way that Lani has disguised a typically utilitarian (and boring) space.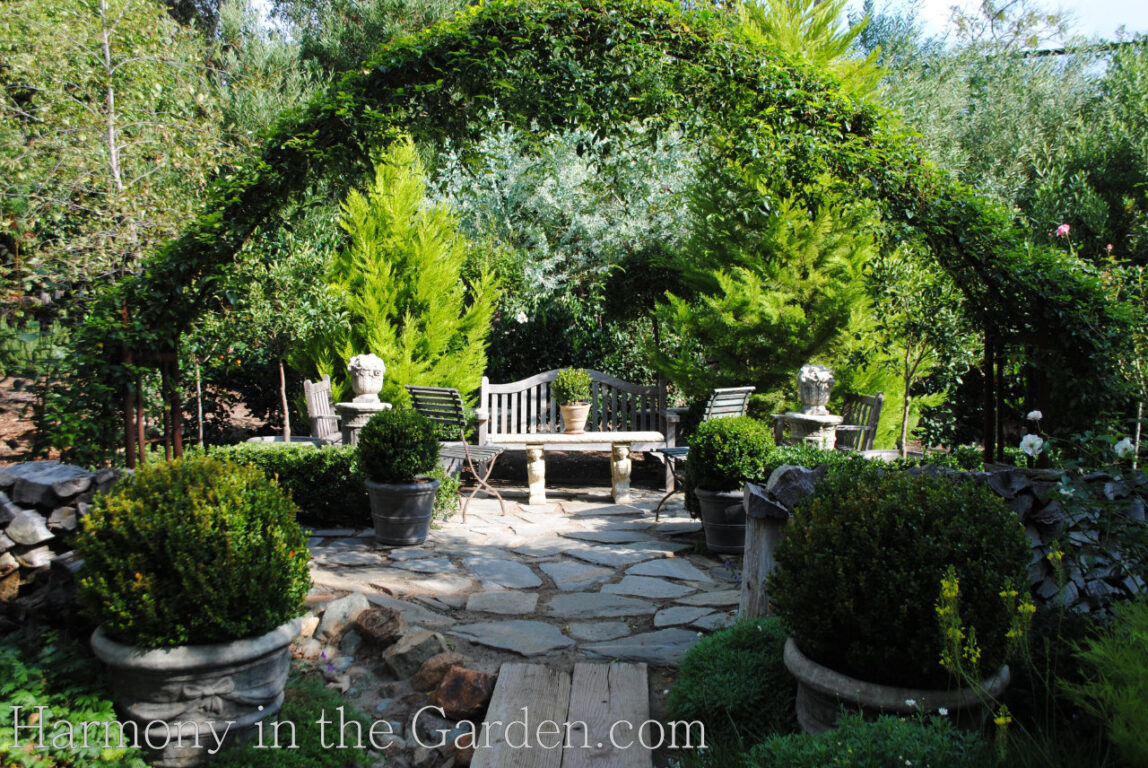 To create an engaging garden using a limited color palette is a LOT harder than it looks.
It requires thoughtful and intentional placement of the subtle tones and shades of a color (as well as contrasting the size, shape, and texture of foliage.) 
In Lani's garden, colors range from bright and cheery chartreuse to restful deep greens.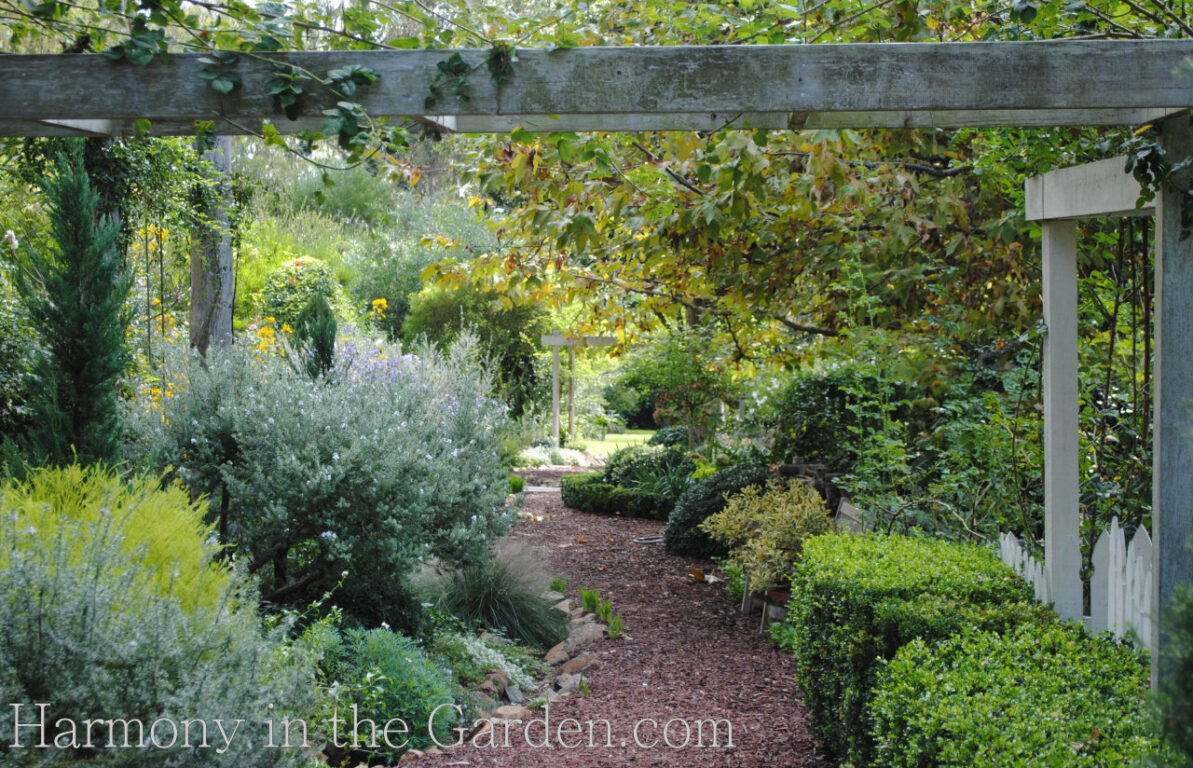 To prevent the limited color palette from appearing too monotonous, Lani also judiciously adds plants with a gray-green-silver sheen. 
These brighter colors help break up the sea-of-green effect, adding much needed contrast.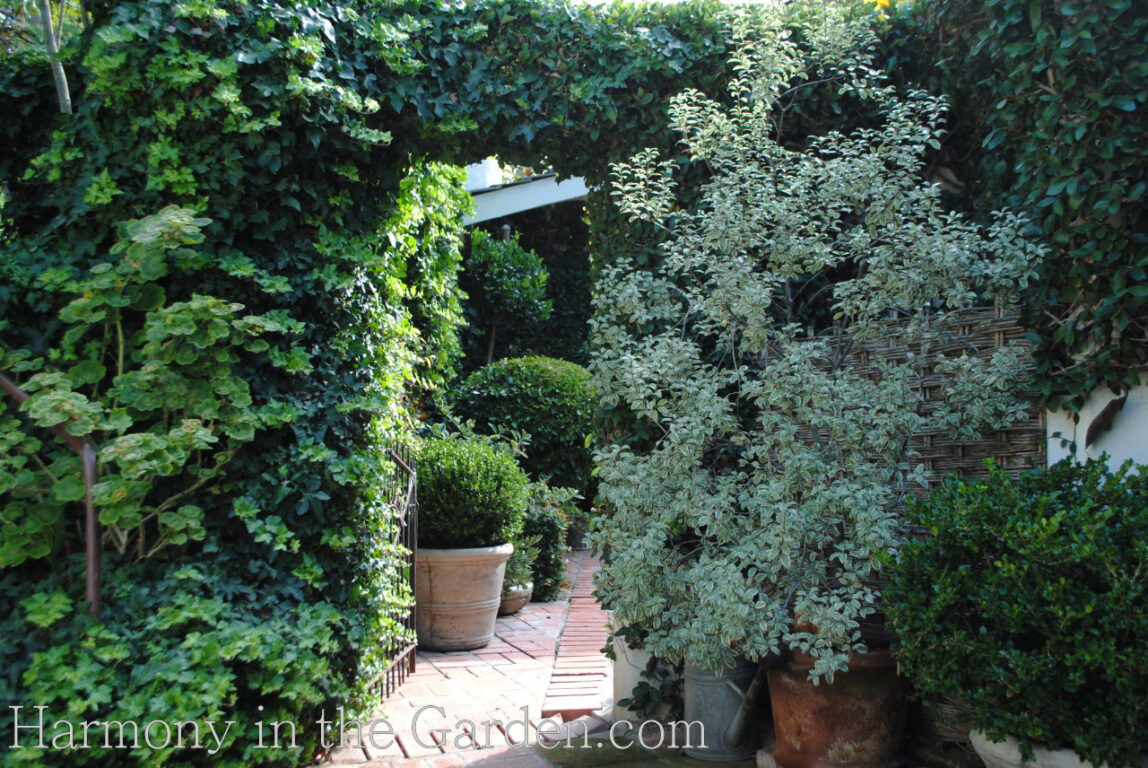 Silver is especially important when using very dark colors.
While dark greens are lush and elegant, if you use too many near one another, they can begin to all blend together.
The gray-green of this pittosporum 'Marjorie Channon' helps to add a jolt of excitement to this alluring combination.
Lani isn't a purist, however, and in addition to all the greens in her garden she has strategically placed a few colors such as yellow and blue, to cheerfully mingle throughout.
She carefully places the colors near one another for subtle repetition.  For example, in the photos below, the yellow helianthus flowers are on one side of the path, with yellow lemons on the other.
Lani is an artist in so many areas of her life.  After meeting her for just a few hours it's clear she's a very special woman who has had a major impact on the lives of many. 
To give you an example, years ago when she taught grade school she would have her students read Linnea in Monet's Garden.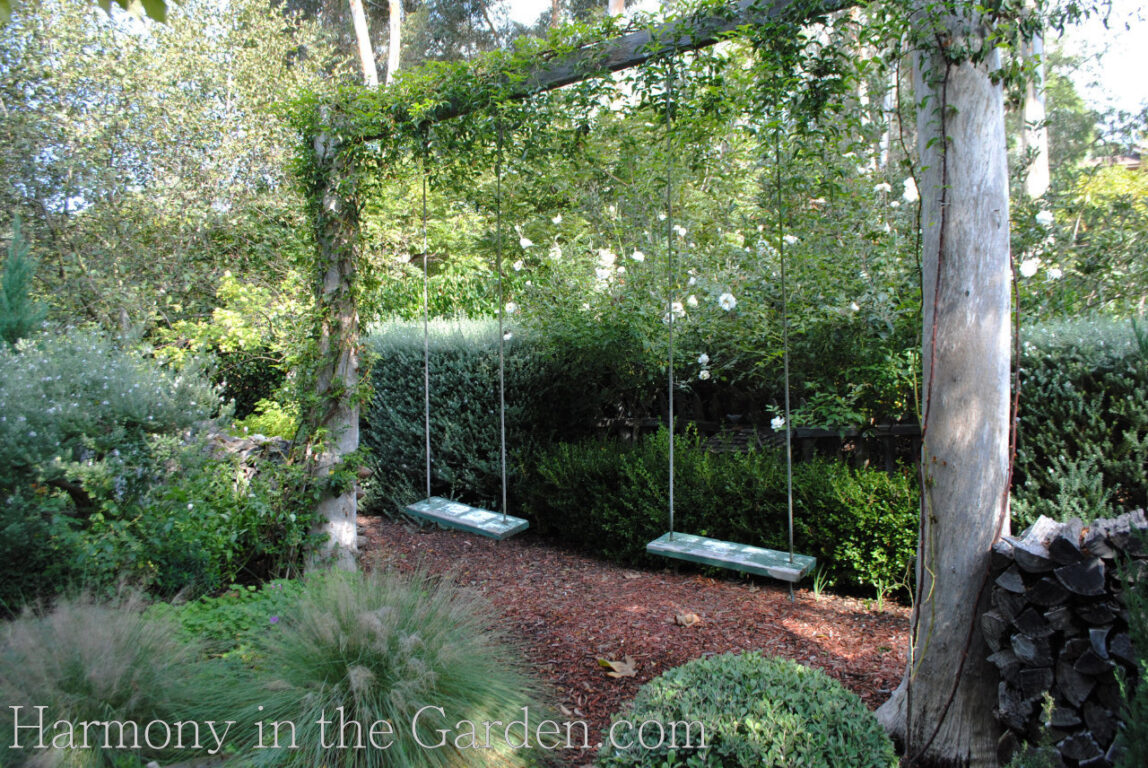 At the end of the school year, Lani took the children to her garden to experience what it would be like to play in a Provencial-style garden.  Just like Linnea! 
Lucky, lucky children!
Many of these children have remained friends with Lani through the years.  Even returning to the garden, as adults, to have their weddings here! 
Lucky, lucky grown-ups!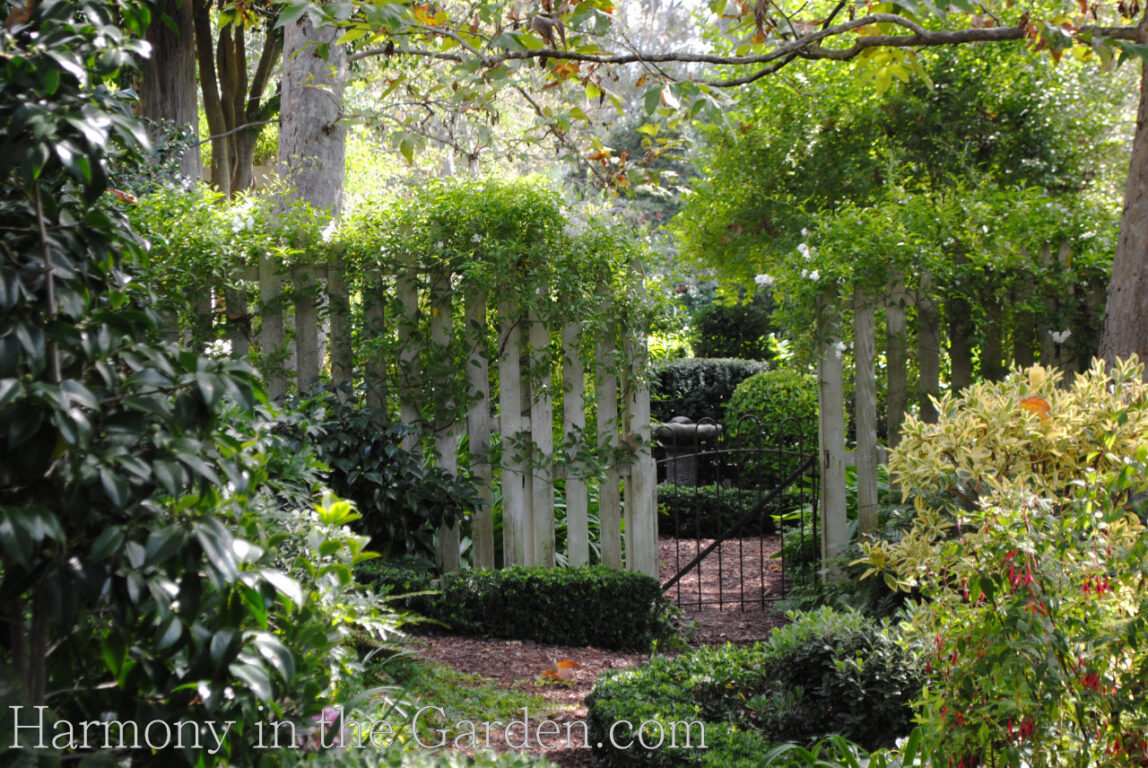 Throughout her expansive garden are several intimate garden rooms, secretly tucked in among the boxwood hedges just waiting to be discovered.
Here are just a few: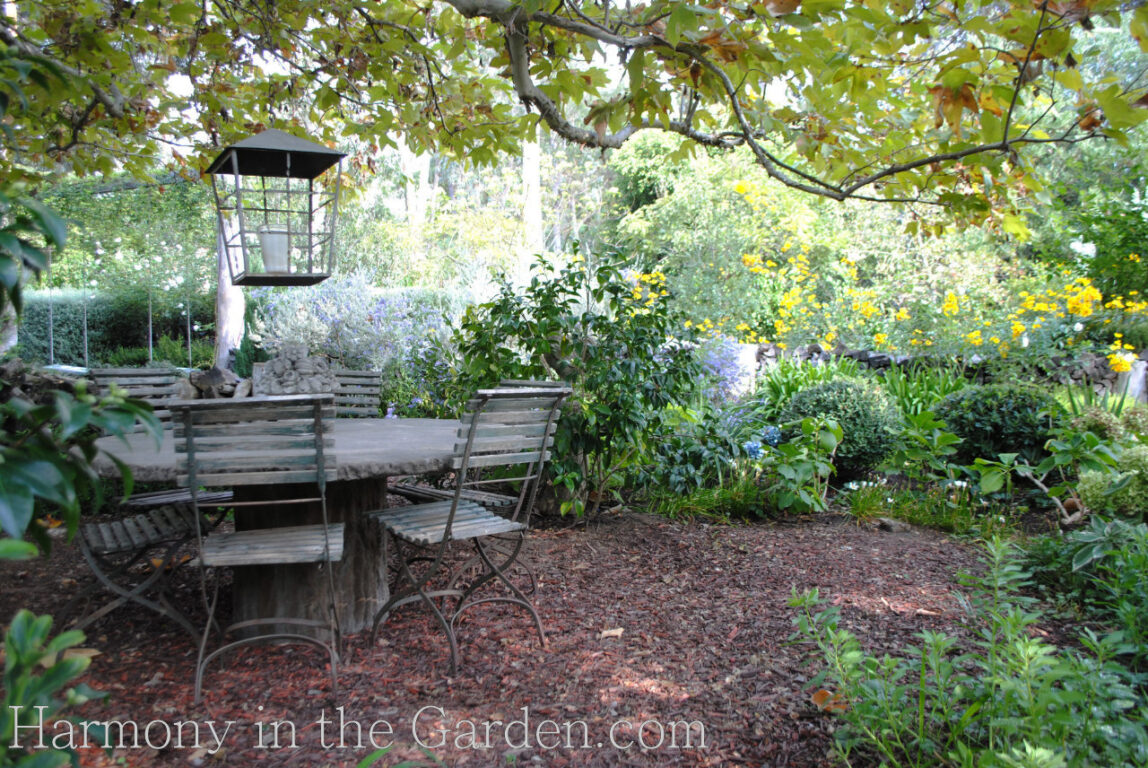 Looking at this photo makes me want to stroll the garden, a chilled glass of iced tea in hand, stumbling upon the perfect seating area under the shade of a tree.
Before I go, I wanted to leave you with a few more images of this remarkable garden.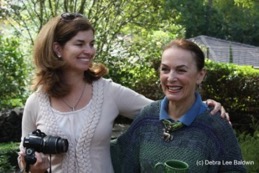 Thank you, Lani, for sharing your incredible garden with us!