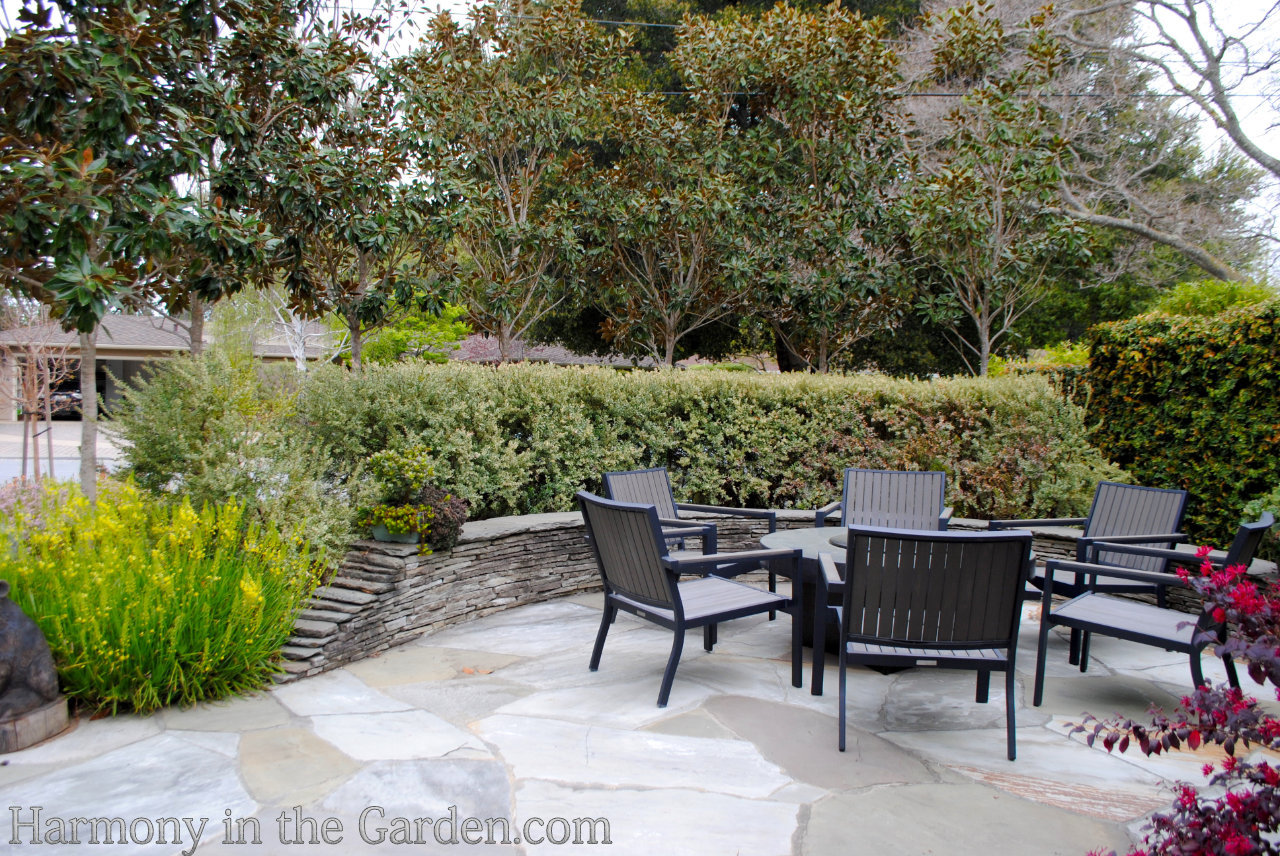 When talking with a new client, landscaping for privacy is at the top of most people's wish list.
Whether the need is to screen neighbors who are a tad too close, obscure an offending garden eyesore or create a secluded courtyard in the front garden, like in the photo (left.)
When it comes to gardens, people want their privacy!
Over the years, I've helped people create privacy using either plants or structures (or both!) and have seen loads of other gardens where homeowners have developed their own creative solutions.
So in today's post, I'll break these solutions into two main categories – screening with structures and screening with plants.
1.  Privacy with Structures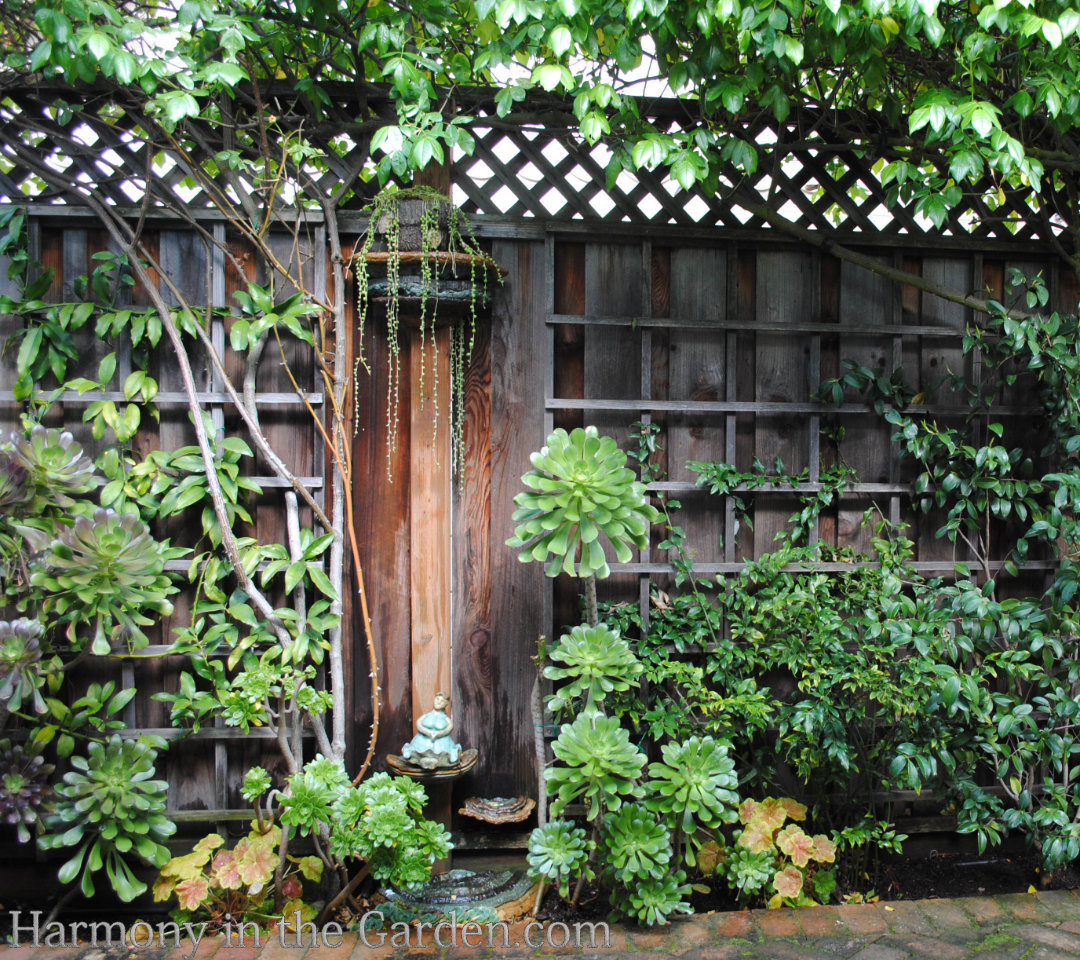 Let's start with the simplest structure – a trellis added to the top of the fence.
To add a few extra feet to the top of a standard wooden fence, sometimes the simplest thing is to add a trellis to the top of the fence.
It's easiest to plan for this initially when installing the new fence, but it is possible to modify an existing one.
Just make sure the ultimate height is within your city's ordinances, and double-check that your neighbor is okay with any changes you'd like to make.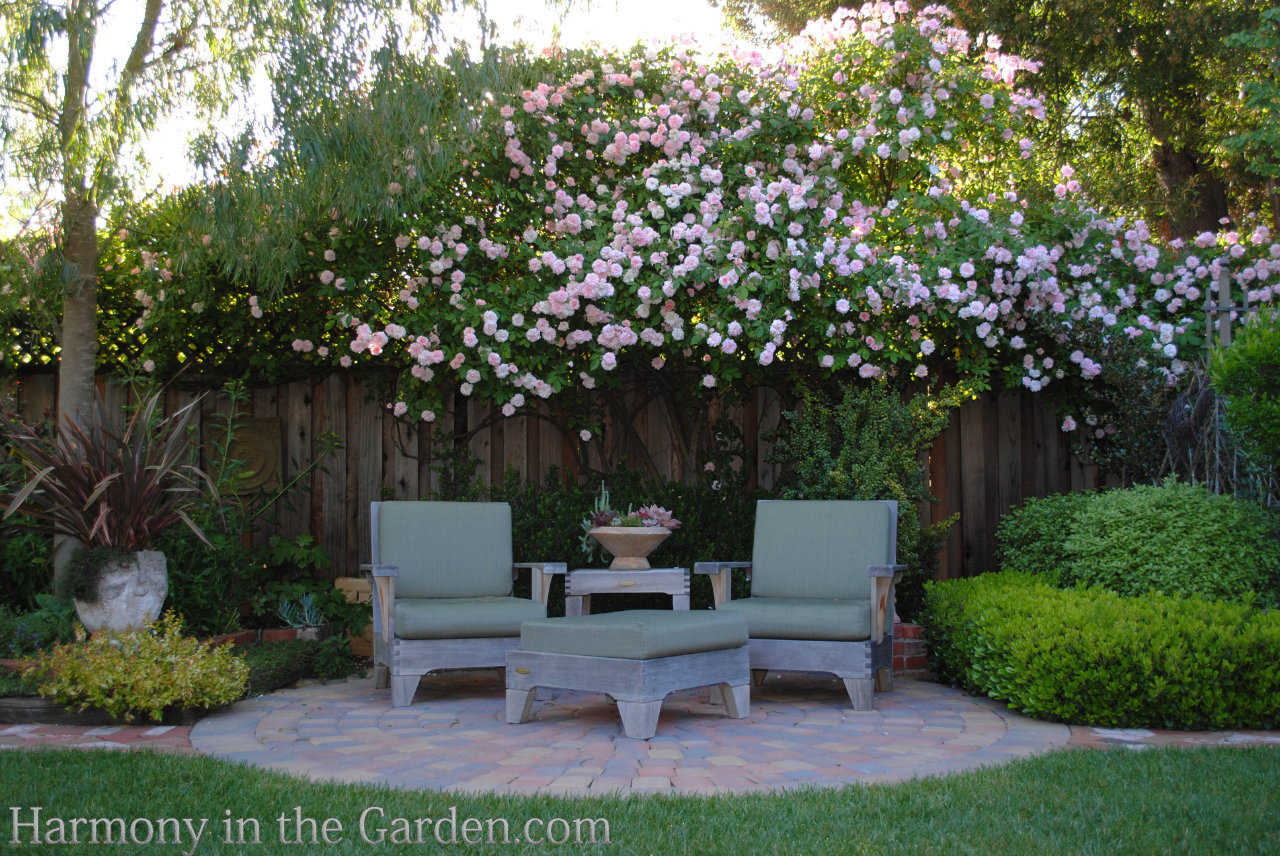 Climbing roses are one of my go-to climbers to plant long fences.
With age, the strong structure of the rose supports the plant while allowing the long stems to be trained along the side and top of the fence.
This 'Cecil Brunner' rose, for example, grows at least 15-feet in both directions along the fence, not only adding eye-candy blooms but also providing several additional feet of screening.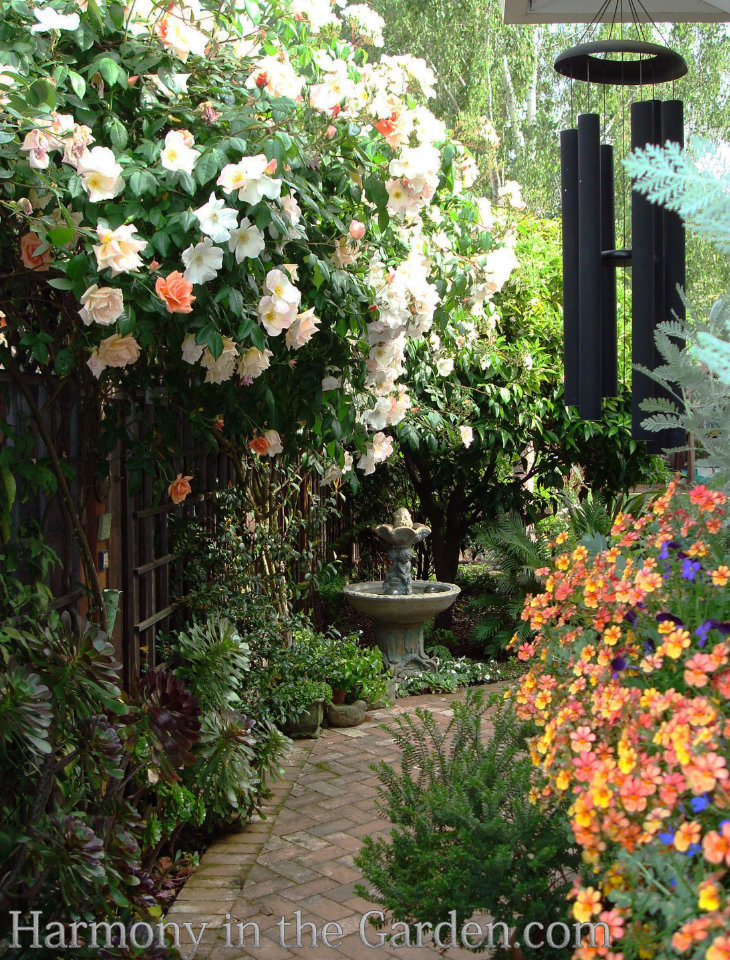 I did the same thing on this side yard fence, using a 'Sally Holmes' rose (left.) 
Over the years, several long canes were strategically trained to grow an additional 3' above the trellis, adding even more height for screening.
As a side note, the blooms that would cascade over the fence were very much appreciated by the neighbor, too!  Plenty of cut flowers for everyone.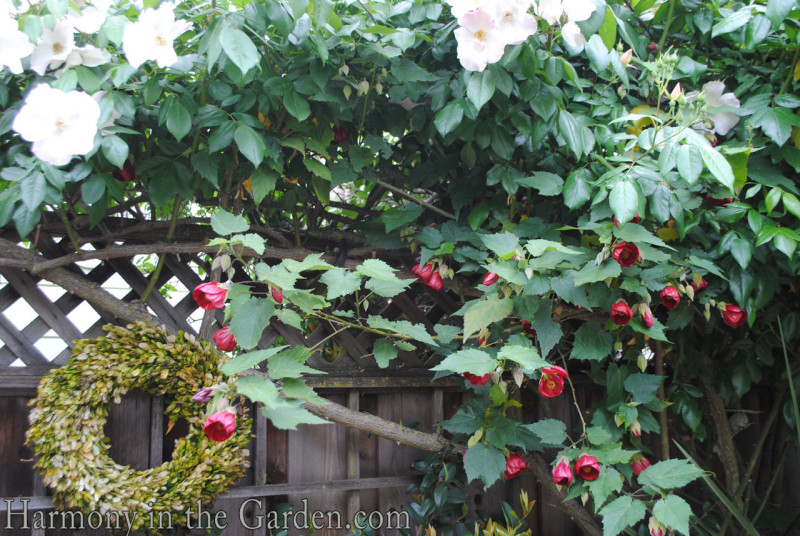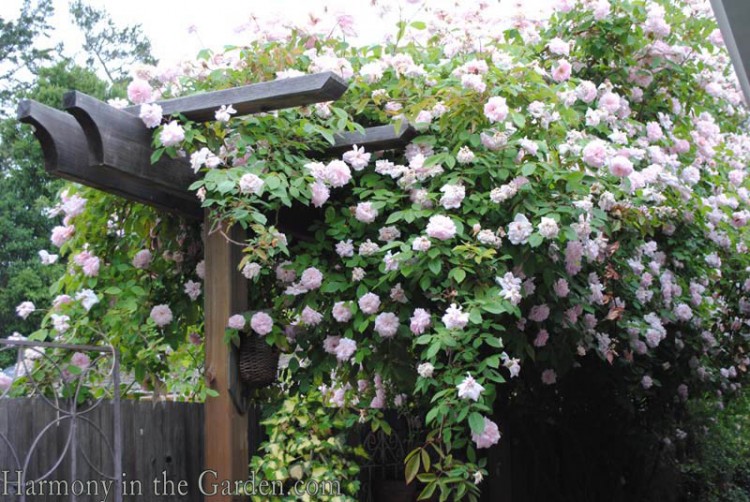 One of my favorite trellis solutions is one that my husband and I built in this skinny side yard.
The idea originated when a new neighbor decided to remove all the trees from their backyard, exposing their unsightly roofline and tons of hot summer sun.
The neighbor didn't want us to attach a trellis directly to the fence, so we built a free-standing trellis placed along the fence.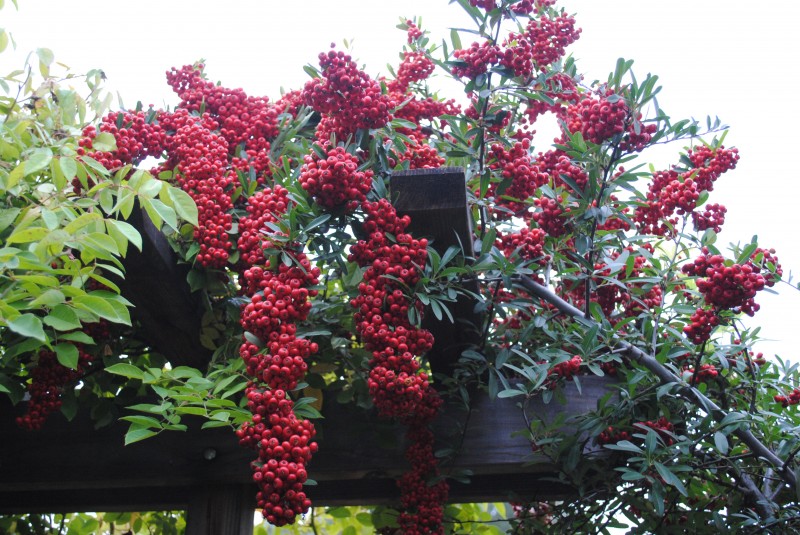 The added height provided a structure for a climbing rose on one end, and espaliered pyracantha bush on the other.
I especially love the clusters of red berries that hang through the trellis (almost as much as the robins and waxwings do!)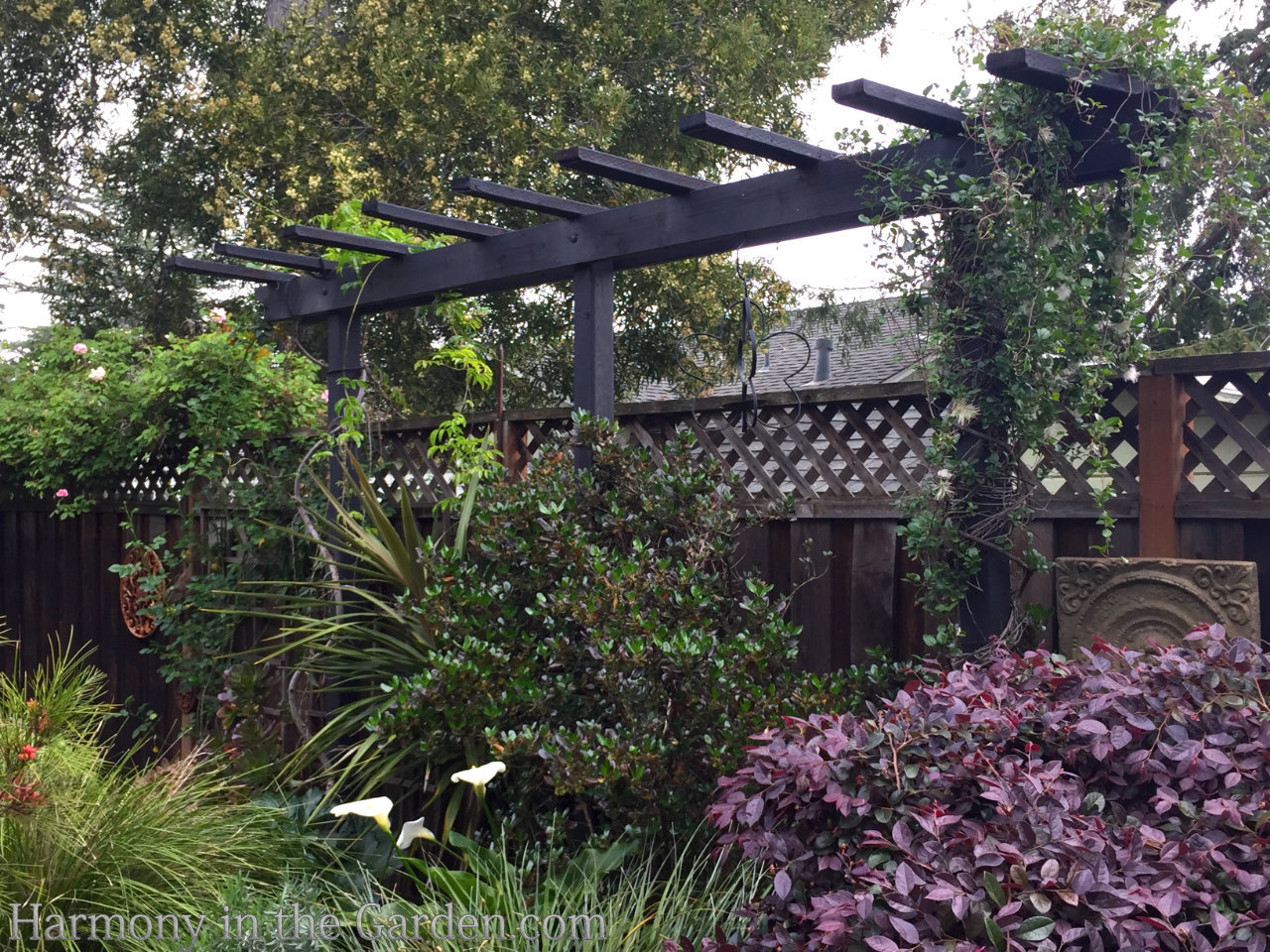 The freestanding trellis was such a successful solution, we decided to build another one (this time painted black) in a different part of our garden.
I planted an evergreen clematis cirrhosa 'Wisley Crème' to delicately scramble up and over one end of the trellis.
And on the other end, I planted the evergreen clematis  'Avalanche'.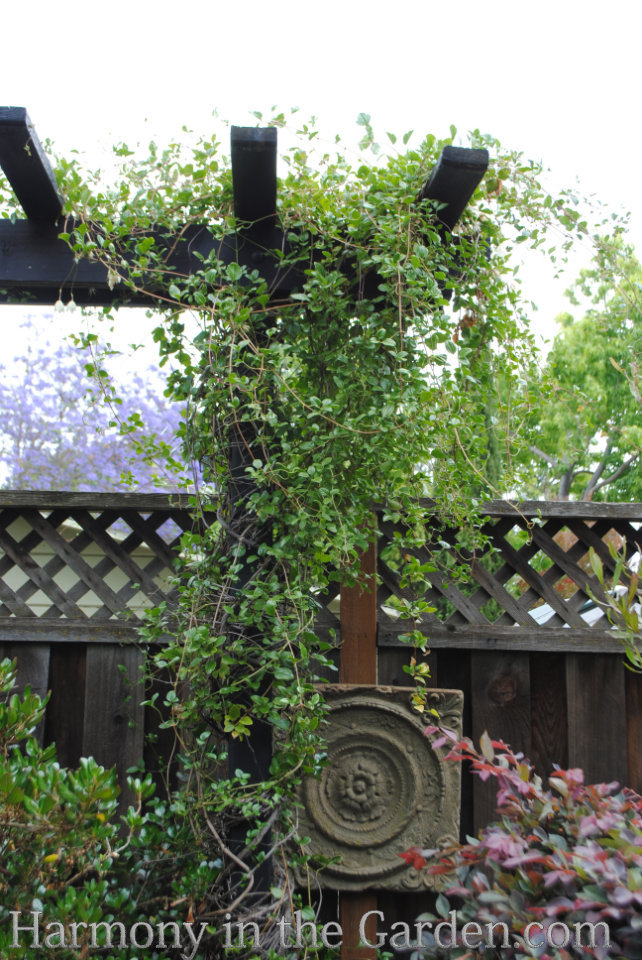 This are two of my favorite varieties of clematis, as they're not only evergreen (evergreen, people!) but have very different bloom times.
The 'Avalanche' blooms in the late spring through mid-summer, while the 'Wisely Creme' (left) blooms in the late fall through winter. Yes, I said late fall through winter!   
And while the clematis vines don't provide as much blockage as the 'Cecil Brunner' rose, this area only needed the feeling of enclosure and privacy (versus screening an unsightly view.)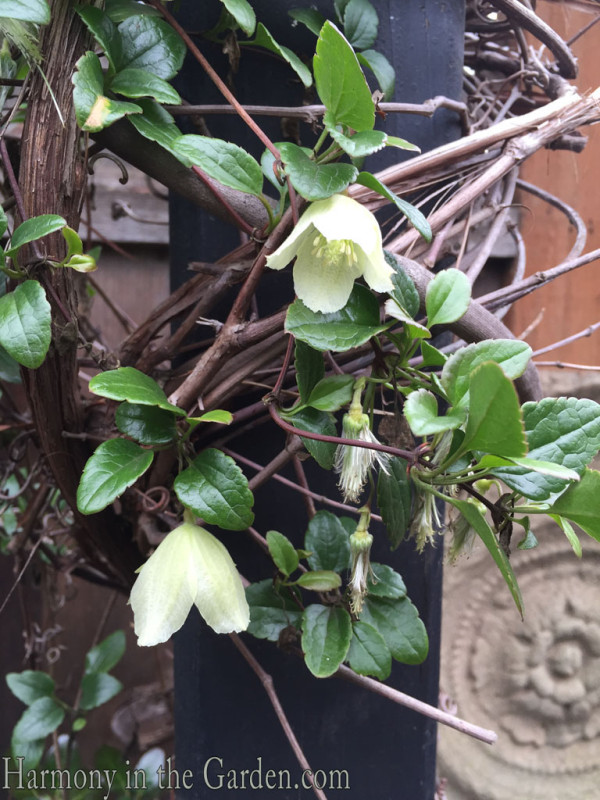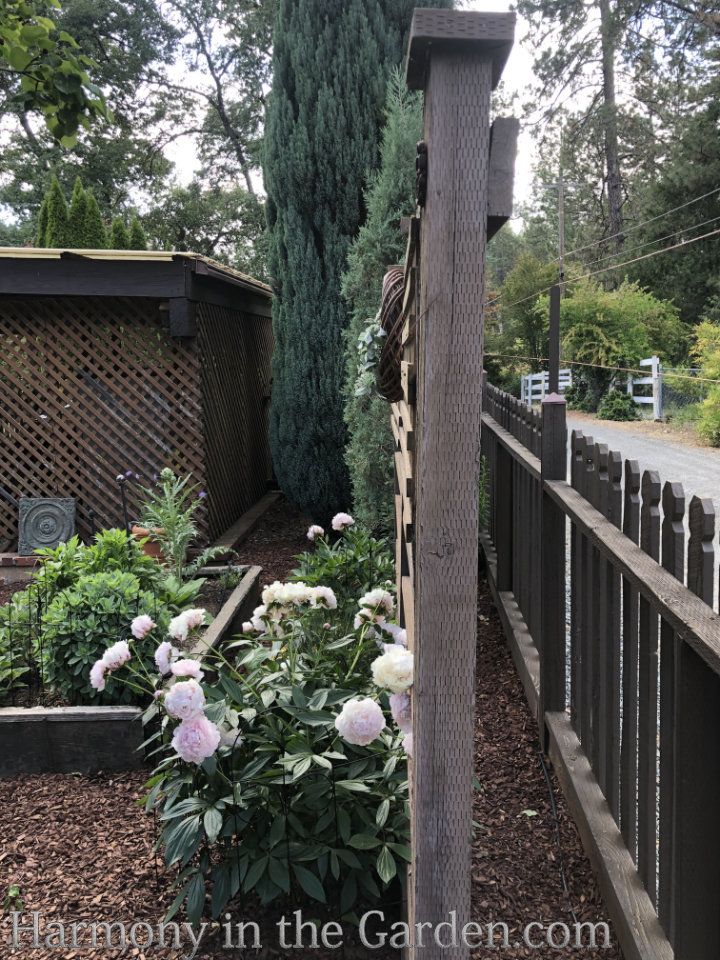 Here's another example of a free-standing trellis that my father built for the vegetable garden.
A familiar scenario occurred: the neighbor's tall hedge was removed, creating a new focal point – an unsightly roofline.  
Thanks to the trellis, there's plenty of screening, as well as support for climbing edibles, an ornamental vine, or in this instance, a seasonal wreath.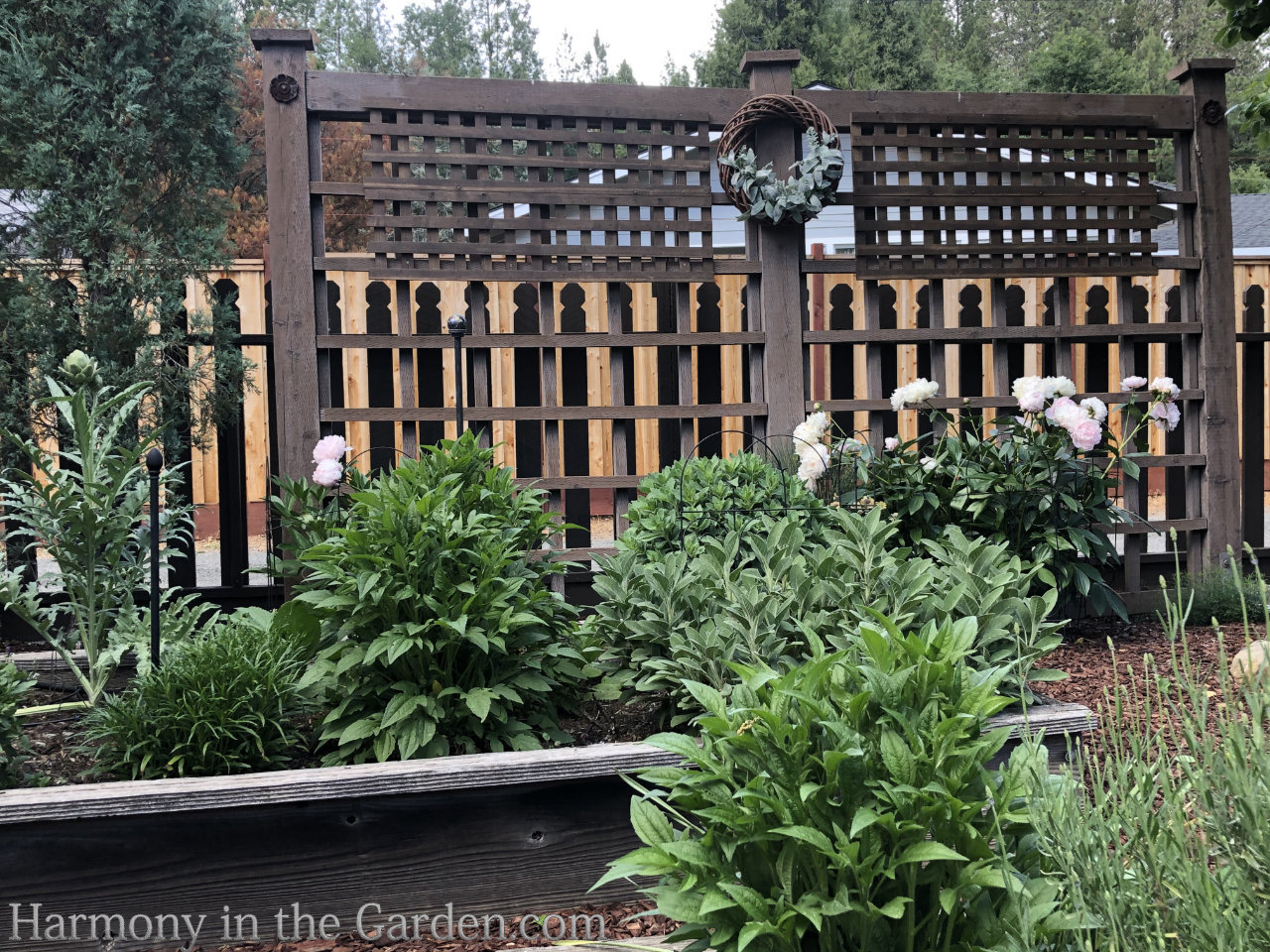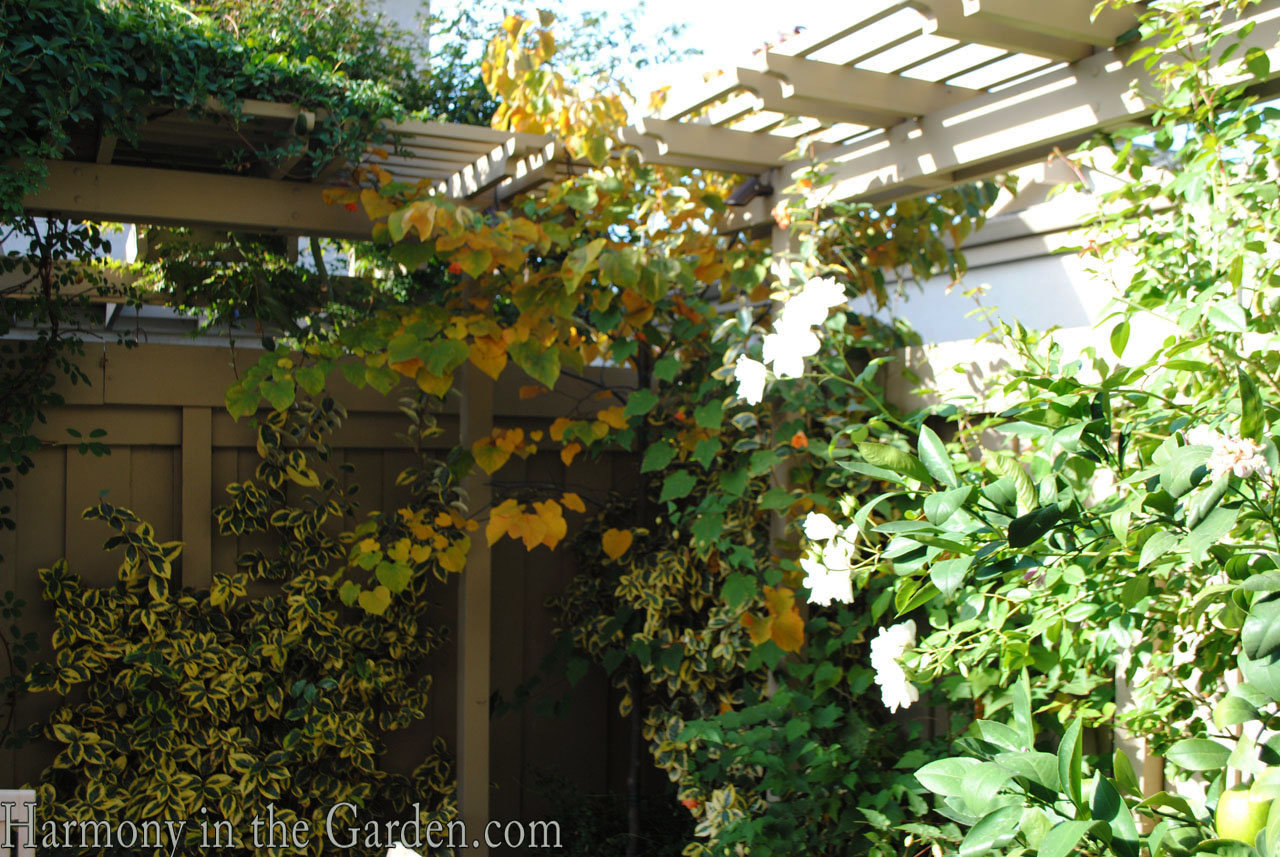 This courtyard garden is governed by HOA rules which don't allow for anything to be attached to the fence. 
Our solution was to build this L-shaped free-standing trellis.   The trellis not only screens the neighboring home, but also supports an 'Iceberg' climbing rose and akebia quinata vine. 
Click here to read more about this sweet garden.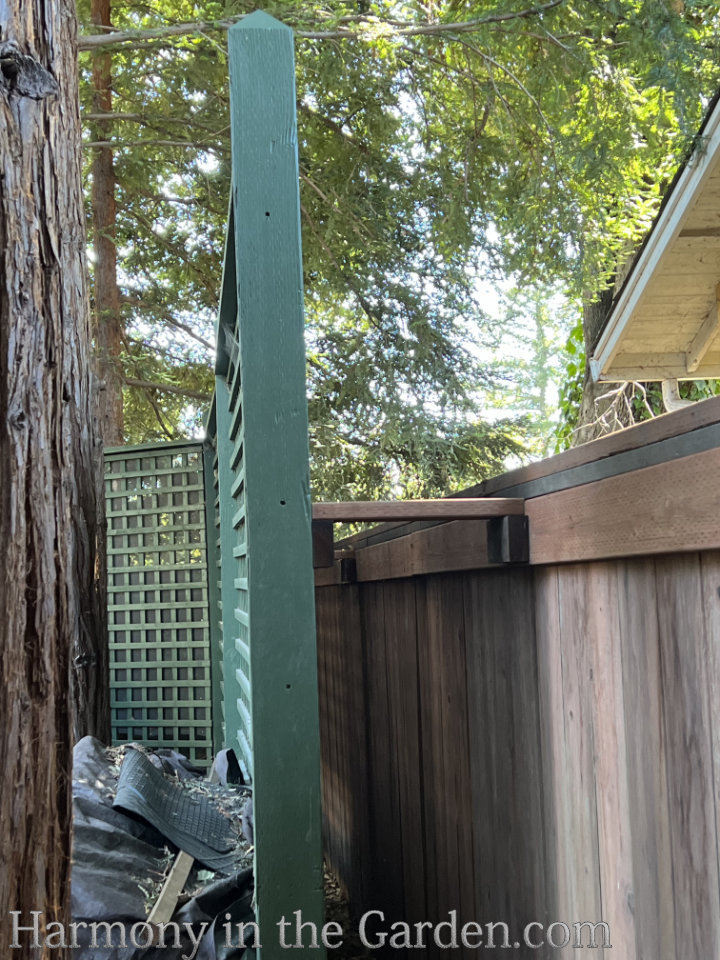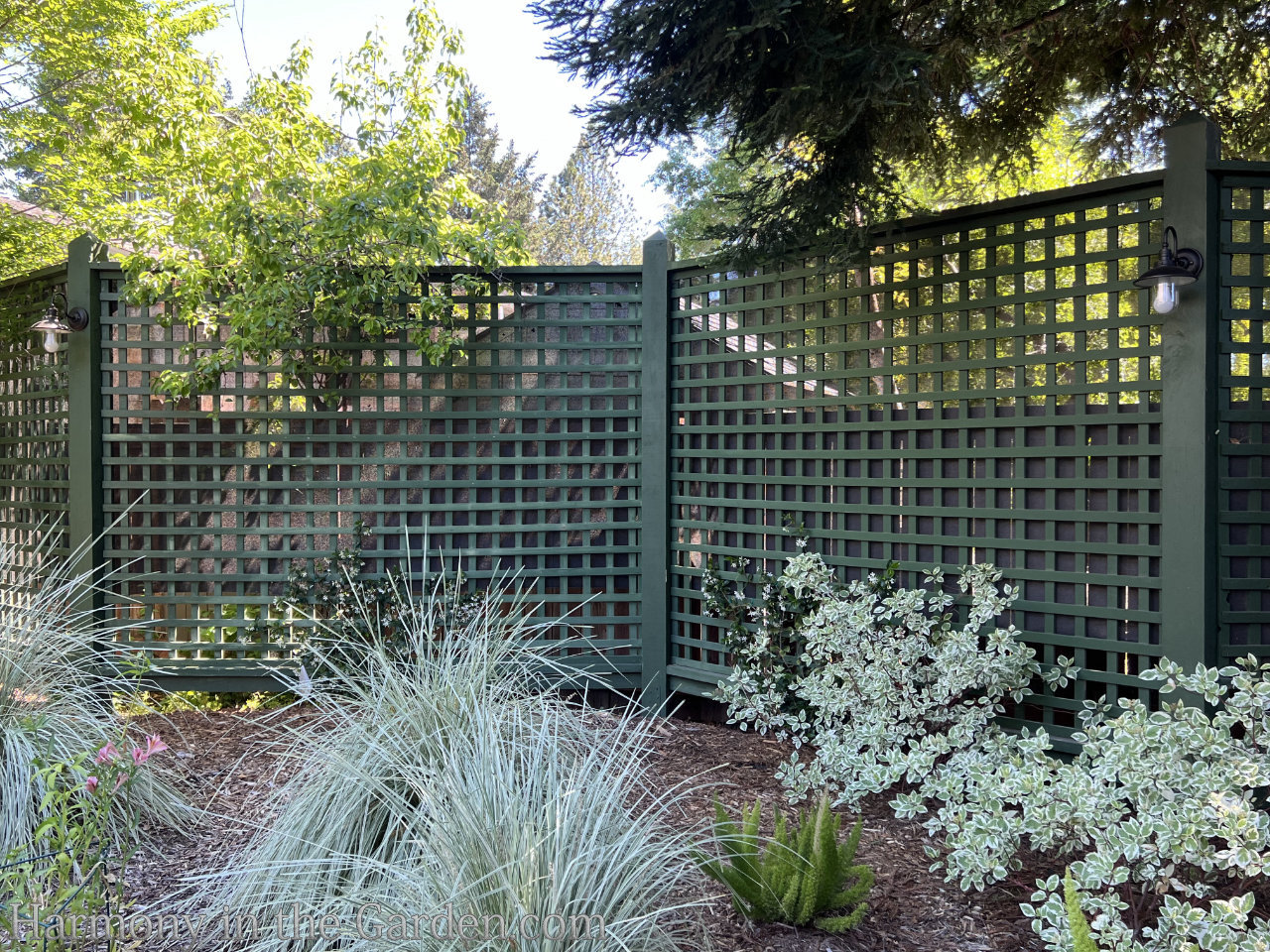 A similar concept was created by Freeland & Sabrina Tanner. 
In their gorgeous garden (click here for some jaw-dropping inspiration) they created semi-private screening from their neighbors.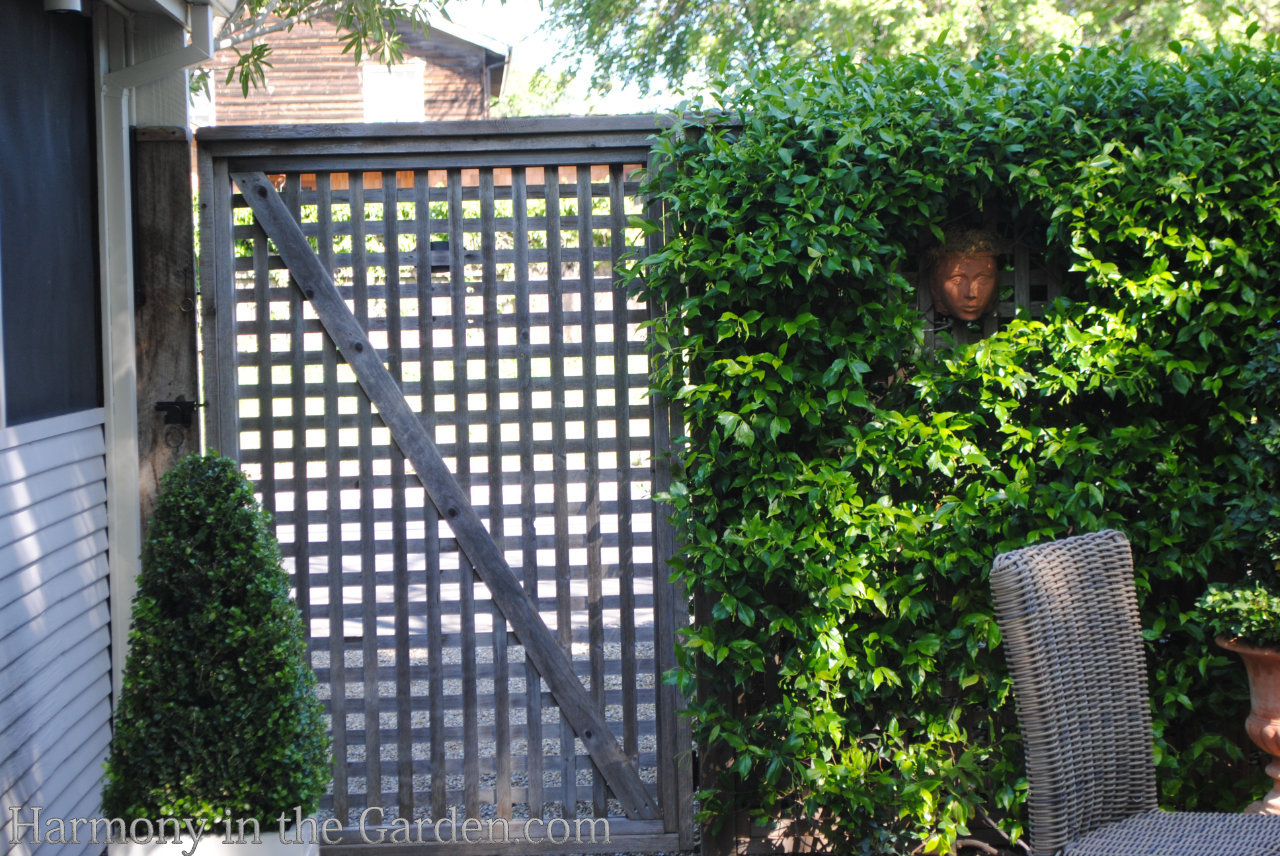 When using lattice for screening, various levels of privacy are achieved through the spacing between slats of wood.   Less space, less privacy (and visa-versa.)  
In this example, screening was needed between the back garden and the front street, yet a solid gate would've felt too oppressive for this small courtyard garden. 
The open spaces of the gate provide plenty of privacy while still allowing a peek beyond, which helps create a more open feeling.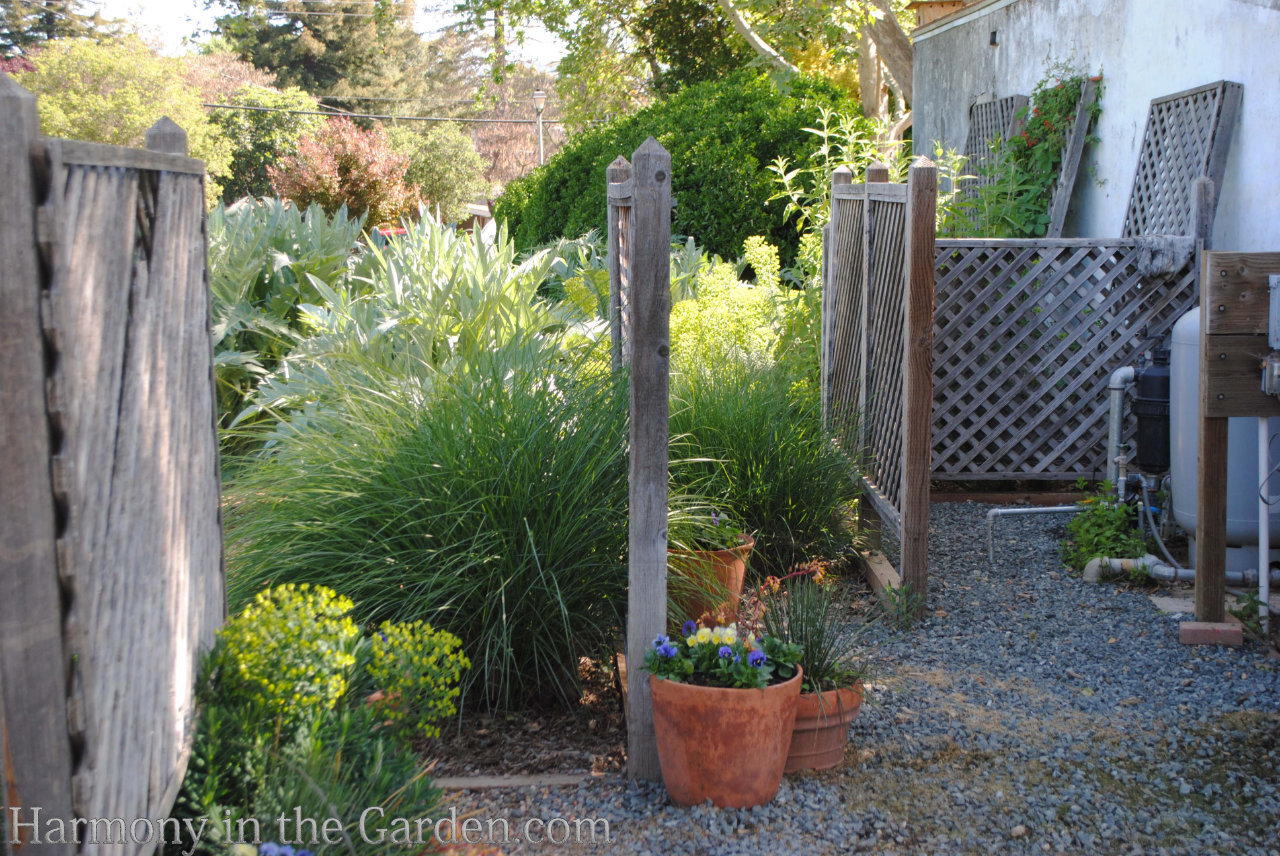 While visiting the gardens of The French Laundry, I discovered these handy trellises, placed in a slightly staggered position.
The reason they're placed this way is to provide screening for the employees who are working behind the screens, prepping freshly picked veggies, etc.  while maintaining the garden's open, informal feeling. 
Click here to read more about my visit to this garden.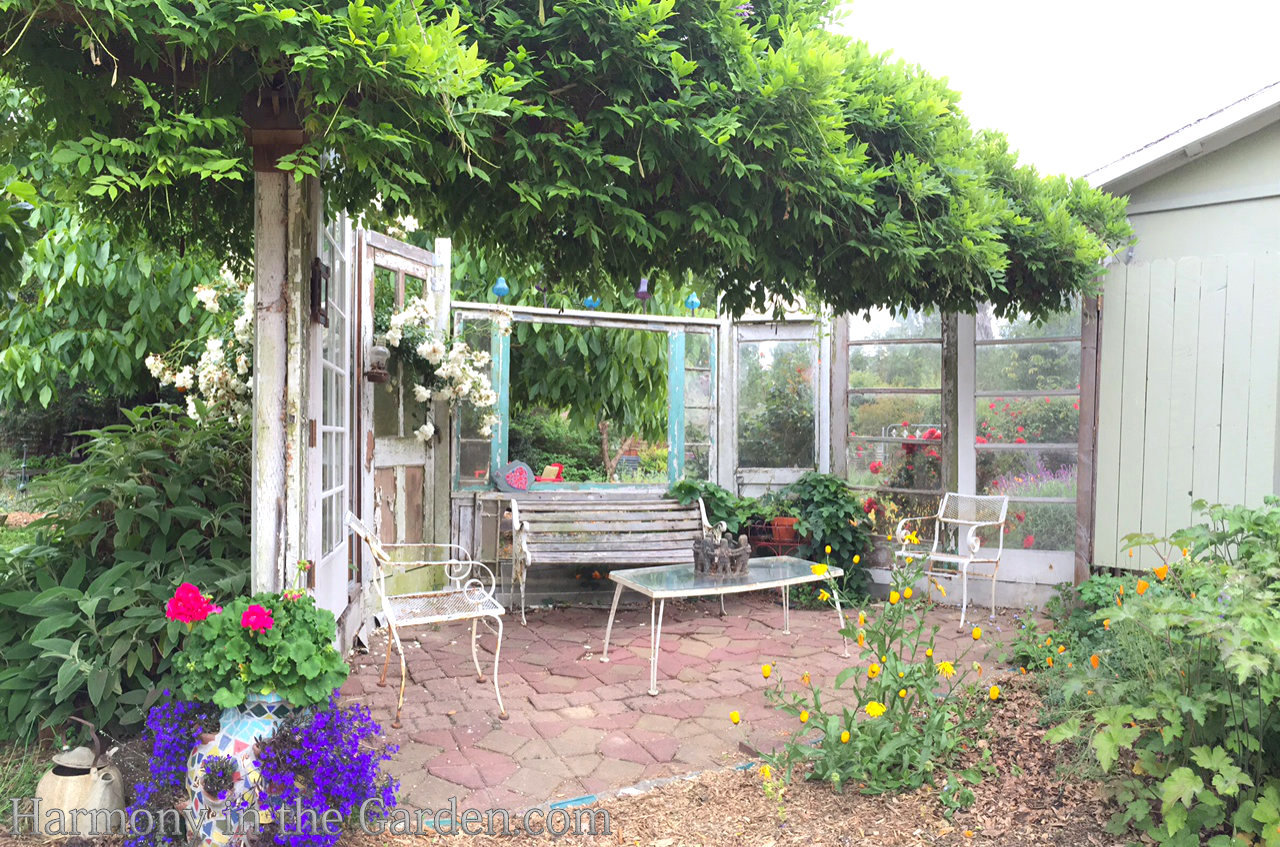 Sometimes all that's needed is the illusion of privacy to help define an intimate space within a much larger area.
A few years ago my husband and I stayed in this wonderful AirbNb that had this incredible, sprawling country garden. 
Several intimate garden rooms were created within this large space with clever use of upcycled antique doors, windows, etc.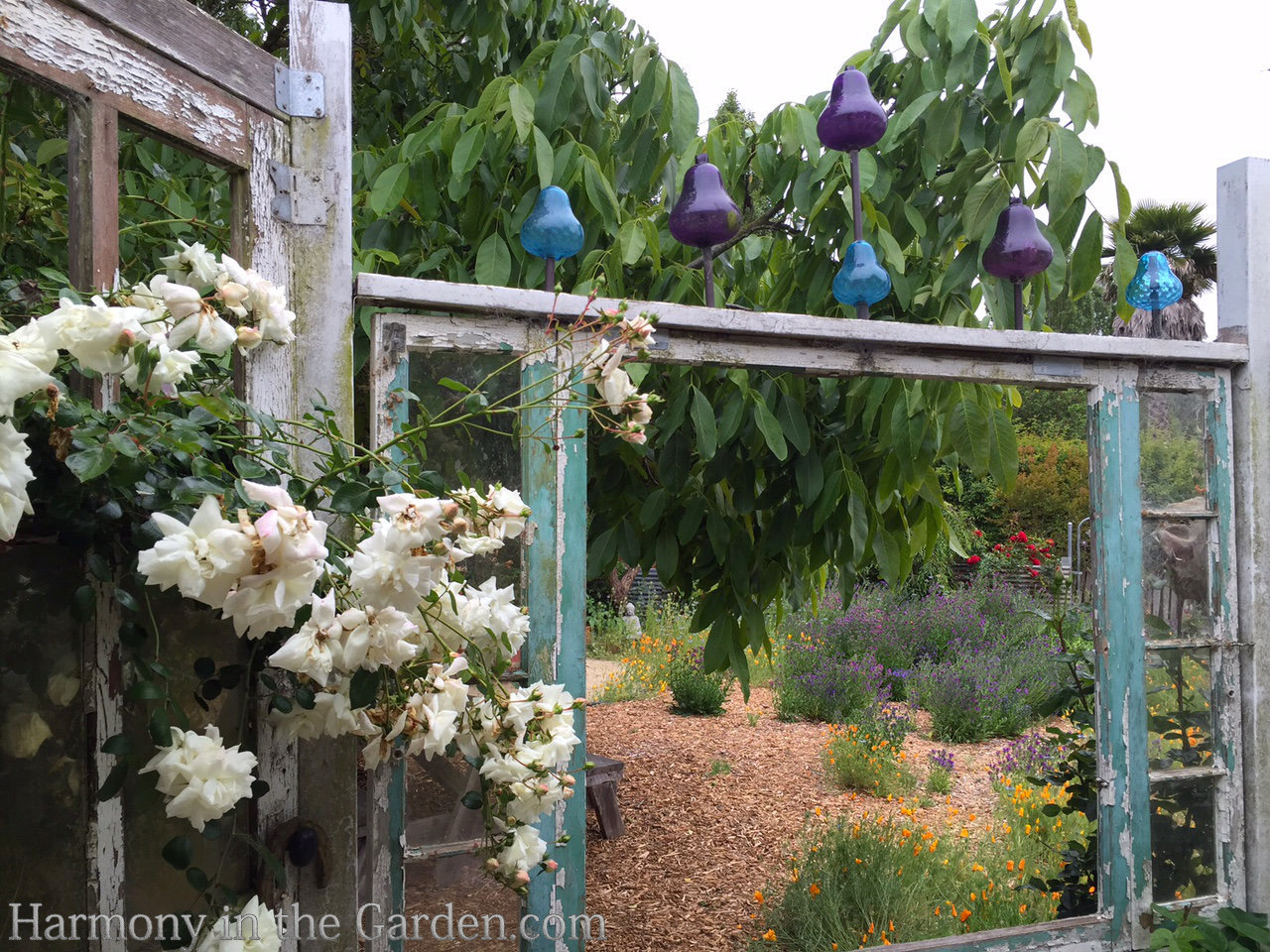 As the 'walls' of this garden rooms illustrate, sometimes just the illusion of screening is all that is needed to create a private atmosphere.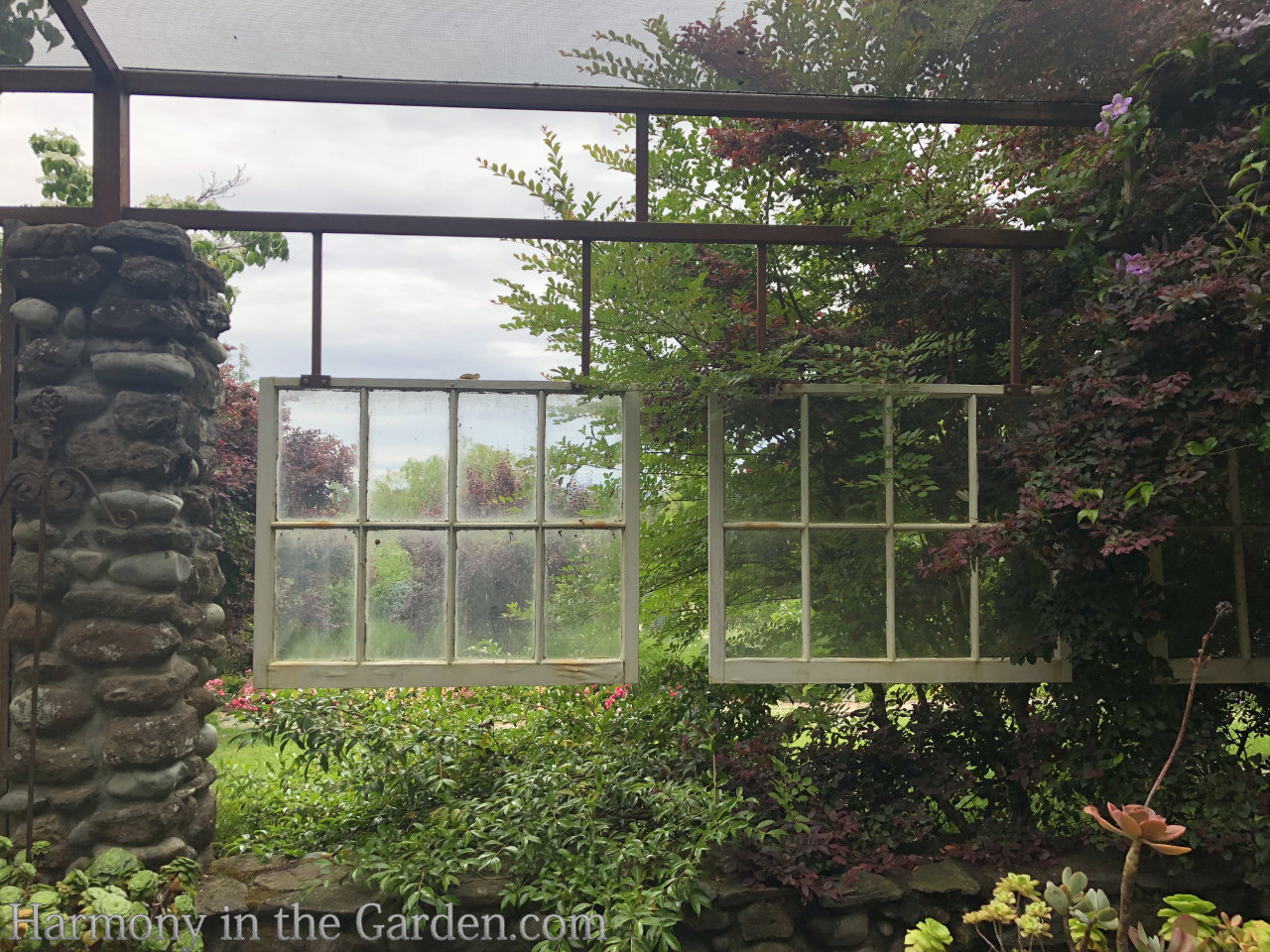 Here's another example of the illusion of privacy created using antique windows and an airy structure.
2.  Screening with Plants
Sometimes plants alone can provide plenty of privacy, eliminating the need to buy or build a trellis, fence, or gate.  One of my go-to small trees is the prunus caroliniana 'Bright 'n Tight,' a moderate growing tree to 10' x 6' in 10 years. 
I often use the standard version (standard = removing the lower limbs to create a 'tree' shape), which allows additional planting underneath the canopy.  In small spaces (like side yards) this is an ideal strategy, as the different 'layers' of planting gives the illusion of more space.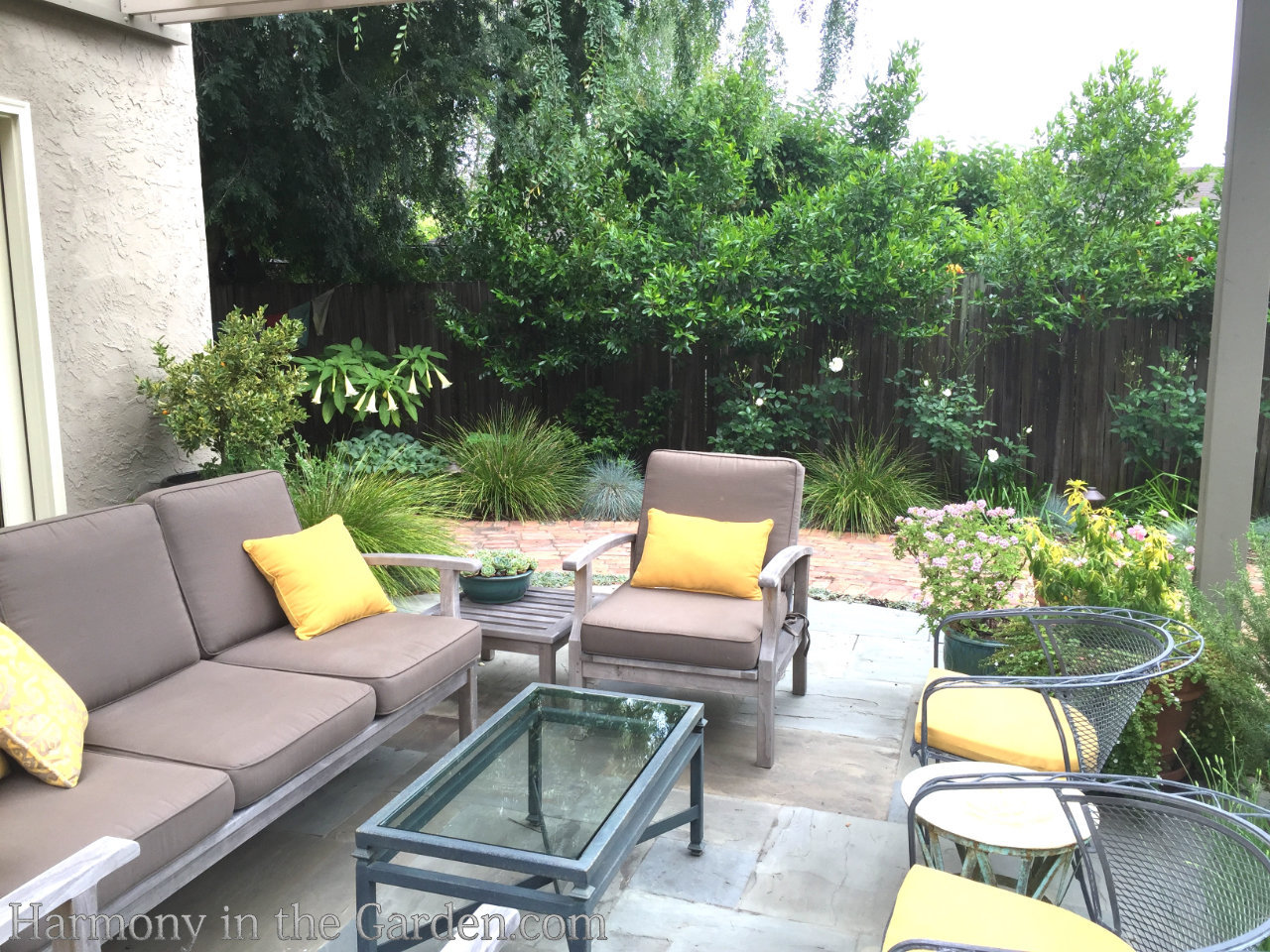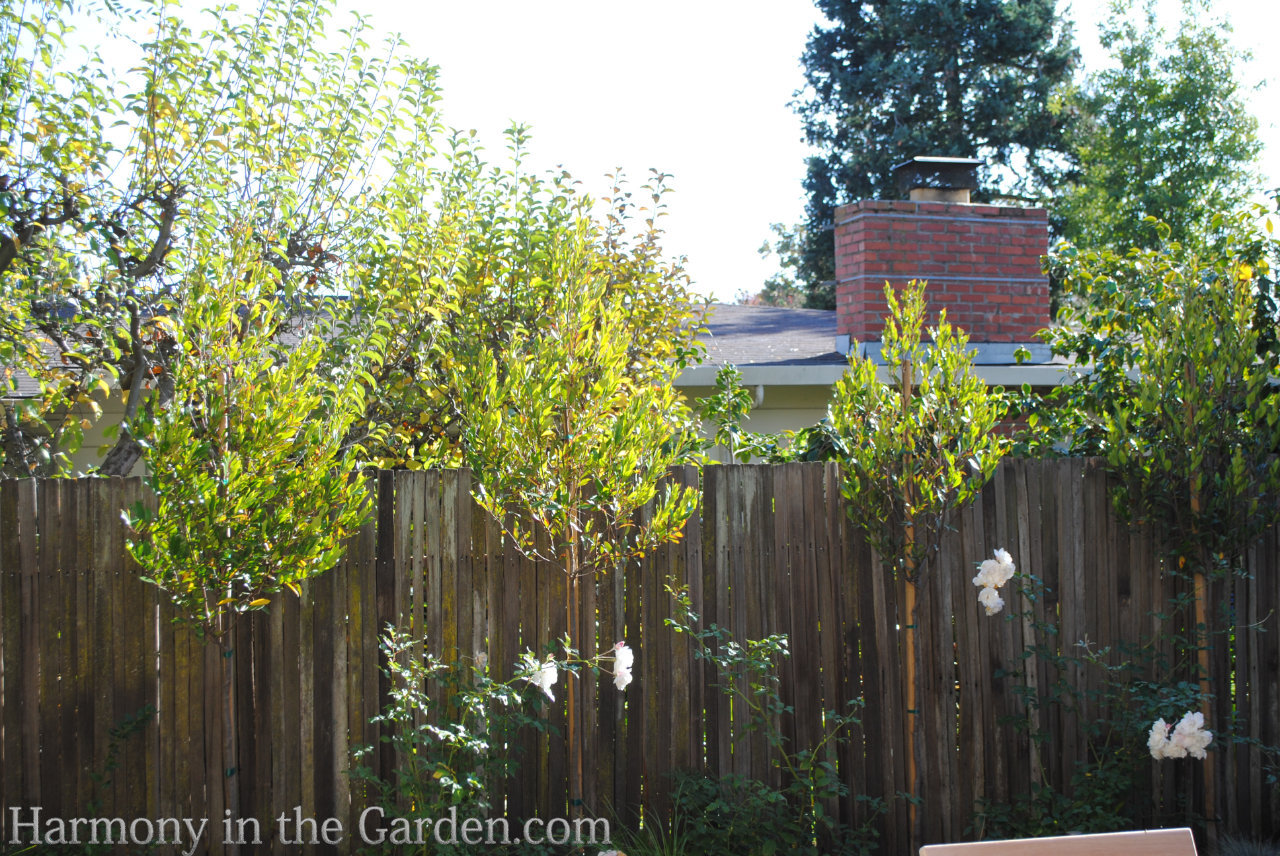 In this example, we used the 'Bright 'n Tight' to block out the neighbor's roofline.  The above photo shows how it looked in year #1, while the left photo shows year #4. 
Note the 'Iceberg' roses and grasses that are planted under the standard trees – all of this in about 2 ½' of planting space!
Click here to see more about this garden's amazing transformation.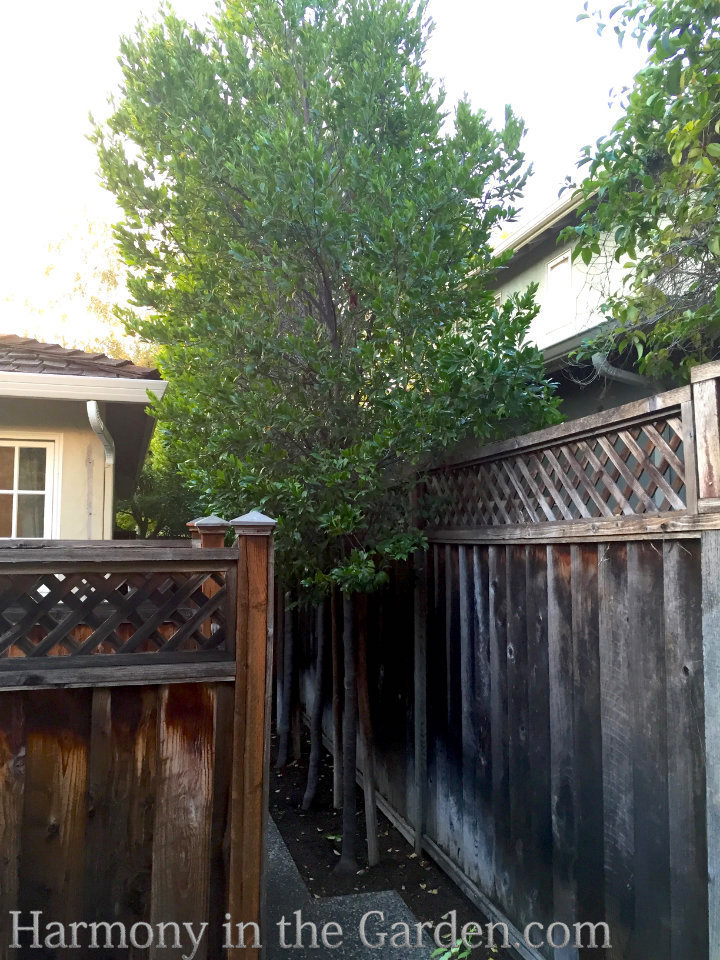 When a neighbor added a second story close to the fence line, this homeowner's privacy was shattered.
There wasn't a trellis tall enough to block the view, so she planted a row of  prunus caroliniana 'Bright 'n Tight' that quickly transformed her view into a lush wall of green.  
Surprisingly, the trees have fared well over the years despite receiving a hefty dose of shade (at least a half day's worth in some parts of the skinny side yard.)
Take a peek below – the second story home is barely visible!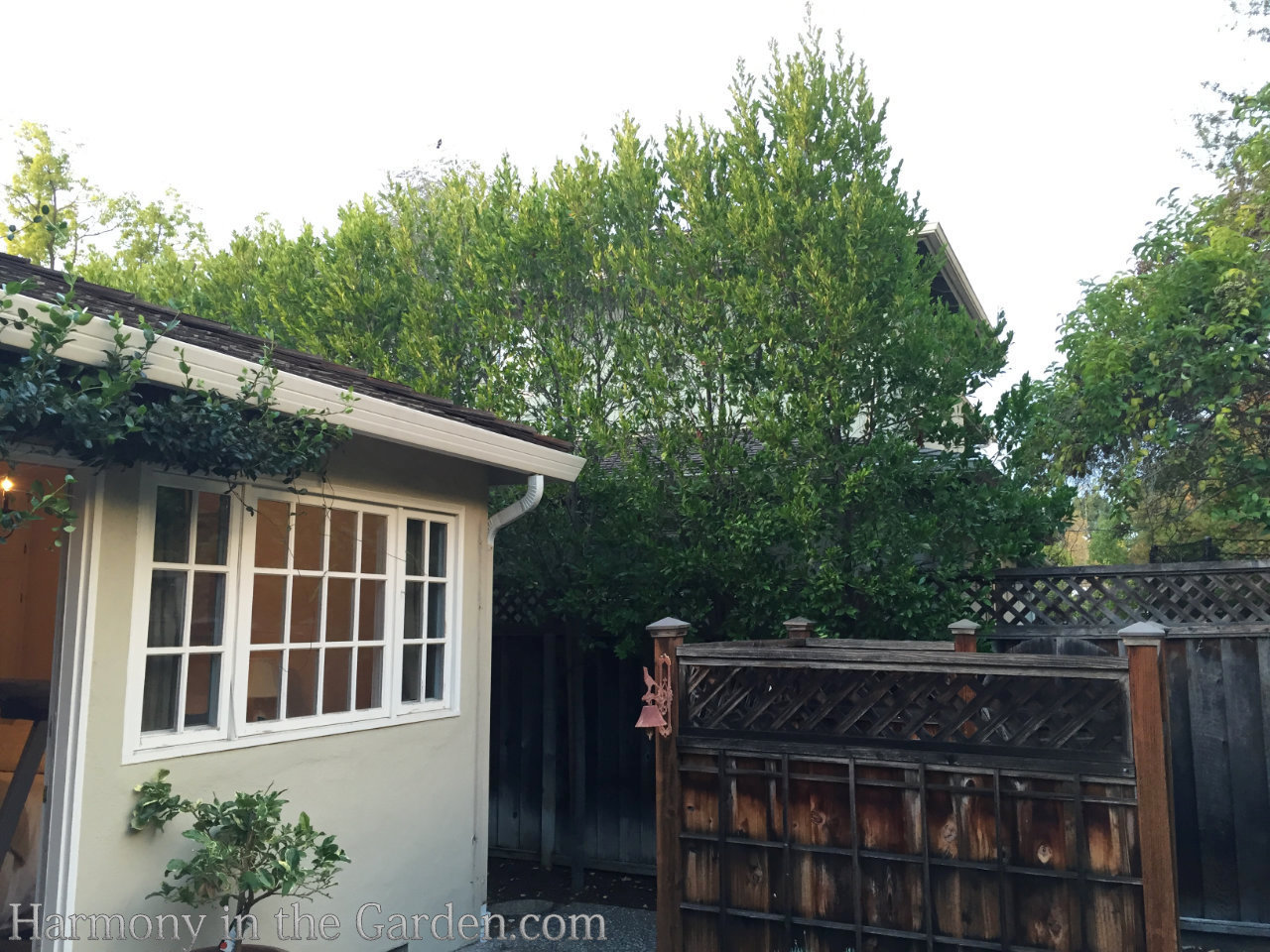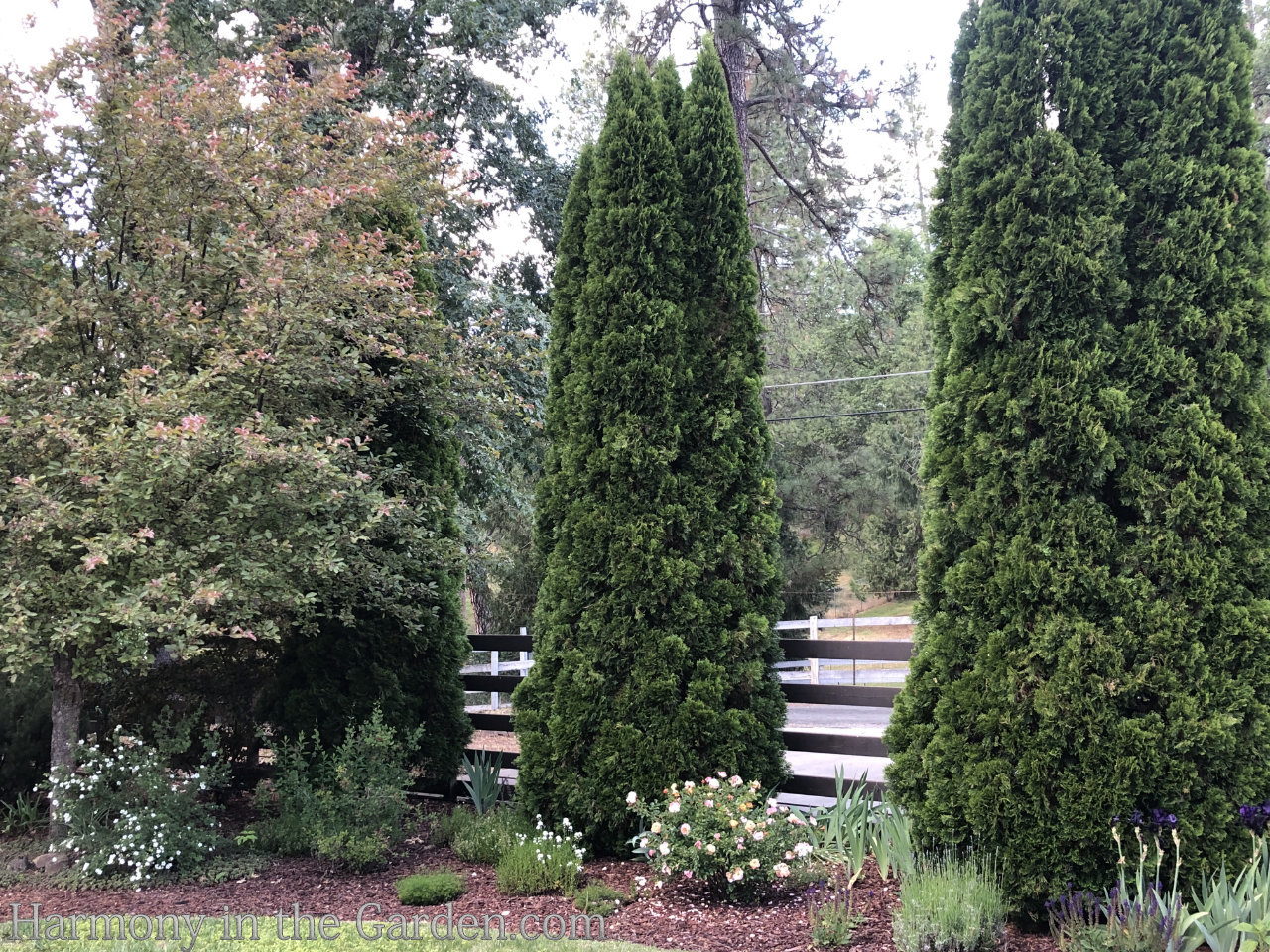 Similar to trellises and gates with open-lattice construction, sometimes a solid hedge isn't needed to create a feeling of privacy.
In this instance, a solid row of thujas would have screamed 'KEEP OUT!' – definitely not welcoming to neighbors. 
However, since plenty of space was left between the thujas, it's friendlier as well as providing the perfect amount of screening.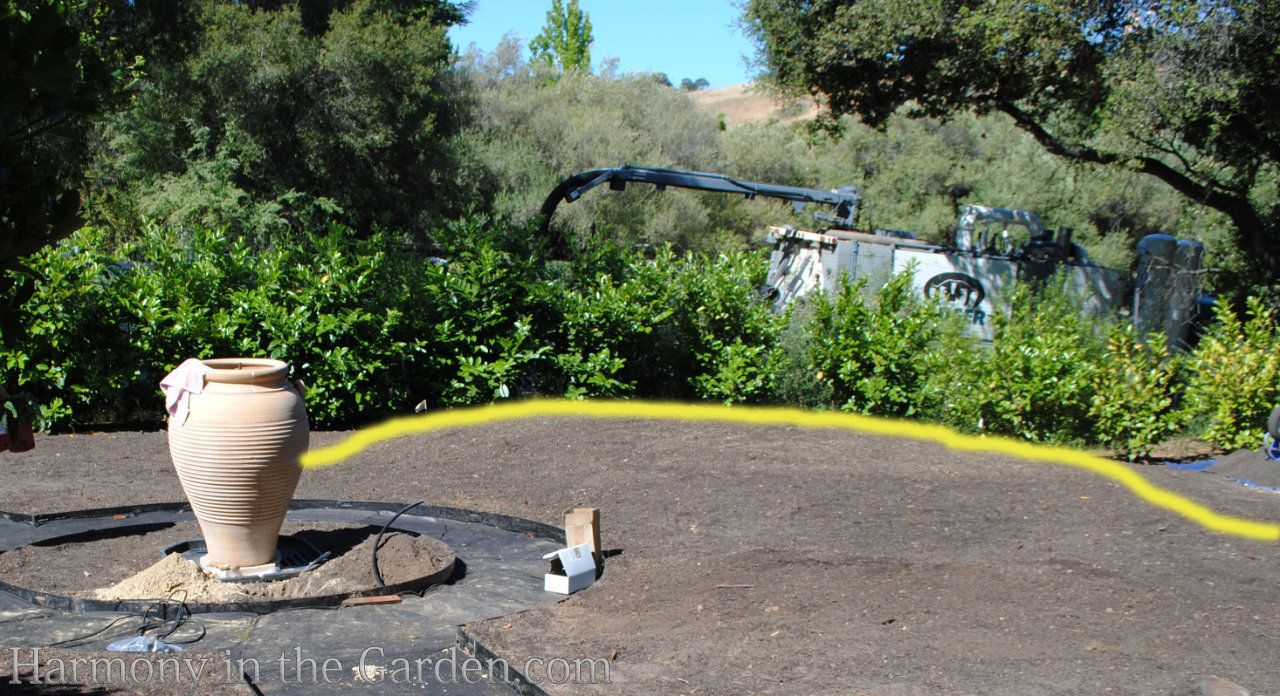 One of my favorite go-to strategies for creating privacy with plants, is to create a berm.
A berm helps give plants an additional 'lift,' adding a bit more height (and privacy) where needed, while remaining open and welcoming at the same time. 
There are plenty of bad examples out there, where the berms are too high with too severe of a slope, looking like they fell out of the sky and plopped in the garden (I call them 'berms gone bad!')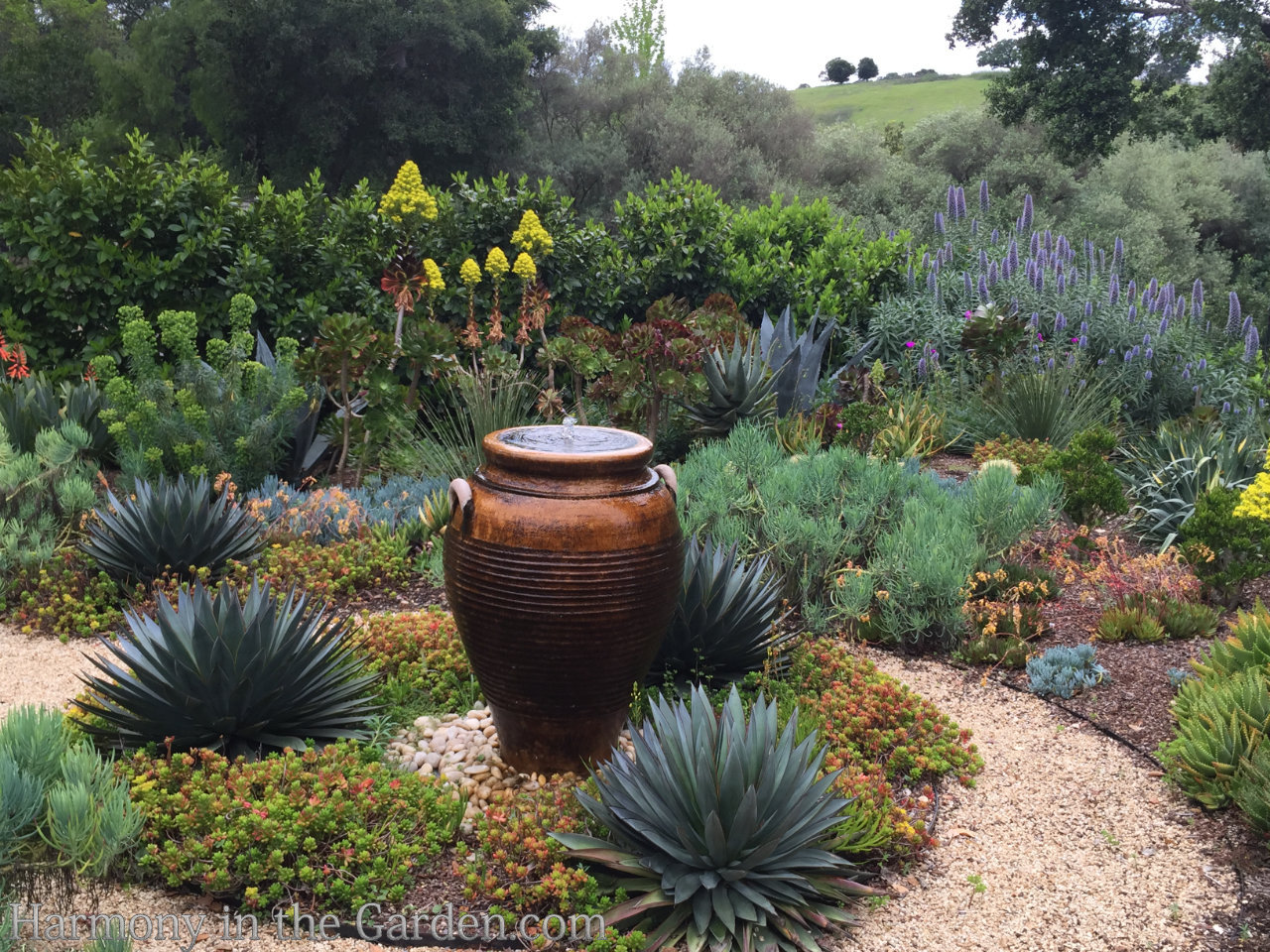 The key to to a successful berm is to keep it subtle.  
I typically make berms no higher than 14" in the center, then gently taper them down to form a natural shape, like in the above photo.
You can see in the 'after' photo (left) that once planted, a natural barrier is created that not only blends with the rest of the garden but creates additional privacy where needed.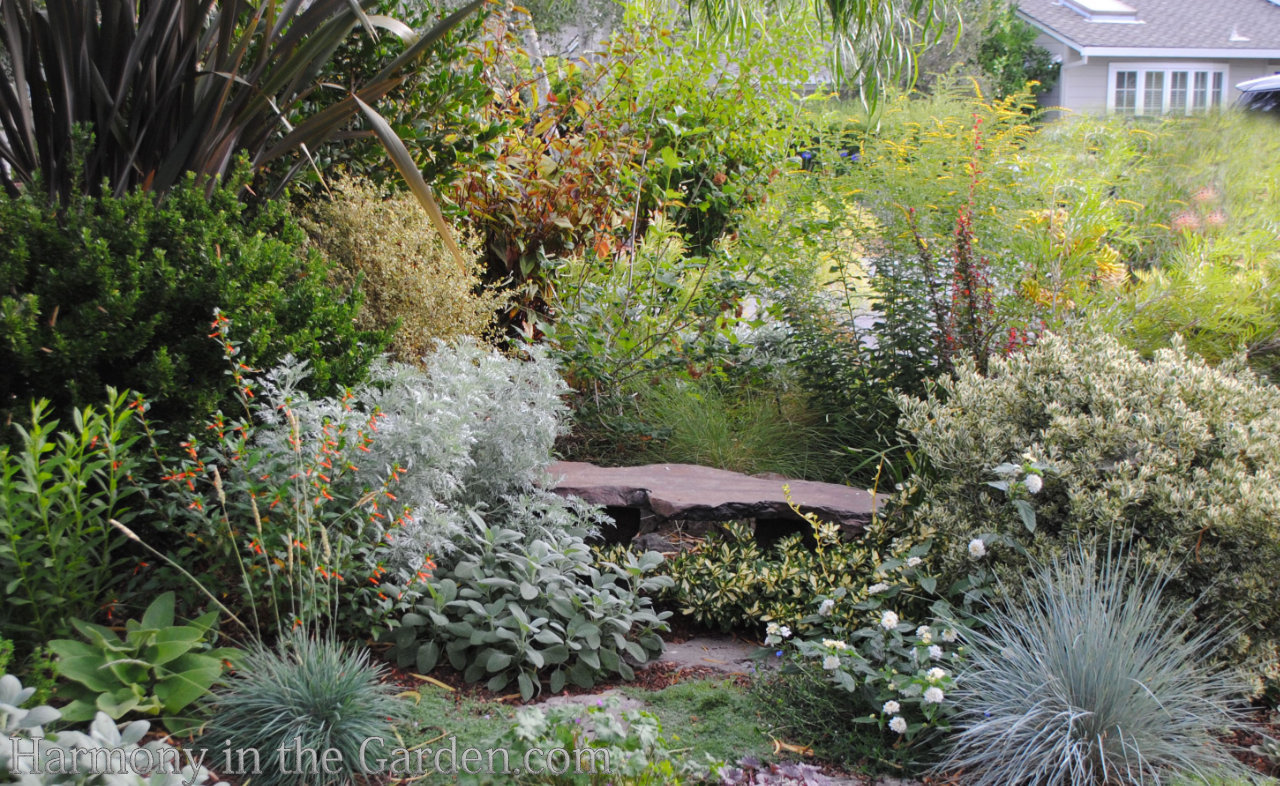 As I said, I create berms all the time in the gardens I design. Big gardens, small gardens, there's almost always an opportunity for a berm.
This is my former front garden, which was relatively small.  Without the berm, it would've been tricky to prevent the garden from looking flat.
But after the plants on the berm filled in the various heights add privacy (and interest!) to this small space.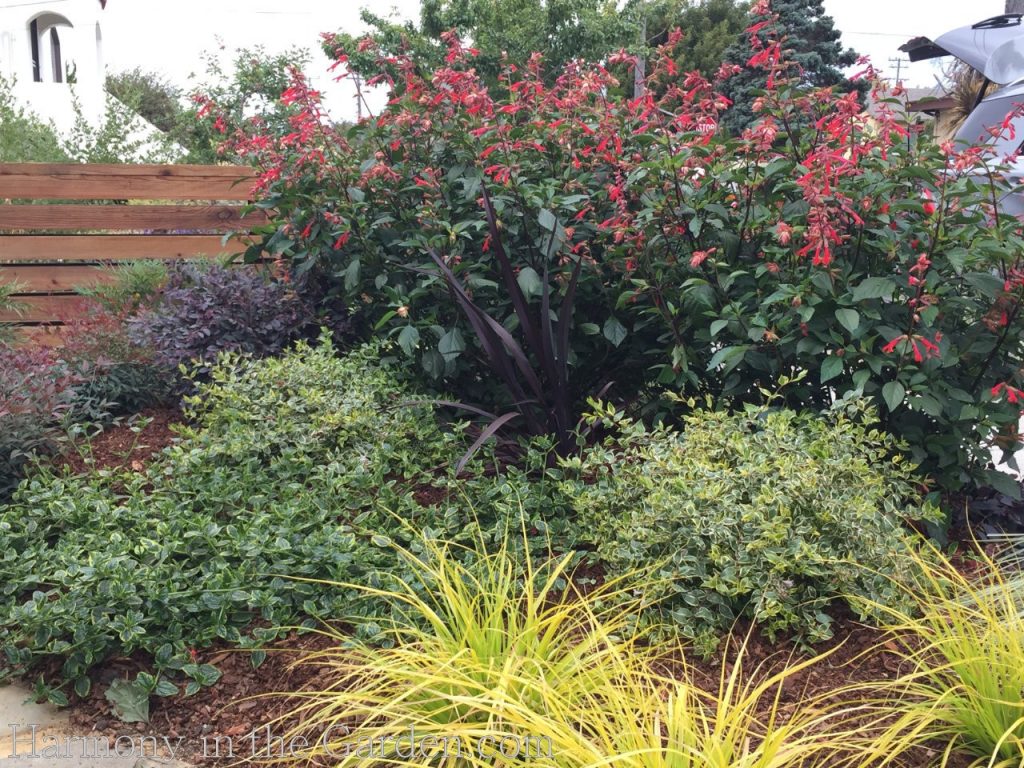 Here's another example of a berm used in a very small garden, helping to provide interest and screening.
Click here to read more and to see some pretty great before-and-after photos.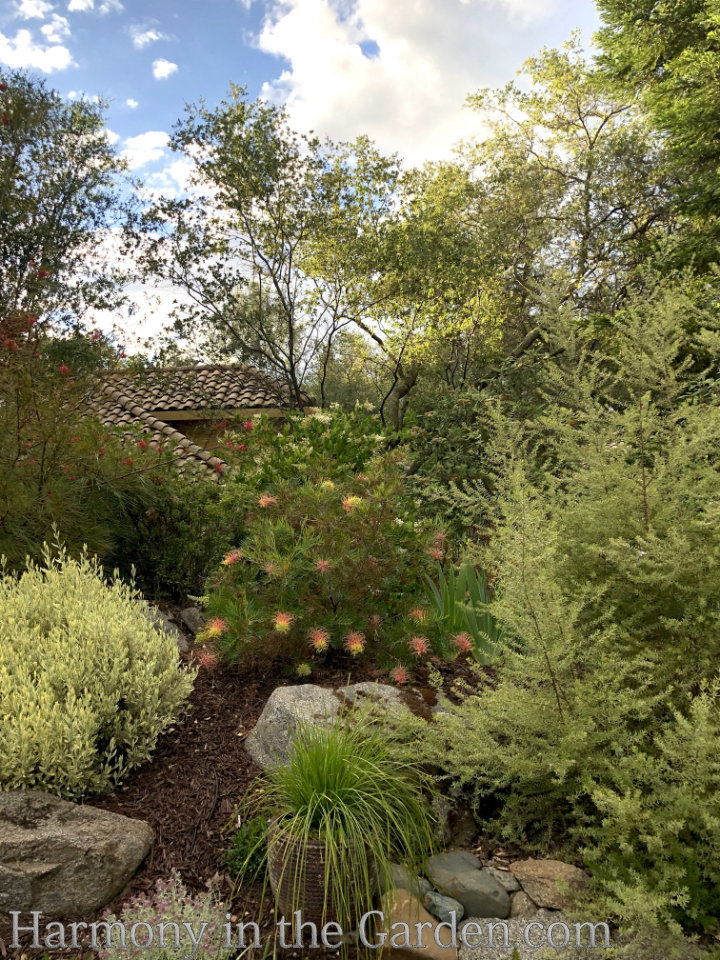 This is an example from my current garden, which shows my penchant for oversized, tall plants (in this case, grevilleas 'Peaches 'n Cream,' 'Long John,' and a westringia 'Morning Light''.) 
I used the height of these plants to my advantage to help screen the neighboring home.  In case you missed my recent post about tall plants, click here.   
And finally, for a deeper look into ways to create privacy in your garden, I highly recommend reading Mary Wingate's fantastic book, Landscaping for Privacy. 
As I read her book, I found myself not only agreeing with everything I read, but was inspired by innovative ideas from gardeners around the country.  All in the name of creating their own private sanctuary.
I hope I've provided some inspiration for ways in which you can add privacy to your garden.
And If you have any favorite plants or screening ideas you've used in your own gardens, please share!