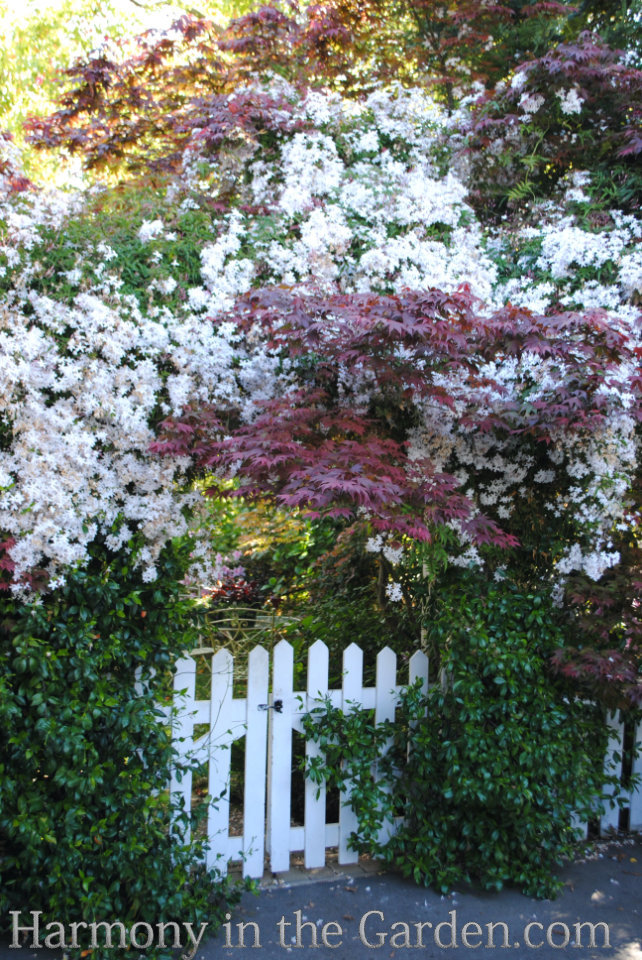 I originally wrote this post about transforming a side yard eight years ago.  However, I'm re-writing this in honor of my friend who created this magical side yard, and who recently unexpectedly passed away.
I often highlight this garden in various presentations, and it's always a HUGE hit with the audience.  
In fact, this garden receives bigger reactions from the crowd than many other gardens I feature, even those designed by well-known professionals.
I think it's the soul of this garden that touches so many people, the love and attention to detail throughout – especially in the side yard.   
So with that, let me re-introduce you to one of my favorite gardeners, Lisa Mitchell.  
Lisa is one of those gardeners who instinctively knows how to create something breathtaking.  Yes, she moves plants around at least a dozen times until she gets them 'just right,' but in the end, her garden is filled with breathtaking beauty as a result of her skilled use of color, texture, and form.
Lisa has transformed one of the dreariest side yards I've ever seen into one of the most stunning. 
To fully appreciate her talent, you first need a little background.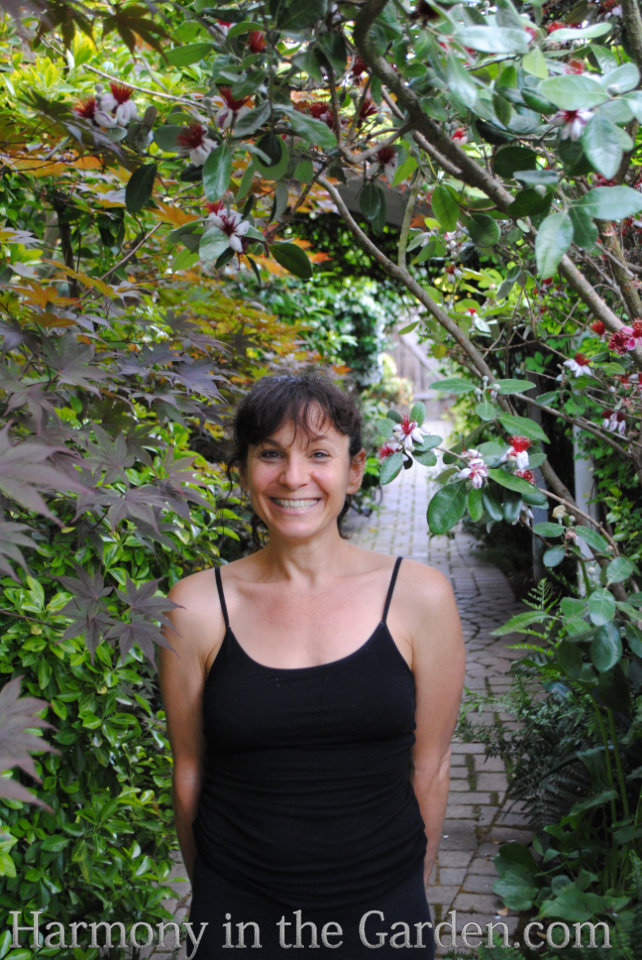 So I asked her to describe the 'before' garden and home in her own words:
"My husband actually ran out and laughed at me when I told him 'this is the house we should buy…I have a vision!' 
In hindsight, I don't know what I was thinking. The inside of the house was a nightmare, and the outside was even worse. The man we purchased it from was a recently retired salvage/junkyard owner who kept most of his wares at his house. It was the kind of spooky place that parents wouldn't let their kids visit on Halloween or any other time!
The yard was literally covered front to back by old building materials, washing machine tubs and automotive parts. Three giant dumpsters and lots of back-breaking work later we were left with an almost empty yard still mostly covered in concrete.  
This is where the dreaming began.
It took a number of years for us to be able to afford landscaping, and when we finally started pulling up all the concrete I found (much to my delight) that what was under there was a gardener's dream…the most amazing, beautiful and fertile soil that had been composted for 30 plus years! 
It turned out that my years of hard work and patience (not my virtue-ha!) were very well rewarded."
For a variety of reasons, side yards are notoriously difficult places in which to create a garden.  
They're often too narrow to plant trees or large shrubs to provide privacy, or they're cursed with uneven lighting (thanks to two-story homes or neighbor's giant trees growing too close to the fence.)  
And because of this, an out of sight, out of mind attitude is taken, and it slowly turns into worst section of the garden.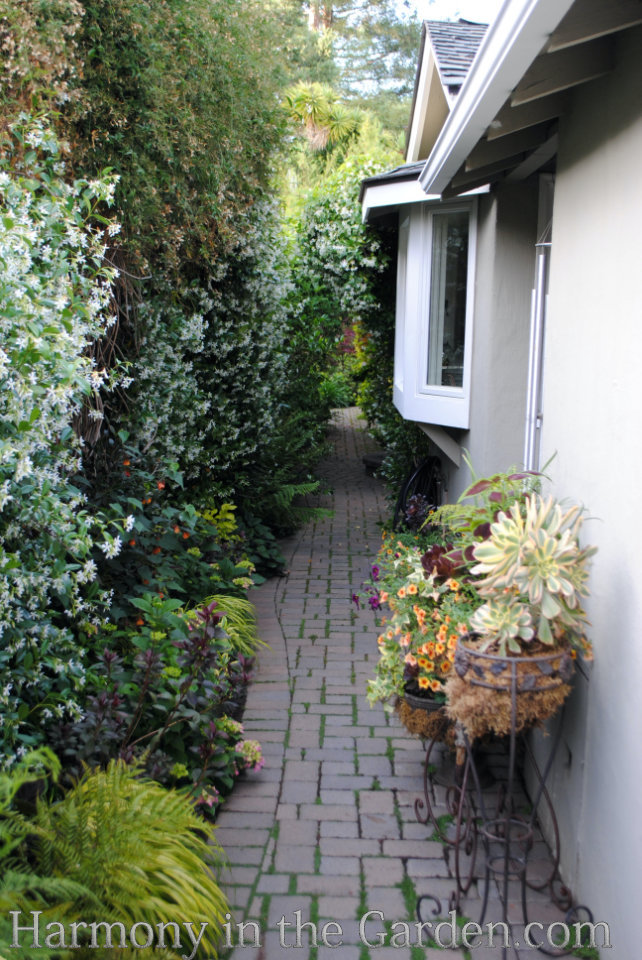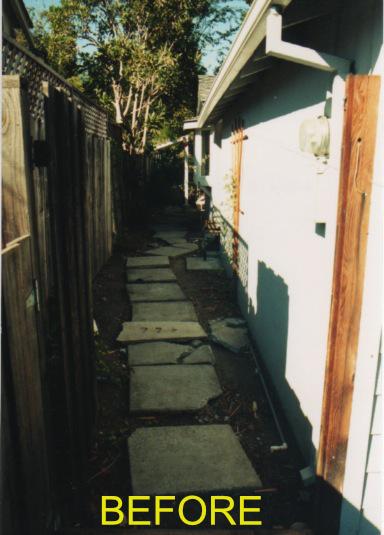 Lisa's side yard is an example of a remarkable before and after.  
No one ever believes that this is the same garden, but it is! 
And amazingly enough, the footprint of the space didn't increase one single inch, even though it looks so much wider.
In fact, if anything, the space is actually smaller since they remodeled the neighboring kitchen with a bump-out bay window.  
If you're interested in transforming your side yard, here are a few things to consider: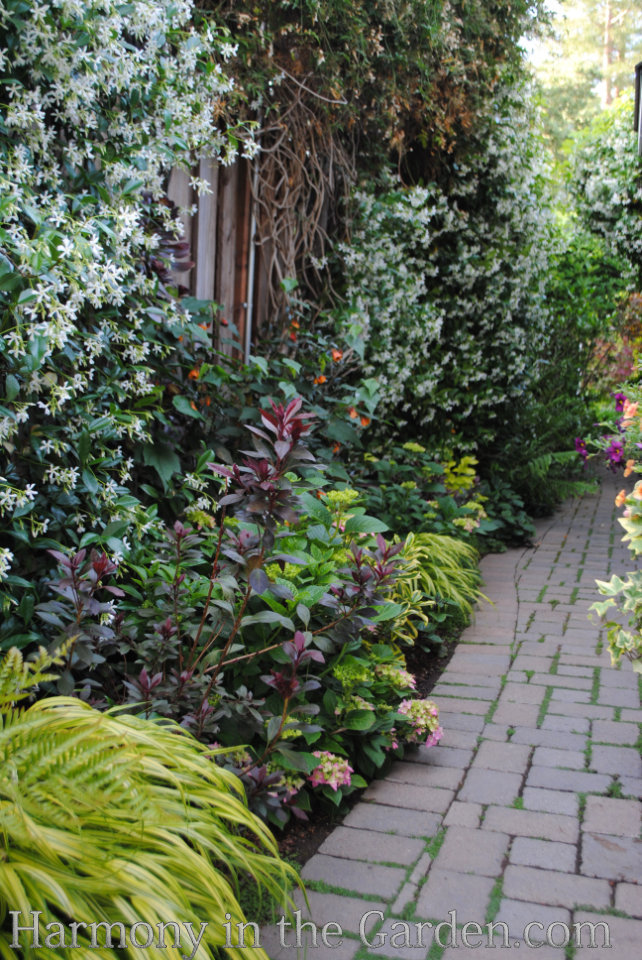 Curving Pathways
When creating a pathway in a narrow side yard, the tendency is to use small steps placed in a straight line.  Don't do this!
The already claustrophobic feeling of this cramped space will only be intensified by a straight and narrow pathway (I call this the bowling alley effect.)
Instead, make the pathway as wide as you can while leaving some room for plantings.  
And, if possible, include a gentle curve which helps to give the illusion of a wider space.
You can see in the above photo that Lisa's path was widened all the way to the side of the house, eliminating the skinny slice of a garden bed next to the house. 
It's important to remember that it's okay to only have a single garden bed on one side of the path if it means the walkway can be wider.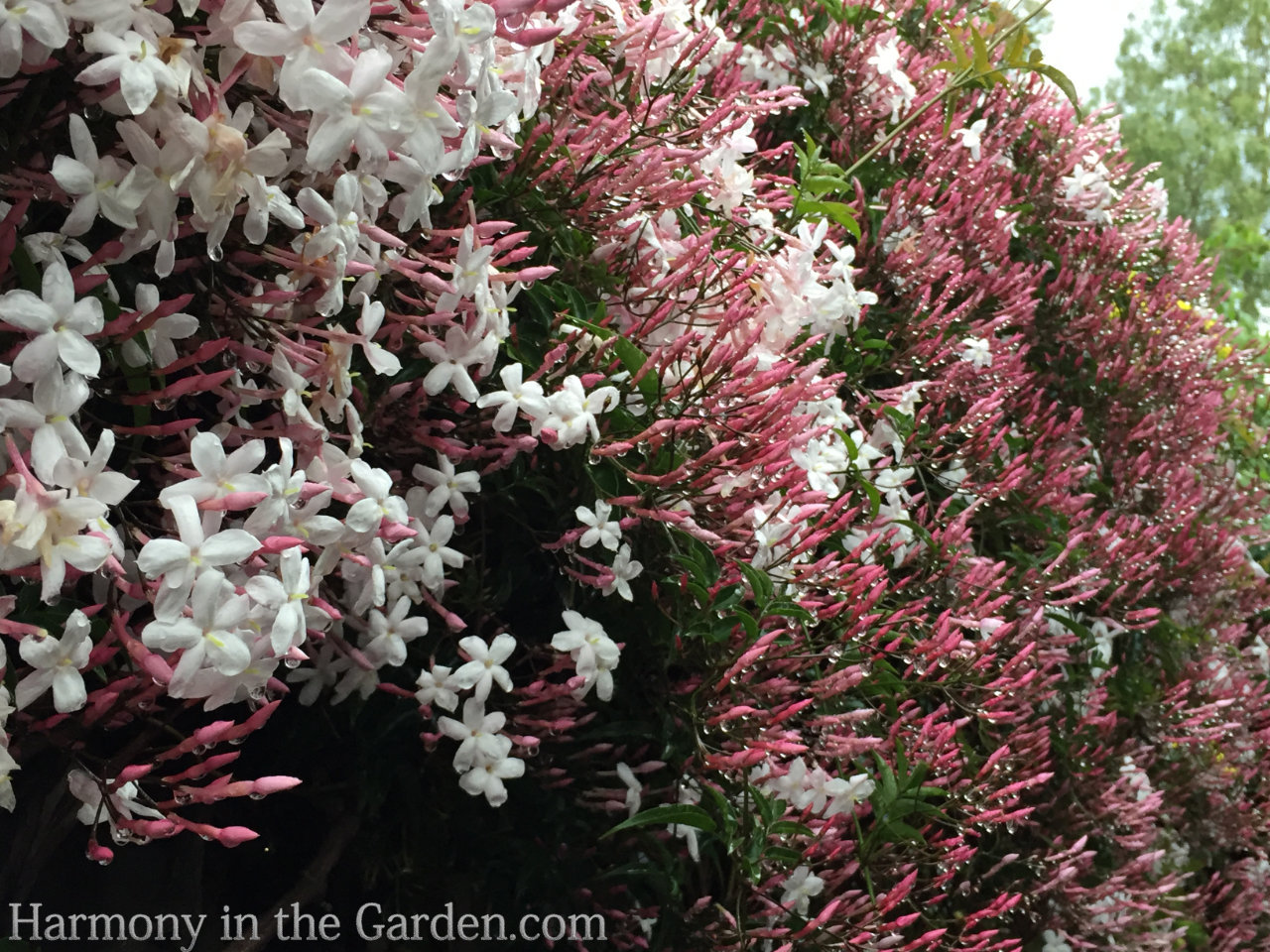 Vertical Spaces
To create a lush and layered garden in the tightest of spaces, take advantage of every vertical space, such as fences, walls, and chimneys.
And don't repeat the same vine over and over, the entire length of the space, but instead plant a variety of vines, focusing on staggered bloom times.  
One of my favorite combinations of vines to use is a pink jasmine (left) next to a star jasmine (trachelospermum jasminoides.) 
The pink jasmine blooms first, with blooms lasting four weeks or so, and just as it begins to fade, the star jasmine kicks into gear with another show of blooms for several weeks.   
And the fragrance?  Absolutely heavenly!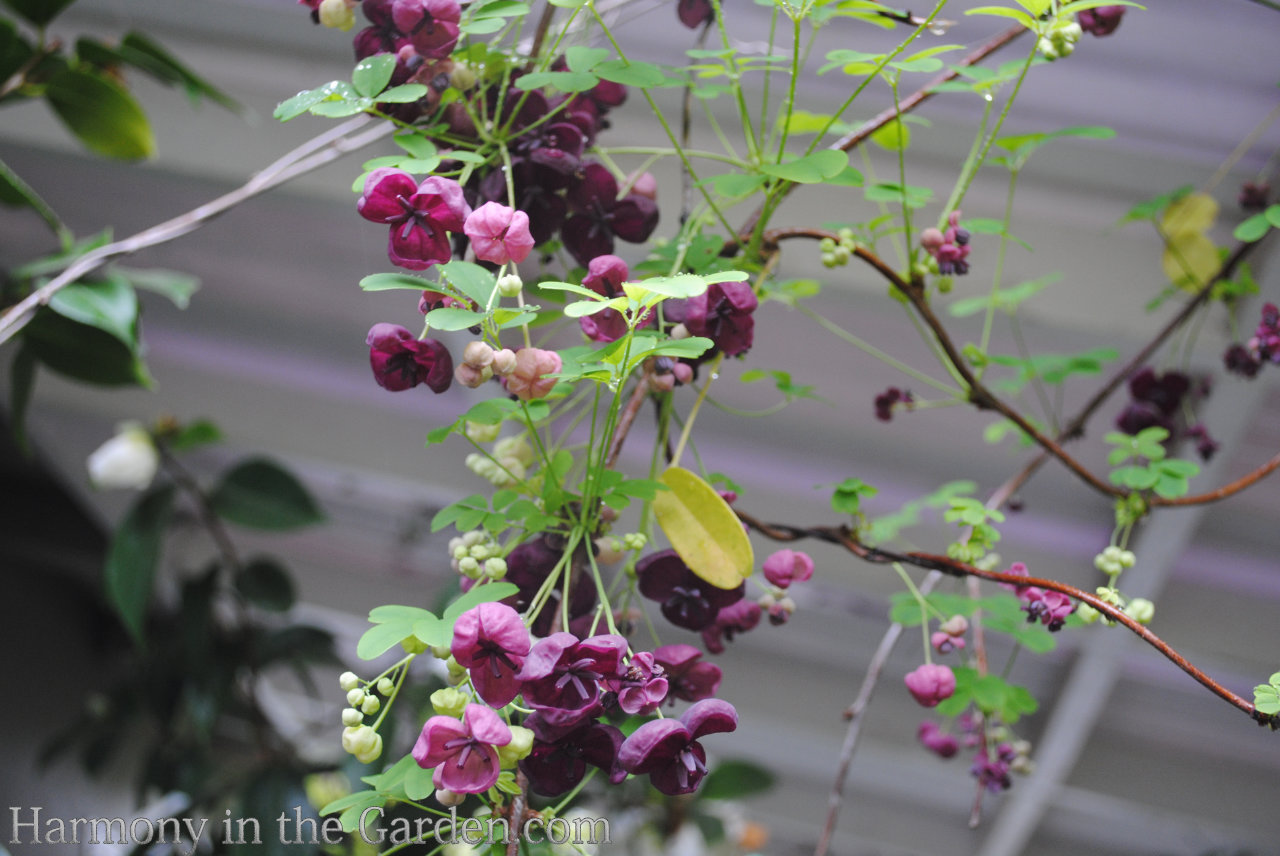 Once Lisa's jasmines are finished blooming, the akebia quinata (left) begins to bloom, with delicate and sweetly scented, plum-colored flowers.
Gardening in small spaces can have its advantages, one of which is that it's easier to appreciate all aspects of a plant. 
Fragrance, for instance, is often lost in a larger garden, but in small spaces, the scent lingers much longer and creates an intoxicating effect.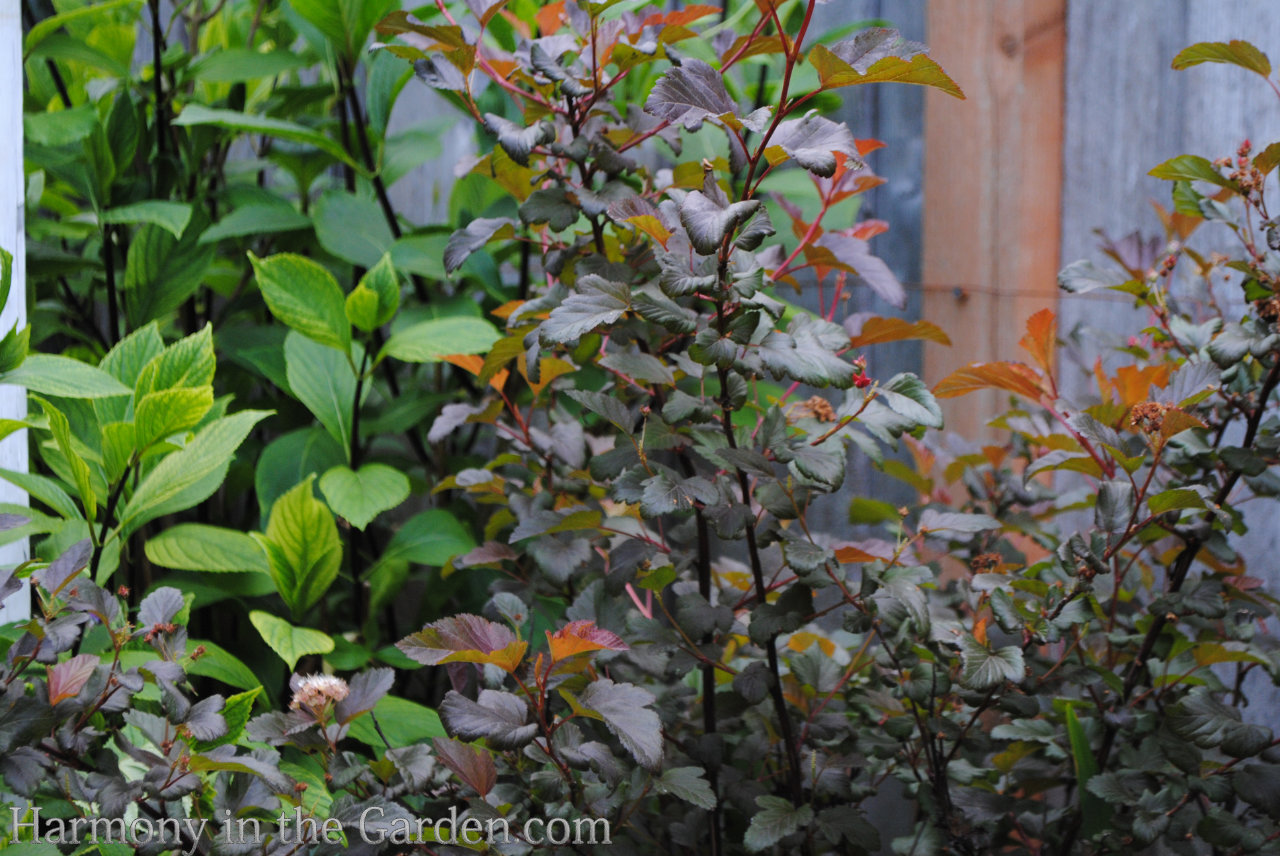 Create Echoes
Small spaces are also an ideal place in which to create subtle color echoes, using different parts of a plant to repeat colors throughout the garden. These subtle echoes might be lost in larger landscapes, but are nothing short of spectacular when viewed up close.
Notice how the jet black stems of the 'Oregon Pride' hydrangea echo the nearby foliage of the weigela 'Wine and Roses' and the Japanese maples?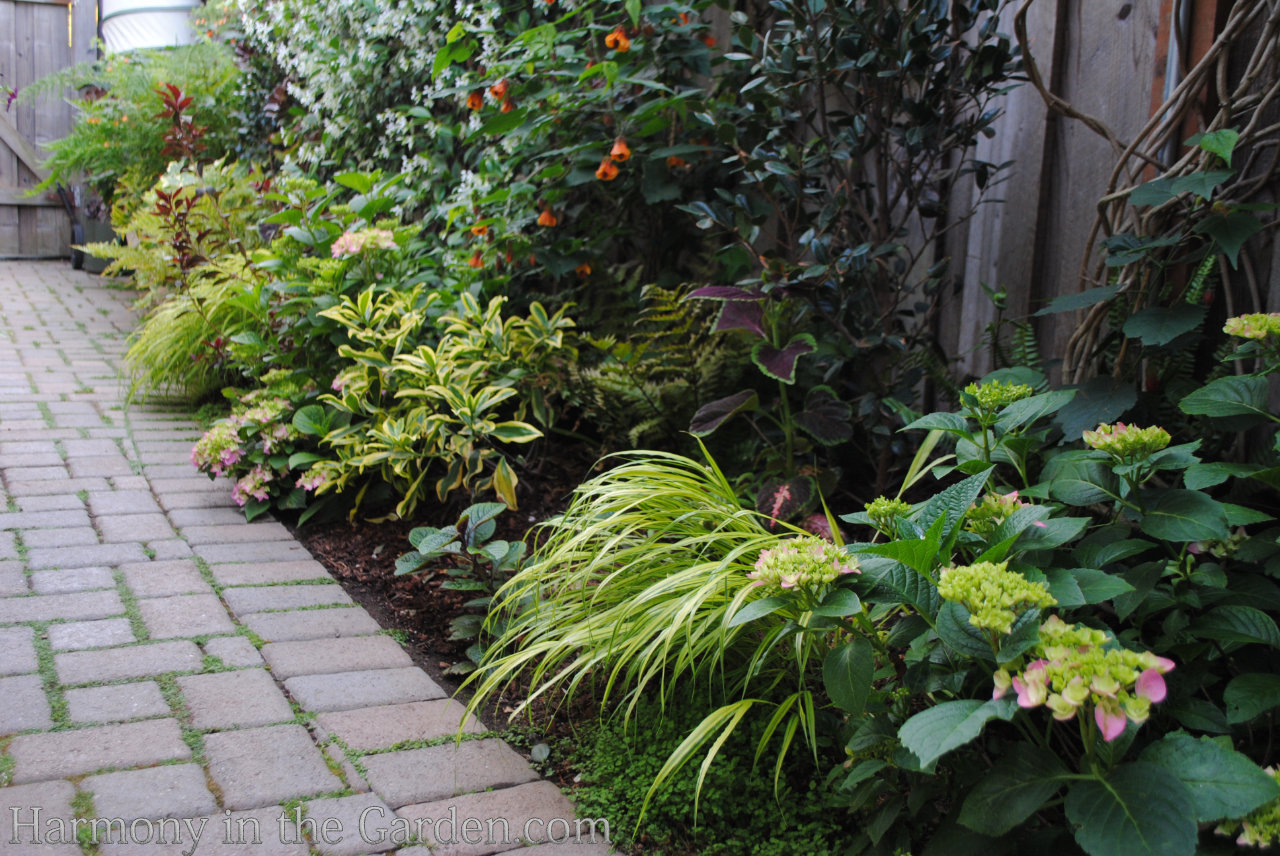 It's not just scent and color echoes that are appreciated more in small spaces – the textural qualities of a plant are, as well.
In this side yard, texture comes from the wispy blades of the Hakone grass, the smooth and polished foliage of the pittosporum, and the thick and crinkly leaves of the hydrangea. 
These plants are placed within a touchable range, encouraging a tactile experience while strolling down the path.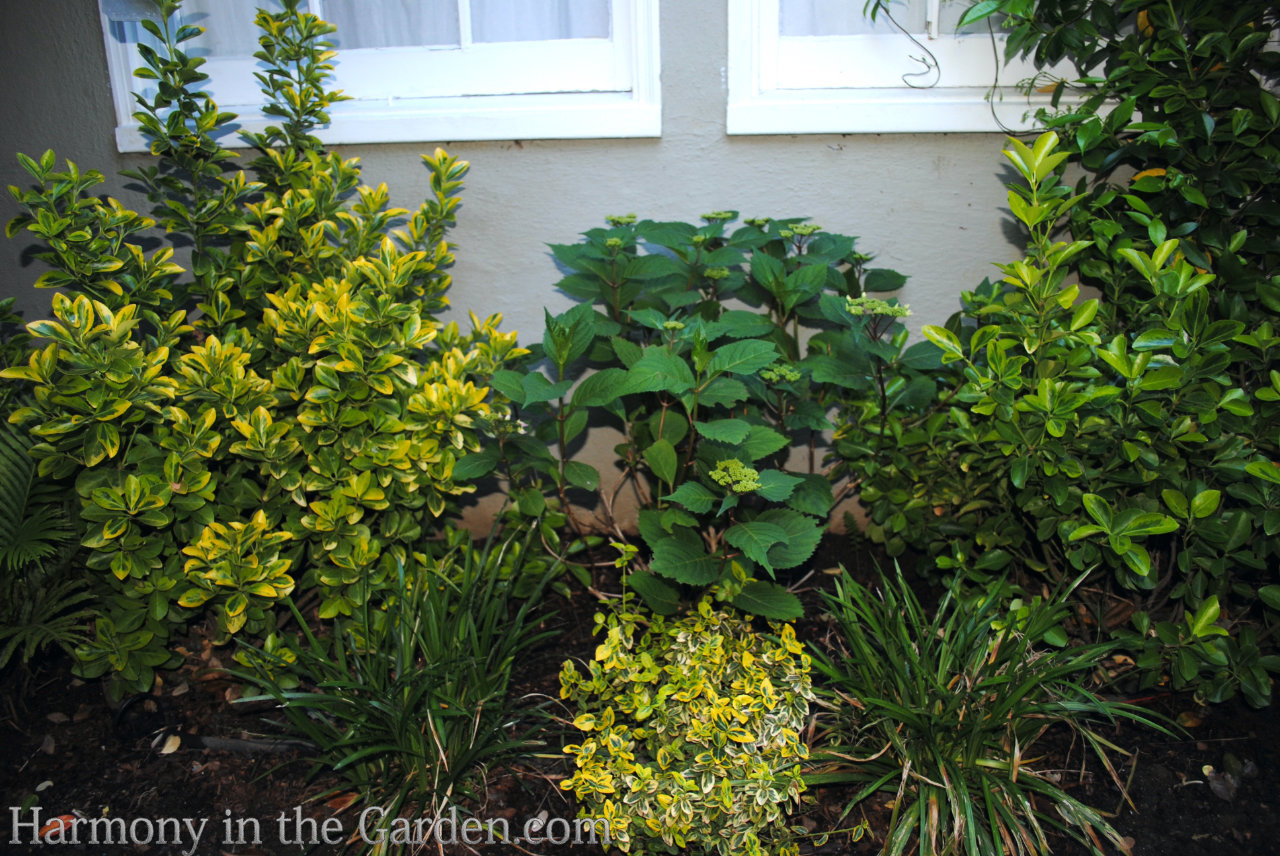 Bright foliage
Skinny side yards are often quite shady, with uneven lighting, especially with two-story homes.
To help bring in the missing sunshine choose plenty of plants with bright and cheery foliage in shades of gold, chartreuse, or silver.
In Lisa's side yard, she uses daphne  'Mariani,' Hakone grass, liriope 'Silvery Sunproof,' and variegated pittosporum.
These plants not only add contrasting colors amid all the green, but they help brighten the space.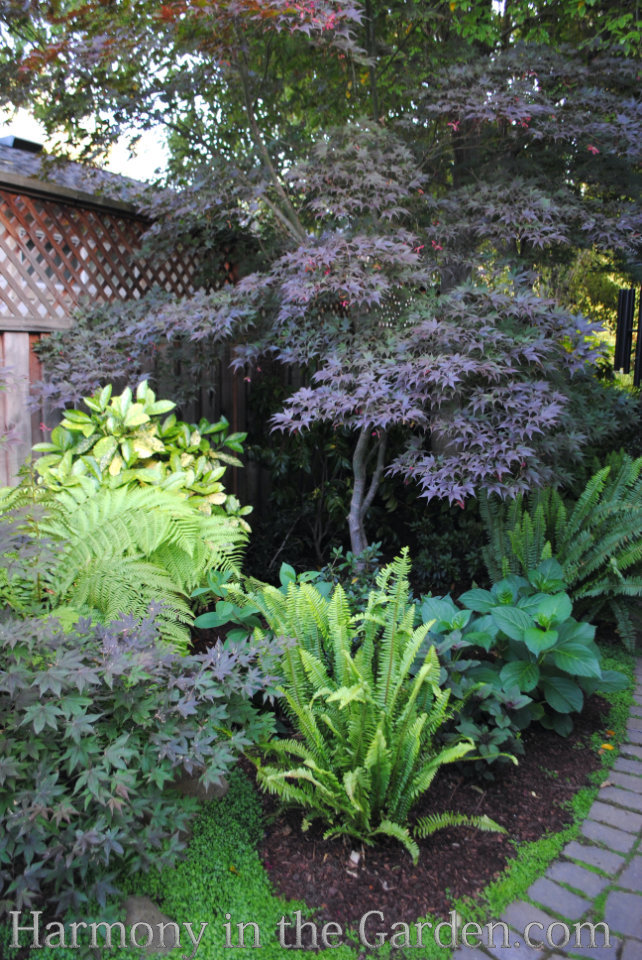 Burgundy foliage
However, it's important to remember that just because an area is shady, it doesn't mean that you can't use dark-colored foliage.
In fact, burgundy or maroon foliage is welcome in any garden, as it helps break up the sea of green effect, adding much-needed contrast in a garden bed.
But did you know darker colors can actually make a small space seem larger than it is?
It does, thanks to the illusion of shadows.
When the eye sees shadows, it interprets that as depth, therefore tricking the brain into thinking the space is deeper as it is.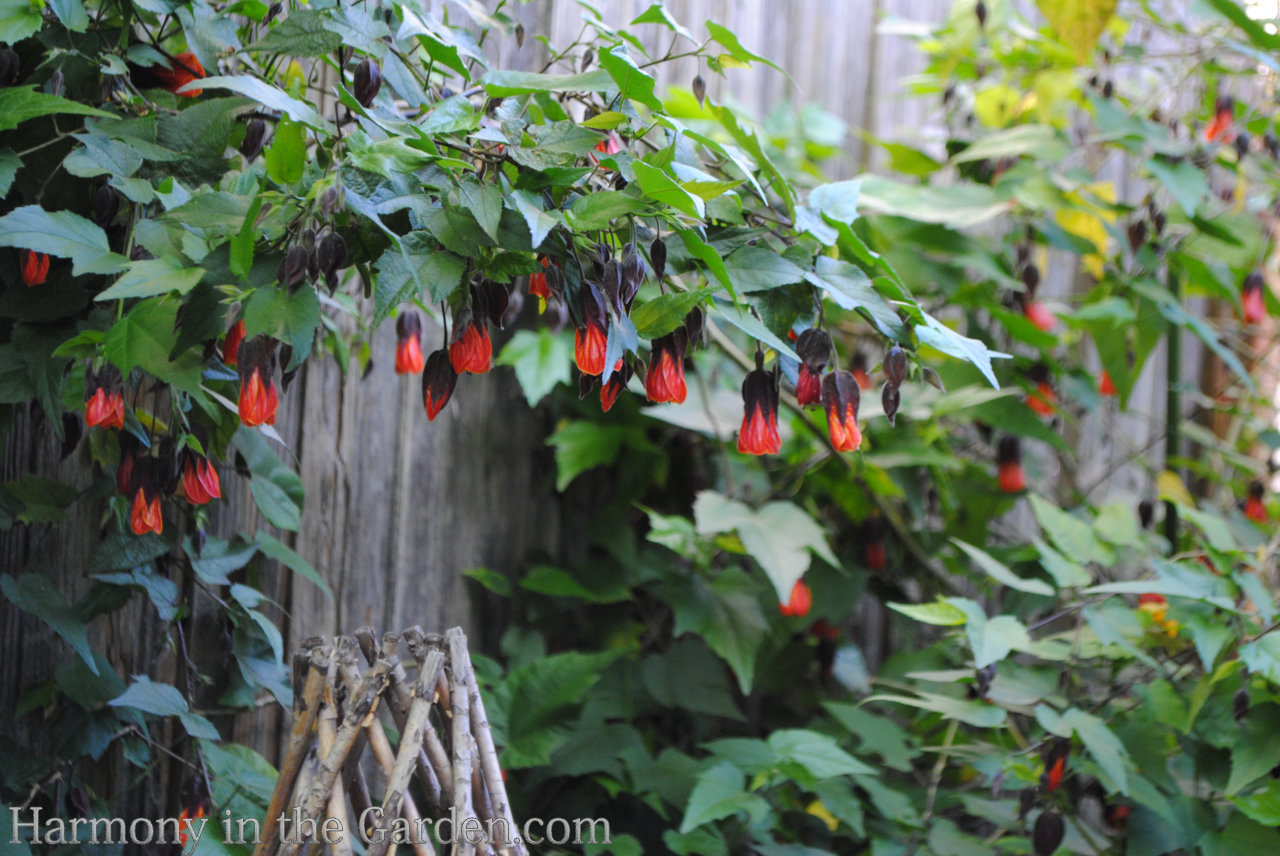 Favorites in smaller sizes
And just because your space is small doesn't mean you can't include some of your favorite shrubs that you think might grow too large.  With all the dwarf varieties on the market, chances are high there's a smaller version of your favorite that is perfect for your tiny space.  
Examples in Lisa's garden include oakleaf hydrangea 'Ruby Slippers', abutilon 'Dwarf Red', and the Japanese maple 'Shaina.'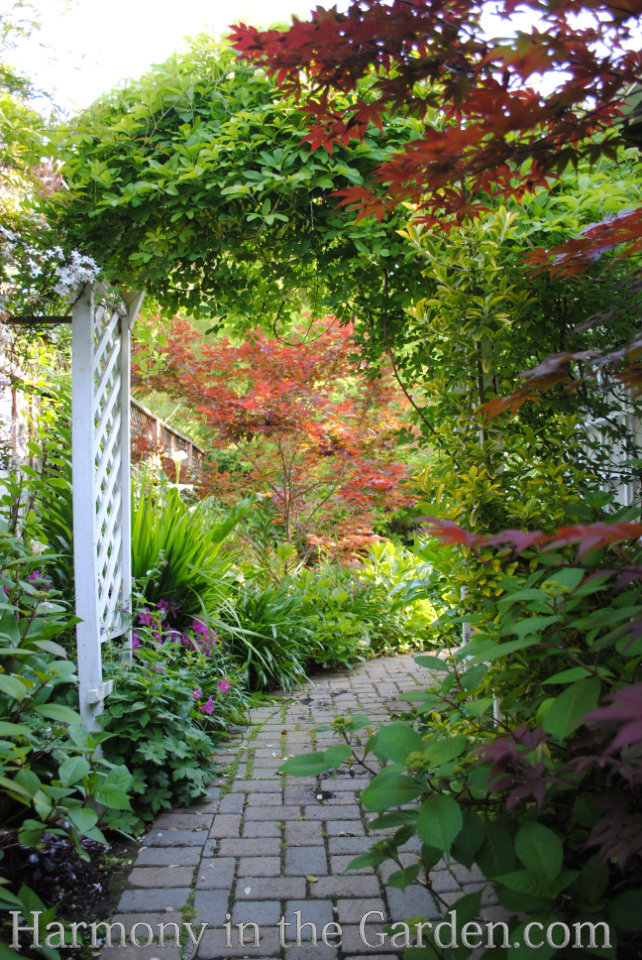 Create an enticing view
To encourage visitors along a garden path, place something intriguing at the very end.
This gives them something to seek out, and will pique their interest especially if the view is slightly out of line of sight.
In Lisa's garden, she's placed a vine-covered arbor (more vertical spaces!) at the end of the narrow pathway.
This not only adds vertical height in a tight space (and one more thing on which to grow a vine!) but encourages the viewer along. 
The burgundy foliage of the maple, placed just outside the arbor, creates mystery as to what lies beyond.  It signals keep exploring, there's more!
Which is exactly what I'm going to do.   
Passing through the arbor, I'd like to share with you a few more photos (below) of her back garden. 
The small patch of lawn is surrounded by deep and curving garden beds, with Lisa's magical more is better planting style. 
Each garden bed is a joy to view, overflowing with evergreens, perennials, and annuals.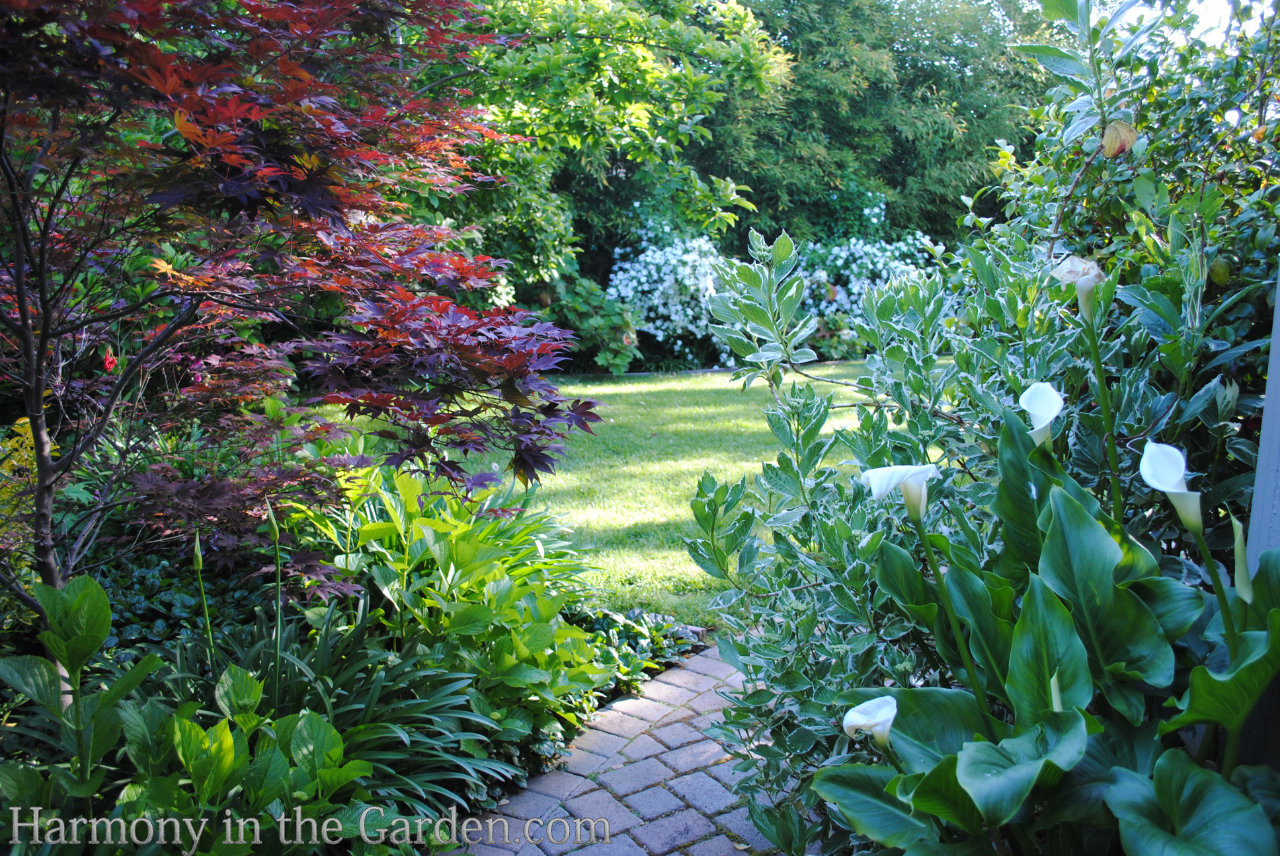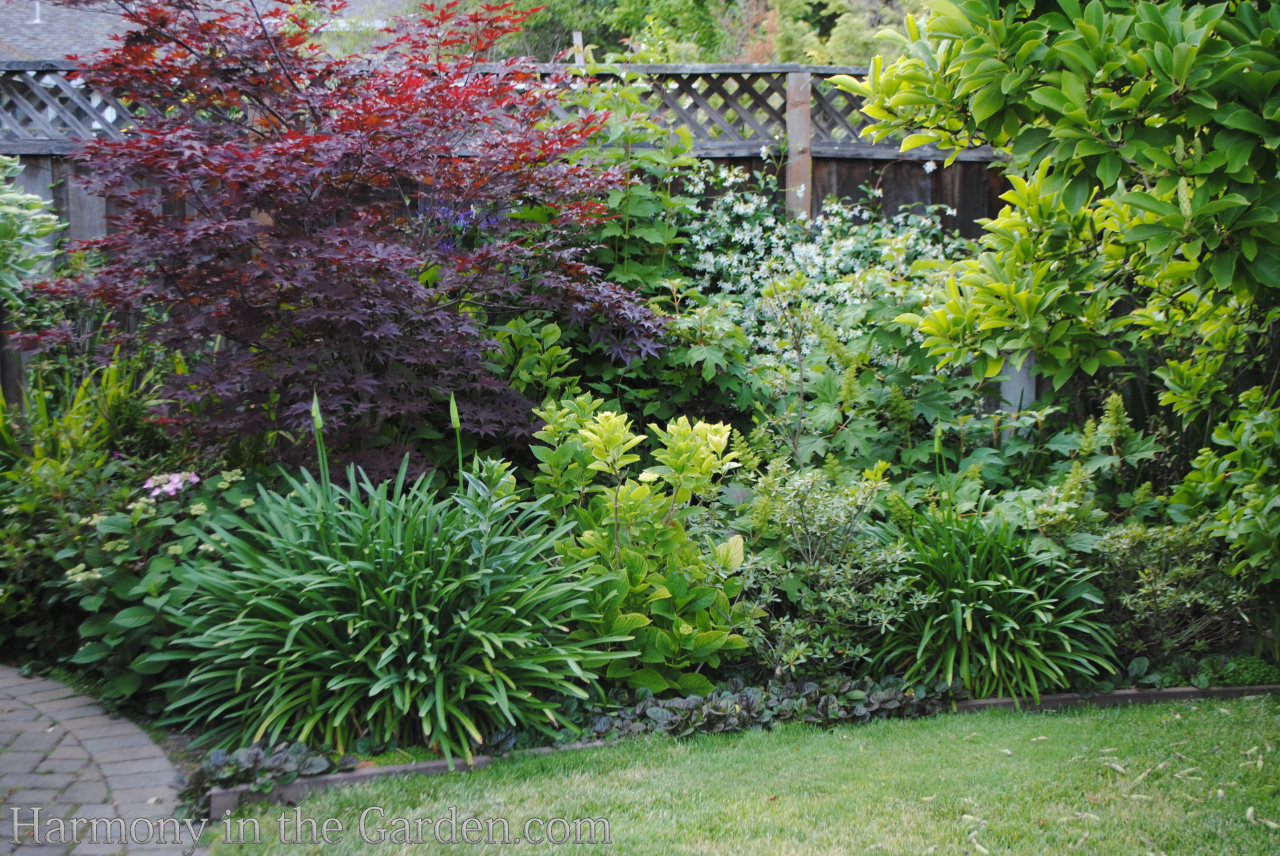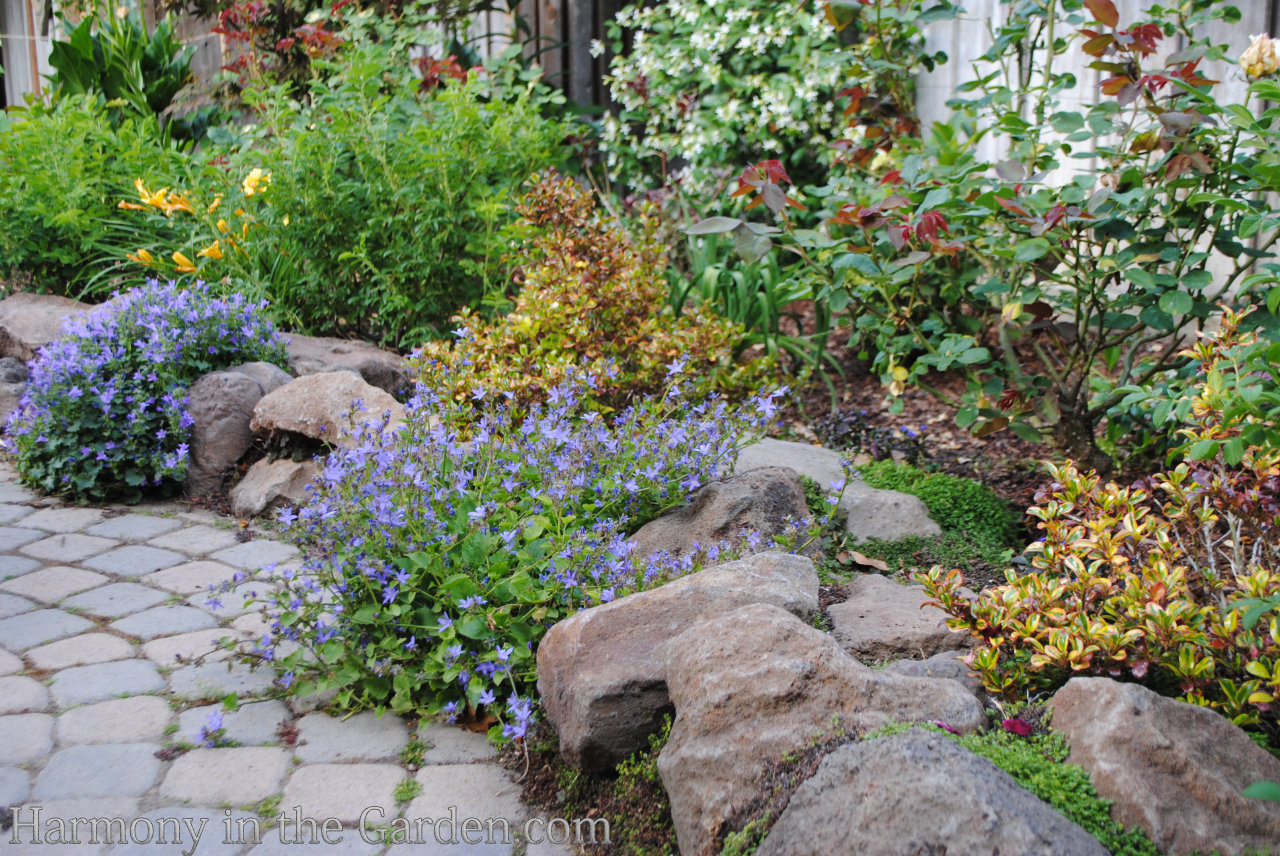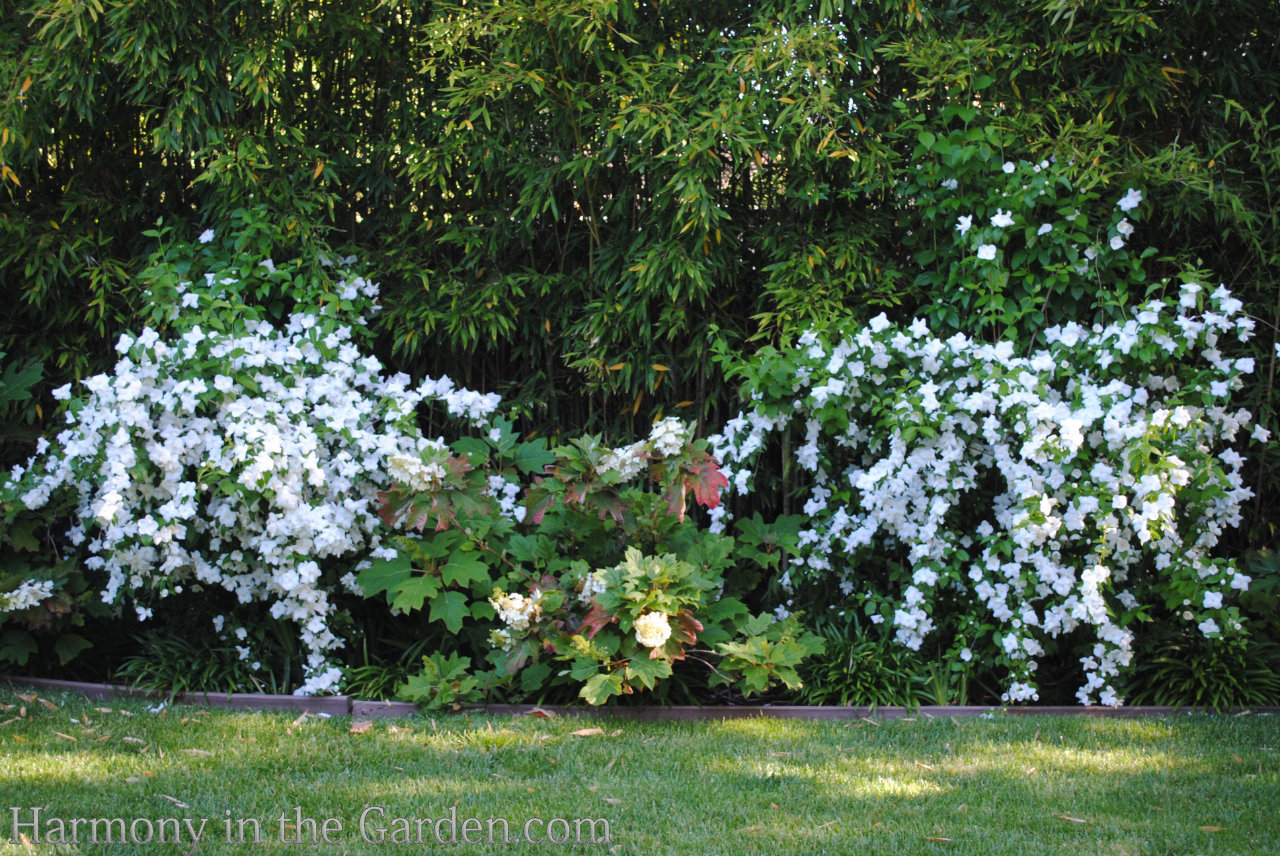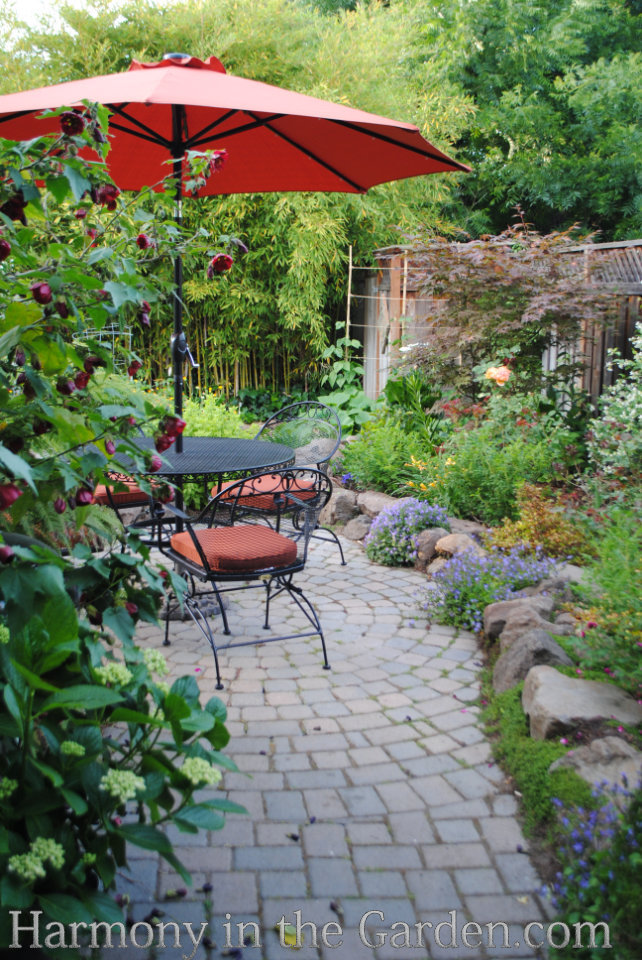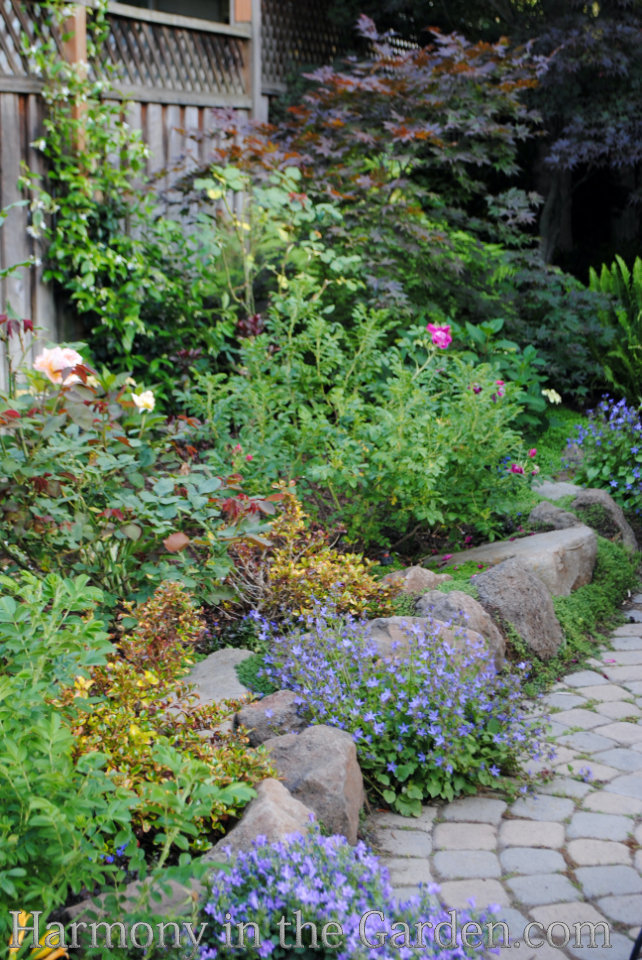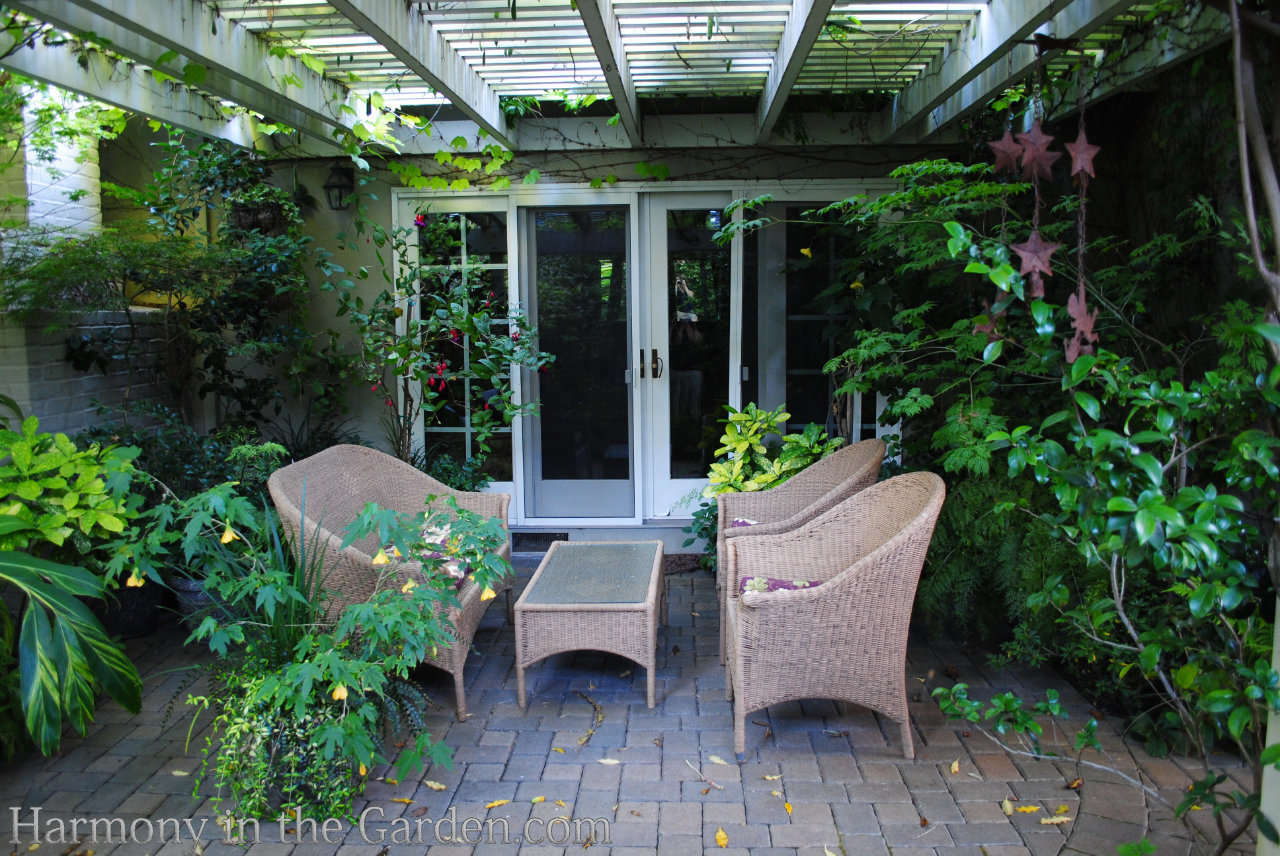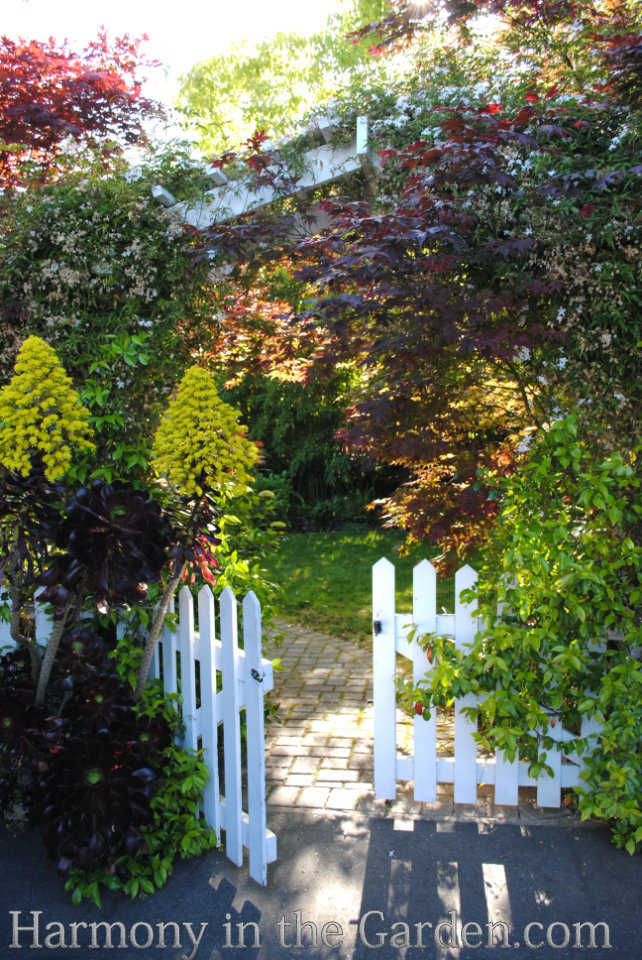 I'll end today's garden tour, exiting through Lisa's front gate, dripping with heavenly scented vines. 
Thank you, Lisa, for creating such beauty for so many people to enjoy. 
May you find peace and happiness in the most beautiful garden of all.  It's an honor to have called you my friend.