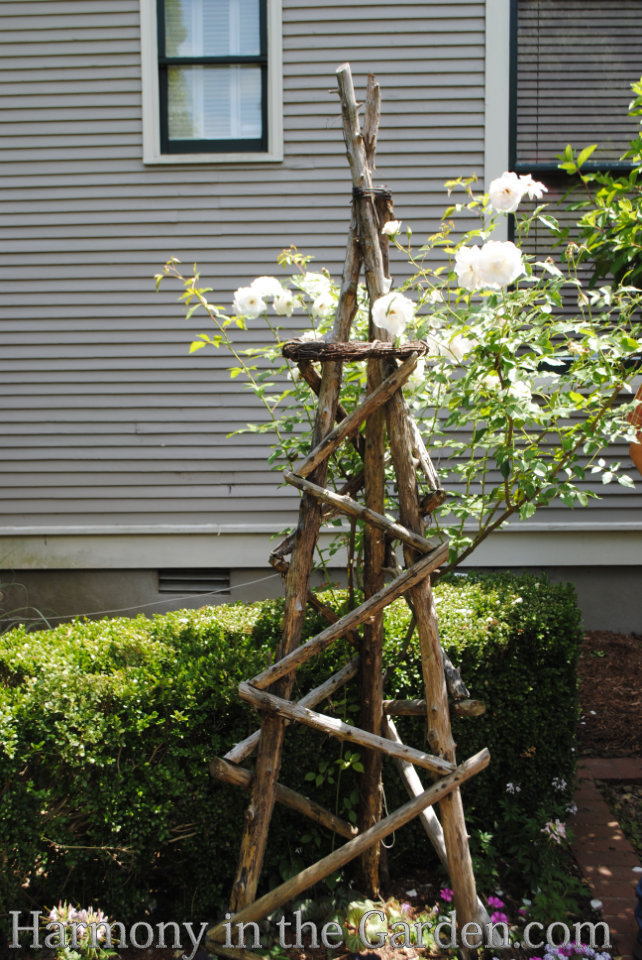 Late winter is the perfect time to talk about adding four-season structure with trellises, tuteurs, and obelisks.
Take a look outside, and you're likely to see bare branches beginning to swell and bulbs pushing their way through the soil.
So before your garden wakes up in full force, take a look to see if there's a bare spot or two that would benefit from a vertical element.
But first, let's define the three structures I'm writing about today:
Obelisk:  An obelisk tends to be more rectangular in shape, designed to let plants and vines scramble up the tall form.  The top is usually pyramid-shaped. 
Tuteur:  A tall, four-sided structure that also supports climbing or tall plants.  Tuteurs are usually pyramid-shaped, with a broad base at the bottom that tapers to a point at the top. 
The two terms, obelisk and tuteur, are often used interchangeably.
Trellis:   a frame of latticework used as a screen or support for climbing plants, often two-dimensional.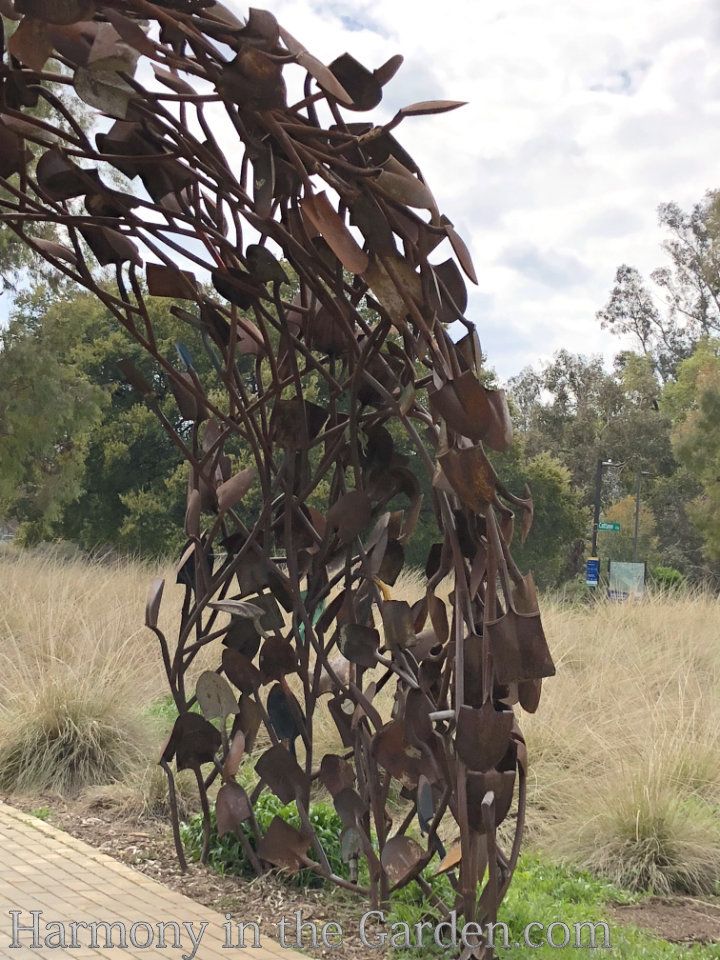 I've visited countless gardens over the years, from coast to coast, and in every style you could imagine. 
I've gathered some of my favorite examples of different garden supports, and hope they inspire you during the last of these winter months! 
Some are simple, some elaborate, some formal, and some unbelievably creative (like this Shovel Gateway Structure at the UC  Davis Arboretum.)
But one thing they all have in common is their contribution to the garden, with or without plants!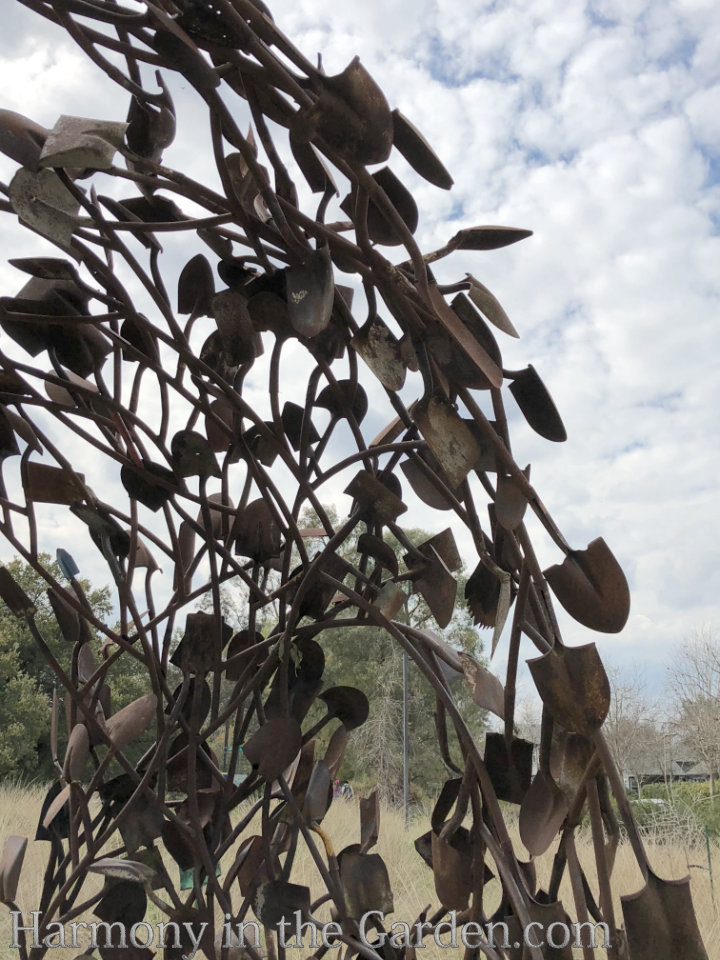 I have several obelisks and tuteurs in my own garden, which add much-needed height and structure in the winter months.
One of my favorites is the 7-foot iron obelisk that my mother gave me.  It used to live in her garden (below, left photo) and was covered with delicate pink roses.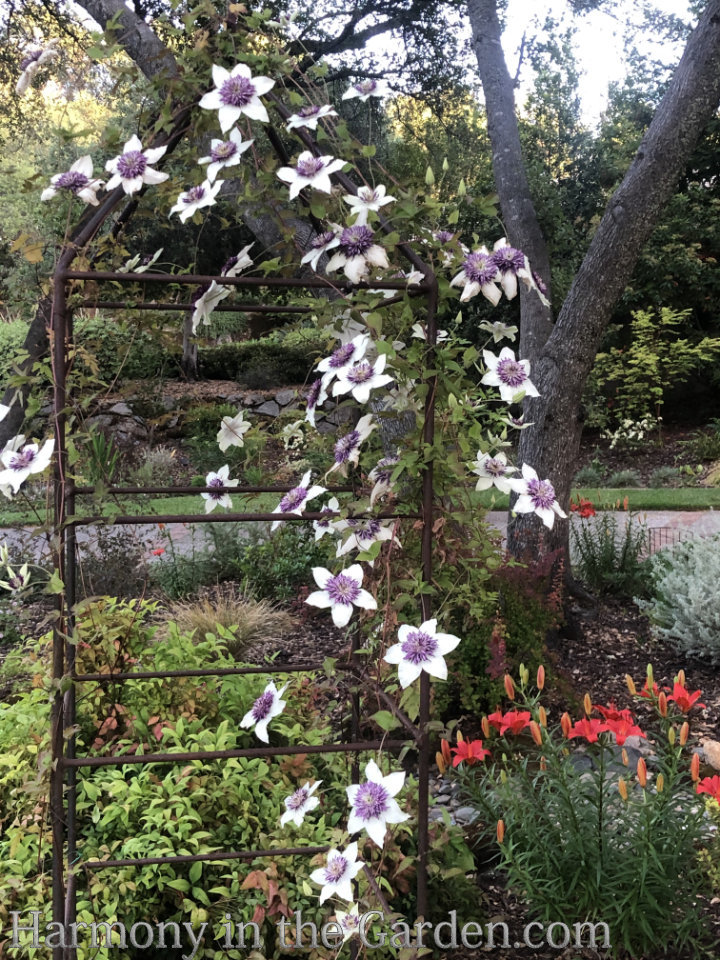 It now lives under a towering canopy of oak trees, adding year-round height and interest, as I wait for my new garden to fill in. 
I've planted a clematis seiboldii  at the base of it (also a gift from my mother – aren't I lucky???!!!!) which loves its new climbing structure, like a kid on a jungle gym!
But even when the clematis is nothing more than a cluster of bare stems, the support continues to be a focal point in this part of my garden.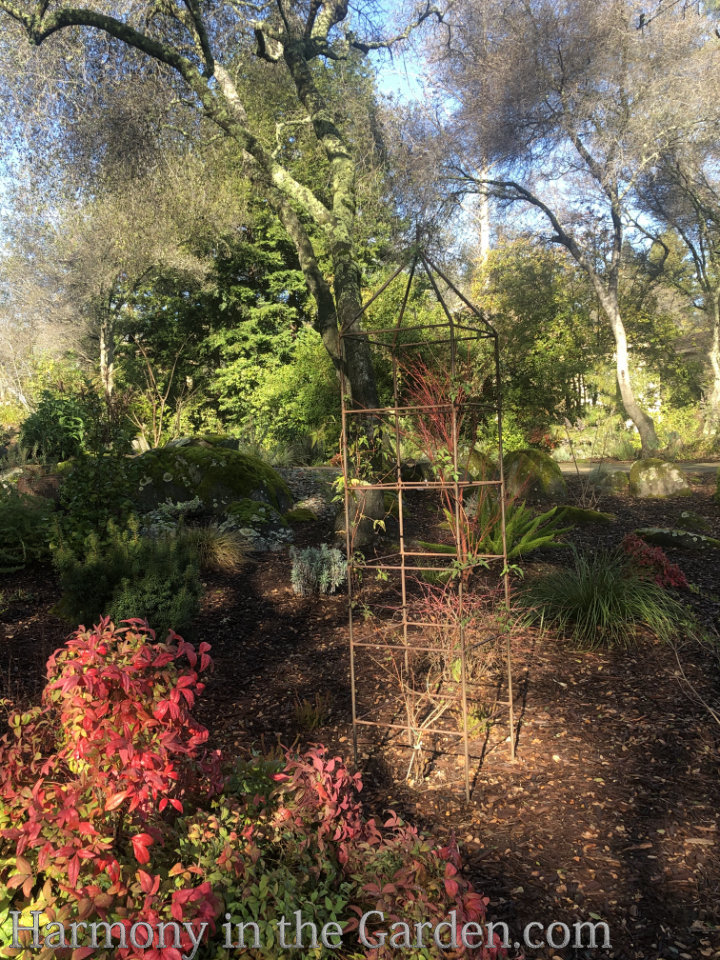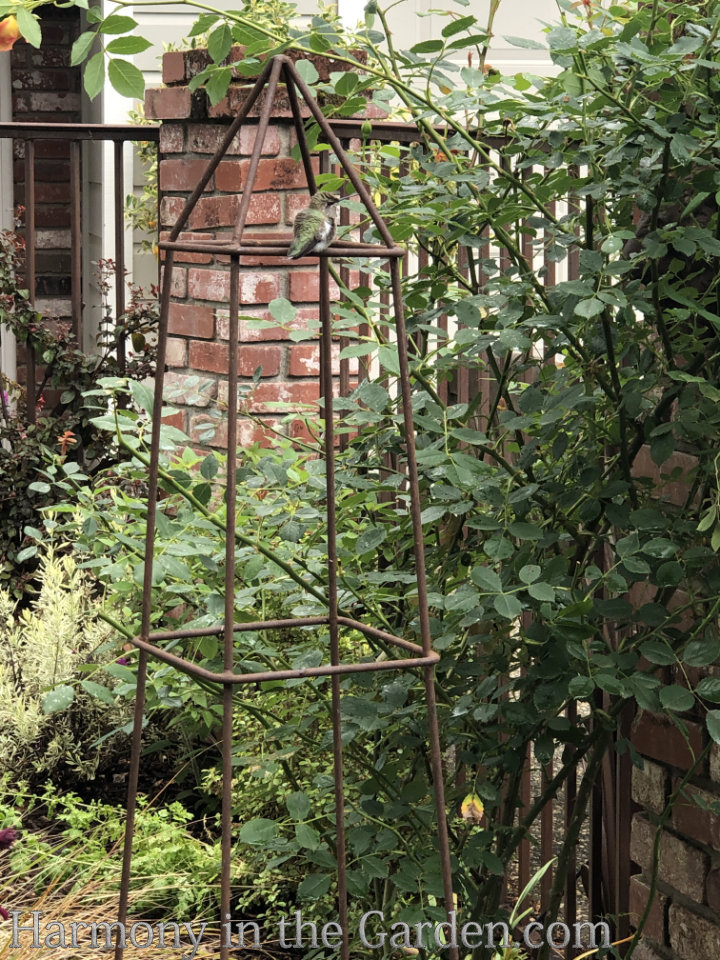 In another area of my garden, I have a smaller 5-foot obelisk that provides support for a tall helenium.
But when the plant is dormant, it's a favorite perch for the birds in my garden.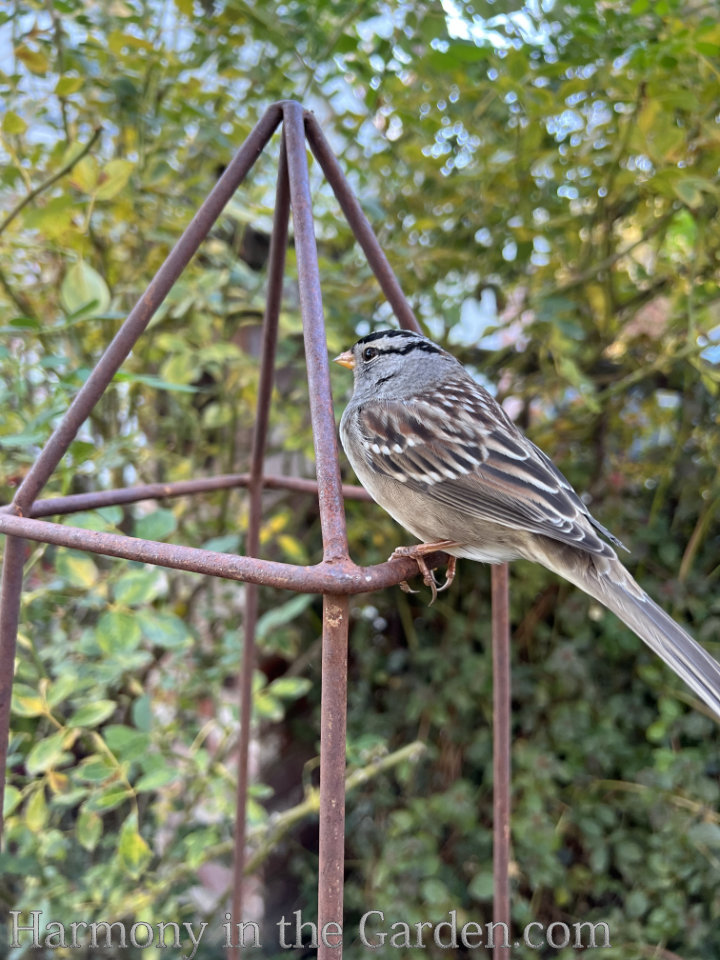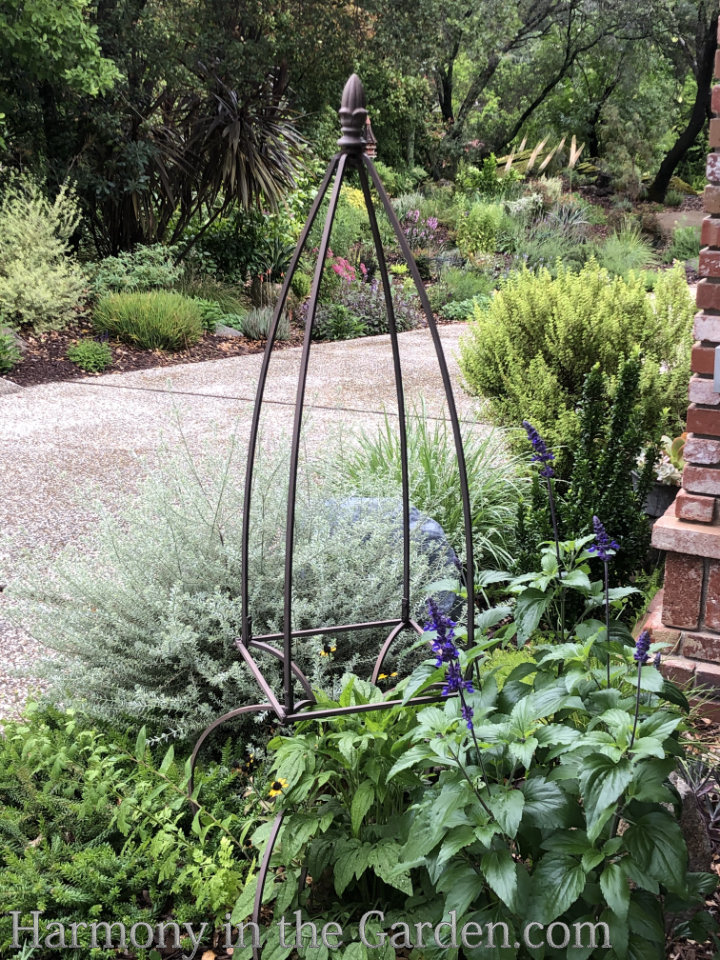 In skinny spaces, it's often challenging to create height as there may not be enough room for taller plants.  That's where a decorative structure can save the day.
In my skinny carport bed,  I have an obelisk-type support that not only looks stunning every day of the year (with or without the rudbeckia triloba) but provides the height that this space so desperately needs.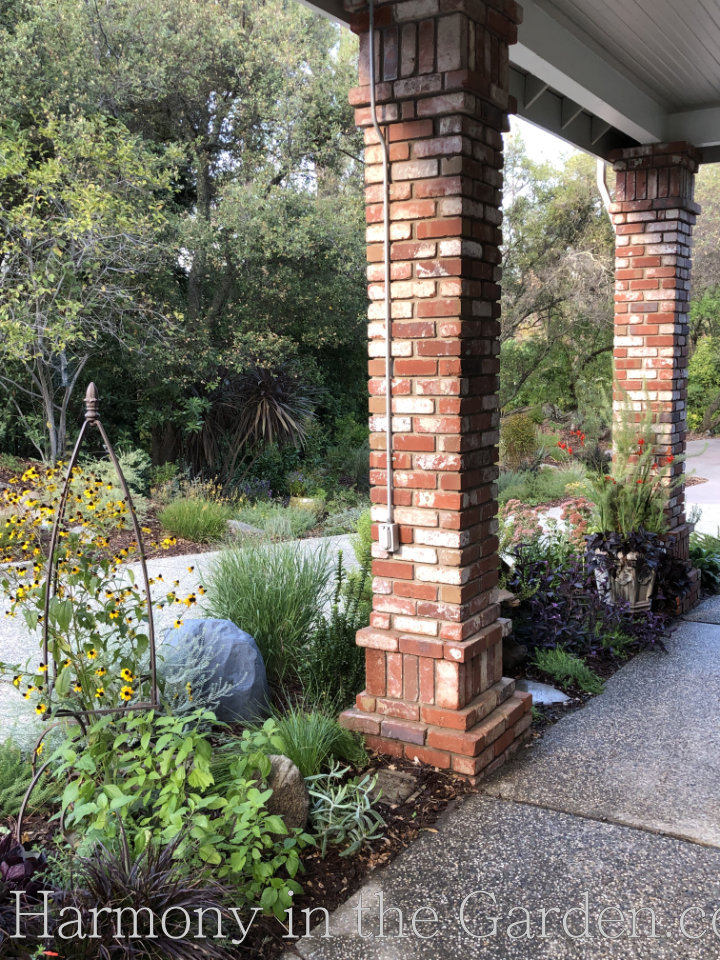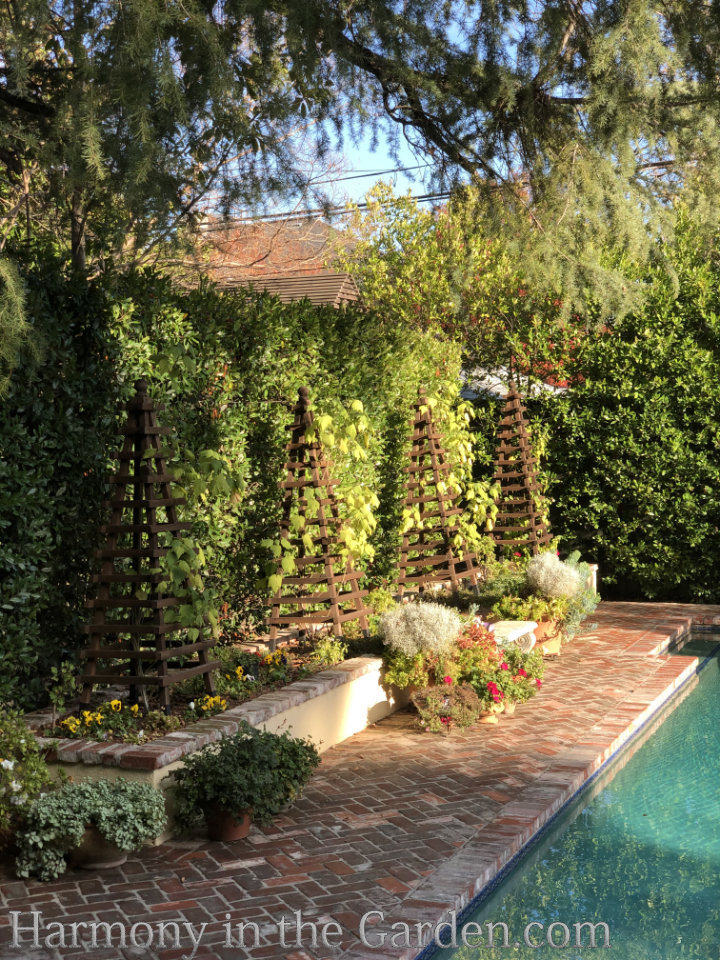 While on a garden tour a few years ago, I spotted these wooden obelisks in this small garden's raised beds (left photo.)
They're not only visually beautiful, but they provide vertical interest (even when nothing is currently growing on them.)  
This is something I often do when designing raised vegetable beds for clients, like in the garden, below (click here for more photos.)
By adding decorative supports, the bed has vertical interest throughout the winter, when not much is happening.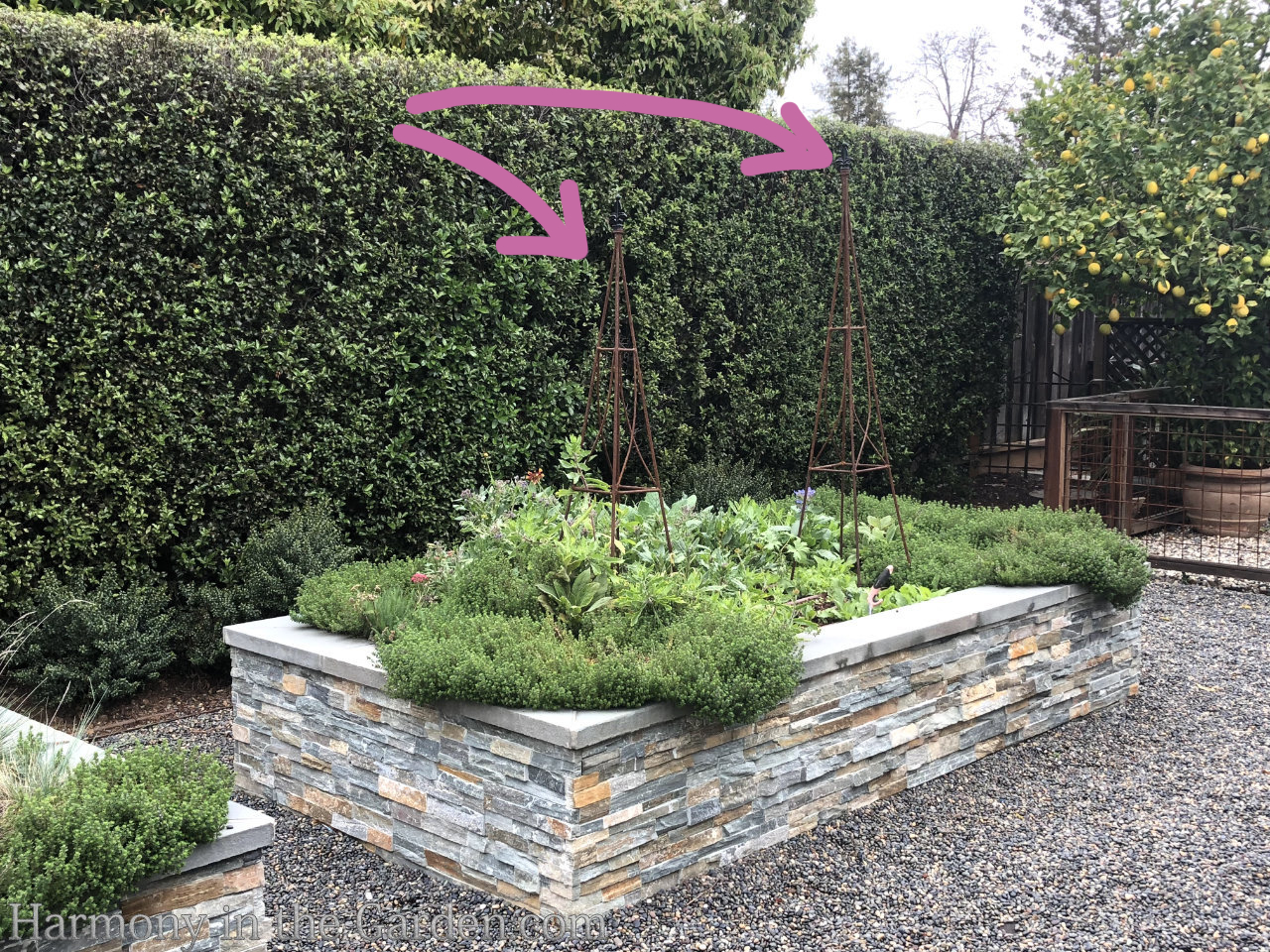 My favorite vegetable beds of all belong to Freeland & Sabrina Tanner (below.)  Oh, how I wish I had obelisks like these dotted throughout my garden!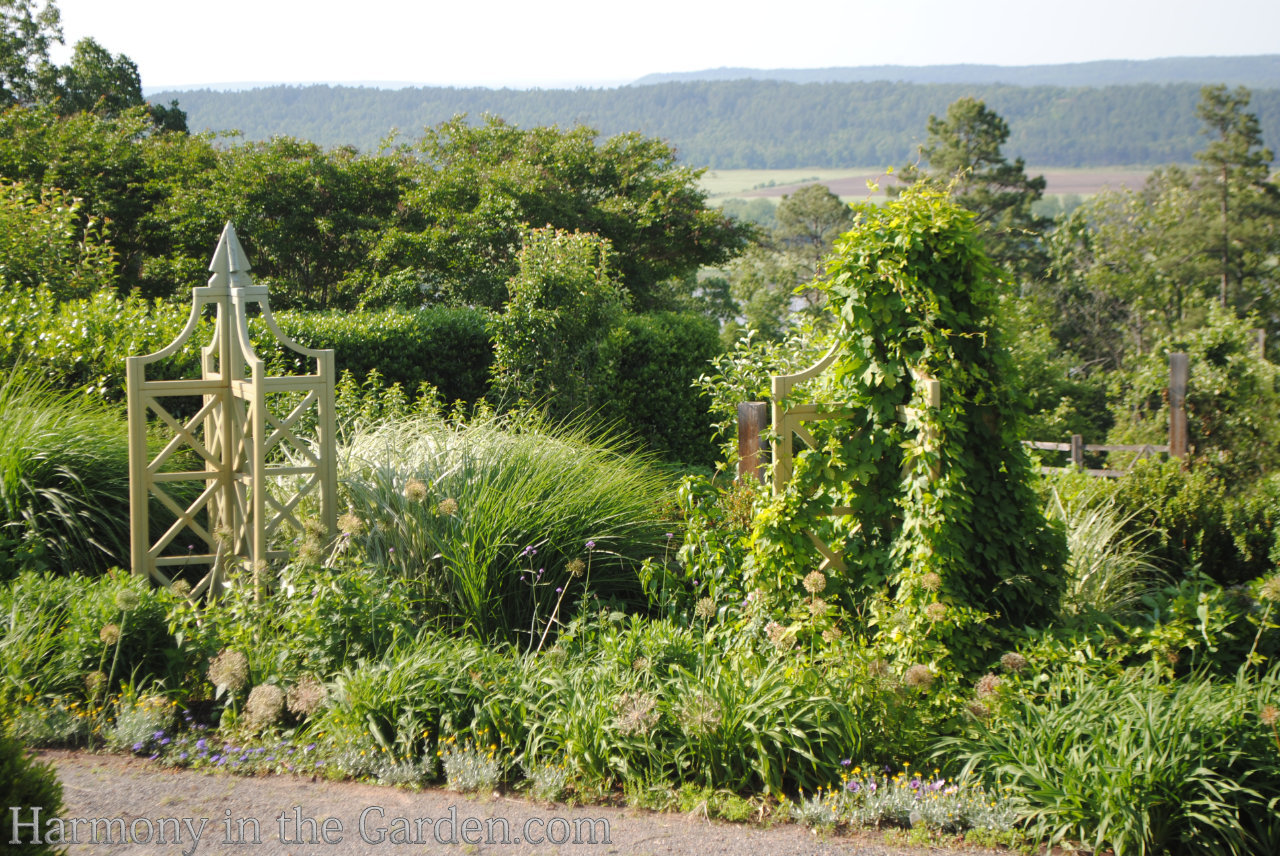 I also love the obelisk-trellis combination of these, spotted on a trip to  P. Allen Smith's Arkansas unbelievable garden.
But not all garden supports need to be formal, elaborate, or expensive. 
Take a peek below to see some of my favorites.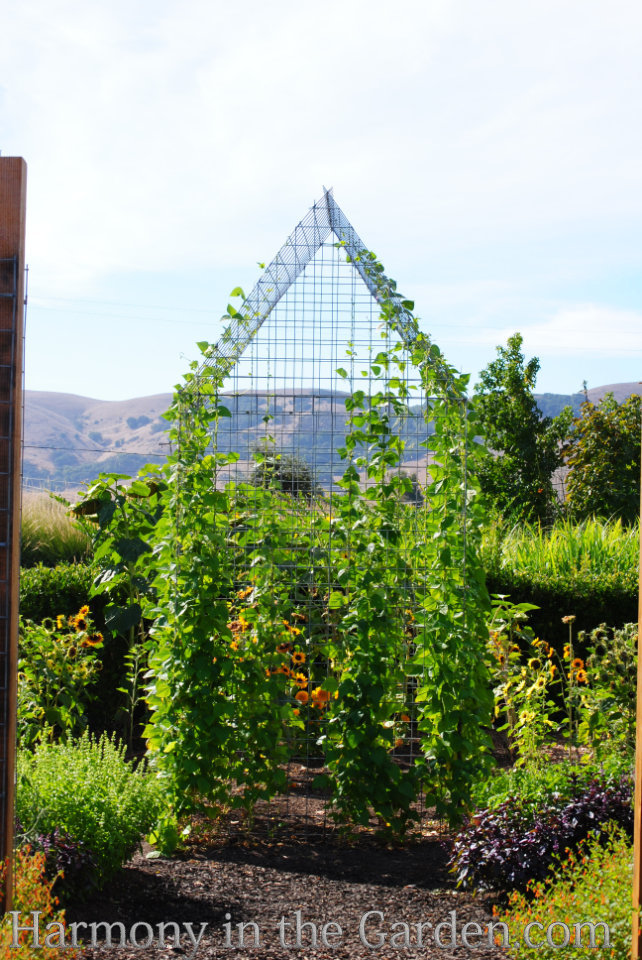 If you have room in your vegetable garden why not use a trellis to support a rambunctious tomato vine?  Or a squash?  Or cucumbers? 
Better yet, consider fashioning your trellis into an unusual shape, such as this 'bean house' to add an extra dose of creativity to your vegetable plot (left photo, spotted in the Cornerstone Gardens.) 
In Teresa Loe's small garden (below) she repurposed gates, ladders, and even an old baby crib to act as supports for her climbing beans and other vines.  Click here for an interesting article she wrote on the topic.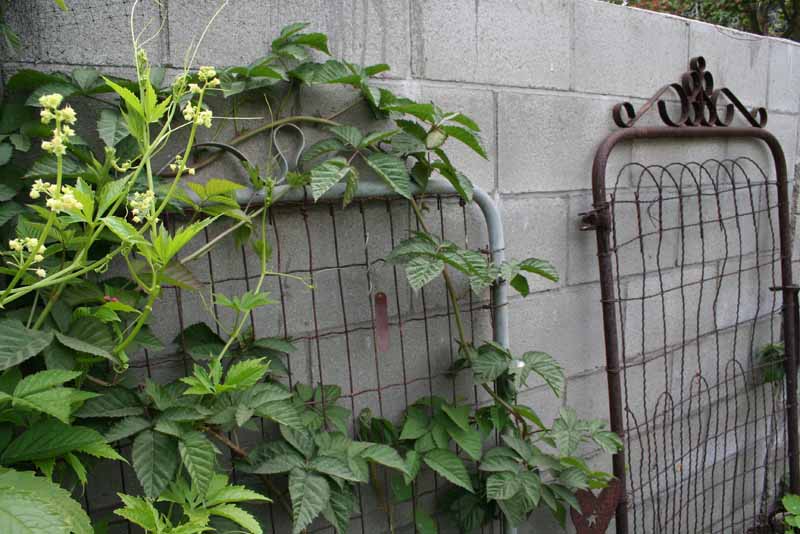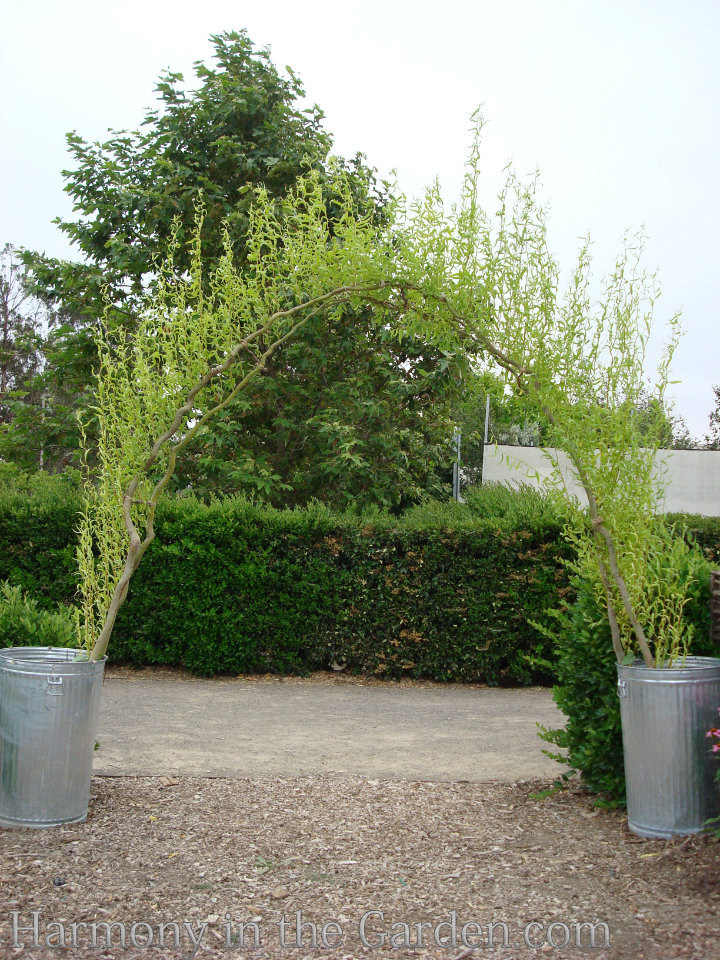 For the truly adventurous, creating a structure out of living material elevates an arbor or trellis to a work of art.  
This living willow-branch arbor (also spotted at Cornerstone Gardens), for example, is a simple project even a novice gardener can tackle.  
When the willow tree is dormant, cut some long branches, bend them into the desired size and plunk them into a container of potting mix.  
Use shorter willow cuttings to connect the long ones, and tie with twine (see close-up, below.)
Wait a few weeks (watering lightly when the soil feels dry) and voila!  A living arbor!
Okay, let's get back to the topic at hand – trellises, tuteurs, and obelisks.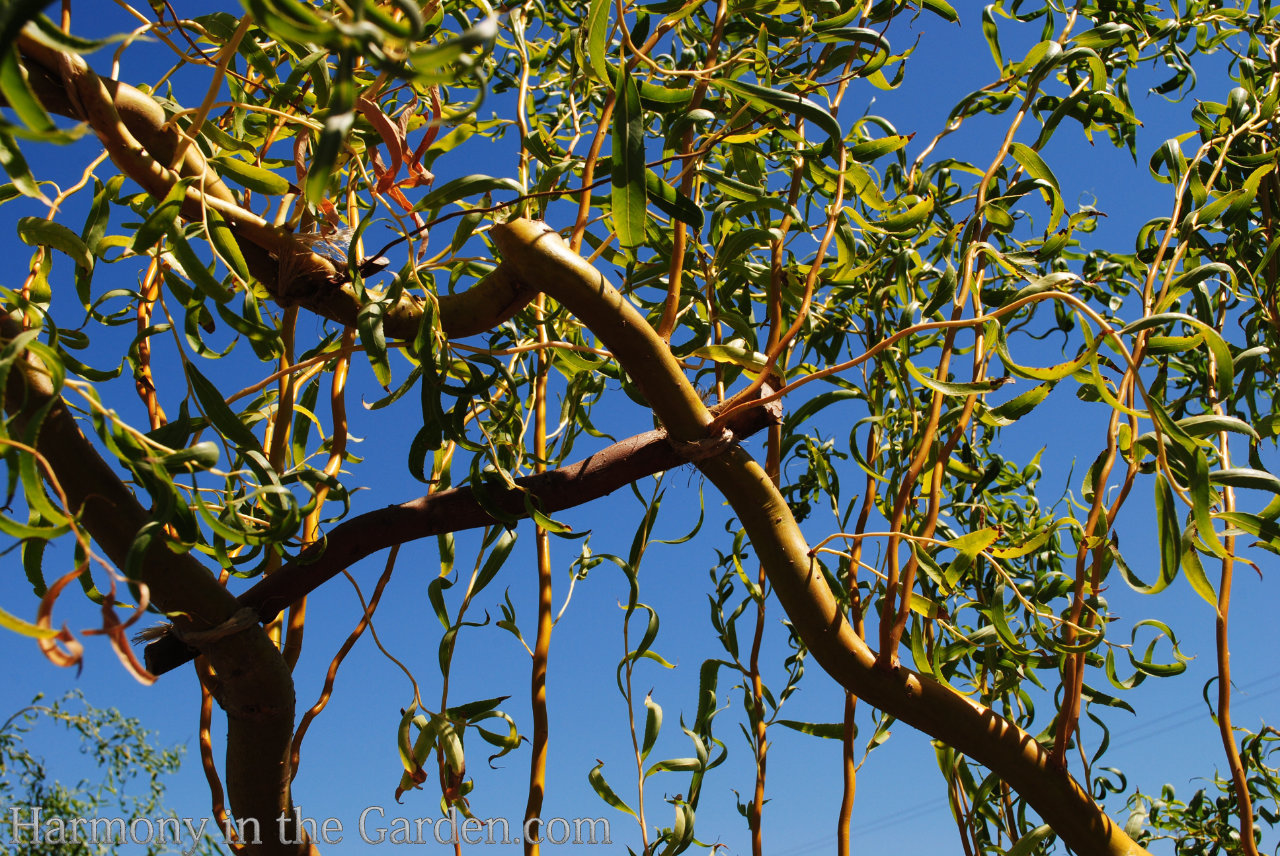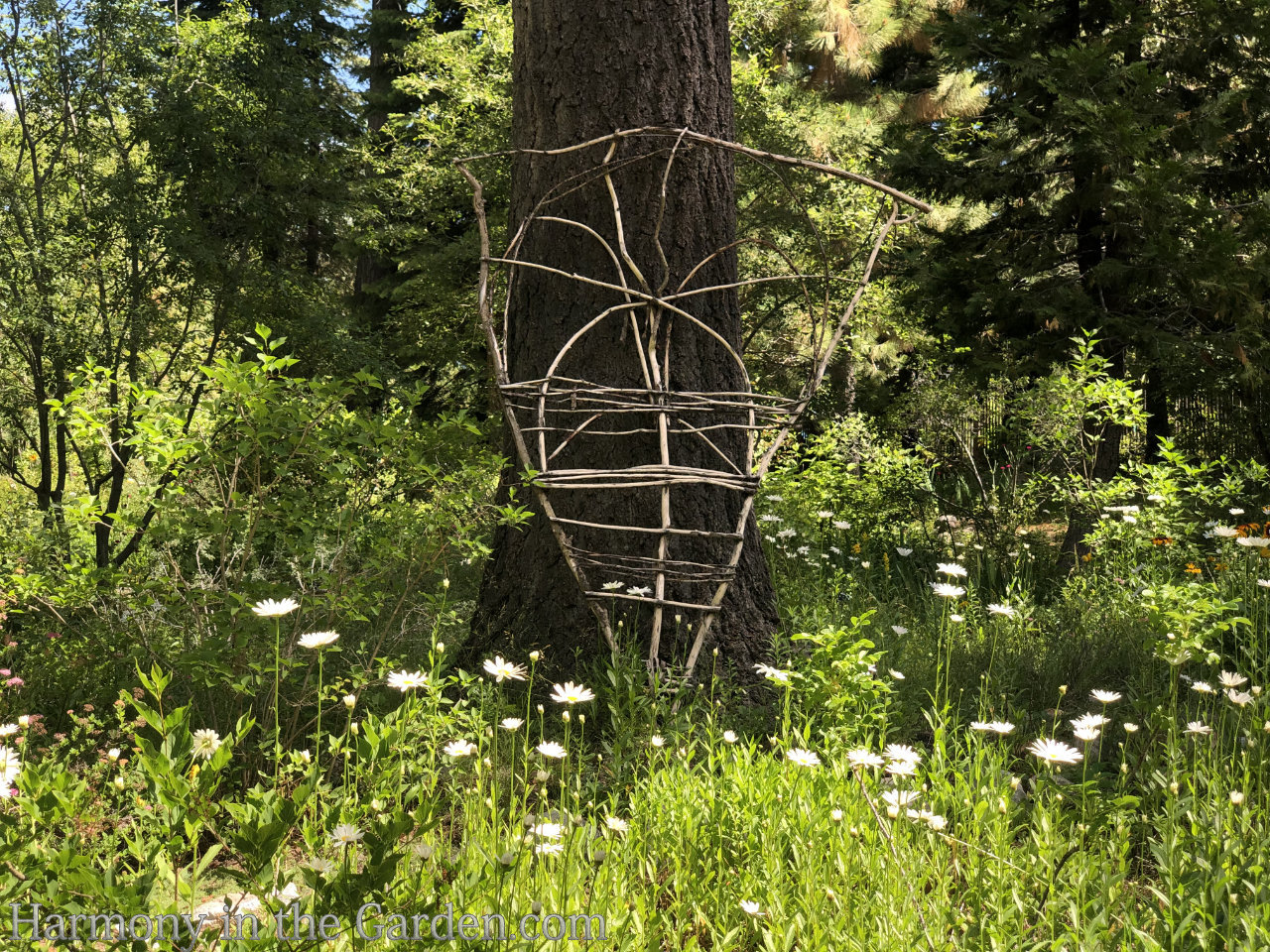 While this trellis at Lake Tahoe's historic Tallac wasn't made with living branches, it was made from fallen twigs and tree branches.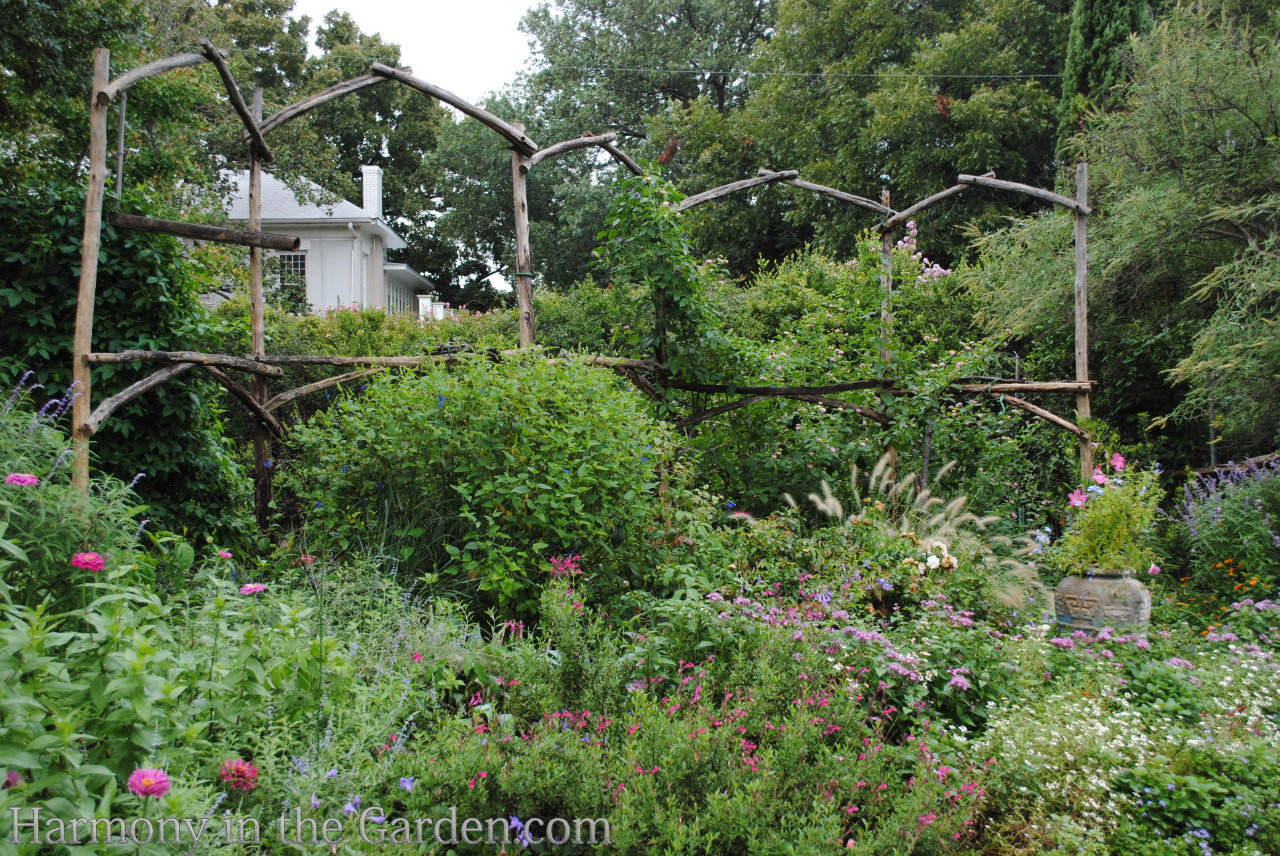 Another example of re-purposing branches into an oversized trellis (spotted in the Dallas garden of Robert Bellamy.)
Even if plants never scramble up this trellis, it provides vertical interest, as well as creating a 'wall' of sorts, helping to bring down the scale of this oversized space.
I'd like to take a moment to talk about plant structures other than trellises, obelisks, or tuteurs.   I'm talking about common garden stakes and supports.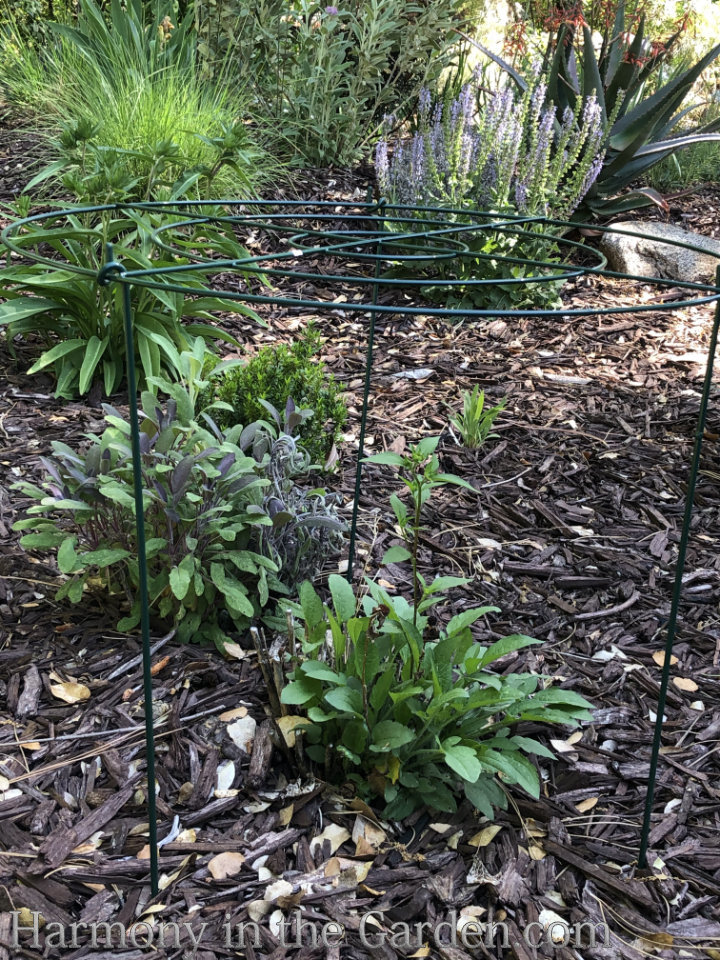 Humble in design, they're critical in supporting many perennials that will otherwise break or flop over when fully grown.
My favorites are these, with rings for the plants to grow through, and THIS is the time to set them in place.  
Soon enough, your plants will quickly grow up and through the supports, and you'll barely be able to see the support.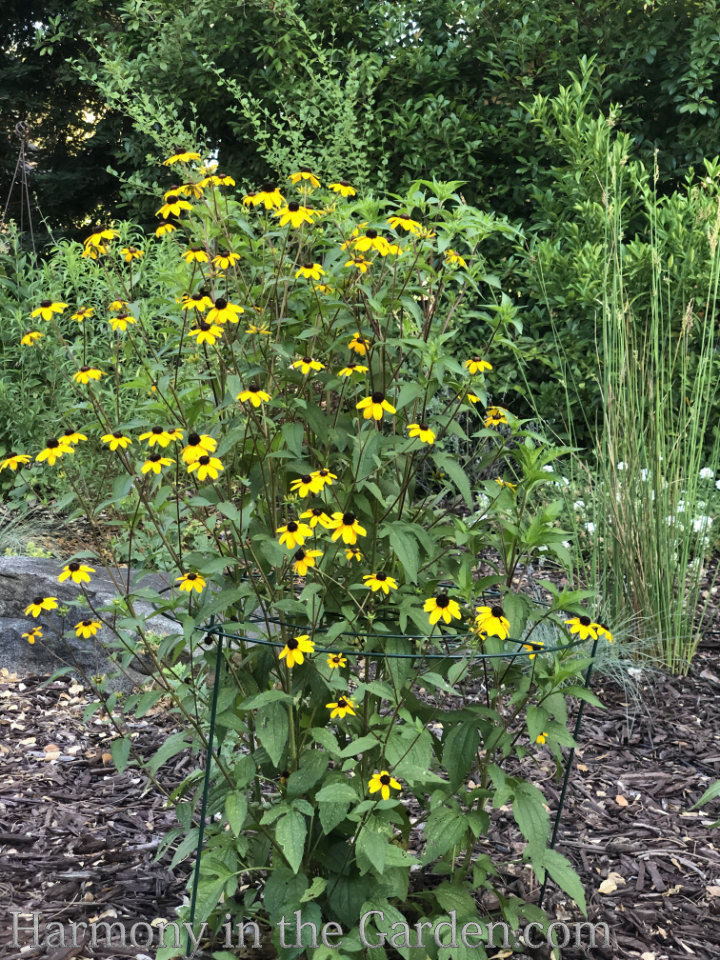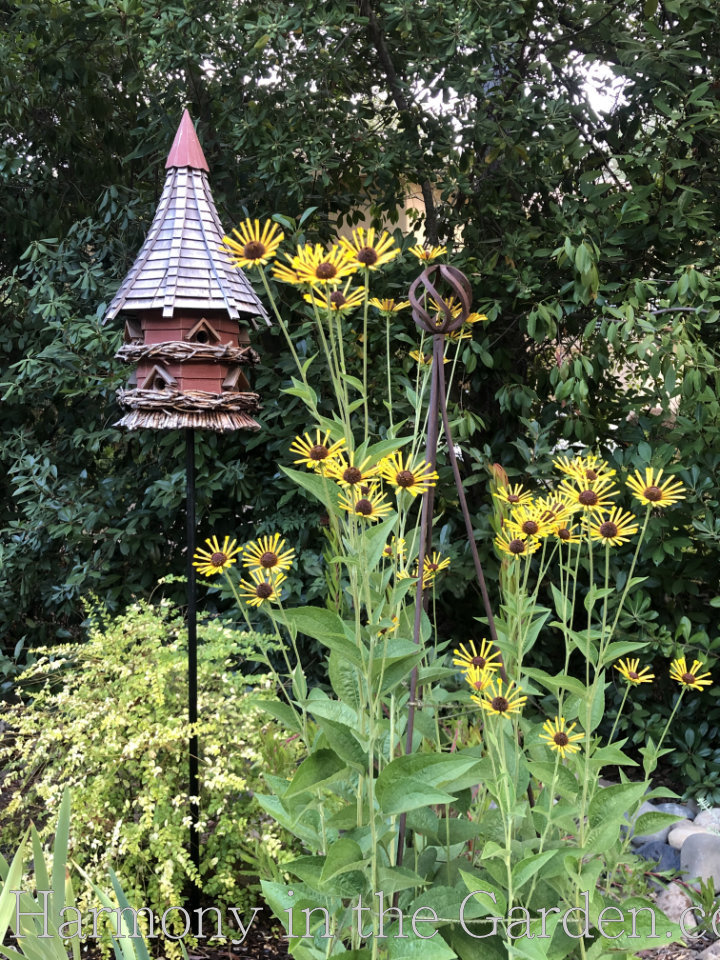 In addition to the supports designed to be invisible, I also have triangular tuteurs throughout my Pollinator Garden
I've found most of mine at the vendor sections of various garden shows.   They're beautiful standing alone, or when peeking through my towering 'Henry Eilers' rudbeckia.
Even with no plants to support, they're welcome in my garden!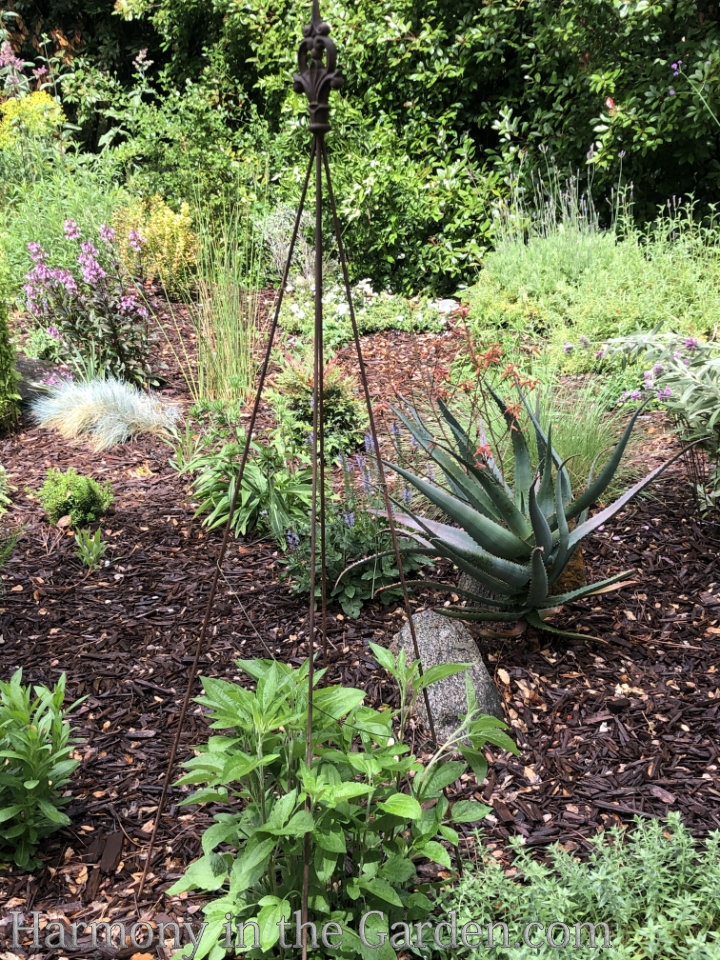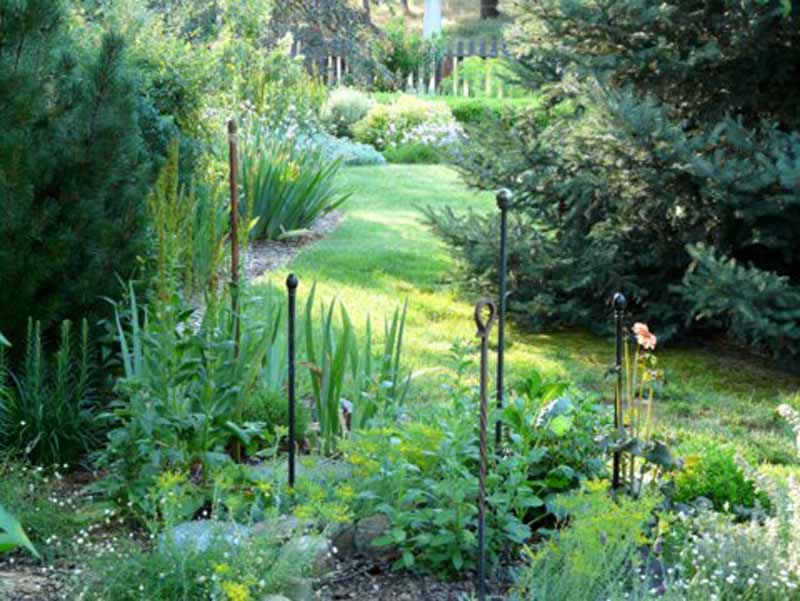 One of my favorite ideas comes from my mother, who repurposed her old fireplace tools as garden stakes.
Built to last, they've survived for years in the garden, providing visual interest even when they're not supporting taller perennials.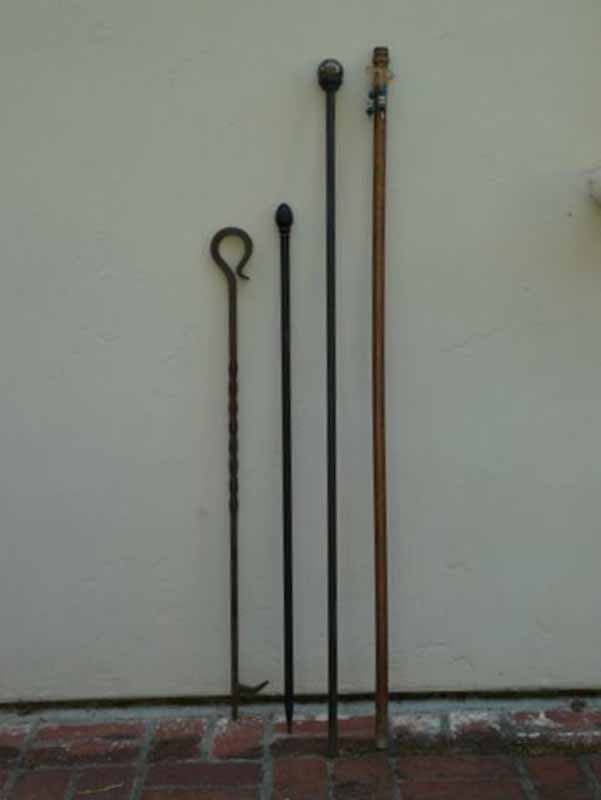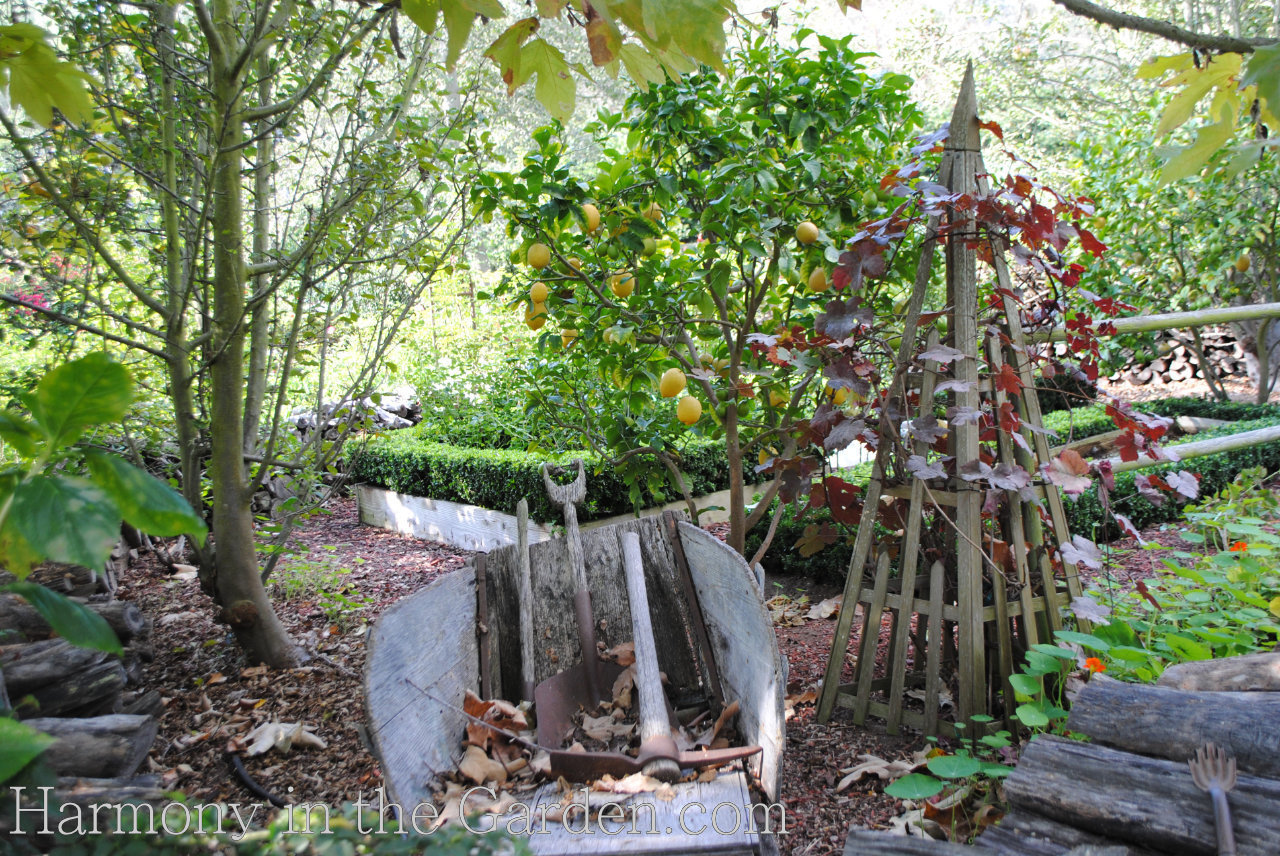 I hope you've enjoyed seeing some of my favorite trellises, obelisks, and tuteurs.
Whether simple, homemade, elaborate, temporary, or permanent, they're critical for adding height and beauty to your garden.