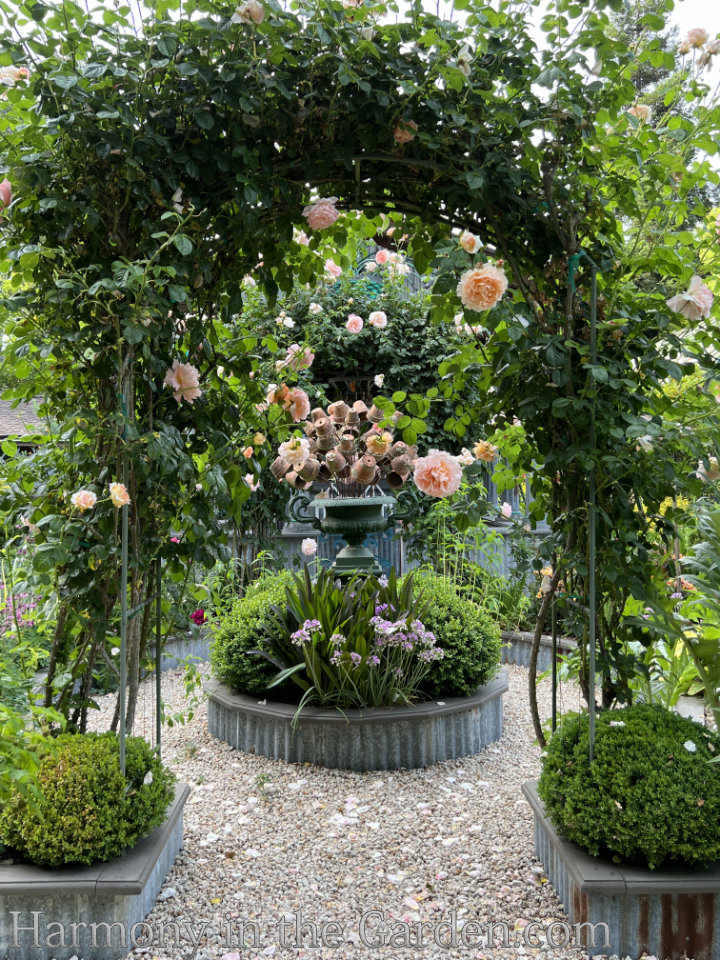 Welcome to Freeland and Sabrina Tanner's garden! 
I'm re-writing this post (originally written over 12 years ago!) to introduce newer readers to my favorite garden ever.
After a several-year absence, I recently revisited this garden, and while I didn't think it was possible to get any better than it was – boy was I wrong. 
There are SO many changes to this garden that it warrants a brand new post.
As a landscape designer and garden writer, I've been fortunate to have met many talented people with exceptional gardens.
What makes a garden exceptional?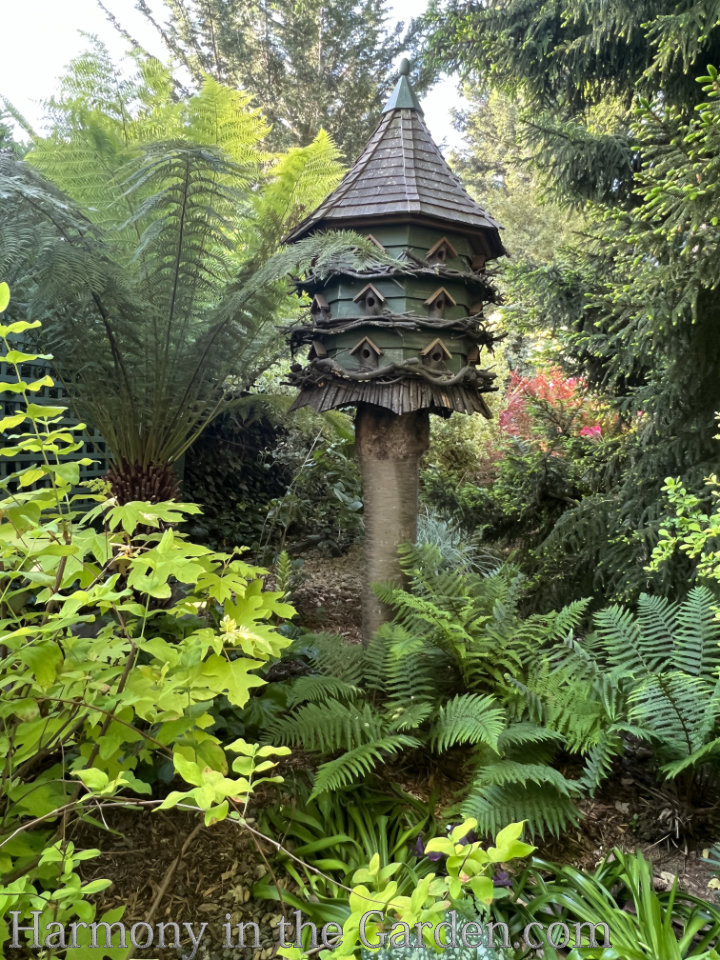 To me, breathtaking gardens are those that cause your heart to skip a beat. 
Time slows down as you find yourself taking in every little detail. 
You know you're someplace special.  
I believe this is a result of the garden's soul, which is a direct reflection of the gardener who created it, and it's something that can't be duplicated.
So, with that, I'd like to introduce you to the most unforgettable garden I've ever seen, created by my dear friends-Freeland and Sabrina Tanner of Napa, California.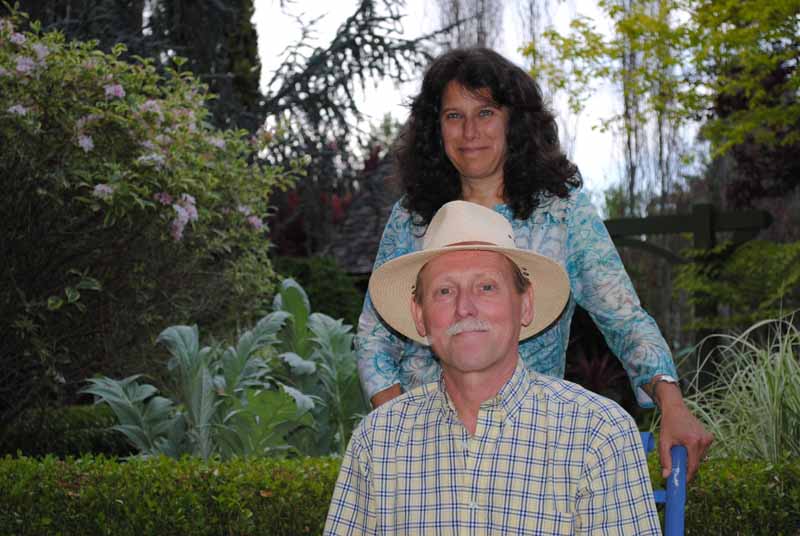 When talking with Freeland about the different roles each of them plays in the garden, this is what he said:
"When it comes to planting, we banter back and forth about what goes where.  But, Sabrina usually wins – Happy Wife, Happy Life!
Structures, however, are my creations.  Then, I have to sell  the idea to Sabrina, who then helps finesse the final placement within the garden."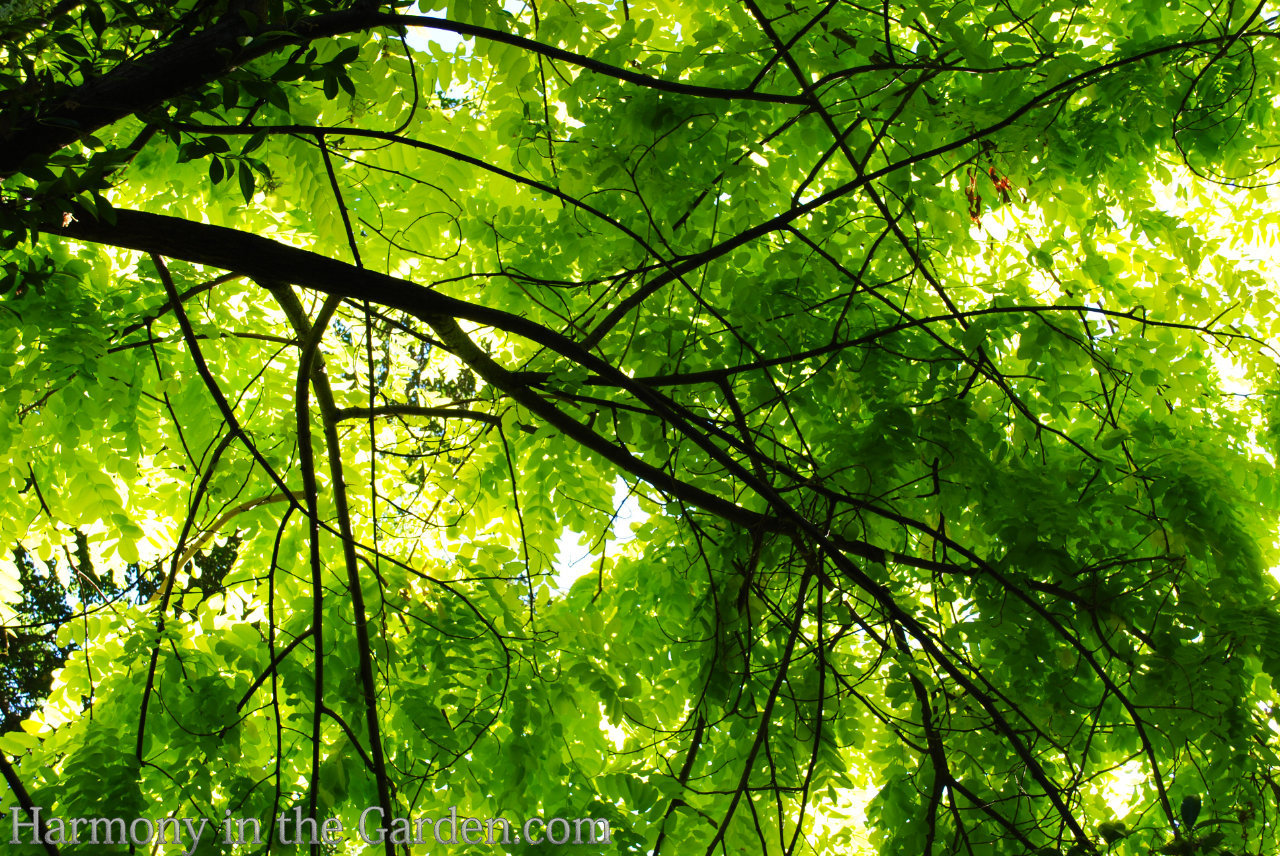 Freeland grew up on this 1-acre property, having been in their family for several generations.
Strolling through the garden under the towering trees his grandfather planted decades ago, you can't help but feel the garden's energy.
According to Freeland:
"A garden should be a series of events that unfold as you walk thru the pathways.  The eye gets tired if you see too much of one thing."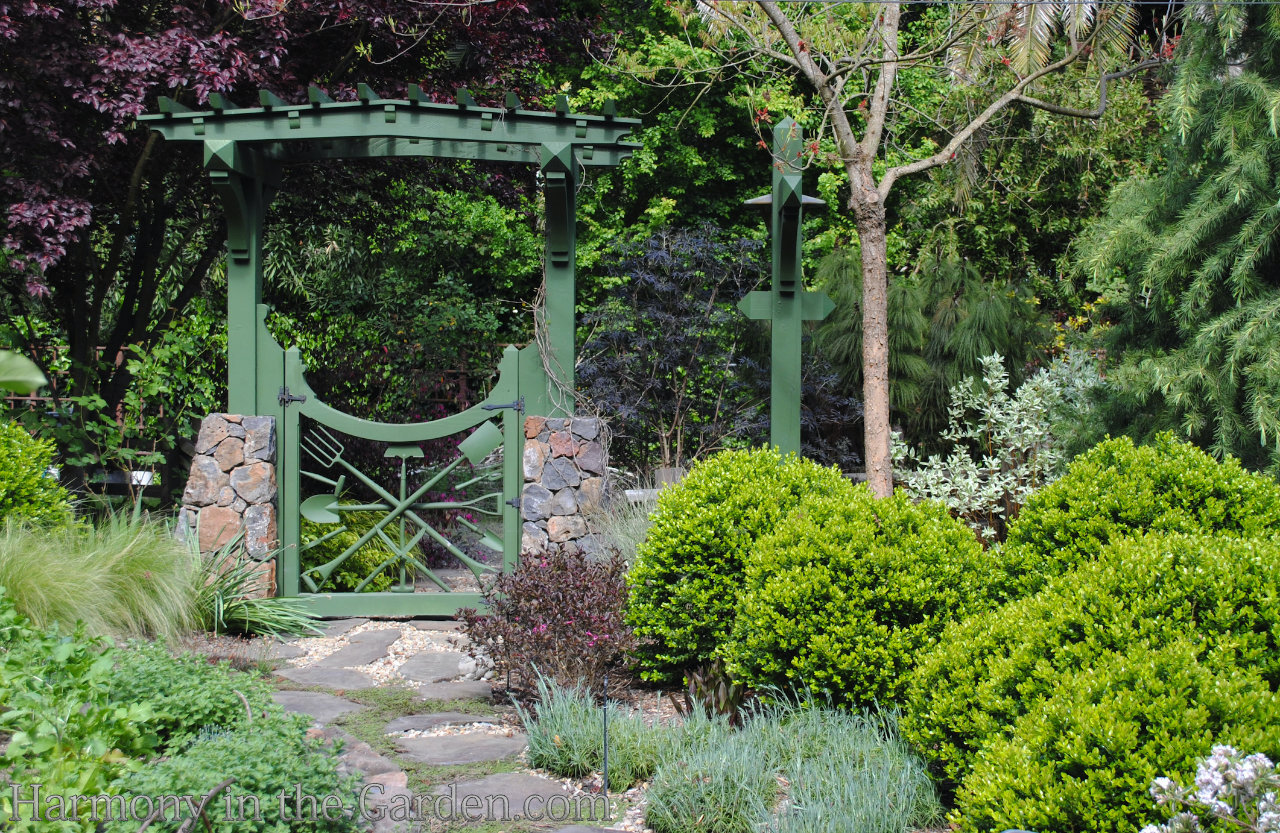 This statement is especially true when designing a large garden.
When visiting their 1-acre garden, you'll be taken on a journey, meandering through and around various garden rooms.
Therefore, to make it easier to understand the flow of this garden, I'll guide you through each of the 'rooms.'
Guest House Vegetable Garden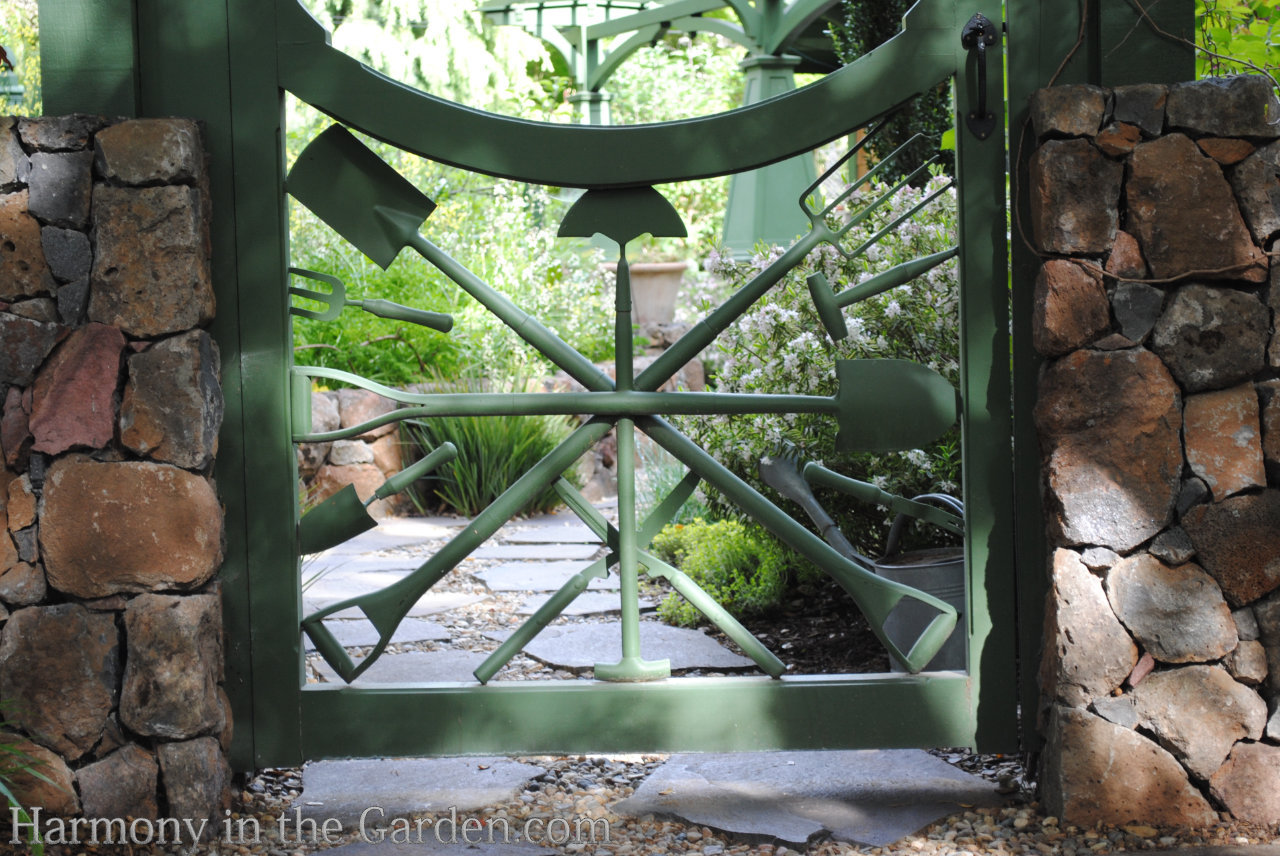 Upon entering their garden, you'll first pass through a garden tool gate, made by Freeland.
One of my favorite gates ever, this leads directly into the Guest House Vegetable Garden.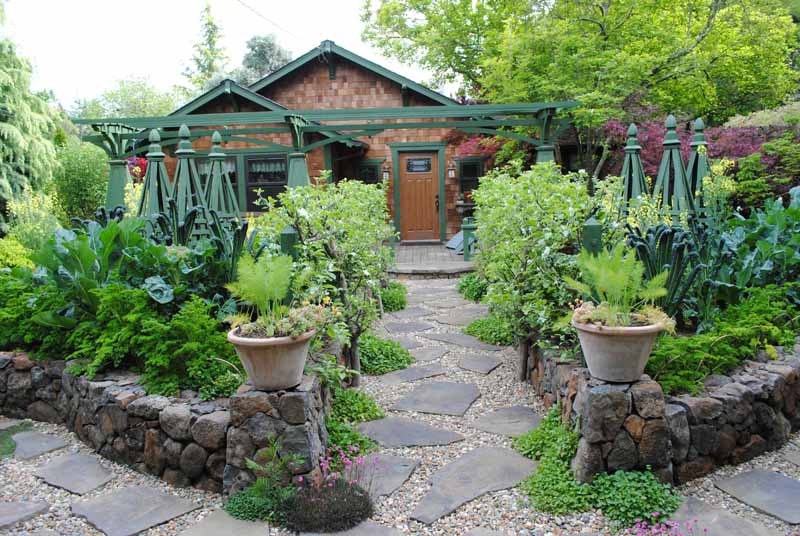 At the center of this vegetable garden are symmetrical raised vegetable beds made of local fieldstone.
Edging the beds are bent willow branches (some sprouting new little leaves!)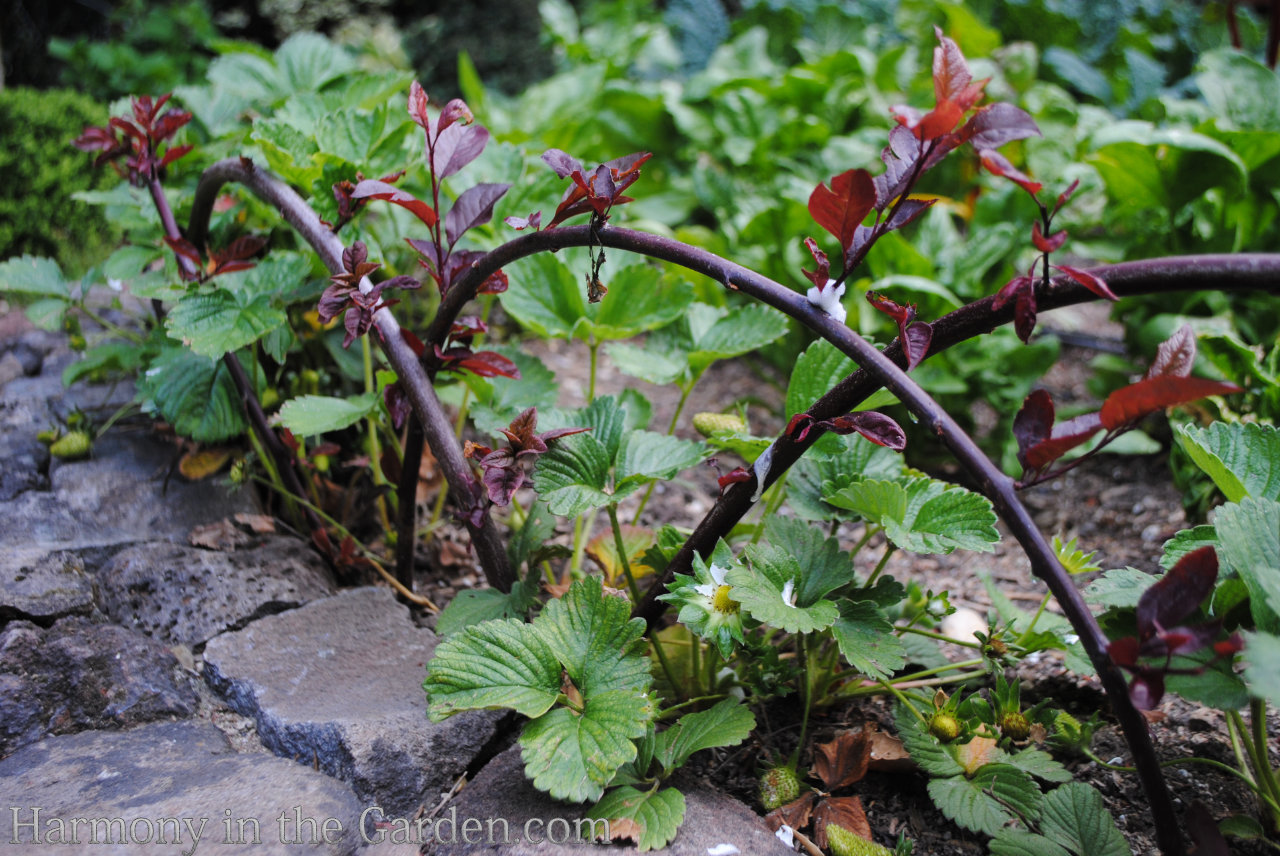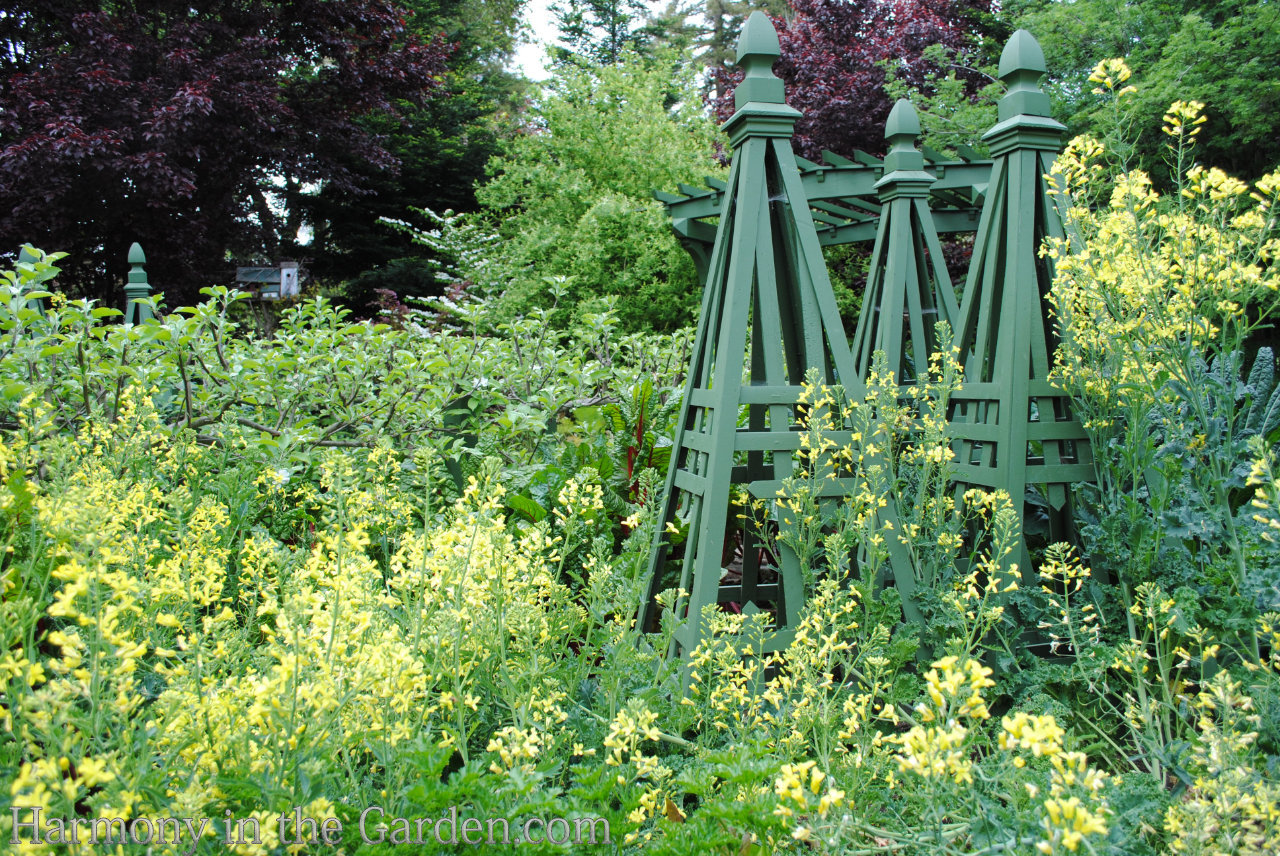 A trio of towering green tuteurs (also made by Freeland) is the focal point of each raised bed, supporting a variety of climbing vegetables. 
(Click here to learn the difference between a tuteur, obelisk, and trellis.)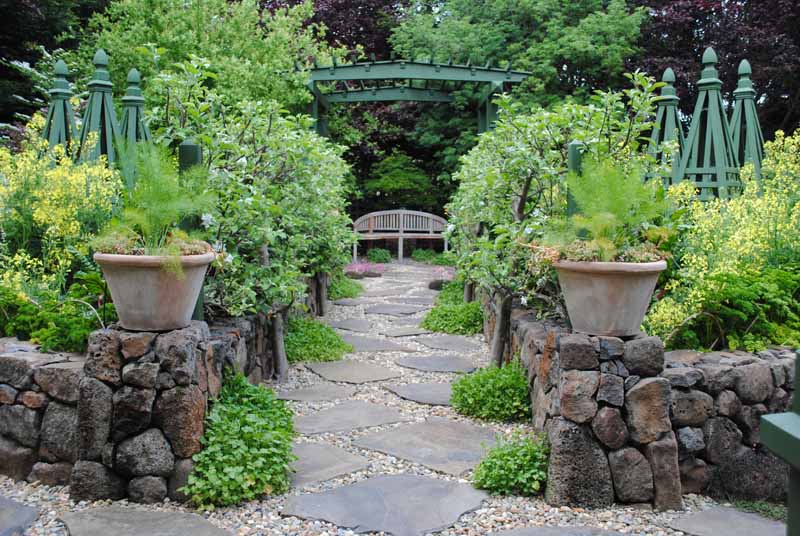 A flagstone pathway, flanked on each side by espaliered apple trees, leads to a garden bench.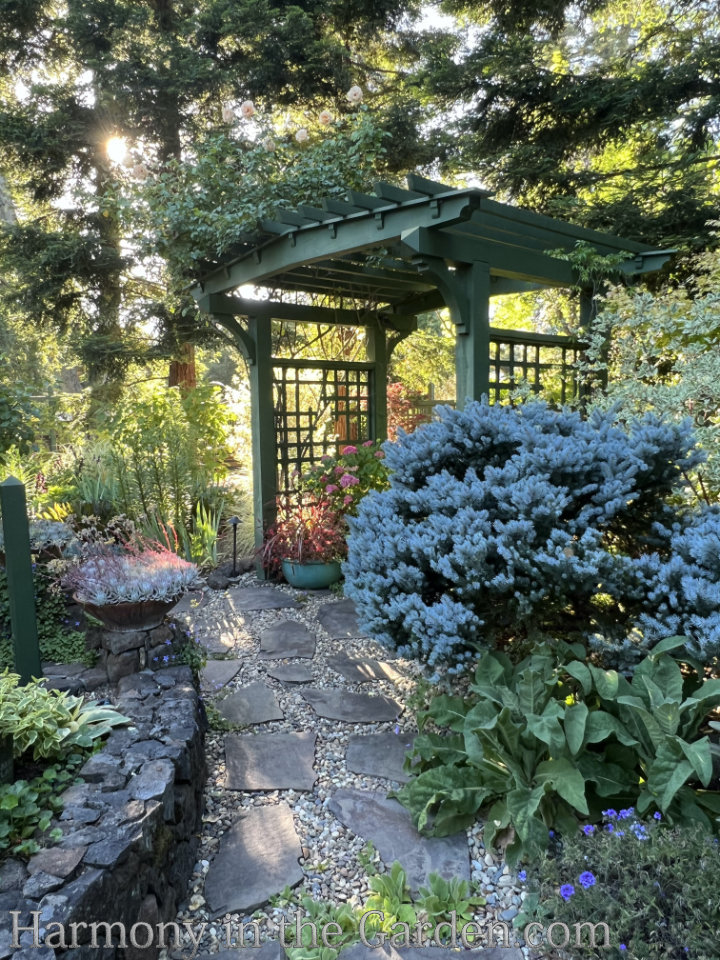 Surrounding the central raised beds are lush, deep, and wide borders filled with a dazzling array of perennials, succulents, and colorful shrubs.  
This is not your typical front garden, but one that's both edible and stunningly beautiful at the same time. 
Not an easy feat!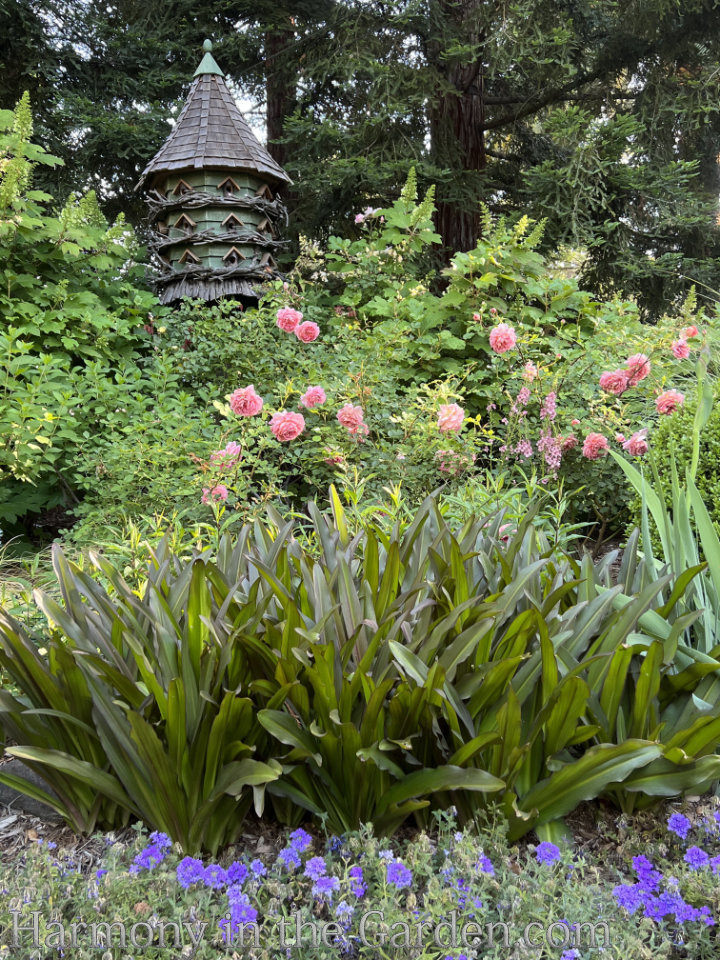 An oversized birdhouse that Freeland made from recycled bits of wood and twigs provides a bit of whimsy in this garden bed.
Below is quite possibly my favorite example of using the very bright foliage of senecio 'Angel Wings' in the garden.
Its almost-white color makes it  difficult to integrate with surrounding plants, as it usually looks too bright and out of place.  Not here!
Grouping it together creates an impact, especially when surrounded by lush greens.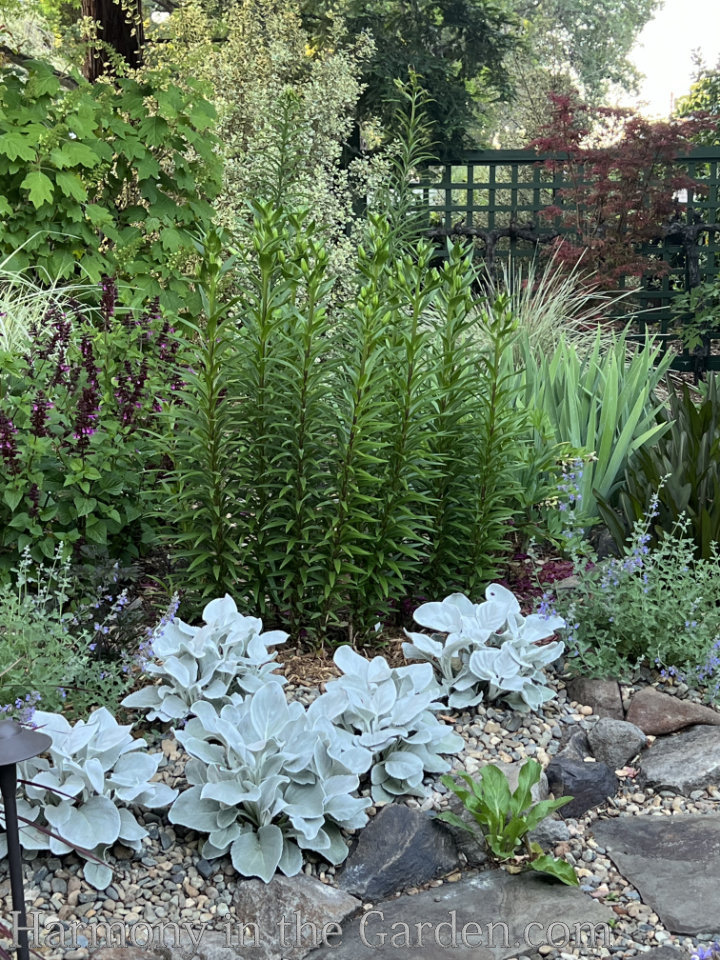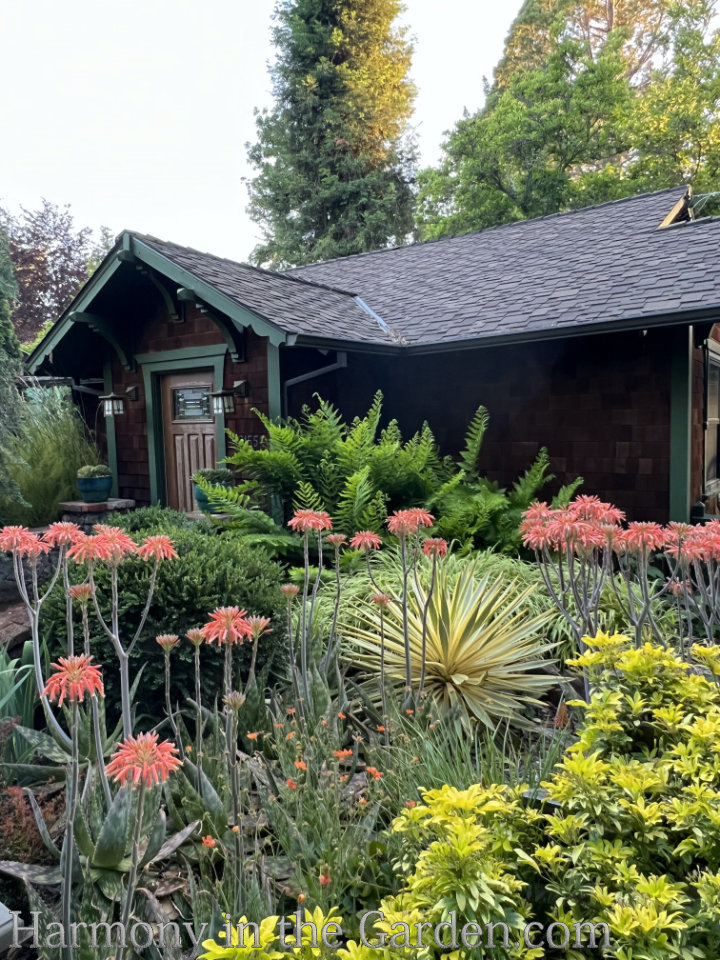 Exiting the guest house vegetable garden, past the succulent borders and cypress arbor, leads to Freeland and Sabrina's newest creation.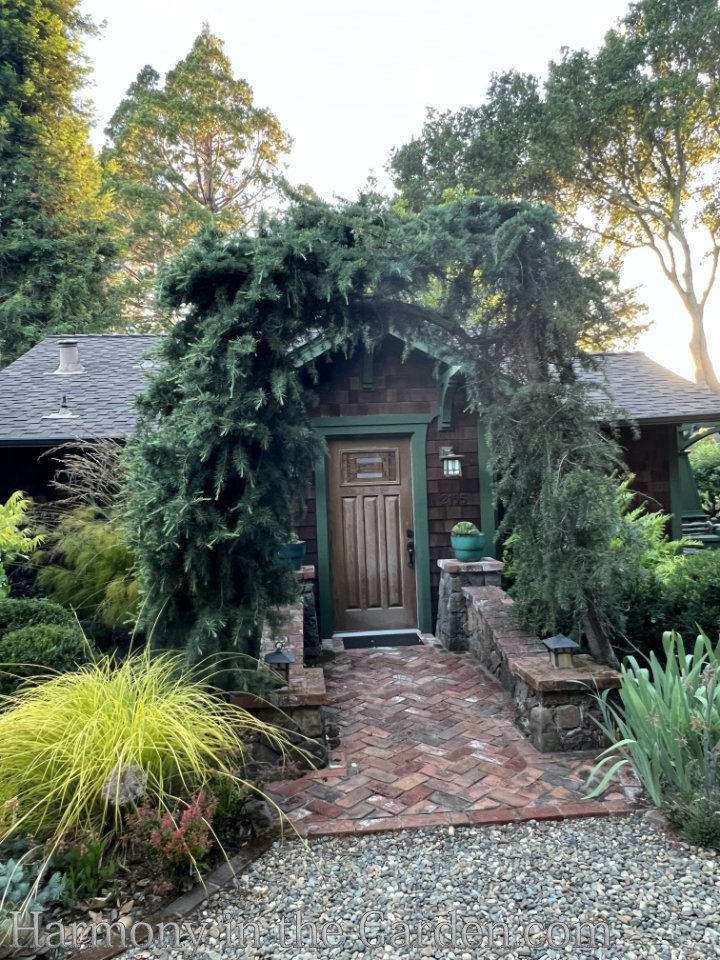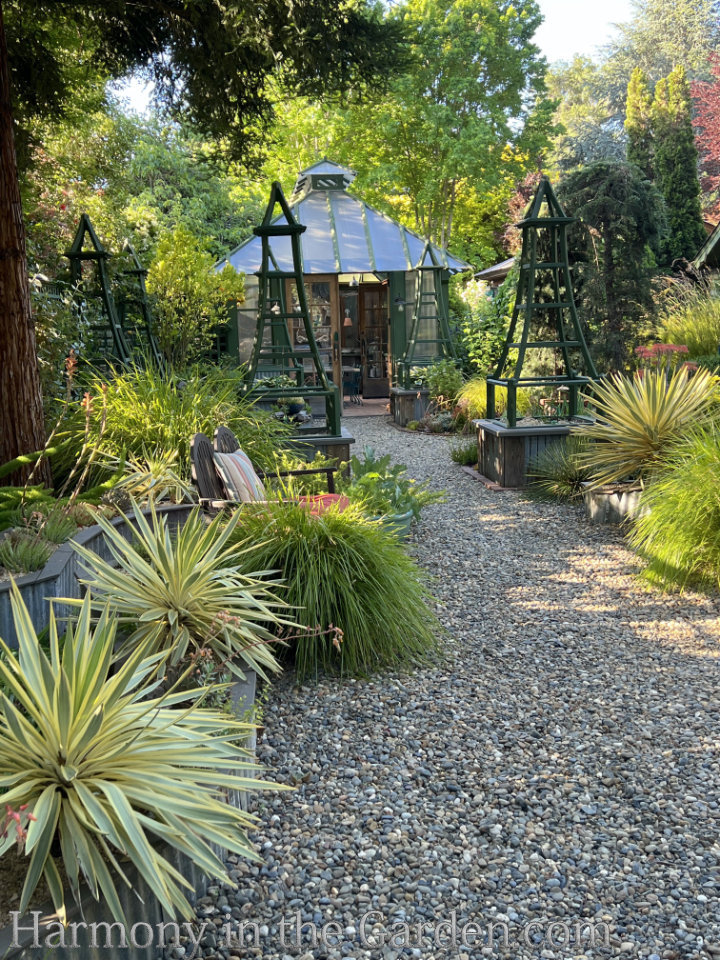 Welcome to the Hybrid Greenhouse!
When Covid struck and the world shut down, Freeland and Sabrina transformed an out-of-the-way corner of their garden into a showpiece.
This Hybrid Greenhouse is a multi-purpose space, not only serving as a functioning greenhouse (complete with an all-glass, open cupola) but also as a magical setting for outdoor dinner parties.
Take a look below at just a few of the close-ups that show the level of detail Freeland has put into this structure.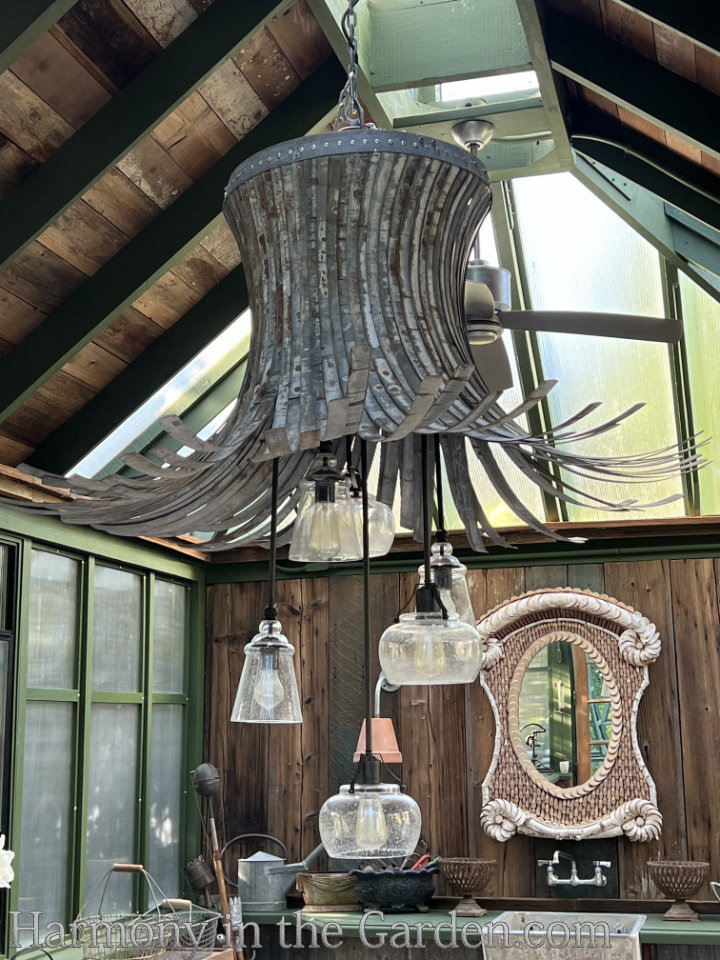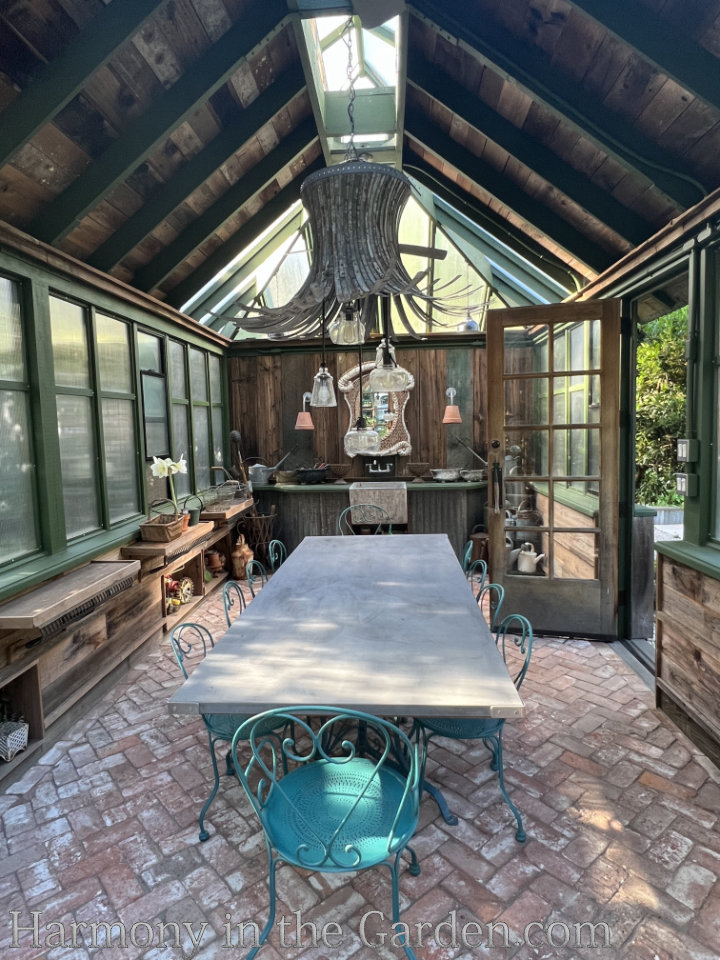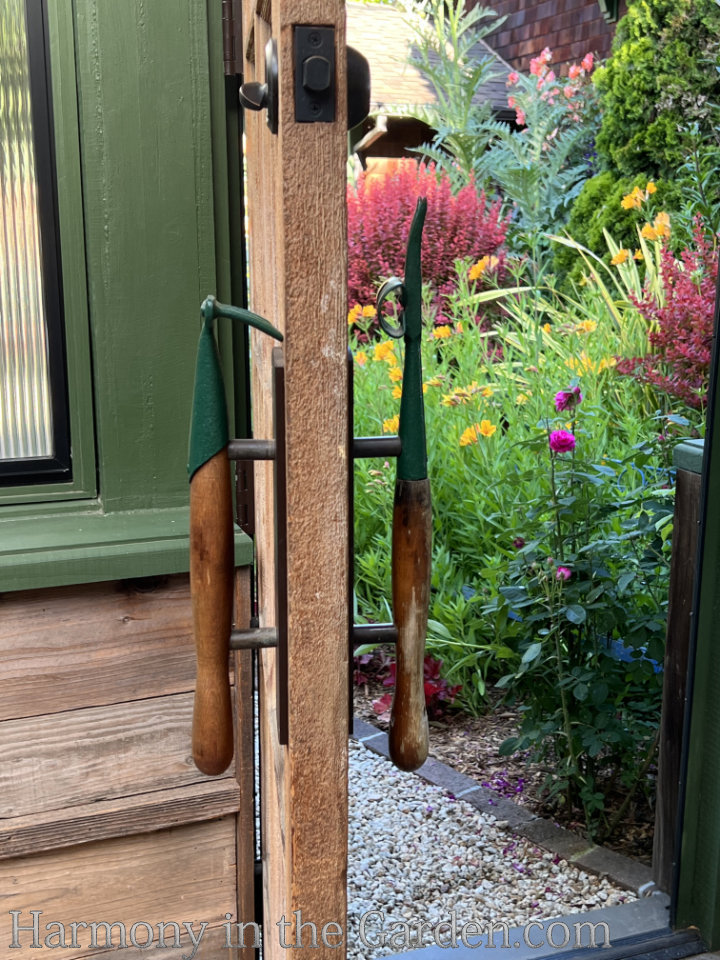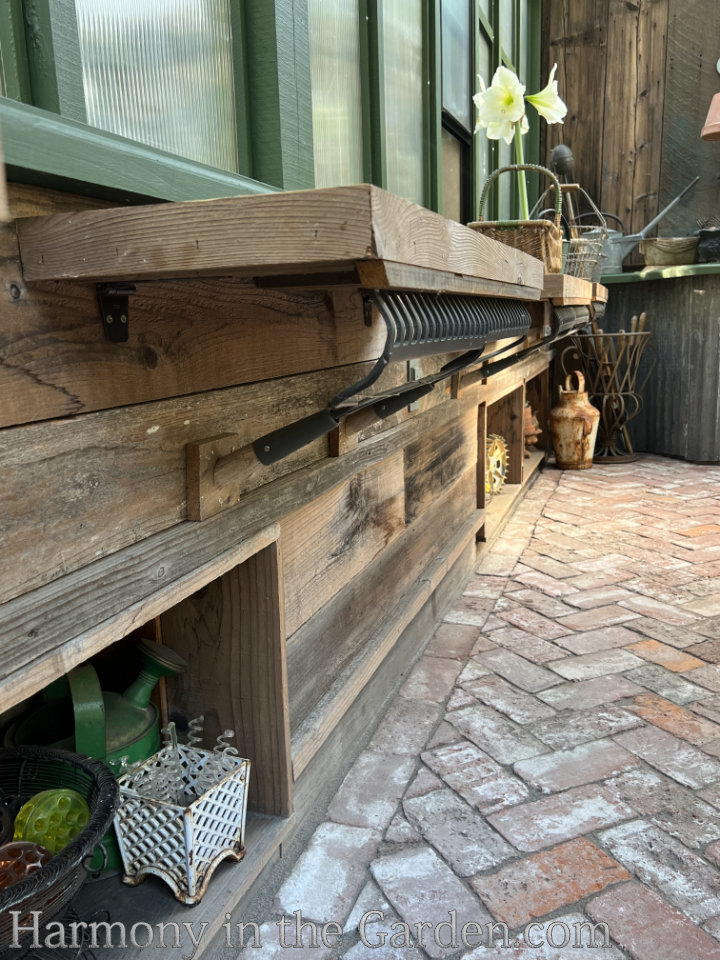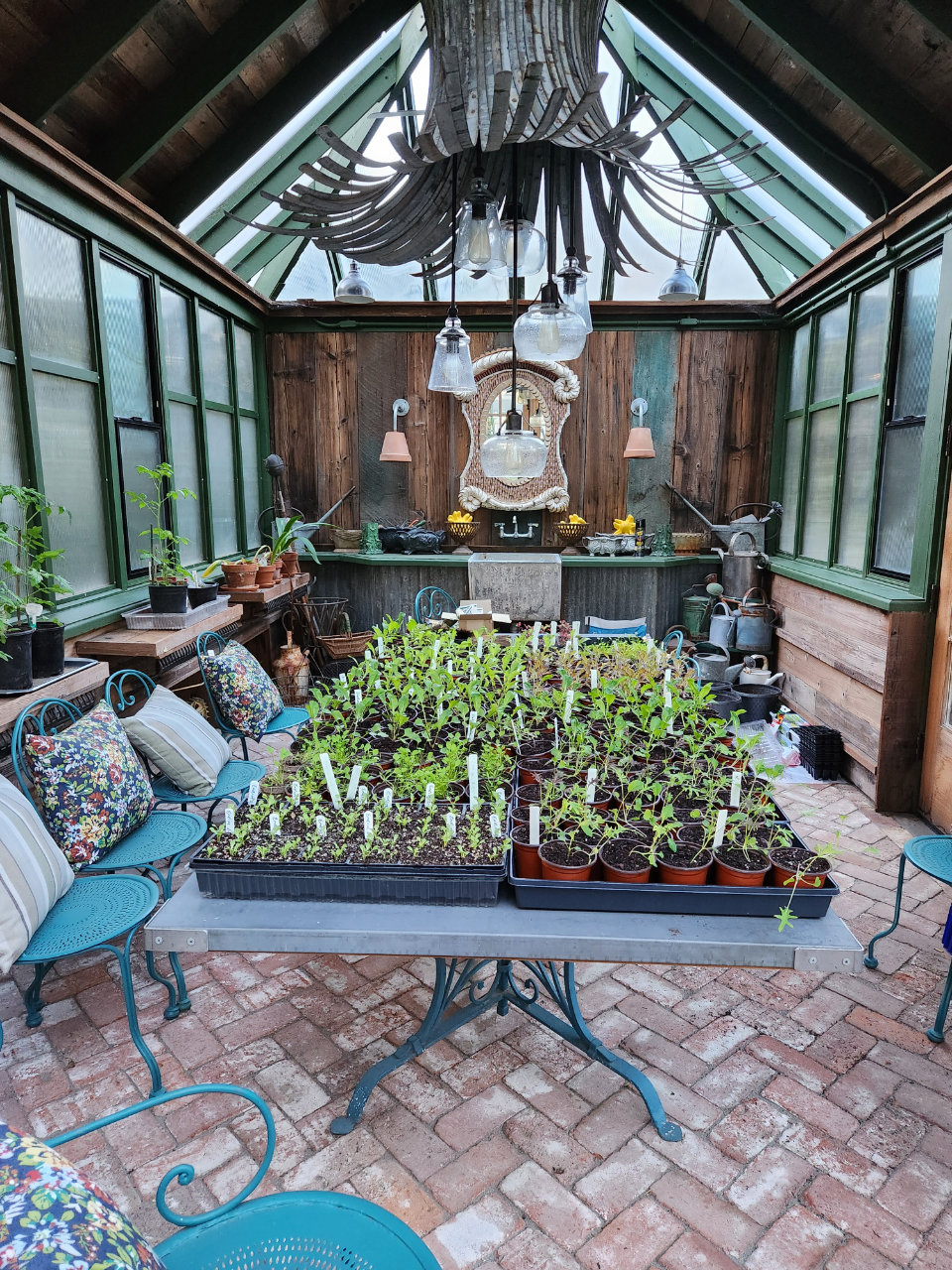 The greenhouse isn't just for entertaining!
As you can see it also houses hundreds of seedlings each spring.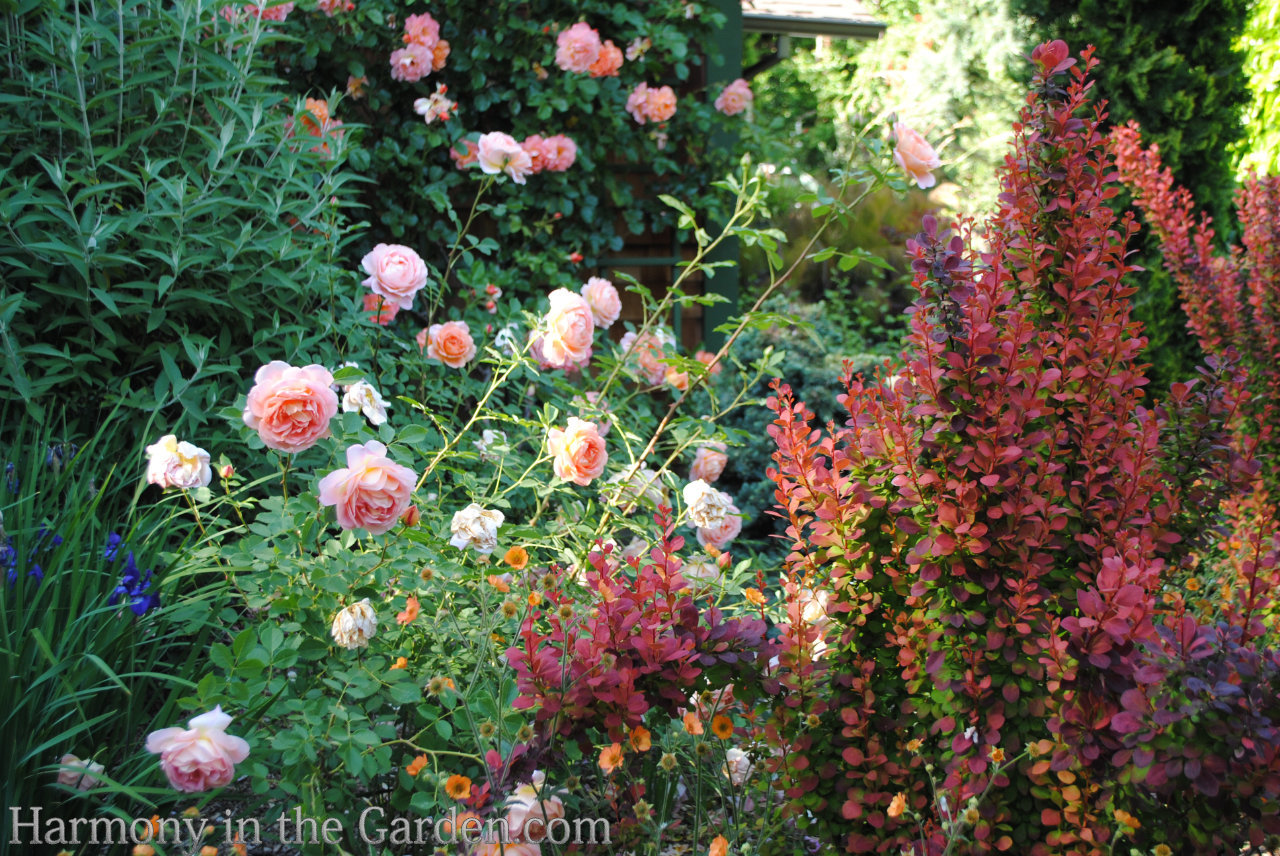 As you exit the greenhouse, you pass by Cluck's Garden (named after their beloved hen, whose coop was once located here.)
The combination of apricot, soft oranges, and burgundy colors is quite possibly one of my favorites in the garden.
I love how these colors harmonize with the rusty corrugated metal roof of the greenhouse that lies beyond.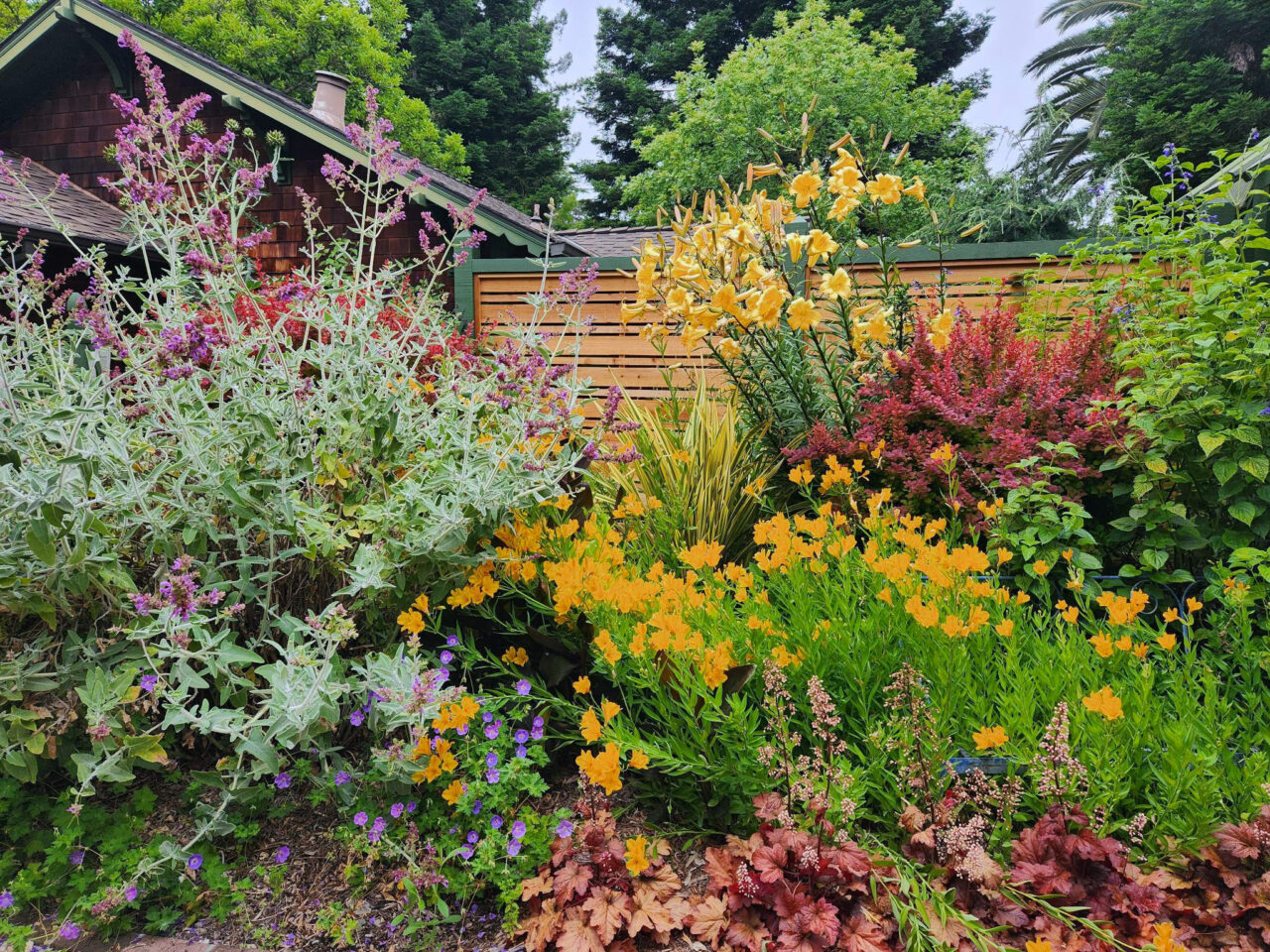 Whether spring or summer, the colors in this bed remain the same – apricots, peaches, burgundies, and purples.
Okay, let's keep walking.
Ready for the next part of the garden?  
The Parthenon (aka: the outdoor kitchen)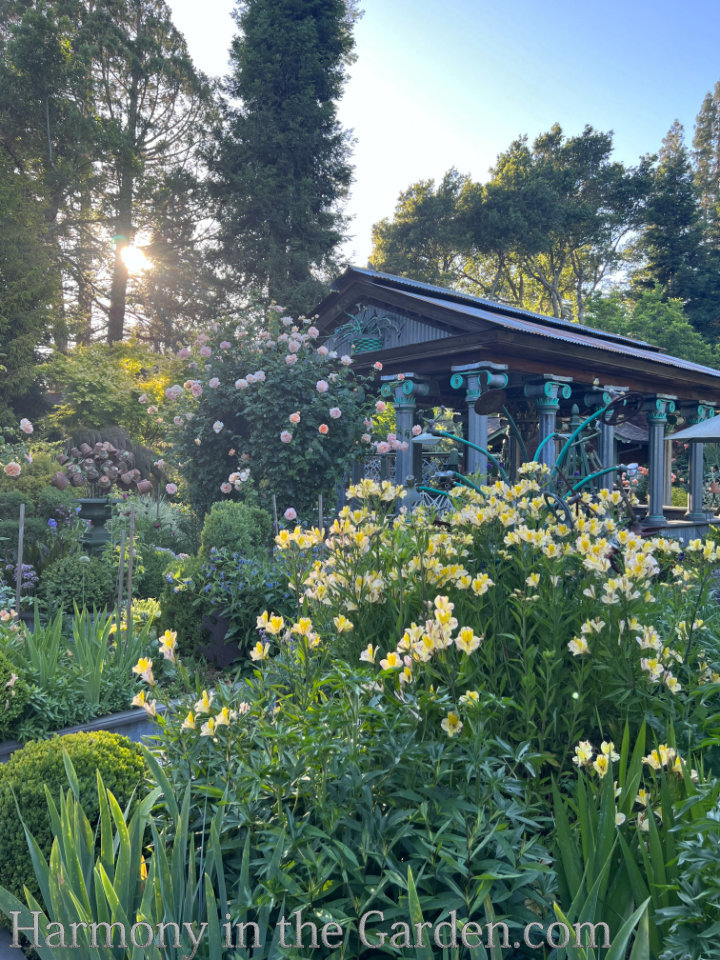 Welcome to The Parthenon (aka: their new outdoor kitchen!)
Freeland had an image of this structure in his mind for the past 20 years, but it took a pandemic to bring it to fruition.
I've tried to capture the feeling of standing in this amazing space, surrounded by his artwork and vibrant garden beds.
Take a peek at some of the details, particularly how he's up-cycled old hoses, garden tools, corrugated metal, etc.
THIS is what helps to make a garden unforgettable!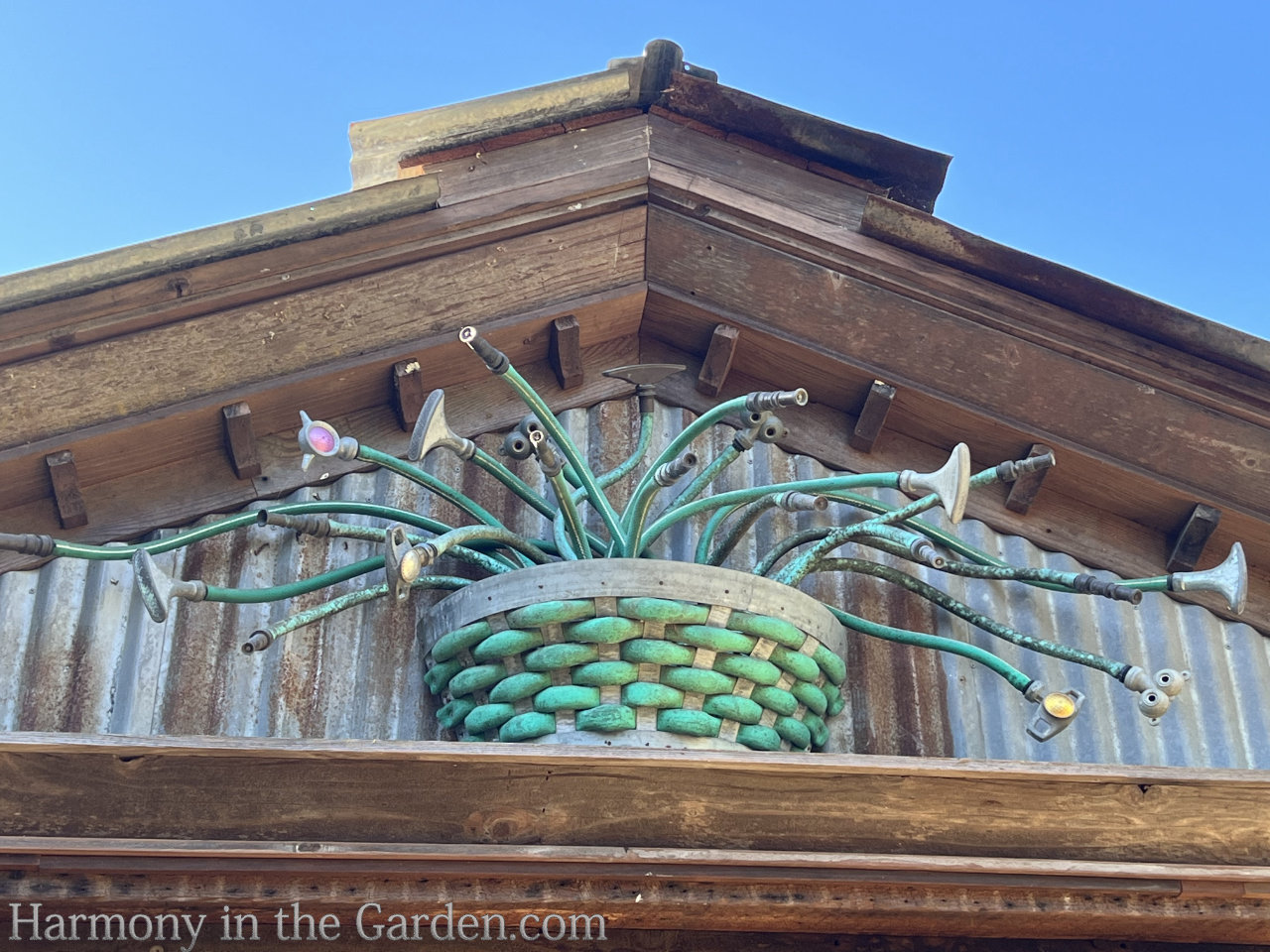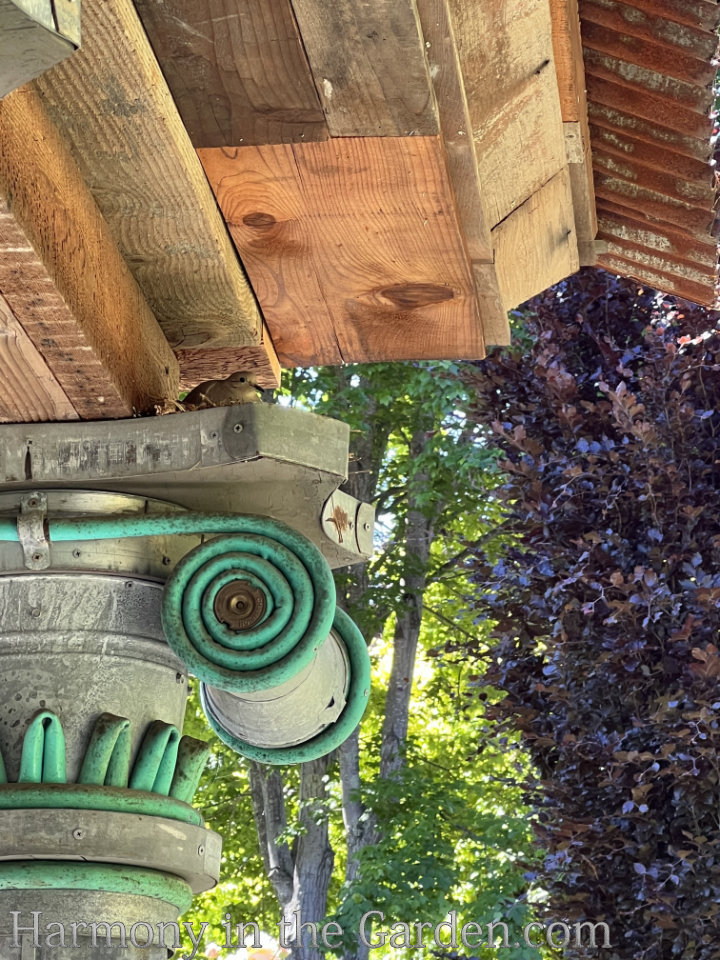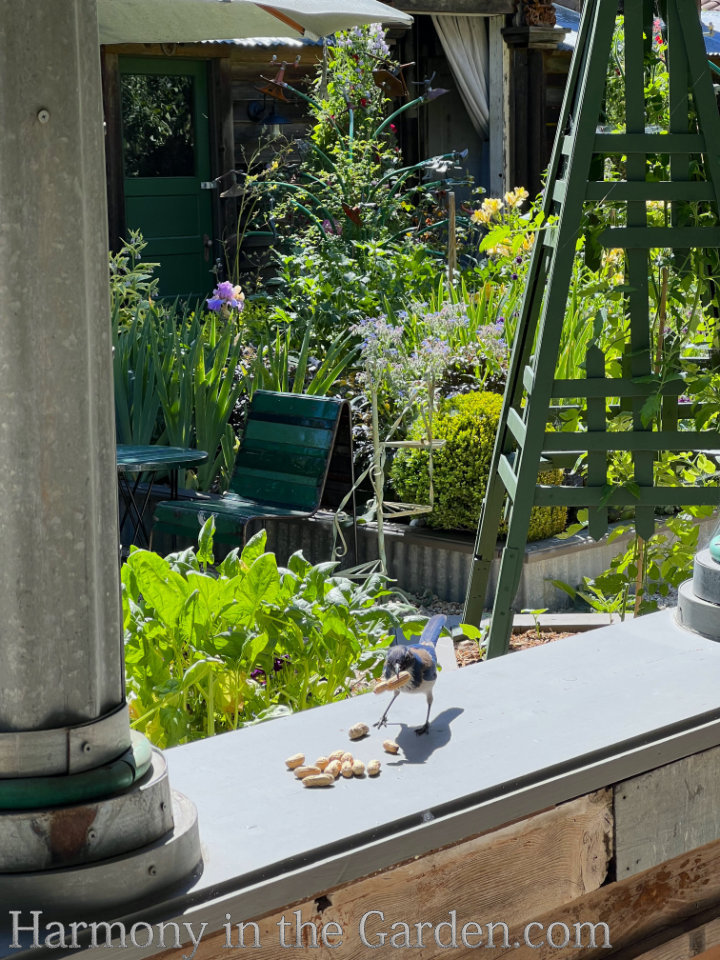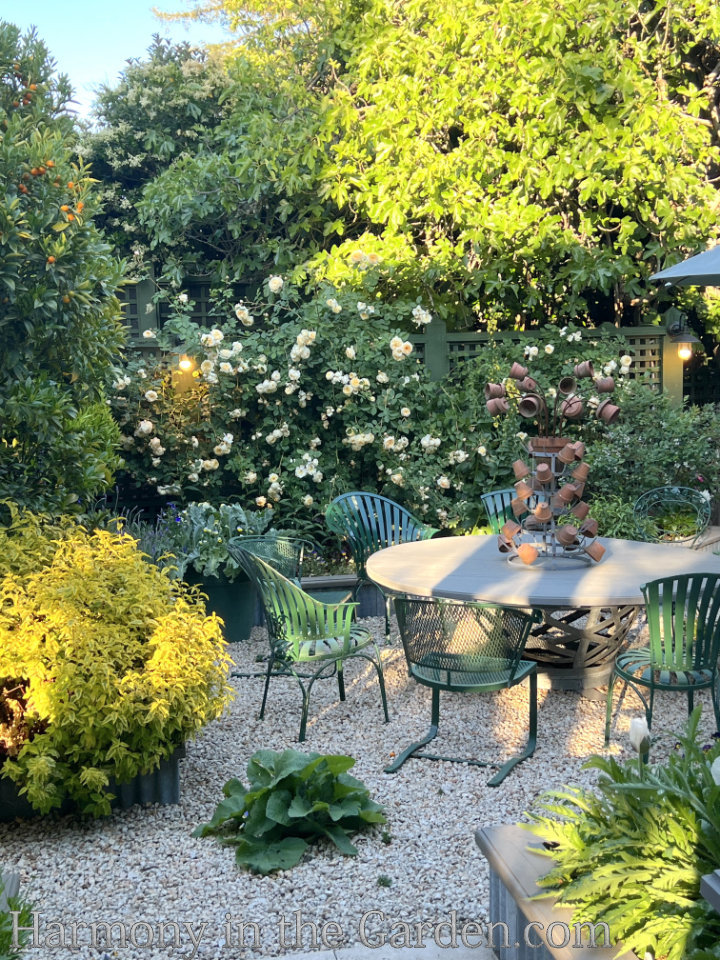 Located on one side of the outdoor kitchen is the cutting garden.
Mixed with stunning combinations of perennials and edibles, it's the perfect place to enjoy a morning cup of tea.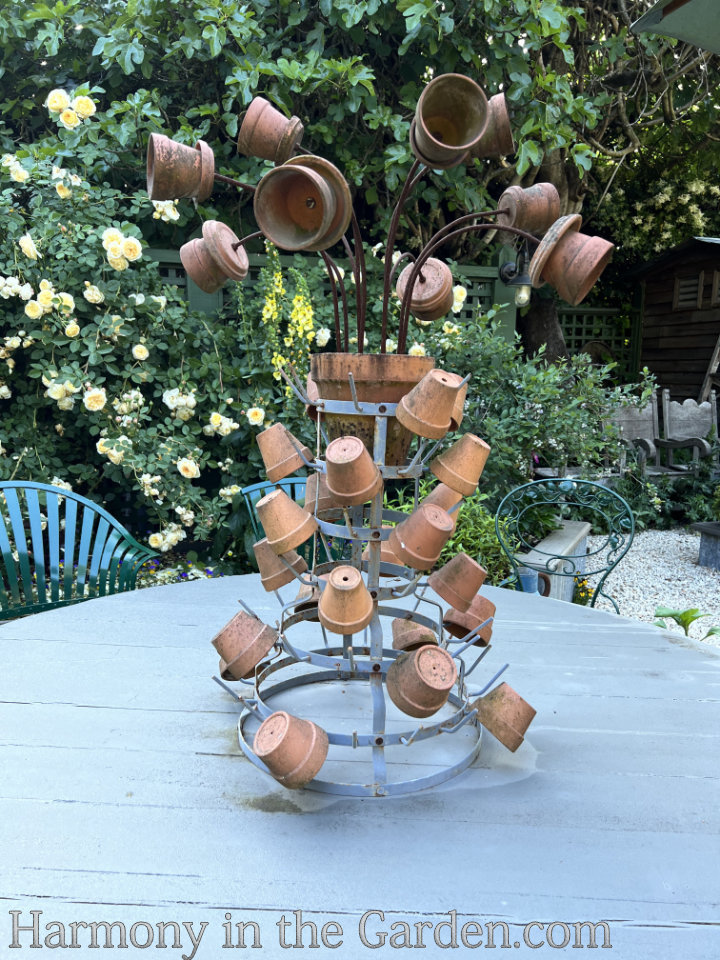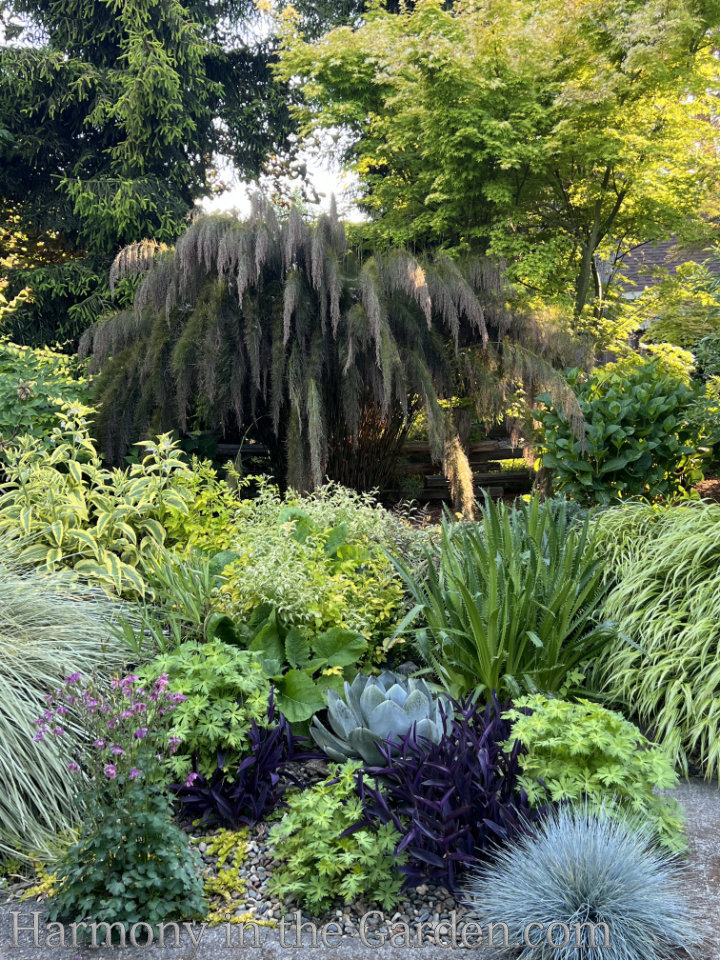 On the other side of the outdoor kitchen is the Tapestry Border.
The grand dame of this border is the giant arching plumes of the Cape Restio (rhodocoma capensis).
According to Freeland:  "Texture, shape, and form – creating a tapestry – this is what drives the garden for me." 
I couldn't agree more!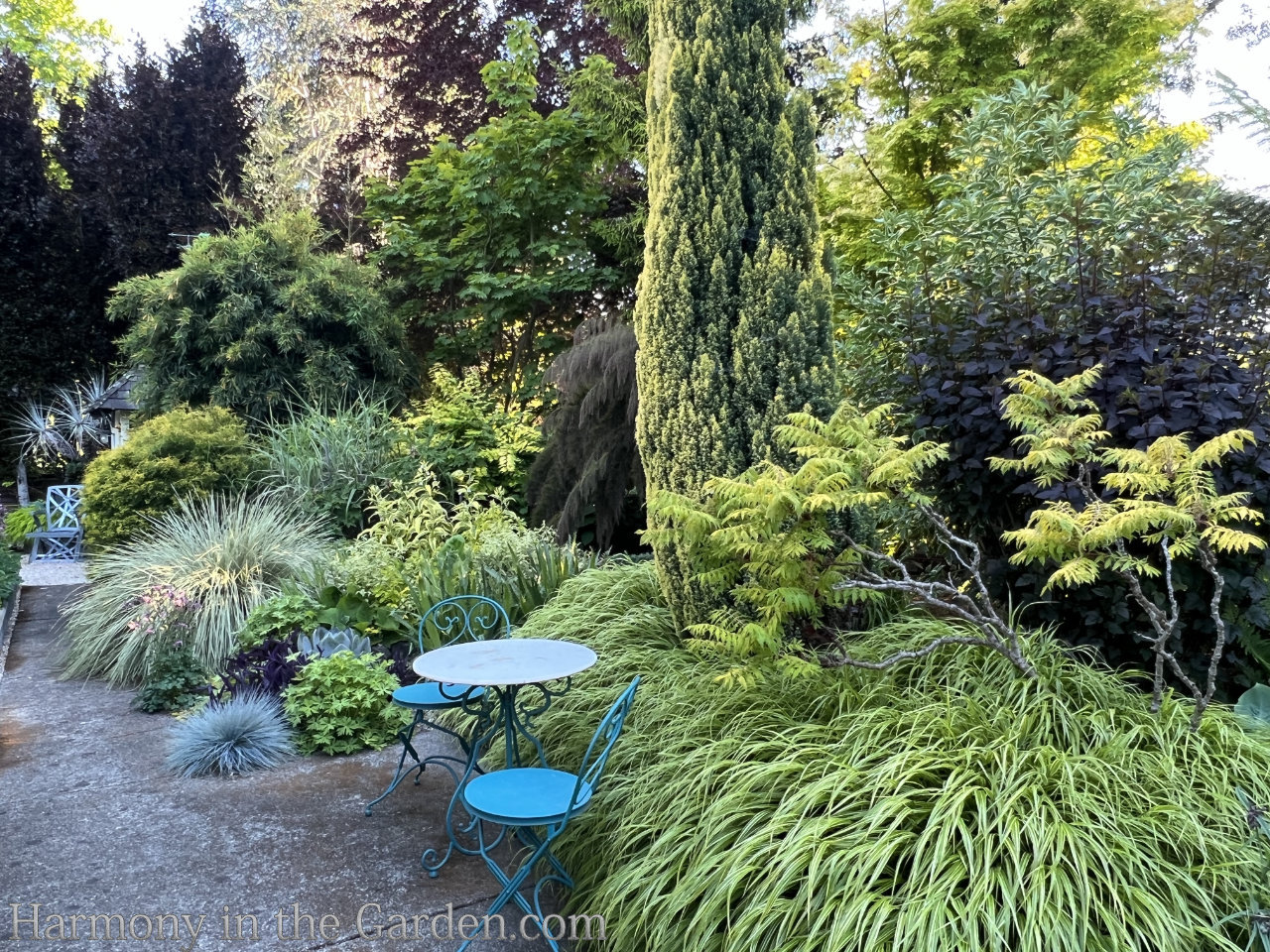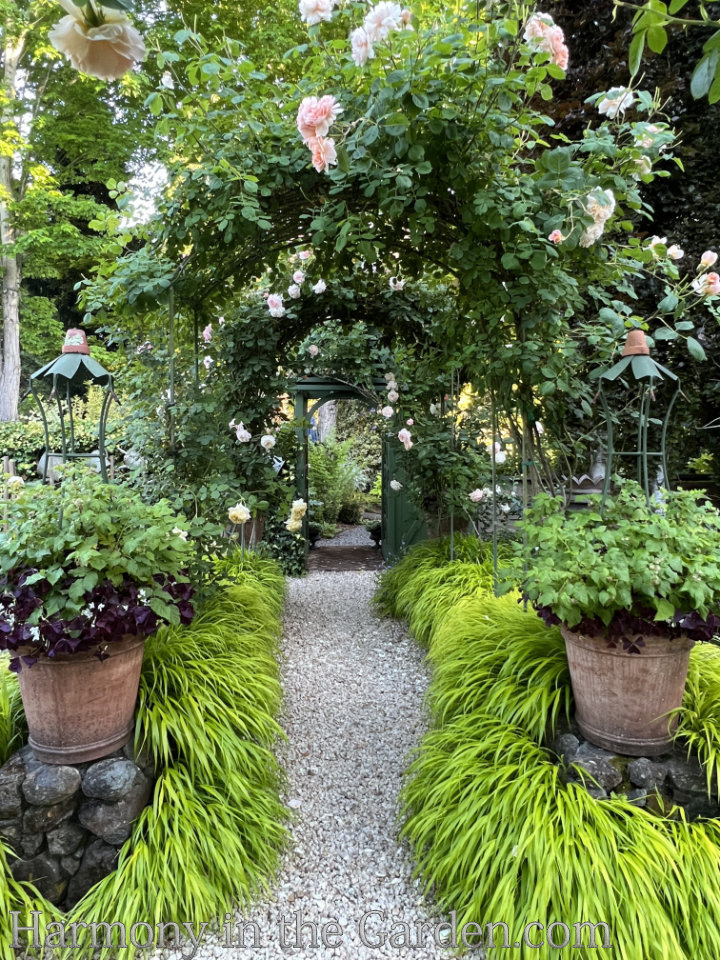 Exiting the outdoor kitchen, you'll pass under another rose-covered arbor leading to Sabrina's Temple.
The 'Temple' was created a few years ago as a way for Freeland to cope with Sabrina's breast cancer diagnosis (she's doing great, now, btw!)
I'll show just a few photos of this area below, as you can click here to read more about this heart-warming tribute to his wife.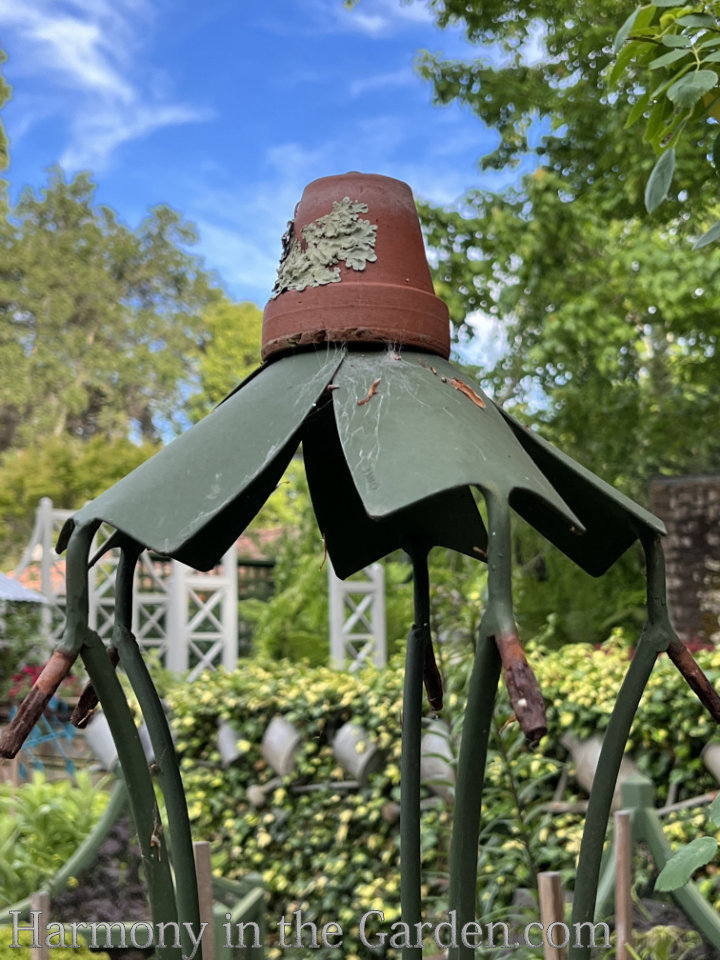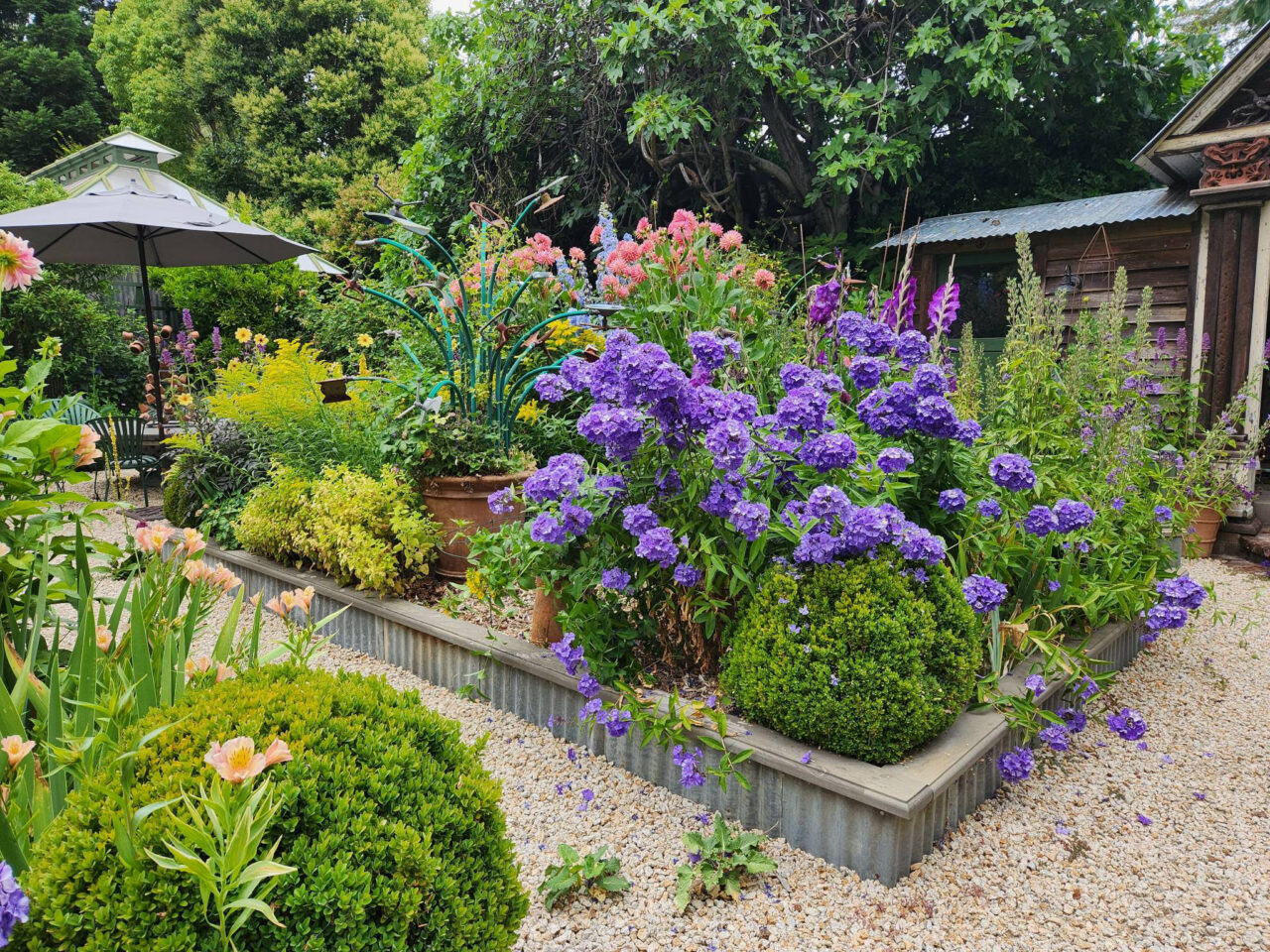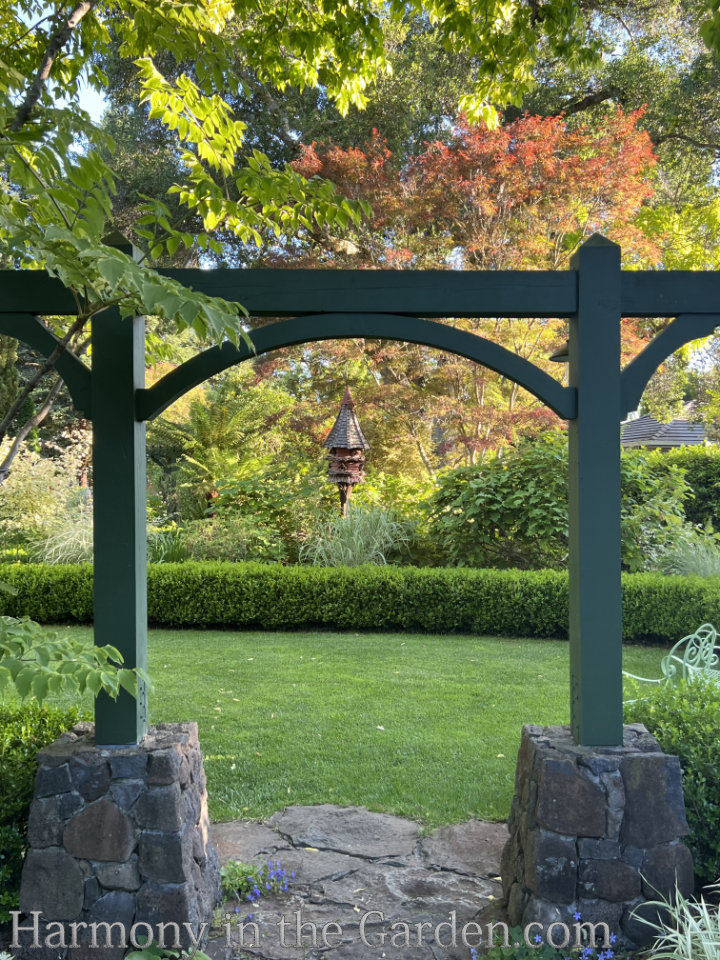 The next gate leads to a curving lawn pathway that encourages leisurely strolling from one garden area to another.
This area of the garden has a very different feel to it – stately, serene, and elegant.
The wide herbaceous borders surrounding the pathway are filled with established climbing roses, unique specimens of shrubs, and of course Freeland's structures.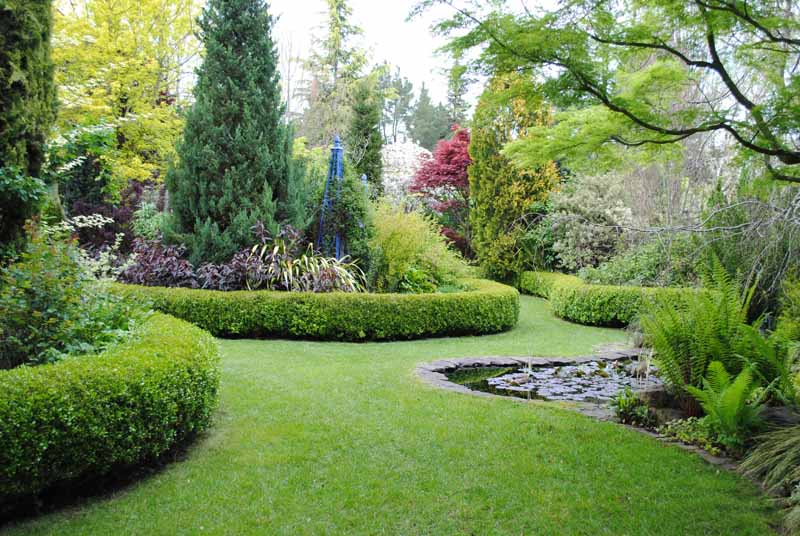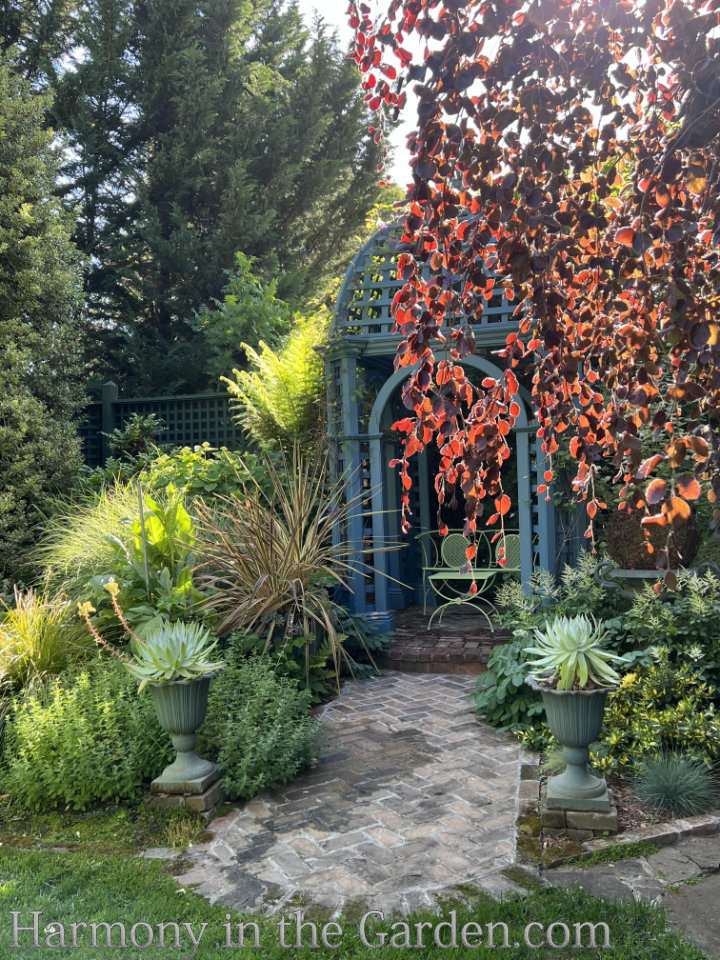 A cascading 'Purple Fountain' beech tree acts as a curtain, providing just a peek of the French Wedding Pavilion.
Freeland first saw this pavilion several years ago in a French magazine. 
He quickly snapped a picture of the image, and using it as inspiration, created this one for his garden.
This pavilion is an example of a 'garden folly', which according to Wikipedia, is defined as:
…'a building constructed primarily for decoration…of such extravagant appearance that it transcends the range of usual garden buildings.'
In this garden, 'transcends' is an understatement!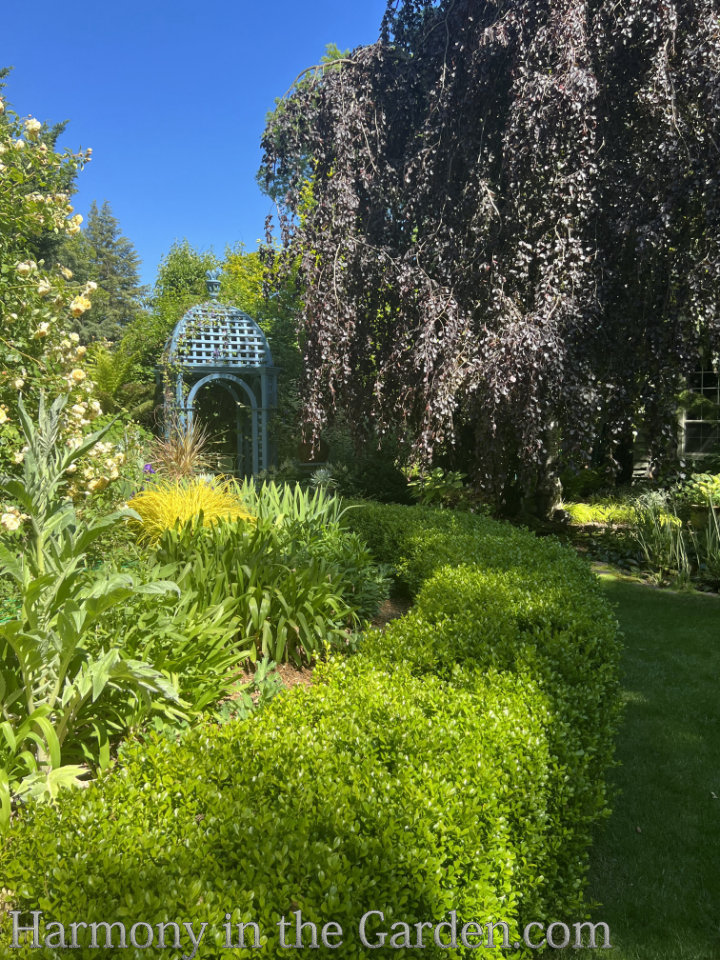 While talking with Freeland, this is how he explained his inspiration for these creations:
"For me, it all starts with Nature.  Everything I make is basically the end product of a thought based on Nature.  
Everything evolves from Nature – the shapes, the forms, everything.  For example, the bell-shaped roofs are like an upside-down hollyhock flower."
Take a look below at other garden follies Freeland has created for his garden: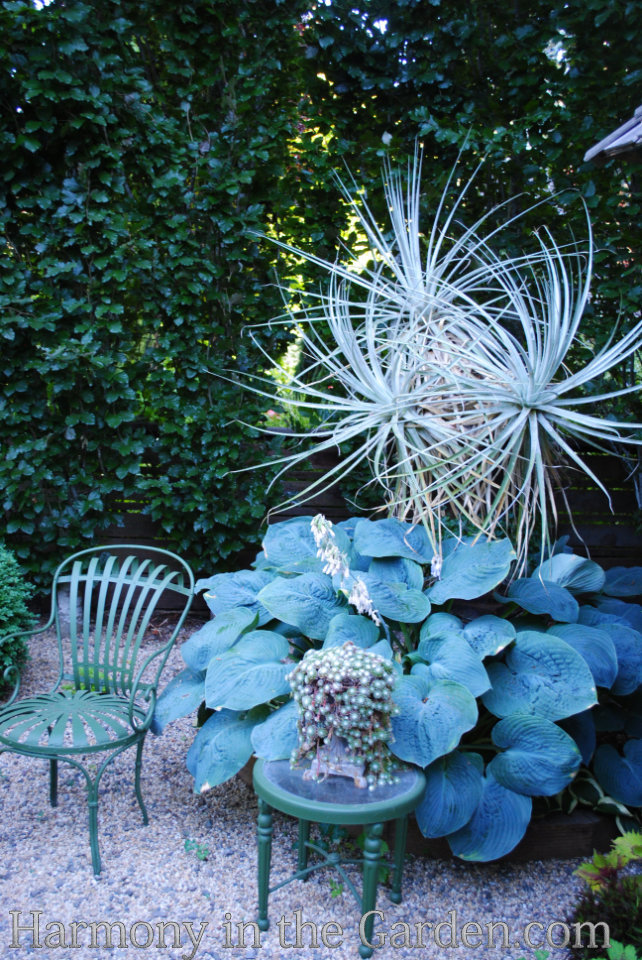 And last, but certainly not least, are the inspirational containers created by Freeland and Sabrina.  
Succulents, edibles, bromeliads, perennials – anything's fair game for one of their magical combinations.
For more examples of their containers and how they tuck them in here and there throughout the garden, click here.
And with that, we've come to the end of the tour.  I hope you enjoyed seeing this treasure of a garden that's near and dear to my heart.