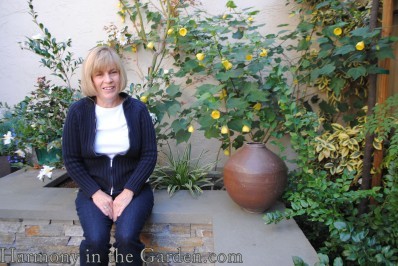 Today I want to share with a darling jewel-box courtyard (that's wheelchair friendly, too!)
Three years ago our local newspaper ran a story on our (then) new book, Garden Up! Smart Vertical Gardening for Small and Large Spaces.
Within 24 hours, I received a phone call from Judy, who was in desperate need of transforming her tiny, overgrown courtyard into one that appeared spacious, bright, lush, and tranquil.
Judy had always loved gardening but didn't quite know how to tackle one that was this small (27'x 21′) with so many challenges.
And, as if the tiny dimensions weren't daunting enough, Judy's courtyard had a handful of other unique challenges that needed to be met, as well.

1.  Wheelchair Accessible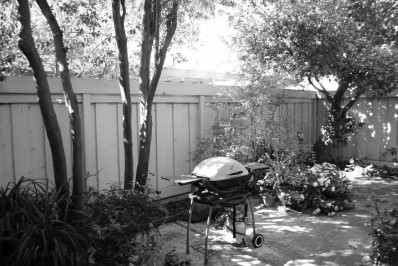 Before
Judy lives in a condominium, so this small courtyard is her only private garden space.
As you can see, the original cluttered courtyard was both inconvenient and inhospitable for Mark, her longtime companion, who uses a wheelchair due to Multiple Sclerosis.
Mark needed to be able to easily access this courtyard from both the garage side door as well as from inside the home.  Therefore, the patio's surface needed to be firm and stable, with no sand or gravel that would become lodged in the wheelchair's tires and tracked inside the house.
The courtyard also needed to have enough space for a dining table large enough to accommodate his wheelchair, while simultaneously providing other seating options for larger group gatherings.
We decided to use full-range Connecticut Bluestone pavers for the patio, with an L-shaped, stacked stone wall.  The stone wall not only helps to break up the predictable (and boring) rectangular dimensions of the courtyard but also provides additional seating when necessary.

2.  Privacy Please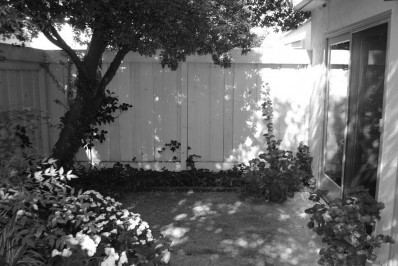 Before
Looming 2-story condos surround this courtyard, making privacy a top concern.  Strict HOA regulations, however, prohibit adding a taller trellis-type fence, screening trees, or even an overhead arbor.  Heck, she wasn't even allowed to paint the fence a different color!
Our solution was two-fold.  First, we planted three tall, narrow, and evergreen Carolina Cherry trees (which you can see in the above photo) that would quickly grow and provide year-round screening.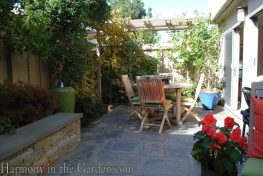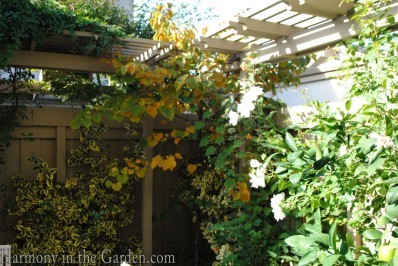 And second, since we weren't allowed to attach anything to the existing fence, we built two free-standing trellises in an L-shaped pattern in the farthest corner.

Scrambling up one side of the trellis is a fast-growing Akebia vine and on the other side is a climbing Iceberg rose.  In the corner, where the two trellises meet, we left space for a 'Forest Pansy' Redbud tree to grow up gracefully through the opening.

3.  A Place for Personal Touches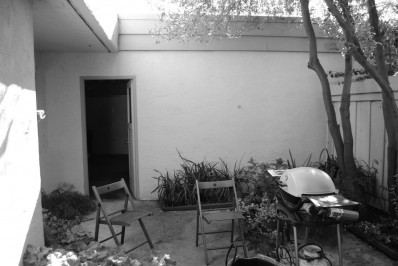 Before
It was also important that I find a place within this garden for a few cherished antiques Judy had inherited from her family.
'My grandmother lived in a magical brown shingle Craftsman home in Alameda, with stunning gardens.  They collected Asian antiques and purchased many in the early 1900s.  My parents then incorporated these antiques into their beautiful garden in San Jose, and they came to me on their passing. They are very important to me…speaks to who I am and those that came before me.  My great grandmother was a botanist and one of the first women graduates of Northwestern University!'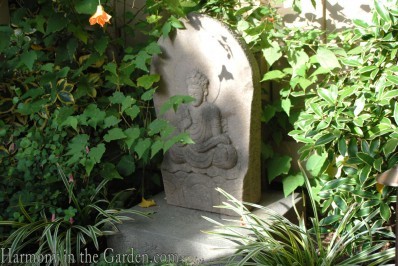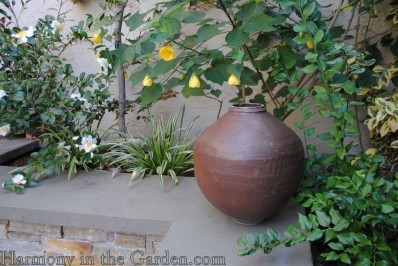 The last item on Judy's wish-list was to include a water feature to add a calming sound and provide a refreshing respite for the little birds who visit.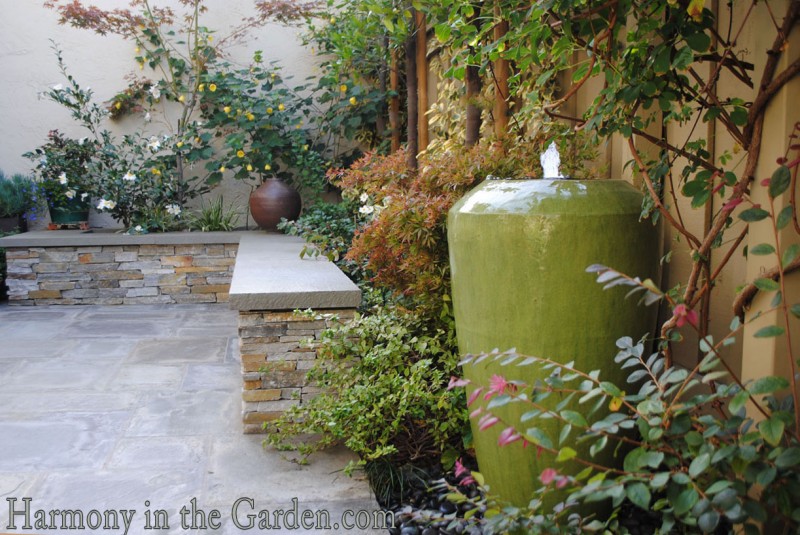 4.  Inside-Out Views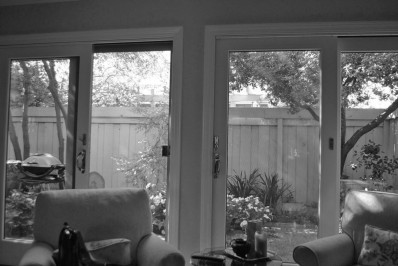 Before
One of the chapters in our book discusses the importance of using the windows in your home to 'frame' the view outside, tying it in with the rest of your home.  A concept designers call 'inside-out design.'
This was particularly important to Judy as there is floor to ceiling windows and doors along an entire wall that directly faces the whole patio area.
Her goal was to have the inside of her condo seem much larger and brighter than it was having the courtyard act as a natural extension of her dining and living rooms.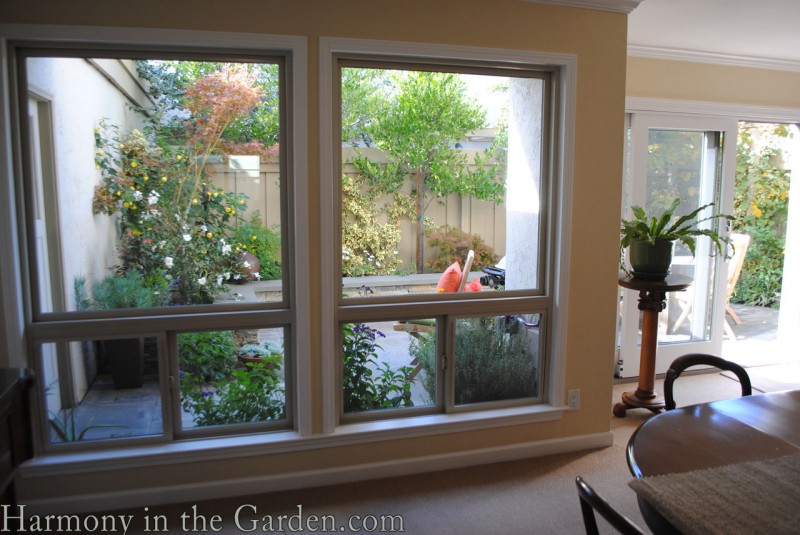 It's always such a treat to go back and visit gardens after they've been installed – to see what has flourished (or what hasn't) and to discover the homeowner's loving touches dotted throughout.
I hope this tiny treasure of a garden gives you as much joy and creative inspiration as it's given me!