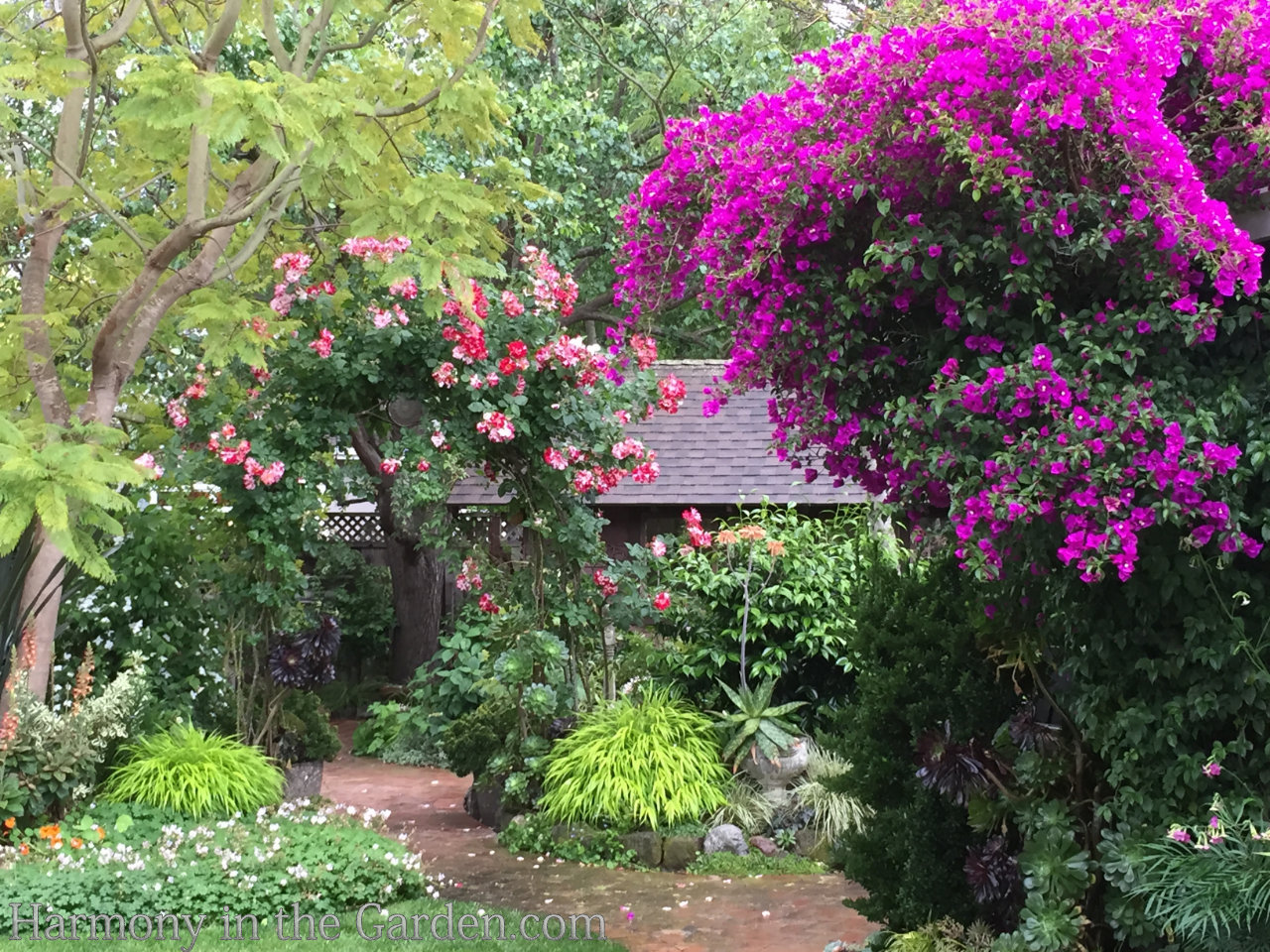 The surest way to create a wow-factor moment in your garden is to add height with flowering, towering plants. 
Not just a little height either – I'm talking about a lot of height!
When I wander through a nursery or read a garden magazine, the words 'oversized variety' is my kryptonite.
I just can't resist any variety that grows taller than the others. 
I love walking outside and feeling embraced (and even dwarfed) by my garden. 
That feeling instantly grounds me, especially when life is a little crazy, reminding me that I'm just a wee speck in the big picture.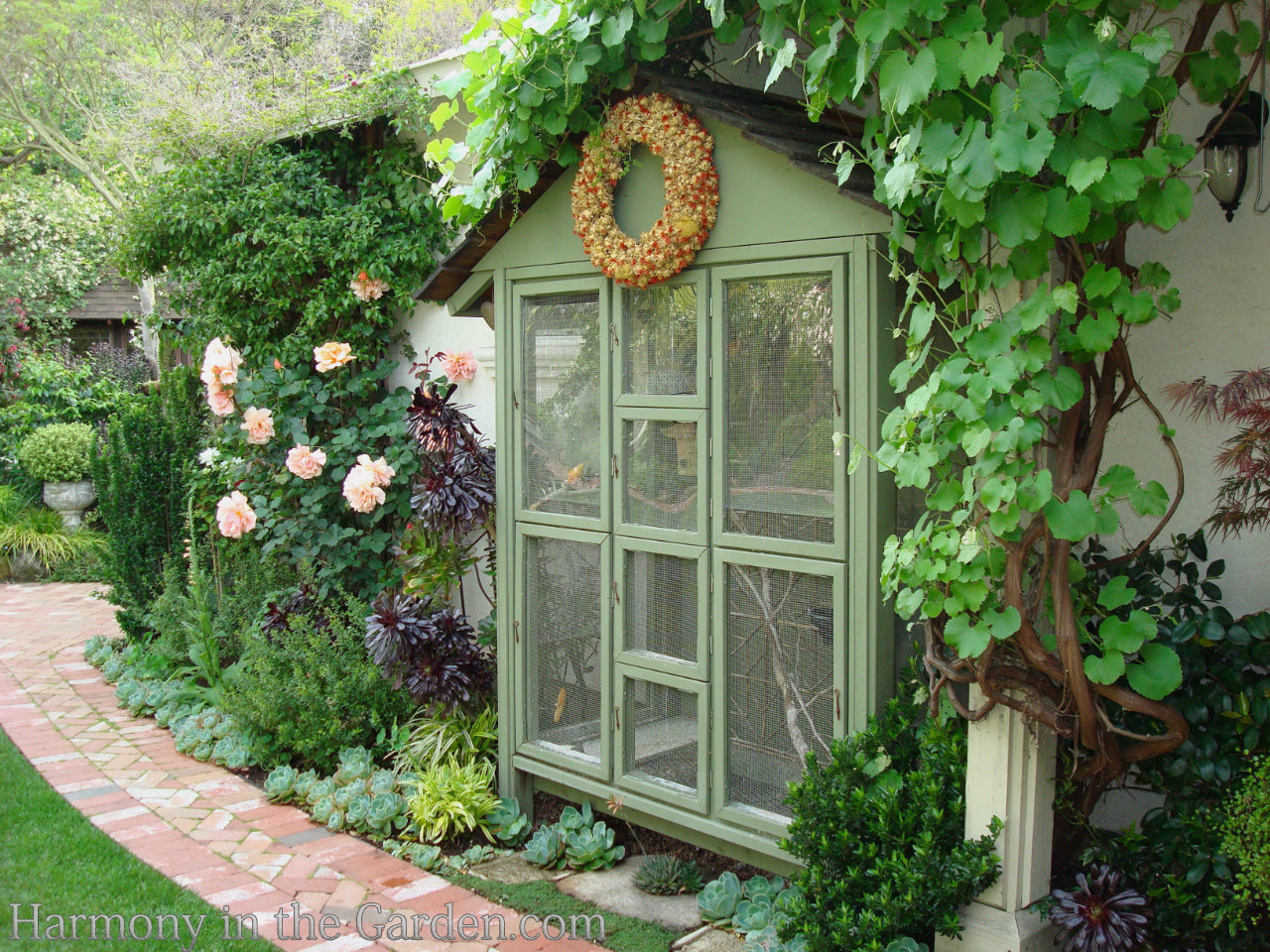 Even small gardens can achieve the same effect. 
Take the photo (left) for example, from my last garden – the bed is only 30" wide, yet see how it still has that towering, embracing effect?  
If you need more proof, just click here to see how we transformed this 20'x30' courtyard garden.
Or, click here to see this skinny side yard, which feels positively other-worldly with all the towering plants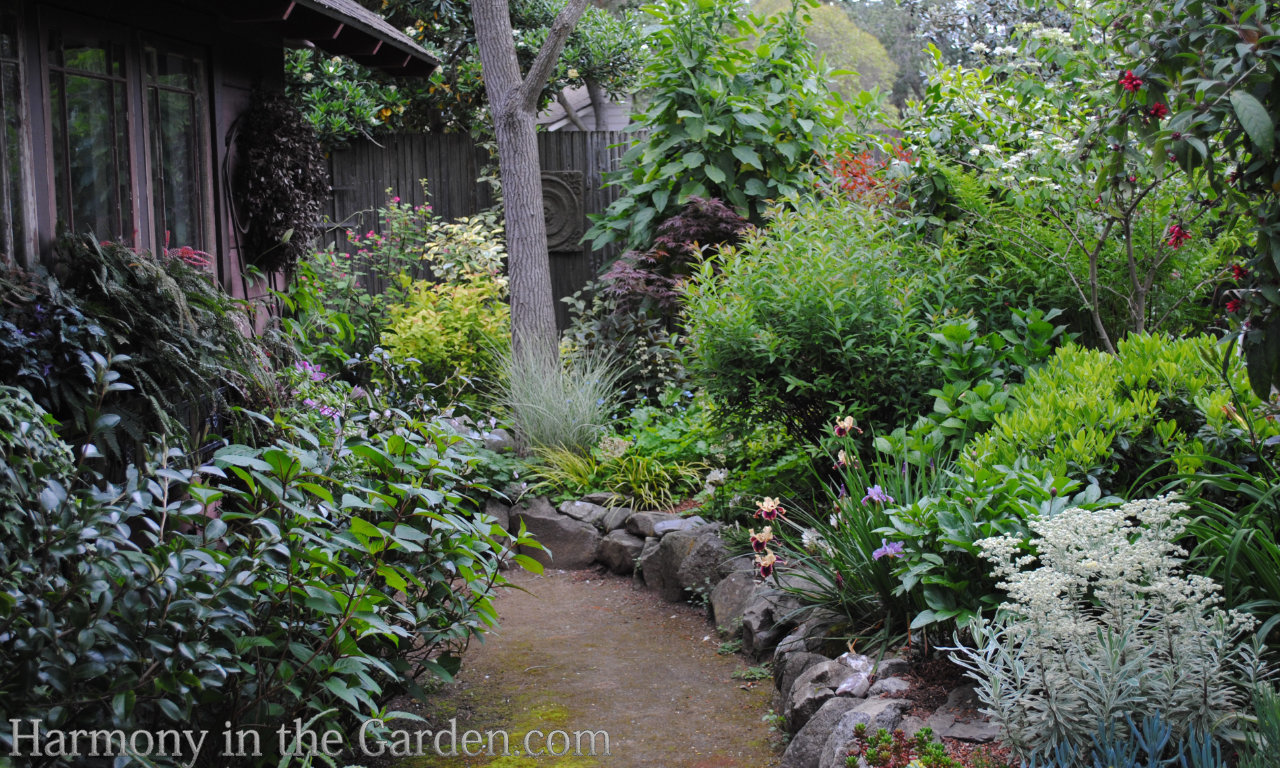 Last week I was contacted by Monrovia for a story featuring my previous garden. 
Seeing the photos again reminded me just how much I love plants that would be at home in the Land of the Giants.  (click here to read the article)
By the way, if you don't already subscribe to Monrovia's monthly newsletter, you're missing out! 
I always tell my clients the Monrovia newsletter is more like a mini-magazine than it is an email, filled with fantastic plant info, loads of design inspiration, planting how-to with videos, and of course, the amazing plants that you can even order online!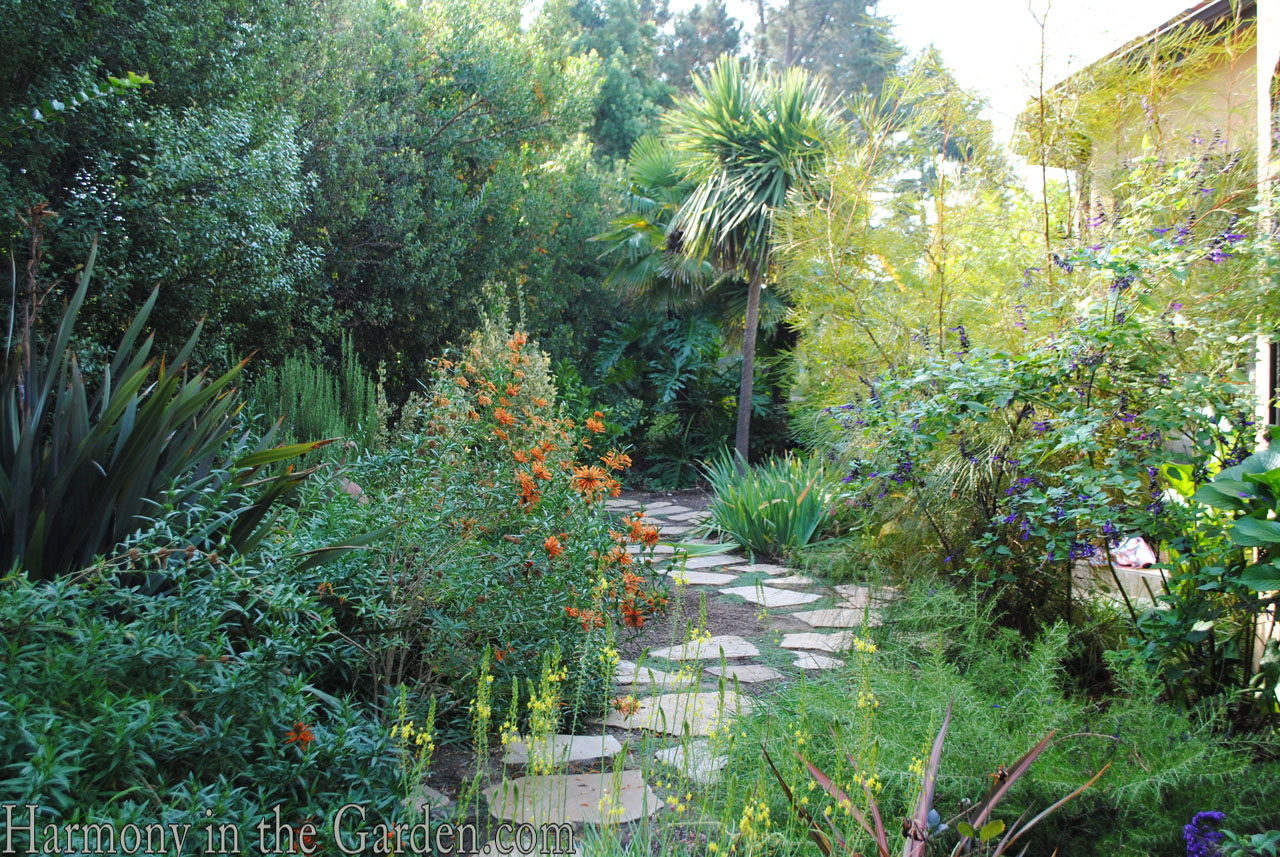 When designing with these tall beauties, I don't always relegate them to the very back of the border, or the far corners of the garden. 
Instead, I prefer a more naturalistic plant-placement approach, and will put a few tall varieties in the middle, or even the front, of the border.   
(click here for more pics of my client's garden.)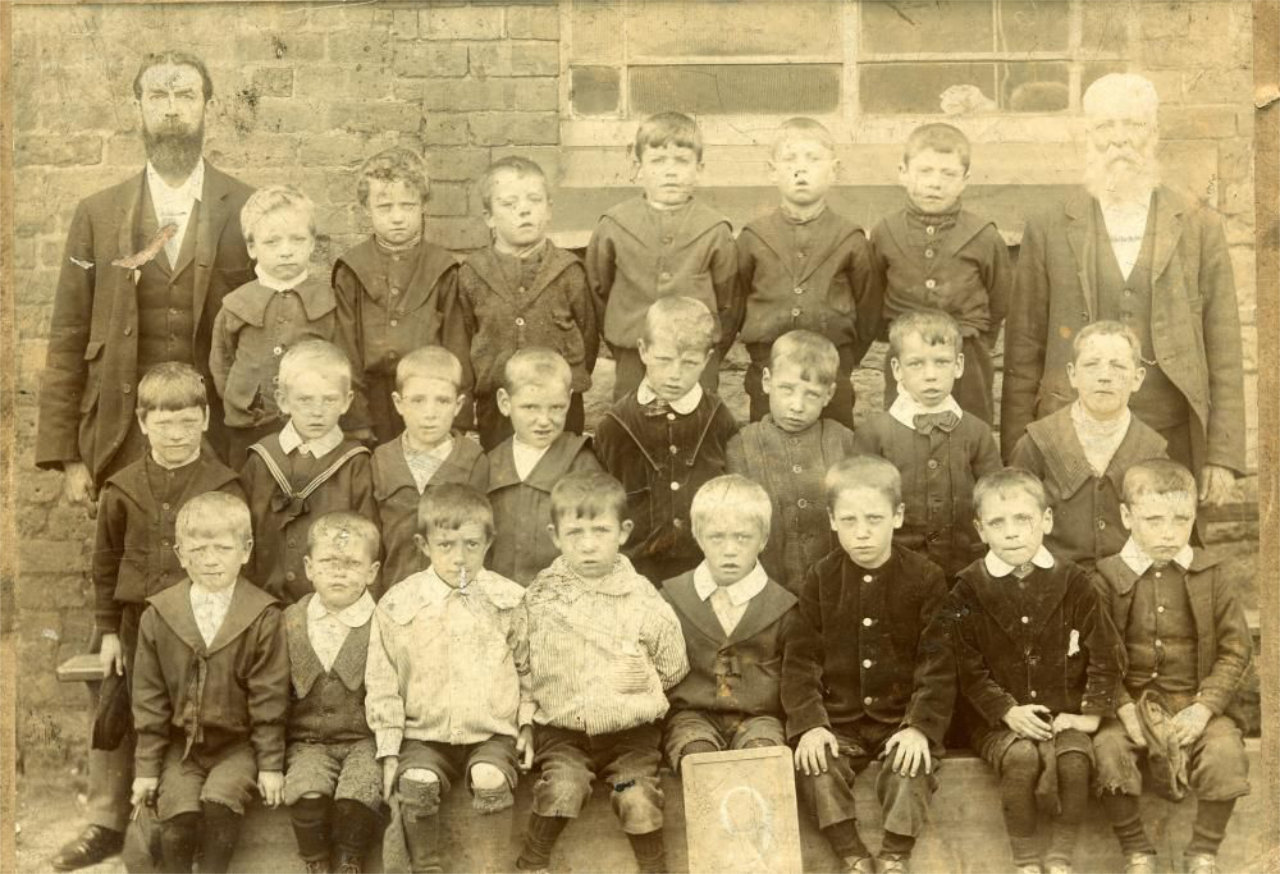 By mixing taller plants in the middle or near the front of a garden bed, it avoids having a garden that looks too forced or contrived. 
Just think about a classroom photo, where the tallest kids are lined up in the back and the shortest are up front.   
It's so predictable, right? Instead, I want my gardens to appear more natural.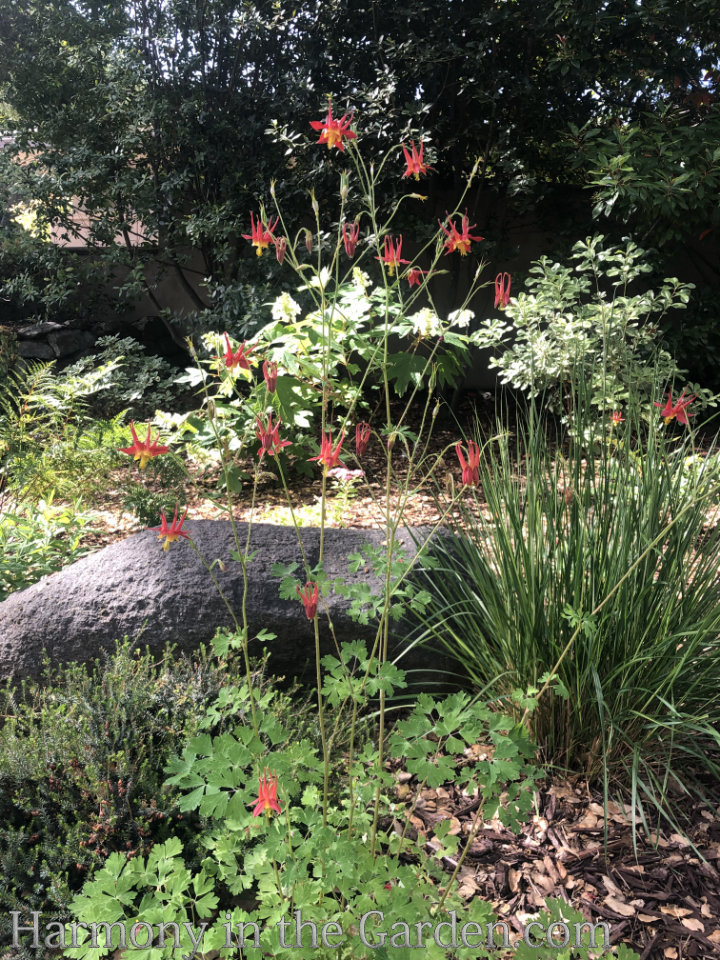 Placing tall plants up front works especially well when the plant happens to be see-through, or light and airy (such as this 4′-tall columbine.) 
When you're able to see through the tall branches or stems of a plant, this helps prevent it from appearing too 'blocky' and out of place in the front of the border.
Today, I'm sharing with you some of my favorite larger-than-life blooming plants that I've used extensively in my own garden and those of my clients. 
To make it easier to imagine them in your own garden, I've grouped them according to size.
And for scale, I've even included some pics of me standing next to a few varieties growing in my garden to help demonstrate their size.
4-5 Foot Flowering, Towering Beauties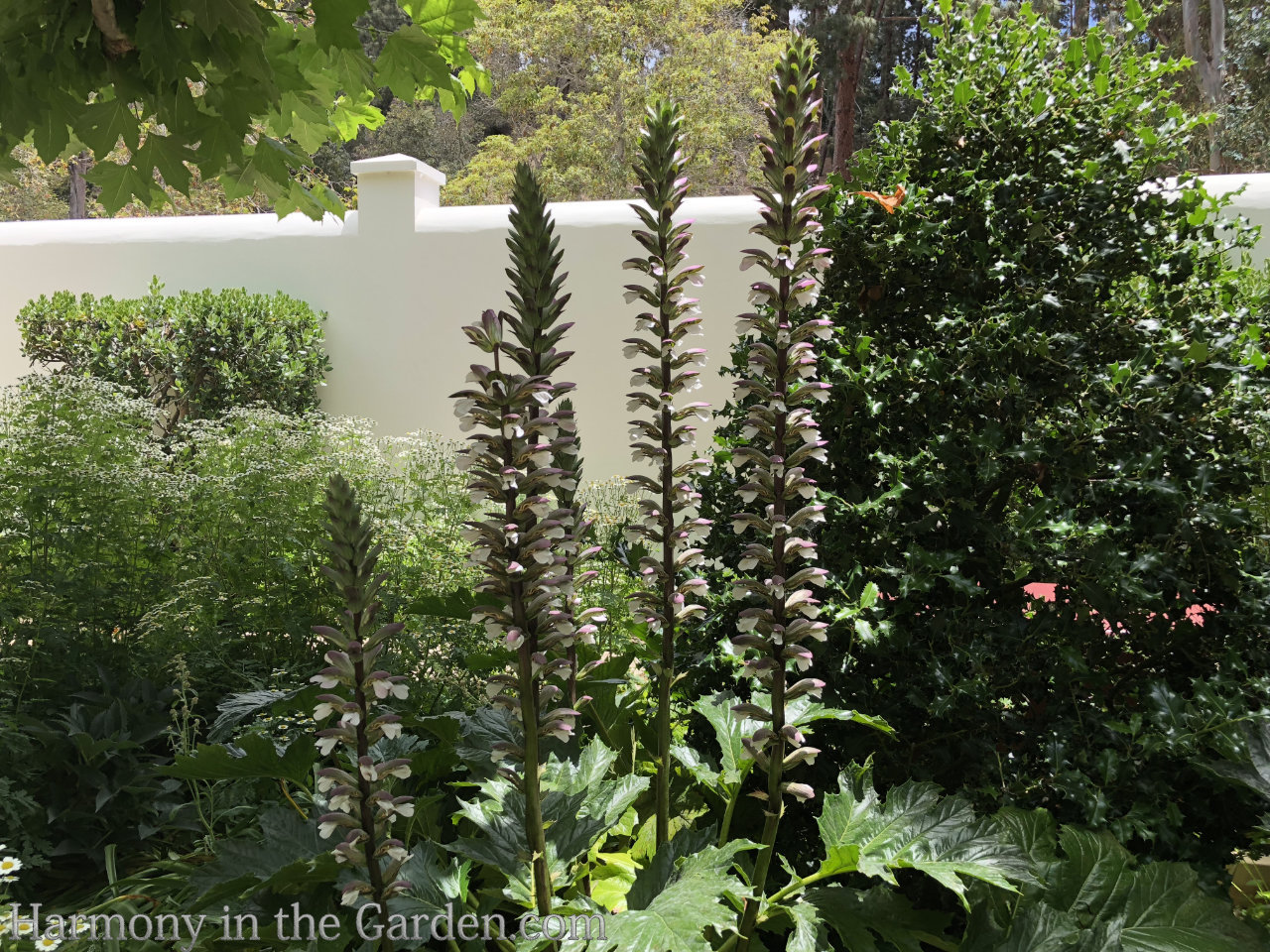 Acanthus mollis (Bear's Breeches) Zone 6-10, Deer-Resistant
With flower spikes growing up to 3' tall, this perennial makes a statement in the garden. 
Creamy flowers are tinged with mauve, and tower above oversized foliage.  In my area, this plant is especially susceptible to hungry snails, so be warned!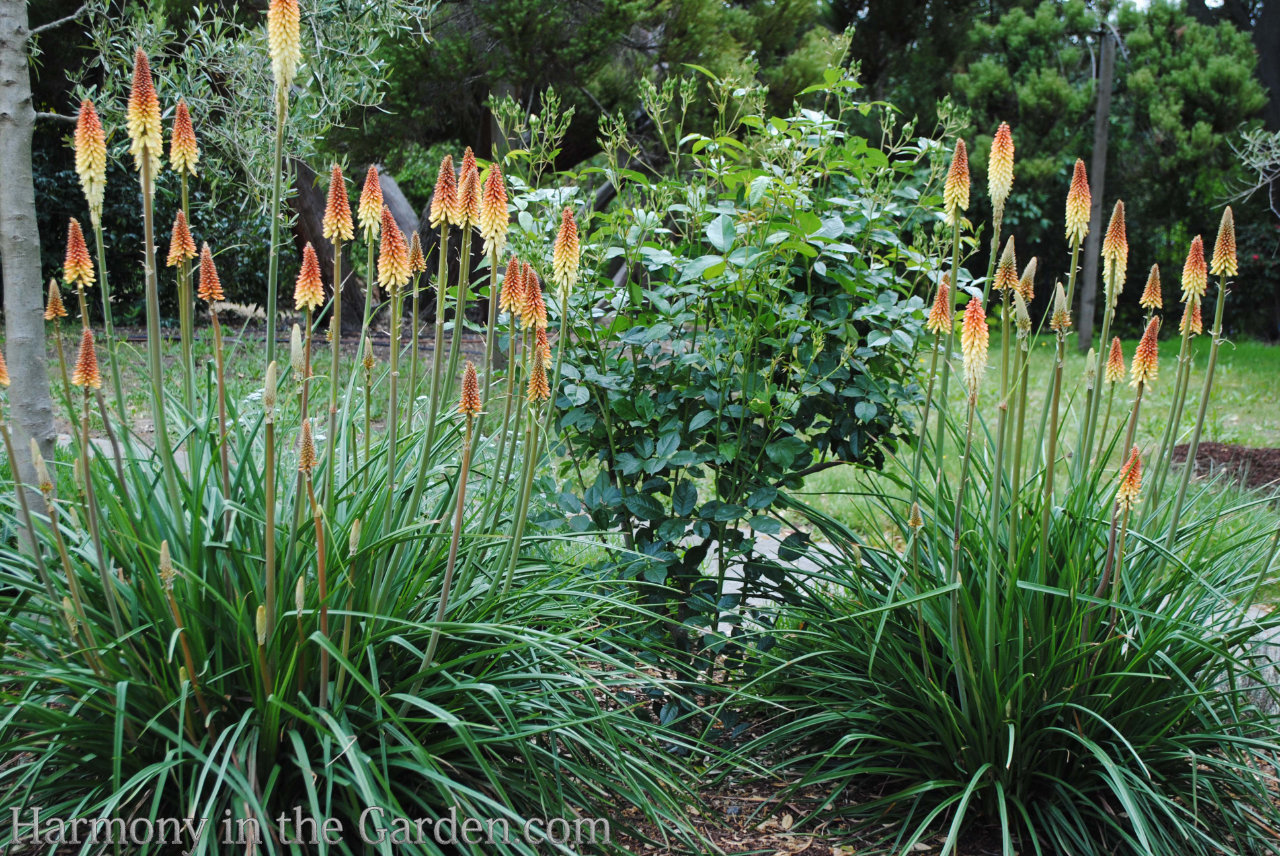 Kniphofia uvaria  (Red Hot Poker)   Zones 5-9, Deer-Resistant
Kniphofias are available in a wide array of colors (as the creamsicle-vanilla-orange flowers prove in this photo) and are very drought tolerant.
They reliably return year after year, producing dozens of long-lasting blooms.  
I often see the happily growing along the roadside, with zero irrigation whatsoever – that's how tough they are!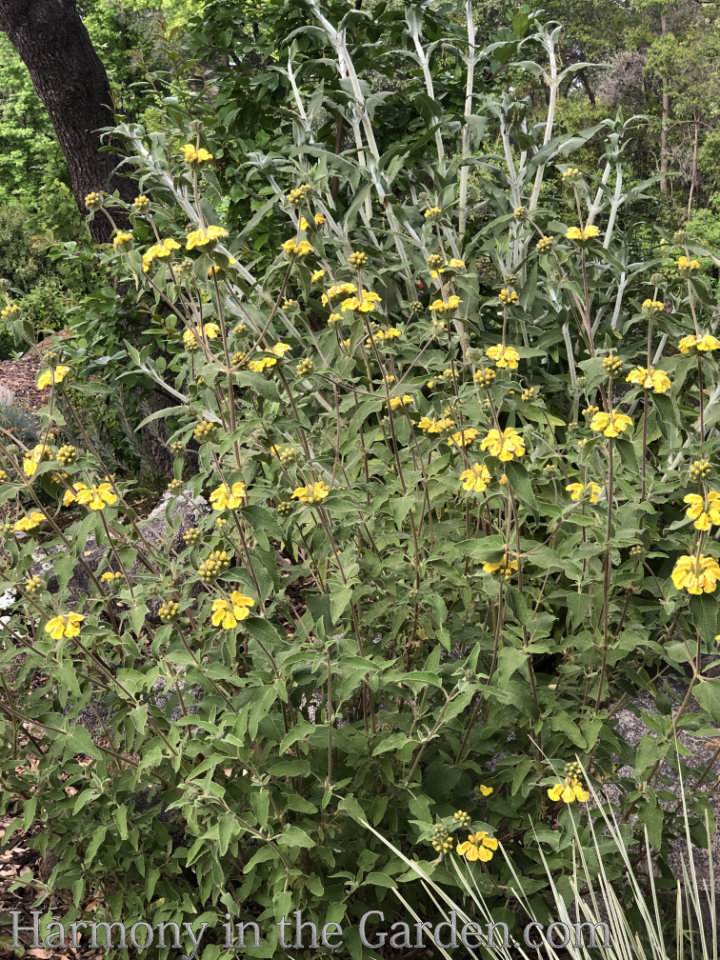 Phlomis fruiticosa (Jerusalem Sage)  Zones 8-10, Deer-Resistant
Phlomis, however, is a shrub that thrives in our hot and dry climate. 
This semi-evergreen shrub blooms with 3′-high whorls of yellow flowers in spring, with another flush in the summer.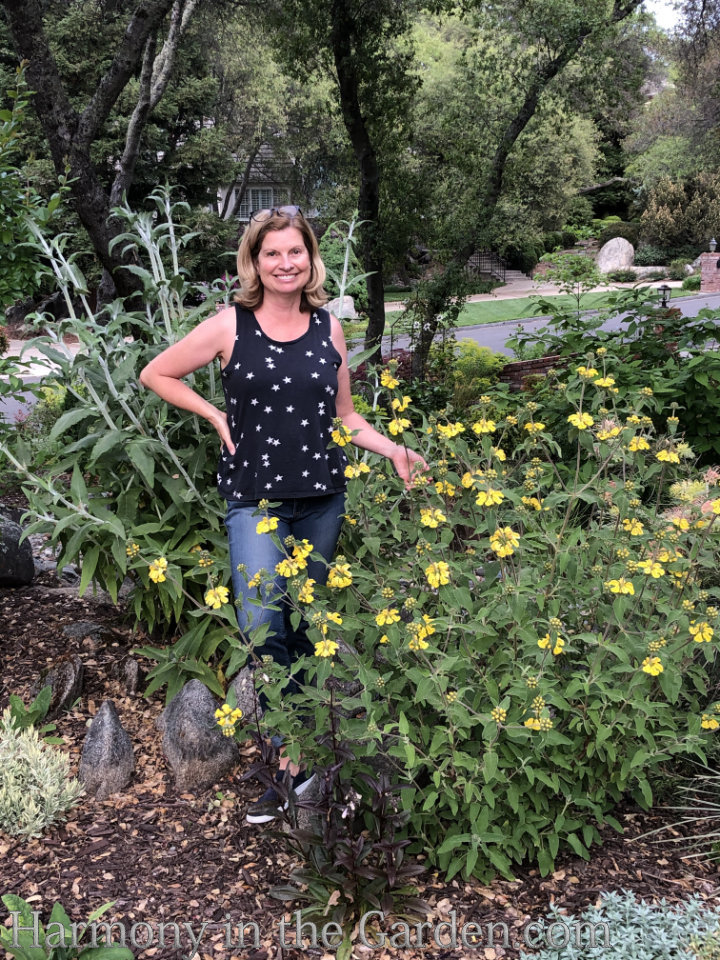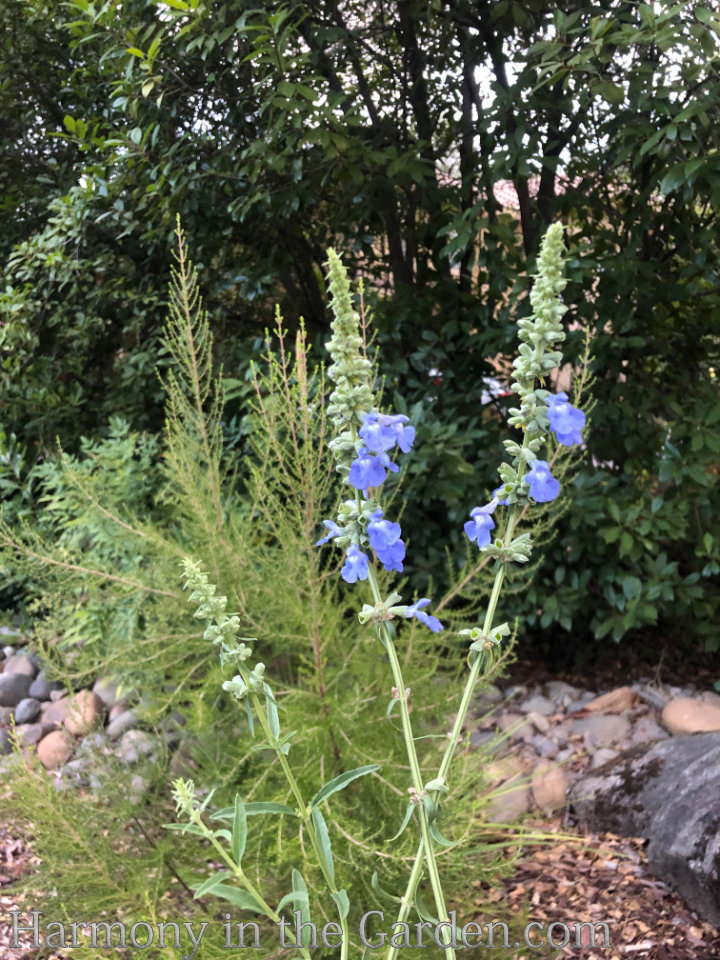 Salvia azurea (Blue Sage) Zones 4-9,  Deer-Resistant
Once I learned that this variety grows to a towering 5-feet, with sky-blue flowers, I just had to try it in my Pollinator Garden.
I've been so pleased with the long-lasting flowers, watching them transform and elongate as they age.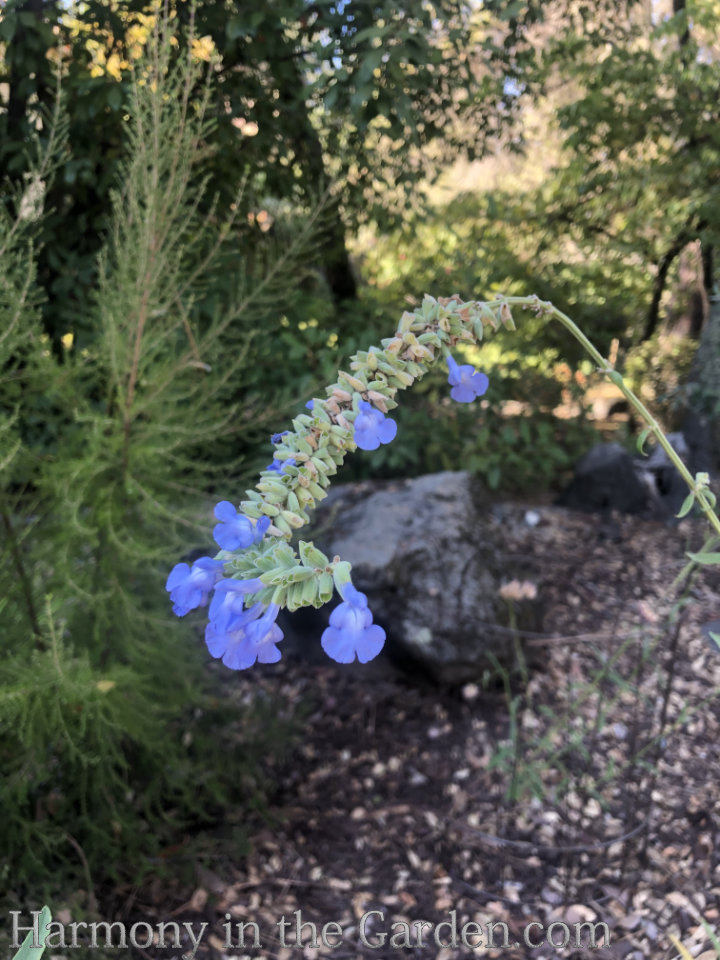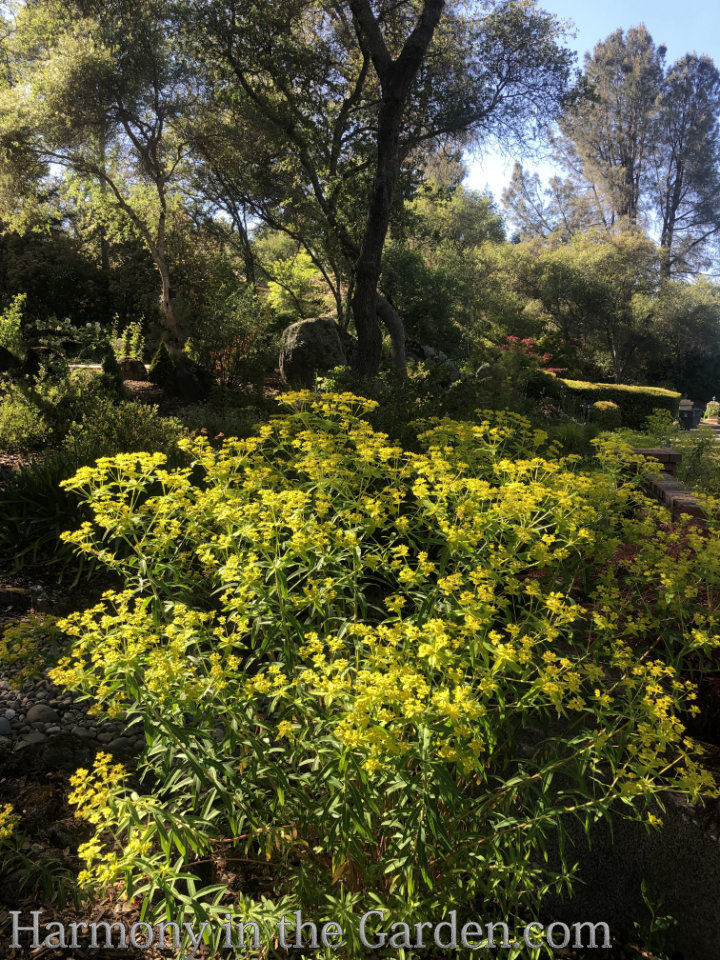 Euphorbia ceratocarpa (Sicilian Euphorbia) Zones 8-10, Deer-Resistant
My favorite euphorbia variety of all, Sicilian Euphorbia grows to a full 5'x5′, with blue-green foliage and acid-yellow blooms. 
Click here to read all about my other favorite euphorbia varieties.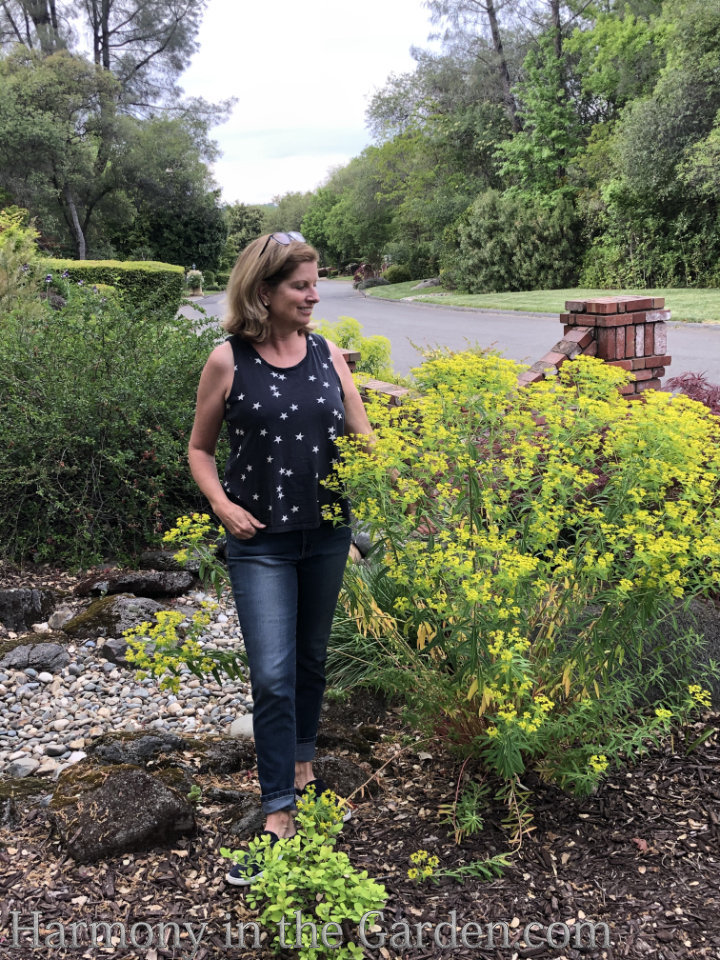 6-7 Foot Flowering, Towering Beauties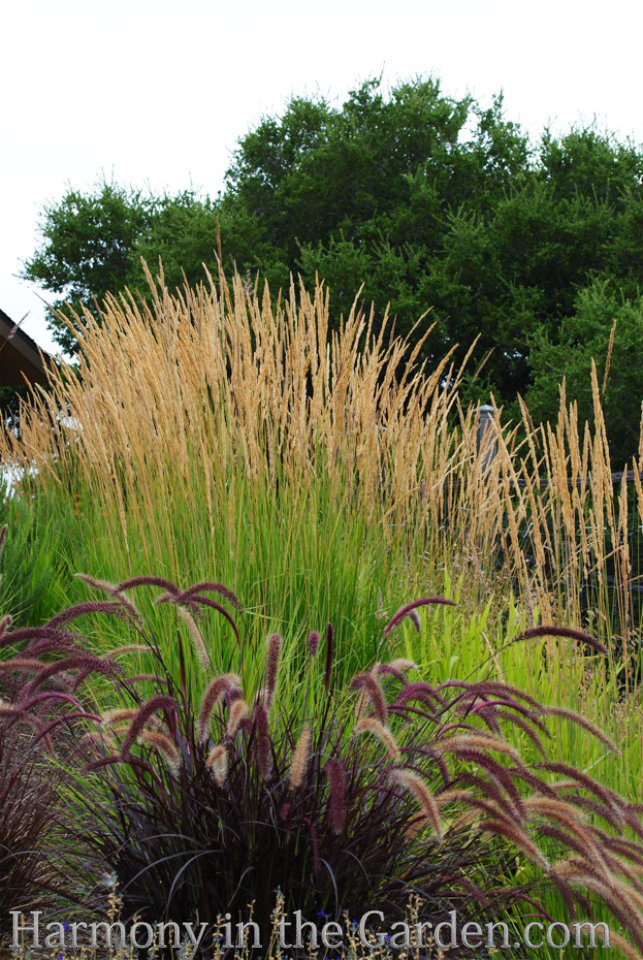 Calamagrostis foliosa 'Karl Foerster' Zones 5-9, Deer-Resistant
A favorite grass among gardeners wishing to add an exciting jolt of excitement to the back of the garden bed, thanks to its tall and narrow dimensions (5'tall x 3'wide.)
What starts out as a tidy 2′ mound of green blades, will explode into a late-summer vertical display that lasts for weeks and weeks at a time.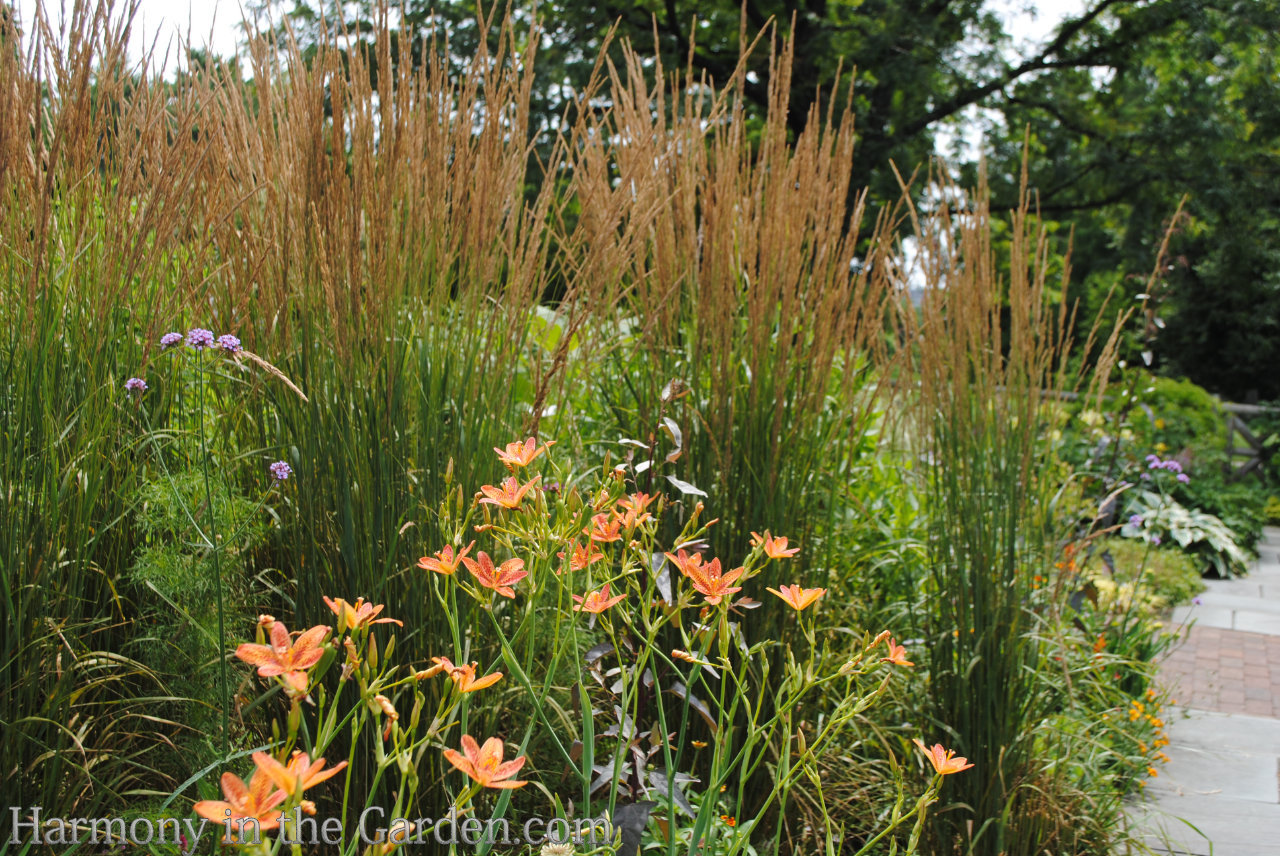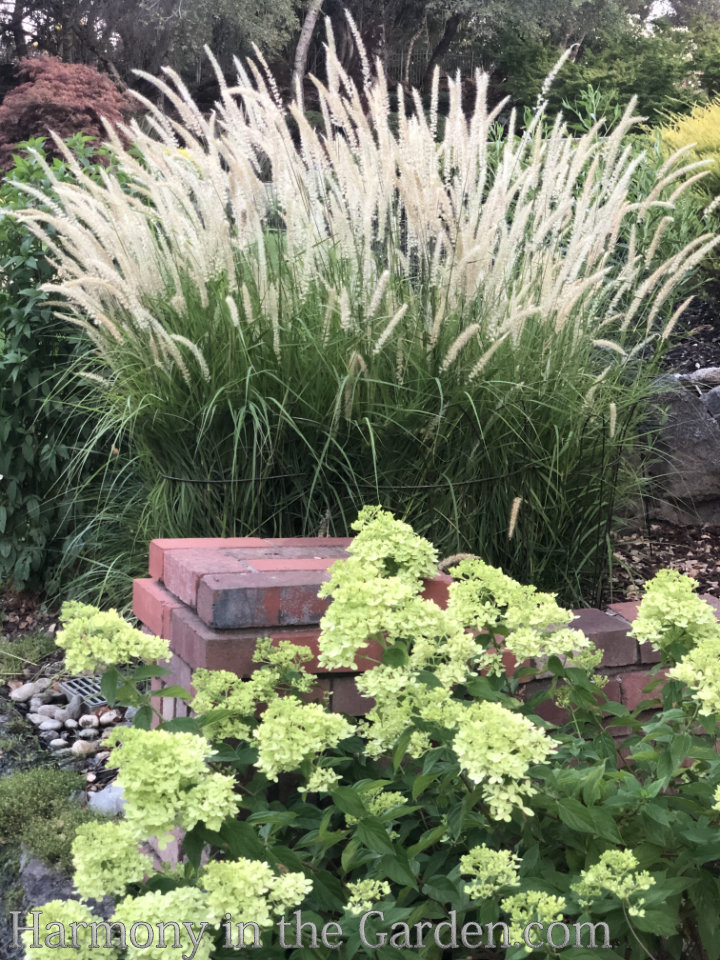 Pennisetum 'Fairy Tales' Zones 7b-9 Deer-Resistant
This is another fantastic, towering grass that I've used a lot in my gardens. When given a bit of irrigation, it grows much taller than the tag says (4′ – ha!)  reaching heights of 6-7′ in a single season. 
This grass will definitely need staking, but even so it's a must-have in my garden, begging all who pass by to reach out and touch the soft, textural 'blooms.'  
This grass doesn't re-seed, either, which is a bonus as so many grasses can quickly become a nuisance.
If you love grasses, like I do, you might enjoy this post 'Designing with Ornamental Grasses.'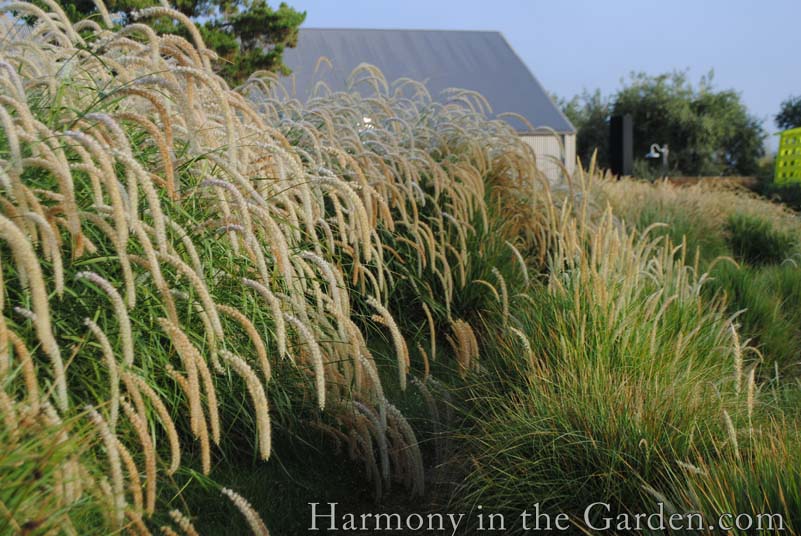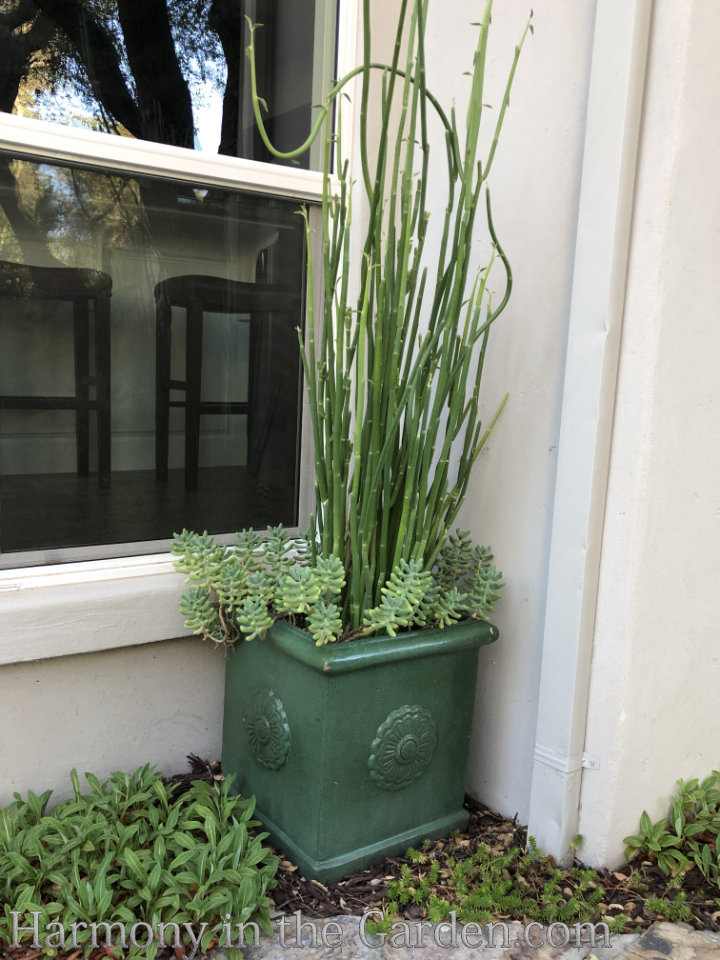 Euphorbia lomelii (Slipper Plant) Zones 9-11
For warmer climates, this super tall and narrow euphorbia is ideal for the skinnest of spaces. 
I have several throughout my garden, and have found they're not as cold-tender as I thought.  They've easily survived winter temps down to 35 with no damage at all.
In the summer, the tell evergreen, reed-like stems produce the cutest little red flowers that look like an elf's shoes.  Very low water, too, and takes full or partial sun.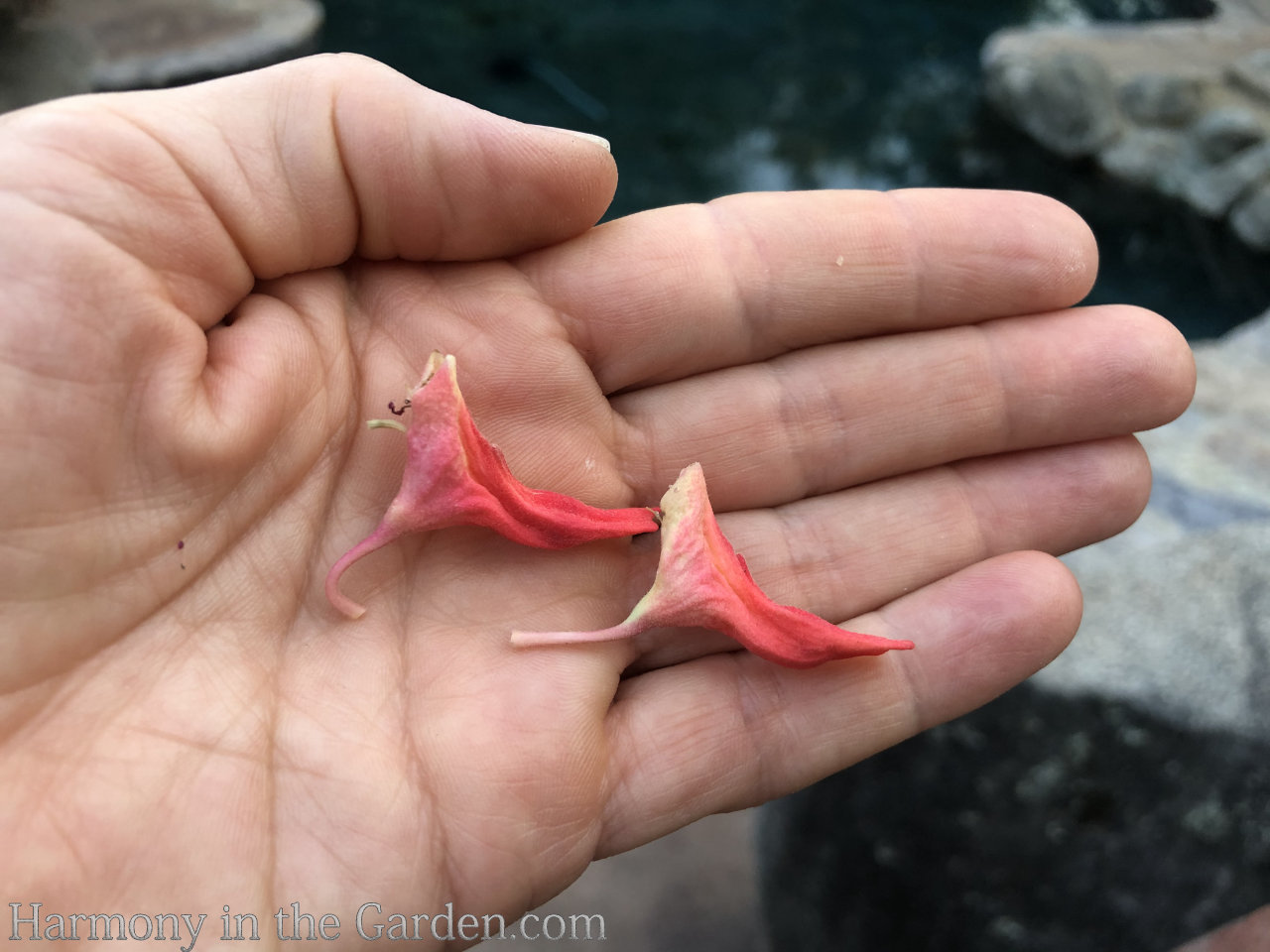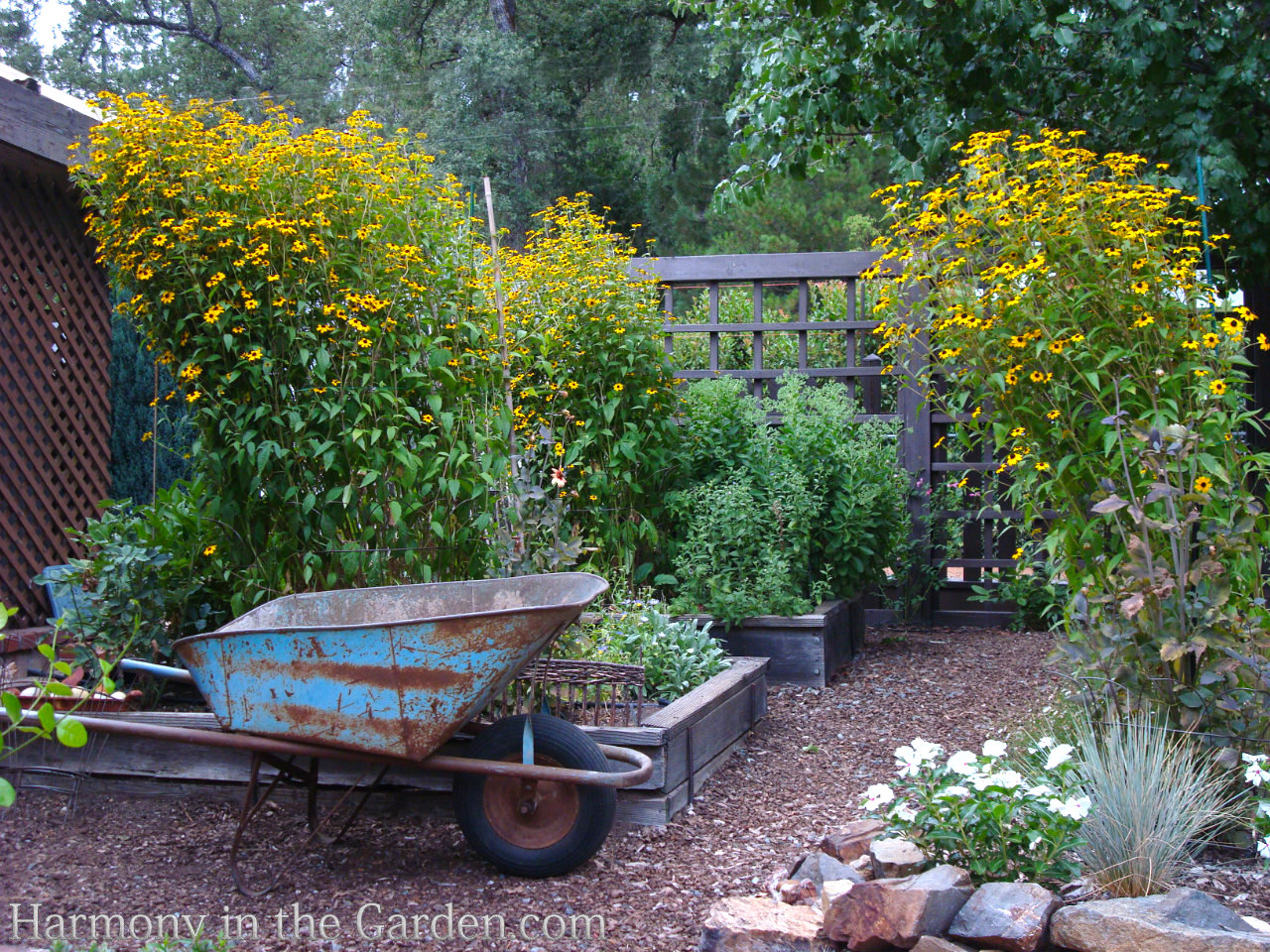 Rudbeckia triloba (Brown-Eyed Susan) Zones 3-9 Deer-Resistant
Another perennial that proves once again the internet is filled with misleading information!  
As you can see, when happy the towering clumps of late summer blooms easily reach 7′ (not the 4′-5′ that Mr. Google says.)
This perennial can be short-lived, but luckily it produces offspring that can easily be transplanted throughout your garden.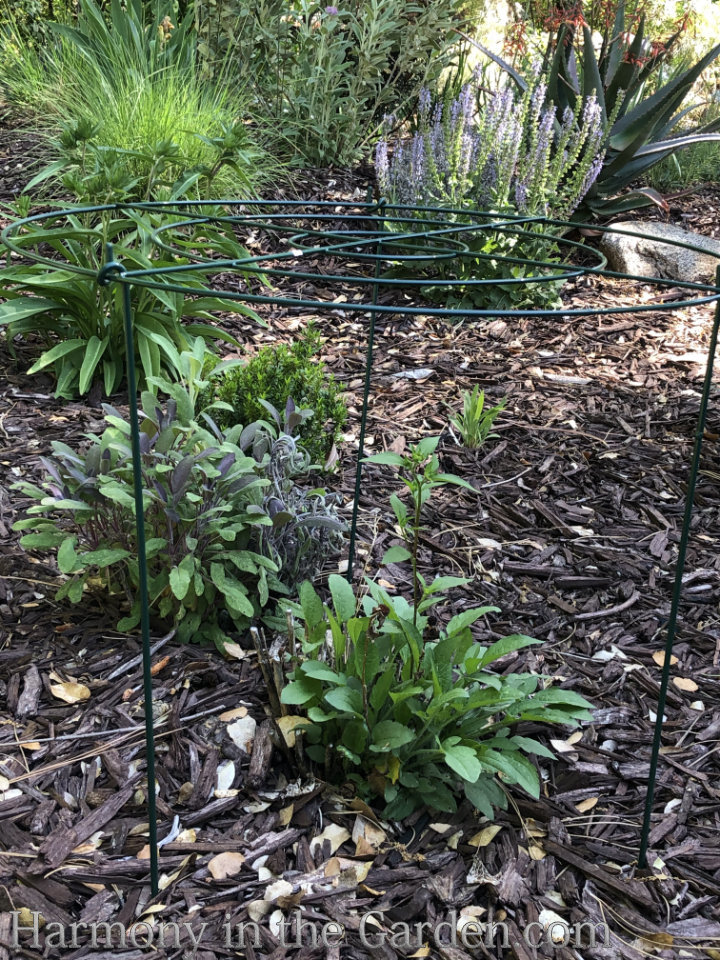 As a side note,  with all the height we're talking about, comes the need to support the plants. 
That's where my second obsession comes in – my love of teuturs and obelisks (if you missed this post, click here)    
A simple and fairly inexpensive support  I use is the one to the left, (shown here with a rudbeckia triloba growing through it.)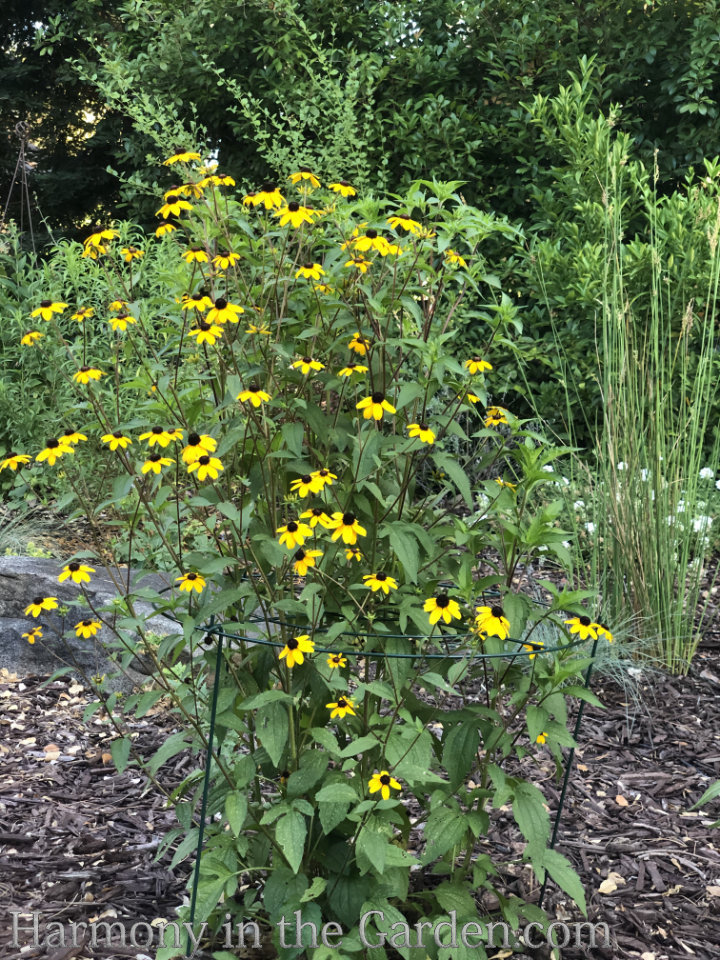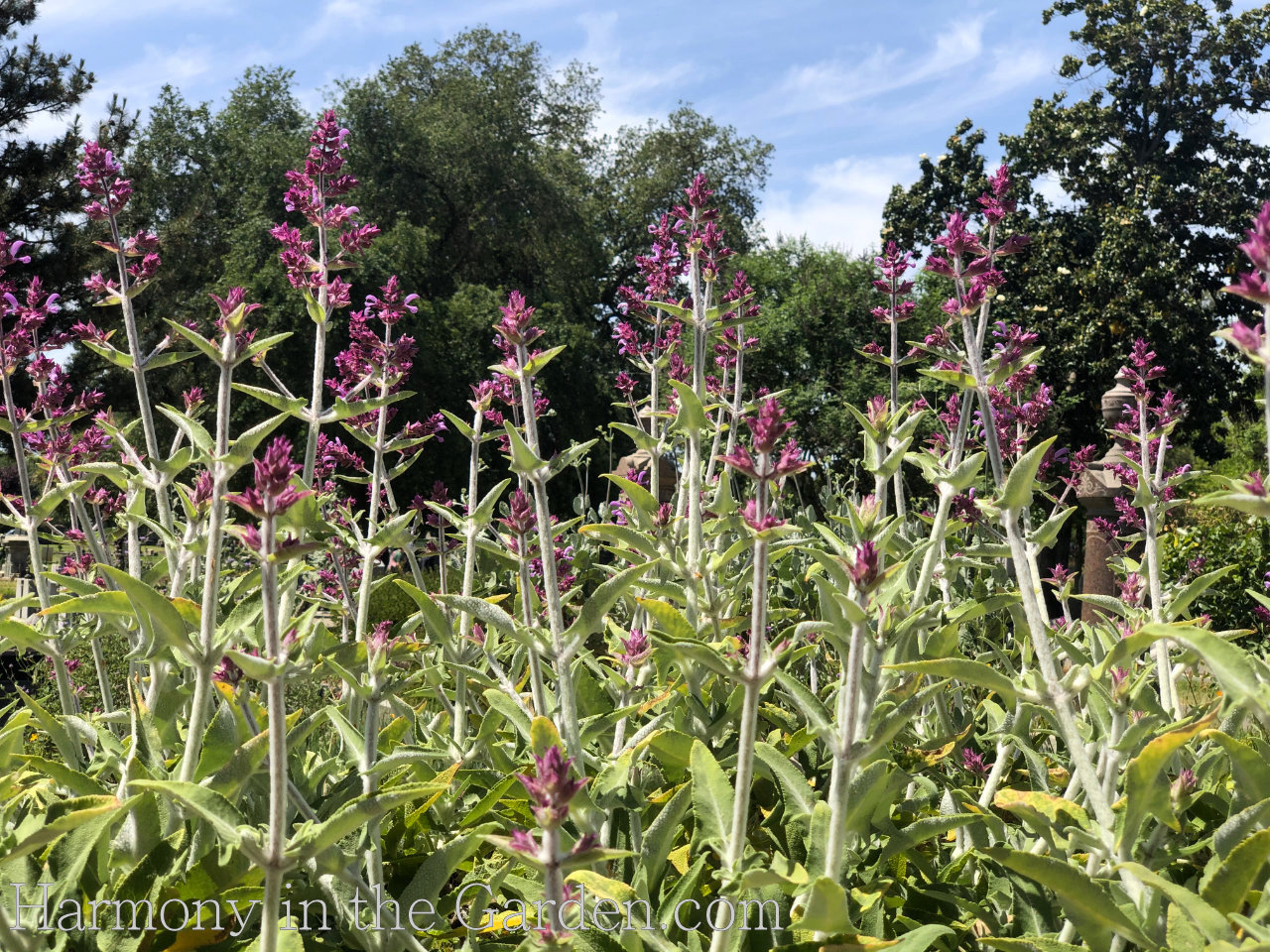 Salvia canariensis (Canary Island Sage)  Zones 8-11, Deer-Resistant
One of my all-time favorites for ginormous height, this variety quickly grows to 7′ and will be covered with purple blooms throughout the summer.
And don't forget, plants this tall serve another function – they're gorgeous barrier plants, providing much-needed privacy.   
If you'd like to read more about my tips for landscaping for privacy, click here. 
8-10 Foot Flowering, Towering Beauties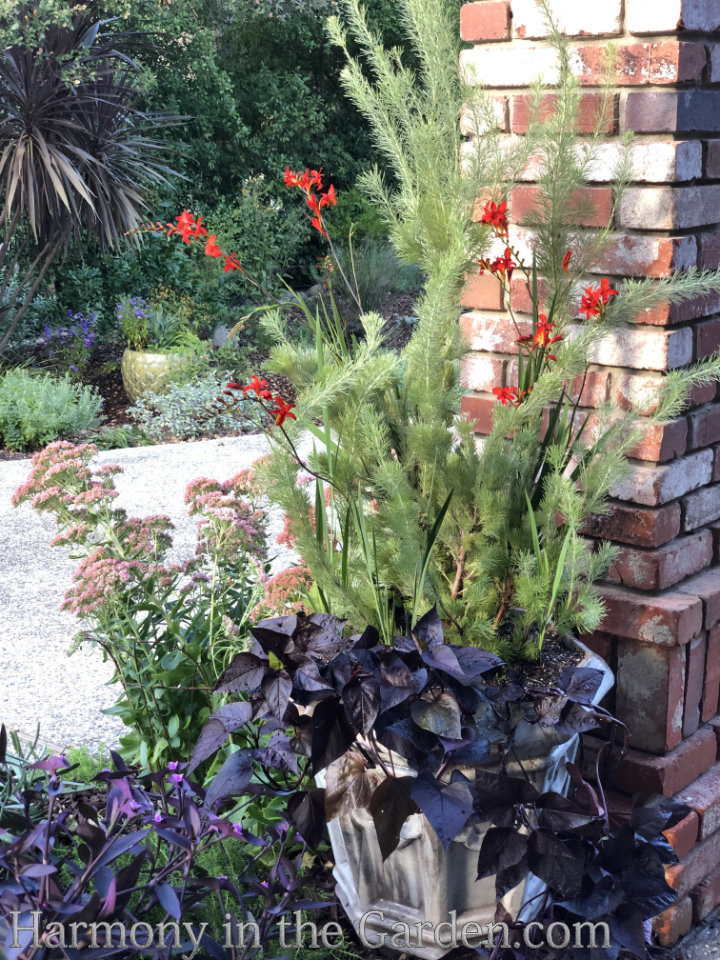 Adenanthos sericeus (Australian Wooly Bush)  Zones 9-11, Deer-Resistant
I've written about this warm-climate evergreen shrub before (click here for some container inspiration) but I wanted to mention it again.
I can't get enough of the textural, soft 'branches' of this 8′ beauty, stopping to 'pet it' every time I pass by.  
I've found they do really, really well in an oversized pot versus in the ground. They also require very little water once established.
When happy, tiny little red flowers adorn the tips of the branches.  It's so worth trying one of these in a sheltered location!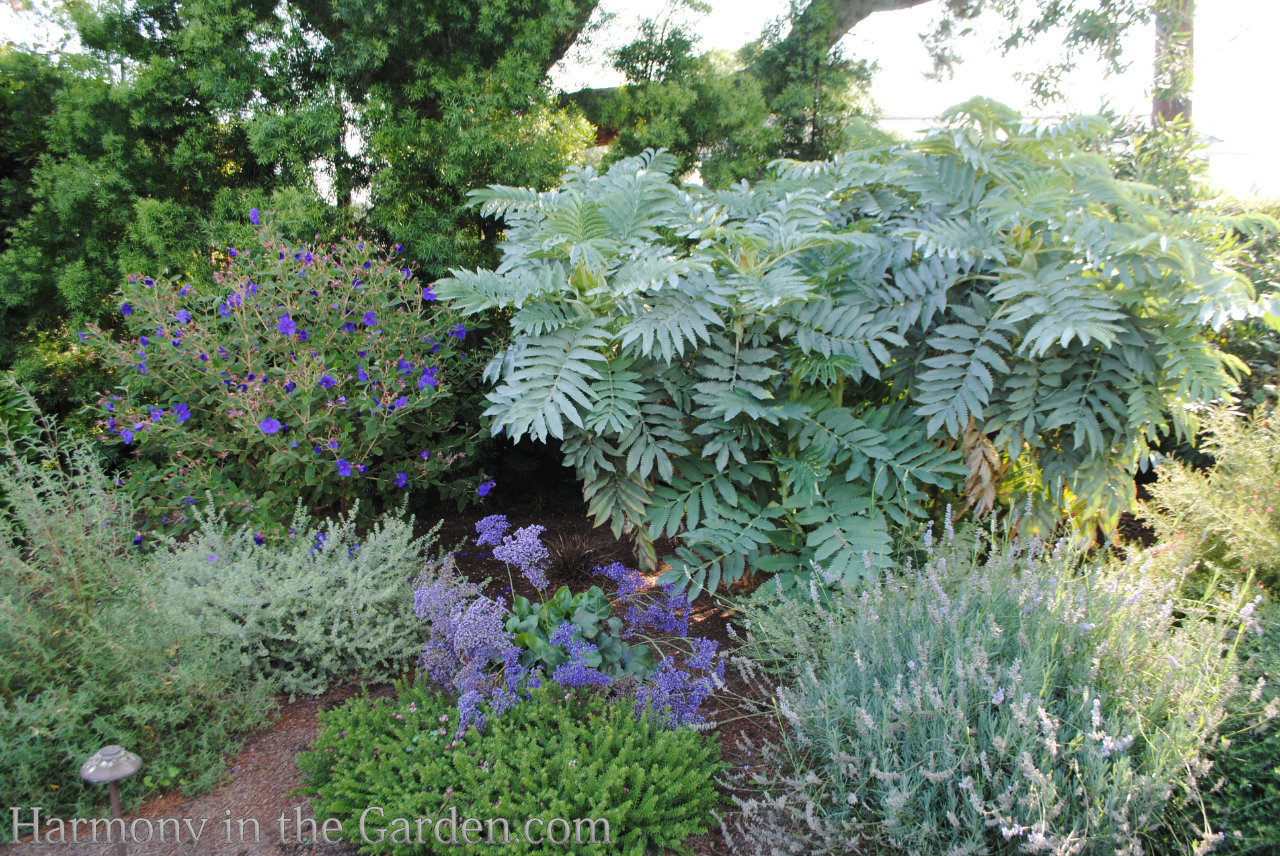 Melianthus major 'Antonow's Blue'  Zones 7-10
Wowza!  Take a look at the oversized, textural, blue-green foliage of this giant!  It also has late-spring, nectar-rich burgundy blooms that are equally as impressive (well, almost.)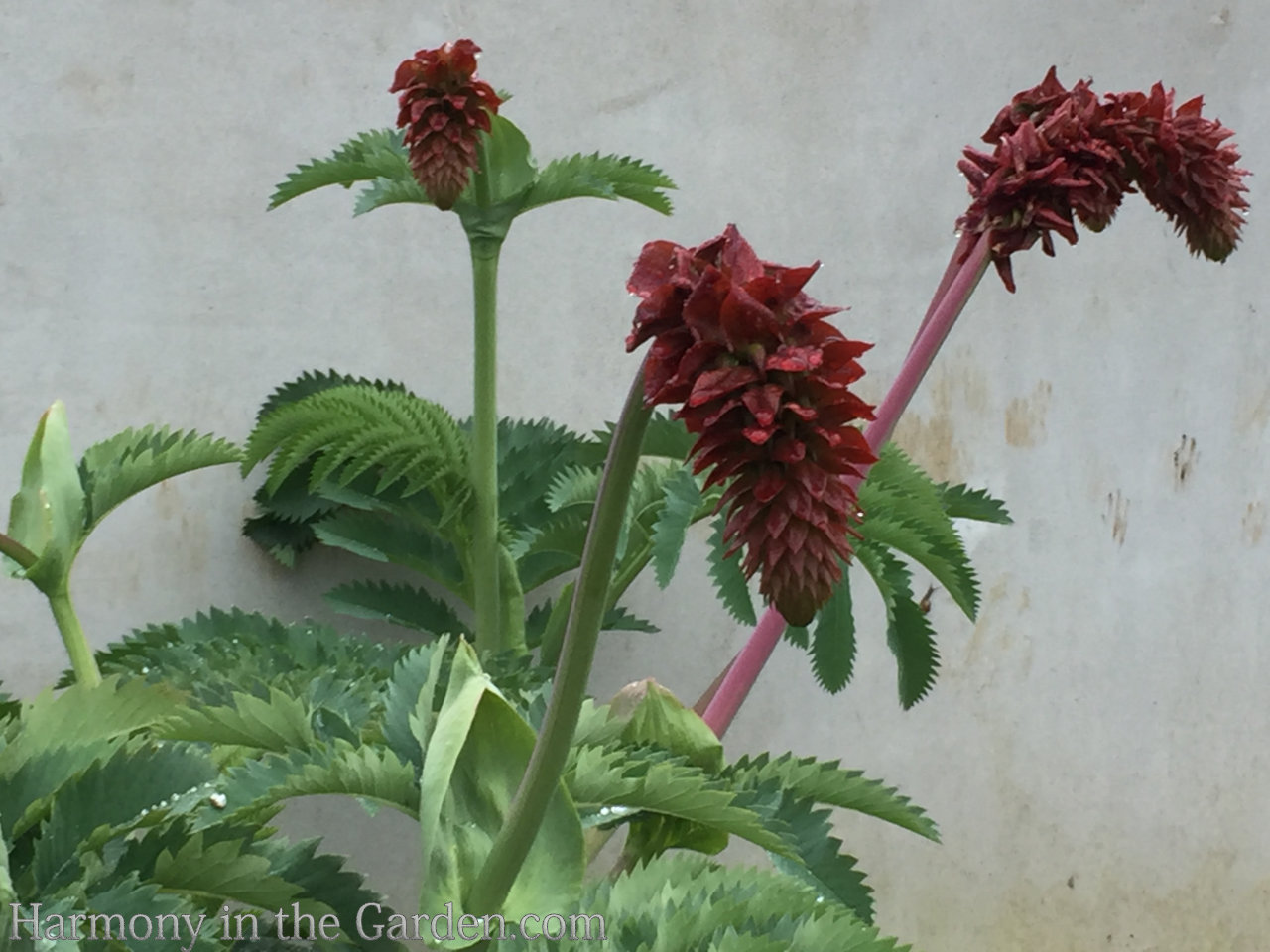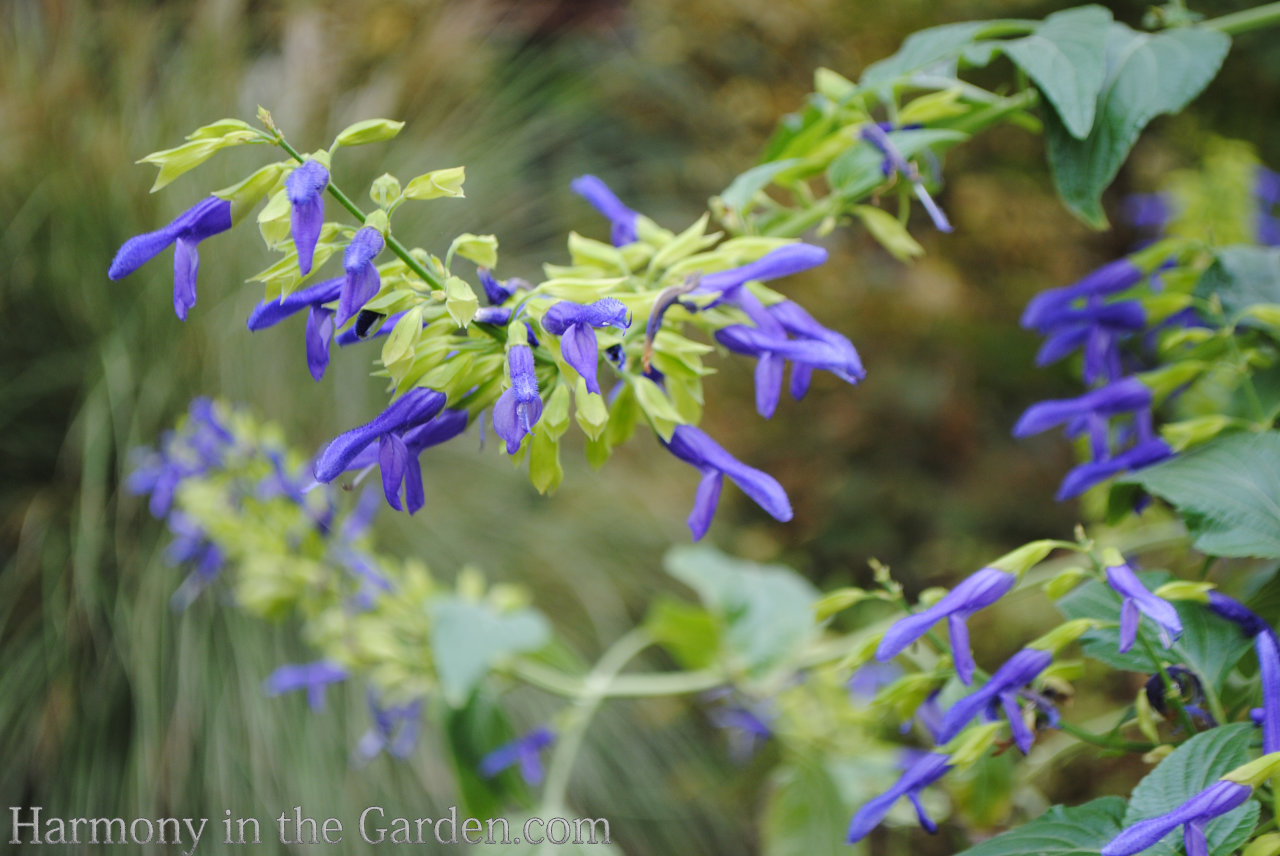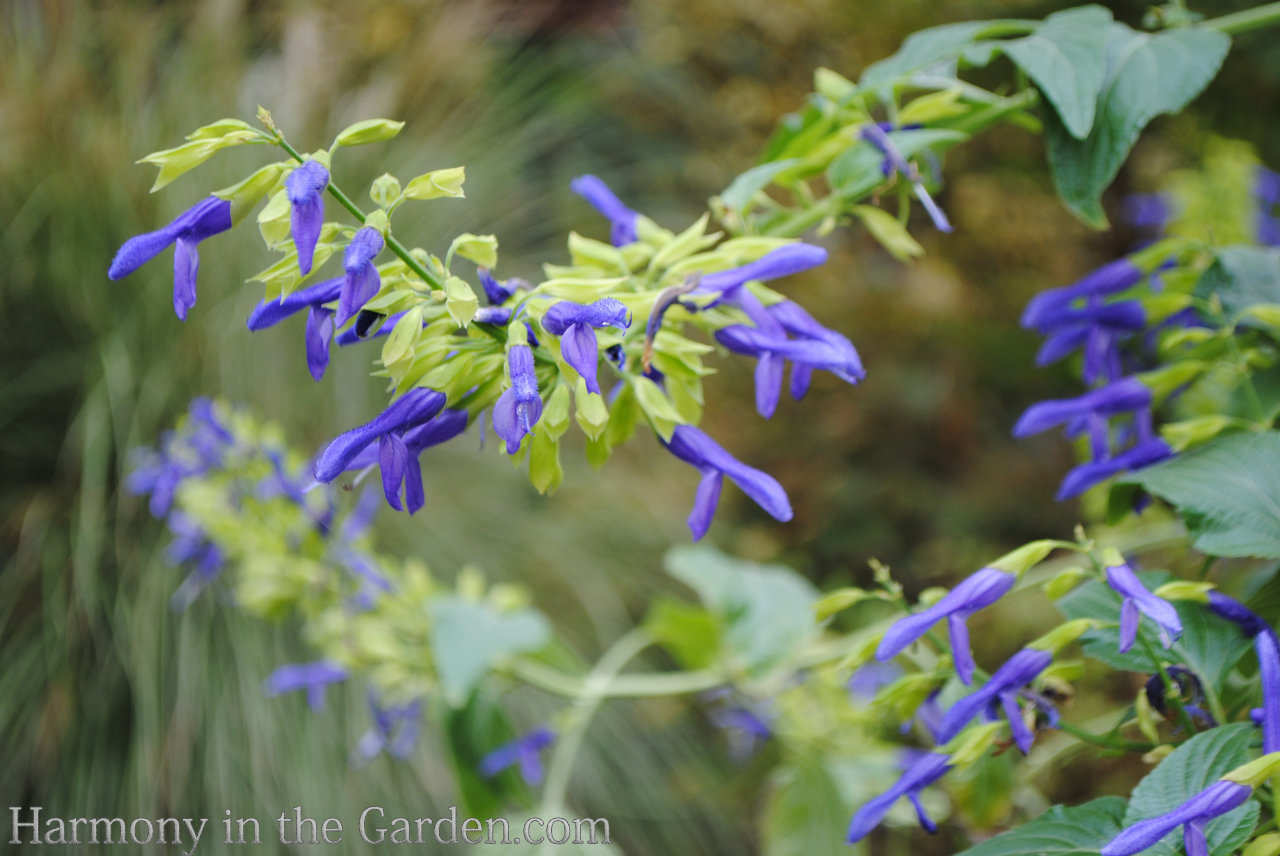 Salvia mexicana 'Queretaro', Zones8-11, Deer-Resistant
Growing larger than it's cousin, 'Limelight', this 10′ salvia blooms in the fall, providing several months of color.
Covered with iridescent blue/purple flowers and bright chartreuse calyxes, it's a show stopper in the back of the border.
The hummingbirds will thank you for their late-season nectar source, too.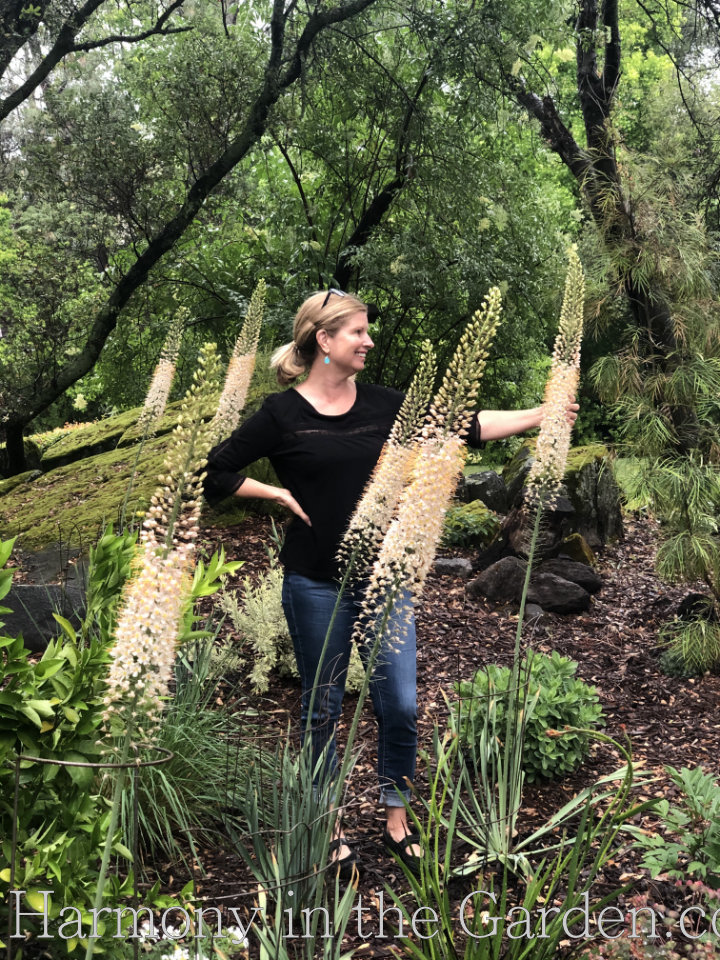 Eremurus (Foxtail Lily)  Zones 5-8, Deer-Resistant
The foxtail lily is my very favorite towering flower of all. 
With rockets of blooms available in a variety of colors, these spires easily grow upwards of 7′ (most likely taller in a climate with a bit more moisture.) 
I particularly love this 'Oase' variety, pictured here, with the soft peach blooms.  To see how I've used them in my garden, click here.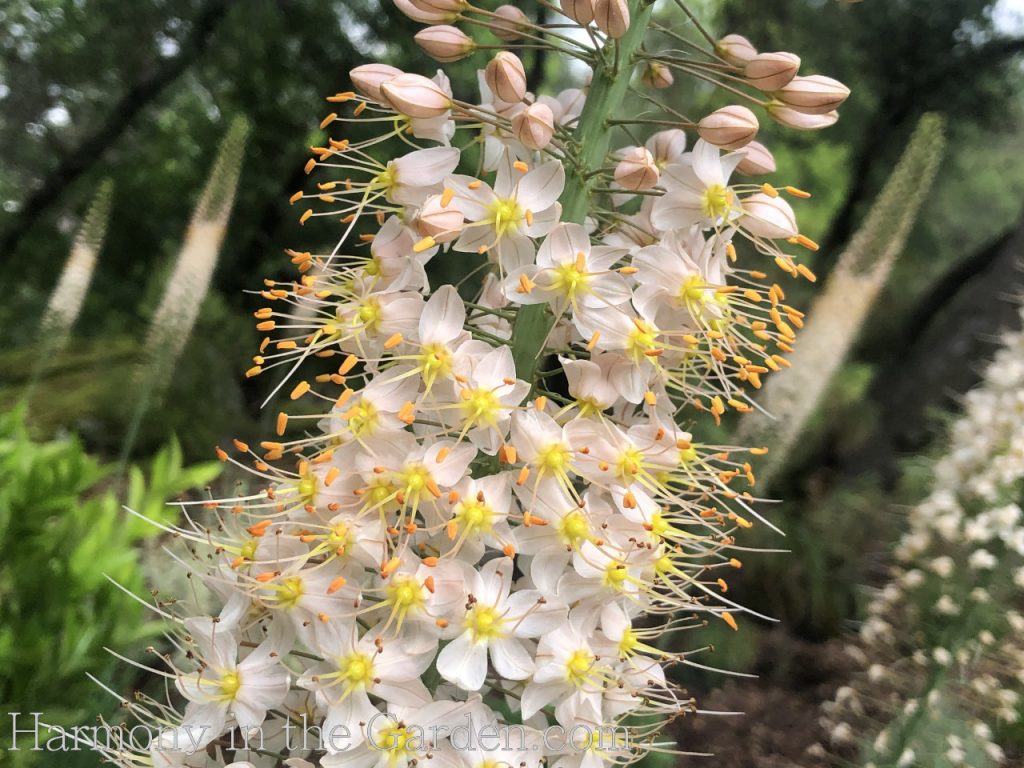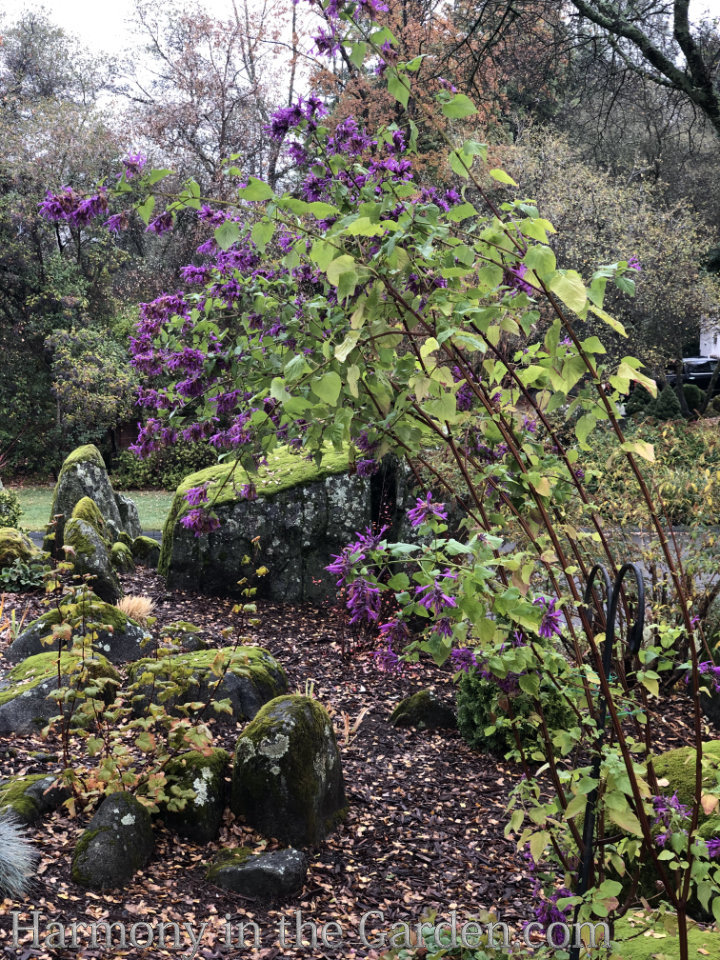 Salvia purpurea 'Lavender Lace' Zones 9-11, Deer-Resistant
Blooming in the WINTER (winter, folks!) this 10′ tall tower of flowers is a must-have for a sun to part-sun garden. 
It begins blooming in late October and depending on the severity of winter, can last all the way through to January.
For more information about salvias for all FOUR seasons (yes, even winter!) click here.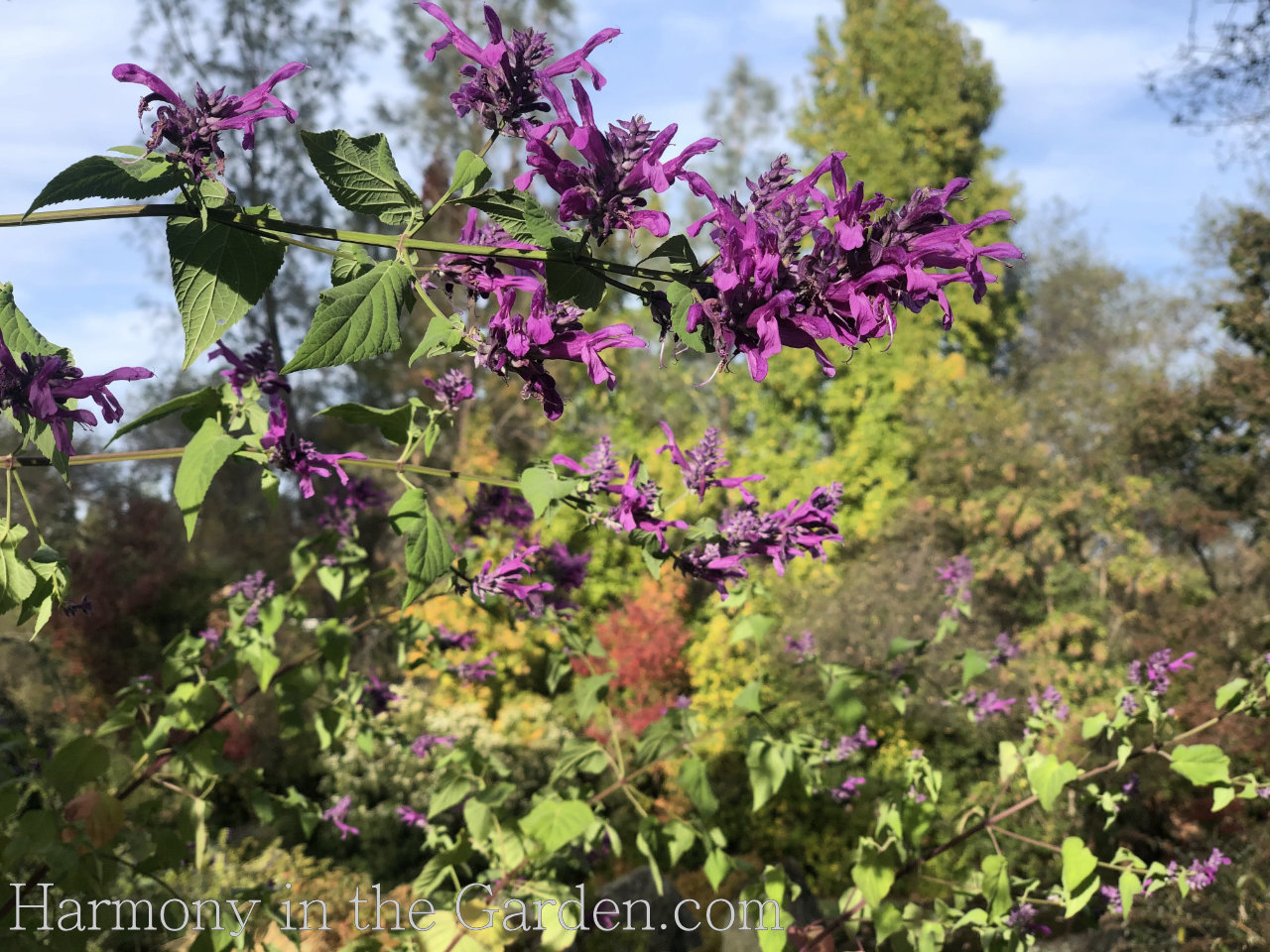 10-14 Foot Flowering, Towering Beauties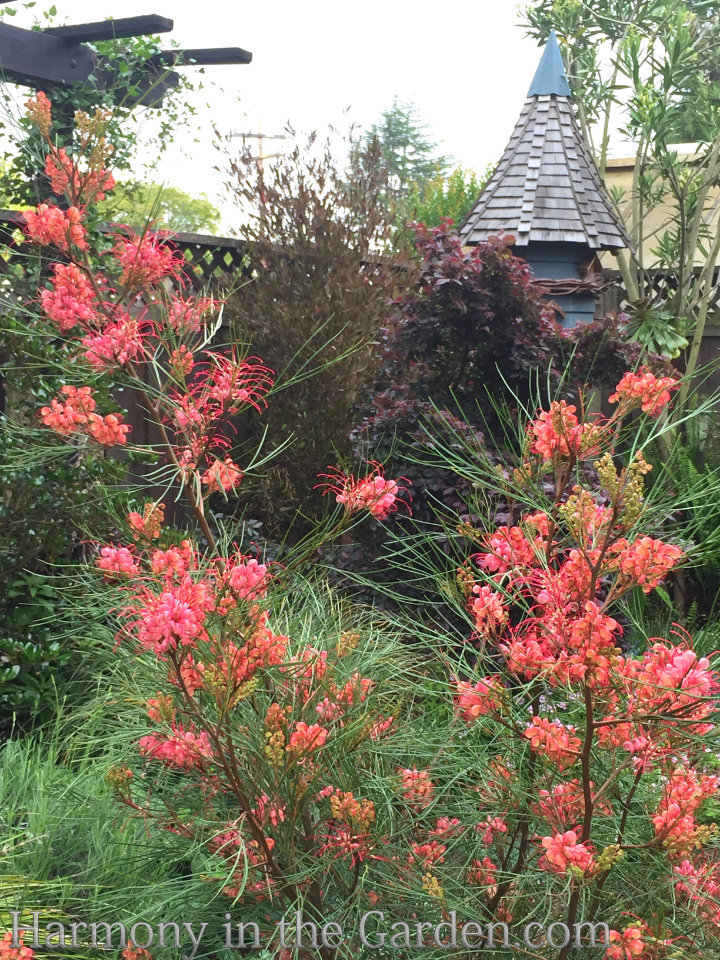 Grevillea 'Long John', zones 9-10, Deer-Resistant
I plant a lot of grevillea varieties, but when there's room I always include a 'Long John.'
Growing to 12′ (or more, if it loves your garden) the airy nature of this plant helps to prevent it from appearing too bulky in the garden.  
Its unique foliage looks like very long, thin pine needles that create a wispy see-through effect in the garden.
The flowers are a dark rose-pink color that attracts hummingbirds as well as a ton of beneficial insects and bees. (click here for more of my favorite grevilleas – of ALL sizes!)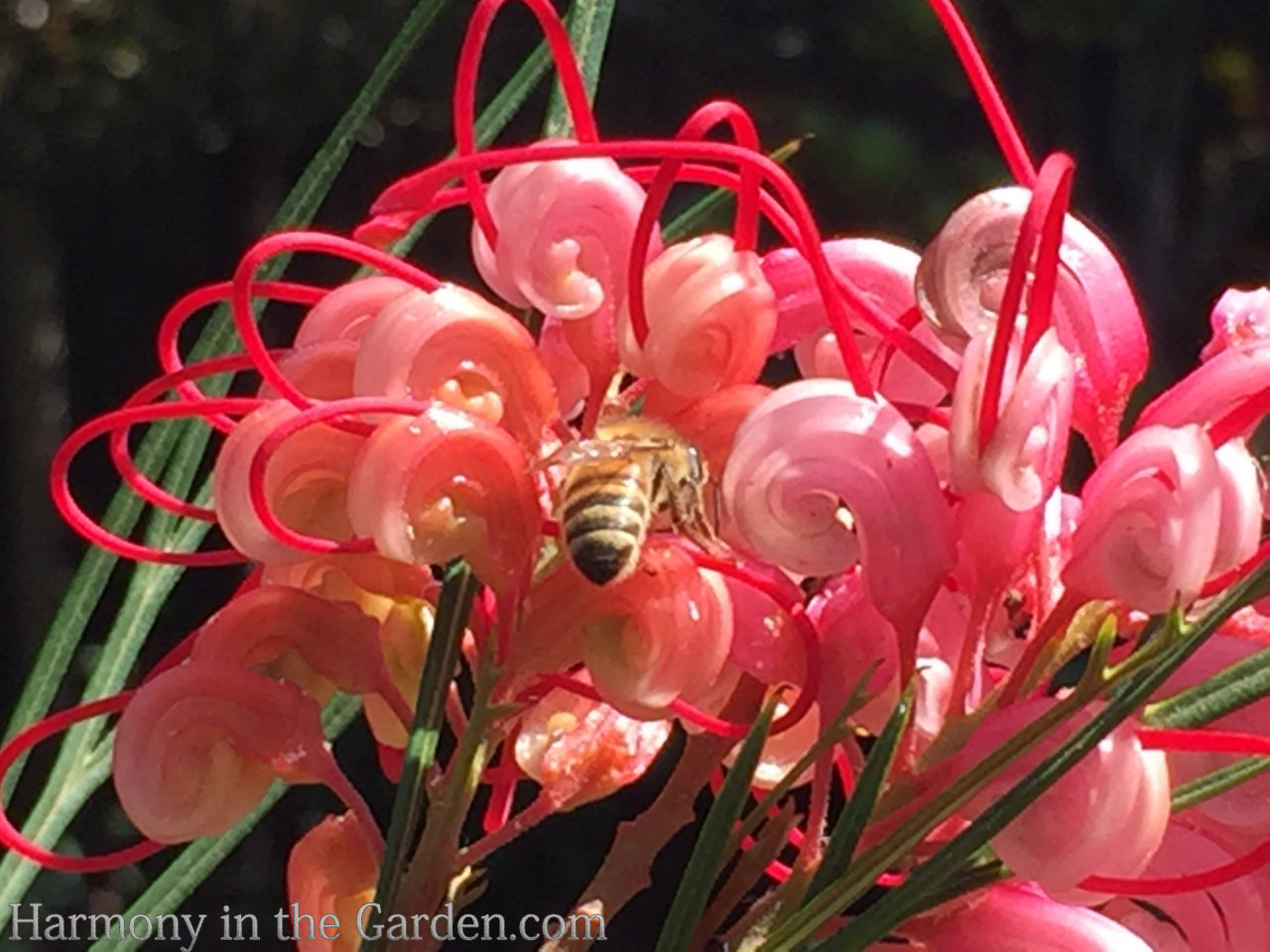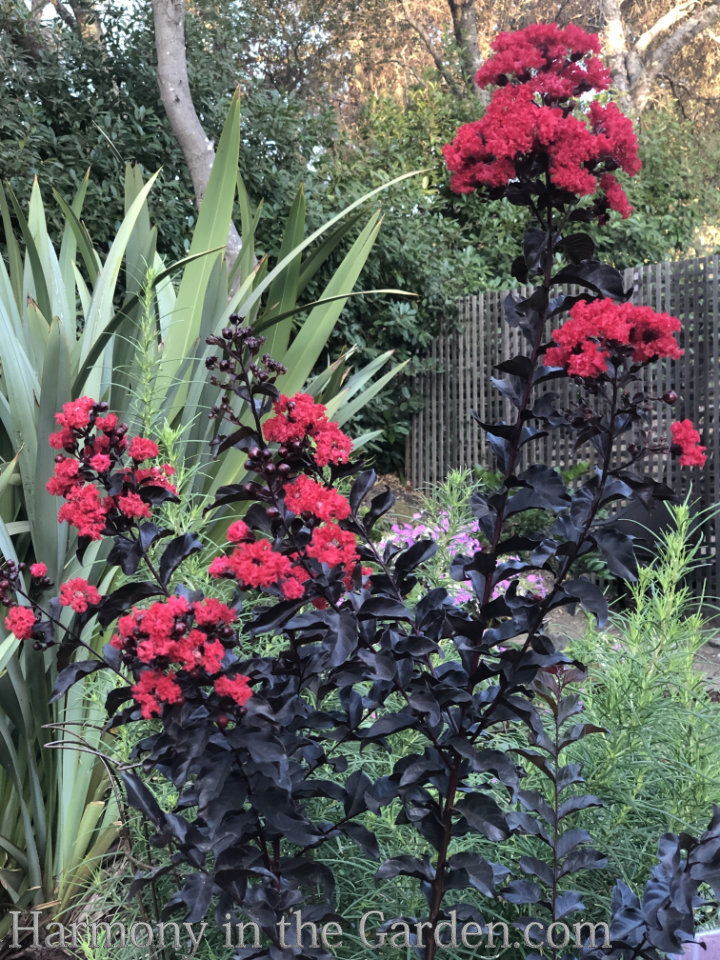 Lagerstroemia (Crepe Myrtle) Black Diamond 'Best Red' (left) and Sunset's 'Delta Fuchsia' (below)  Zones 7-10, Deer-Resistant
These dwarf varieties only grow to 10′ or so, and are amazing for late-summer blooms. 
Even more amazing, let's just talk about that dark foliage that lasts through the heat of the summer!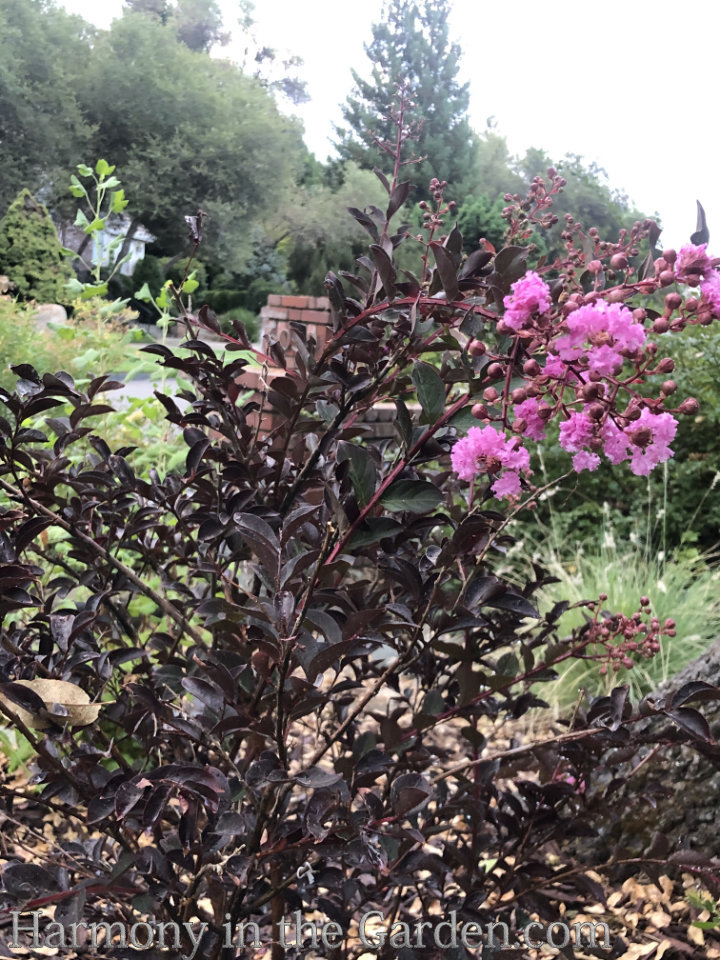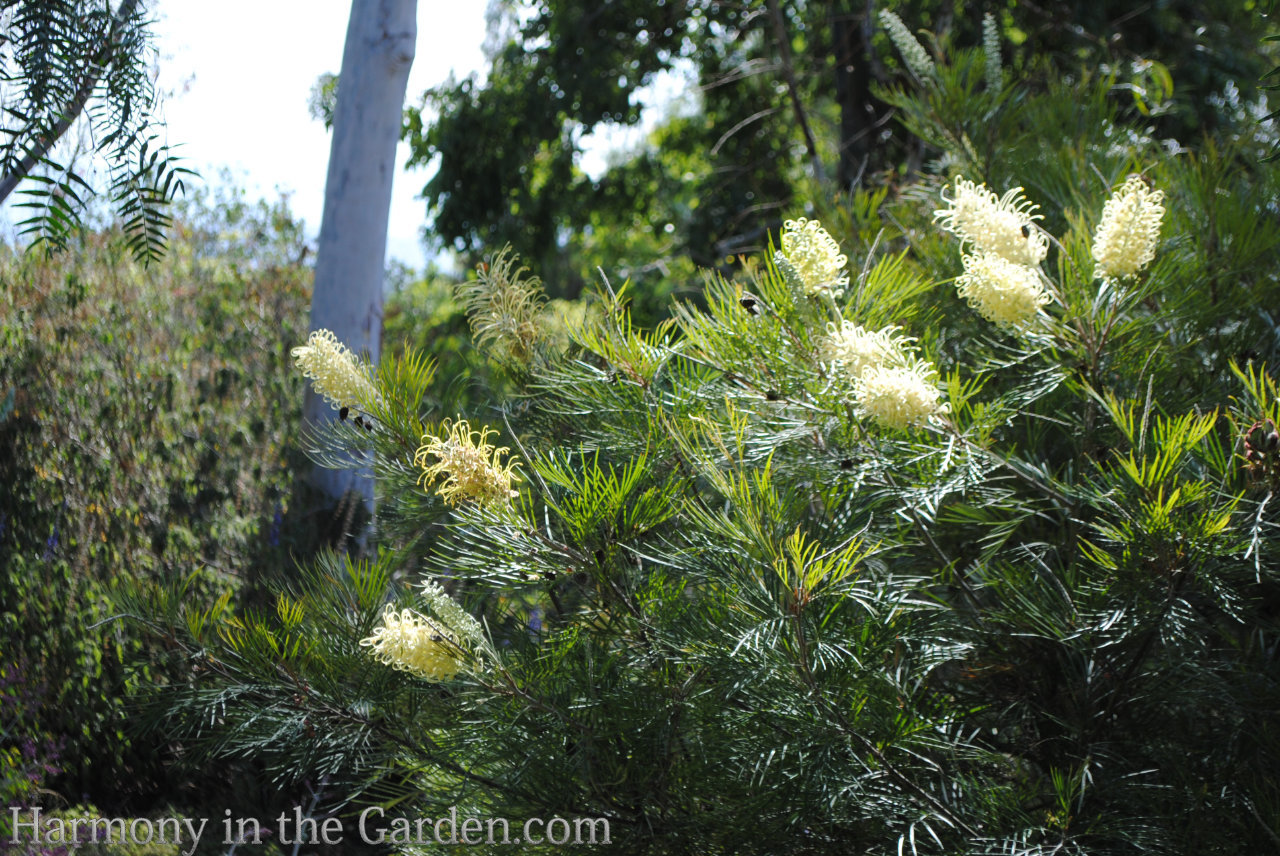 Grevillea 'Moonlight' Zones 9-11, Deer-Resistant
Another tall variety of grevillea (12'+) 'Moonlight' is unique in that it has elegant creamy white blooms. 
Most grevilleas have flowers in the pink, orange, red shades which makes 'Moonlight' so special.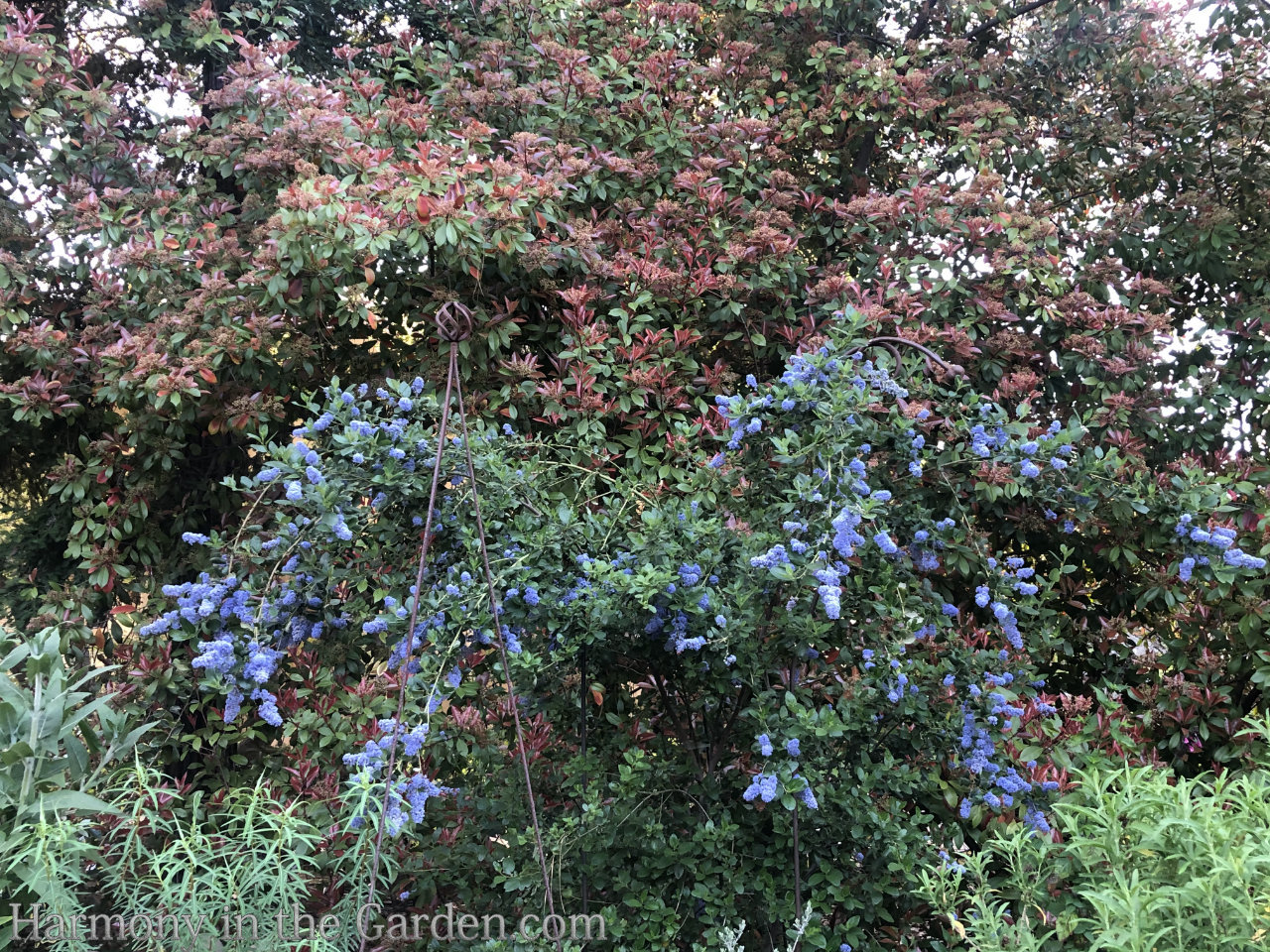 Ceanothus 'Ray Hartman' Zones 9-11
This is a super fast-growing upright ceanothus, which will eventually reach 15 feet or so.   
It has a soft, cascading form which I appreciate in the very back of the border (along with the early spring blue flowers.)
It's not deer-resistant, but when surrounded by other plants with thorns (ie: barberry,) I've found the deer stay away.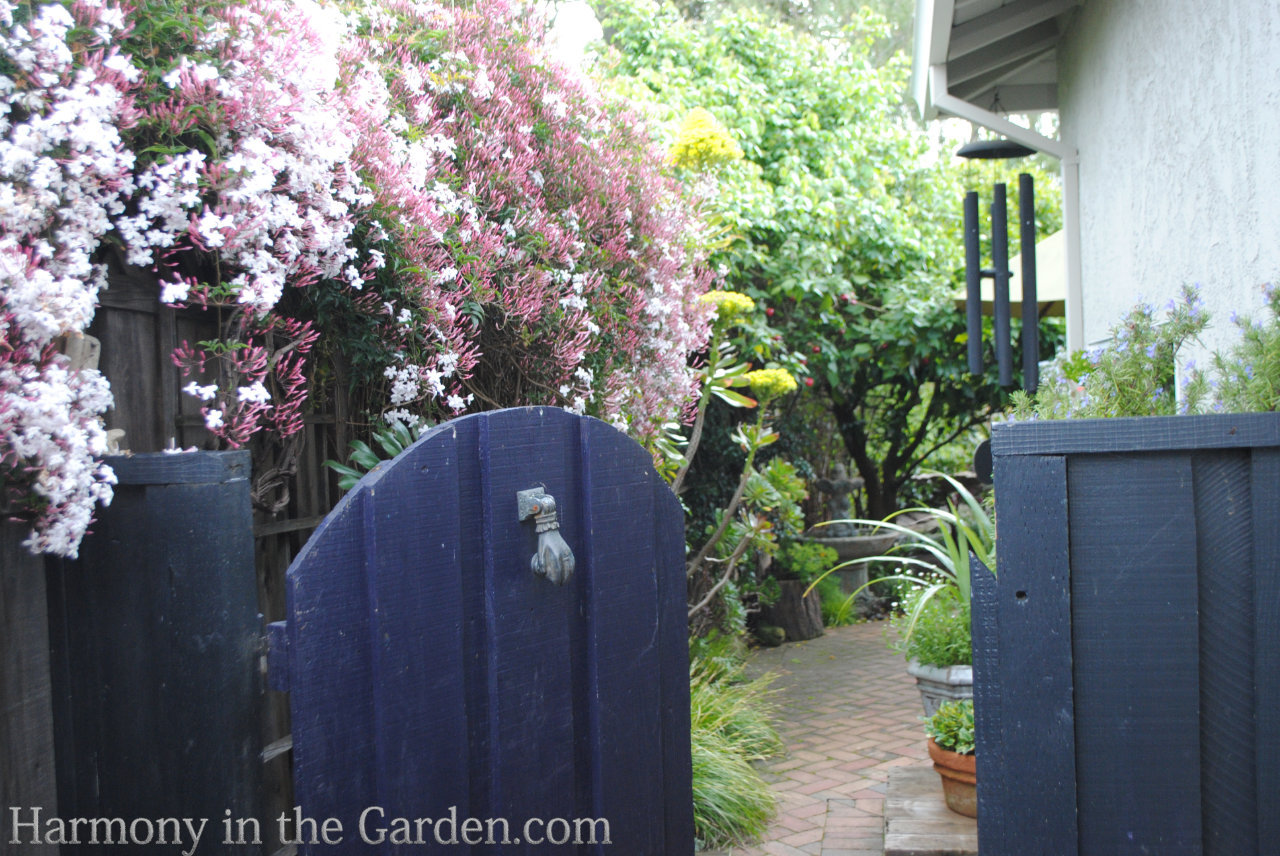 You may be wondering why I didn't include any vines when talking about towering flowers (especially since Monrovia featured some of my favorites!) 
Stay tuned!
I'm working on a great post about ways to create privacy in the garden, where I'll talk much more about vines (and loads of other things, too, of course.)
Take a peek at a few public gardens below that have had a hand in fueling my love of giant, oversized, land lush borders.  And note how often an oversized plant is placed in the front of the border, and how it doesn't seem out of place. 
If the pro's can do it, so can you!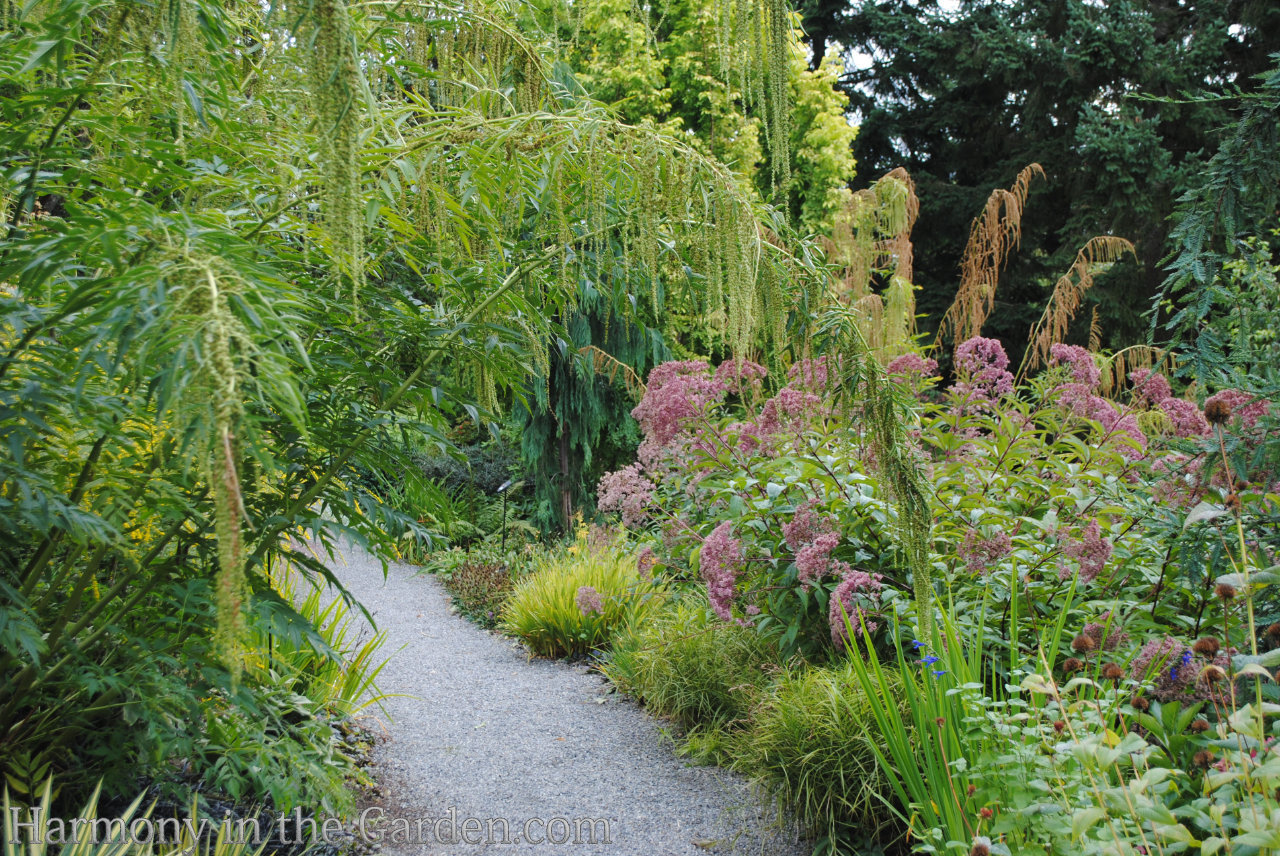 One of my favorites for over-the-top towering inspiration.  Just take a look at the 10'+ False Hemp that gently arches over the pathway.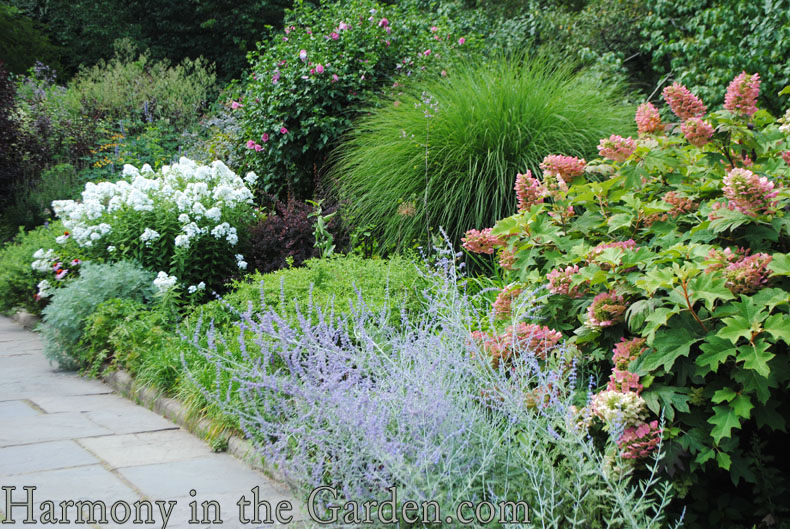 The queen of using oversized, towering plants in a garden has to be Lynden B. Miller, the designer and creative genius behind the Conservatory Garden.
Okay, this post is long enough! 
Please share some of YOUR favorites with us, and why you love them so.