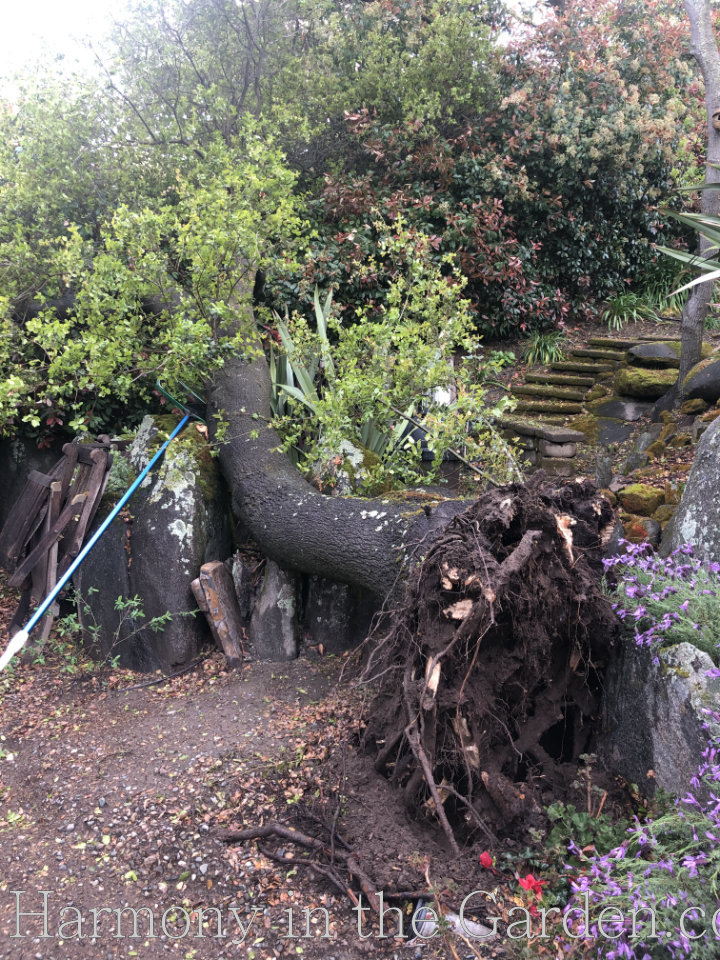 Today I'm sharing some inspiration using dead trees and branches.
What do you do when a beloved tree gives up the ghost?  Or when several trees need to be removed to make way for a new home or garden? 
Or when you come home from vacation to find a giant oak tree fell over, seemingly out of the blue (yes, that happened to me TWICE so far this summer!  Yes, that's one of my trees in this photo.)
If you're like most gardeners, you've probably shed a tear or two when this has happened in your garden.
I've been going through photos of gardens I've visited over the years and was amazed at how many of them incorporate, on some level, their own fallen trees.  Basically turning lemons into lemonade.
And while none of my own felled trees could be transformed into anything but mulch (which I'm grateful for), I wanted to share what others have done when faced with similar dilemmas.  
1.  Use the trunk as a decorative support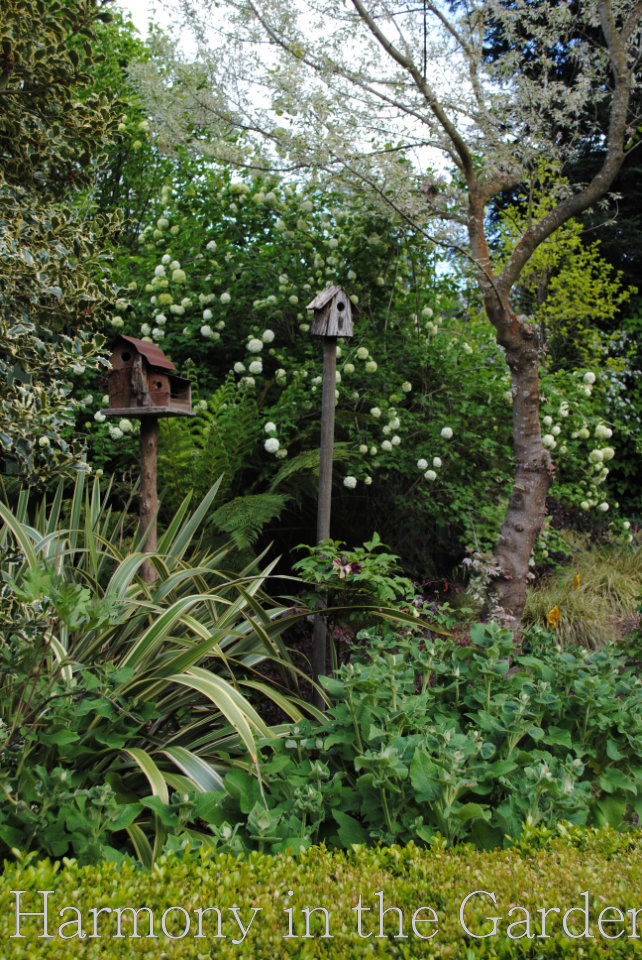 One of my favorite uses of a dead birch tree (above) is how Freeland Tanner transformed the sculptural tree trunk into a support for one of his custom birdhouses.
We should all be so lucky to have such a picturesque tree trunk, right?
But his birdhouses to the left prove that simple branches can also be charming in the garden.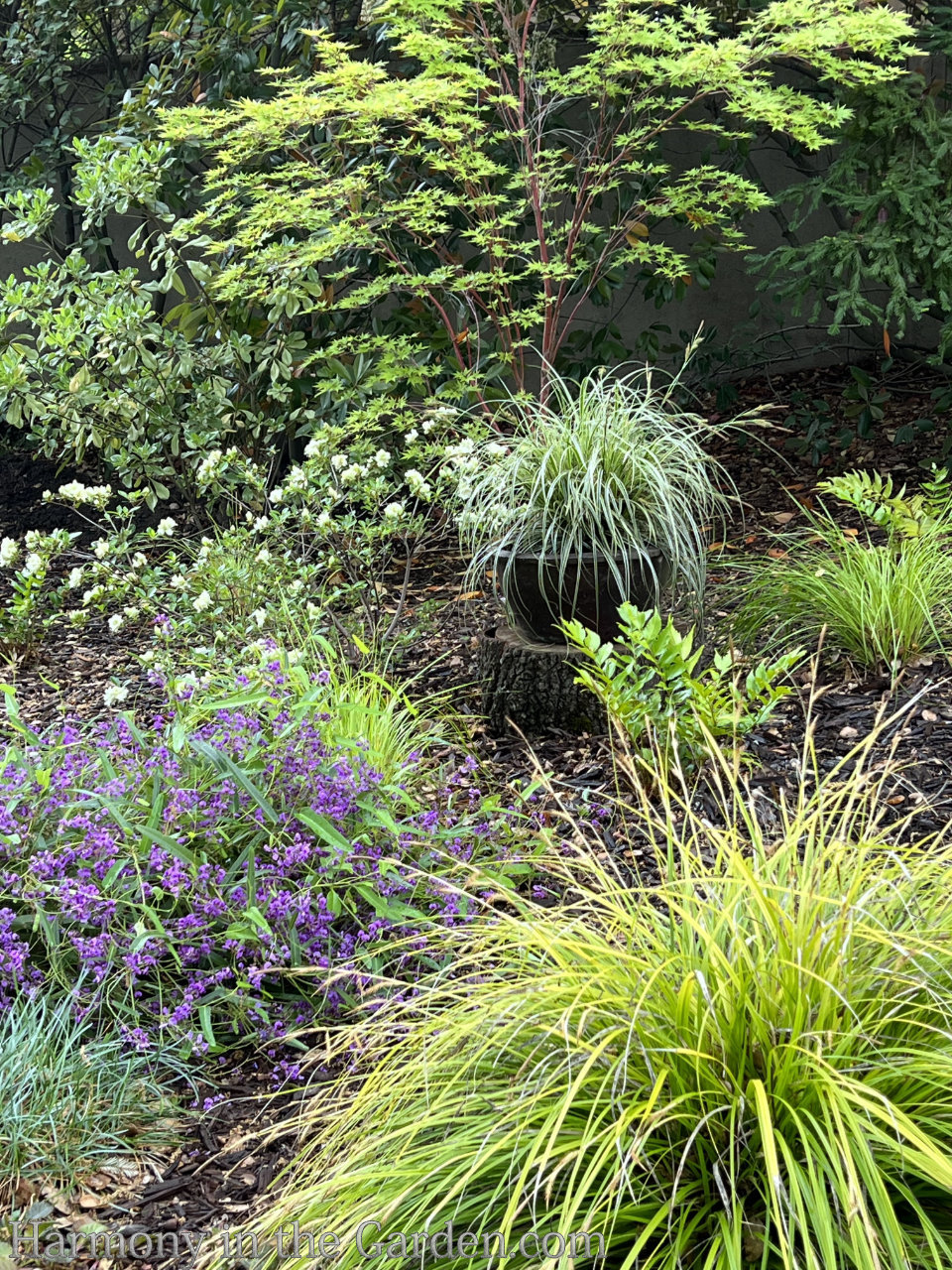 Just last year we lost yet another beloved oak tree.  It killed me to have it removed!
Since I always like to place a few containers within garden beds, I thought why not use these rounds as pedestals!
Placing containers in the middle of garden beds adds another element of interest, not to mention height, and an opportunity to honor a favorite tree.
Also, placing them within the garden means it's much easier to hook them up to irrigation (tapping into existing nearby lines.)
Sure, they won't last forever, but I'll certainly get several years out of them.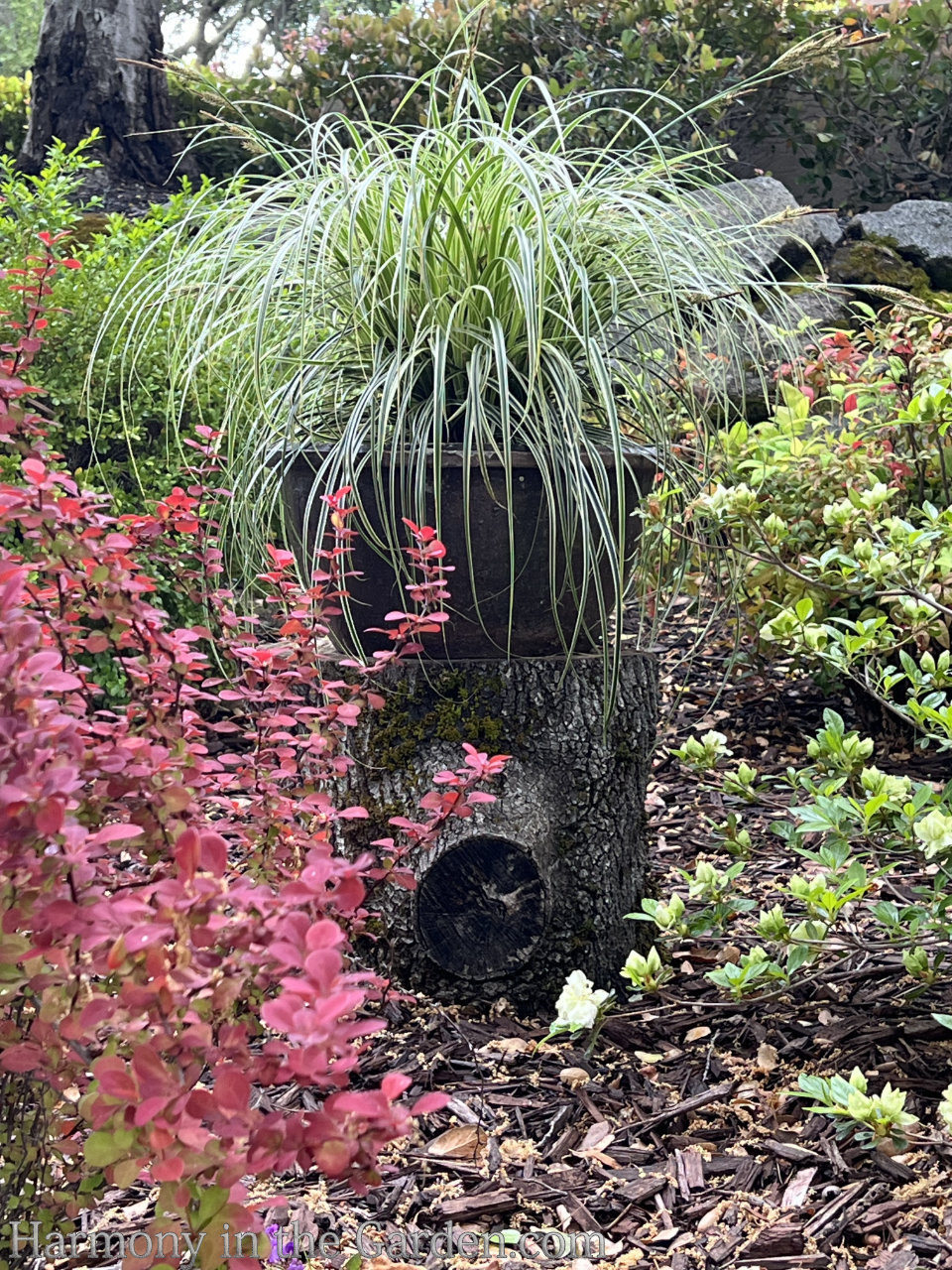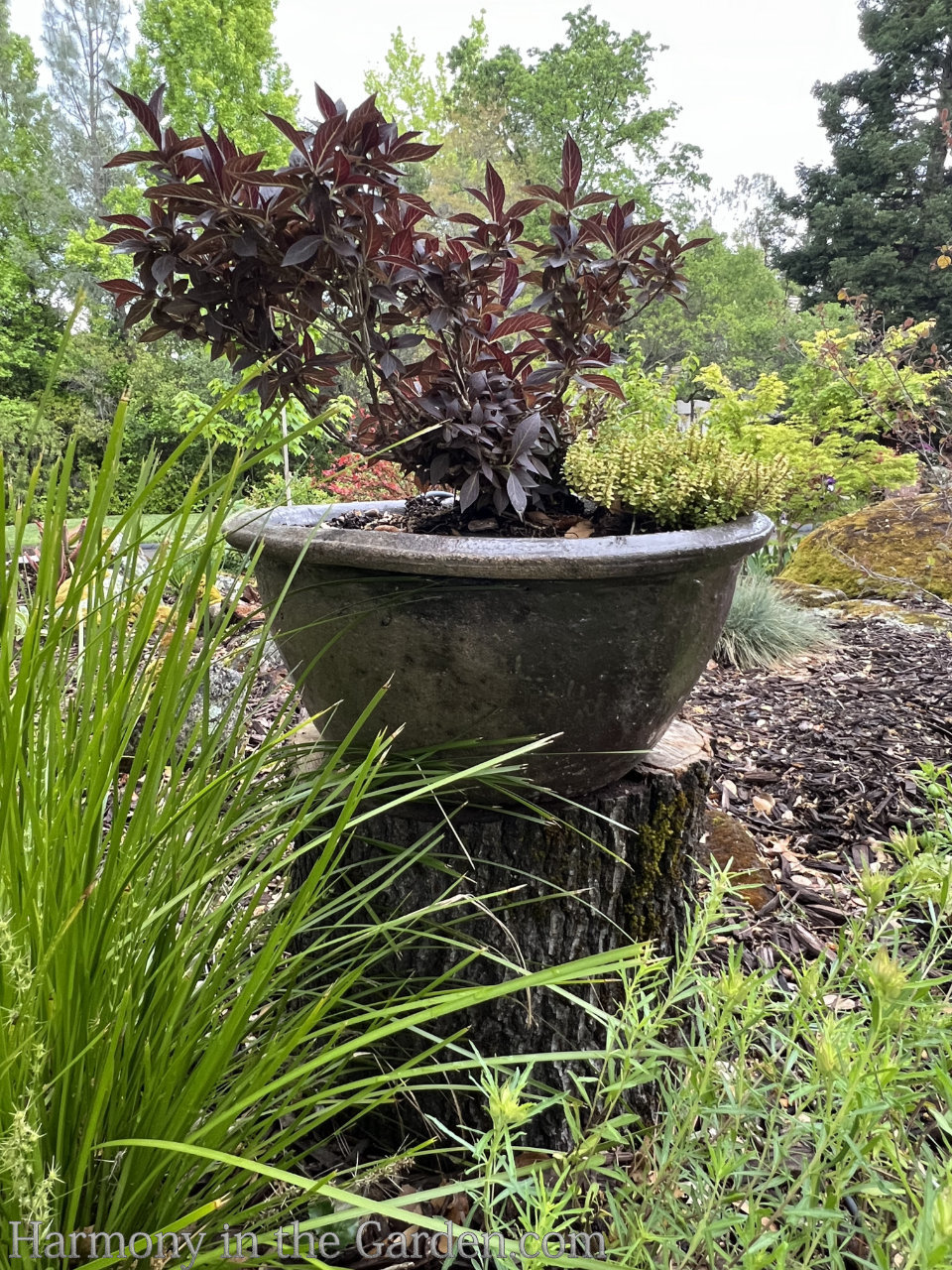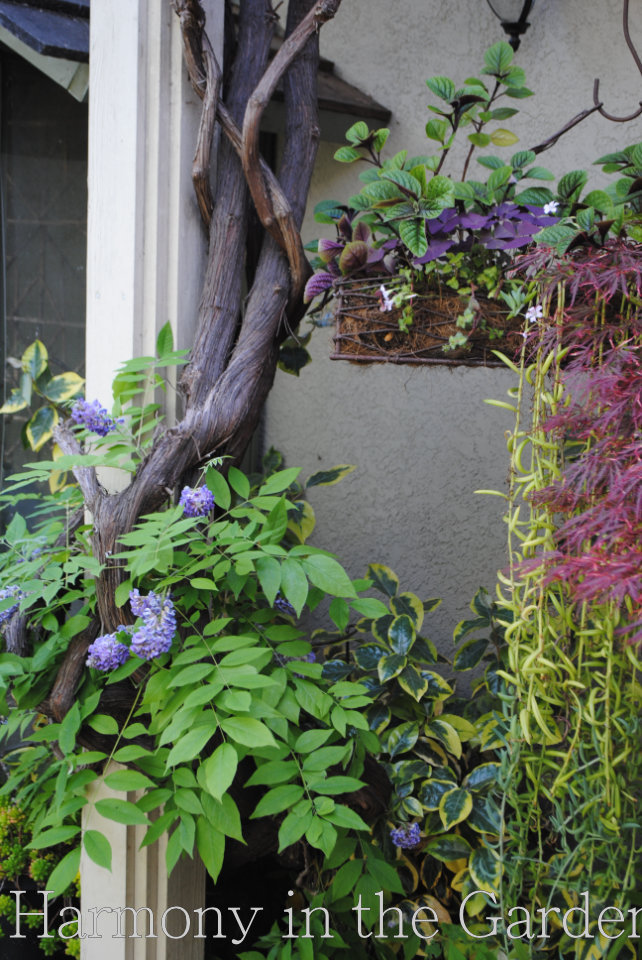 This WAS my wonderful, old 'Roger's Red' grapevine that up and died one summer. 
While technically not a TREE, it's thick and gnarled trunk was so sculptural I couldn't bear to remove it.
I ended up using it as a support for an 'Amethyst Falls' wisteria.  I think the hawk appreciated the support, too!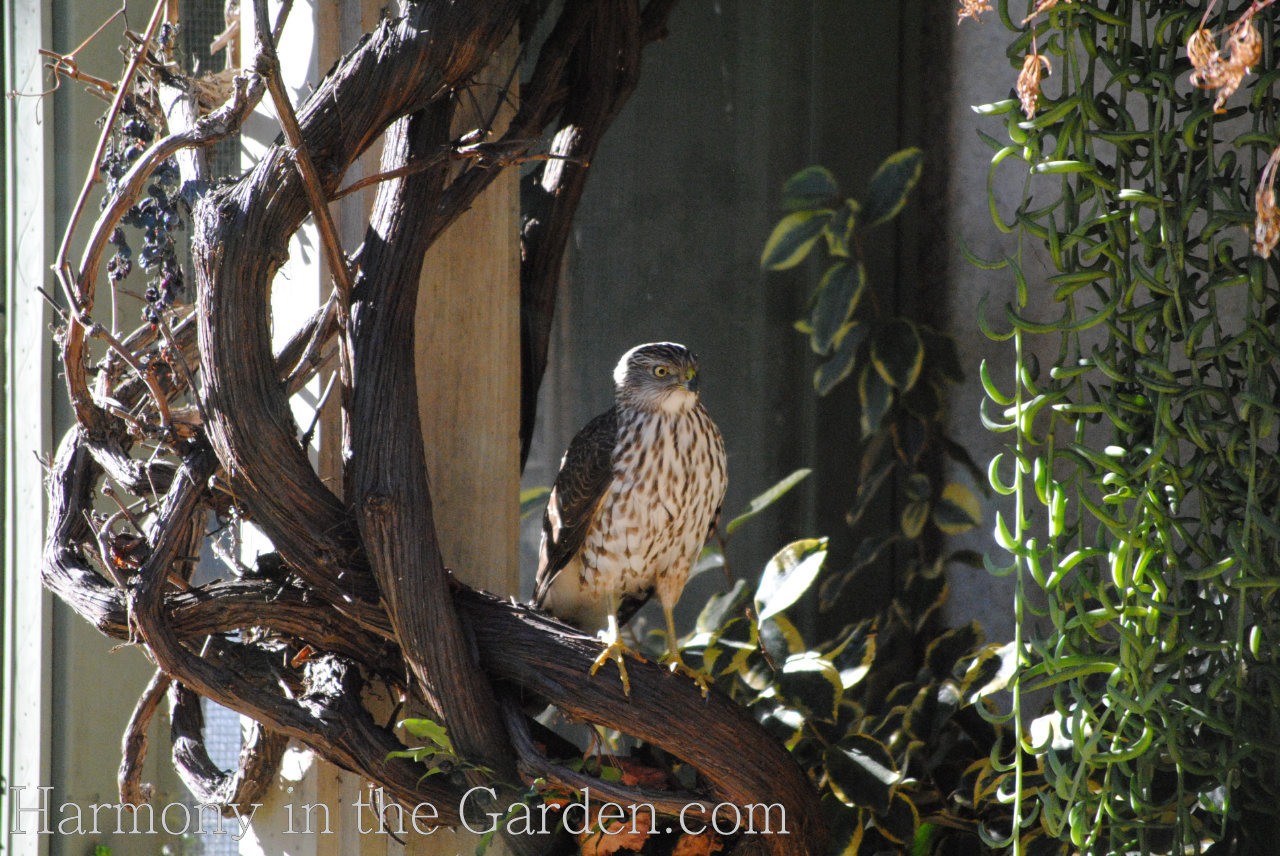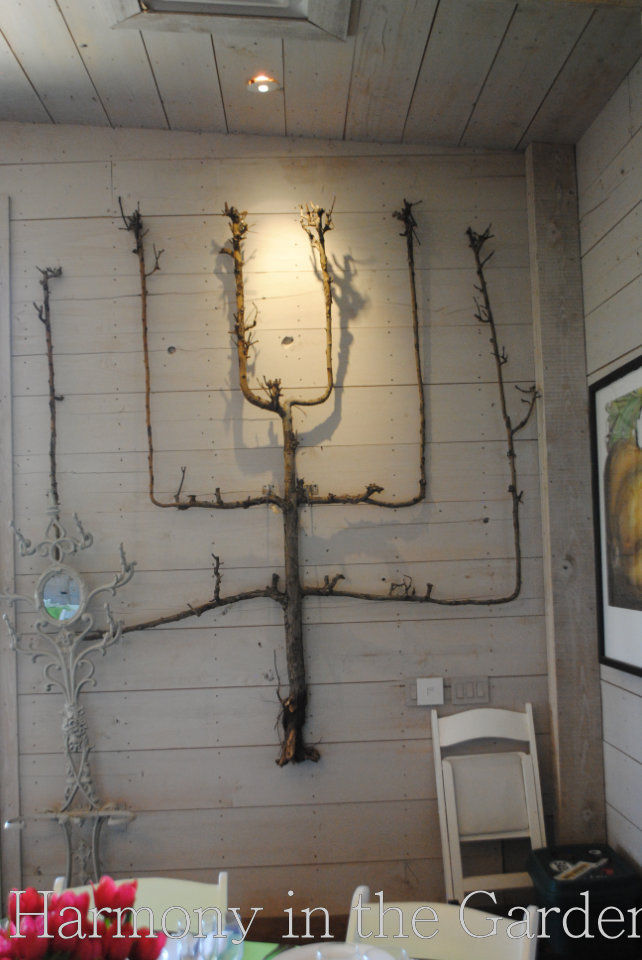 And speaking of grape vine trunks, take a look at how P. Allen Smith, transformed his dead espallier into wall sculpture!
Or, how he used a simple tree trunk to support his black rooster sculpture.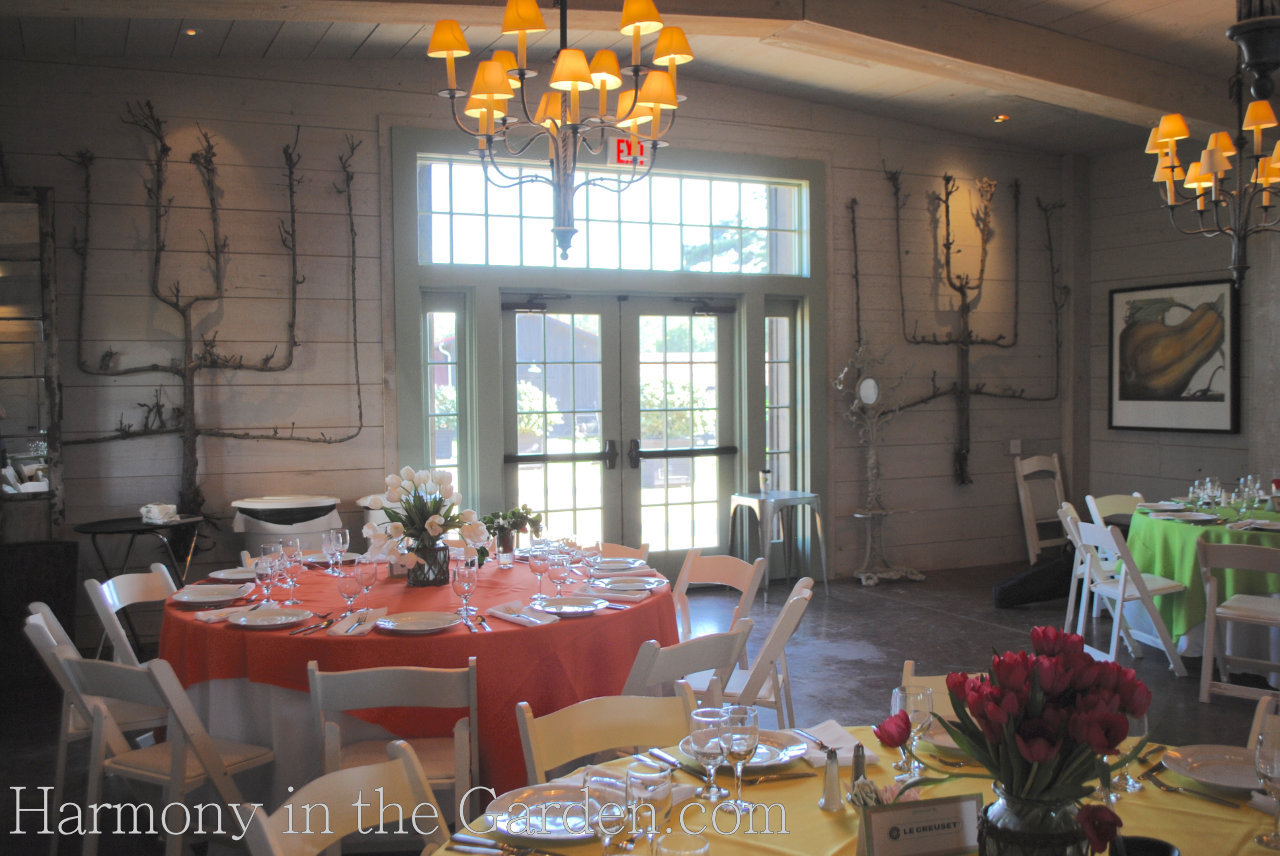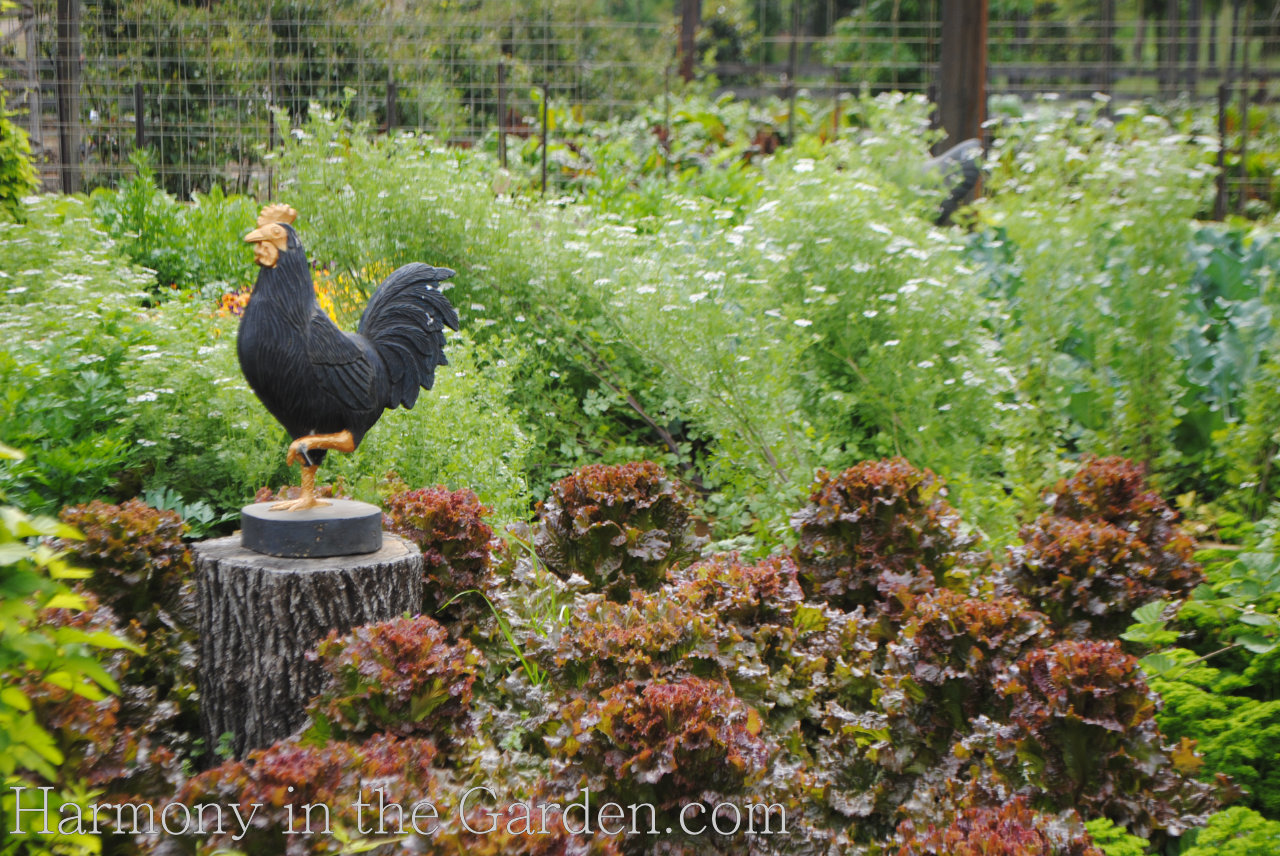 2.  Artistically cut and stack the wood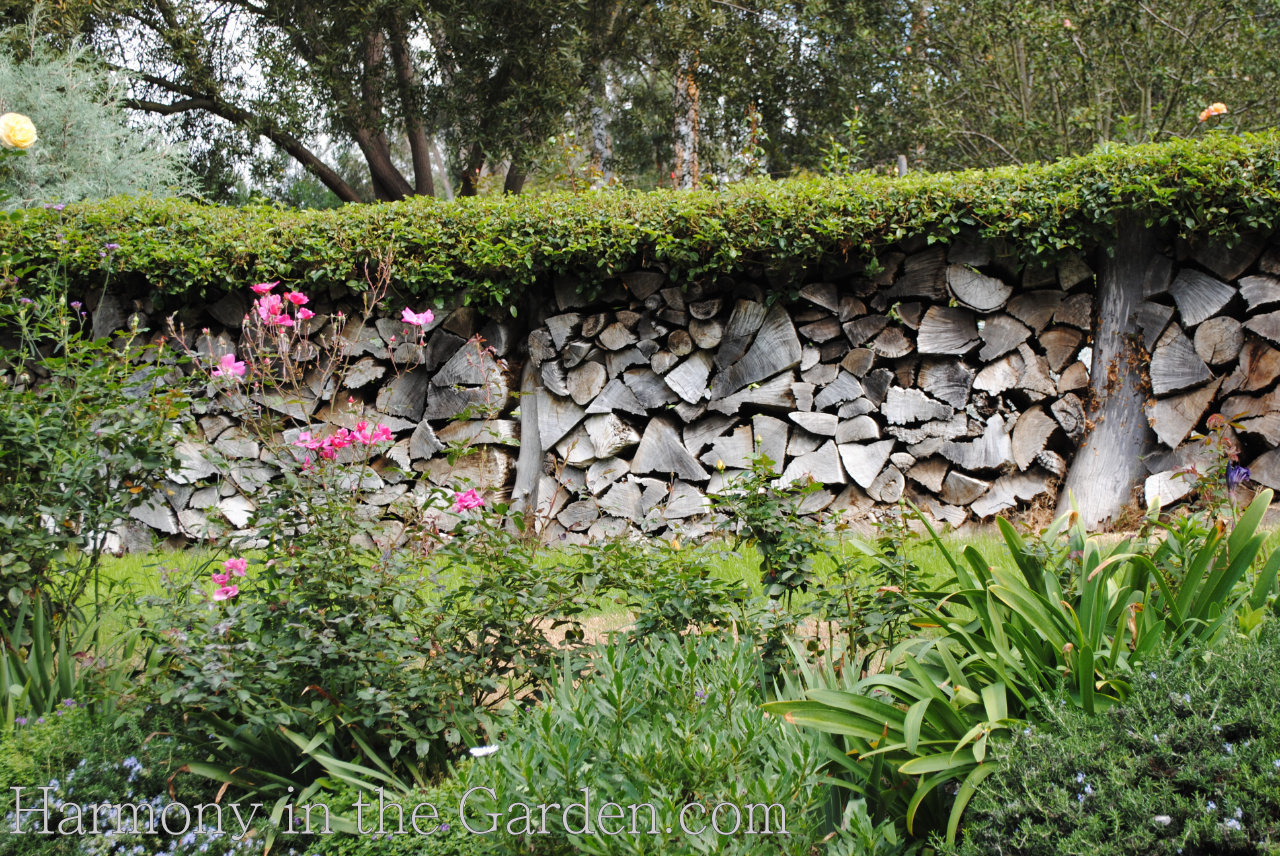 Remember my post about Lani Freymiller's monochromatic garden?  
Well, what I didn't write about was the fact that when she moved there many years ago, dozens of trees had to be removed to make room for their home and garden.
But instead of hauling the dead trees away (I believe they might have been eucalyptus?) she transformed the trunks into this low garden 'wall' that winds its way throughout her garden.
The many nooks and crannies of the garden wall is the perfect home for hidden garden art, like these bunnies.
Or, if you have enough cut wood why not make a 6-foot high privacy wall like Lake Tahoe's Cottage Inn did (below)?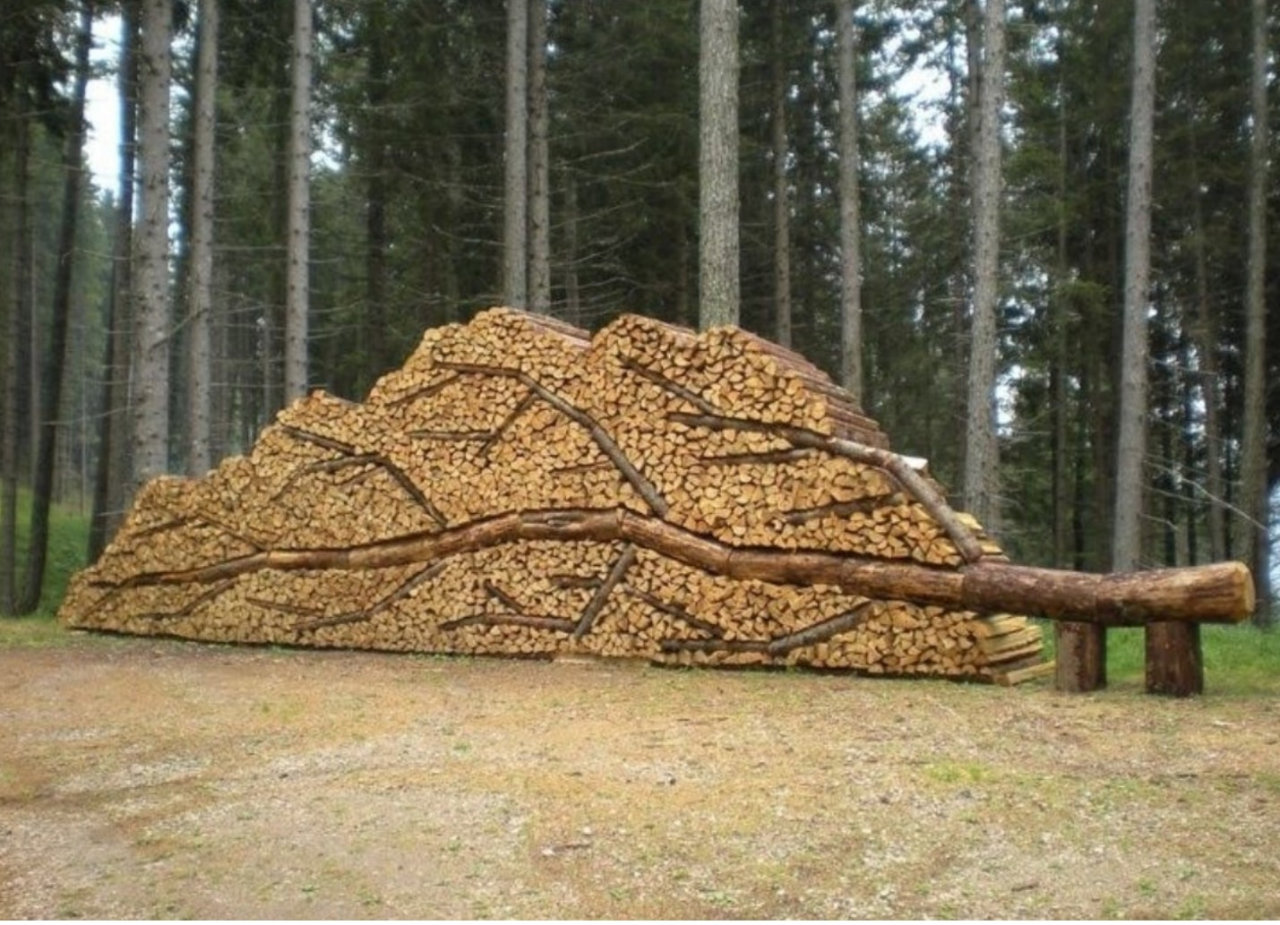 While this photo isn't from a garden I've visited, I just have to share it with you.
Who knew there were people who created such magnificent art from stacking logs!  You can see more images here.  
3. Transform a dead tree into art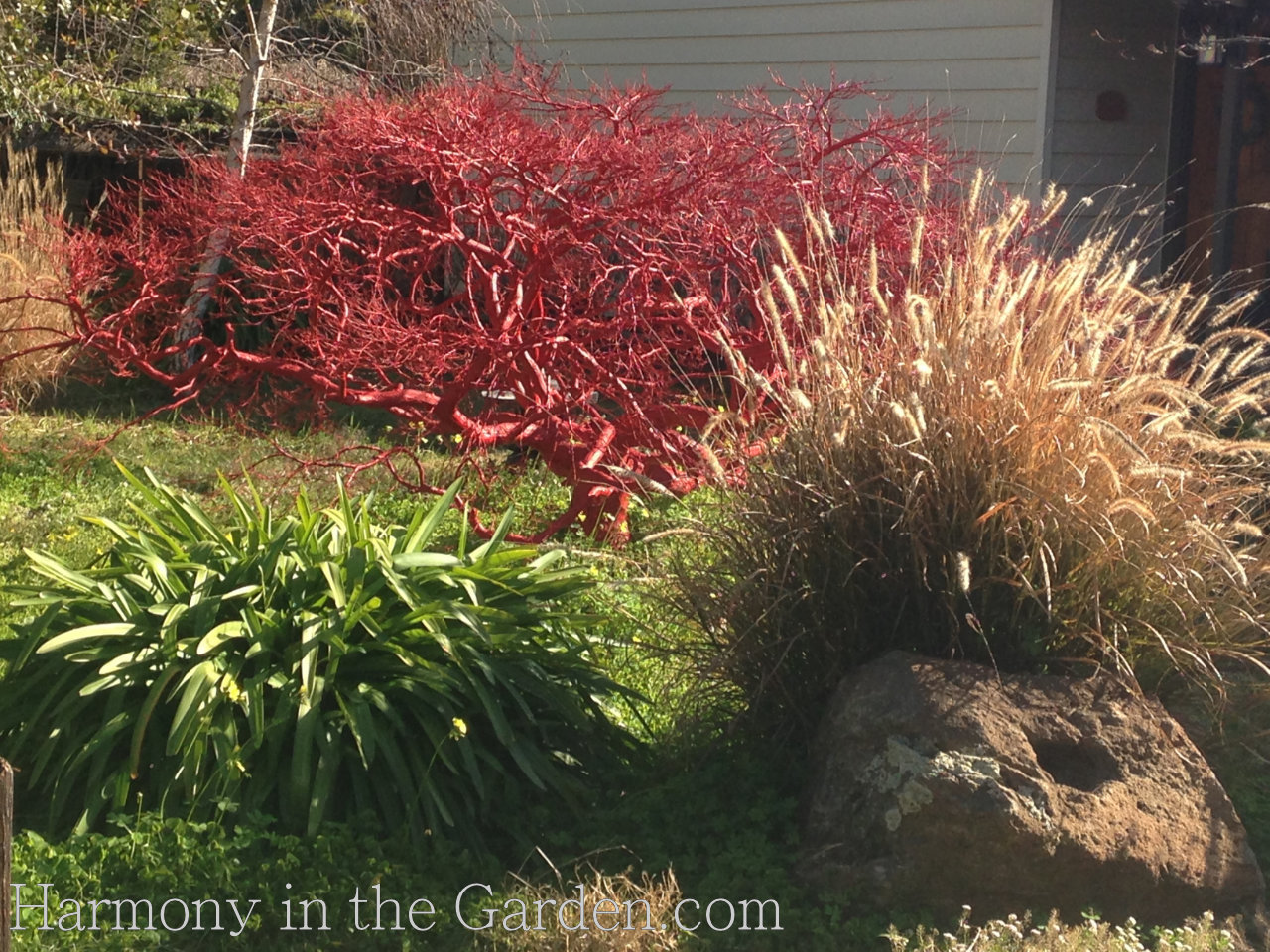 With a single can of spray paint, a neighbor of mine transformed their dead Japanese maple into a year-round work of art.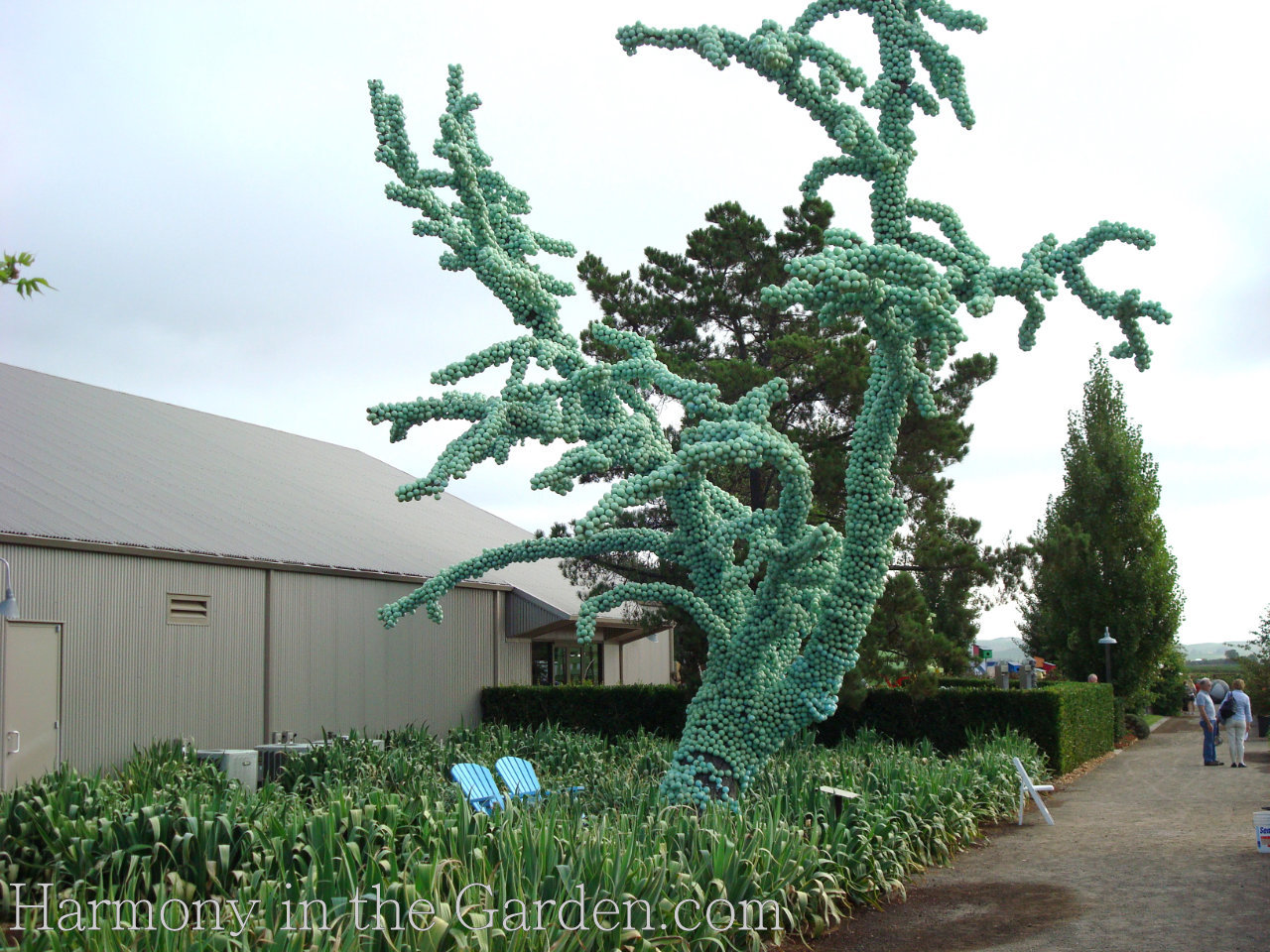 Or, take 17,000 plastic balls and wire them to a dead tree, like Claude Cormier did.
The result is The Blue Tree, found at Sonoma's Cornerstone Gardens.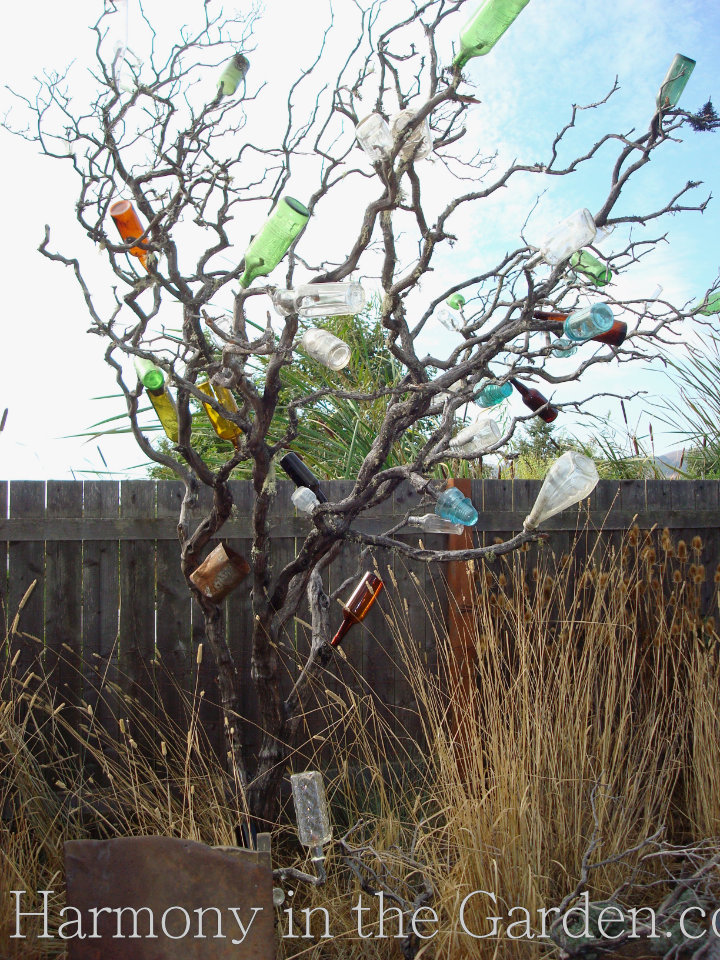 Or, make a bottle tree!  What'a a bottle tree?
One interpretation is that the bottles protect the home and garden by catching evil spirits, who are attracted by the bright colors.  Once trapped inside, sunlight destroys the spirits.
If you happen to walk by a bottle tree and hear the wind blowing over the bottles, that's the sound of the raging spirits trapped inside!
This is a bottle tree created by Ben and Kate Frey's for The Late Show, again featured at Cornerstone Gardens.
4.  Use branches to give your garden personality 
Several years ago my mother's ornamental cherry tree died and what did she do?  She made these two plant stands for me to flank either side of my office door!  
Click here to read more about this very meaningful gift.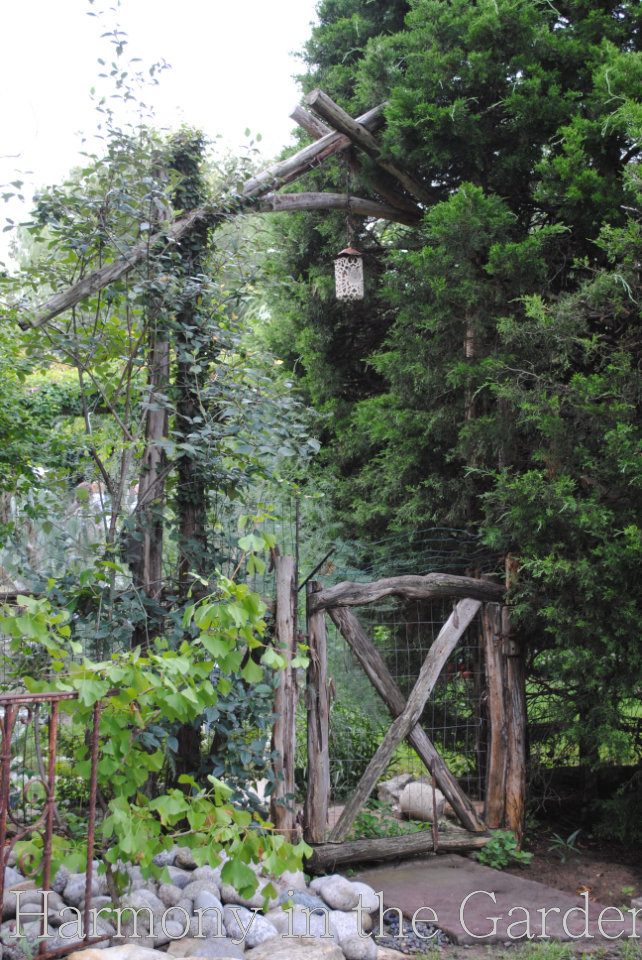 While visiting the amazing, artistic garden of Robert Bellamy, I fell in love with the simple garden gate and trellis he created from the branches of a tree.
You can read more about my visit here.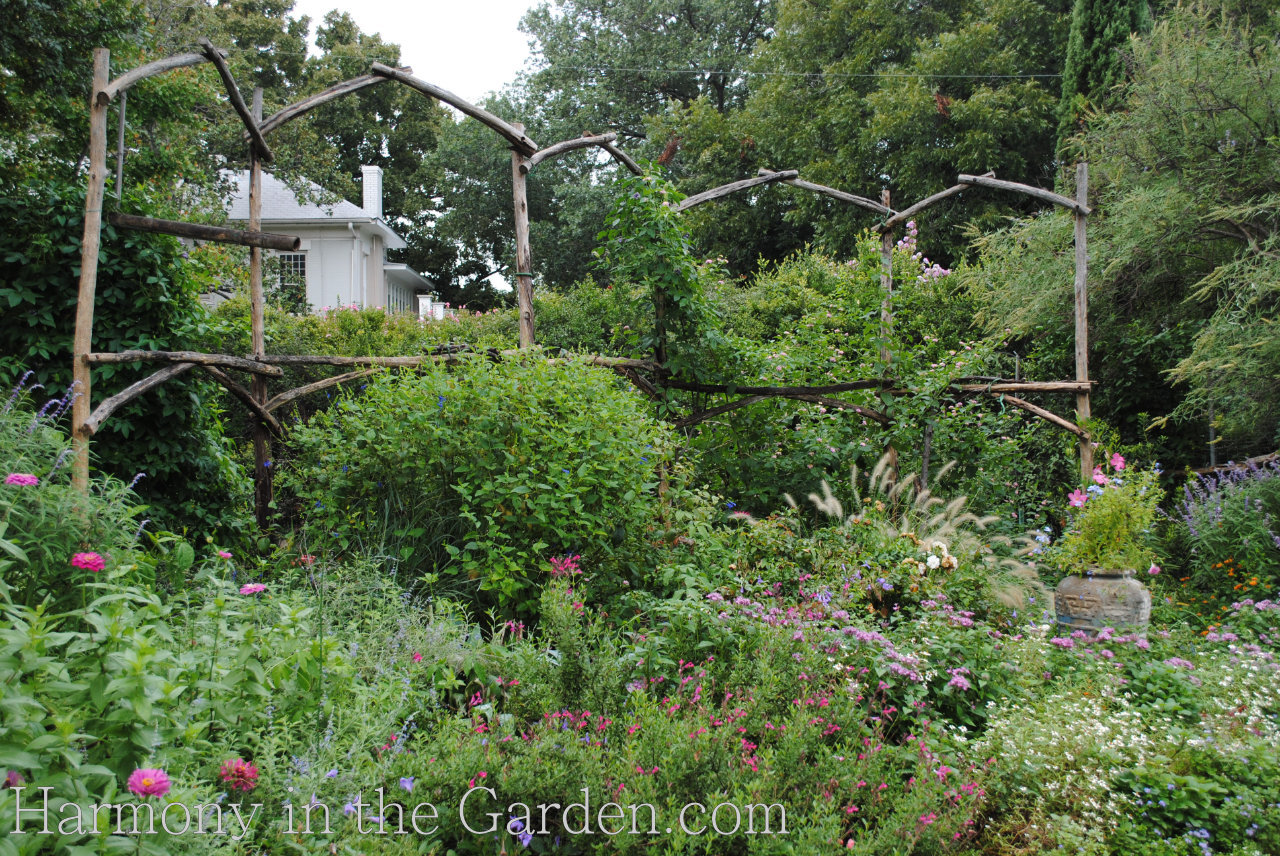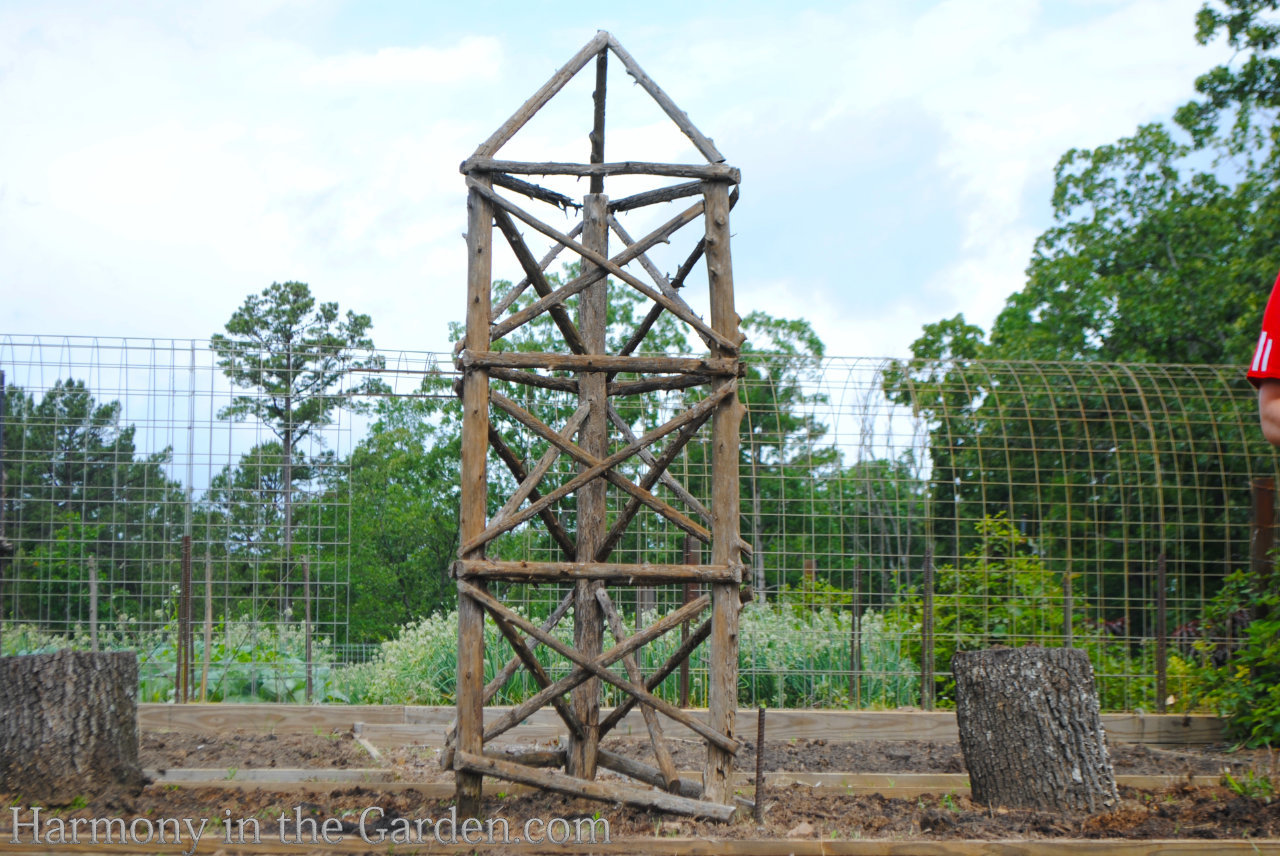 Again, take a look at the creative genius of P. Allen Smith and how he used tree branches to decorate this arbor, welcoming guests to his downtown home (left, and below.)
Or how he turned simple branches into a sturdy tuteur for this climbing rose.  
Know the difference between a tuteur, obelisk, and trellis?  If not, click here.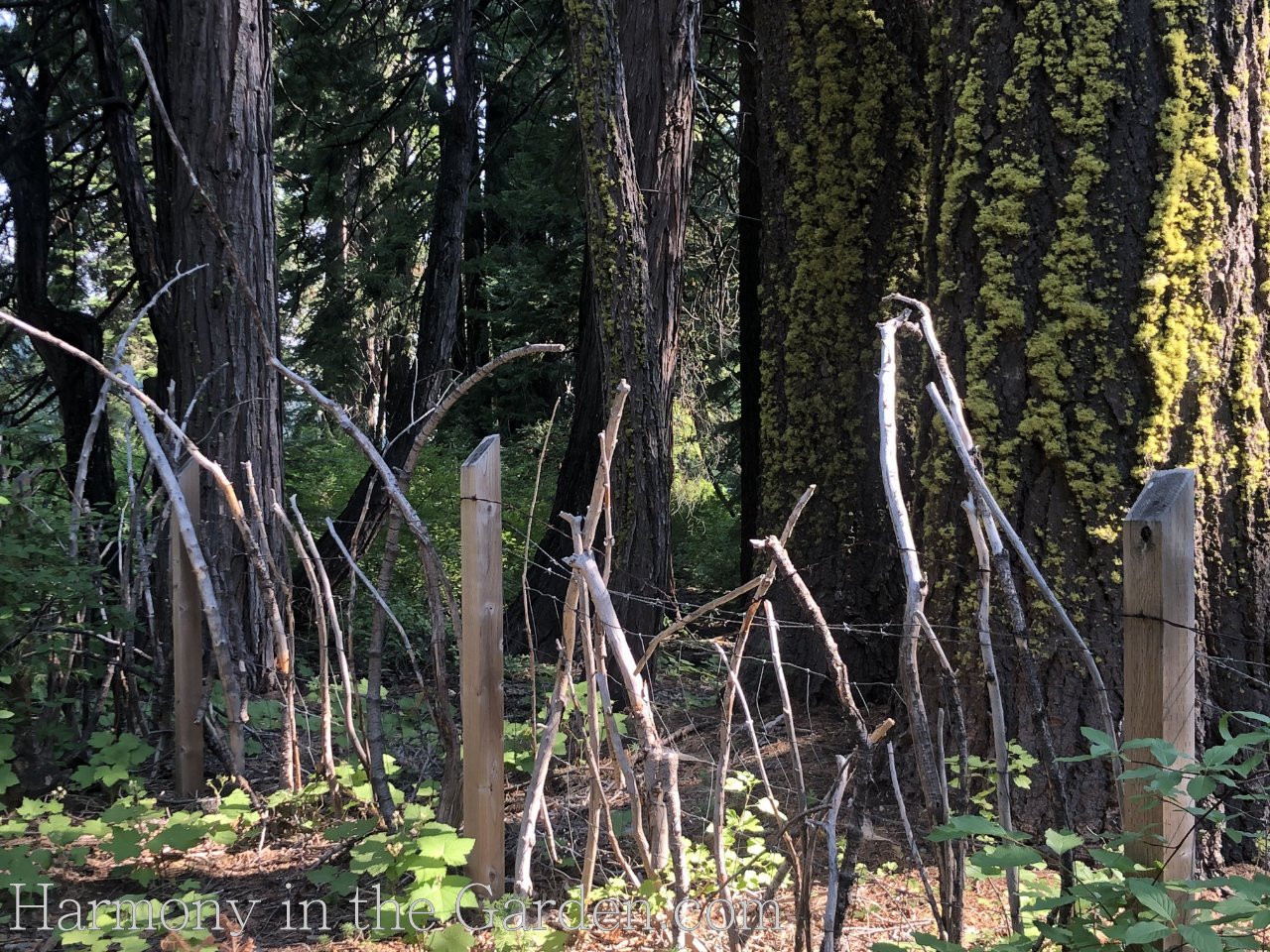 Just last week, while vacationing at Lake Tahoe, I walked by this simple fence the homeowner had decorated with tree branches.
While it may not last long with Tahoe's heavy snows, it blends in beautifully with the surrounding forest.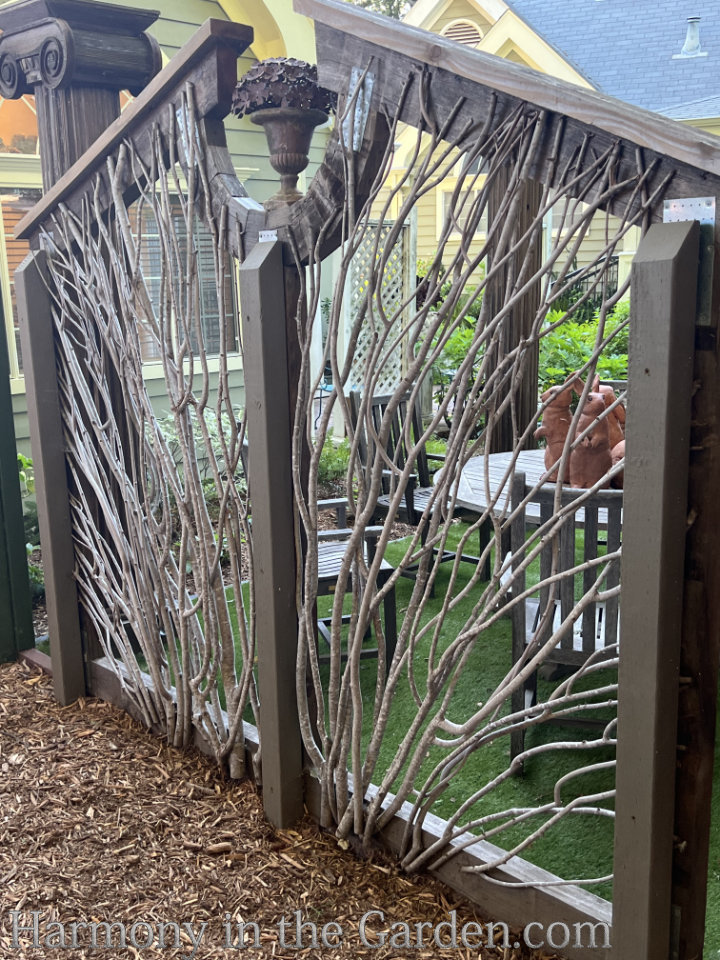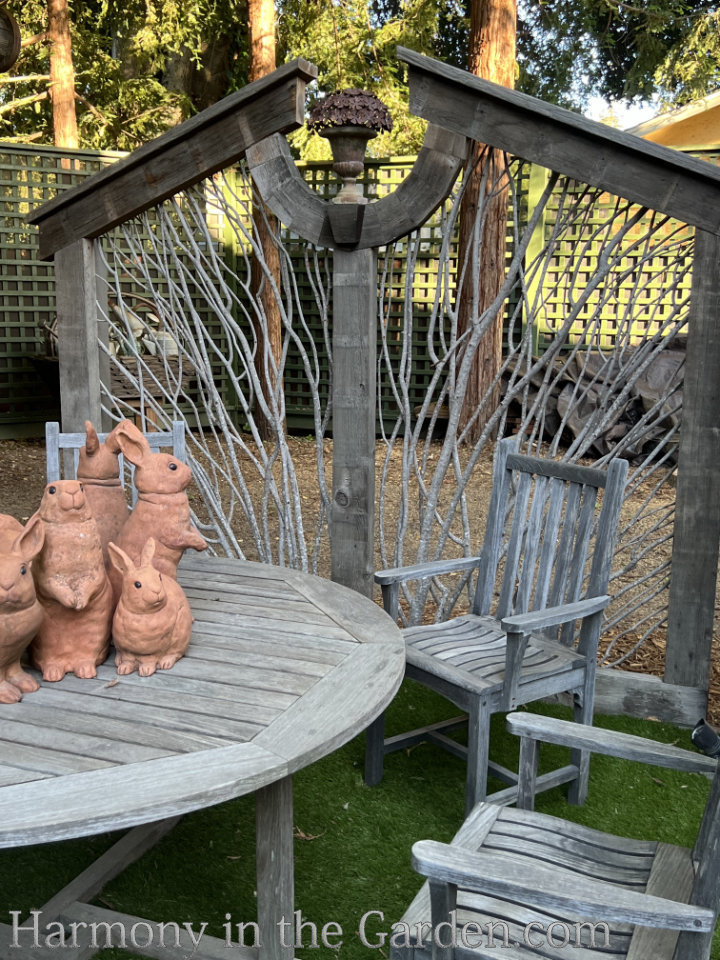 How's this for clever! 
Freeland Tanner created this semi-private screen using twigs and branches.
Click here for more of this inspiring garden.
5.  Think BIG with branches
Of course, if you were really creative you could always create a magnificent summer home, decorated with tree trunks and branches, like those at Lake Tahoe's historic Valhalla Estate.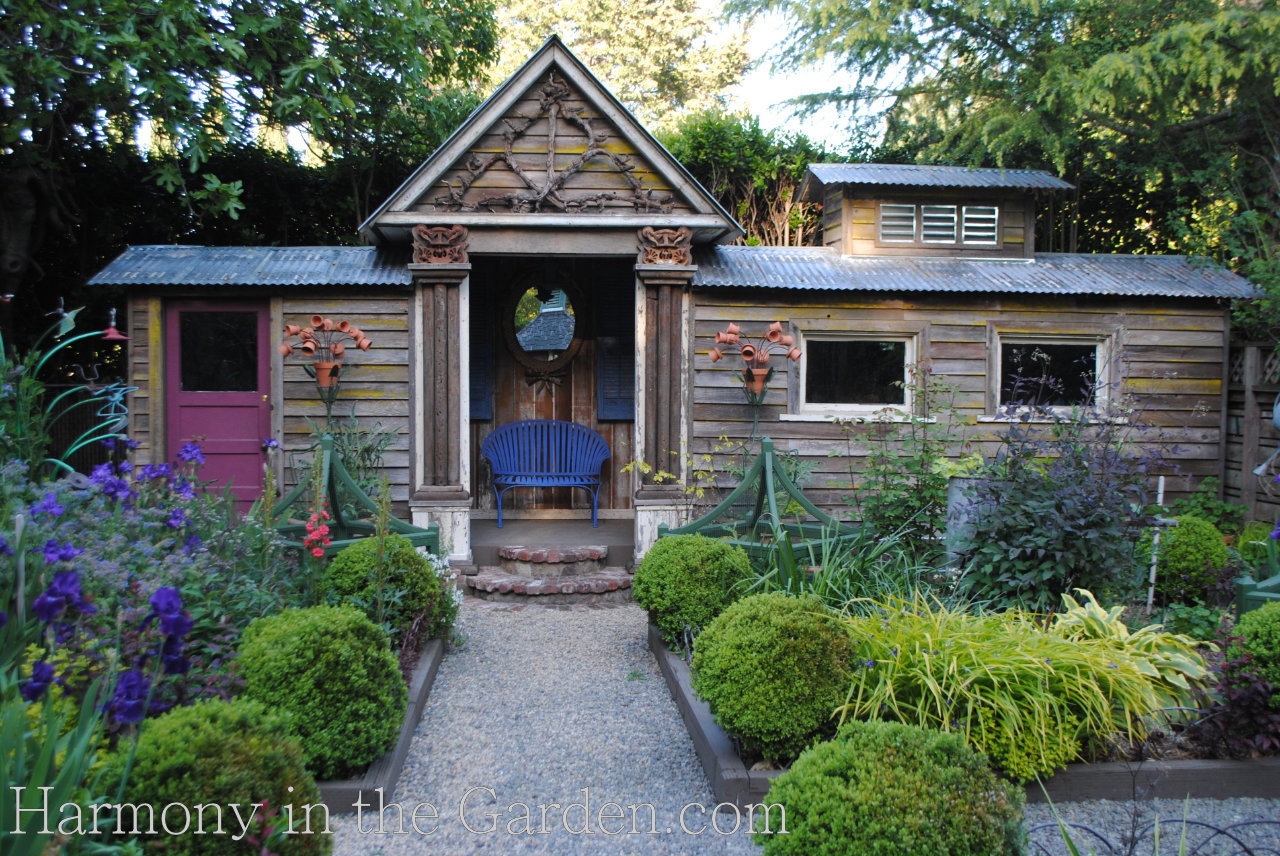 Which is exactly what Freeland Tanner made for his wife, Sabrina!
Click here for more images and t0 read about one of the most touching displays of love ever.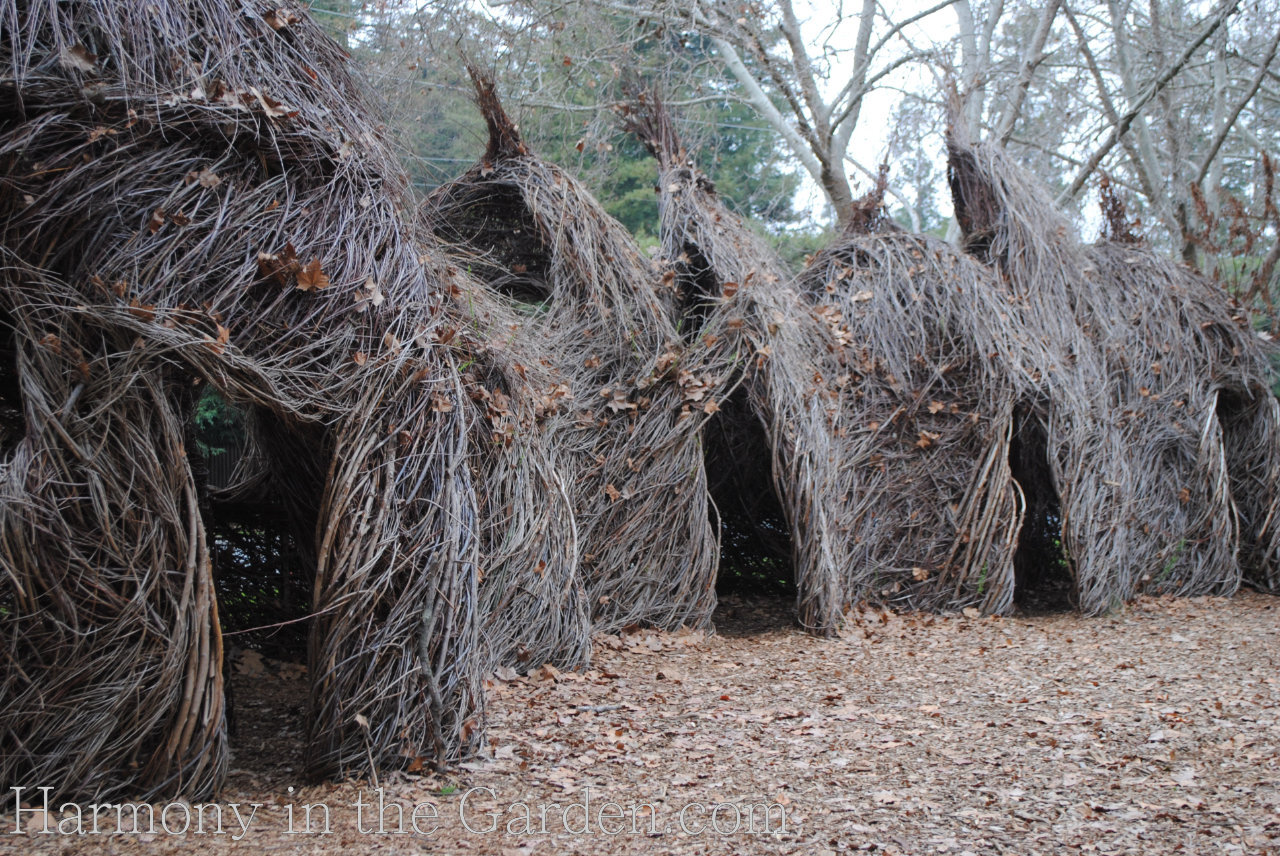 I was lucky enough to visit one of Patrick Dougherty's installations in Palo Alto, and since then I've been a HUGE fan of his.
Creating works of art from twigs and branches takes on a whole new meaning – take a look at his website and video about his work.  It's fascinating!
Just a few weeks ago I stumbled upon the sweetest community garden where somebody used a decaying tree trunk as a planter.  Tucked in here and there were ferns, ribes, and other woodland plants.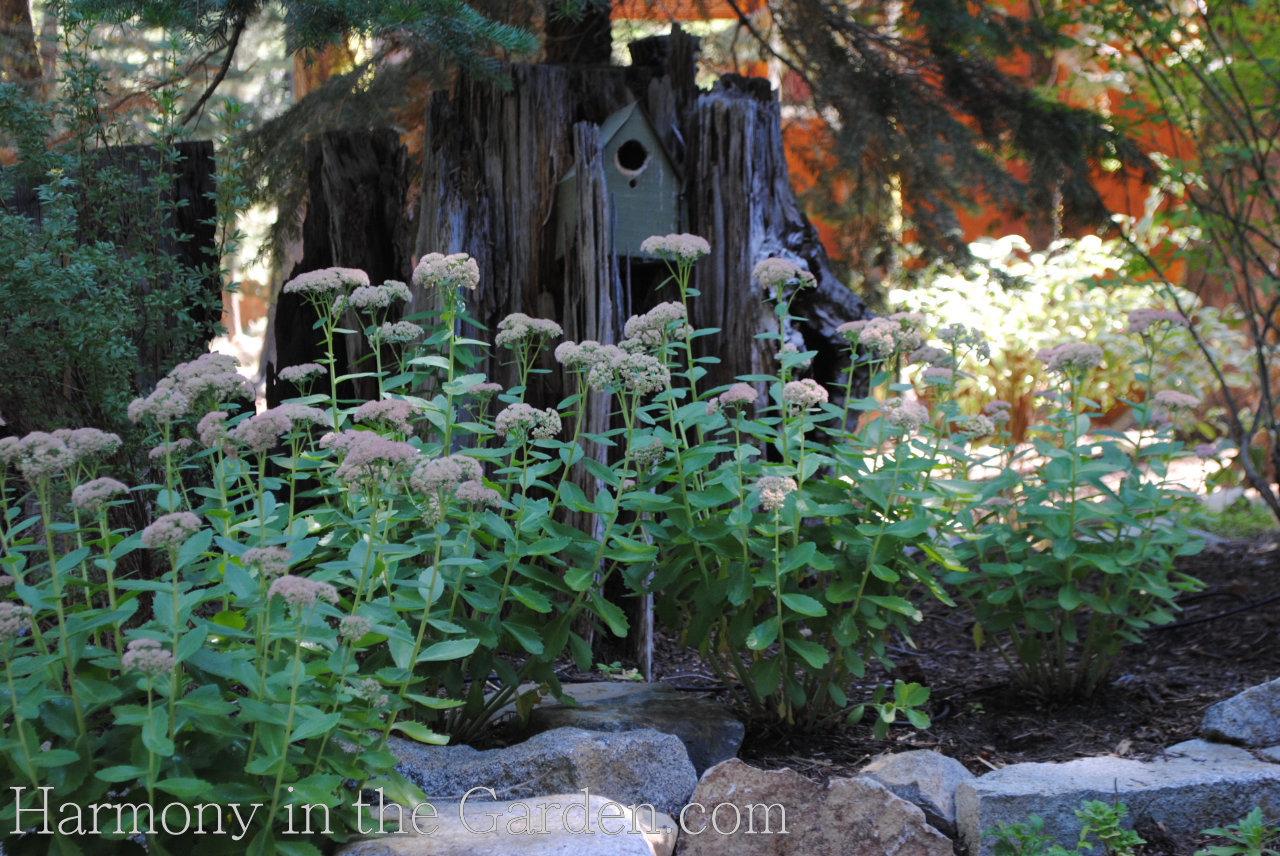 And finally, here's a very old tree trunk that's been a part of my life since I was a little girl.
Located in the garden of our Lake Tahoe home, it's home to my grandfather's simple home-made birdhouse, and a variety of squirrels and chipmunks.
While I hope none of you ever have to deal with the loss of a cherished tree in your own garden, chances are pretty high it's bound to happen at some point.
And when it does, hopefully I've shown you a few inspirational ideas that you can use to help lessen the pain!