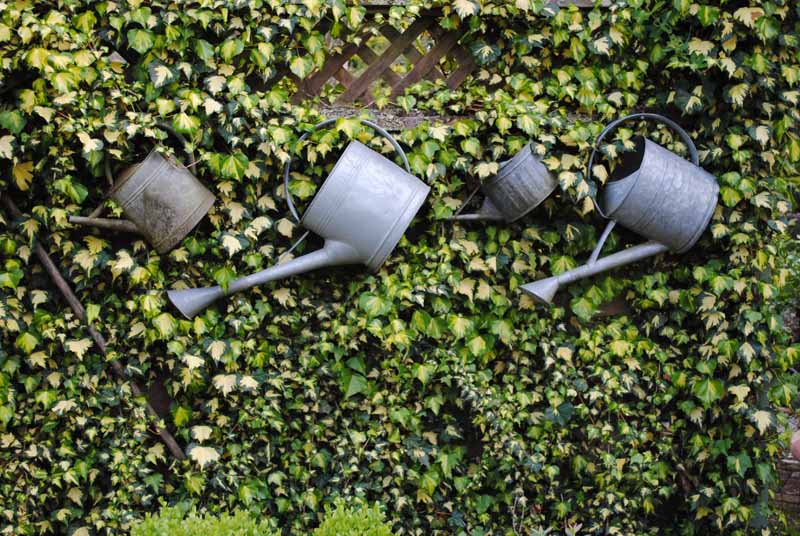 As a designer and garden writer, I've been so fortunate to have met so many incredible people with unforgettable gardens.
I believe a garden is an expression of the gardener's soul – the result of the blood, sweat, and tears that went into its creation.
You know that feeling when you walk into a garden, and you're caught off guard, heart pounding?  That's the garden's soul, and it's something that can't be duplicated.
I'd like to introduce you to an amazing, creative, powerhouse couple – Freeland and Sabrina Tanner of Napa, California.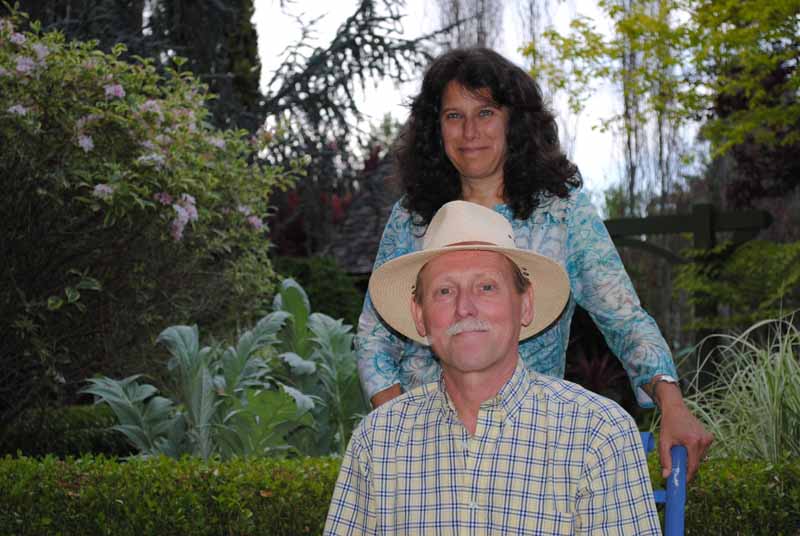 Both are professional landscape designers, and whether you realize it or not you've most likely seen their designs featured in countless garden magazines.
What I appreciate most about the Tanners is:
1) their boundless energy
2) their humble nature and generous spirit, and
3) the sheer talent that oozes from every pore in their body (more about that later).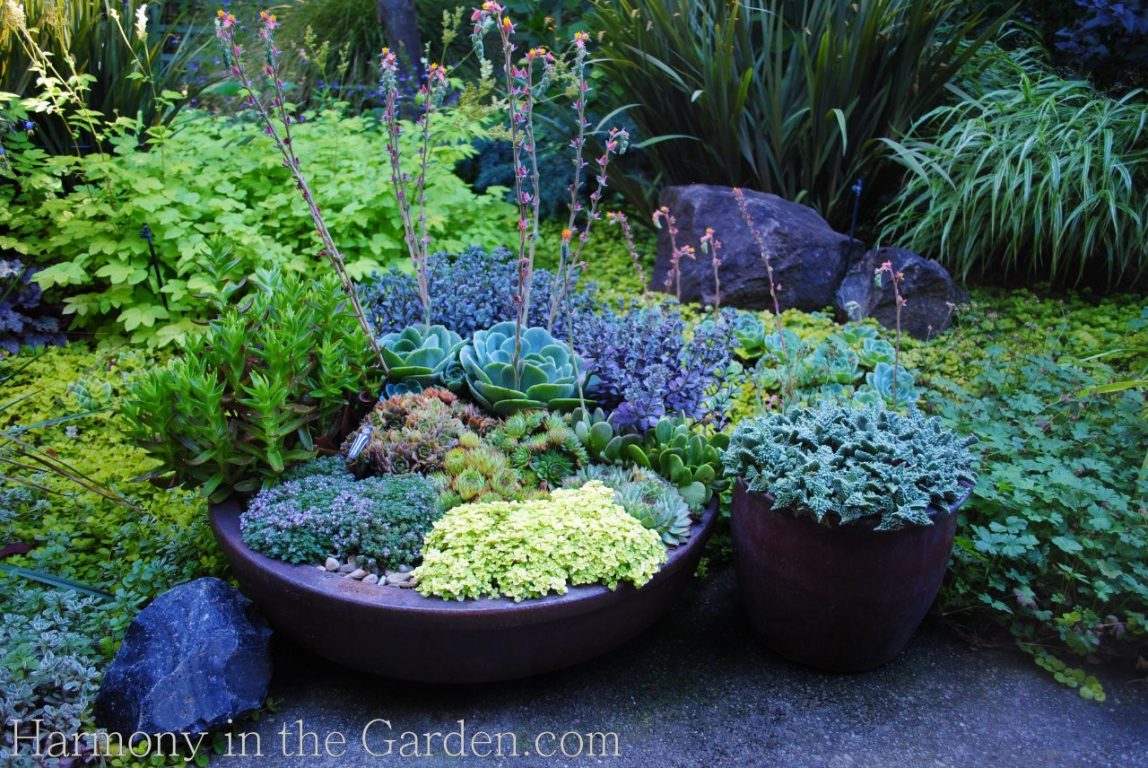 Seriously – these two do it ALL.
They tend their garden by themselves (yep, that's right – no team of gardeners who swoop in and do the hard stuff).
And for them, it's truly a labor of love.
The property has been in Freeland's family for several generations.  Strolling through the garden, under the trees his grandfather planted years ago, you can't help but feel the garden's energy.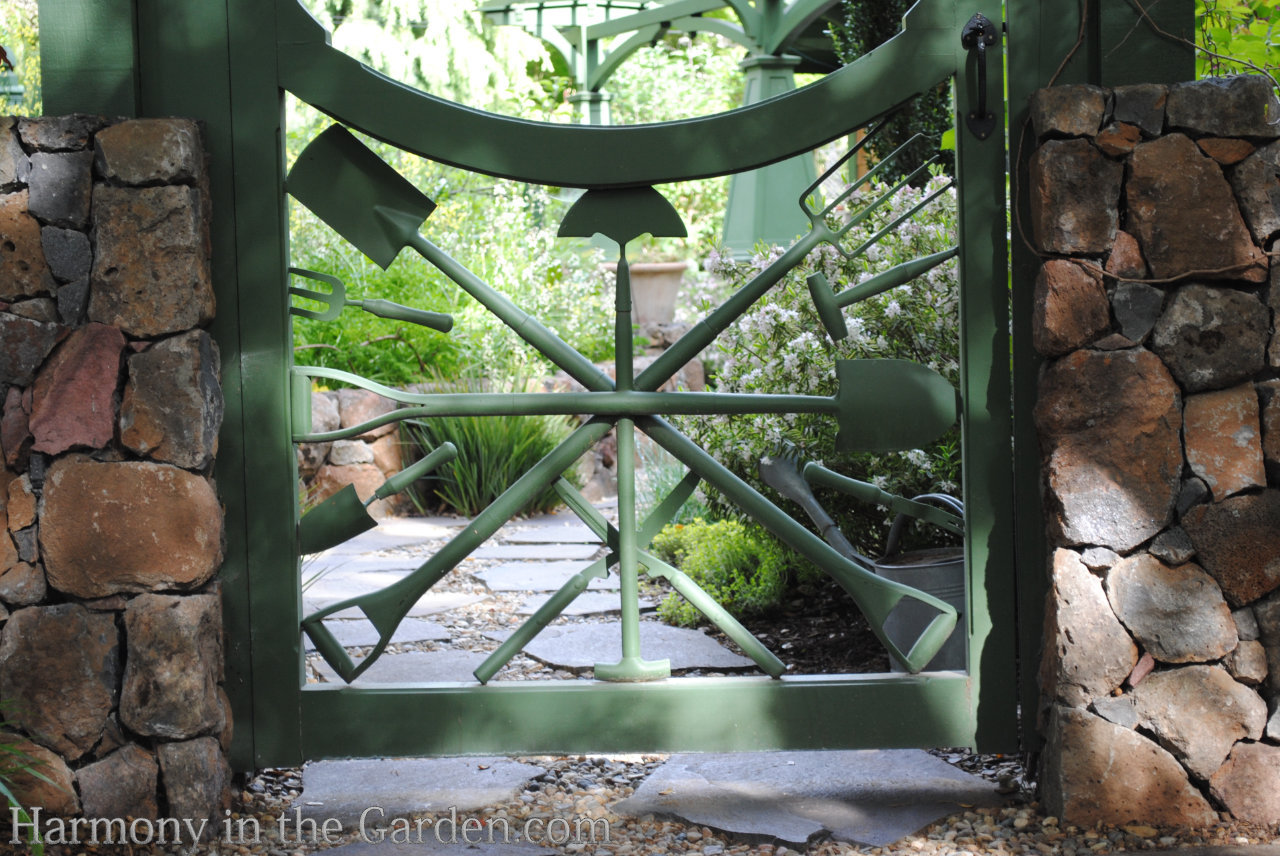 To enter the front garden, you'll pass through my favorite gate in the whole world – made by Freeland, of course.
The front garden consists of a series of raised vegetable beds made of local fieldstone.  Dotting various beds are towering green tuteurs (again, made by Freeland.)
This is not your typical front garden, but one that's both edible and stunningly beautiful at the same time.
Not an easy feat!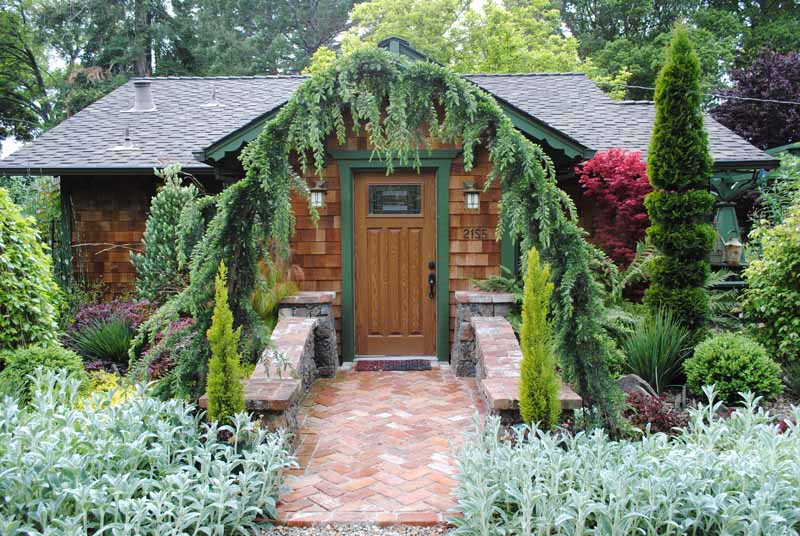 Past the cypress arbor, pathways meander to the central rear garden, which I like to call 'Tanner's World.'
This magical world consists of one garden room after another, each with its own distinct charm, and each masterfully created.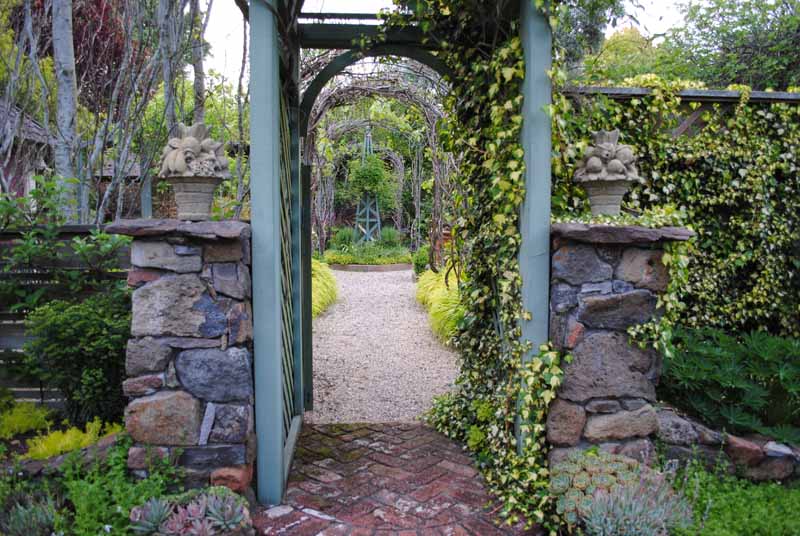 Around the bend and through the next gate, is a hidden, somewhat secret area – the potager.
Standing there, you'll realize you might be a character in a Beatrix Potter story.
And, of course, it wouldn't be complete without the cutest tool shed you've ever seen, now would it?  And yes, there's also a resident bunny and chicken.
Ready to have your mind blown again?  Click here to read about the new, amazing addition to this part of their garden.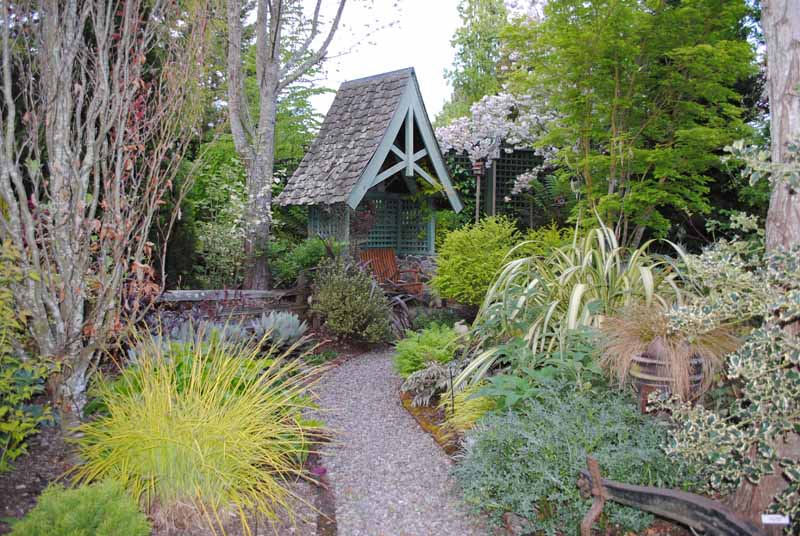 Follow the winding crunchy gravel pathway out of the potager, and you'll discover another  hidden, charming seating area (yep – another creation of Freeland's.)
Everywhere you look is another vignette, another pathway to follow, another view to take in.
Tucked in among the garden beds are some of the most incredible containers I've ever seen (click here to see for yourself!)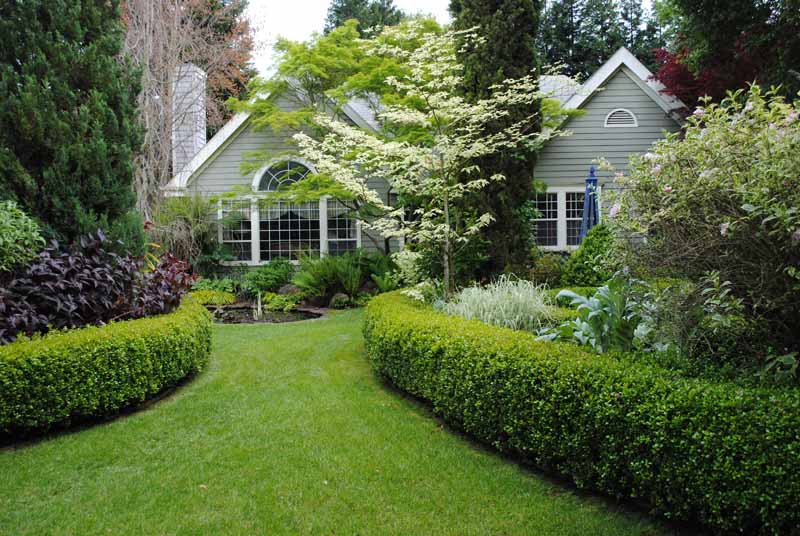 At last, the clipped lawn pathway leads to the stunning focal point of their garden – their home.
This part of the garden has a different feel than the others.
Perhaps a little more formal (thanks to the clipped hedges), yet a bit informal at the same time (thanks to the billowing shrubs within the borders.)
And, as if the garden itself isn't enough, there's also the Tanners' collections.
Throughout the garden, are groupings of watering cans, vintage lawn sprinklers, garden tools, all artfully placed 'just so.'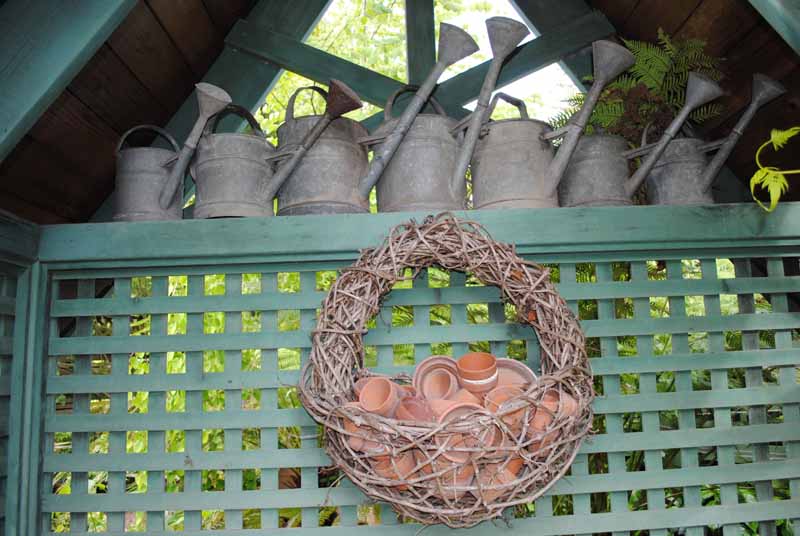 And just when you think you may have seen it all, you're hit with a whole other side of Freeland. At this point, you may want to get a refill on your coffee before continuing – it gets even better!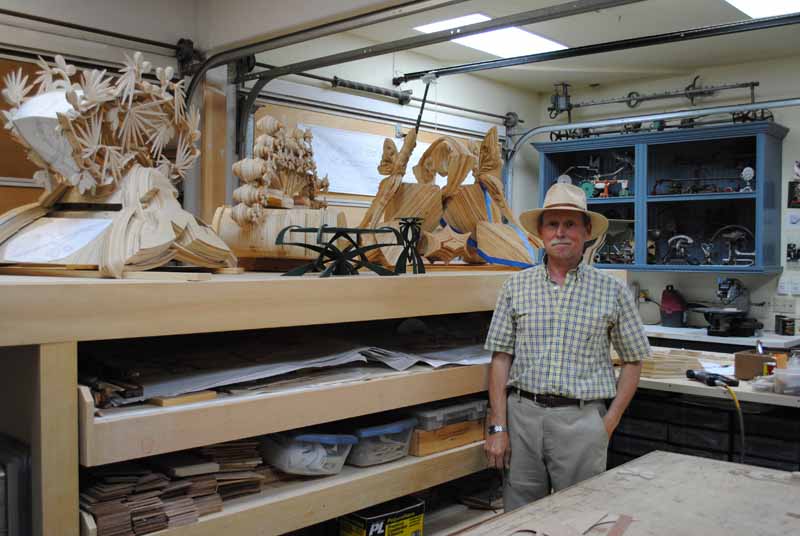 Not only are the Tanners talented designers, but Freeland is equally at home in his woodshop.
He's a renowned artist and one of the few people in the world who creates tramp art.
His pieces are so remarkable that they've been in various museums and art shows around the country.
I was treated to a behind-the-scenes look as to what goes into creating his art.
What I love most about these pieces is it blends his love of nature into yet another stunning art form.  Each piece is made with over 5,000 pieces of wood – and thousands and thousands of hand-carved notches. 
These pieces are so intricately carved that I've tried to show you a few of their complete images, with lots of close-ups.  You'll notice that several pieces have hearts – lots and lots of hearts.  And birds, and flowers, and most other elements of nature.
Most have one or more hidden compartments within each piece.  Boxes here, pull out drawers there – you never know what you're going to find when you start taking a closer look.
Everywhere you look in his workshop are half-finished pieces just waiting for Freeland's attention.
He prefers working on several at once, so he doesn't get bored.  BORED???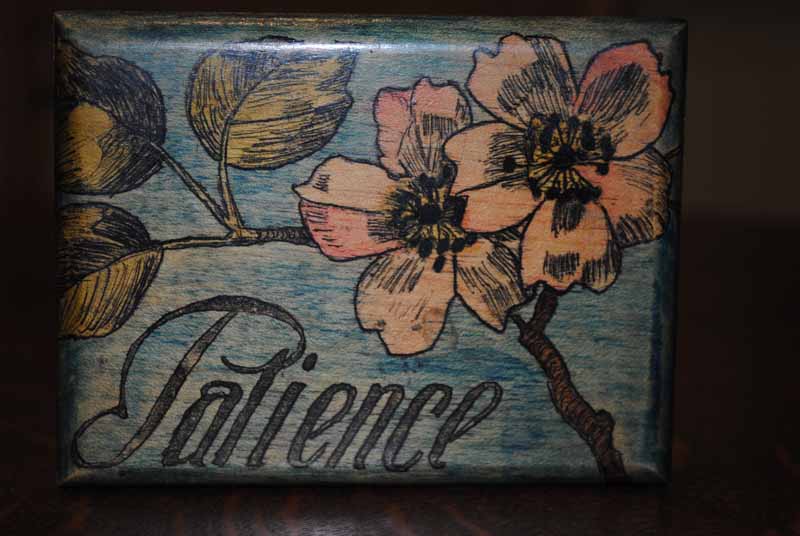 Patience is a crucial ingredient in nurturing a garden, as well as creating such stand-alone works of art. I found this little box sitting on a table and thought it summed up the Tanners to a tee.