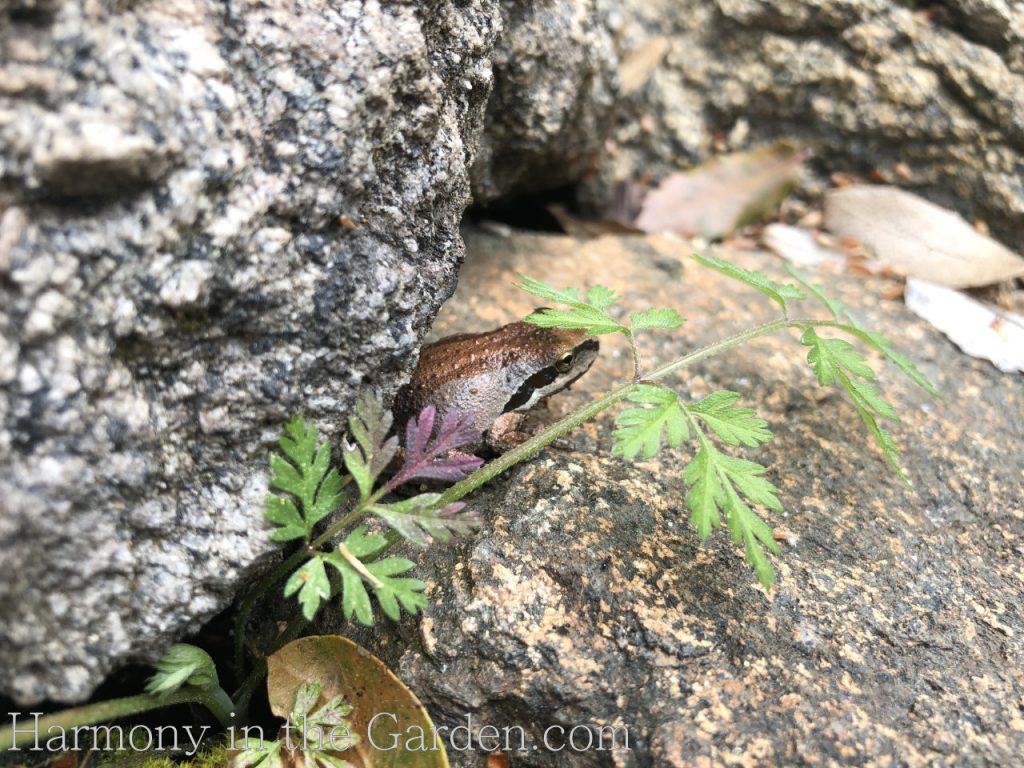 It's been pouring rain for days now, which is the perfect time to talk about creating a rain garden.
Even though many plants are still deciduous, patiently waiting for warmer weather, there's still plenty happening right now to talk about its late winter-early spring charms.
Besides, if you're like me, I love taking a peek at gardens that are still works-in-progress. 
But for now, I hope you enjoy seeing what my late winter garden looks like, and my thought process behind its creation.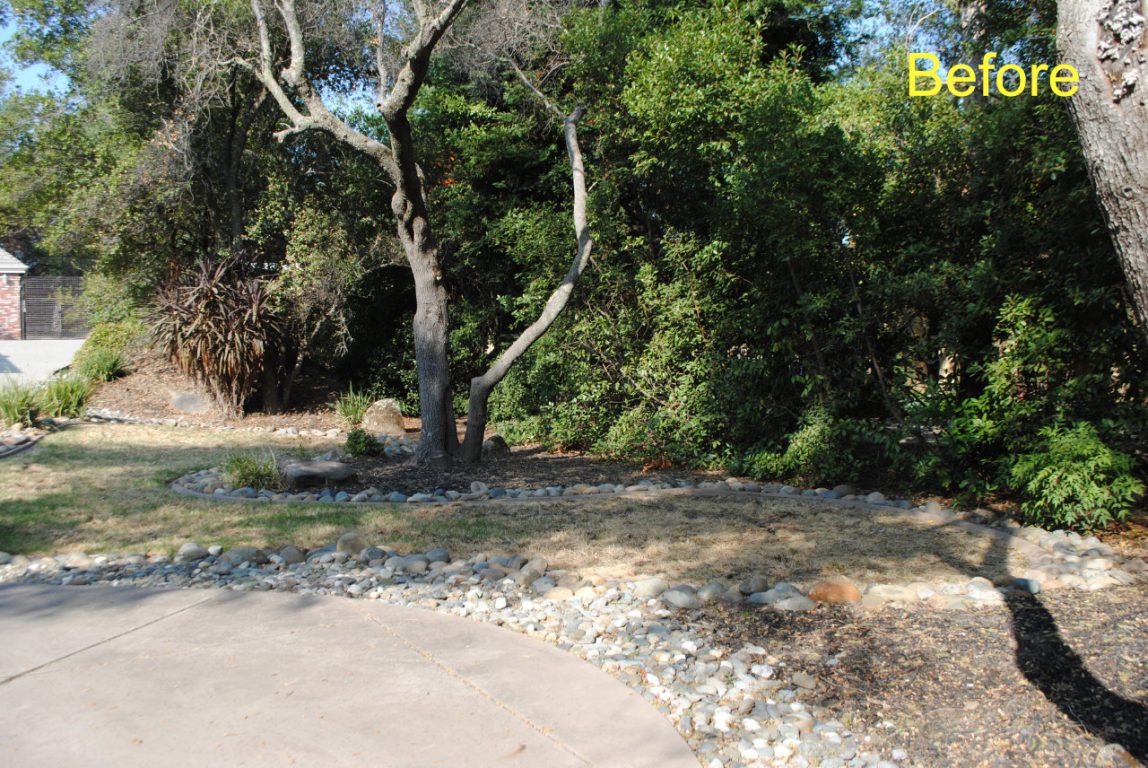 When we moved here a few years ago, this was the most depressing part of the garden, which meant I had to address it ASAP.   
Especially since I see it every time I drive up my driveway or walk into the front yard. 
This poor dead oak tree never stood a chance, surrounded by water-guzzling lawn. 
The space is in full sun throughout most of the day (with summer temperatures regularly reaching 100+ degrees) and is wide open to the deer who like to visit.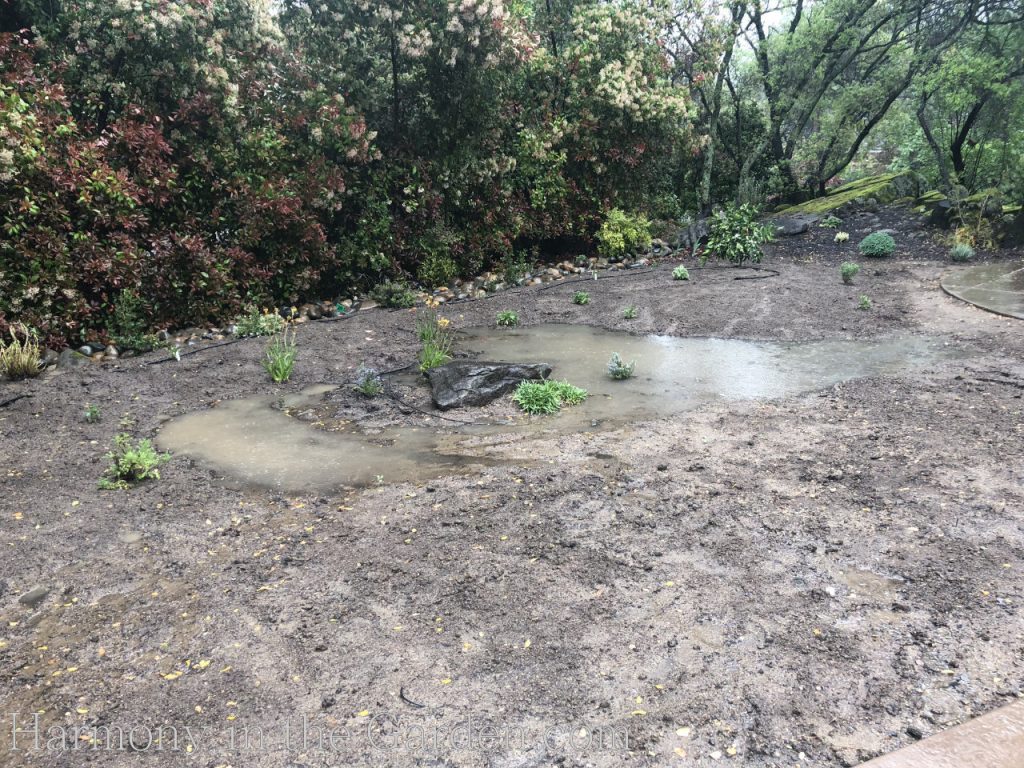 My entire front garden has a gentle slope downwards towards the street. 
But this particular area has a naturally occurring 'valley' of sorts, with a low point in the center.
When it rains, the water runs down my long driveway, right through the middle of this valley and into the neighboring driveway, then straight down to the street where it's wasted.
When tackling a difficult area like this, I find it helpful to create a list of objectives, as well as problems that need to be solved. 
It's a great method for narrowing down priorities.
Objective #1   
Capture every last drop of water & keep it on my property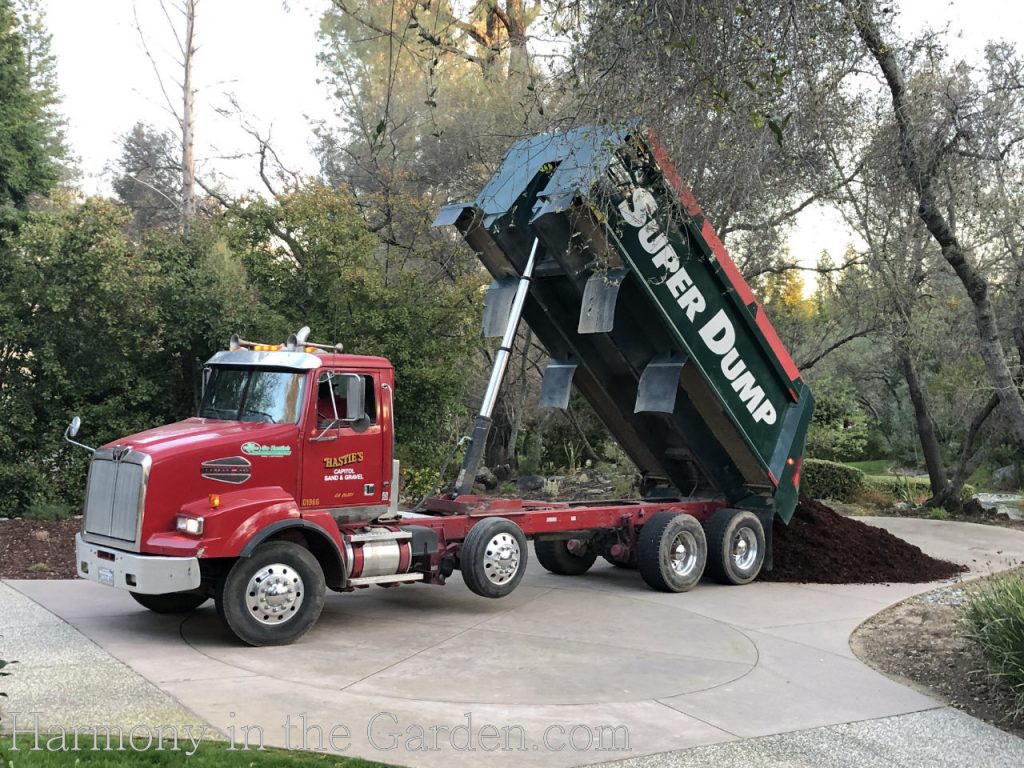 Solution 
After removing the dead lawn and oak tree, I now had a lovely, blank slate. 
Oh, how I love blank slates – it's so much easier to be creative once the mess is removed!
The first step was to mix in LOTS and LOTS of fast-draining compost to the existing nutrient-poor clayish soil.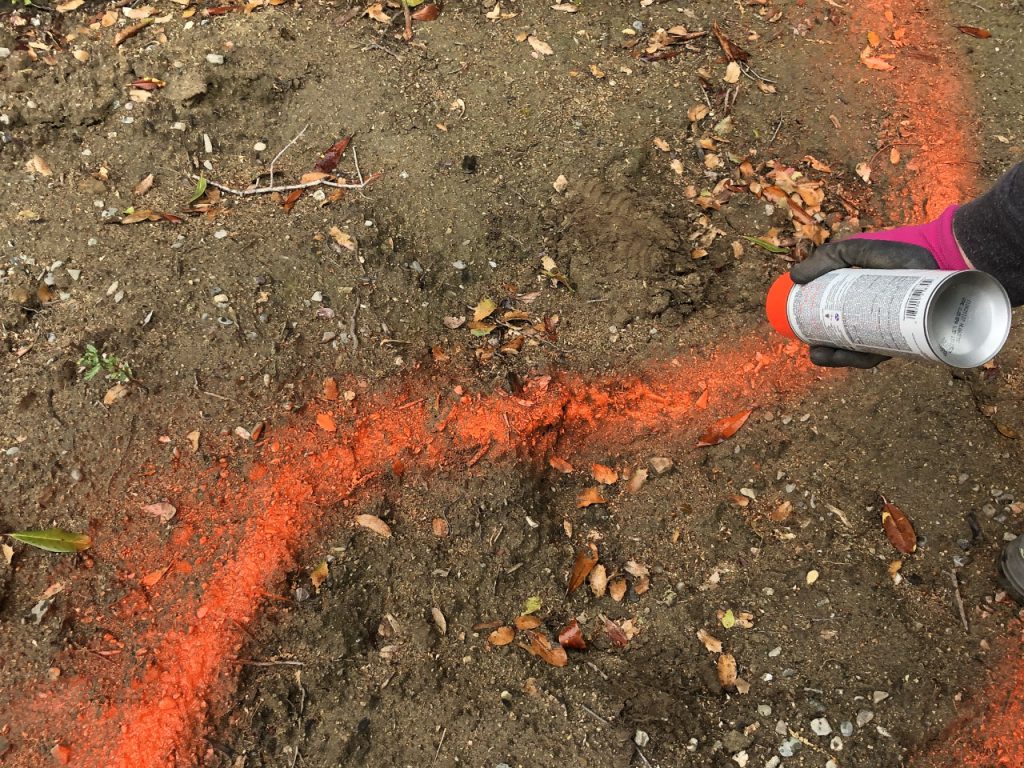 I then created a crescent-shaped berm high enough to contain the winter rain that would run-off from the driveway and prevent it from spilling into my neighbor's property.
I like t use landscape paint when creating the shape and size of a future garden bed.
The paint is inexpensive, sprays while being held upside down, and is easy to wipe away with your foot if you need to start over. 
It also remains visible for several days, if needed, as long as it doesn't rain.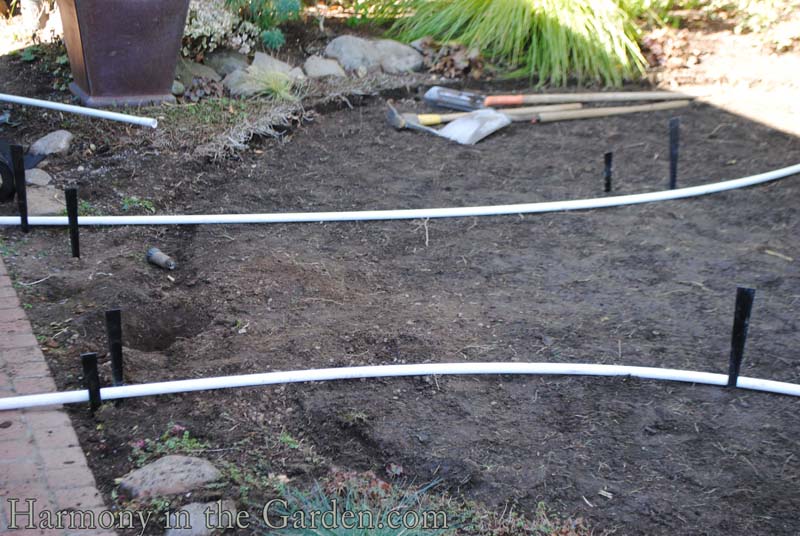 While there are other methods people use to mark out a bed's shape (ie: using a rope, garden hose, or even sprinkling flour), I find they're not as effective in creating smooth lines and curves.  
One exception, though, is using long pieces of PVC pipe – click here for more pics demonstrating this method. 
For my rain garden, however, using landscape paint was more convenient for me.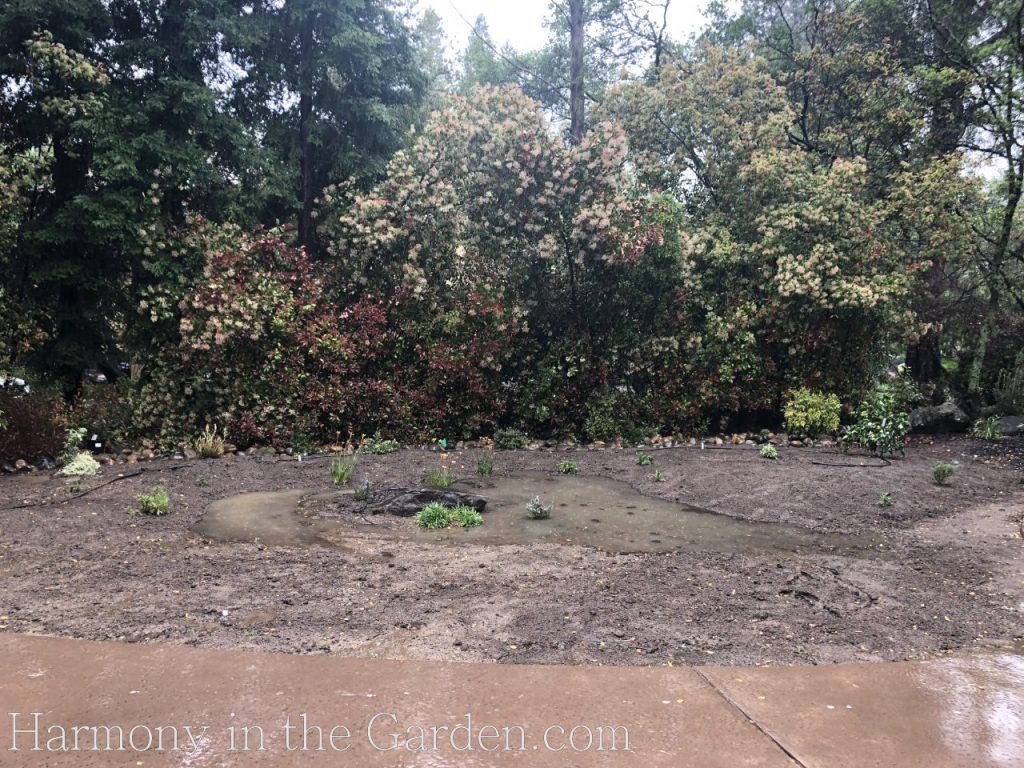 Another challenge I faced when creating this rain garden, was to find plants that would thrive at the very 'bottom of the bowl.' 
Why? 
Because the plants at the lowest part of the depression would need to be happy with 'wet feet' in the winter (sometimes sitting in a puddle of water for a few days at a time.) 
And here's where it gets tricky – these same plants ALSO need to be happy with limited water the rest of the year.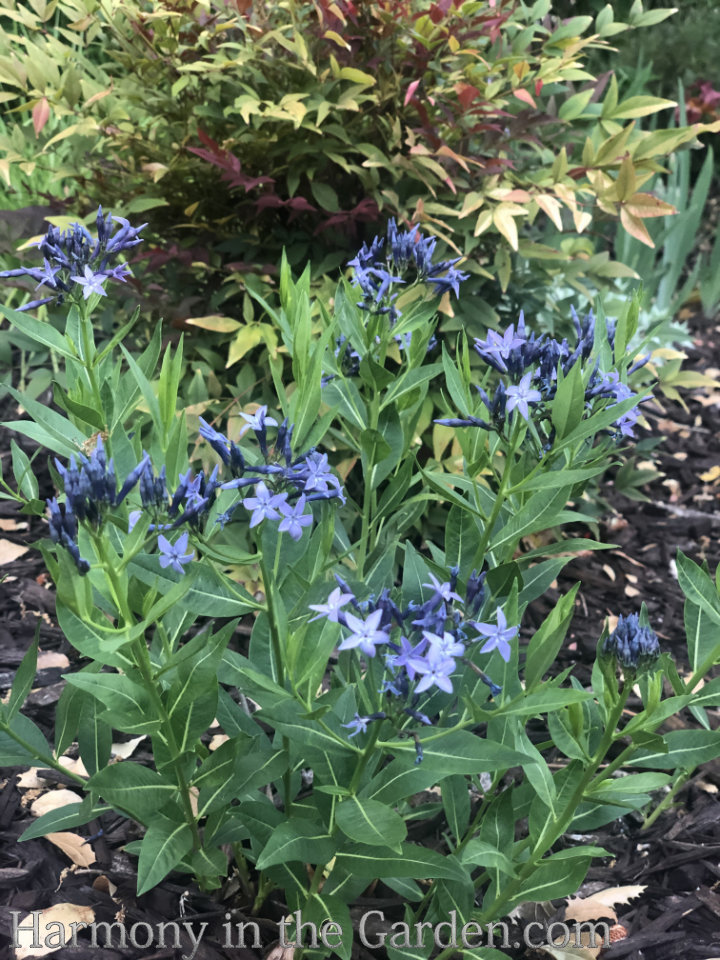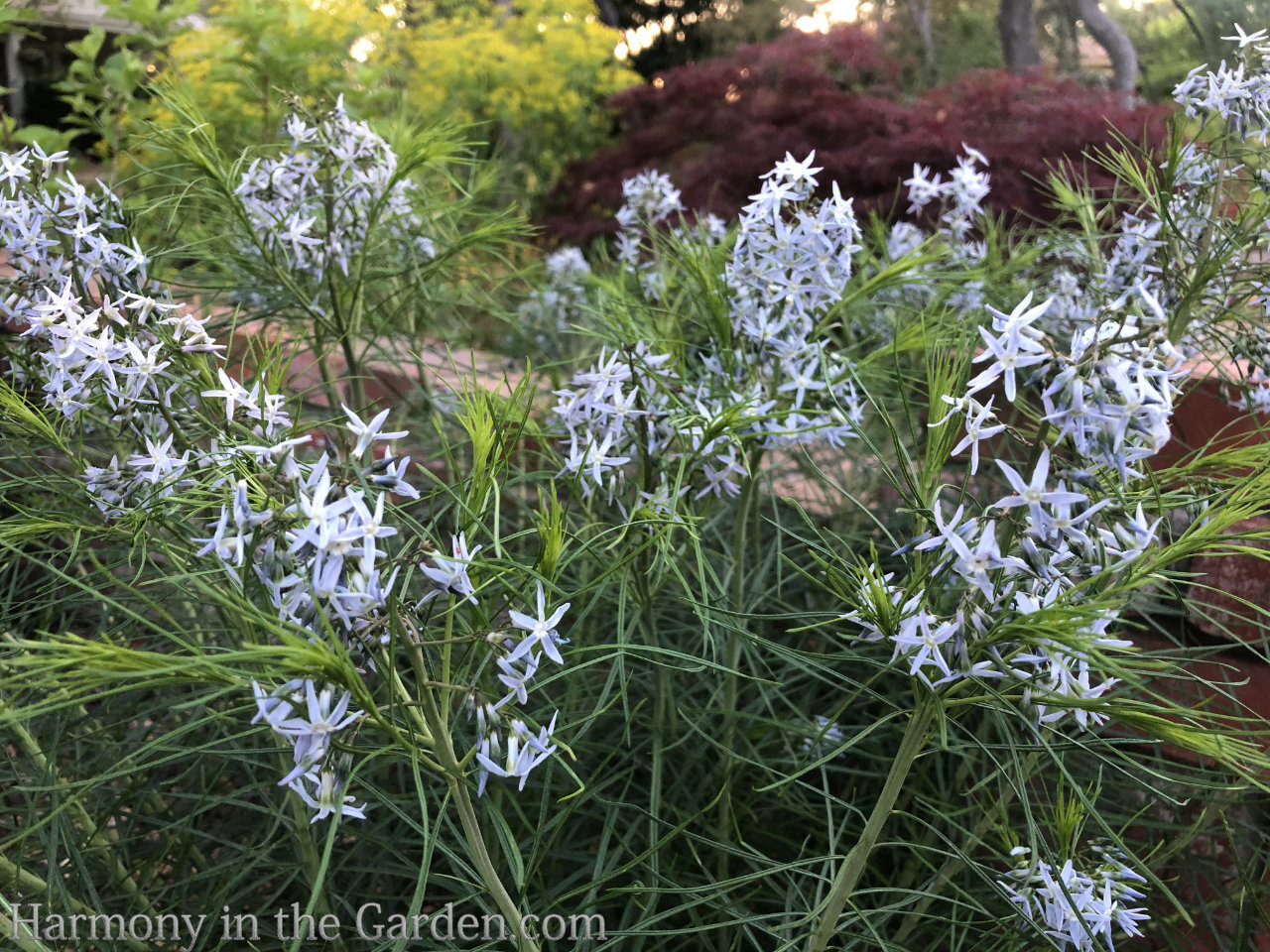 I've had amazing luck with two types of Bluestar – amsonia 'Blue Ice' (left) and amsonia hubrichtii (above.) 
Click here to see how well this amazing plant has done in my entry garden.  
Other plants that have thrived in this difficult spot are Feverfew (chrysanthemum aureum), Switchgrass (panicum virgatum 'Apache Rose,' and Feather Reed Grass (calamagrostis acutifolia 'Overdam'.)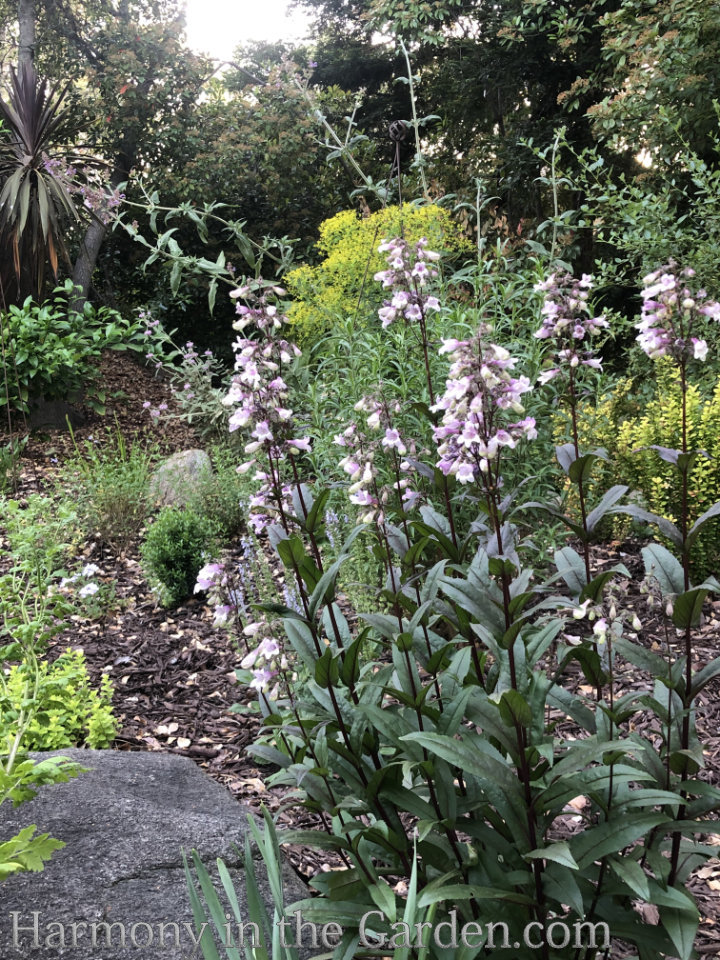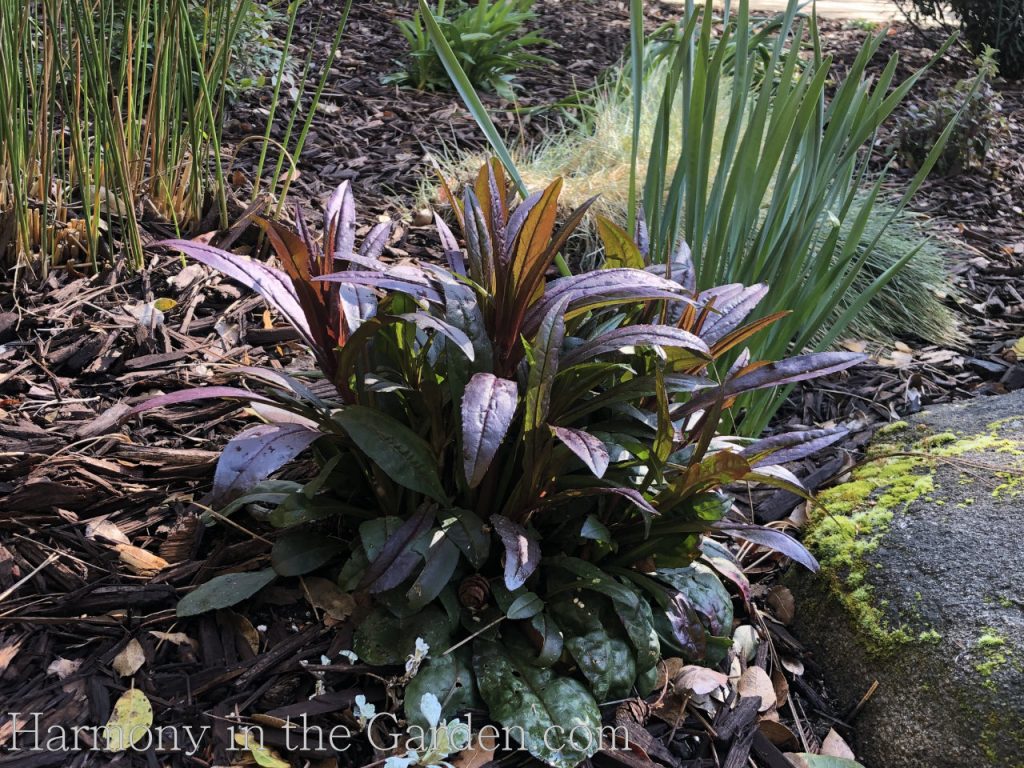 Penstemon 'Midnight Masquerade' is another of my favorites that has done incredibly well living in the flood-zone/dry-zone.
This variety looks fantastic every single day, despite 100+ summers and 28-degree winters! 
I've also found this variety to be one of the few maroon penstemons that retains its lovely dark colors throughout the summer heat. 
Other maroon penstemons tend to lose their colors, turning olive green.
Objective #2  
Provide year-round interest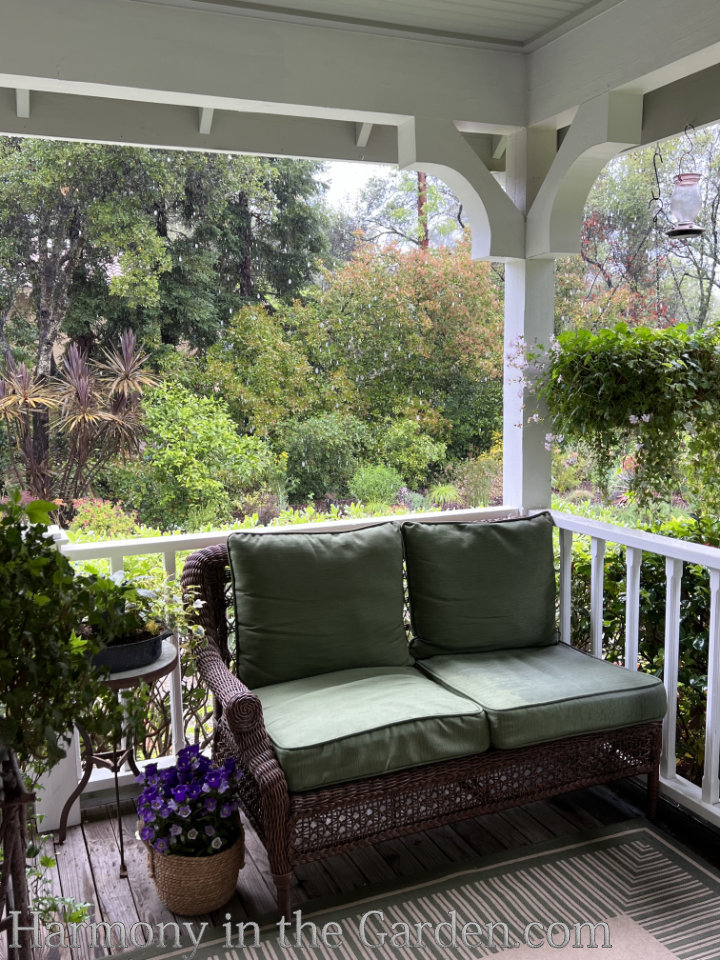 Solution 
The section of the garden is visible from my FAVORITE part of my house – the covered porch.
I spend as much time as I can on my porch (even in the rain!) and love looking at my garden and all the wildlife that visits.
Therefore, the new rain garden needed to look good every day of the year, even in late winter/early spring.
To help the garden look its best in the early spring, I focused on creating color echoes.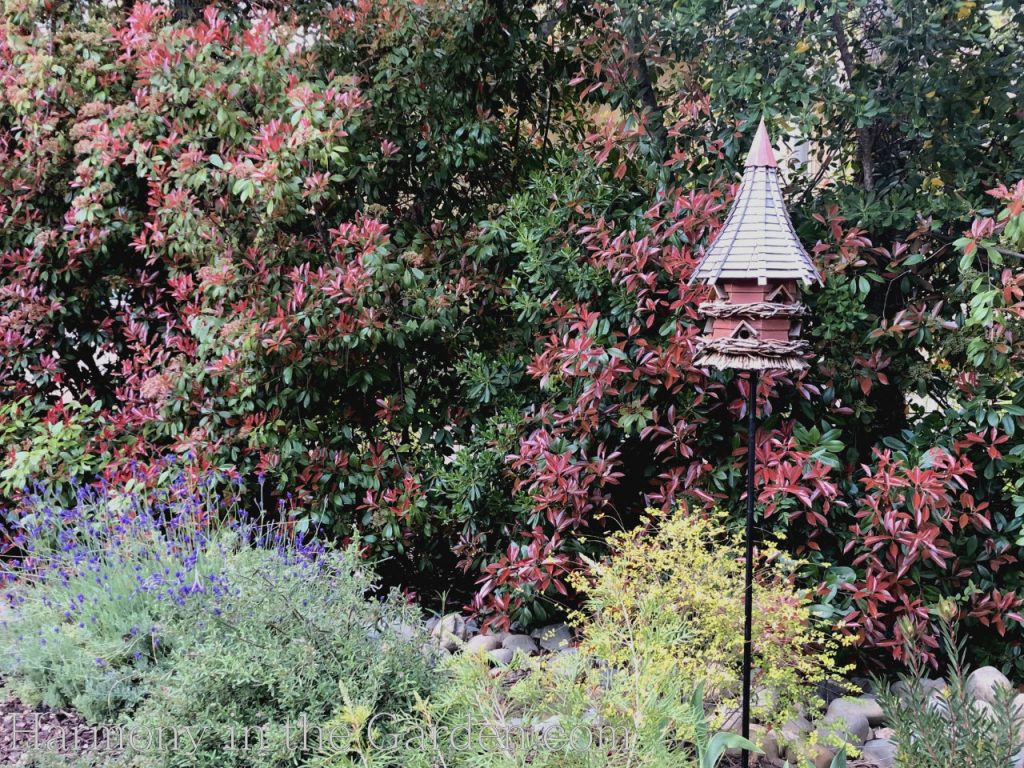 I decided to create color echoes that would play off the vibrant red foliage of the giant photinia hedge is the backdrop of this area.
I finally have the perfect spot for my beloved birdhouse (built by my good friend, Freeland Tanner.
It's the perfect color echo, don't you think?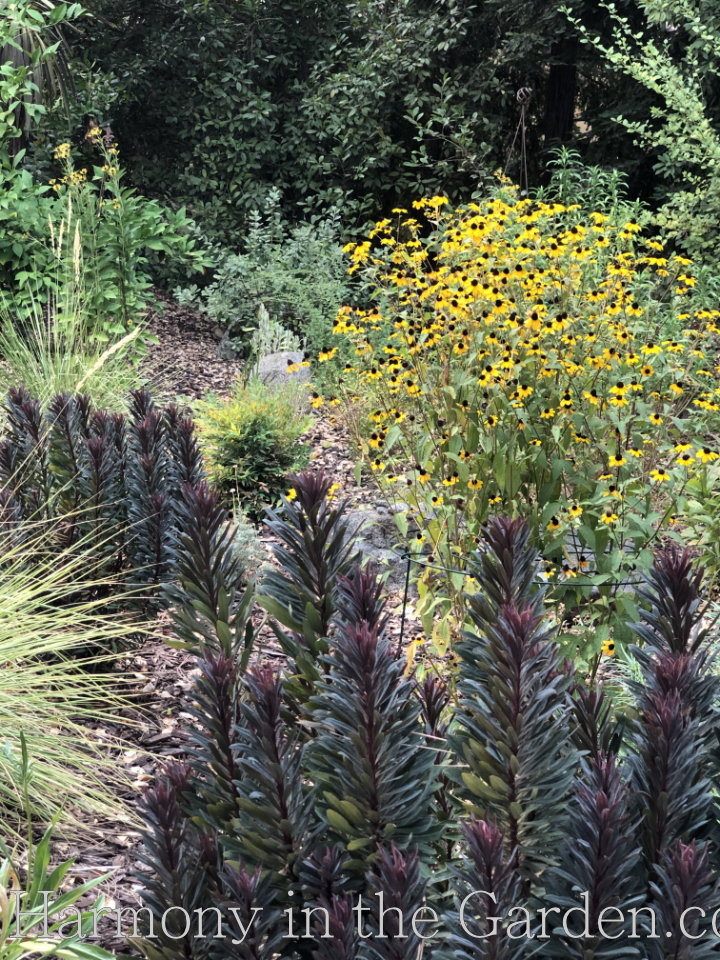 I have several euphorbia 'Blackbirds' planted throughout this space, providing that deep, dark maroon foliage year-round.
As does the penstemon 'Midnight Masquerade' that I featured above.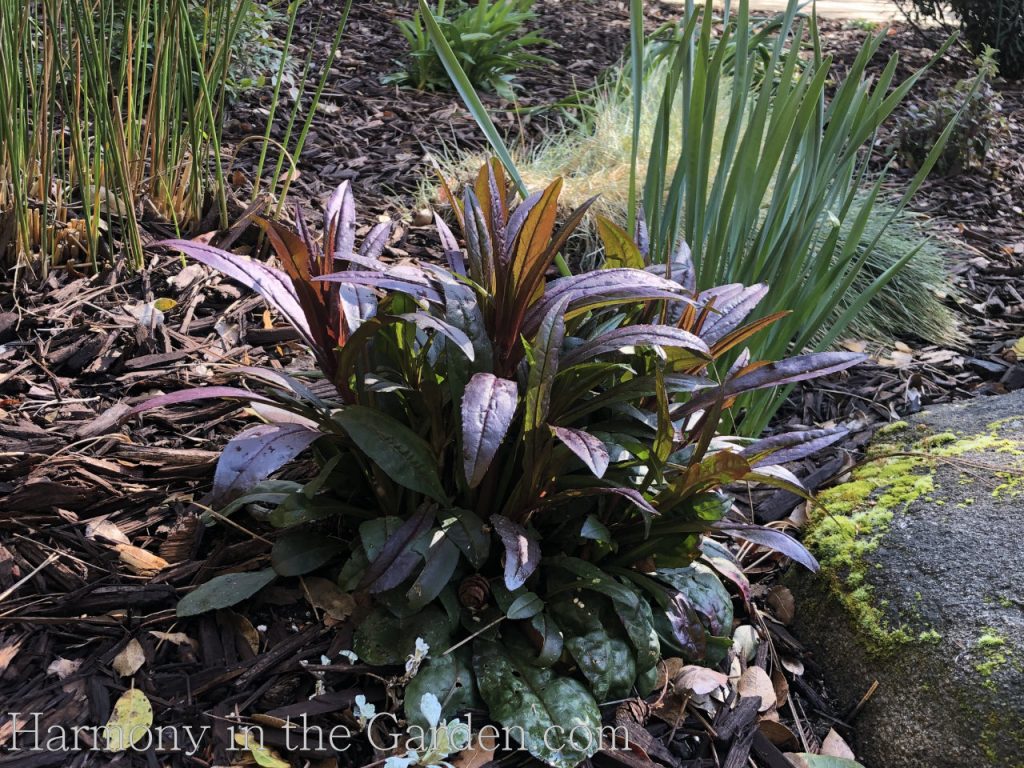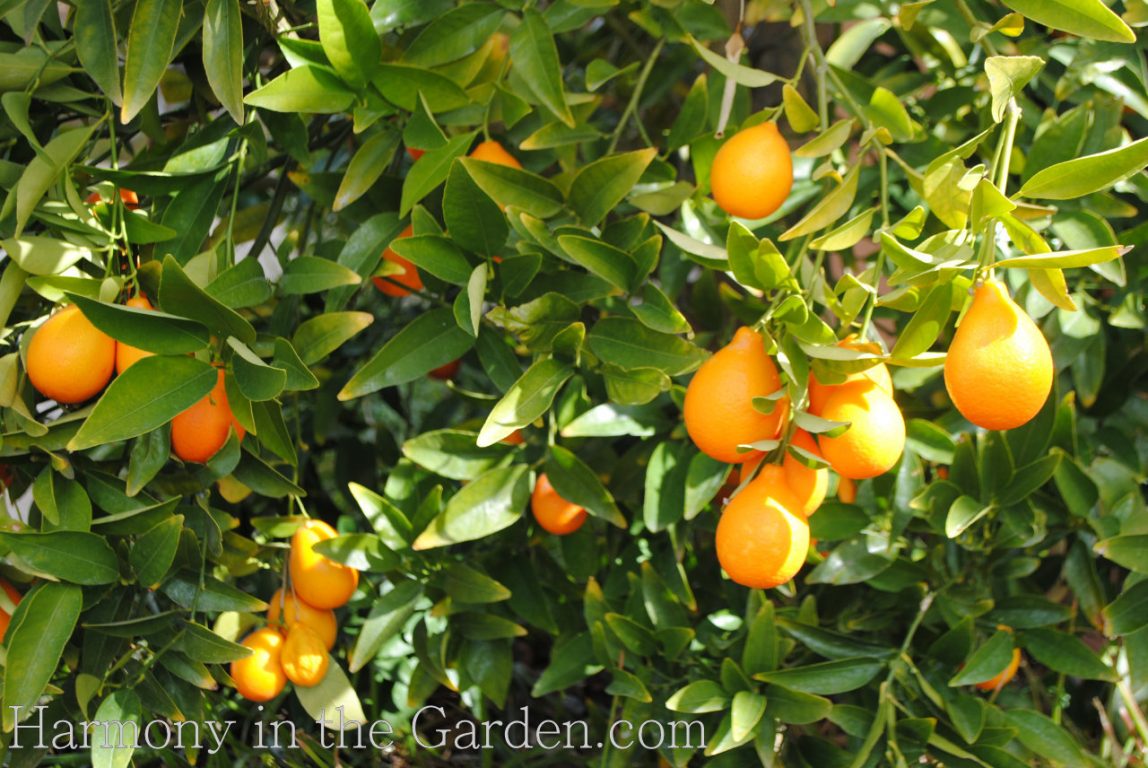 In order for this garden to look good year-round, I also needed to focus on adding plenty of evergreen plants and trees.
Along the top of the berm (where it has fast drainage) I planted three evergreen citrus trees:
– a Washington Navel orange, (which I had and LOVED in my last garden)
– a Mandarinquat (which was a birthday present to my husband from my mother)
– and, a 'Meyer' lemon tree.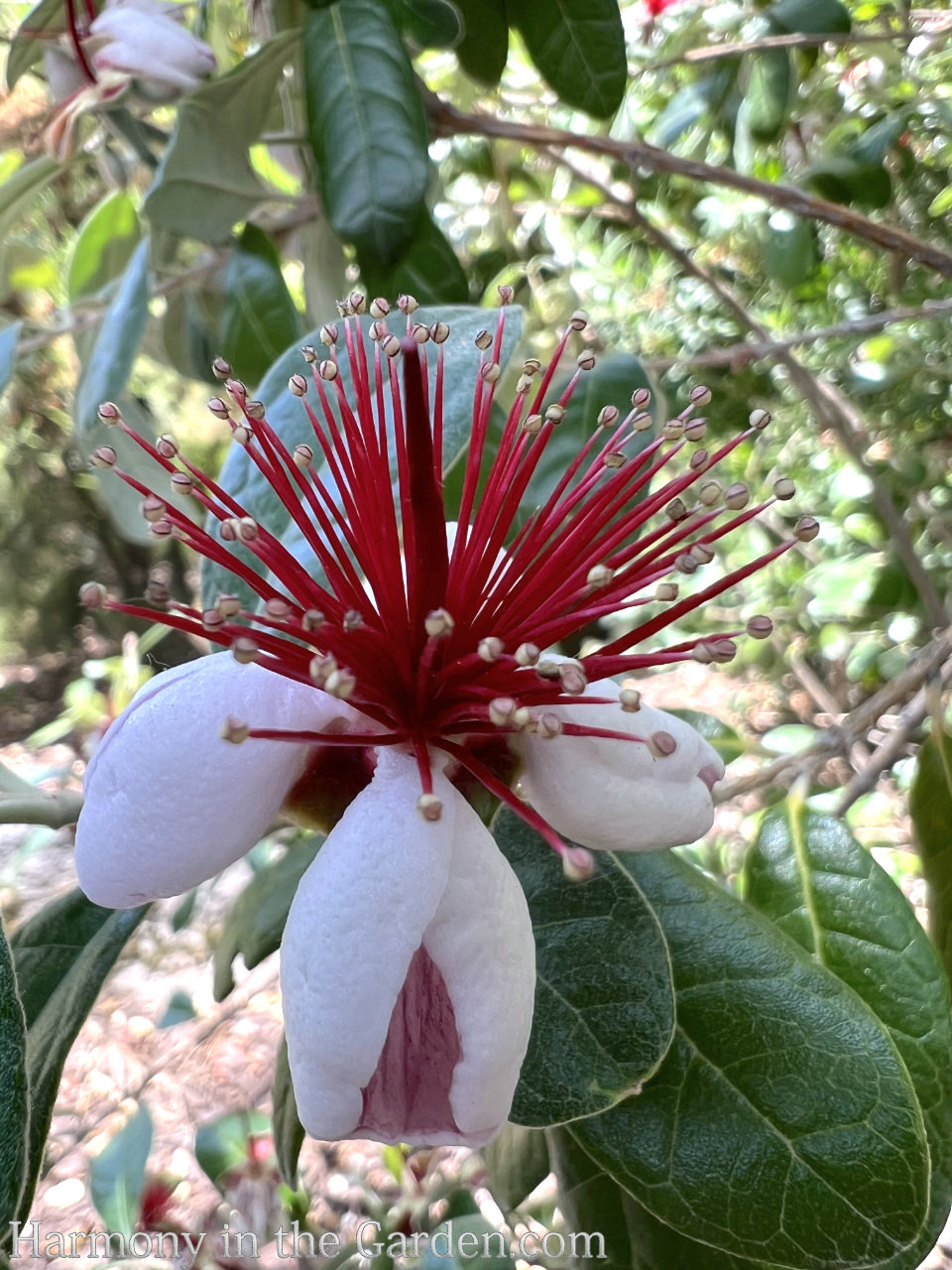 I also planted two Pineapple Guava trees (feijoa sellowiana.)
Grown as either shrubs or smaller trees, they have the most beautiful, soft gray-green foliage with edible red flowers, and delicious summer fruit.
Below is an example of the abundant fruit a single tree provides.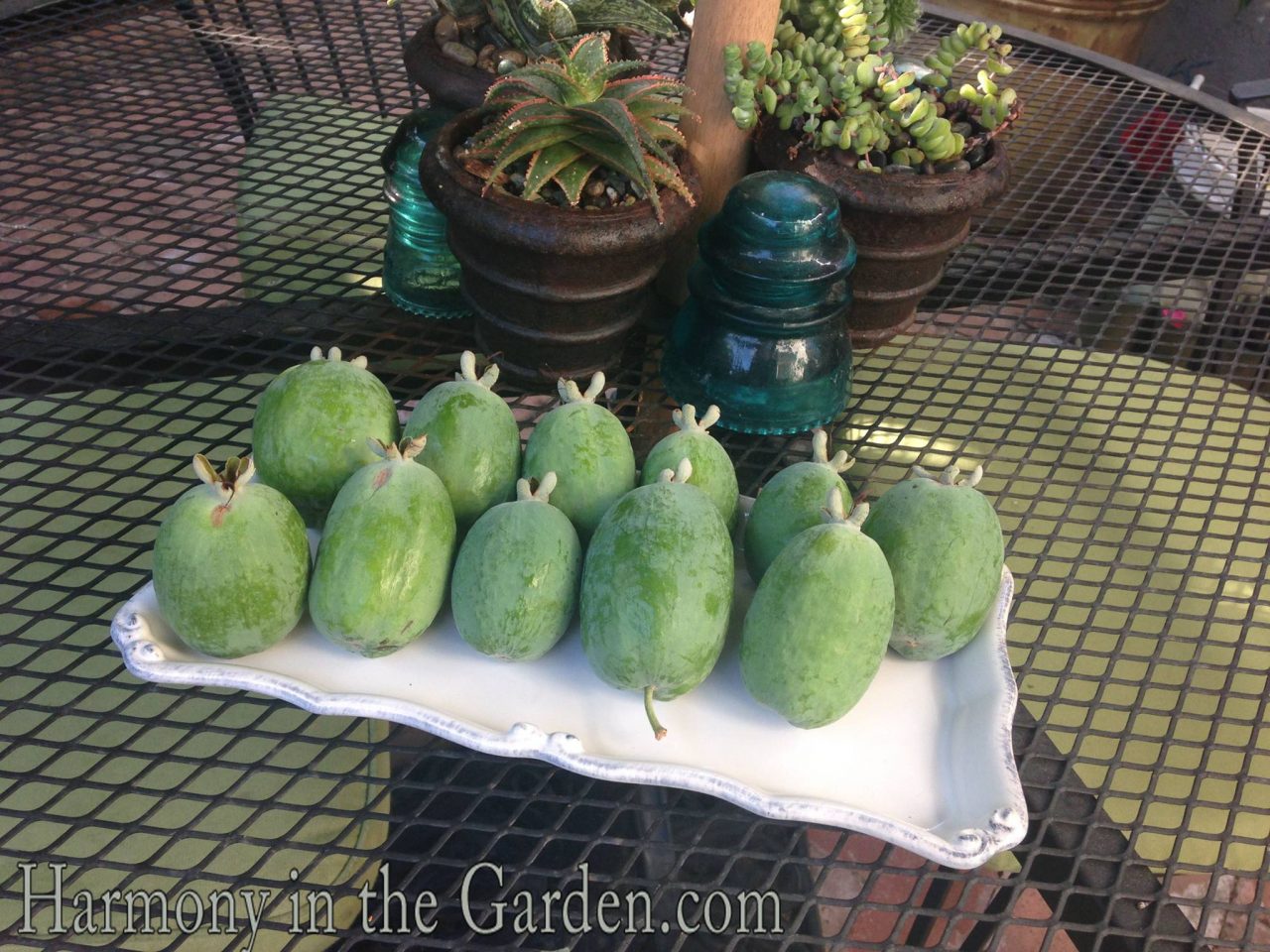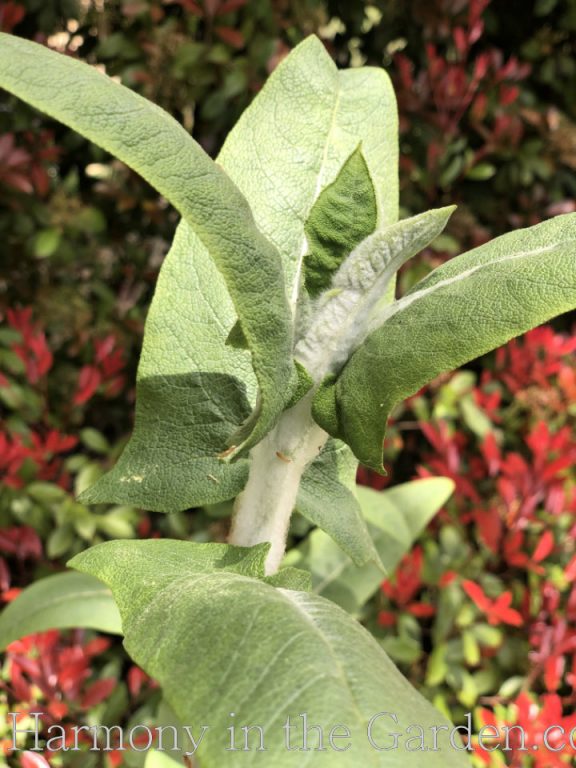 Planted between the citrus trees are a series of taller shrubs with my favorite being the amazing Canary Island Sage (salvia canariensis.)    
And while it isn't blooming quite yet, I just love the oversized triangular leaves and its downy-covered stems.
Below is a pic of the plant when in bloom (I took this photo last year at the Sacramento Historic Cemetery's Native Garden which should be looking fantastic in a few weeks!)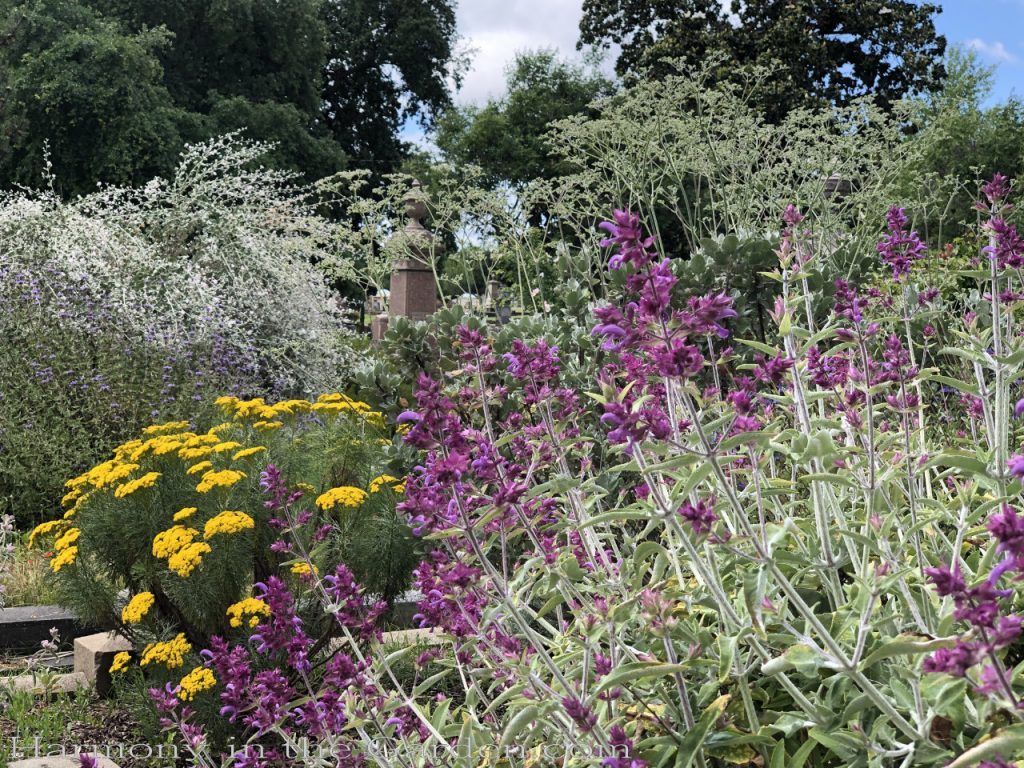 Objective #3  
Create a pollinator garden.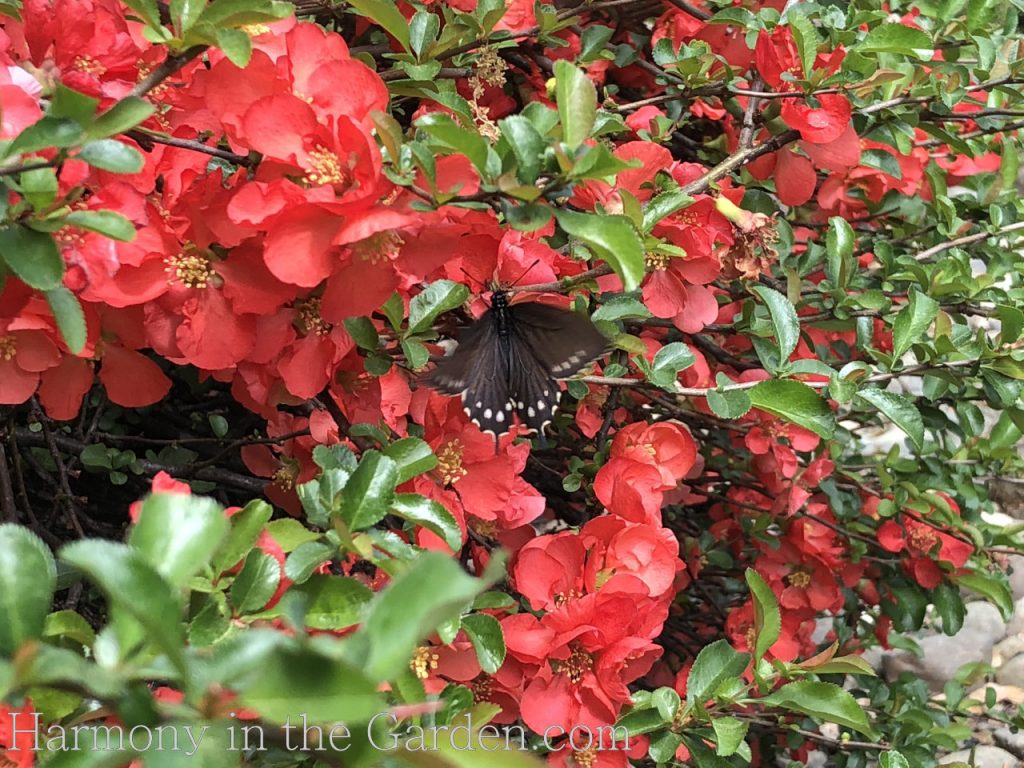 This is especially important in the late winter, as I wanted to provide nectar for our California Pipevine Swallowtail butterflies.  
I have several existing quince shrubs that begin blooming in early February, and if we've had an unusually warm winter, these butterflies can appear as early as March 1st. 
They absolutely swarm the quince flowers, mainly because there isn't much blooming so early in the garden. 
Therefore, I wanted to make sure I had other early-blooming pollinator plants to add to their menu.
I have SO many more pollinator plants in this area to share with you – click here to read about them all.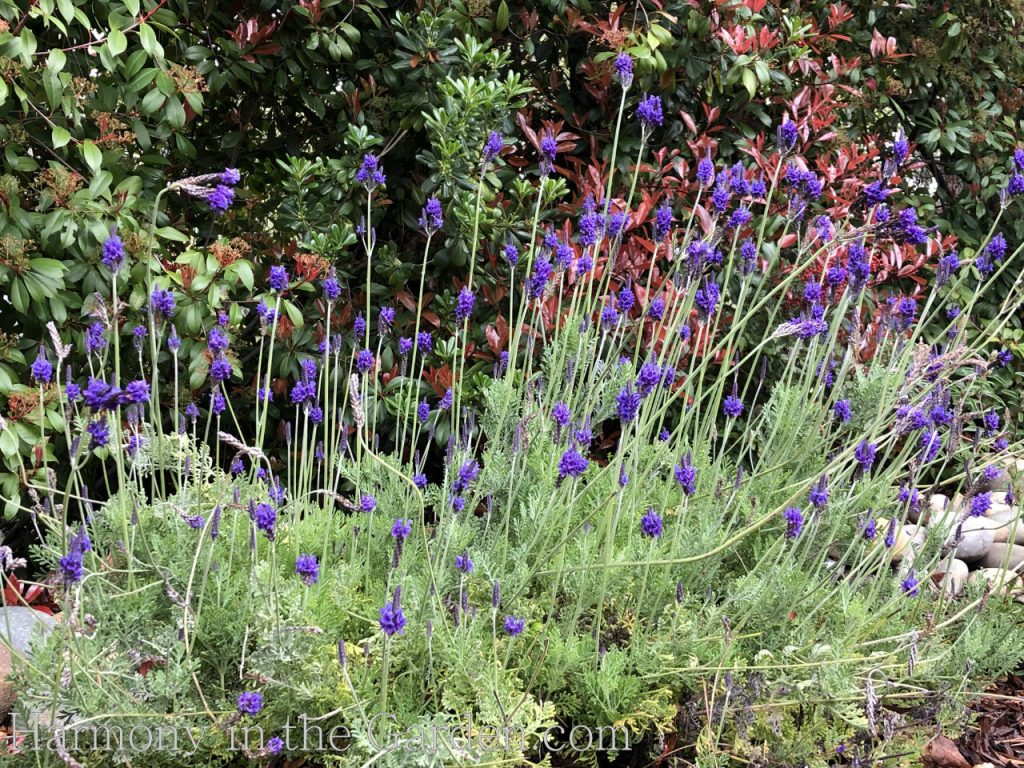 Another long-blooming butterfly favorite is the evergreen Jagged Lavender (lavendula pinnata buchii). 
While this variety doesn't smell like your typical lavender, the hundreds of neon dark purple candelabra-like flowers that bloom for months at a time make up for any shortcomings.
Take a look at the video below and you'll see this butterfly agrees!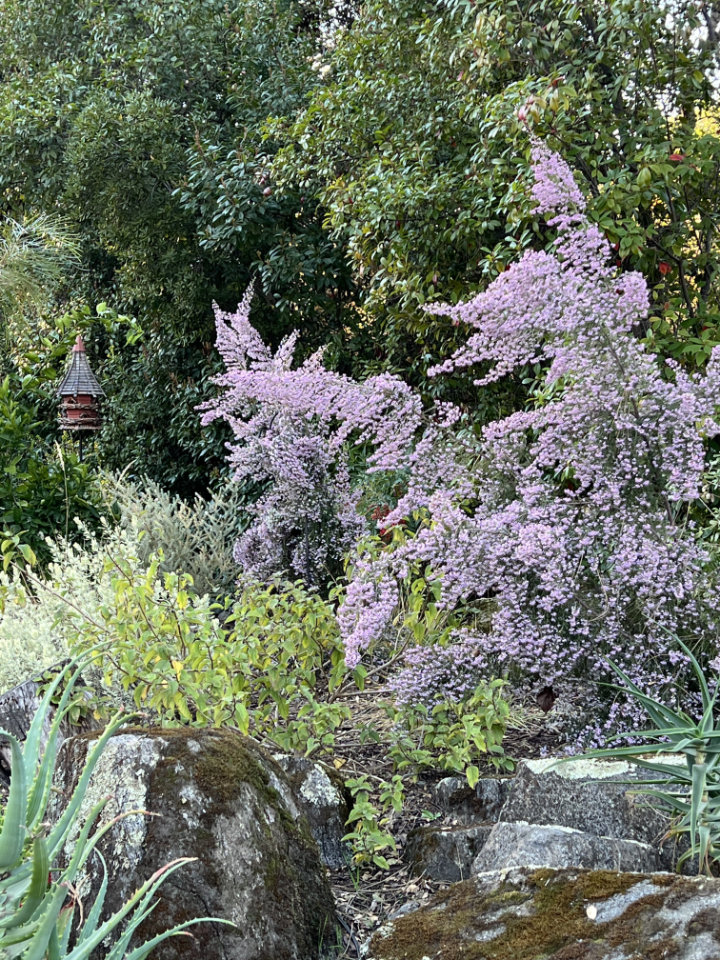 The new raised berm allows for super fast-drainage, making it ideal for winter-blooming erica canaliculate 'Rosea.'
Pardon me while I indulge in some amazing photos of this plant, but just LOOK how amazing it looks on this cold, late winter day!
In the heather family, this plant quickly grows to 10-feet (or more) and is covered with the cutest teeny pink flowers for months at a time. 
And when the sun hits it just right, it literally glows in the garden.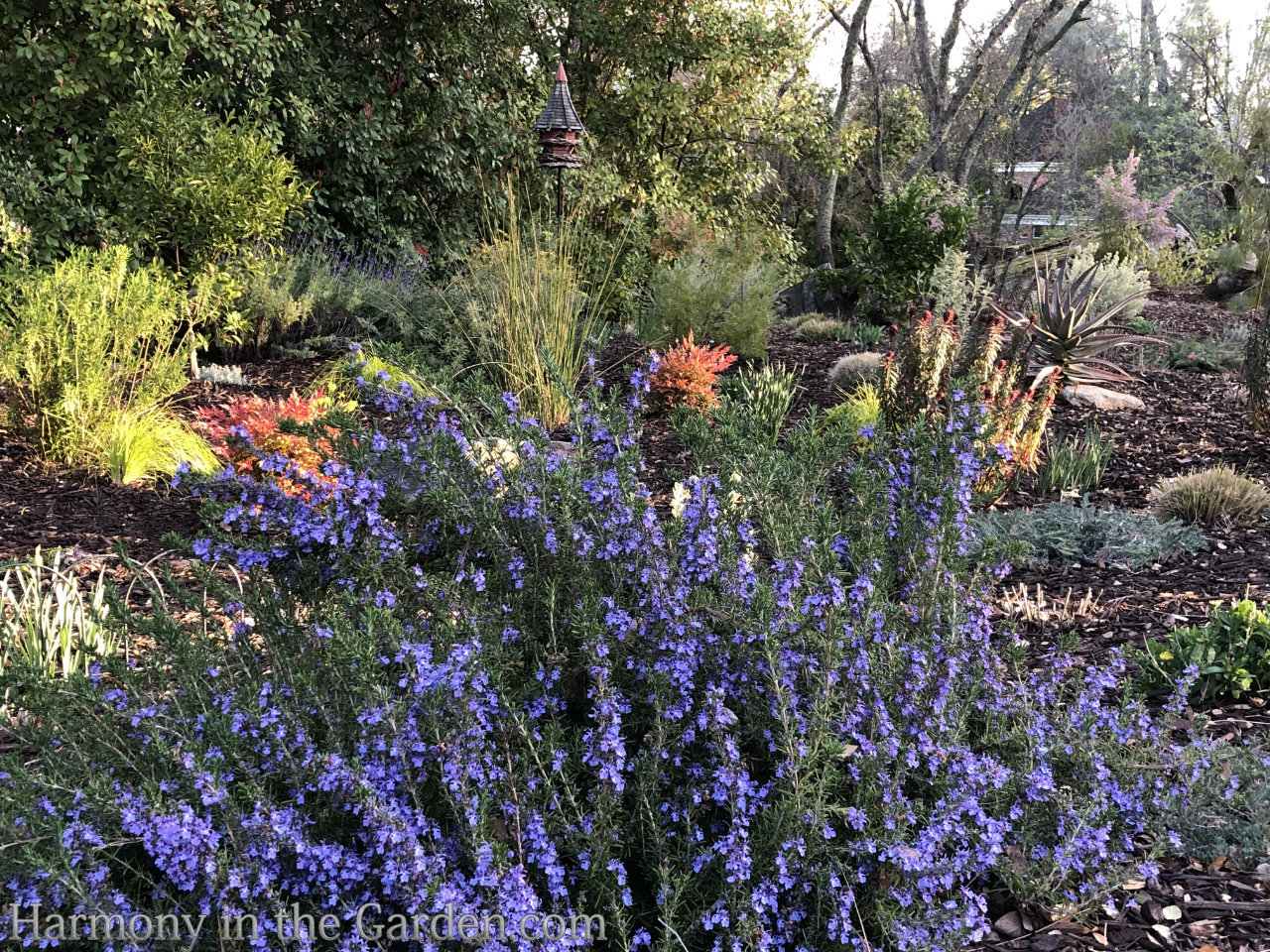 'Mozart' is a newer variety of rosemary which has quickly become my absolute favorite.  
This mid-sized rosemary grows to just 2 1/2'x4′, making it ideal for the front of the border. 
'Mozart' has extra dark green foliage and is covered with the most electric, deep blue flowers of all the varieties I've seen (you can read about others that I use in my designs here.
It blooms for months at a time, taking a short break towards the end of summer, only to ramp up again in December.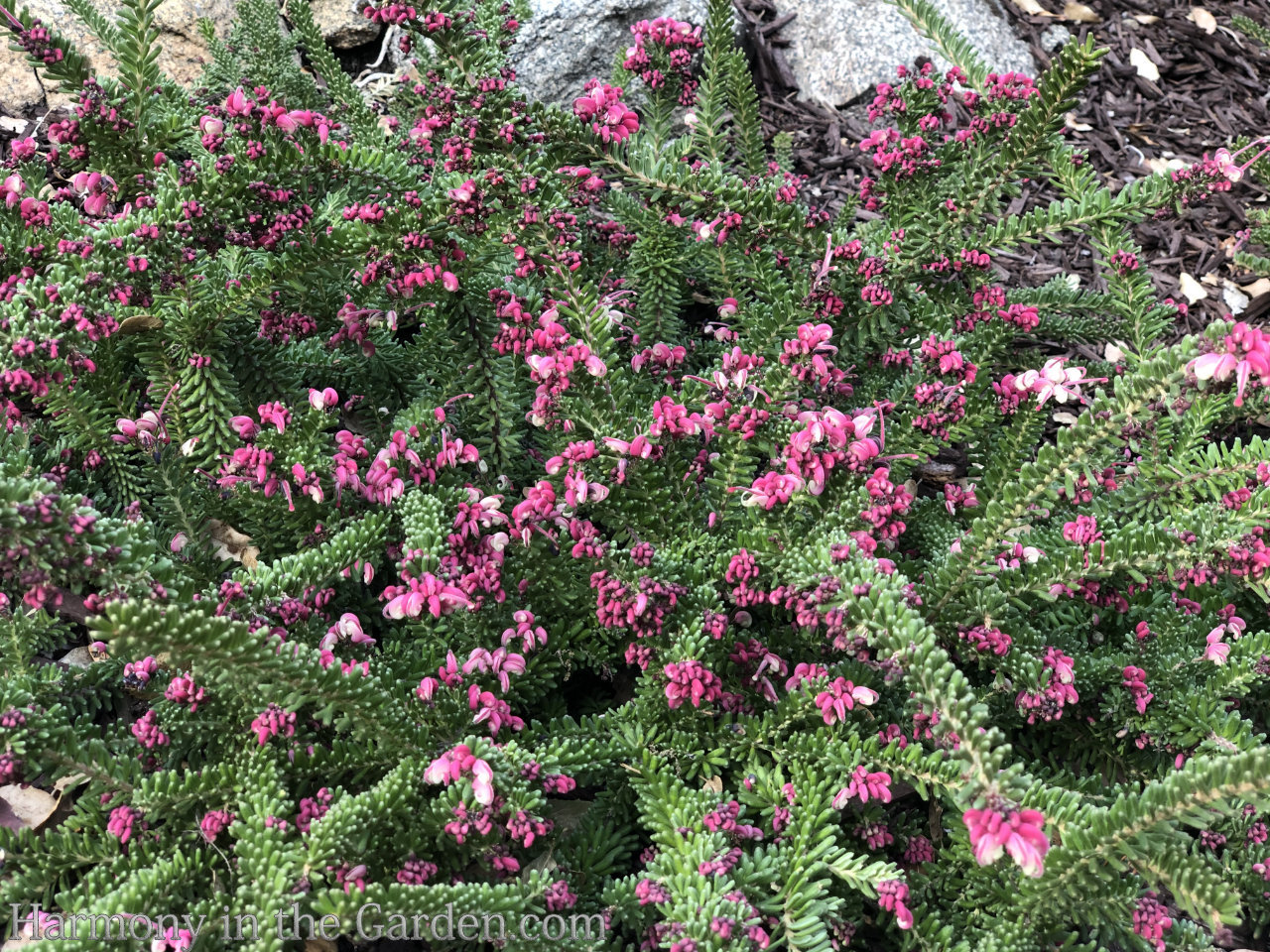 Of course I can't forget to mention one of the longest-blooming winter plants in my garden – the groundcover grevillea 'Mt. Tambooritha.'
Actually, these grevilleas have been blooming non-stop since October!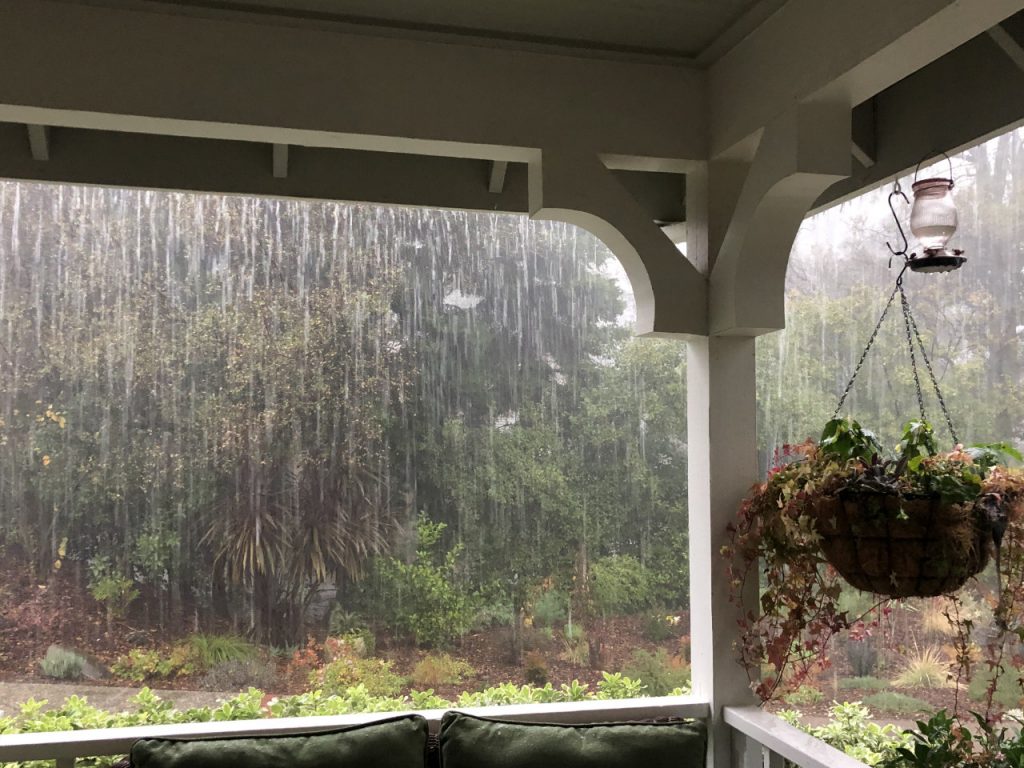 It's fitting that it's pouring rain here today!
I do hope you've enjoyed touring my new rain garden, and if you'd like to see how it looks in the summer, click here (you'll hardly recognize it!) 
P.S.    If you'd like to know more about creating your own rain garden/sunken garden/bioswale click here and here for two fantastic and detailed articles.