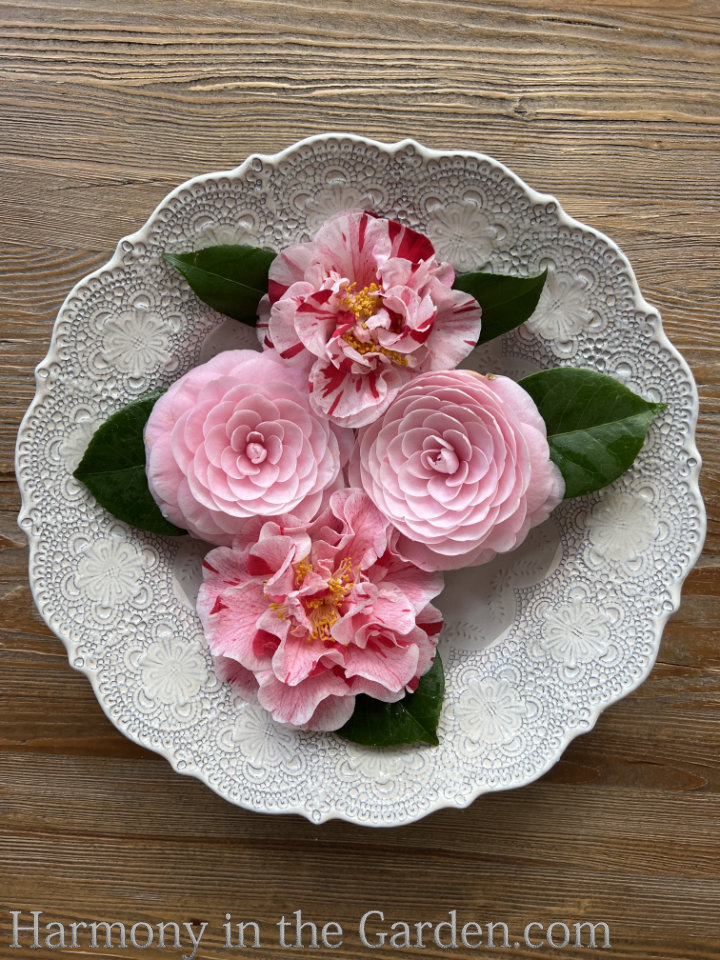 While there aren't any camellias that bloom non-stop from fall through spring, I know of an easy way to have a mix of blooms as early as September and ending in April (and maybe even May). 
It's simple – make sure to plant a combination of tried-and-true sasanqua and japonica varieties. 
First, I have a confession. I'm a little embarrassed to admit that I haven't always been a huge fan of camellias. 
But the older I get, and the more life throws curve balls my way, I appreciate more and more any flowering shrub that demand so little of me.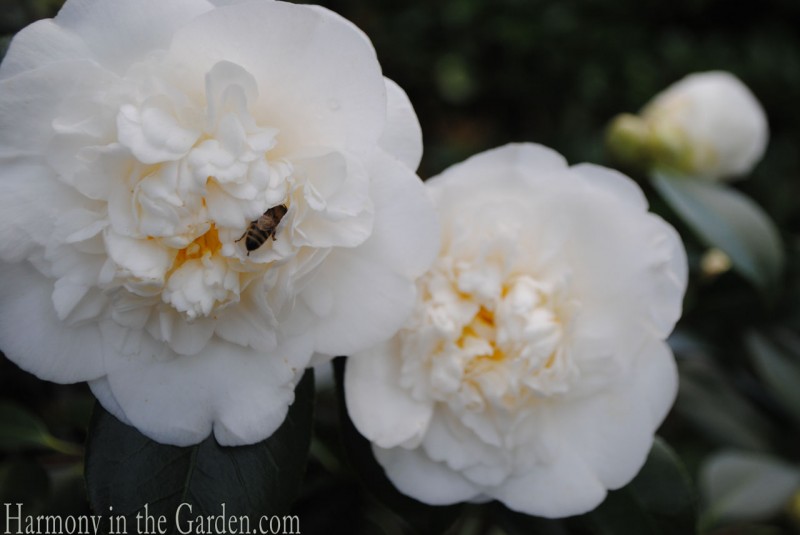 One of the first things I did when moving to my garden a few years ago was to think about which evergreen shrubs I wanted to plant.  
Often called the 'bones of the garden' the shrubs I selected needed to be carefully chosen and thoughtfully placed.
Camellias were at the top of my list, as they're not only evergreen, but they provide much-needed color when little else is happening in the garden.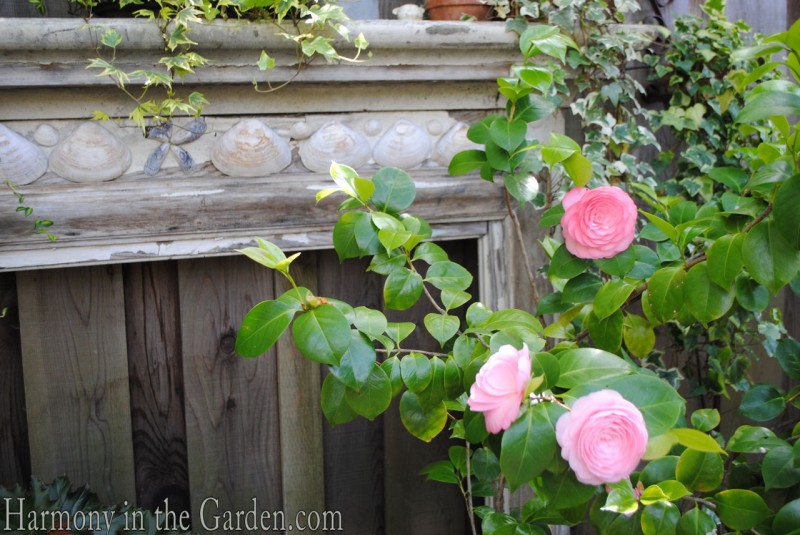 They're fairly low-maintenance, too. When placed in the right location, they won't need pruning (hooray!)  
Once established, they're not overly thirsty (another hooray!) 
All they ask is to be given a little fertilizer once they've finished blooming.
I'll admit that sometimes I'll forget and skip a year, but WHEN I remember to feed them, I like to use Dr. Earth's Organic Acid-Lover Food.  It's great for rhododendrons and azaleas, too.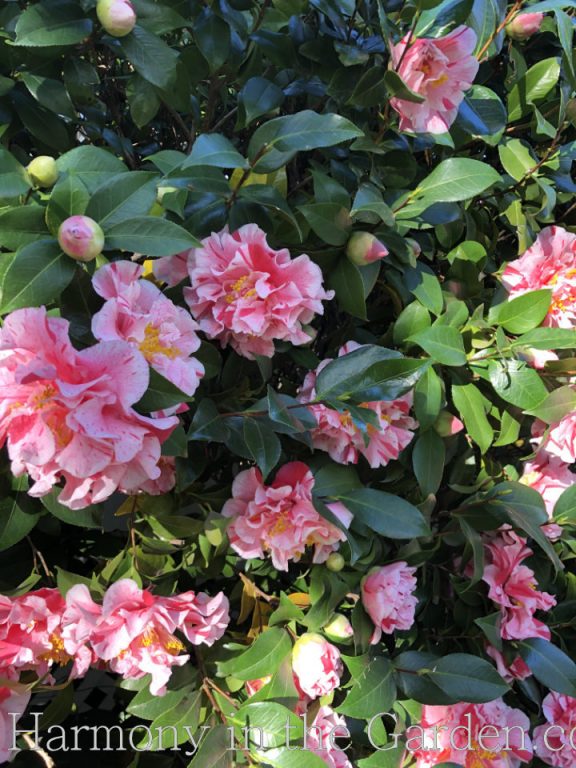 I have both types of camellias in my garden:  the sasanquas and the japonicas.  What's the difference?
Sasanqua varieties bloom first, usually in the fall.  The shrub has an open and airy growth habit and the flowers & leaves tend to be more delicate than the japonicas.  Sasanquas can also handle more sun than the japonicas.
The japonicas, on the other hand, are those camellias that grew in our grandmother's garden – the biggies.  They're larger all the way around; larger in size with larger leaves and larger flowers.
These camellias are happiest with more shade and are ideal when you want a large winter-blooming evergreen shrub.
Both varieties, however, need a few hours of sun in order to bloom.
When someone tells me their camellias never bloom, the answer is almost always because it's planted in too much shade.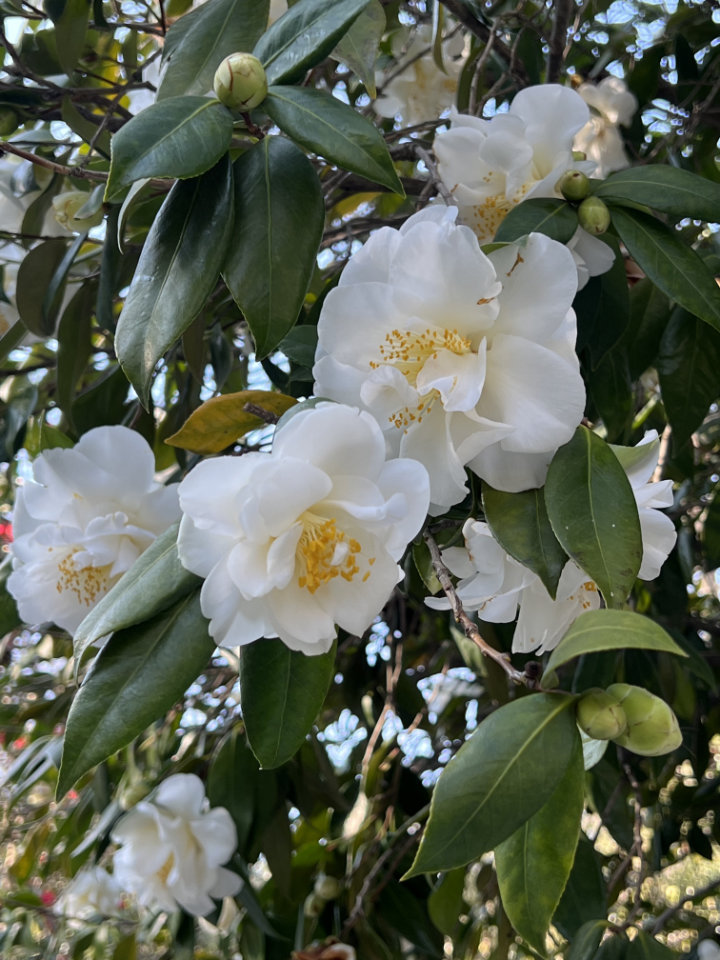 The camellias in my garden are taking center stage right now, as they have been for the past several months. 
When it's cold and bleak outside I'm so thankful for these bright spots of color! 
Here are some of my favorites that have done really well in my clients' gardens, as well as my own:
Camellia japonica varieties: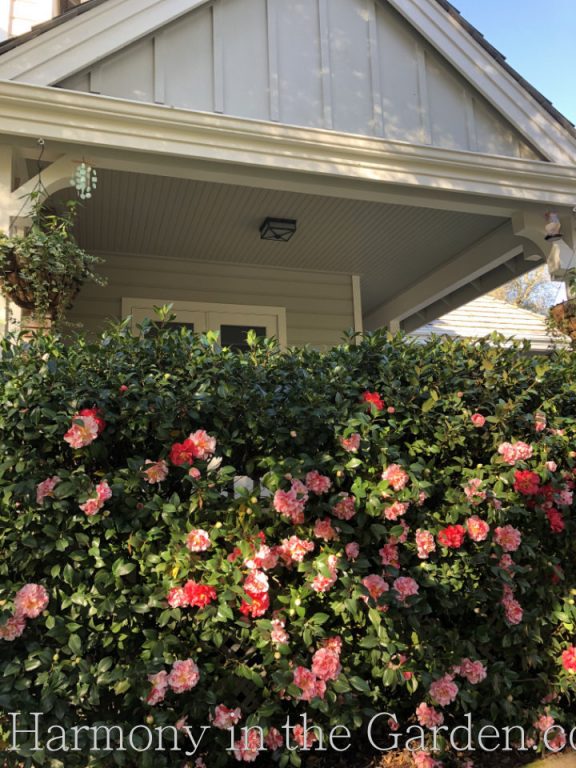 Camellia j. 'Lady Vansittart'
As I've mentioned before, my new garden consisted of very little besides a million overgrown dieties (Fortnight Lillies) and 20+ established oak trees. 
But, besides that I was lucky enough to inherit this beautiful hedge of 'Lady Vansittart' camellias. 
I normally wouldn't choose such an in-your-face color scheme but I've grown to love it!
I especially love the privacy it provides as it wraps around my little porch.  I can peek over the hedge to look at my garden, or (shhhh!) easily duck and hide if I'm in danger of being spotted in my pajamas!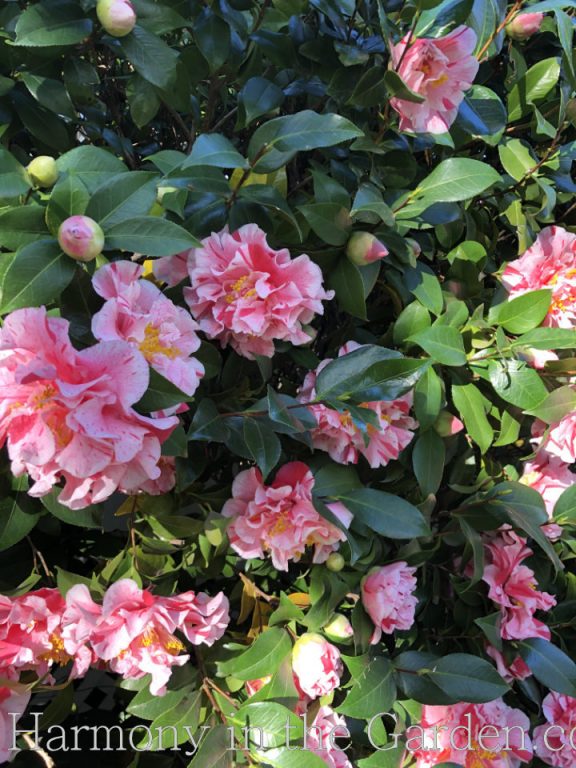 Aren't these blooms amazing?  Each one is different – some are solid red, some solid pink, some with a little variegation, and some with a lot.
Since 'Lady Vansittart' blooms in February and March, colorful flowers don't really clash with other plants in my garden that bloom a little later on.  Which is especially important as I tend to favor orange colors!
And this variety is SO bountiful, I can't help but love them! 
This hedge has been blooming non-stop now for 8 weeks and it still has tons of buds that have yet to open.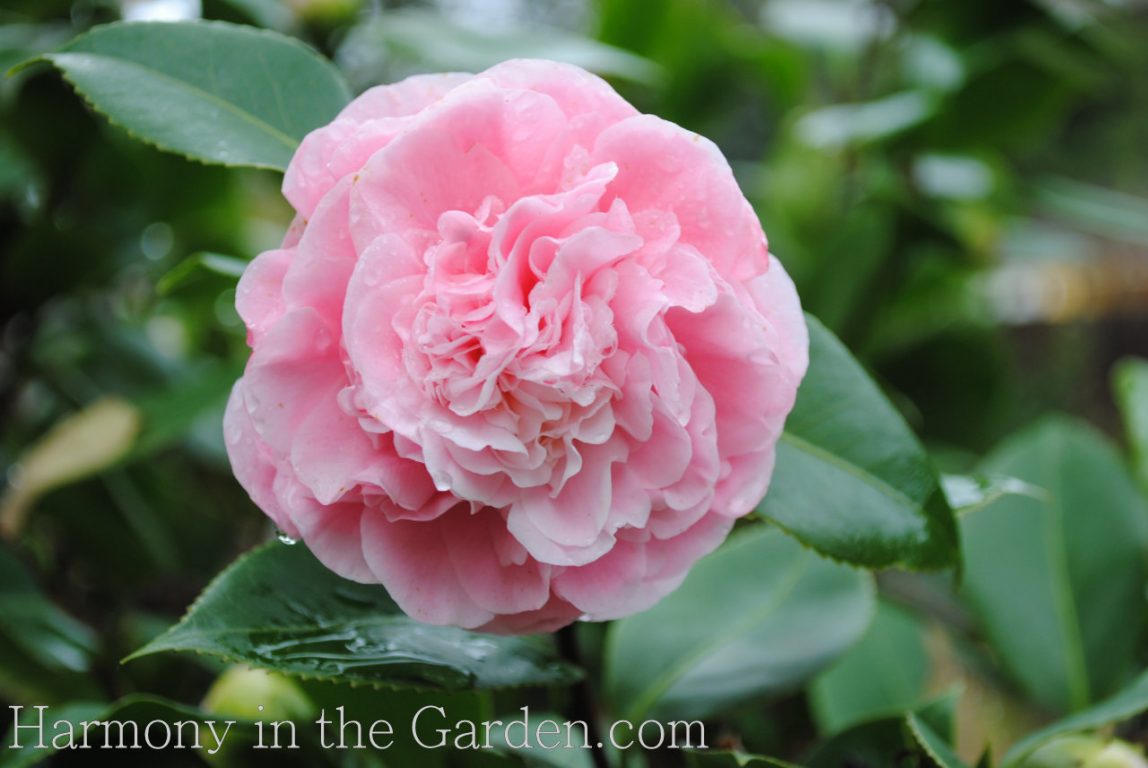 Camellia j. 'Debutante'
The large, full blooms of 'Debutante'  always remind me of a peony – especially its tight, unfurling buds. 
This is a larger variety, growing to 8-feet tall and wide, and blooms in early winter.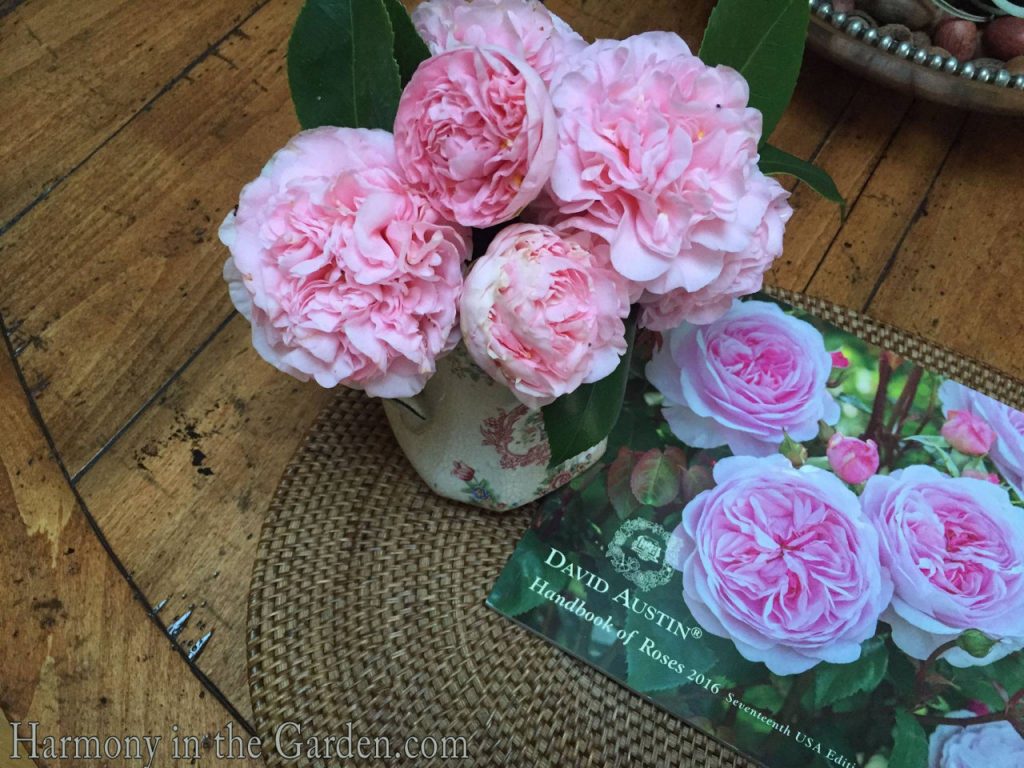 I took this photo a few years ago – aren't the buds and blooms incredible?
They look just like the roses featured on the David Austin catalog!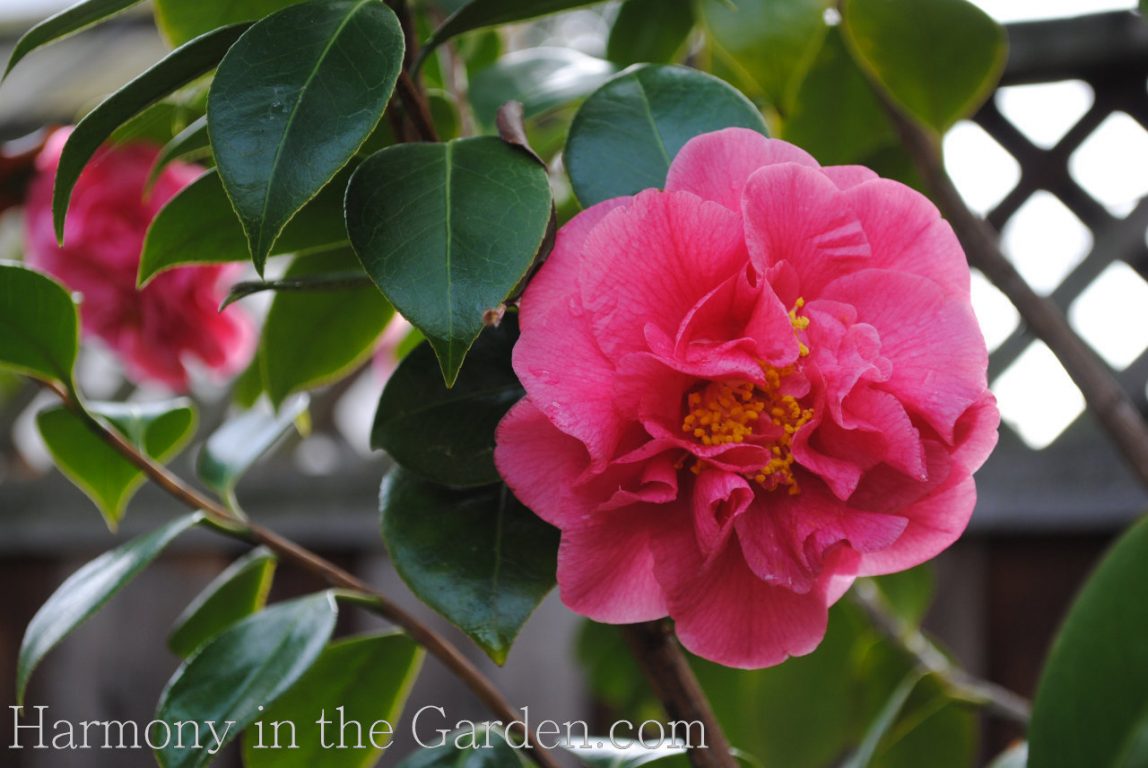 Camellia j. 'Scentsation'
Another must-have is 'Scentsation' as it's one of the very few that have a sweet fragrance.
I like to float flowers in a shallow bowl of water to perfume my home.
Don't get me wrong – I love the earthy beet-like scent of other varieties, but sometimes it's nice to have something sweet smelling in the garden. Especially in December and January.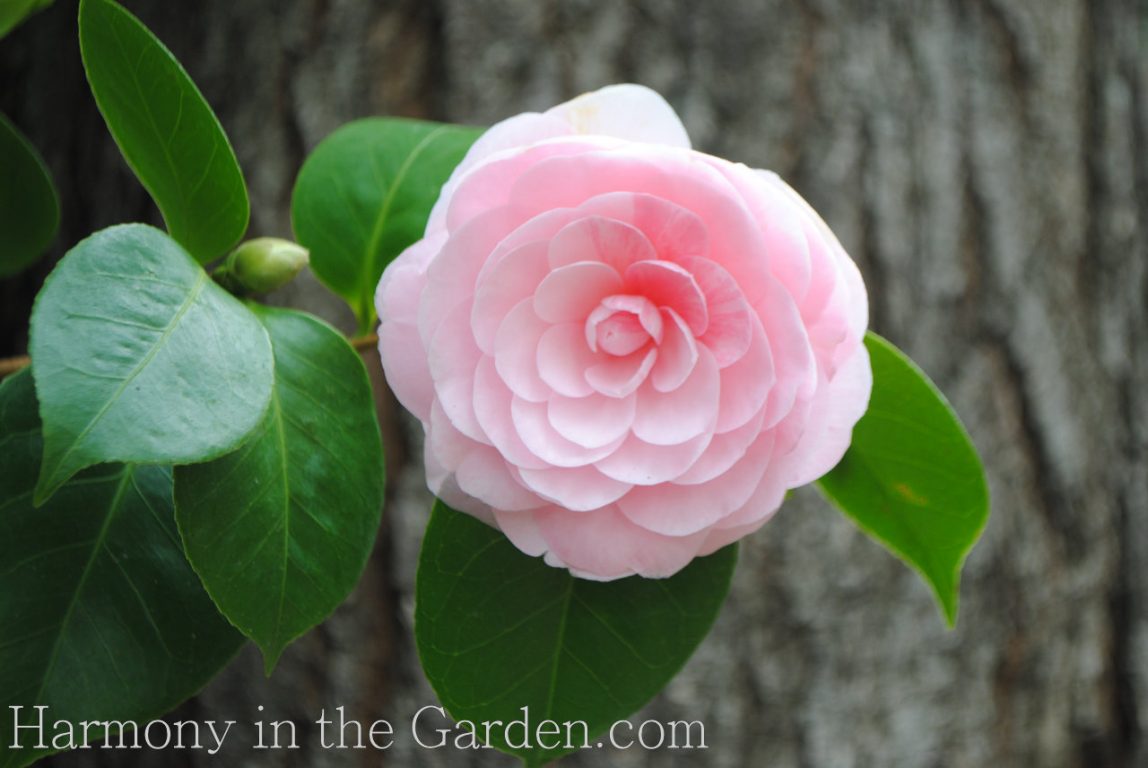 Camellia j. 'Pearl Maxwell'
Just LOOK at the symmetrical blooms of 'Pearl Maxwell'!
While many (if not most) camellia blooms tend to have ruffled petals, 'Pearl Maxwell' is tidy, geometric, and oh-so-orderly.  
The soft, shell-pink blooms begin making their appearance in early spring and are truly a sight to behold.
Camellia sasanqua varieties: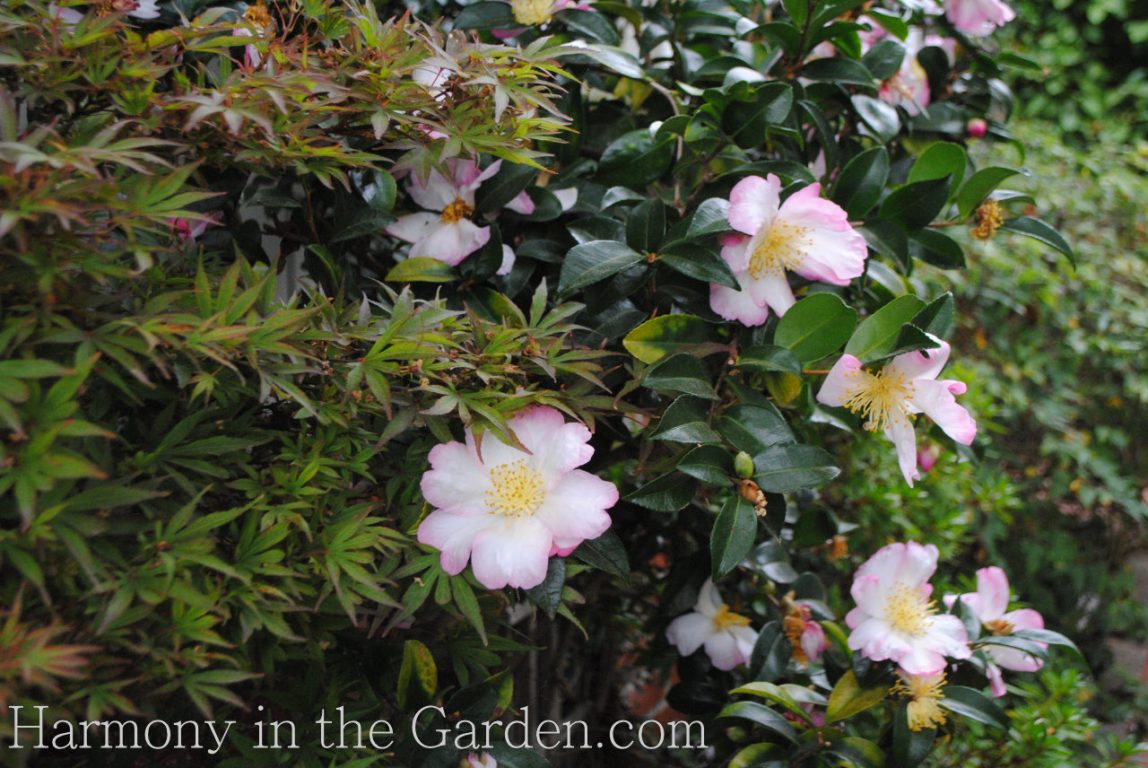 Camellia s. 'Apple Blossom'
'Apple Blossom' is a fall blooming, starting as early as September.
Each oversized, creamy white flower is edged in the palest pink and looks like – you guessed it – an apple blossom.
To me, it has one of the earthiest beet-like scents of all and I just ADORE it.
Camellia s. 'Setsugekka'
I probably include 'Setsugekka' in more of my designs than any other variety.
I always seem to have the perfect spot for it's semi-double, crisp, white blooms.
This variety also starts blooming in September, signaling the beginning of fall.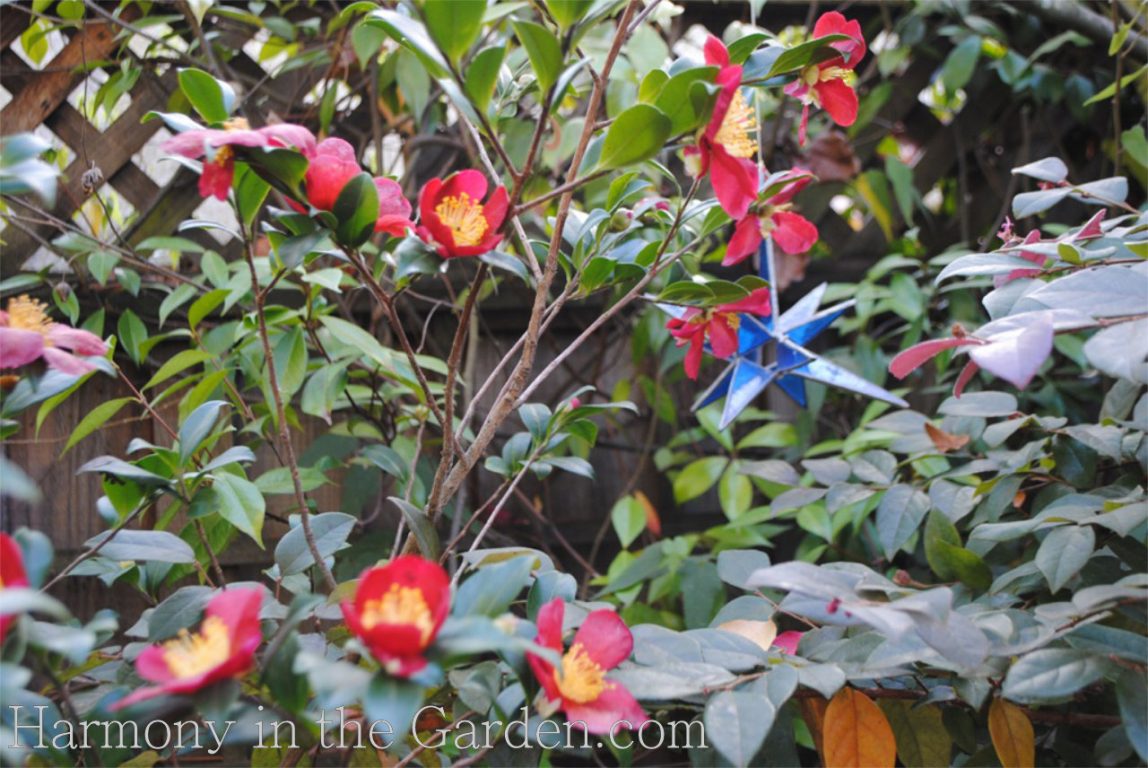 Camellia s. 'Yuletide'
I typically don't use a lot of red in my garden, but 'Yuletide' is a welcome exception.
Each December it's guaranteed to be smothered with cherry-red blooms – just in time for the holidays.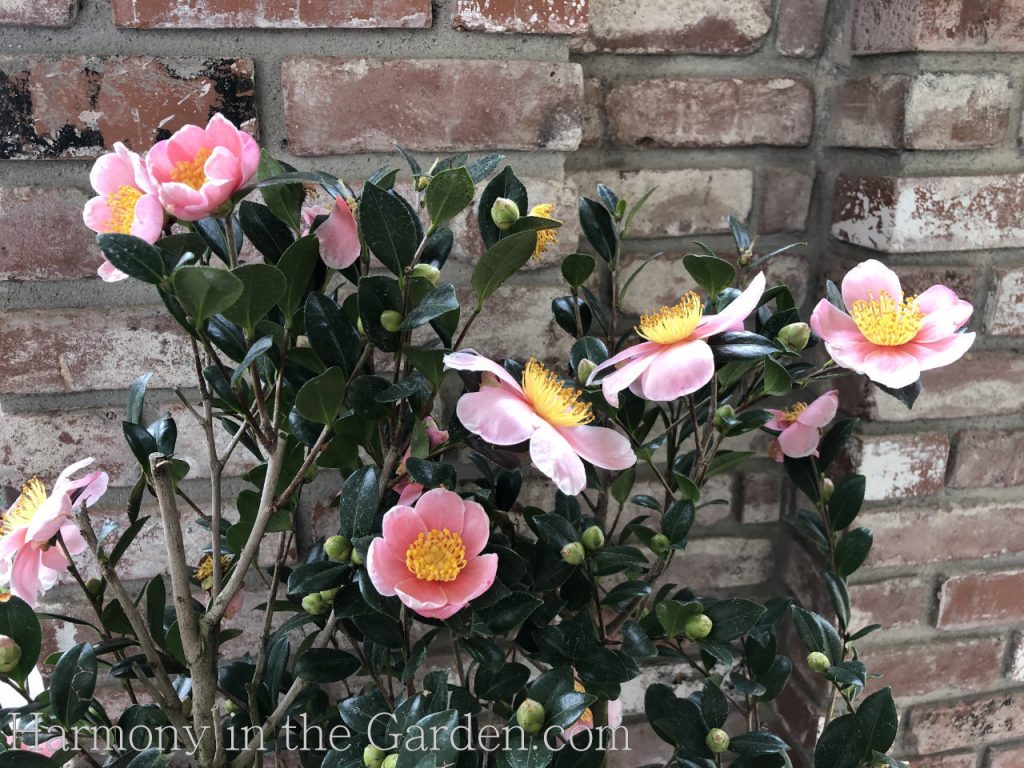 Camellia s. 'Pink-a-Boo'
This one is new to me and is one of my new favorites!
A sport of 'Yuletide' (above)  it has larger single-petal flowers in a cheery pink with a bright yellow center.
Starting in December, it bloomed straight through to February.  
And last but not least – Camellia sinensis!  The Tea Camellia!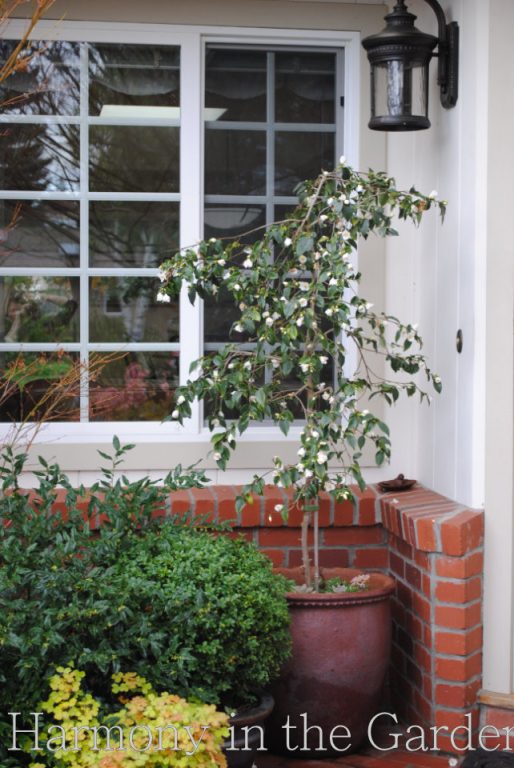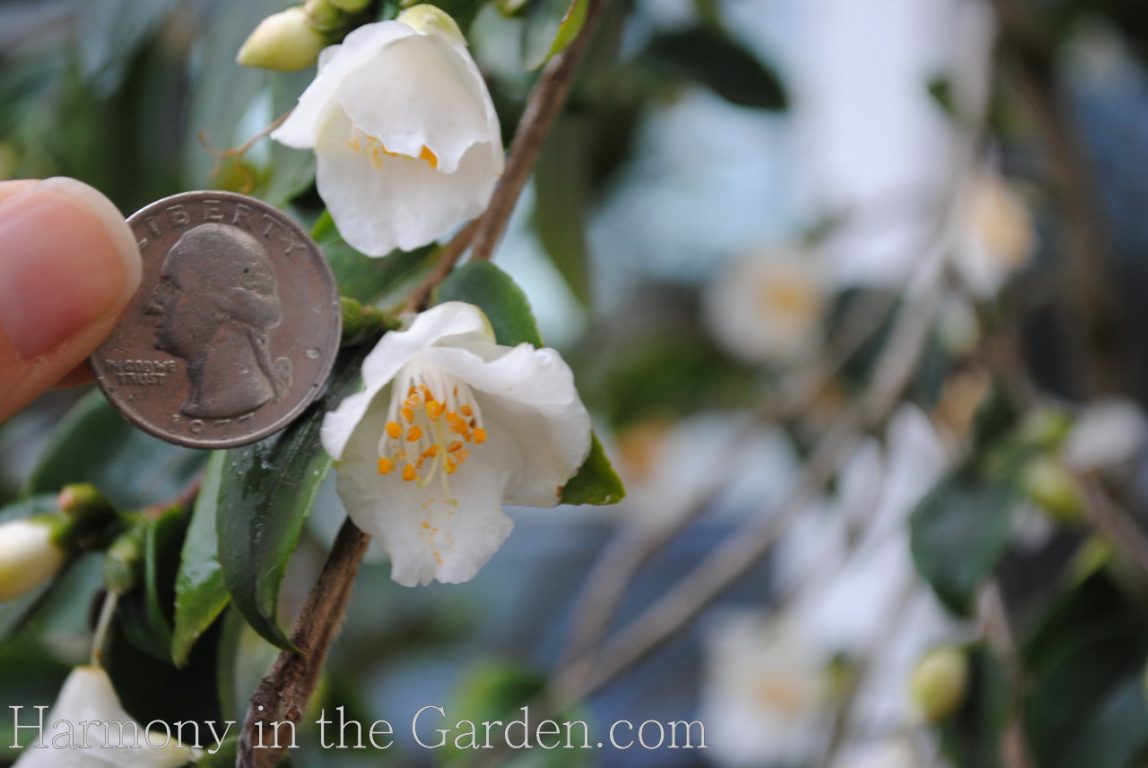 A few years ago I had this unusual variety planted in a container, near my front door.
I loved it as the tiny white flowers, and delicate nature of the shrub were perfect in that tight spot.  I've been on the lookout for this variety, but haven't yet come across one.  
Apparently its young leaves can be processed for a source of tea, hence its common name 'tea plant'.
Click here for an interesting article about this variety.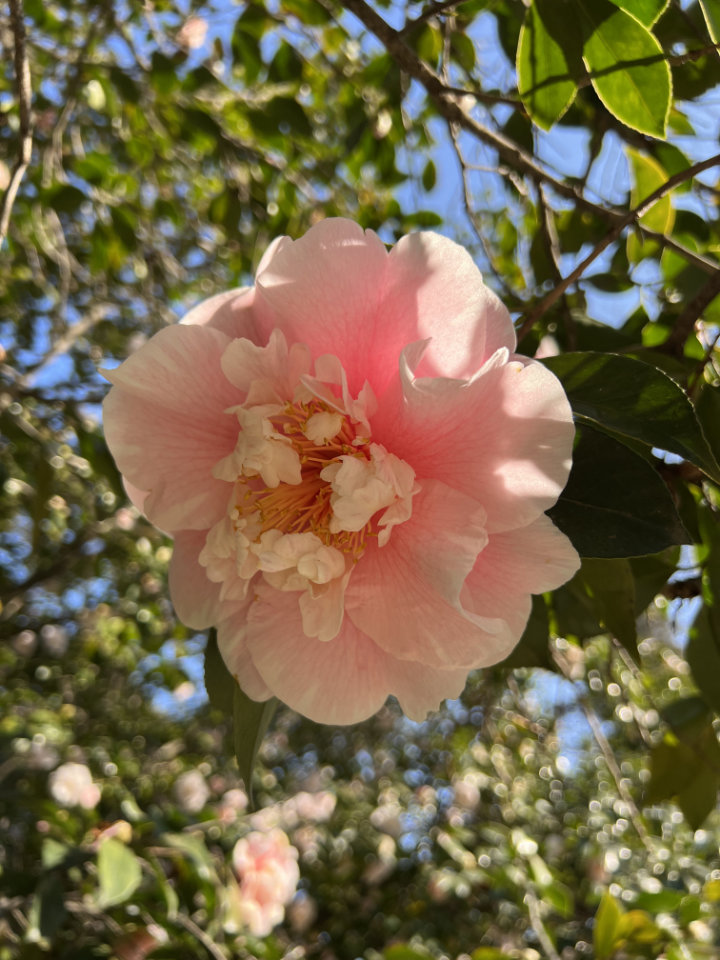 As a side note:
If you live in Northern California and feel like going on a field trip, the camellias are blooming like mad at Sacramento's Capitol Building!  
I visited a few months ago and fell in love with the history behind the camellia (did you know the pioneers brought seeds to California in 1850?  It's true – click here to read more!)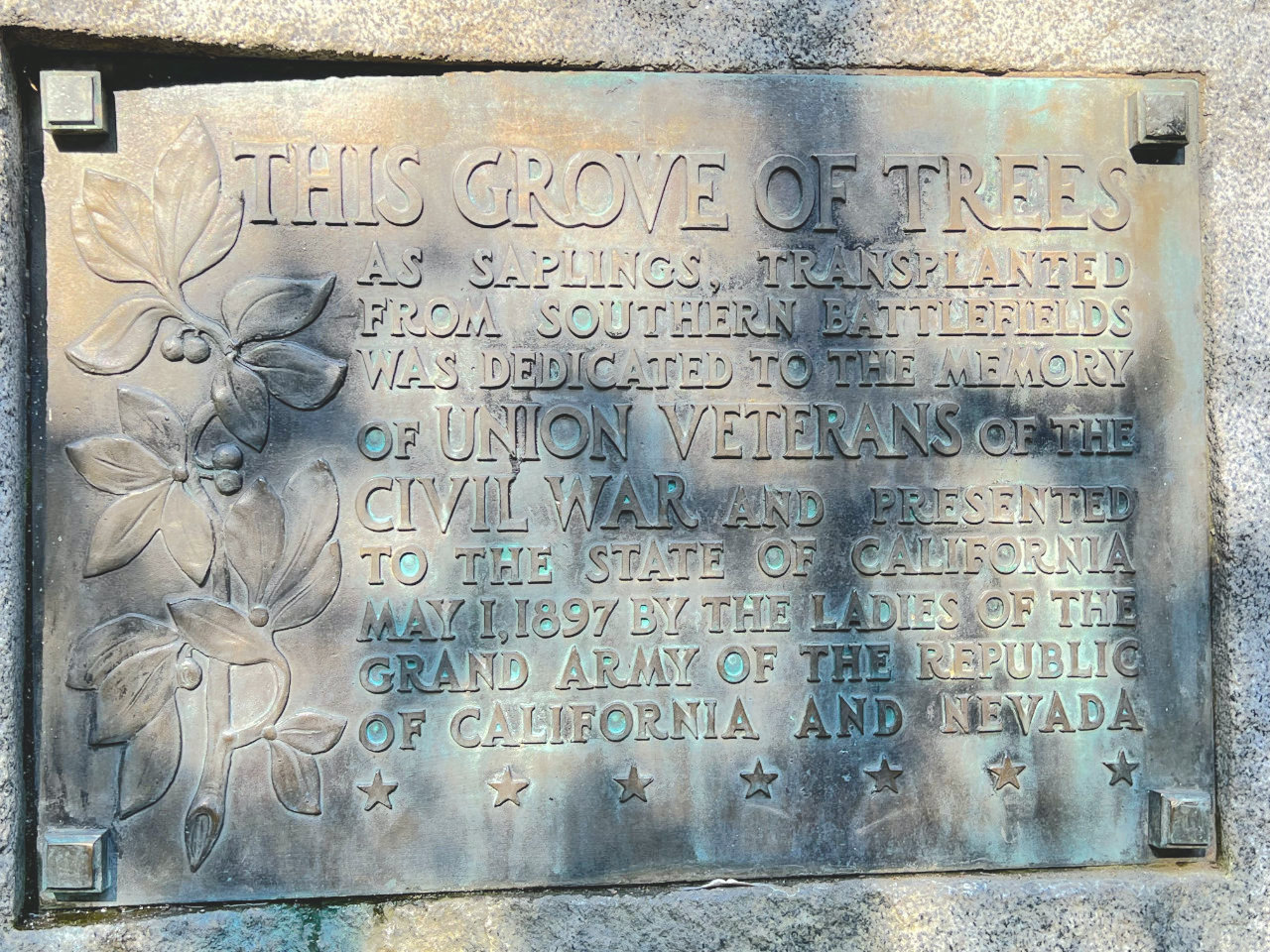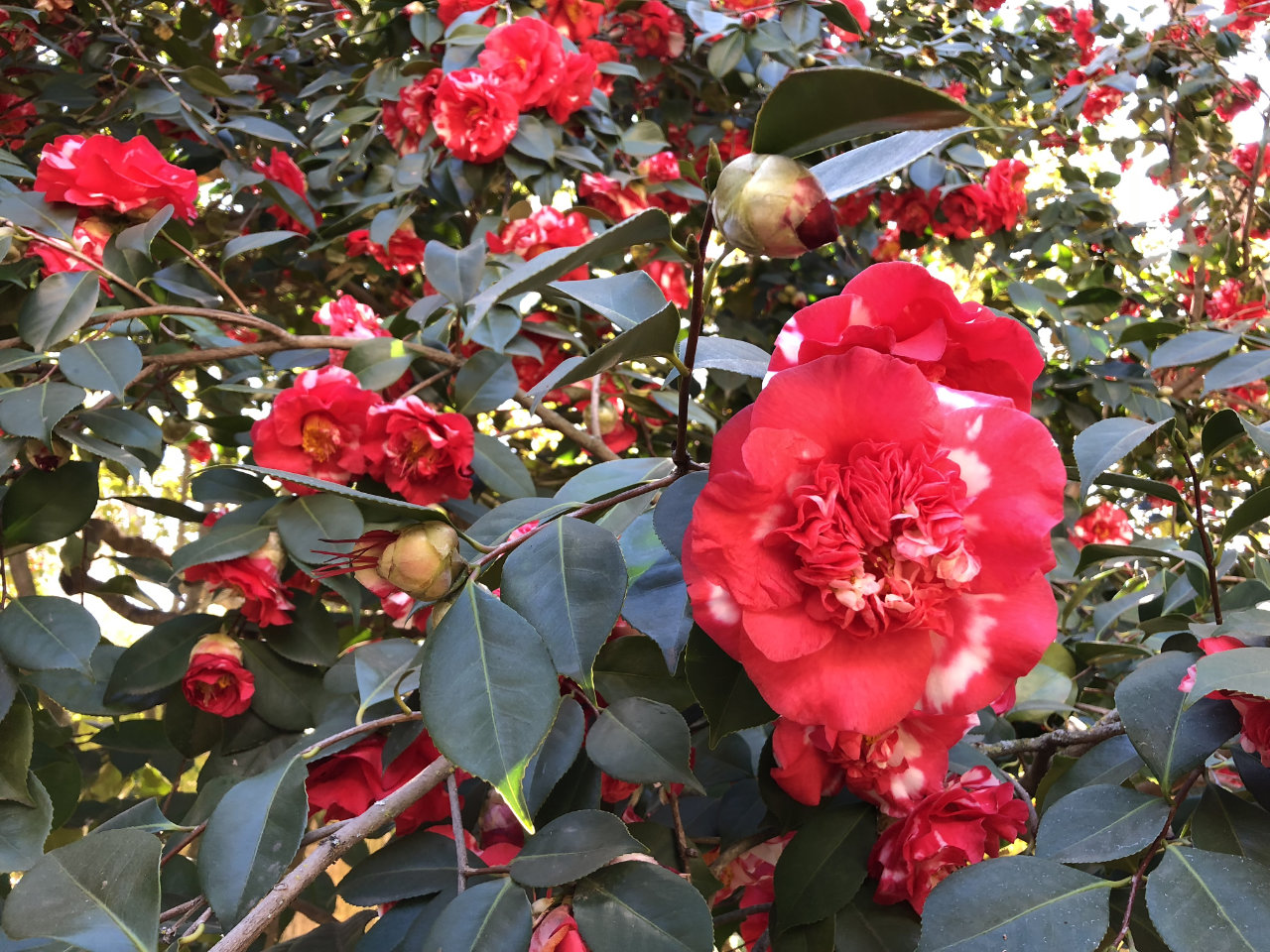 The following are just a few of the magnificent, towering camellia shrubs (more like trees!) blooming at the capital.
I wish I could tell you what varieties they are, but unfortunately I couldn't find their names listed anywhere.
I'd love to know this amazing tie-die variety (left!)
I know I've left out lots of amazing varieties, so tell me – what are some that you'd recommend?