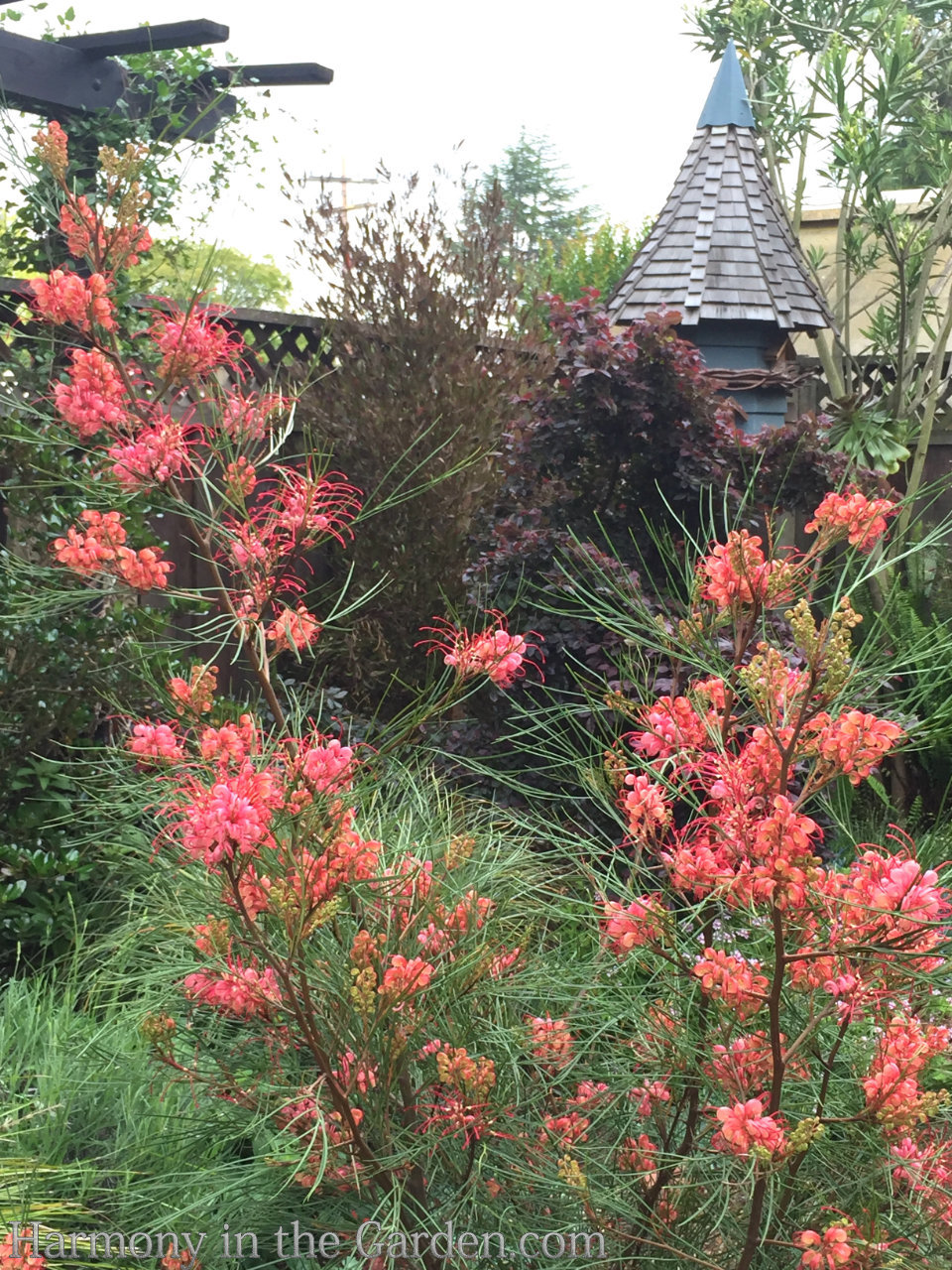 Why do I love grevilleas for drought-tolerant, deer-resistant gardens?  Let me count the ways:
1.  They take 100-degree days in the full sun like a champ, never showing a hint of fatigue (which makes sense since they're native to Australia!)
2.  They're also deer-resistant, thanks to irritating substances in the foliage and flowers. I've watched entire families of deer walk through my grevilleas, not even bothering to try a nibble. 
3.  Grevilleas look just as good in the winter as they do in the summer (in my zone-9 climate.) A few varieties, in fact, bloom heaviest in February and March, when little else is blooming.   
4.  Grevilleas bloom intermittently throughout the year – no 'one hit wonders' with this group! To the delight of hummingbirds and pollinators, these shrubs are covered with blooms.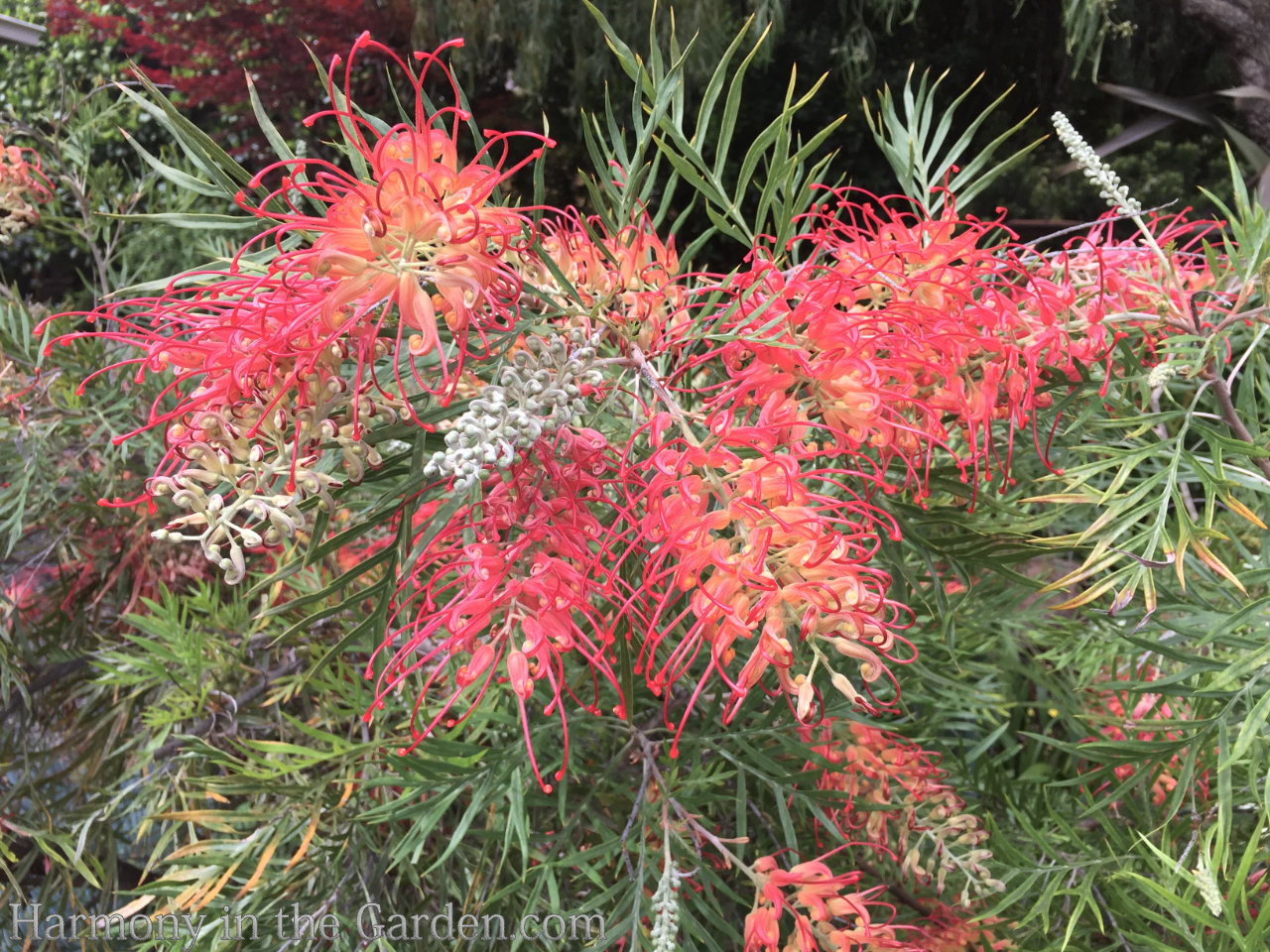 5.  Their flowers come in a HUGE range of colors, shapes, and sizes. From 6-inch, spidery-shaped flowers to 4-inch toothbrush-shaped flowers, all the way down to 1-inch curlicue blooms. 
Flower colors range from hot reds, oranges, and pinks to pastel shades of creamy white, soft peach and yellow. 
6.  Grevilleas come in a HUGE range of sizes, from towering 15'+ varieties to mid-size 4' beauties, all the way down to 2' groundcovers.
This makes grevilleas ideal for evergreen privacy screens, year-round 'bones' of a garden bed, or winter-blooming groundcovers.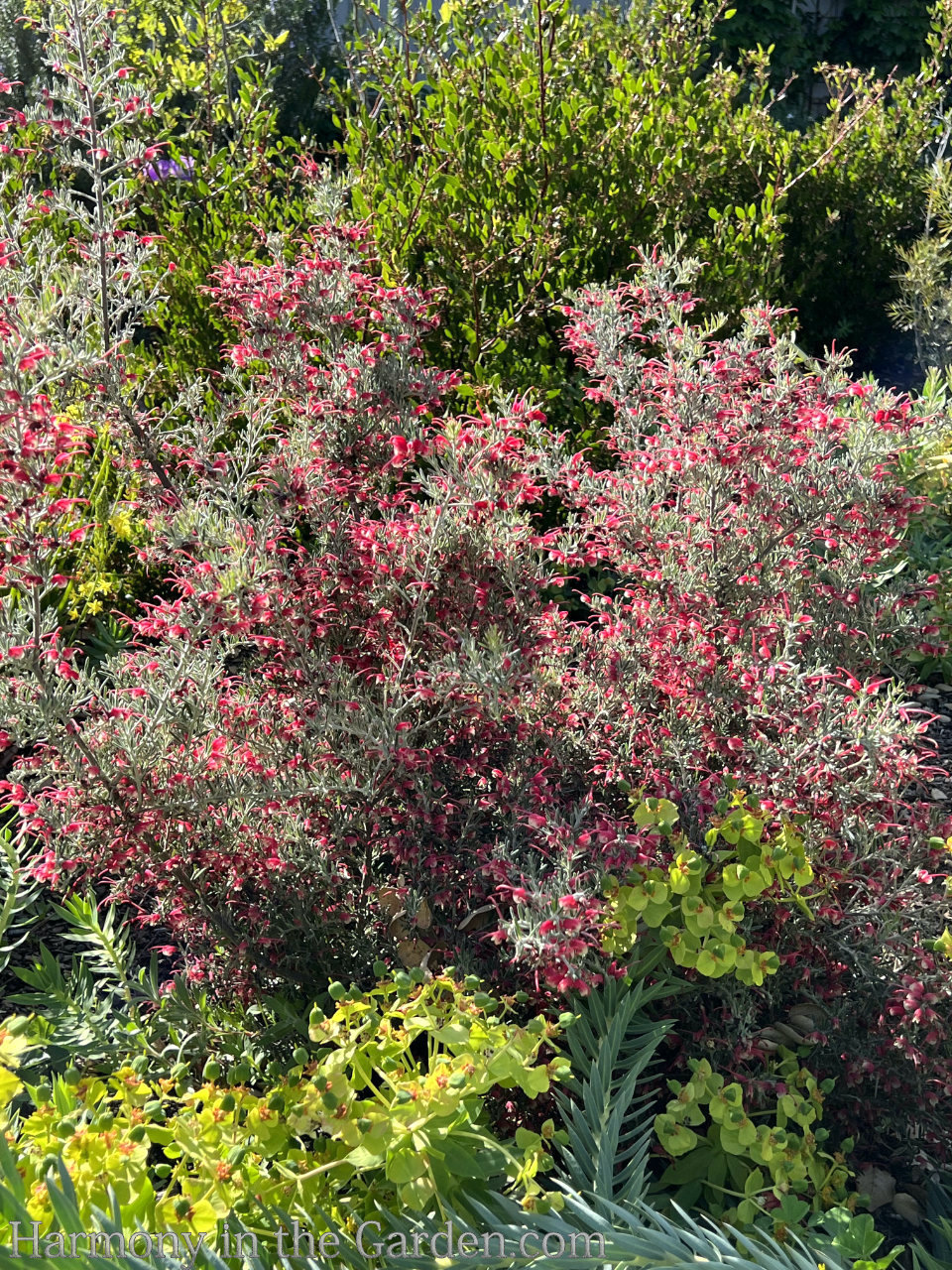 Now, for my cold-climate readers, a few varieties do well down to zone 6 (some survive down to 10-15 degrees), but for the most part, grevilleas do best in warmer climates. I'll provide links to grevilleas that can withstand colder temps at the end of this post.
However, it's important to note that it's not necessarily the colder temps that kill them; it's the lack of fast-draining soil, which does them in.  
Grevilleas hate soggy roots and standing water.  
As mentioned, grevilleas require very little water once established.  In the hottest summer months, I deep-soak them every other week or so and rarely (if ever) add fertilizer.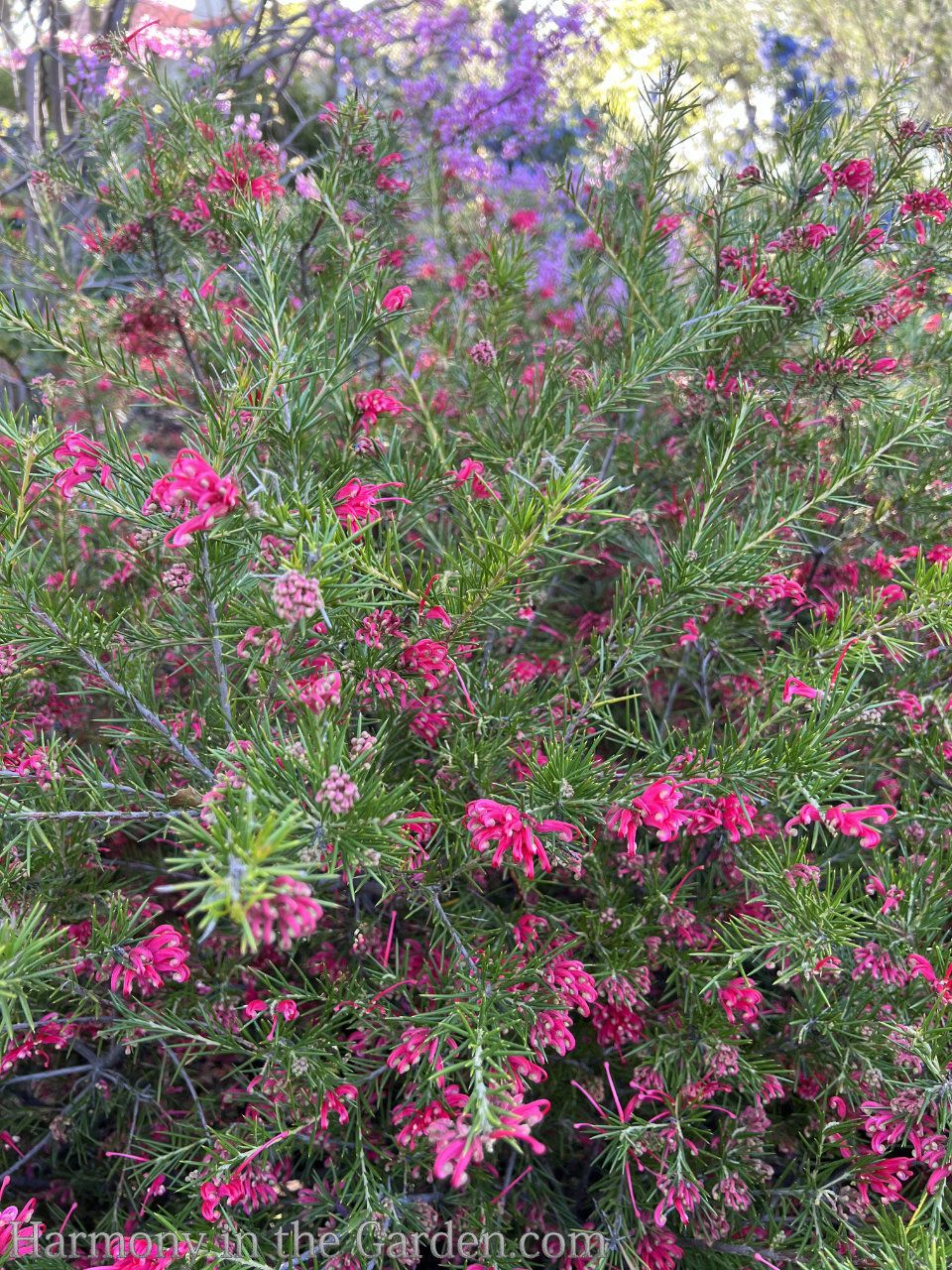 If you need to feed grevilleas, be extremely cautious as most cannot tolerate much phosphorous.  Therefore, look for a fertilizer with 2% or less phosphorous. 
I've had a hard time finding appropriate fertilizer for mine but have had good results from this one which I buy online (warning: it's pricey!)  
Luckily, a little goes a long way, which helps take a little of the sting out of the price.
For the most part, grevilleas respond really well to pruning, so don't worry about cutting back a wayward branch.
Pruning is also a great way to encourage even more blooms to form at the tips of the new growth, so prune away!
I've been designing with grevilleas for the past  20+ years, and am thrilled to see more and more varieties available in nurseries. 
So with that, here are my favorite grevilleas that I recommend for your gardens.
Groundcovers and front of the border varieties (3-feet or less)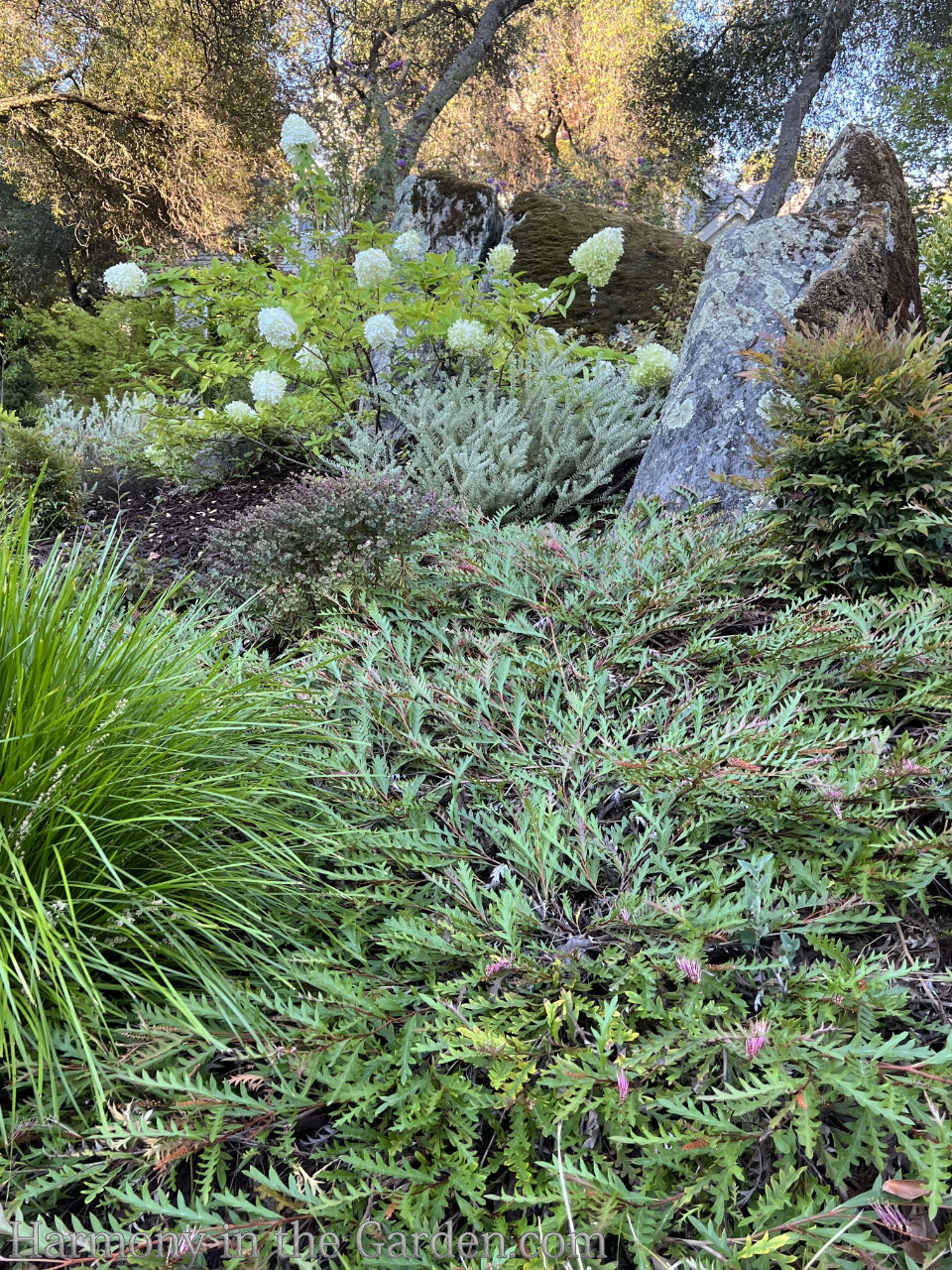 Grevillea 'Fanfare'
This is the most amazing weed-suppressing, low-water, EVERGREEN groundcover I've ever planted.  I only wish it was more available, and have only seen it twice in nurseries.
If you're lucky enough to find 'Fanfare' buy it – if not for you, for another gardening friend who needs a ground cover that grows 1' tall x 10-15 feet.  Yes, it spreads wide yet remains low.  It has unique ,deeply lobed foliage, but the dark red toothbrush-shaped flowers steal the show.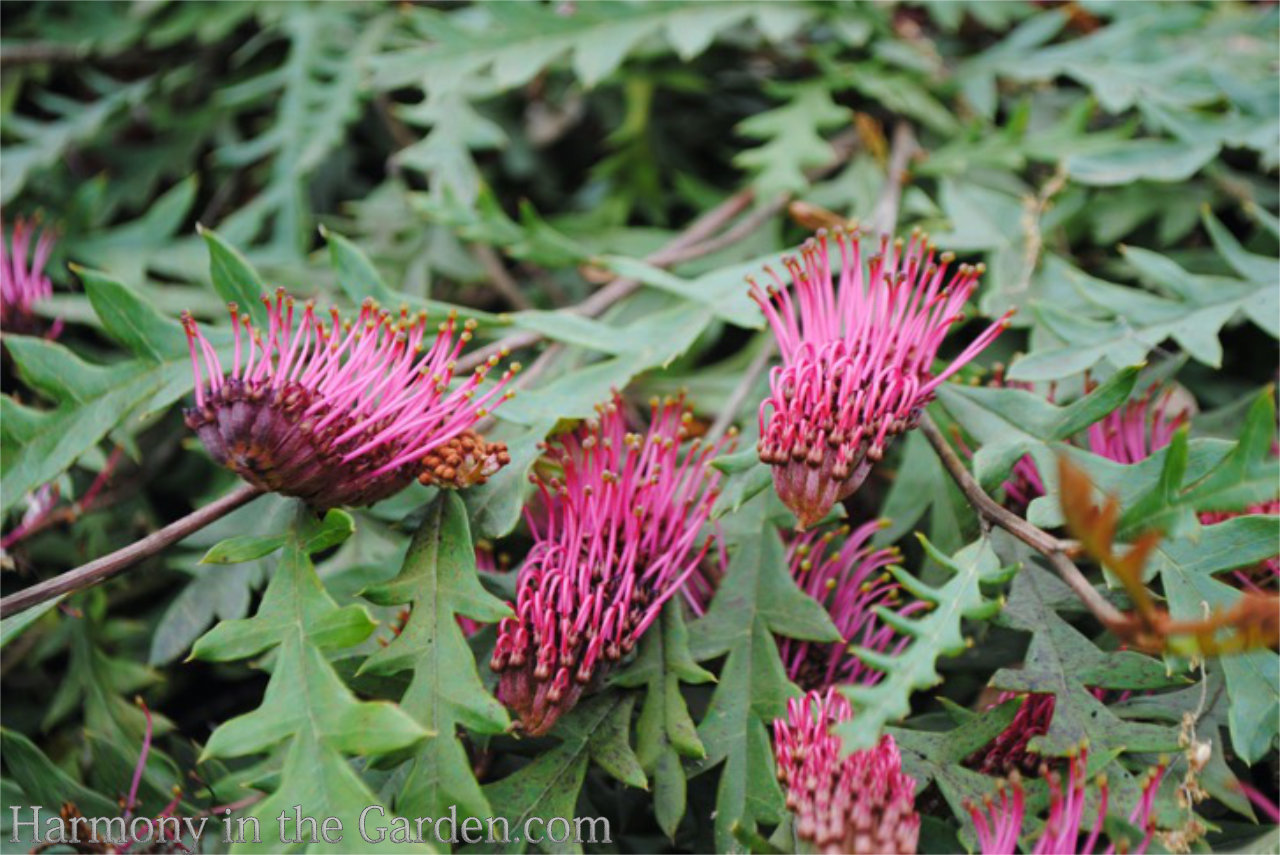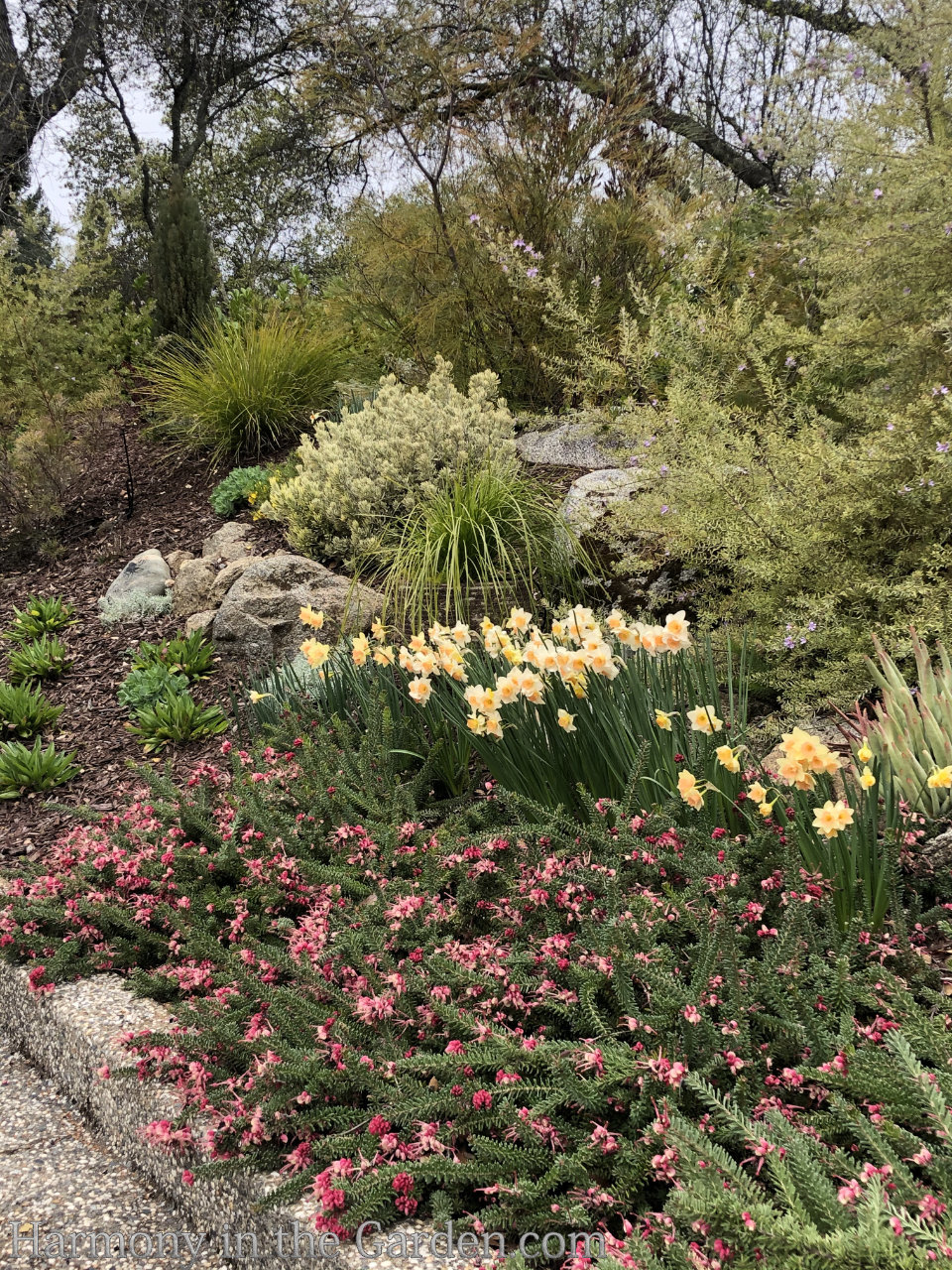 Grevillea 'Mt. Tamboritha'
This ground cover has an entirely different appearance than the previous grevilleas mentioned.  
It has stubby succulent-like foliage, which grows close to the stem, and small coral & pale pink flowers.  'Mt. Tam' is hardy down to 25 (possibly even 20, by some accounts) and blooms for MONTHS throughout the year, starting in January. January! 
It's a very showy front-of-the-border, evergreen plant and one of my top 10 favorites ever. I use them often in my designs, placing them along the front of the border where they'll bloom almost continually with little water.
Growing to 1' x 4', they gently drape themselves around other nearby plants, making them indispensable in my garden designs.  
People often ask me if they can substitute 'Coastal Gem' for 'Mt. Tam' since they're so similar in size.  I rarely do this in my own designs, as 'Coastal Gem' is a bit more open growing with flowers that aren't as vibrant as 'Mt. Tam.'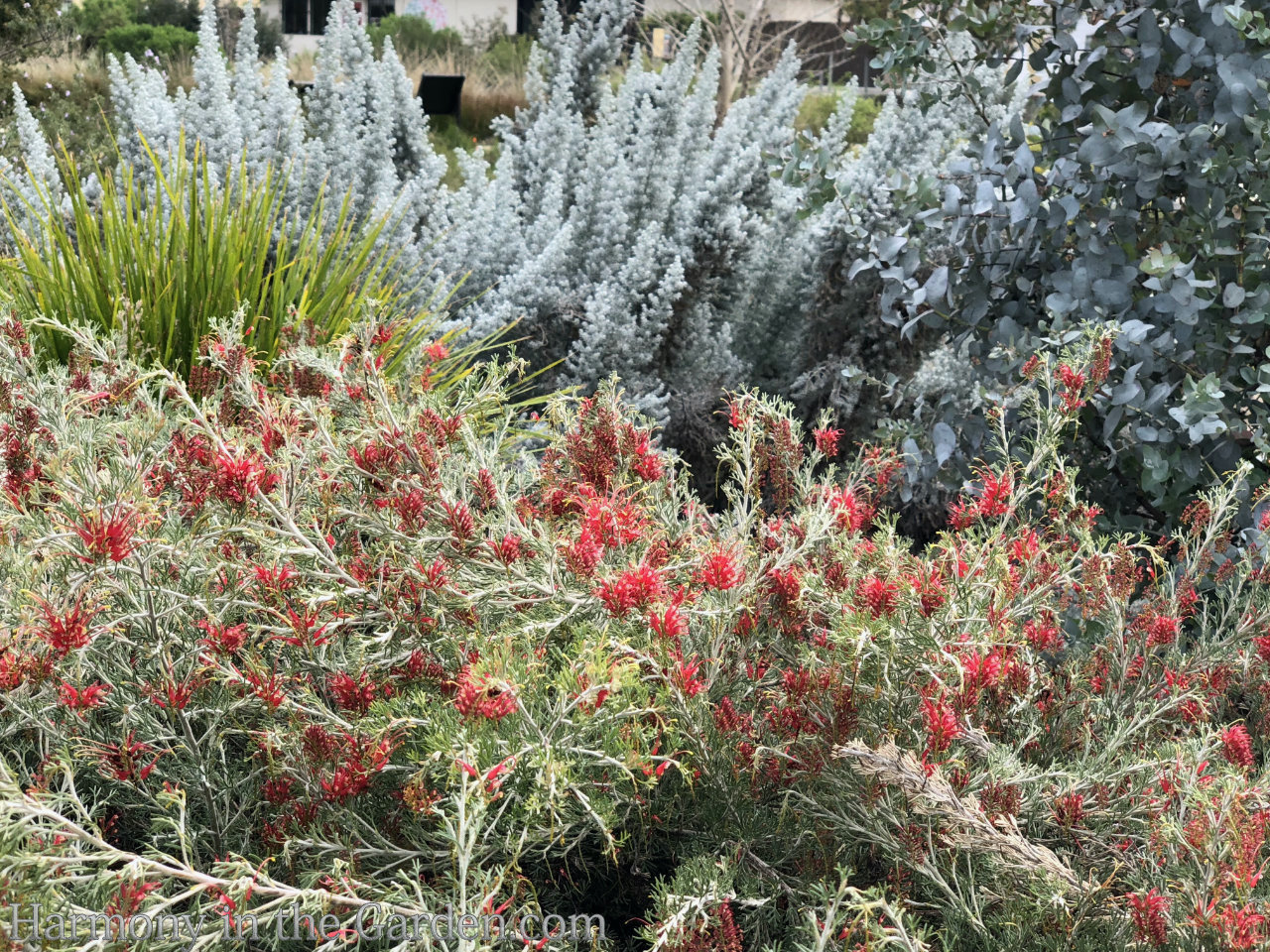 Grevillea 'Magic Lantern'
I first spotted this variety at the UC Davis Garden and fell in love with the feathery gray foliage combined with bright red blooms. 
This variety grows between 2-3 feet and spreads to 6-10 feet, so make sure to give it plenty of room!
Mid-Sized, ideal for the middle of the border  (3 to 6-feet tall)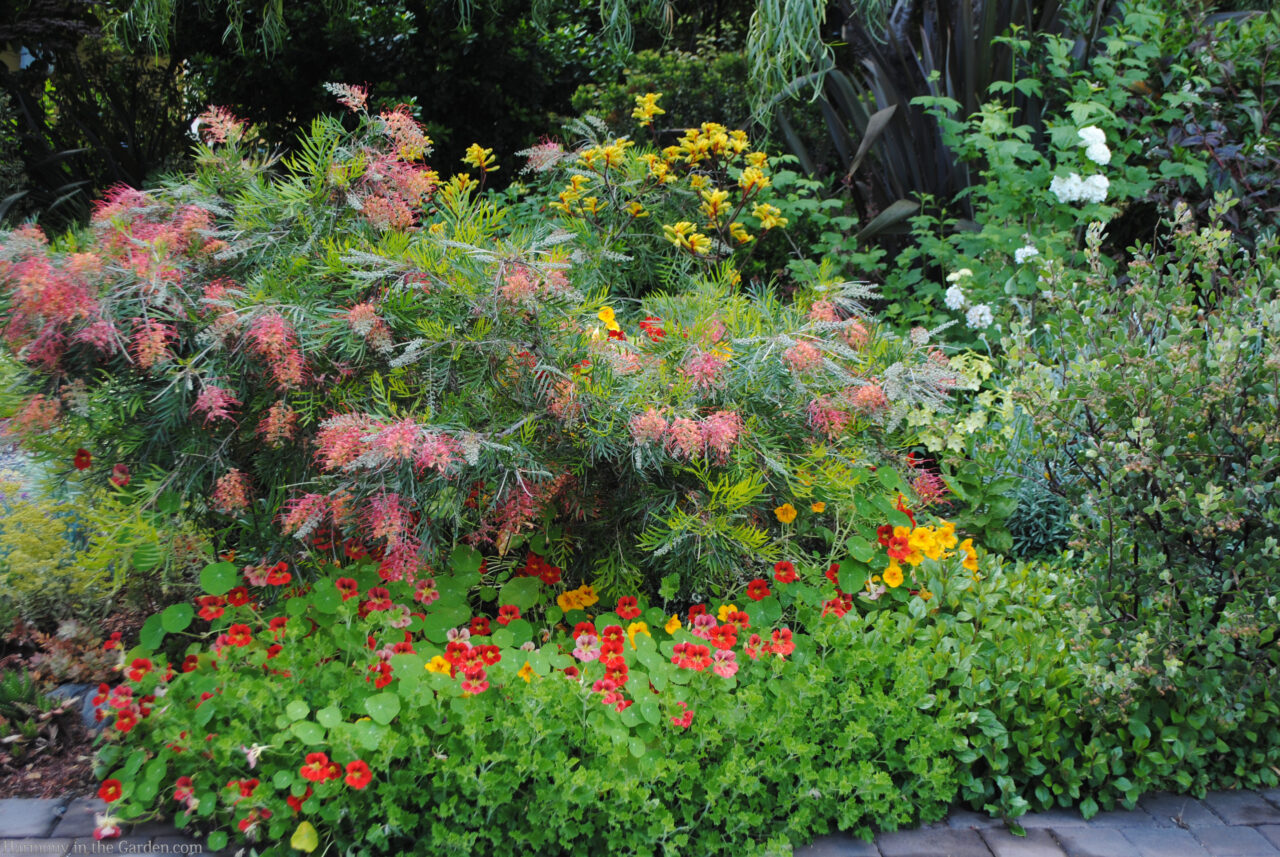 Grevillea 'Superb'
The aptly named 'Superb' has been a showstopper in my garden for years, blooming intermittently throughout the year.
Quickly growing to 4'x4' (sometimes a bit larger), 'Superb' wants full sun, fast drainage, and just a little supplemental water once established.
Given these conditions, you'll be rewarded with hundreds of large, 6″ flowers of soft coral and orange.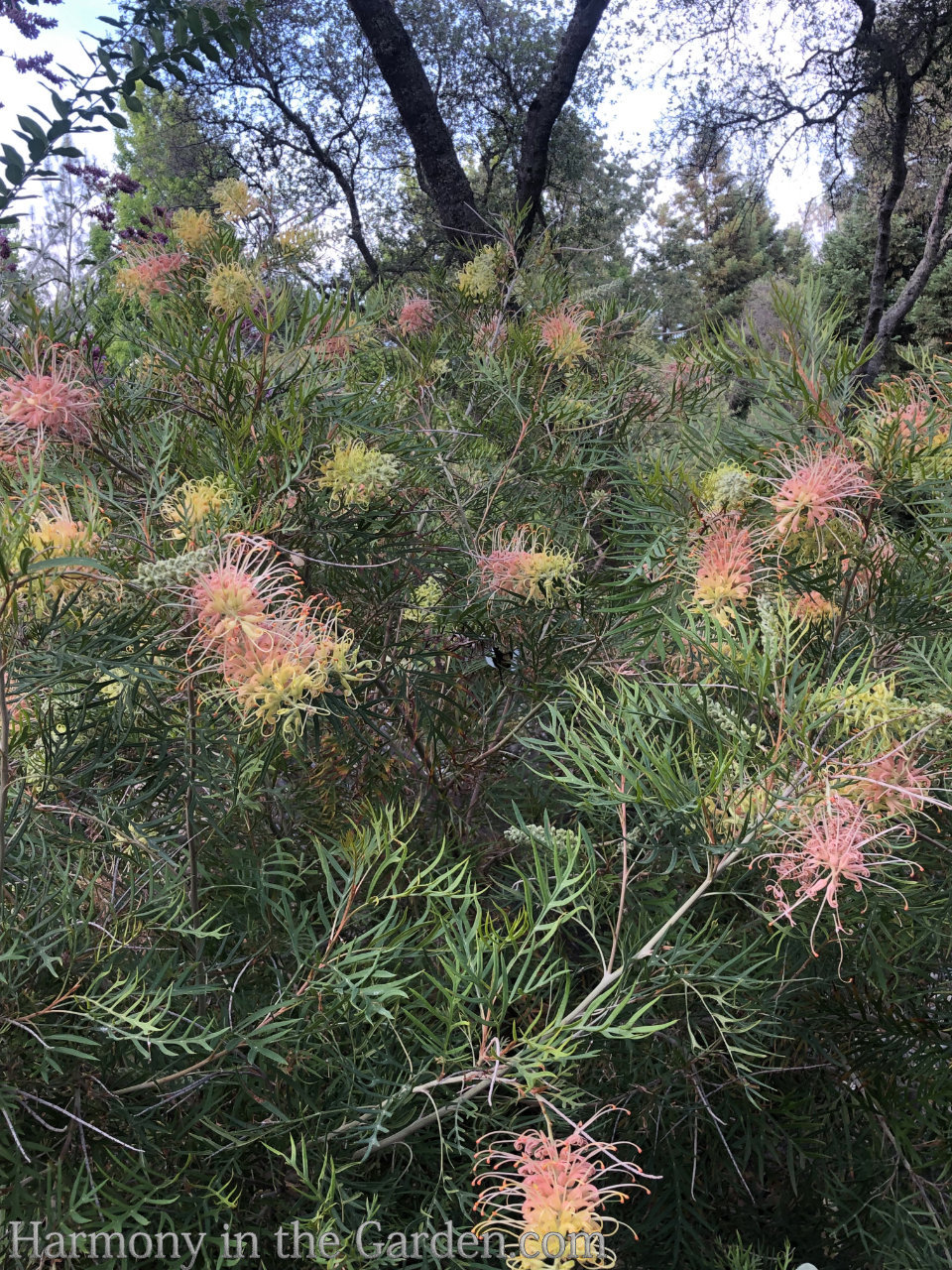 Grevillea 'Peaches & Cream'
Similar to 'Superb' is 'Peaches and Cream,' growing to 5' tall, and a bit wider to 7.' If you prefer pastels in your garden, this variety is for you, with loads of spectacular apricot and cream blooms.
It's not just hummingbirds who love these flowers; other birds do as well (like the bushtit, below.)  In fact, just today I saw a female oriole devouring the nectar from this same shrub!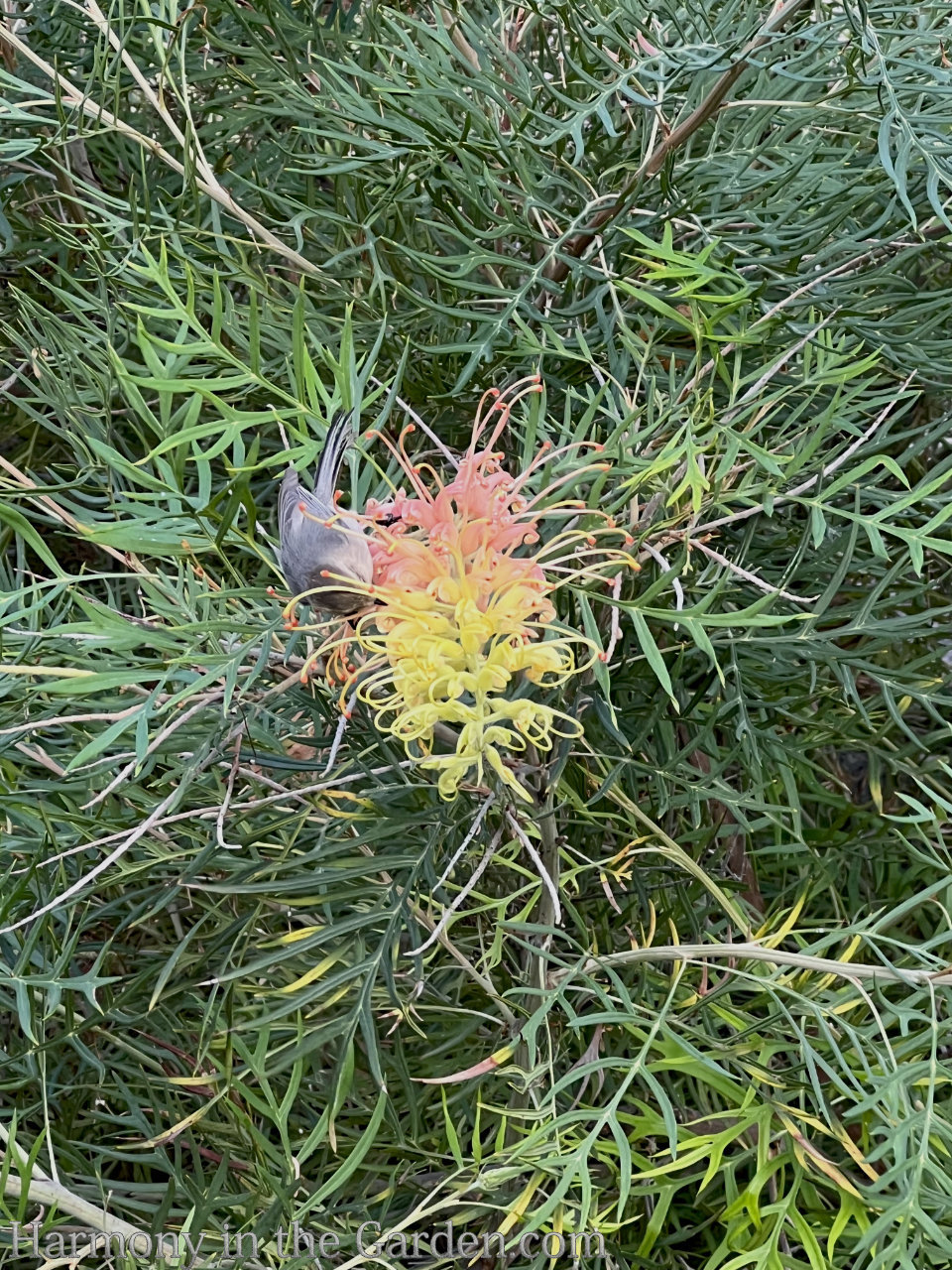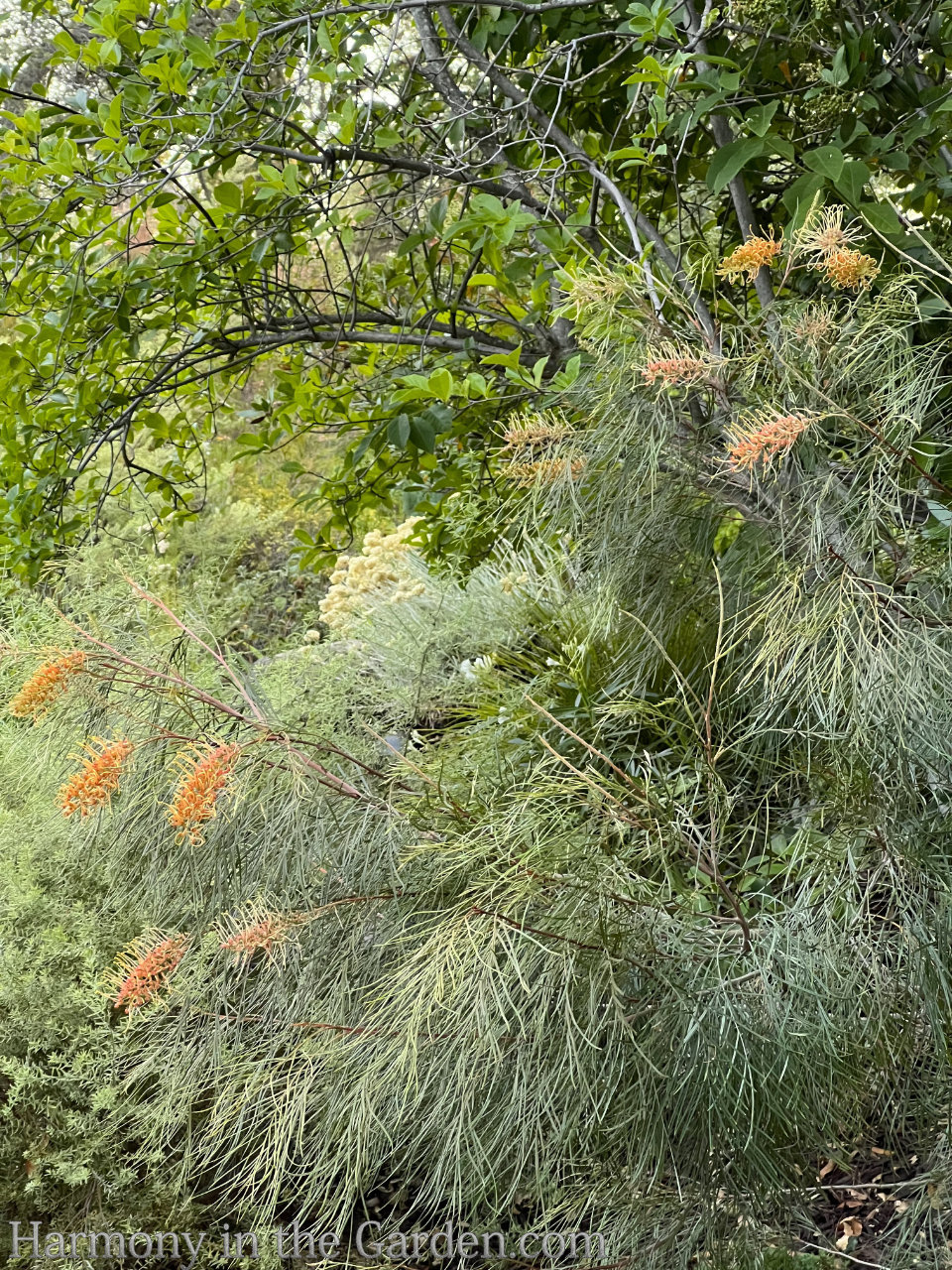 Grevillea 'Little Honey'
This fast-growing grevillea grows to 6' x 10' wide with gorgeous orange/yellow blooms.
Mine is planted on a slope (great for fast drainage, which they LOVE) and under a tall toyon shrub and magnolia tree. This way, it gets a bit more overhead protection from frosty nights, which is necessary as this variety is a little more frost-tender than others in my garden.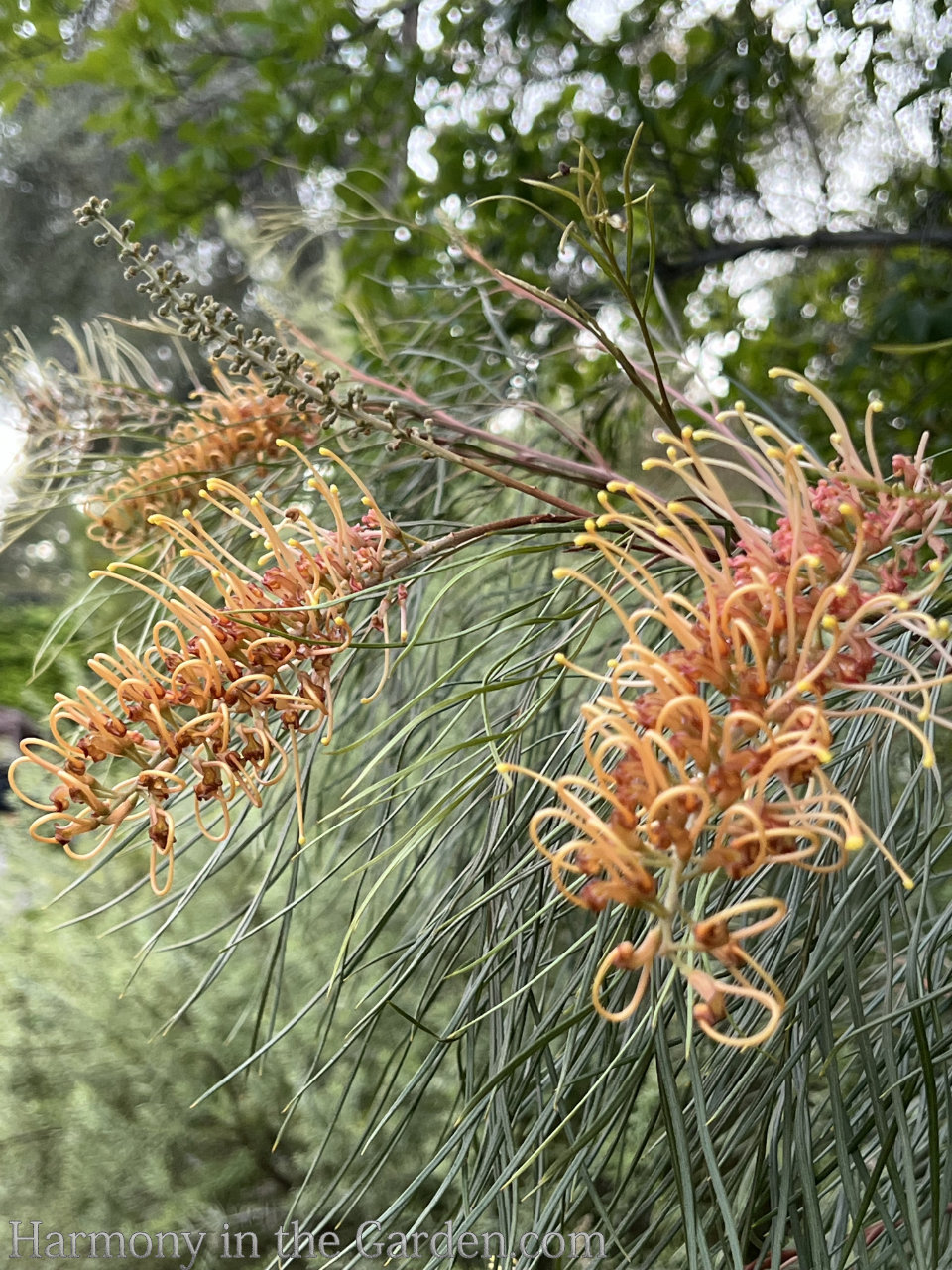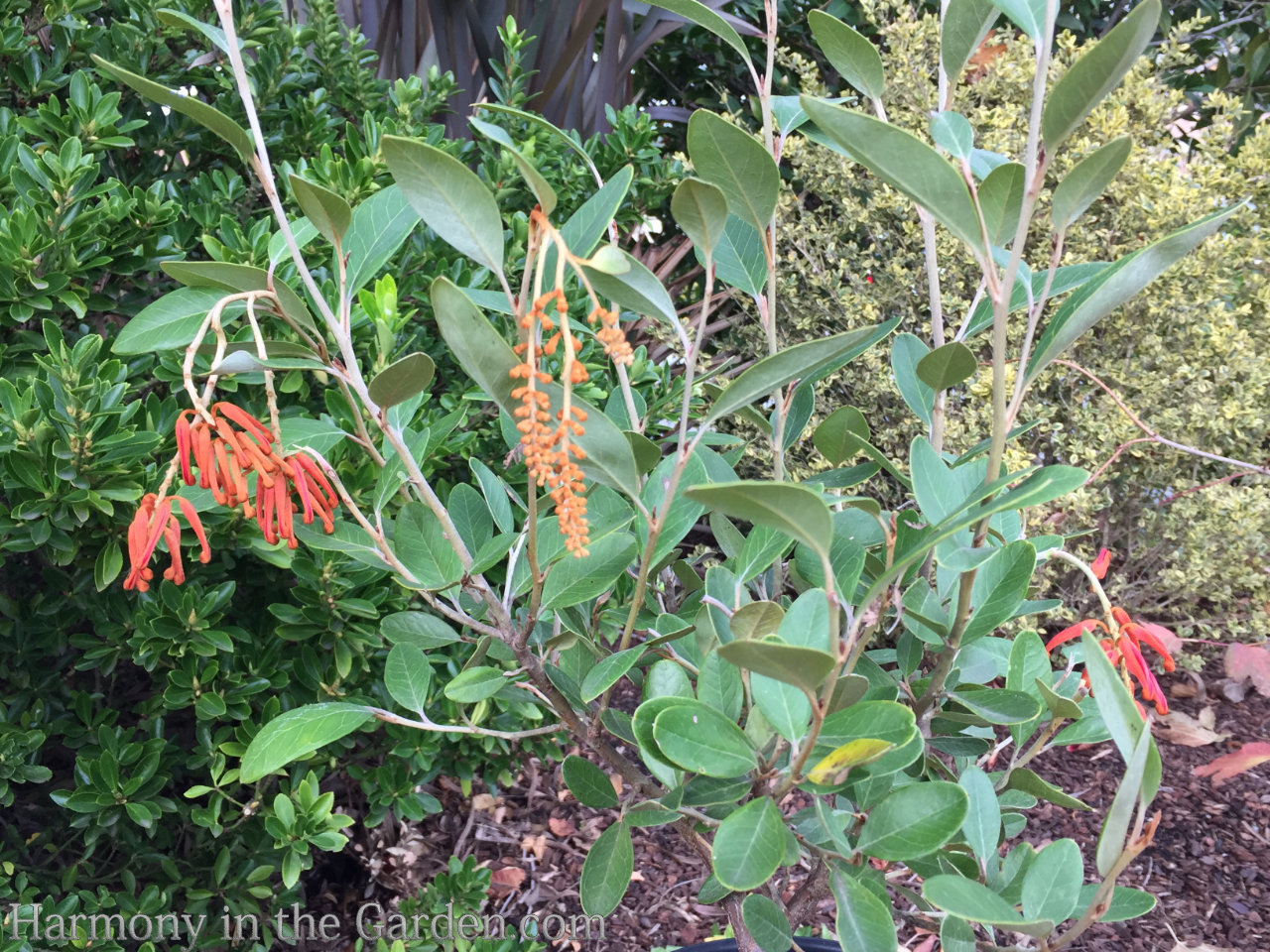 Grevillea victoriae 'Murray Valley Queen'
Naturally found in the higher elevations in Australia (where they even survive light snowfall), 'Murray Valley Queen' is one of the more cold-hardy grevilleas, surviving temps to 5-10 degrees.
As you can see, the rounded, elongated foliage is very different than other varieties resulting in a more 'traditional shrub' appearance.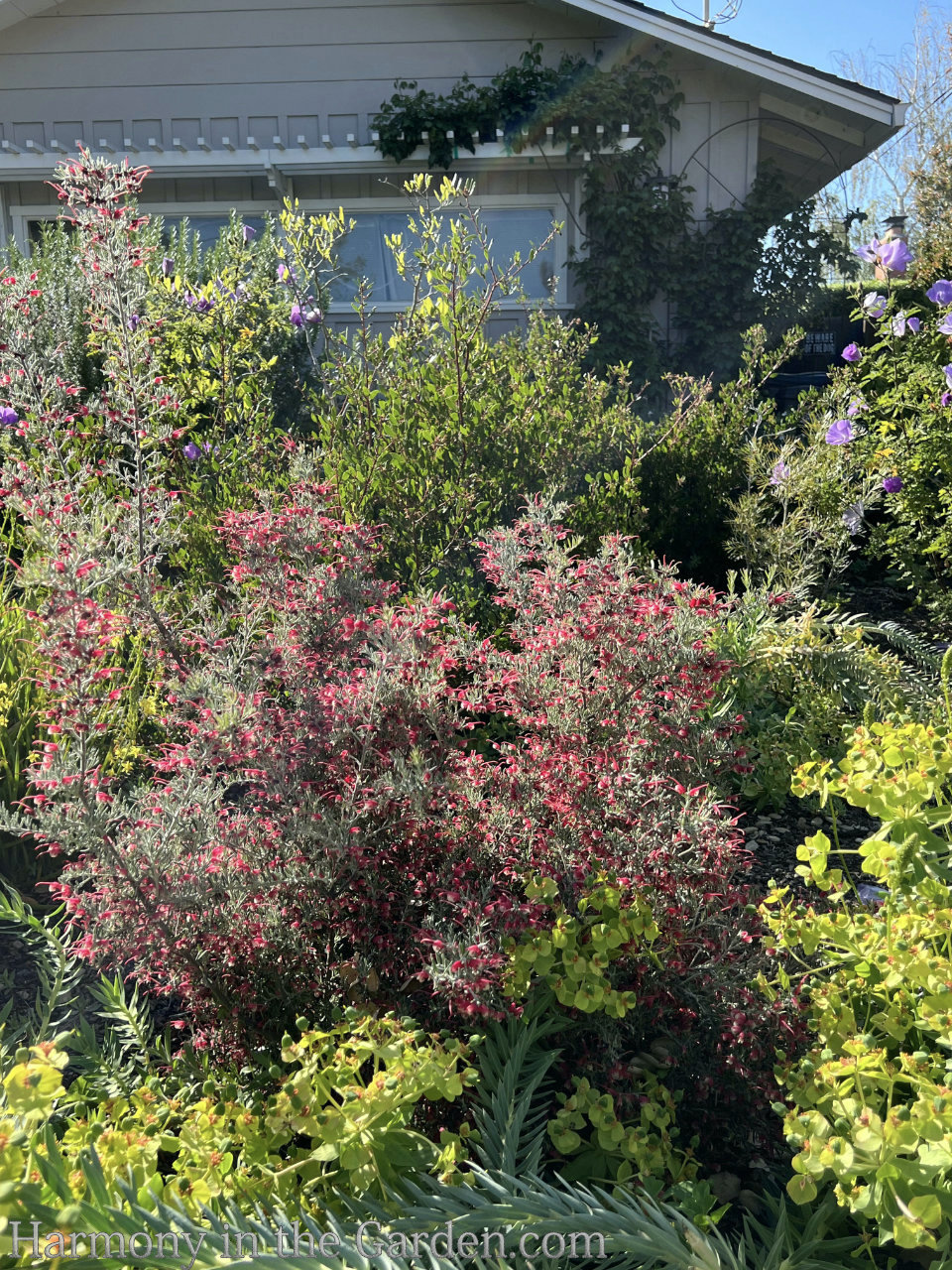 Grevillea lavandulacea 'Penola'
This variety is happily growing in my client's garden (click here for a before and after.)
The gray foliage contrasts nicely when surrounded by shades of green, and those bright pink flowers are absolutely darling. It grows to 4-5' tall by 8' wide, so make sure to give it plenty of room to stretch out!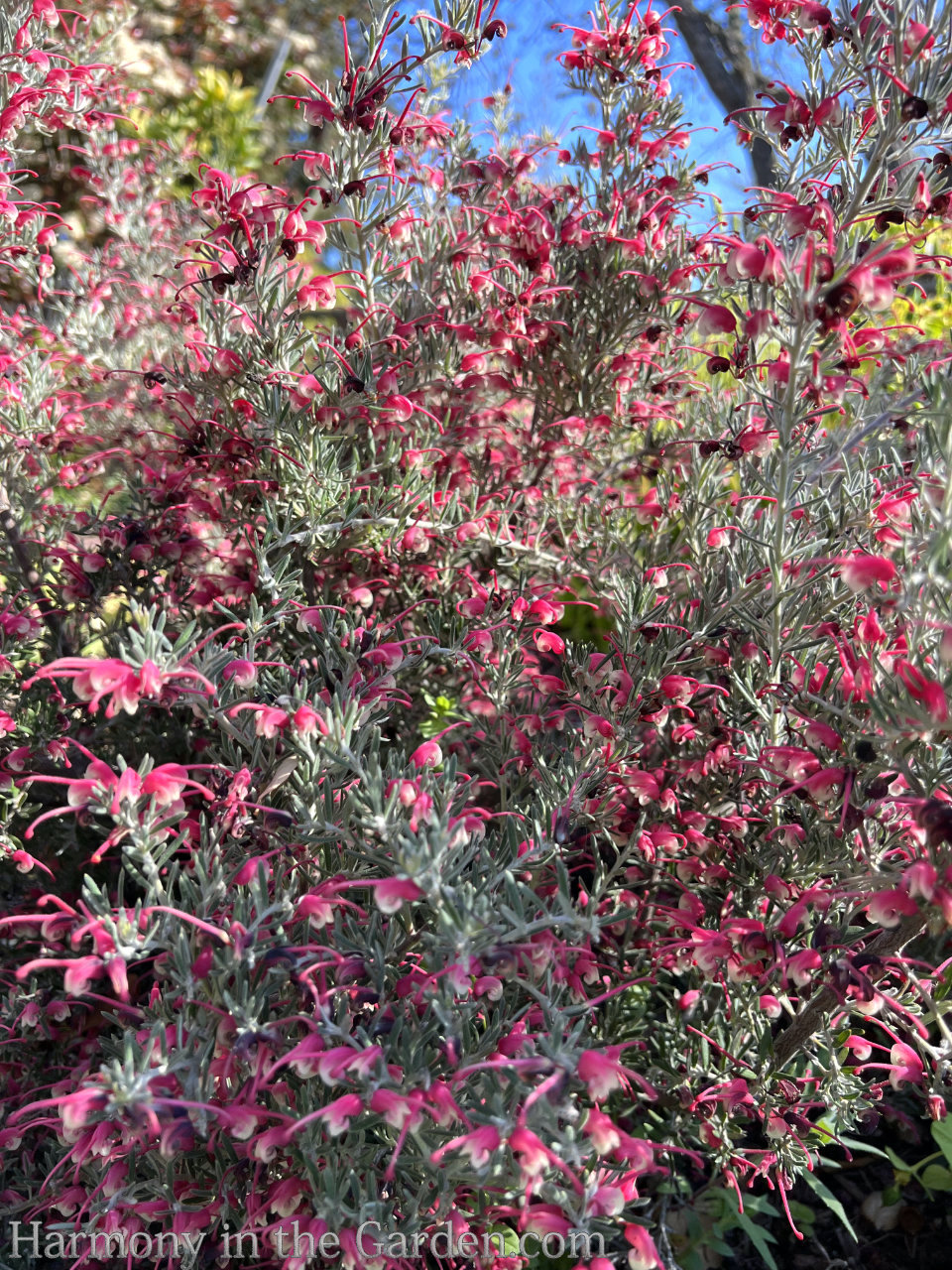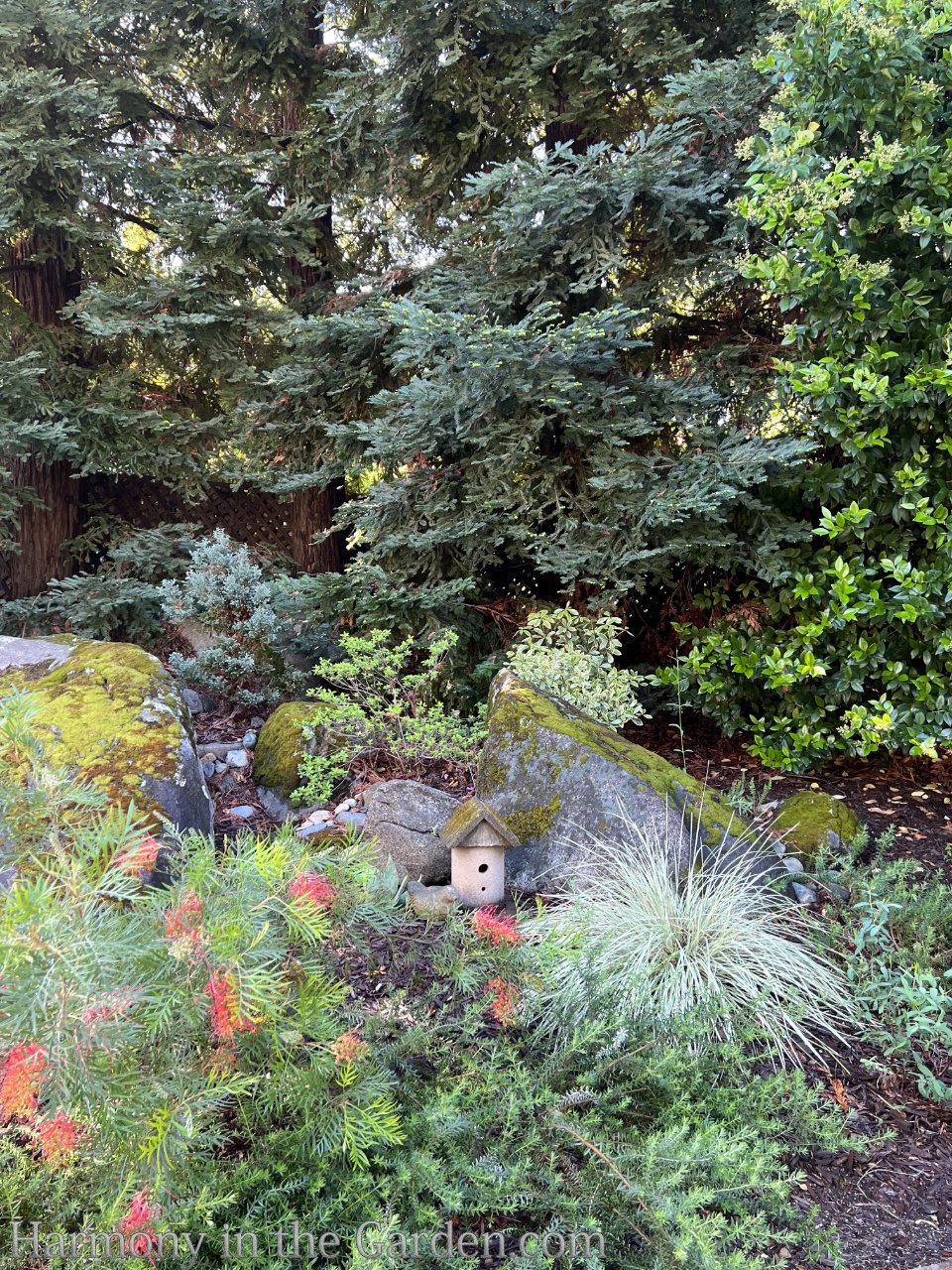 Grevillea 'Ned Kelly'
Named after an Australian outlaw in the 1800's, 'Ned Kelly' is a cross between 'Robyn Gordon' and' Superb'. 
This variety grows faster than 'Superb' and is a bit taller and more upright. As you can see, below, the flowers are more vibrant with deep, rich shades of coral, yellow and orange.
It also seems to be more frost tolerant than its parents, surviving winter nights that dip into the 20s.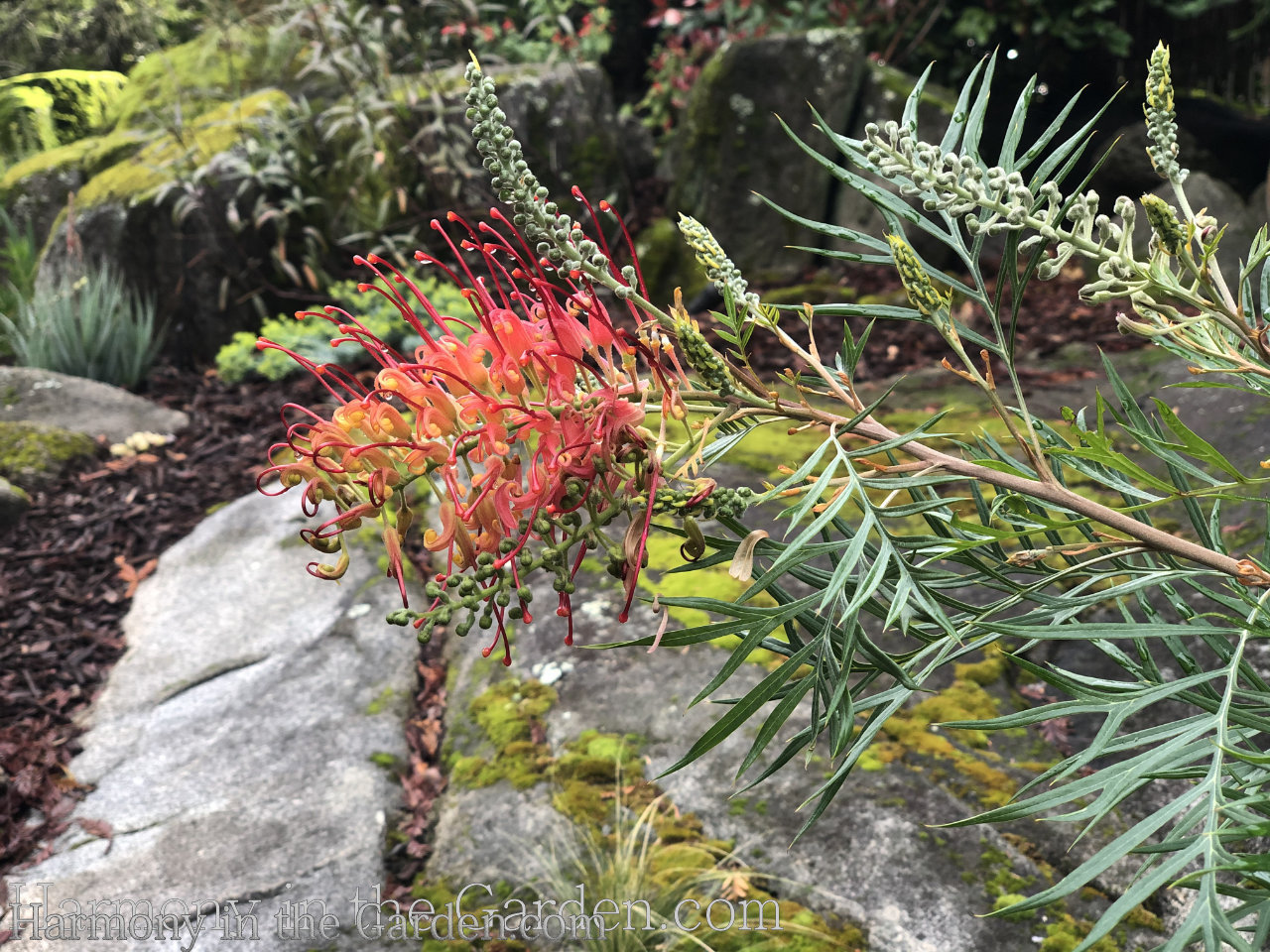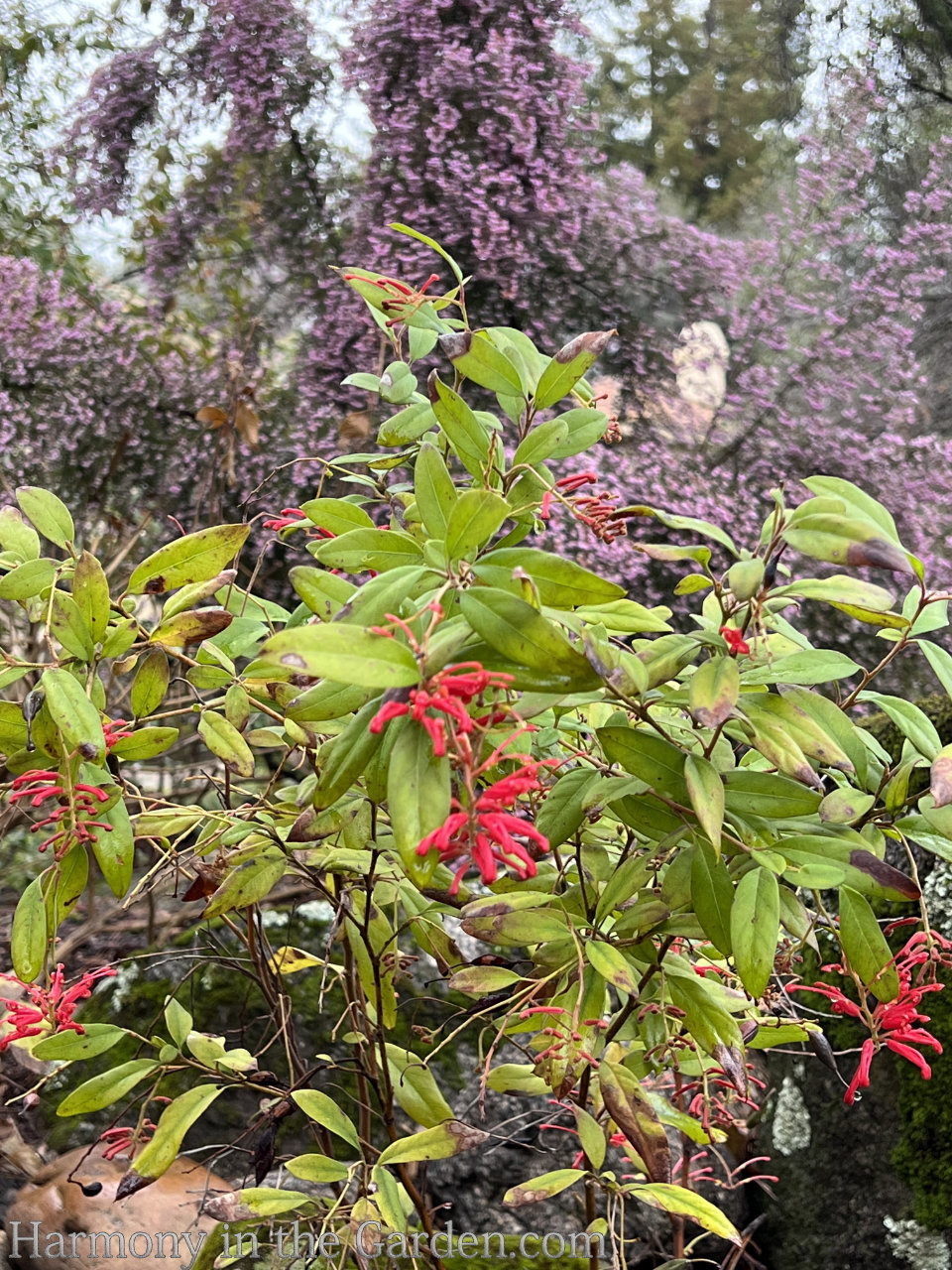 Grevillea 'Deua Flame'
'Deua Flame' is an endangered variety and is reported to be a super easy grevillea to grow.
However, in my experience both in the Bay Area and now here in Granite Bay, it's been challenging to get it to grow.
My 3rd attempt, however, has paid off ,and my 3-year-old plant is now starting to flower with very little attention from me.
This variety seems happiest planted under the canopy of tall and wispy live oak trees versus planted in the blazing hot sun.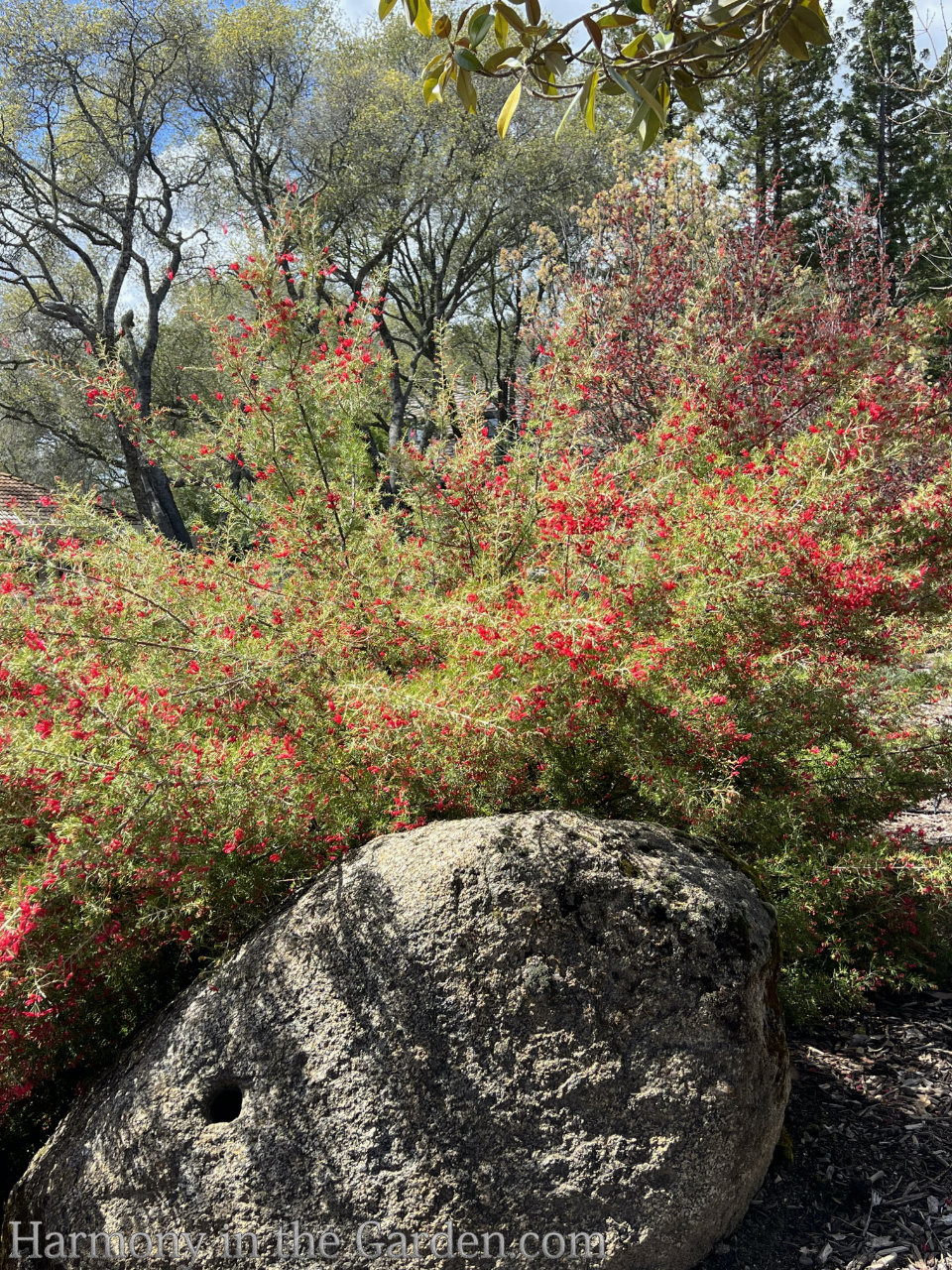 Grevillea 'Scarlet Sprite'
Growing to 4'x6', 'Scarlet Sprite' has prickly needle-shaped foliage with profuse, red flowers. 
It's so sharp, I'll often use it as a 'barrier plant' to keep deer away from other, more munchable plants – works like a charm!
Towering Varieties – great for impact and screening (6'-15' tall)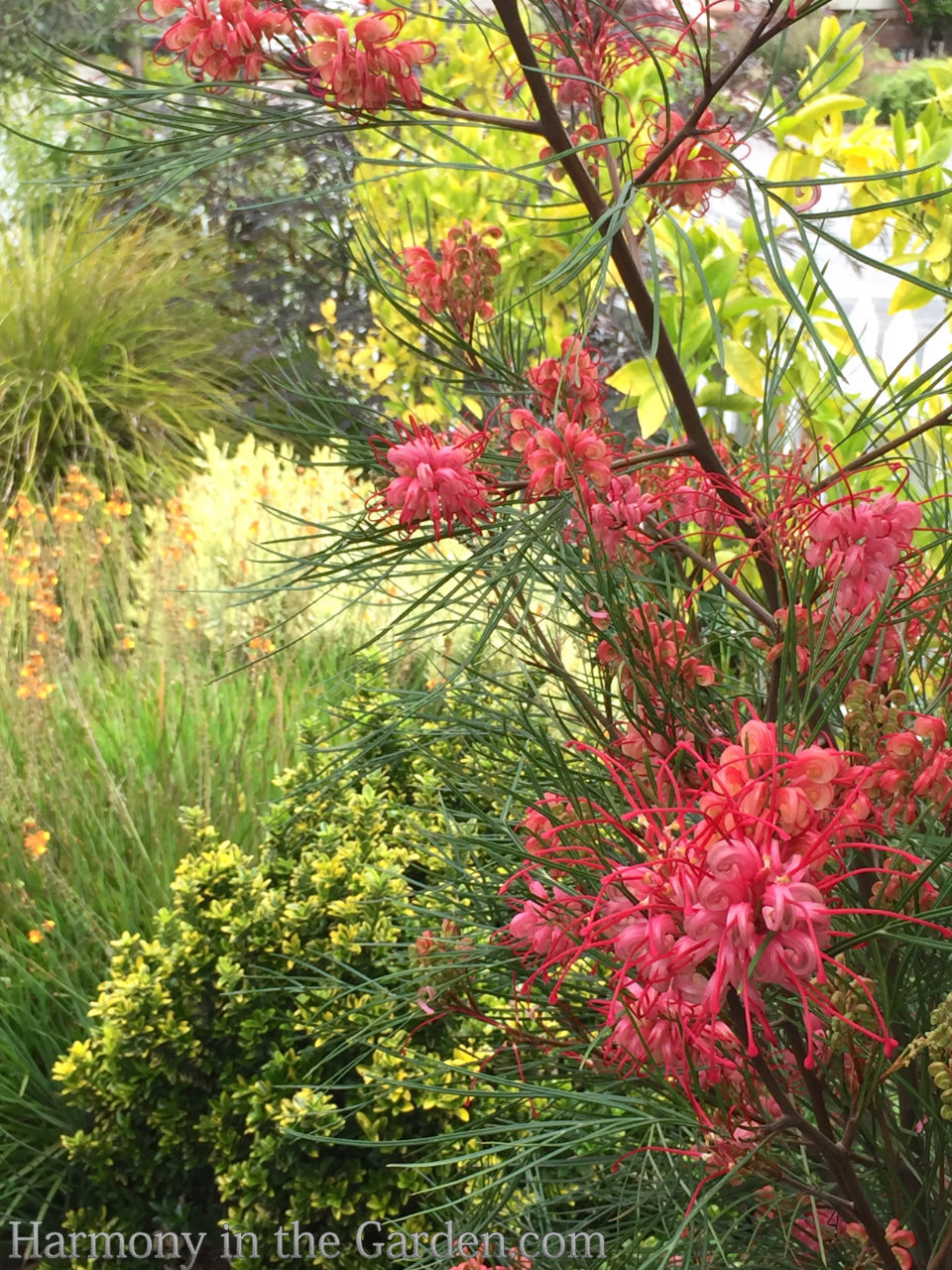 Grevillea 'Long John'
'Long John' is one of my very favorite varieties of all time. It quickly grows to 12' x 6', but I'll warn you – I've seen them grow upwards of 15' when happy.
Its unique foliage resembles very long, thin pine needles, creating a wispy see-through effect in the garden.
However, despite its imposing size, this plant's light and airy nature helps prevent it from appearing too bulky in the garden.   The flowers are a dark rose-pink color that attracts hummingbirds as well as tons of beneficial insects and bees.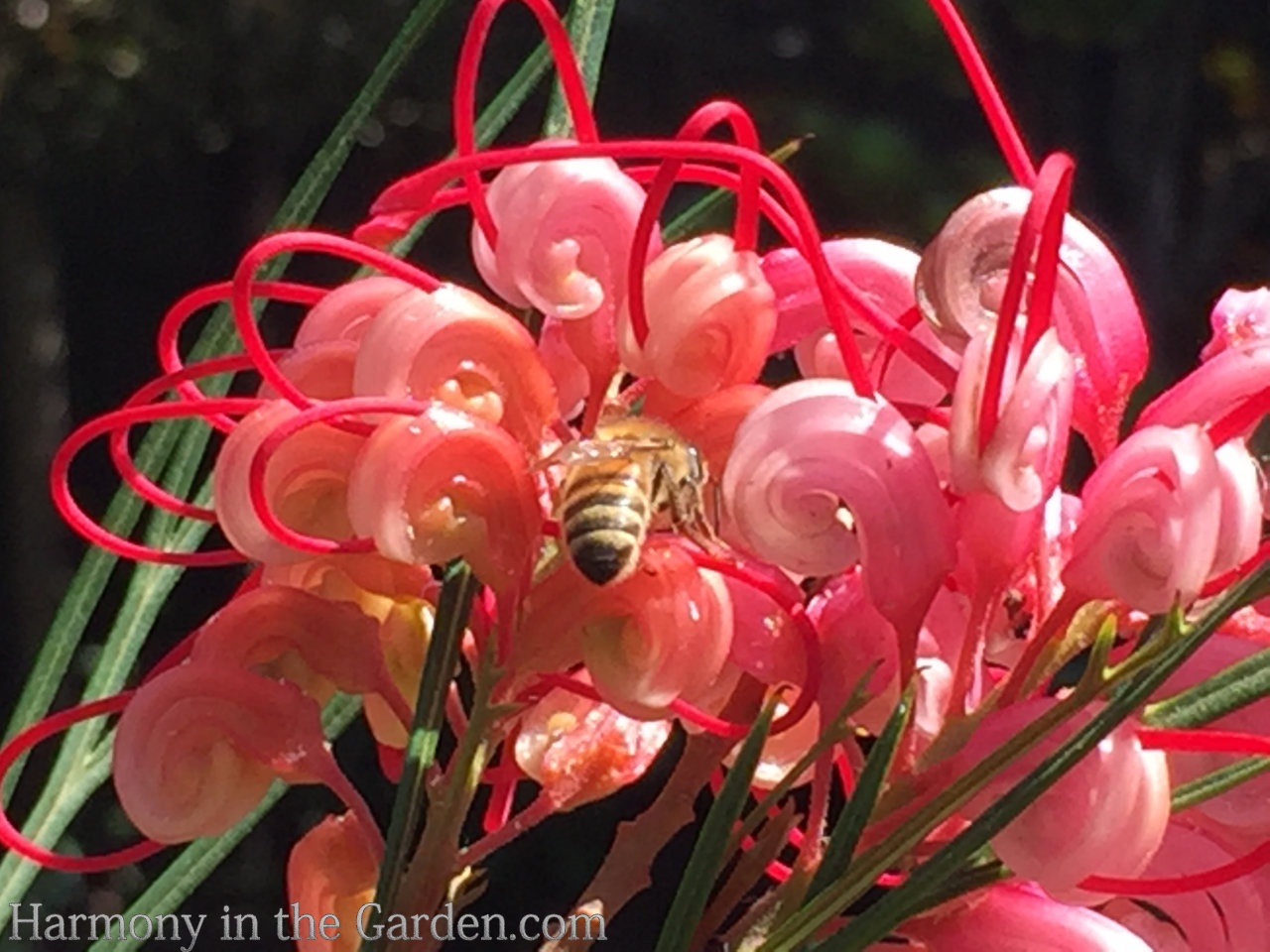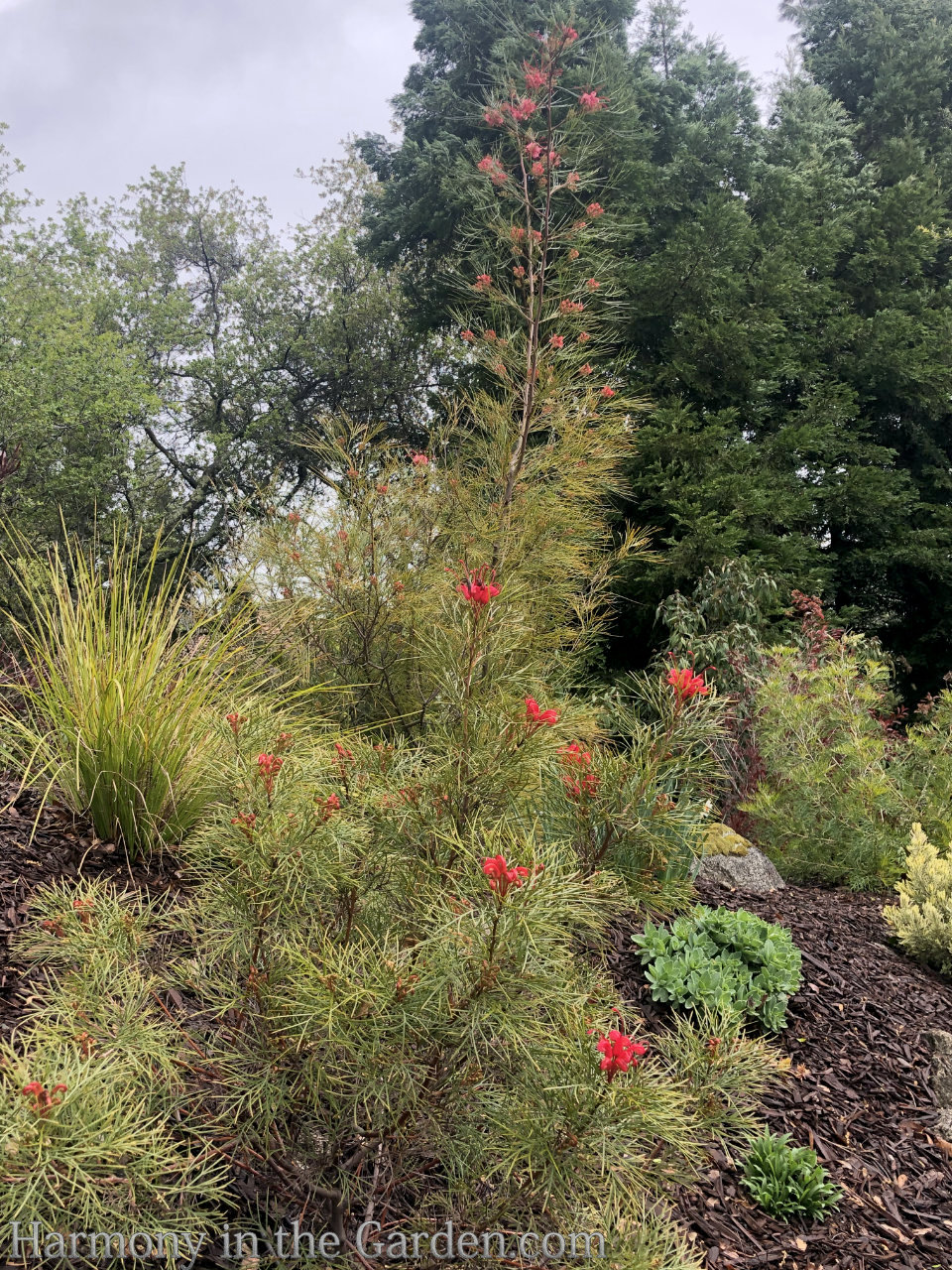 ***Grevillea 'Bonfire'
As you can see from this photo, a towering 'Long John' is on the very top of the hill, with the mid-sized 'Bonfire' in the front. 
While I loved this combination, I can no longer recommend this plant as, unlike any of the other varieties I've grown, 'Bonfire' hangs on to its dead foliage for dear life. 
In fact, it's next to impossible for me to pull it off, resulting in a half-dead-looking plant for most of the year.  Which is such a bummer, as those fire-engine-red blooms were so pretty!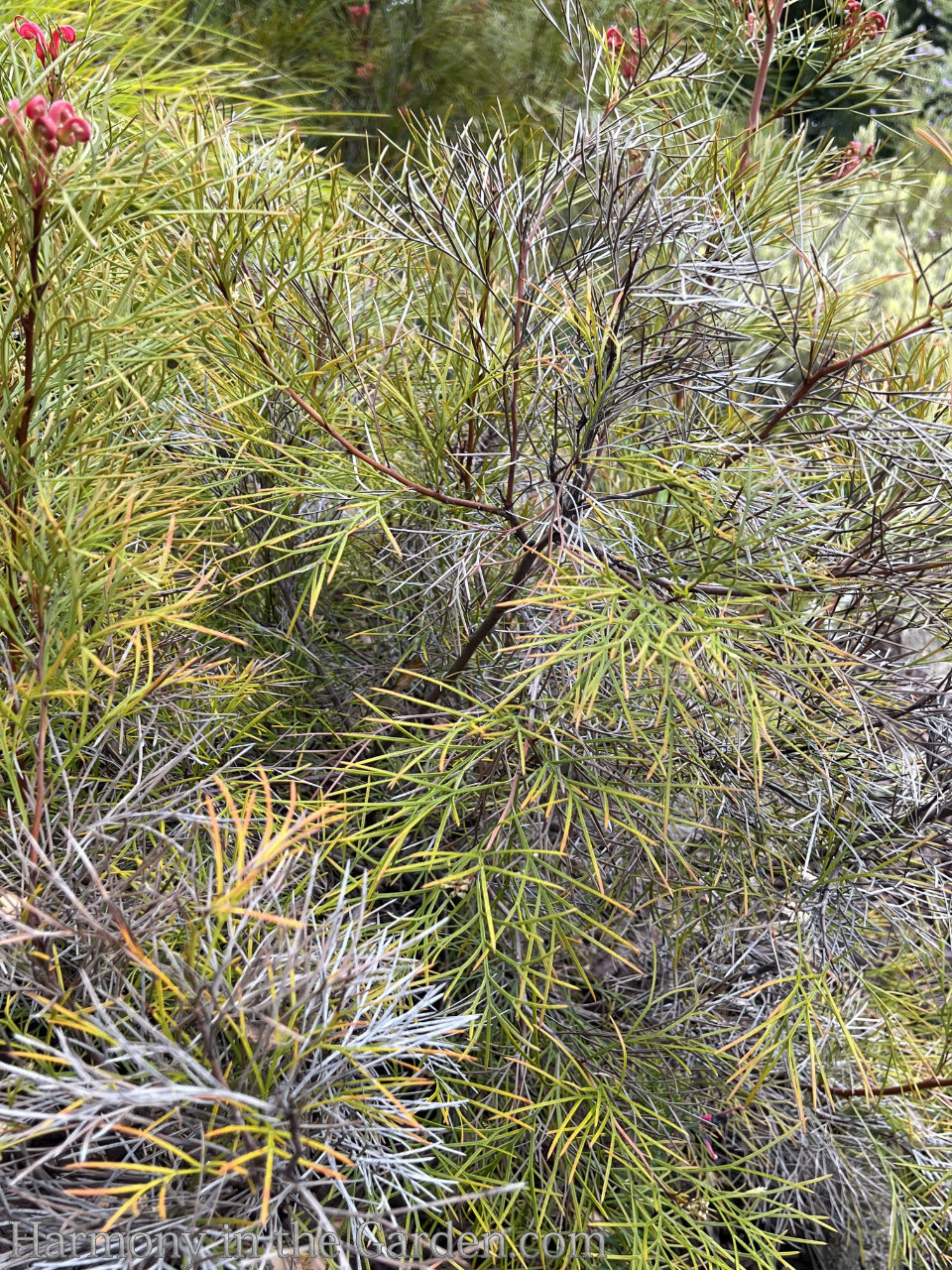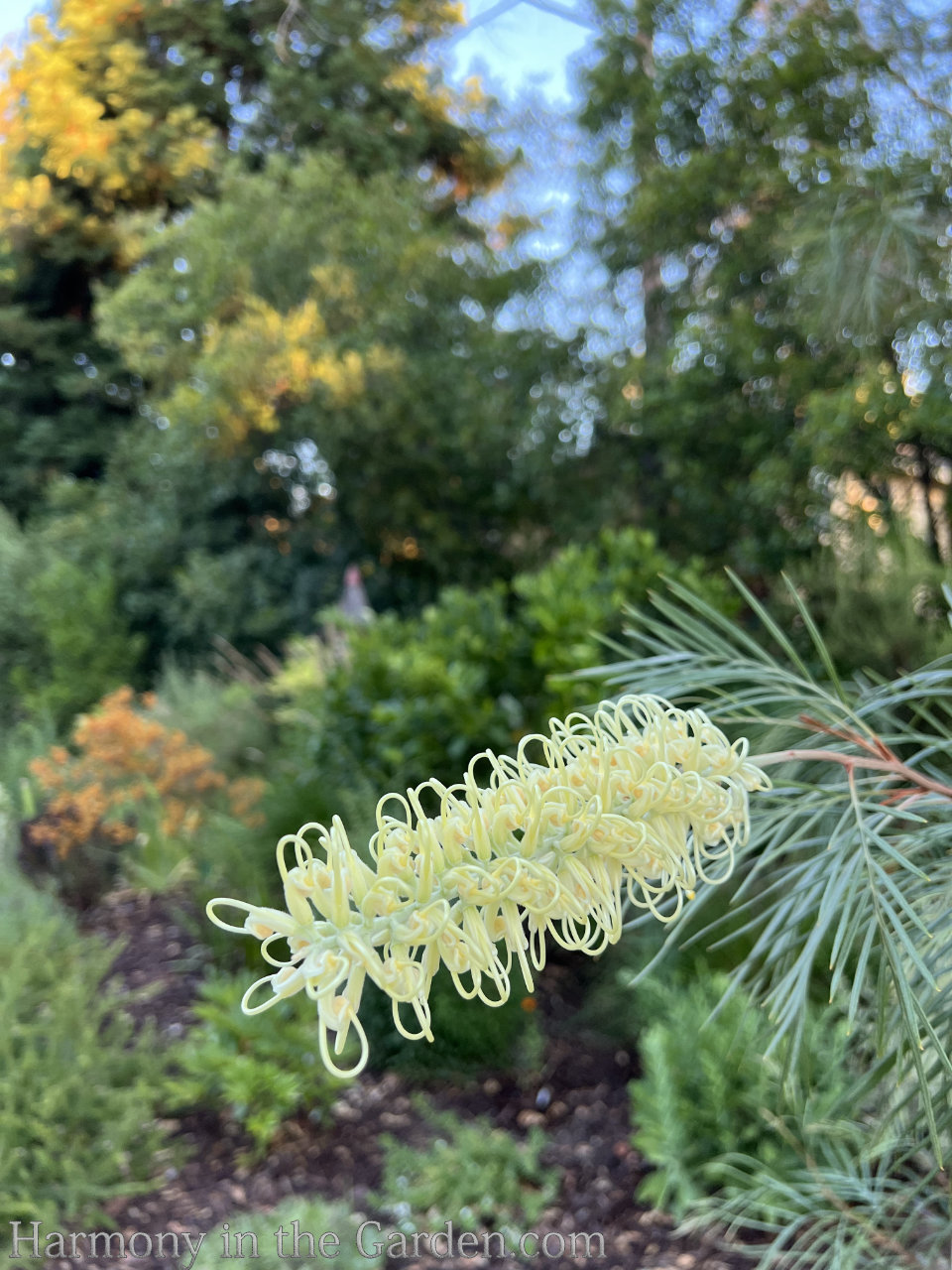 Grevillea 'Moonlight'
'Moonlight' is another of my favorite tall varieties, growing to a towering 15' tall. 
It's 6" long creamy white flowers are literally dripping with nectar, whipping the bees into a frenzy. 
I've read that hummingbirds tend to ignore this variety as they're not as attracted to white flowers.  Interesting, as I've definitely noticed this to be true in my own garden!  I just thought they were busy with my other grevilleas, but now I think it's because of the white colored flowers. 
Either way, I still love this variety and the way the flowers glow in the setting sun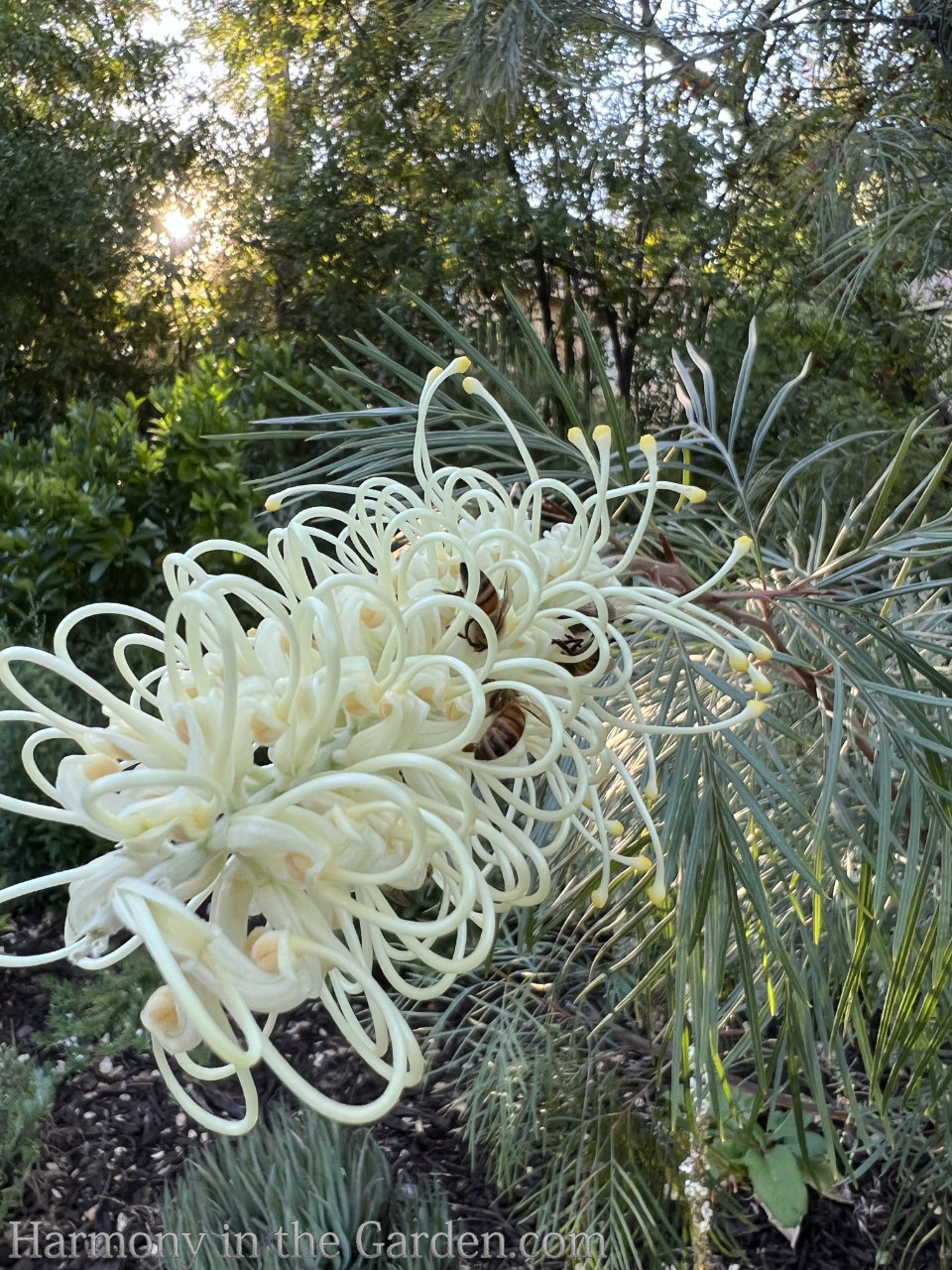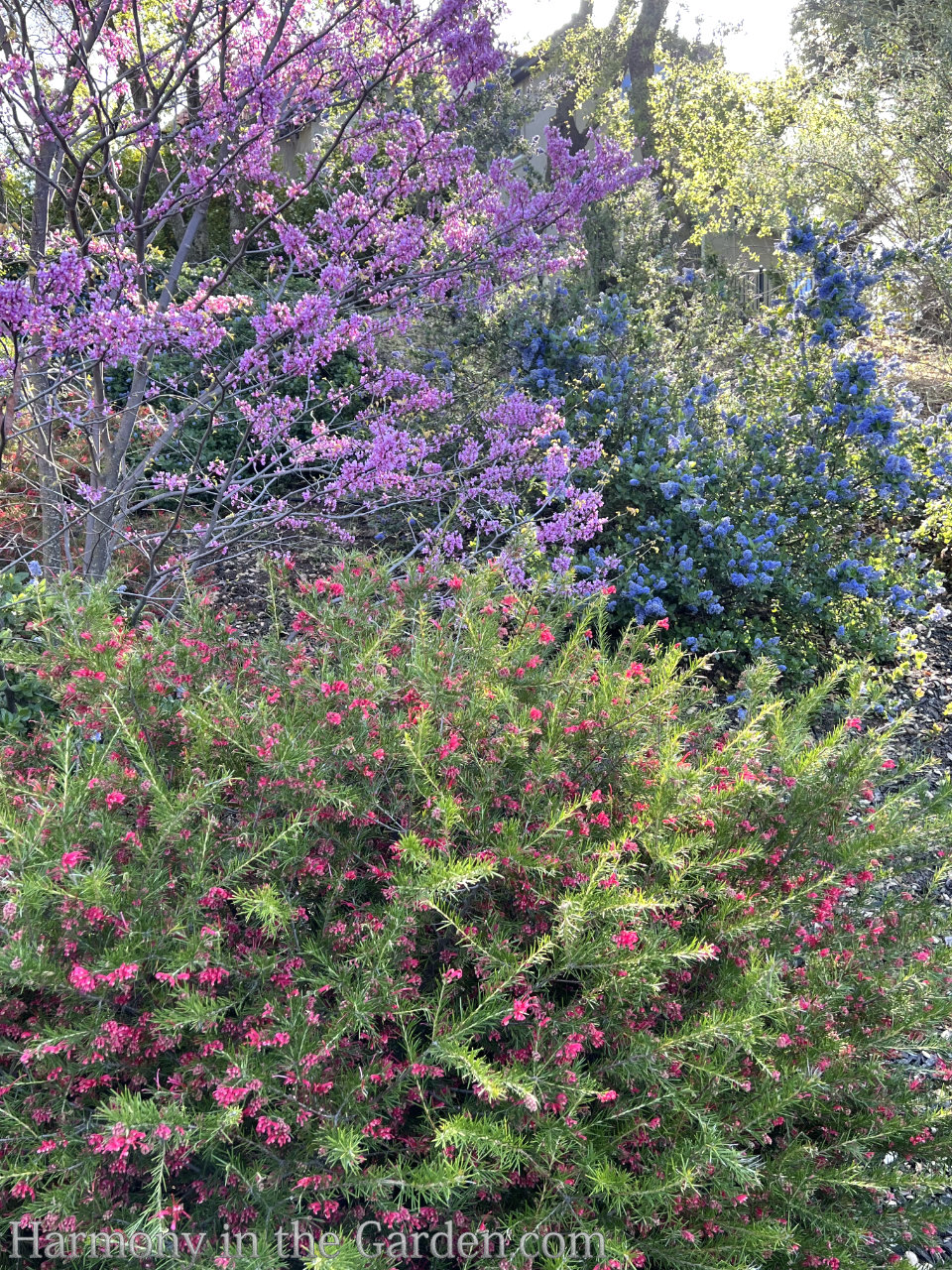 Grevillea 'Canberra Gem'
This tough and fast-growing variety's dark green, needle-like foliage adds a welcome 'lush' quality to hot and dry gardens.
And, when covered with dark rosy-red blooms, it appears even more lush!  It definitely doesn't look like most drought-tolerant plants.
This is one of my favorite combinations that I pass by on my morning walks.  Just look at this fantastic spring-blooming combination of the blue-flowered ceanothus, the magenta Redbud tree, and the red grevillea blooms.  
The needle-like foliage is a bit prickly, so you'll want to wear gloves when pruning.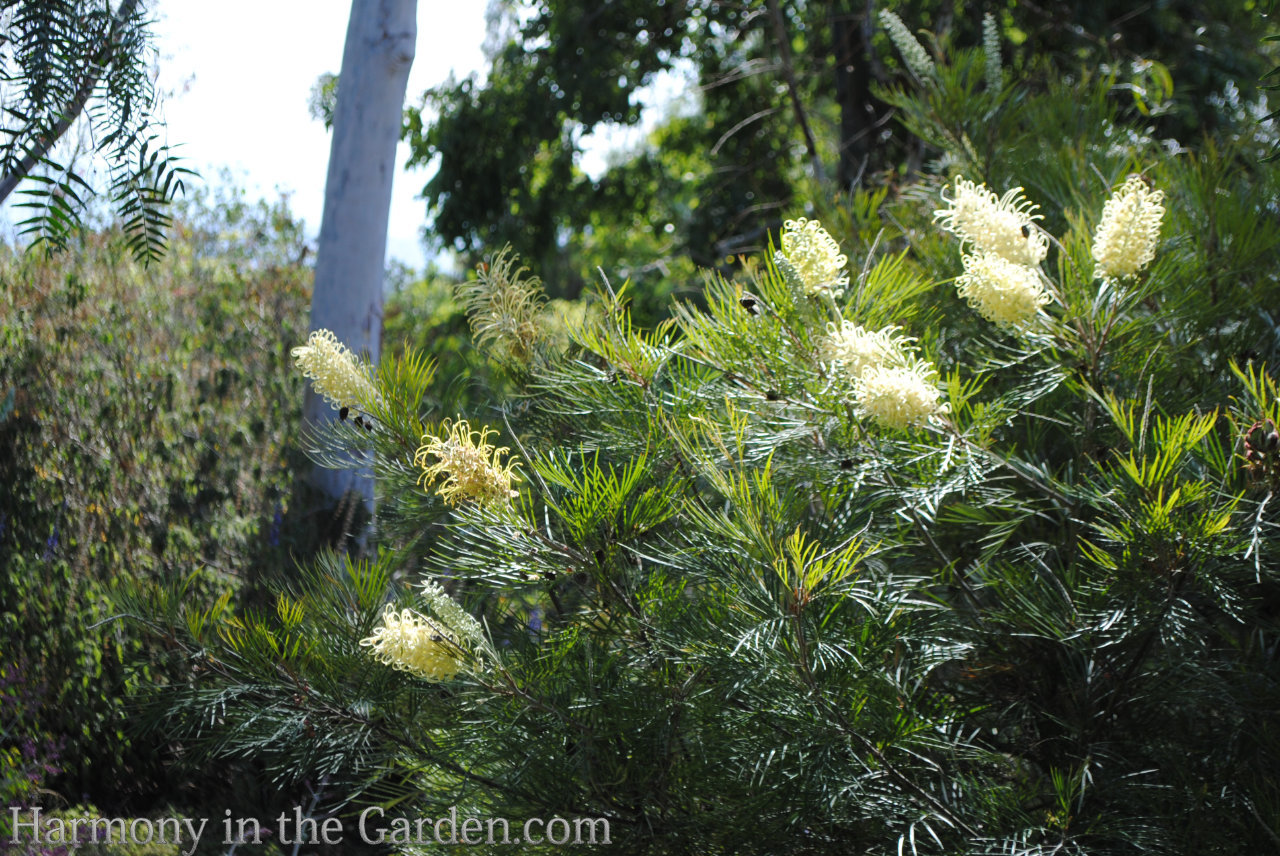 As promised, here are a few more articles that you may find interesting:
For more information about adding iron to your grevilleas, take a look here at one of the best sites ever from Monterey Bay Nursery.
And, for more in-depth information on cold-hardy grevillea varieties, here's a fantastic article from The Desert Northwest, and this one by Pacific Horticulture.
So what are some of your favorites?  I'm always looking for new varieties – please share!