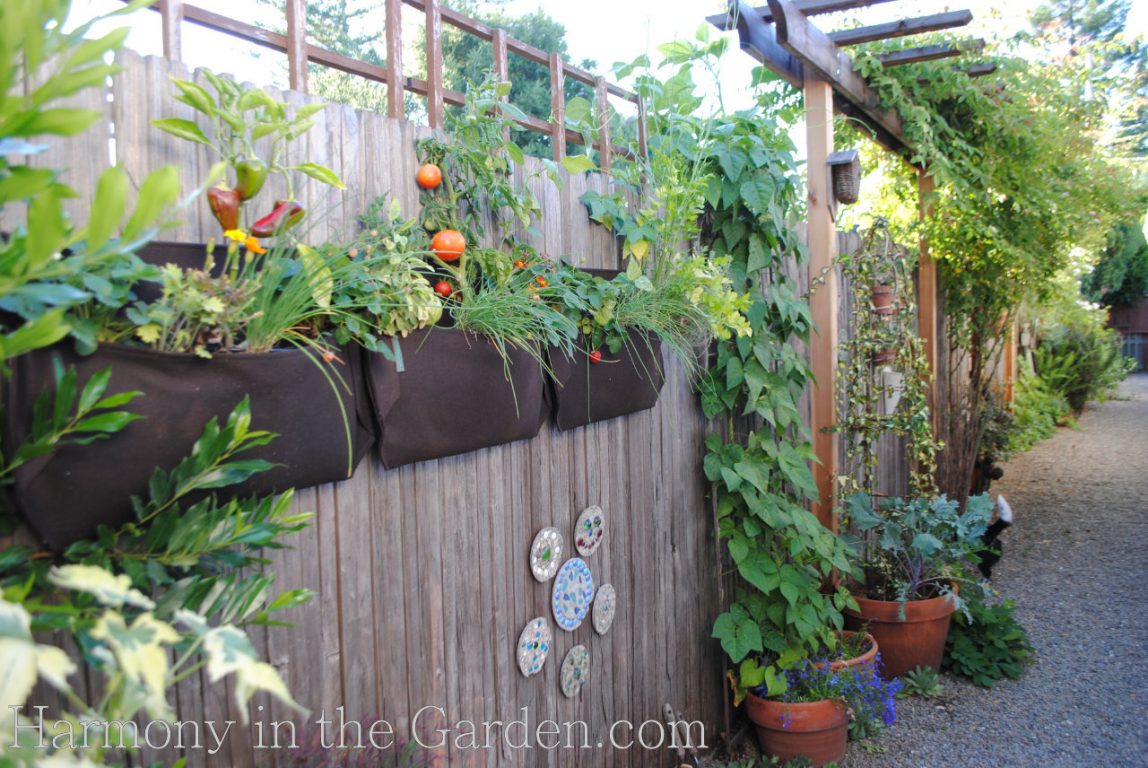 One of my favorite chapters in my first book Garden Up!,  tackles a common problem many gardeners face – what to do with those narrow side yards?
These awkward spaces are often neglected, turning into dumping grounds for junky items collected over the years.
While it's true we all need a place to store that broken BBQ that we can't quite throw away yet, composters, and garbage cans, it doesn't mean we can't have a garden too!
My own side yard is featured in the book, and is a prime example of how to garden up when you have little to no planting space.
Today I thought I'd elaborate a bit and show you a few more details.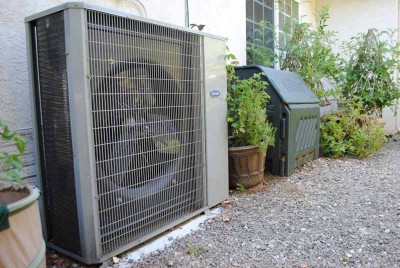 To give you a little background:  my side yard is about 7′ wide and runs the length of the house, parallel to all of the bedrooms.
Every window in every bedroom faces this (formerly) unattractive and wasted space.
As is the case with most side yards, I keep a variety of things here:  the A/C unit, the composter, sick plants that I can't quite compost yet, tomato cages, wood and stone for future projects, etc.
It would be all too tempting to just throw in the towel and forget about this area.
But since I'm a garden designer, I wanted to maximize every square inch of space that I can possibly squeeze out of my property.  Sometimes that means having to be extra creative, and think outside the box. 
As if this area wasn't challenging enough, last year new neighbors moved in next door and cut down ALL of their beautiful, established trees.  Don't ask me why.  Now we were left with a view of their shabby, unattractive roofline, as well as having our bedrooms blasted with baking hot sun all afternoon.  
We had to do something FAST.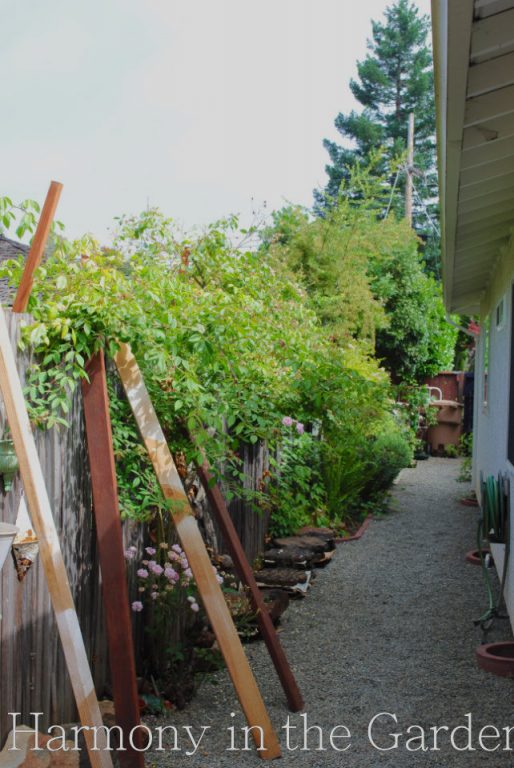 My husband and I came up with a plan to build a super skinny trellis along our shared fence to provide both privacy and shade. After it was built we painted it a dark black color.
Since there really isn't much soil (or space) in which to plant, we attached the trellis directly to the fence with the hopes it would support an existing, very old 'Cecile Brunner' rose, as well as an established pyrancantha bush.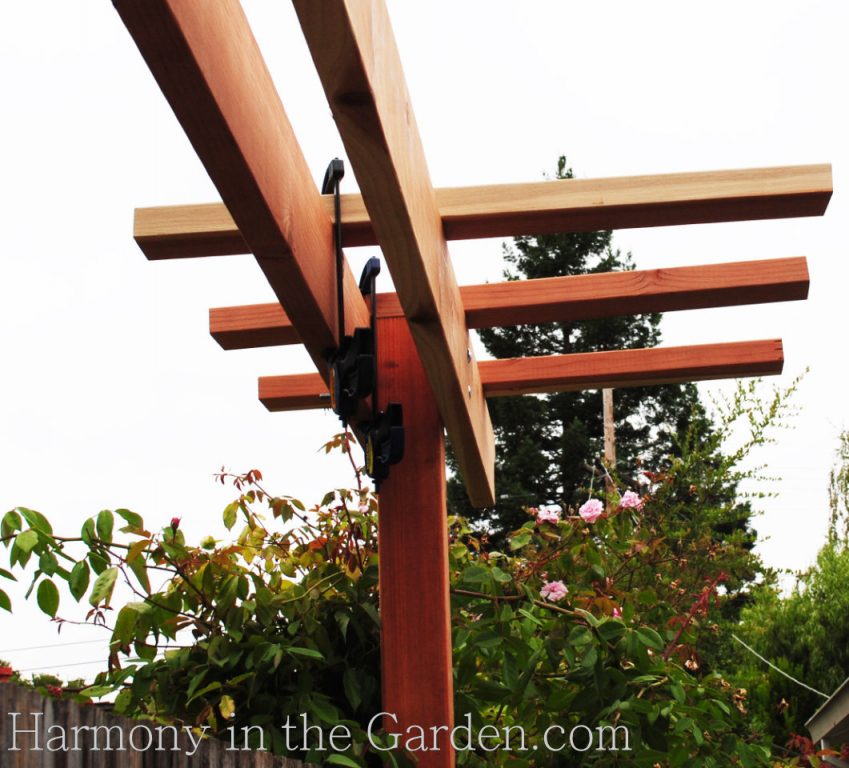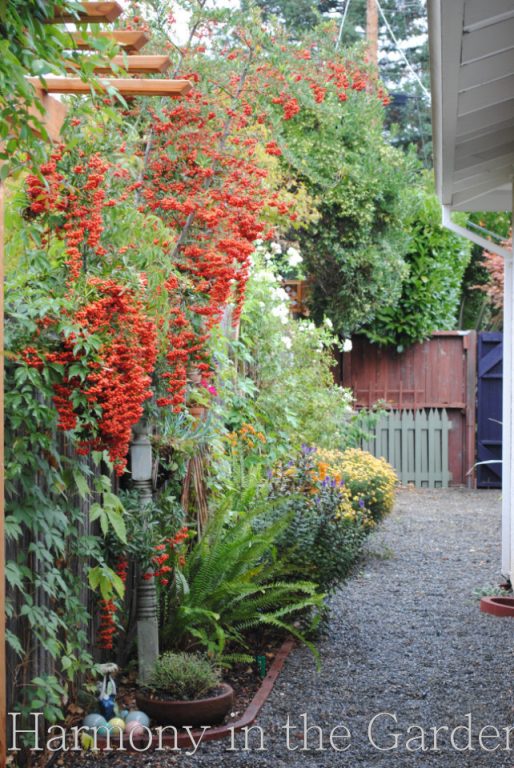 Most people I meet seem to hate pyracanthas, but when they're in the right place, I adore them.  
They're not only evergreen (providing year round coverage of the ugly roofline) but they have cute little white flowers in the spring, and of course the beautiful red berries in the fall.
Over the years my daughter has loved watching hungry birds swarm the bush, getting 'drunk 'off the berries. Click here to see some pretty fabulous photos of this spectacle!!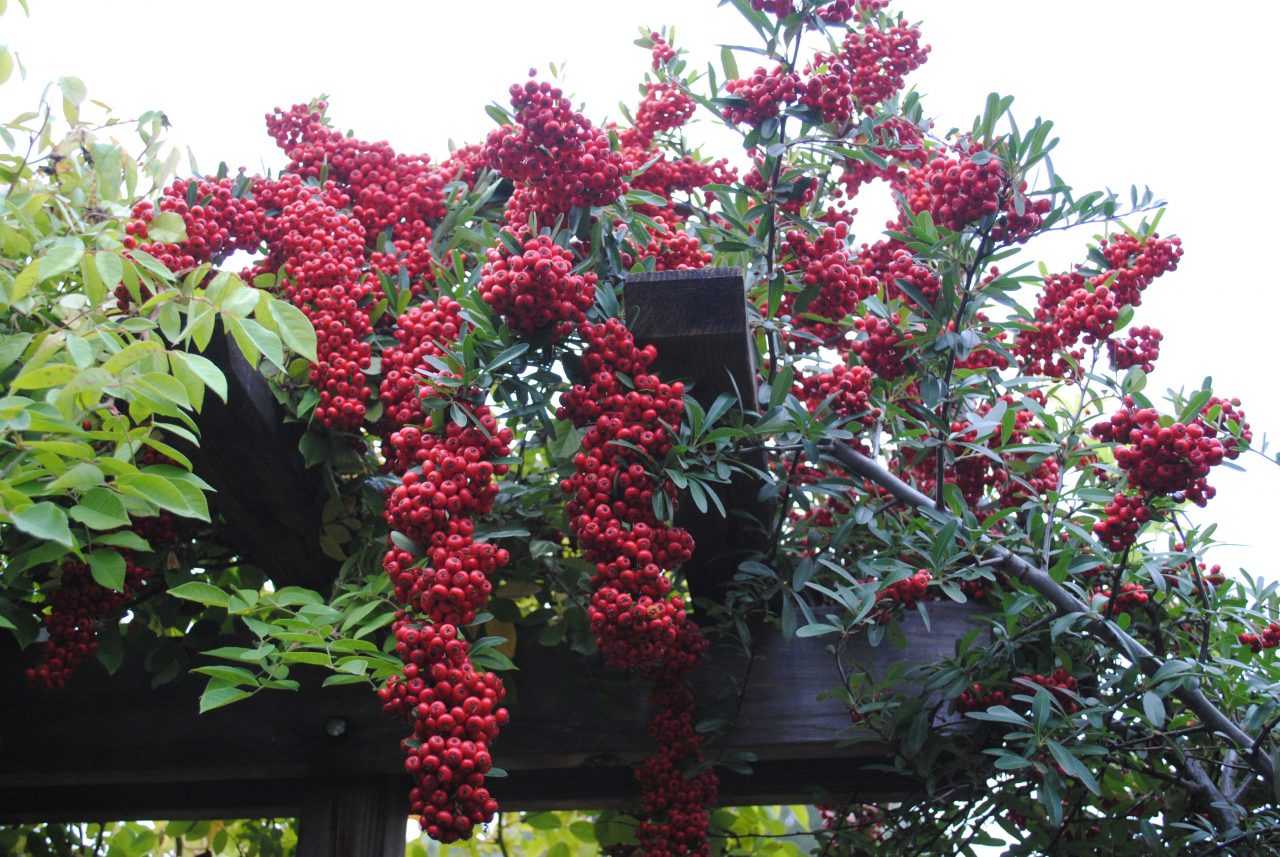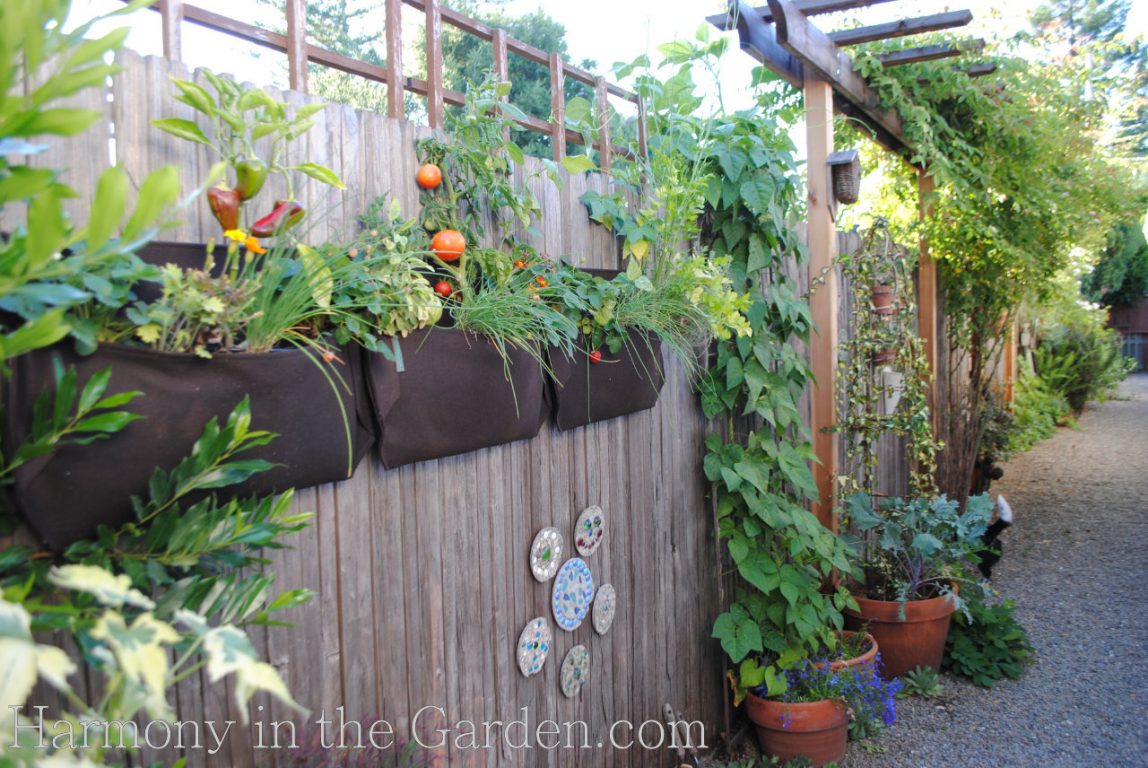 I also wanted to create an edible garden along the other end of the fence, as I had plenty of sunshine in this one spot. 
There was one problem, though – a lack of soil in which to create this garden.
My solution?  Install a trio of Woolly Pockets along the fence!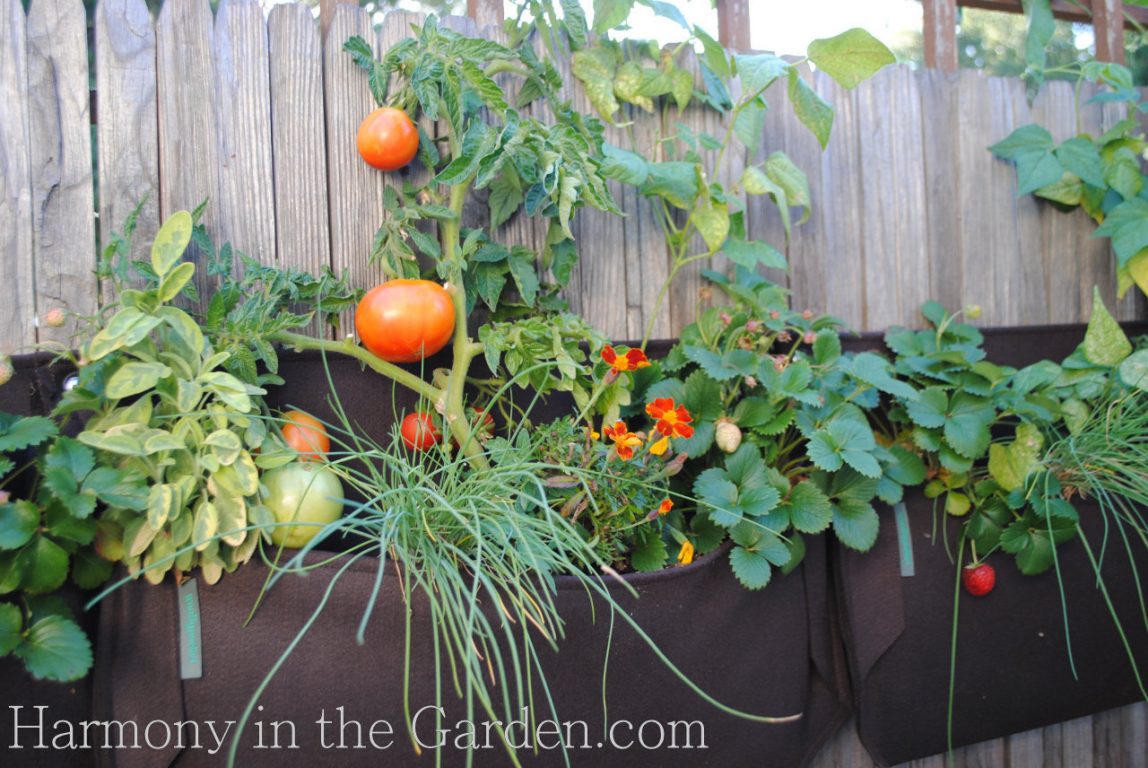 In these pockets I planted chives, alpine strawberries, 'Icterina' dwarf golden sage, dwarf 'Windowbox' tomatoes, red peppers, parsley, and thyme.
I also planted beans – lots of beans, to scramble up the fence and along the nearby trellis.  
My favorites have been 'Spanish Musica' (flat, long and deliciously juicy) and 'Rattlesnake' heirloom pole beans with their beautiful maroon stripes – both from Renee's Garden.
I must say, I'm thrilled with my woolly pocket garden!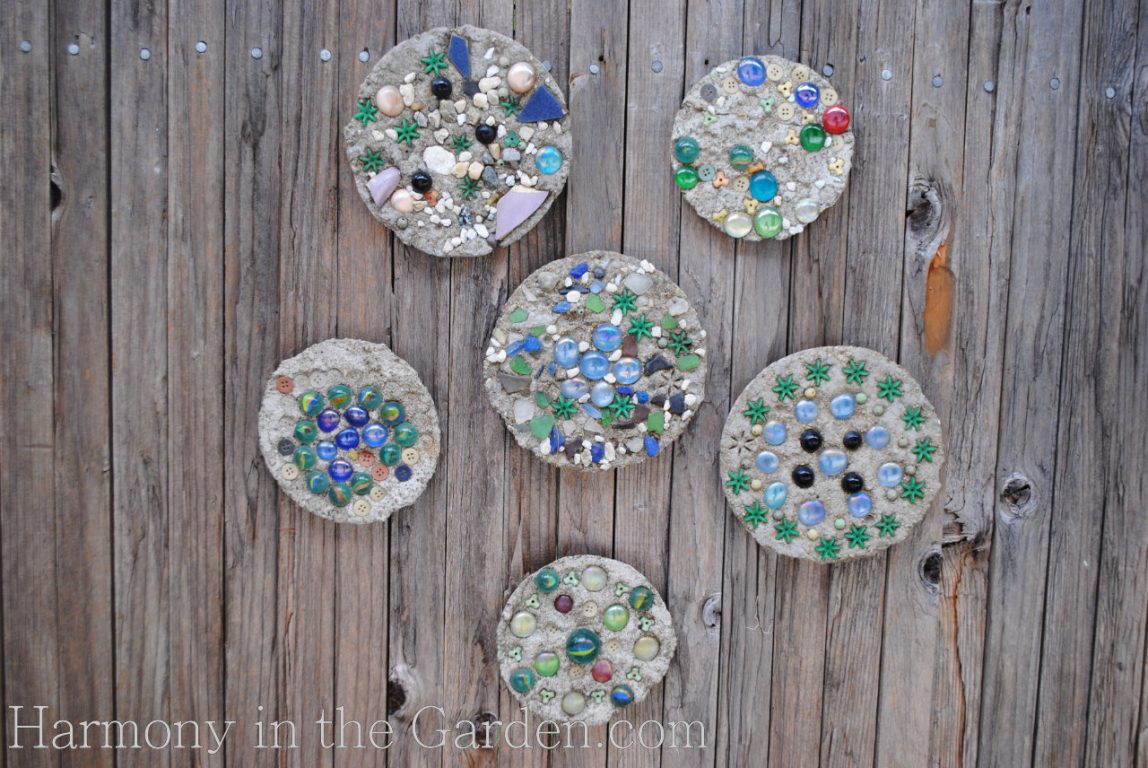 Since my daughter's bedroom window looks out onto this fence, she wanted to add a few special touches of her own.
Over the past several years, she has accrued quite a collection of hand-made stepping stones at our town's annual Fall Festival.
So, we decided to display them along the fence, arranged in a flower pattern.
Along this fence we also placed small birdhouses and an old fence post from our previous home.
It's little touches like these that really help to personalize your garden, making it truly one-of-a-kind.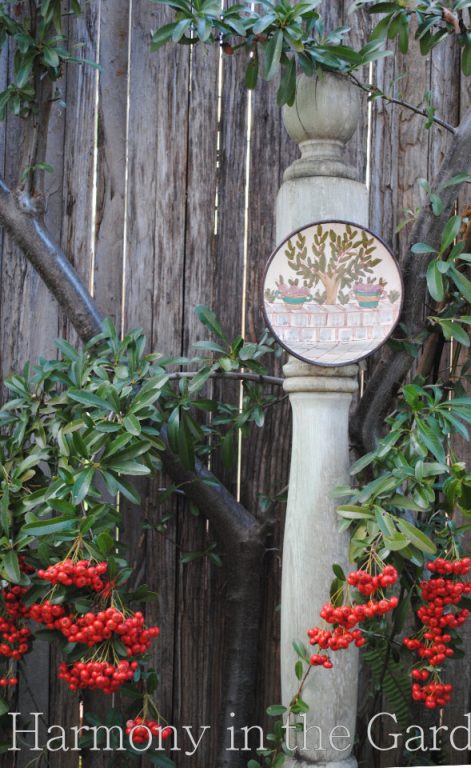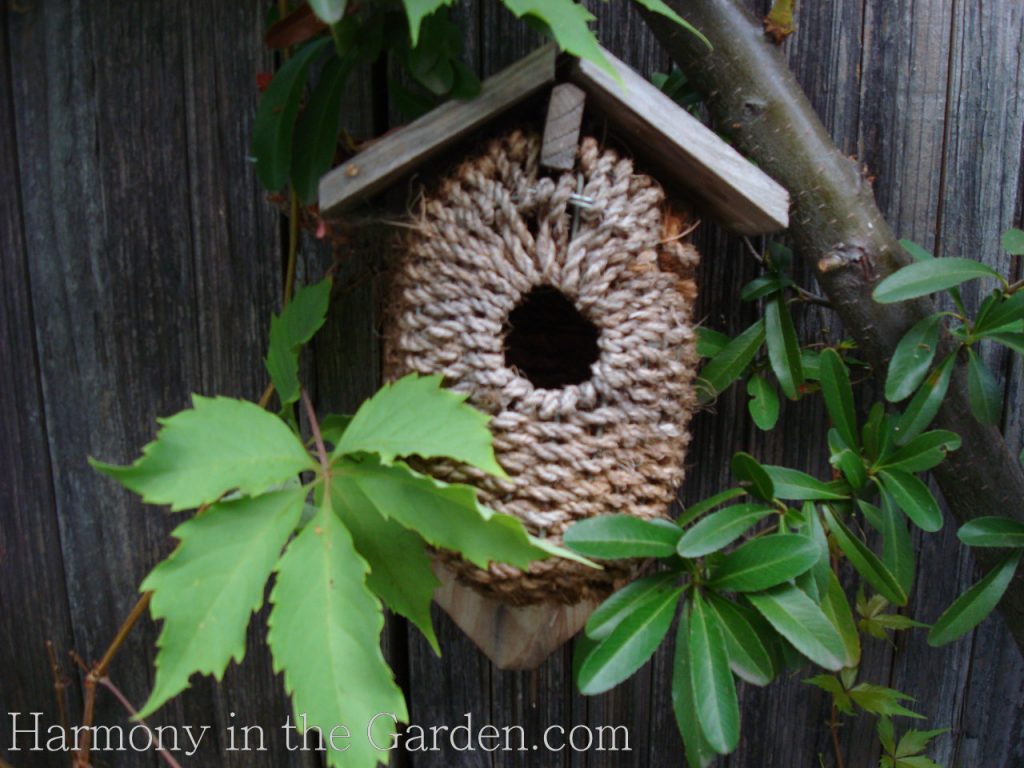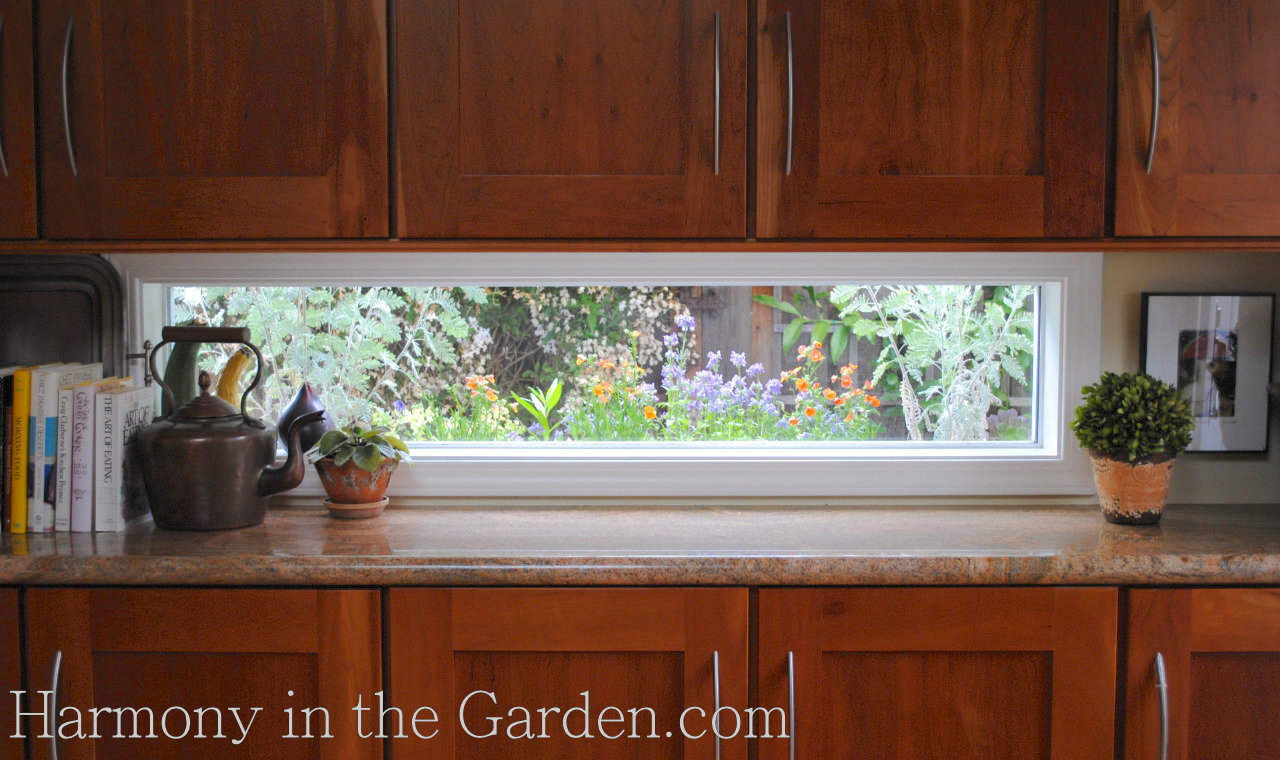 Having all the bedroom windows face this narrow side yard brings up an important aspect of garden design, which is referred to as inside-out design.
Simply put, this means 'don't forget the views from inside your home!'
Using the window as the 'frame', try and create vignettes within this frame which will act as the 'art'.  
An effective way to visually extend your room's boundaries is to create this outdoor vignette with colors and similar elements that complement inside the room.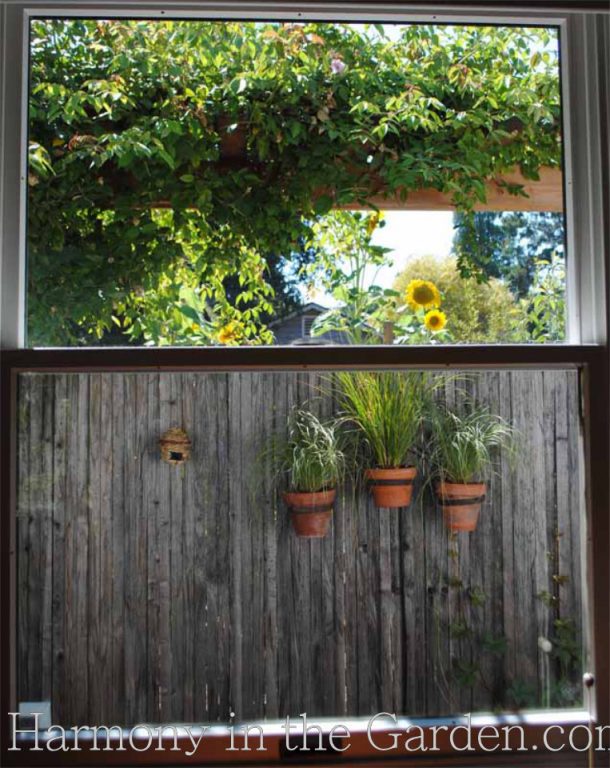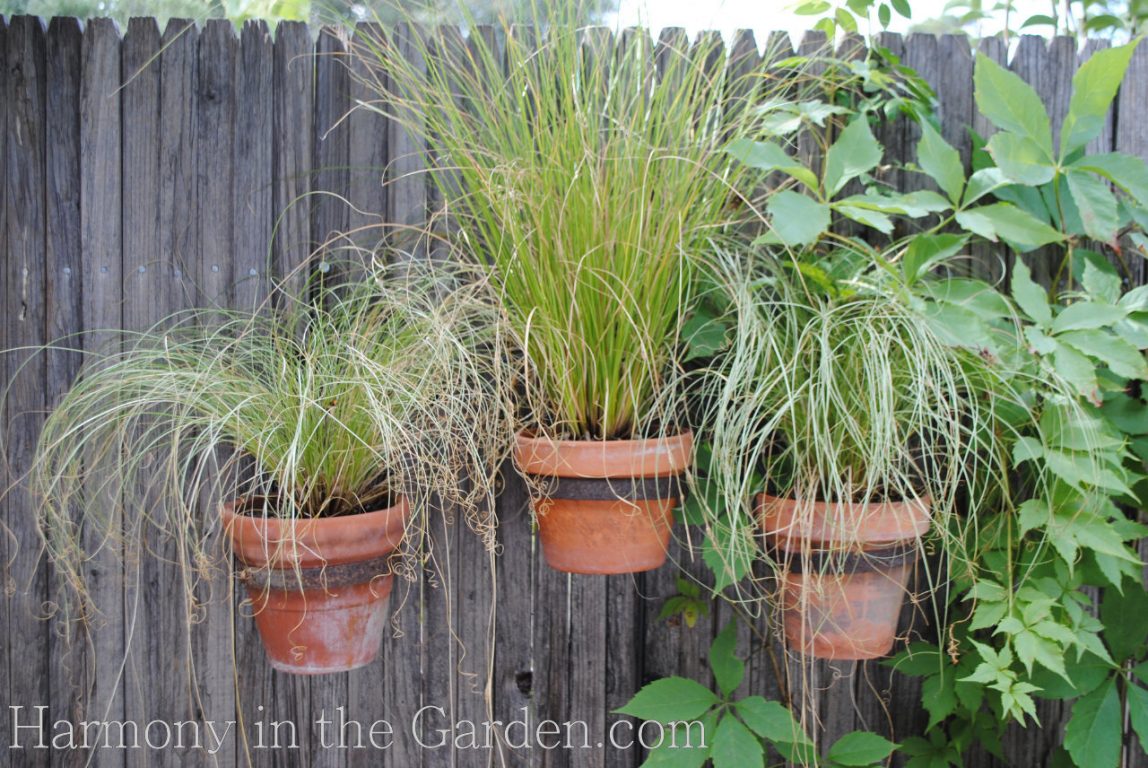 For example, out of one window's view we hung different varieties of carex, using my grandmother's old wall planters.  
We chose carex as they tend to be evergreen in our mild climate, and when the afternoon breeze blows they sway ever so gently – just beautiful!
With the rose climbing on the arbor overhead, and my neighbor's towering sunflowers, the view is really charming.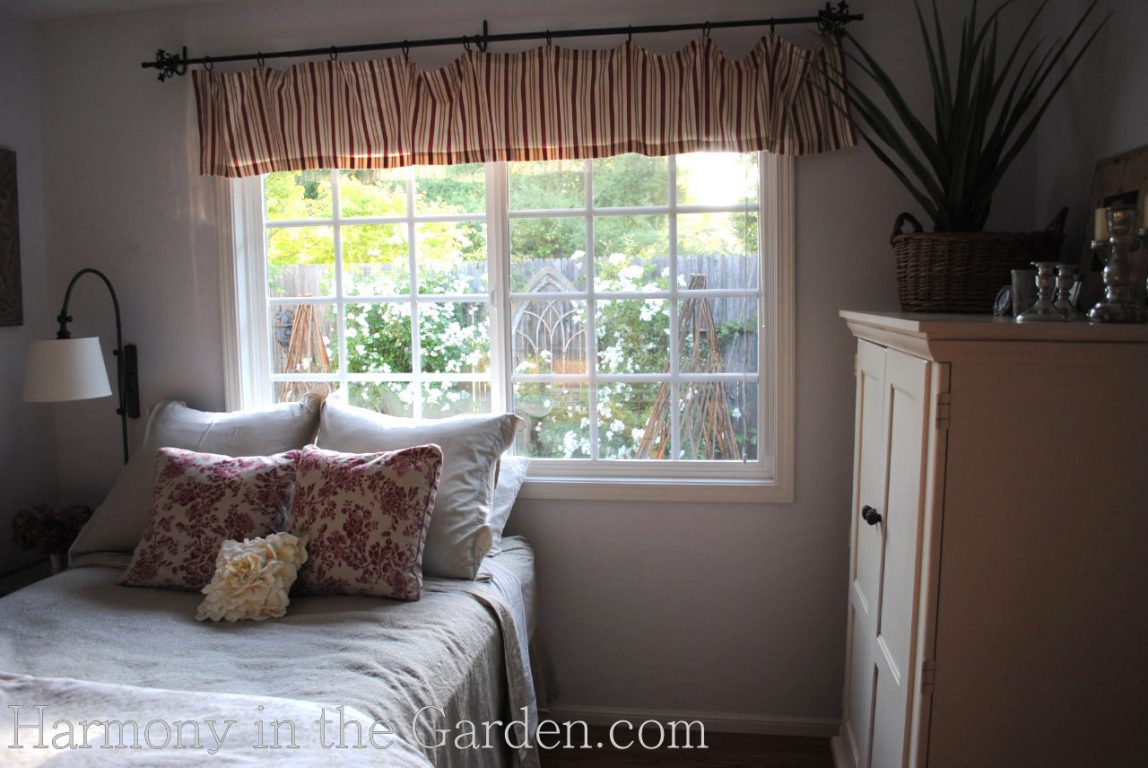 The other bedroom has an antique vibe to it, so I extended the theme by placing an old window frame along the fence to mingle with the espaliered roses.  
Even in the winter, when the roses are dormant, the window frame provides something beautiful to look at.
I hope this gives you a little inspiration to go outside and re-think your side yard!
And for even more help with designing your side yard, you might like Designing for Privacy (there's a whole chapter devoted to side yards!)
And a few more examples of some of my very favorite side yards can be found here and here!