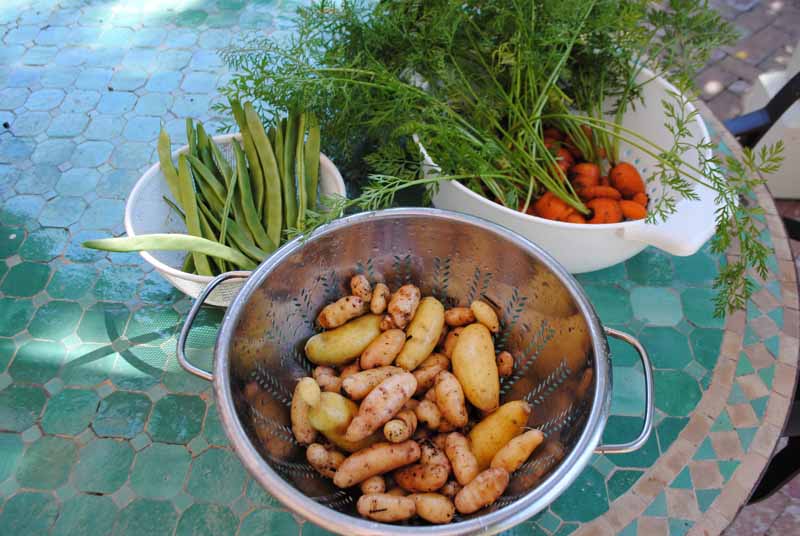 Today is the last day of summer for my daughter and one that's always a little sad for me.
While part of me relishes the fact that she'll be going back to school leaving me plenty of time to write and design, part of me will really miss her company.
The older Emily gets, the more fun we seem to have and with only 2 years left of high school I can hear the big clock ticking away each precious day that I have left with her living under my roof.


Ever since she was a little girl, she's always loved picking fresh vegetables in the garden.  It started when she was about 2 and just learning to walk (she was a very late walker!)  She'd toddle on over to the pineapple sage and grab a handful to eat – yes, raw! Between our rabbit that lived wild in our garden and Emily, that poor sage never grew over 2 feet!


I quickly realized that if I wanted her to eat vegetables, I'd have the best luck if I let her discover the joy of picking them 'all by herself'.  And from that point on we've always grown peas, beans, tomatoes (the tiny, super sweet ones that taste like candy), potatoes and, yes, pineapple sage.  To this day she eats tons of veggies – more than most of her friends who come over for dinner and rarely touch their salads!


It makes me so happy that after all these years, she still gets excited about the prospect of dumping over our big tub of potatoes and digging through the dirt to find them!
Here's to a great summer and a wonderful new school year!