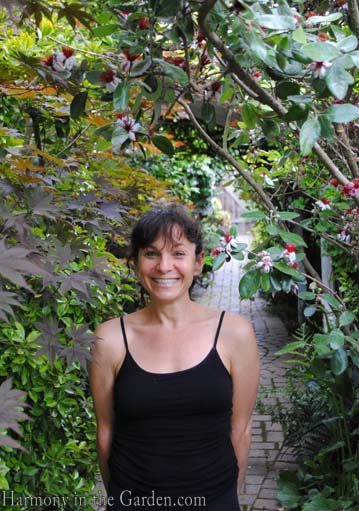 In honor of my new book, Refresh Your Garden Design, I'll be spending the next few months writing about the many different aspects of color, texture and form.
Whether its gardeners I've met who have embraced these design principles to the fullest, simple solutions you can use to transform your own garden, or perhaps  specific plants that serve double (or even triple!) duty in the landscape – my goal will be to inspire while showing how the smallest changes can have a lasting impact.
I'm pleased to introduce you to one of my favorite gardeners, and very good friend, Lisa Mitchell. Lisa is one of those gardeners who instinctively knows how to create something magical.  Yes, she moves plants around at least a dozen times until she gets them 'just right' (don't we all?) but in the end, her garden is filled with breathtaking beauty as a result of her skilled use of color, texture and form.
Lisa has transformed one of the dreariest side yards I've ever seen, into one of the most beautiful.  Upon seeing their new home for the first time, her description sums it up best:
" My husband actually ran out and laughed at me when I told him 'this is the house we should buy…I have a vision!'  In hind site, I don't know what I was thinking. The inside of the house was a nightmare, and the outside was even worse. The man we purchased it from was a recently retired salvage/junk yard owner who kept most of his wares at his house.I  t was the kind of spooky place that parents wouldn't let their kids visit on Halloween or any other time! The yard was literally covered front to back by old building materials, washing machine tubs and automotive parts. Three giant dumpsters and lots of back breaking work later we were left with an almost empty yard still mostly covered in concrete.  
This is where the dreaming began. I grew up surrounded with plants as my mother was an avid gardener. I had always imagined what I would plant when I had my own garden.  I would walk my neighborhood and ask people about plants I loved. I wrote it all down in my journal not knowing if I could grow them "someday" but just that I loved them. It took a number of years for us to be able to afford landscaping, and when we finally started pulling up all the concrete I found much to my delight that what was under there was a gardener's dream…the most amazing, beautiful and fertile soil that had been composted for 30 plus years!  It turned out that my years of hard work and patience (not my virtue) were very well rewarded."
For a variety of reasons, side yards are notoriously difficult places in which to create a garden.  They're often too narrow to plant trees or large shrubs to provide privacy from nearby homes, or they're cursed with uneven lighting (thanks to two-story homes), or they end up as dumping grounds for our garbage cans, composters, A/C units and every day 'stuff' we just can part with.
Lisa's side yard is an example of a remarkable 'before and after'.  And amazingly enough, the footprint of the space didn't change one inch, even though it looks so much bigger.  In fact, the space is actually smaller since she's installed a bump-out bay window.  Here are a few examples that make this transformation so stunning.
When creating a pathway in a narrow space the tendency is use small steps placed in a straight line.  Don't do this!
The claustrophobic atmosphere of this cramped space will only be further emphasized by a straight and narrow pathway.
Instead, make the pathway as wide as you can while leaving some room for plantings.  And if possible, include a gentle curve helping to further break up the bowling-alley effect.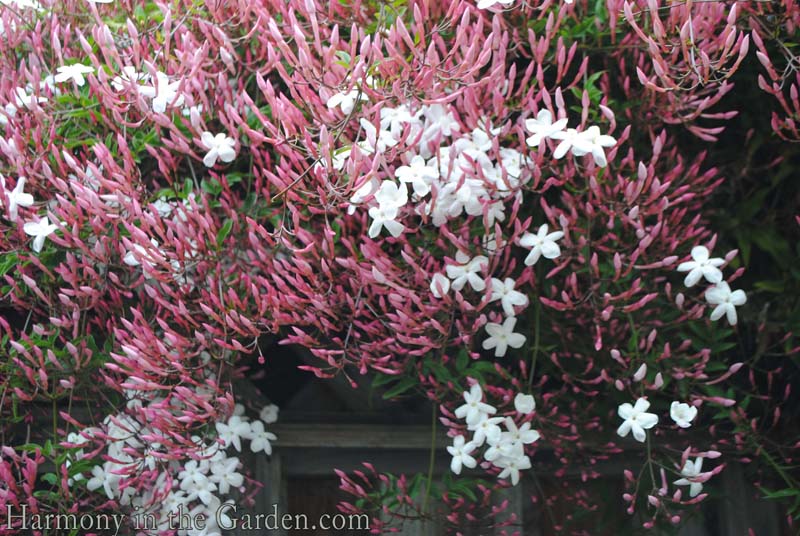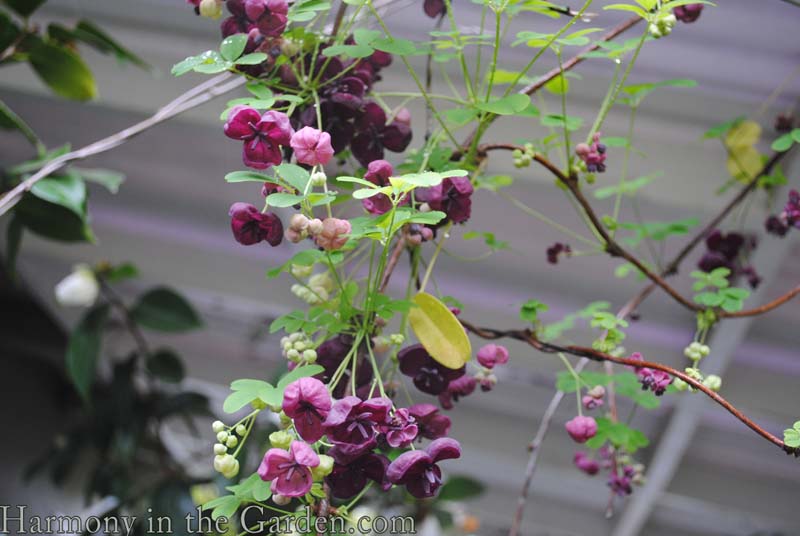 Vines, vines and more vines! To create a lush and layered garden in the tightest of spaces it's important to take advantage of every vertical space, such as fences, walls and chimneys.
Consider planting a variety of vines, remembering to use those with staggered bloom times.  For example, the Pink Jasmine on Lisa's fence is the first to bloom in the early spring, immediately followed by a spectacular show from the neighboring Star Jasmine.  This combination results in 6-8 weeks of delightful fragrance.
And once the jasmines are finished blooming, the akebia quinata begins its show with delicate and sweetly-scented plum colored 'lanterns'. Whereas a scented vine's delicious fragrance might be lost when placed in the back of a garden, in small spaces the experience is intoxicating.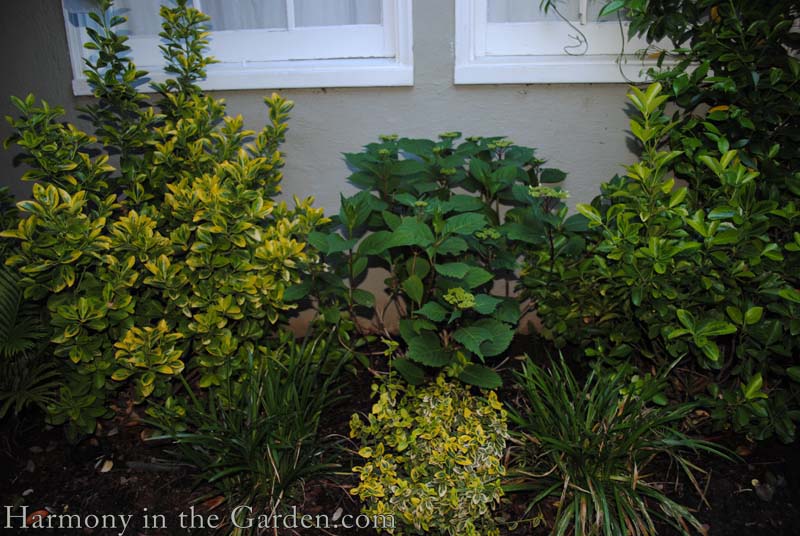 Plants with bright and cheery foliage, such as  daphne odora 'Mariani', Hakone grass, liriope muscari 'Silvery Sunproof' and variegated pittosporum act as the missing sunshine in this dark and shady side yard.
However, it's important to remember that just because an area is shady it doesn't mean that you should shy away from using foliage with darker colors.
Dark foliage is welcome in any garden as it helps to break up the sea of green effect, as well as creating the illusion of 'shadows' and therefore depth – even in the smallest of spaces.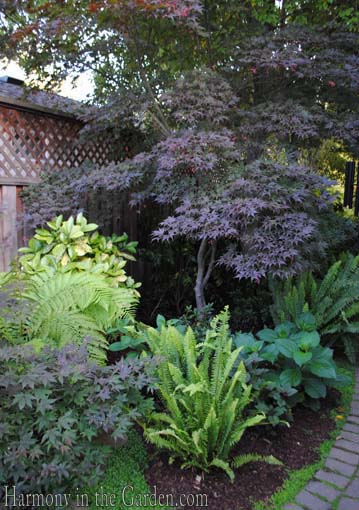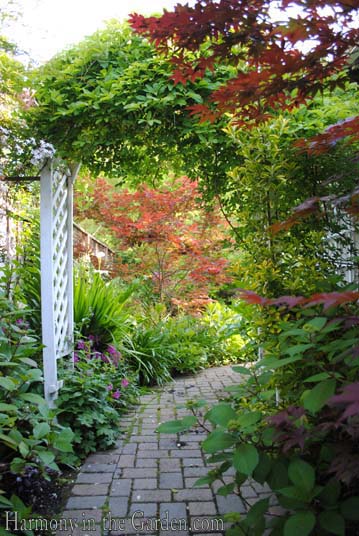 And just because your space is small doesn't mean you can't include some of your favorite shrubs, despite their imposing size.
With all the dwarf varieties on the market, chances are high there's a smaller version of your favorite that is perfect for your tiny space.  Examples in Lisa's garden include oakleaf hydrangea 'Ruby Slippers', abutilon 'Dwarf Red', and the Japanese maple 'Shaina'.
Another tip?  Placing a vine-covered arbor at the end of a narrow pathway not only adds additional vertical interest, but entices the viewer along.  The pop of color from the burgundy maple placed outside of the arbor further helps to signal 'keep exploring, there's more!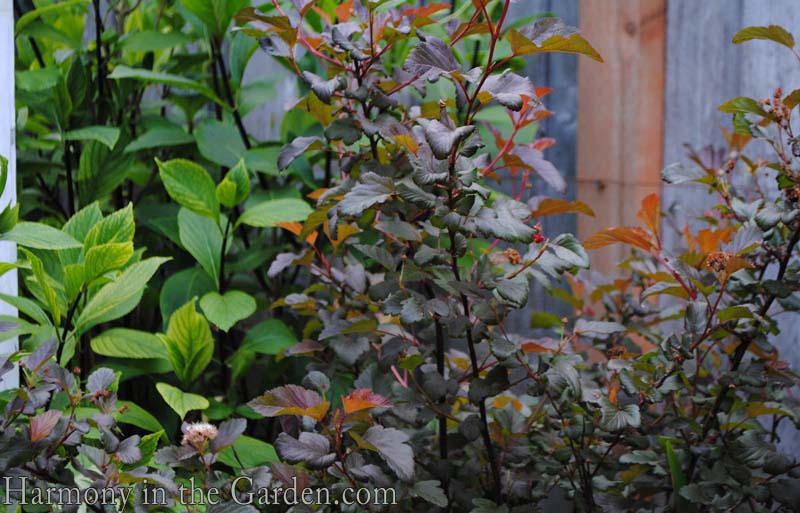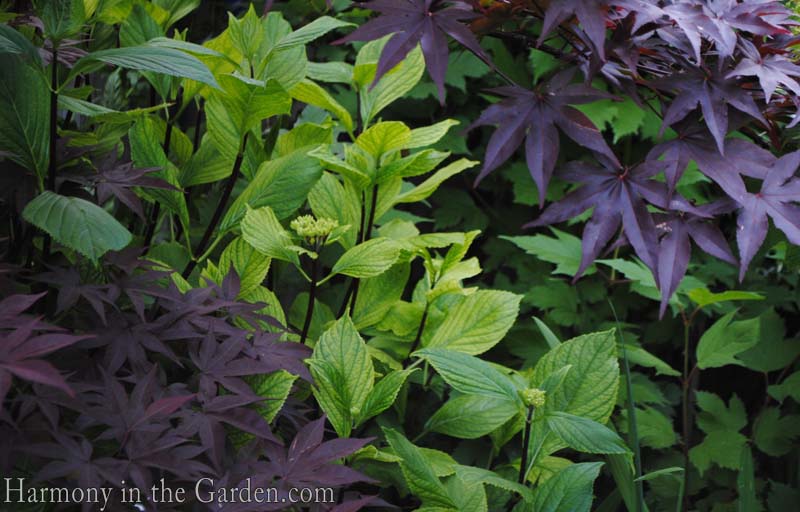 Gardening in small spaces can have its advantages, one of which is that all aspects of a plant can now be appreciated.
This is an ideal place in which to create subtle color echoes, using different parts of a plant to repeat colors throughout the garden. Notice how the jet black stems of the hydrangea are highlighted by the nearby foliage of the weigela 'Wine and Roses' and the Japanese maples?
In a larger landscape, these subtle echoes might be lost, but when viewed up close they're nothing short of spectacular.
It's not just color echoes that are highlighted in a small space – a plant's textural qualities are, as well.
For example, the fine and wispy blades of the Hakone grass, the smooth and polished foliage of the pittosporum, and the thick and crinkly leaves of the hydrangea are all placed within a 'touchable range', encouraging a tactile experience while strolling down the path.
Lisa's skillful combination of color, texture, scent and form results in this lush and layered year-round tapestry in a shady, narrow side yard.  Amazing, isn't she?