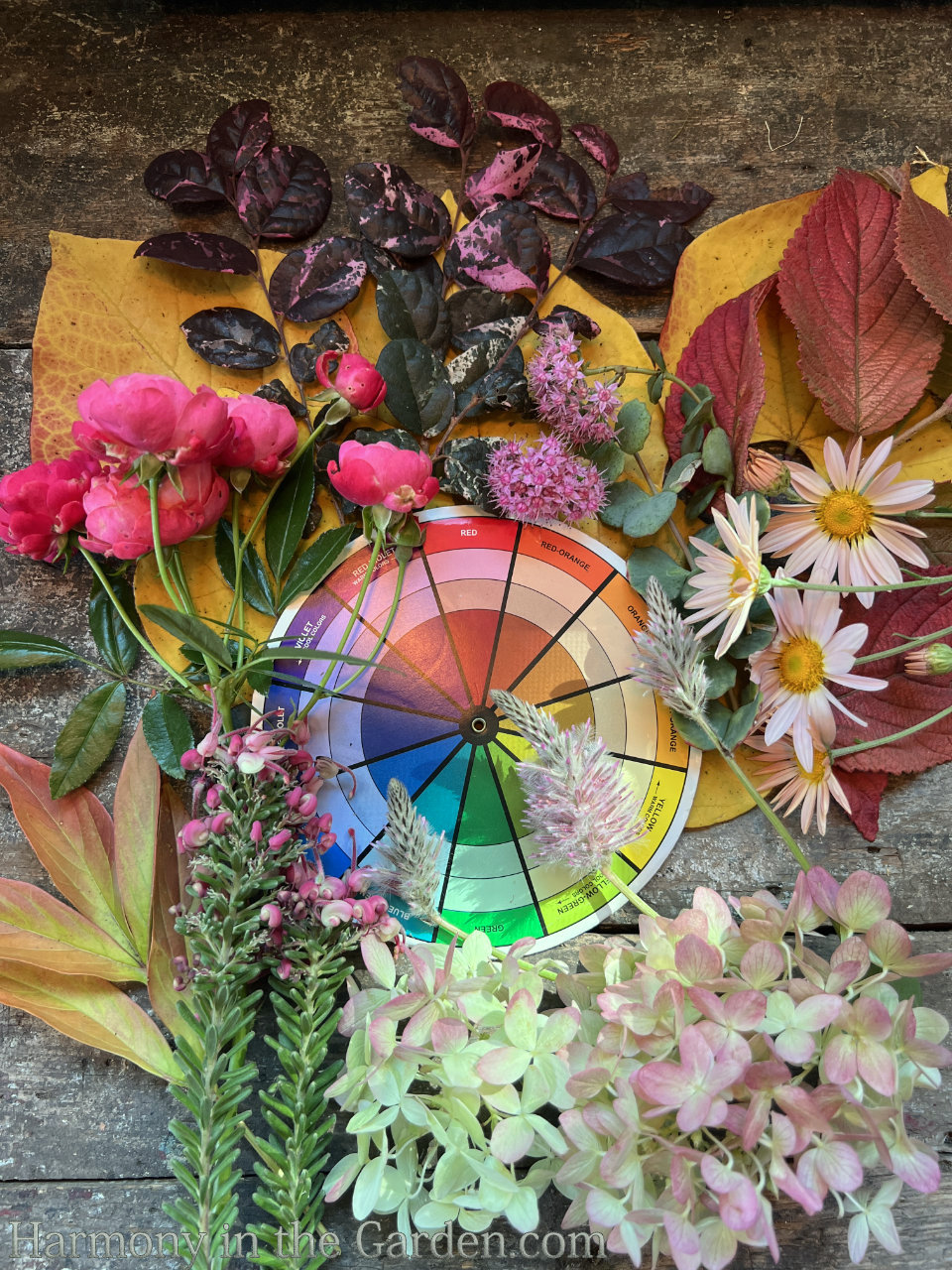 When thinking of autumn, gardeners don't often imagine pink flowers for the fall garden. 
However, when combined with fall's traditional colors of orange, yellow, and red, the color pink can result in unexpected stunning color combinations.
I was recently discussing this with a client who was so surprised that her 'Sheffield's Pink' mums (more about this fantastic perennial later) looked so great planted near the reds and yellows of her liquid amber tree. 
I brought out my handy-dandy color wheel, which I always keep in my design bag, to show her why the color pink is a natural for fall and should be used more often when designing a four-season garden.
A quick reference to the color wheel tells us why pink works so well with hot colors.  
Look at the colors on the outer rim of my color wheel, and you'll see that pink is just below the color red. 
Pink is referred to as a 'tint,' which is when white is added to the main color, resulting in a softer and less intense version.
To illustrate this point, I gathered various pink flowers; some are bright pink while others are soft, some have hints of apricot/orange, and some have hints of lavender. 
I then placed the flowers on top of typical fall gold, yellow, and red leaves.  Voila! You can see just how compatible various shades of pink look in the fall garden.
Here are just a few fabulous pink flowers that bloom in the fall.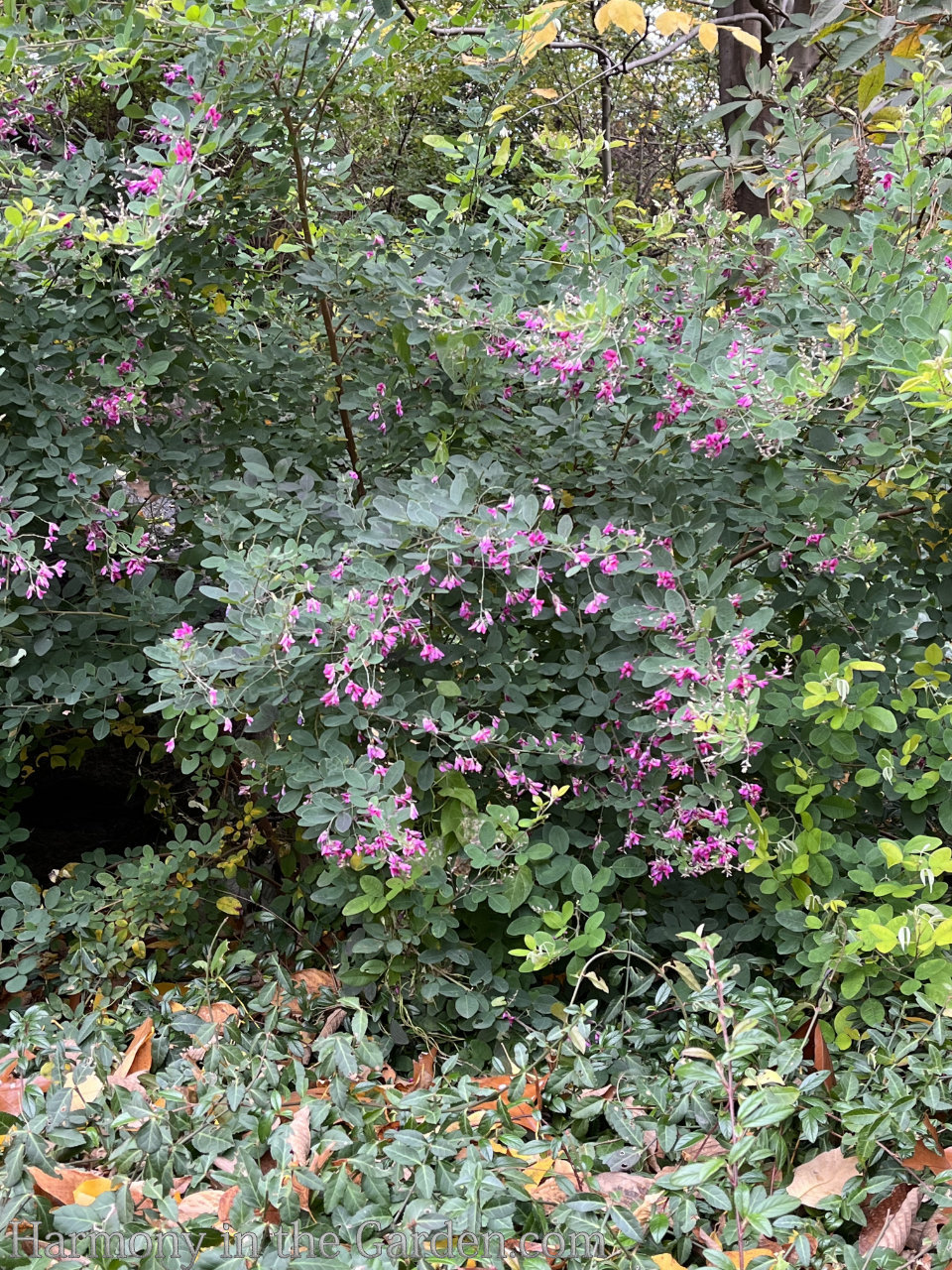 Lespedeza thunbergii 'Gibraltar' (Bush Clover) zones 4-8
I recently visited New York's Conservatory Garden to see how it looked in the fall (click here for spring pics.)
I wasn't disappointed!   One of the highlights was this gorgeous bush clover covered in bubble-gum pink blooms.  
It's a large shrub, growing to 4'x8′ with gracefully arching branches. Oh how I wish it would grow in my zone-9 garden.  Alas, it's much too hot and dry where I live.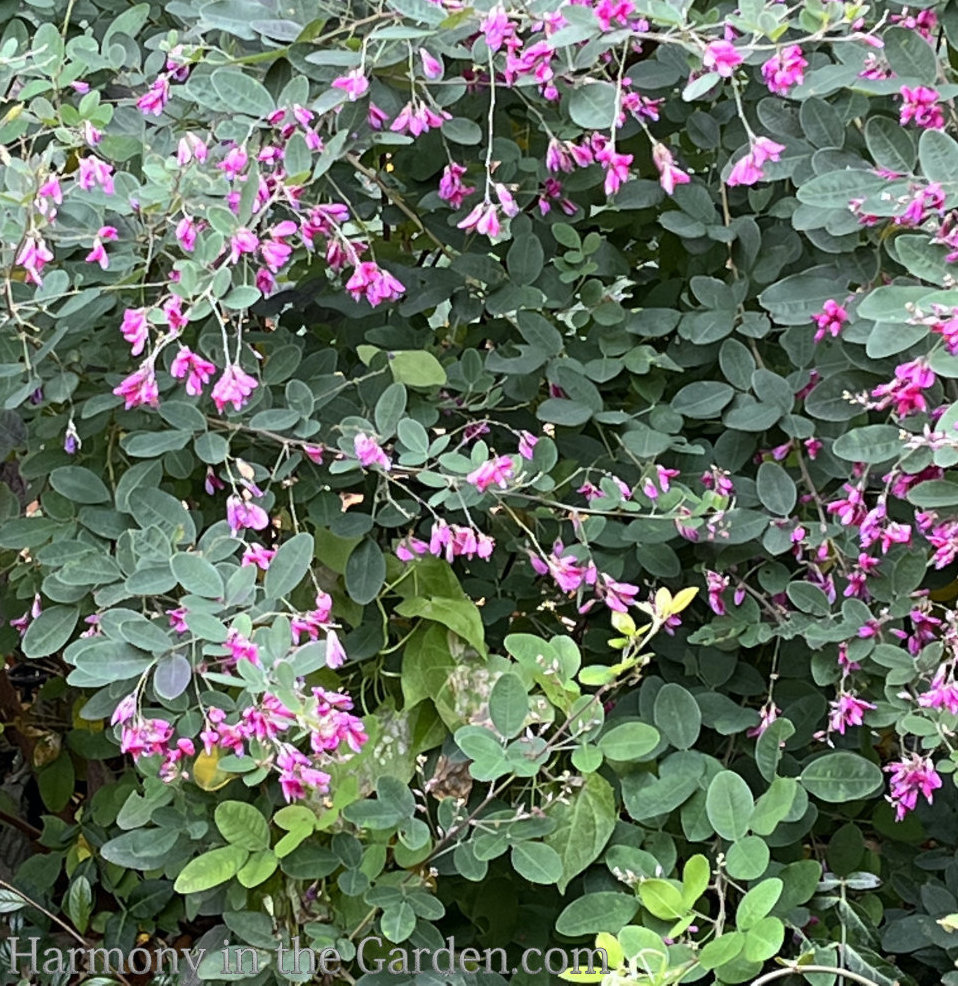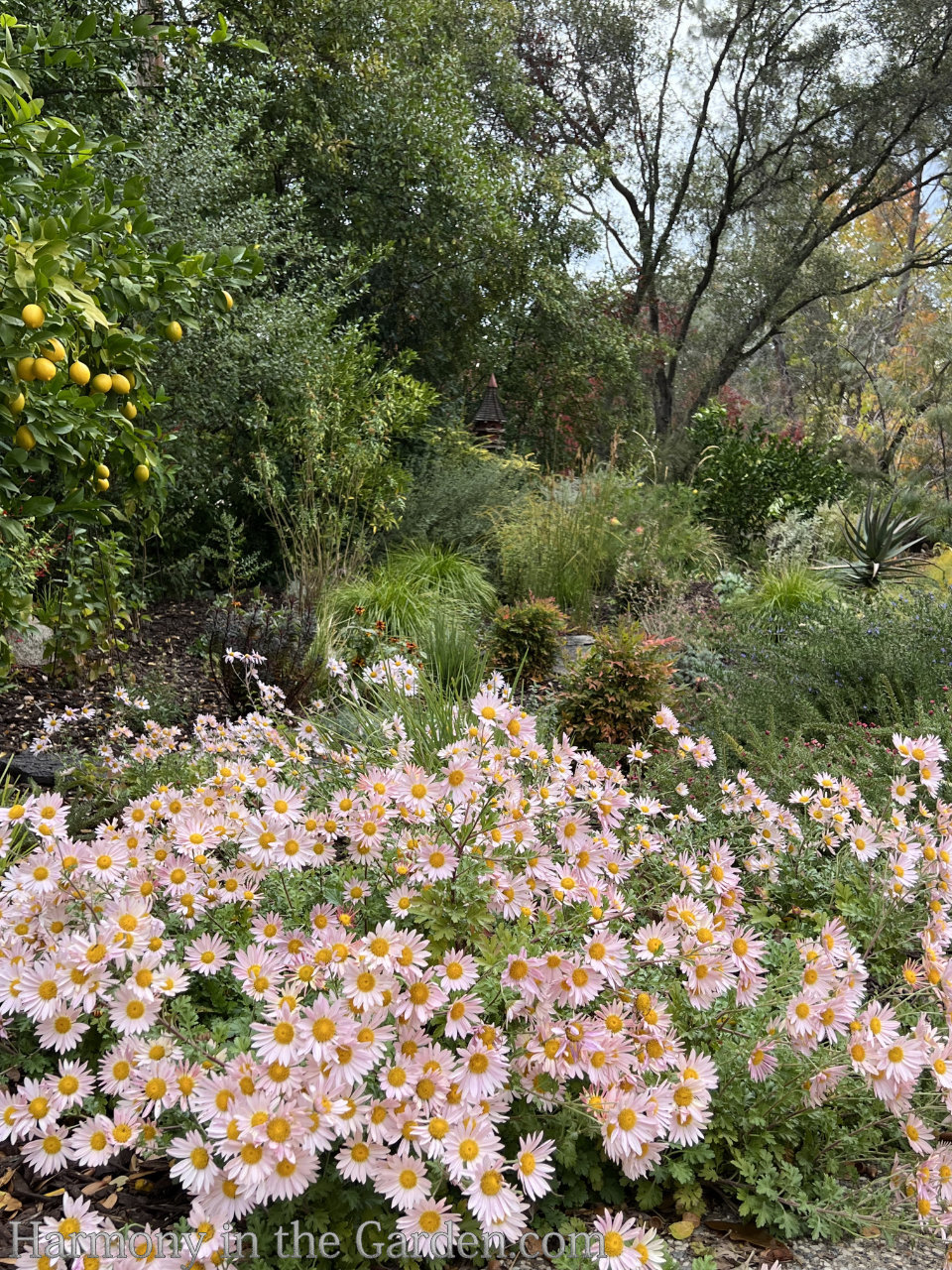 Chrysanthemum 'Sheffield Pink' perennial, zones 3-9
This hardy garden mum is one of my favorite fall bloomers in my garden.  
It's perfect for the front of the border, growing to 12″ x 3′, and starting in October is absolutely covered with daisy-like blooms in shades of pink with orange undertones.
It's a very low-water staple, thriving in full sun (my full sun which is HOT), the deer don't touch it, and it's swarmed by all sorts of pollinators.
To keep it tidy, I cut it back by 2/3 after the first flush of blooms and I'm often rewarded with a second round of flowers.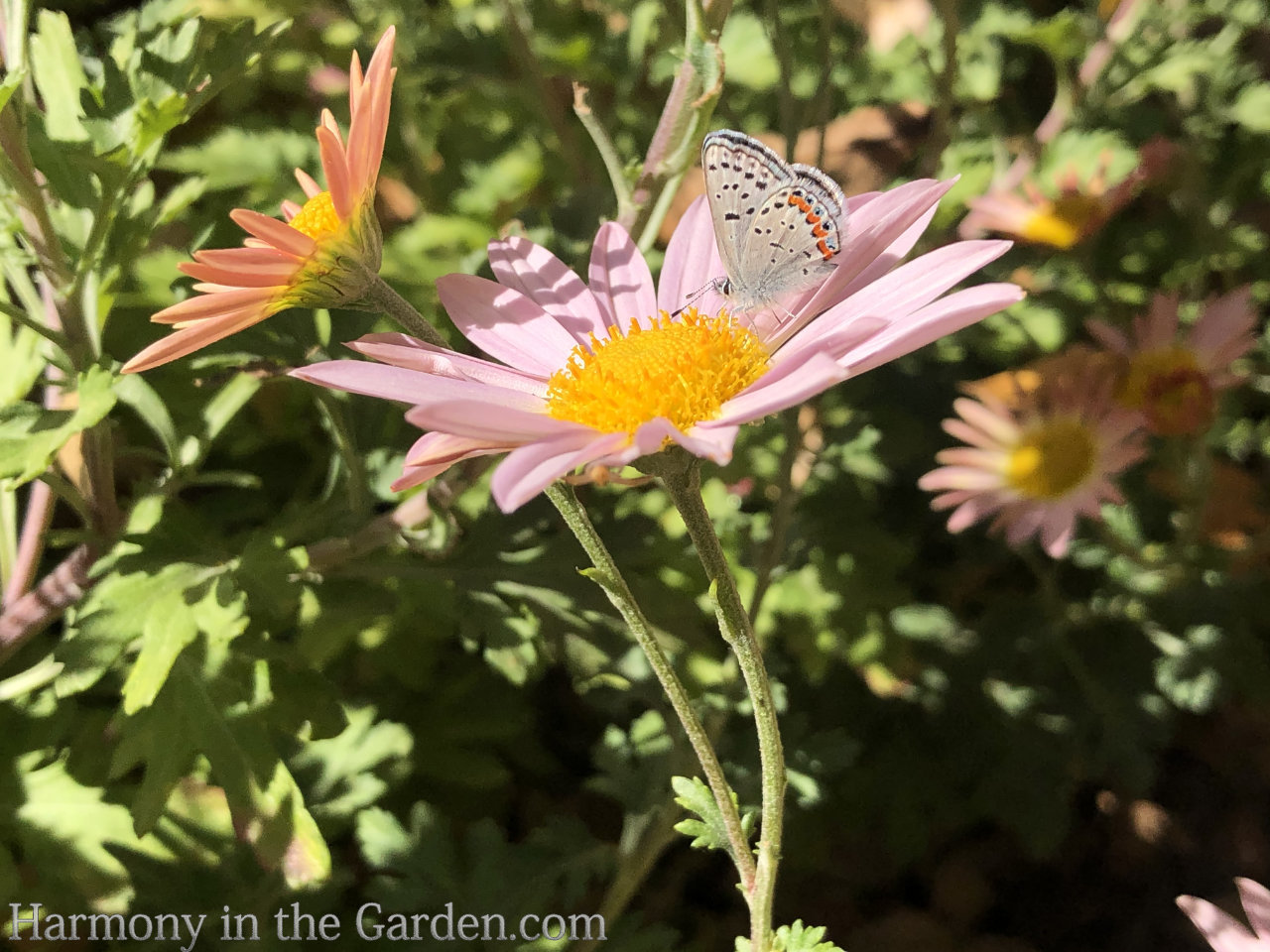 Below are just a few examples that show just how much pollinators adore this plant!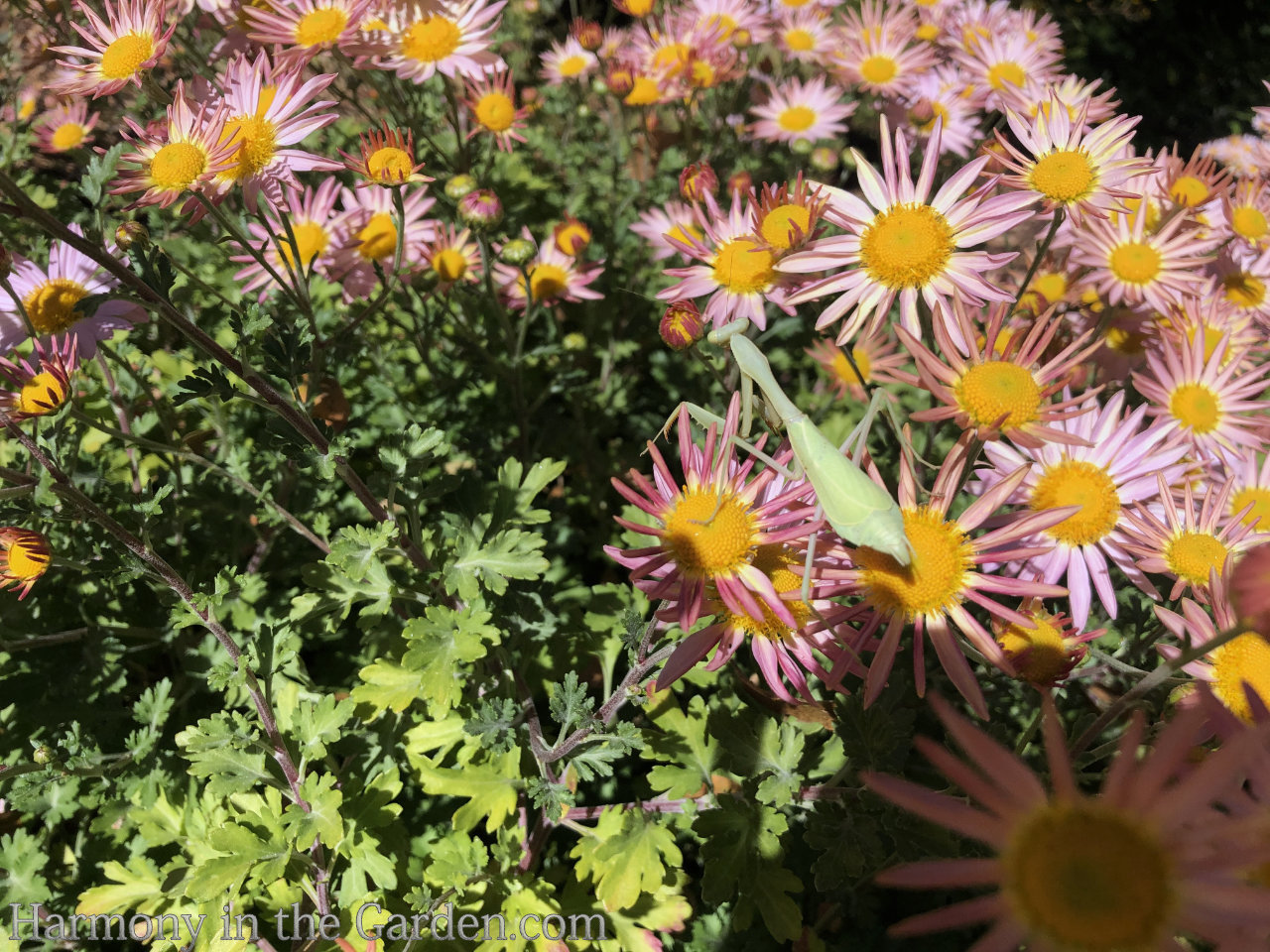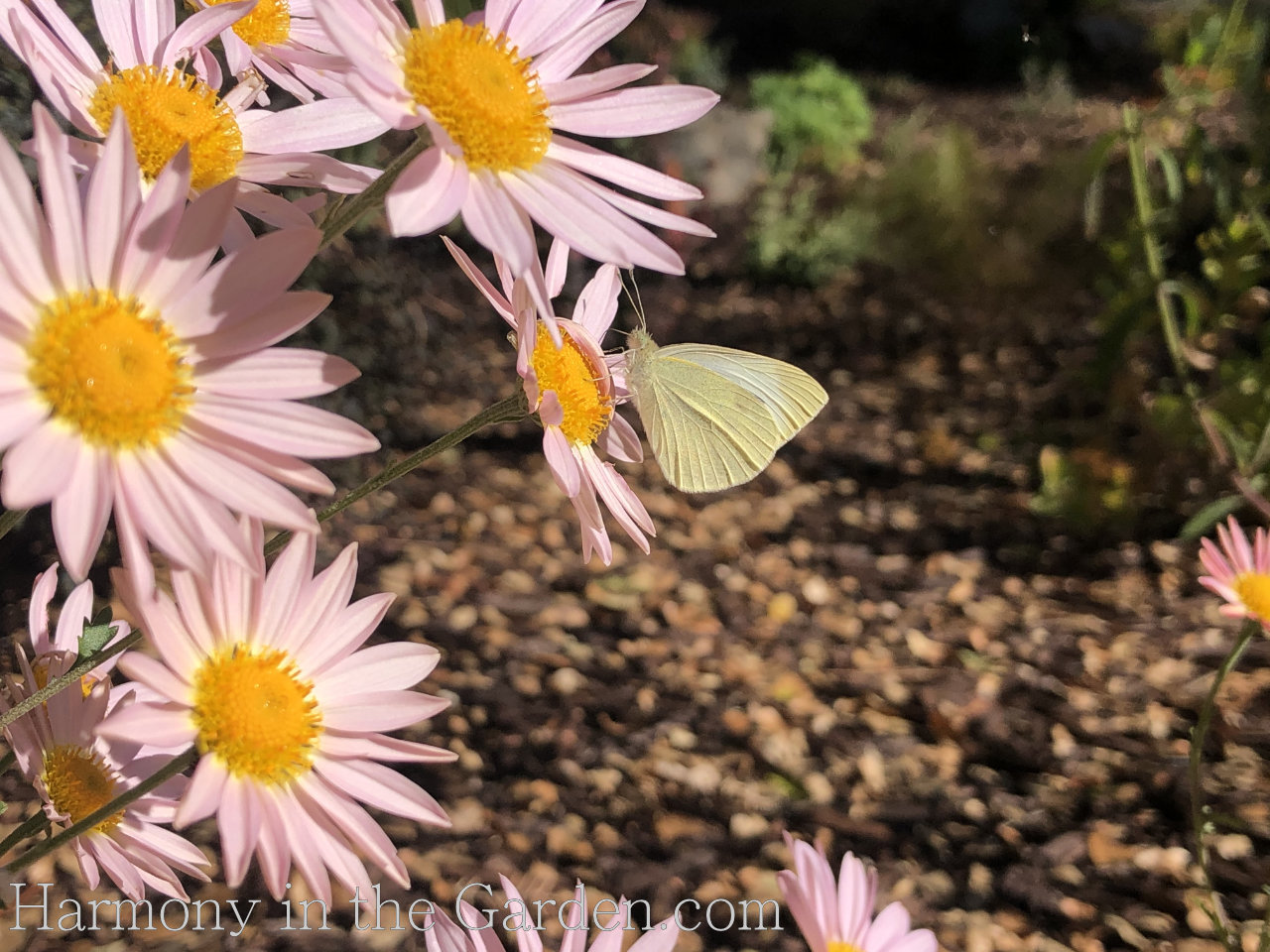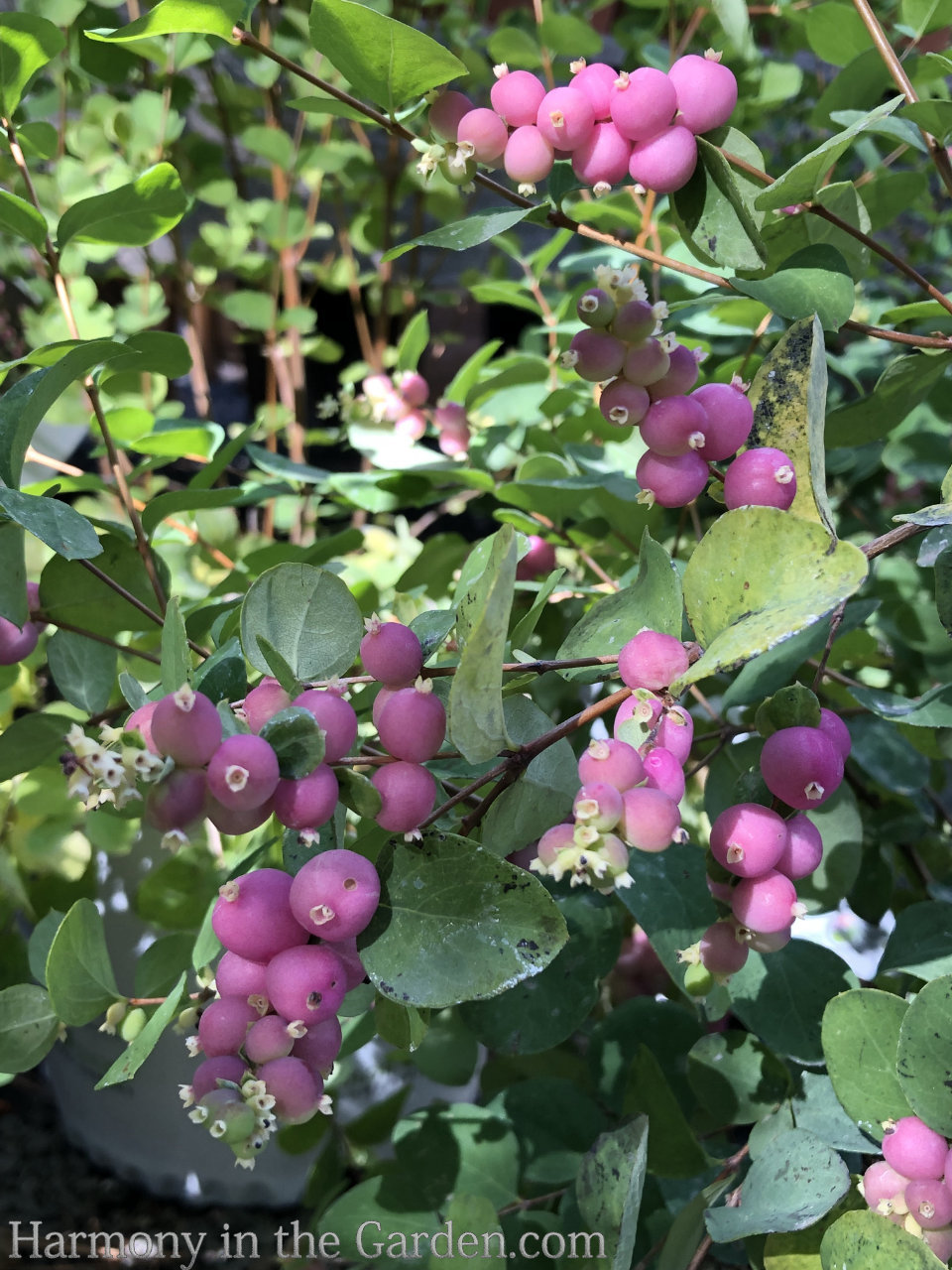 Symphoricarpos 'Proud Berry' (Snowberry), deciduous shrub, zones 3-7
While most of us have seen the white berries or the common snowberry (below), few have seen the hot-pink berries of 'Proud Berry'.
Growing to 4'x4′, the berries start out a soft pink blush color (below in our zone-6 Lake Tahoe garden) turning hot pink as fall arrives.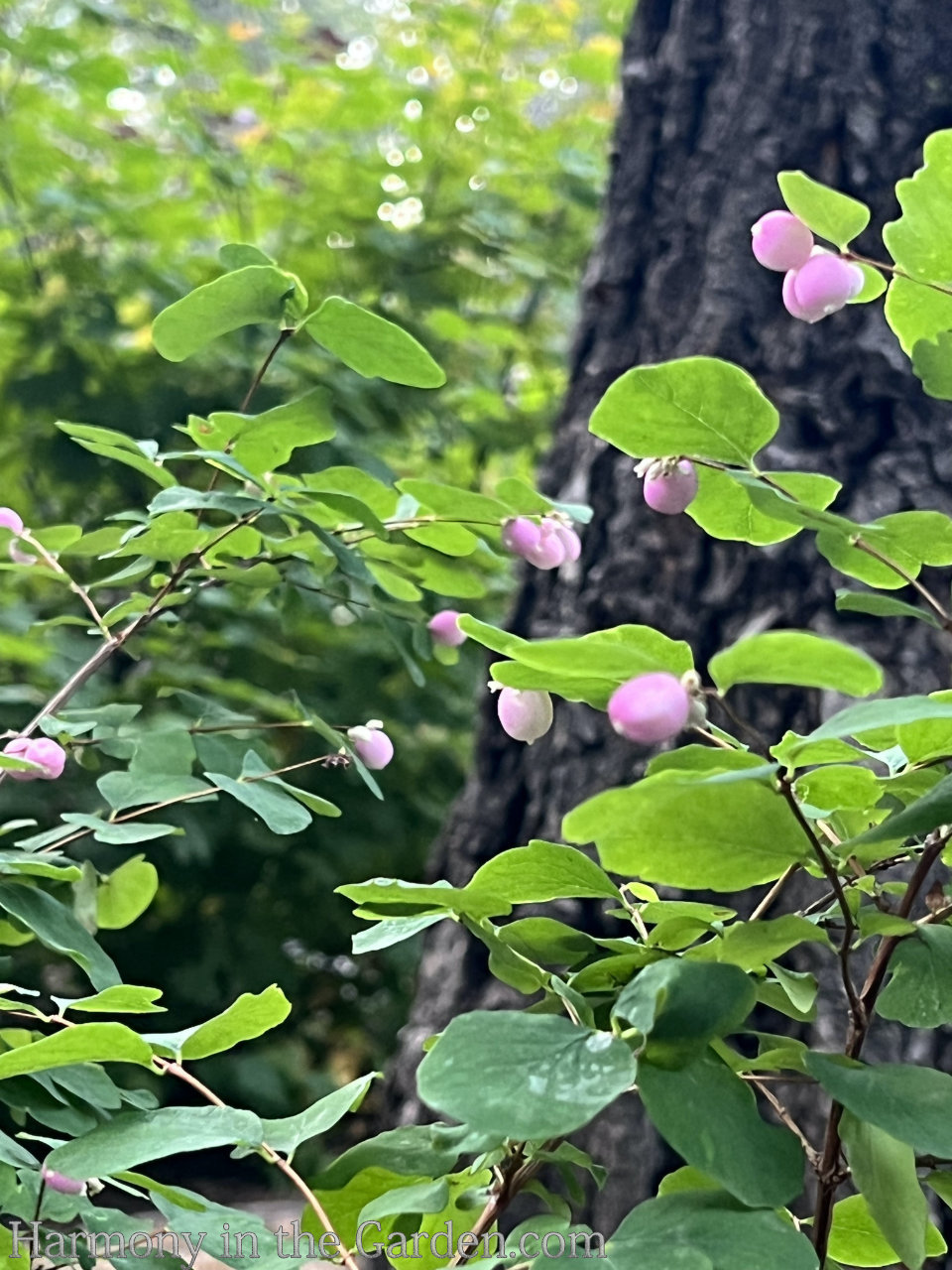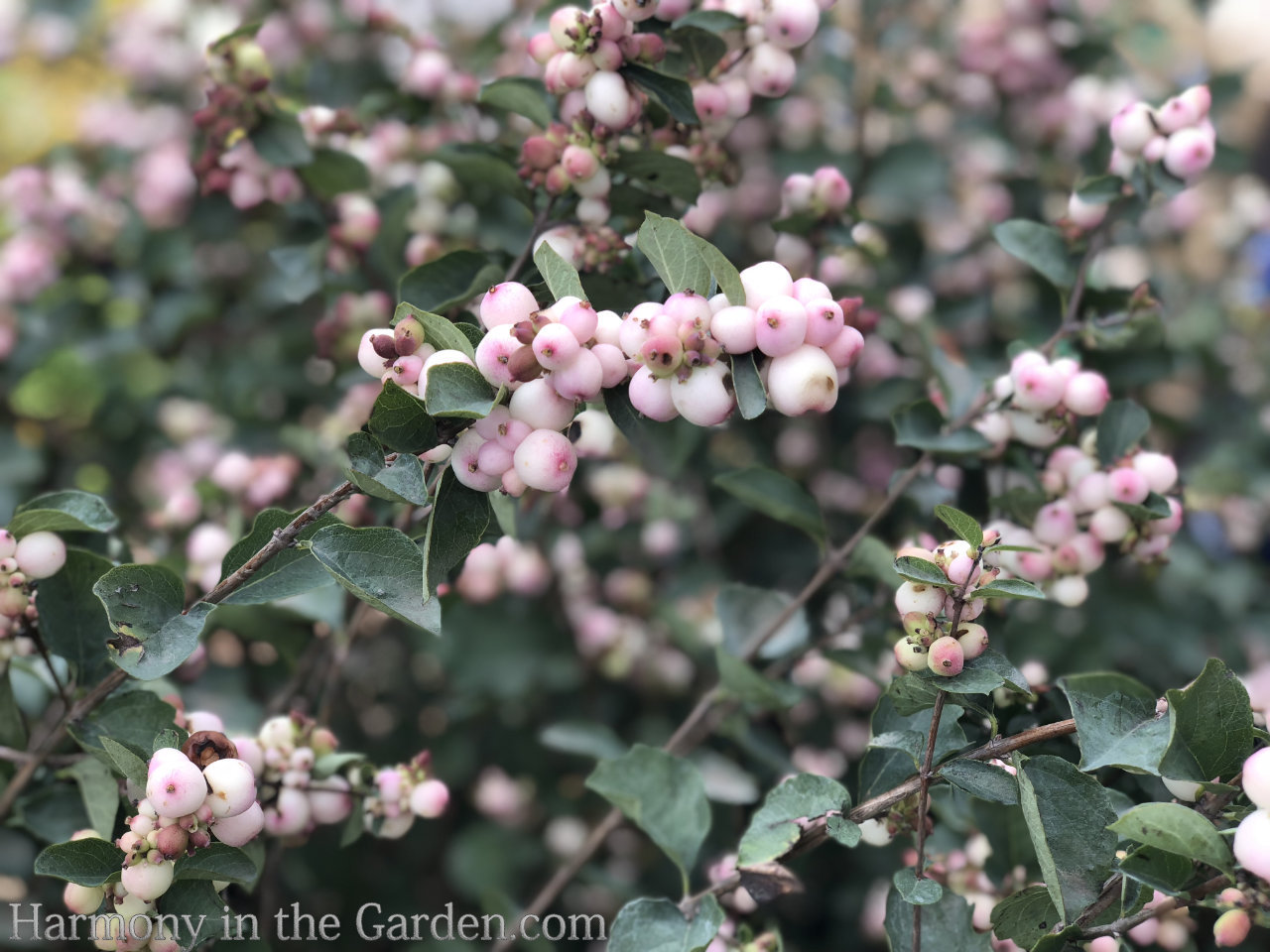 If hot pink isn't your thing, you might also consider the variety 'Charming Fantasy', with just a hint of pink.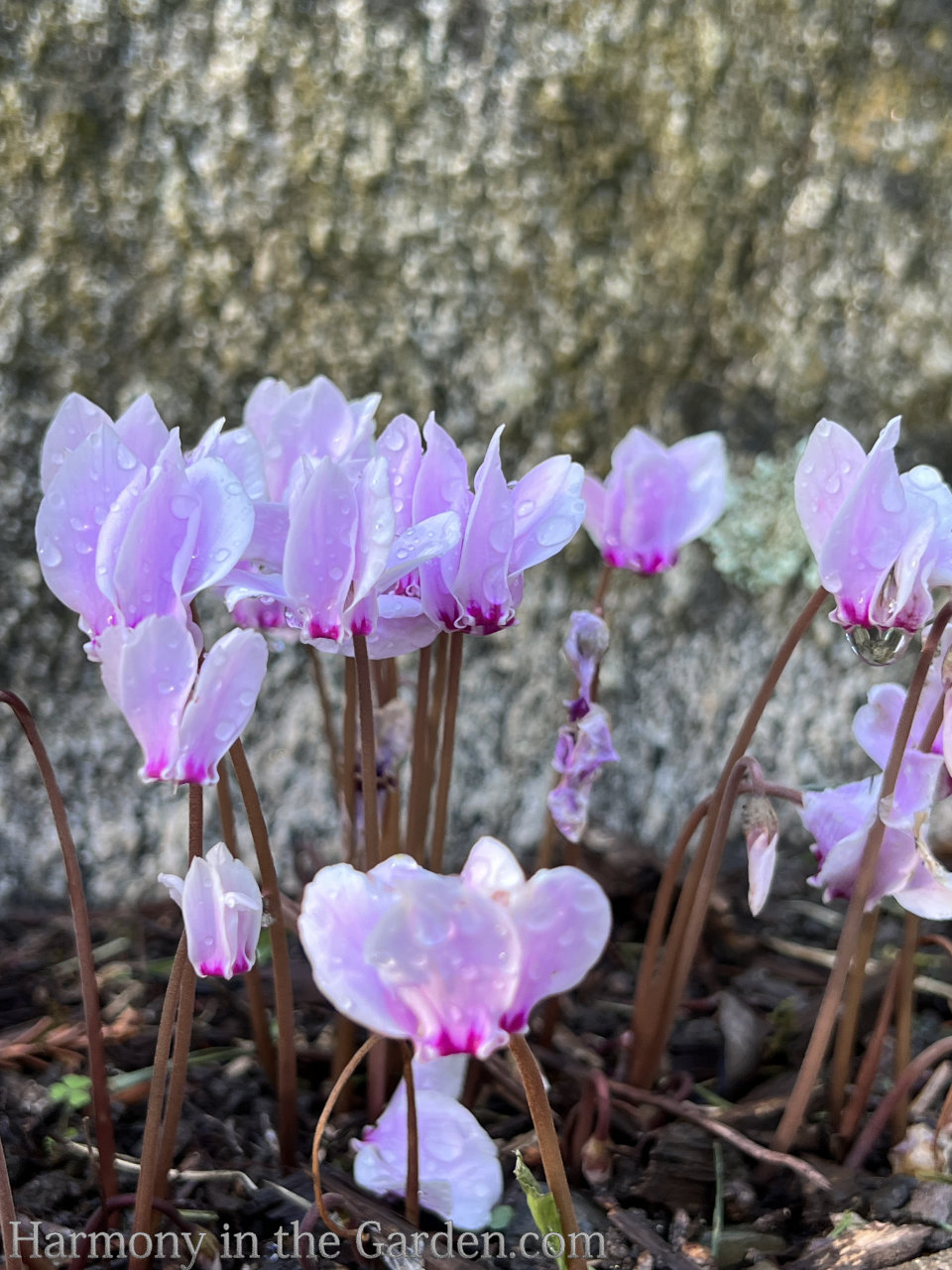 Cyclamen hederifolium (Ivy Leaved Cyclamen) zones 4-9, deer-resistant
The delicate pink flowers of the ivy-leaved cyclamen are always a welcome sight, signaling the beginning of fall. 
The flowers seem to appear overnight on 2-inch leafless stems, and even though it's still warm outside they let you know that fall is around the corner. 
Lasting for several weeks, the blooms are eventually joined by stunning ivy-shaped foliage, which helps to disguise their faded blooms and seed-heads.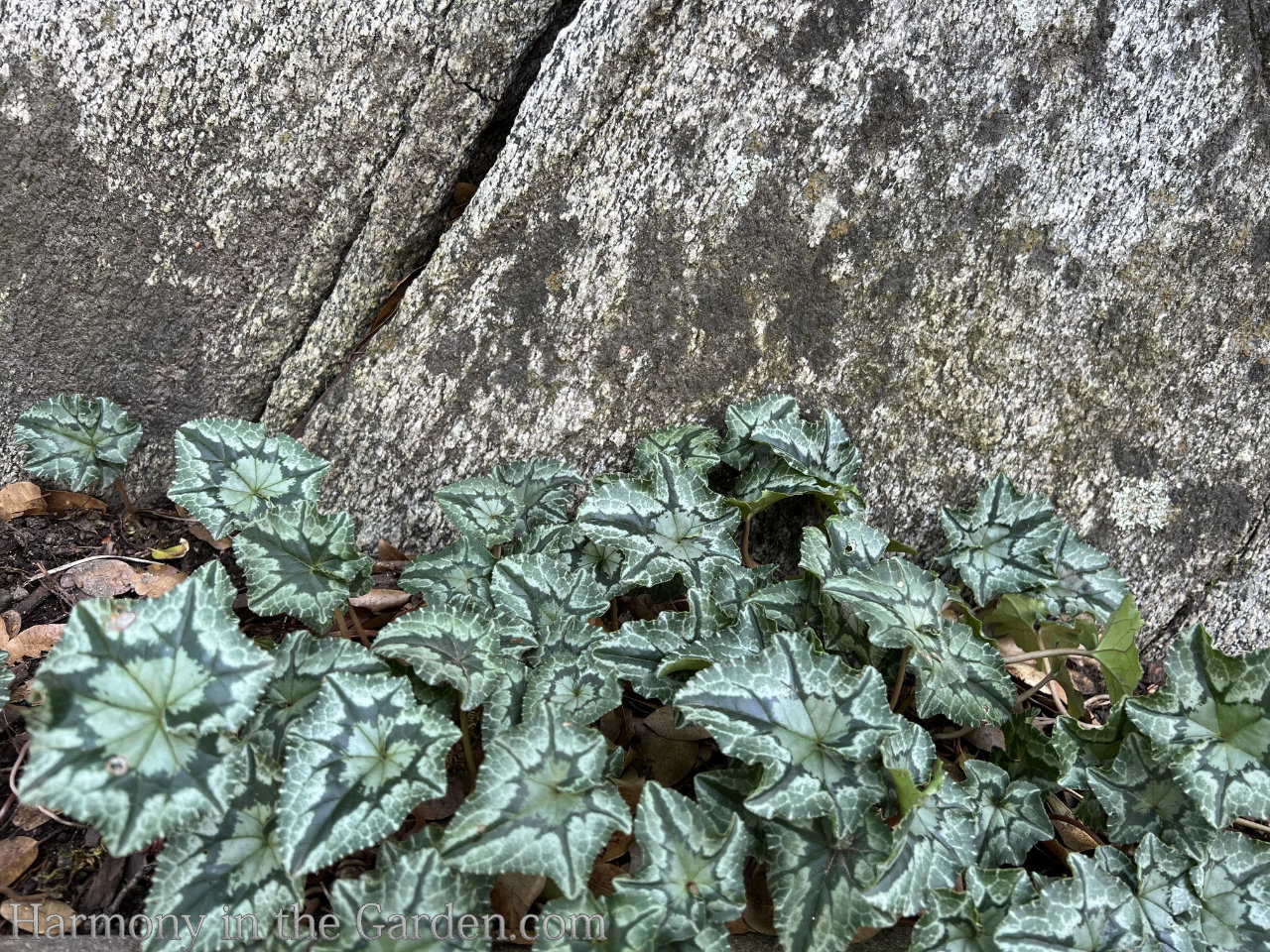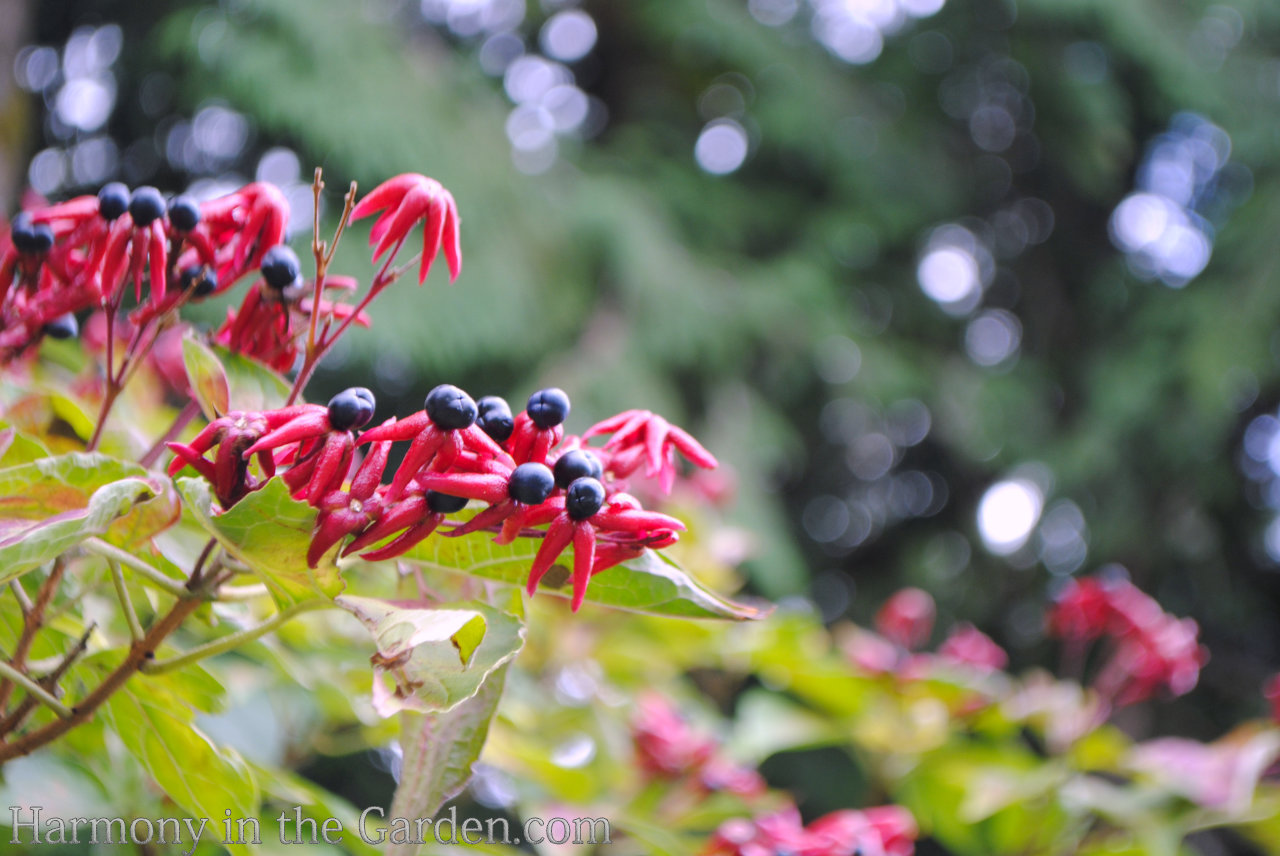 Clerodendrum trichotomum (Harlequin Glorybower) zones 7-9 
Spotted at the Bellevue Botanical Garden, is this gorgeous, large deciduous shrub/small tree, growing to 20'x20.' 
In the late summer thru fall, its fragrant white flowers completely transform into a conversation piece to be sure.  Looking like a jester's hat, the metallic blue berries are surrounded by raspberry-pink calyces.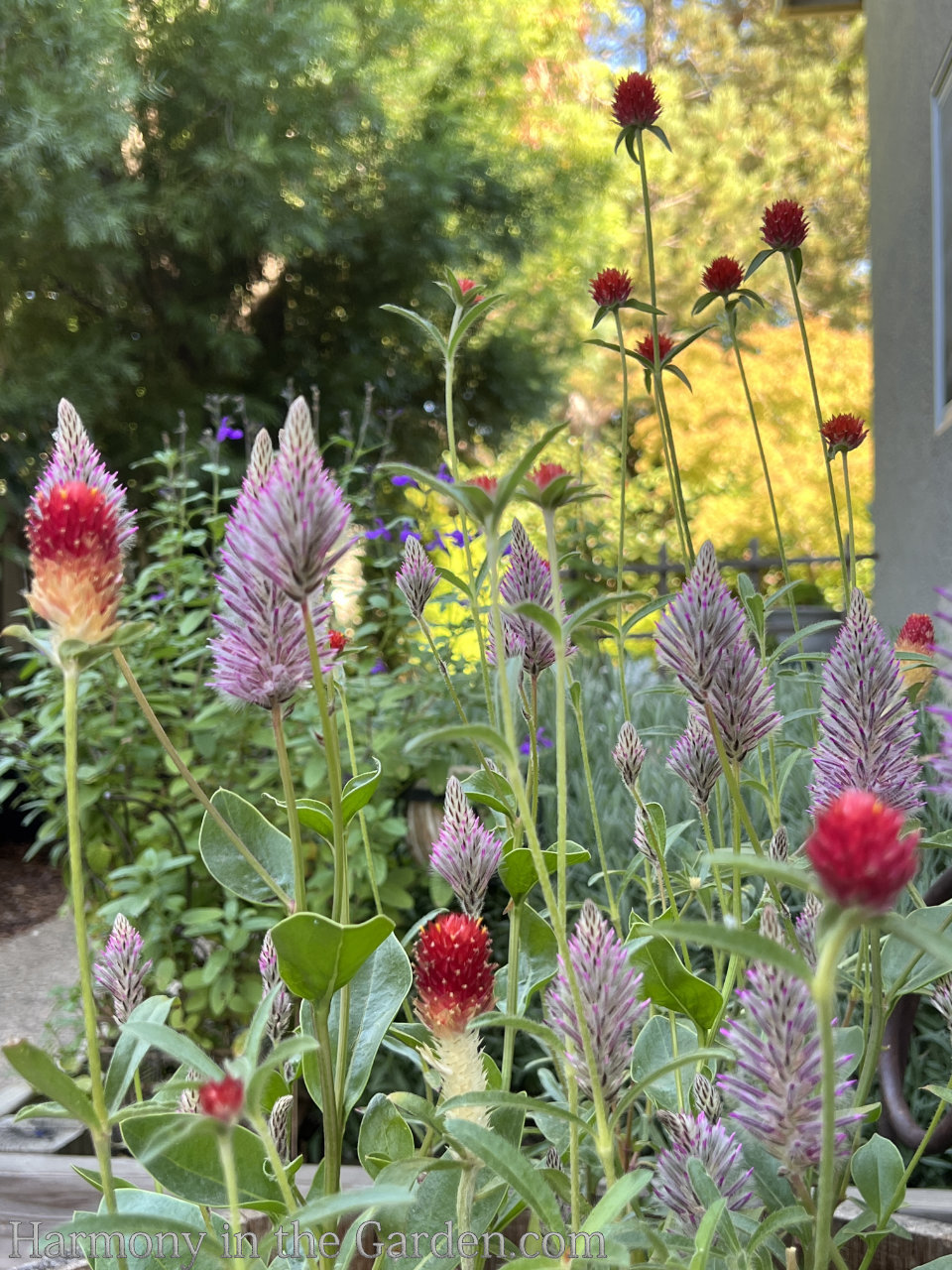 Ptilotus 'Joey' (Mulla Mulla) annual
This is a fantastic combination of annuals, the feathery pink wands of ptilotus and the round balls of gomphrena 'Strawberry Fields.'
I'm not only a fan of the textures and colors, but of the contrasting shapes, as well.
Depending on the lighting, the ptilotus has shades of lavender or rose with tips of hot pink.
The flowers last for well over 6-weeks, from mid-summer until the first frost.
To see how I've used ptilotus in the past in my window box design, click here.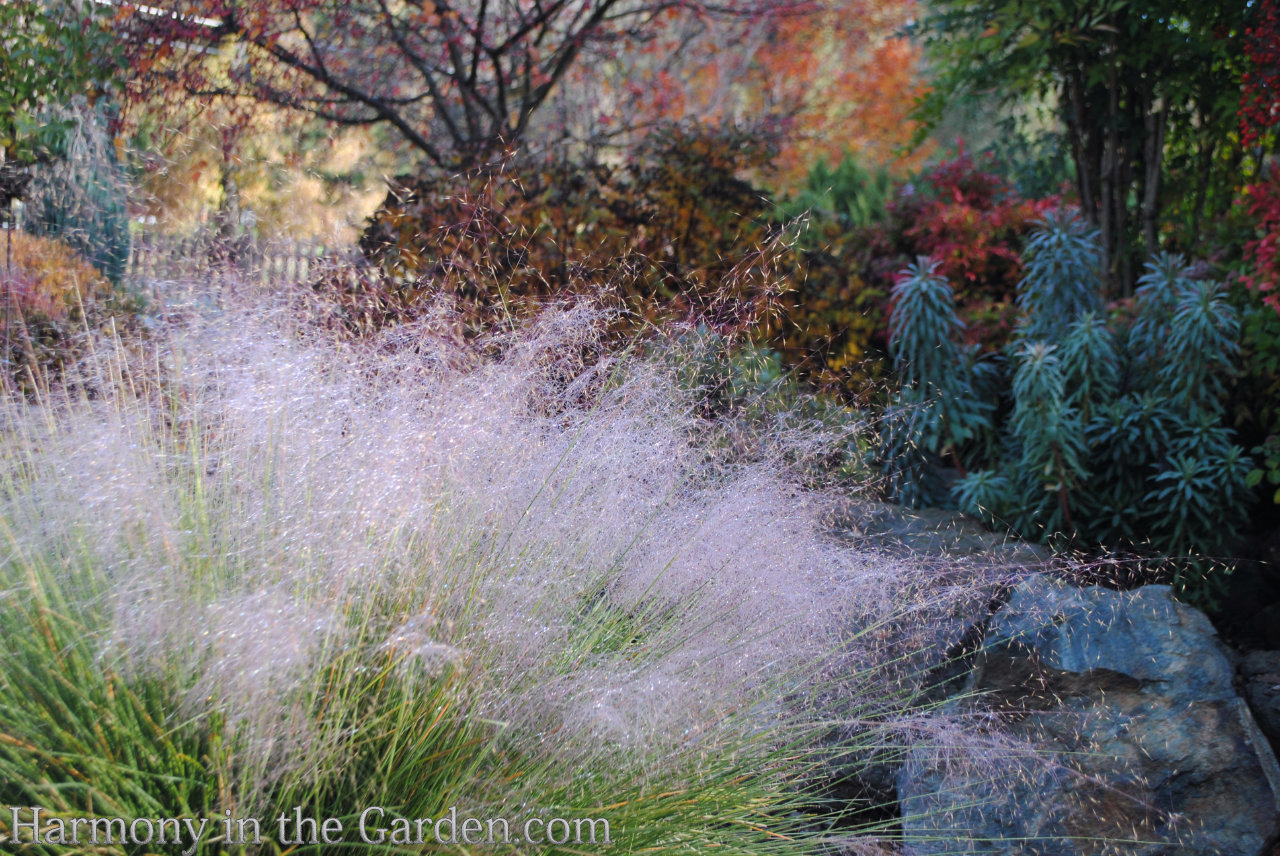 Muhlenbergia capillaris (Pink mulhy grass)  zones 6-10
This North American native grass shines brightest in fall when covered with a soft mist of pink plumes. 
It's well worth the wait for gardeners who might grow weary of its dull green appearance throughout the summer!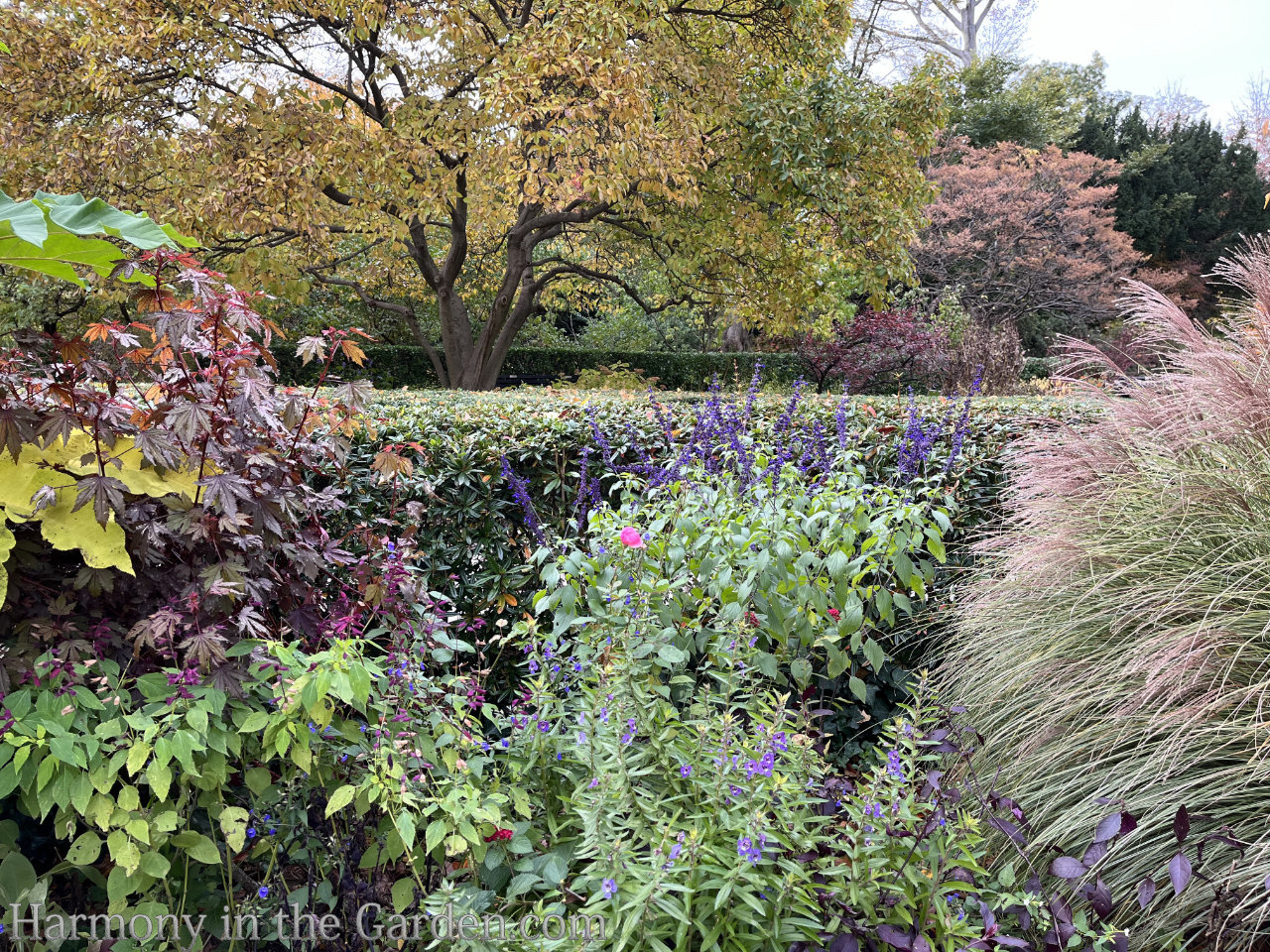 Miscanthus chinenses 'Gracilliumus' (Chinese Silver Grass) zones 5-9
I chose this photo to highlight the pink inflorescens of this Chinese Silver Grass (on the far right of the photo) to illustrate just how amazing the color looks with nearby fall tones of burgundy and gold.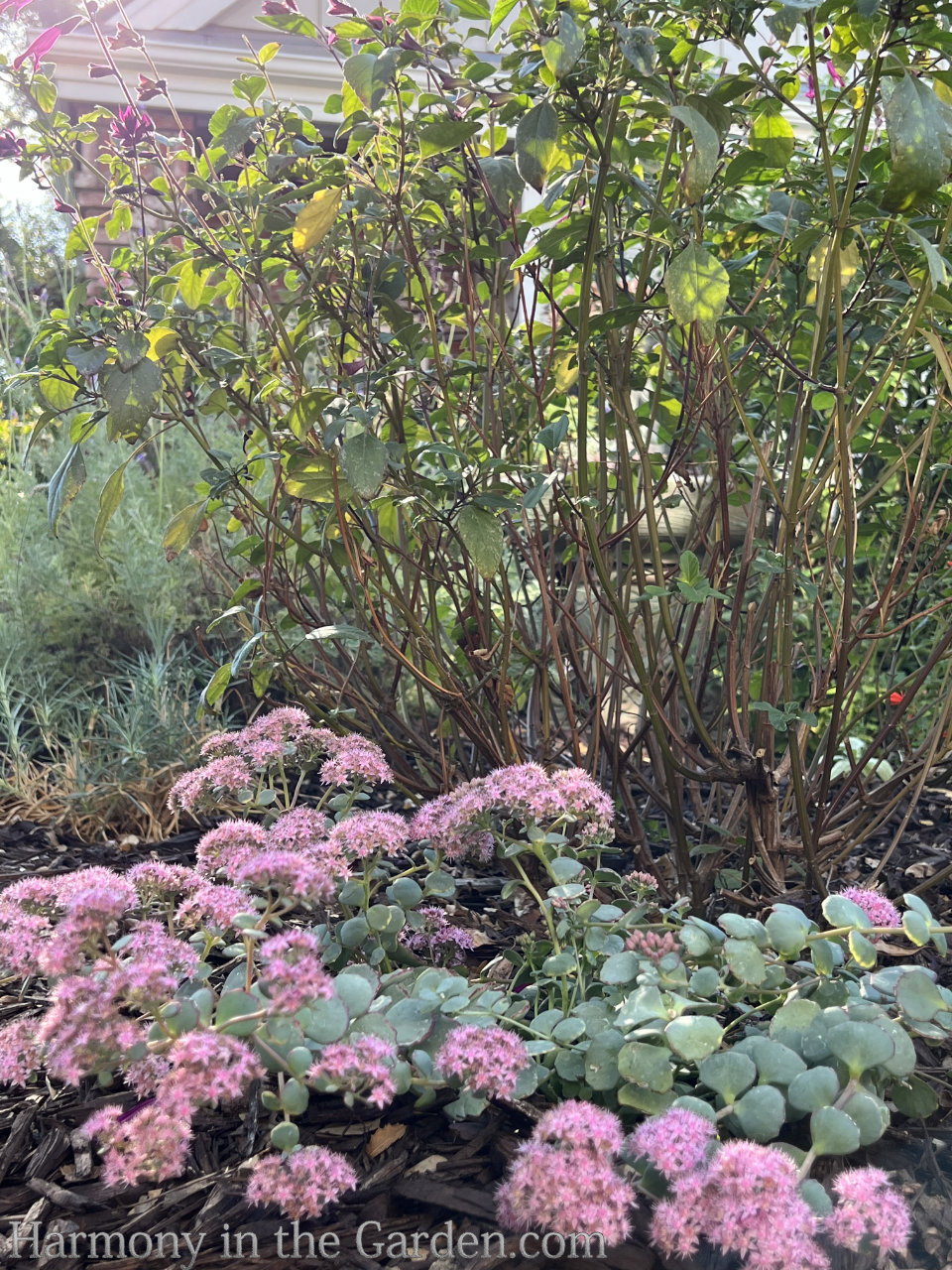 Hylotelephium seiboldii (October Daphne) zones 3-9
Growing to just 6″ high, this lovely little sedum ground cover is perfect for growing under plants or draping over a container.
Starting in October, each round gray leaf is edged in maroon, with a burst of bright pink at the end of each stem.
And as you can see, the bees adore this plant!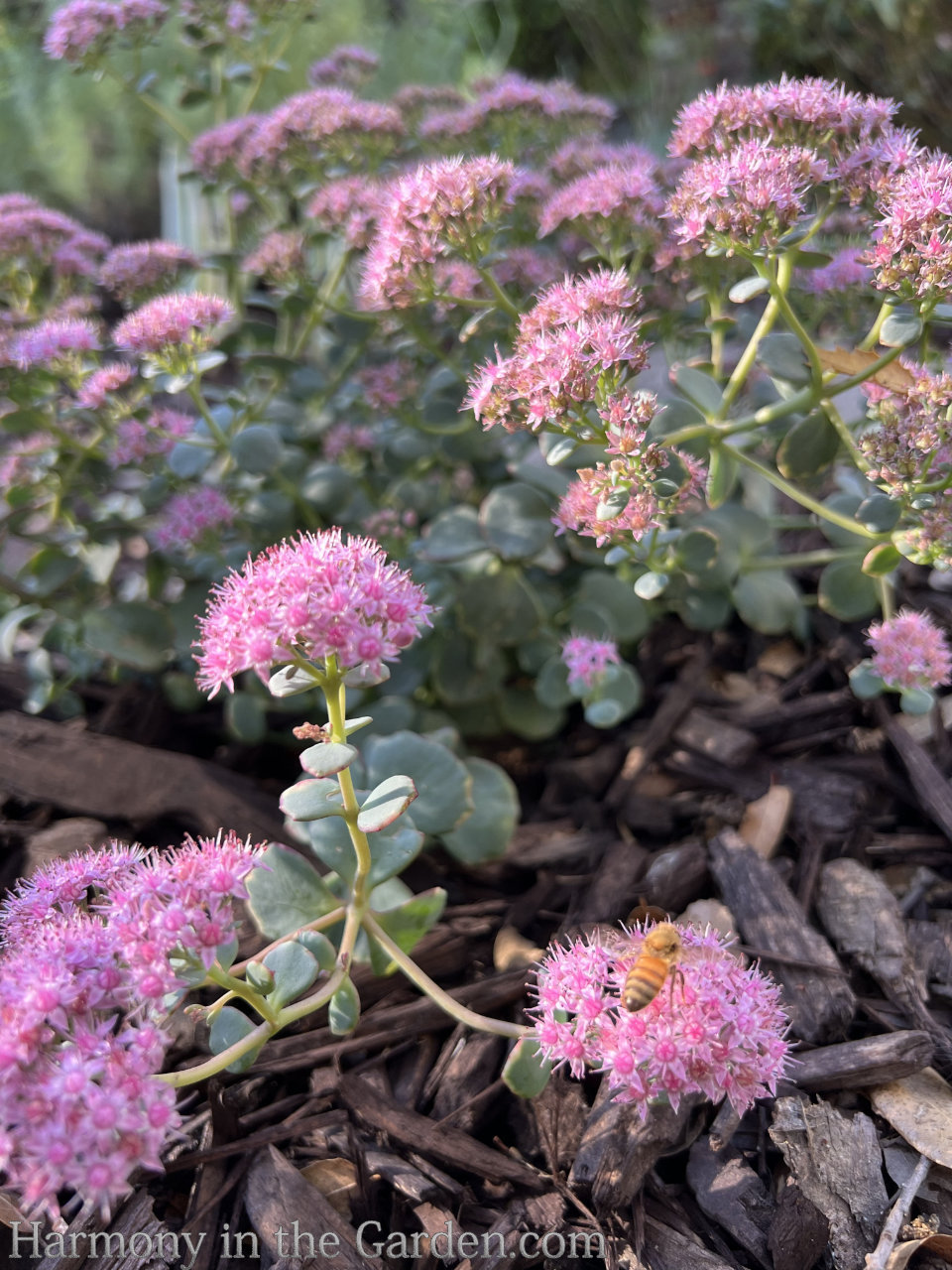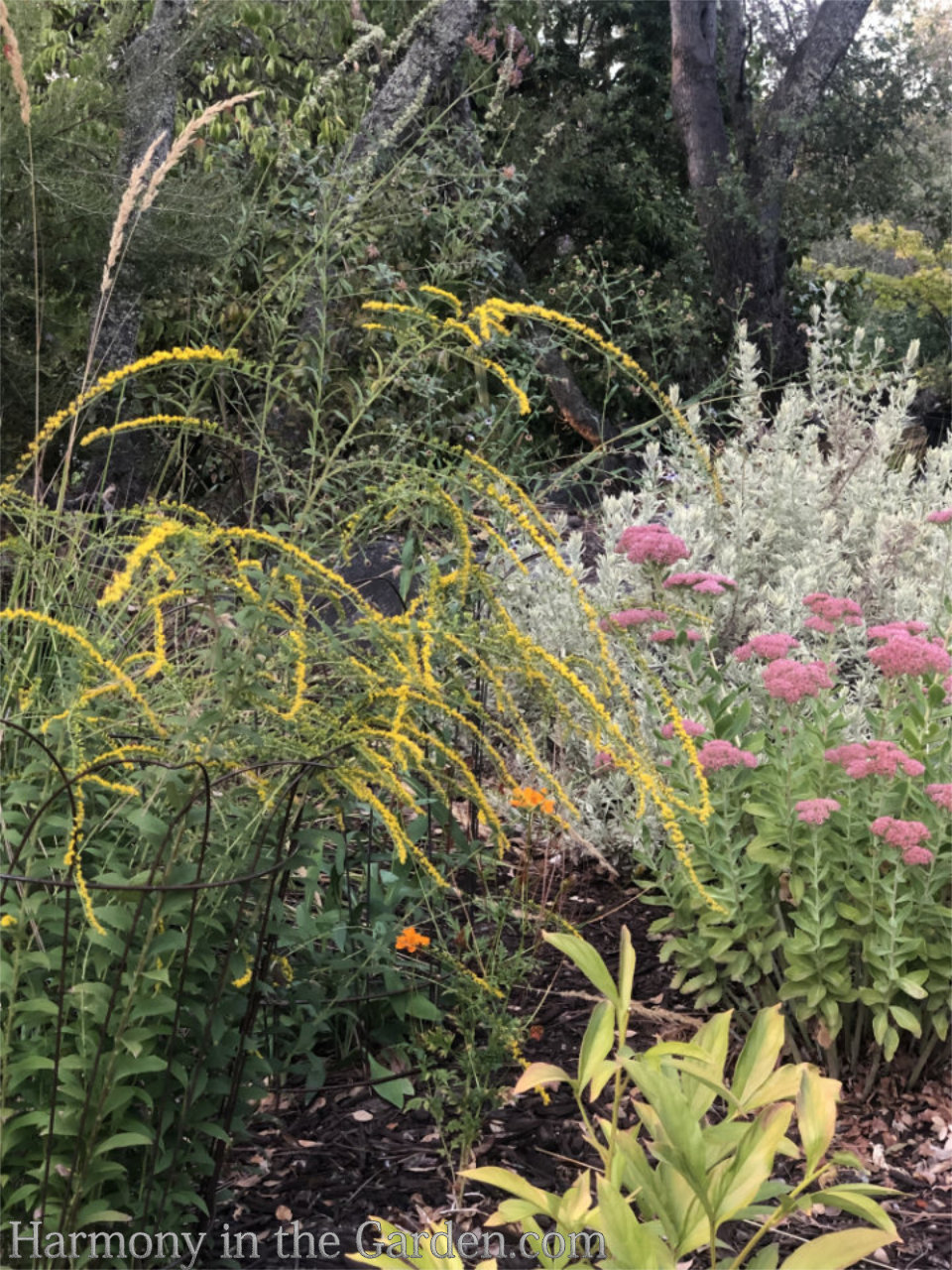 Hylotelephium 'Autumn Joy'zones 3-9
Here's another cold-hardy sedum (yes, I still call them sedums though I'm trying to get into the habit of calling them by their new name hylotelephium.)
'Autumn Joy' is a clue as to when it blooms, though honestly it's usually closer to mid- summer. 
However, the blooms last forever (well, at least until November) starting out in shades of bright pink, slowly turning to dusky rose.
This is one of my go-to plants as its 2'x2′ size makes it ideal for the front or middle border, it's very drought-tolerant, and the deer and rabbits leave it alone.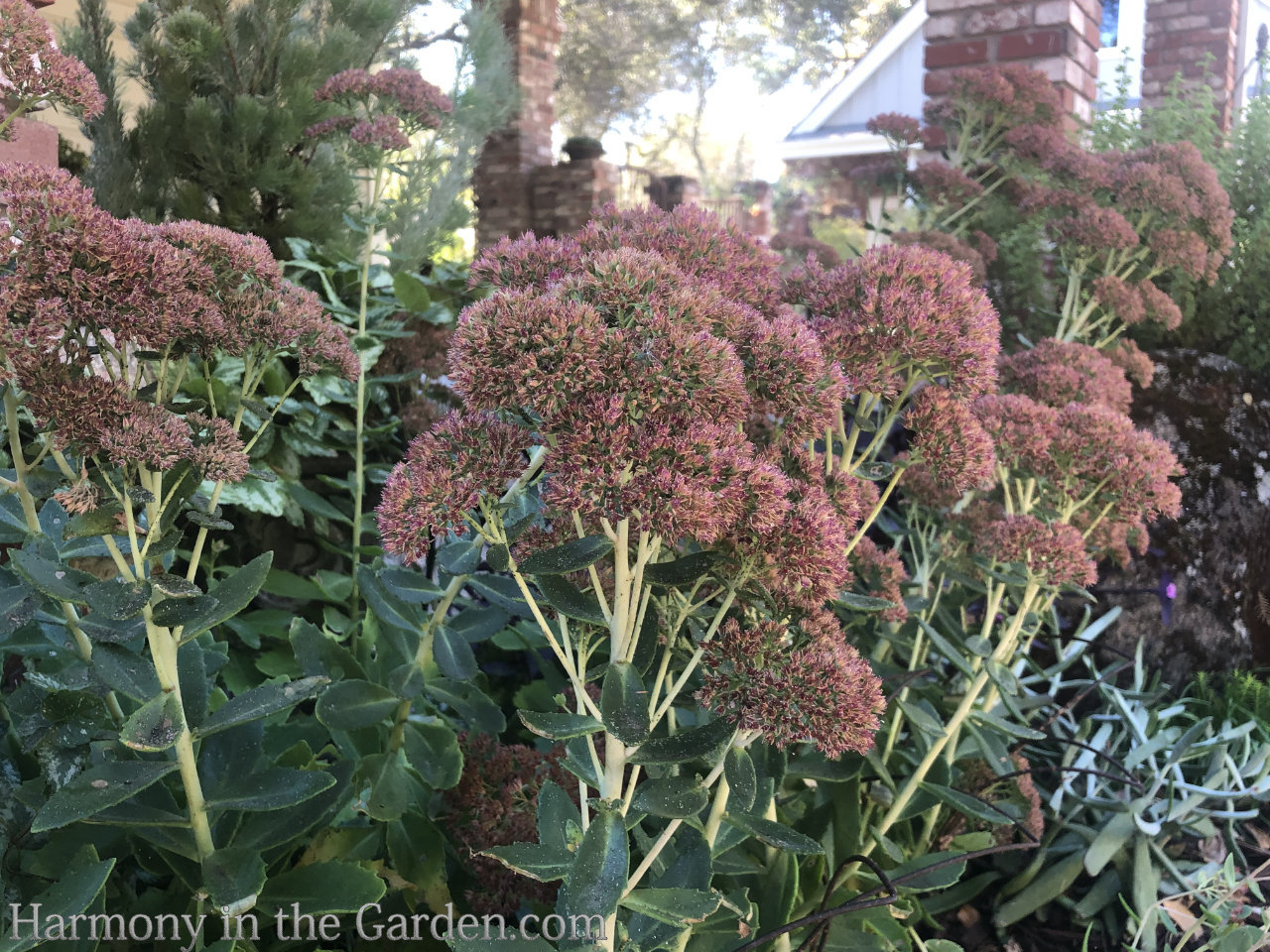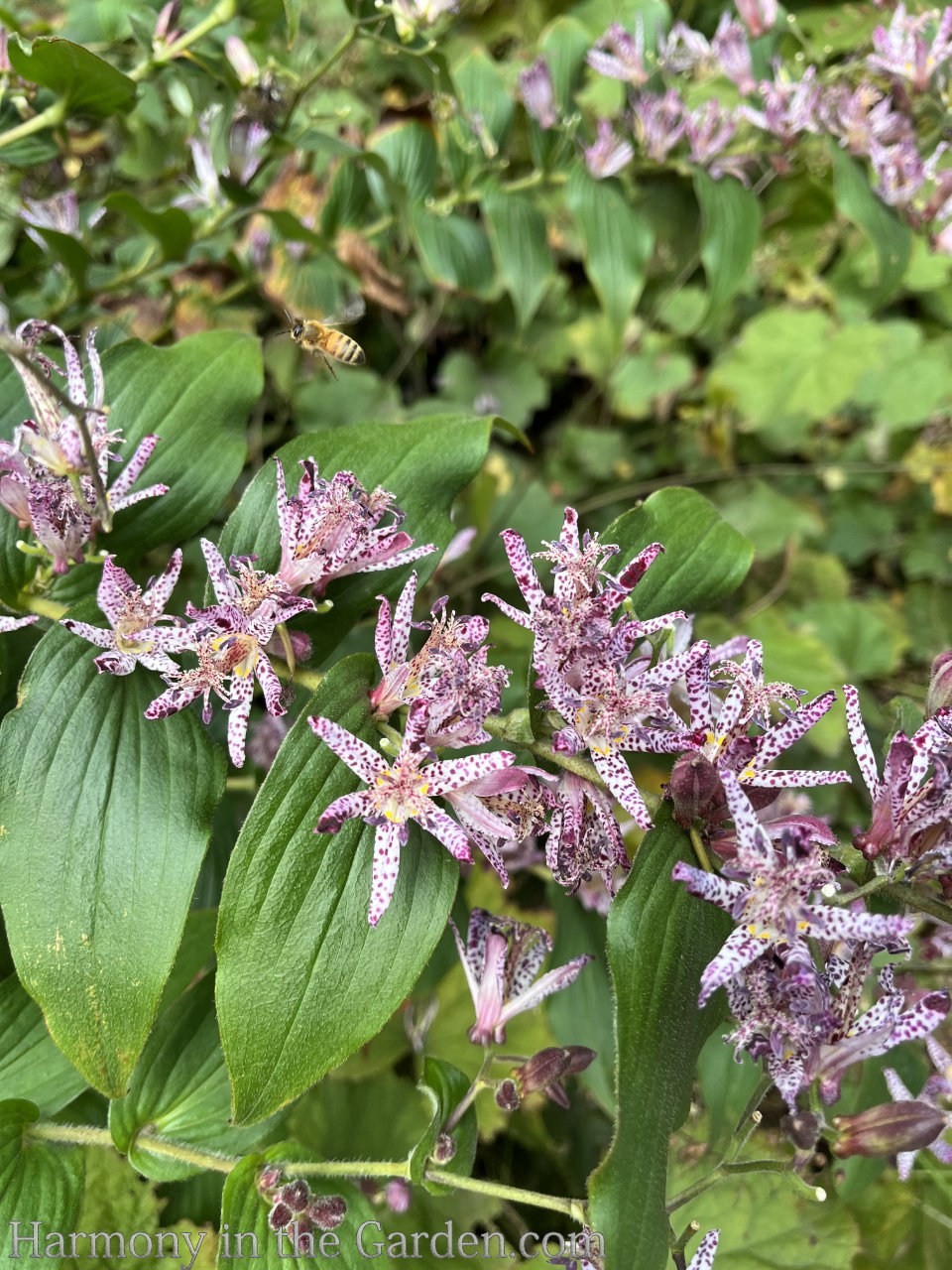 Tricyrtis hirta (Toad lily) zones 3-8   
While visiting the High Line in the fall, I spotted this gorgeous 3'x2' perennial, looking like little orchids you might see blooming in the spring!
I wondered why it was called 'toad lily' and found this: the flowers & leaves are spotted like a toad.  Also the flowers have warty bumps at their base.
Click here for more fall color from this iconic garden.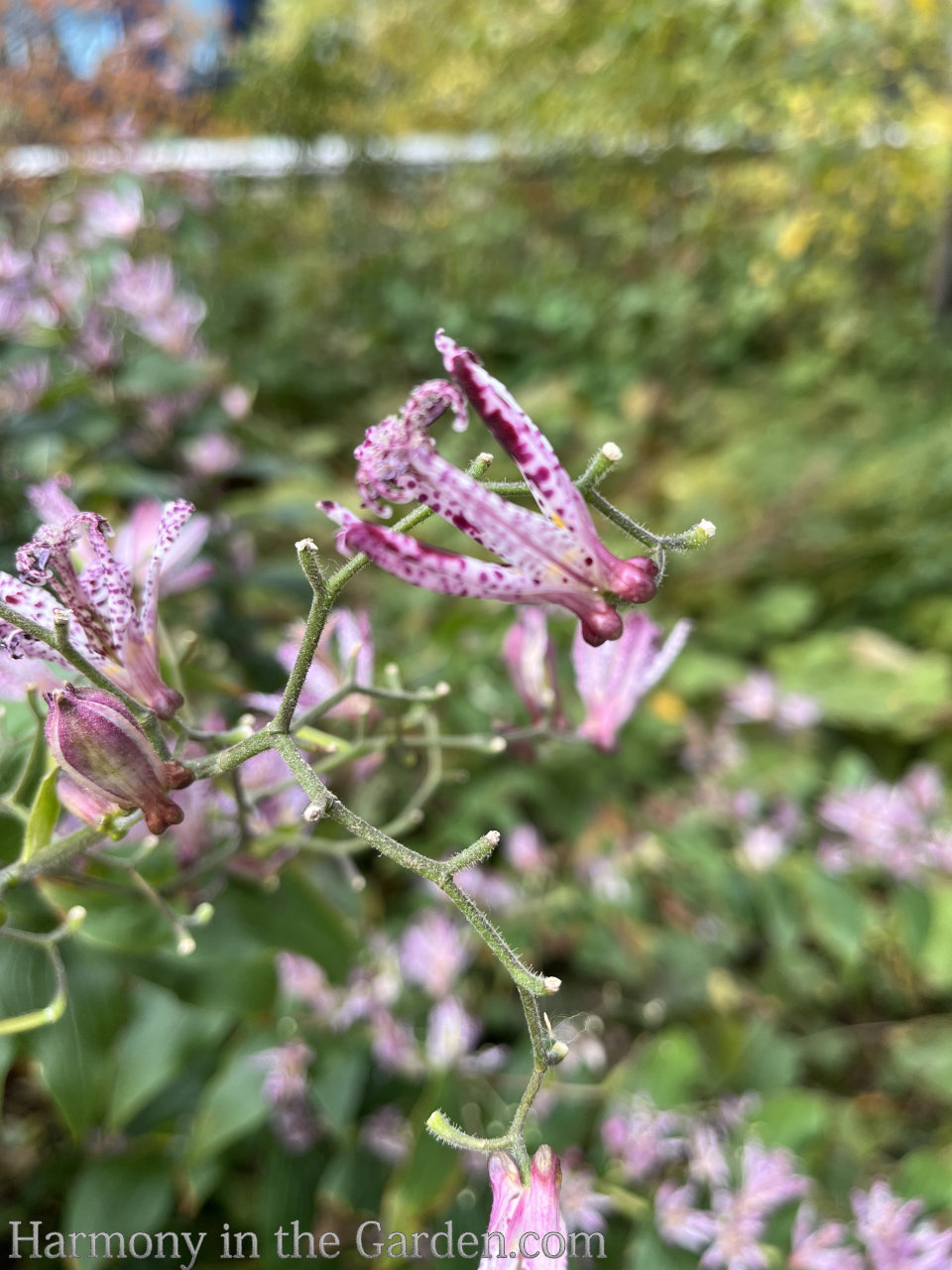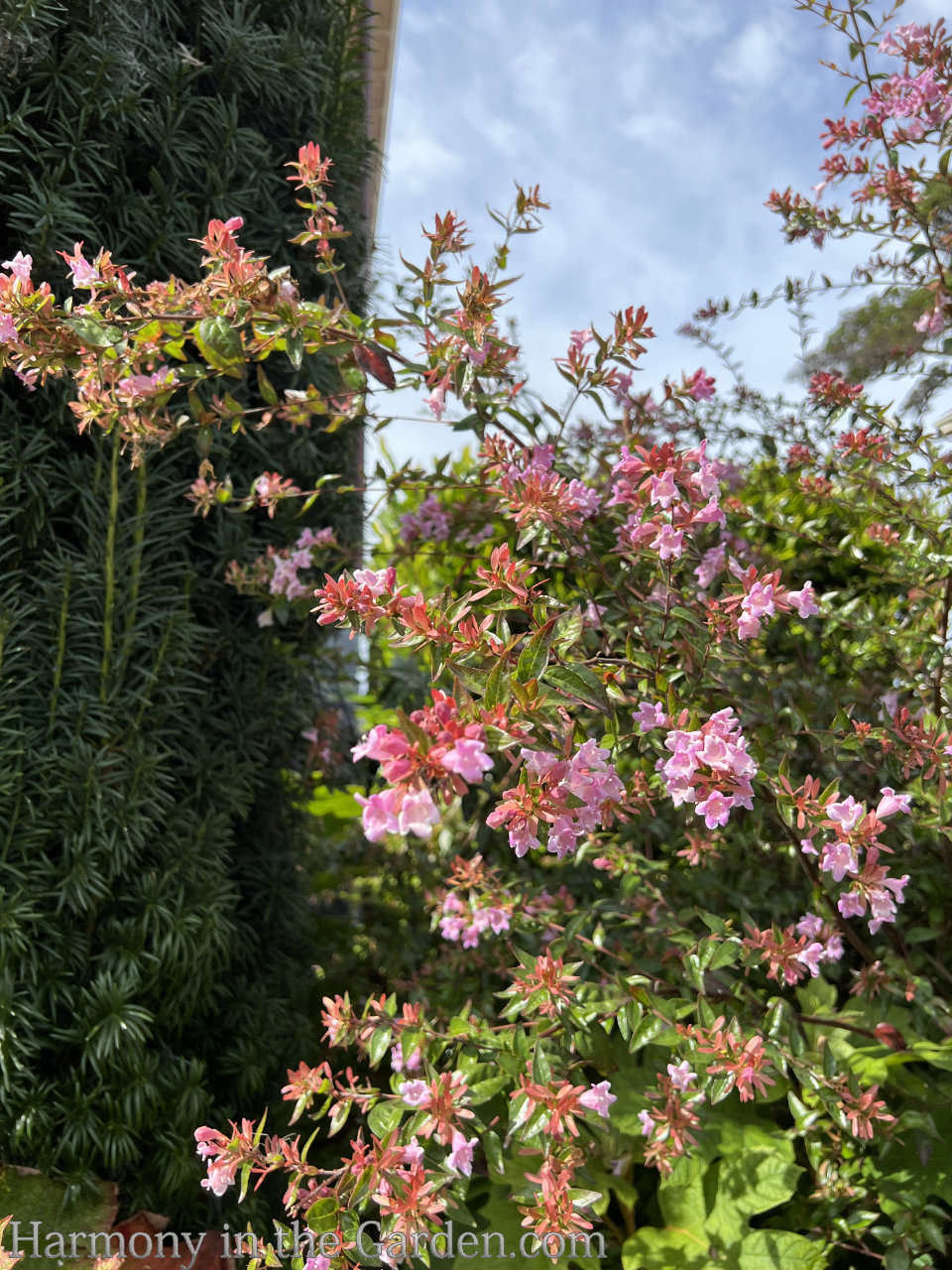 Abelia chinensis 'Edward Goucher'  zones 6-9  
This is NOT your ordinary abelia! 
For one, it's a semi-dwarf variety growing to 4'x4′ (many other varieties grow to unruly huge sizes.)
It's also covered in bright pink bell-shaped floweres in the fall (whereas most other varieties have white flowers.) 
As if that wasn't enough, after the rosy flowers fall, the bronze-tipped calyces remain in place, echoing the fall bronze foliage.
AND – hummingbirds and pollinators love it while repelling deer.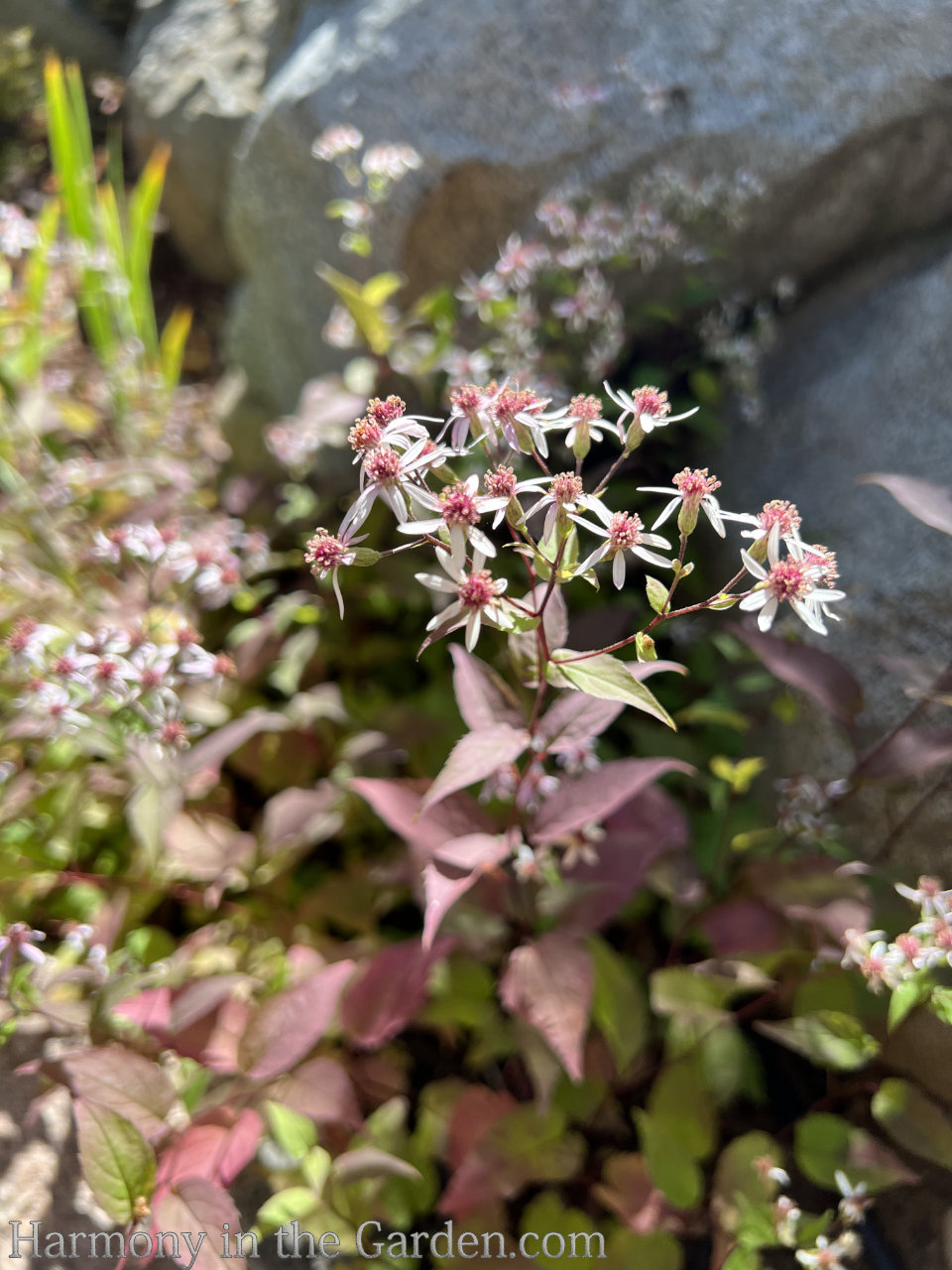 Aster divaricatus (Wood Aster) zones 3-9
This is my favorite ground cover aster, perfect for cascading down a rock wall or growing at the front of the border.
The Wood Aster prefers shade, with a bit of morning sun to encourage blooms.
And while the tiny flowers begin blooming in mid-summer, the cooler temperatures of fall paint them with a hint of soft pink (perfect for echoing the fall colors of its leaves!)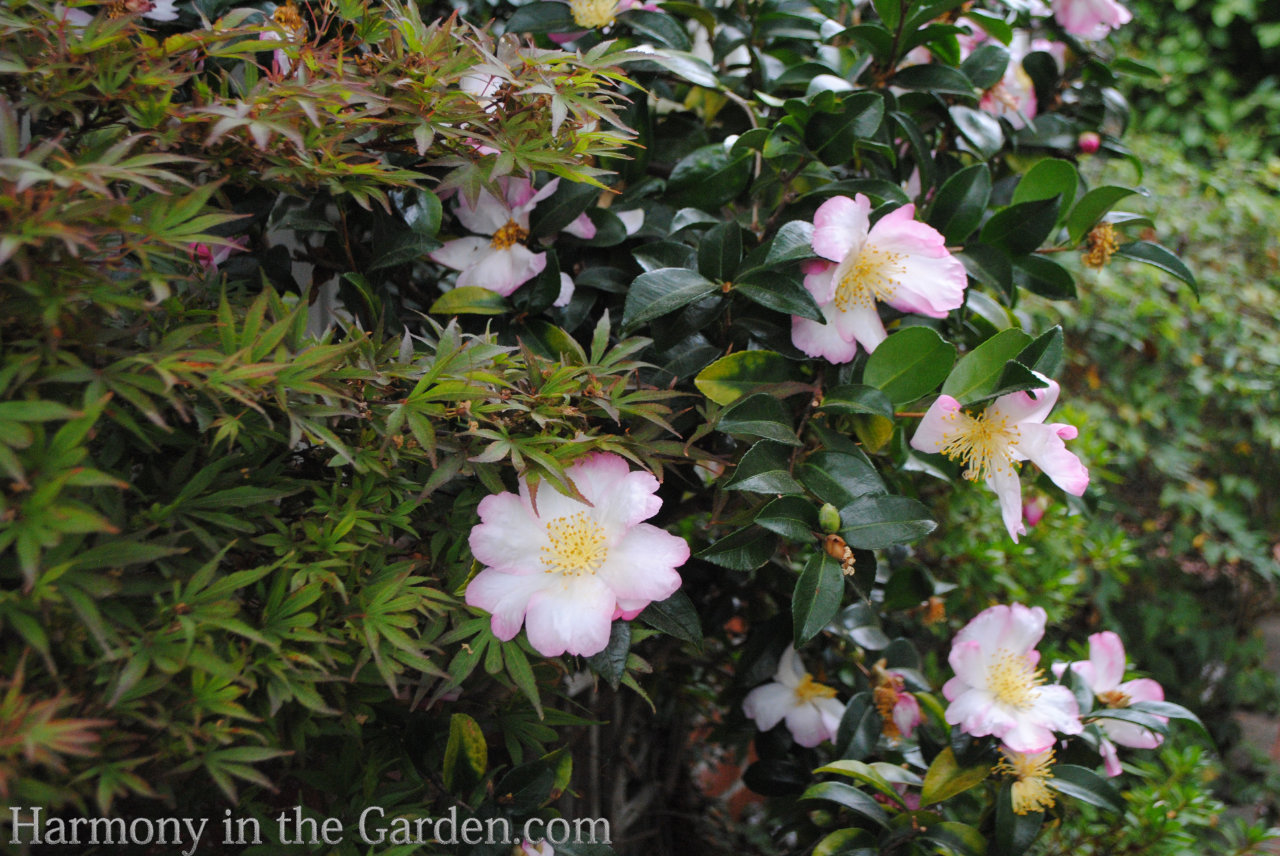 Camellia sasanqua 'Apple Blossom' zones 7-10
I've written a lot about my love of camellias (click here to see more.)
The sasanqua varieties are single-petaled camellias (versus the japonicas which often have full, double blooms.)
The sasanquas also often begin blooming as early as September, lasting through November.
 'Apple Blossom' is a creamy white flower edged in pale pink, resembling its namesake.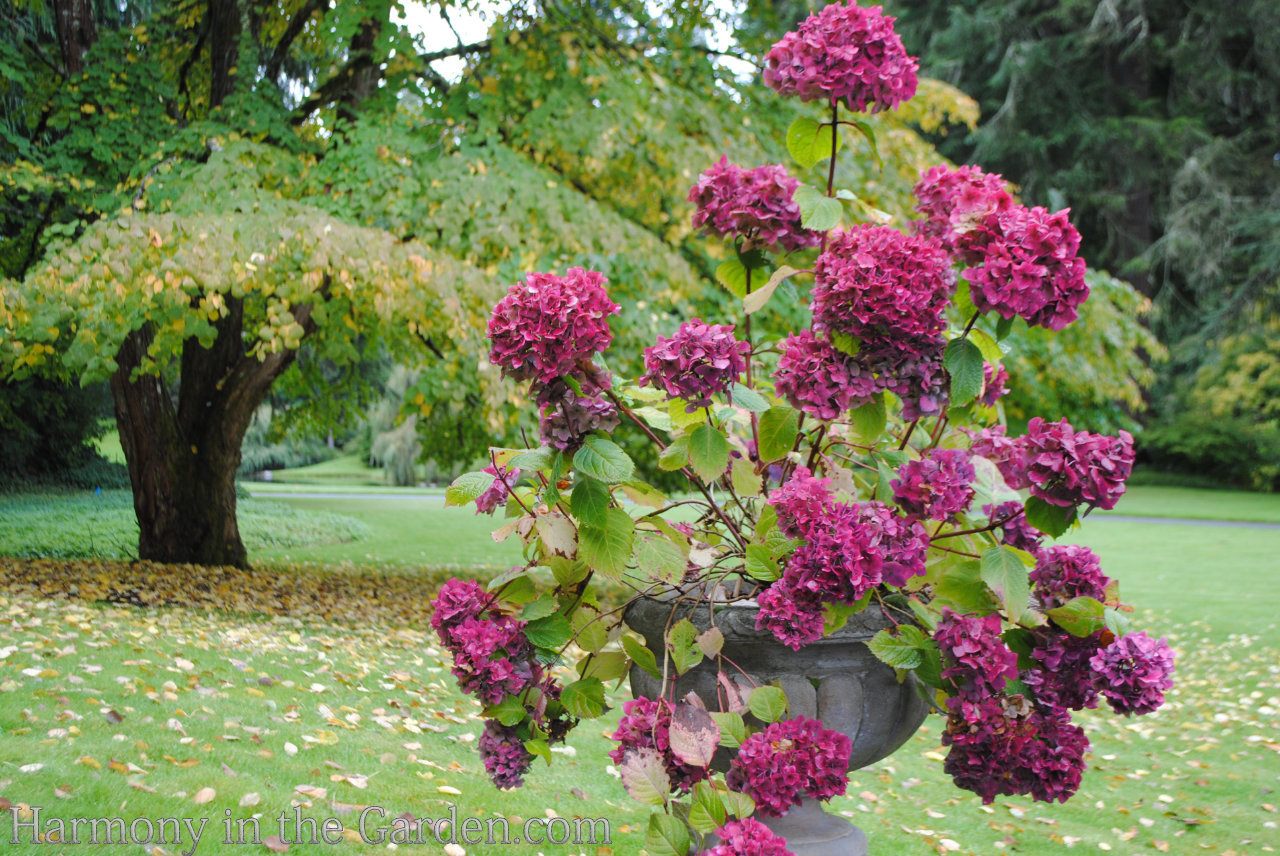 Don't be so quick to prune fading hydrangea blooms, as many varieties often transform into lovely shades of pink, lasting for weeks at a time before finally turning tan.
Here's a color wheel tip:
Complementary colors are those opposite one another on the color wheel.  Take a look at pink on the color wheel at the top of this post, and you'll see that green is located directly opposite.
Complementary colors add a punch of excitement to the garden, as demonstrated by the bright pink colors of the fall hydrangea which are surrounded with lots of green.  The opposite of muted, right?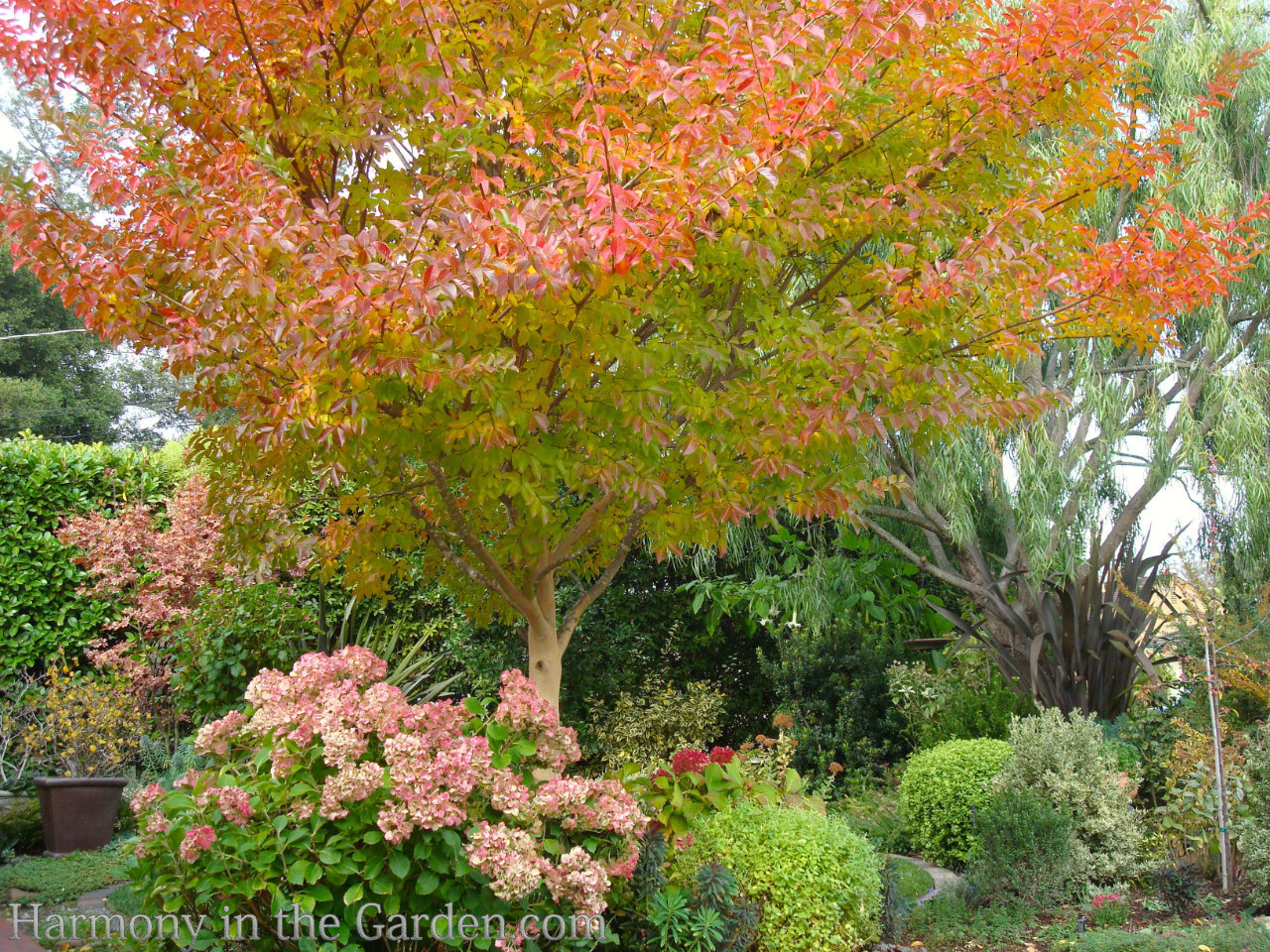 One more color wheel tip:
Since the color pink is often a softer version of red, it can help reduce the intensity of many eye-popping fall combinations. 
In this example, the fading fall blooms of the hydrangea are much softer pink than the one above, and help to reduce the intensity of the vibrant yellow and red pistache tree.
And finally, I wanted to quickly list below a few 'honorable mentions' of the pink plants that I used in the very first photo of the color wheel.  They're all blooming right now (mid-October) in my zone-9 garden in various shades of pink.
I'd love to know what pink flowers are blooming in your fall garden right now?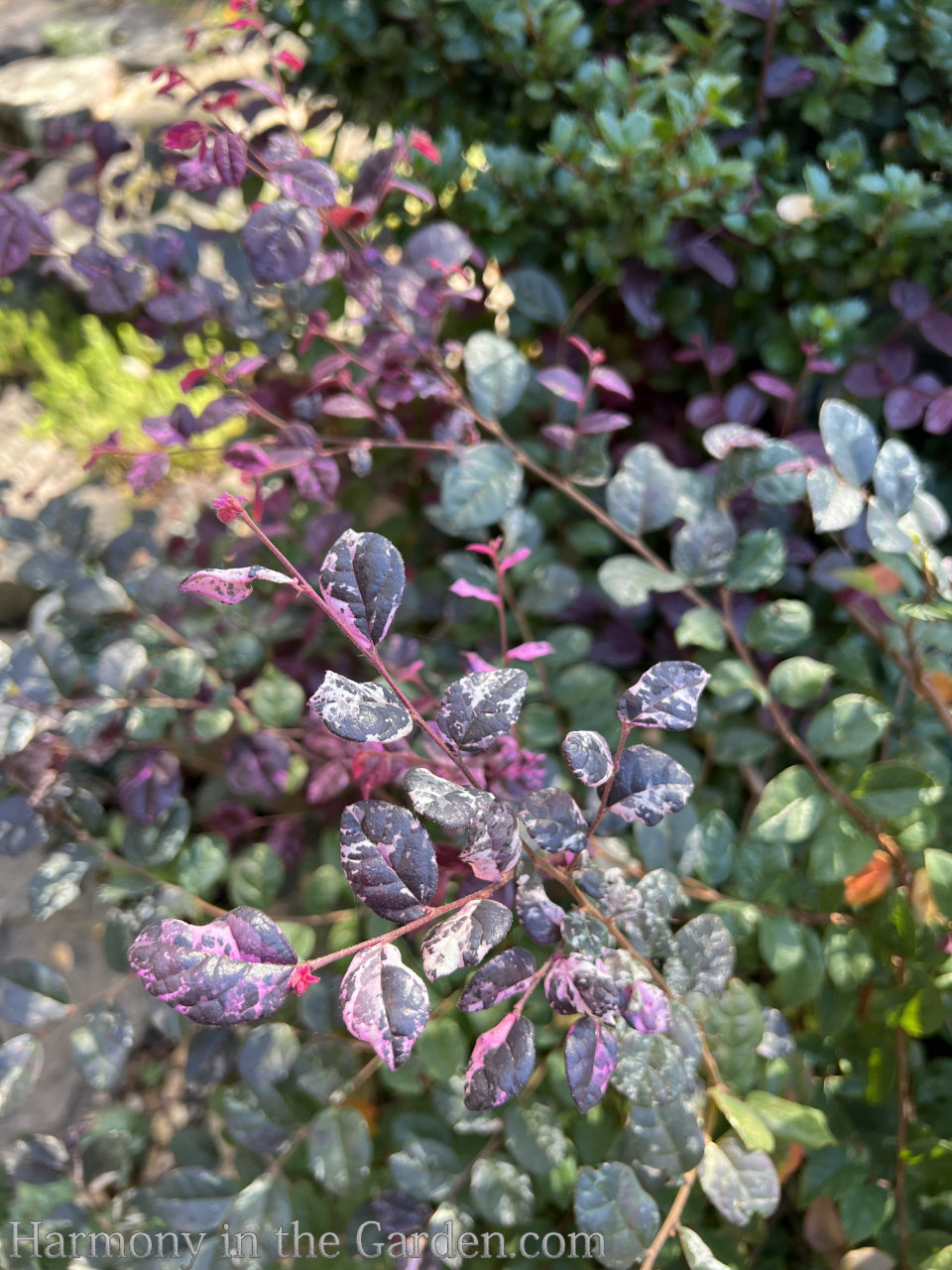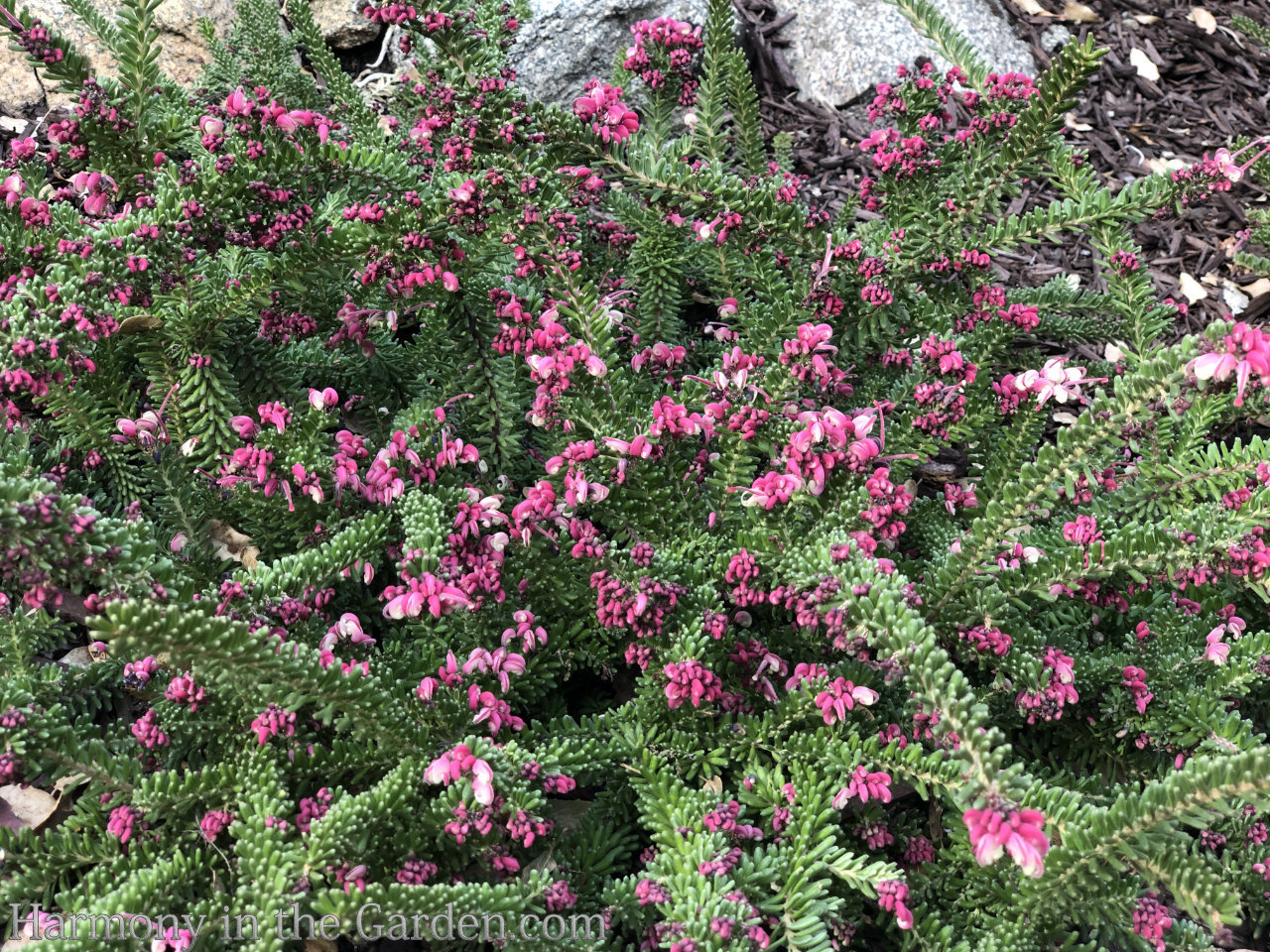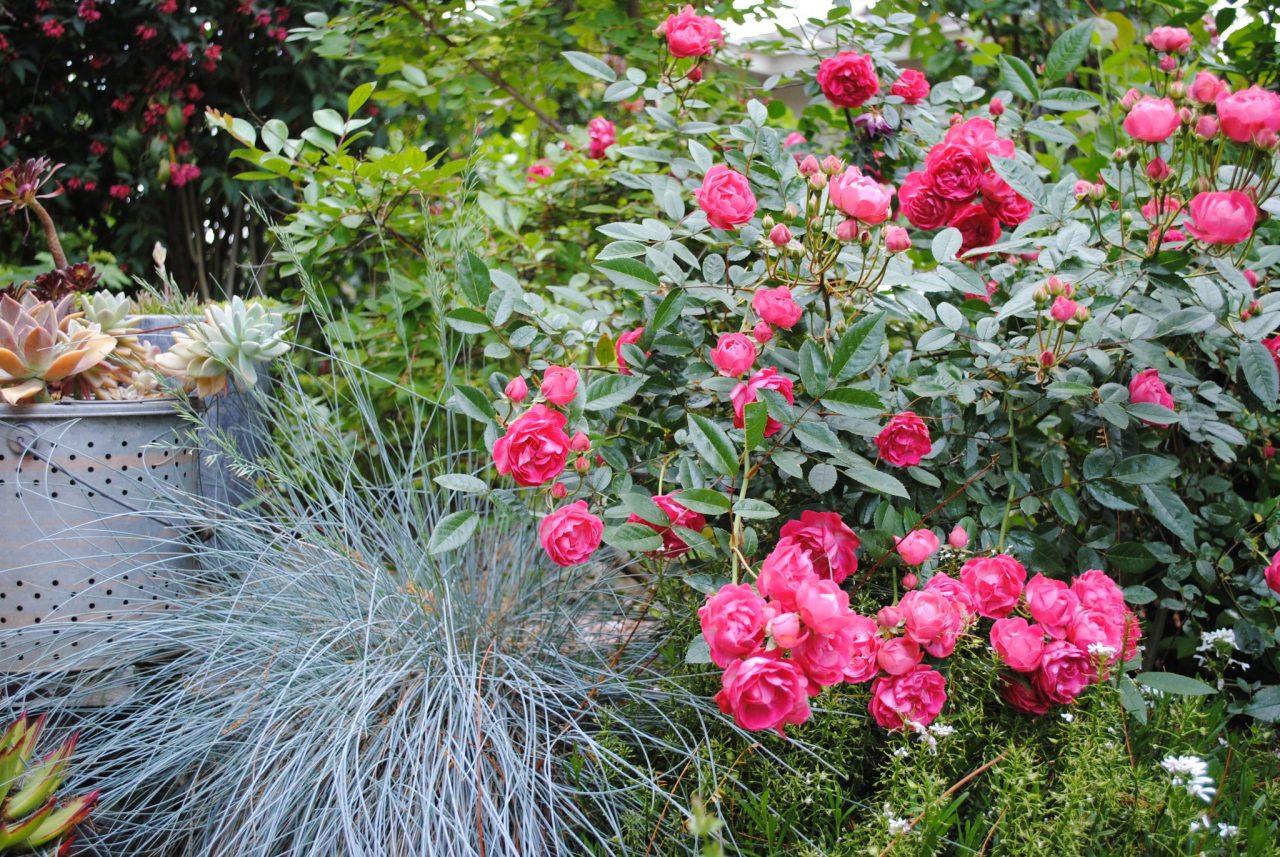 Oh, and one more thing!
This Saturday (October 21st) along with Garden Design's Jim Peterson,  I'll be co-hosting a webinar featuring Fergus Garrett, head gardener of England's famous Great Dixter.
The topic is working and designing with bulbs, which is something we all should be thinking about this time of year.
I hope to see some of you there!
Click here to register.