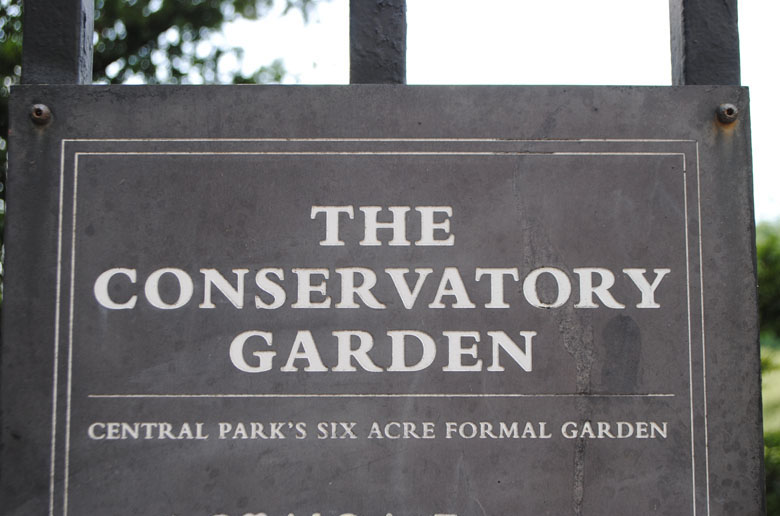 Without a doubt, one of my very favorite places in New York is Central Park's Conservatory Garden.
This was my first time visiting this garden, and I'll admit I mistakenly thought it would be yet one more formal garden filled with the predictable evergreens, fountains and acres of lawn (pretty, but probably not the most inspiring.)
Wow, was I ever wrong.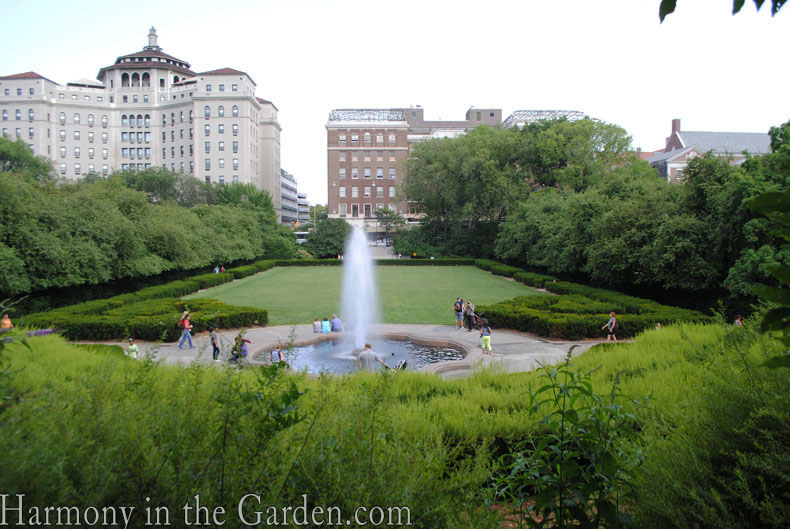 Now, don't get me wrong – at its heart this is a formal garden, filled with symmetry, topiaries, fountains, and the most beautiful wisteria covered pergola I've ever seen.
However, once I realized it was designed by Lynden B. Miller, (one of my favorite designers)  I knew it would be so much more.
Ms. Miller is also the designer behind the Heather Garden, and similar to that garden, this one also has its share of breath-taking planting beds.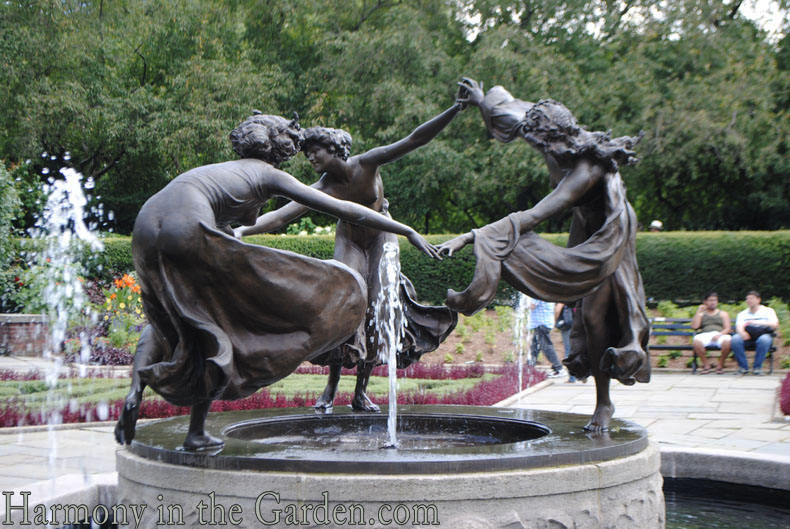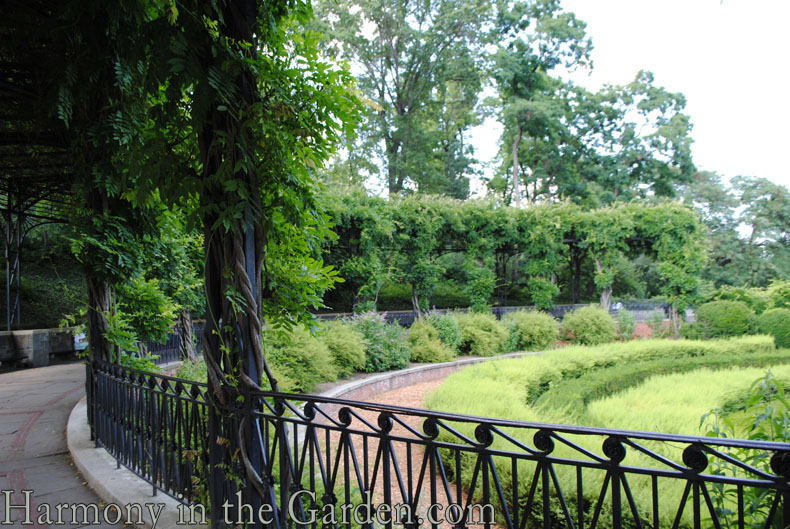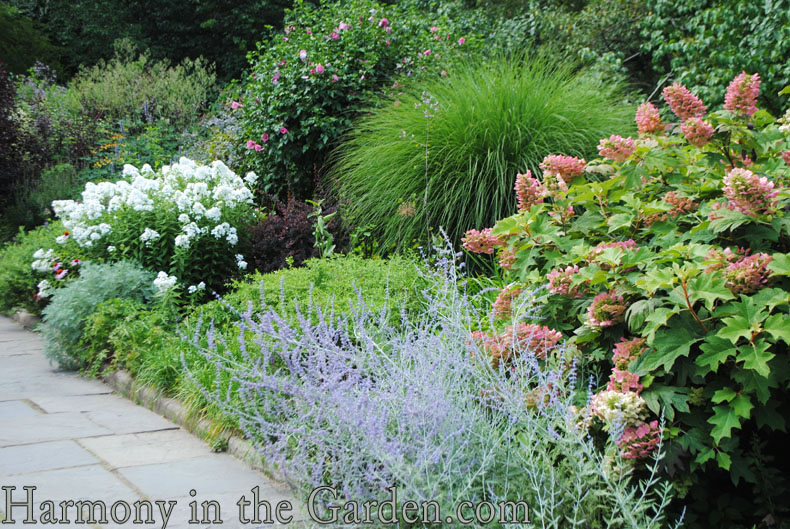 Everywhere I looked, there was one example after another illustrating the concepts I've written about in my latest book,  Refresh Your Garden Design with Color, Texture and Form.
Even my teenage daughter (who tends to tune me out) commented on the amazing color echoes that she saw.  
And yes, I couldn't believe she actually said the words 'color echoes.'  
Here are some of the highlights:
One of the most impressive things about this garden is Lynden's mastery of color.  
Pay close attention and you'll notice subtle color echoes are everywhere.   She has artfully combined unusual sources of color (such as stems, berries, and grass variegation) along with the more common foliage and flowers.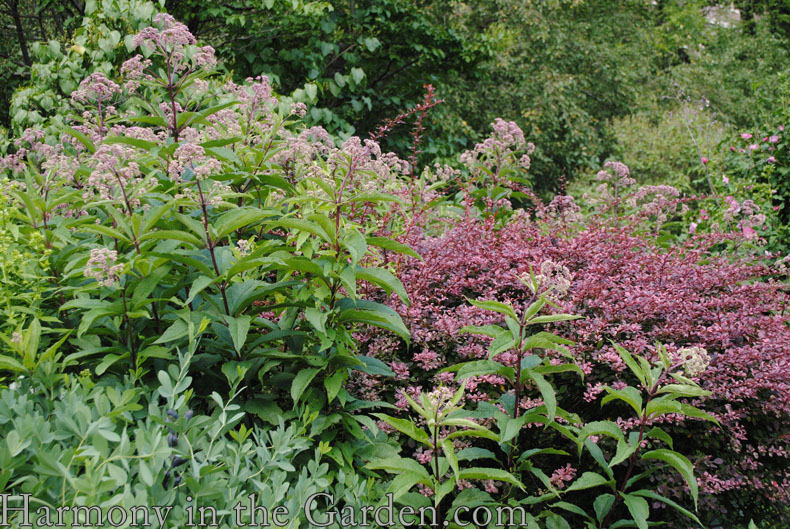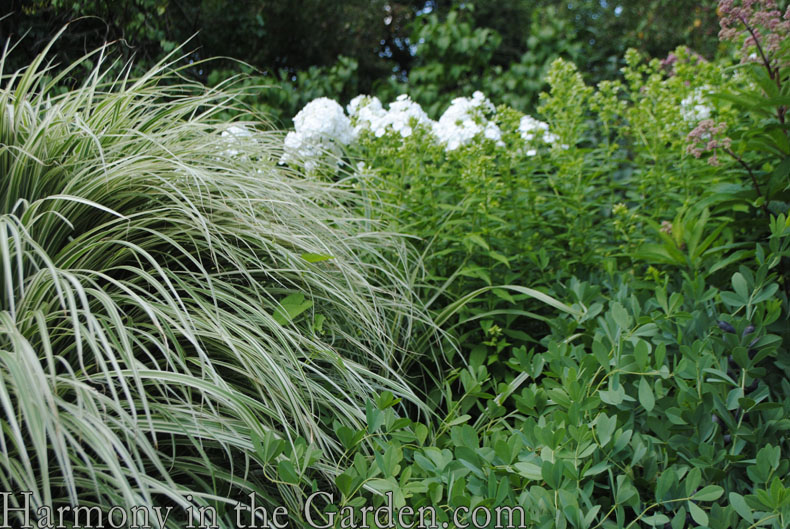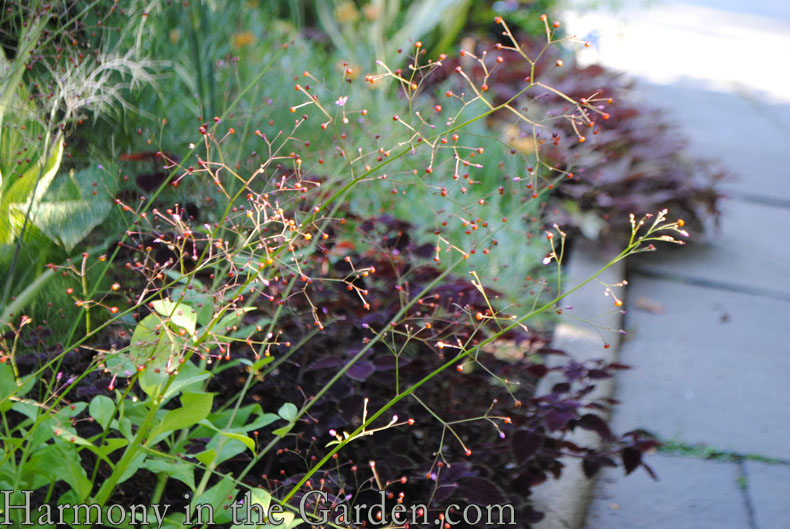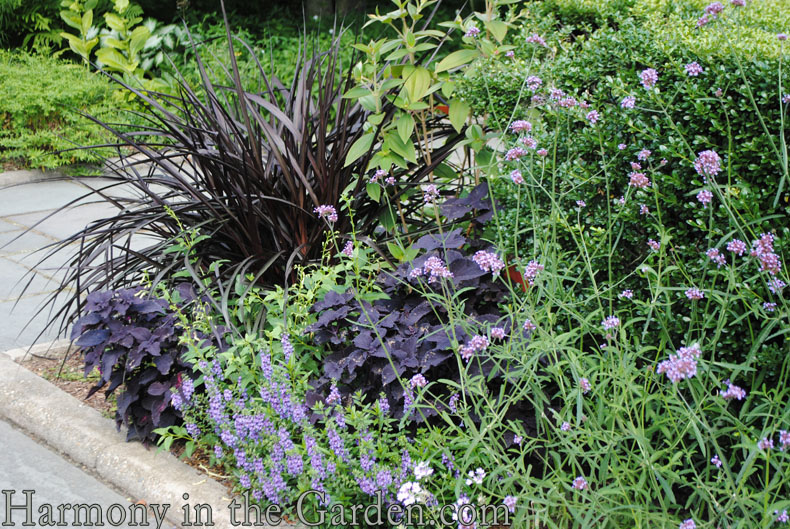 However, a garden filled with nothing but subtle color echoes runs the risk of lulling the viewer to sleep.  
She's solved this concern by including  eye-popping color combinations, adding a little jolt of excitement to the vignette.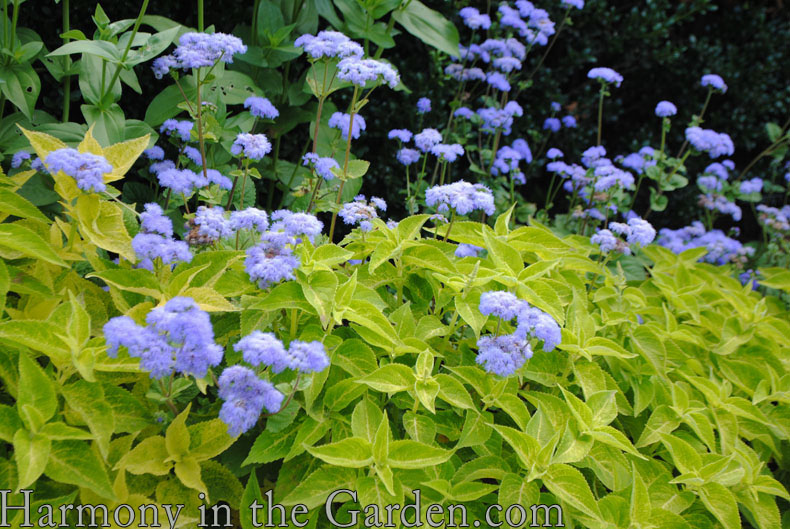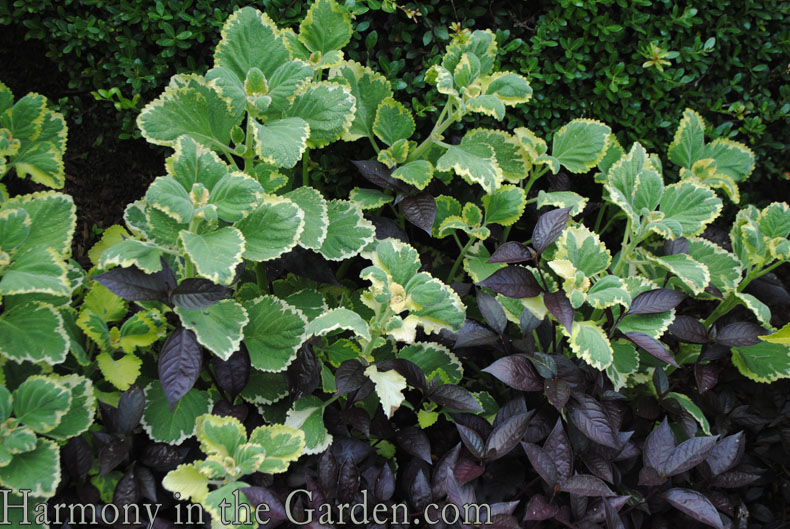 And while one area of the garden might be filled with warm, glowing, sunny colors…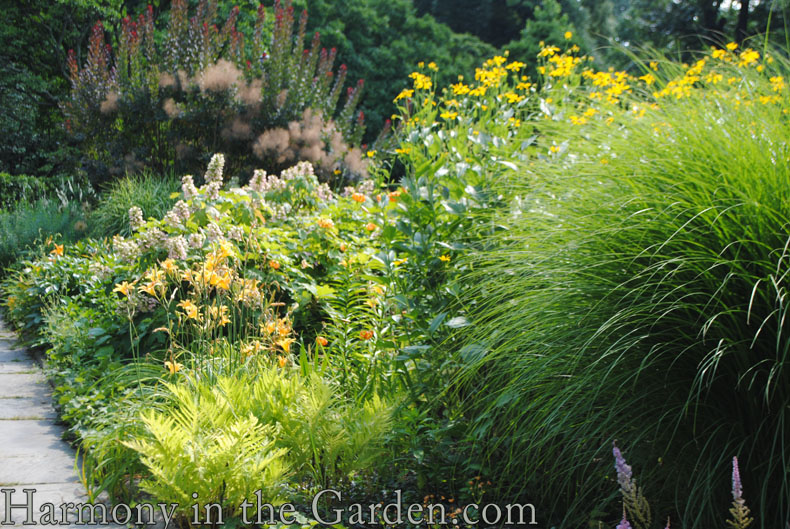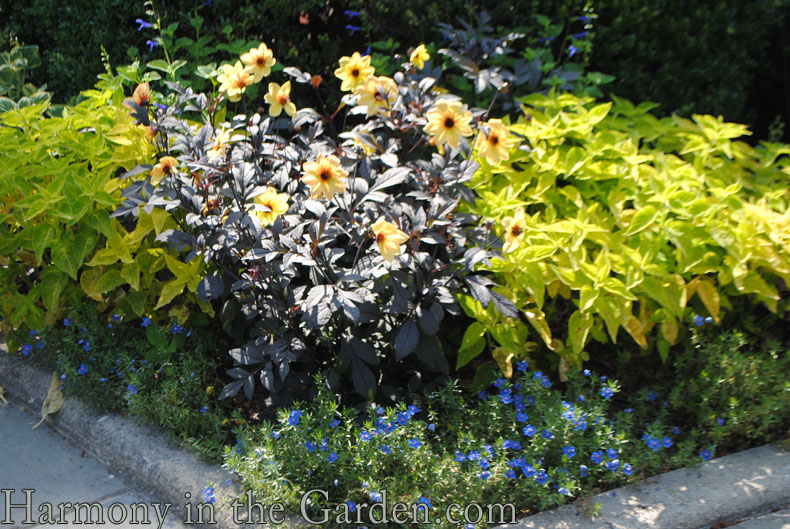 Another area will have soothing, cool shades of blue, purple, green and gray.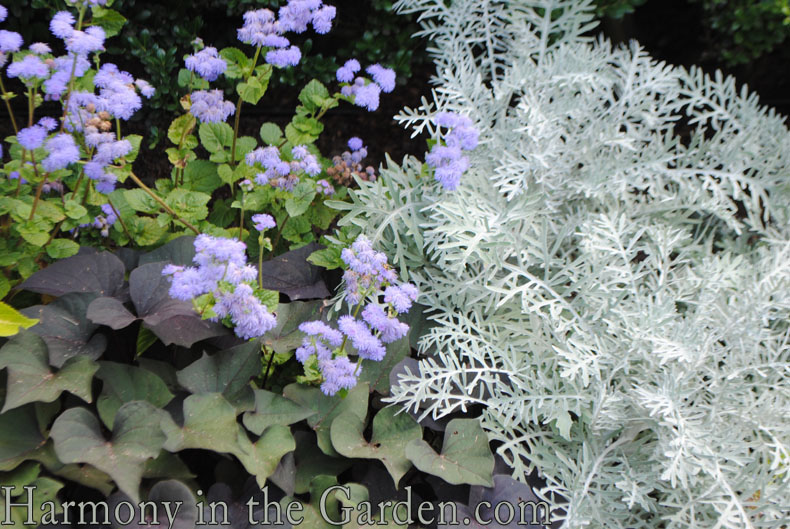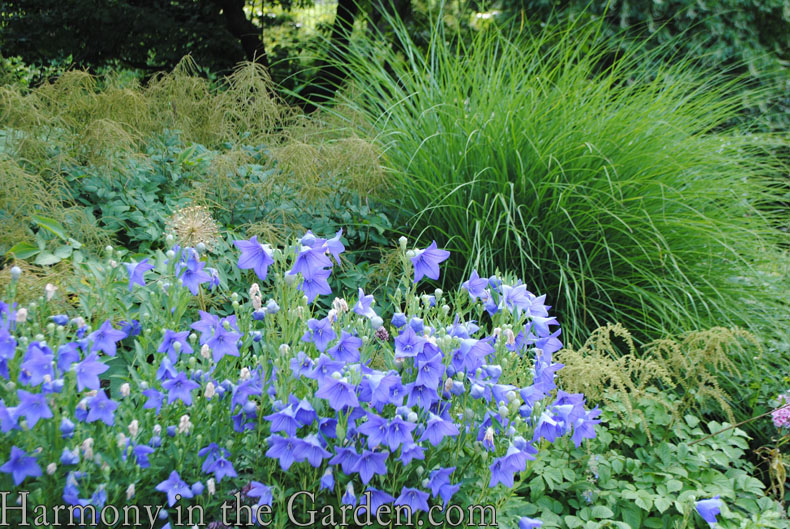 I particularly enjoyed seeing the use of unusual colors in the garden.  It's fairly easy to incorporate blue, purple, chartreuse and green.  But using the colors ochre, butterscotch and salmon are significantly trickier!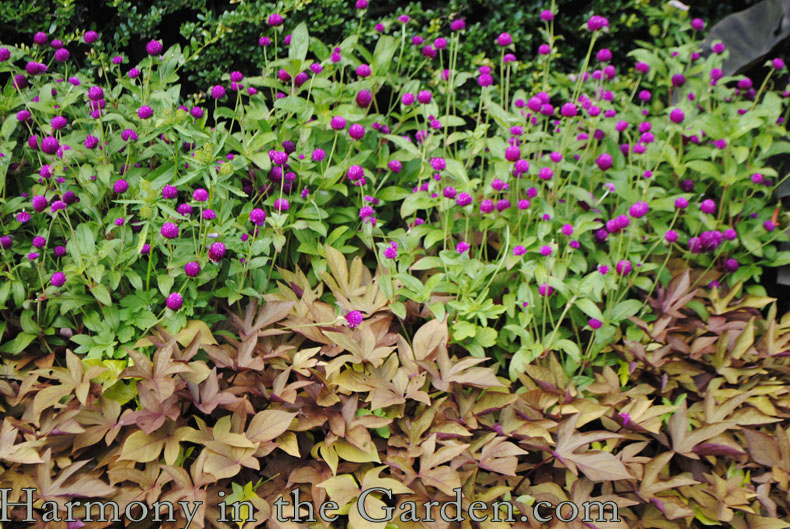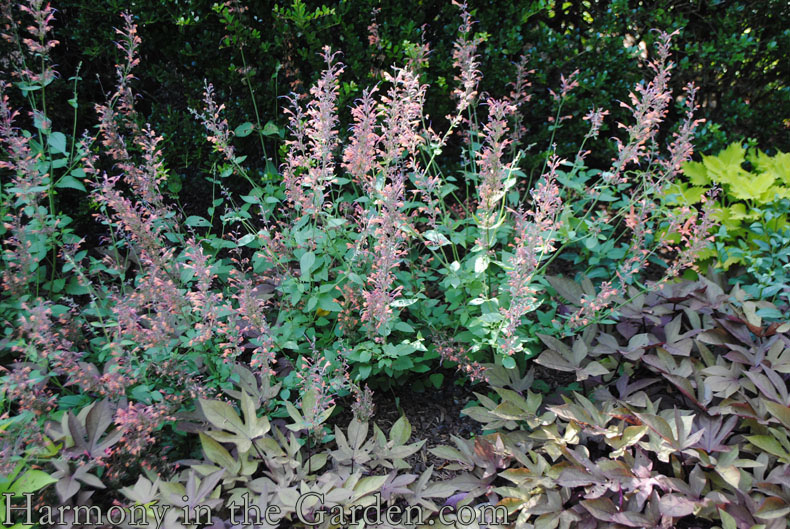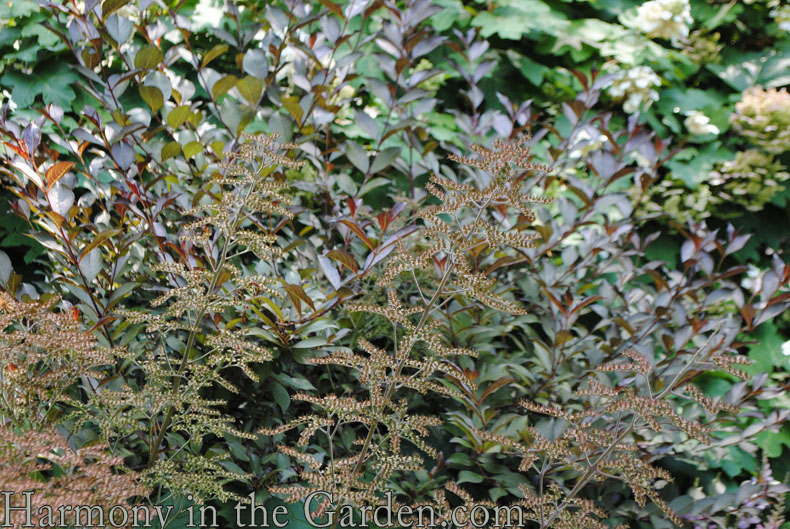 While color reigns supreme in this garden, the use of texture is just as impressive.  
Whether coming from the nubby, unopened buds of a rodgersia, the fuzzy smoke from a cotinus, the dangling seed-heads of a Northern Oats grass or the feathery fronds of an artemesia, there's no doubt about the powerful allure of texture.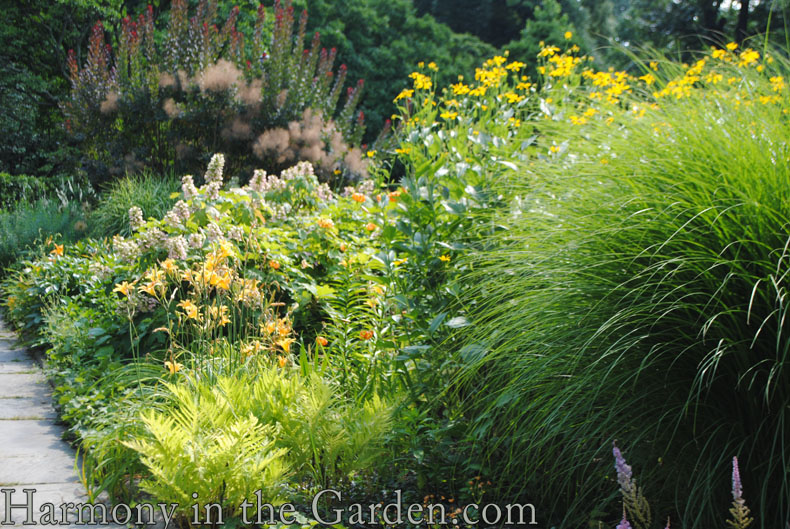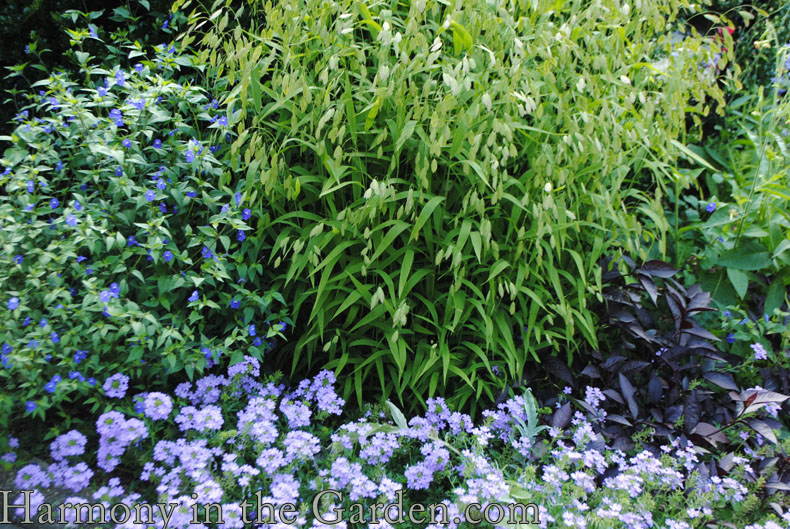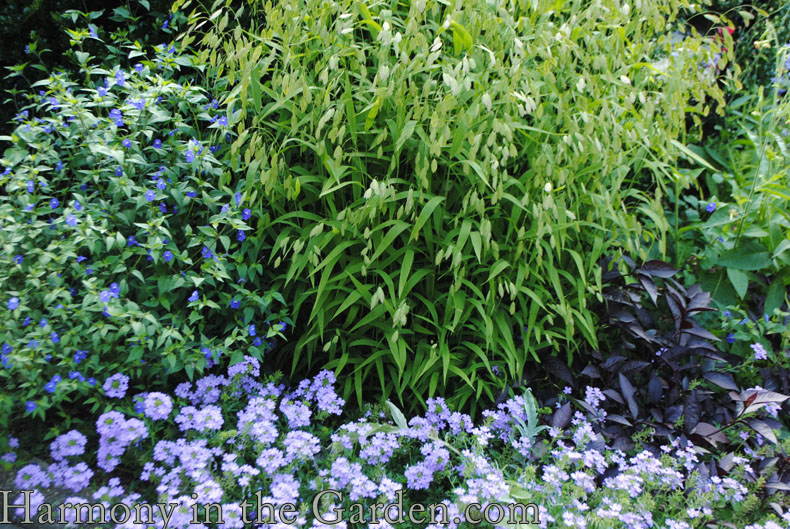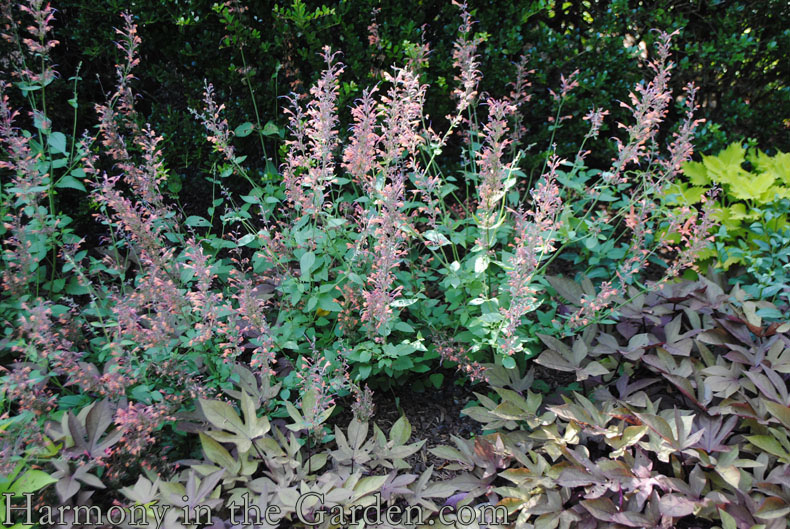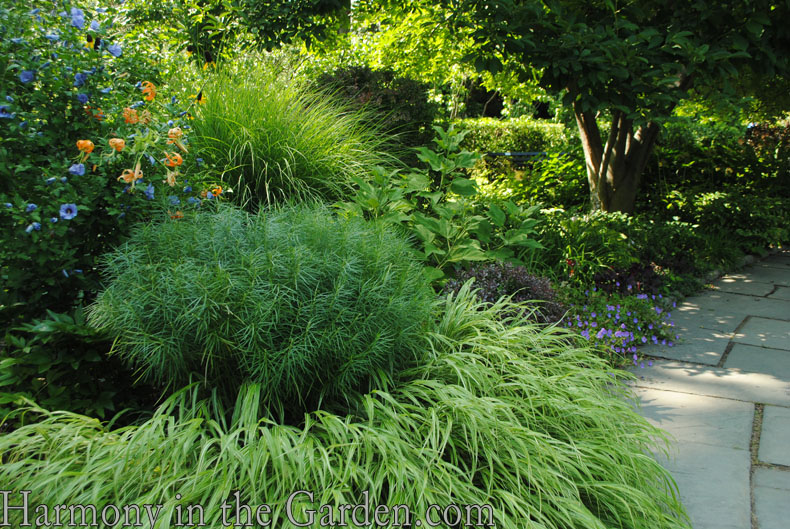 Shape and form can often be the most difficult concept to incorporate into the garden.  
Knowing where to place various shapes (cascading, mounding, upright, etc.) or where to create echoes or shape contrast is tricky at best.
It's no wonder this is often one of the last areas of design for many gardeners.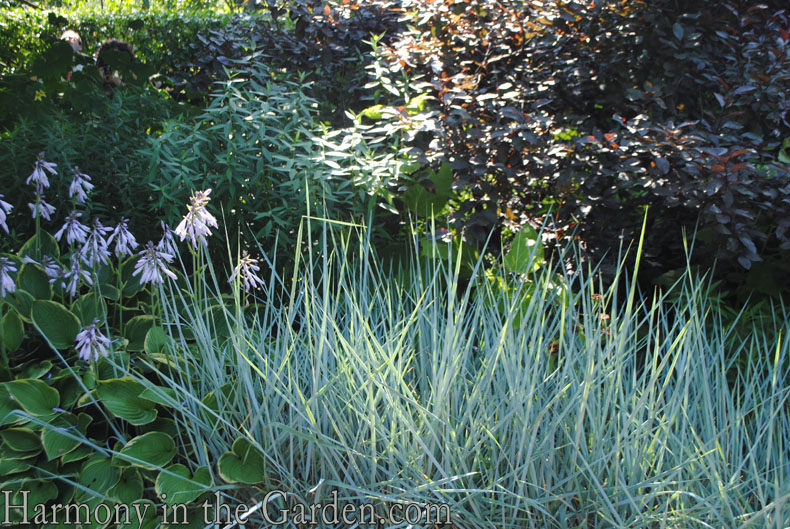 I particularly like the creative use of grasses in this garden  I use grasses in most of my designs, and really enjoyed seeing how they were used here. 
The miscanthus adds such a soft, yet substantial fountain shape in the back of borders, while lower-growing Hakone grass adds a cascading effect to the front of borders. 
I particularly like how the Leymus grass adds its cool, blue color and upright motion to this maroon and lavender combination.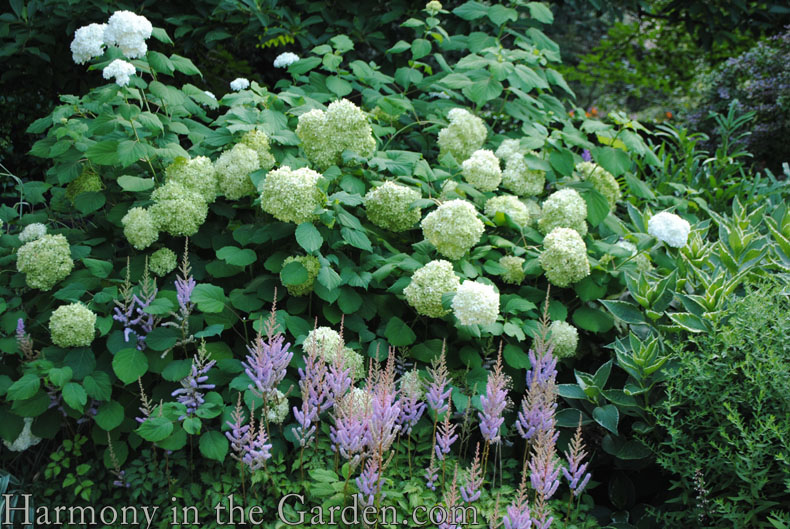 One thing I noticed was her fondness of combining the round, fluffy hydrangea heads with the shorter, upright astilbe.
The result is a vibrant display of contrasting shapes which adds visual energy to the garden.
In fact, I noticed similar combinations in the Heather Garden and Madison Square Garden (which she also designed.)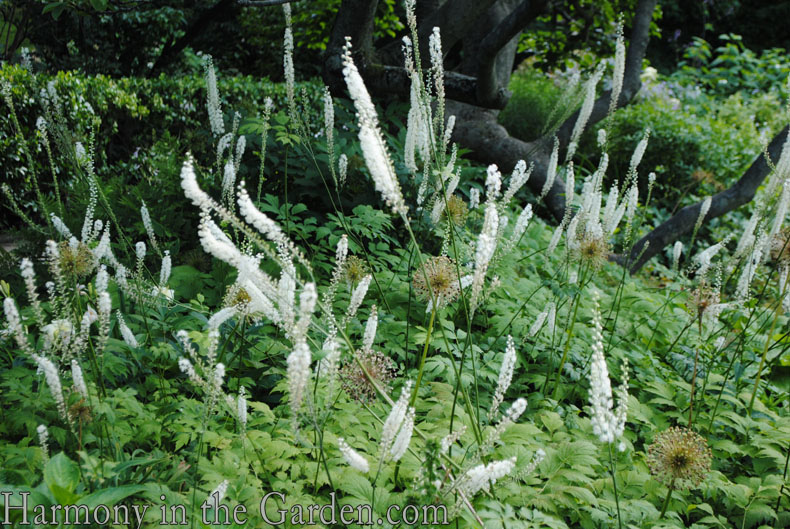 Another knock-out combination results from the feathery, snake-like flowers of the Bugbane (actaea simplex) with the dried allium.
Even though the allium flowers are long gone, but the firework-like globes of the tan colored seed heads contrast beautifully with the Bugbane.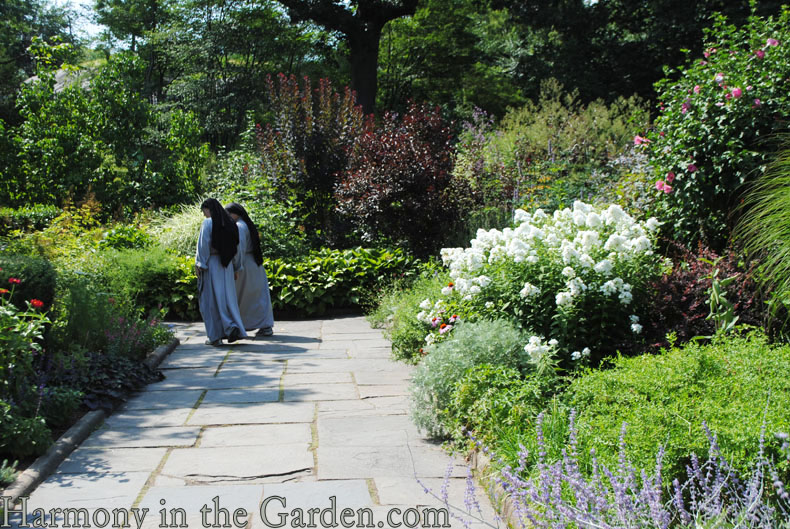 Like many of the public gardens that I toured, this one was also visited by every imaginable walk of life.
I so enjoyed seeing all the different walks of life ranging from nuns enjoying an afternoon walk, to Hasidic Jews with toddlers in tow, to tired teenagers (yes, that would be my daughter below.)
And, of course, plenty of insects and birds everywhere.
To see so many types of people enjoying this garden reiterates the important role gardens play in everyone's lives.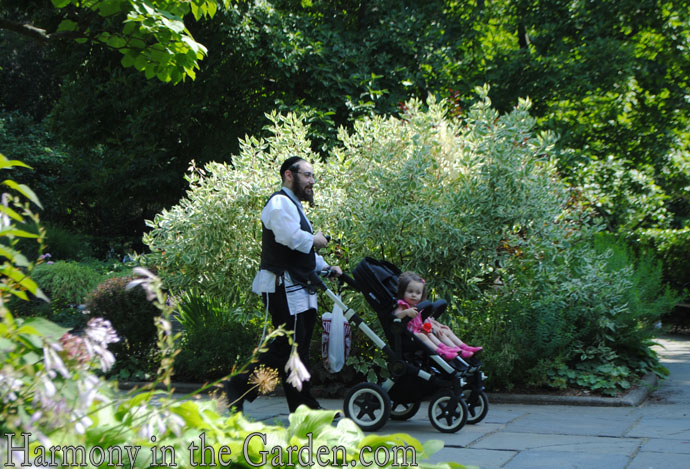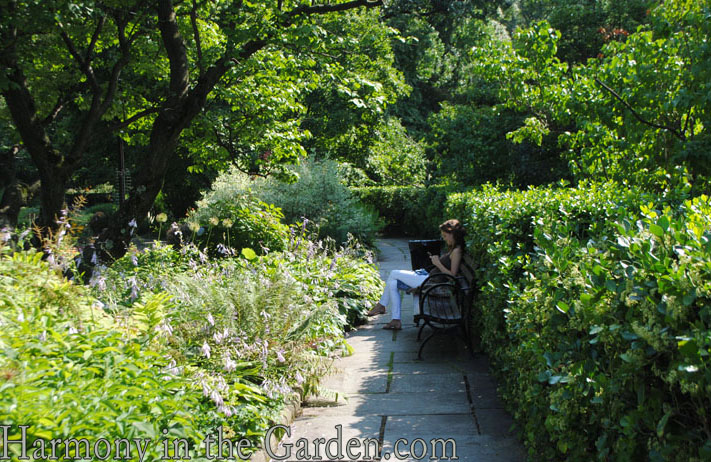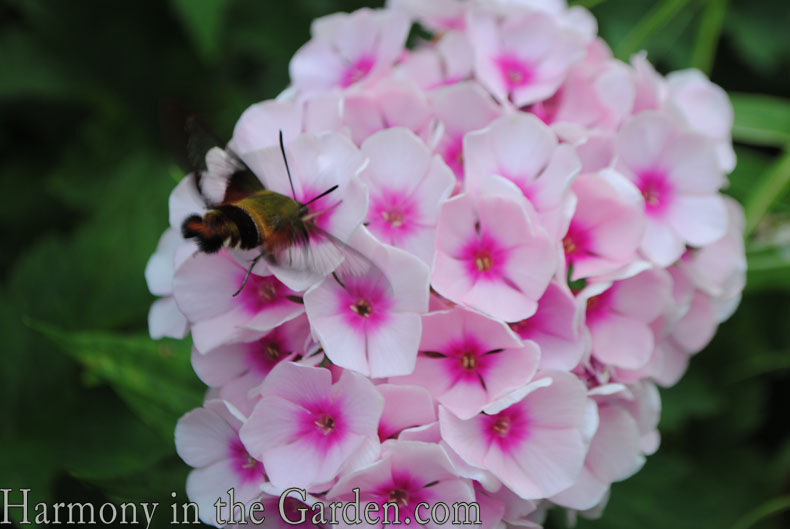 If you love this garden as much as I do, you'll be even more impressed by the story of its creation by Lynden Miller. 
As if Ms. Miller wasn't talented enough, in the 1980's she was also the driving force behind the rejuvenation of New York's many tired, threadbare and neglected public parks.  
Take a peek here for a fantastic interview with amazing before and after photos.