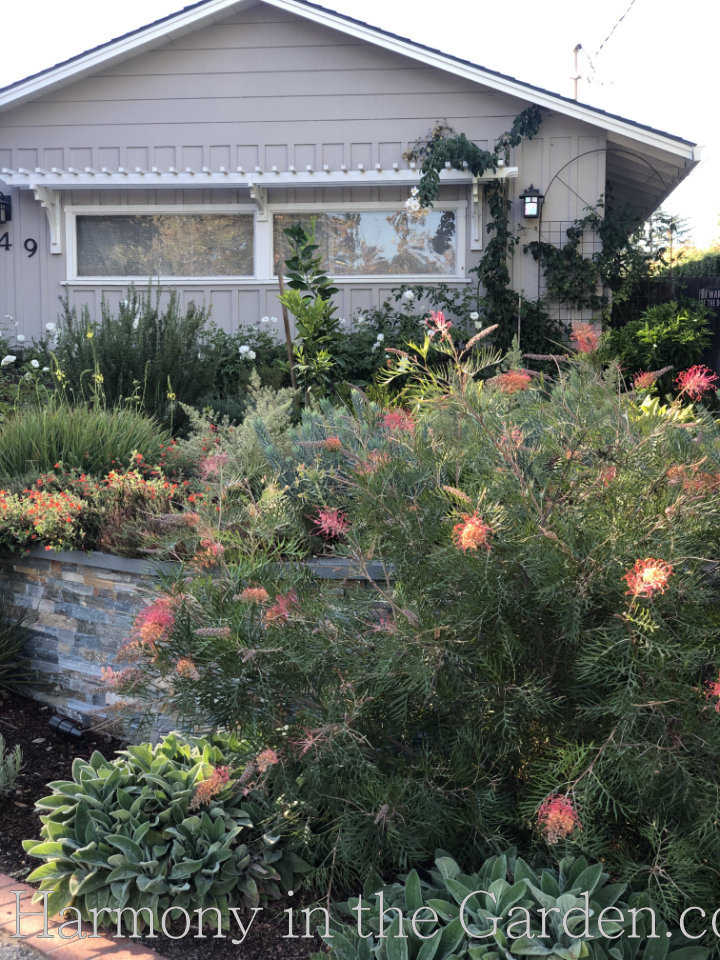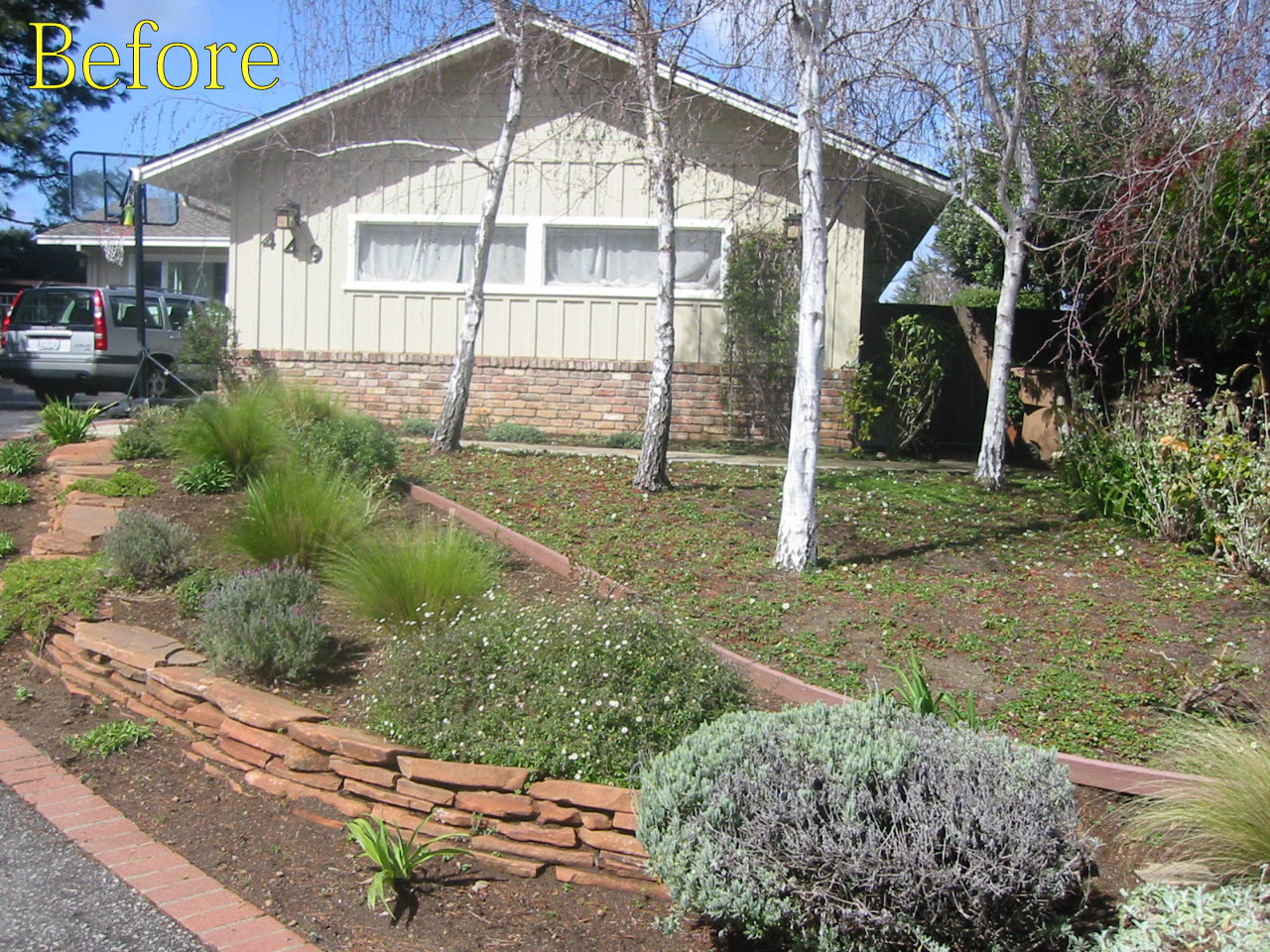 Transforming a sloping front garden is tricky for a variety of reasons:  poor drainage and water run-off, soil erosion, and difficulty in maneuvering around, just to name a few.  
I recently visited my client's garden to see how it's fared one year later, and WOW – it's amazing!   
I usually tell my clients to wait until the second or third year to be impressed, but this garden clearly wasn't going to wait.  Here it is at only 16 months old! 
Here's a few before-and-after photos that show how we transformed this dry, sloping, outdated garden into a pollinator paradise.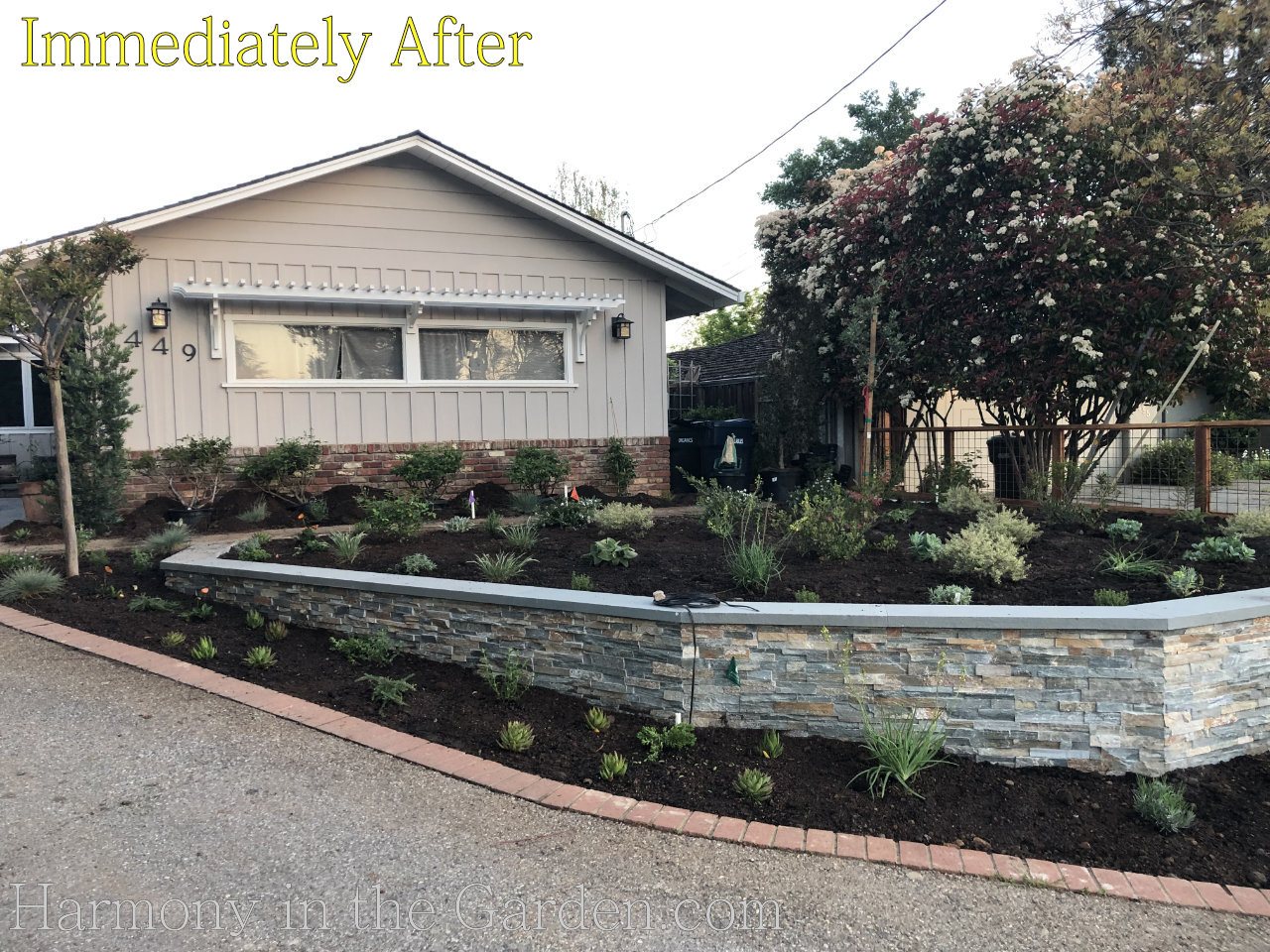 First, we built a stacked Connecticut Bluestone retaining wall that tapered from one end of the garden, down to the bottom of the property (where it was 2 1/2-feet at its highest point.)
This allowed us to create a level space for the new garden, making it much easier to plant and maintain.  
The level area also allowed us to add much-needed soil and compost to this dry, depleted, and rock-hard area.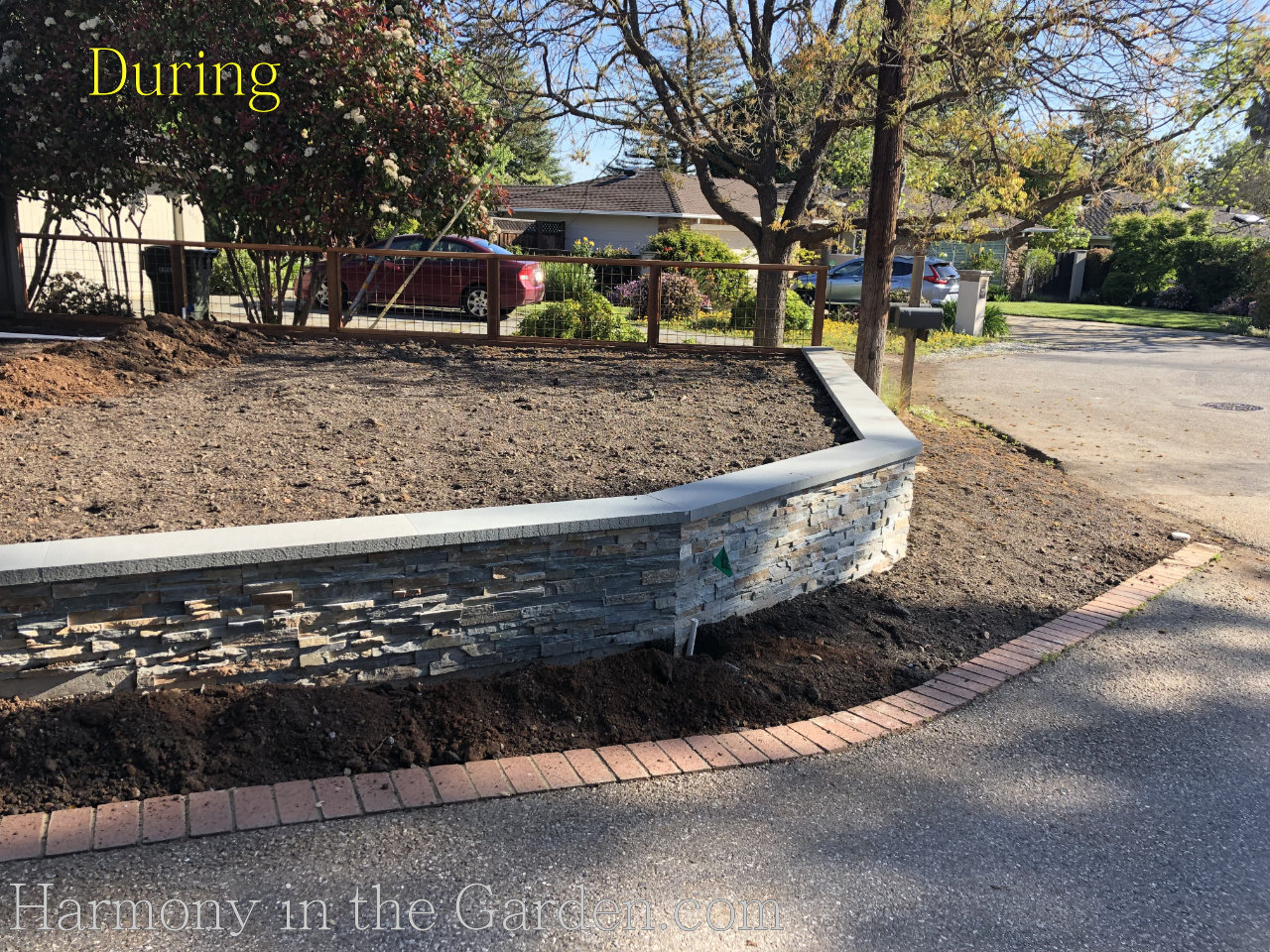 We left 3-feet of planting space in front of the bottom of the retaining wall (at street level) for two main reasons. 
One reason was to soften the wall by planting in front of it, allowing it to blend in with the new garden.
The other was to provide open space to help see any pedestrians in the area when backing out of the driveway.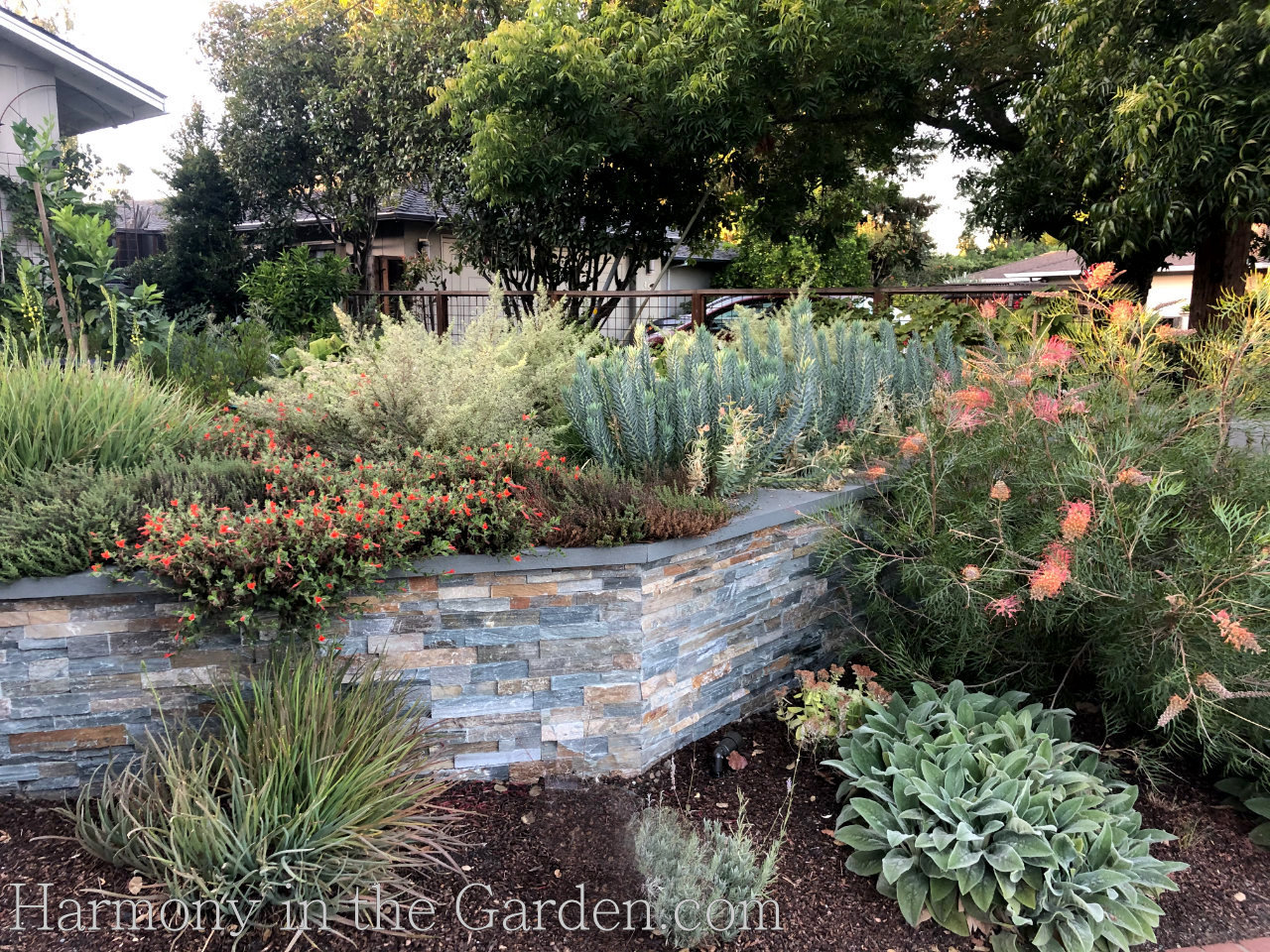 This part of the garden is in full sun for most of the year, so the plant choices had to be tough and drought tolerant.   
Also, because this is the first thing you see when walking up to the home, it was important to have plants that looked great throughout the year.  
We wanted this garden to be welcoming, despite the season, and to attract as many pollinators and hummingbirds as possible.
The focal point plants that add height in the center of the bed include grevilleas 'Robin Gordon' and 'Superb,' manzanita 'Howard McMinn,' and ceanothus 'Dark Star.'
The middle layers include lavender 'Hidcote' and 'Meerlo,' phlomis russeliana, salvia 'Smokin' Lavender,' calamagrostis foliosa, and westringia 'Mundi.'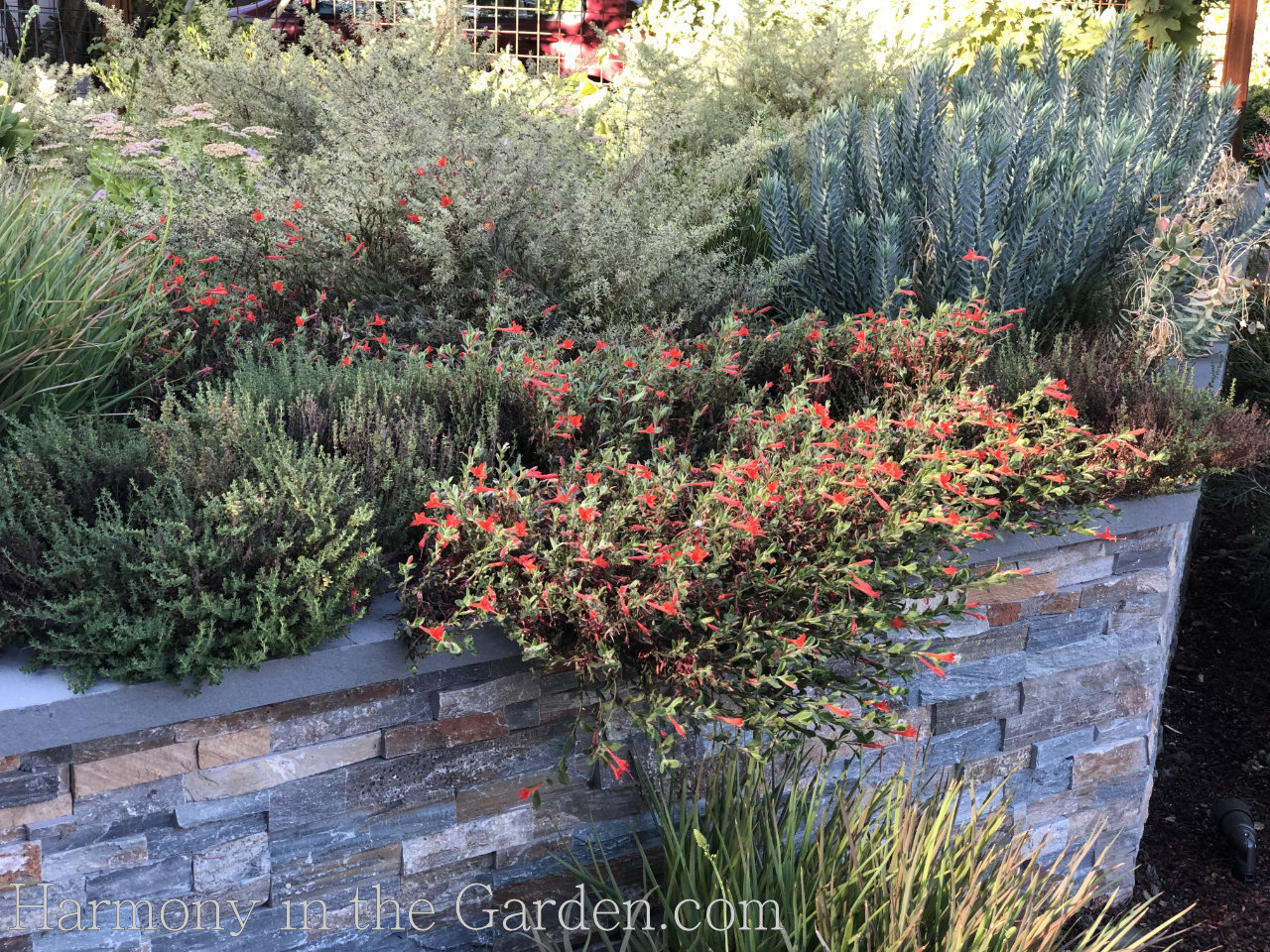 The lower layers include bulbine frutescens, stachys 'Helen von Stein' (a fantastic variety with big, velvety leaves with very few flowers,) and grevillea 'Coastal Gem.'
We also planted euphorbia rigida, epilobium 'Everett's Choice,' and rosemary 'Boule' to cascade over the wall.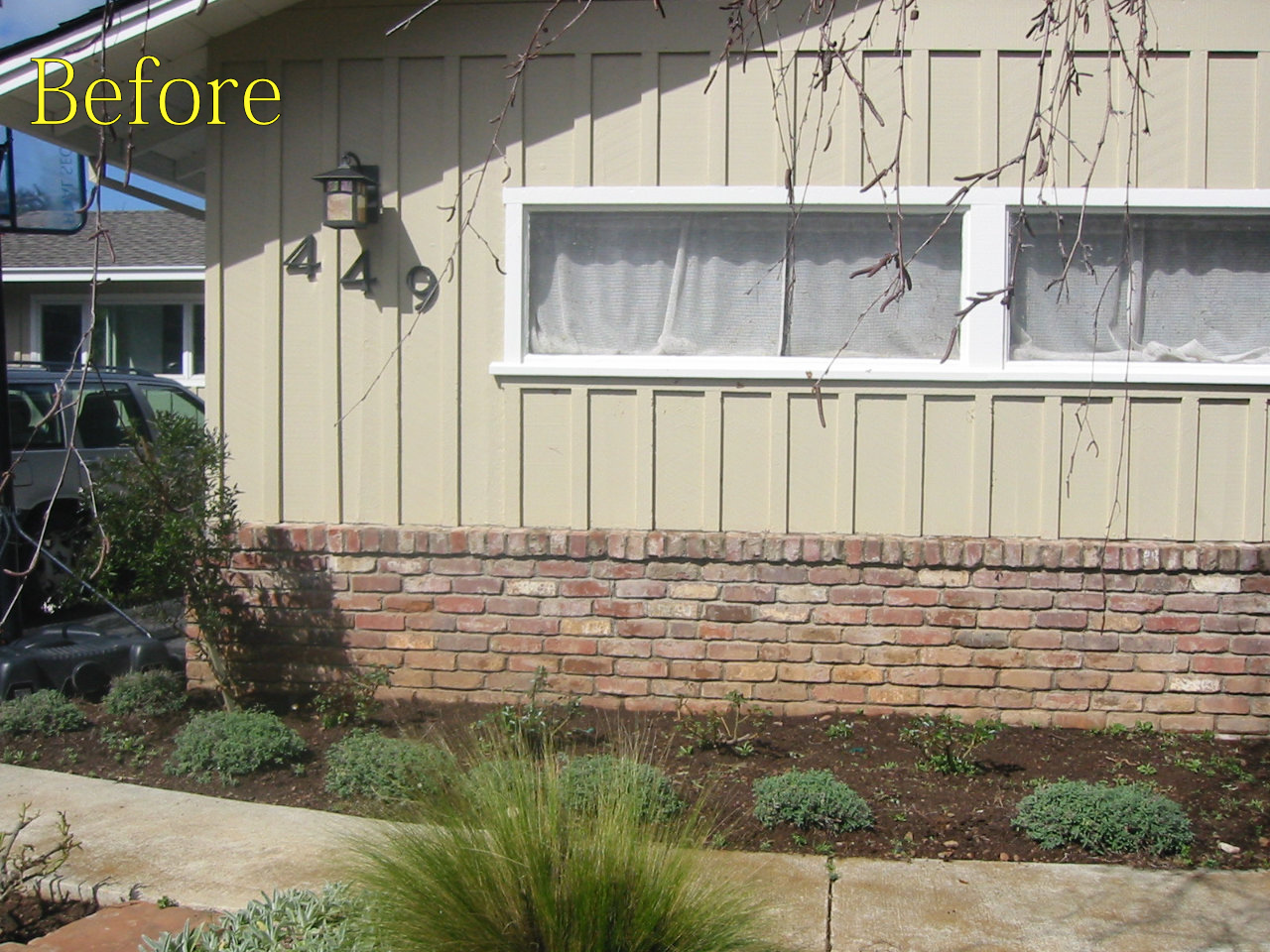 The next area to transform was the garage wall, which visually dominated the space. 
To add a little charm to the prominent wall, the homeowners had installed an arbor over the garage window (perfect for a 'Sally Holmes' climbing rose.)
We also widened the garden bed between the pathway and the garage (more room for plants!) and gave it a gentle curve, which leads to the side of the house.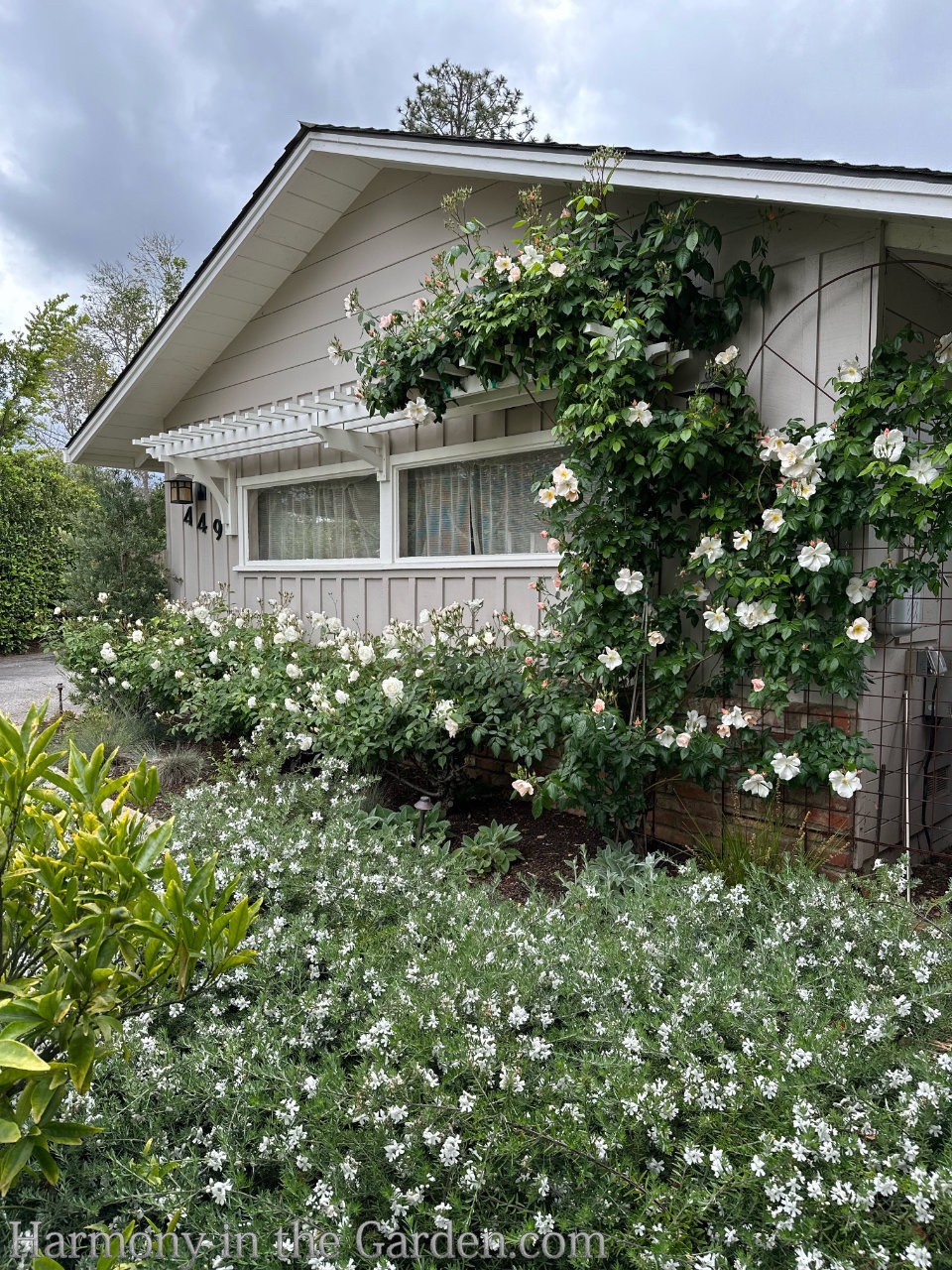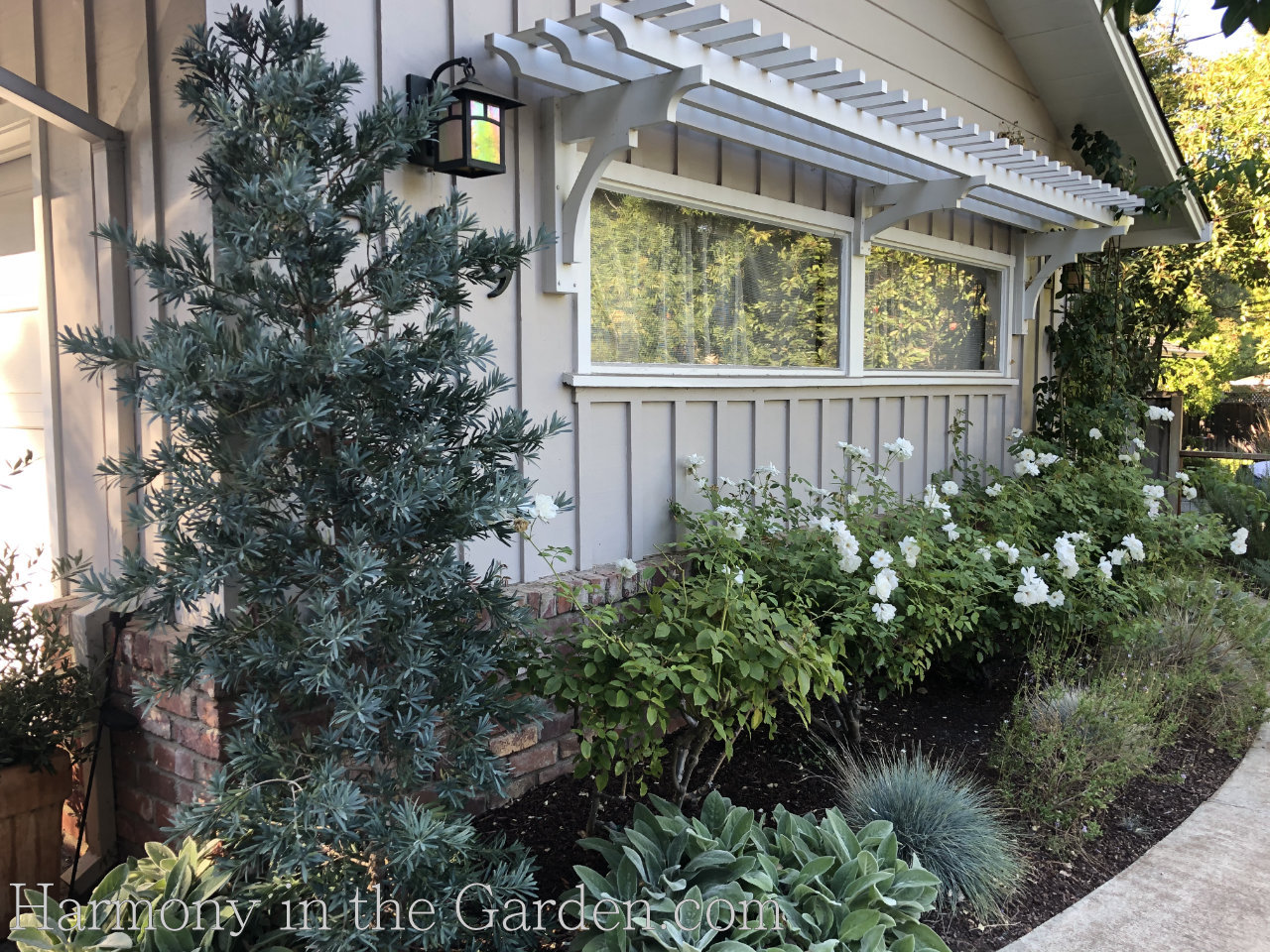 An 'Icee Blue' podocarpus anchors the end of the bed and is one of my favorite columnar, evergreen plants.
'Icee Blue' is different from the more common green varieties, growing VERY slowly (which is also why it's expensive,) reaching about 15-feet tall in the Bay Area.
It's an easy plant to prune, should it outgrow the space, and because it would take at least ten years to grow that tall, once pruned, you wouldn't have to prune it again for a long, long time.
Plus, the blue color is outstanding in the garden, especially when paired with crisp white 'Iceberg' roses, gray Lambs Ear 'Helen von Stein,' and the silvery blue fescue 'Elijah Blue' grasses.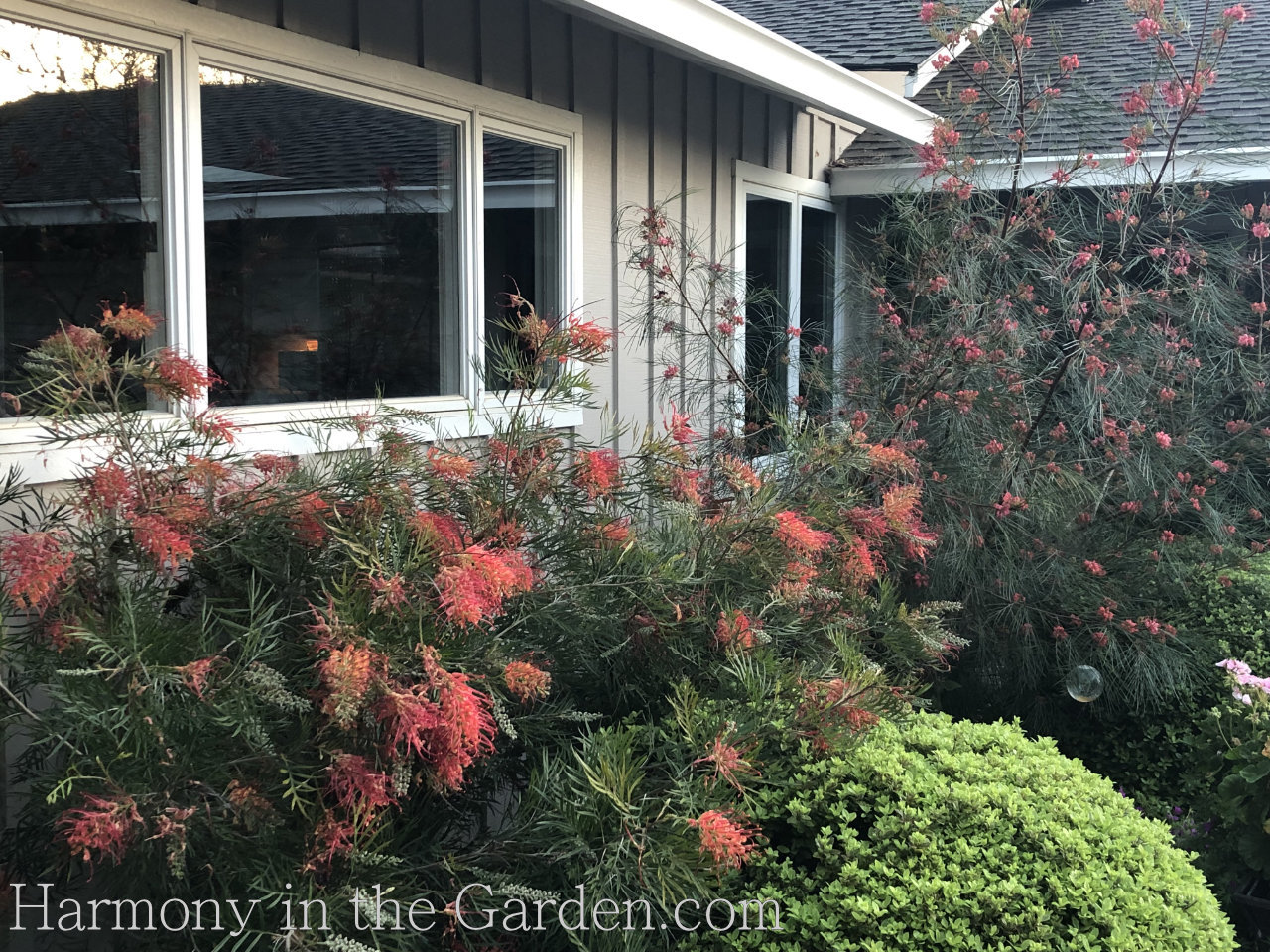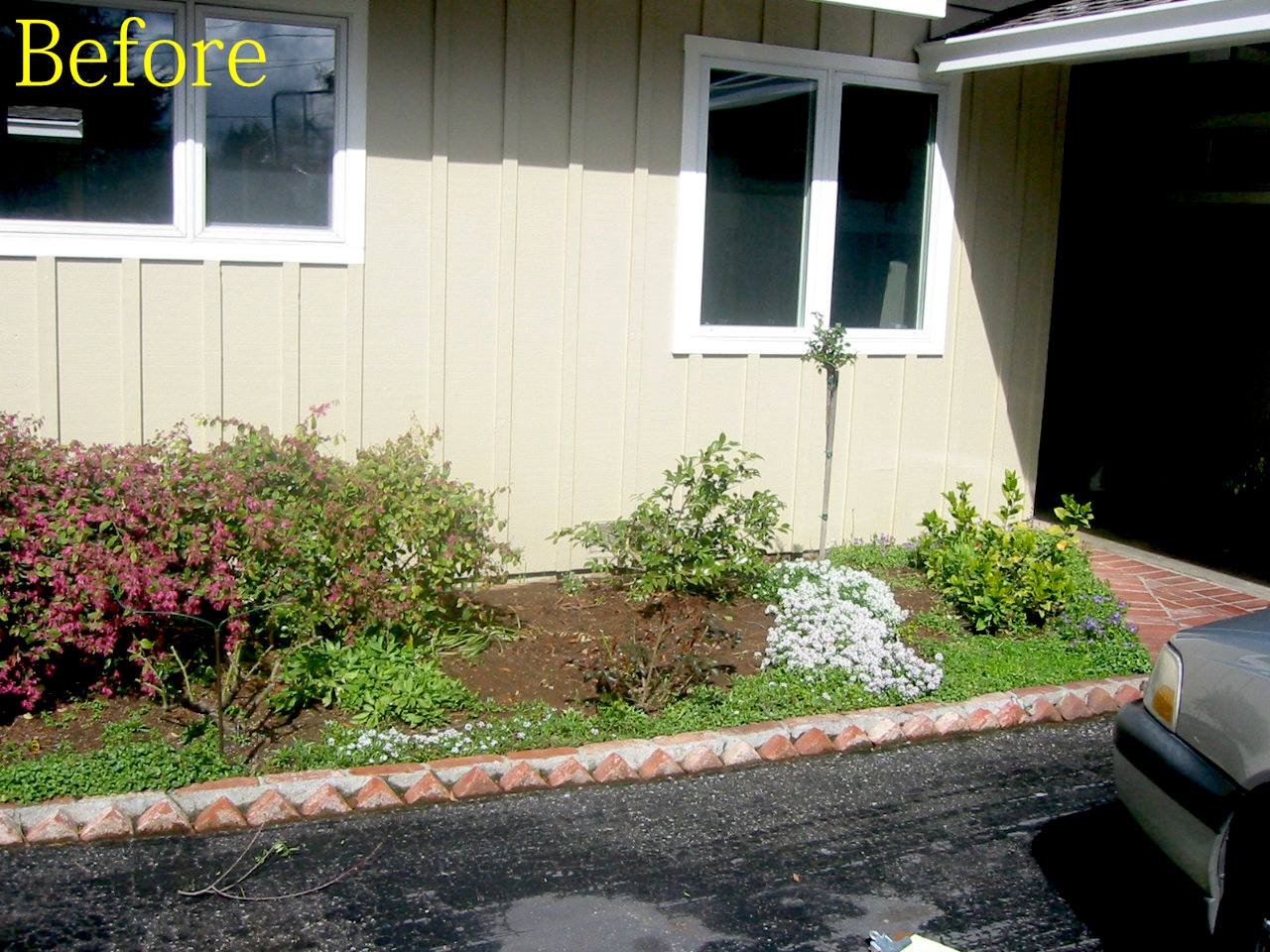 At the top of the driveway, adjacent to the front door, is a somewhat narrow bed placed directly in front of the family room windows. 
This garden bed needed to look fantastic year-round, as well as providing screening from the front street (without totally blocking their light!)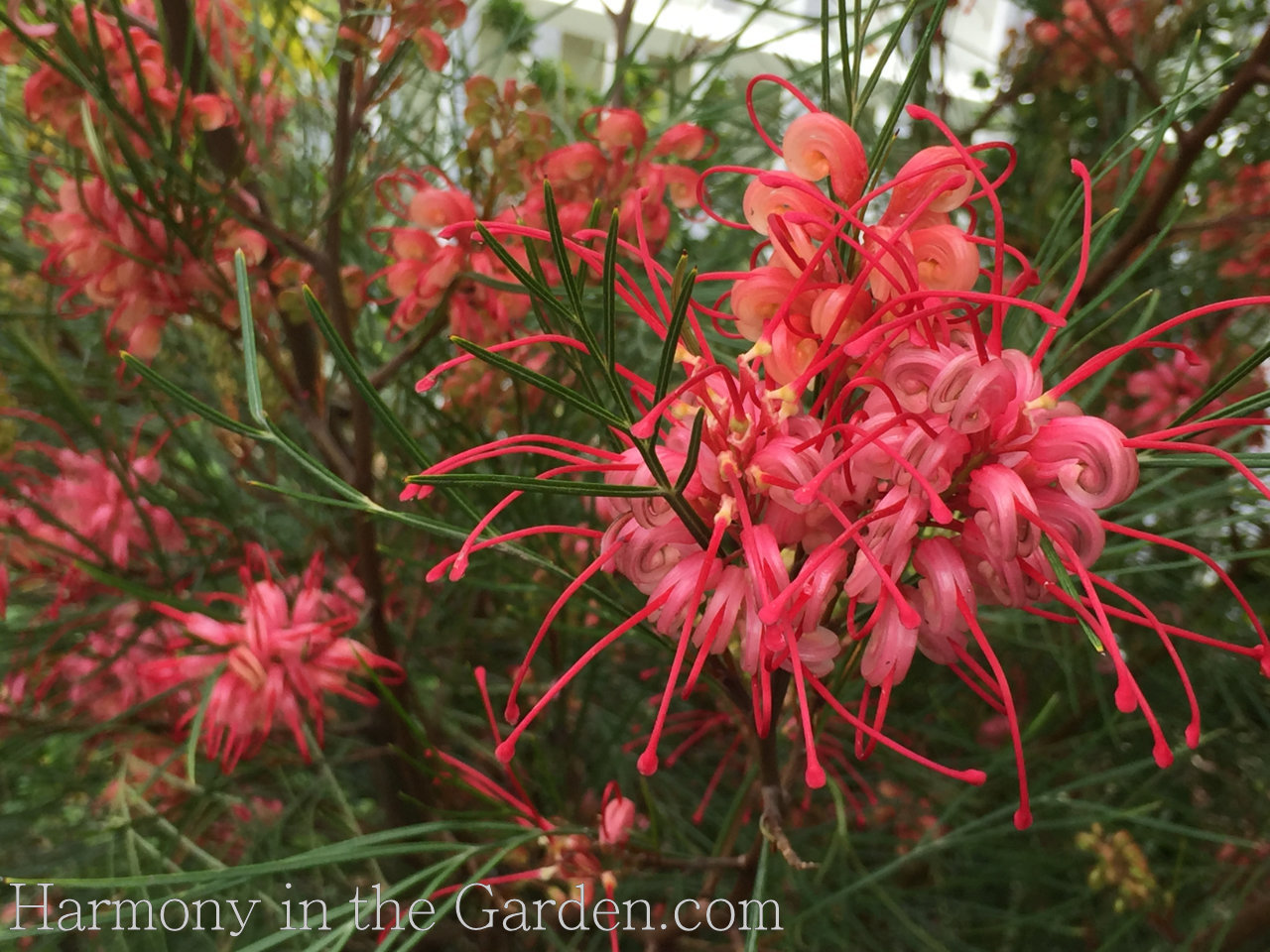 Grevillea 'Long John' is one of my favorites for this purpose, as it grows tall (up to 9') while remaining only 5' wide. 
It, too, is easy to prune should it outgrow the space, but my clients love having it grow above their roofline, while the narrow pine needle-like foliage allows light to penetrate through the windows. 
And the hummingbirds that swarm the flowers are constant entertainment, viewed out the window from the comfort of their family room.   Grevillea 'Superb' is also planted nearby, along with a 'Golf Ball' pittosporum, and geranium 'Biokovo.'
(To read more about grevilleas, and how I design with them, click here.)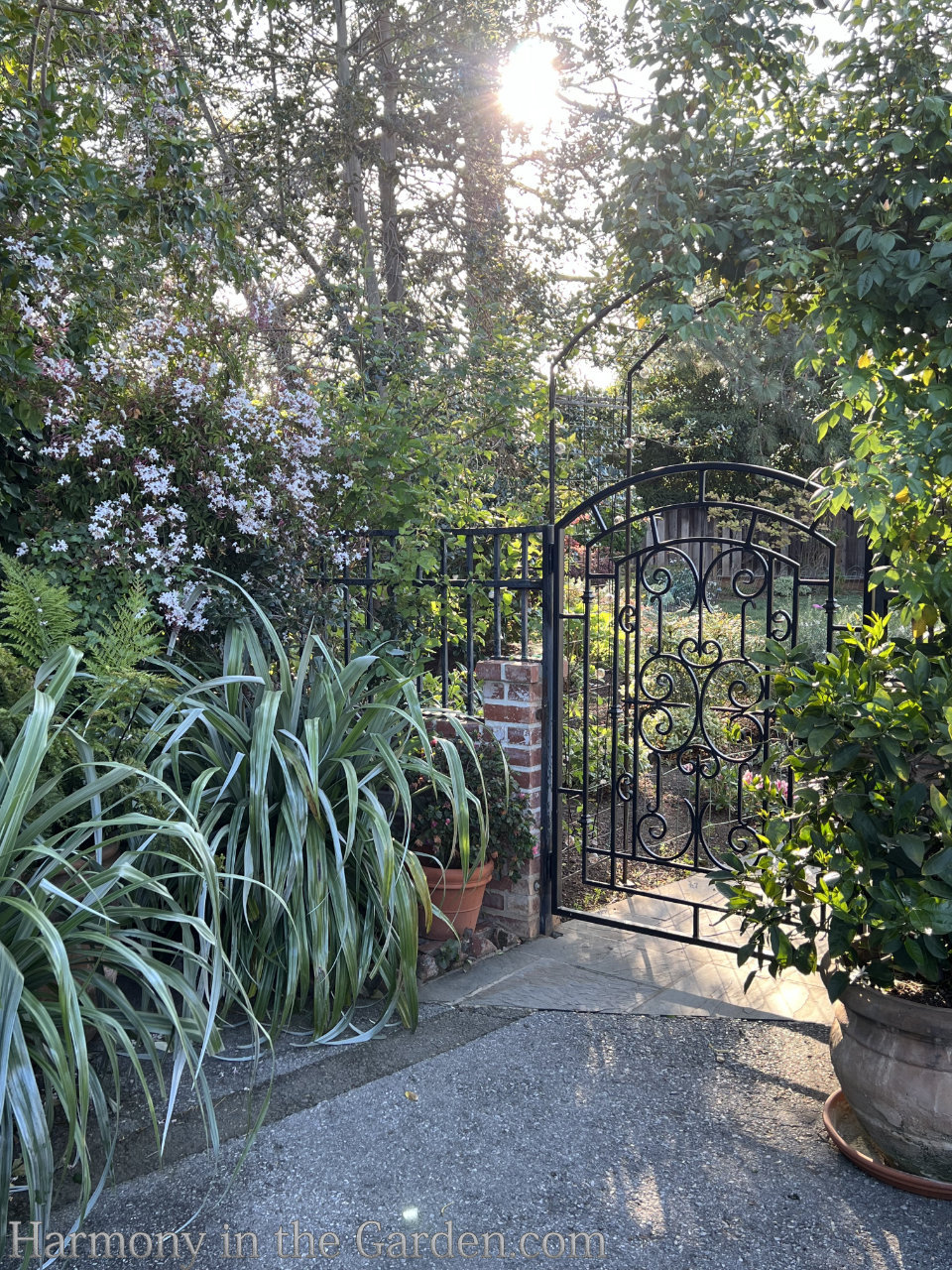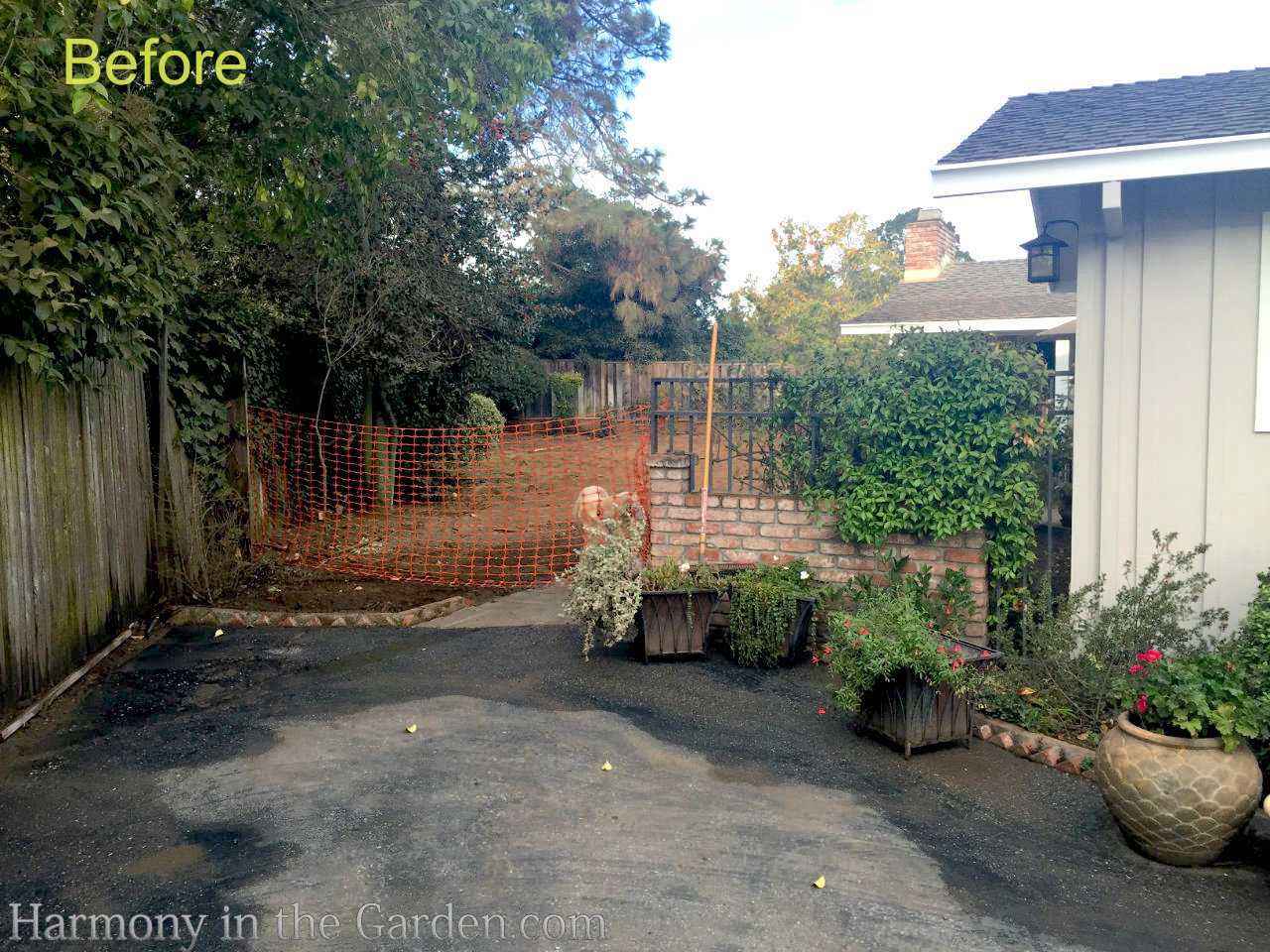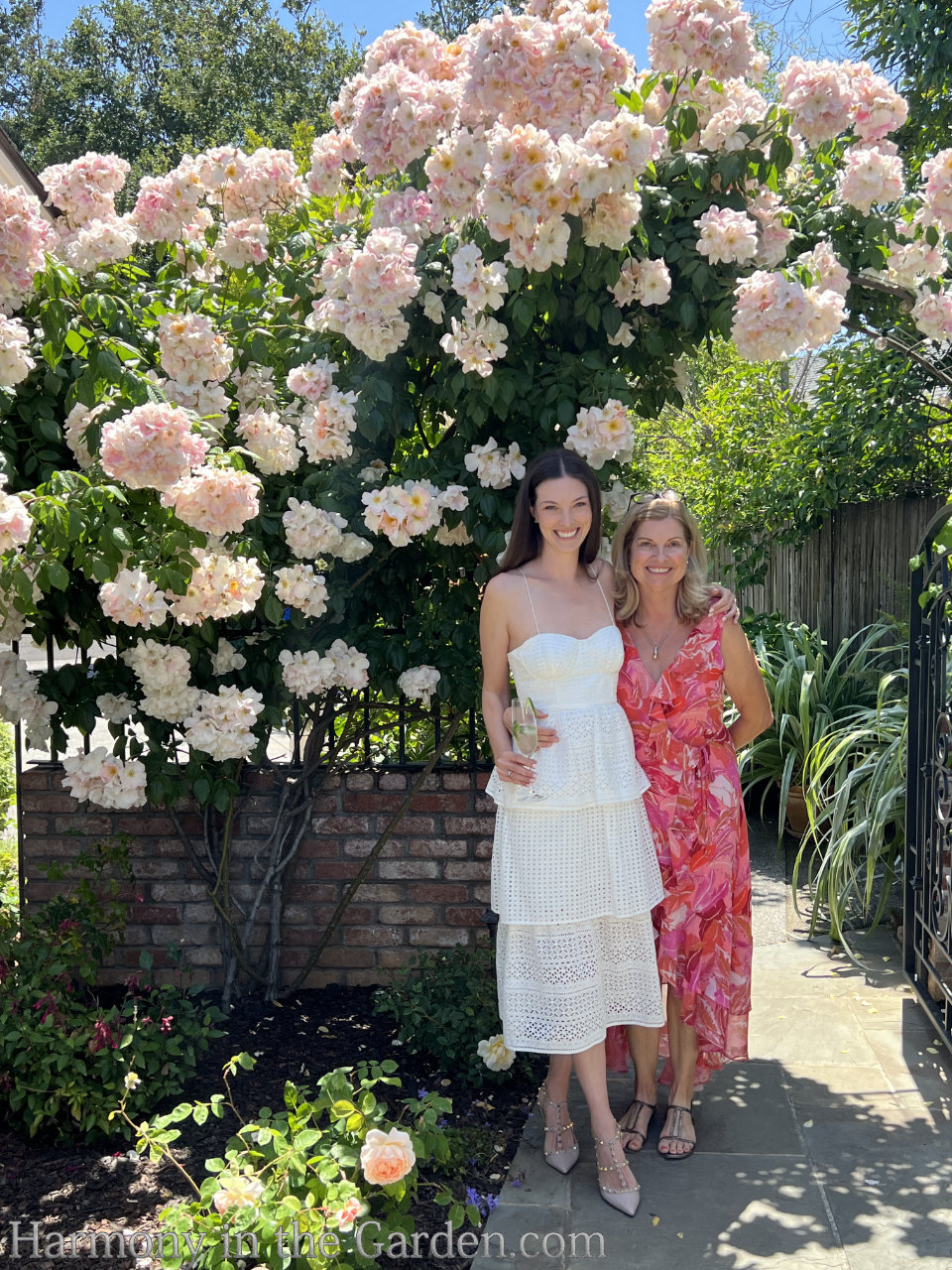 This garden's transformation has been a huge success, and has been a sanctuary for the family over the years.
And, most recently, my daughter's bridal shower was hosted in this beautiful garden.  It was a glorious day for all, and we were so honored to celebrate in this beautiful setting.
Here I am with my daughter, Emily, under a 'Sally Holmes' rose planted over the custom gate (look above to see the before pic.)
Cheers!