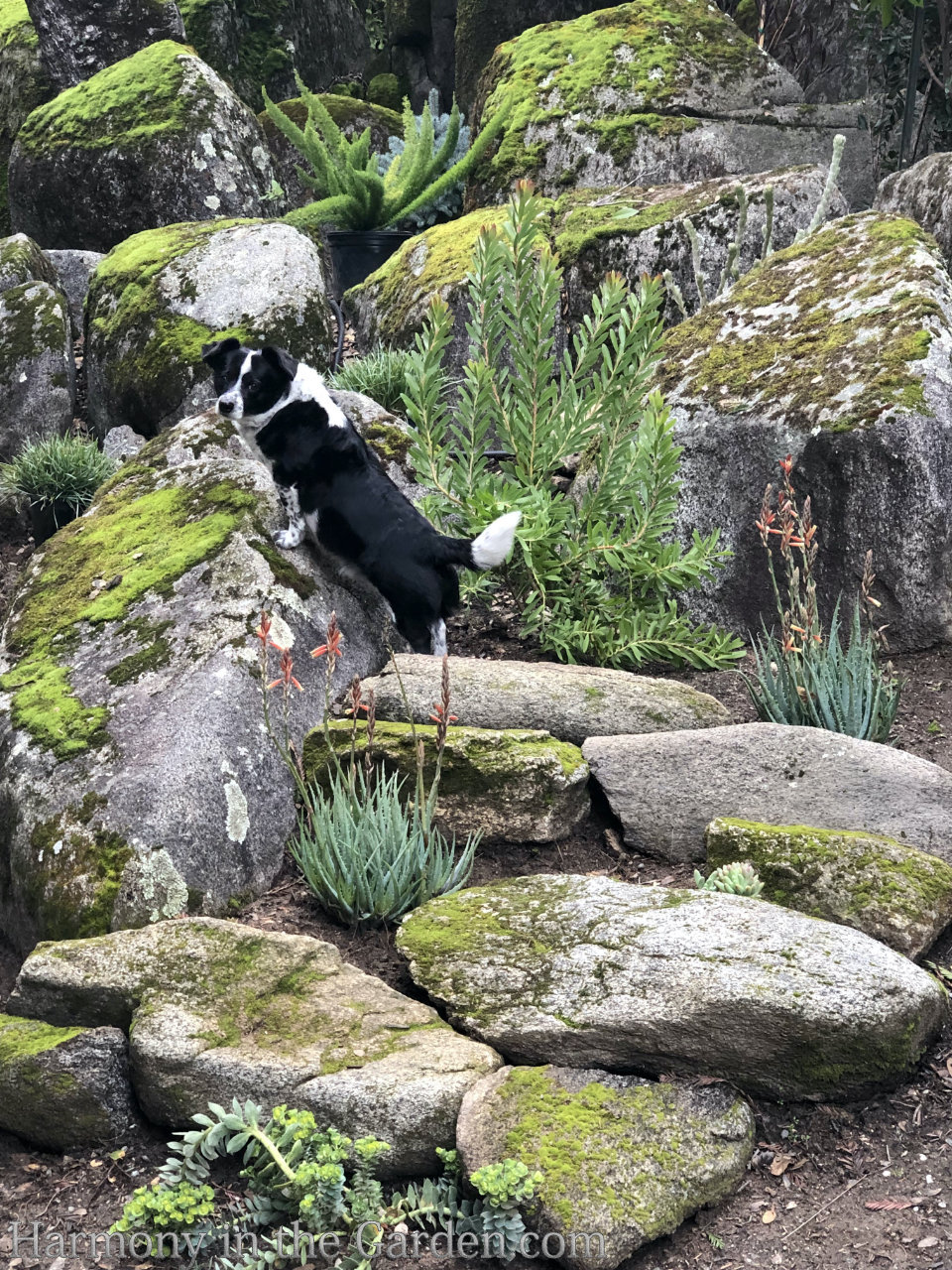 Side yard makeovers are some of the most popular posts on my blog, and for good reason. (you can see why here and here)! 
First, though, for those who aren't quite sure what a side yard is – they're the long and narrow sections of your garden that flank one or both sides of your home.
With a typical width of just 7-12 feet, side yards are often considered wasted space due to a wide variety of reasons. 
Their narrow dimensions, uneven lighting, and competition with 'the necessities of life' (ie: garbage cans, composters, A/C units, etc.) often make side yards a nightmare for creating a garden.
It's easy to adopt an 'out of sight, out of mind' attitude, and before you know it, the side yard has become your garden's wasteland.
This was the case with the side yard in my new garden.  
Objective #1   

Take Advantage of Inside-Out Design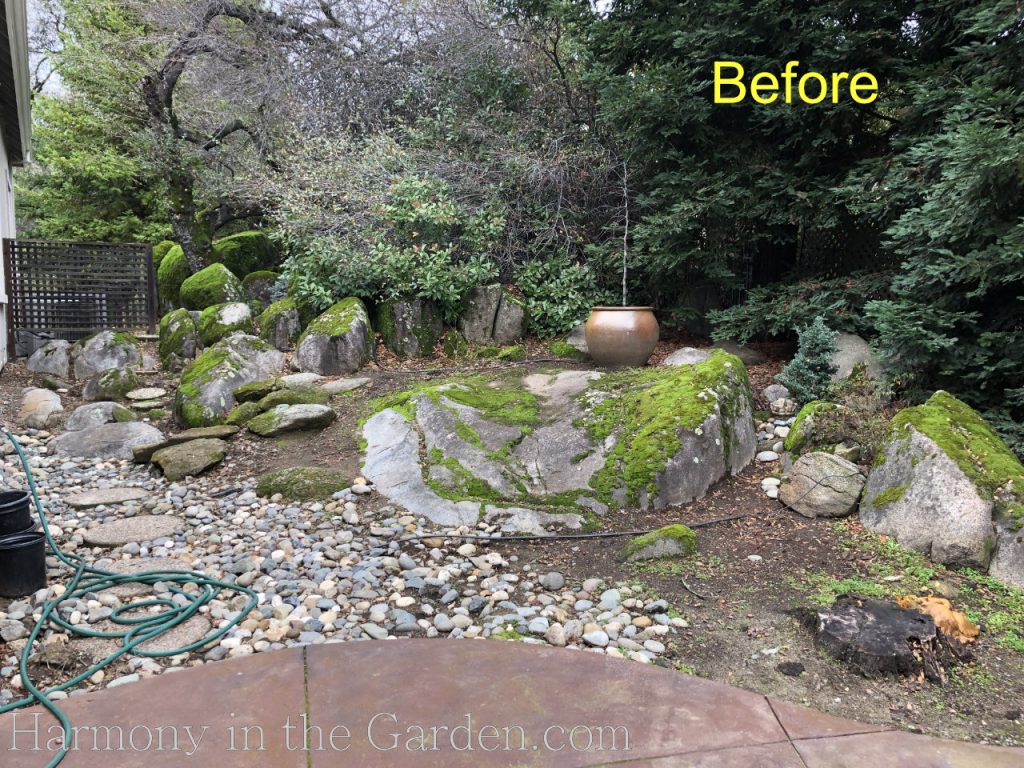 When we first moved in, our side yard was a huge, overgrown mess. 
Long before we moved in, a giant oak tree fell over, and while part of it was still alive, at least half of it had died.  
There is a photinia hedge that provides screening from our neighbors, but because it was crushed when the oak tree fell, the hedge developed an unsightly growth pattern.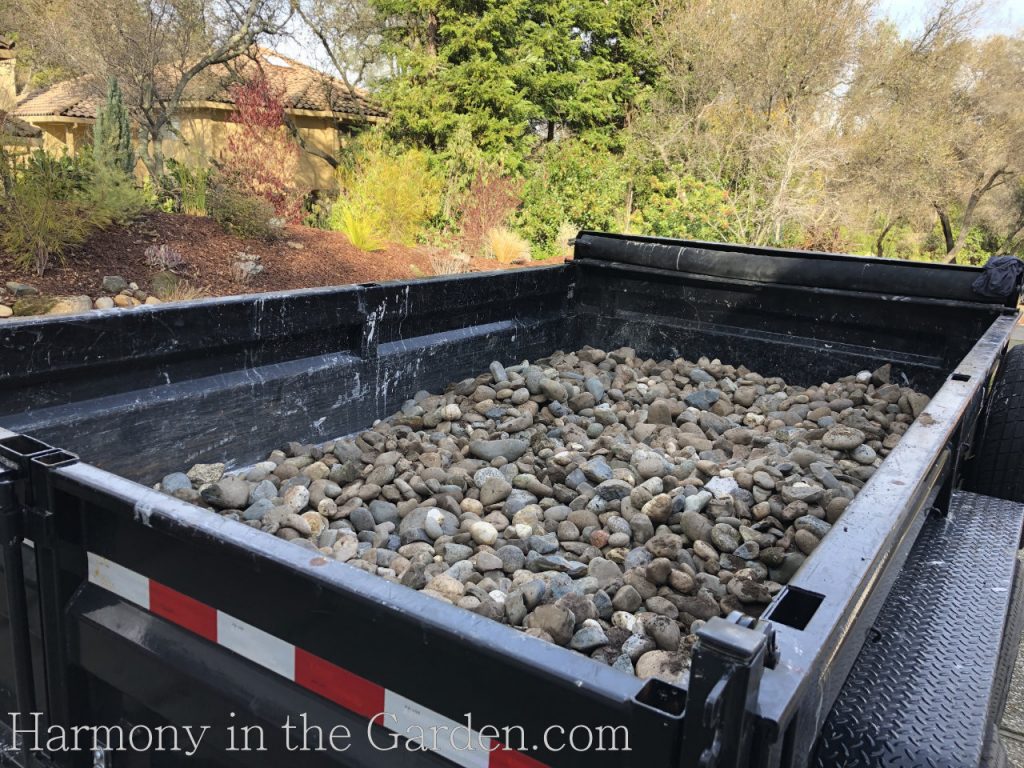 As if that wasn't enough, the only way to navigate the slope was to twist your ankles from walking on loads of river rocks. 
We're assuming the previous owner got a heck of a deal on river rocks because there were literally tons and TONS of them throughout the entire garden. 
And believe me, they're no fun to remove when they've sunk into the soil several feet! 
What did we do with them all?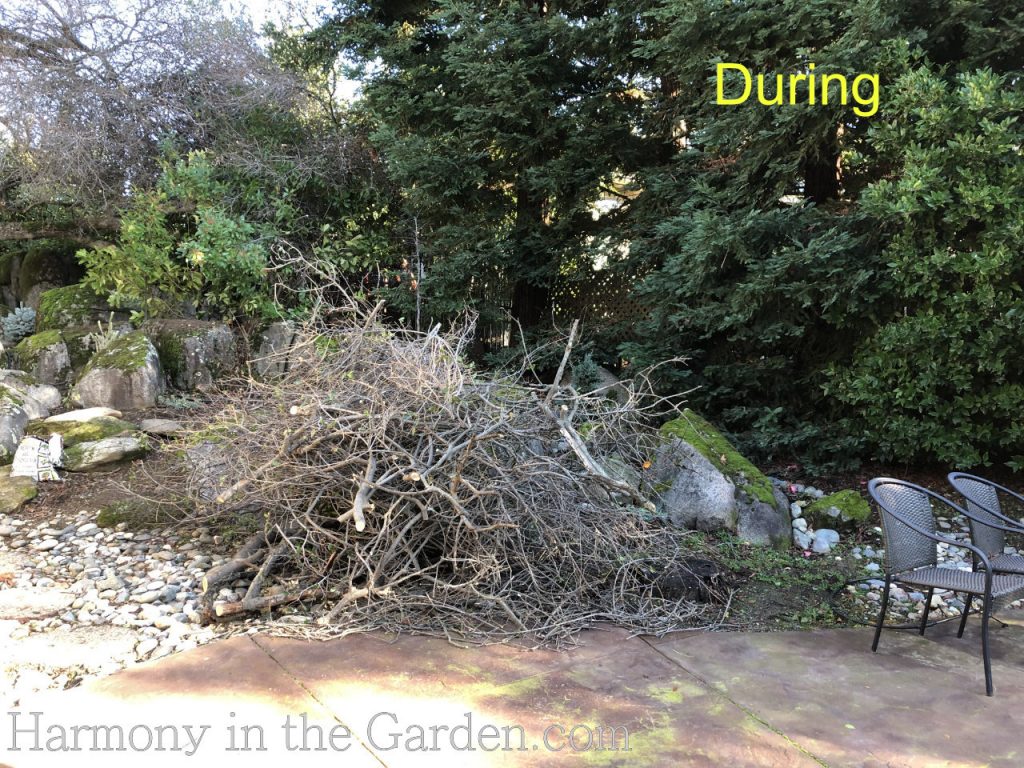 Luckily, while we were remodeling our home, our contractor had a client who wanted the rocks.  So, he let us fill his trailer, and then he would drive them over to her garden. 
Yay for finding them a new home!
Once we cleared out the dead oak tree's branches, we were surprised to find the side yard was much wider than we thought. 
And, after uncovering some of the large boulders, we realized we could create shallow planting pockets in between the stones.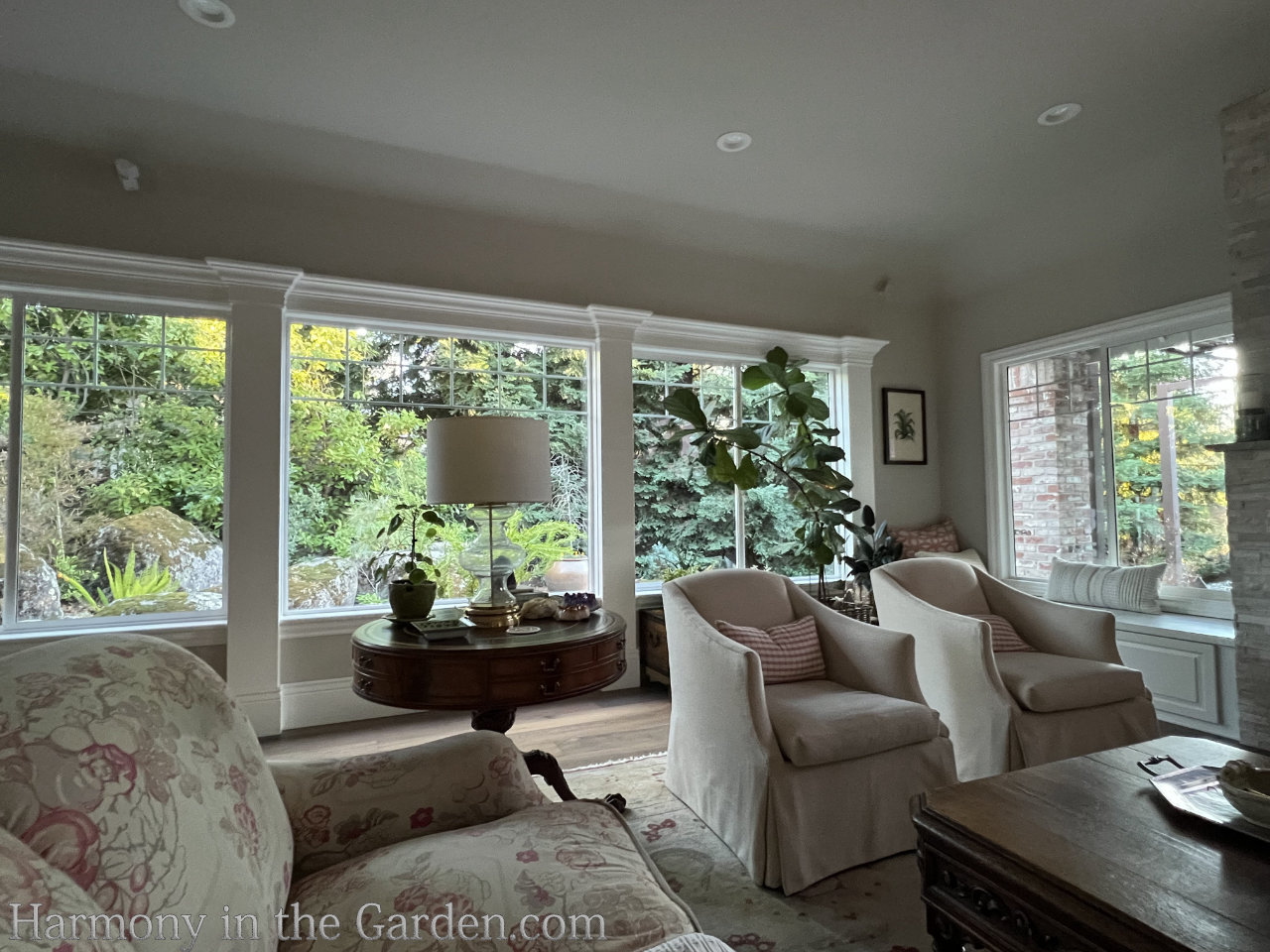 When it came time to remodel our family room (which faces the side yard), we decided to replace the tiny windows with the largest windows we could find.
I wanted to take advantage of the new garden I would soon create, and focus on a concept called 'inside-out' design. 
By using the window as the 'frame', vignettes are then created within the frame. 
Simply put, this means 'don't forget the views from inside your home!'  
Objective #2  Create a heat-loving, low water garden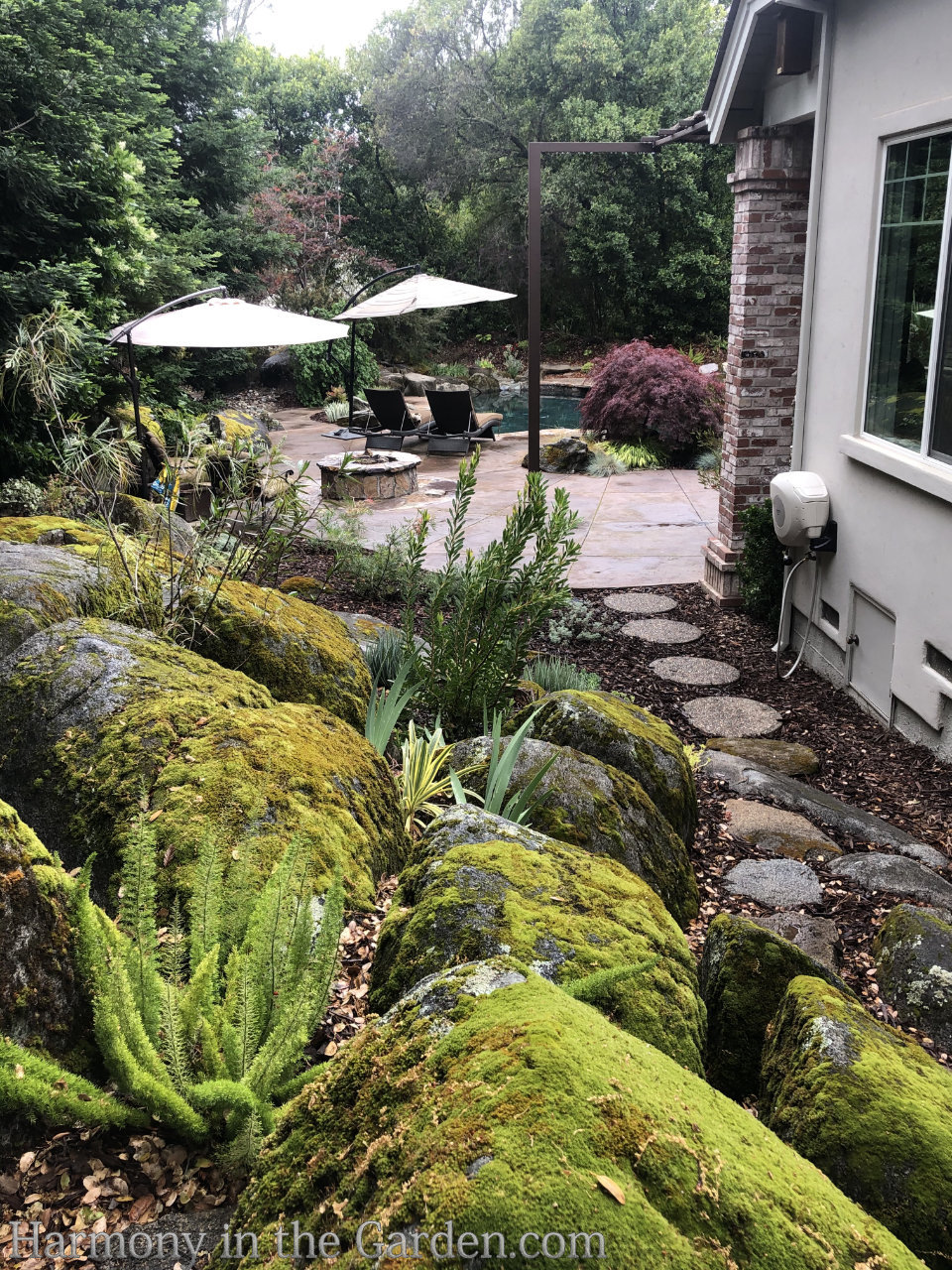 With our newly revealed side yard, it was clear that there were a LOT of granite boulders that I would never be able to budge. 
The boulders are absolutely stunning, and with the slightest bit of moisture, the moss and lichen turn vibrant shades of green. 
So clearly, they were the stars of this garden. 
However, I wanted more than boulders, so wherever I could, I created shallow pockets of soil for plants that might thrive in these spots.
This area gets blasted with intense afternoon sun, and with summer temperatures regularly in the 100's, the plants needed to be carefully chosen.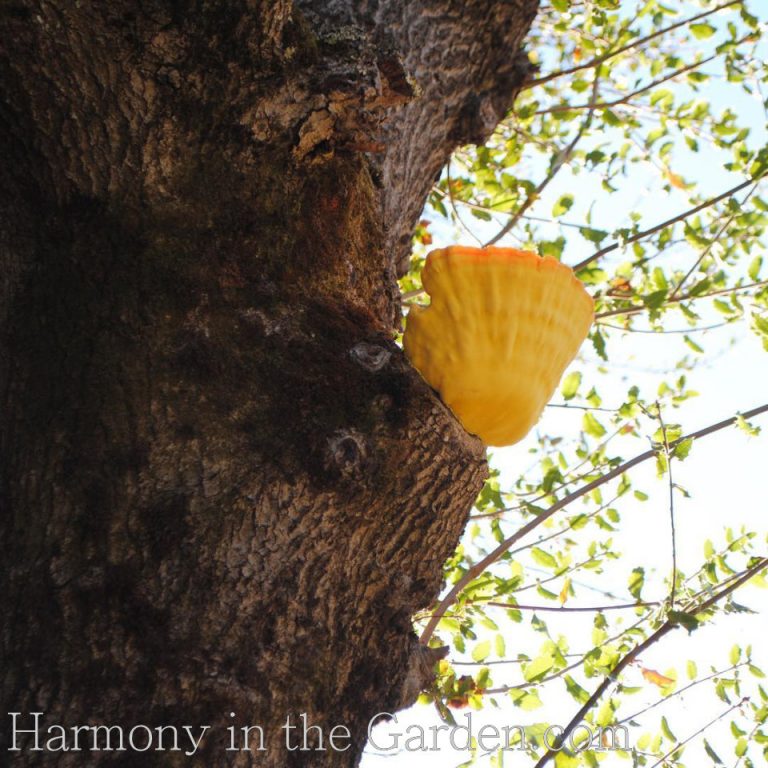 Despite the sad fact that the remaining oak tree is on borrowed time (an arborist told me the beautiful yellow mushroom I found growing on it, is a clear indicator the tree is sick), I'm not ready to remove it quite yet.
The tree (and its fallen, but living, branches) not only provide screening, but every spring, it's home to tons of birds and their babies. 
The area is an ideal bird sanctuary because it's so remote and private. 
I've had so much fun watching fox sparrows, spotted towhees, orioles, an owl, and even a hawk hang out in this spot, hunting for insects for their babies.  
So for now, the tree stays.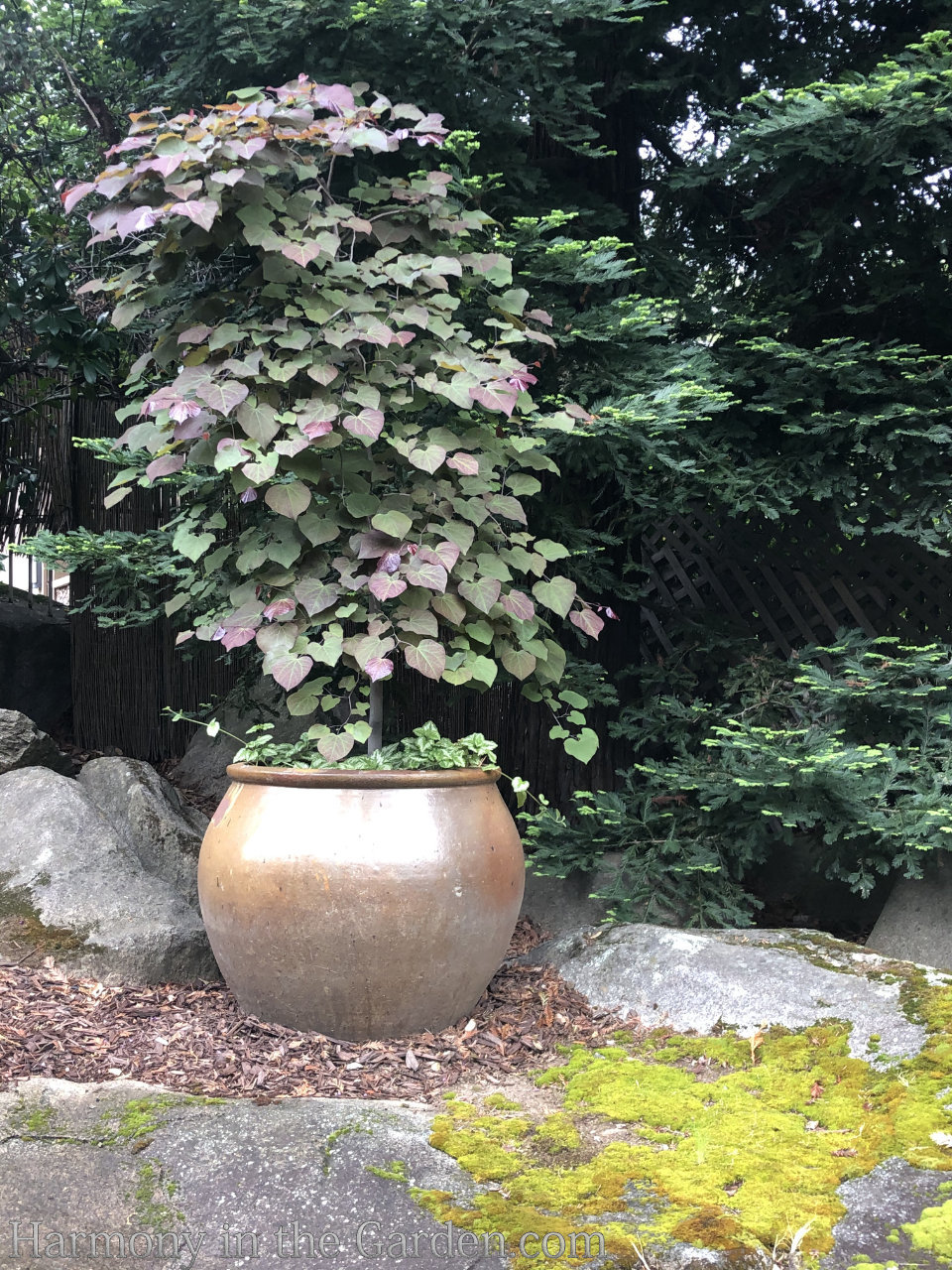 The various boulders resulted in my loose interpretation of a crevice garden. 
Some plants would need to thrive in very little soil, while others might have a bit more room to spread their roots. 
But ALL of them needed to be low water since irrigating this area is difficult and it's so darn HOT!   
By the way, here's a great article on Denver Botanical Garden's Crevice Garden, in case you're interested.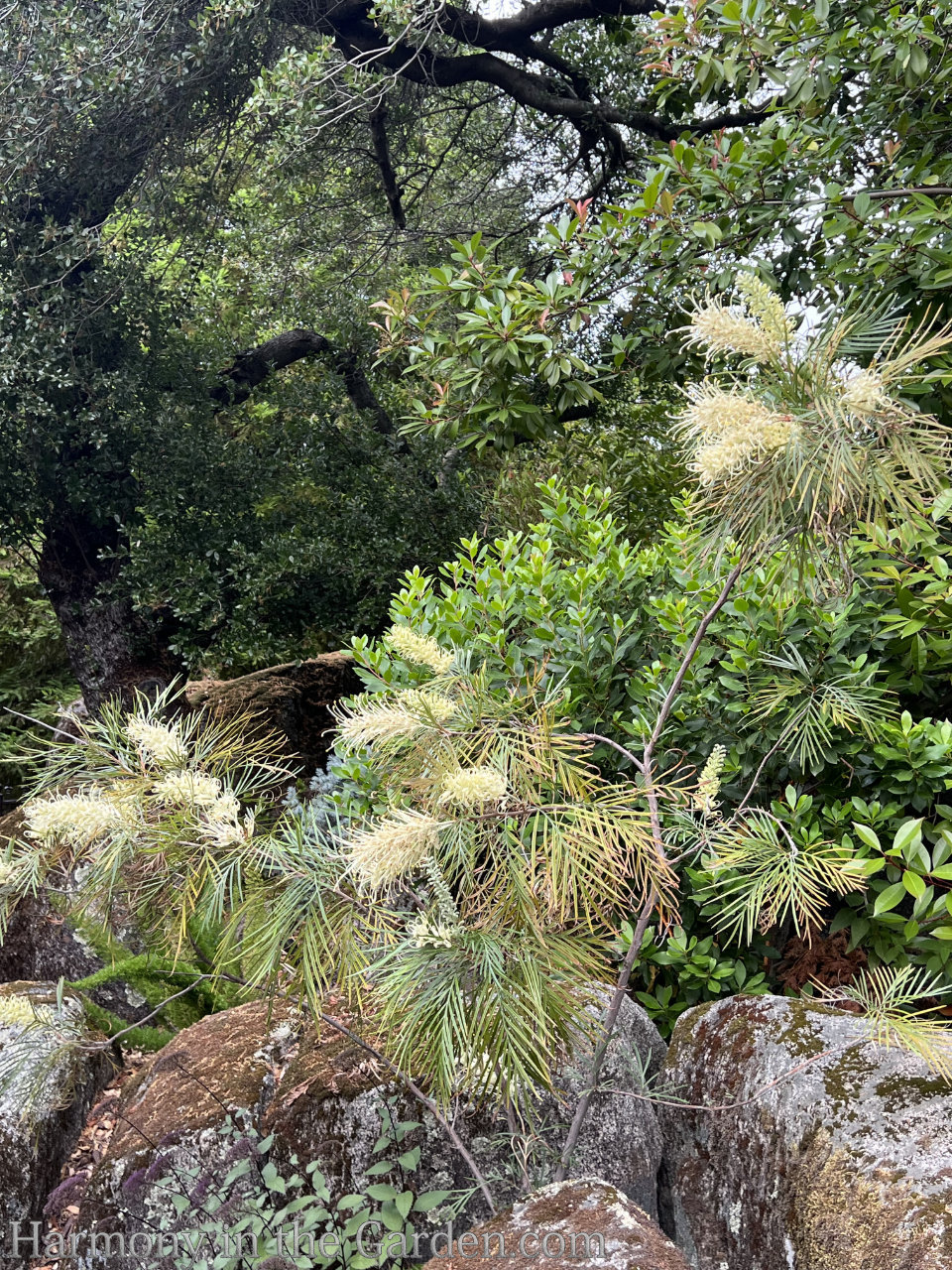 Grevillea 'Moonlight' has done better than expected planted between the tight crevices of the large boulders.
Its growth is stunted, due to confined roots, but even so it's 6-feet (versus the 10-feet or more it wants to grow when planted in ideal conditions.)
It took a few years to get going, but now it's happy, covered with blooms (and hummingbirds!)
For more about my favorite grevilleas, click here.
Below, are some of the plants that have done really well in this difficult area: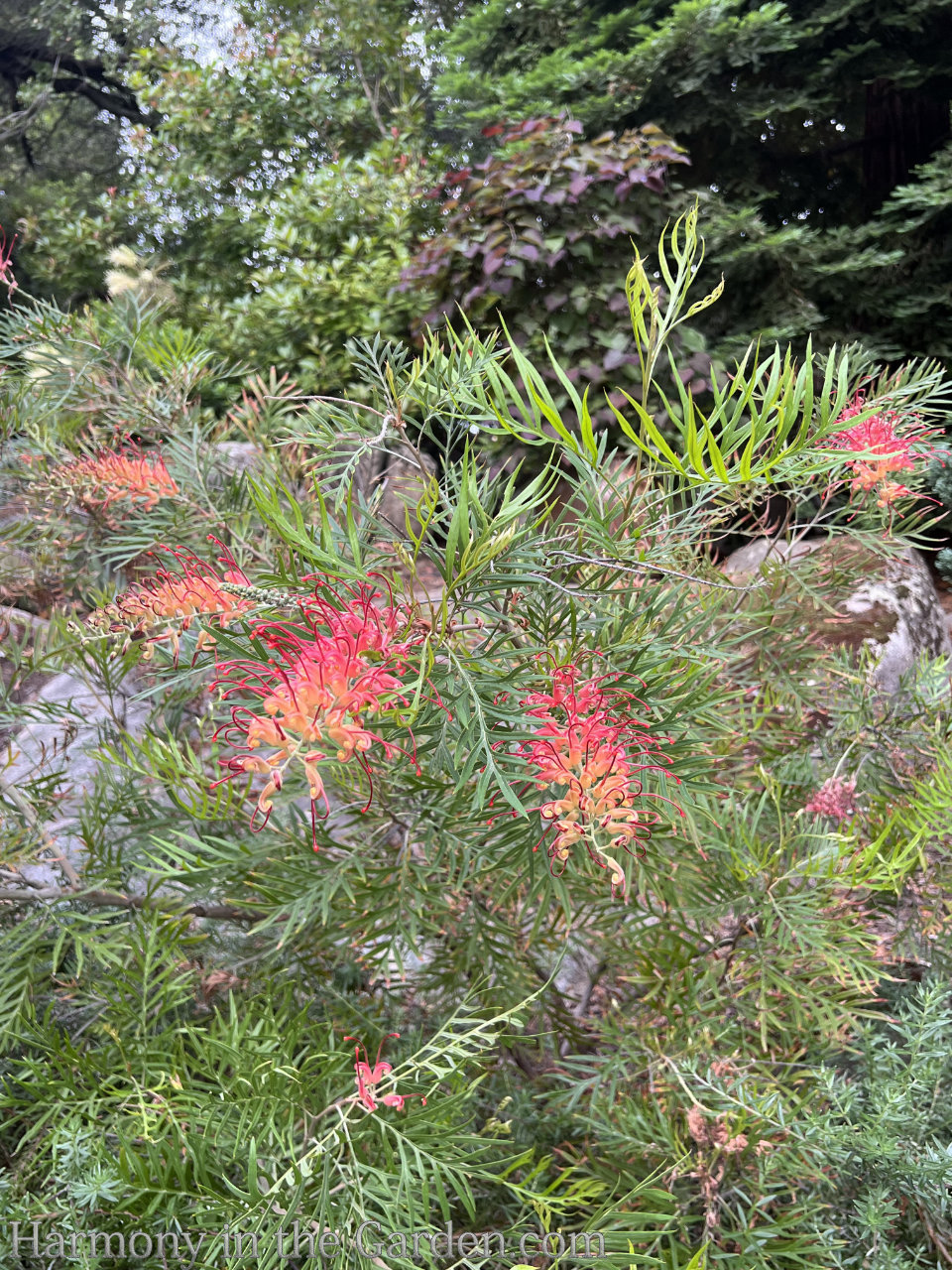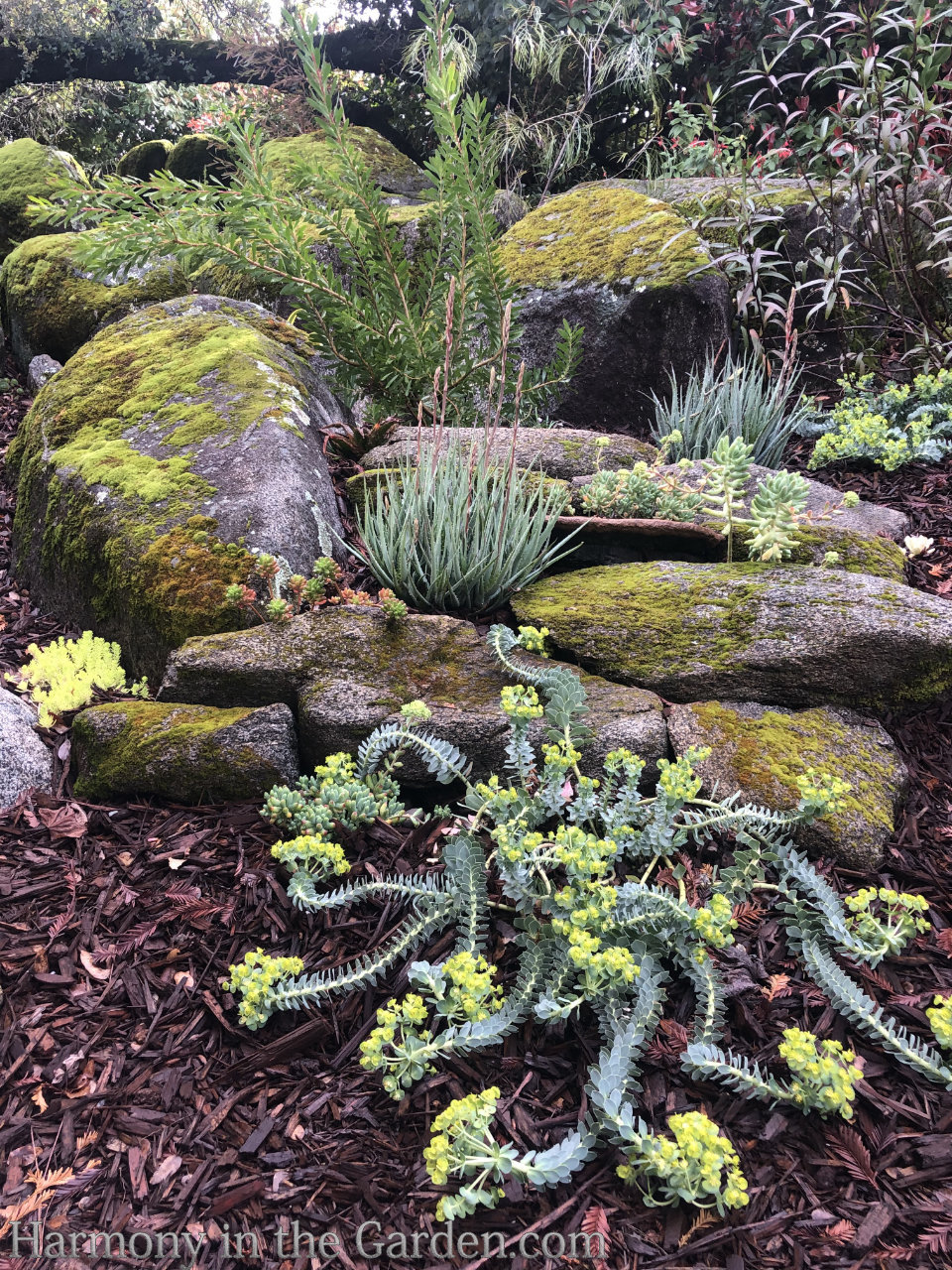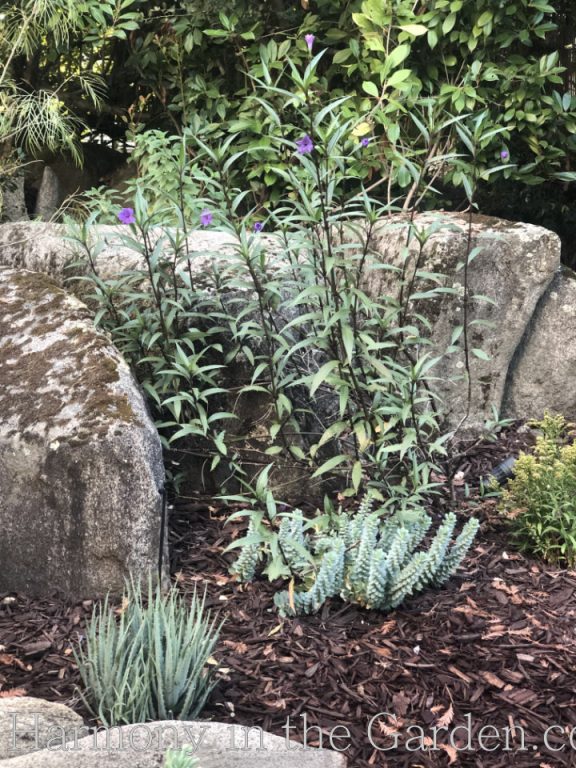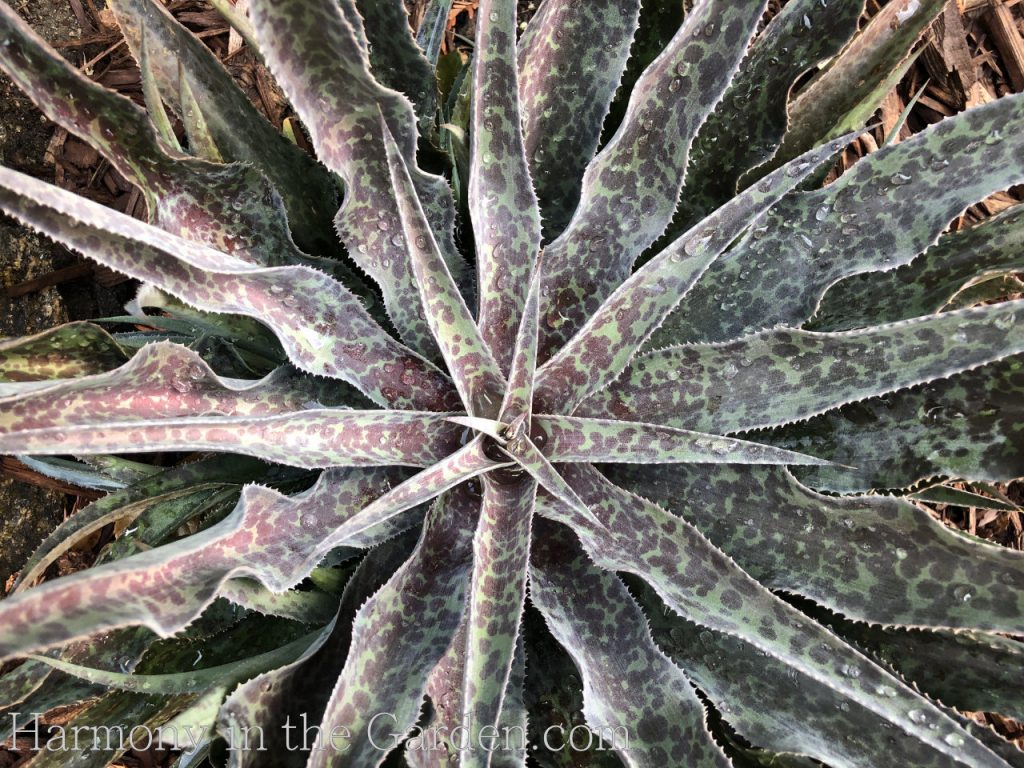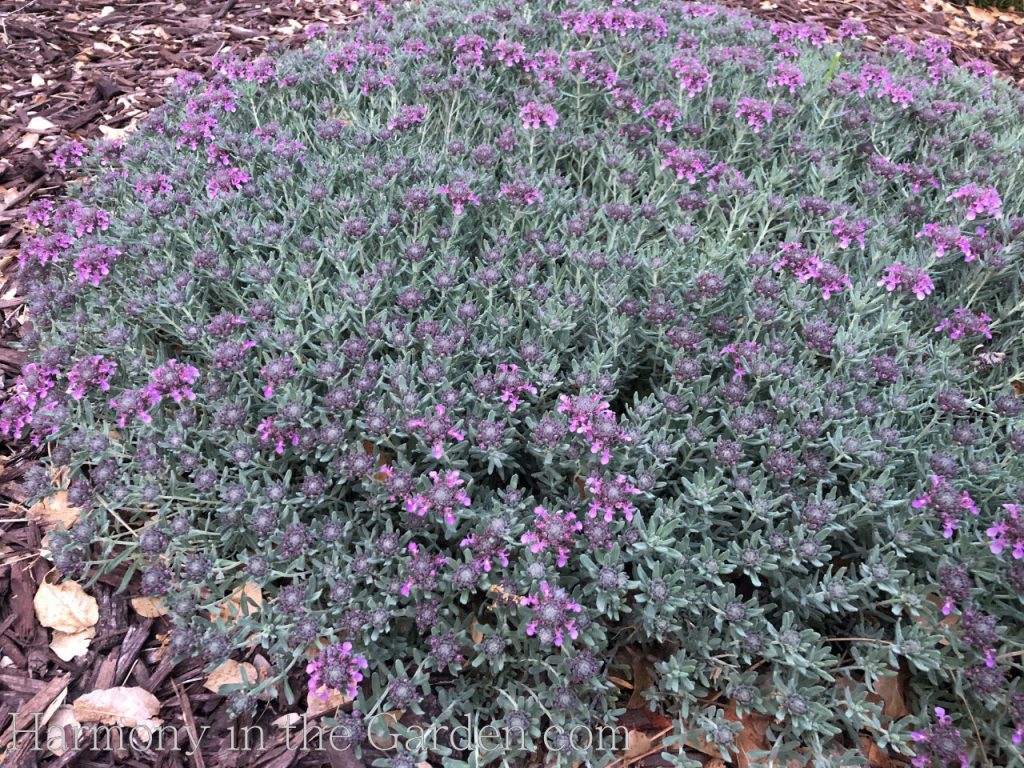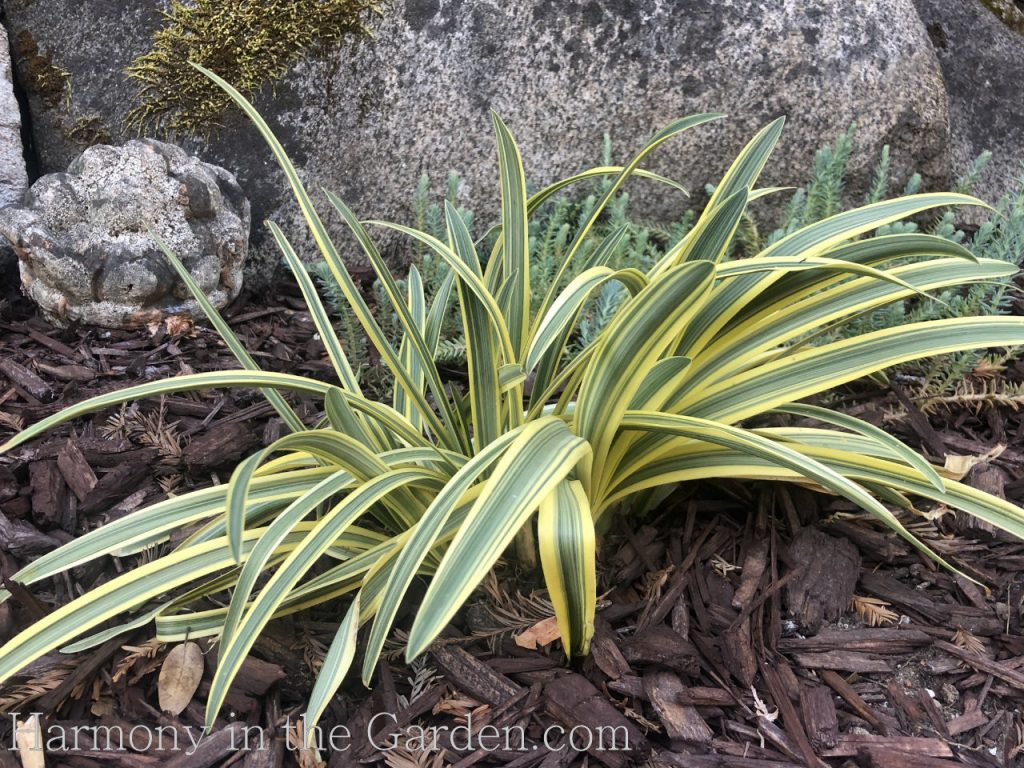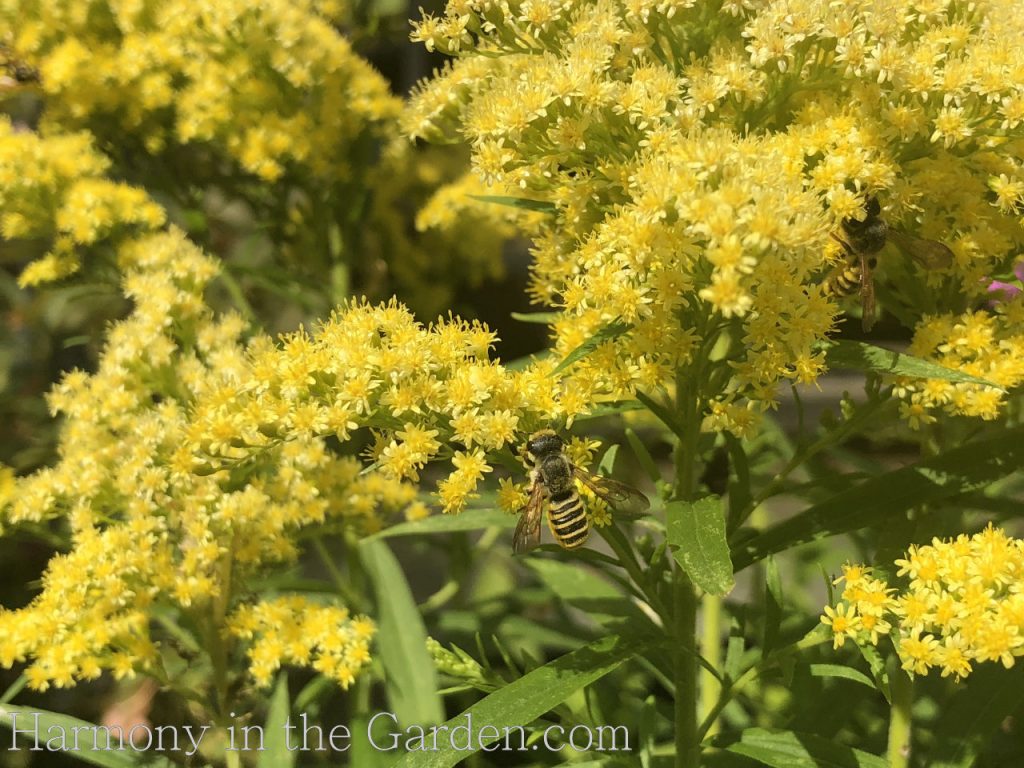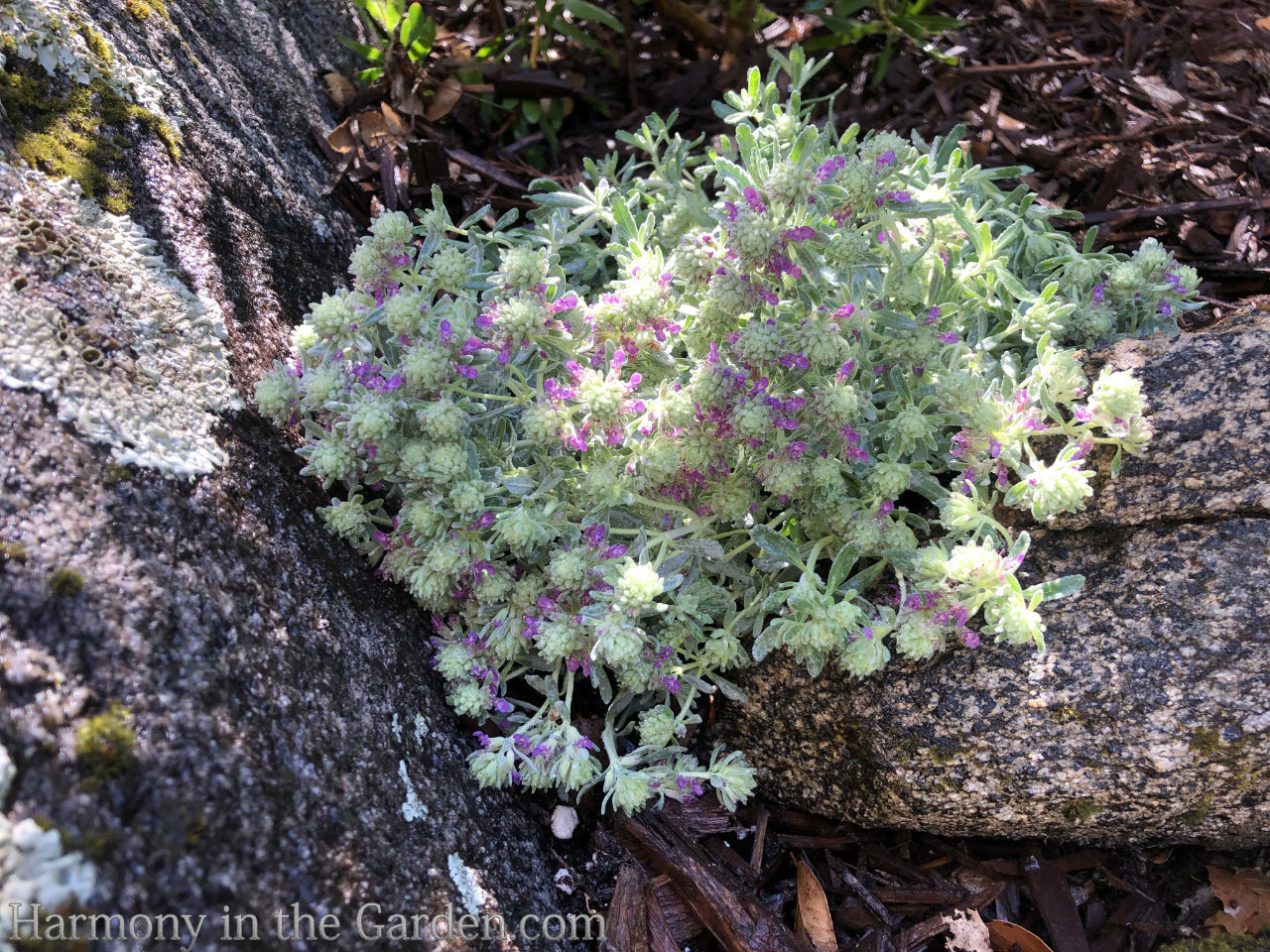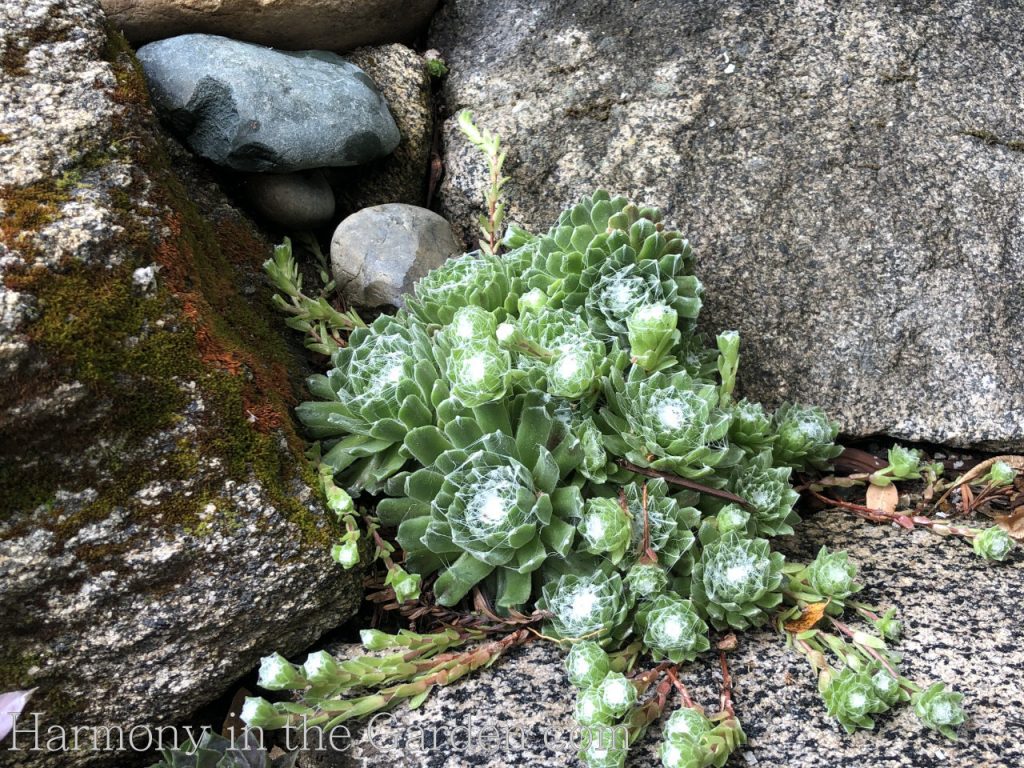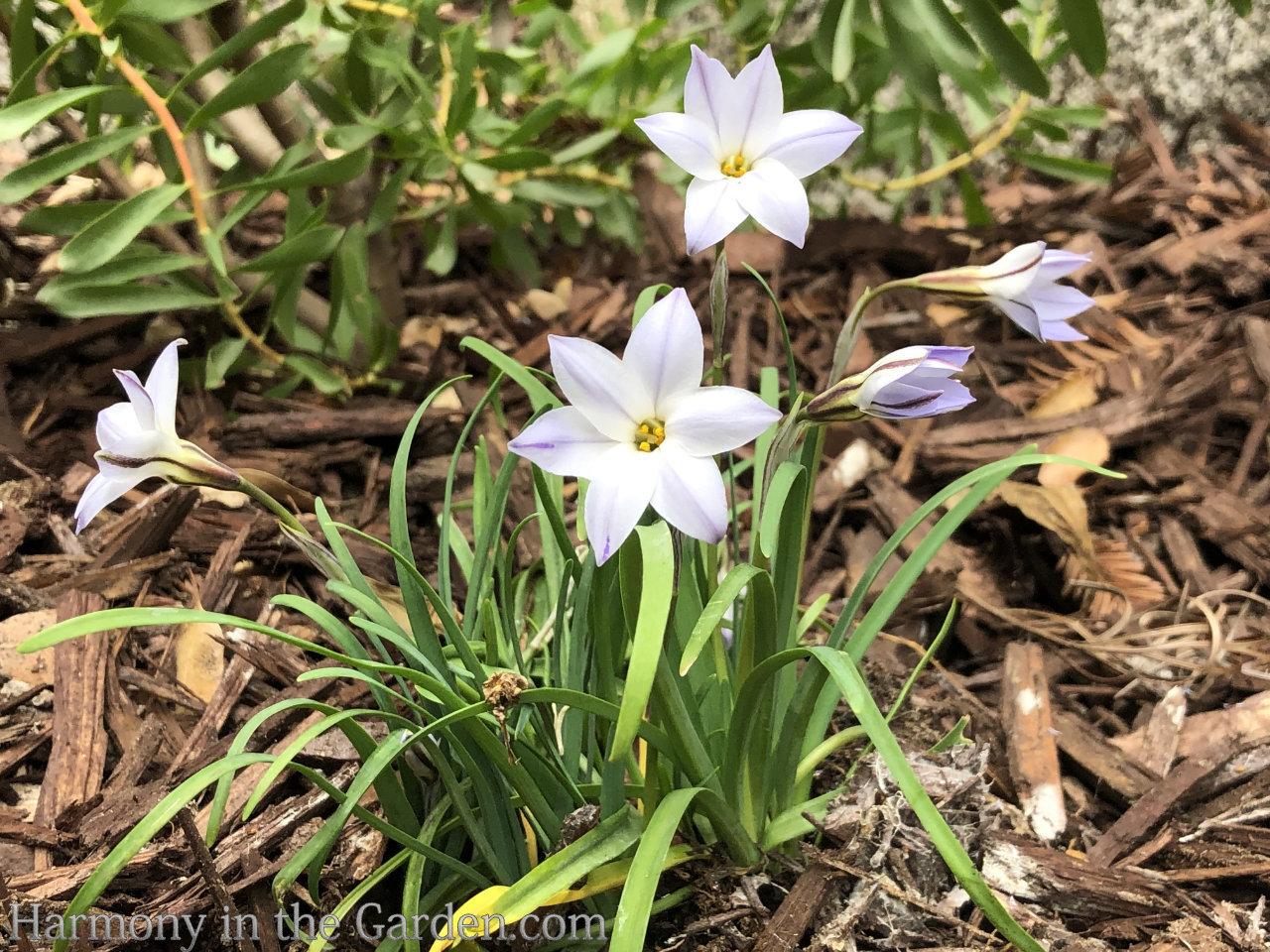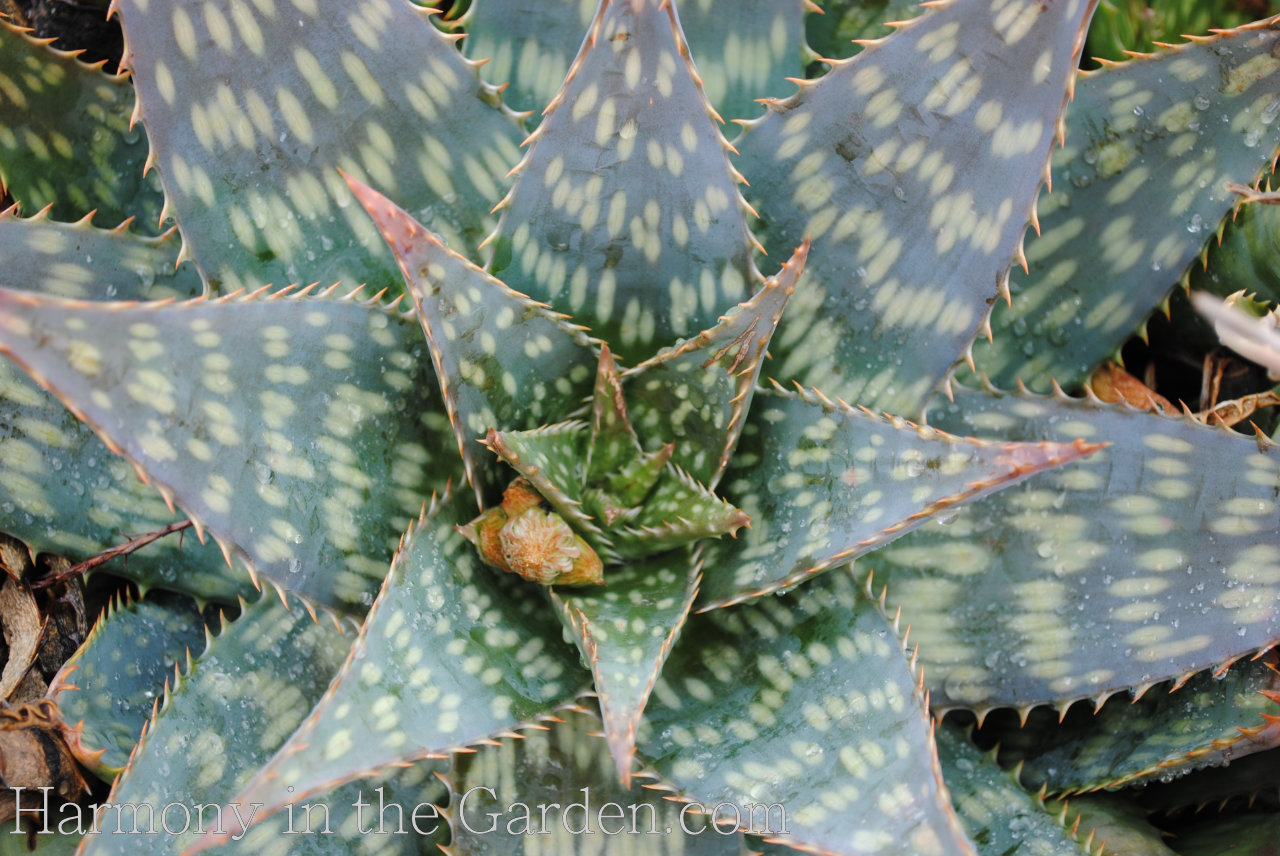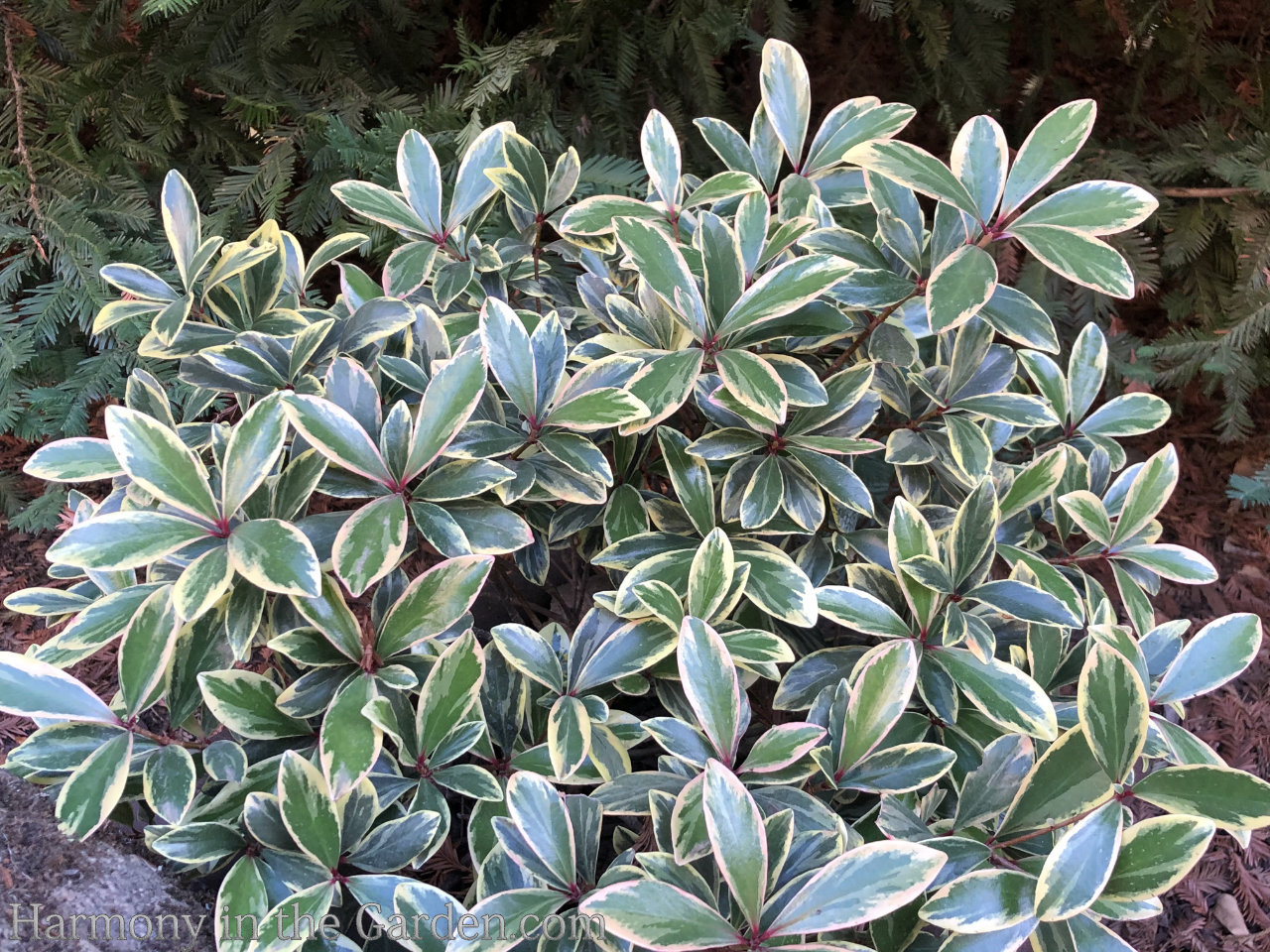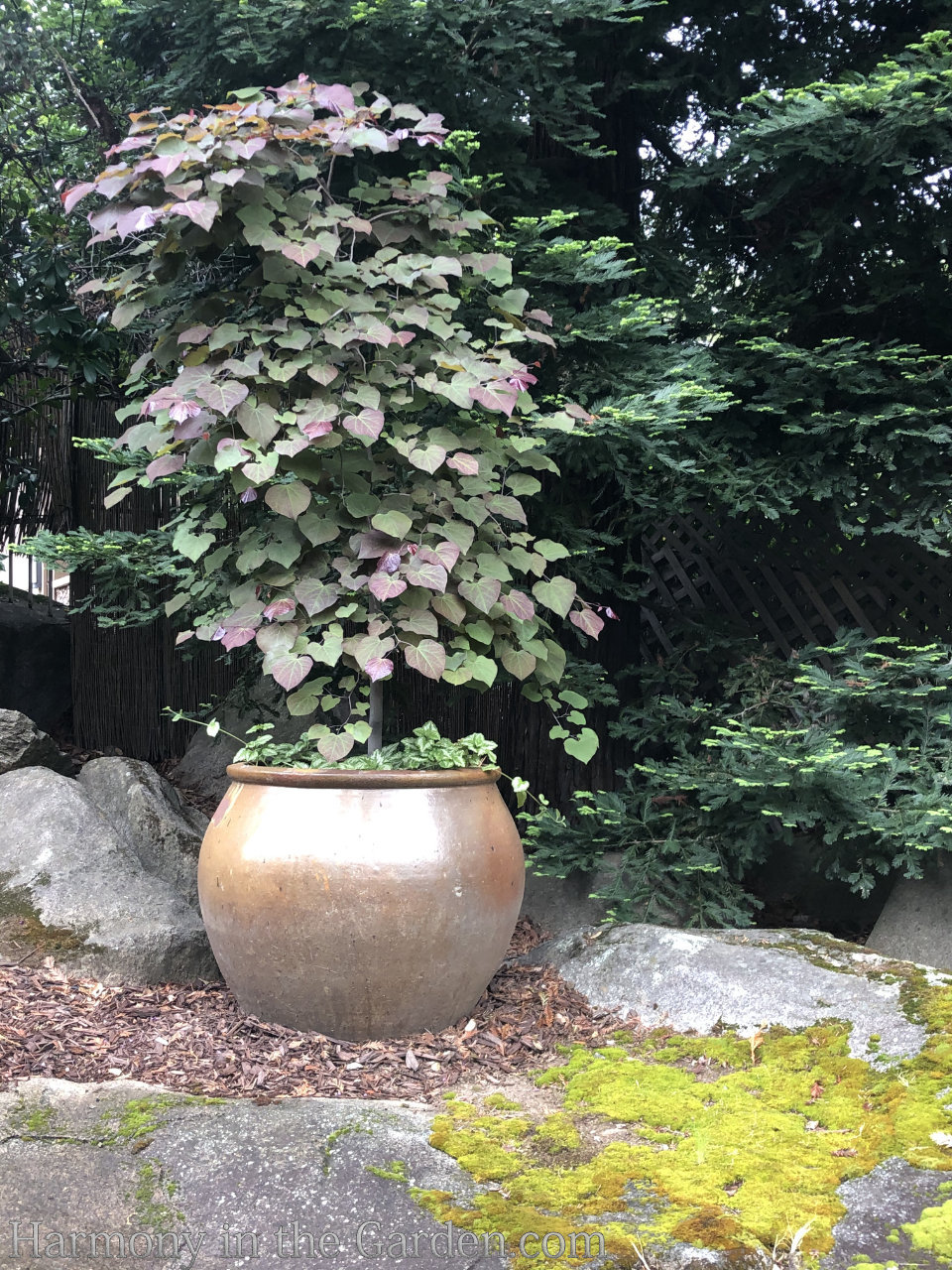 But the focal point of this entire area is, without a doubt, my
'Ruby Falls' Weeping Redbud'
In fact, this container is featured in an issue of Fine Gardening Magazine!   
My goal was to create a focal point that I could appreciate from inside my home, as well as out.  And, one that would look good for most of the year.
'Ruby Falls' does precisely that.
After profuse magenta blooms in the late winter, the new lush, heart-shaped burgundy foliage is an outstanding feature, accentuated by the dark green curtain of the Redwood trees behind it.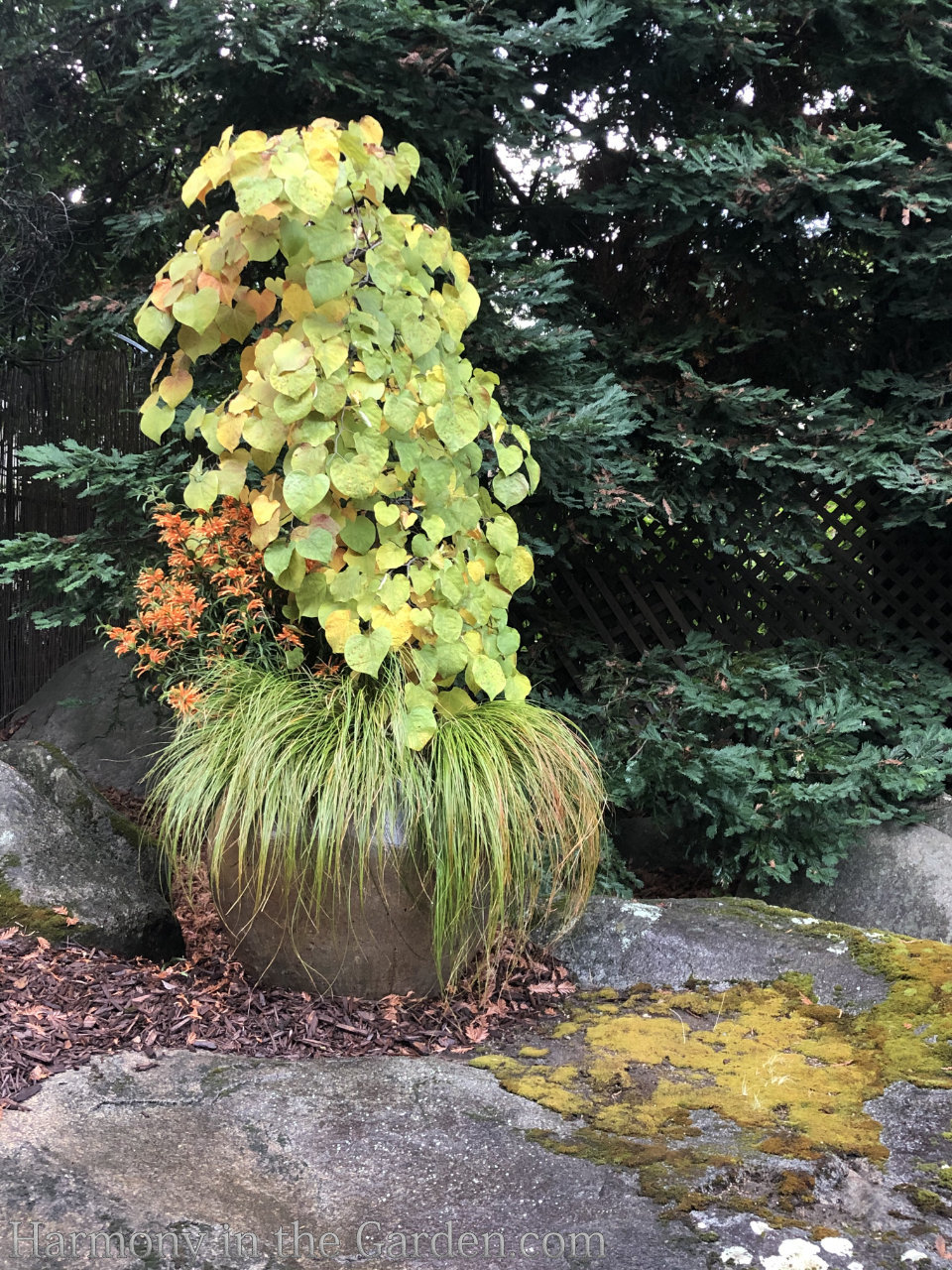 But in the fall?  LOOK – OUT!!!  
The foliage turns vibrant shades of orange and yellow that cause everyone to see it to gasp in delight.  Seriously – it's amazing. 
I temporarily planted a leonotis leonurus (Lion's Tail) along with a 'Prairie Fire' sedge, to complement the fall foliage until the tree grew a bit larger.  
This is a slow-growing Redbud variety that will ultimately grow downwards in a waterfall-like manner, softly draping down the container and over the boulders.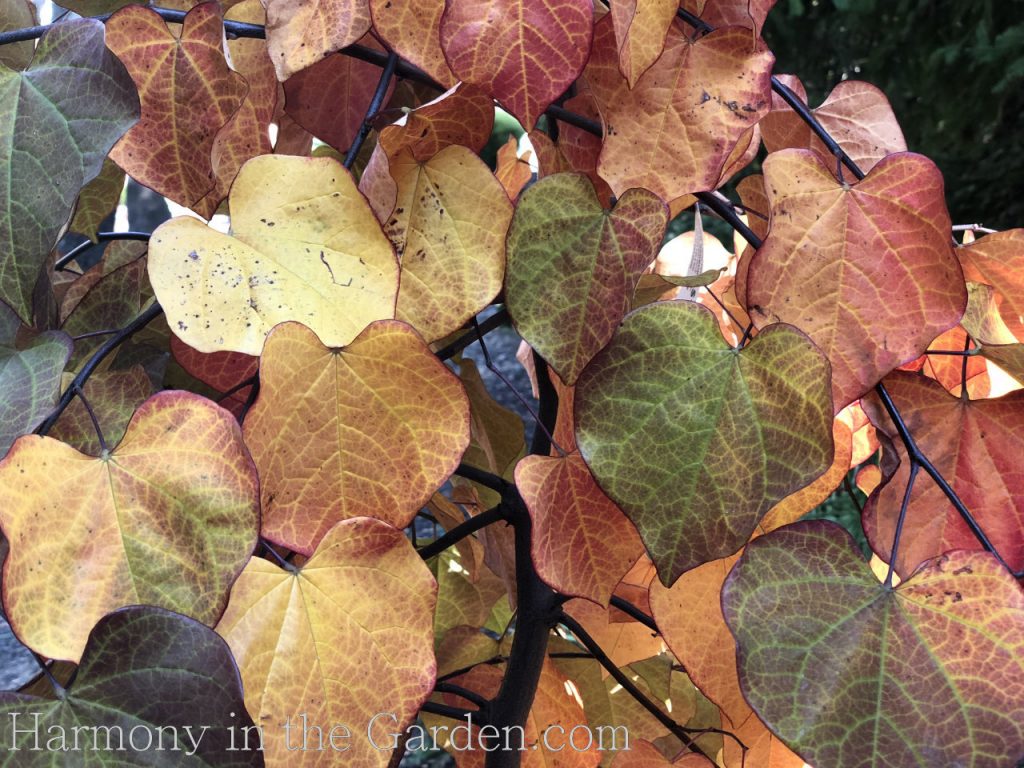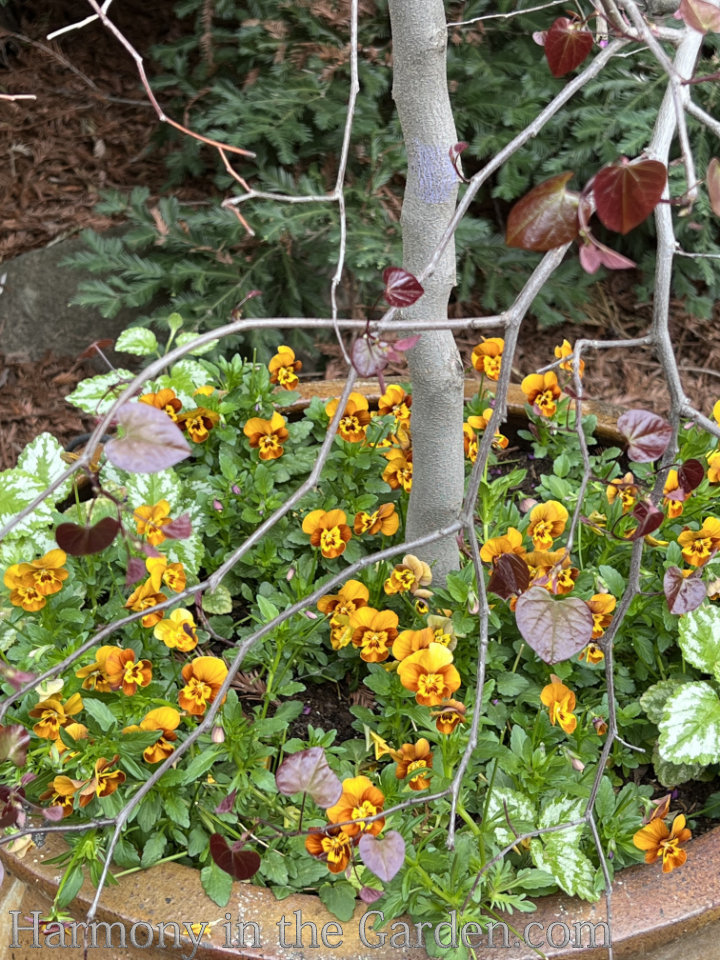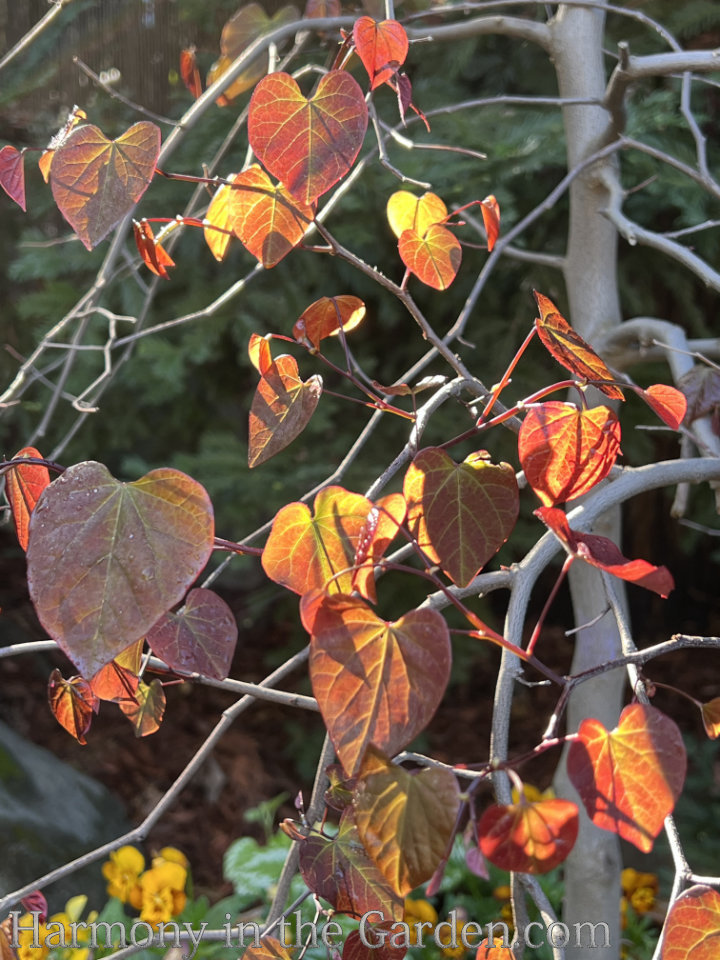 In the winter, when the tree is deciduous, I like to underplant the tree with annuals (like this beautiful little viola that bloomed for months!
And when the redbud's leaves begin to emerge, they look like little ruby hearts glowing in the cold sun.
Now on to the giveaway that is perfect for side yards!!
UPDATE:  Contest is now closed.  Congratulations Carolyn J.!!!  You're the lucky winner and the retractable hose will soon be coming your way within the few weeks.  And thanks everyone else for entering the giveaway! 
However, for those who didn't win, Hoselink has also offered a $10 discount to my readers, good through July 31st. Just enter

HARMONY10

when you check out!  
Hoselink has generously offered to give away to one lucky winner the BEST retractable hose reel I've ever used.   Trust me, this is quite the giveaway!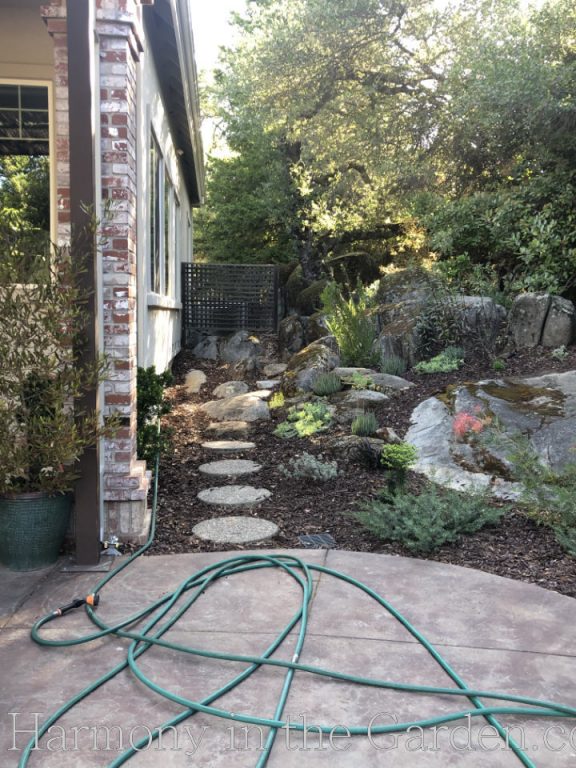 Hoses tend to drive me INSANE. And not in a good way.
And now that I have a much larger garden than before, my hoses all need to be at least 50-feet (some are even 100-feet!) 
My hoses are either kinking, or getting hung up on my delicate plants, or worse yet – causing my back to seize up when I try and re-wind the heavy hose back into a neat pile.  
Therefore, I end up leaving them strewn about like this, looking like a giant eyesore.
So you can imagine how excited I was when Hoselink offered to send me their retractable hose reel to trial in my garden – especially after watching Laura with Garden Answer's glowing review (you can watch the video here).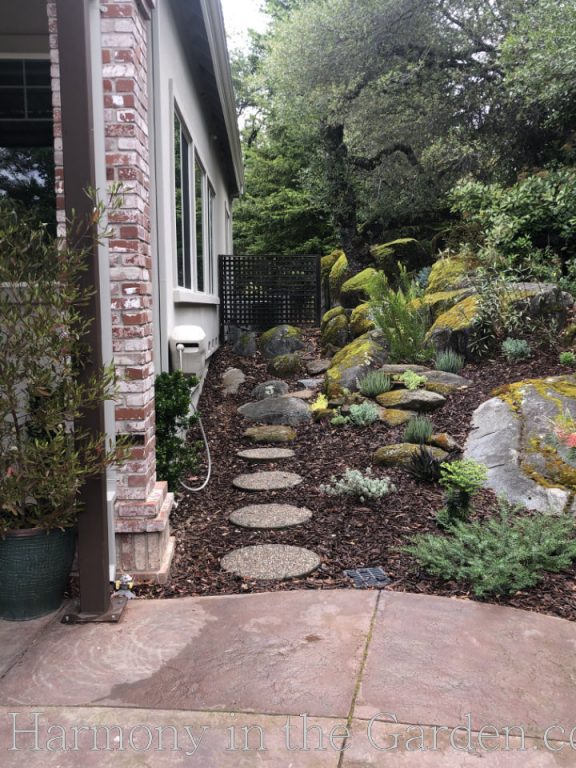 Take a look at the after photo – no more unsightly hose!  
One of the features I love about this hose reel is that the unit easily swivels to either side, lying flat against the wall.  This feature makes it perfect for skinny spaces like a side yard.
My super-handy husband installed it and was very impressed by the easy-to-understand instructions and the well-made parts.  He really appreciated how well it's made (and let me tell you – he's picky!)
This hose is a DREAM to use and to put away.  The hose is a bit thinner and lighter than traditional hoses, so to avoid any kinking, it's important to turn the water on BEFORE you pull it out and turn it off AFTER the hose is retracted. 
See how it swivels in both directions and can lie flush with the wall?  I love it!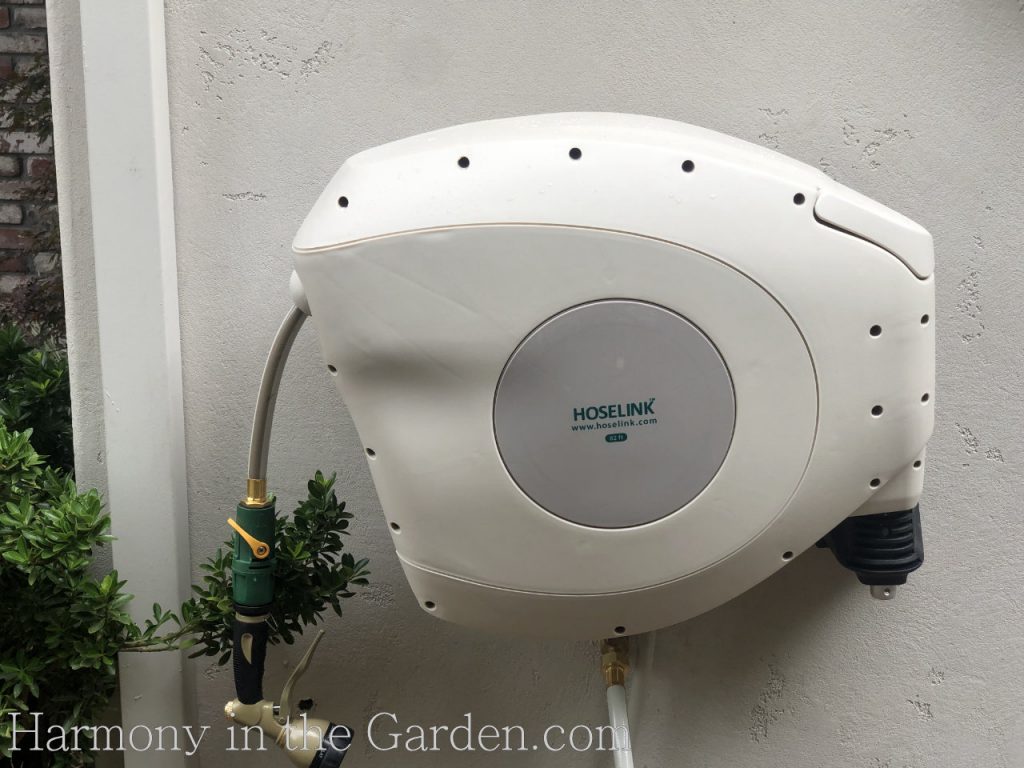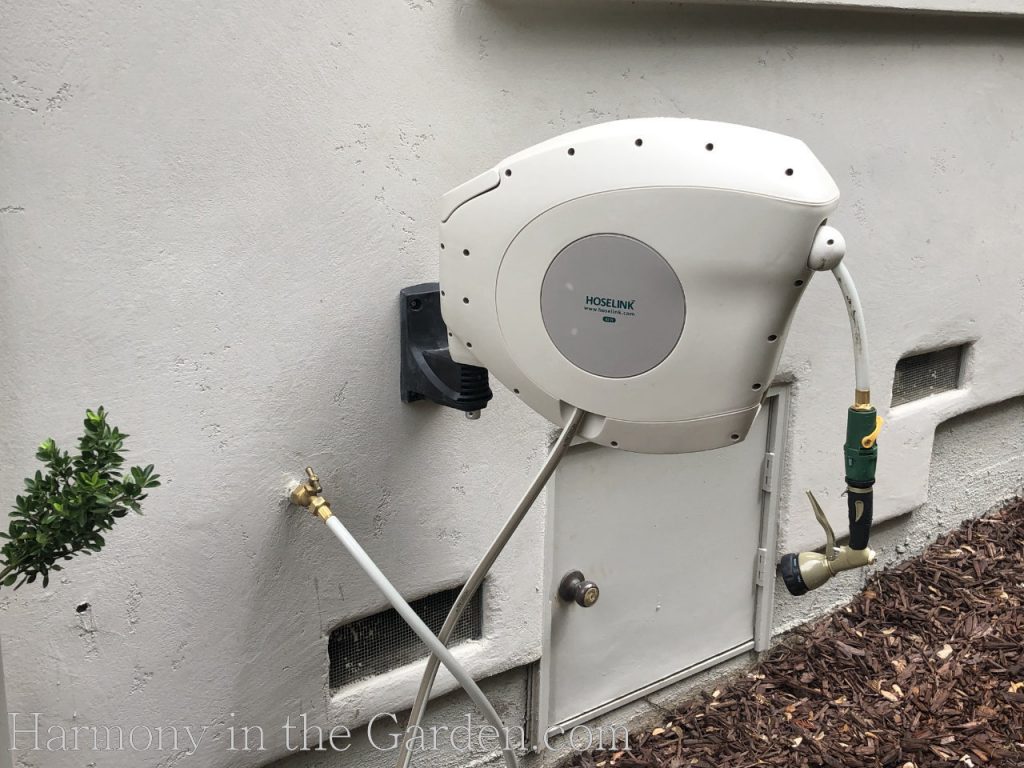 My back appreciates the weight of this hose and the fact that retracting it is effortless and takes just a minute to do. 
The unit also comes with its own watering attachment, but the hose will fit with other manufacturer's attachments, in case you want to use your own.
Ready to try and win one for yourself?  All you need to do is leave a comment below – it's that easy!    I'll choose one random winner by midnight, May 25th, 2020.
Oh, and please remember that I won't be able to respond to your comments as it'll mess up the random number generator I use to pick the winner (but that doesn't mean I don't enjoy reading what you all write, because I do!)  I WIILL, however, go back after the winner is chosen and respond to any questions you might have.   Thanks for understanding!  🙂
The Fine Print: A random winner will be chosen by midnight May 25th, 2020, and contacted within 24 hours. If the proposed winner forfeits or does not claim the prize by May 29th, the prize will be re-awarded based on the sponsor's sole discretion. All prizes will be awarded.
Please provide your first and last name to enter this contest so I can immediately contact you if you win. The winner agrees to allow his/her first name to be mentioned in conjunction with this giveaway. This giveaway is limited to U.S. residents only, who are over the age of 18 years old. No purchase necessary to win. This sweepstake is also void where prohibited by law (wherever that is, I'd sure hate to live there!) and by entering this giveaway, you agree to these conditions.
Affiliate Links: Over the years, I've tried tons of garden-related products and only recommend those I truly believe in and those that have held up well in my garden.