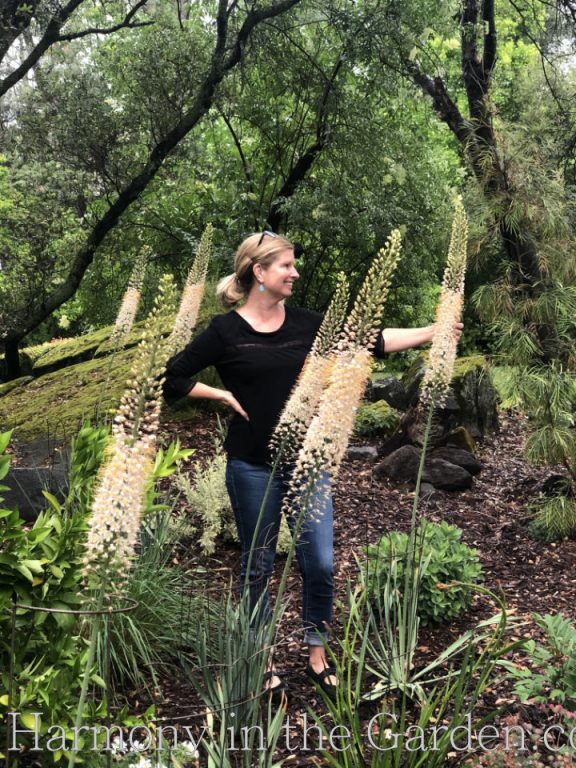 I'd like to introduce you to my new obsession – Foxtail Lilies (eremurus 'Oase')
I've wanted to write about these for months, ever since I bought the tubers at the Northwest Flower & Garden Show this past February.   
But every time I sit down to write, I look out the window and see the towers of flowers are looking even better than my previous batch of photos! 
So off I go to take more pics – which my husband lovingly calls my 'foxtail lily frenzy' – ha!
The first time I saw foxtail lilies in person was while visiting New York's Highline Garden. Right then and there, I vowed to try them in my own garden someday.  But for some reason, I thought they needed a much colder climate than my zone 9 garden, so I accepted the fact that I'd always suffer from bulb-envy. 
However, while perusing one of the vendor booths at the show this year, I saw a big tub full of bulbs and muttered (louder than I thought) 'dang, I wish I could grow these!'   
A lady standing nearby overheard and asked, 'why can't you?'  As we chatted, it turns out she used to live in my area, and she had loads of these growing in her garden!  WHAT???!!!!   
That's all I needed to hear, and out came my wallet!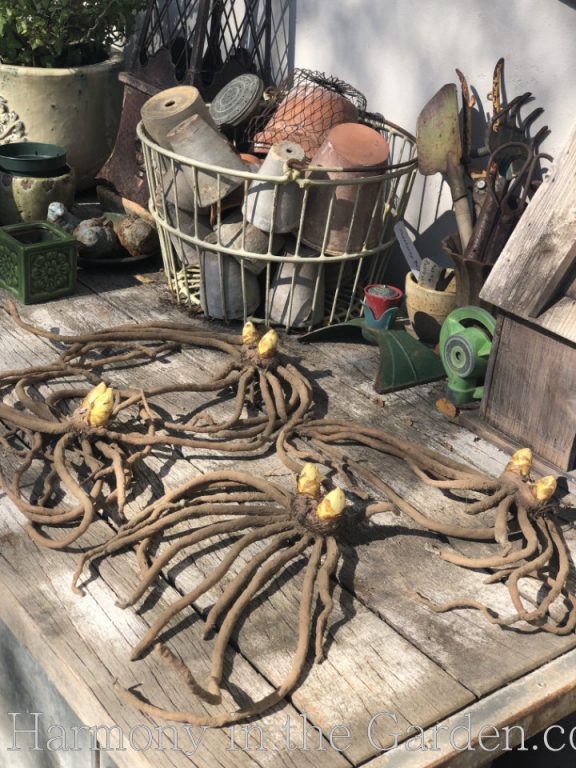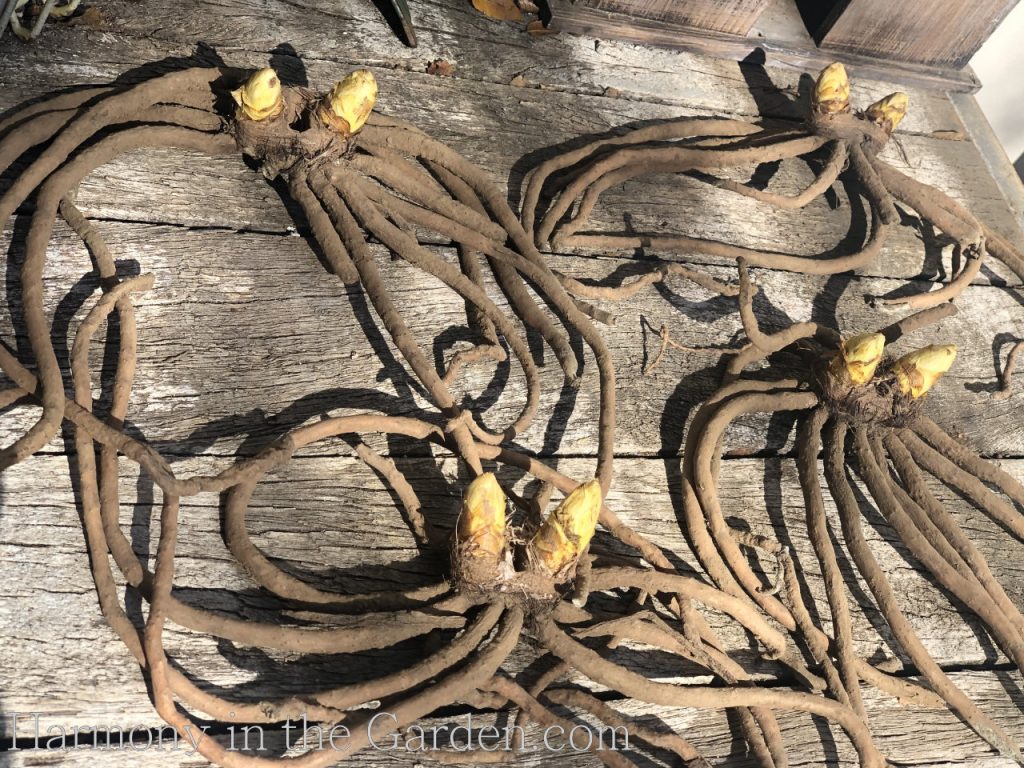 She then told me to carefully dig through the tub and choose the biggest bulbs I could find, with the most 'legs' on them. 
I found 4 that had not only 1 little bulb peeking out of the center, but 2!  She then told me to 'just snap them in half, and you'll have 2 bulbs for the price of 1'. 
Could this day get any better?
Aren't these crazy looking?  Who'd ever think something that looks like an octopus would turn into something so stunning!  
After carefully bringing my treasures back home without snapping off their fleshy roots (not easy to do on an airplane!), I set out to learn everything I could about their planting requirements.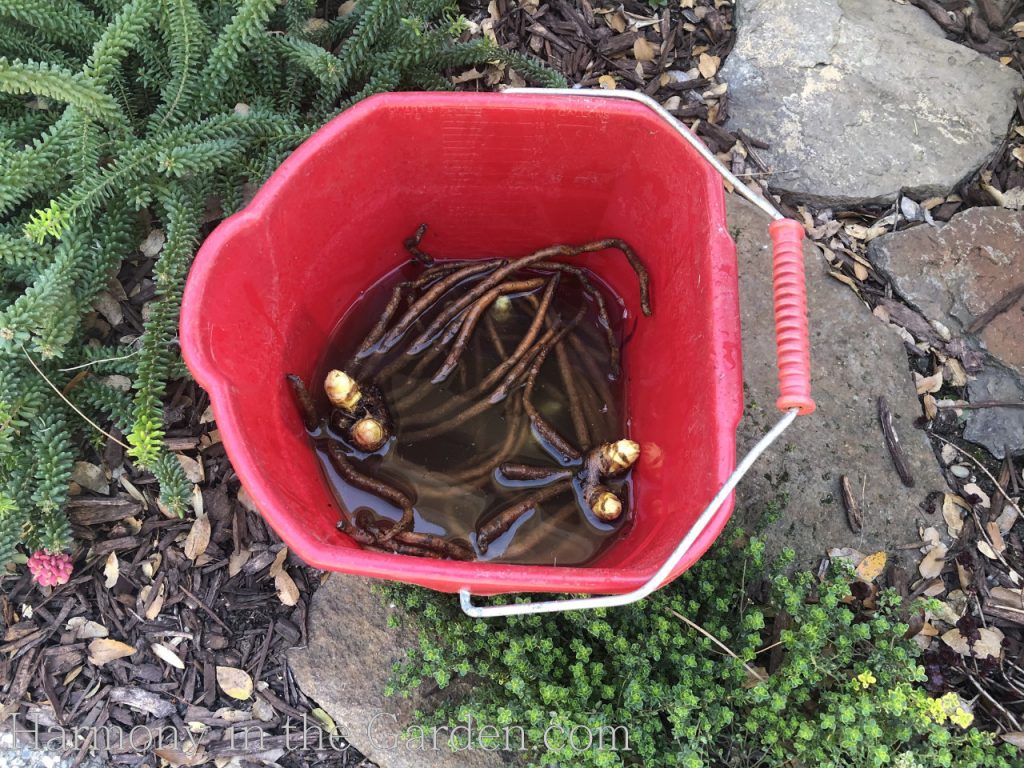 First, I soaked the bulbs in water for 2 hours to rehydrate them (poor little things were pretty dried out.)
 I decided to plant them in my 'rain/pollinator' garden as the flowers are magnets for bees, hummingbirds, and butterflies. 
They're also deer and rabbit resistant making them perfect in this spot, as it's a favorite of browsing deer. 
Hands down, the #1 criteria for eremurus to survive is excellent drainage.  And the raised berms that I created in this part of my garden provide exactly that.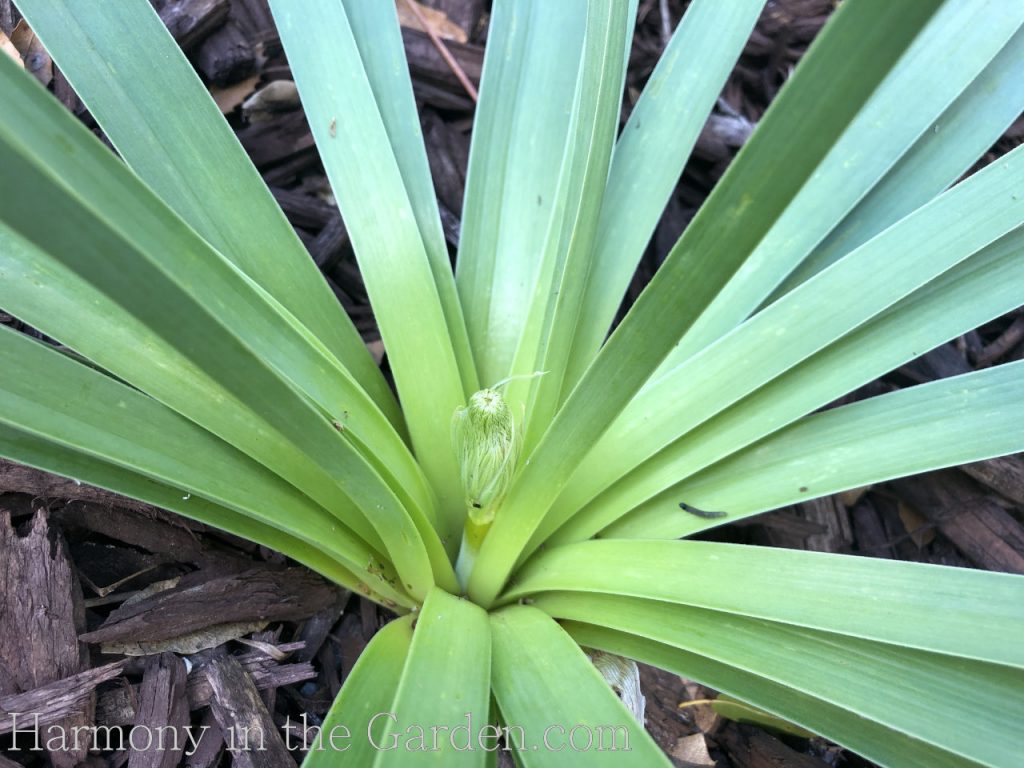 But to ensure even faster drainage, I mixed together pea gravel and pumice, placing a few handfuls in each hole, along with a nutrient-rich soil mix.  
I then covered the bulbs with only about 2" of soil, as they want to feel the warmth from the sun. 
Holy COW, they grow fast!!!
It seems like they grew several inches each day, finally erupting into a 5' flower tower!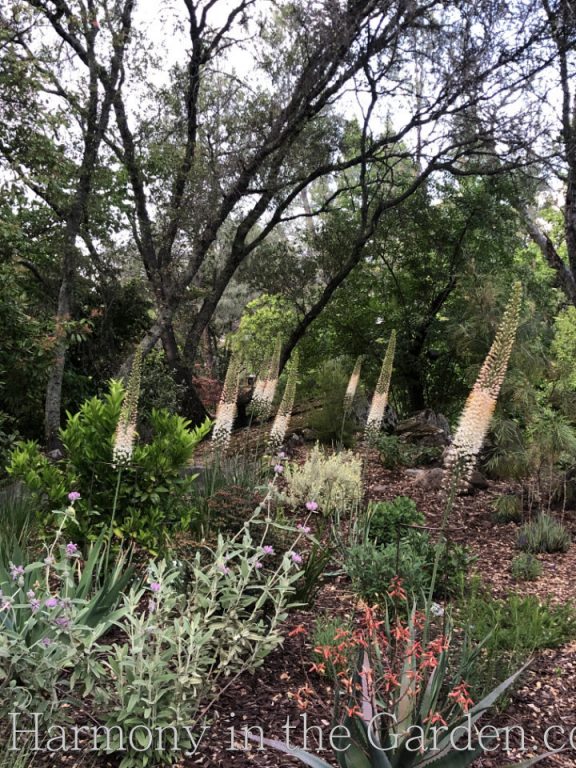 Since these flowers are so tall (easily reaching 5 to 6-feet) they will definitely need staking. 
And, as many of you may know from reading my blog, I adore flowering, towering plants (click here for proof!)
I love the plant supports I'm using in the photos, but alas, they're no longer available. 
I bought them eons ago at Smith & Hawken – RIP.  If anyone knows of a vendor of decorative stakes similar to these, please let me know in the comment section below. 
However,  I often use other stakes like these throughout the rest of my garden, which work just as well. While they're not nearly as decorative, they do the job and I appreciate how their green color blends in with my garden.
Update!  A few readers have suggested these sites for tall, decorative plant supports – thanks so much!   Kinsman Company,  Gardener's Supply Half-Round Supports, and these Wraparound Plant Loops.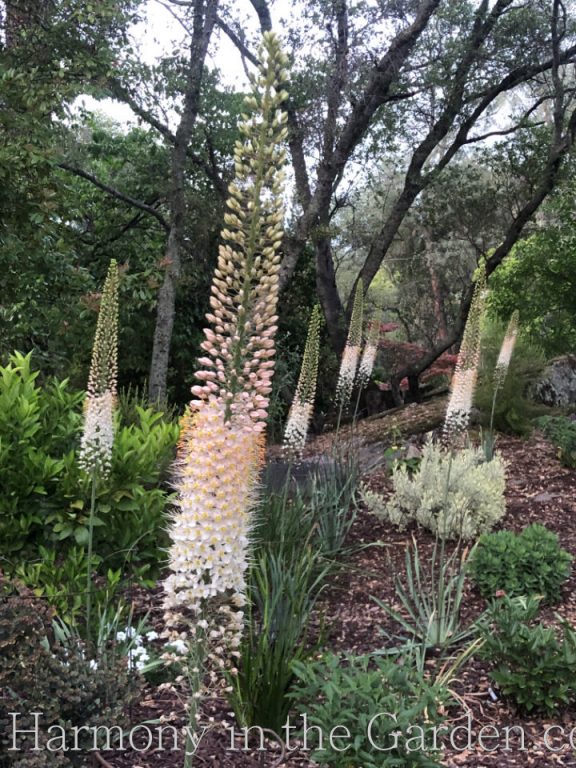 The variety of foxtail lily I chose is 'Oase', and let me tell you, the colors are unbelievable.
Depending on the time of day and the lighting outside, the colors are always changing. 
It's impossible to explain just how breathtaking and iridescent these flowers actually are in person. 
Take a look at these pics to see what I'm talking about!
See what I mean?  Below, the photo on the left was taken on a cloudy day, while the photo on the right was taken in the full sun.  One flower looks creamy white with a tinge of peach while the other one is much more orangy-peachy colored.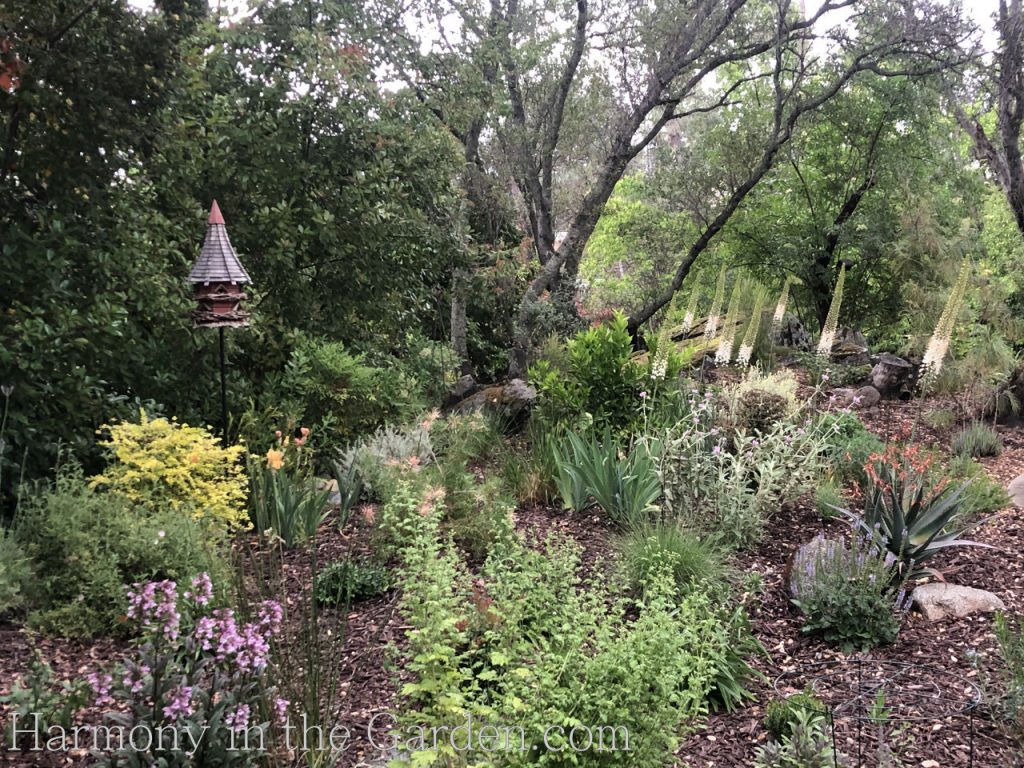 Since the flowers are such a focal point, with their powerful in-your-face size and shape, I needed to be strategic in where I planted them.
To avoid a haphazard look, I planted them in a ribbon-like pattern, so when they bloomed it would be a soft wave running through this end of the garden bed.
I also wanted the shape of the flowers to repeat (and harmonize) with the pointed top of my birdhouse. 
While doing my research, I came across this article which shows how an east coast gardener planted his bulbs in a large container, creatively timing their summer-dormancy with later-blooming perennials.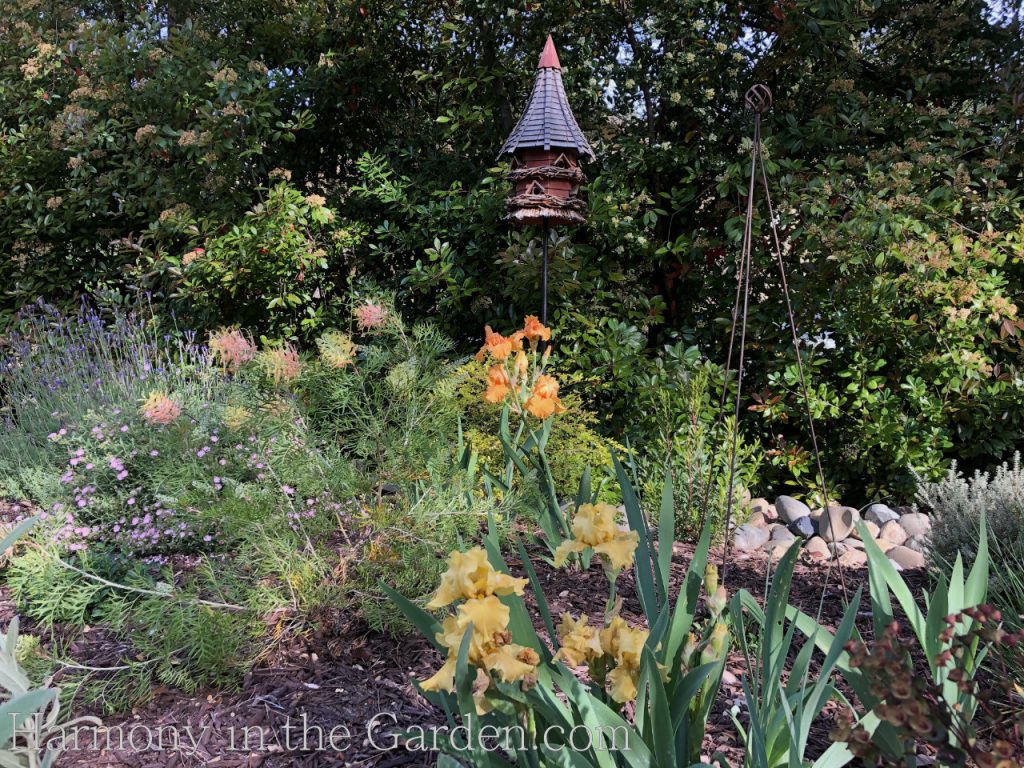 Since these tubers are dormant in the summer, I made sure to plant them behind perennial and evergreen plants to avoid creating a gaping hole in my summer garden.
The plants I chose also had colors which harmonized with the foxtail lily flowers;  'Peaches & Cream' grevillea,  'Blackbird' euphorbias, and orange and yellow iris.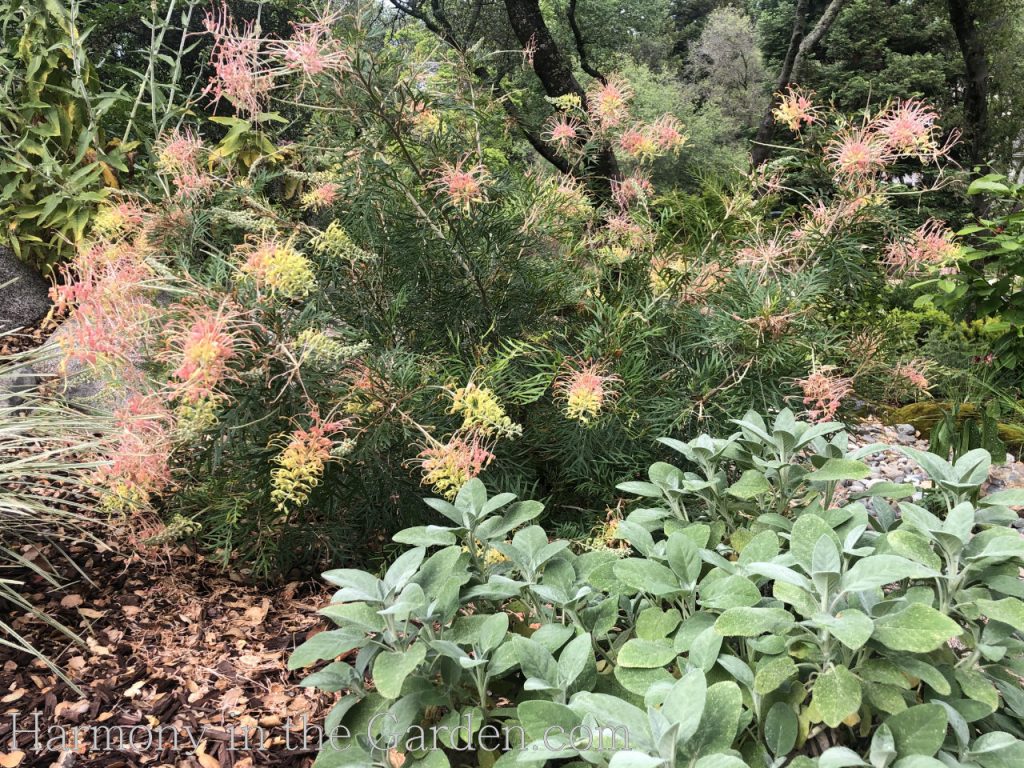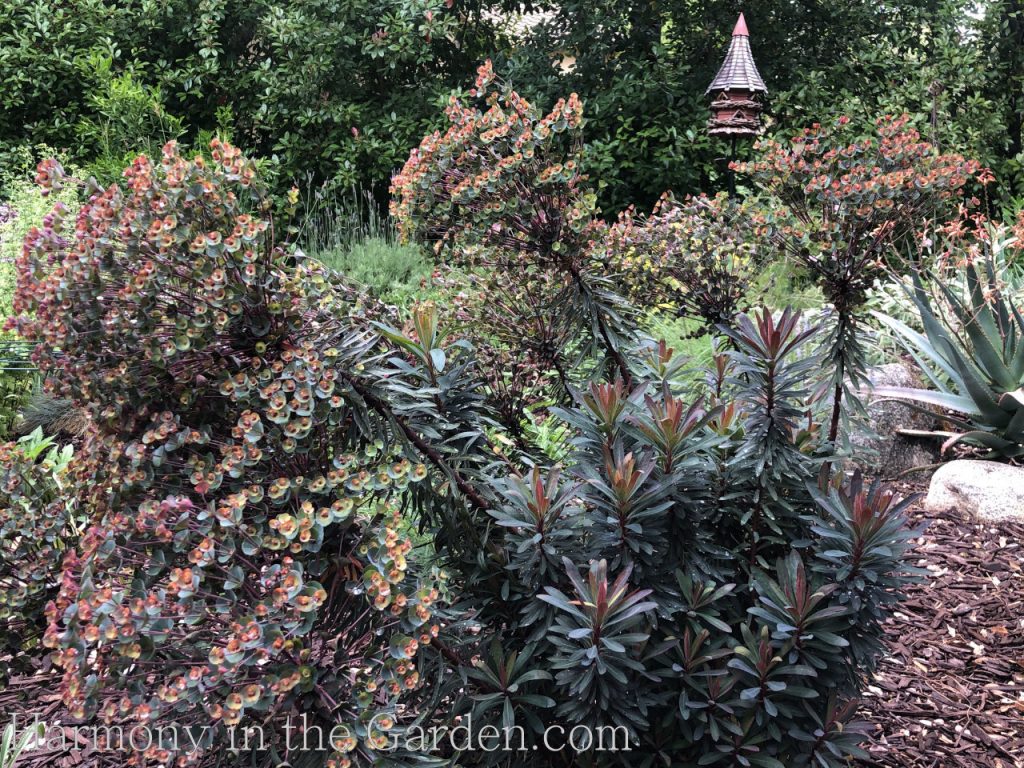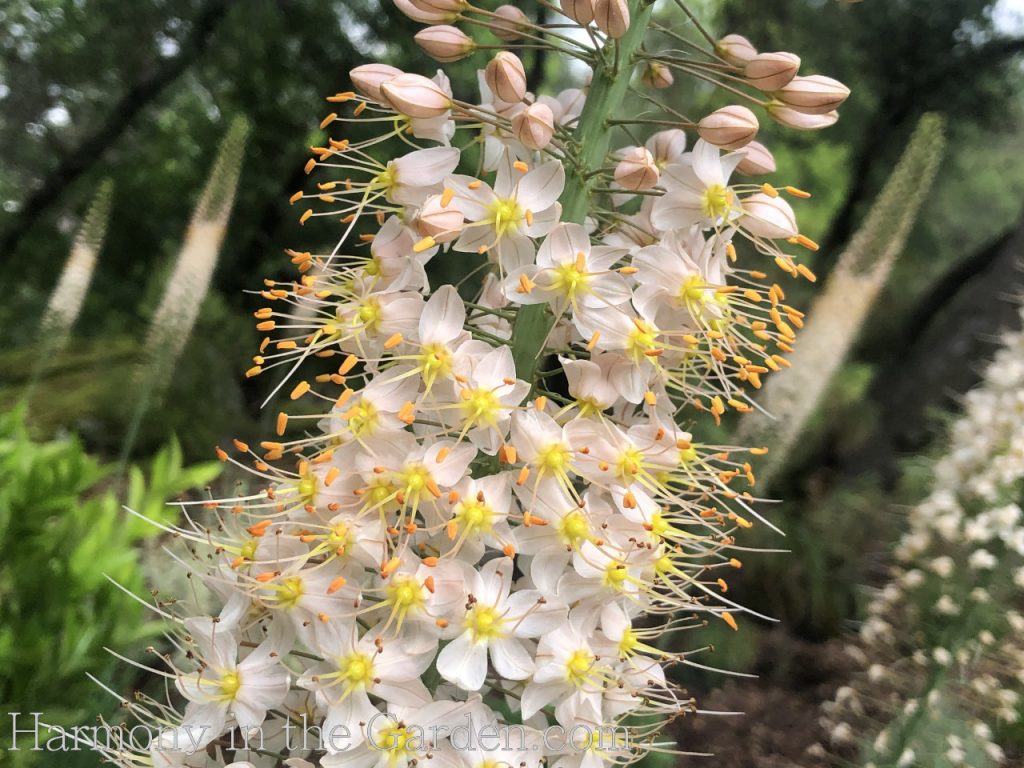 If you've fallen in love with foxtail lilies, as I have, you can buy some for your own garden at John Scheepers or Brent & Becky's. 
They're also available in a wide range of colors, if you want stronger colors in your garden.
I'm already thinking about where I can plant more of them next year!