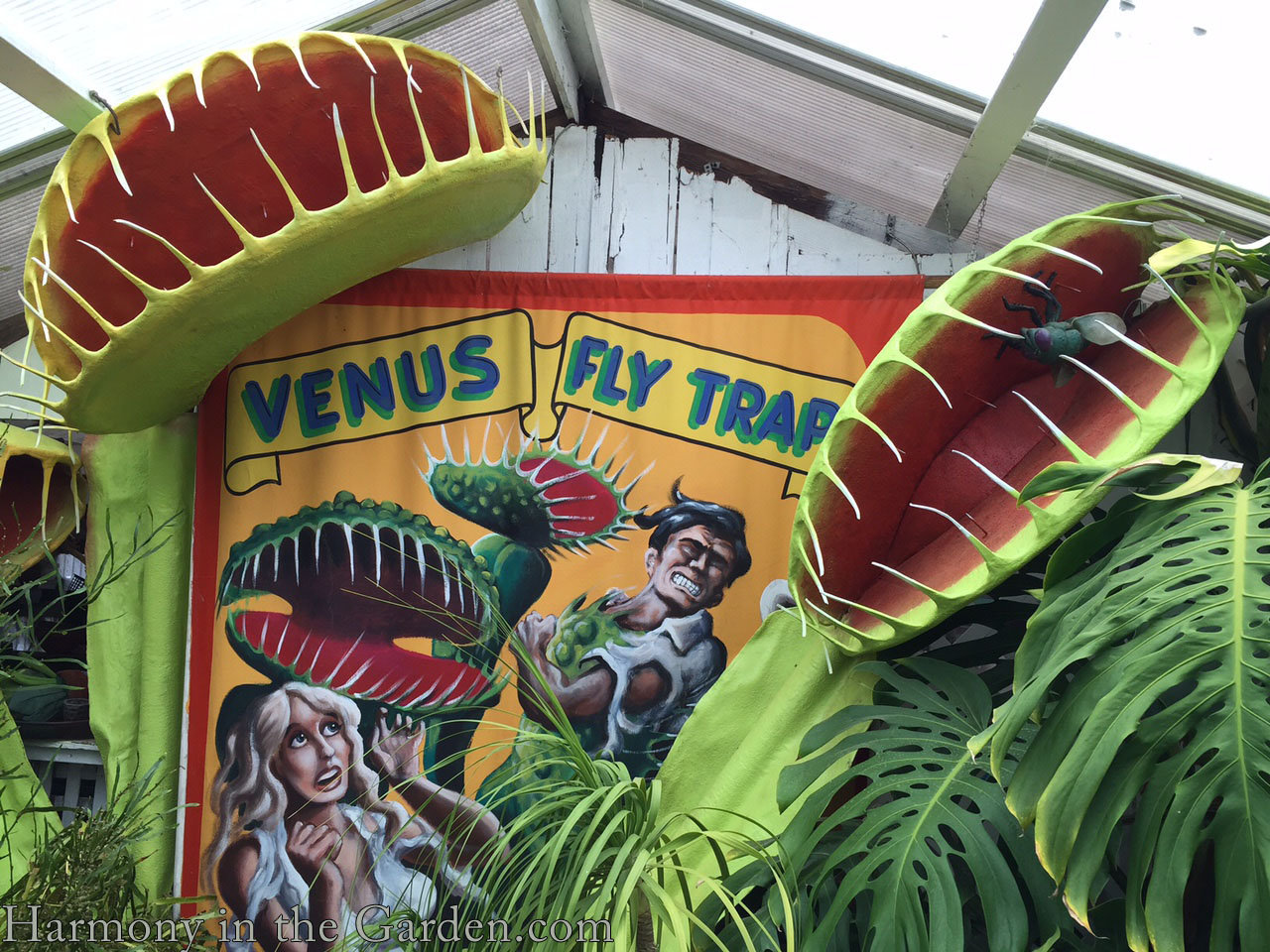 I love this time of year, especially Halloween. 
In the past, in honor of this holiday, I've written about my favorite black & orange plants, and spooky old cemeteries (click here and here, if you dare!) 
This year, I thought I'd share with you some of my favorite freaky, creepy plants that I've encountered over the years.  
I hope they add a little Halloween spirit to your week!
1.  The Carrion Flower – the creepiest plant of all (yes, that carrion… as in rotting meat.)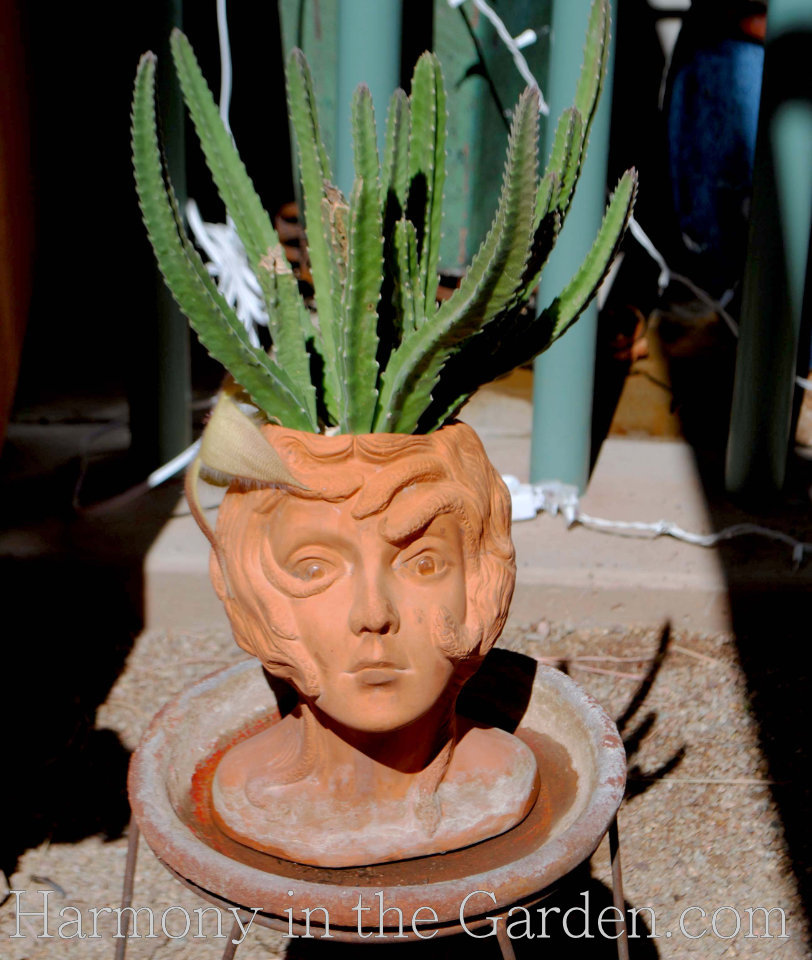 Several years ago, I was garden touring in Tucson when I stumbled across this gorgeous flower, perfectly placed behind this woman's ear.
It was no ordinary flower, but the stinky Carrion flower (from this stapelia gigantea succulent.) 
When open, it smells like (you guessed it) rotting meat.
Why would Mother Nature be so cruel to make such a foul-smelling flower?  Of course, there's a perfectly good explanation (she always has one.)
The stench is there to specifically attract flies which will, in turn, pollinate the flower.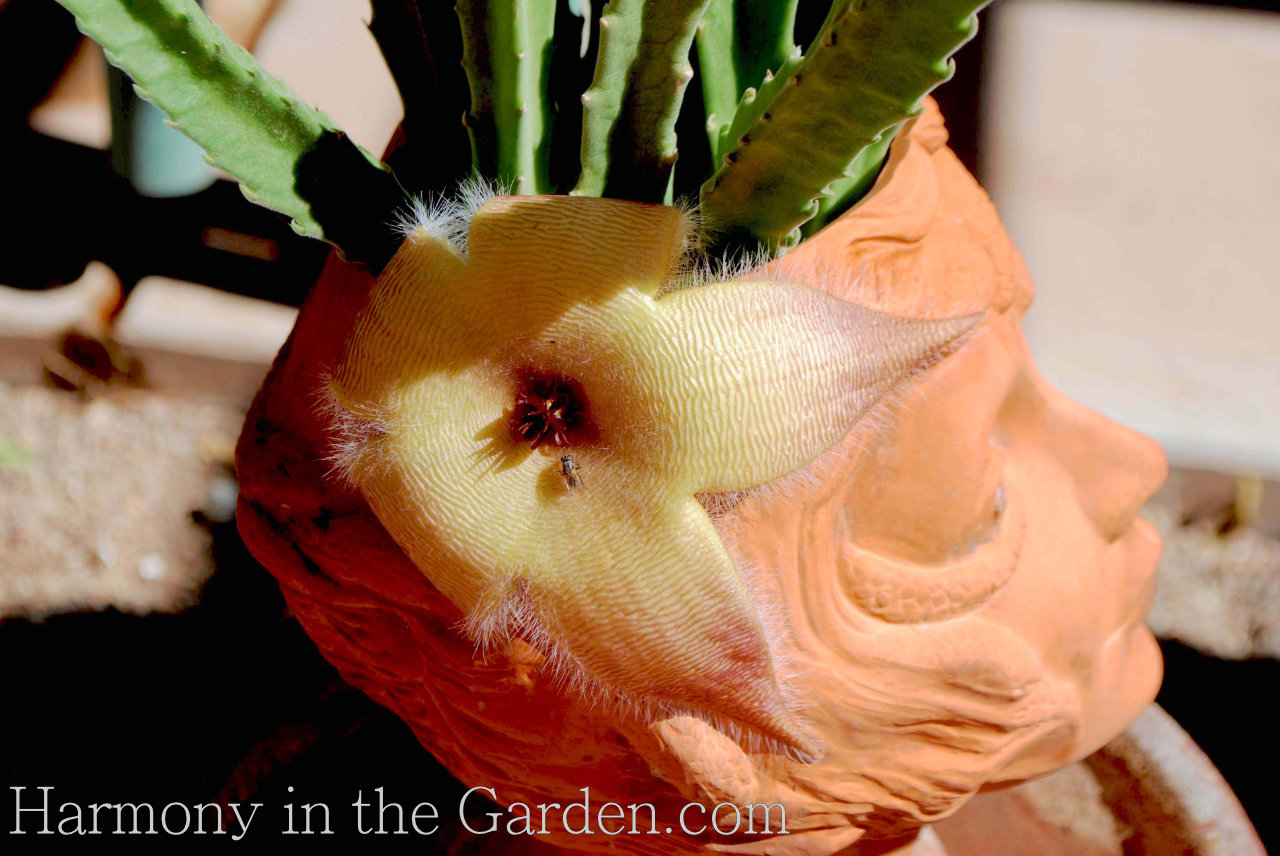 Flies are SO convinced this is putrid meat they even lay their eggs on the flower, thinking it'll be a great food source for their sweet, little babies.  
Ewwwwww!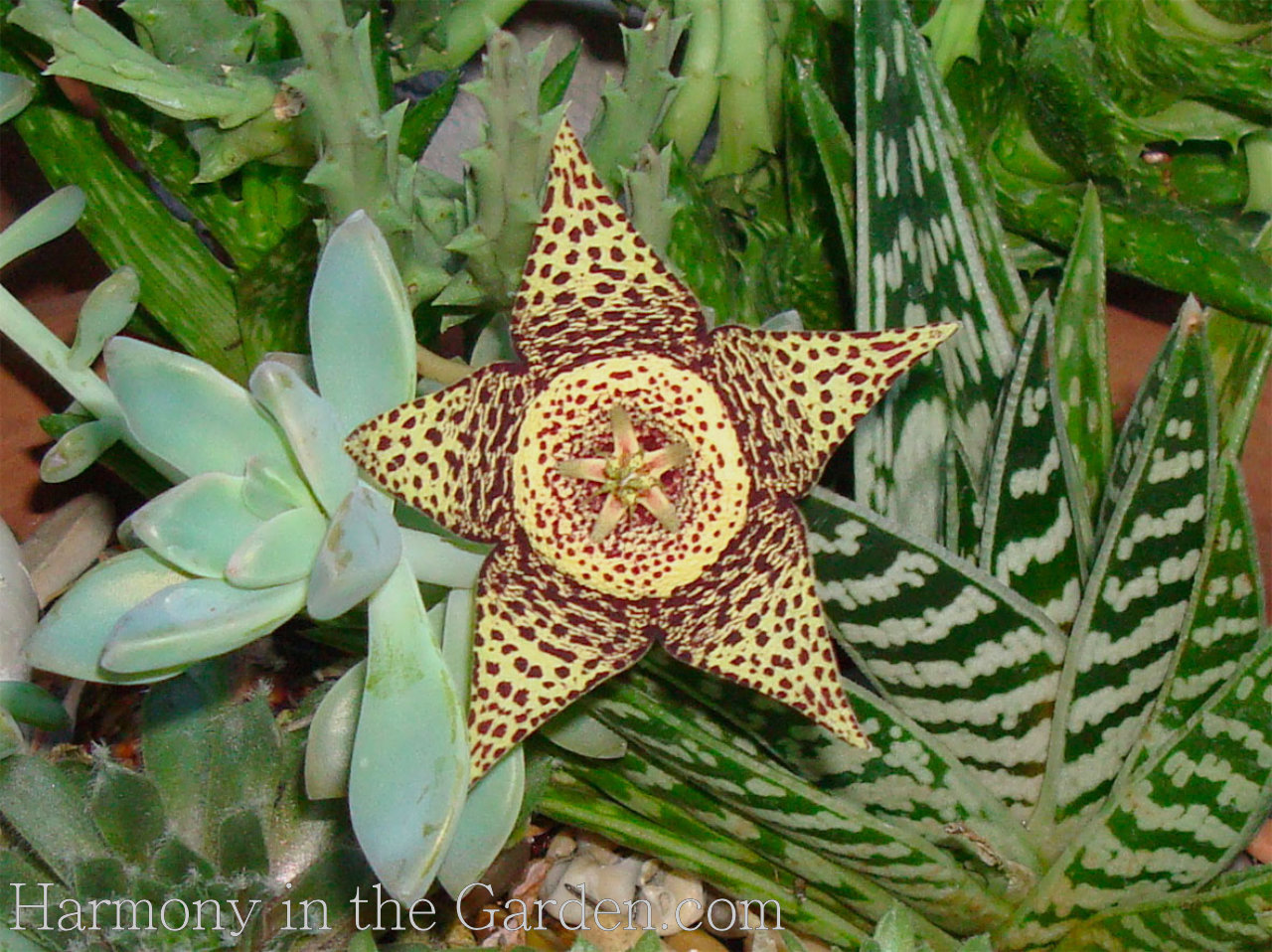 Yes, the flower REEKS.  But it's so pretty, I just had to have one.
So needless to say, I've added a few varieties to my succulent collection over the years, including this orbea variegate (also called the Starfish Flower.)
I remember convincing my daughter to come outside to 'smell this amazing flower.'
I know, I know – I'm such a mean mother.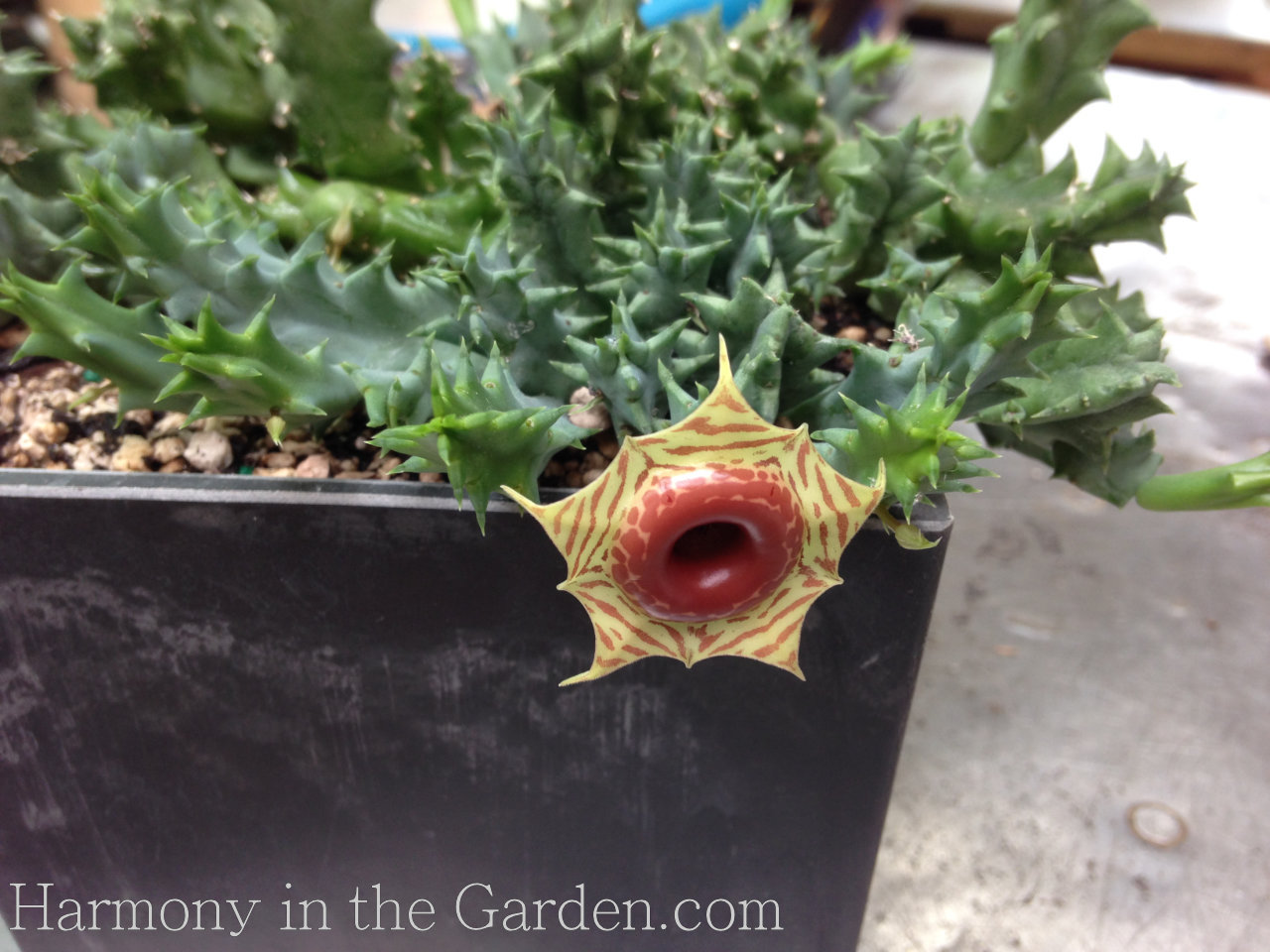 But wait – I get even meaner.
I later bought this new variety, the huernia zebrina, aptly nicknamed the Lifesaver Plant.
When, you guessed it, a few years later I convinced her yet again to come outside and smell THIS amazing flower.
Needless to say, she now has trust issues.  
The amazing Debra Lee Baldwin has just written an excellent article on how to grow these creepy treasures – click here to read.
2.  Any head overflowing with plants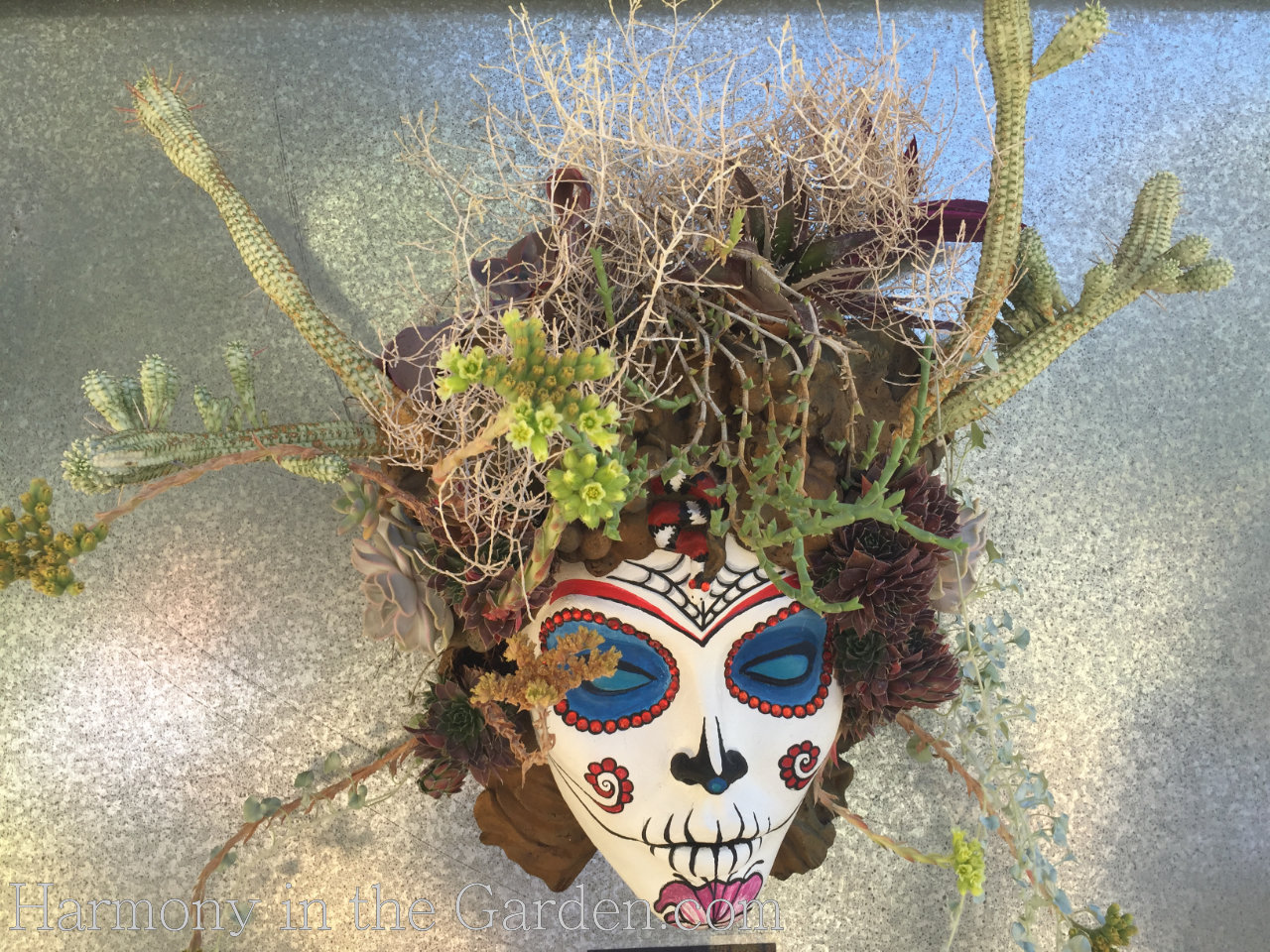 Just about anything will look a tad spooky when planted in a skeleton head (like this one spotted at the Ruth Bancroft Garden.)
Even sweet and dainty succulents like the ones, below, tucked here and there in my client's garden beds look a little unnerving.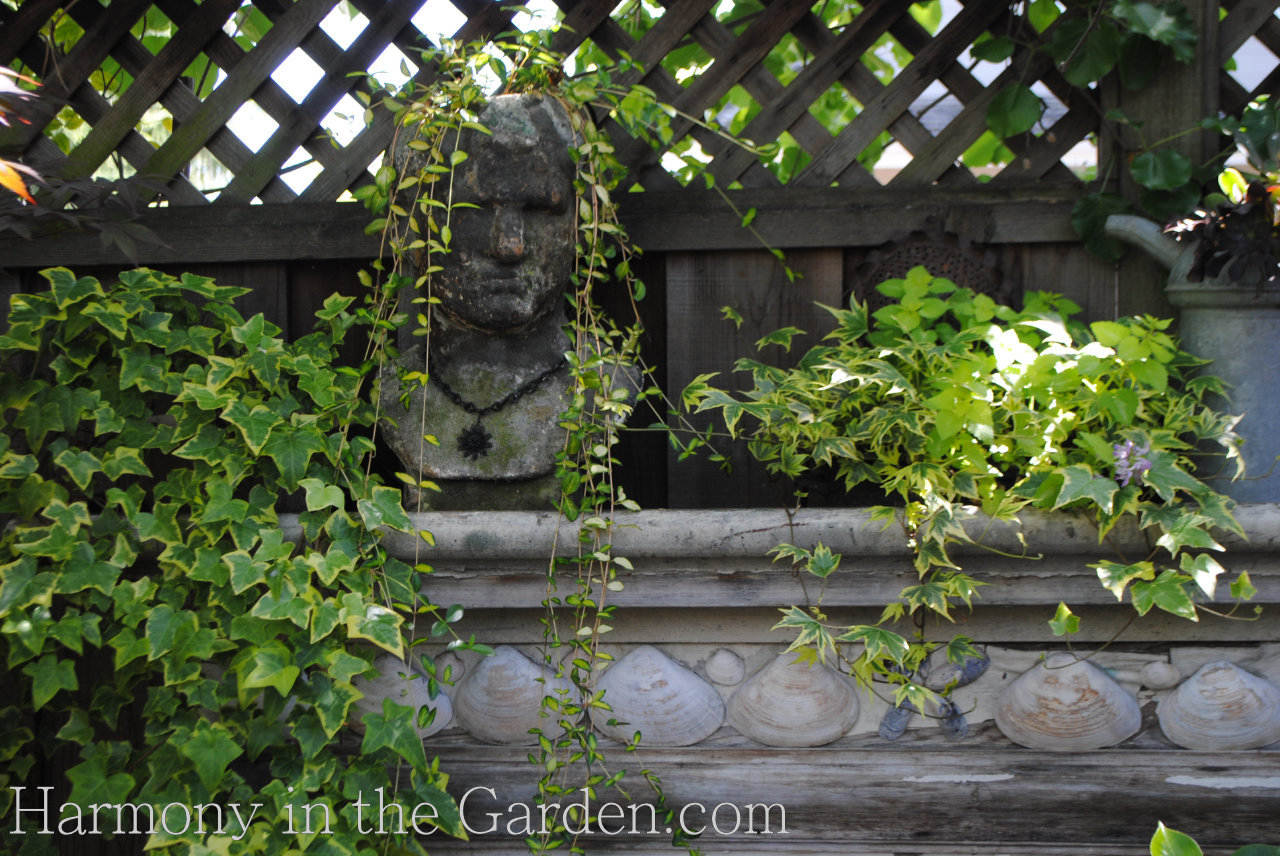 The same thing goes for my proud and regal head who lived on top of my repurposed fireplace mantle.
To read more about the biggest dumpster score of my life, click here.
3.  Carnivorous plants (and all their beautiful, vicious, blood-sucking relatives.)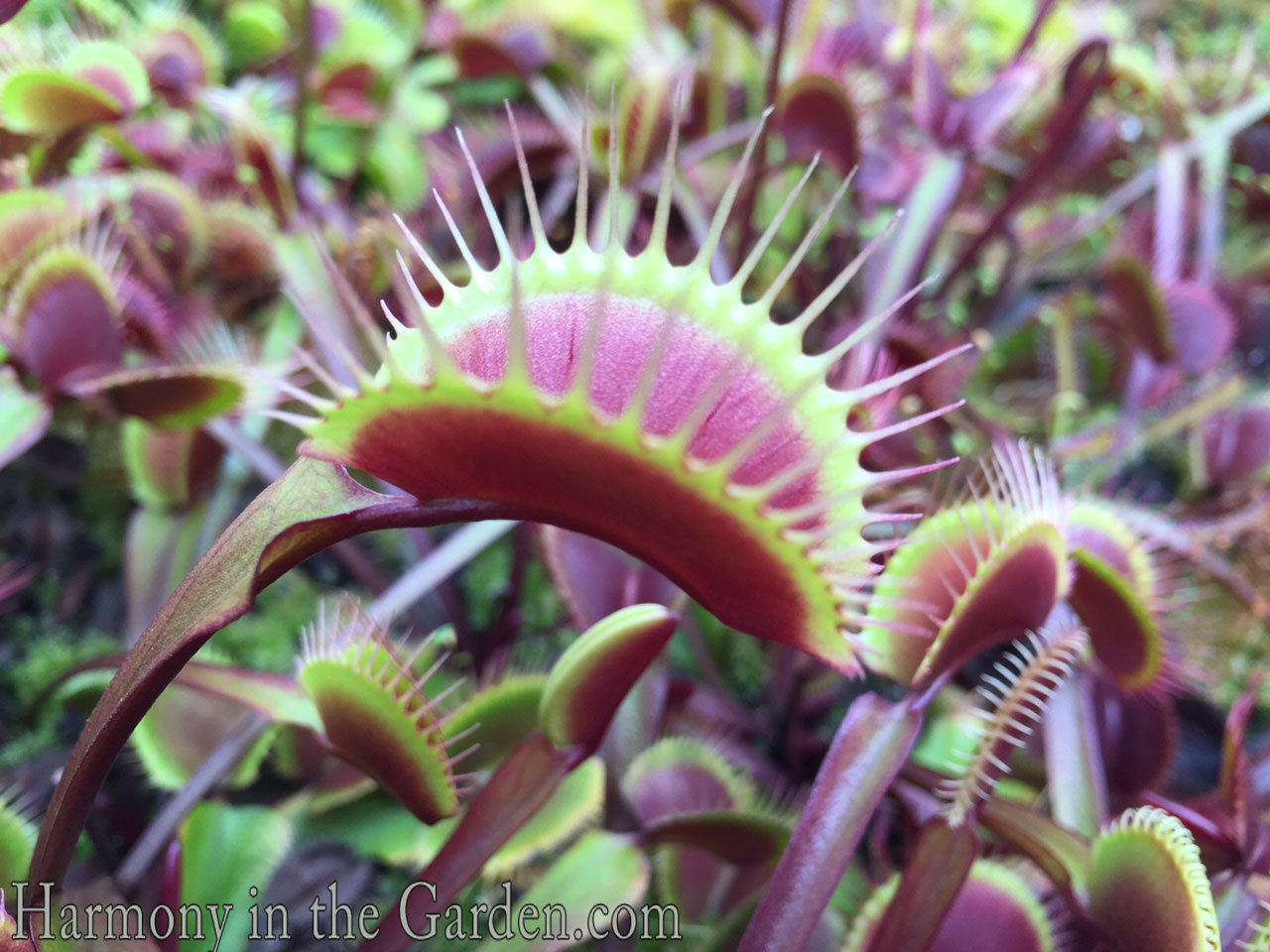 A few years ago my husband and I visited one of the coolest nurseries around – California Carnivores.
When I was young, I remember loving the little venus fly traps that my parents would bring home for my brother and me.
We'd have so much fun watching the horror unfold as we'd feed the flytraps an unsuspecting fly.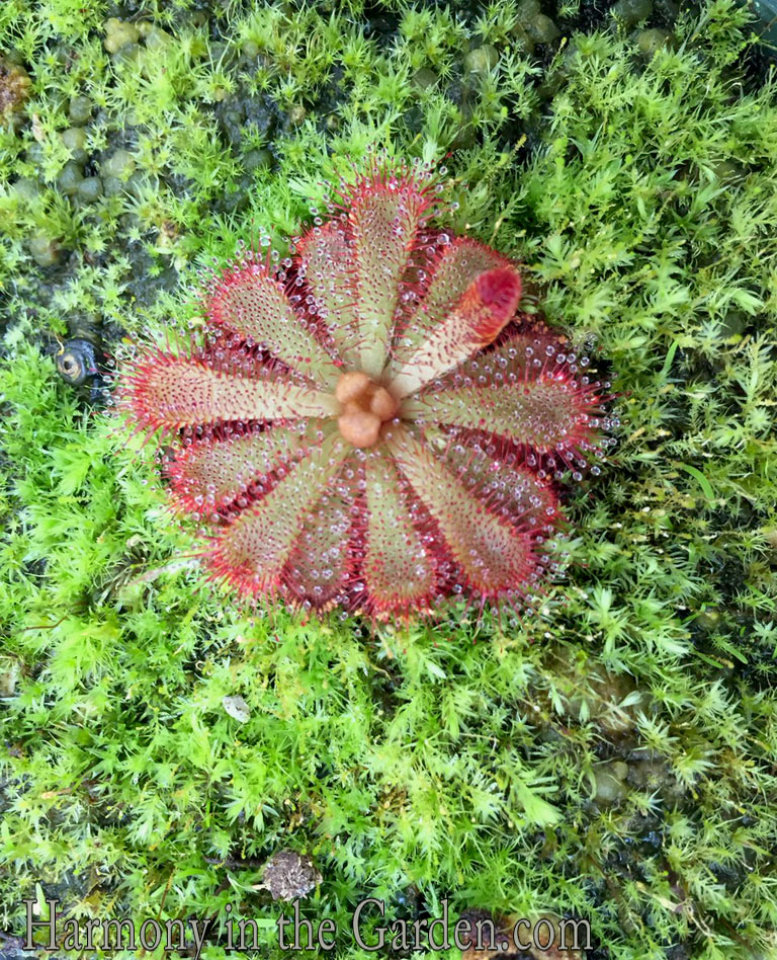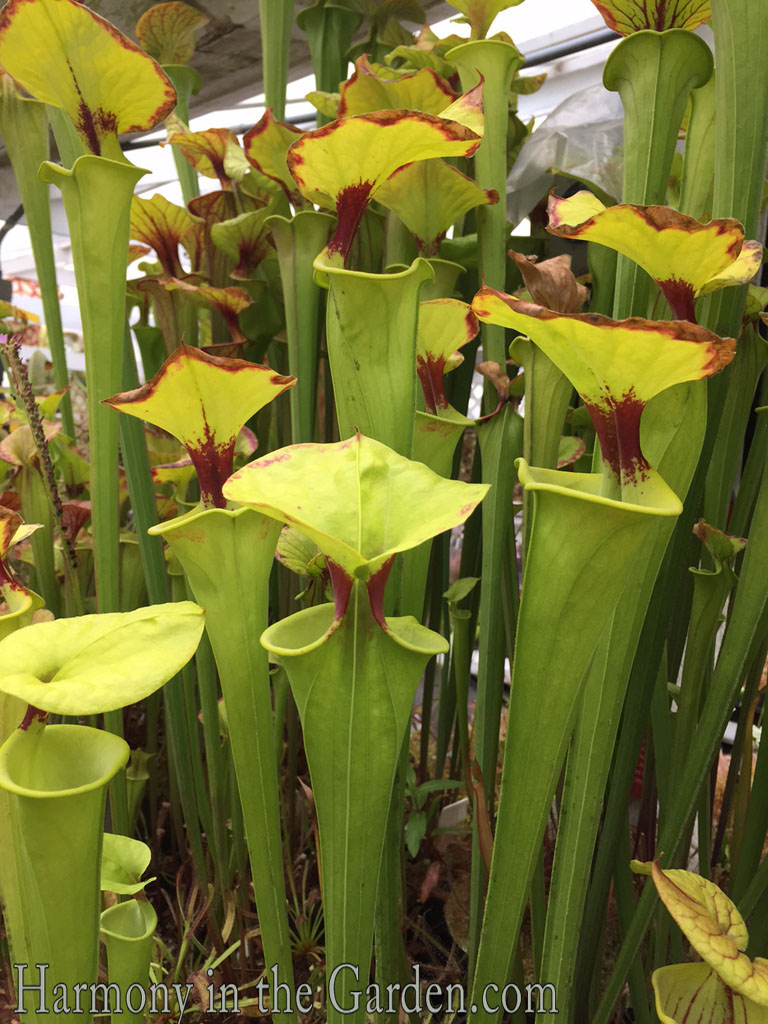 But at this nursery there's SO much more than Venus flytraps!
There's the deadly, sticky Sundews and Butterworts, or the gorgeous pitcher plants just waiting to drown their victims.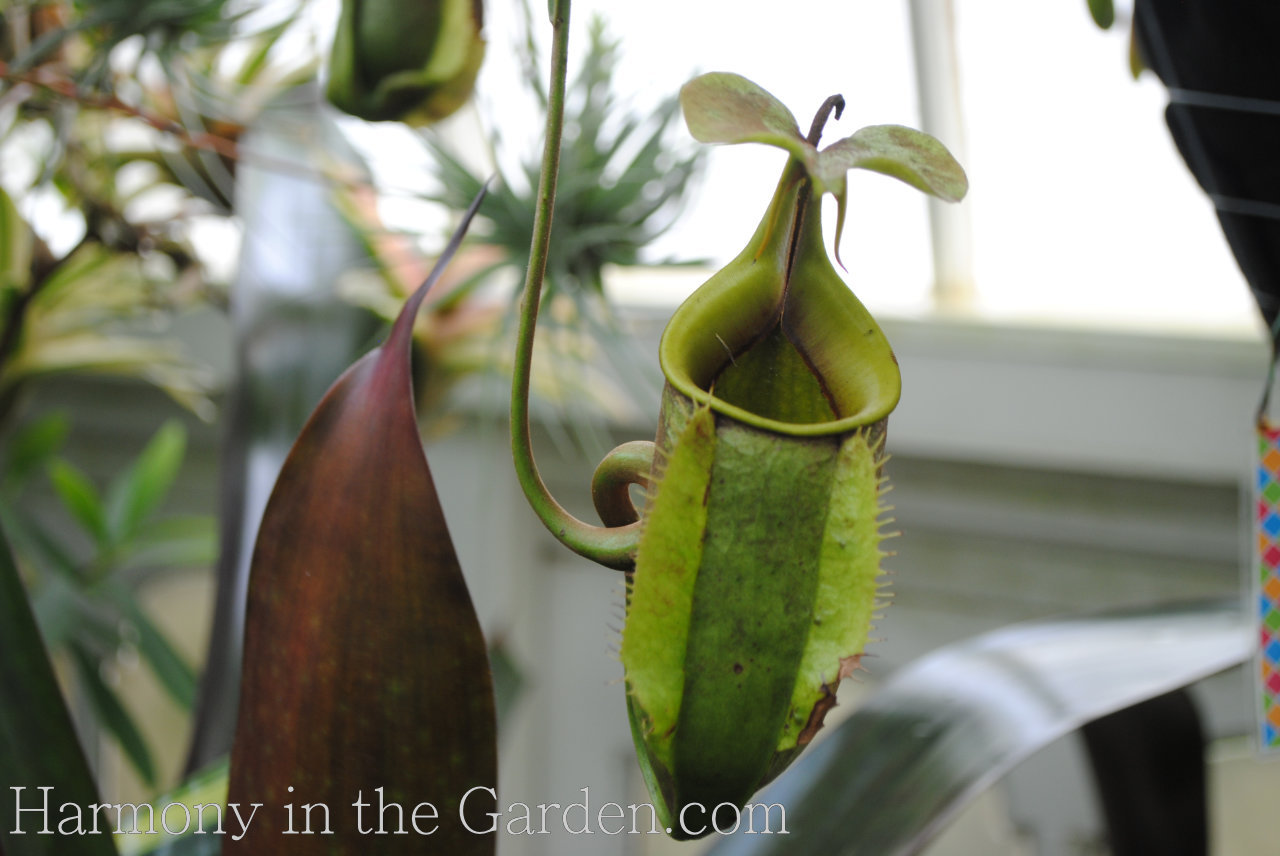 This little sweetie is the Fanged Pitcher Plant (nepenthes bicalcatarata) from the S.F. Conservatory of Flowers (you can read more here.) 
While botanists aren't entirely sure why the fangs are there (which are the toothy protrusions running along the side of the plant), some believe they lure insects to the top of the lip, only to fall to their watery death. 
4.  Little brains and living stones (lithops)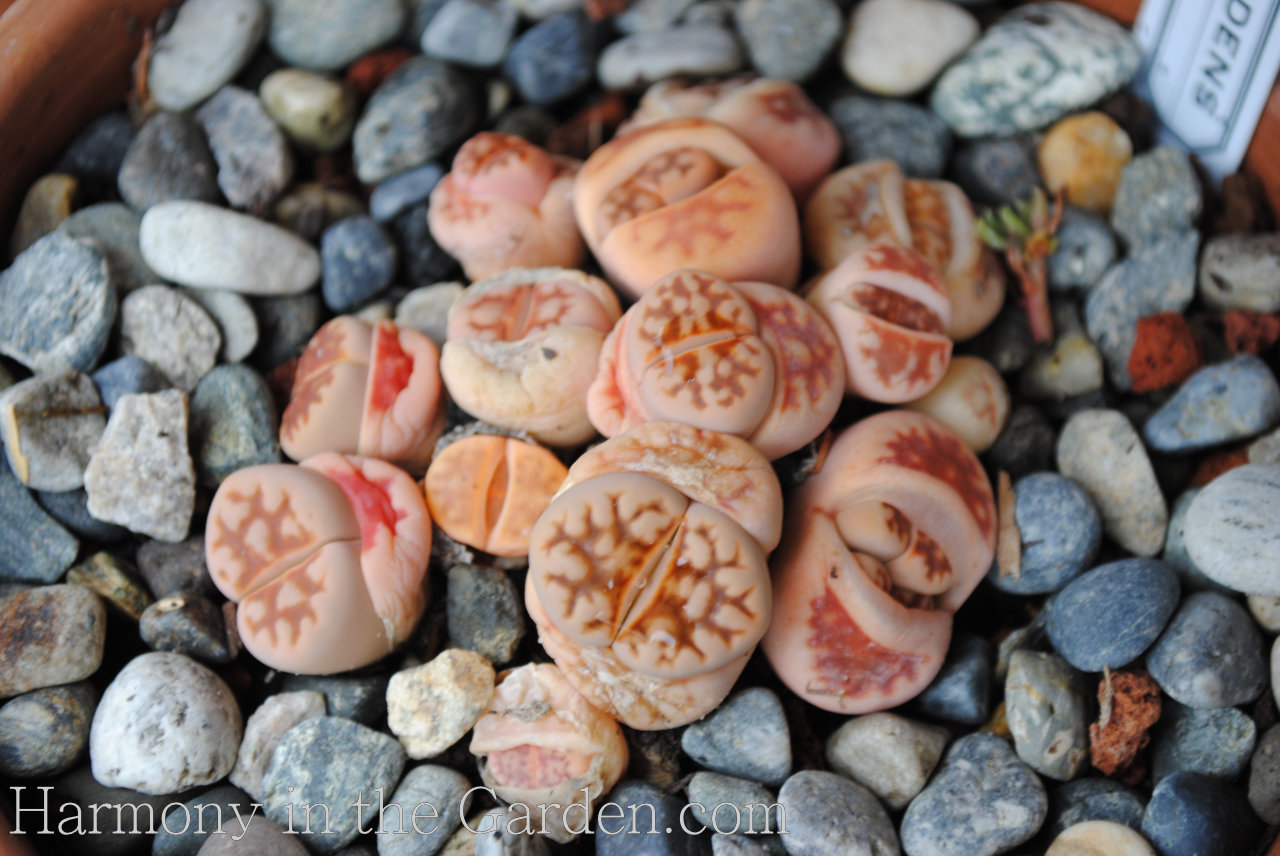 I've always had a thing for lithops (also called split rocks, living rocks, or living stones.) 
Originating from South Africa, their bizarre fleshy 'leaves' lie close to the ground, mimicking rocks, designed to protect them from grazing animals.
Their deep tap roots help them endure months and months without water. 
I have to laugh because my husband thinks these lithops look like the giant granite boulders in our garden.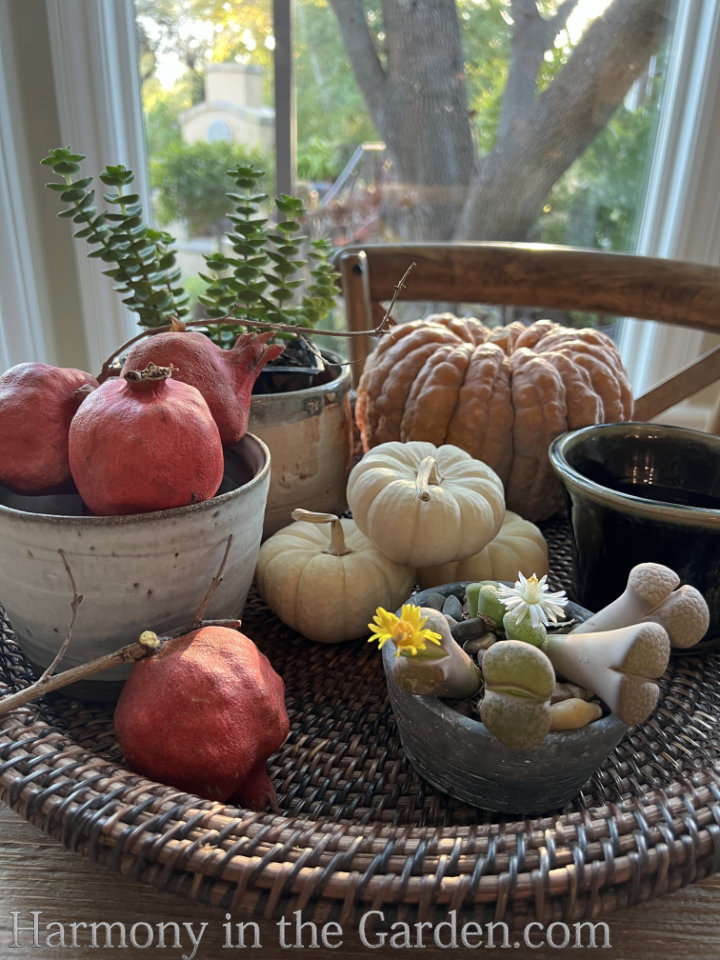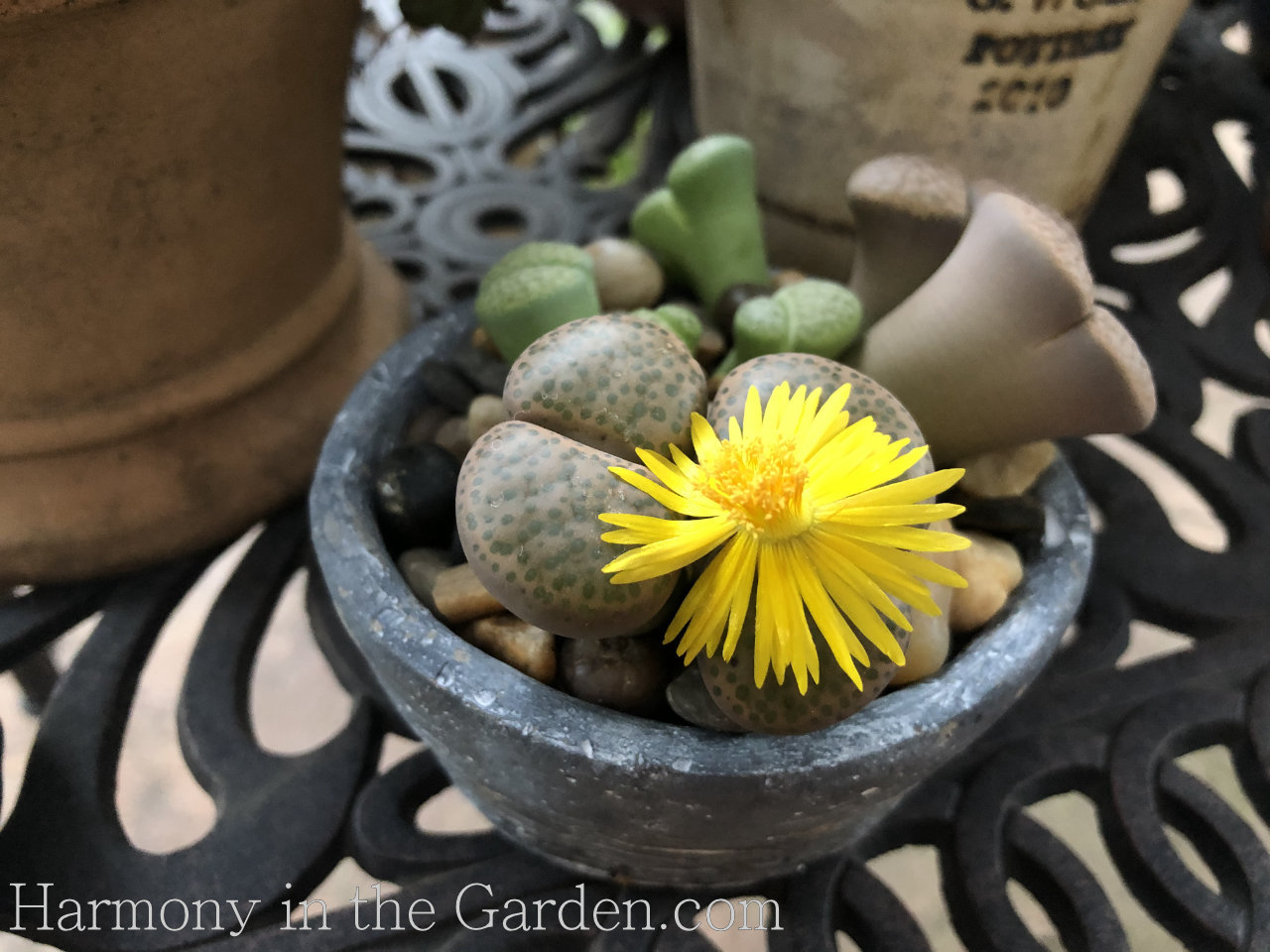 I've had this little container of lithops for three years now, and have been rewarded each October with cheery yellow blooms.
One of my friends, who has never seen these succulents before, wasn't quite sure how she felt about them.  Her term was 'nauseated charm.'
They're notorious for being a bit difficult to keep alive, but the key is knowing when and when not to water. 
Here's a really helpful video explaining  just how to keep these little brains alive.
5.  Tillandsias (air plants)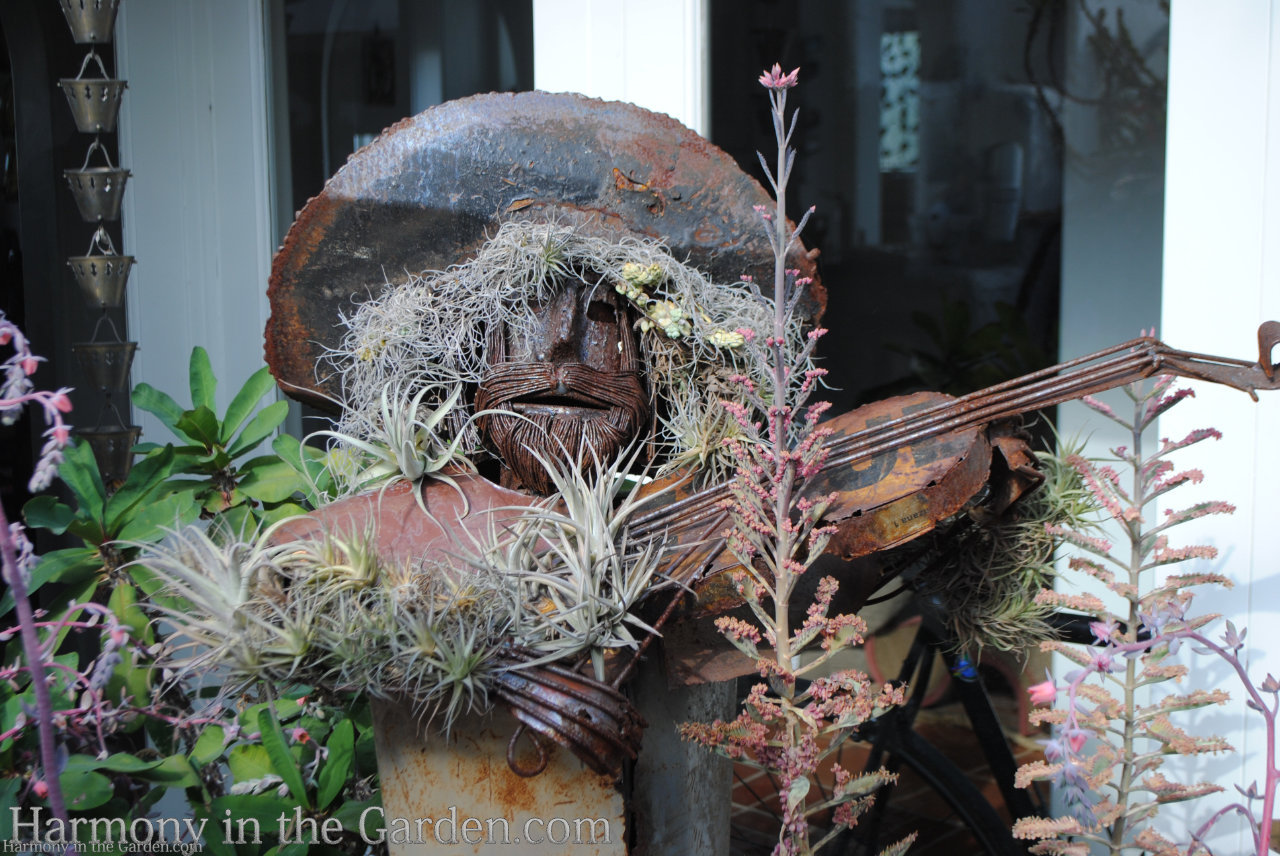 I'm a huge fan of air plants (click here to see why!) but when artfully displayed they can certainly add a creepy element to the garden.
And no one does it better than Jim Bishop, as is demonstrated here in his San Diego garden.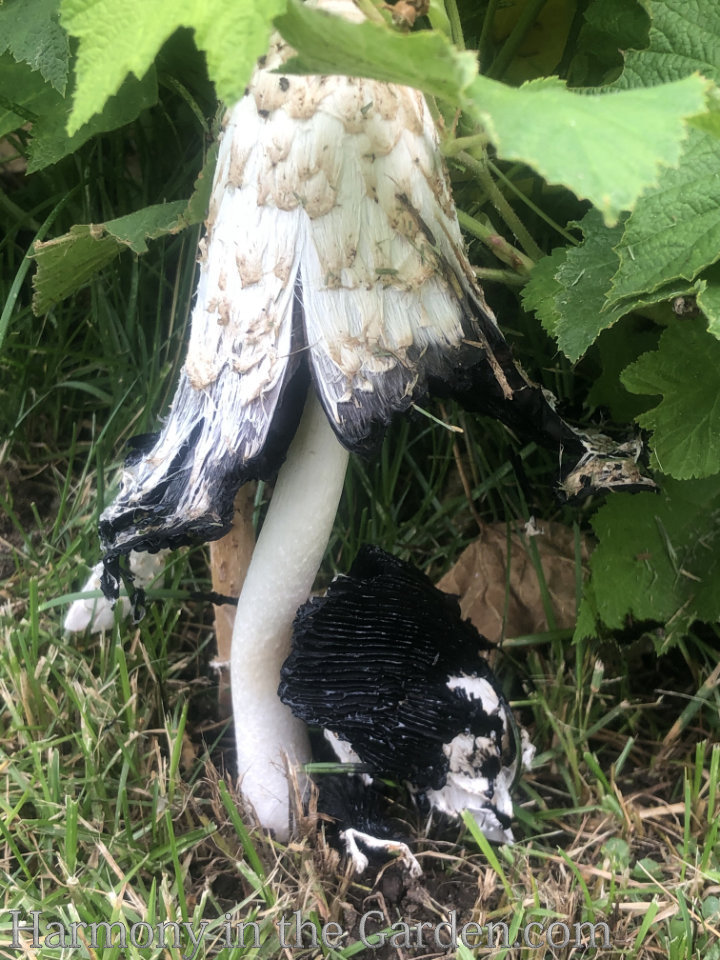 I'll occasionally spot these coprinus comatus  mushrooms growing around Lake Tahoe (aka: Shaggy Inkcap or Lawyer's Wig.)  
Imagine the strength they have to push through the compacted asphalt (below!)
Once they emerge, they're pretty enough, but when mature, they explode into an inky black gooey mess.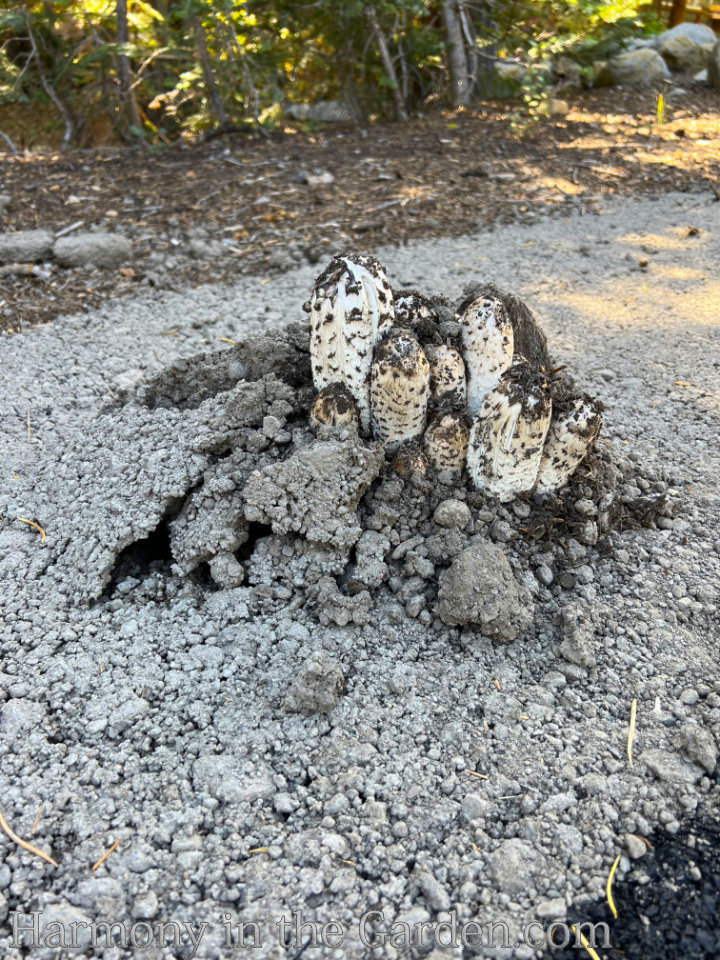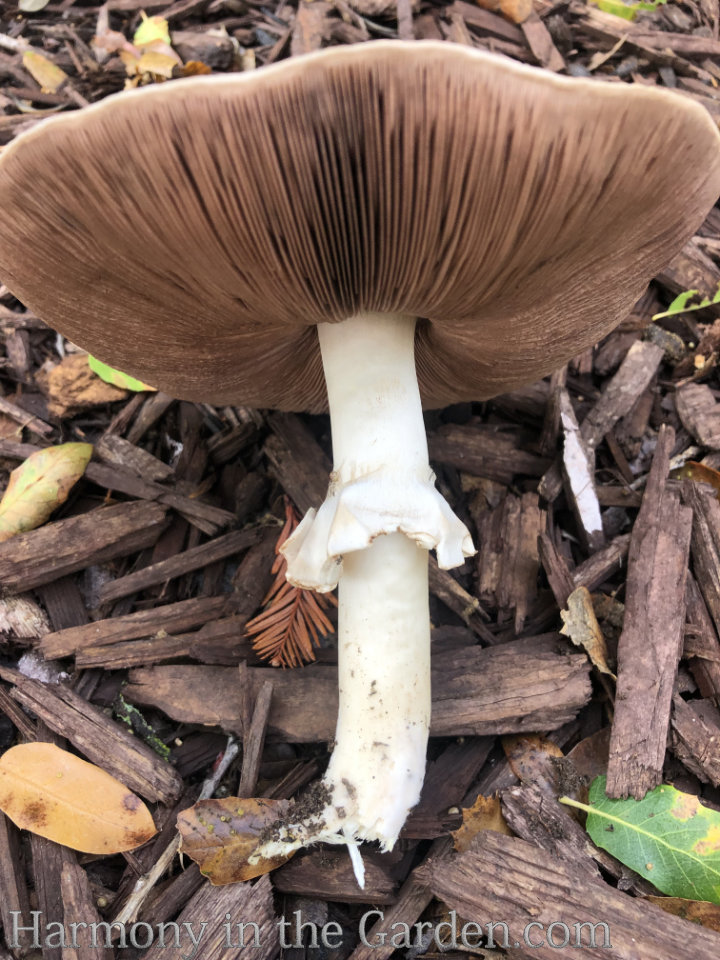 Last year, I had an outcrop of one of the most poisonous mushrooms in the world in my garden! 
The dreaded Death Cap mushroom (amanita phalloides) with its tell-tale 'skirt' around its stem.
Click here for an interesting article about Death Caps that grow in our area.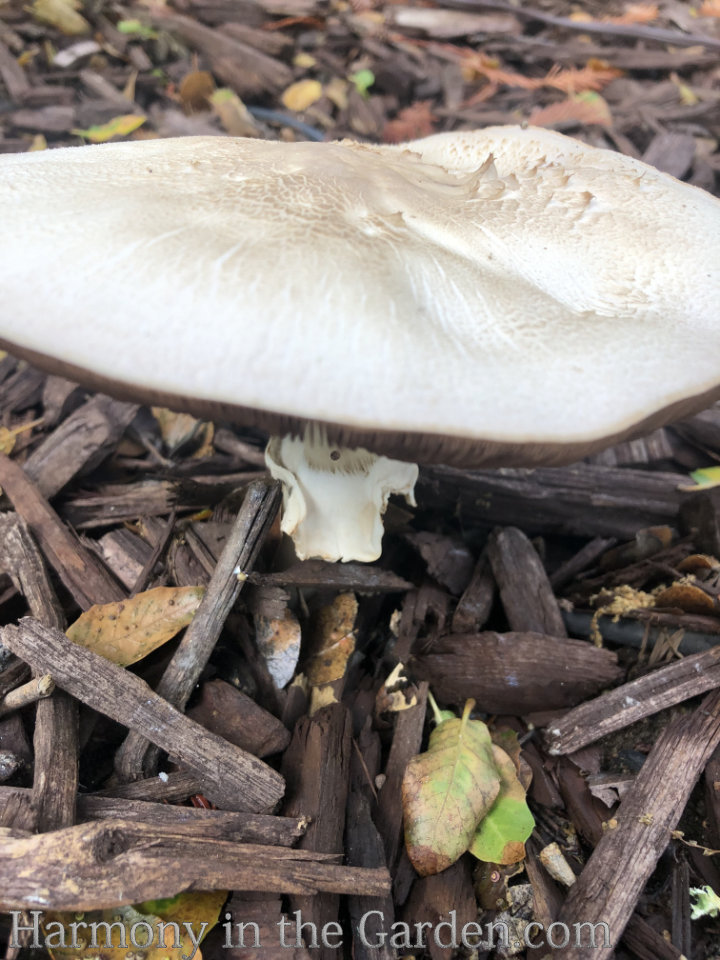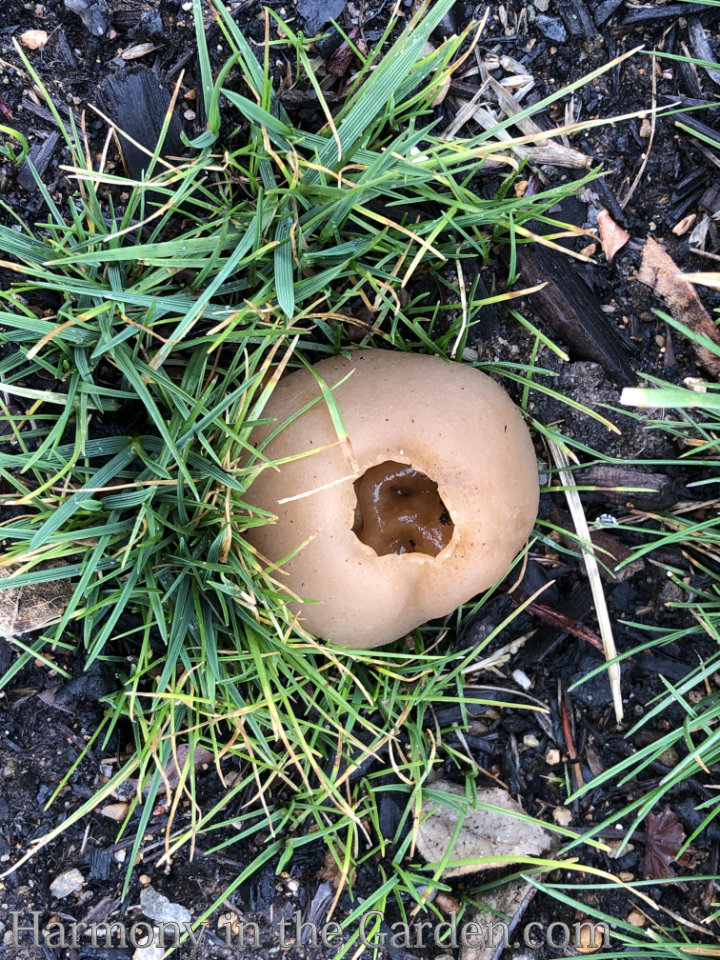 Even though this 'Cup Fungus' isn't deadly is still pretty gross.  I'll occasionally find these little rubbery balls growing in my garden.  
These peziza repandas don't do much else besides slightly opening up to reveal an icky-looking 'mouth', before fading away back into the ground.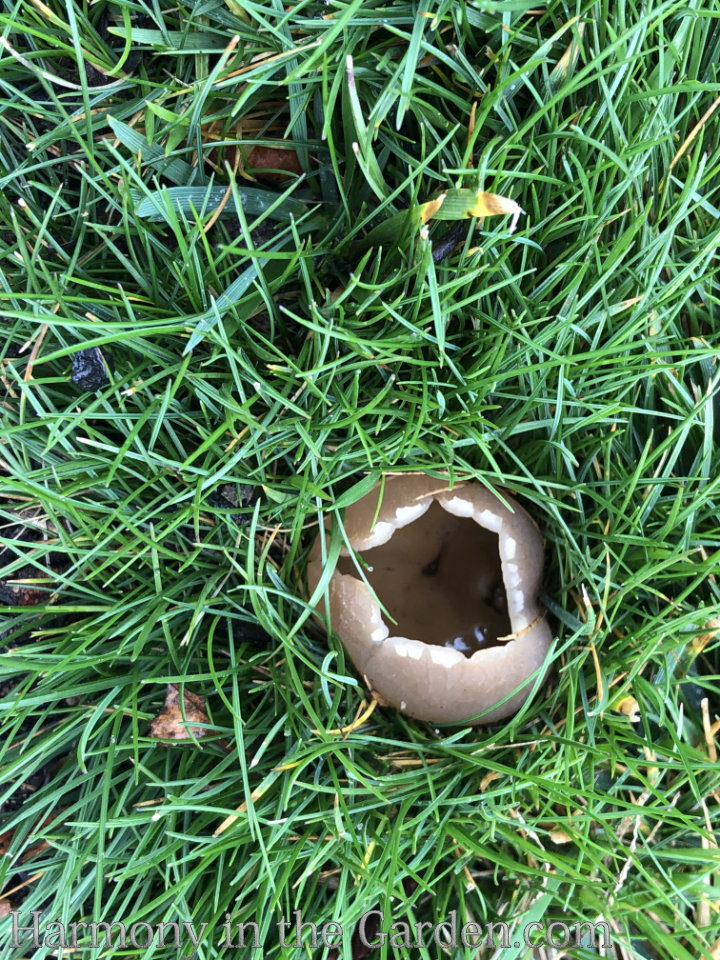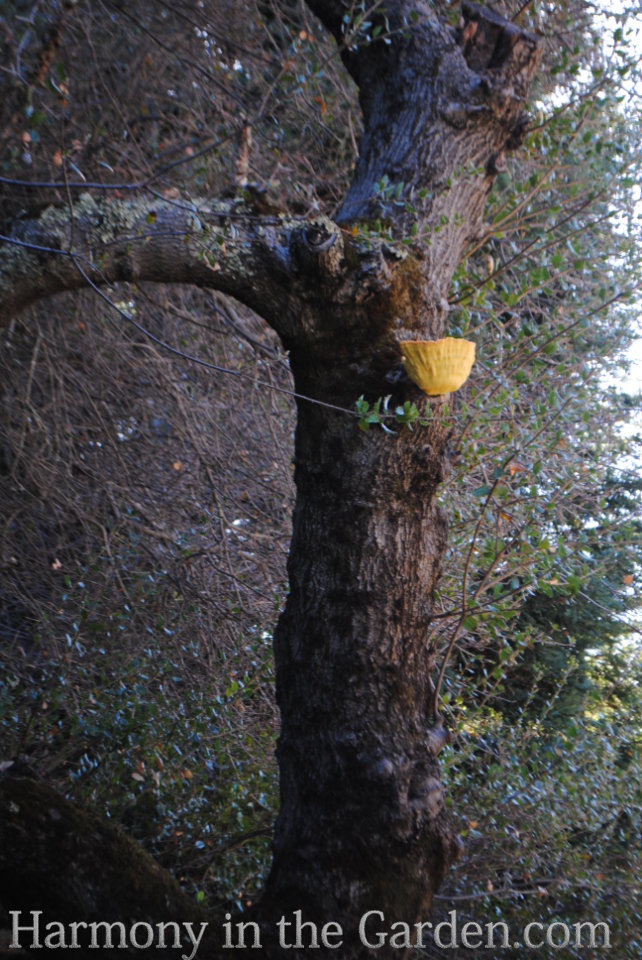 This giant yellow mushroom has appeared twice on a very old oak tree in my garden.
While it's a beautiful mushroom, I've had two arborists tell me its appearance signals the tree's certain doom. 
I'm not sure, but I think it's a laetiporus sulphurous (Chicken of the Woods) but if I'm wrong, please let me know!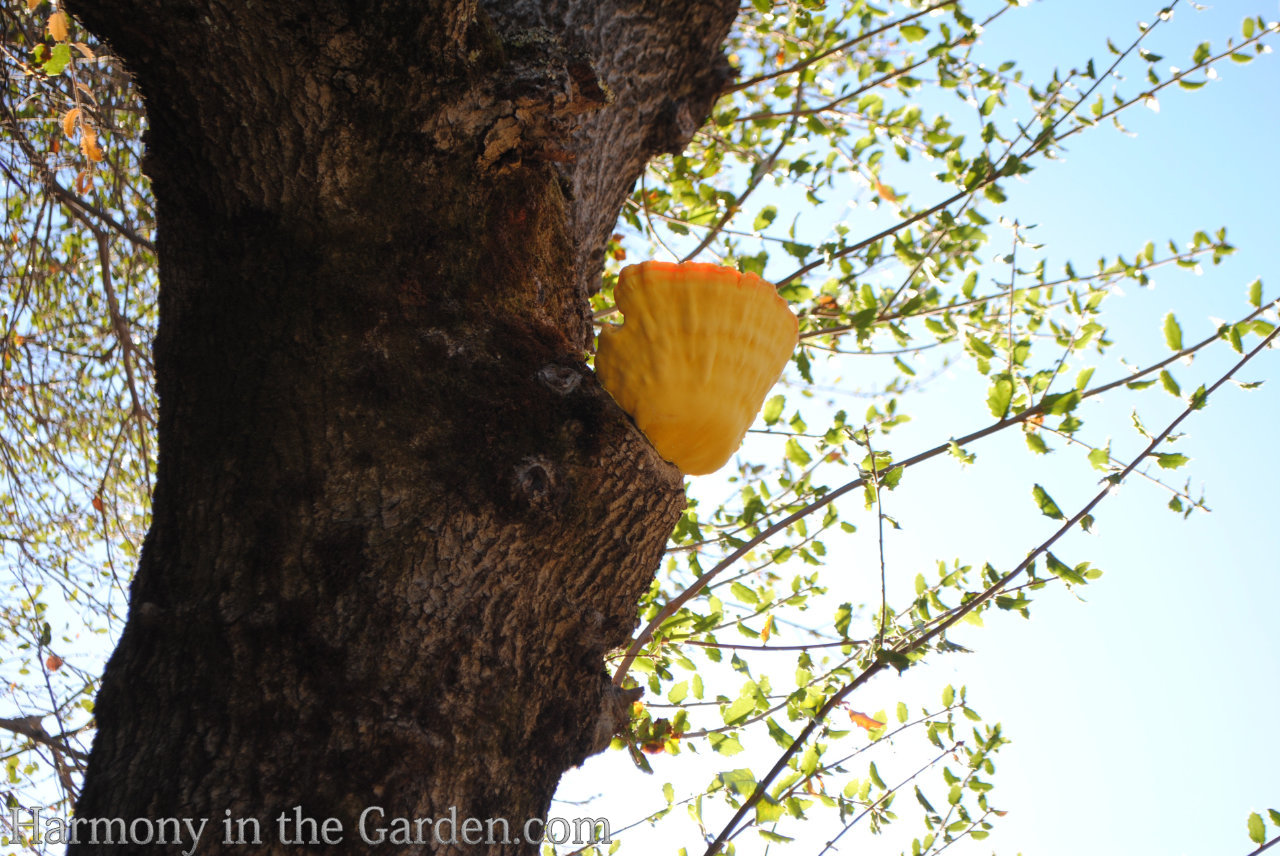 7.  A few more odd-ball favorites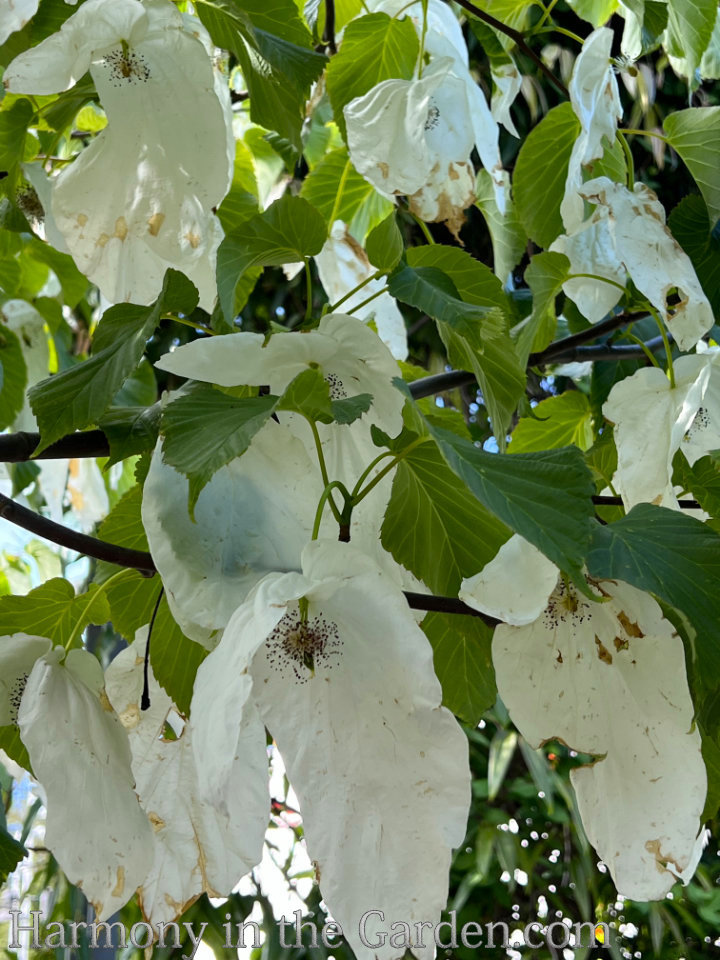 Even though these flowers aren't creepy at all, the common name of this davidia involucrata – the Ghost Tree – deserve an honorable mention in my list of favorite halloween plants.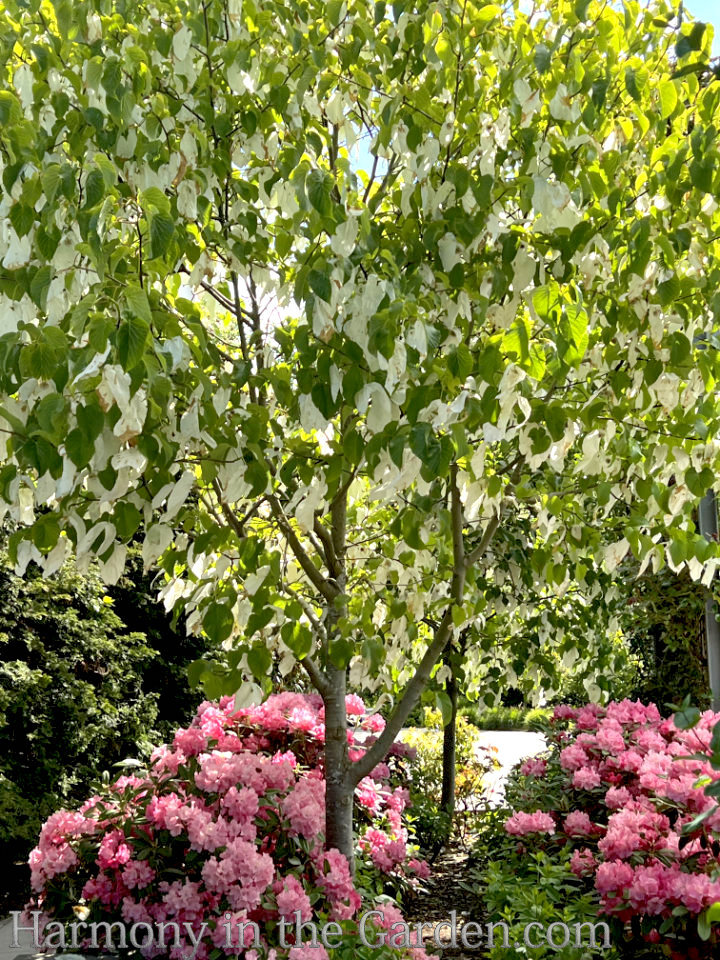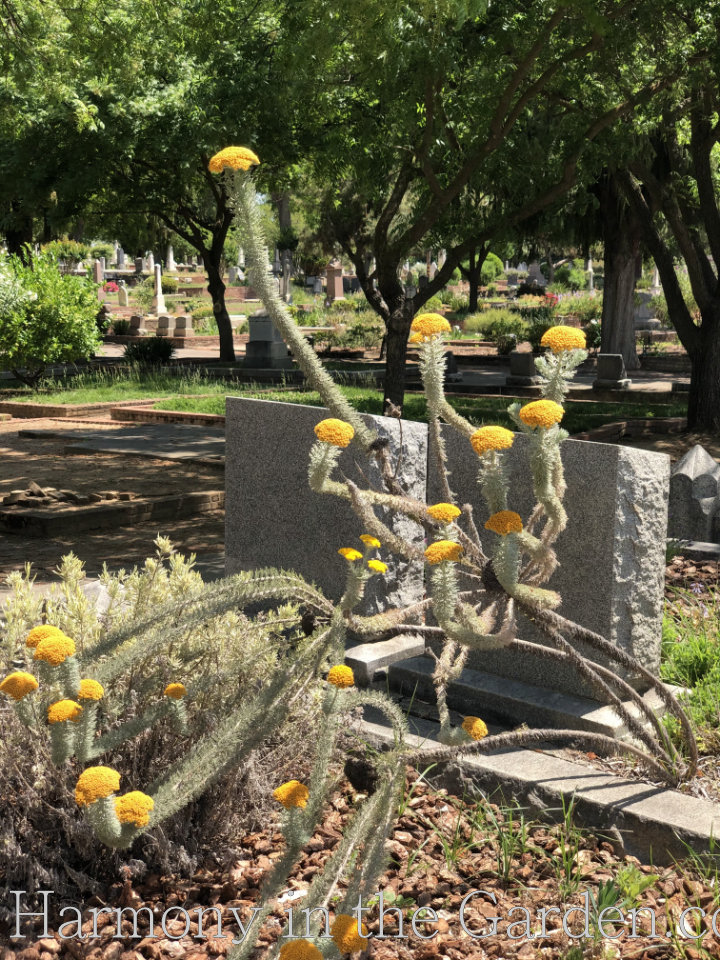 I discovered this spooky plant (athanasia pinnata) leaping from the grave at the Sacramento Historic Cemetery.
Someone definitely had a sense of humor when planting this behind the 100-year old headstone.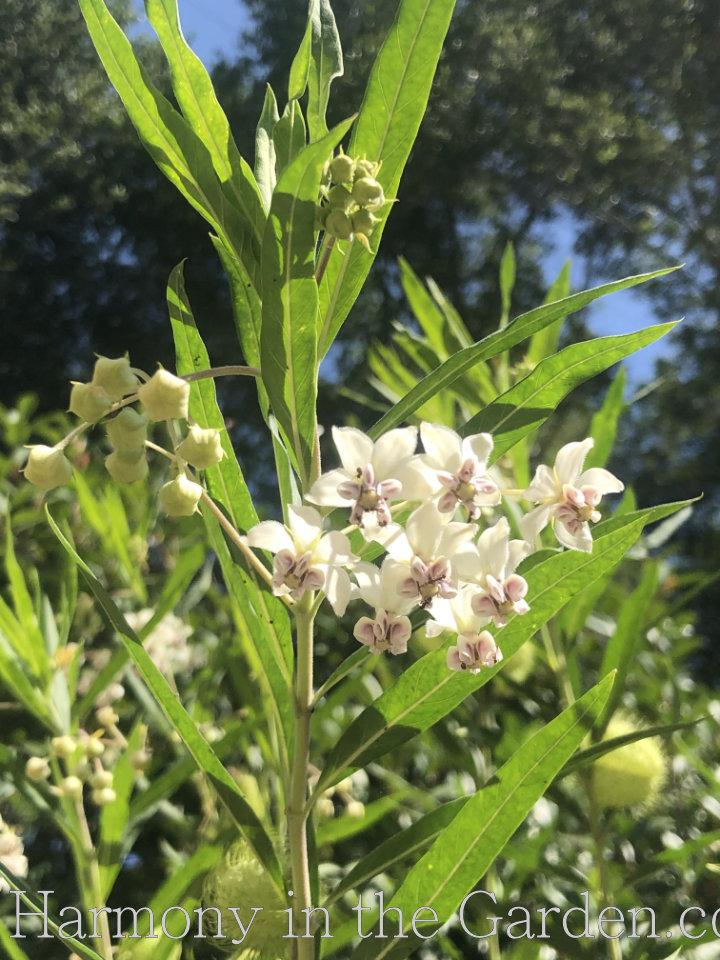 Bear with me on this next one, please. 
Annie's Annuals sells this beauty, called the 'Family Jewels' tree, otherwise known as asclepias physocarpa. 
It's a super fast growing 6-foot tall milkweed (yes, it hosts monarch butterflies, too!) and is covered with these beautiful white flowers.
So, why has it made my list of creepy, freaky plants?
Well, once these flowers finish blooming their seedpods turn into 4-inch, spiky, hairy balls.
Now you know why it's nickname is the 'Family Jewels Tree.'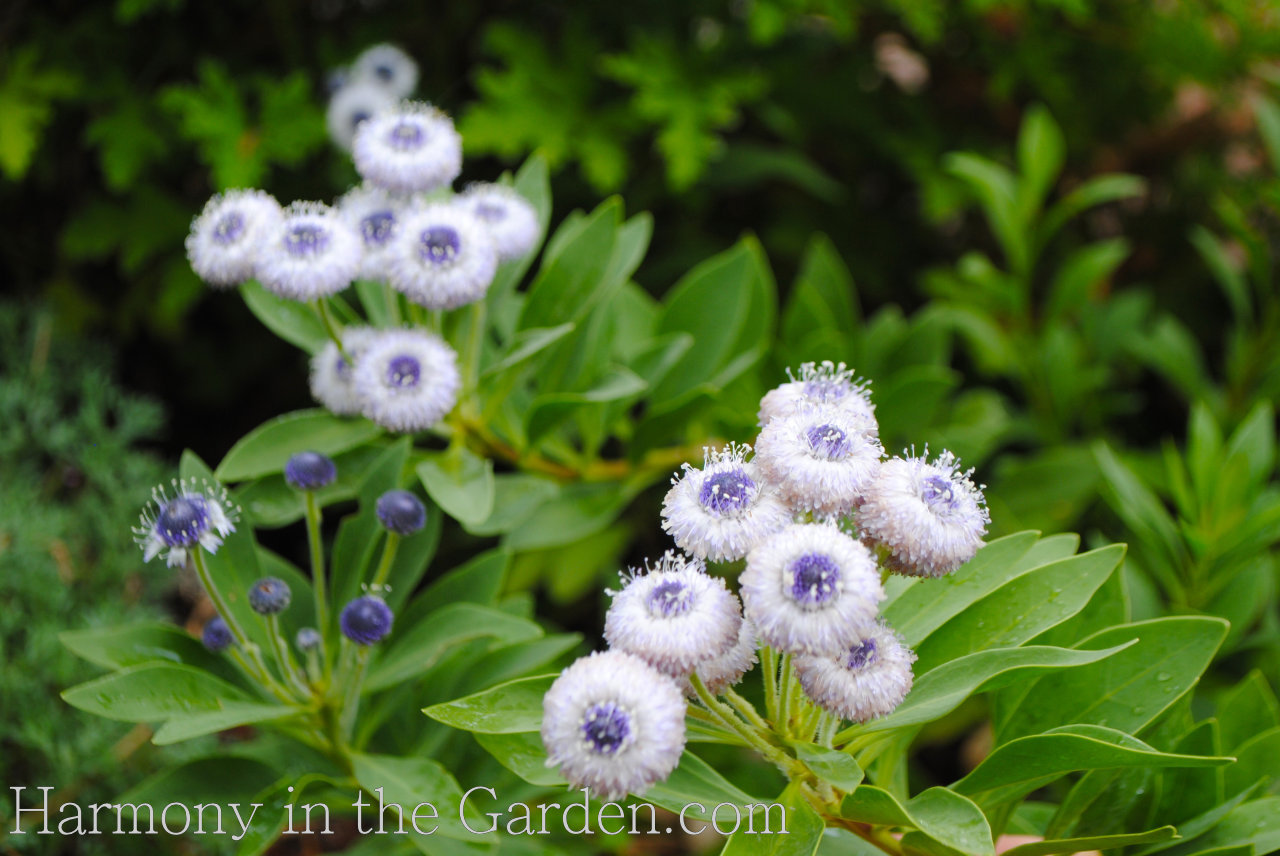 Kids love the globularia sarcophylla 'Blue Eyes' that grows in my zone-9 garden.
The flowers look exactly like, well…little blue eyes.  Even its botanical name globularia is gross, isn't it?
When not covered with blue eyeballs in the spring, the glaucous foliage is a welcome sight in my garden (click here for more glorious glaucous favorites.)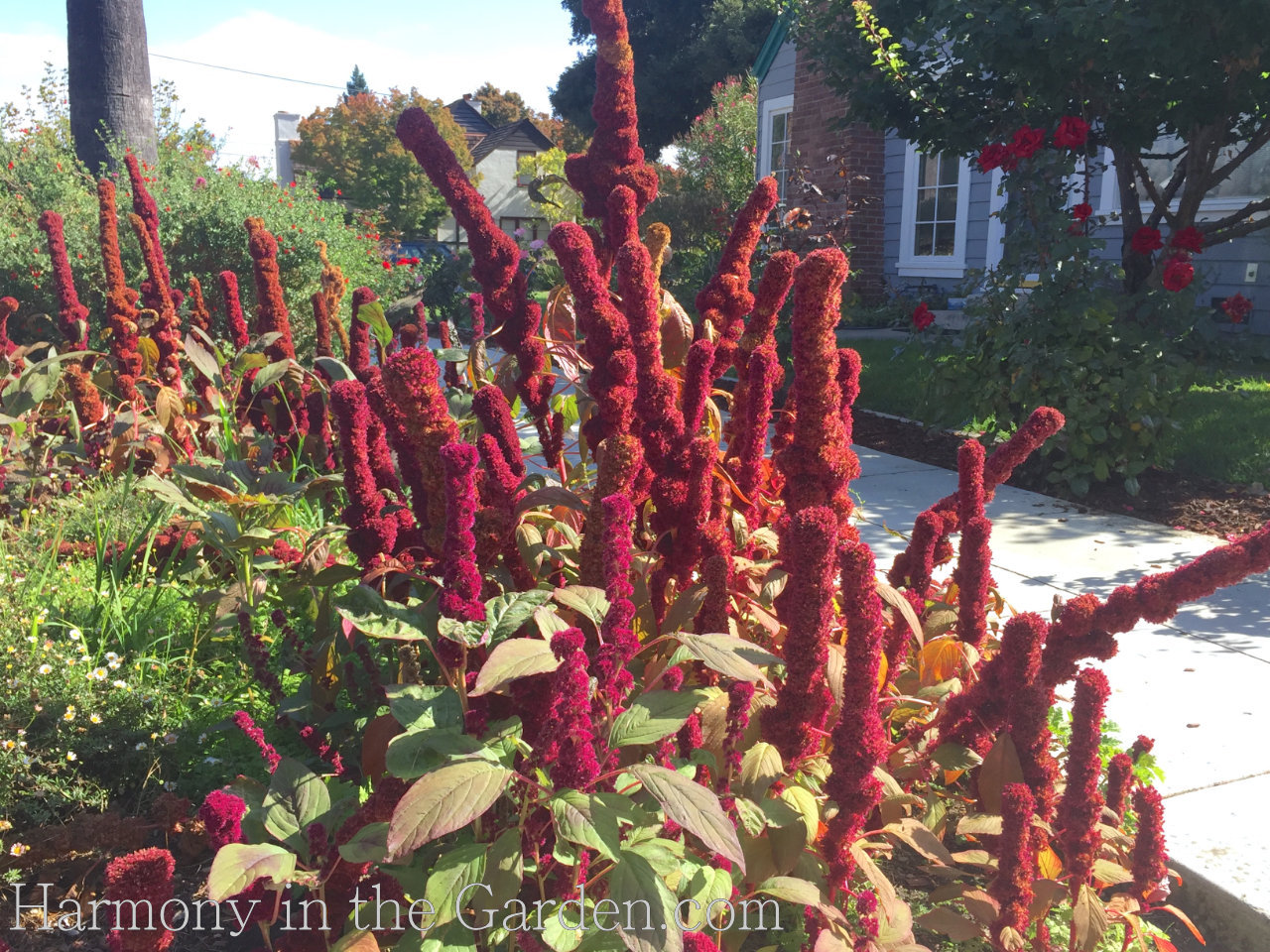 I appreciate the ghastly named Love Lies Bleeding, found growing in this Mountain View garden. 
Usually the flowers are held in long, draping panicles. This is a smaller, upright variety called 'Pygmy's Torch', which you can find here.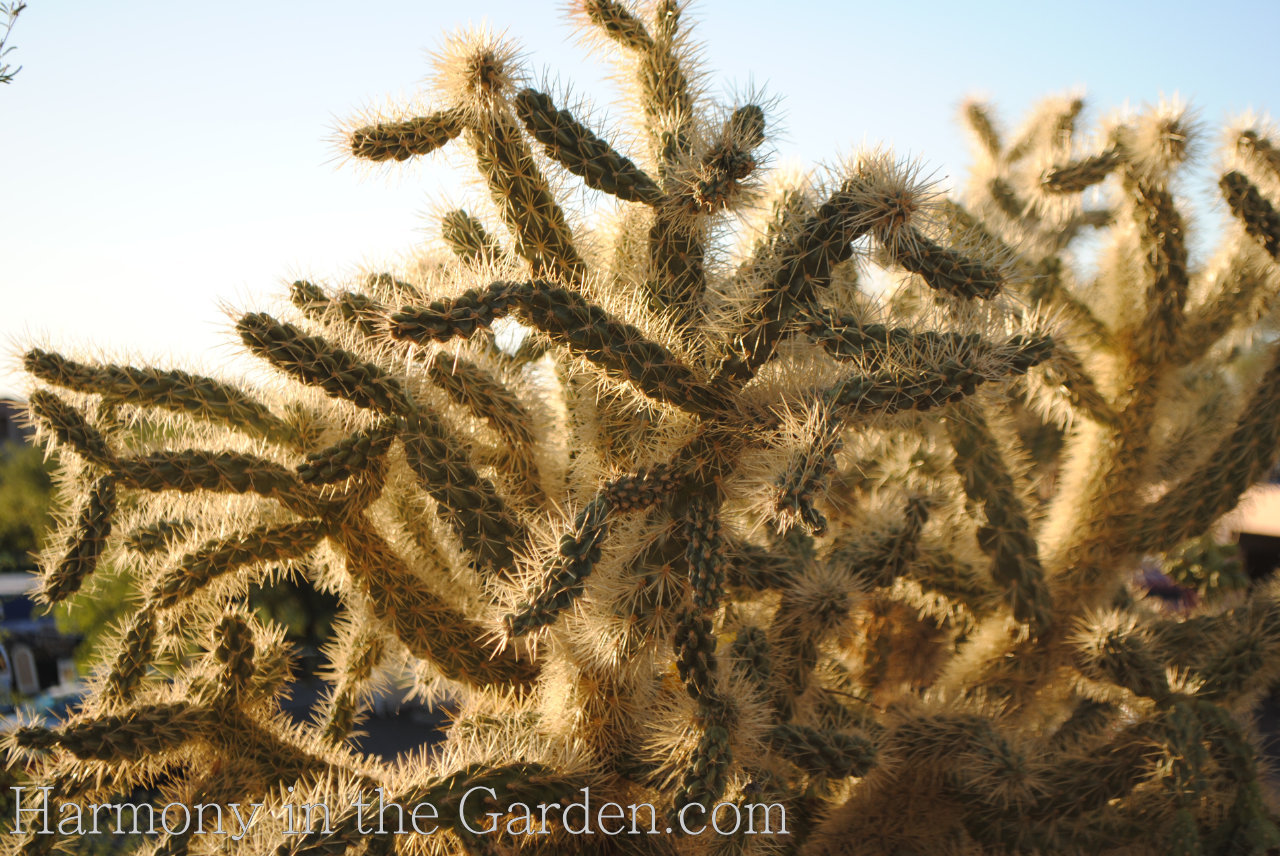 While on a garden tour in Arizona, I spotted this cholla cactus ready to jump on its next victim.
The setting sun backlit this spiky beauty, causing it to look like a giant tarantula.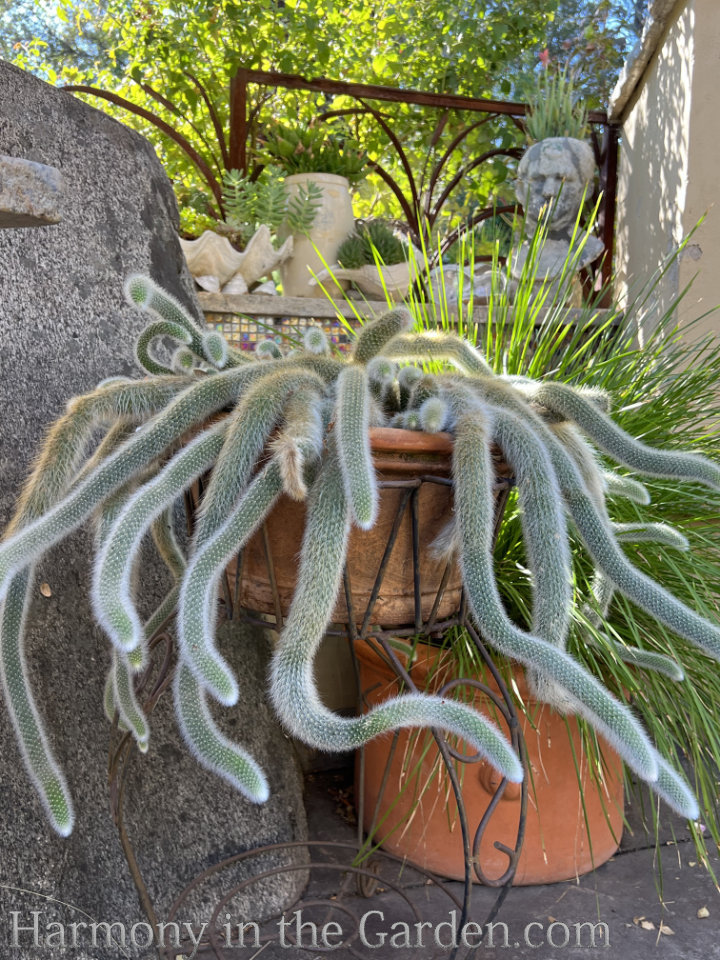 And speaking of tarantulas…
My mother calls calls this my Tarantula Cactus (it's actually a cleistocactus winteri.)
And while it might resemble a big spider climbing out of the pot, it's  common name is the Golden Rat Tail, which is just as icky.
It does, however, have the cutest flower!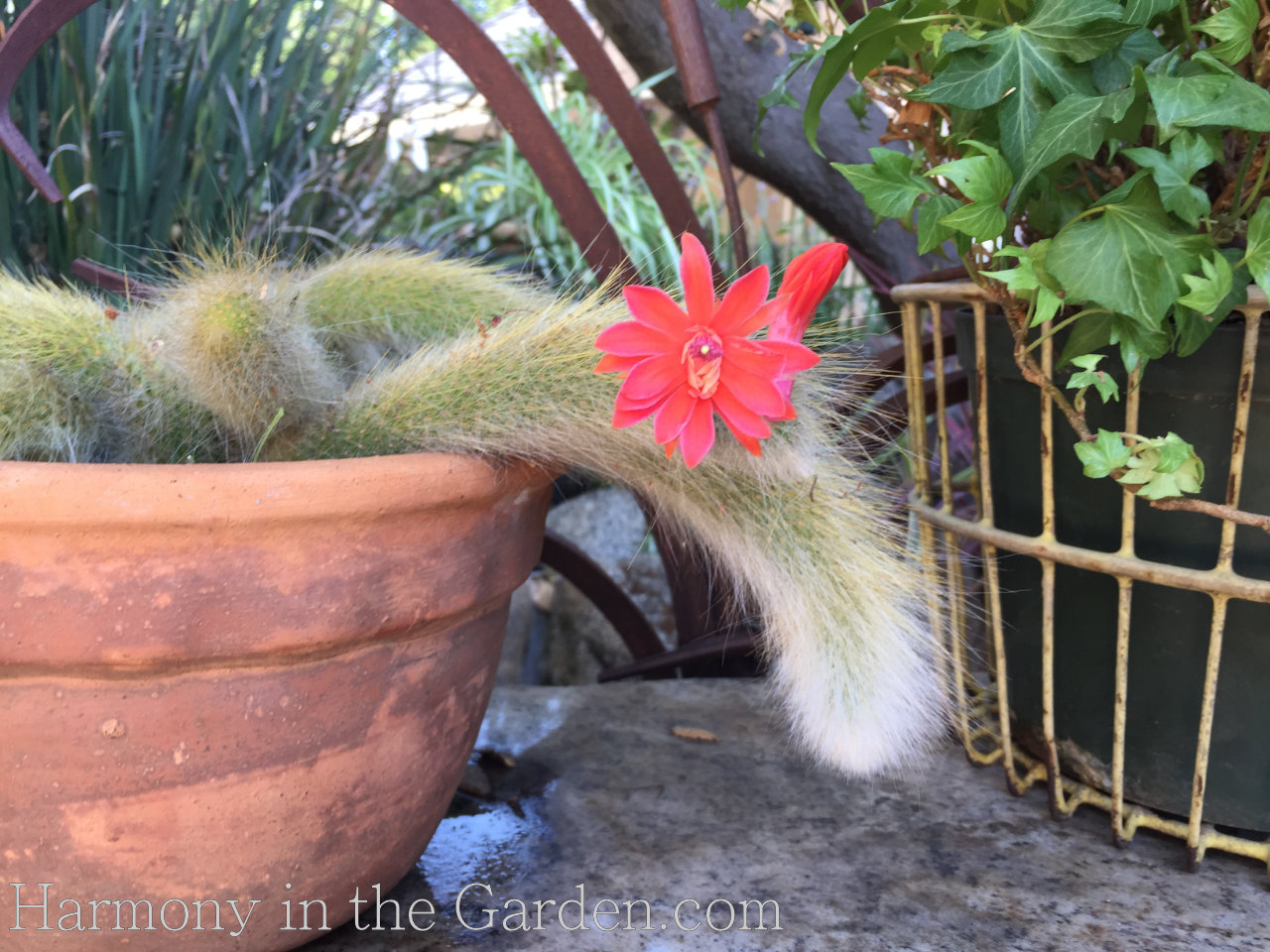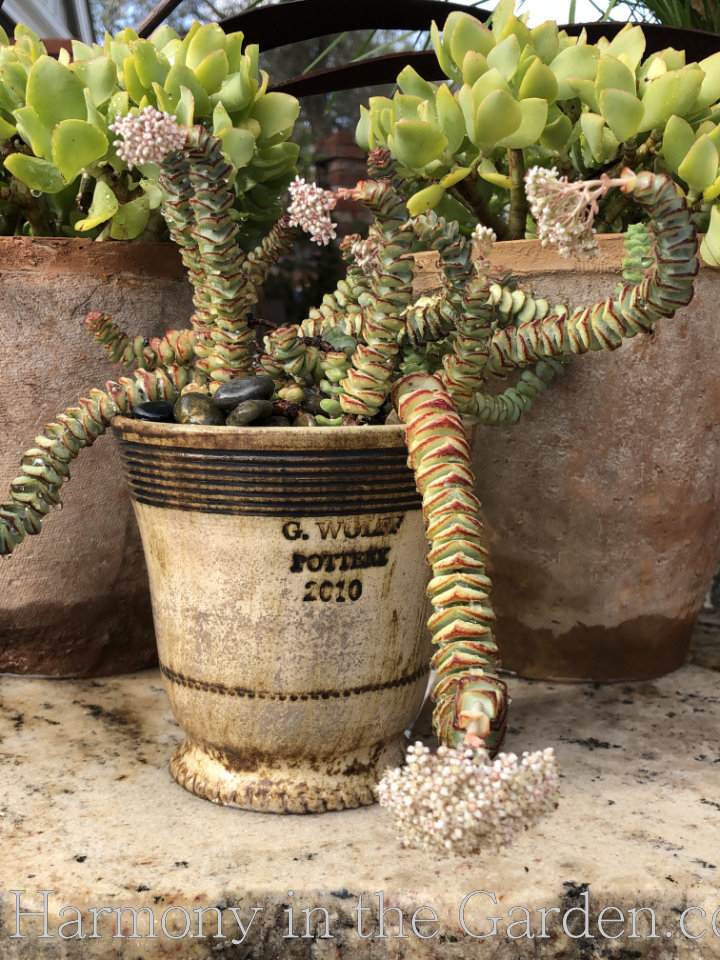 Even though this succulent has a sweet common name (crassula rupestris 'Baby Necklace') my husband thinks it looks like little snakes growing out of the pot. 
Thanks a lot for the image, Tom.
I've had this succulent for many years, and it's SUPER easy to grow.
And fairly tough, too, as mine has never suffered much from drought, heat, or our winter temps that dip into the high-20's.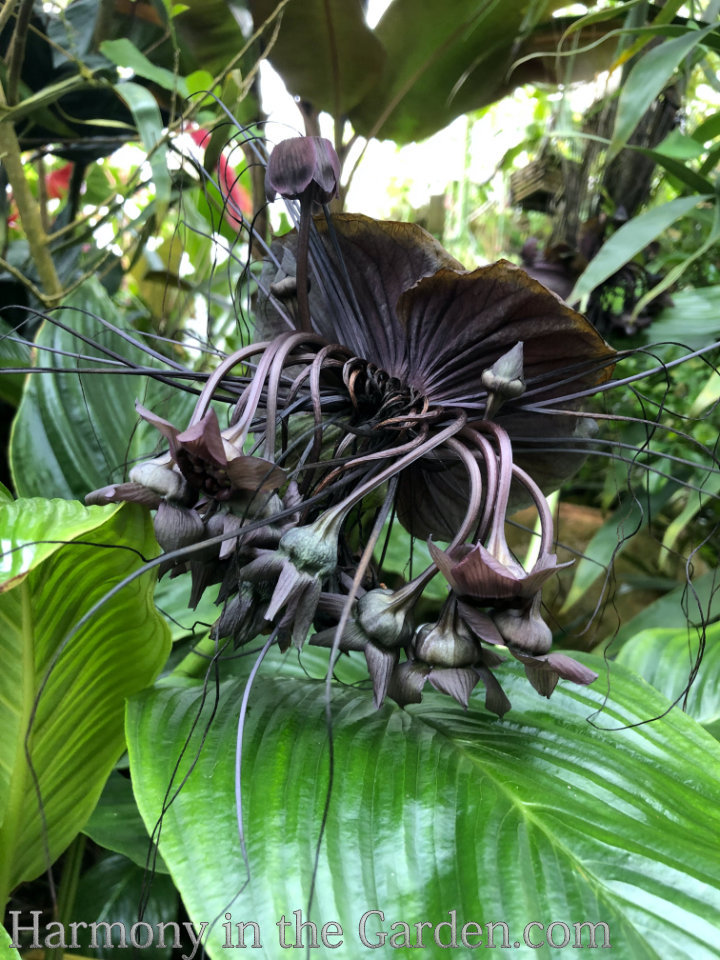 And finally, what spooky plant post would be complete without mentioning the Bat Flower!
Spotted earlier this year at the San Francisco Conservatory of Flowers, this tacca chantrieri was in full-bloom, with its dark maroon, wing-like bracts resembling bat wings.