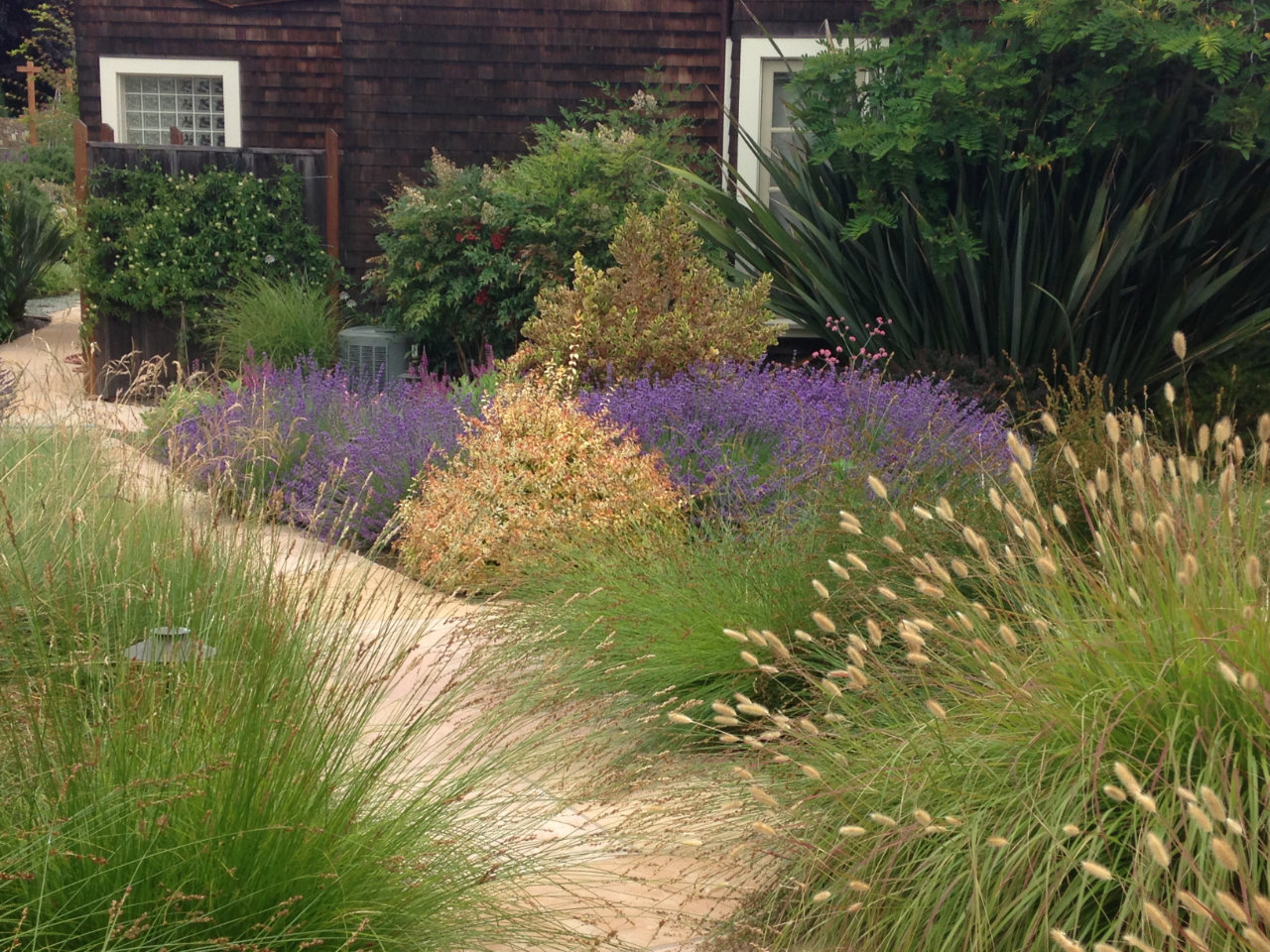 Over the past several years, I've written a lot about creating a lawn-free garden. 
I've talked about everything from the nitty -gritty details of removing a lawn, to loads of before-and-after lawn-free transformations, to must-have books and resources that will guide you through every step of the process.
With so many new subscribers this past year and with so much of our country being hit hard by the devastating drought, it's the perfect time to create a single post that includes all of these links in one easy location. 
So here it is, a compilation of my favorite lawn-free garden posts.  Enjoy!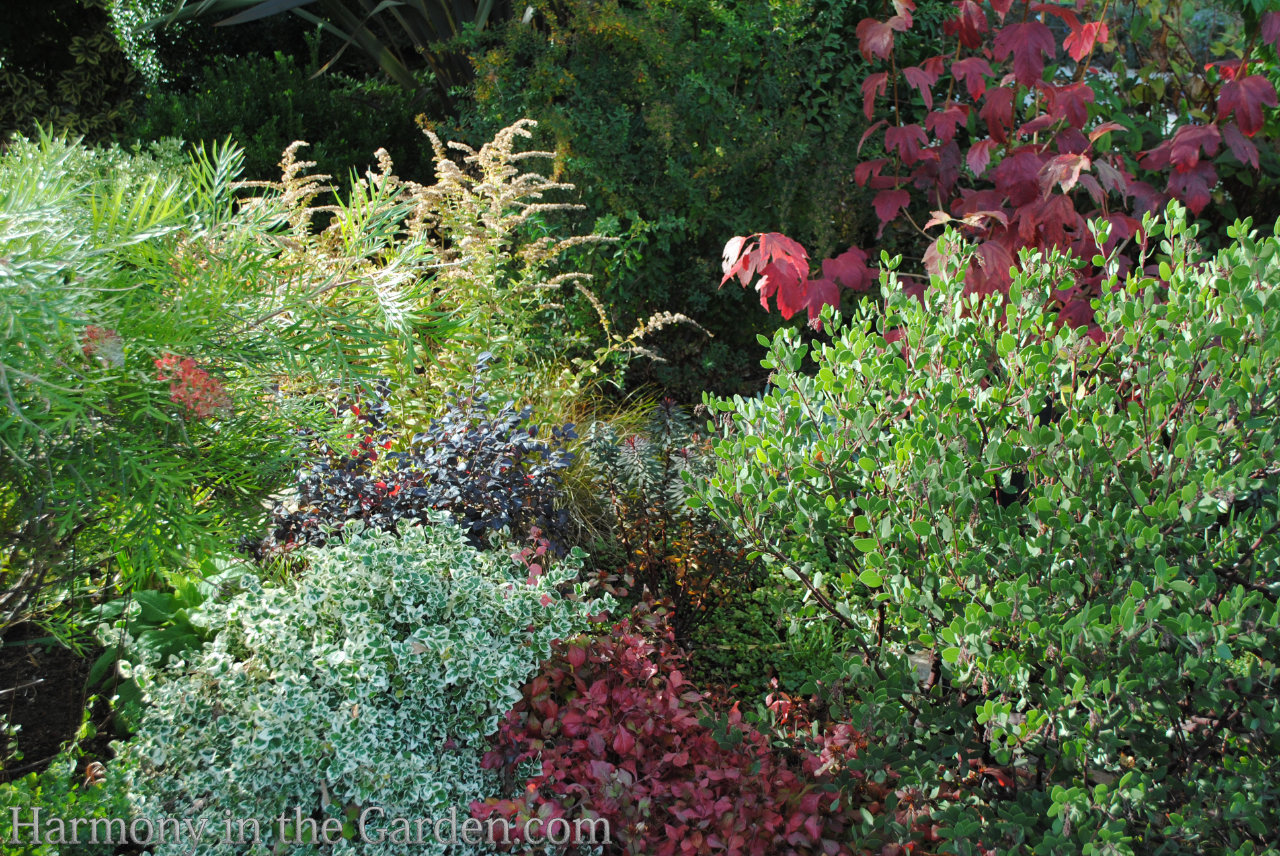 Let's start at the beginning. 
If you're thinking about removing or reducing your lawn, it can seem like a daunting process.  I won't lie – depending on the size of your lawn, it can certainly be a lot of work. 
But trust me, the work you put in is SO worth it in the end. 
In all the years I've been removing lawns, I've never once had a client come back and tell me they wish we had kept it!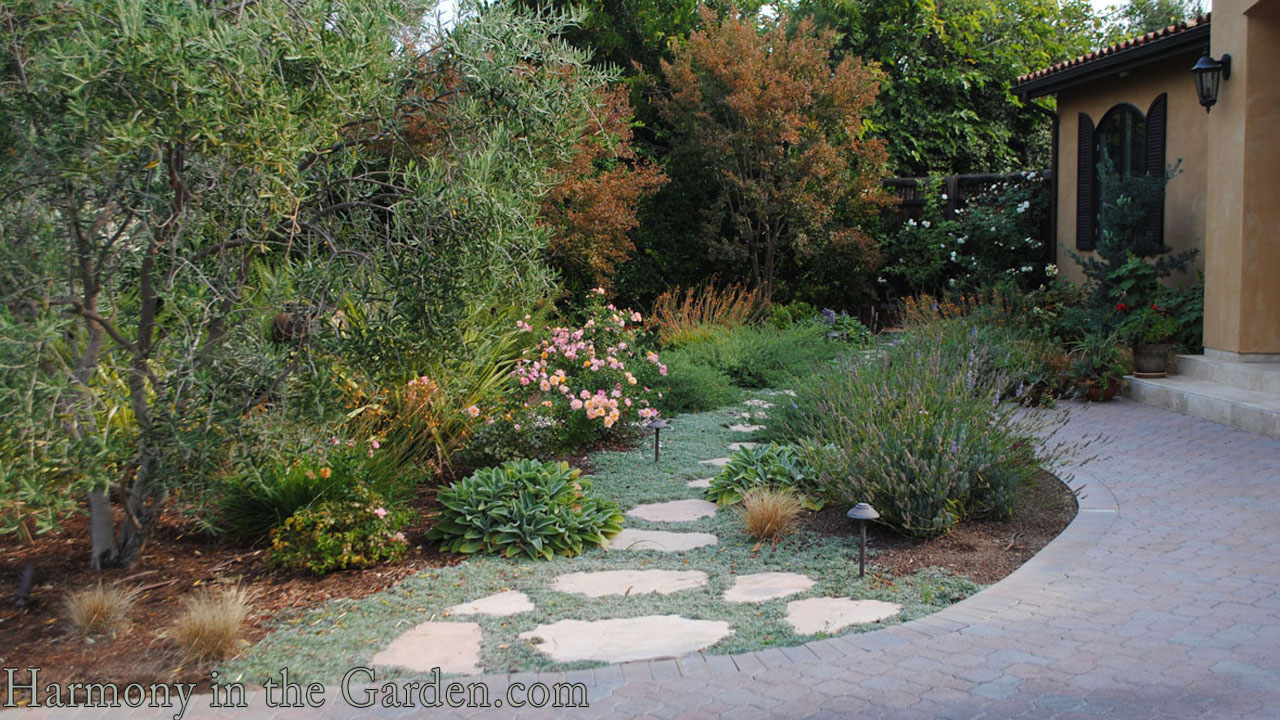 Instead, my clients have consistently been amazed at their slashed water bill (many times saving over 50%!) 
And here's the best part – their garden isn't a wasteland with only a few cactus here and there, but is overflowing with colorful plants, pollinators, birds, etc.  
One of these gardens, for example, was featured in a magazine and during the photo shoot, the homeowner showed the editor their water bills pre-and-post lawn removal, proving just how much less water this overflowing garden used.
The editor was floored, to say the least!
Before-and-After Lawn Free Gardens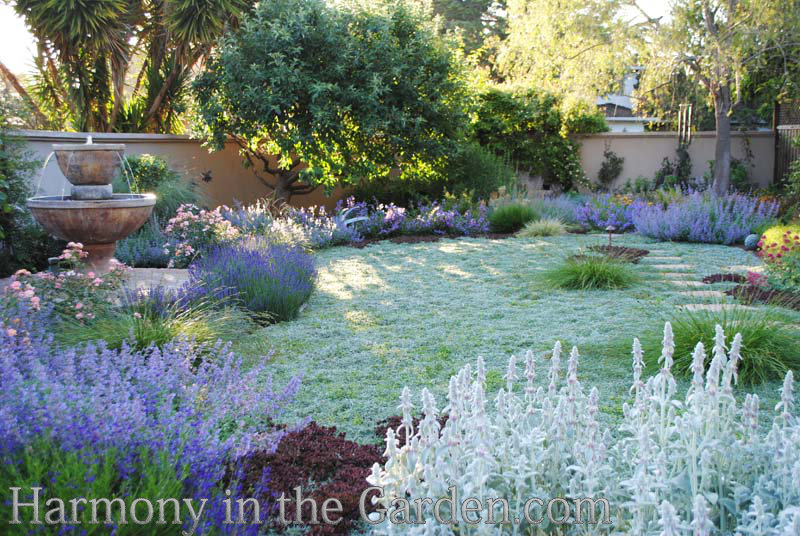 Nothing is as inspiring (to me, at least) as a good Before-and-After!  Which is probably why I've written about so many of them over the years. 
Luckily, I have lots to share with you that involve removing a lawn.
Remember my story above about the homeowner who gathered their pre-and-post lawn removal water bills for the editor?  You can read about this garden here, in Shades of Gray in a No-Lawn Garden.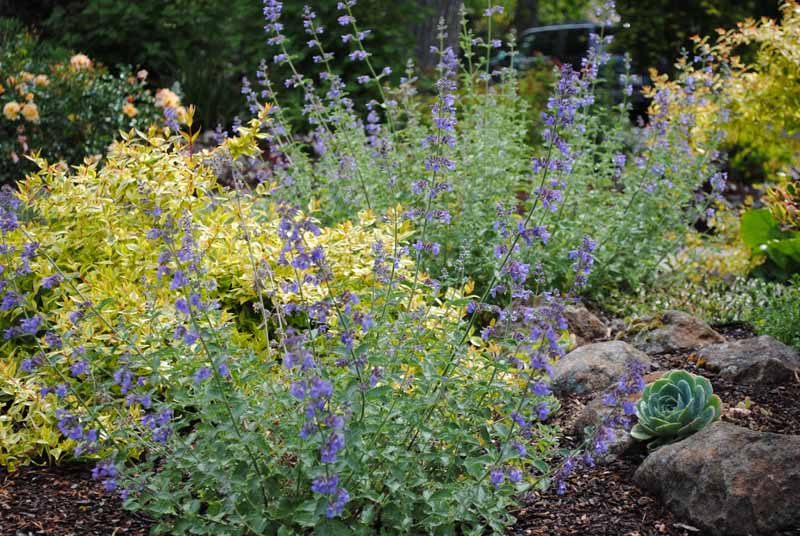 This was a lovely, small garden in suburban Palo Alto, on a tree-lined street where most houses and gardens were of the same size. 
One of the reasons why this project was so meaningful was result it had on the neighborhood. 
Over the years, I received several calls from neighbors asking to help them also remove their lawns to create a garden.
Click the link to read my post:  Creating a No-Lawn Front Garden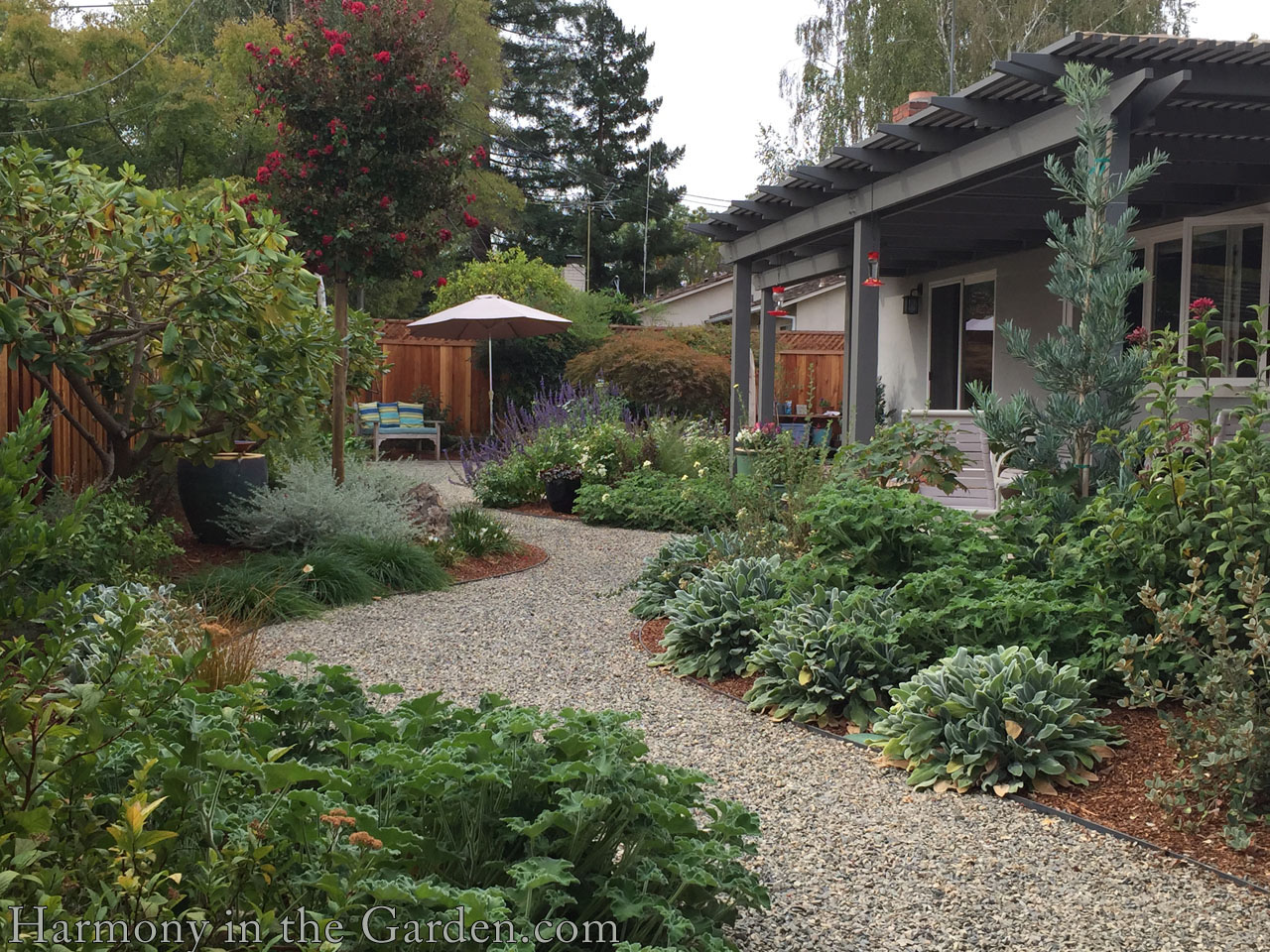 Similar to the garden above, this next example is also on a suburban street, surrounded by neighbors with similar home and gardens with little-used front lawns.
I loved this project, as over the years, I saw the transformation not only in the garden but also in the homeowners as they so enjoyed seeing the hummingbirds and life that filled their new garden. 
Removing the front lawn was so successful we ended up removing the back lawn, as well. 
Click here to see more pics of this garden.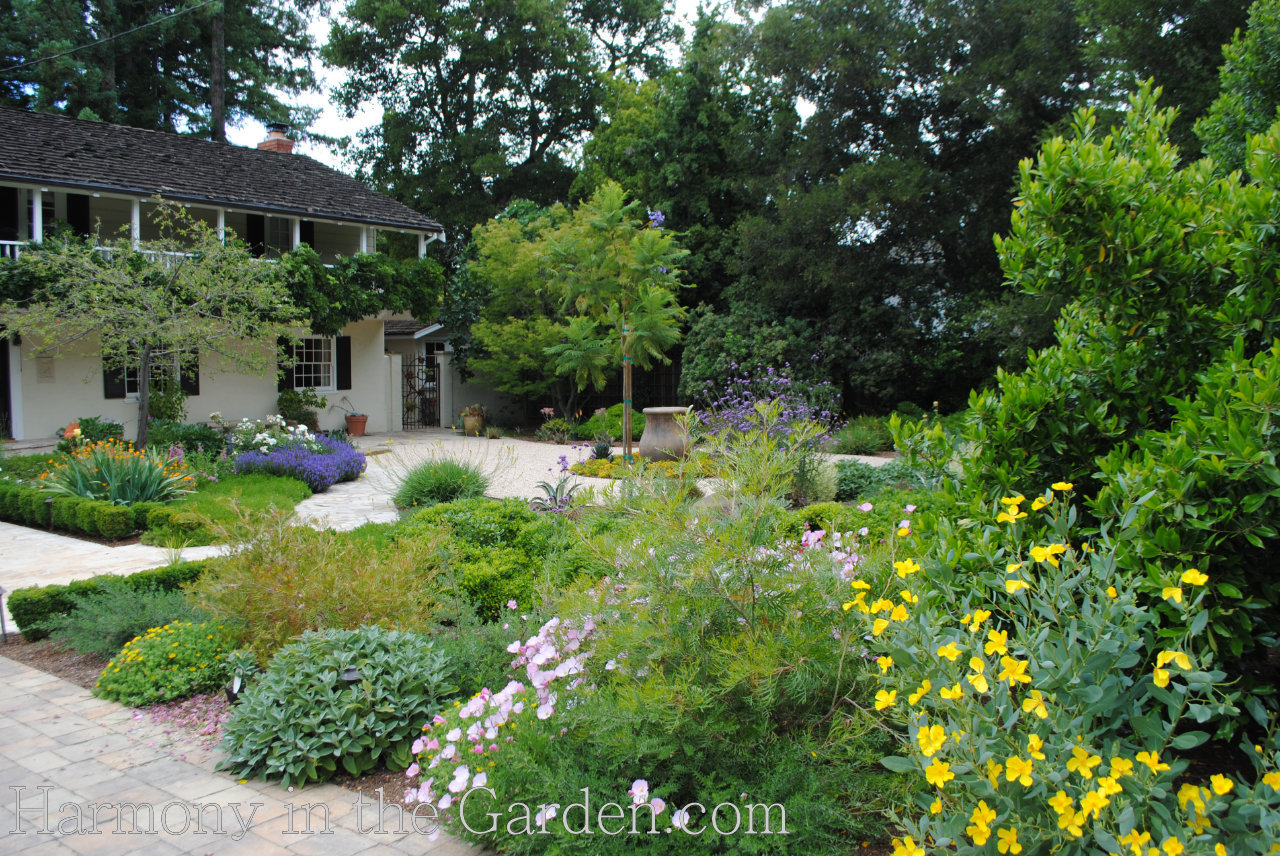 Not ready to completely remove your lawn? 
That's okay!  We often remove just part of the lawn, leaving a smaller patch for young children or dogs. 
In this garden, we removed the entire front lawn, but only part of the back lawn.  The garden is a great example that shows how to create the 'negative space' that I talked about in the above 3-part series. 
In this case, we emphasized negative space through the use of wide pebble pathways in the front garden and a small patch of lawn in the back. 
Click here to read more about this garden.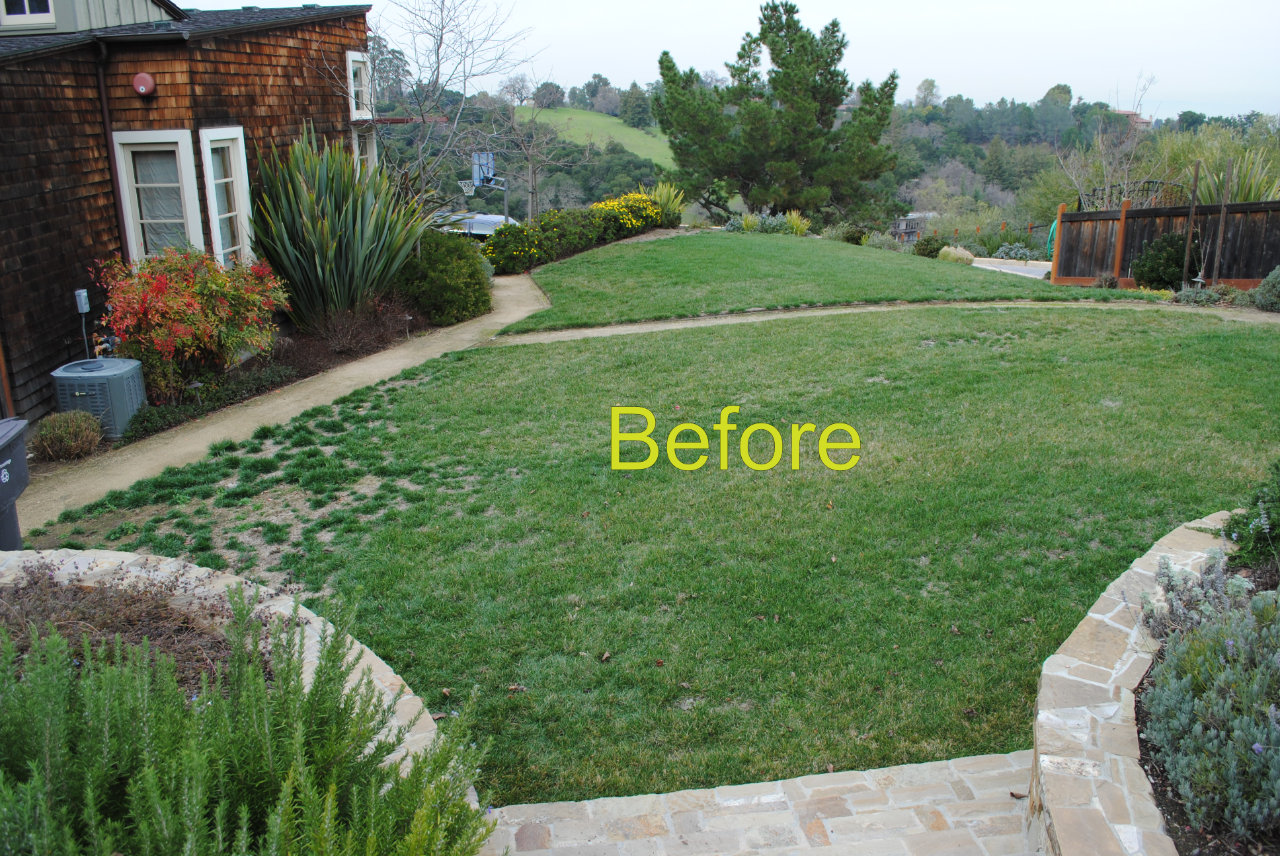 This is the before pic of one of my favorite transformations.  The homeowner is also an avid gardener (which always makes a project more fun.)  
We dove headfirst into removing her giant un-used lawn and replacing it with a combination of no-mow grasses, wide pathways, and planting beds.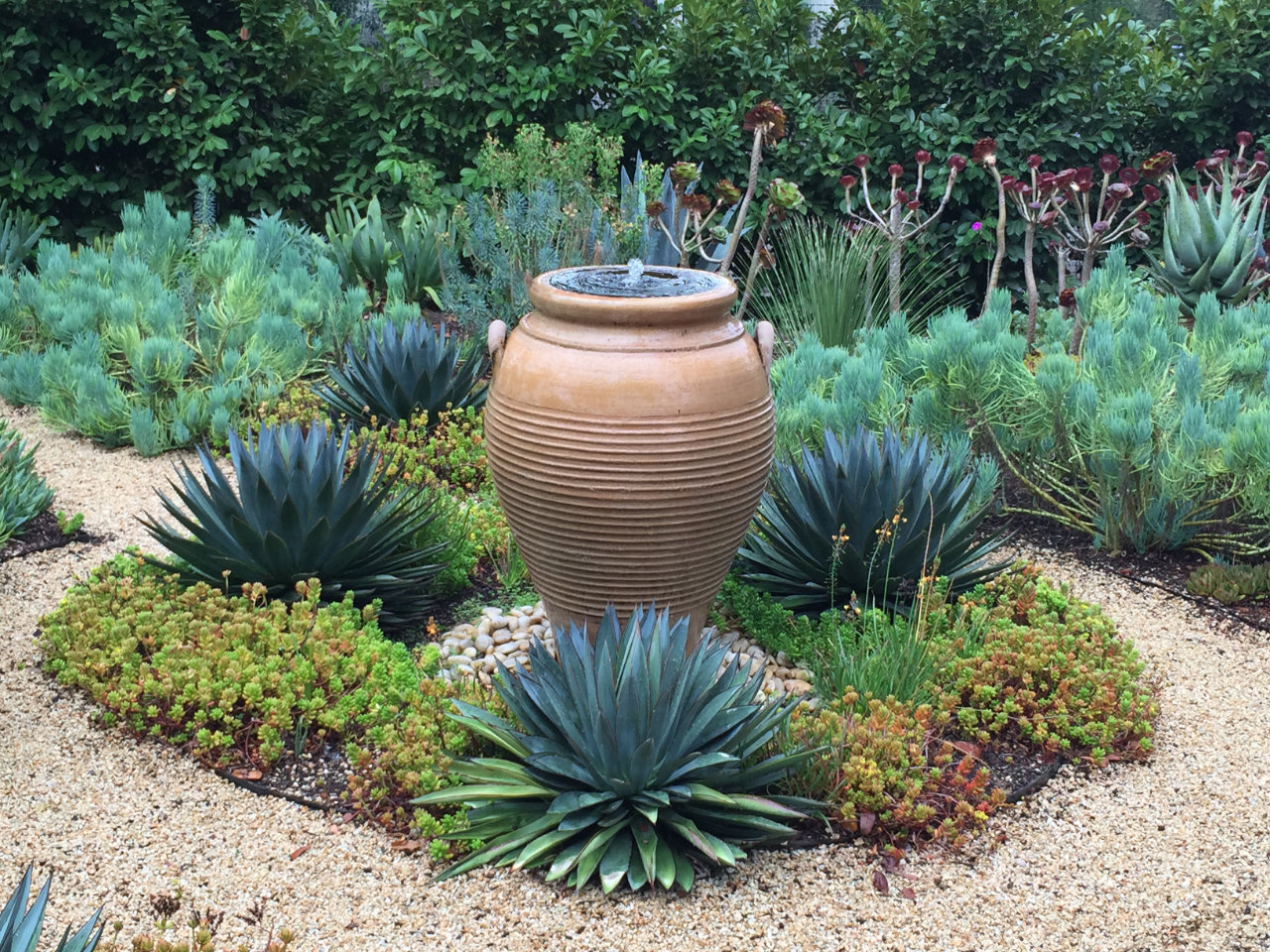 I seem to always say 'this is one of my favorites,' don't I?  But it's so true – I have tons of favorites! 
Including this one, where we removed a large lawn and replaced it with an amazing succulent garden. 
You may have seen this before, as it's been featured in several magazines over the years, but I'll show it again as (get ready for it…) it's one of my favorites! 
Click here to see more.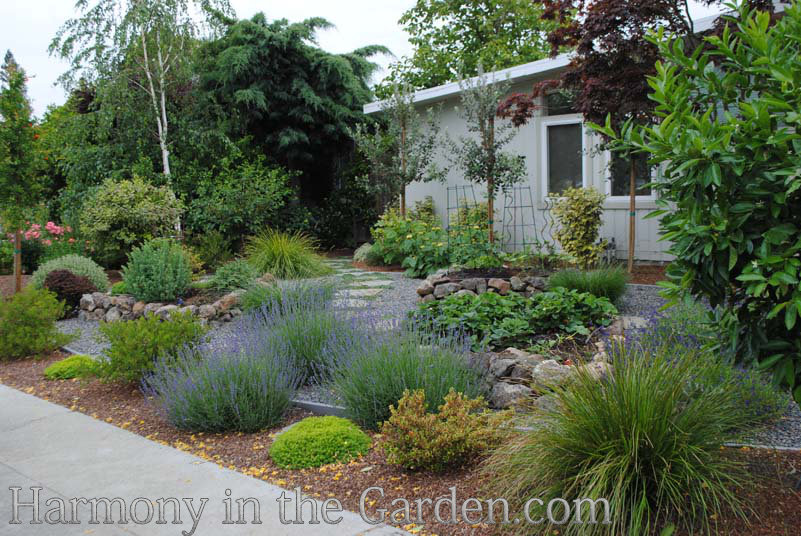 Here's another example of a small front yard on a suburban street.
Only this time, we removed the front lawn and replaced it with an edible garden.   
In this instance, we also included plenty of year-round plantings that would carry the garden through the winter months yet still created a few raised beds providing space for plenty of edibles.
Click here to see more.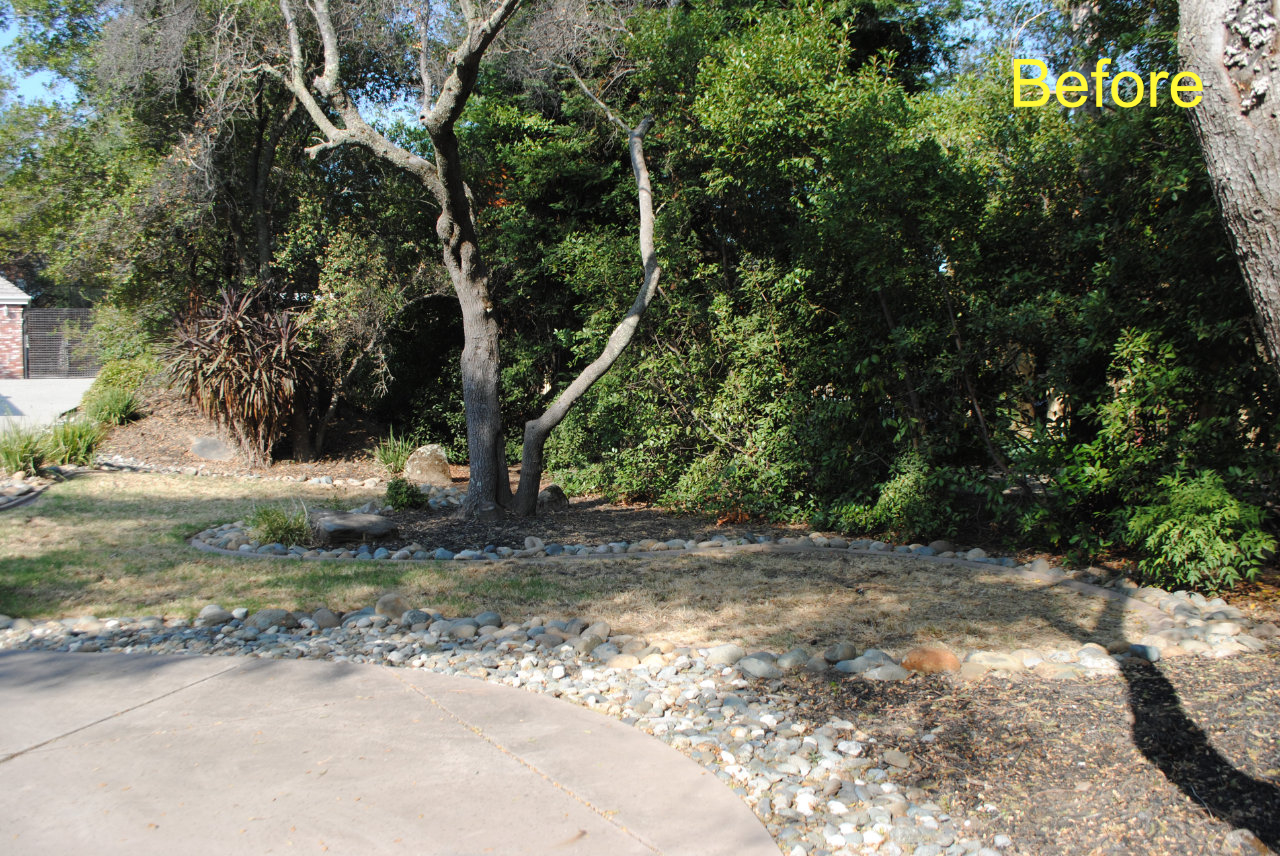 Since moving to my new home, I've been busy removing unused areas of lawn and replacing them with pollinator plants.
I've had so much fun finally having enough space to indulge in my low-water plant obsession!  
This is an example of replacing a lawn that killed an oak tree (gee, who would've seen that coming?) and creating a vibrant pollinator/rain garden. 
Click here to see why this has become my very favorite part of the garden.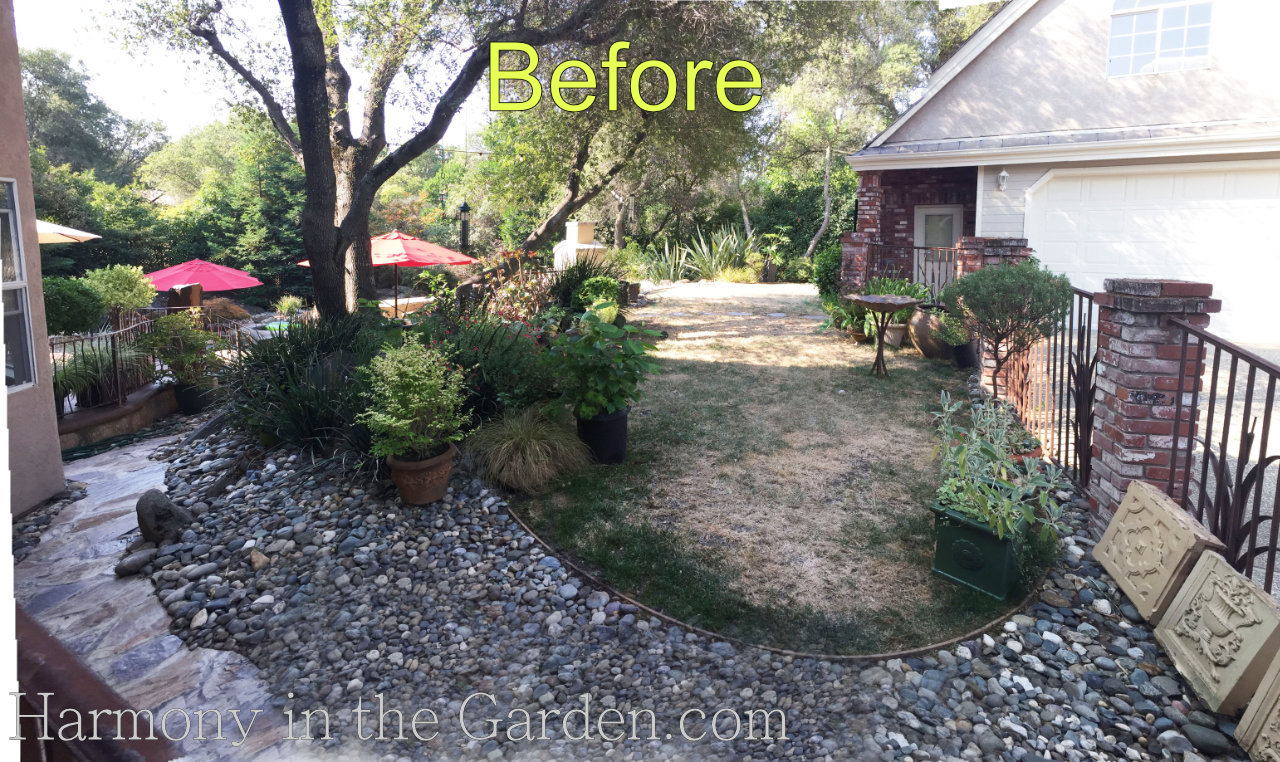 And finally, here's another area of my garden where the lawn completely surrounded an oak tree.
I removed the lawn that was close to the oak and filled with space with succulents and other low-water plants.
Click here to see details of how I accomplished this.
Favorite Lawn-Free Resources
There are a few books that I return to time and time again when needing lawn-free inspiration.
Two of them are written by Pam Penick (who also authors the longtime, award-winning blog Digging.) 
Her books are amazing and will help you so, so much if you're thinking about removing your lawn. 
Her first book is The Water Saving Garden (you can also read my Q&A with the author, here)
This next book, Gardening in Summer Dry Climates – Plants for a Lush, Water-Conscious Landscape , was released this year by Saxon Holt and Nora Harlow. 
Even if you're not familiar with Saxon Holt, you've undoubtedly seen many of his photographs in various garden books and magazines.  He's not only talented but passionate about low-water gardens.
I dare you to read this book and not be inspired to run out and remove your lawn!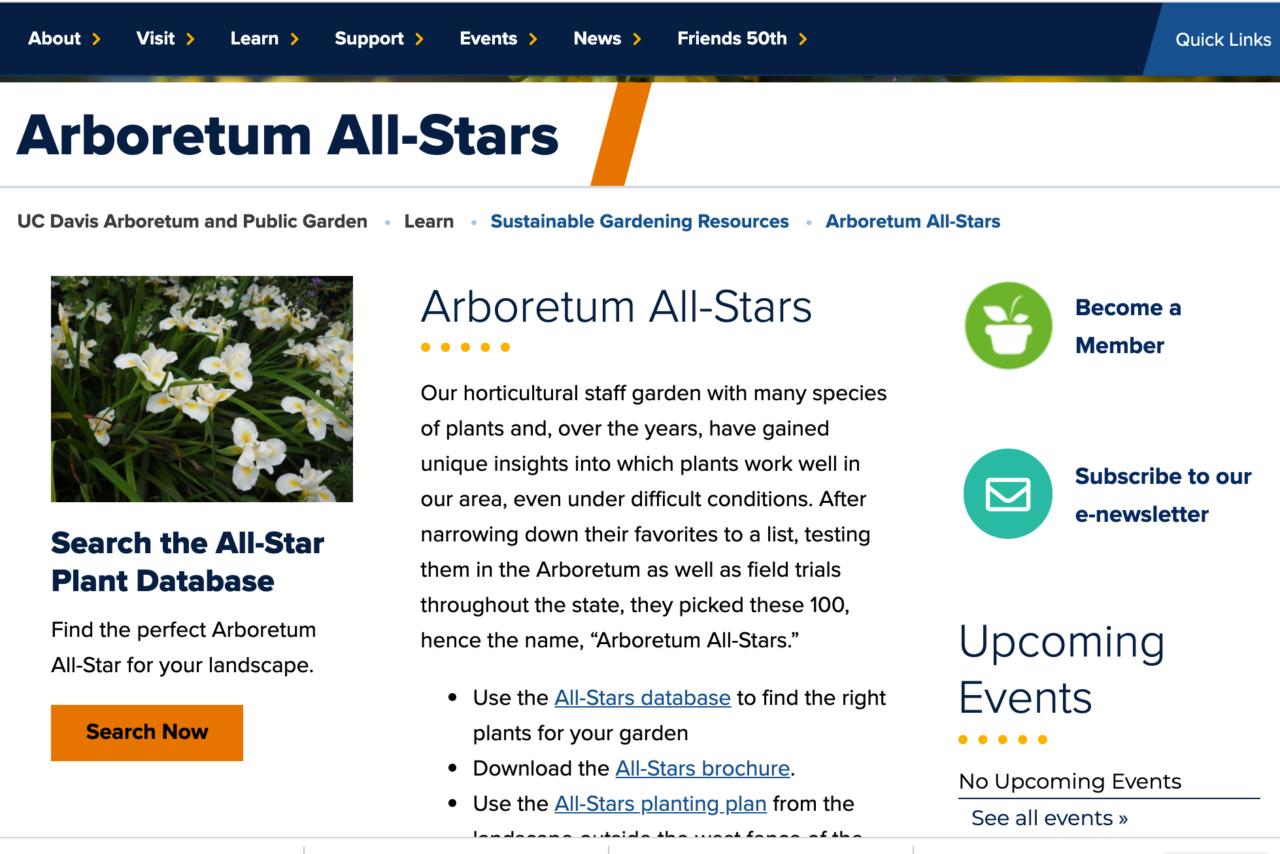 And finally – the UC Davis Arboretum All-Star website is a fantastic and thoroughly researched website for super low-water plants for our zone 9 climate.   
If you're not aware of this site, you simply MUST head over and take a look.  It's amazing to read about the plants they test under pretty brutal conditions, and how they did (or didn't) fare.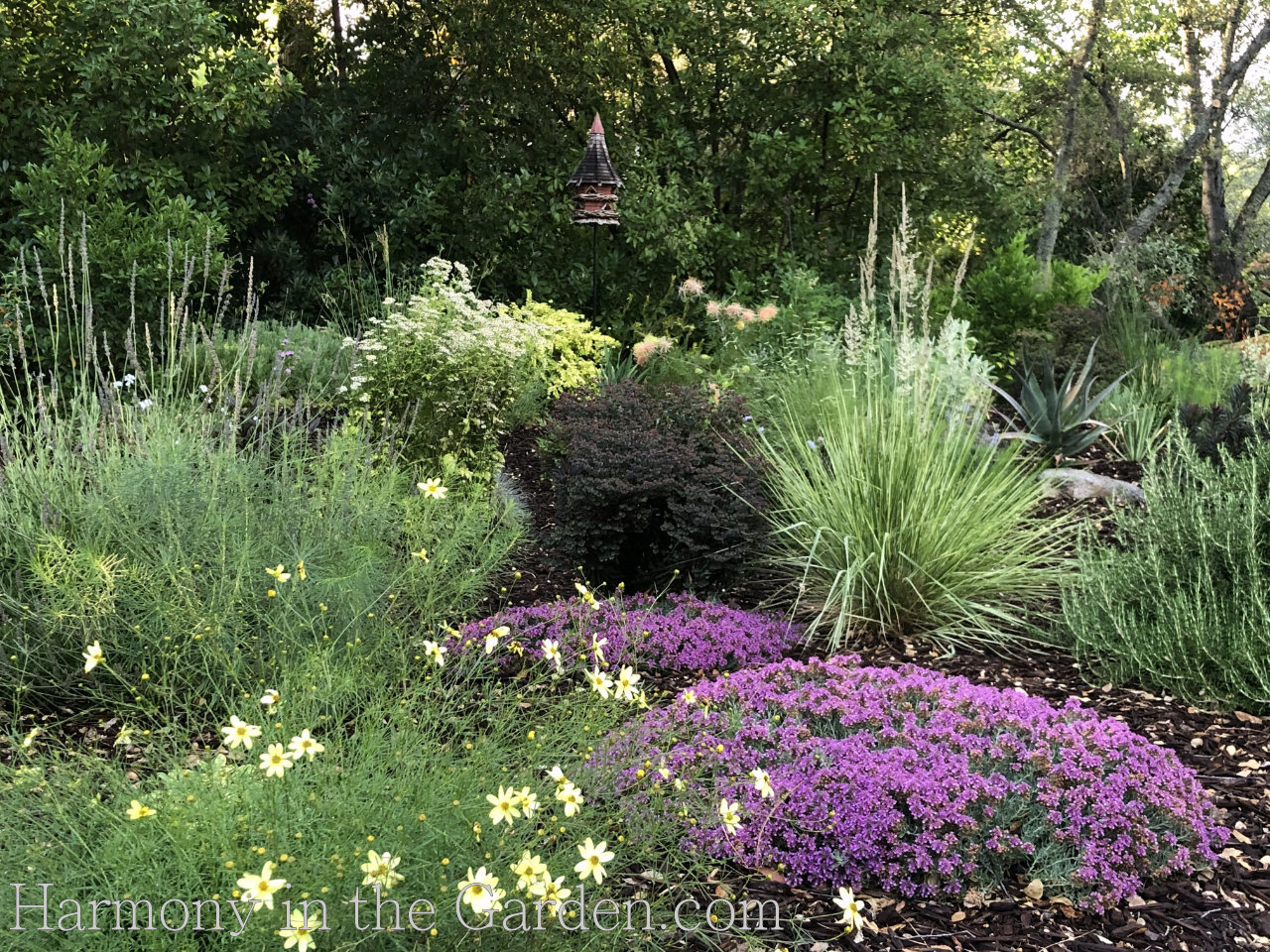 Well, there you have it – my ultimate guide for creating a lawn-free garden! 
I hope I've given you plenty of inspiration and resources to help transform your garden into a high-performing, low-water oasis! 
If you have any books or plants to share with us, don't' be shy – we'll all benefit from your perspective!