I'm spending some time in New York City this summer and am thrilled to have finally visited the High Line public garden.
Ever since its grand opening in  2009, I've been dying to see the transformation of this abandoned, defunct elevated railway into one of the city's most inspiring and innovative public gardens.
First, though, to help you fully appreciate the genius behind it here's a little background.

In the early 1900's, this area was the largest industrial area of Manhattan, transporting meat, produce and dairy throughout the entire city.  In an effort to remove the dangerous freight trains from the already too-congested streets below, an elevated railway system was created, known as the Life Line of New York. The High Line's last run was in the 1990s, and there it sat slowly deteriorating into a powerfully unattractive eyesore.
Until, that is, the creative collaboration between James Corner Field Operations, Diller Scofidio + Renfro, and planting designer Piet Oudolf joined forces. (photo credit: www.Oudolf.com)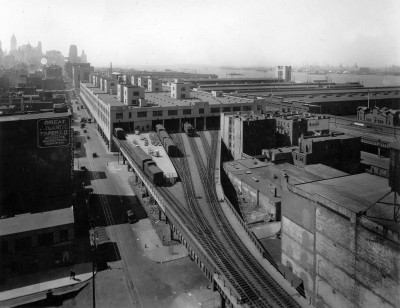 Whenever I'm asked which designers have influenced me the most, the work of Piet Oudolf is always at the top of my list.
His naturalistic approach to creating gardens and meadows is the perfect combination of deliberate forethought and random chance, resulting in some of the most subtle yet stunning gardens I've ever seen.
The High Line is a long and narrow public garden stretching over 1.5 miles and elevated high above the streets below.
Carefully set in a naturalistic pattern are hundreds of plant species, the vast majority being natives (in fact, in Section 1 alone, 161 of 210 of plant species are native to New York.)

Thanks to the creative placement of asymmetrical plank-style pathways, the long and narrow bowling-alley syndrome is prevented.
Instead, the garden appears to meander from one garden section to the next, each with a slightly different feel to it and with plenty of areas to sit and take it all in.

One section of the garden has a prairie-like feel to it, filled with native grasses and perennials such as 'Moorflamme' grass, calamint, helenium, allium, asclepsias, red feather clover (trifolium rubens) and penstemon digitalis to name just a few.




  While further down another area has a more woodland-like feel to it, with plants such as Bowman's Root (porteranthus trifoliatus), grasses (fescues, carex and Little Blue Stem), delicate birch trees and 'Copper' iris.



Soon you'll find yourself strolling through a shady grove of small trees, leading to a collection of magnolias ('Big Leaf', 'Green Shadow' and 'Ashes'), dogwood (cornus rutban) and philadelphus – all providing intoxicating scent and much appreciated nectar for hungry bees.



I really loved how so many of the plants chosen for this garden have unusual shapes, textures and forms.  Just look at the vertical exclamation points of the astilbe which seem to pierce the air (especially when placed next to the wispy, mounding blades of the carex grasses), the waving wands of the Goat's Beard (aruncus 'Horatio'), the pink puffy clouds of smoke from the Smoketree bush (cotinus 'Pink Champagne') or the round globes of the knautia and alliums that appear to float and bob above the rest.  Not to mention to spears of the foxtail lilies or the swirling stars of the clematis seed heads.





I wonder if it's a coincidence that the colors of so many flowers, berries and foliage echo similar colors of the buildings and graffiti that lie beyond.  Somehow I think not.





Even the folks below can appreciate the High Line, as cascading climbing hydrangea and clematis seductively drapes over the railing almost touching the meat trucks picking up their daily deliveries.  This isn't called the Meatpacking District for nothing!

This most impressive garden is lovingly tended to by many, many volunteers who are discreetly weeding, pruning, and whatever else might be needed.
It's so nice to see that after a day's work they're given a lift back down the long pathway where they can appreciate the garden in style.

**If you'd like to read more about Piet Oudolf, I highly recommend his latest book, Planting: A New Perspective, filled with detailed planting plans and inspiring groupings that are easily interpreted and adapted for smaller gardens.