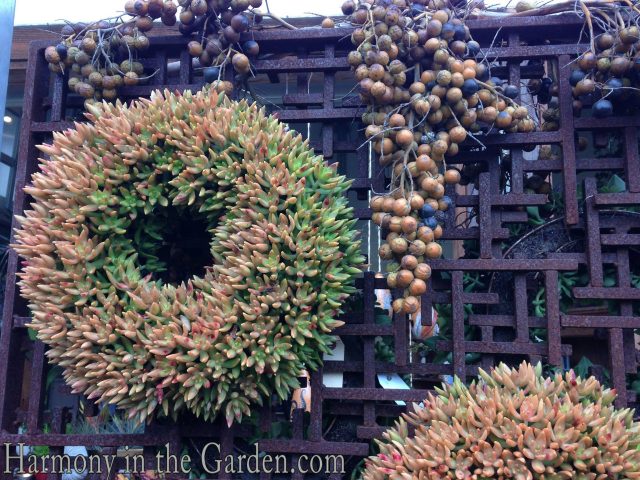 Happy New Year, Everyone!
Being the first day of a new year (of a new decade, no less!), I feel it's the perfect time to acknowledge the importance of time in the garden.
As most of you know,  gardens need a solid 2 to 3 years before they begin to fill in and come into their own.
And because of this, it can often be challenging for designers to return years later and find the garden looks as good in reality as it did in our minds.  
The fact is, a lot can happen over the course of a few years!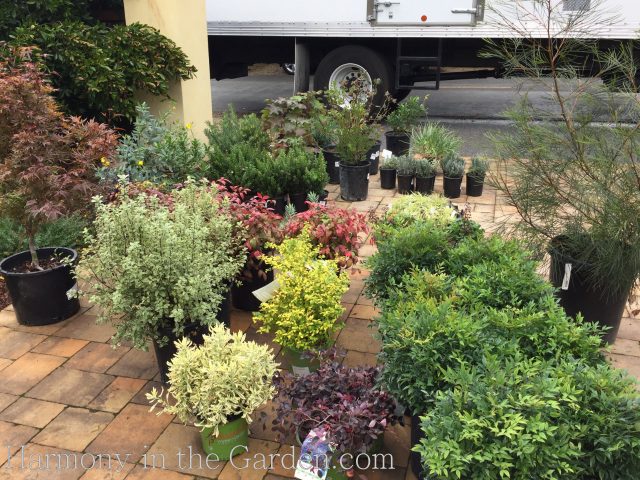 For example,  they might hire inexperienced gardeners who butcher the design, or a drought hits, or a storm knocks down trees exposing shady plants to full sun, or (gasp!) the client might even move away!  You name it, it happens.
But once in awhile I return for a follow-up visit and the garden looks fantastic.  And when that happens, hoo-boy it's a good day! 
I've been really fortunate to see many of my designs blossom in the capable hands of my clients (click here , here, and here).  And today's example is no exception.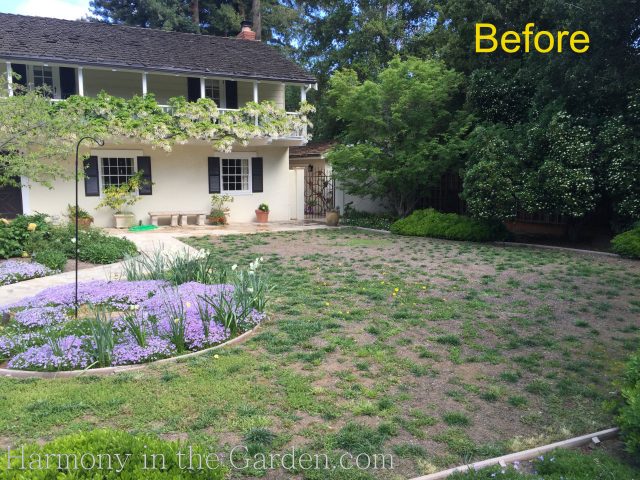 This project was a very special one for several reasons.  For one, the clients (both fabulous people) are avid gardeners, which is always an extra treat for me as it's an entirely different designing experience working hand in hand with fellow plant-lovers.
The home itself is listed on the Los Altos historic home register and is another reason this project was so unique.  Discreetly tucked away along a residential street, it's truly a hidden gem, waiting to be discovered.
In the very front of the property is the guest house (formerly the main home) with an outdoor space that was dominated by a sweeping, lackluster lawn. 
They wanted their guests to have their own inspiring and private garden to enjoy, instead of a boring (and much too thirsty) lawn.  So it was an easy decision to remove the offending lawn. 
To blend with the Old California-style home, we traded the lawn for a pebble courtyard with an antique urn as its centerpiece.
Surrounding this area are oversized garden beds that gently sweep around and hug the space.
Planted in the beds are a mix of succulents, my favorite low-water plants: dendromecon rigida (Bush Poppy – first photo), grevillea 'Peaches & Cream' (third photo), westringias, and leucadendrons. 
More traditional plants such as Japanese maples, roses, and wisteria happily mingle with the low-water varieties and the combination provides a year-round explosion of color.
Passing through the main gate leads to the homeowners' primary residence with a private walled garden.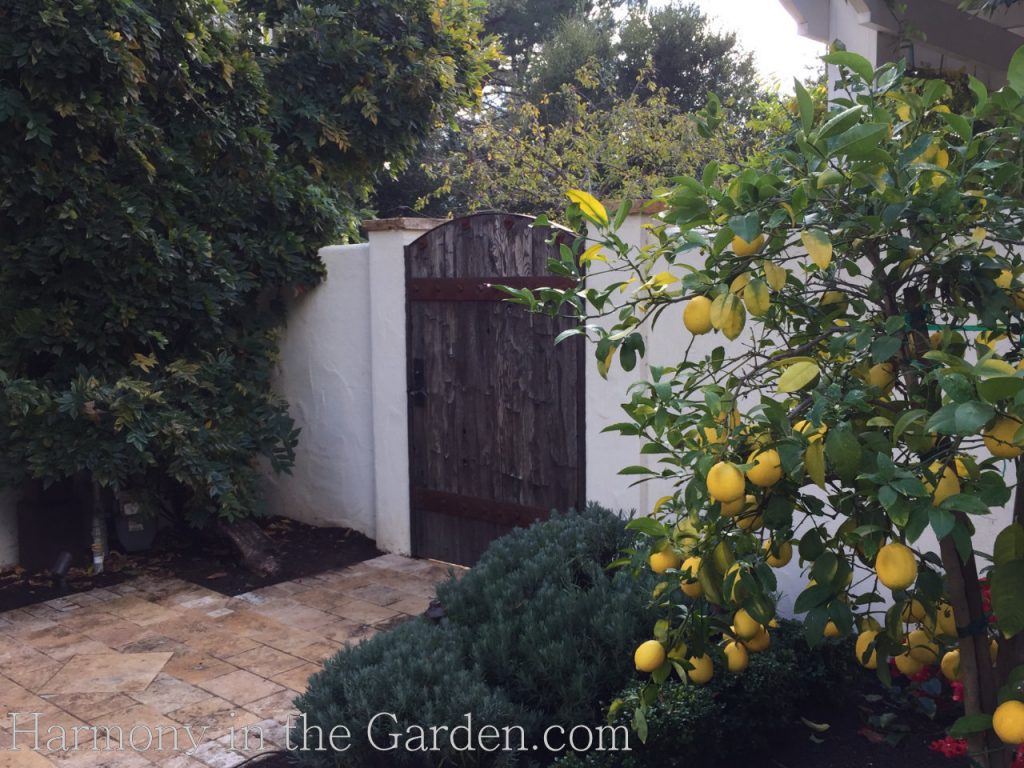 Depending on the time of the year, the gate is either flanked with a stunning purple bougainvillea, or a crisp, white wisteria.  
On the other side of the gate is an old Meyer lemon tree surrounded by French lavender and a mix of perennials.
This is a perfect example of staggering bloom times for many weeks of beauty, as well as creating a grand entrance into the garden.
But now there was another lawn we needed to address in the back garden.  One that was taking up precious garden space.  Again, the solution was to drastically reduce the size of the lawn.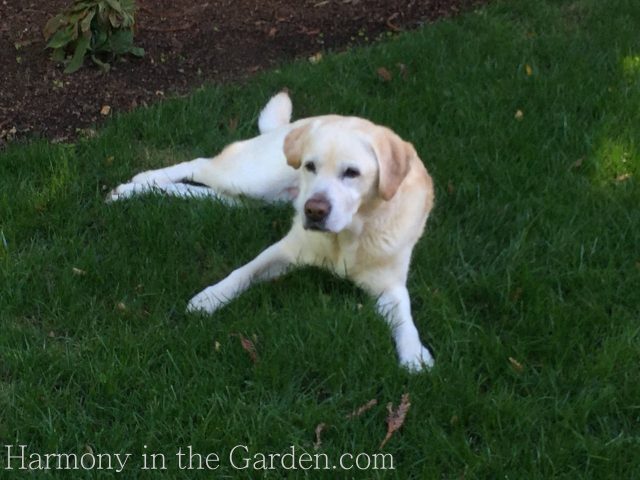 We didn't remove the entire lawn, however, deciding to leave a small section for Hazel (the family pup) who loves nothing more than to roll around on it. 
We surrounded all sides of the small patch of lawn with robust planting beds, allowing the homeowners to indulge in their passion for collecting unusual plants.
Some of the plants that have done particularly well are drifts of calamagrostis foliosa (photo on the left), salvia 'Amistad,' lavender 'Hidcote,' (photo on the right), stachys 'Helen Von Stein', and bulbine fruiticosa.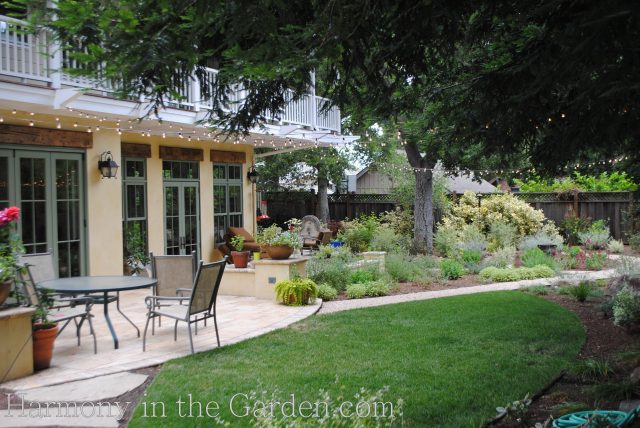 Meandering pebble pathways now wind throughout the new garden beds, under the twinkling lights strung above – just in time for their daughter's wedding!
I hope you've all enjoyed this before-and-after! 
And please stay tuned as next time I'll be offering another exciting giveaway (hint: think garden tools!)