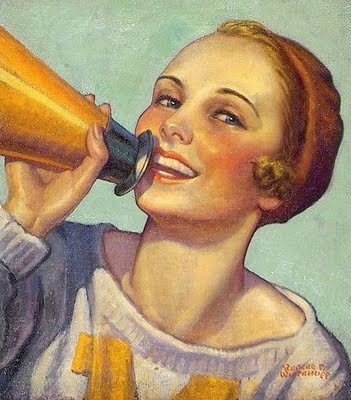 I can't believe it, but this month marks my blog's 10-year anniversary!
TEN YEARS! 
I've cherished all the emails you've sent over the years, all the comments you've left on my blog (over 6,000 comments on over 300 articles!) and all the times you've introduced yourselves to me at various speaking engagements. 
We've formed such a fantastic community of gardeners and friends, which warms my soul.
Well, you've probably noticed my blog has a new look. 
There's a reason for that.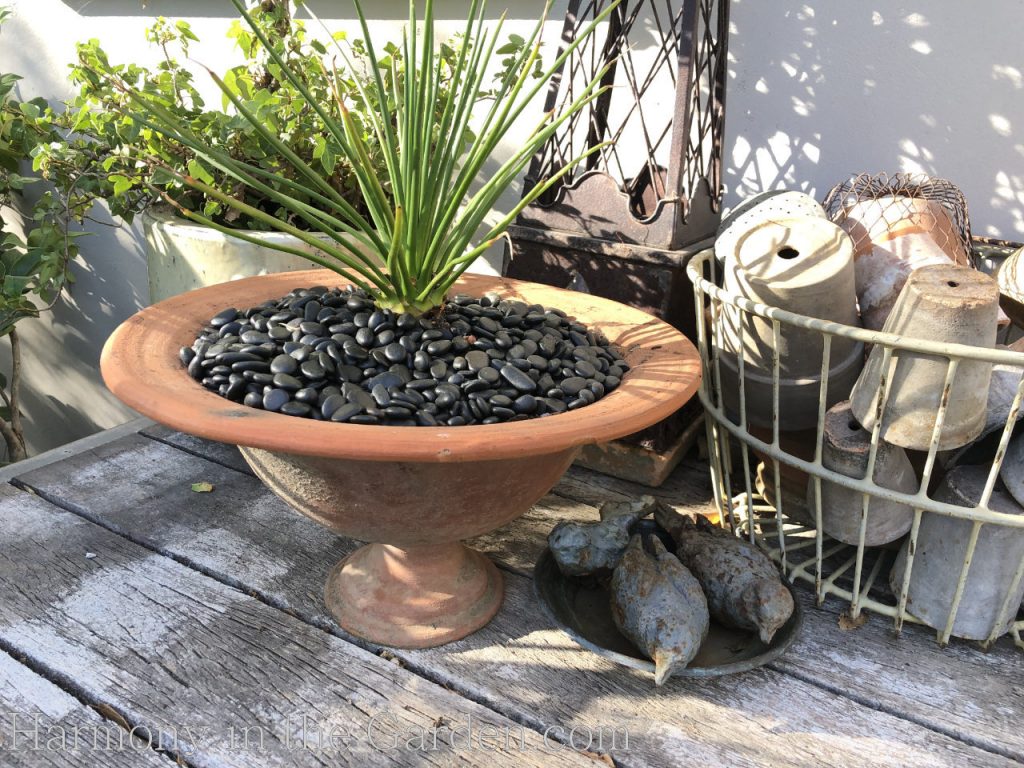 My 24/7 Tech Team (aka Tom, my husband) has been warning me for the past year that my website could crash at any moment due to the original hosting site and template we've been using going out of business.  
YIKES!   So I decided to pay my team (Tom) time and a half (not really) to create a new site that would stand the test of time (or at least for the next 10 years). I hope you all like it as much as I do!
And to help celebrate this momentous occasion, one of my favorite vendors is offering a giveaway to one of my lucky readers.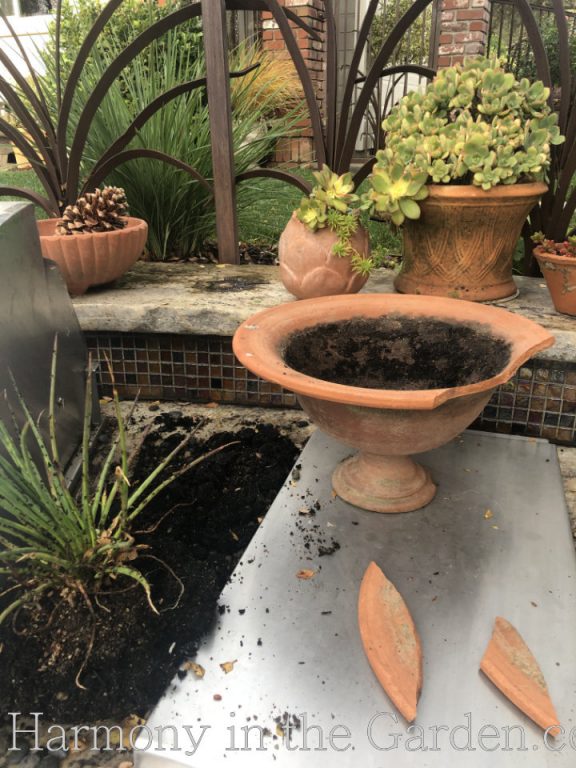 But first – a story. There's always a story, right?
This story could easily be titled: Why You Don't Place a Top-Heavy Pot on a Narrow Ledge.
In my new garden, I have a narrow ledge above our barbecue area that's PERFECT for my succulent container collection.
Except that it's a tad narrow (understatement). Which isn't a good idea with all the raccoons, skunks, foxes, and squirrels that roam my garden on a nightly basis.
I woke up the other morning to this – what was I thinking?
I KNEW better than to place the top-heavy pot on this narrow ledge, yet I did it anyway.
Well, after begging my Reconstruction Team (aka my Tech Team, aka Tom) to glue my pot back together, I set off to salvage my poor plant.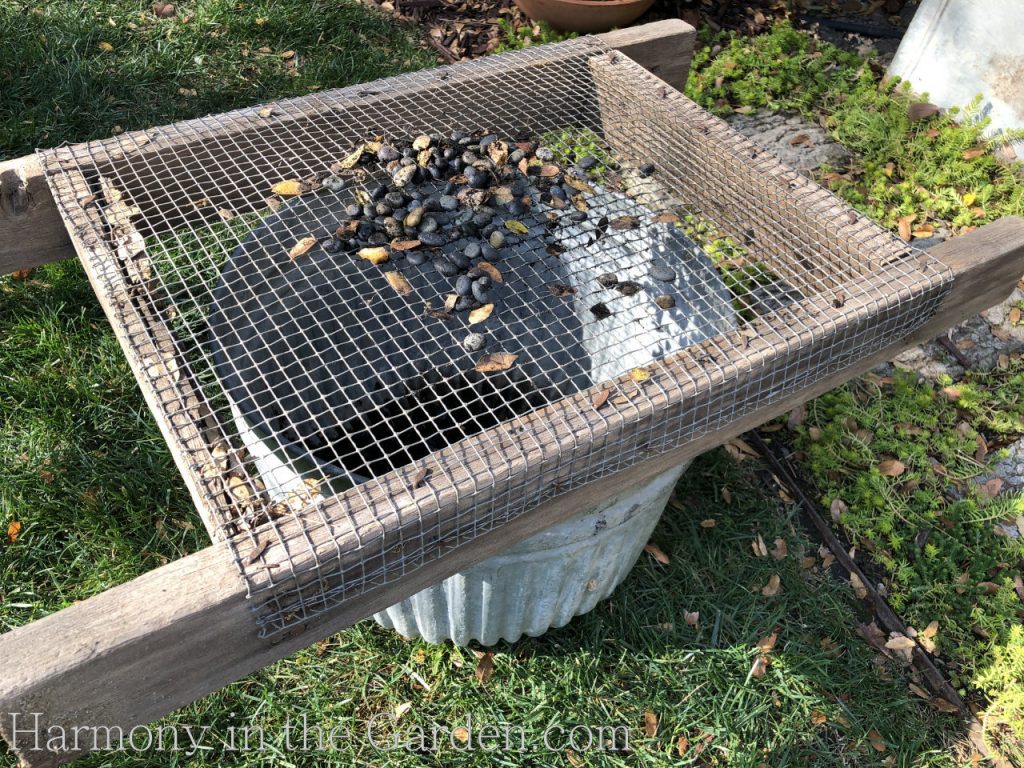 The first step was to drag out the sieve that my grandfather made years ago.  This is the perfect solution to easily separate the soil from the beautiful black pebbles that I used as top-dressing. 
At some point, I need to have my Woodworking Team (poor Tom – so many teams, so little time) make a smaller one for me, but that'll have to wait a bit.
After sorting out the pebbles, the next tedious step was picking out the prickly oak leaves and other bits of sticks and soil that were stuck in my pointy (and potentially painful) Twin-Flowered Agave (agave geminiflora).
I have various types of garden gloves that I use for all sorts of different occasions:  thick rubber gloves when working with wet soil, thin cotton gloves when it's hot outside and I don't want my hands to work in a sauna, and my Foxgloves.
When working in tight spaces that require surgery-like precision, Foxgloves are the perfect choice.
 These gloves are snug and form-fitting (yet super tough and durable), allowing me to perform delicate operations, such as gingerly picking out spiny oak leaves.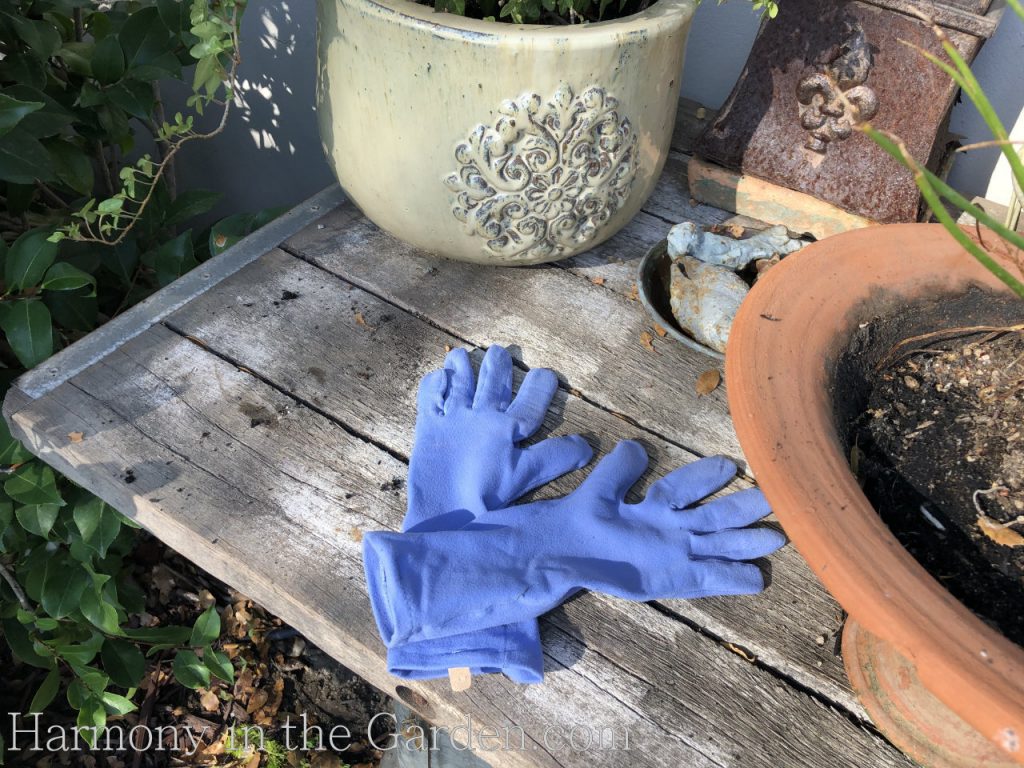 Here's what their creator, Harriet, has to say about the origin of Foxgloves:
'As a landscape architect and professional horticulturist, I yearned for a glove that wouldn't impede my sense of touch yet still protect my hands. I tried every garden glove on the market but never found one that fit well and could be worn all day.
Through my design experience I knew that modern performance (sport) fabrics were created to perform in harsh conditions. When I combined Invista SUPPLEX® nylon with the four-way stretch of Invista LYCRA® elastane the resulting gloves were durable, form fitting, extremely comfortable and kept my hands clean even after a day in the garden.'
Sunset magazine sums it up best: 'They may look like something you wear with a string of pearls and a vintage gown, but Foxgloves are made for serious gardeners.'
The gloves I've used the most over the years are their Original Foxgloves (featured in the photos above) and The Grip (which has little raised bumps on the palms to provide non-slip holding power).
But there's other lines of gloves called ProtexGloves for gardeners who suffer from sun sensitivity and chronic skin and hand conditions (including built-in sunscreen!) as well as Egloves (touchscreen gloves for those of us who use their cell phone while gardening).
And now for the giveaway!


(SORRY – THE GIVEAWAY HAS ENDED)
UPDATE:  Congratulations, Anita Lusebrink – you've won a pair of Foxgloves!  (I've just sent you an email with the details)
But even if you didn't win, there's a 15% sale going on right now if you head on over to the Foxgloves site – use the code EM19 through Dec. 15th and fill your cart (the discount will be applied automatically)
AND – if you've left a question about the gloves in your comments, the owner, Harriet Zbikowski, has joined in the fun and left you a response – how cool is that!  
Foxgloves has generously offered a pair of their Original Foxgloves to one of my lucky readers! 
To enter, all you need to do is leave a comment below on any topic you like – it's as easy as that!
I can't respond to blog comments on giveaways because if I do, it'll skew the random number generator I use to pick the winner. But please know that I read every comment you leave and appreciate all you have to say!
The Fine Print: A random winner will be chosen by midnight December 6, 2019 and contacted within 24 hours. If the proposed winner forfeits or does not claim the prize by December 13th, the prize will be re-awarded based on the sponsor's sole discretion. All prizes will be awarded.
Please provide your first and last name to enter this contest so I can immediately contact you if you win. The winner agrees to allow his/her first name to be mentioned in conjunction with this giveaway. This giveaway is limited to U.S. residents only, who are over the age of 18 years old. No purchase necessary to win. This sweepstake is also void where prohibited by law (wherever that is, I'd sure hate to live there!) and by entering this giveaway, you agree to these conditions.
Affiliate Links: Over the years, I've tried tons of garden-related products and only recommend those I truly believe in and those that have held up well in my garden.
Harmony in the Garden is a participant in the Amazon Services LLC Associates Program, an affiliate advertising program designed to provide a means for sites to earn advertising fees by linking to amazon.com and other affiliate marketing companies.
Harmony in the Garden is also a participant in Foxgloves affiliate program.