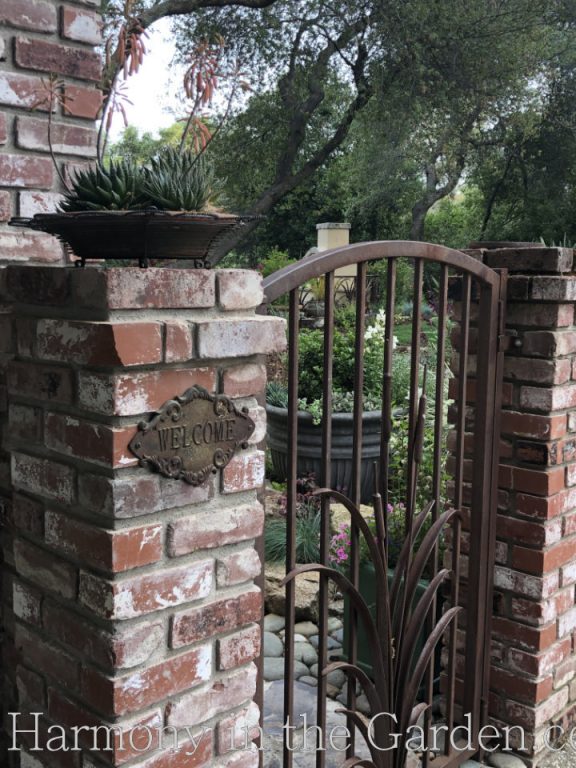 As  I wrote about in my last post, time is a critical element in the garden. When planting a new garden, it's understandable to want your plants to hurry up and GROW. 
But, you just can't rush it no matter how big of a plant specimen you buy, or how close you plant them together.
Time is needed to let your plants come into their natural shape, for branches to reach out and mingle with their neighbors, for your garden to slowly reveal itself to you.  
Time is needed to show whether or not your original planting ideas have worked. There's  just no getting around it.
Having moved two years ago from my beautiful, established garden to a somewhat blank canvas (one that's needed a TON of work), I've been made painfully aware of time. 
I've spent every spare moment trying to clean up this uninspiring mess to begin its transformation into a meaningful, magical garden.
Overhauling this 1-acre space has been such a massive project; the only way I could do it is to call in the troops – my husband and my mother. 
While the three of us have made HUGE amounts of progress, there's so much more to be done.  We've spent countless hours clearing out overgrown and half-dead shrubs, removing never-ending piles of unsightly rocks, and spreading over 30 yards of soil. 
And don't even get me started on the nightmare of an irrigation system we inherited with one daunting underground leak after another.  It's a miracle my family still talks to me after having worked their fingers to the bone in this garden.
BUT after two years, I can finally see a little magic starting to happen!
Things are slowly happening  that gives a garden that lived-in feeling, which only comes with time.
For example, subtle nuances such as personal mementos added here and there that find their way into the garden….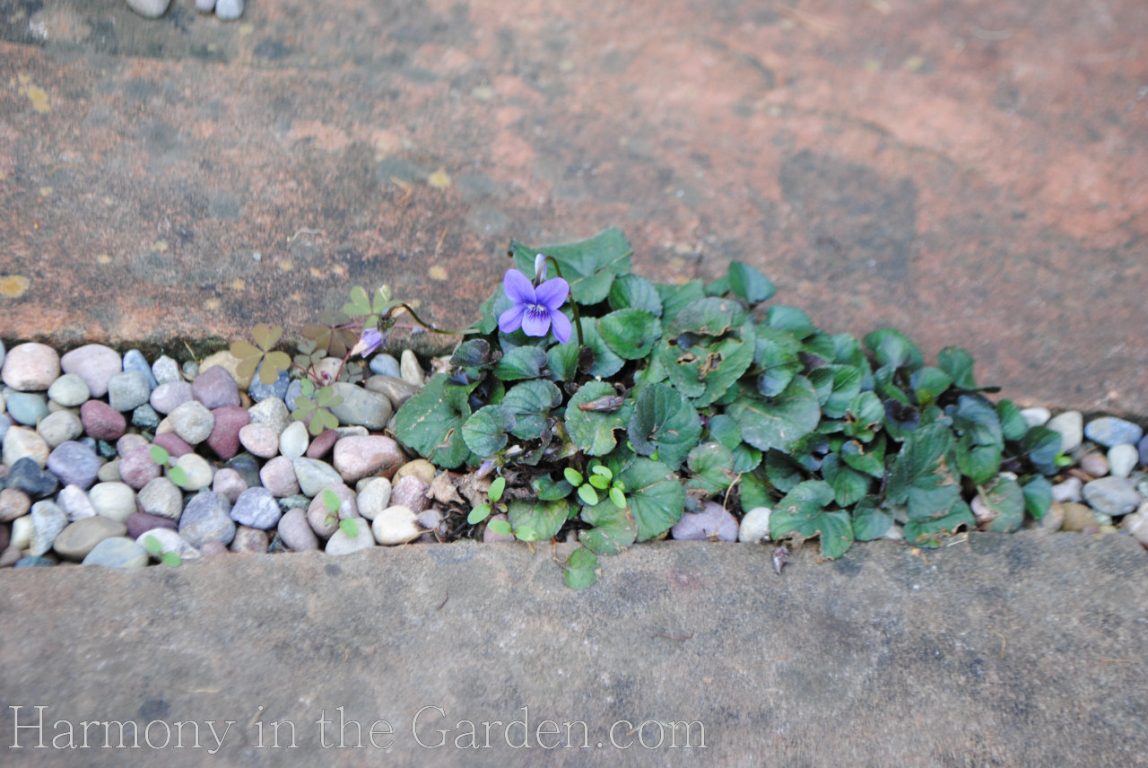 Or, random re-seeding that softens bare spaces.
After two years of working fast and furious, I finally have some pretty good before-and-after photos that will illustrate my thinking process and hopefully help inspire you in your own garden.
Today I thought I'd start small and show you a before-and-after of a super awkward, skinny space located between my driveway and covered carport. 
Here's the low-down: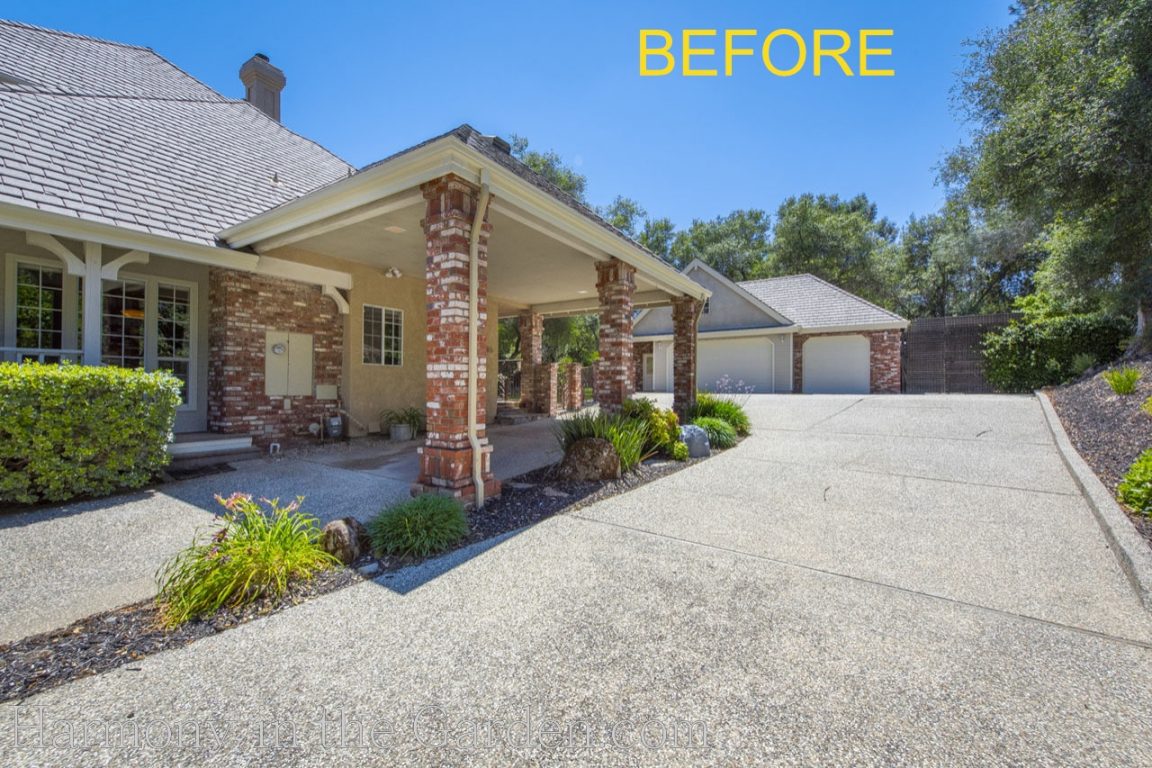 This is a crescent-shaped, bed which means it ends up with a sharp point on either end (oh joy). 
It suffers blistering heat in the summer, thanks to the reflective qualities of the surrounding hardscaping.
Thanks to the carport overhang, the bed is in half sun-half shade, which makes lighting a challenge.
As if this wasn't enough, this bed is also open to browsing by the deer in my area (not to mention turkeys that like to wander around, making a mess.)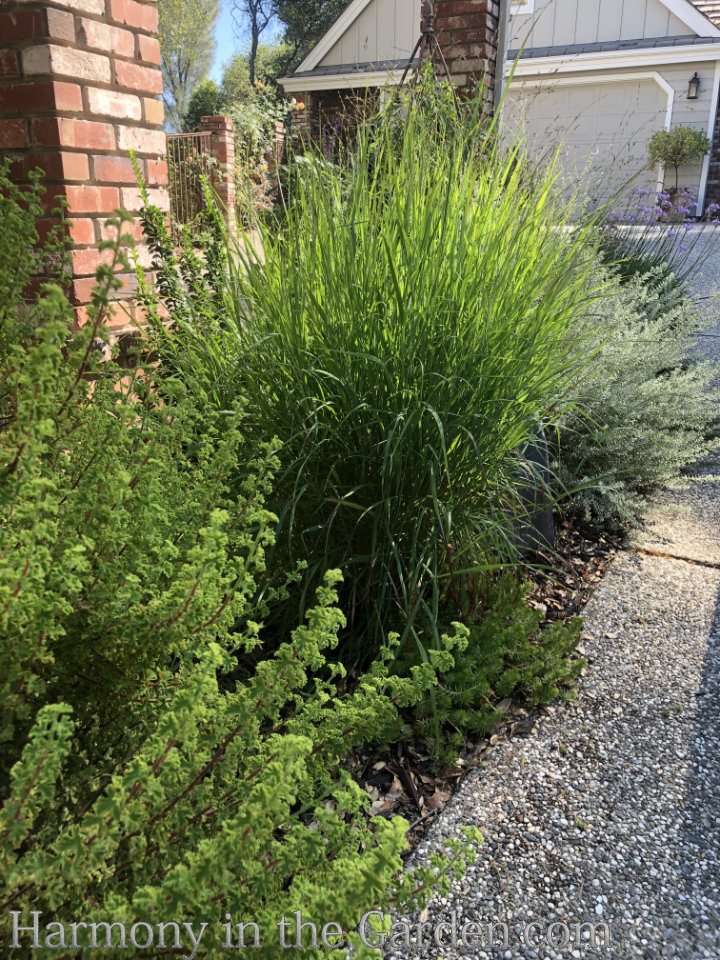 Oh, and that unsightly fake boulder above?  Unfortunately it was there when we moved in, covering a mass of above-ground irrigation.  
Luckily, it's only taken two years for the westringia and the grass (panicum virgatum 'Apache Rose') to grow enough to completely cover it (like the updated photo, left, illustrates.)
Phew!  No more fake rock and no more irrigation controls!
Westringea 'Smokey'
Scented geranium 'Lime' (pelargonium x nervosum)
Rosemary 'Tuscan Blue'
Lamb's Ears (stachys byzantina 'Helen Von Stein')
Purple Heart/Wandering Jew (tradescantia pallida 'Purpurea')
Coast Wooly Bush (adenanthos sericeus) 
Grevillea 'Mt. Tamboritha'
Brown-eyed Susan (rudbeckia triloba)
Society Garlic (tulbaghia violacea)
Panicum virgatum  'Apache Rose'
I also thought it might be easiest to show all sides of this strip with a quick video I made.  I hope you enjoy it!
And now for the GIVEAWAY!  UPDATE:  Contest is now closed.  
Congratulations Holly B!!!  You're the lucky winner and a set of garden tools will be coming your way within the next week or so.  And thanks everyone else for entering the giveaway!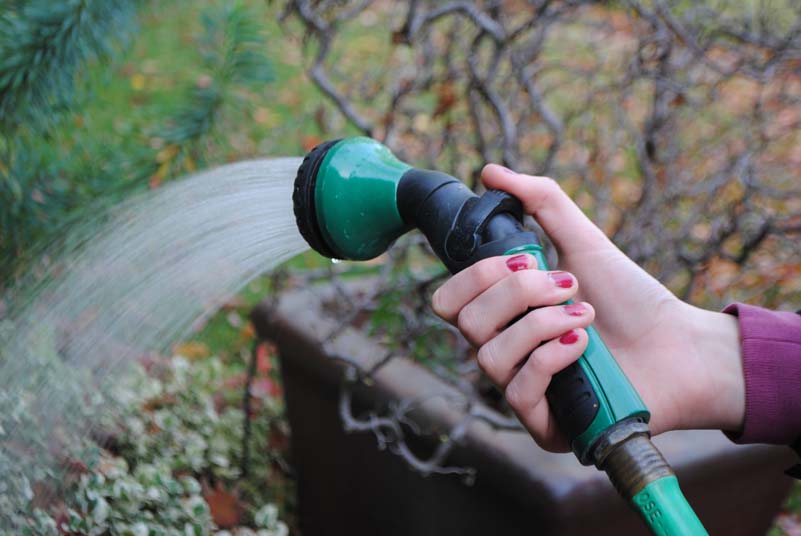 Dramm Garden Tools (one of my favorite family-owned garden tool companies) has generously offered a 3-prize package to one lucky winner!
Included in this package will be a One-Touch Rain Wand, a ColorPoint Bypass Pruner, AND a Brass Hose Swivel.  
I absolutely love, love, love Dramm products (click here to read why!), and have used them for many years in my own garden and those of my clients. 
All you need to do to win is leave a comment below.  It's that easy!
I'll choose a random winner by midnight, January 19th, 2020.
Oh, and please remember that I won't be able to respond to your comments as it'll mess up the random number generator I use to pick the winner (but that doesn't mean I don't enjoy reading what you all write, because I do!)
Good Luck!
The Fine Print: A random winner will be chosen by midnight Jan. 19th, 2019 and contacted within 24 hours. If the proposed winner forfeits or does not claim the prize by January 24th, the prize will be re-awarded based on the sponsor's sole discretion. All prizes will be awarded.
Please provide your first and last name to enter this contest so I can immediately contact you if you win. The winner agrees to allow his/her first name to be mentioned in conjunction with this giveaway. This giveaway is limited to U.S. residents only, who are over the age of 18 years old. No purchase necessary to win. This sweepstake is also void where prohibited by law (wherever that is, I'd sure hate to live there!) and by entering this giveaway, you agree to these conditions.
Affiliate Links: Over the years, I've tried tons of garden-related products and only recommend those I truly believe in and those that have held up well in my garden.