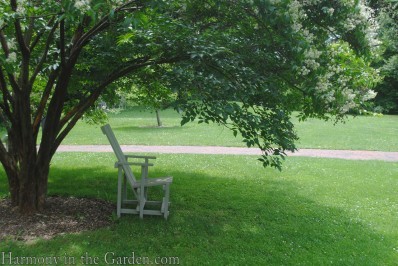 This is the fourth night in a row where I've awoke at 3:00 in the morning, not feeling sick and nauseous as I typically do during this week of my cancer treatment, but wide awake and filled with gratitude and happiness.
Night after night I've quietly laid here, letting my mind wander to where it wants to go.  And oh, where my mind takes me!   I can't believe all that's happened in one year, and it fills my heart with joy.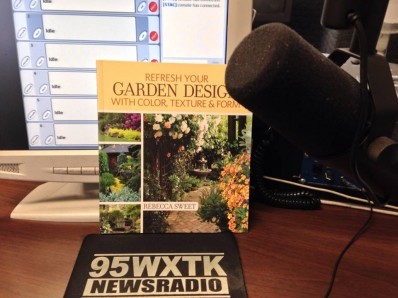 This has truly been a banner year in my life, for many reasons.  I'm so proud of  the release of my latest book Refresh Your Garden Design.
This led to all sorts of speaking engagements and radio interviews, where I met some of the most wonderful people I could've imagined.  Many of these same people have bolstered me through the hard times during the past few months, and I now consider them my friends.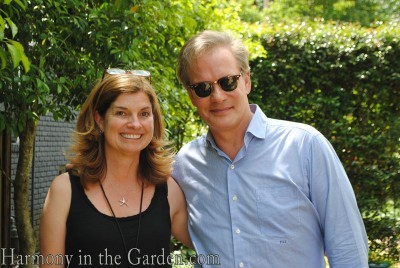 Another of 2014's highlights was being invited for a weekend blogging event with the renown P. Allen Smith (you can read about his humble yet impressive gardens here and here).
I not only spent time with the legend himself (who is equal parts gentleman, gardener,and comedian) but met so many new garden writers from around the country.  My heart is forever enriched because of this trip.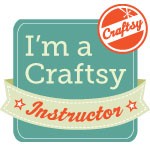 Just on the heels of this trip I zoomed off to Denver to create a garden design video for Craftsy), spending a few days in Craftsy's studio as well as in the garden of Sheila Shultz.
Again, pinch me – a dream come true!  (click here to watch this complimentary video or click here to tour Sheila's stunning rock garden.)  Craftsy is an amazing company (their offices rival Google's in terms of fun, youth and wild creative sparks flying everywhere) which is reflected in the innovative and superior quality of their videos.  

Which is all the more reason I'm tickled pink that they've asked me to create another video with them this spring or next (depending on my health).
Since that time, many of my gardening colleagues have also made Craftsy videos (Karen Chapman, Debra Lee Baldwin, Jodi Torpey to name just a few) – all of which are I know you'll find most helpful in gardening plans for 2015!  Details to come of my new video…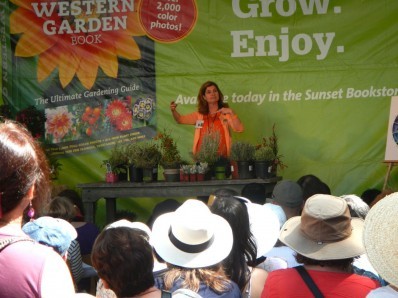 The day I returned home from Denver, I dove headfirst into preparing for my first ever presentation at Sunset Garden's Extravaganza.  This is an annual event that I've attended as a guest for eons, but had never actually been a part of.
What an honor it was!  Especially now, after hearing the sad news that Sunset's iconic grounds will be sold at the end of 2015 (yep, a sad fact of life here in Silicon Valley.)  I look back so fondly on those memories and all the wonderful people I met during that weekend of food, creativity, and gardens.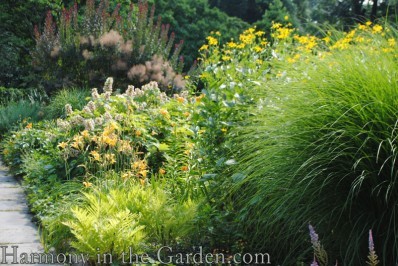 And then New York!   I'll never forget the two life enriching months I spent with my nineteen-year old daughter, holed up in a tiny Airbnb apartment in New York's East Village.
We filled each day with whatever we wanted to do, visiting The High Line, The Cloisters, Central Park's Conservatory, and many inspiring community gardens, but made sure to leave plenty of downtime to allow us to experience all this glorious city has to offer.
Not a day goes by that I don't reflect on that beautiful city and am counting the days when I can return.  Each memory lifts me up when I'm down, and even though it didn't come cheap, the healing benefits of doing something like this has been priceless.  I wouldn't trade it for the world.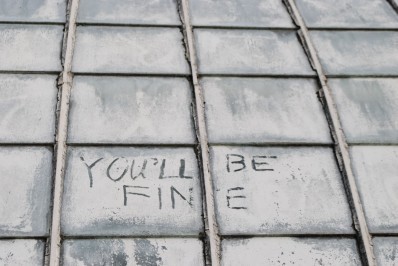 I took this photo last month when I visited the San Francisco Conservatory of Flowers.  Someone had quickly scrawled this anonymous message on one of the panes of glass, and it struck a chord deep within me.
As many of you who read my blog know, when I returned from New York I was diagnosed with breast cancer.  But as we all know, time travels at the speed of light, and as I write this, I'm already 4/6 of the way finished with my chemotherapy treatments.  Before I know it, I'll be back in action again: designing, speaking, writing, meeting all of you, making videos – all the things that I love to do.
I wanted to let you all know that I have greatly valued every email, tweet, facebook comment, blog comment, unexpected card in the mail, surprise gifts galore, homemade dinners left on my porch, bouquets of flowers, books and meaningful words of encouragement.  Some of you I've known for awhile now, some I've recently met at garden clubs and some only through social media.  How we know each other doesn't really matter – it's the kindness that you've all shown me that has made this year end not on a low note, but on the highest note yet.  You're all why I can wake up and lay here in the dark, reflecting on this year and feel my heart overflowing with joy.
And speaking of reflections of good times past, it's time for another holiday giveaway!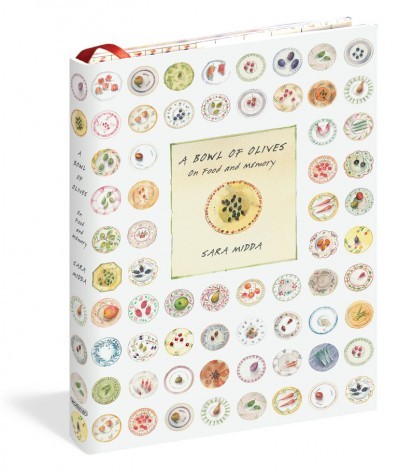 I'm offering one lucky reader the chance to win a copy of this sweet little book by Sarra Midda called A Bowl of Olives: On Food and Memory.
Sara is a water colorist from the South of France, whose delicate and beautiful paintings shine like jewels, evoking the sweet purple taste of a summer raspberry or the silvery greens and gnarled burnt umber of an olive grove.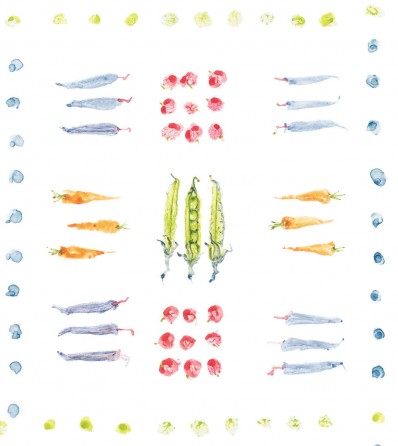 Sara weaves  together photographs, line drawings, her personal swatches—all the hues of a spice cabinet, or the sensations of a picnic, the colors of the breeze, sunshine, laughter, the cooling grass. Both reverent and playful, A Bowl of Olives is a work of pure enchantment, celebrating food—of the seasons, of family, of travel and memory.

Update:  Contest is Closed.  Congratulations to Patty A. – you won!  I've already sent you an email so if you can kindly send me your home address I'll pass it along to the Workman Press Publishing.  I hope you enjoy the book as much as I did!
How to enter:  For a chance to win just leave a comment here on my blog letting me know one of your favorite memories of this past year.  How easy is that?  And even though I can't respond to giveaway blog comments (if I do, it'll skew the random number generator), please know that I read every one and love what you have to say!
A few more details:  A random winner will be chosen by midnight Dec. 23rd and contacted within 24 hours. If the proposed winner forfeits or does not claim the prize by Dec. 30th, the prize will be re-awarded based on the sponsor's sole discretion. All prizes will be awarded. Please provide your first and last name to enter this contest so I can immediately contact you if you win. The winner agrees to allow his/her first name to be mentioned in conjunction with this giveaway.
This giveaway is limited to U.S. residents only, who are over the age of 18 years old. No purchase necessary to win. This sweepstakes is also void where prohibited by law (wherever that is, I'd sure hate to live there!) By entering this giveaway, you agree to these conditions.

Best of luck, everyone!  And if you don't win this prize stay tuned as I'll be offering one more giveaway to round out the gift-giving season! 

All material © 2009-2014 by Rebecca Sweet for Gossip in the Garden.  Unauthorized reproduction prohibited.