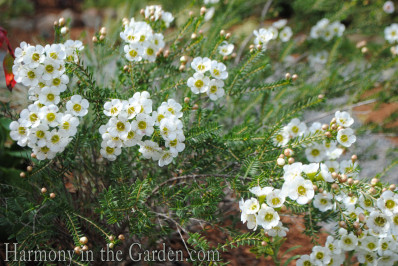 Here we are in the early days of February, and my zone 9 garden is filled with heavenly fragrance.
There's still a few leaves hanging on to deciduous branches for dear life, but with each gentle breeze the leaves quickly lose their grip, leaving behind one skeletal shrub after another.
Thank heavens for the evergreen shrubs in my garden, as they can finally take their turn on stage.  And with them brings another layer to the garden – fragrance.
My latest book is all about adding layers to the garden, with the focus on color, texture, shape and form.  But there's so many other, less common layers in the garden – scent being just one of them.
Combining less obvious layers, such as scent, with color, texture and form, helps to create a complex tapestry in your garden.  It's these subtle layers that make a person stop in their tracks as they take everything in.  It's these 'wow' moments that leave such a lasting impression.
I wanted to share with you a few of my winter superstars as they're some of my favorites for adding an unexpected treat to this typically cold and bleak month.  Some are old standbys; some are new introductions – but all bring the most delicious scent to my garden right about now.   I can't tell you how many times people walk by and ask 'what smells so good?'
1.  Night Phlox 'Midnight Candy'  (Zaluzianskya capensis)
A good friend recently gave me this Night Phlox, which is quickly rising to the top of one of my favorites for scent.
It's small little perennial, growing to just 12″ x 12″, and according to Annie's Annuals does best in a container, which is where I've planted mine.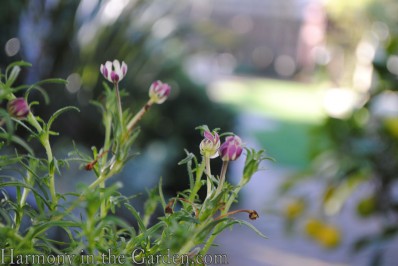 The really cool thing about this plant is that its maroon buds stay closed during the day, but once the sun starts to set the buds open up to pinwheel-shaped flowers that smell like freshly baked cake.
Seriously – freshly baked cake!  Who wouldn't want to smell that!

2. Sweet Olive (Osmanthus fragrans)
The diminutive flowers of this shrub begin making their appearance in early February and fill the air with their orange blossom-like fragrance.
It can be a little finicky in the garden, but after moving mine to three separate locations I finally found the spot where's it's happiest – right next to my orange tree.
I wonder if it's the citrus food that makes it happy?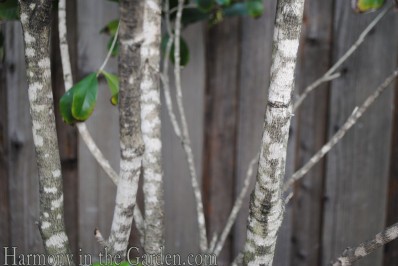 An added bonus of the Sweet Olive is the opportunity to create unusual color echoes resulting from its white and gray mottled bark.
It typically grows to a somewhat dense 10′ x 6′ shrub, so most people are unaware of the stunning coloring on its stems.
But by pruning off the skinny, lower branches you can then appreciate all it has to offer – scent and unusual sources of color!

3.  Sweet Box (Sarcococca ruscifolia)
This is one of my all-time favorite, delicious smelling shrubs.  It has year-round shiny, small, dark green leaves that sit there and look happy every day of the year.  In the shade, no less.  I often joke that this plant will grow in a cave, it's that much of a shade lover.
The teeny-tiny flowers begin to make their appearance in late January and come into their own right about now, and while they're not much to look at, boy do they make up for it with their fragrance!  I describe it as a combination of jasmine and honeysuckle, with a little bit of magic thrown in.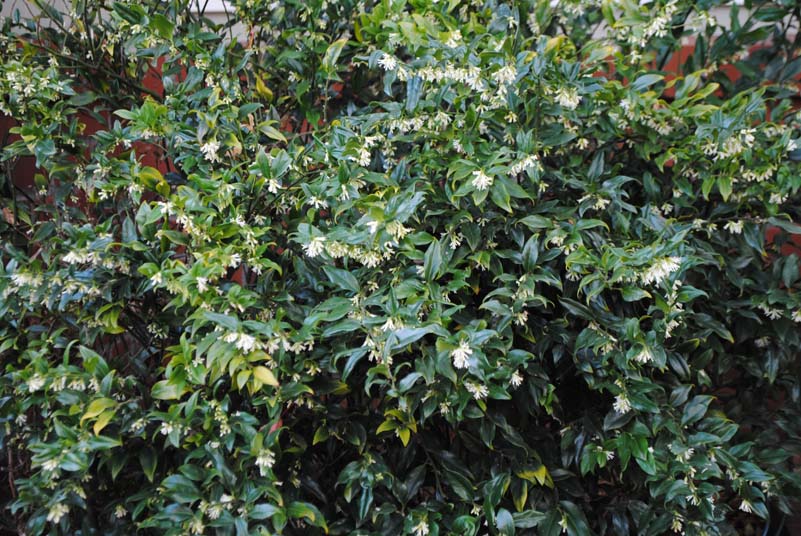 The fragrance always catches people by surprise.  In fact, just the other day I was sitting at my front table when I watched a solicitor walk up to my front door to drop off a flyer of some sort.
As he turned to walk away, I saw him stop mid-step and turn back again to walk over to my sarcococca.  He just had to see for himself what was smelling so good.
In addition to the sarcococca's winter flowers, the arching branches are also studded with pearl-sized black or red berries. But don't worry – they're not horrifically messy berries as the birds usually eat most of them before they drop.
And as if its winter scent weren't enough of a reason to buy this plant, it's also deer resistant and drought tolerant.  When designing gardens, I always try and plant a sarcococca near a door or front pathway so its winter scent can be best appreciated by all who come and go throughout the day.

4.  Daphne odora 'Marginata'
While the sarcococca is busy perfuming one side of my front garden, my daphne is busy taking care of the other half.
I know many gardeners who have given up on temperamental daphne (she hates to be fussed with.  Don't even think of transplanting her fragile roots.)  But I encourage everyone to keep trying until they get it right.
Once you find the perfect spot (just a hint of morning sun, with just a bit of water), you'll be rewarded with the sweetest smelling, rosy pink flowers for weeks at a time.  The dog walkers on my street always seem to linger at the front of my garden this time of year, and I know it's because daphne lures them over with her delicious scent.
The 'Marginata' variety is one of my favorites, with each green leaf rimmed with a thin line of gold, allowing it to visually 'pop' in the shade.  And while daphne can be a little pricey (due to her temperamental nature, no doubt) she's well worth the price.  In my opinion, any plant that encourages people to keep the faith – spring is on its way! is worth its weight in gold.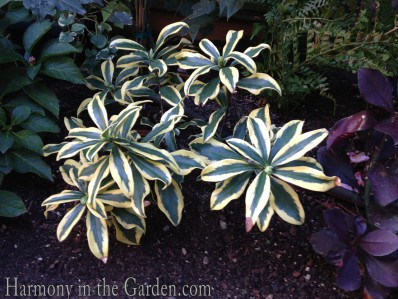 There's been lots of new heavily variegated varieties spotted recently in local nurseries.
'Marianni' has a more compact growth habit, growing to only 3×3 .  The leaves have a brighter and more intense gold color that really brightens a shady corner.
Just last week I saw another variety called 'Rebecca' that I think I need to add to my collection.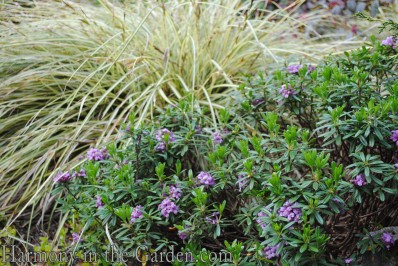 Another variety I've seen is 'Lawrence Crocker', but unfortunately I've had a hard time finding it for sale in the nurseries.
I really like it's tiny, elongated leaves and the lavender flowers (compared to the more traditional pink.)

5.  Chamelaucium 'Matilda'
This compact variety of wax flower grows to just 3×3 in the garden.  But the real reason I love it so much is its dainty white flowers that have the most delicious scent.  'Matilda' flowers off and on throughout the year, but really make a show starting in December.
And the chartreuse 'eye' of the flower provides another fantastic opportunity to create unusual color echoes.
See how I pulled out the color by surrounding it with a similarly colored euphorbia 'Ascot Rainbow'? 

Is there a February favorite in your garden?  If so, please share – I'd love to know what it is!