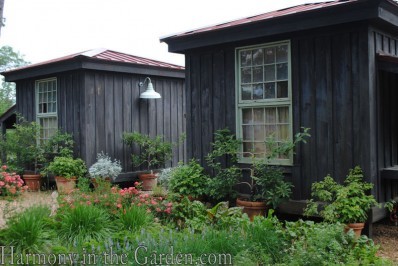 No longer relegated to the back of the garden, hidden away from sight, edibles are finally getting the respect they deserve.  Whether mingling with showy perennials and annuals in traditional ornamental beds, tucked into a patio container, or (gasp!) featured as a focal point in the front of the garden – edibles are at home in every part of your garden.
And why not?  With so many varieties offering unique colors, textures and forms there's certainly one that will harmonize beautifully with a non-edible neighbor.  And let's not forget about the delicious thrill of harvesting from your own garden.
I know, I know…everyone's main concern is how they'll look towards the end of the season (imagining familiar mildew-ridden zucchini vines, or ungainly tomato plants that turn into an uncontrollable heap).  I'm not necessarily talking about those types of edibles, but rather varieties with compact growth habits and higher disease-resistance.
For this post I thought it might be helpful to show you three different gardens and how they've mixed edibles with non-edibles, some in the back garden, some in the front garden, and some in tight spaces.  Enjoy!

1.  P. Allen Smith's garden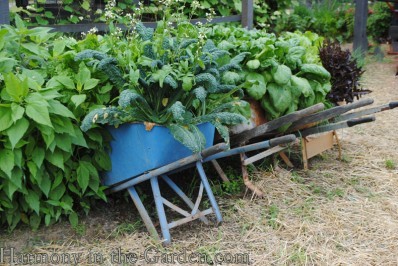 As you may remember, I had the pleasure to spend a few days at P. Allen Smith's Arkansas home last month.  One of my favorite parts of his vast garden were the vegetables and how he used them throughout (can you imagine saying that a few decades ago? That's how far edible gardens have come!)
Entirely organic (the holes in cabbage leaves seem to shout with pride 'no pesticides here, my friend!') this garden is abuzz with life.  And scent, color, art, and personality.
As you stroll through the garden, colorful annuals and perennials line the borders echoing the colors of the edibles growing within the beds.  A mix of textures shines through thanks to a stand of airy asparagus and bronze fennel forming a metallic colored cloud floating above the lilies.  There are espaliered fruit trees everywhere, whether dividing the many garden rooms, or adding vertical interest to an otherwise blank wall. The urge to reach down and take a nibble is irresistible.


 2.  Star Apple Garden Design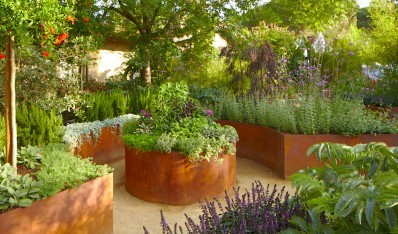 A few weeks ago I spoke at Sunset's Celebration Weekend and while there managed to pay a visit to the beautiful display garden created by my good friends Leslie Bennett and Stefani Bittner, owners of Star Apple Garden Design. Why was I not surprised at the hordes of people crowded around to see this small, but most impressive garden?  After all, they wrote the best-selling book The Beautiful Edible Garden (one of my favorites, by the way.)
This contemporary garden consists of raised corten steel beds, mixing drought tolerant plants such as verbena bonariensis, trailing dichondra 'Silver Falls', clumping bamboo (of which some varieties are edible) with edibles that can stand up to their neighbor's non-thirsty habits.

Yes, there are edibles for drought tolerant gardens (rosemary, huckleberry 'blueberry's drought-tolerant cousin', oregano are just a few.)  And just look how the strategic placement of certain edibles highlight their unique shapes and colors, whether in stark contrast with one another or echoing the warm rusty tones of the steel containers.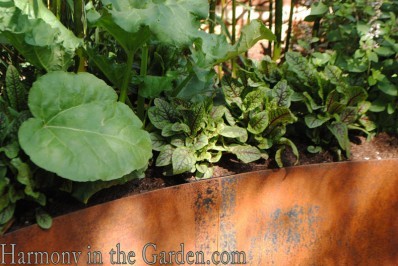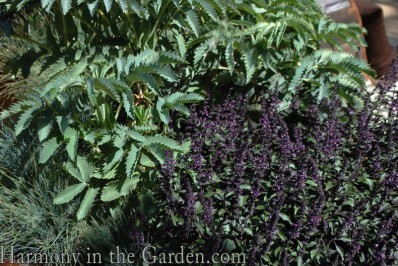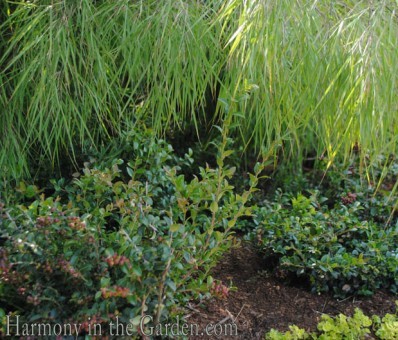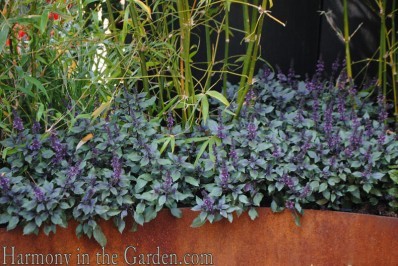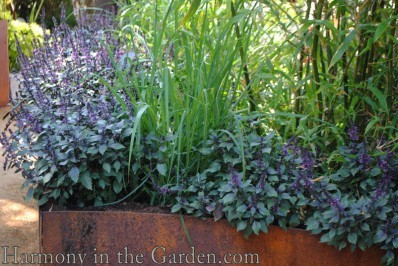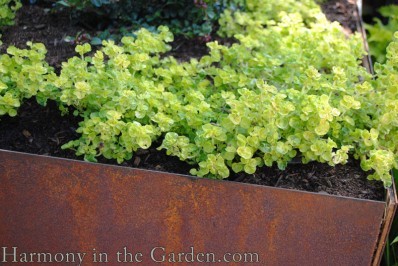 3.  An edible front garden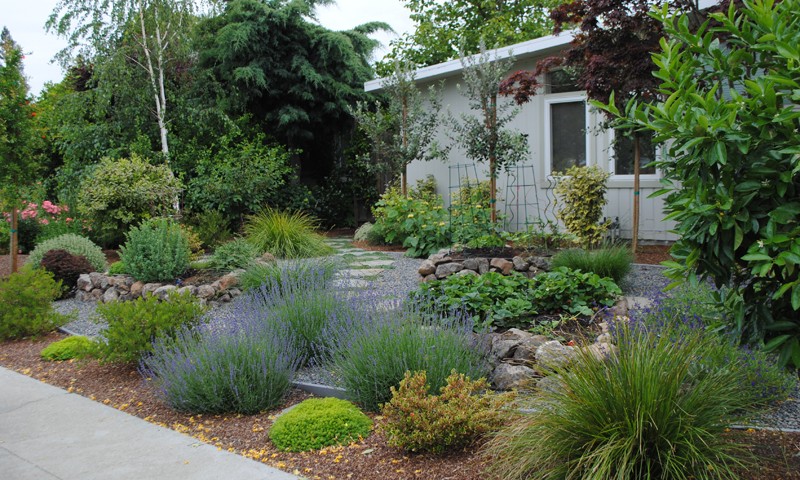 This is an edible/ornamental garden that I designed for a client a few years ago.  Having lived long enough with her barely-used front lawn (surrounded by scrubby and lackluster shrubs), my client was ready for a fresh start.  
Taking advantage of her garden's full-sun exposure, we created an edible front garden punctuated throughout with low-water, ornamental trees, shrubs, perennials and grasses.  
At the heart of this garden are three raised triangular-shaped beds built with stacked Napa fieldstone ready to be filled with a yearly crop of edibles.
Surrounding the triangles are native plants such as Penstemon 'Blue Springs' and Sticky Monkey flower which help encourage native pollinators to visit.  Evergreen plants such as citrus, pineapple guava and Berkeley sedge provide the garden with year-round structure, fruit, color and scent and happily mingle with low-water rosemary, lavender, grasses, callistemon and euphorbias.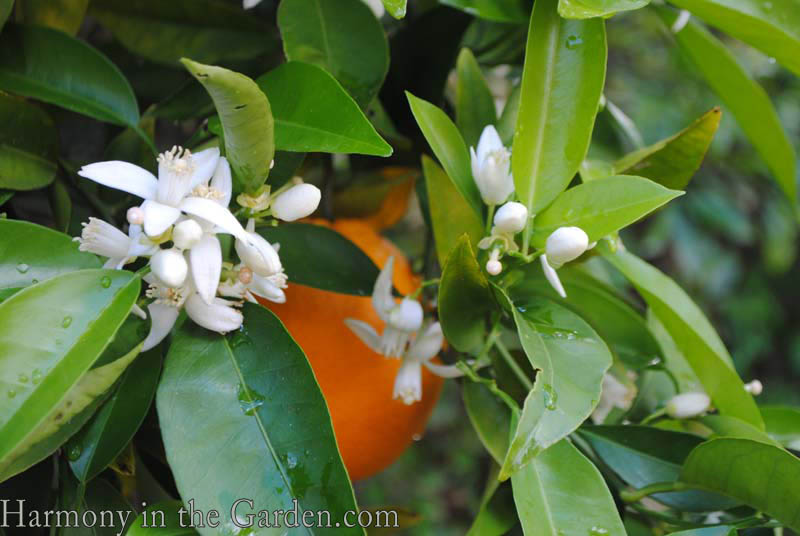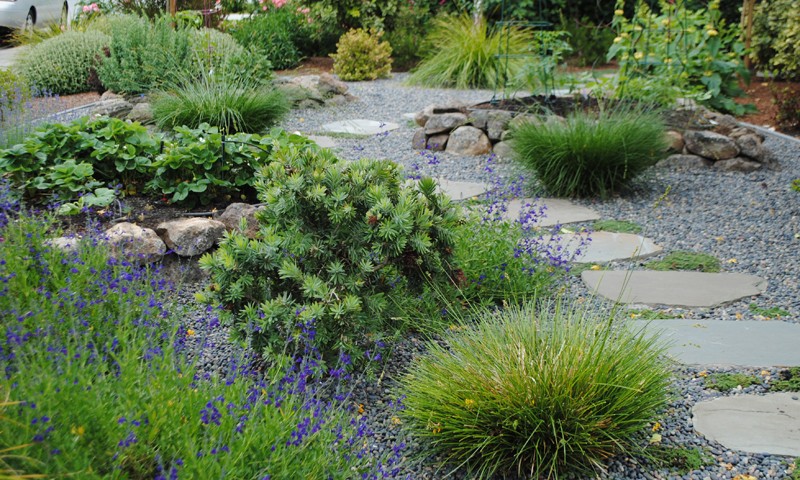 I'm honored to have this garden, along with its plan (shown left), included in the newly released Groundbreaking Food Gardens: 73 Plans that will change the way you grow your garden, written by Niki Jabbour.
An inspiring book filled with just about every type of edible garden you could imagine and accompanied by detailed plans (such as the one featured here) are sure to get your creative juices flowing.
And, for a more in-depth review of this book check out page 24 of The Designer (plus, you'll have access to one of my favorite online magazines!)