A few weeks ago, I paid a visit to Baylor Chapman, at her gorgeous floral studio Lila B. Design.  While I've written about her shop before (you can read it here), this time I'm writing about the building across the street.
The building is named The Allied Box Factory, and Baylor just so happens to live there.
Originally built in 1907 as the Allied Box & Excelsior Factory it was converted in 1999 into this artist complex – smack dab in the middle of the city.
Can you imagine living in this fantastic historic building and walking across the street to go to work?  Yes, Baylor leads a charmed life.
Not only is the building itself stunning, but once you walk through the gates it's as if you've landed in paradise.
Remember in the Wizard of Oz, when Dorothy's house finally ejected from the whirling tornado, and when she opened the door everything was in color?  Well, that's what happens when you walk through the gate of the Box Factory.
After running across a very hectic Folsom street (trying not to get run over by the whizzing traffic) you open the door, and this is what you see – Paradise!
This is the most beautiful shared courtyard garden I've ever seen.
Twice a year the tenants participate in Garden Days, where they all get together and clean, prune, plant, fertilize, BBQ, eat, drink, and enjoy each other's company.  In addition to Garden Days, one of the residents, Mill Nash from Clean Air Lawn Care, extends a little extra help with the garden when necessary.  This is the very definition of a group effort!
What makes this relatively small garden seem so much larger than it is are the pathways that meander through dense planting beds.  And just look at how skinny some of those planting beds become, yet every inch is planted.   The effect not only visually expands the space, but creates a sense of mystery by not showing everything at once (see photos below).
Nestled beneath the stairs is an ample seating area – a perfect example of the importance of making every inch count in a small space.
Surrounding this seating area is a vibrant garden filled with lush plantings and artistic touches.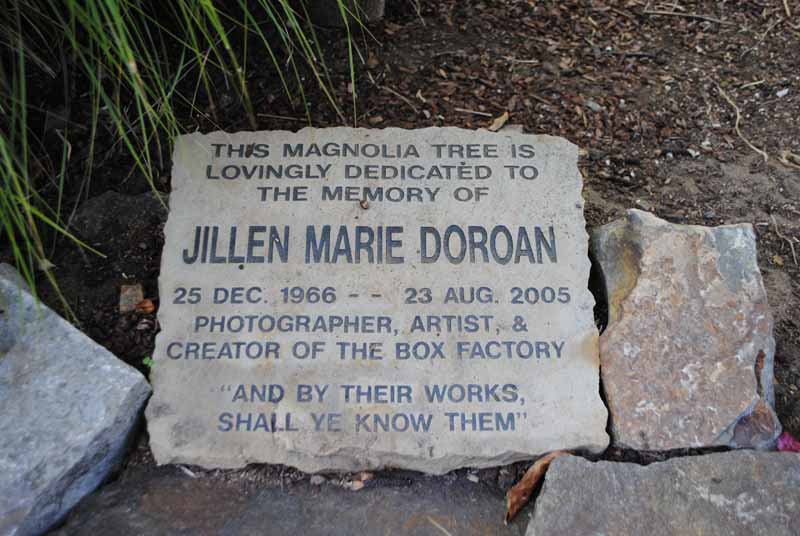 This discreet marker lies in the middle of the garden. Thank you, Jillen, for creating such a magical space.