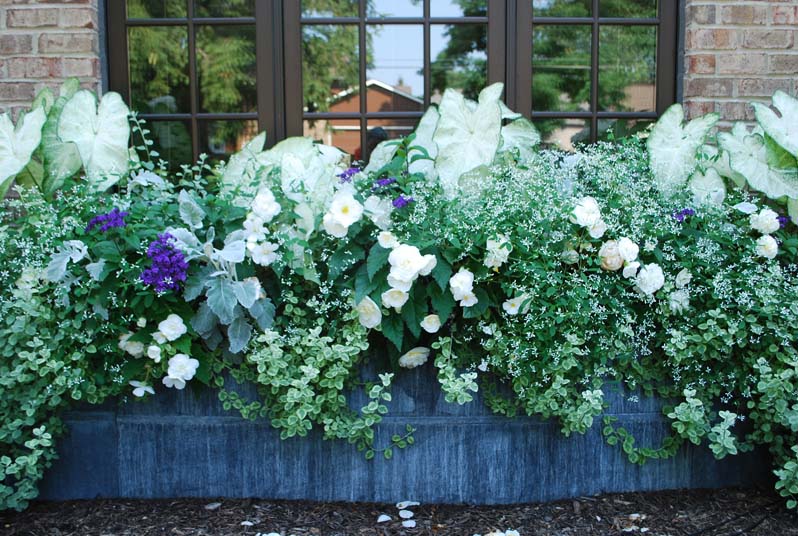 I'll admit it – I've never given much thought to caladiums, perhaps subconsciously dismissing them as an uninspired, old-fashioned stalwart.
But having trialed several dozen this year (thanks to the generous folks at Classic Caladiums) I can proudly say I was dead wrong – there's nothing uninspired with these plants.  I'm officially hooked!
Similar to coleus, in that they come in a psychedelic array of color combinations, caladiums somehow have more of an air of elegance about them.
And when planted closely together in a container, they're simultaneously light and delicate while making quite a visual impact.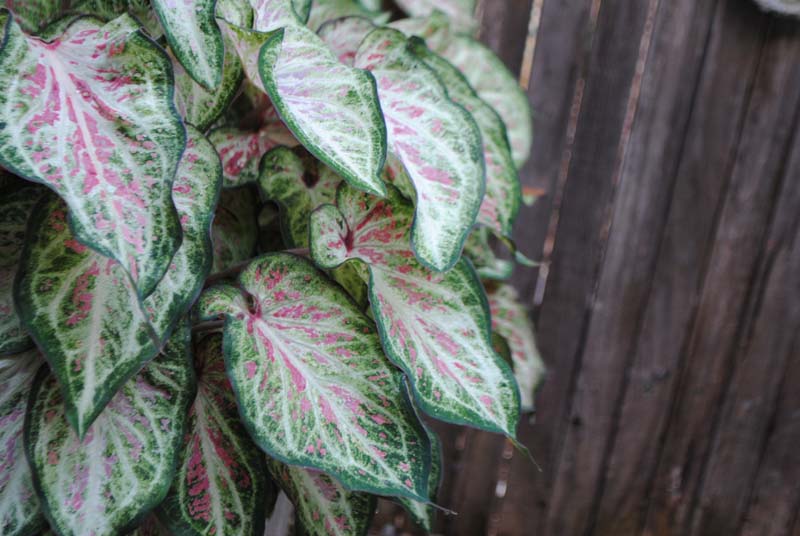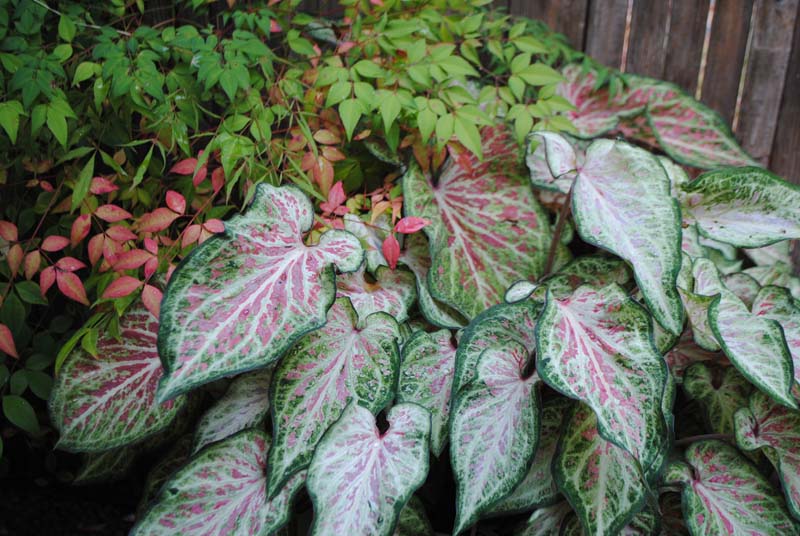 One of the reasons why I'm now a caladium fan is its ability to create magical color echo combinations.
Take the above 'Candyland', for example.  On its own, the narrow heart-shaped leaves streaked with light pink are pretty enough, but when paired with a nandina – look out!
The nandina's mainly green early-summer foliage help to complement the green in the caladium leaves.  But once cooler temperatures arrive, and the nandina's foliage begins to turn shades of red, pink and maroon the resulting color echoes are nothing short of magical.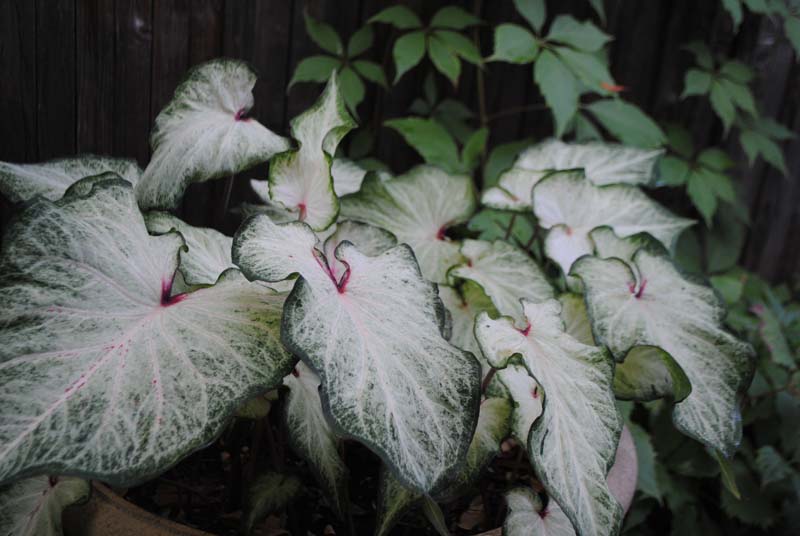 Another favorite of mine is 'White Star'.
The ethereal quality of the ghostly white foliage, tinged with just a tiny splash of pink in the center of the leaf, is elegant and understated.
But what I love so much is the slightly undulating shape of the foliage that gives this plant a sense of motion (even on the stillest of days) adding a visually dynamic element to a simple container.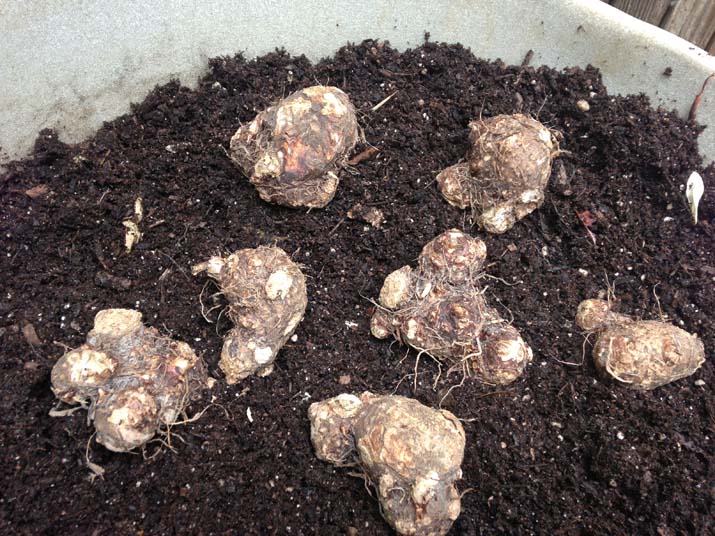 In my zone 9 garden, the caladiums grew much easier in containers rather than planted directly in the soil.
This doesn't really surprise me since despite regular amendments to my clay-based soil, it'll never be the nutrient rich, fast draining soil caladiums crave.
Combine that with our drought-like summer conditions and the poor moisture-loving caladiums have an uphill battle.
The simple solution is to plant them  in a container (with really good soil) in a semi-shady spot and give them somewhat regular watering.  Do that and you'll be rewarded with months and months of gorgeous color.
When it comes time to overwinter them, unless you live in the tropical south you'll have to dig them up in early fall, let the tubers dry for a few days and place them in a dry area to store.  I'm hoping mine will overwinter without any problems if I leave them in their container, safely snuggled up against a fence for protection.  We'll see….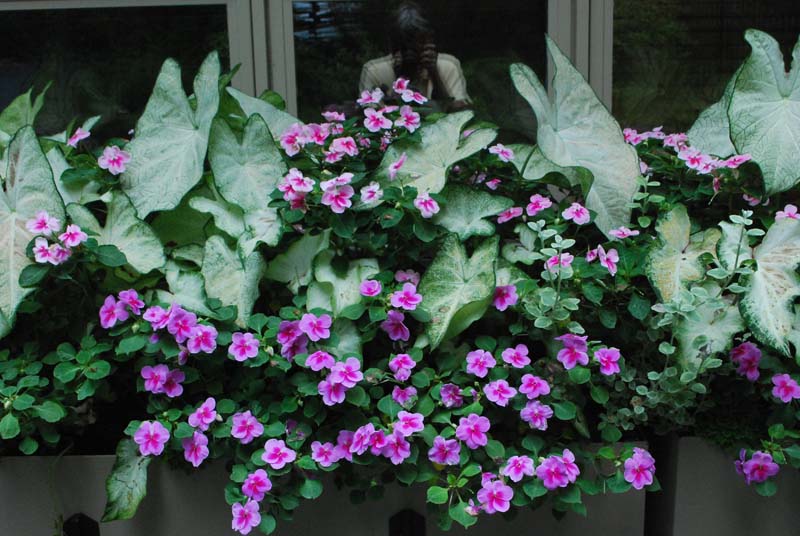 In addition to planting caladiums in pots, I wanted to show you a few other ways you can incorporate caladiums into your garden.
Caladiums are natural companion plants for impatiens, begonias and ferns, and as such are an excellent choice for window boxes.
Michigan-based Deborah Silver is an amazing designer and is is The Queen when it comes to creating the most jaw-dropping window boxes, many of which feature caladiums.  These are just a few of her gorgeous creations.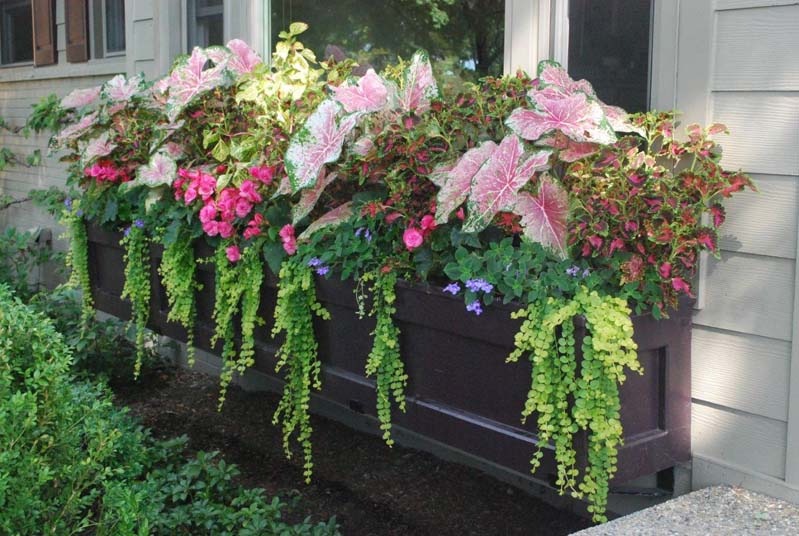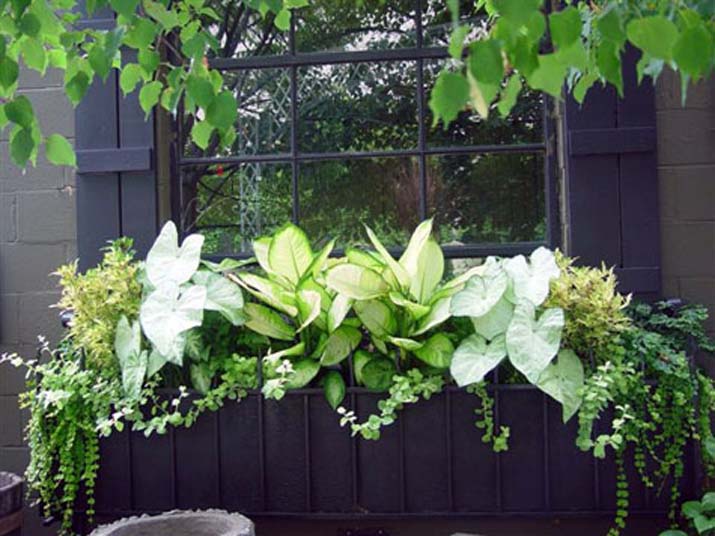 For more window box ideas, click here and here.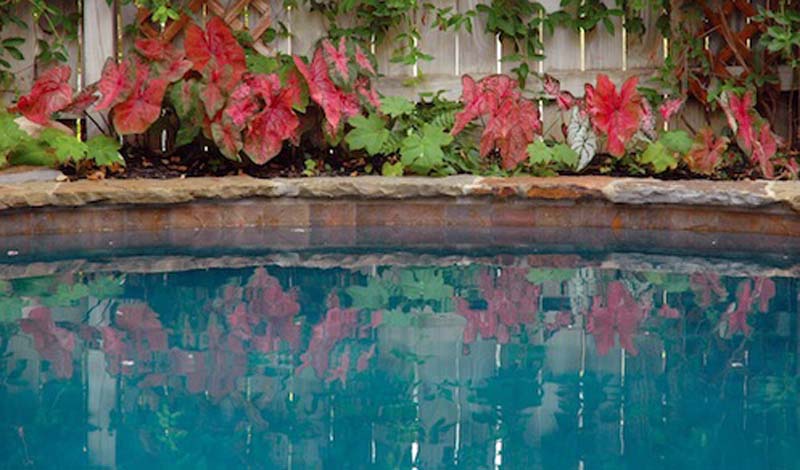 Another of my favorite landscape designers who gardens in a vastly different climate is Austin-based Jenny Peterson.
I would never dream that caladiums could thrive in Austin's hot temperatures, but look how Jenny has used them – bordering the swimming pool!  And the reflection they cast – absolutely magical.
With a mind-boggling array of colors, sizes and foliage shapes, surely there's a caladium just right for your garden.
I have no doubt I'll be placing another order this spring – I'd love to know what some of your favorite varieties are and how you use them in the garden.