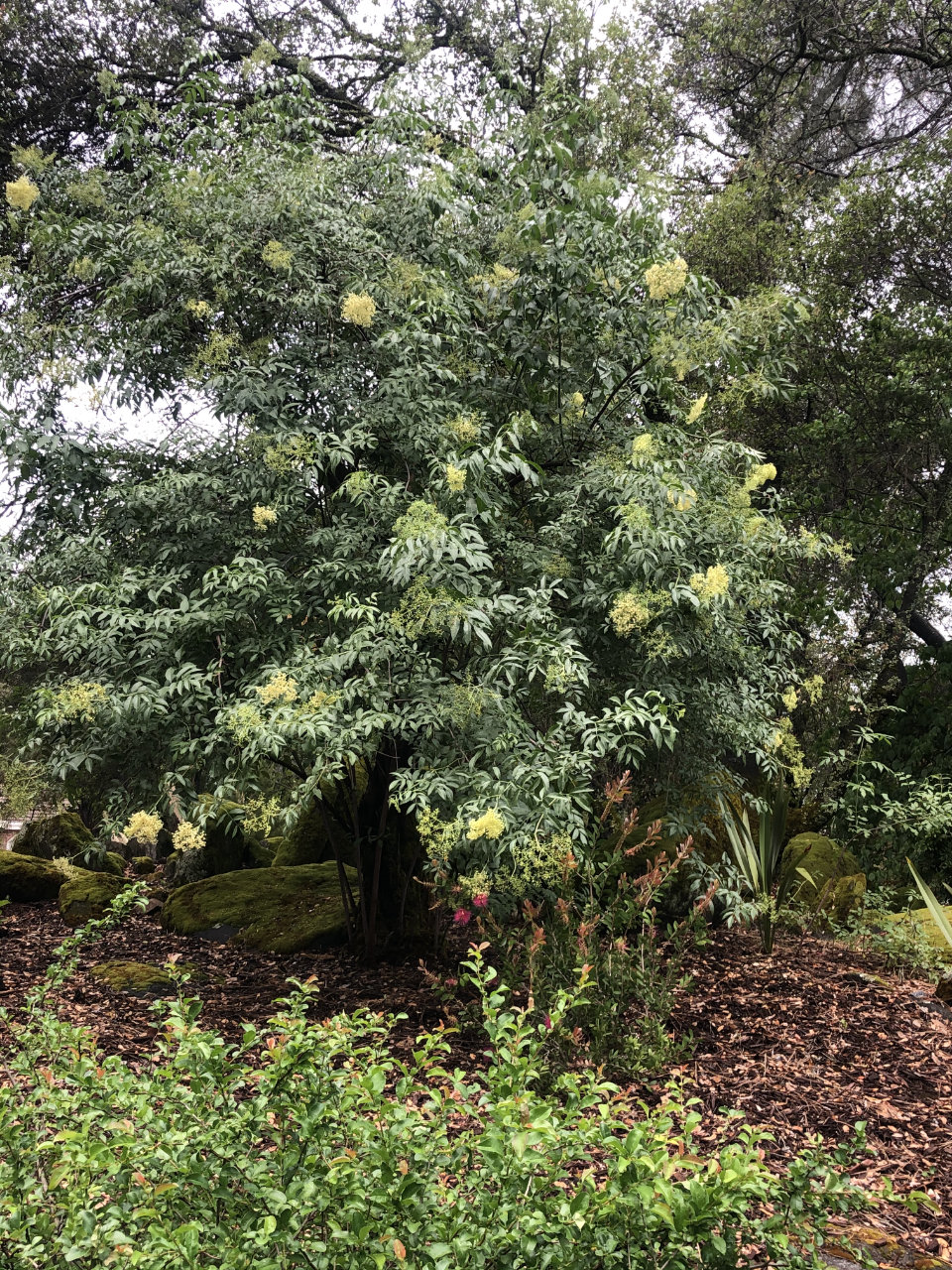 Today I'm sharing a delicious elderflower cordial recipe, compliments of my elderberry tree.
But first, a little info about this magnificent native plant that I inherited when I moved here seven years ago.
Several elderberry varieties are native to the West Coast, but mine is a sambucus mexicana (commonly called Mexican Elderberry or Tapiro.) 
This variety does better in hot, dry, and sunny climates like mine (zones 6-10) and requires very little water once established.
In fact, I don't irrigate mine at all (and I doubt the previous owners did, either, since they weren't really into gardening.) 
I've read that once native elderberry shrubs are established, their roots grow deep to search for water. 
I'm sure this is why mine does so well without any irrigation, as it's planted near the bottom of a slope in my garden that has a naturally occurring high water table.
This deciduous sambucus is a biggie, growing to 20' x 15' if left alone, making it more of a small tree versus a shrub.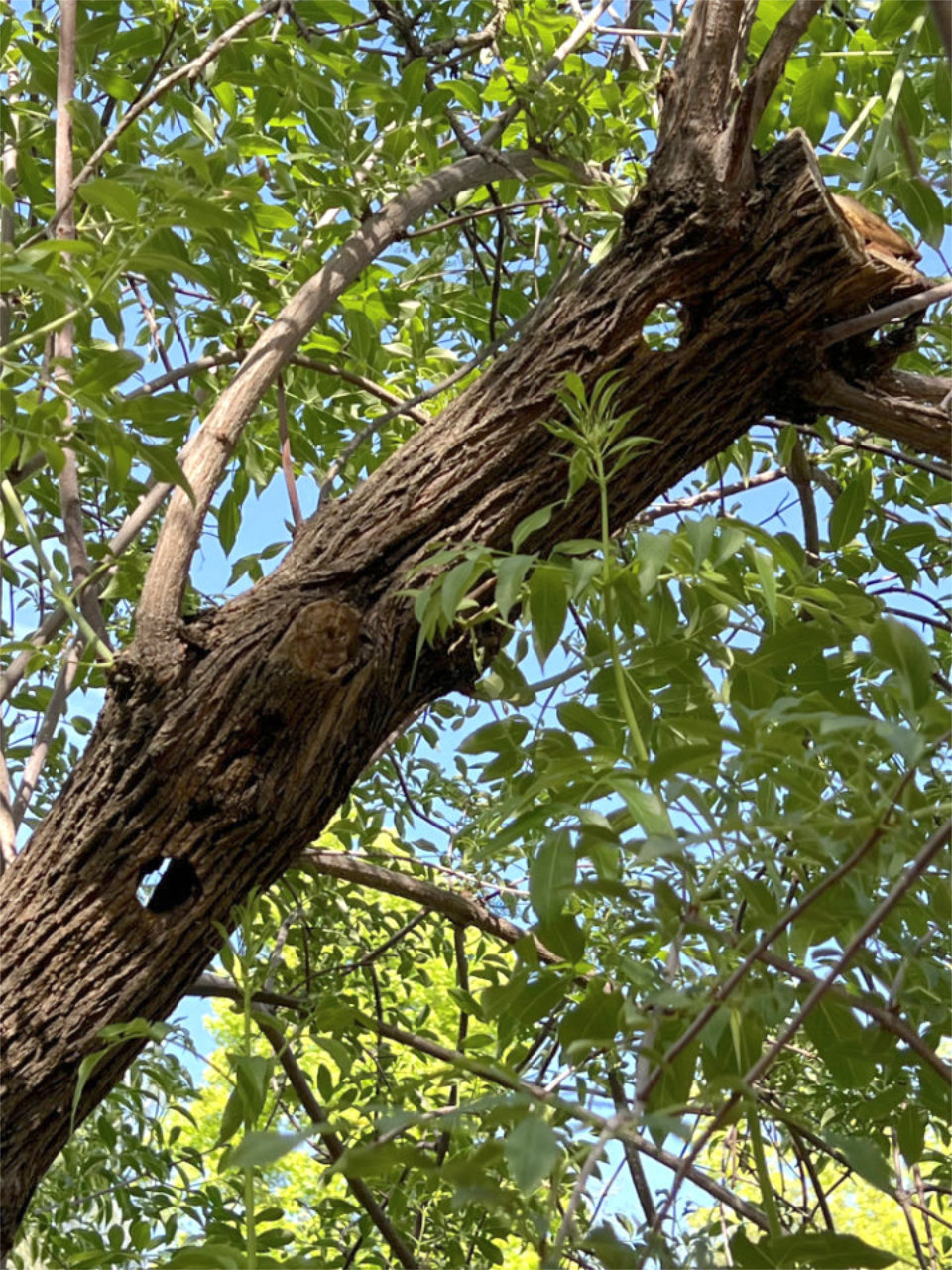 A few years ago, my old tree was severely damaged when a neighboring oak fell on it during a storm, breaking its main trunk in half. 
The tree's trunk is on its last legs and is now fairly hollow, but has loads of new growth sprouting around it. 
Instead of severely pruning the broken and battered tree, I'm leaving it as-is since each spring it's home to lots of different nesting birds.  
I have a garden bench near the tree and love to sit and watch the mothers feed their babies (see below.)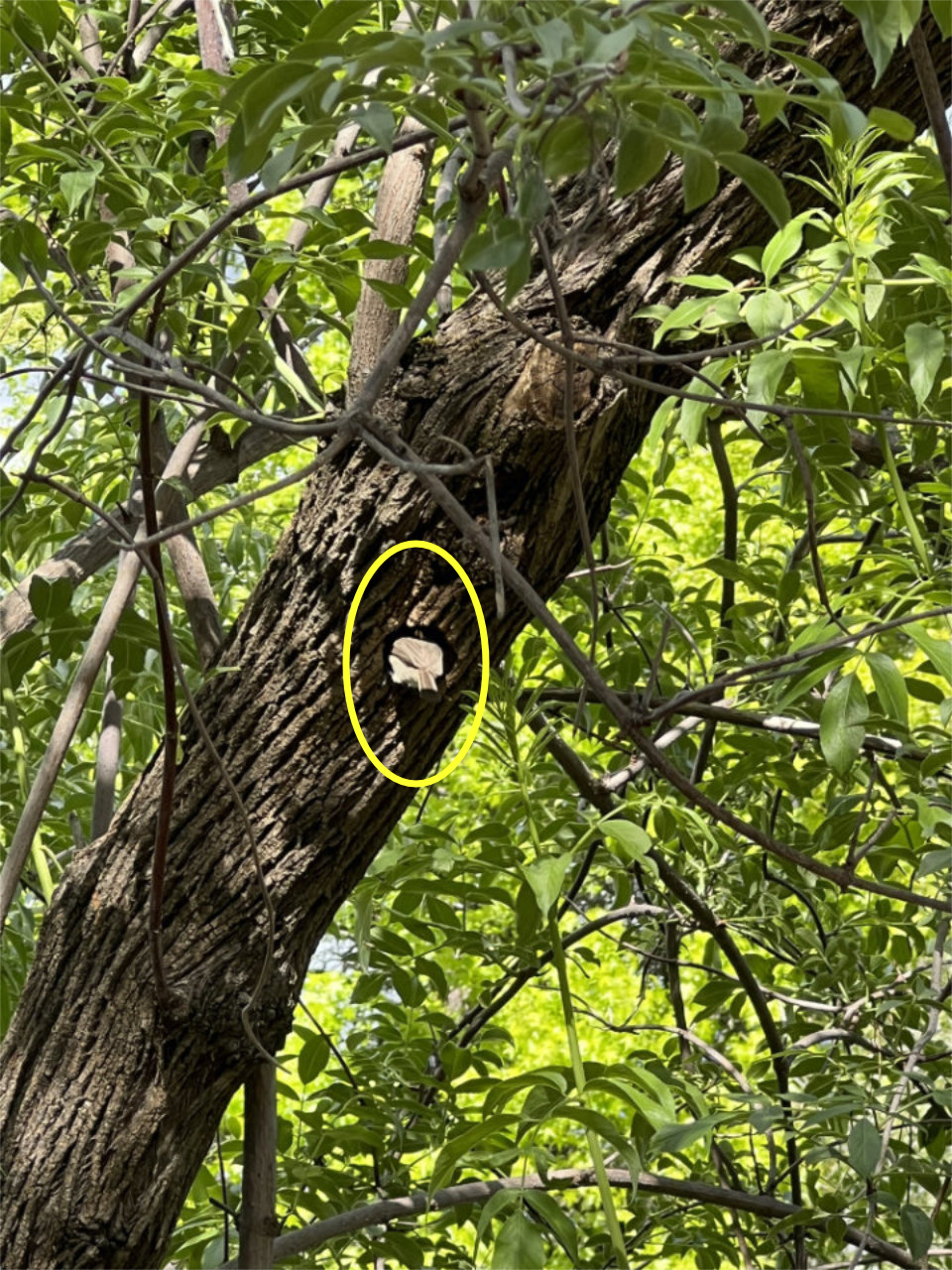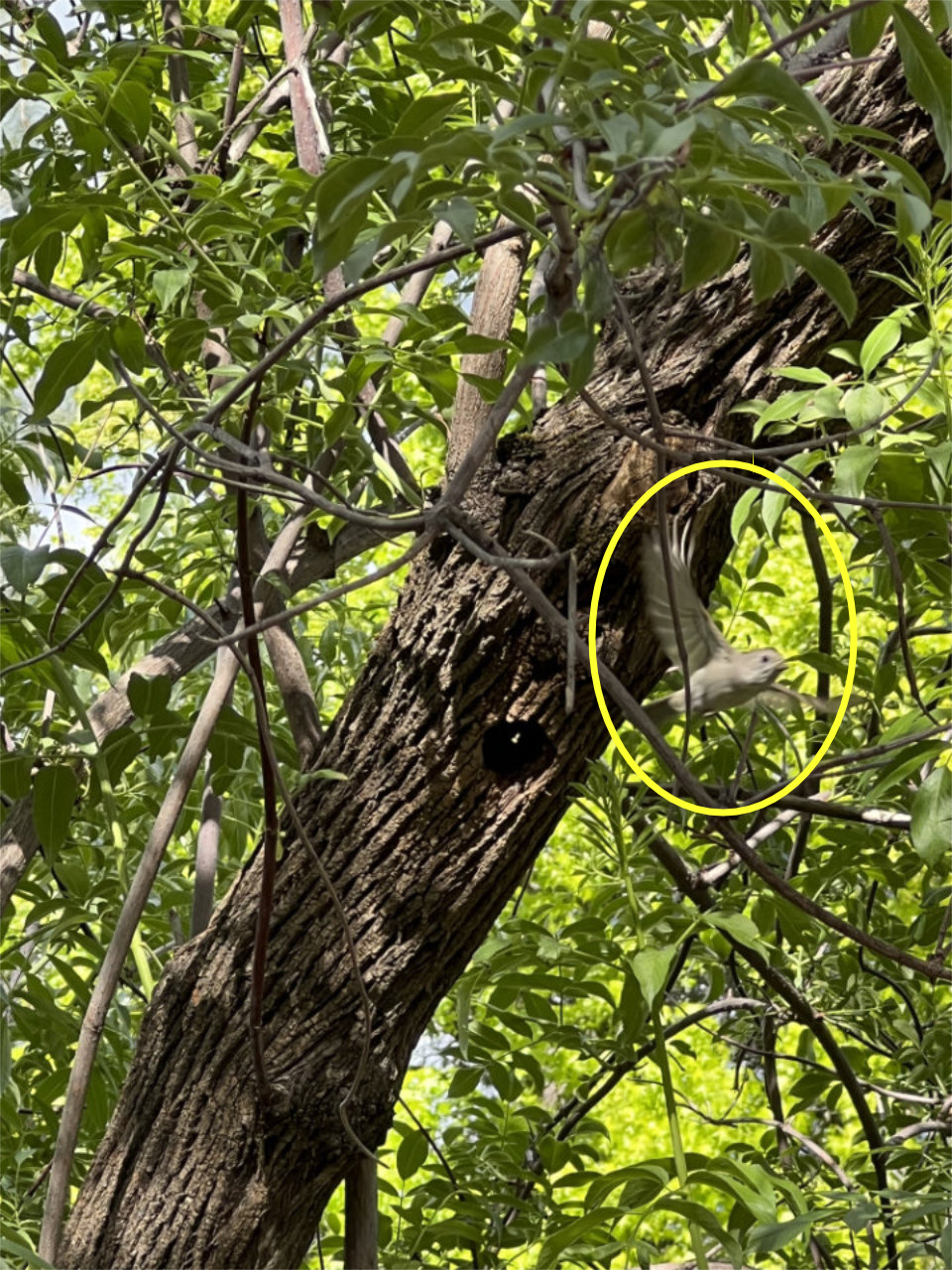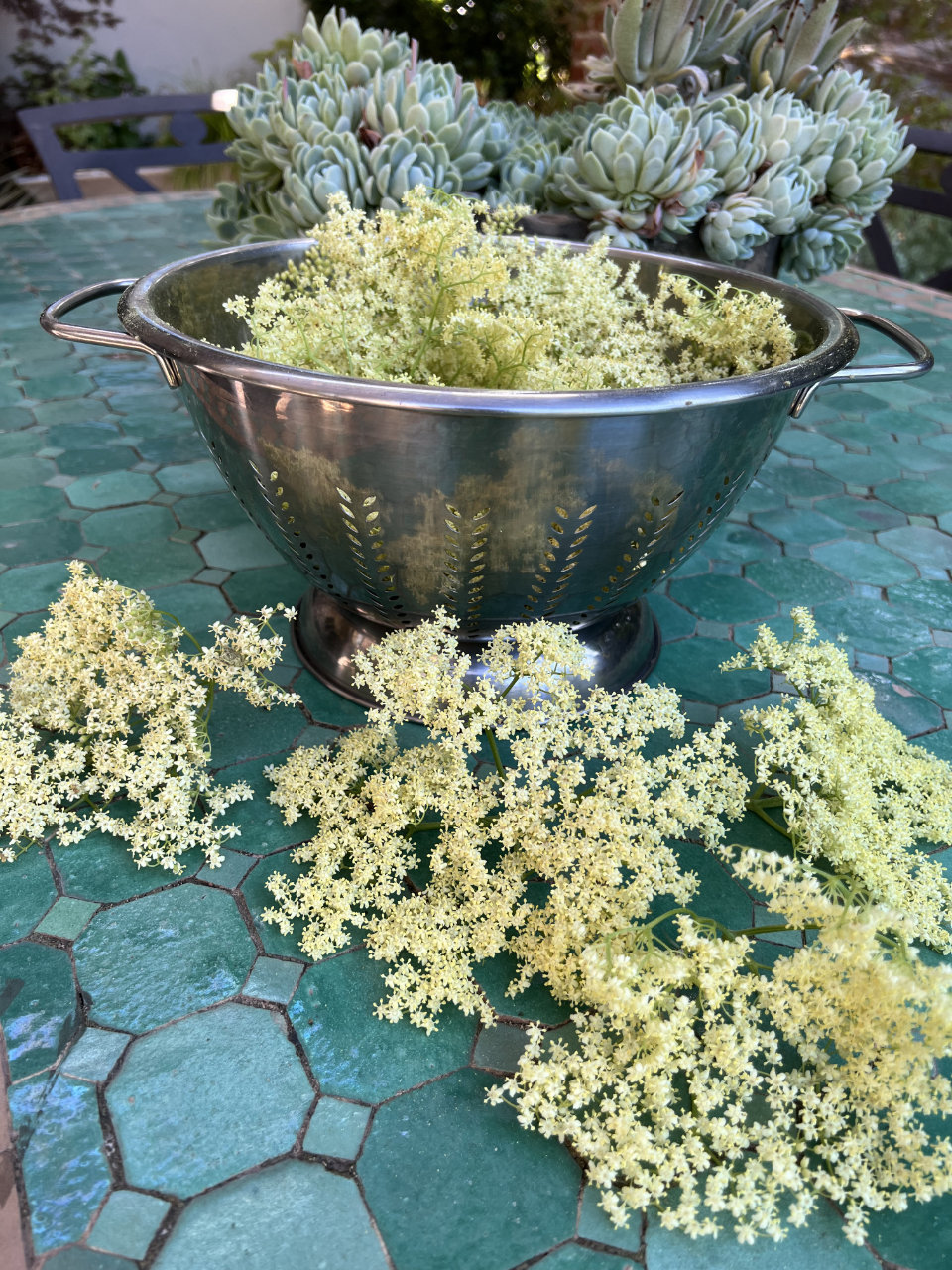 The elderberry tree blooms May through June with tons of soft, creamy yellow umbel-shaped flowers that pollinators adore. 
I felt a little bad picking the clusters of flowers for my recipe, but once I was out there, I realized there were so many flowers these wouldn't even be missed.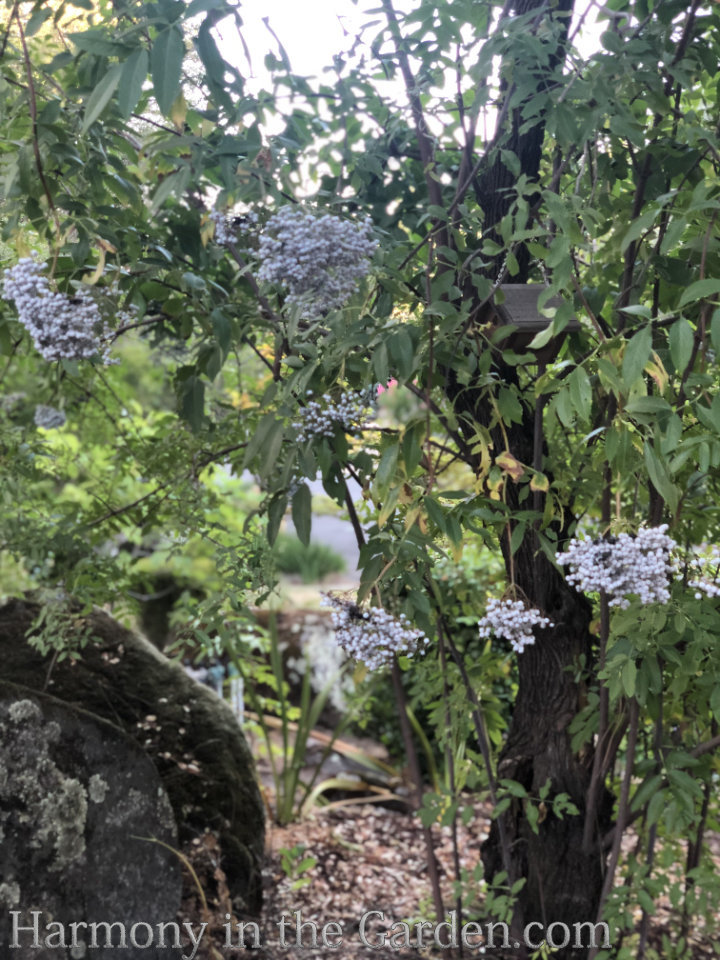 Throughout the summer, the flowers transform into clusters of small berries that ripen in late July through August.  
You can tell the berries are ripe when you see a glaucous, white-ish coating on the outside.  
Or, just look outside and the frenzy of birds feasting on your tree will tell you the berries are ripe!
Don't eat the berries raw, as their seeds have toxins that may make you sick. 
However, once the berries are cooked into a jam, they're delicious with an unusual subtle fruity flavor with notes of pear, lychee, and tropical nuances.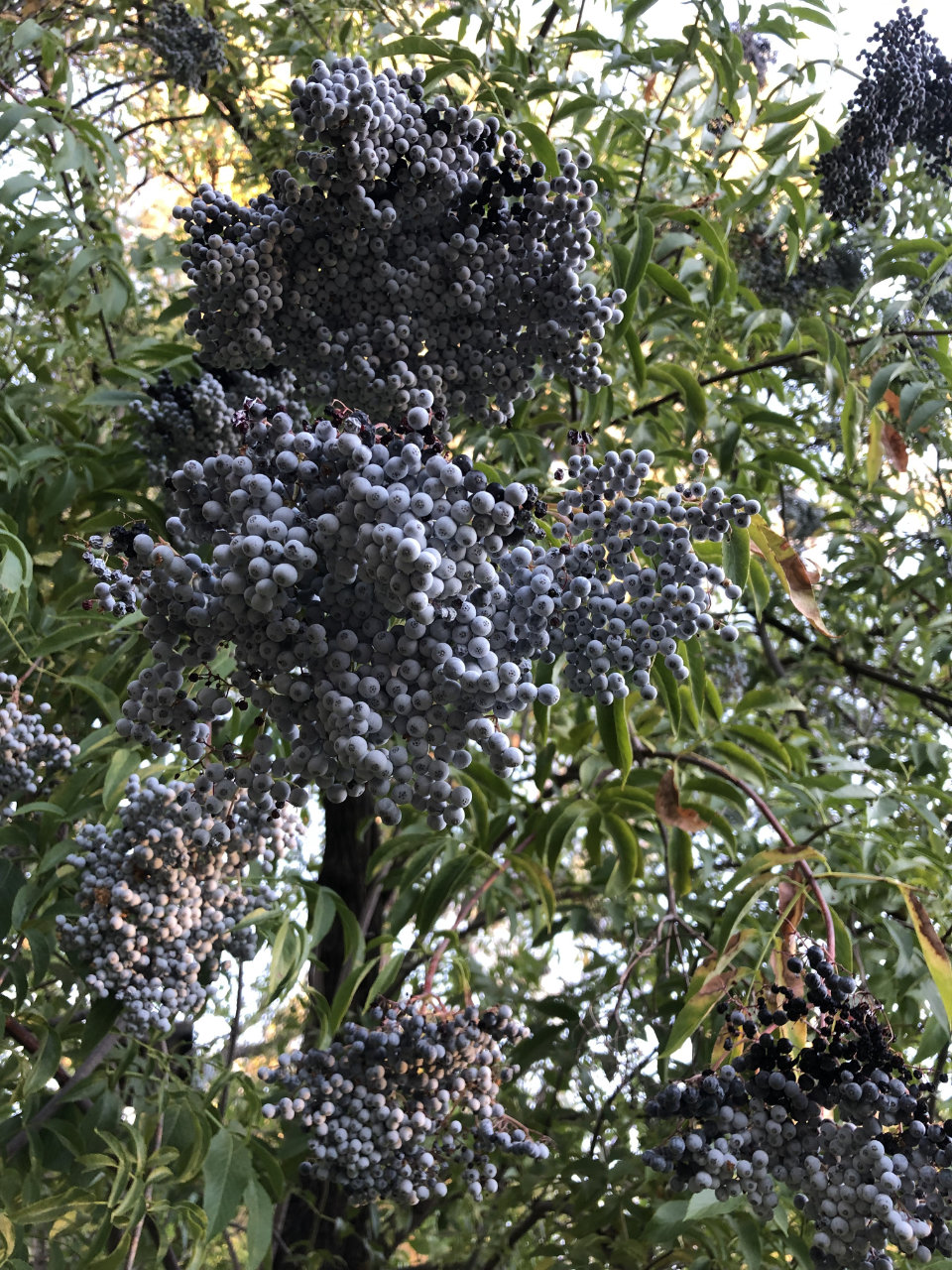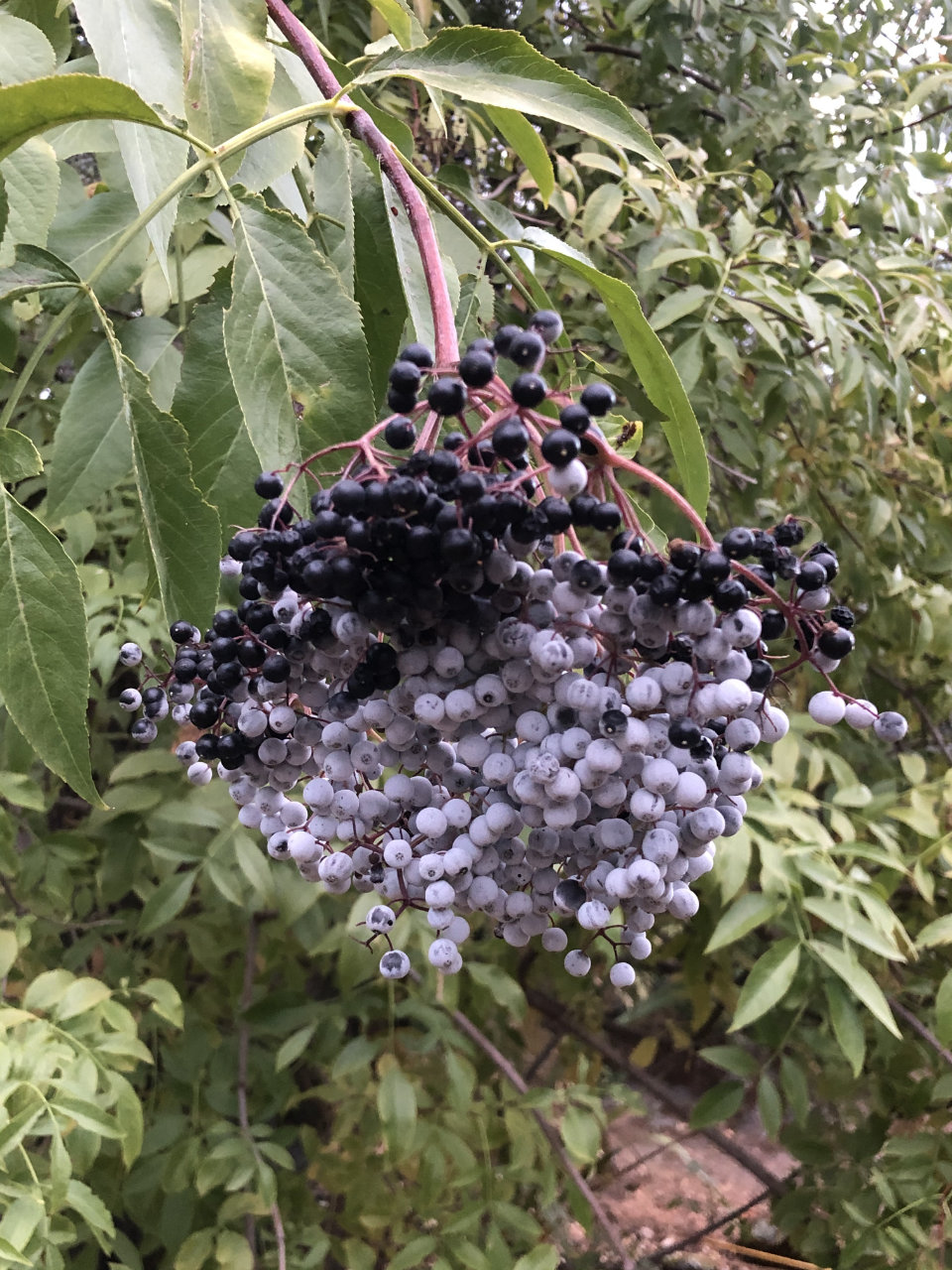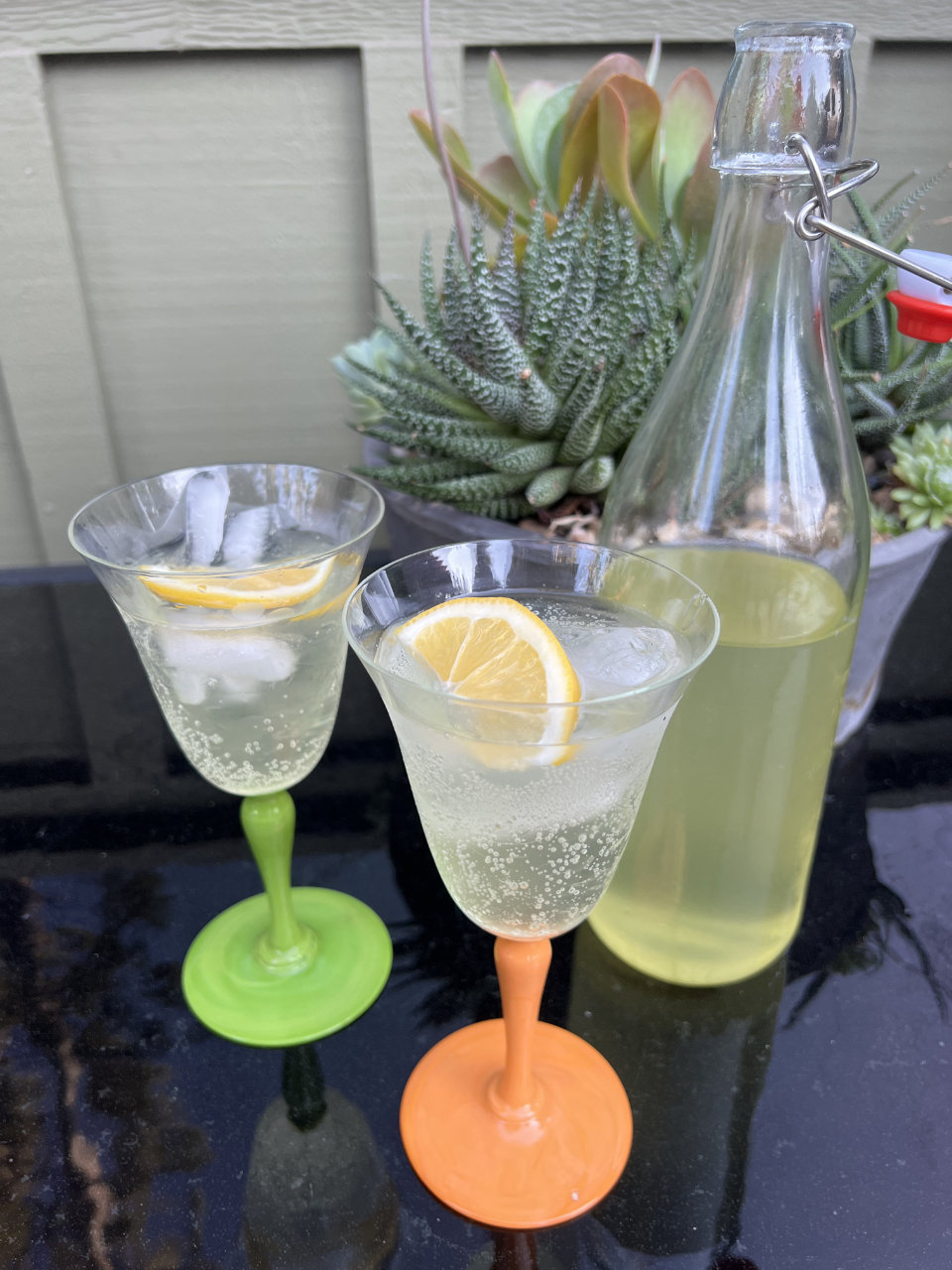 Which leads me to my elderflower syrup recipe. 
My husband and I made it for the first time this year, and it's been a massive hit with my family. 
The flavor is so unique (and quite addicting!), and when a little syrup is poured over ice, with sparkling water added, it's the perfect drink on a hot summer day.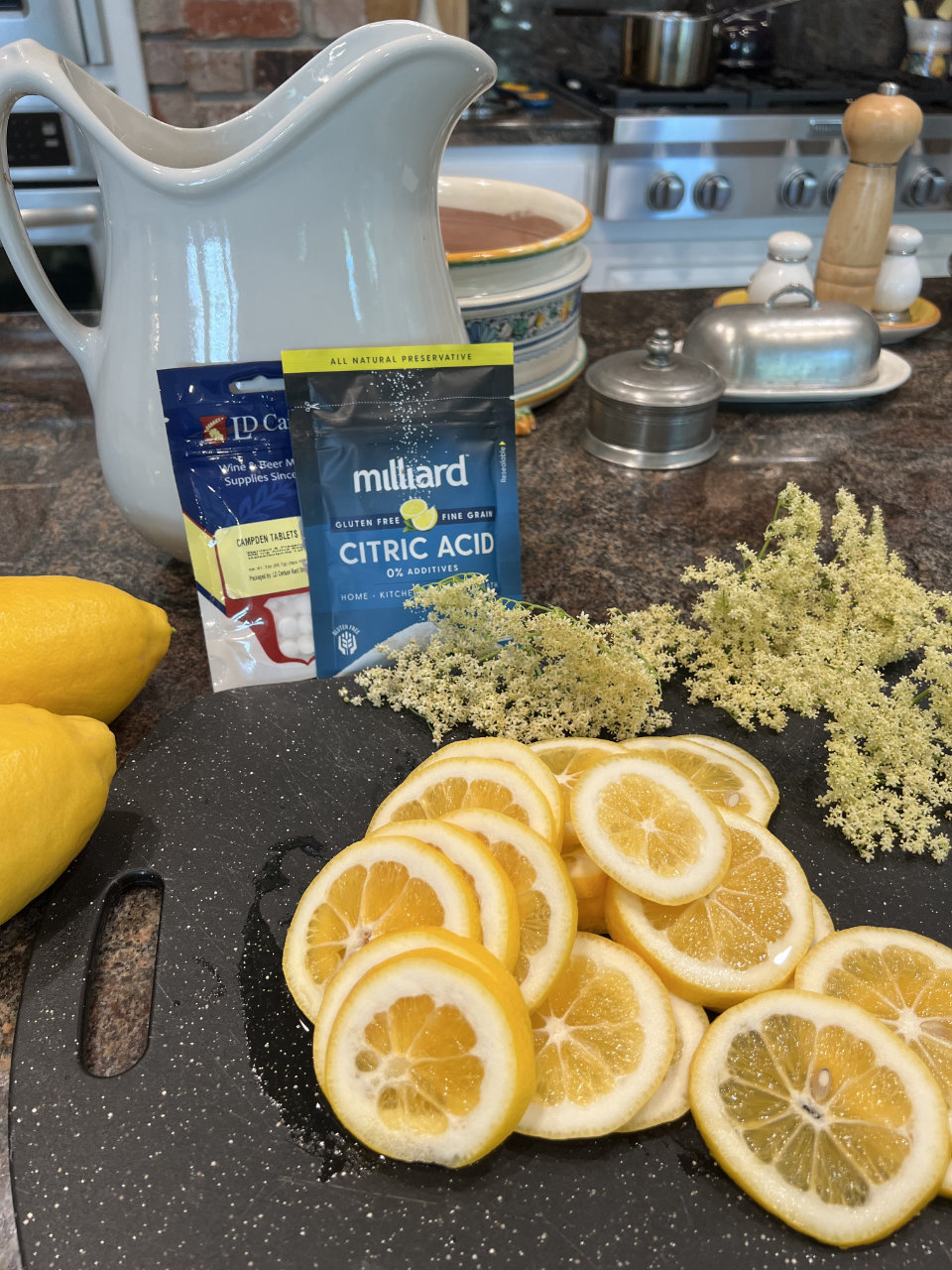 Ingredients
3 lbs. 5 oz. of caster sugar
12 cups of water
2 lemons (I used Meyer lemons from my tree)
25 heads of elderflowers    
** I rinsed the flowers to remove any tiny critters.  Also, don't use older flowers that have started to brown, as the syrup will turn an unappetizing rust color!
1 ¾ oz. citric acid
** the tablets help to sterilize the mixture and are often used in beer/wine making.  Make sure to keep your face away from the mixture, as the tablets produce a gas that can be an irritant if inhaled.
1.   Put the sugar and water into a large pan and bring to a boil. Stir until the sugar has dissolved, then remove from heat and let cool.
2.  Thinly slice the lemons, remove the seeds, and put them into a large container or deep bowl along with the cooled sugar water (basically, it's a simple syrup.)
3.  Add the flowers, Campden tablets, and citric acid to the lemons. Cover and leave overnight or up to a couple of days for more robust flavor (we left ours on a pantry shelf for 3 days.)
4.  Sieve and strain through muslin and pour into sterilized bottles. Store in the refrigerator.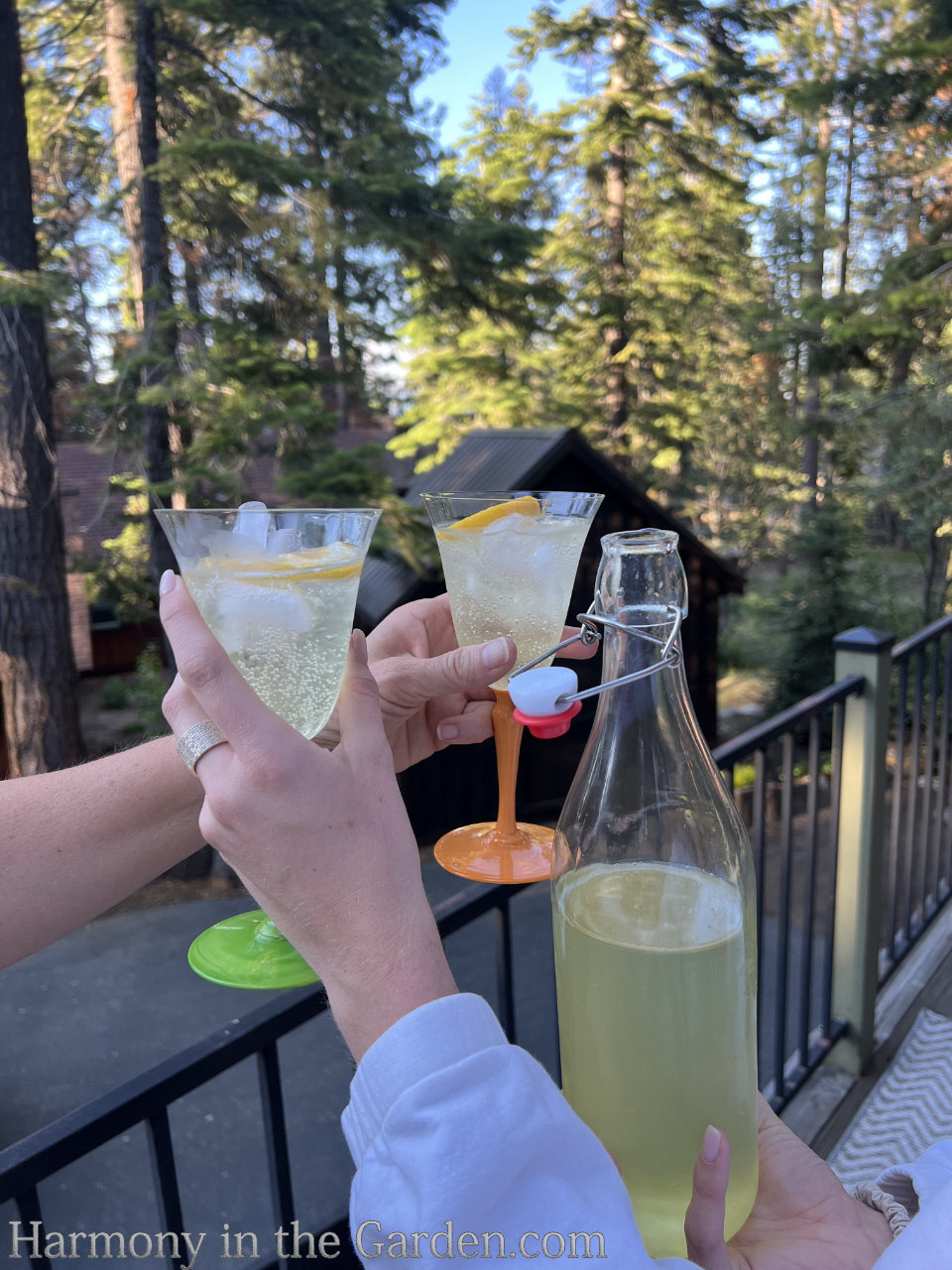 To serve, just mix 2-3 tablespoons (less or more, depending on your taste) with 8 ounces of sparkling water and pour over ice.    It's delicious!
AND – here's some exciting news! 
My daughter is getting married next month, so I'm bringing my last few bottles of elderflower syrup to mix with champagne. 
Cheers!!!