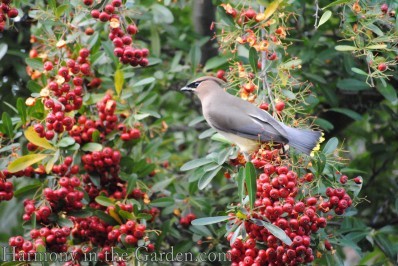 Trees and shrubs that offer winter berries are so important to include in your garden's design.  Not only for hungry birds, but because the berries themselves add much-needed seasonal color to winter's more muted landscape.
Even though it's the middle of January, my garden is humming with activity.
As I write this, I can see dozens of birds of all types eating from my bird feeders, taking baths in their freshly filled birdbaths and gorging themselves on the various types of berries my garden provides.
Clearly, my garden is a re-fueling station for many of these birds, and I'm happy to see them taking a break from their winter migration.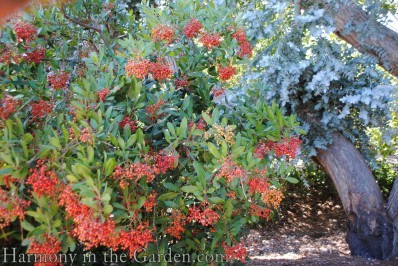 One of my favorite shrubs for winter berries is our native, evergreen Toyon (Heteromeles arbutifolia). 
Just look how the berries pop against the green leaves and gray foliage of the eucalyptus.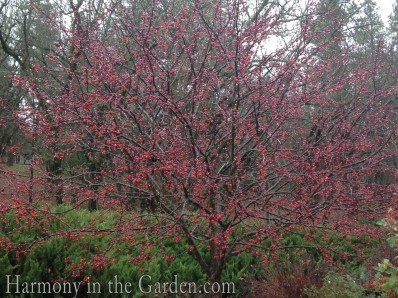 My mother's 'Adam' crabapple tree is, hands-down, the most stunning variety I've ever seen.
This mid-sized tree is literally covered in hundreds of cranberry-red fruits that hang on well into January.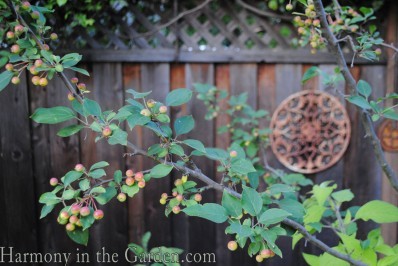 A 'Snowdrift' crabapple tree grows in my own garden, providing fruits in subtle apricot and peach hues.
I love how the colors harmonize with the rusty iron decorations hanging on my fence.

I couldn't live without nandinas and have several varieties growing throughout my garden.  Not only are they evergreen, but many turn brilliant shades of red and orange once the temperatures dip.
And, the cheery red berries show up right in time for the holidays.  The nandina on the right grows in my neighbor's garden and is the brightest red I've ever seen.  And no, this isn't photoshopped! 
UPDATE – A kind reader informed me that the Audubon Society has recommended NOT planting Nandinas as they are toxic to Cedar Waxwings.  Apparently, other birds know when to stop eating the berries, except for the Waxwings and the berries become deadly to them.  To read more, click here.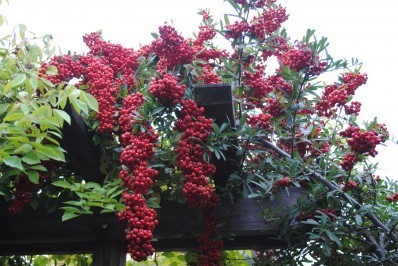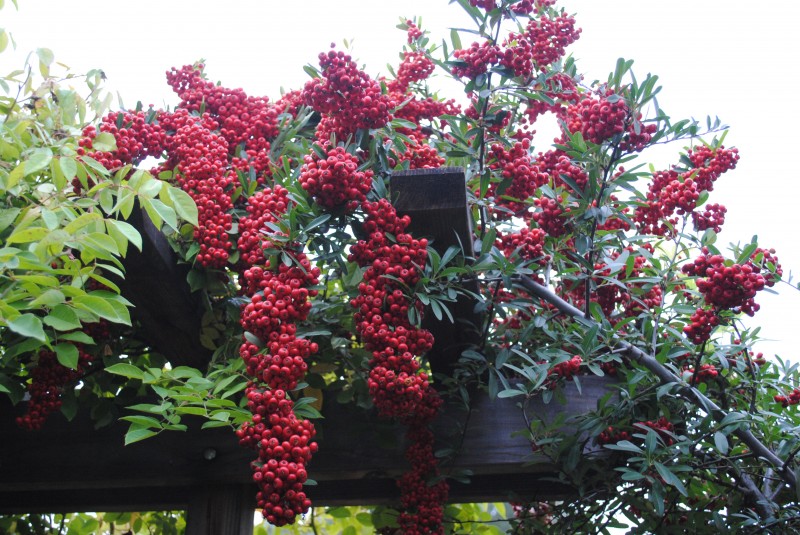 The most active buffet in my garden, however, comes from my pyracantha shrub.
Every year it's a hub of activity coming from robins, cedar waxwings, and scrub jays to name just a few.
(click here to read why this is my family's favorite shrub)

Native currants and gooseberries not only provide stunning fall foliage, but their tiny berries seem to glow when set against a snowy setting.
Many people confuse currants with gooseberries, and while the foliage and flowers are similar, their berries are notably different.
Click here for an interesting article on their differences as well as how to cook with them.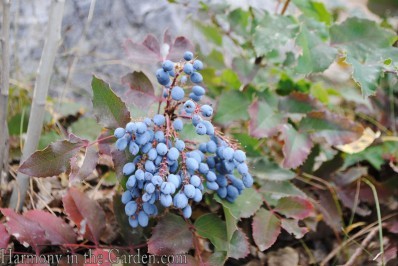 Mahonia repens, also known as Oregon grape, is another multi-seasonal native to include in the garden.
In the spring, its dark evergreen leaves are punctuated by bright yellow flowers.
But in the fall and winter, the foliage transforms into beautiful shades of maroon with grape-like clusters of cobalt blue berries.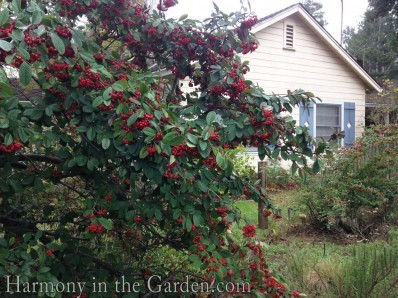 The cotoneaster family is an indispensable group of plants for winter berries.
One of my favorites is the C. parneyi.  Quickly growing to 10'x10′, its graceful, arching branches are stunning when laden with winter's deep red berries.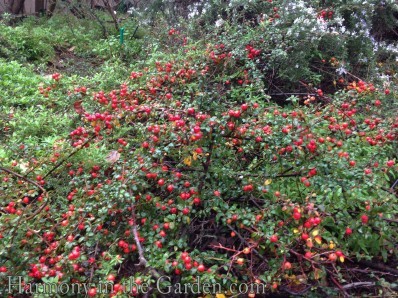 For a lower growing cotoneaster, consider the c. horizontalis.
Growing to 2'x3′, I often plant this variety on hillsides or terraces as its thick, intertwining branches help control soil erosion.
The Cranberry cotoneaster (C. apiculatus) is a mid-shrub sized variety, growing to 3'x6′.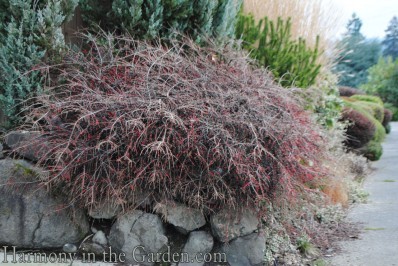 The interesting herringbone-like branch structure is best appreciated in the winter, with it's bright red berries drawing the eye to its  unique form.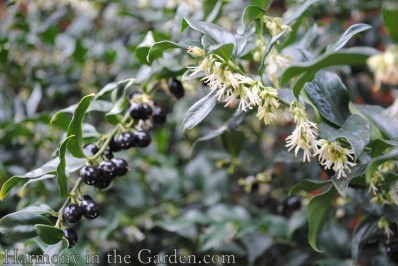 Sweet Box (Sarcococca rustifolia) grows near my front door and will soon be perfuming my entire front garden.
But in addition to its delightful winter fragrance, the shiny ink-black berries are a welcome change in color.
I have a stand of black mondo grass planted near this shrub and the moody color echoes they create are pretty amazing.

I realize I've only scratched the surface when it comes to winter berries.  I'd love to know what berries bring the birds to your garden?