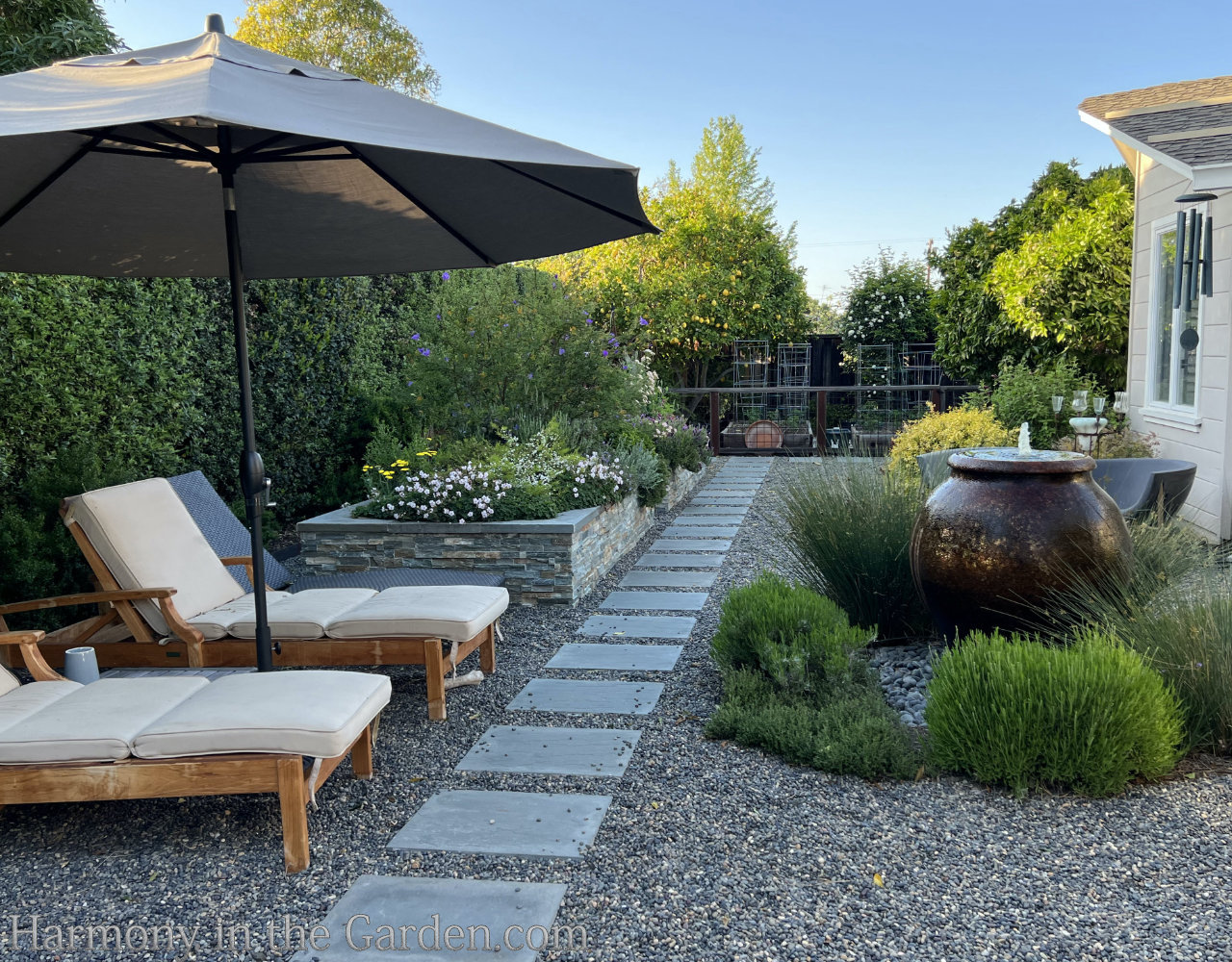 Over the years, more and more people have asked me for help with replacing a pool with a garden.   
Maybe it's because of California's ongoing drought?  Maybe it's because of kids who have grown up and flown the coop? 
Either way, removing a pool and replacing it with a garden is a hot topic these days.
So as we enter into another cold and wintery weekend, I thought you might like to nestle in, make yourself a cup of tea, and gather a little inspiration from one of my favorite recent before-and-afters.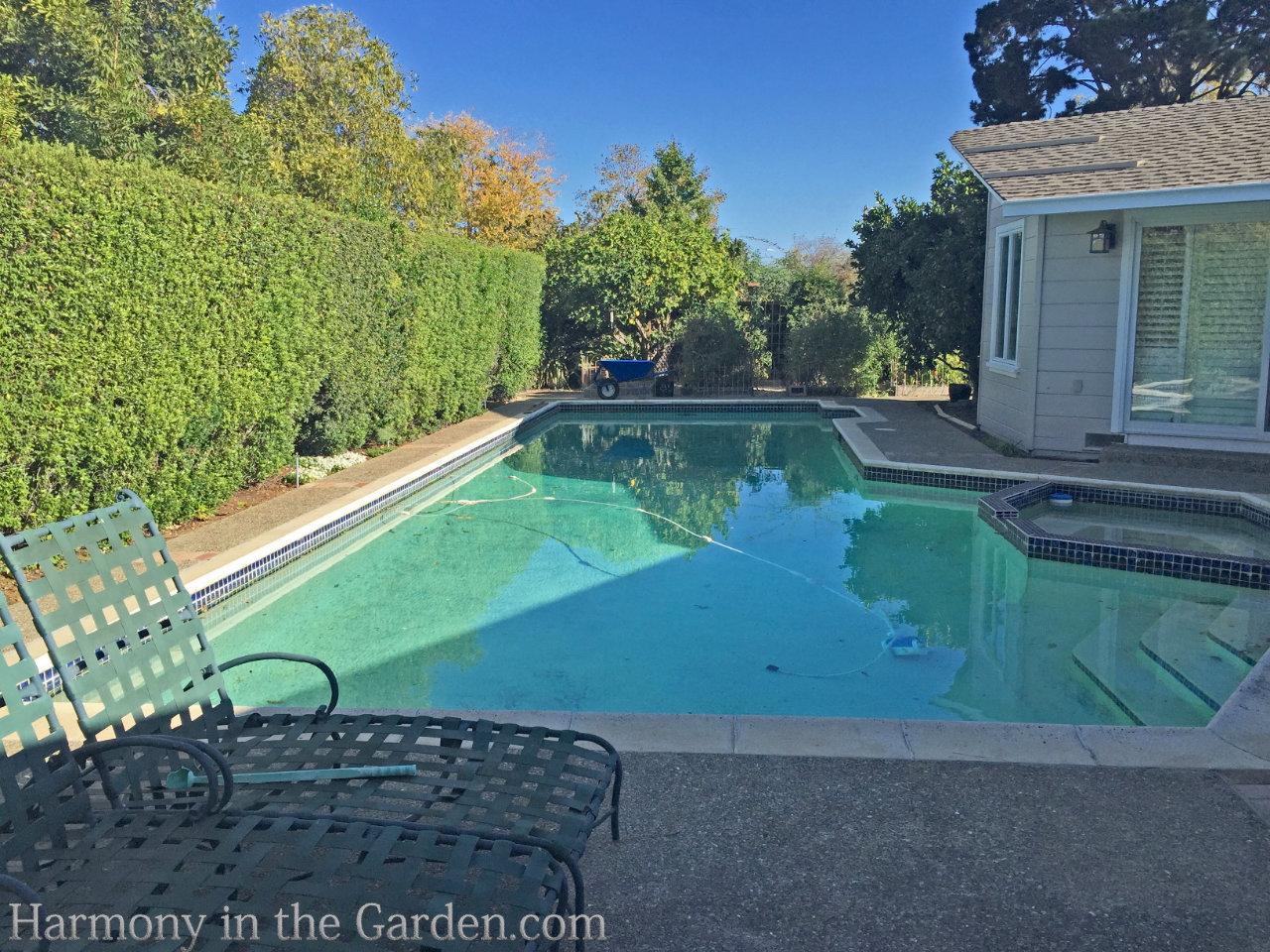 BEFORE
This is the garden of one of my best friends and is one that I've wanted to get my hands on for years.
Sure, we've had some amazing memories with various birthday and girl scout pool parties, but once the kids moved out to start families of their own, the pool sat there year after year with very little use.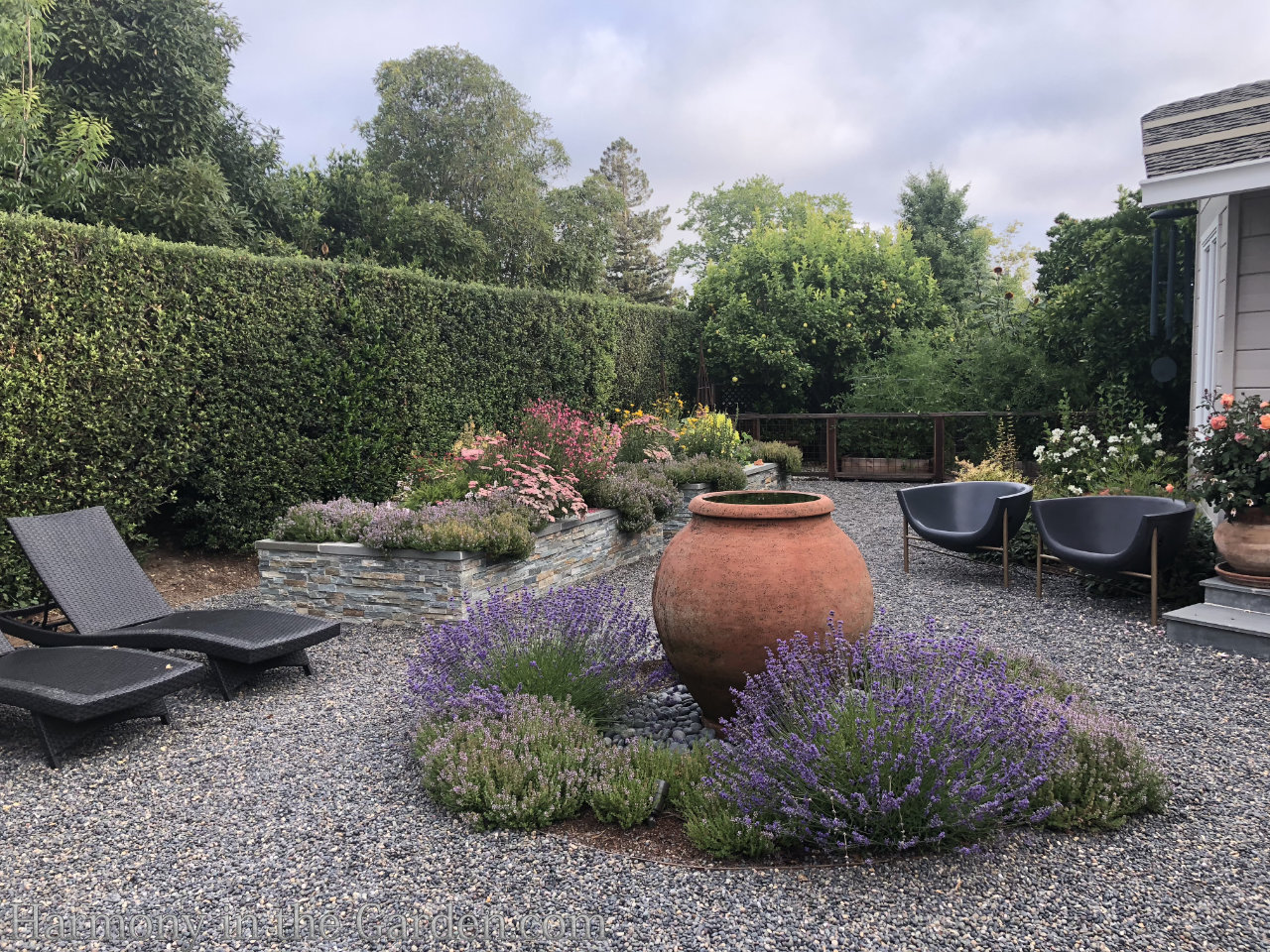 AFTER
After years of going back and forth regarding keeping the pool or removing it, a decision was made – remove the pool!
Removing the pool is never an easy decision: there are emotional hurdles to overcome (all those fun family memories!), financial hurdles (it's pretty pricey), and inconvenience hurdles (it's incredibly invasive, noisy, and messy.)
But in the end, it's so worth the headaches.
Here's what to expect if you're thinking of taking out your pool: lots of loud equipment trampling your existing garden, digging for days and days, and a mess like you've never seen.   I won't lie – it's AWFUL.
But trust me – it'll end soon enough!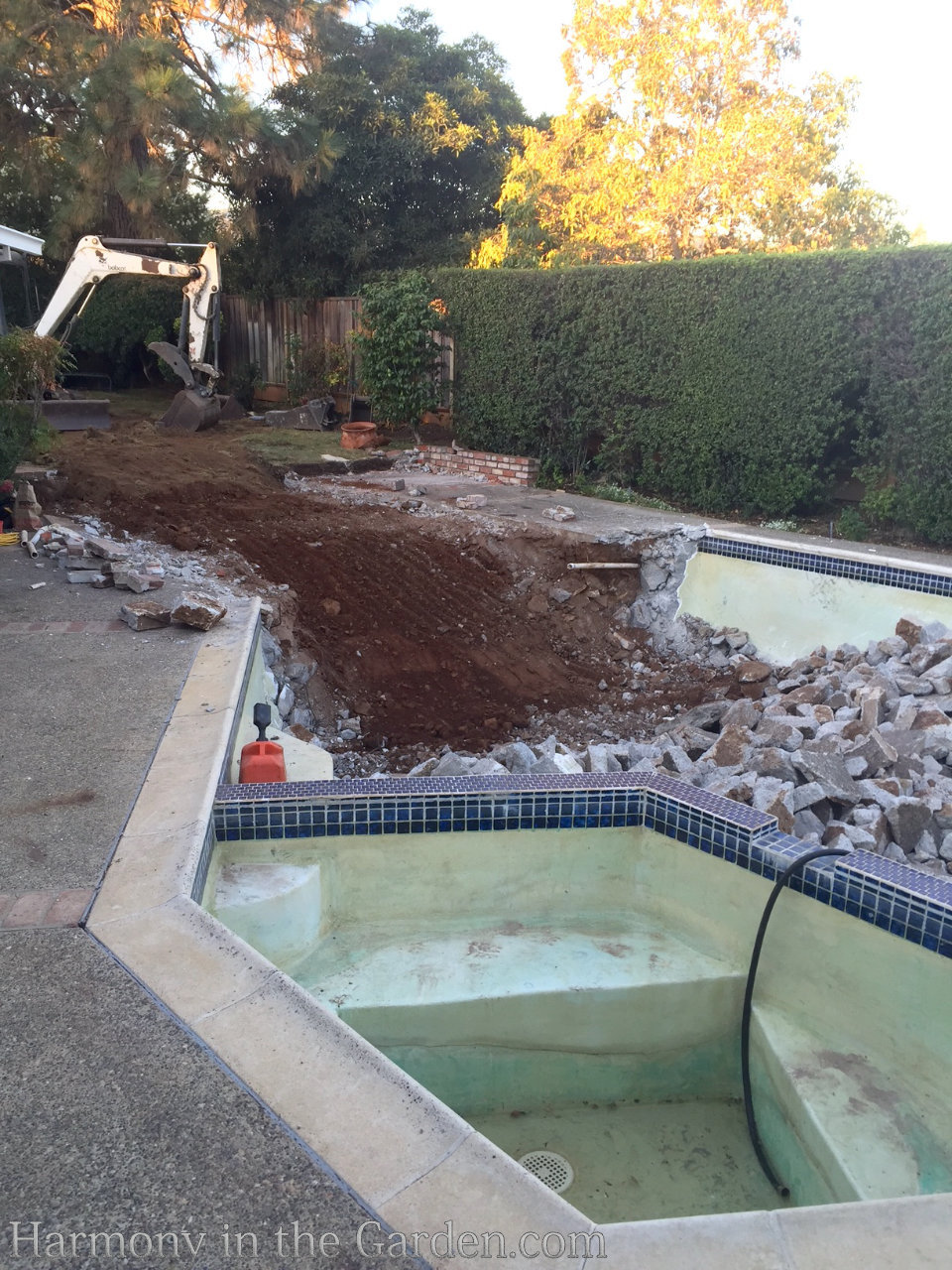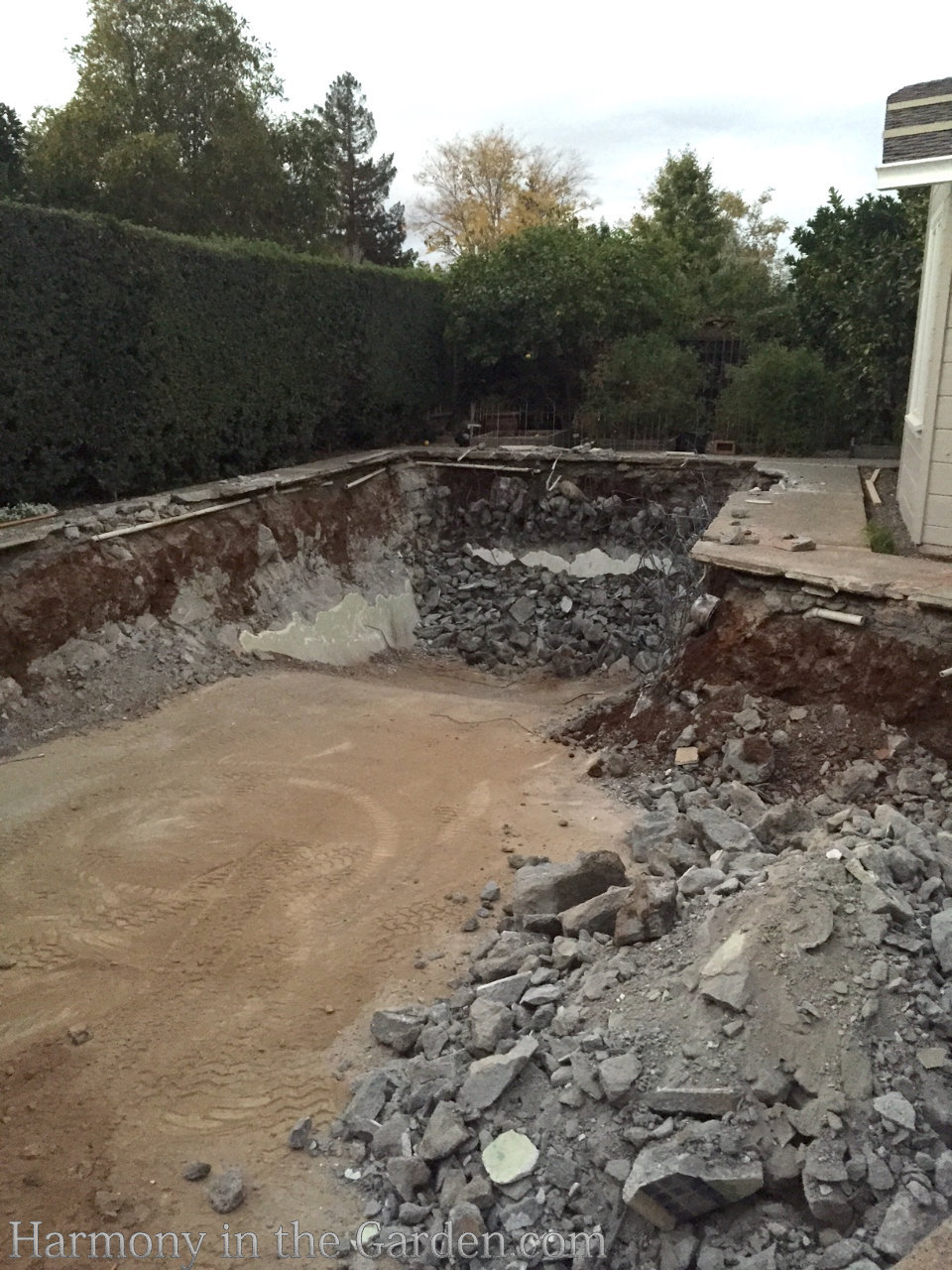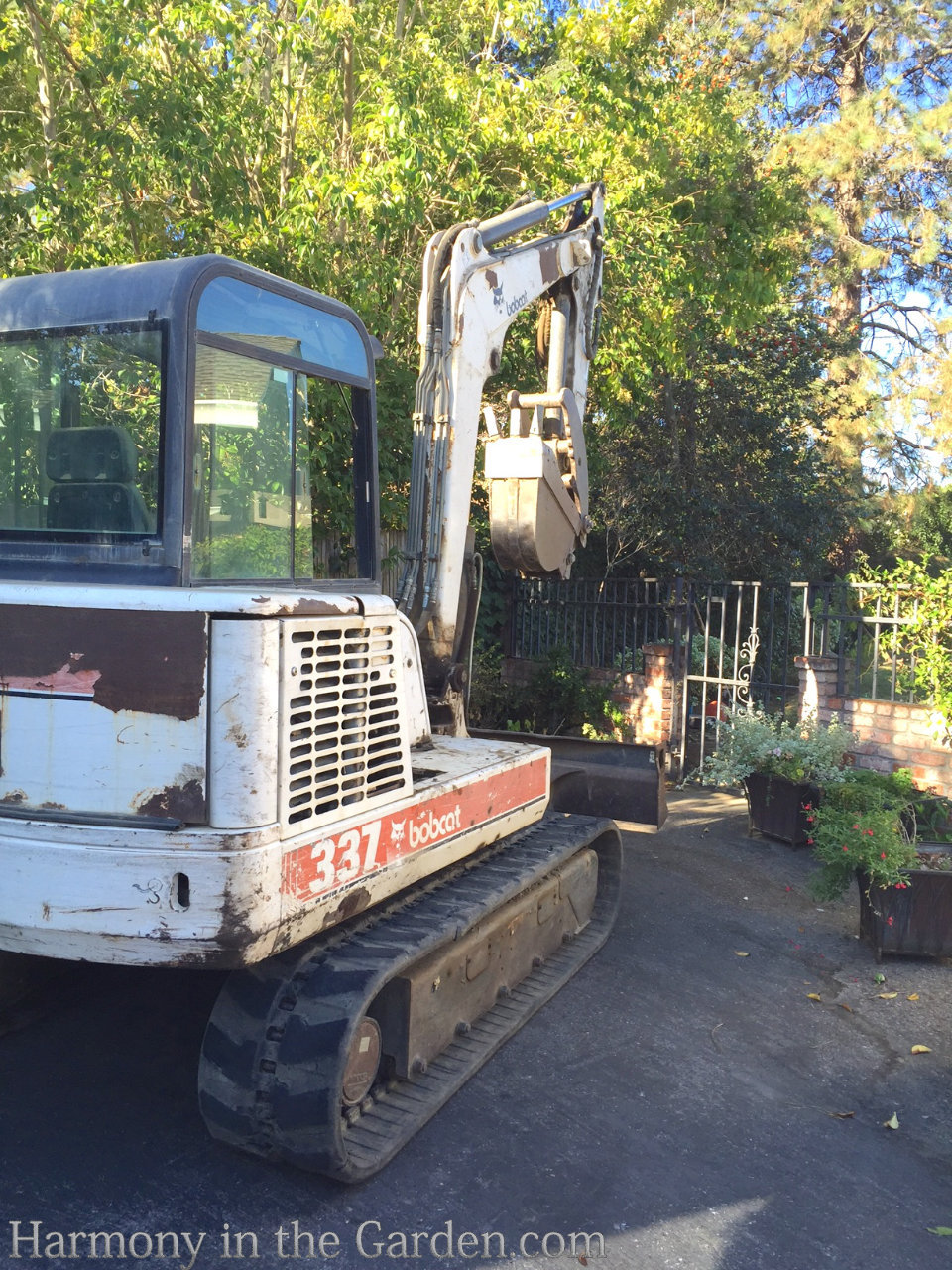 Since the entire family was pretty nervous about the HUGE decision to remove their beloved pool, it was critical that I design their new garden with elements that would help create a whole new batch of family memories.
We achieved this by including something for everyone in the family.
We gave this patio a facelift by creating a more spacious Connecticut bluestone dining area to accommodate lots of impromptu entertaining.
Surrounding the new patio is a low retaining wall which also doubles as extra seating, when needed.
We made sure to leave lots of space surrounding the table for their daughter's seasonal containers (a budding passion of hers, which of course thrills me!)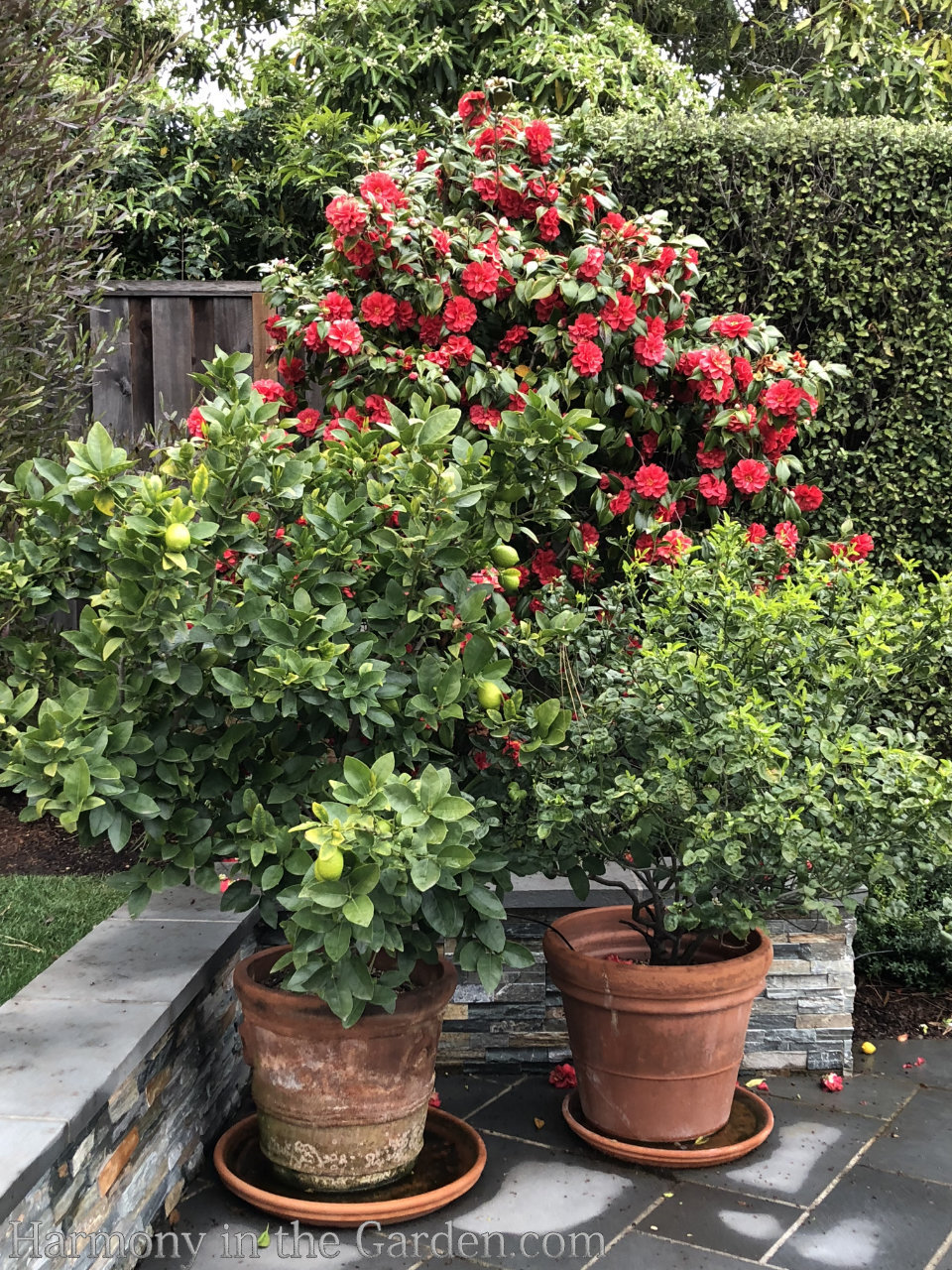 The overflowing containers on both sides of the dining table are amazing.
On one side are scented, old-fashioned roses, geraniums, and citrus.
On the other side of the table is their ever-growing collection of succulents.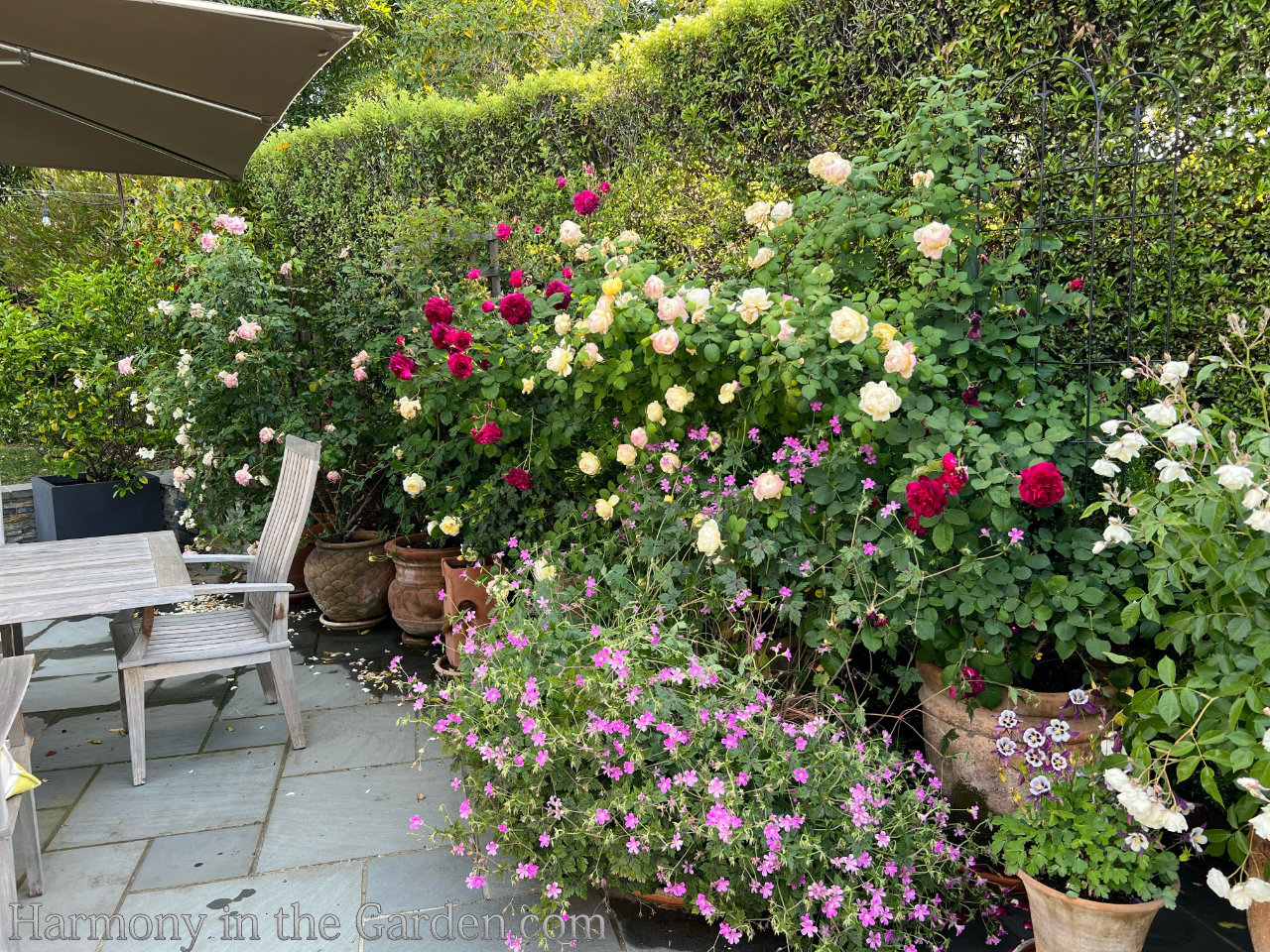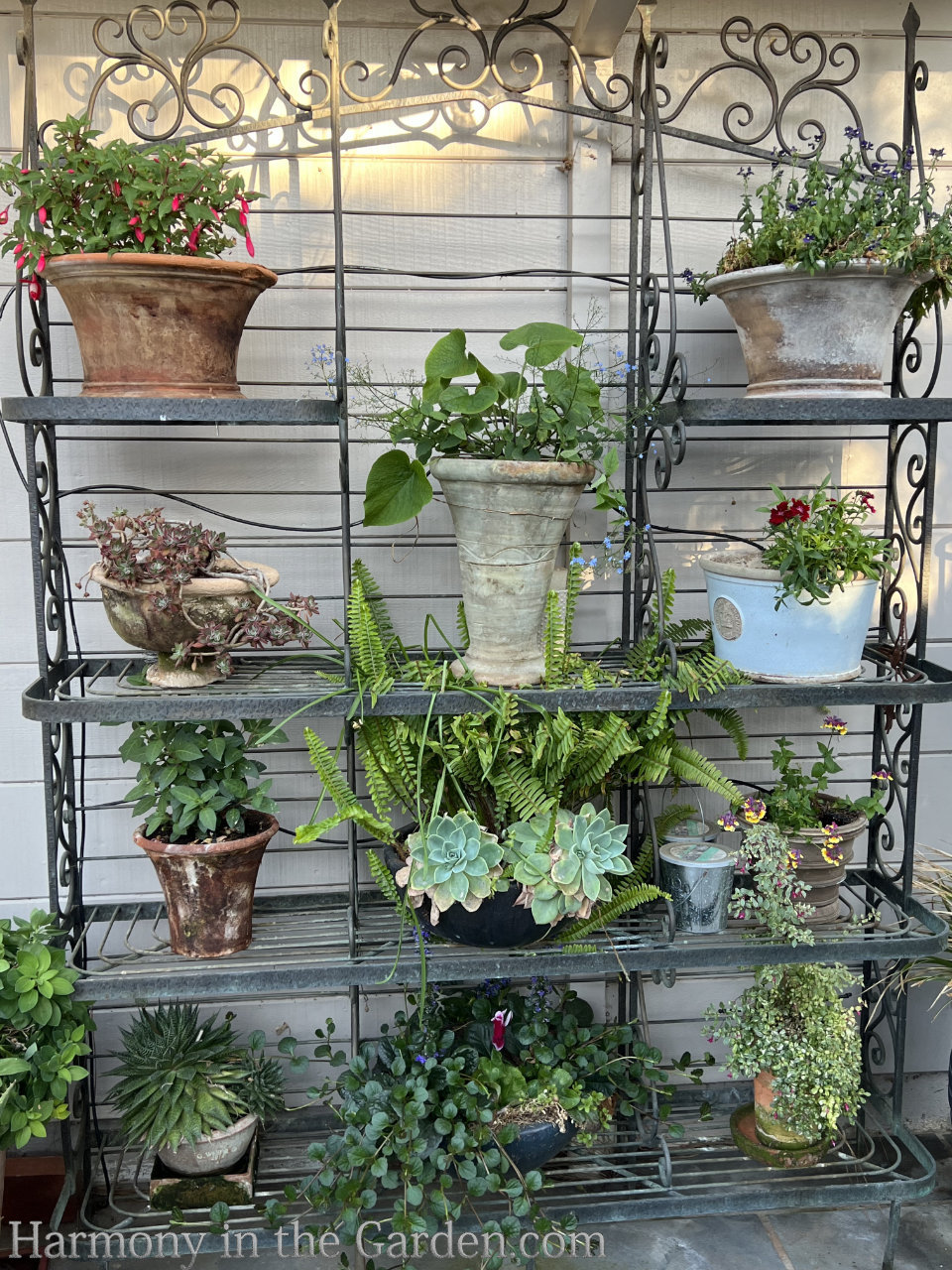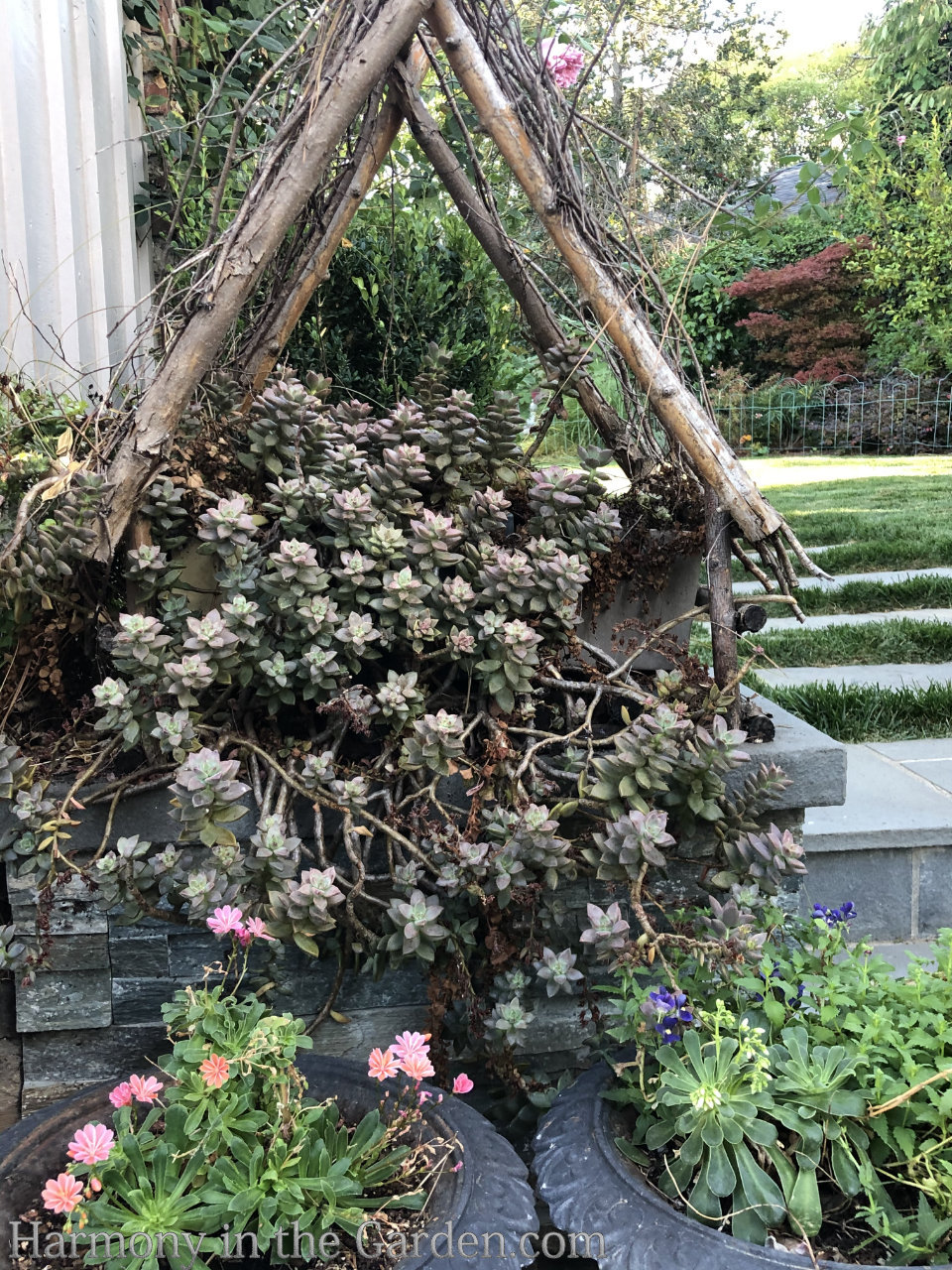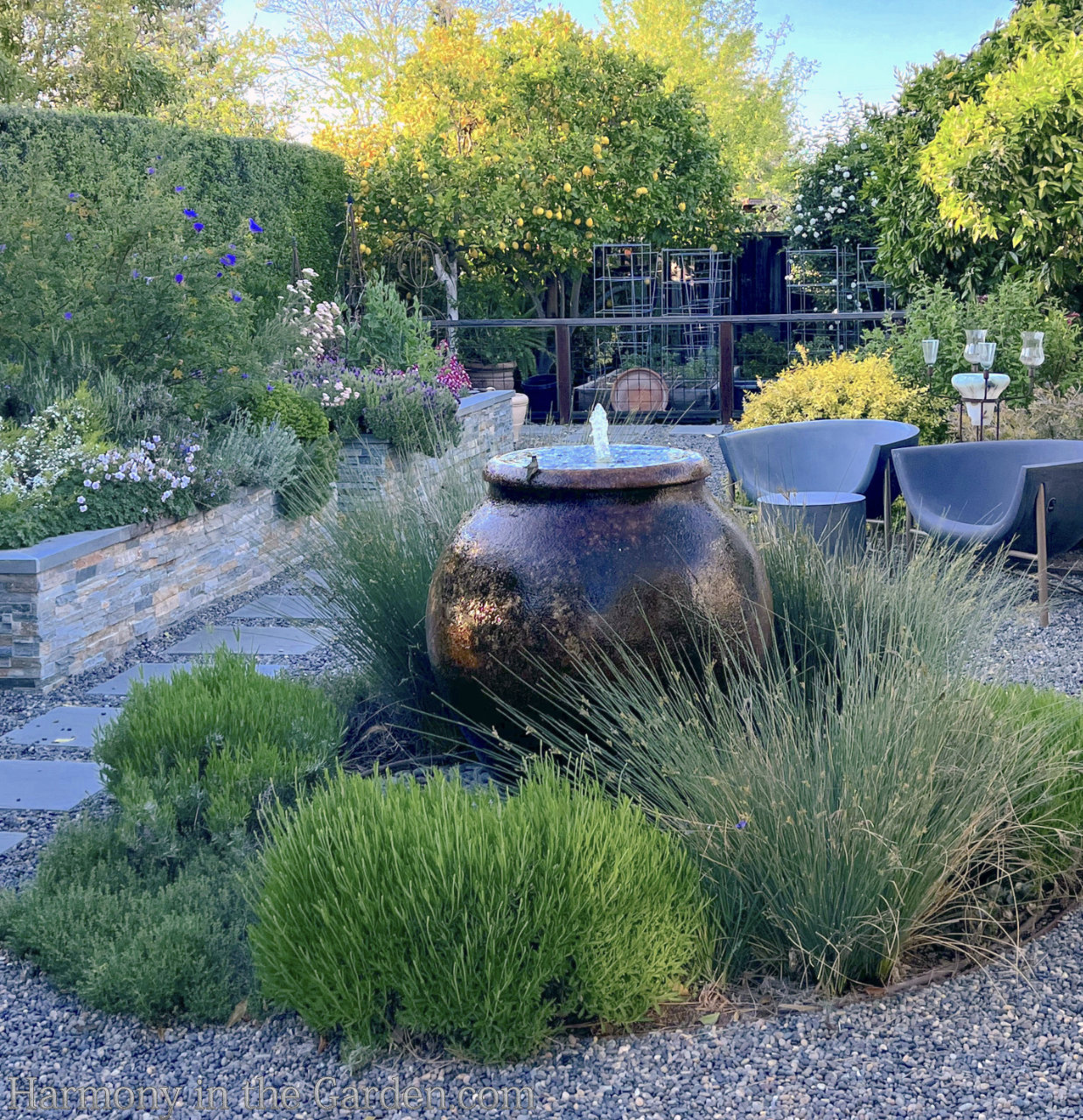 Adjacent to the patio is the focal point of the garden – a stunning fountain conversion from an antique olive jar from Eye of the Day Design Center.
Nestled around the fountain is a mix of lemon thyme, dwarf lavender, and blue fescue grass. 
Instead of lawn or bark chips as a ground cover, we decided to use small, smooth La Paz pebbles, adding a wonderful feel and sound when walked on.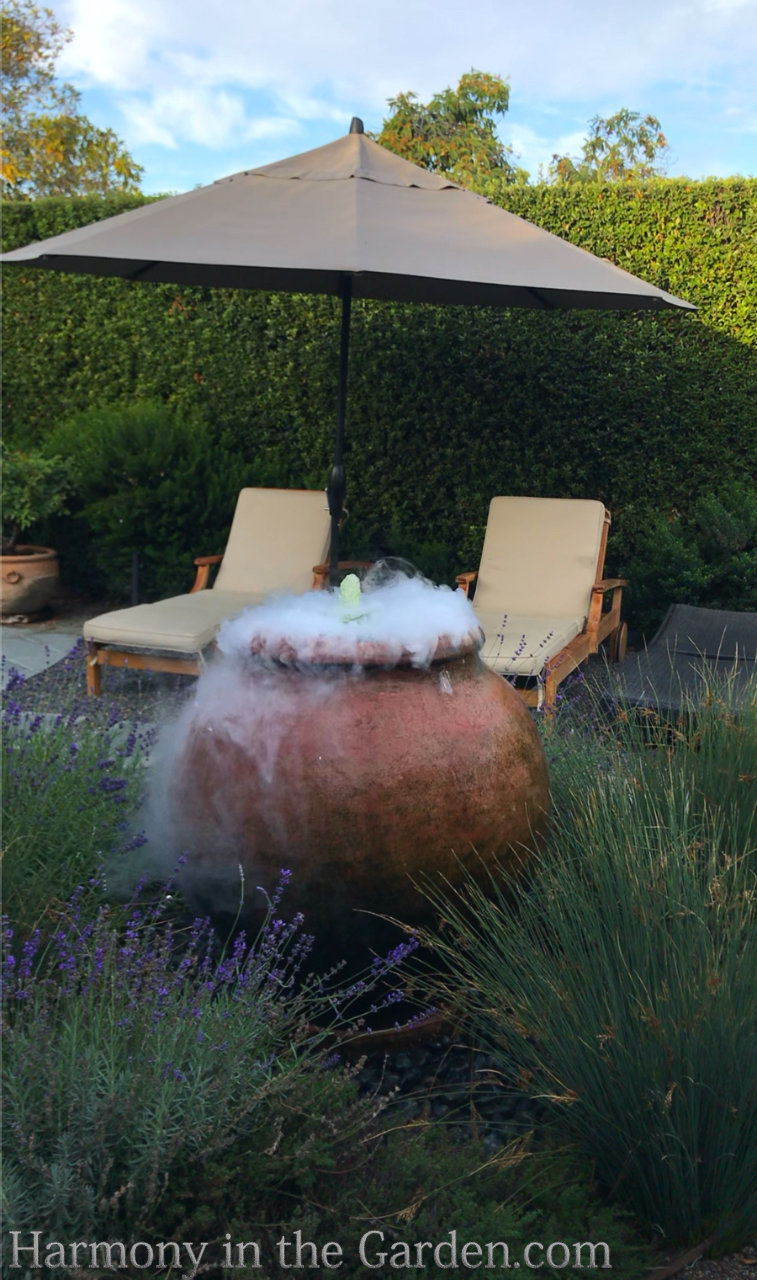 It's a somewhat simple process to convert almost any type of container into a fountain. 
Click here to see another example, as well as find information on how to do this.
And, when Halloween rolls around, just add a little dry ice and the fountain becomes a party focal point!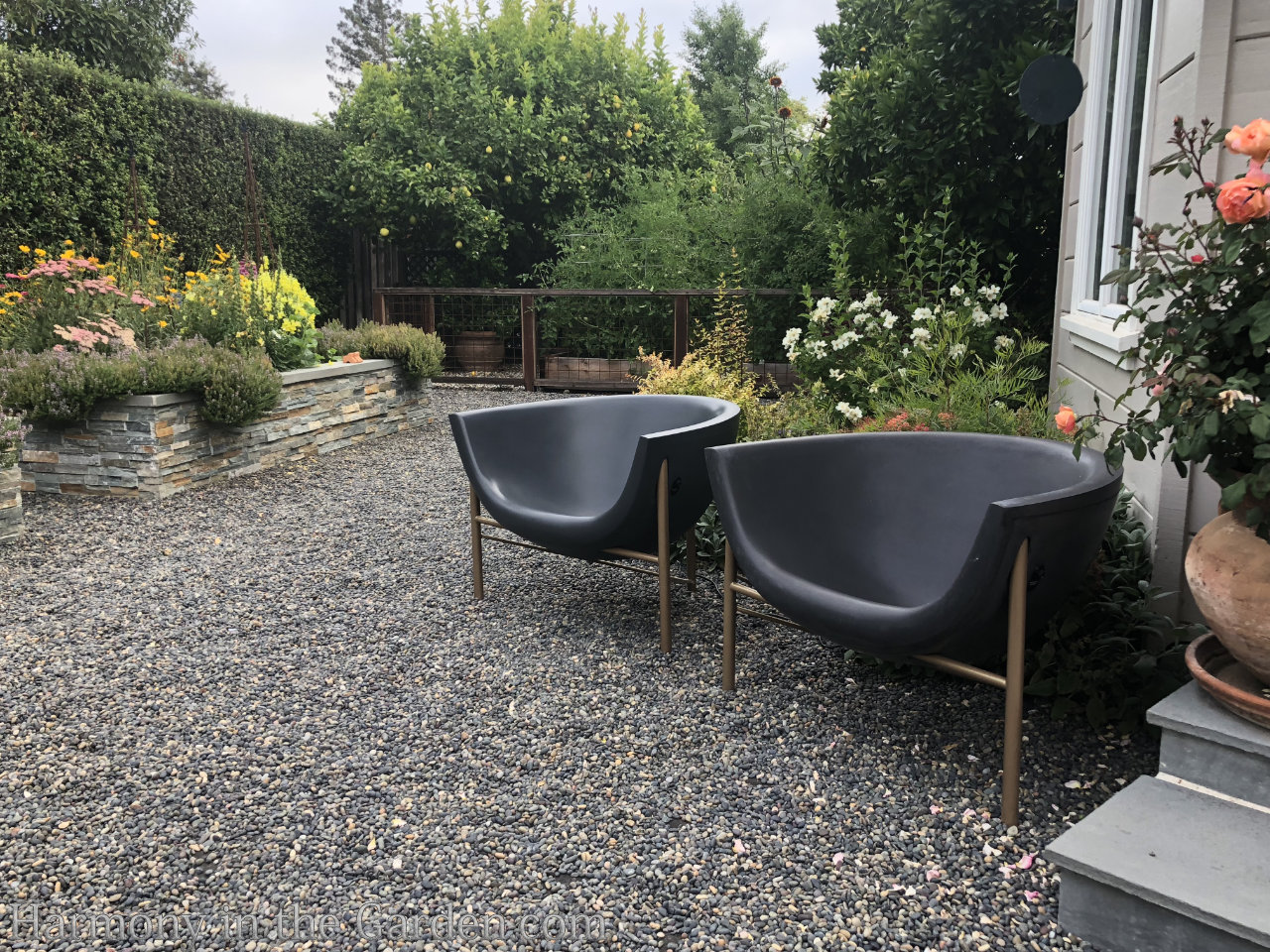 Near the fountain are lounges for the sunbathers in the family, as well as a pair of heated Galanter & Jones chairs. 
Yes, I said heated!
I can't emphasize enough how incredibly comfy and cozy these chairs are when there's a chill in the air – my favorite chairs ever.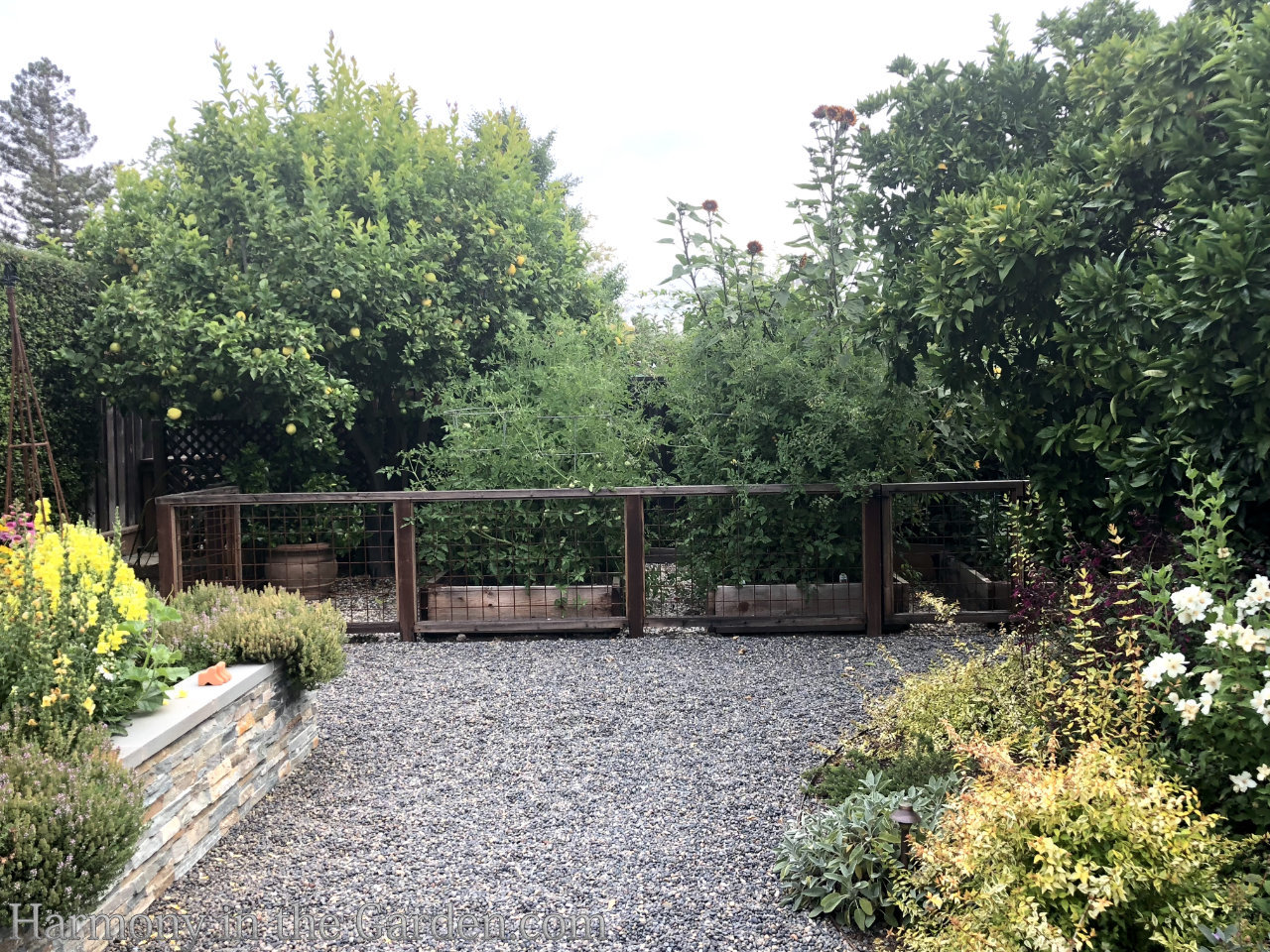 Each year, her husband grows heirloom tomatoes from seed, so he wanted a space where he can continue to grow them (along with other crops of beans, peppers, and corn.)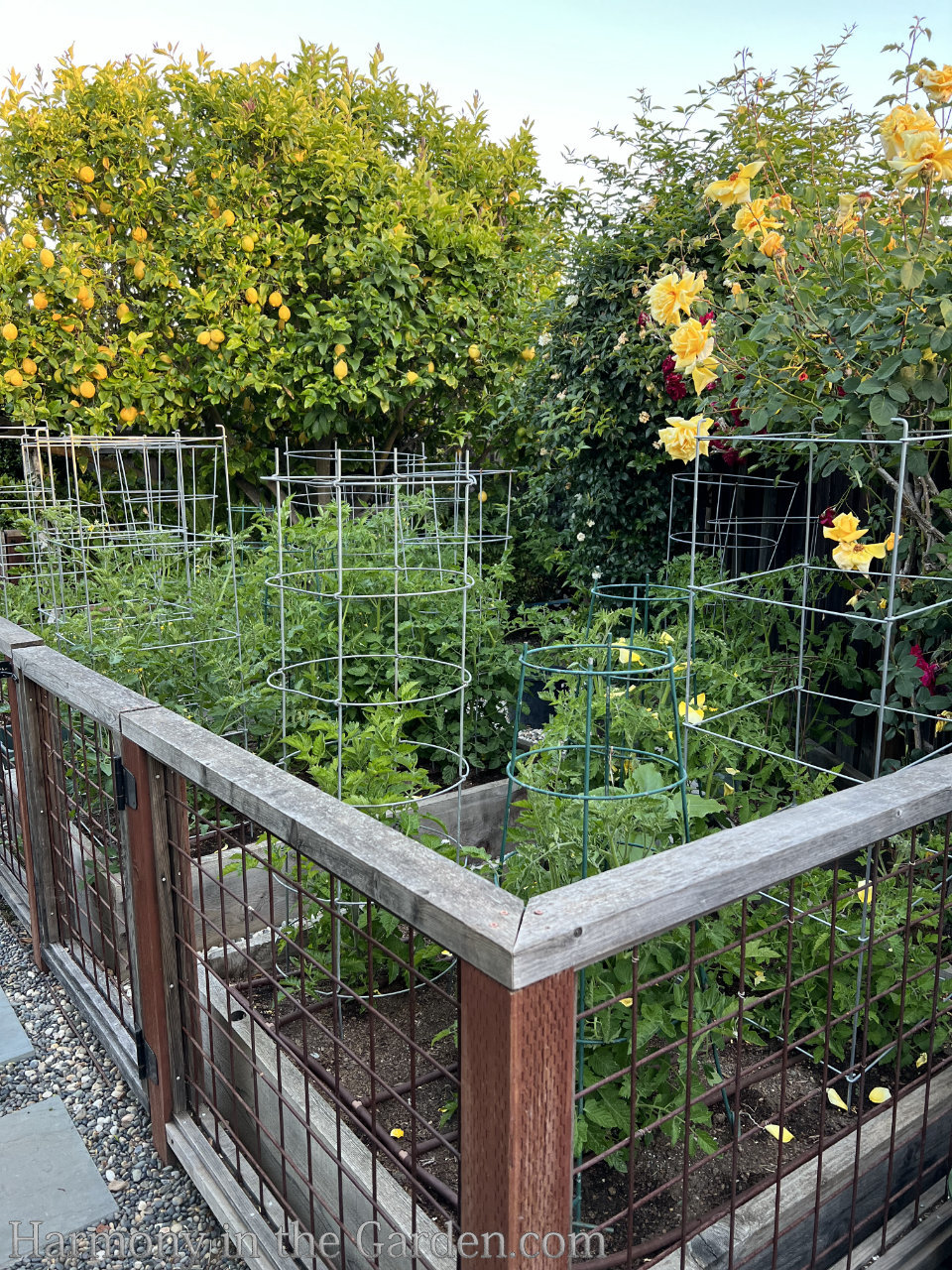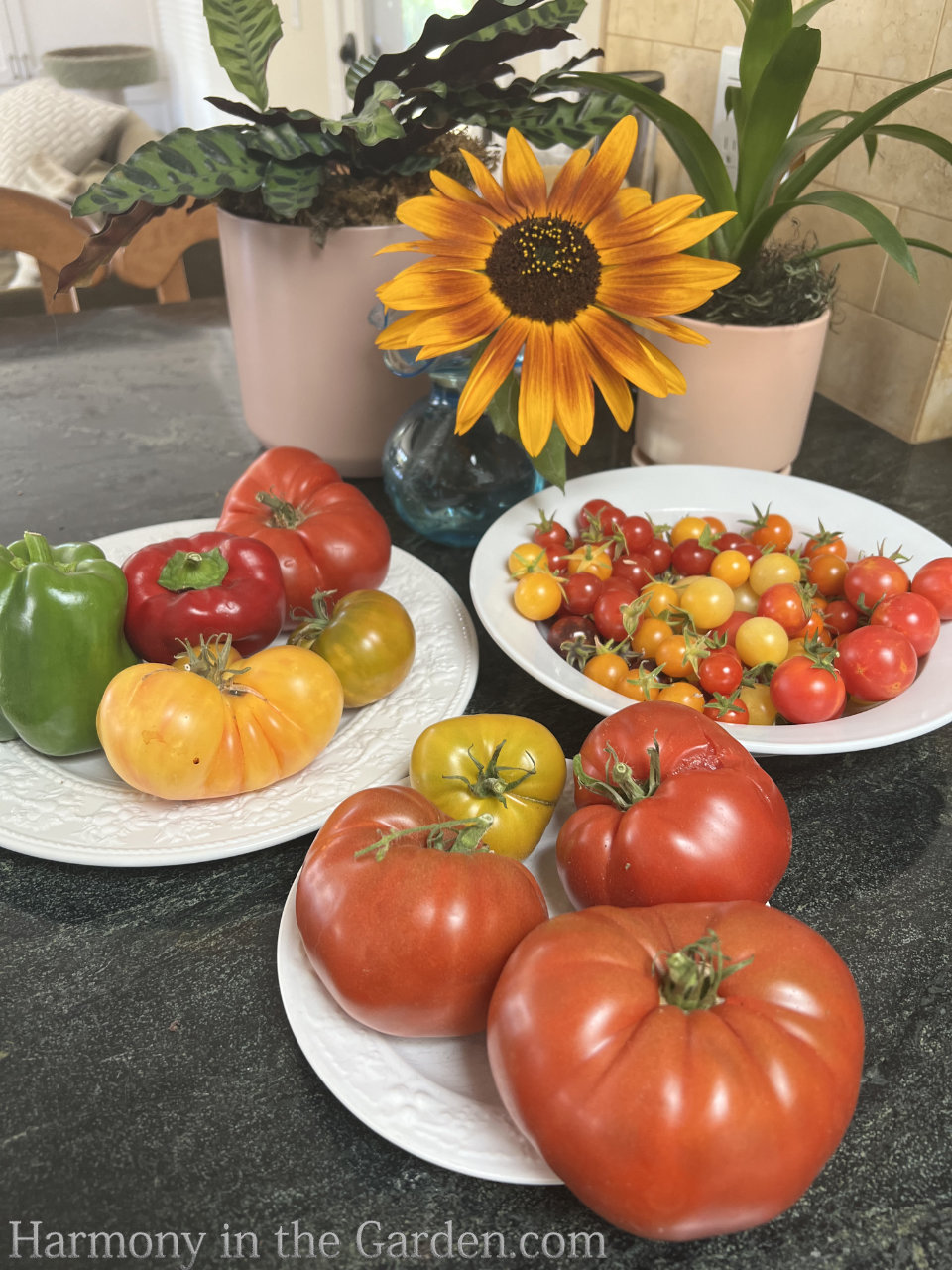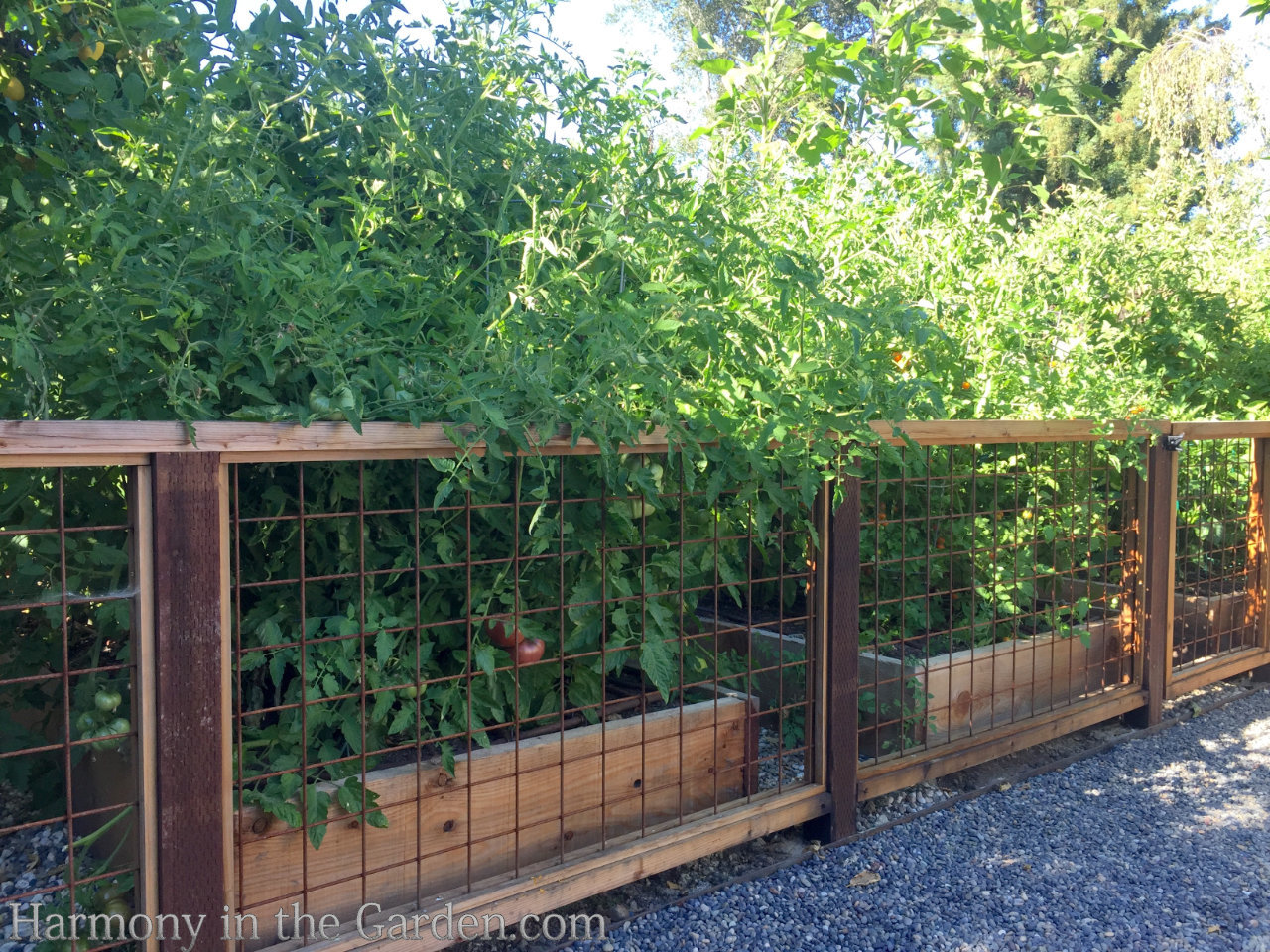 The garden is small, but we were able to create a space at the very end that would have enough sun for his vegetable beds, complete with a see-through fence to keep out their rambunctious puppy.
The fence was built with redwood and corten steel.
We created a see-through grid, leaving it open not only for air circulation but because we didn't want to visually 'block off' the garden, which would make it appear smaller.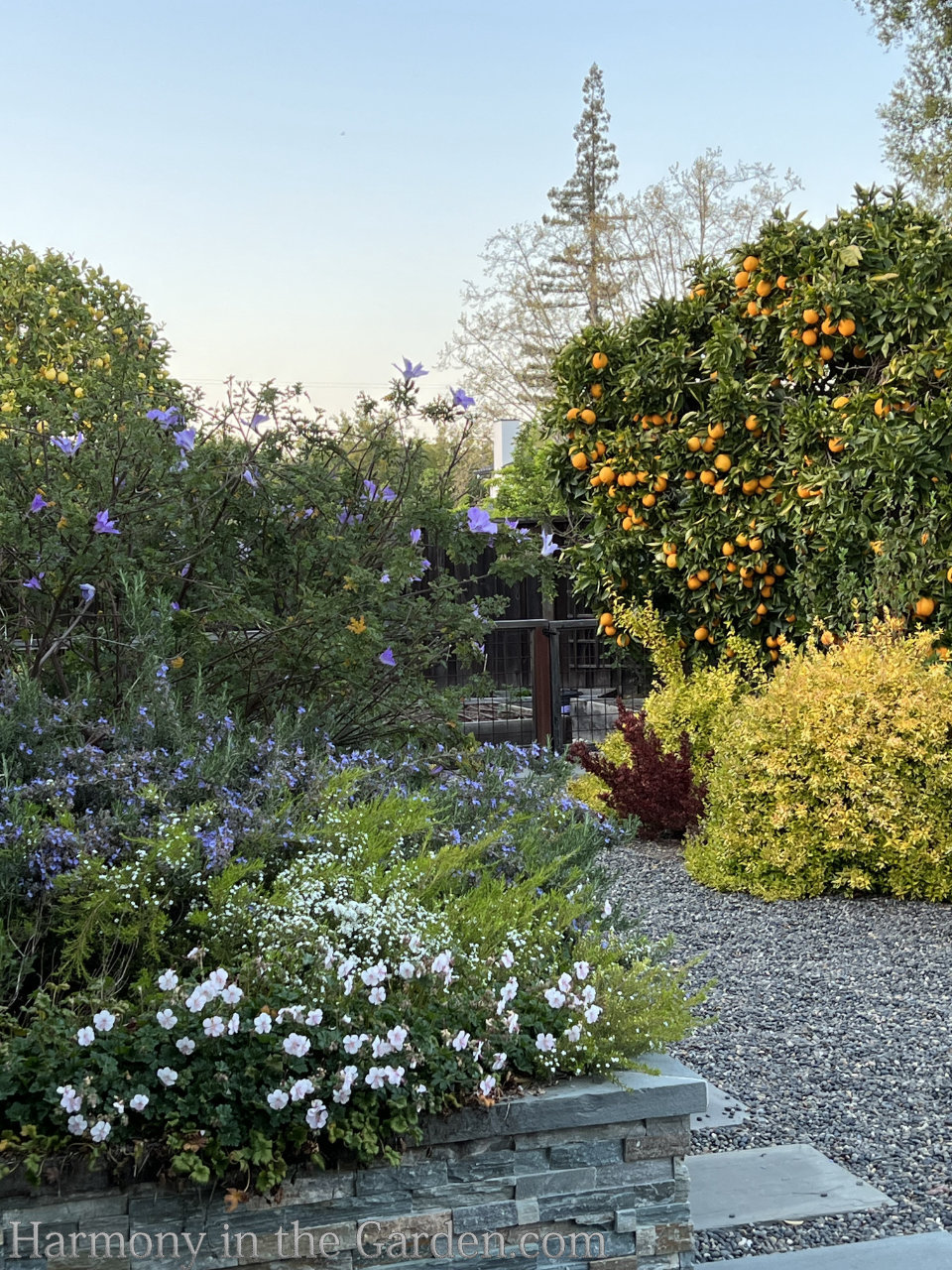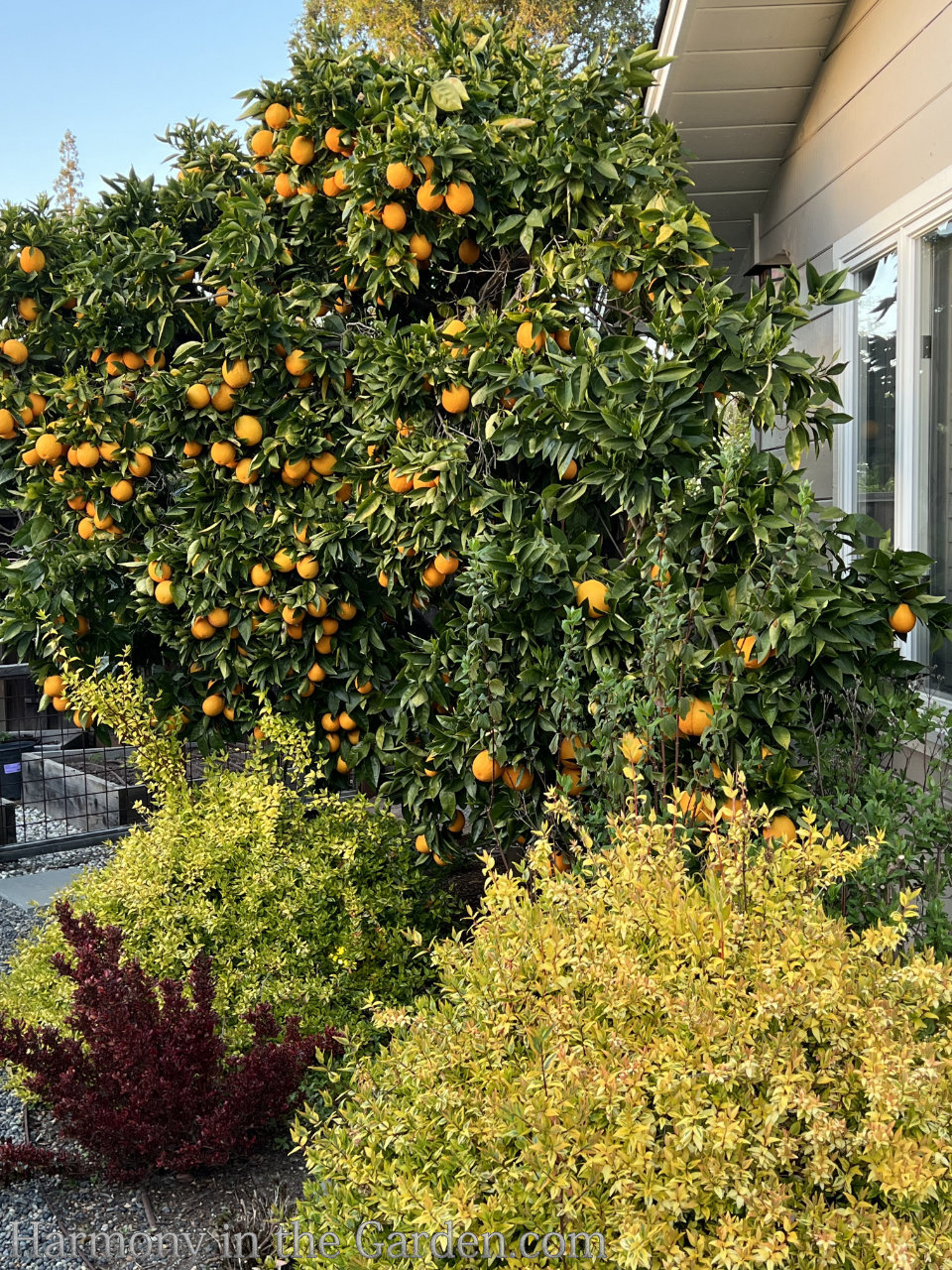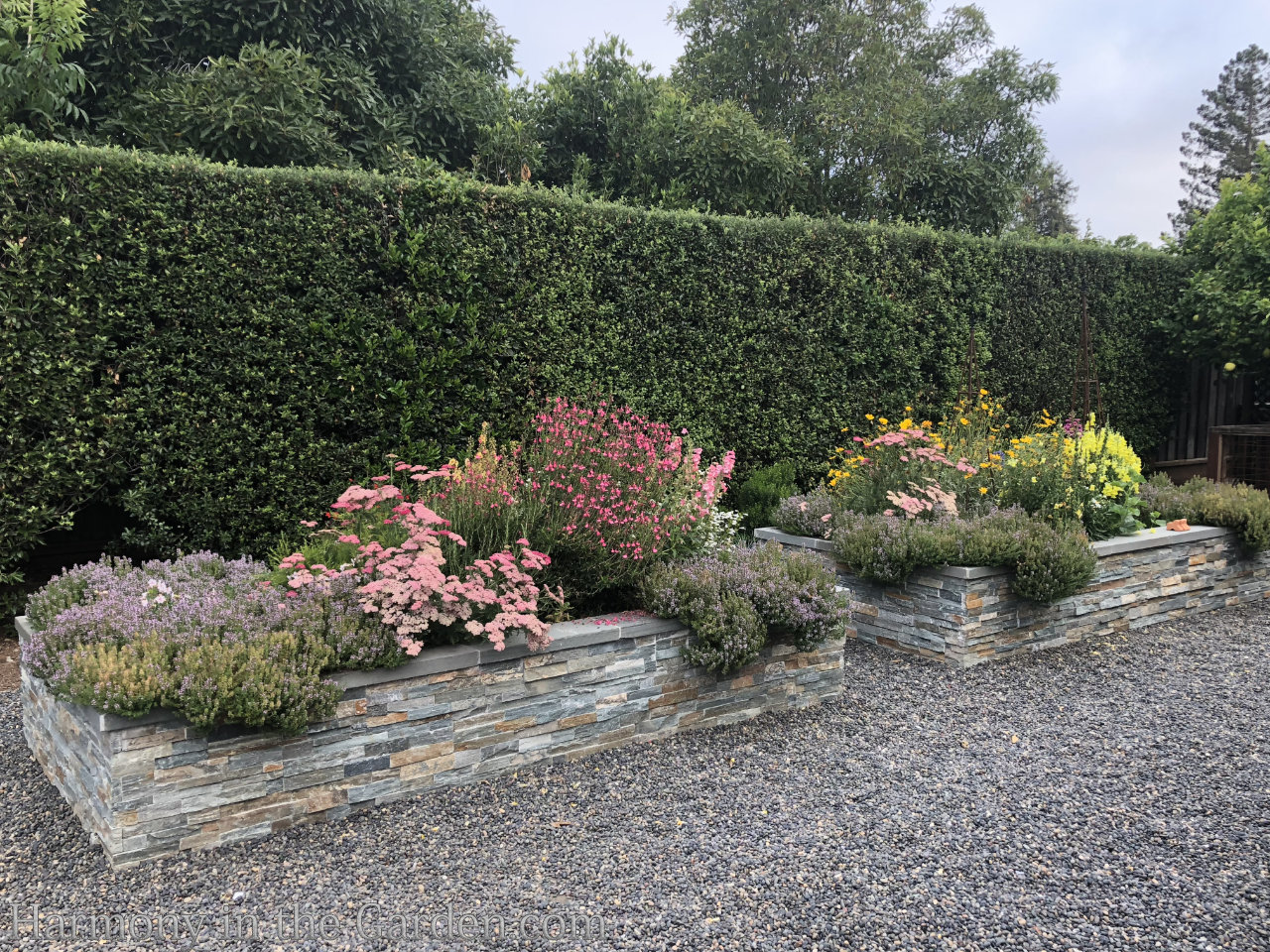 Next to the fenced vegetable garden are two stacked-stone raised beds designated for cutting flowers and herbs.
They've had so much fun over the years trying different cutting flowers and herbs.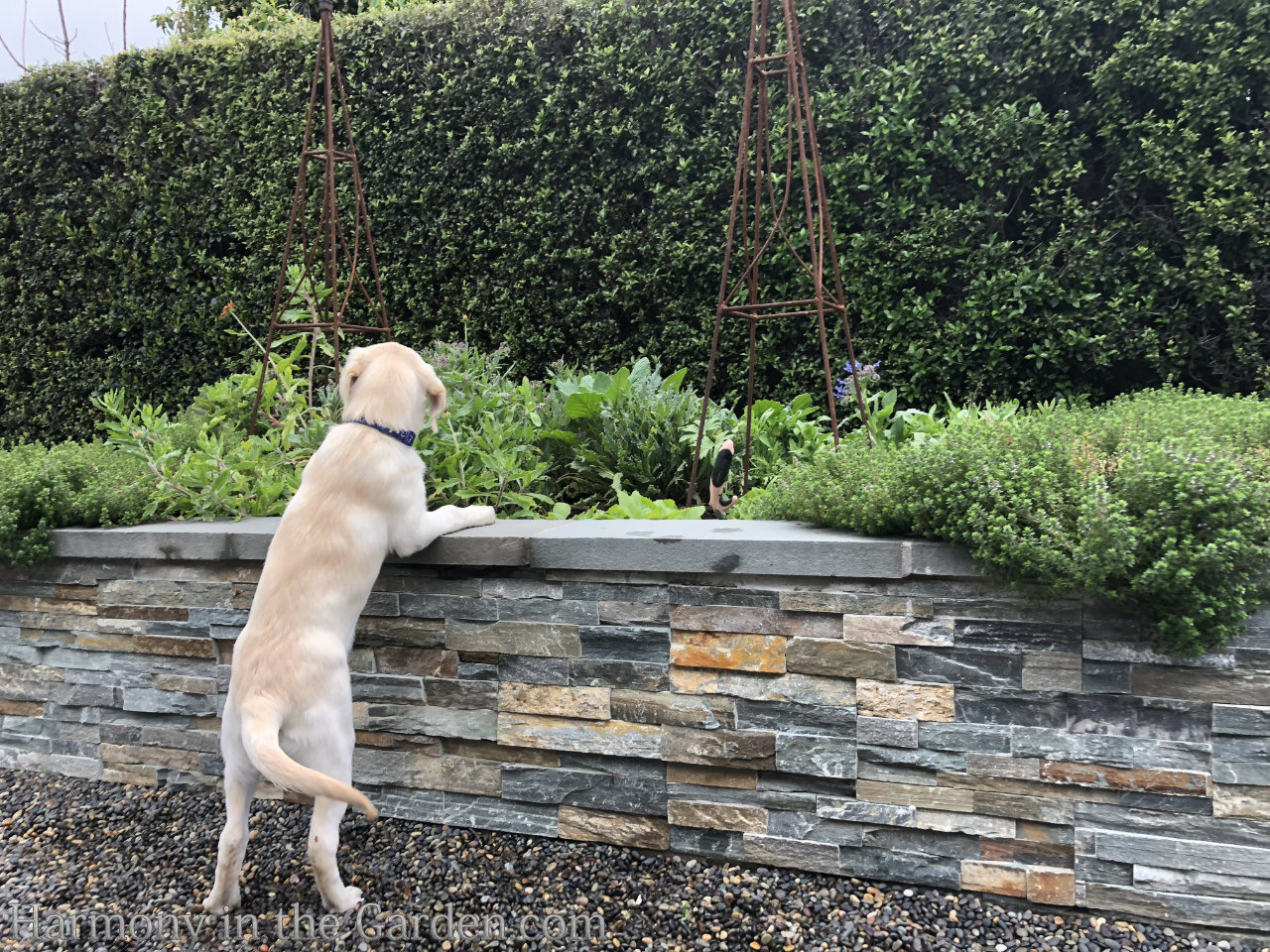 These raised beds not only provide plenty of bouquets for the house but also protect the plants from marauding puppies!
I love how the 'Lemon' thyme drapes over the edges, softening the harsh lines.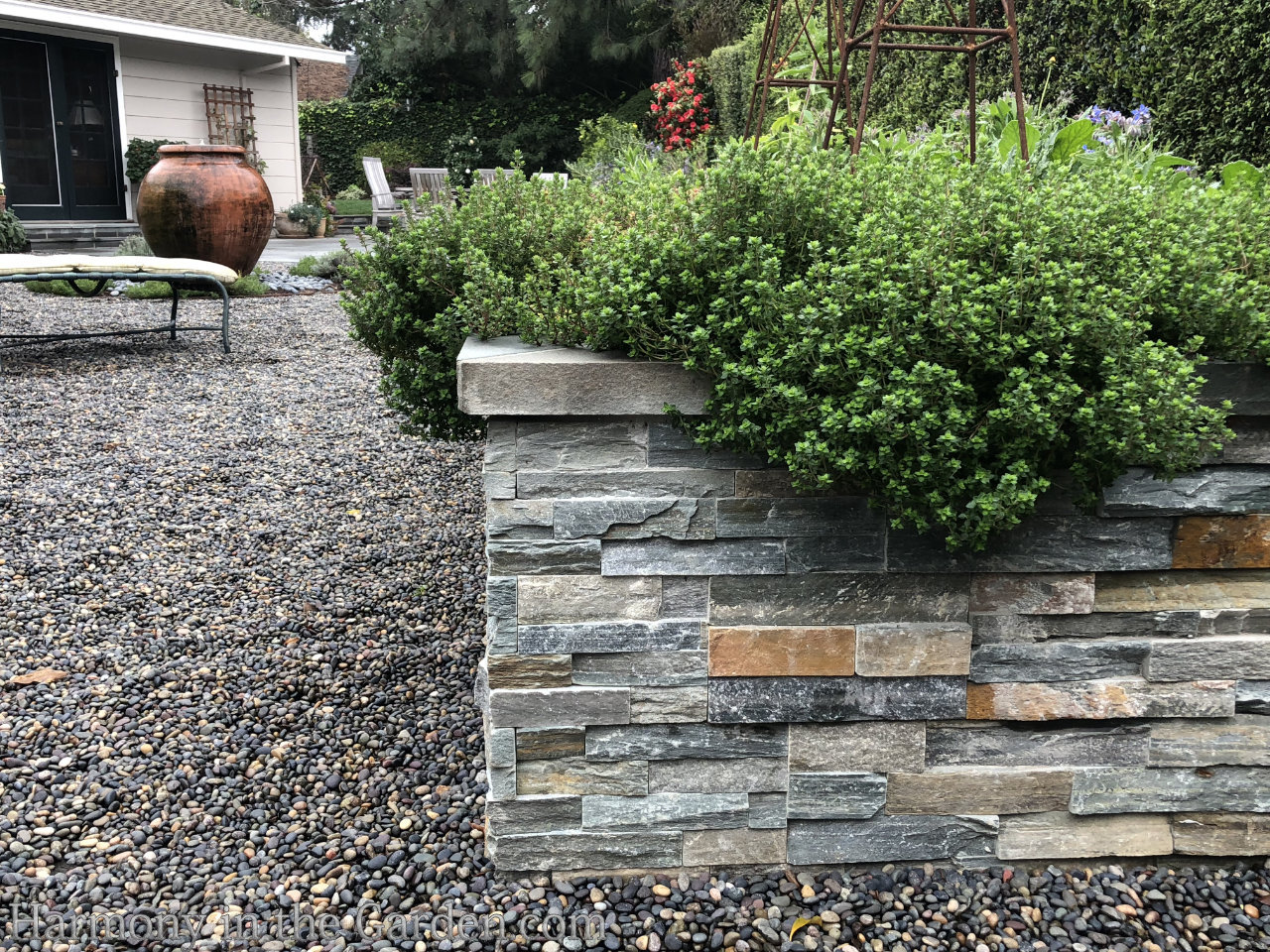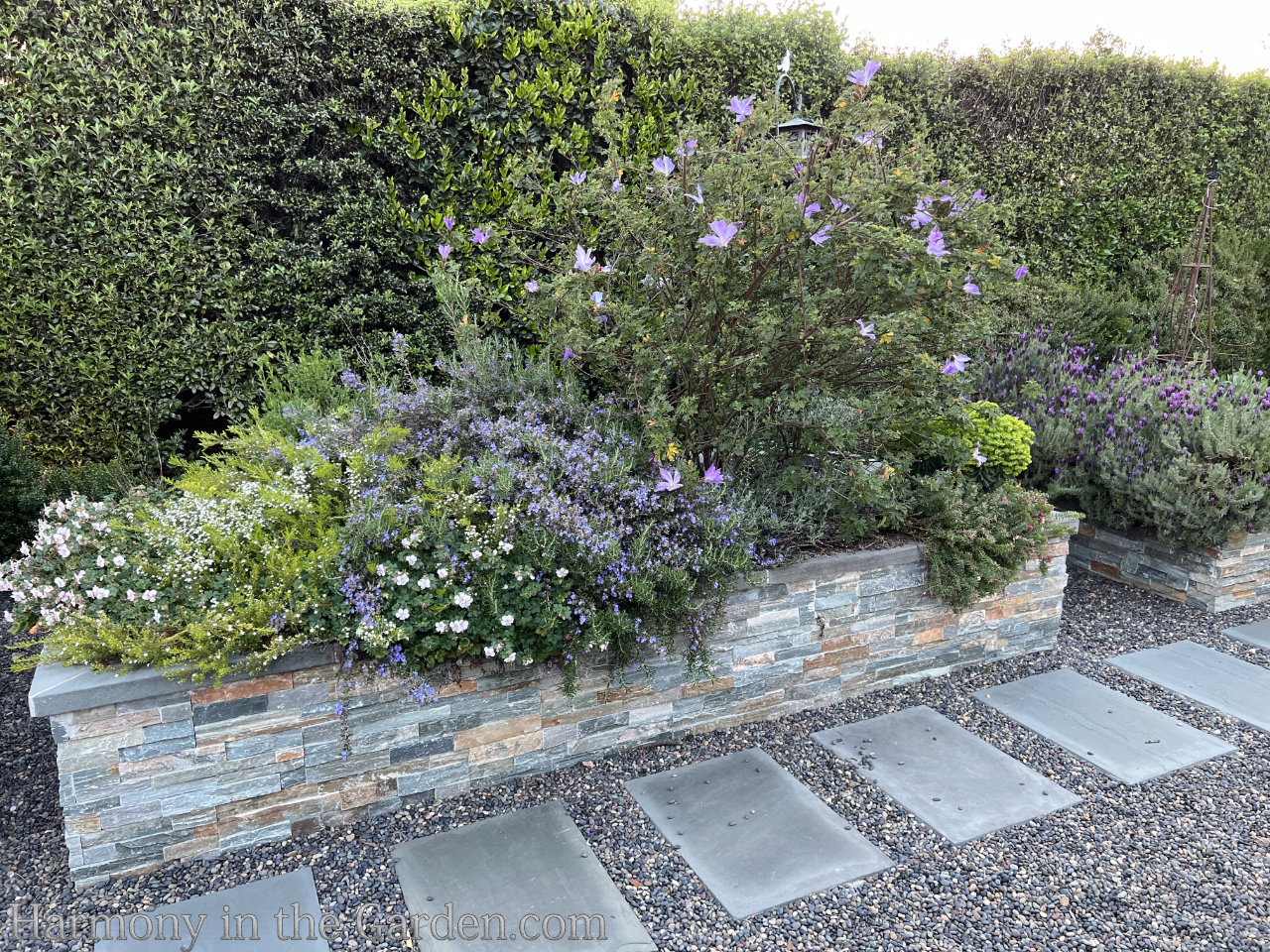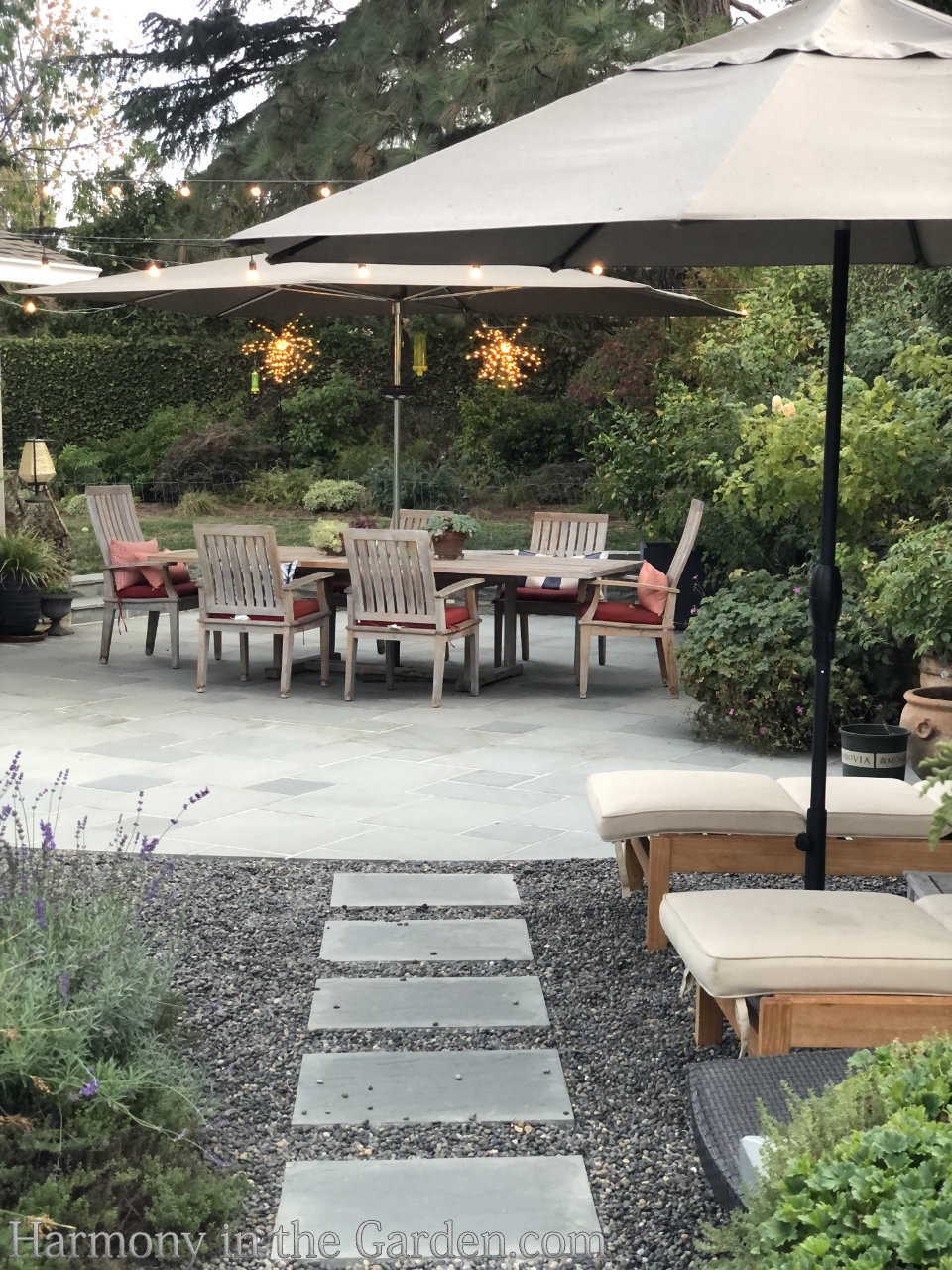 Removing a pool is certainly an expense, and a long process, but in the end it's worth every penny and every Excederine!
I hope you've enjoyed seeing this pool's transformation, as much as I enjoyed helping to create it!
Oh, and if you'd like to see the transformation of their front garden, click here.