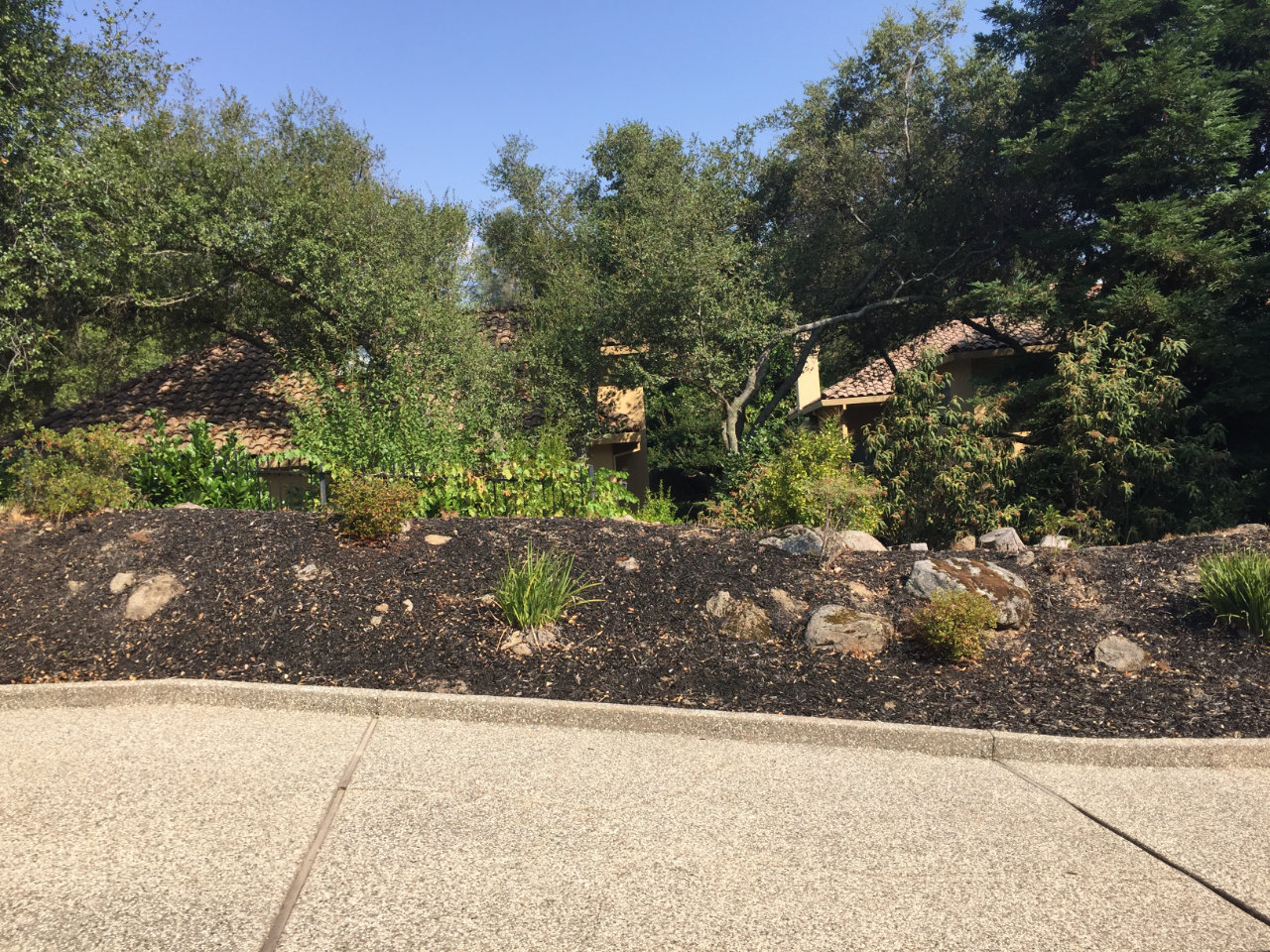 It's been no easy feat designing a barren berm and transforming it into a pollinator paradise.   But, five years later I'm happy to say it's been a huge success.  
Believe it or not, the depressing photo (left) is now one of my favorite areas of the garden (below.)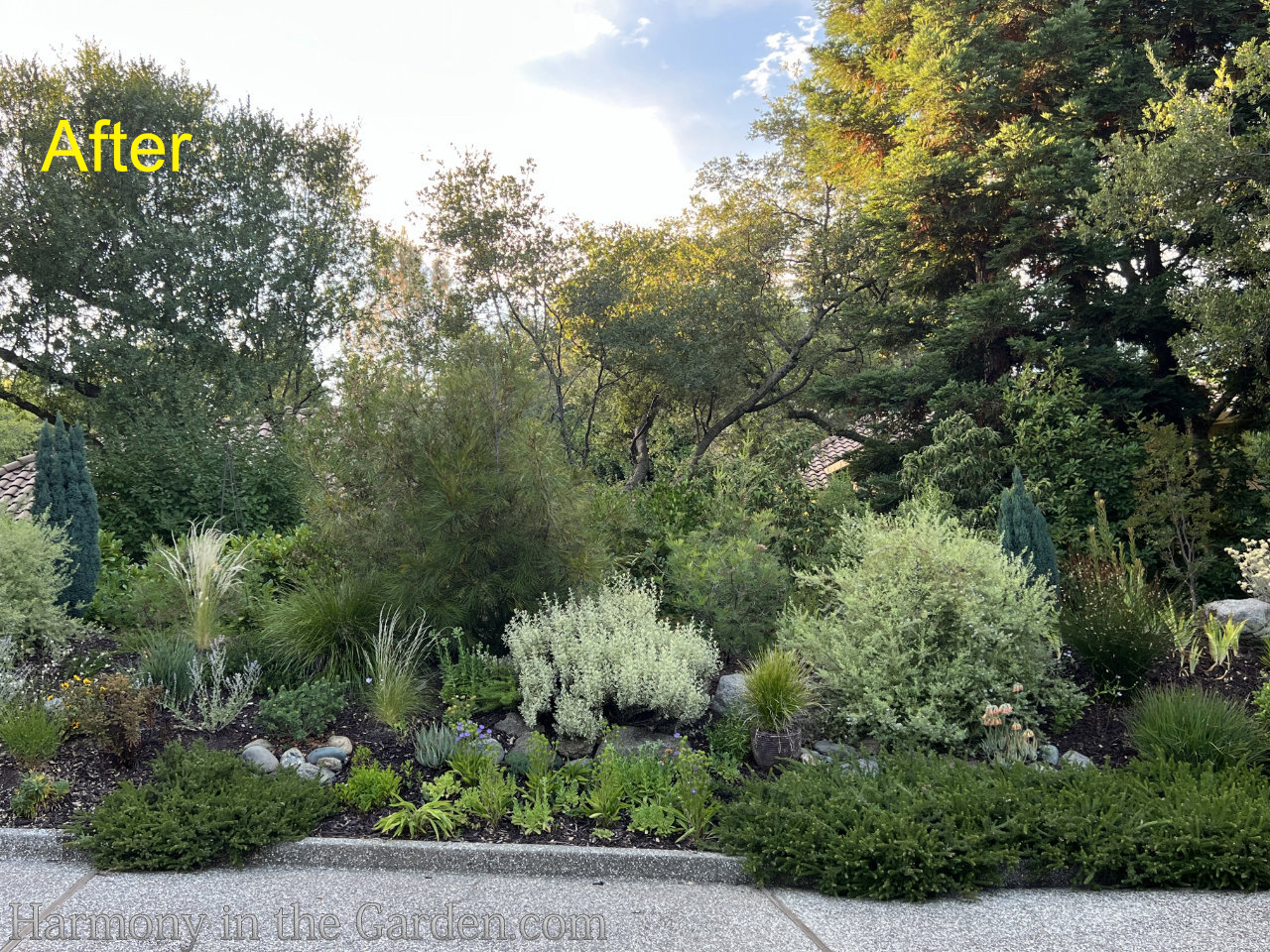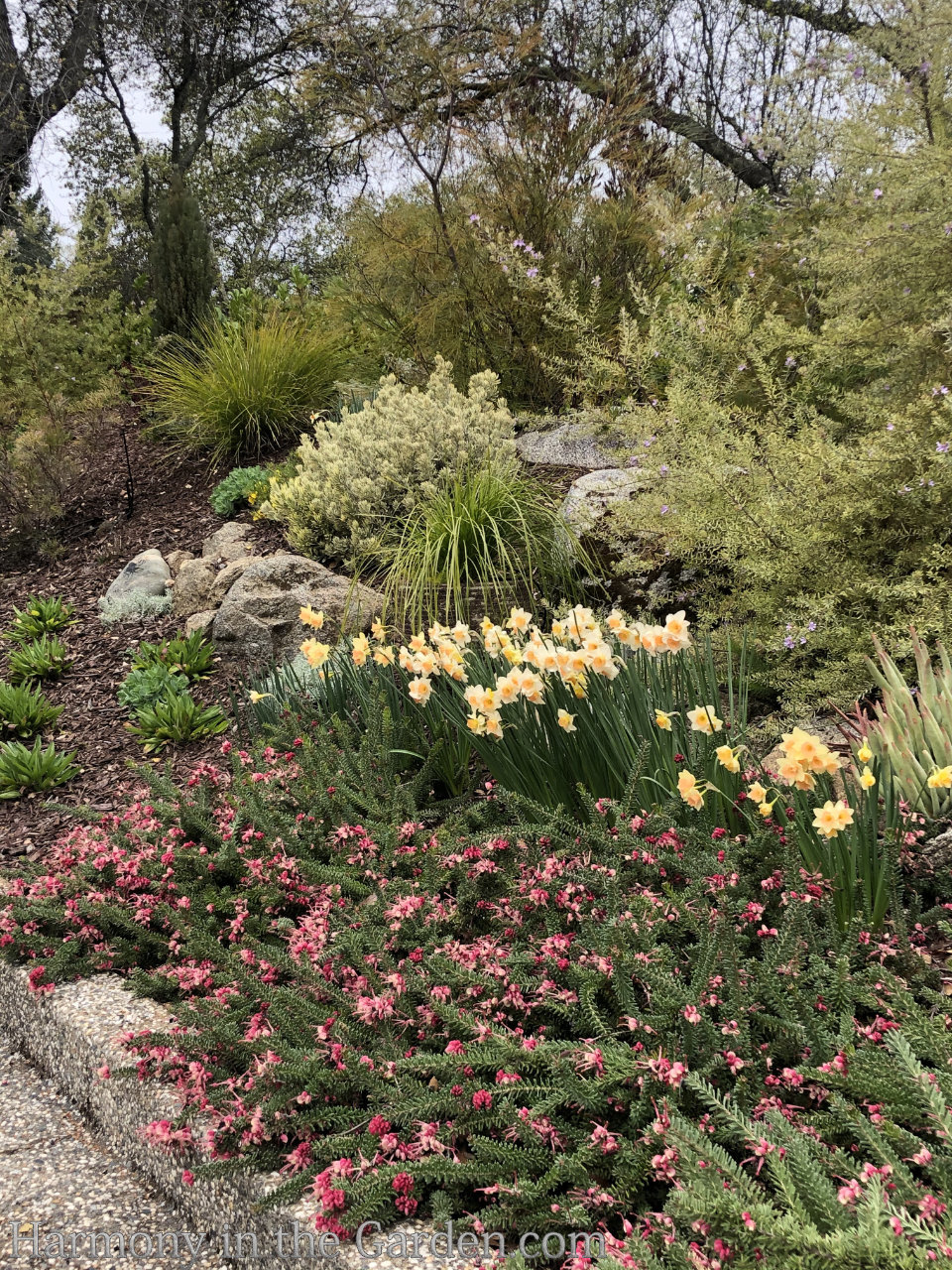 When designing gardens for others, I always like to include a berm whenever possible (click here, and scroll down for more berm examples.) 
However, the berm I inherited wasn't a subtle 14-16 inch high mound, but one with whopping dimensions of 70-feet long by 5-high. 
Overwhelming, to say the least.
Other challenges that I had to contend with were:
1) BLISTERING summer heat in full sun (think 110-degree days during a heatwave)
2) deer who have no problem grazing their way up the berm, and
3) the worst soil in the world.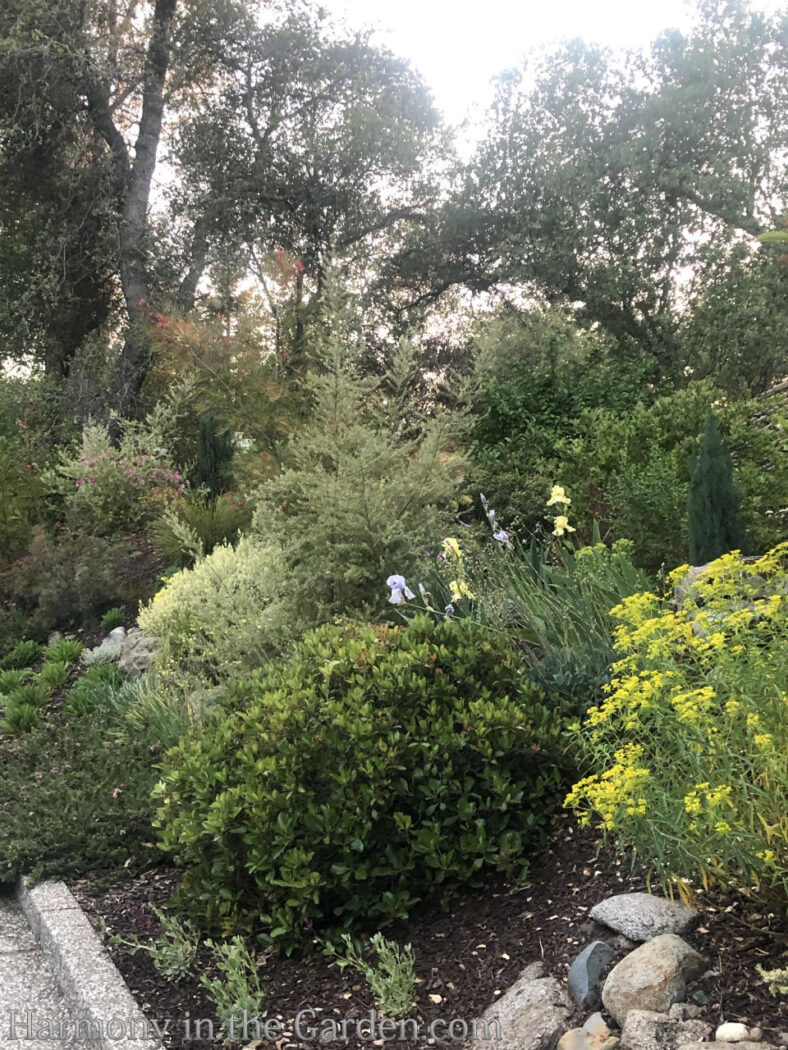 So first thing's first – I had to clean up this mess
I removed the faded dyed black bark (below.)  I don't like using black mulch as it quickly fades in our hot sun and ends up looking like it went through a fire – not a good look! 
I prefer using fir mulch as it blends in with the surrounding oak trees in my garden.
I've even used shredded mulch made from my fallen oak trees (in 5 years, I've lost 3 large trees in wind storms.)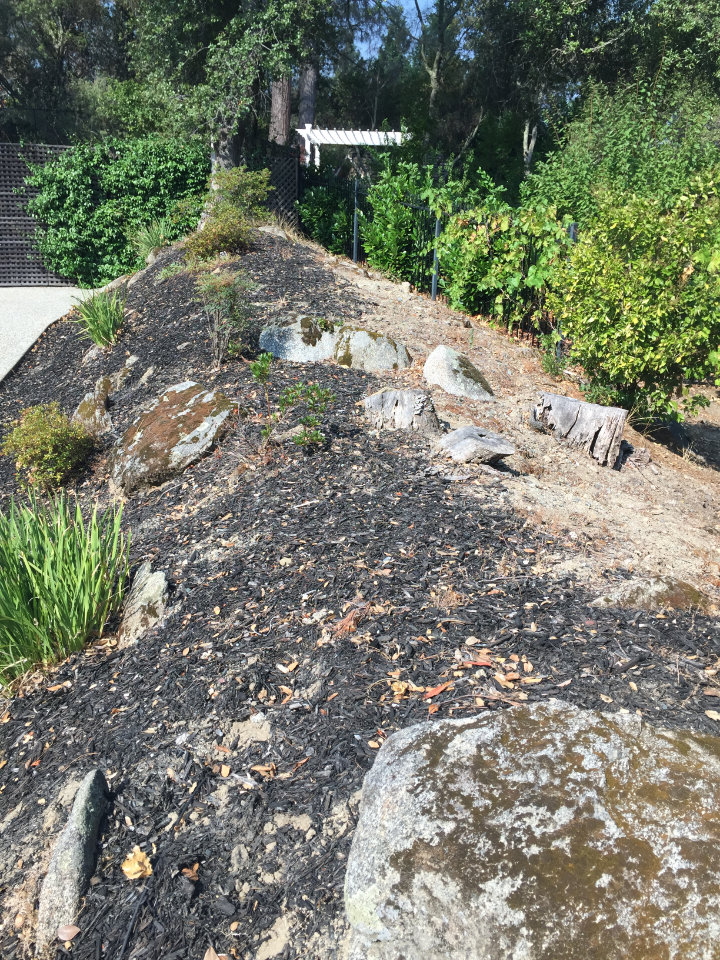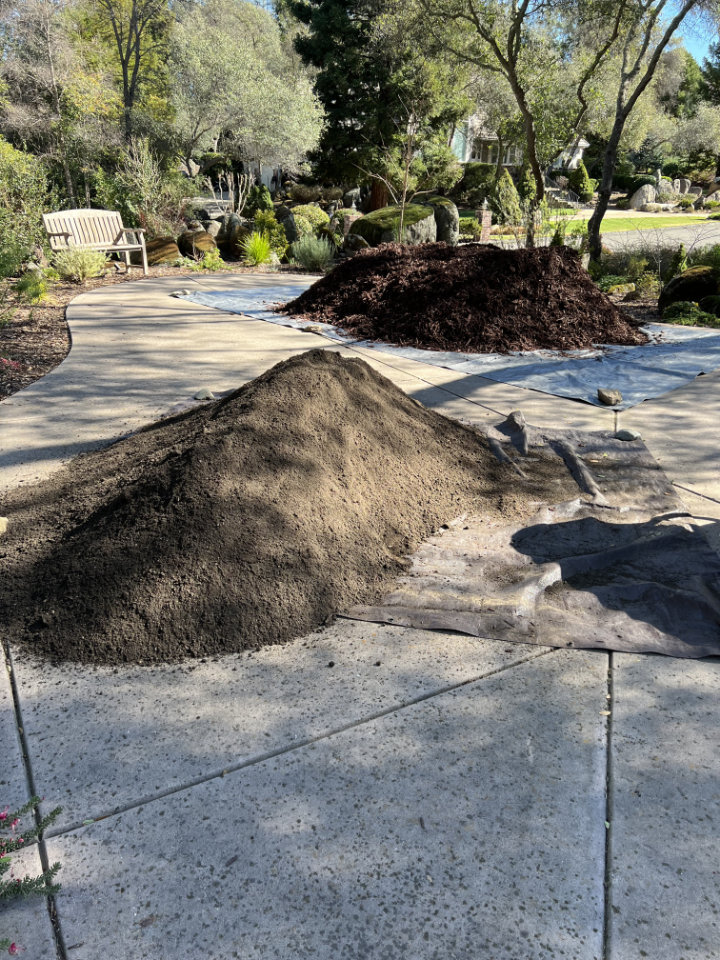 The next step was to Amend, Amend, Amend!
Having spent the past four years digging in this berm, it appears the original owners built this berm using any extra fill dirt they had, broken river rocks, and remnants of concrete.  
You should see how depressing my soil test results were – almost zero nutrients whatsoever!
So, for every hole that I've dug, I made sure to add in plenty of nutrient-rich soil. 
In fact, as I'm sure the original soil I added four years ago is long-gone,  I spent the past week amending each plant with a generous amount of compost.
Ideally, late fall/early winter is the best time to do this, taking advantage of the winter rain to help water in the compost.   But hey – better late than never, right? 
And, since it seems we're in for another drought this year, I also added another few inches of mulch to my garden. 
This helps the soil to retain moisture longer, keep the soil cooler, and helps prevent weeds.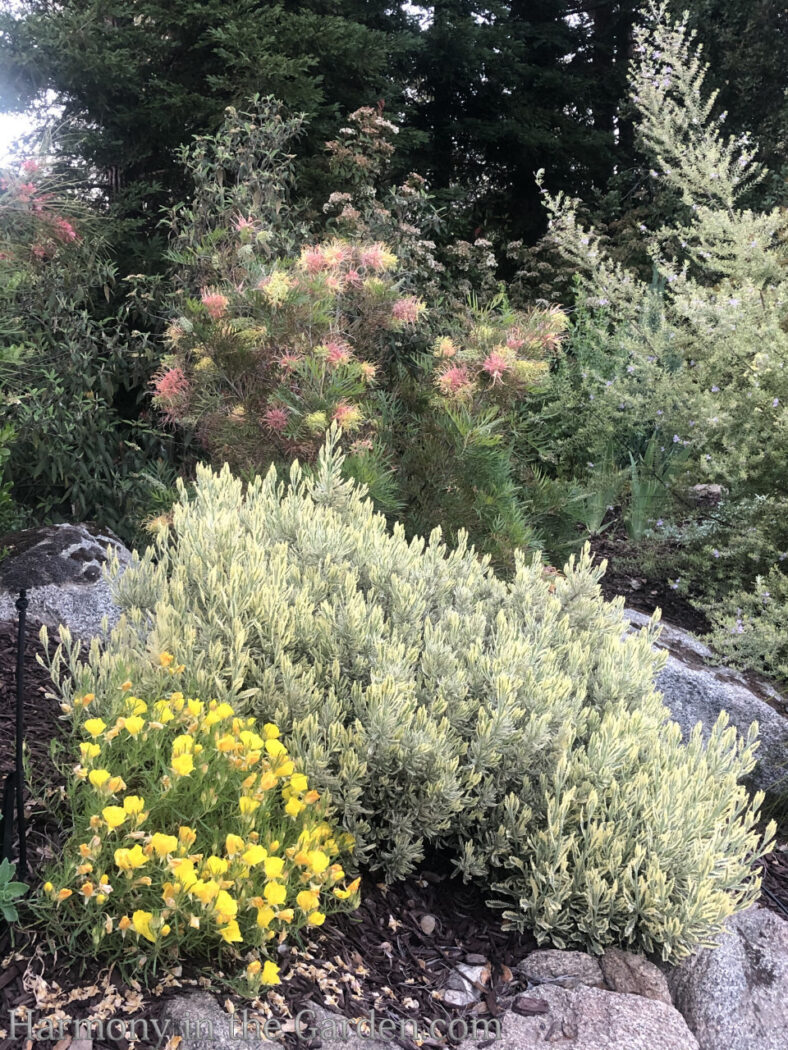 Next up – Creating Privacy as well as a Safety Barrier
It quickly became apparent that I needed to create a safety barrier in the form of privacy from Joe, our neighbors' psychotic German Shepherd.
Normally I love all dogs, but theirs is the meanest dog I've ever seen, and given half a chance, would bound over the fence to attack us. 
So, screening us from his sight was a given. 
In addition to the privacy, I wanted to get the permanent 'bones' of this long bed in place, adding year-round structure to the border.
Below are some of the evergreen shrubs that I've used as tall, dog-blocking anchors. 
(BTW:  when designing gardens, my #1 request is for help creating privacy in the garden.  If you'd like to read more, click here.)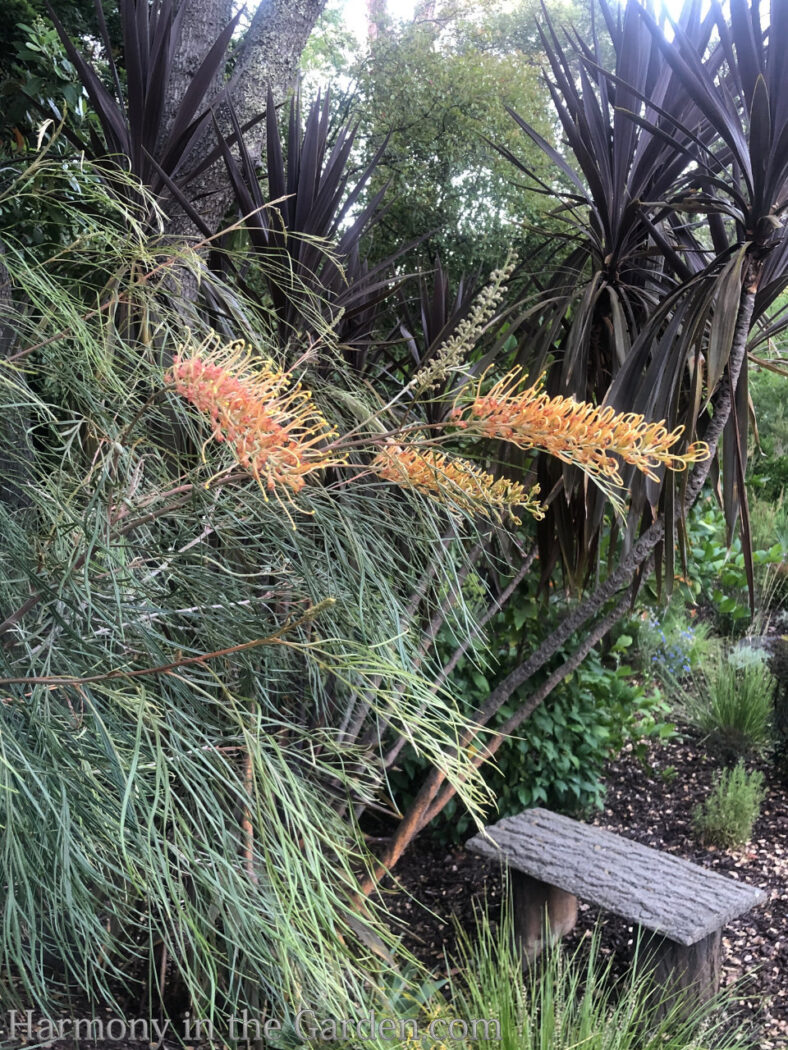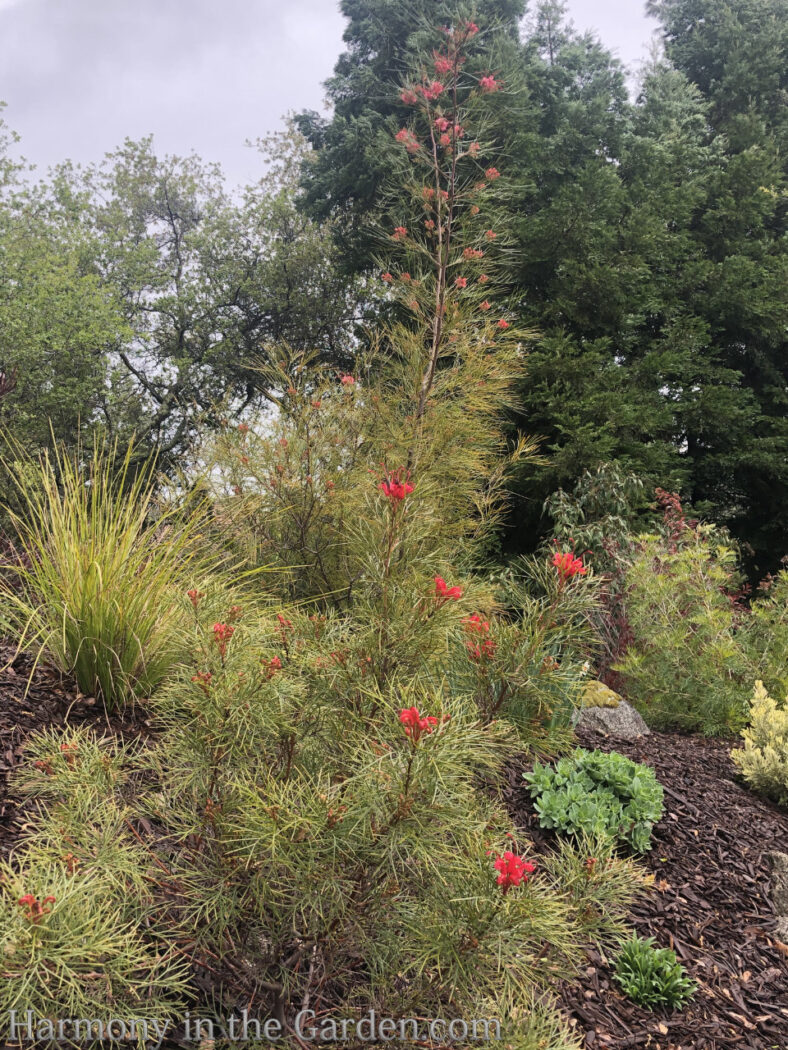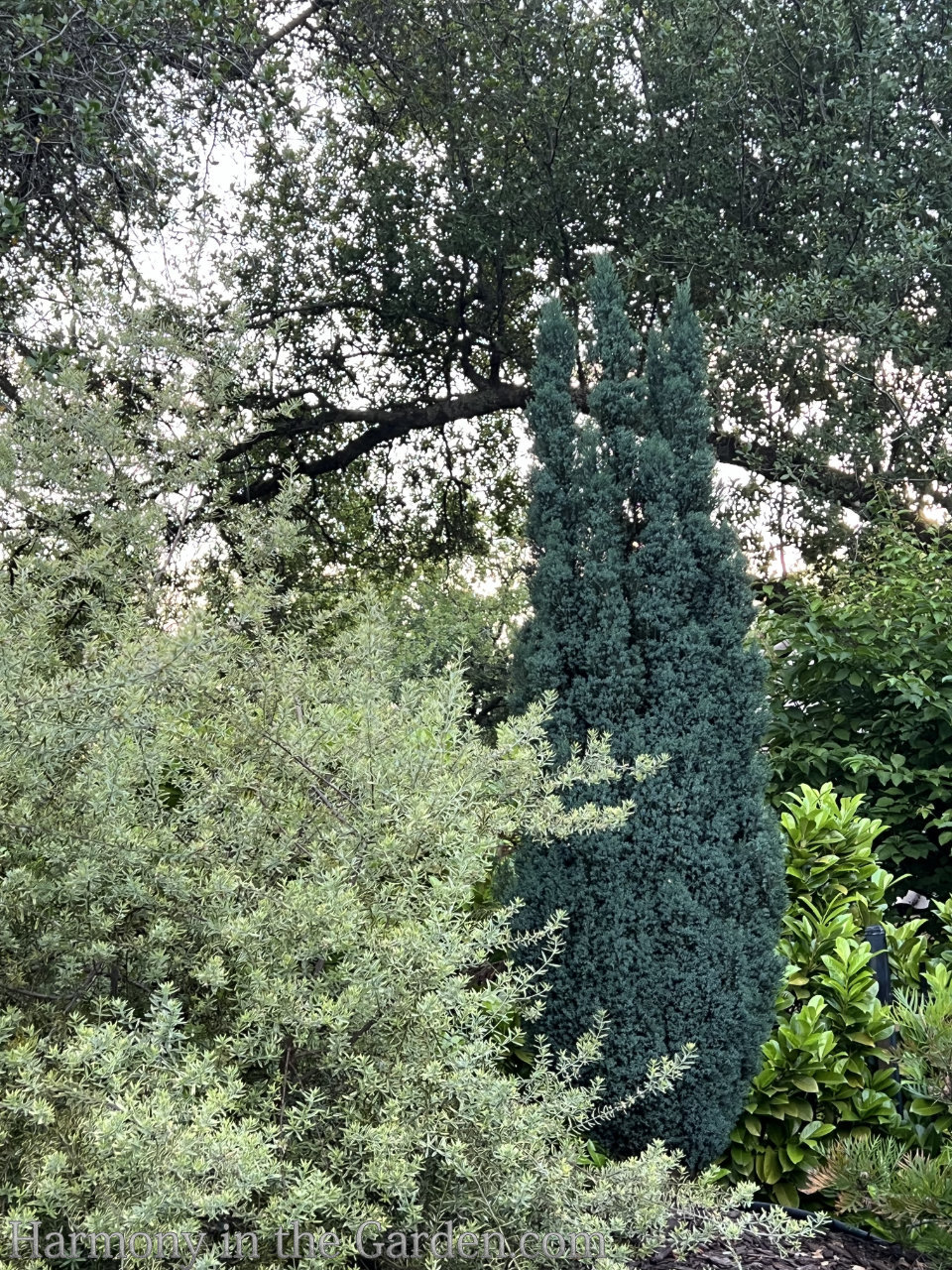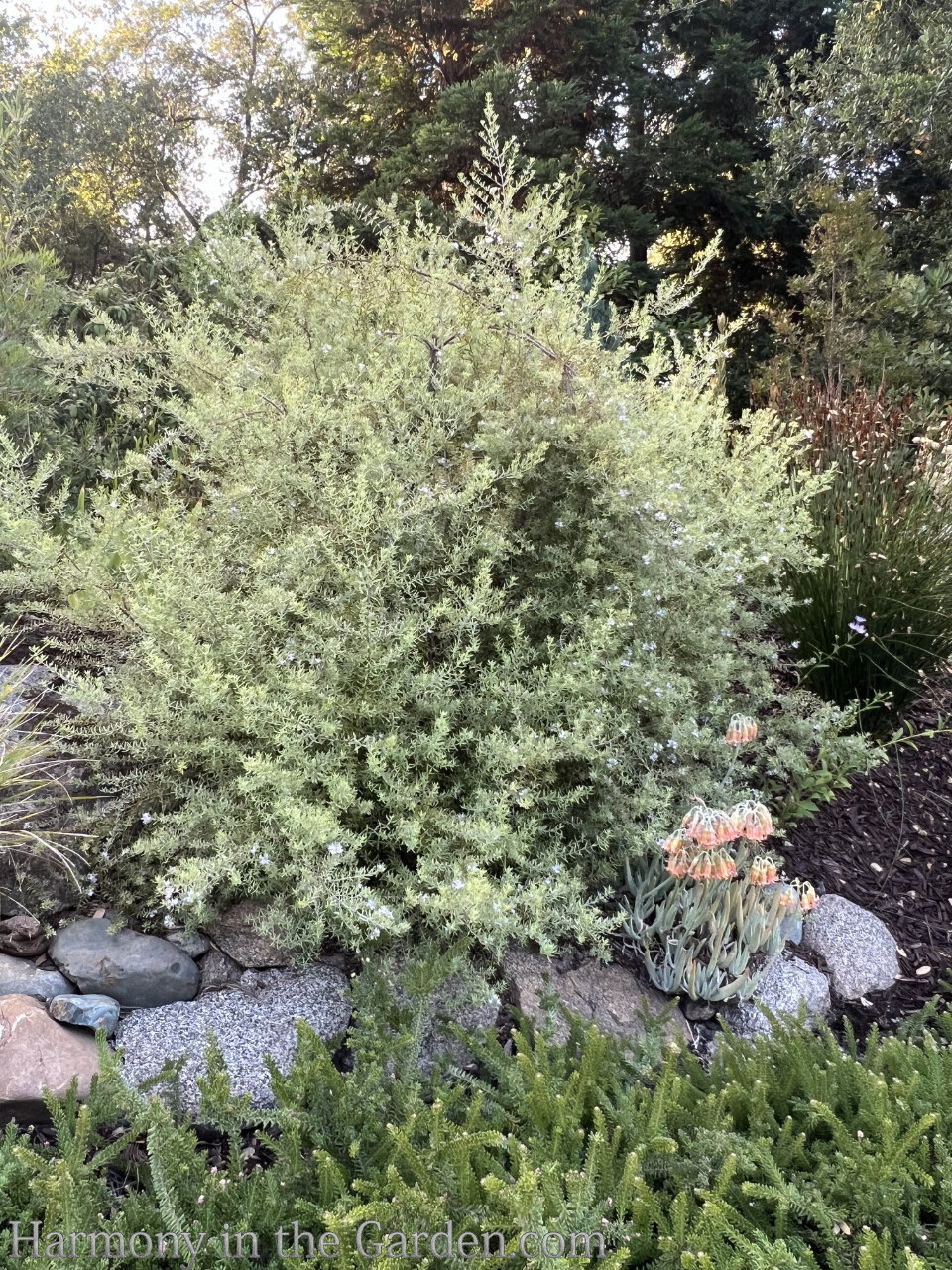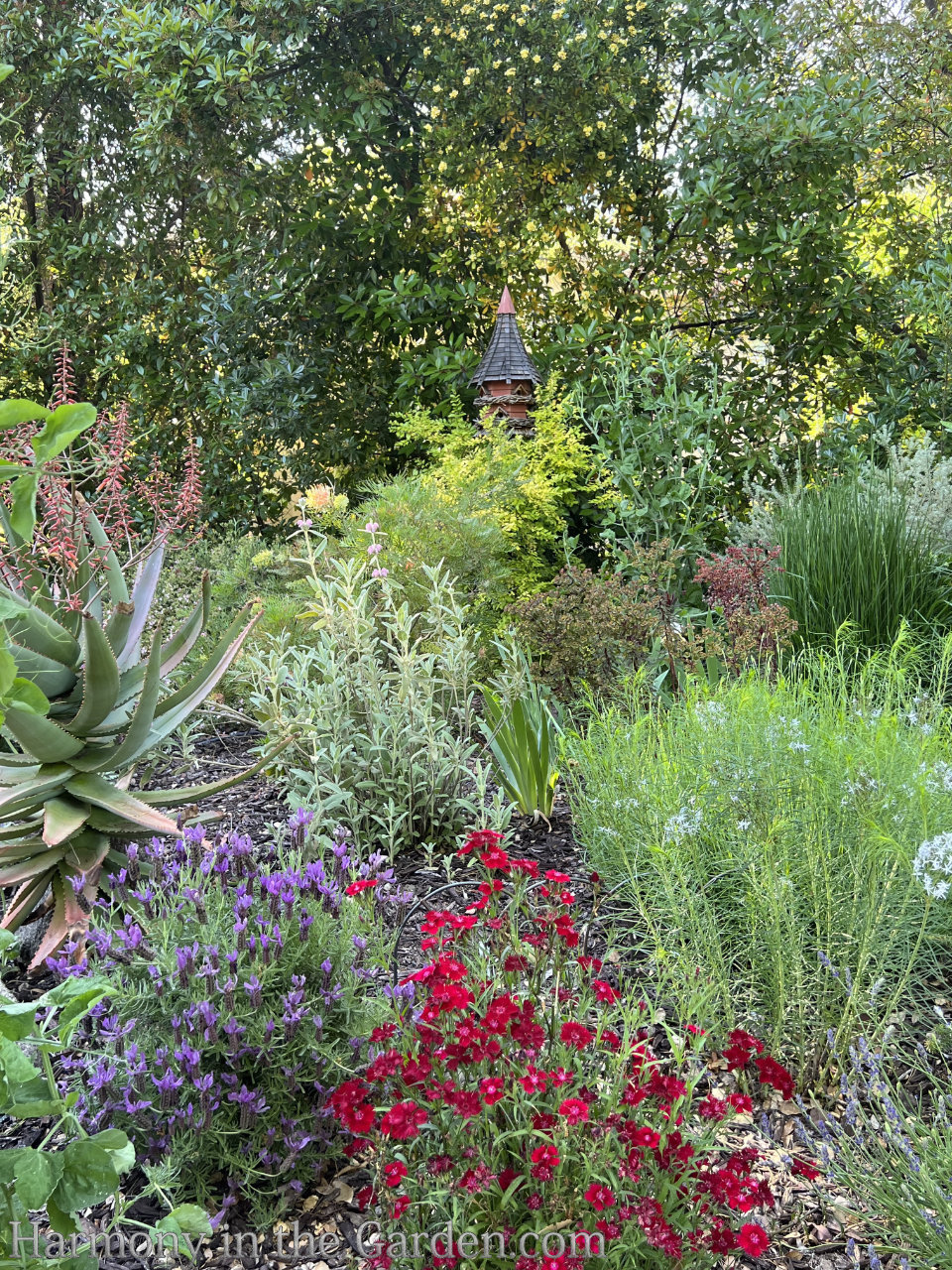 Create harmony with the adjacent garden bed  
The entire length of my garden consists of this berm and the adjacent 'valley' that dips down forming my 'modified meadow' (left) which you can read more about here.
Therefore, it was critical that the plants I chose for the berm harmonized with the neighboring bed.
To prevent things from looking overly busy, I use echoes to knit the two areas together. 
Whether using a few plants throughout both beds to add consistency, or creating echoes with color, texture, or form – the result is a tapestry that's diverse yet harmonious.
And, as with the other areas in my garden, these plants also need to be deer-resistant, low-water, and tough as nails AND attract pollinators.
Here's some of the plants that have done really, really well over the past few years, and the insects who visit them: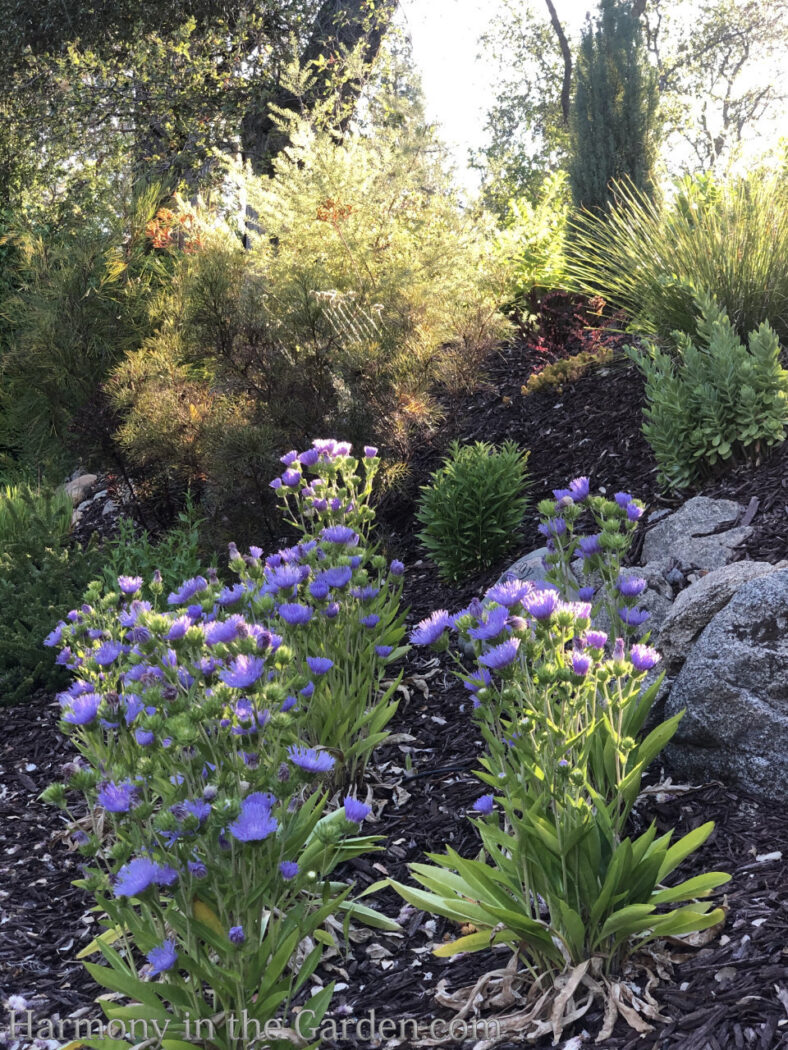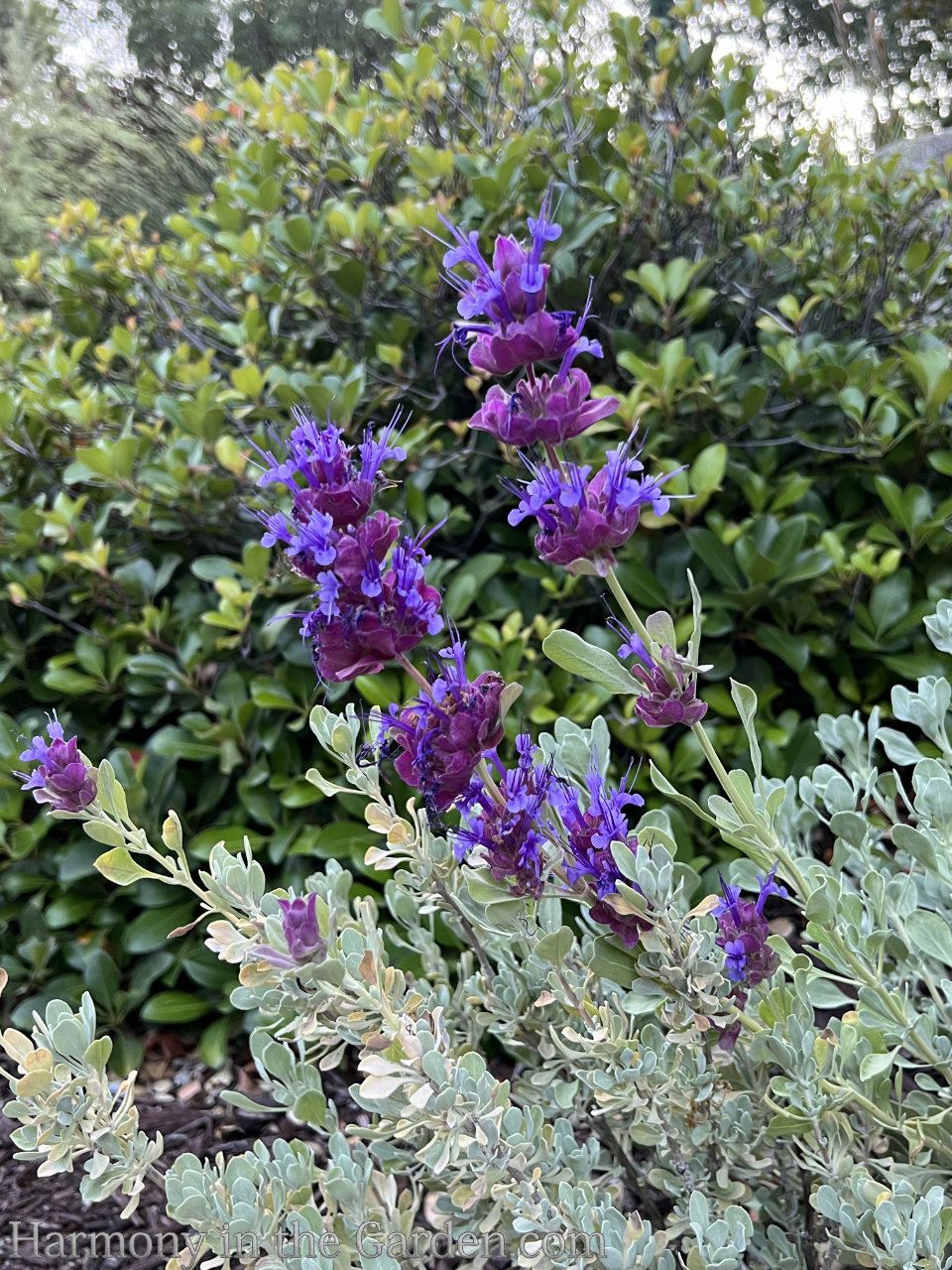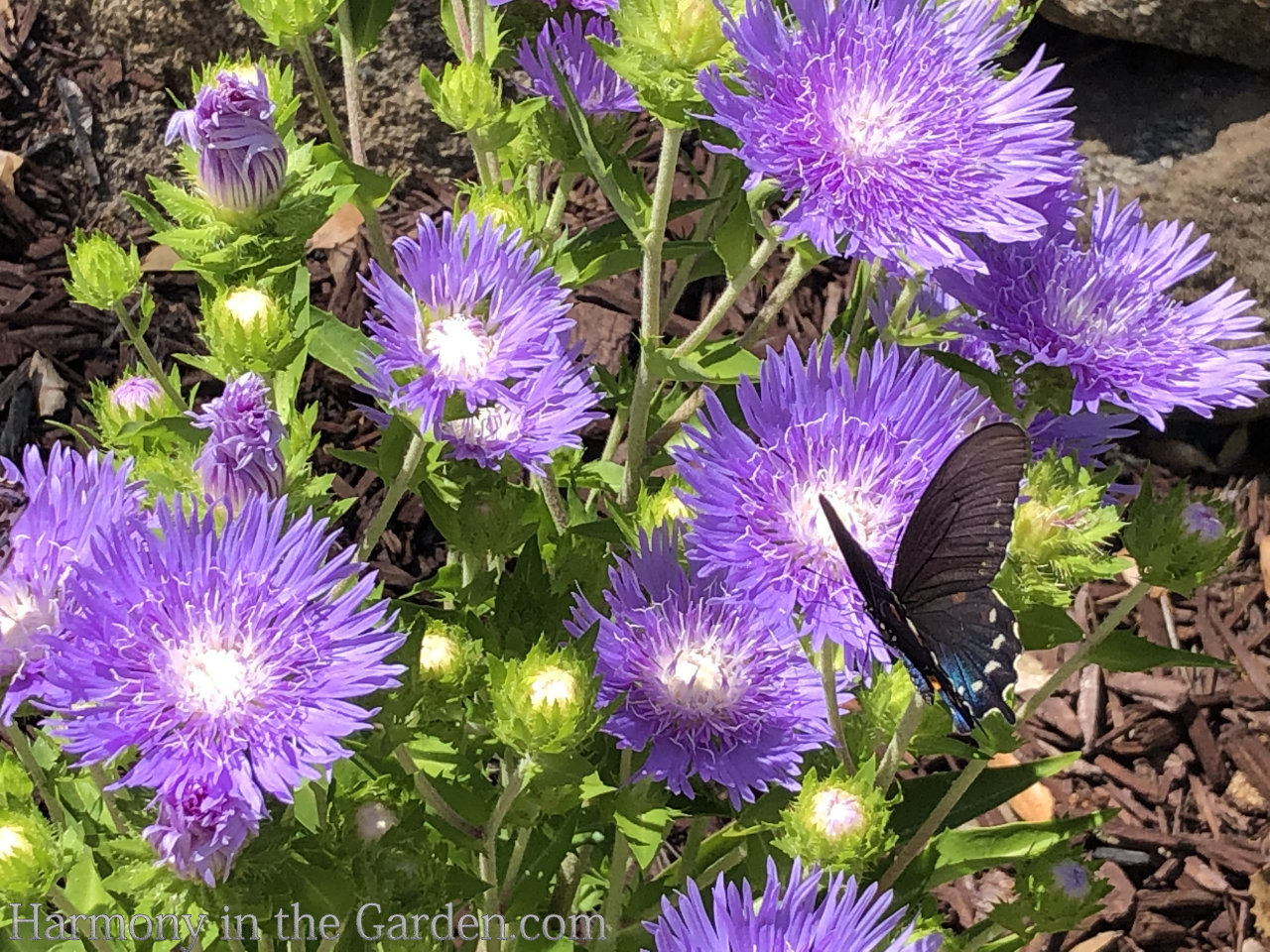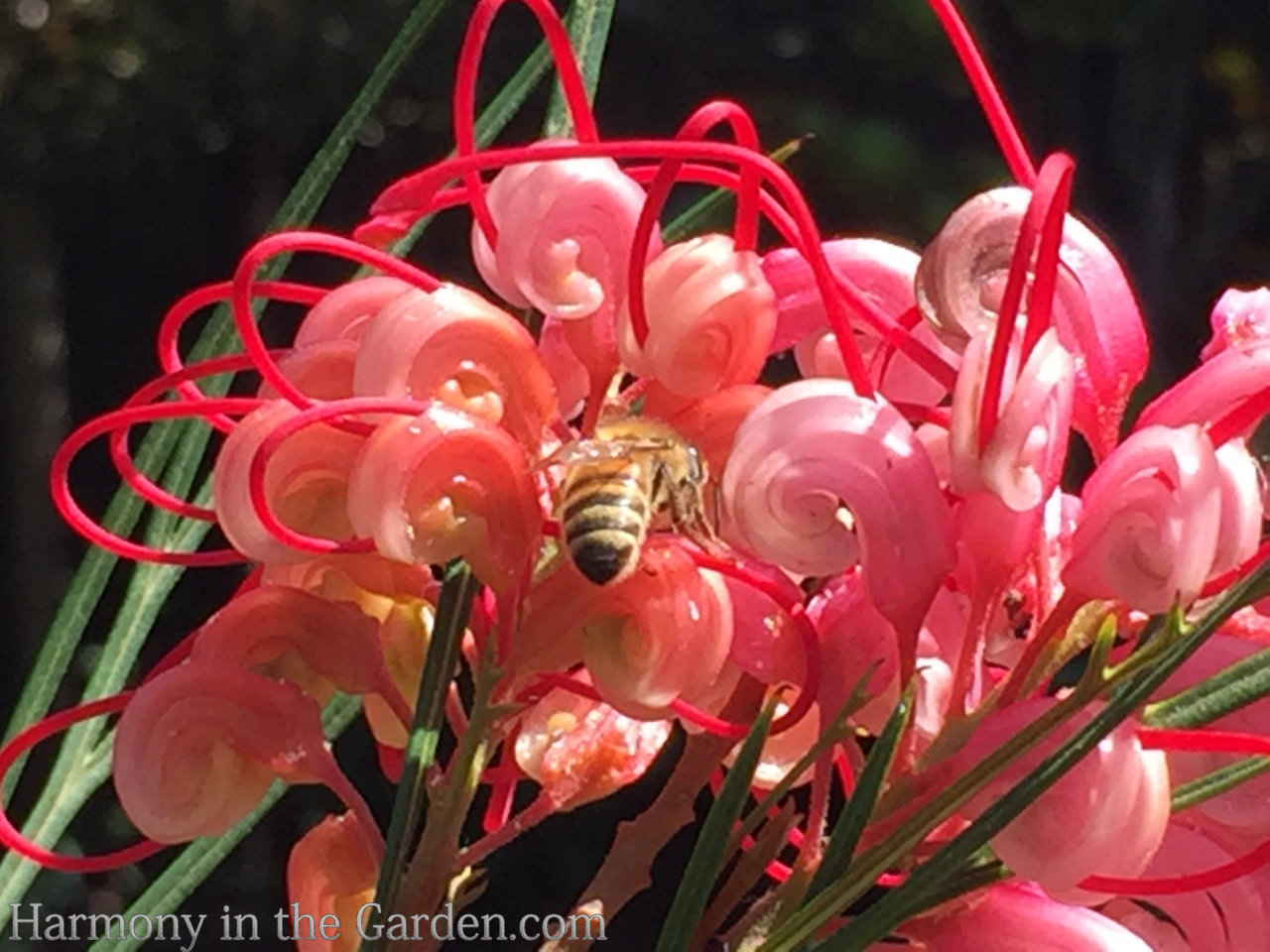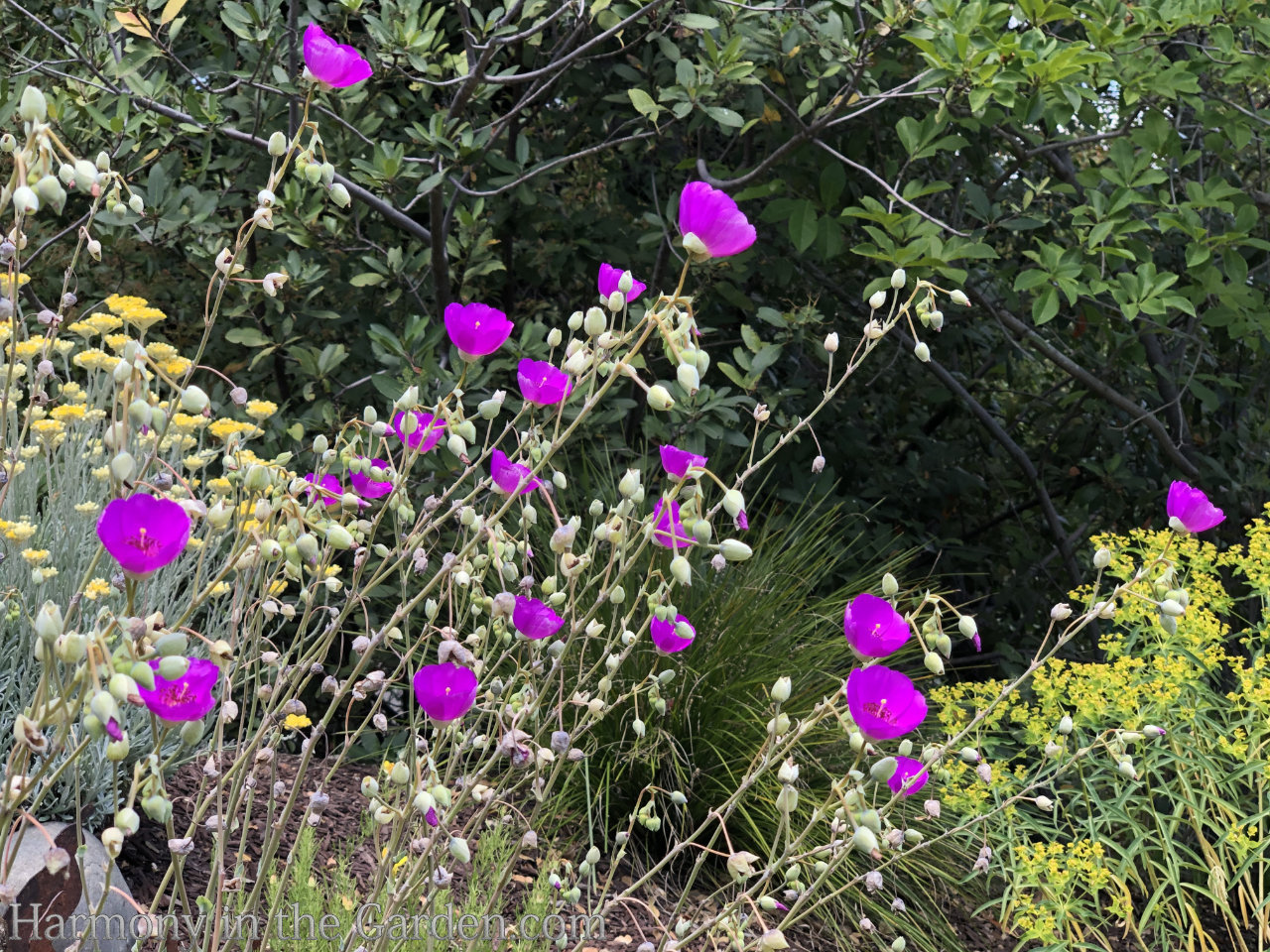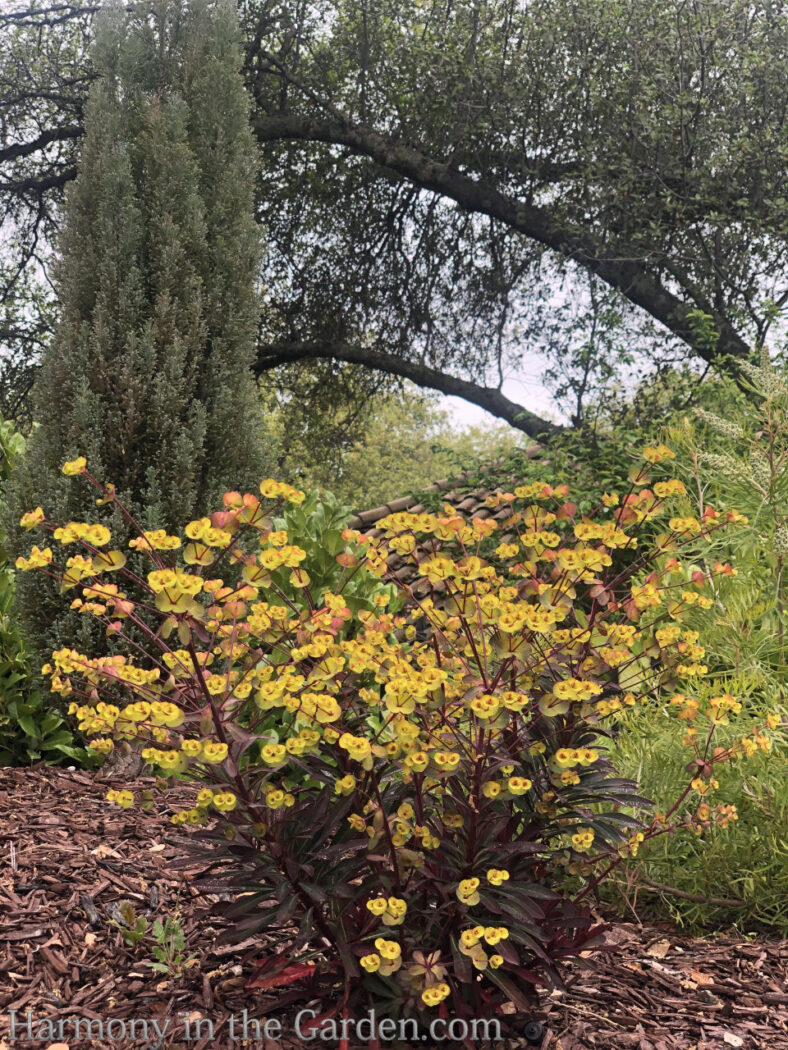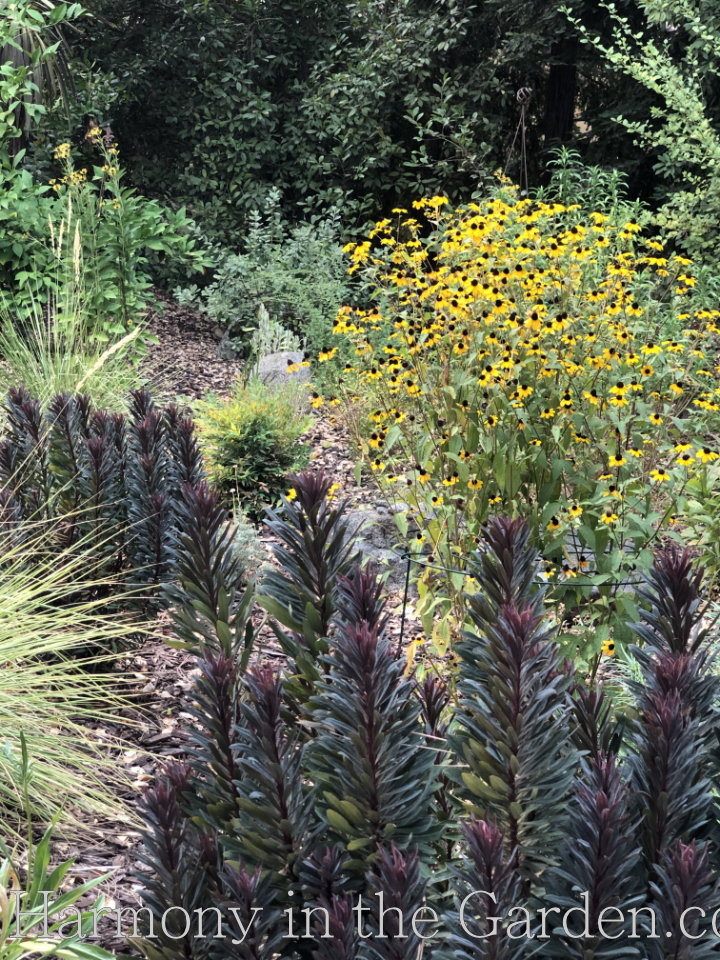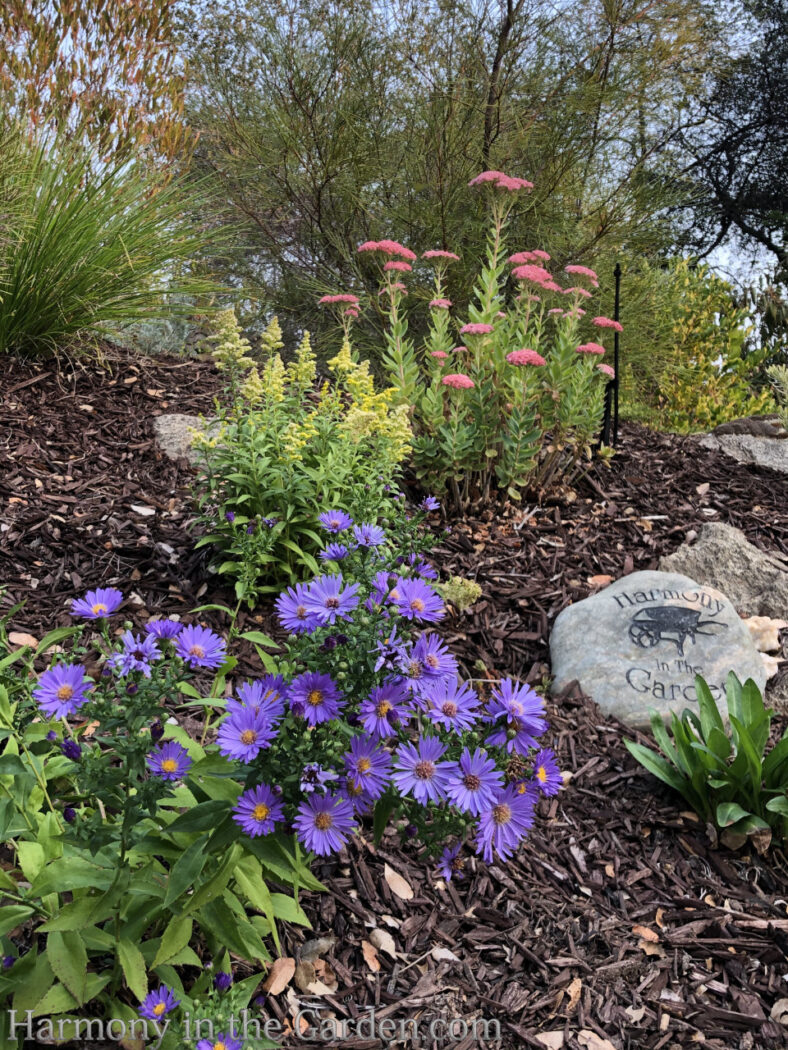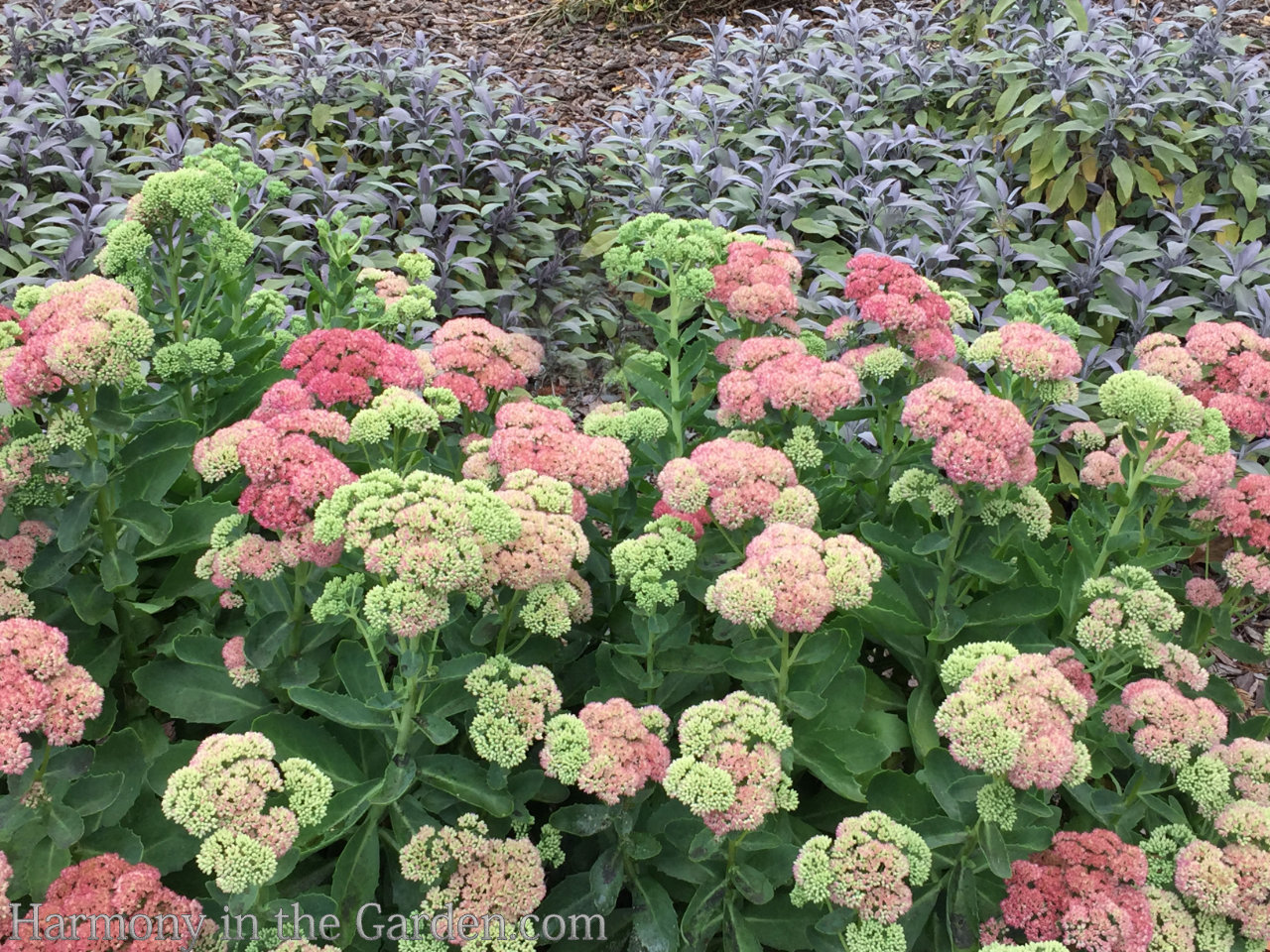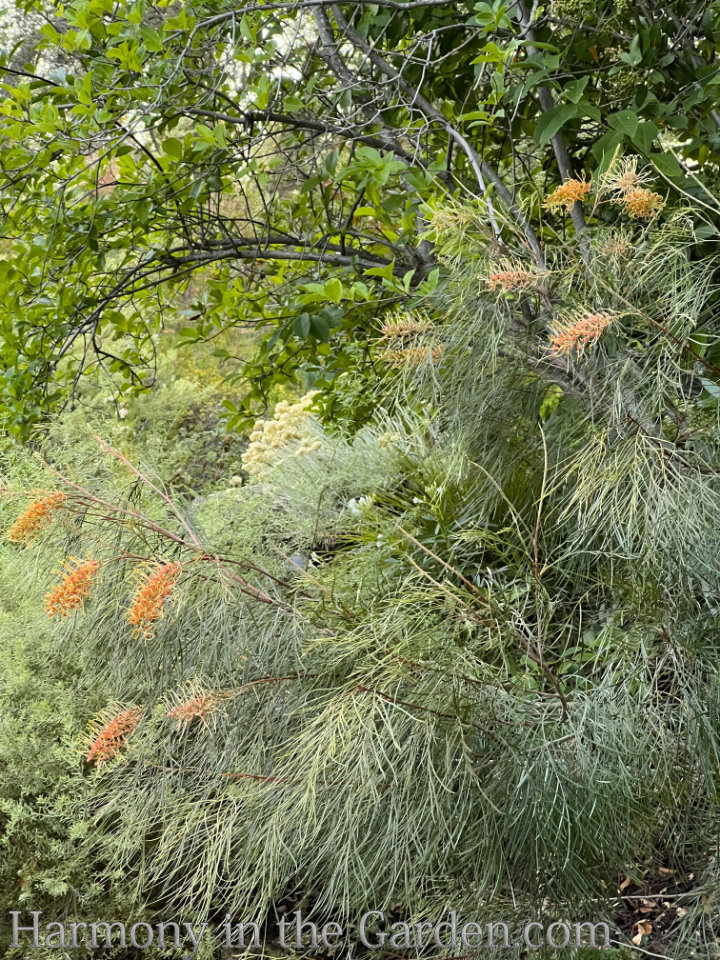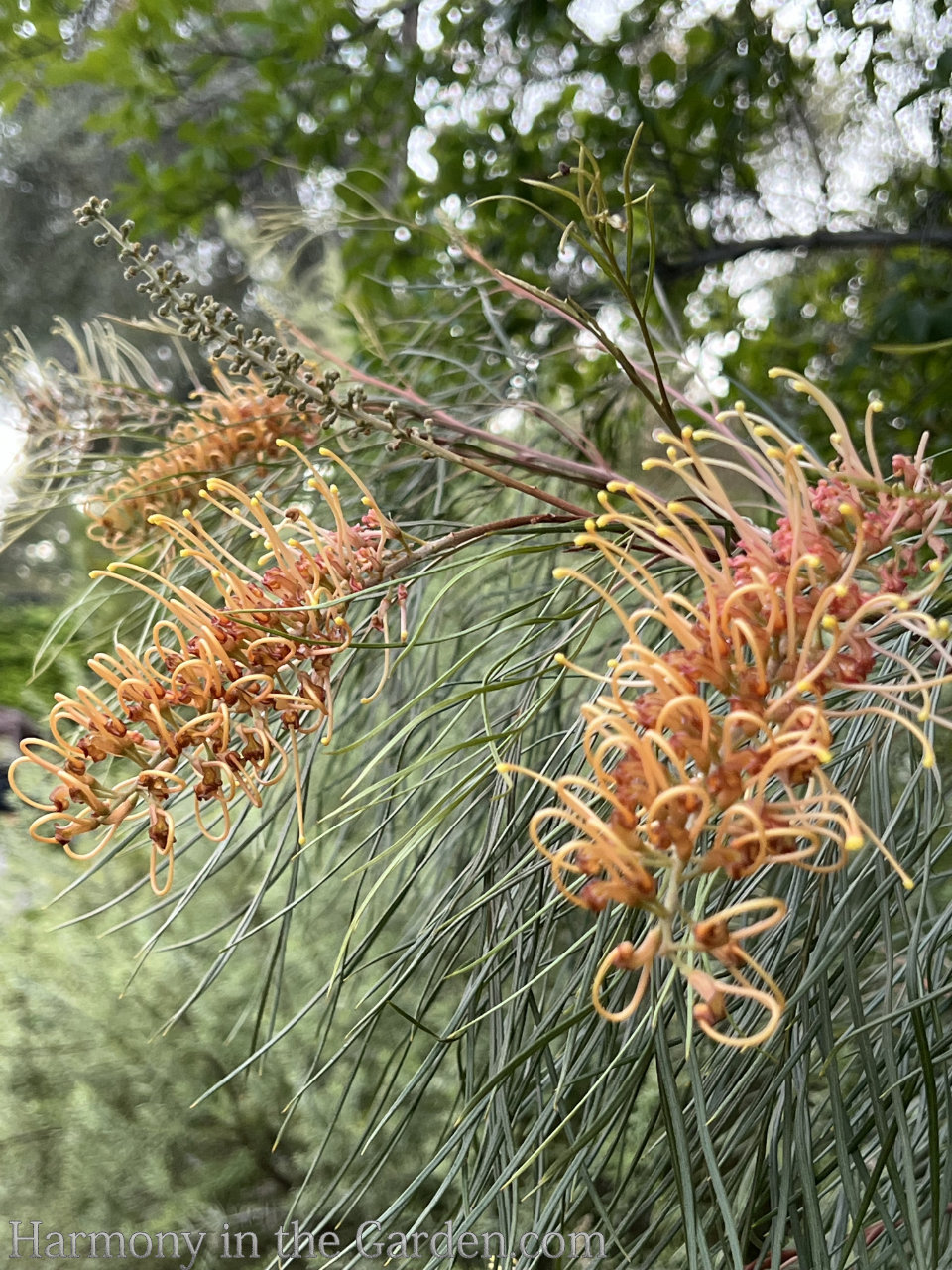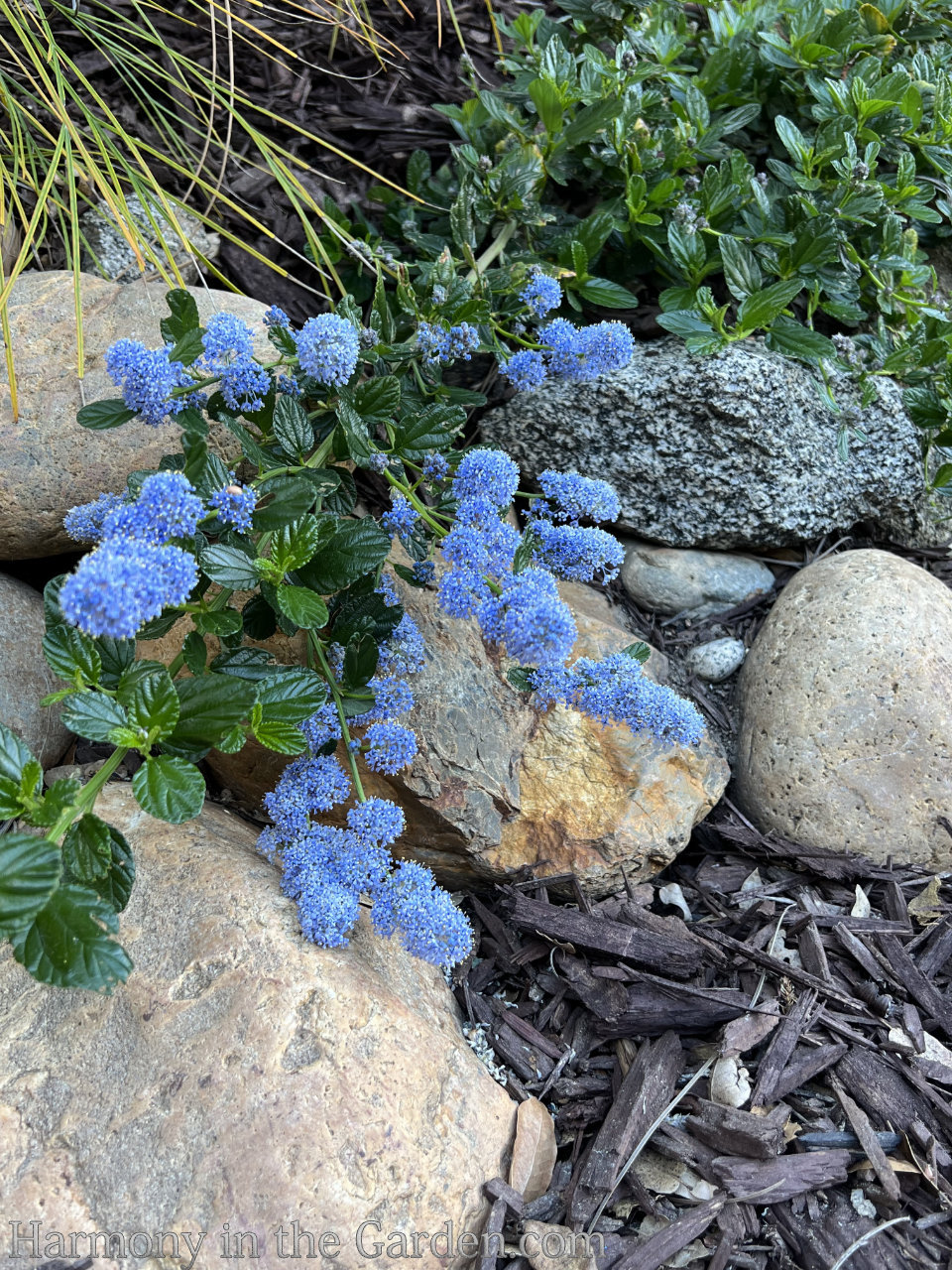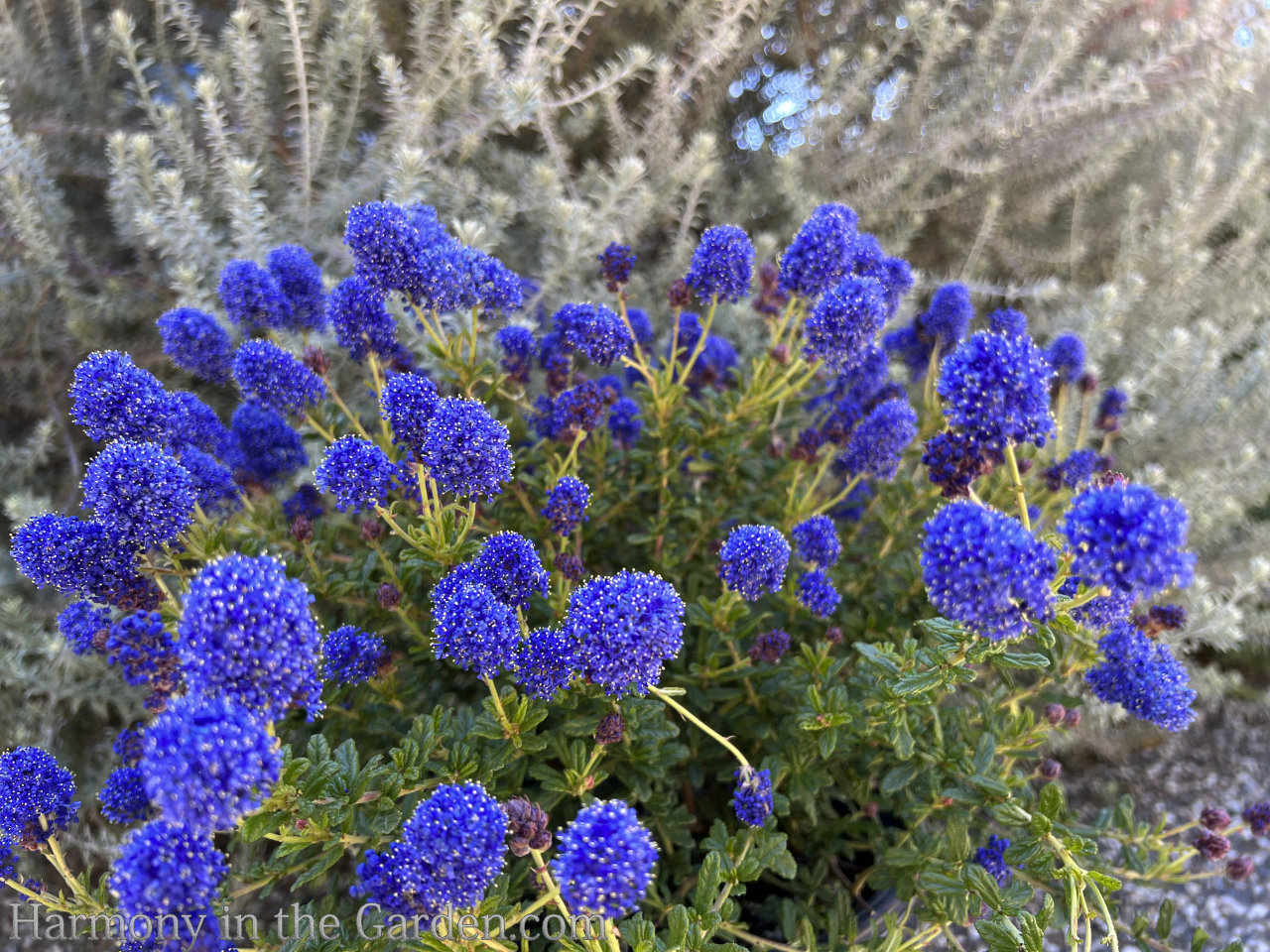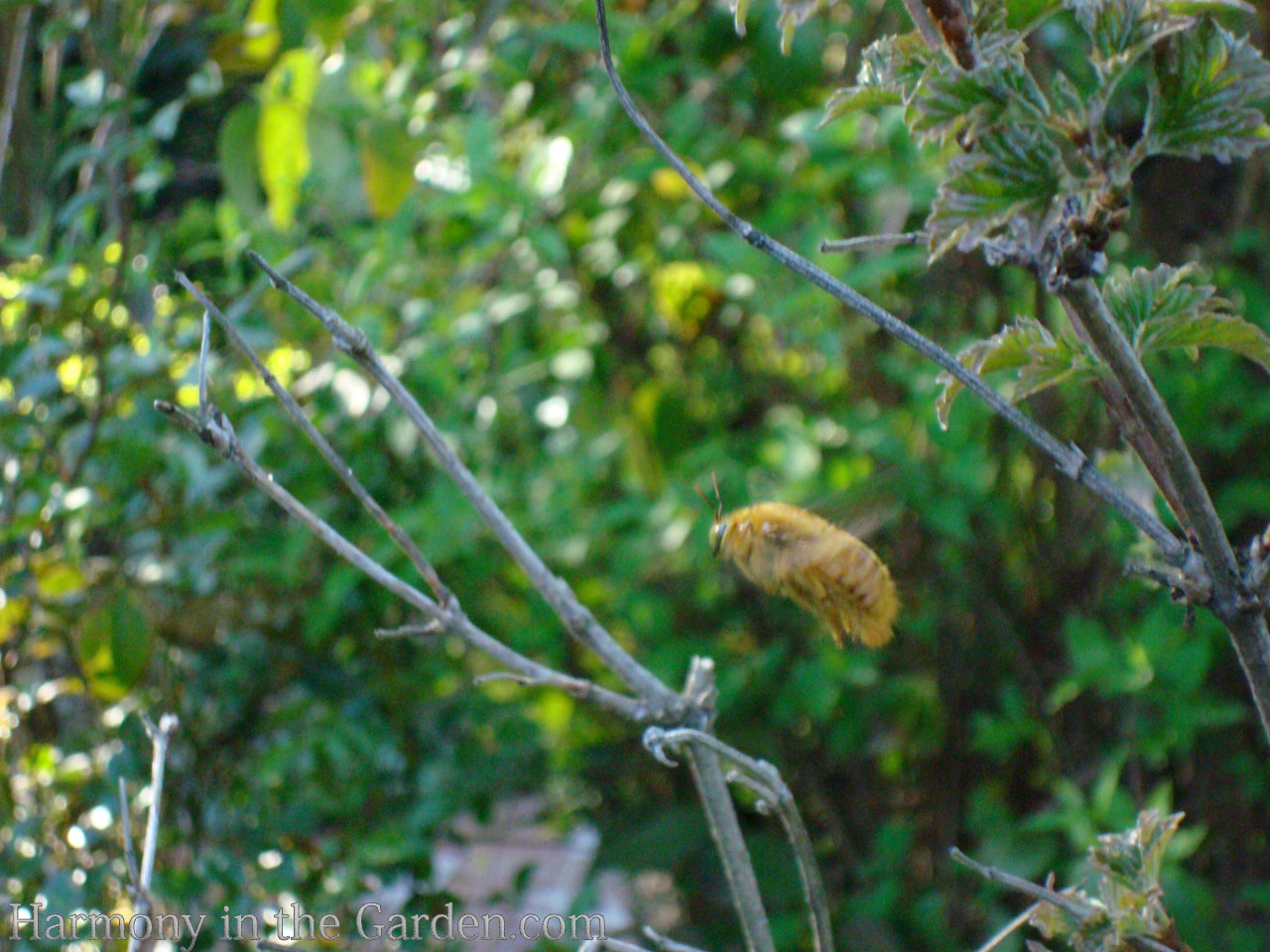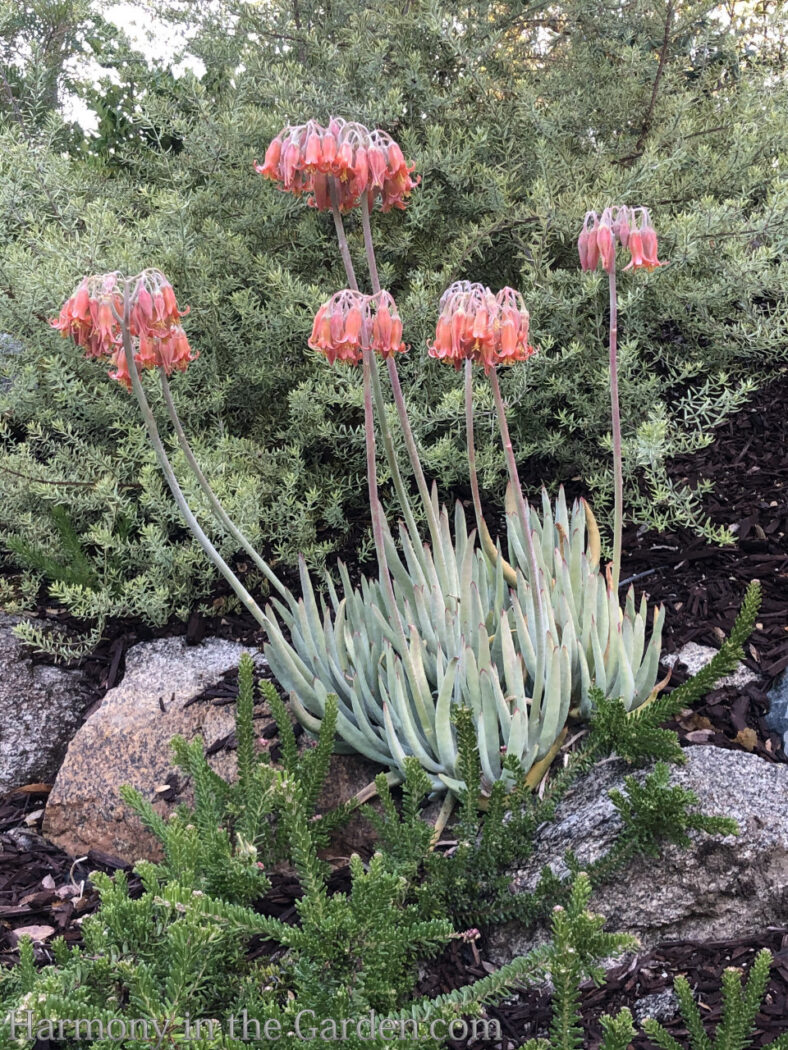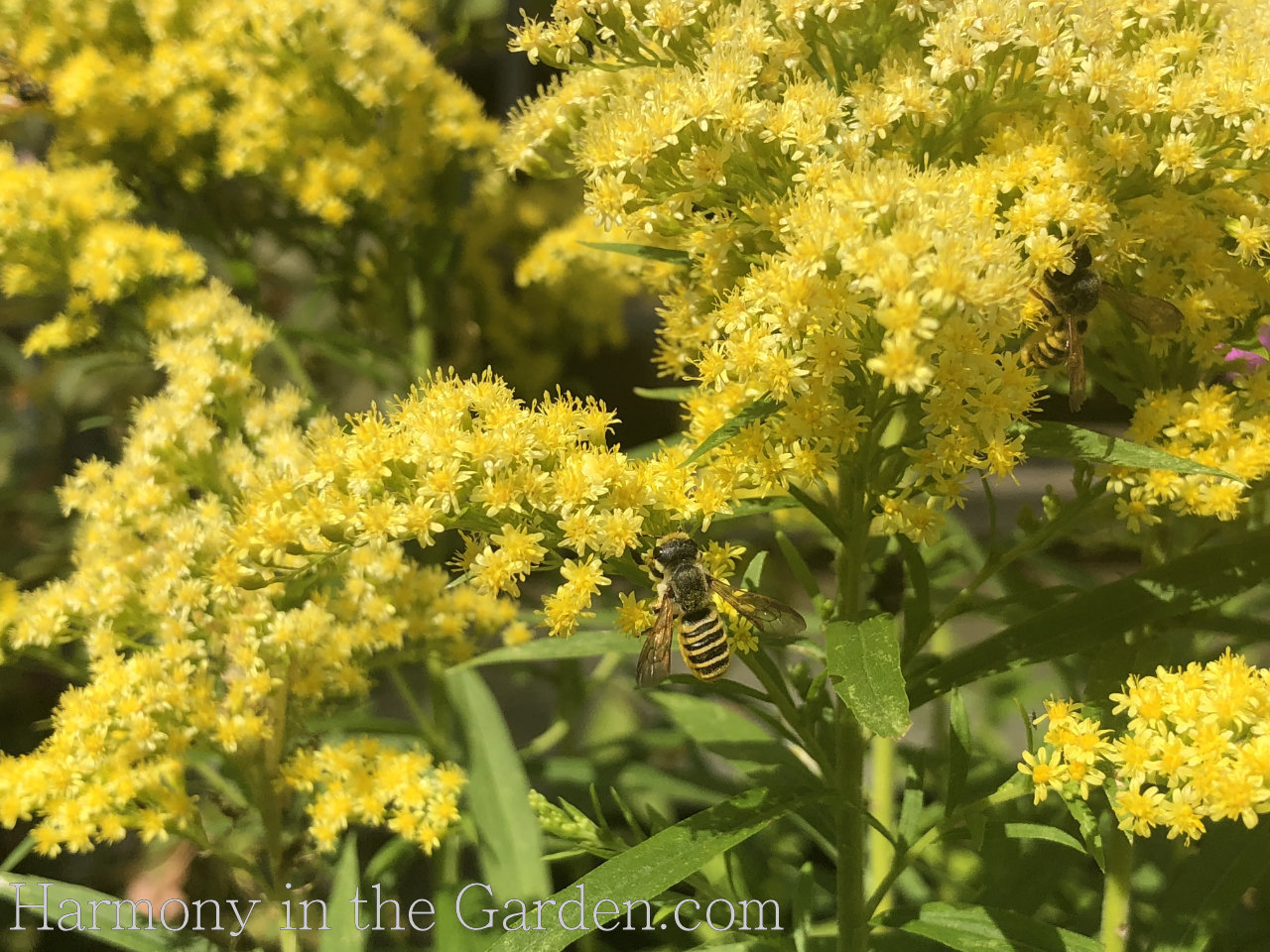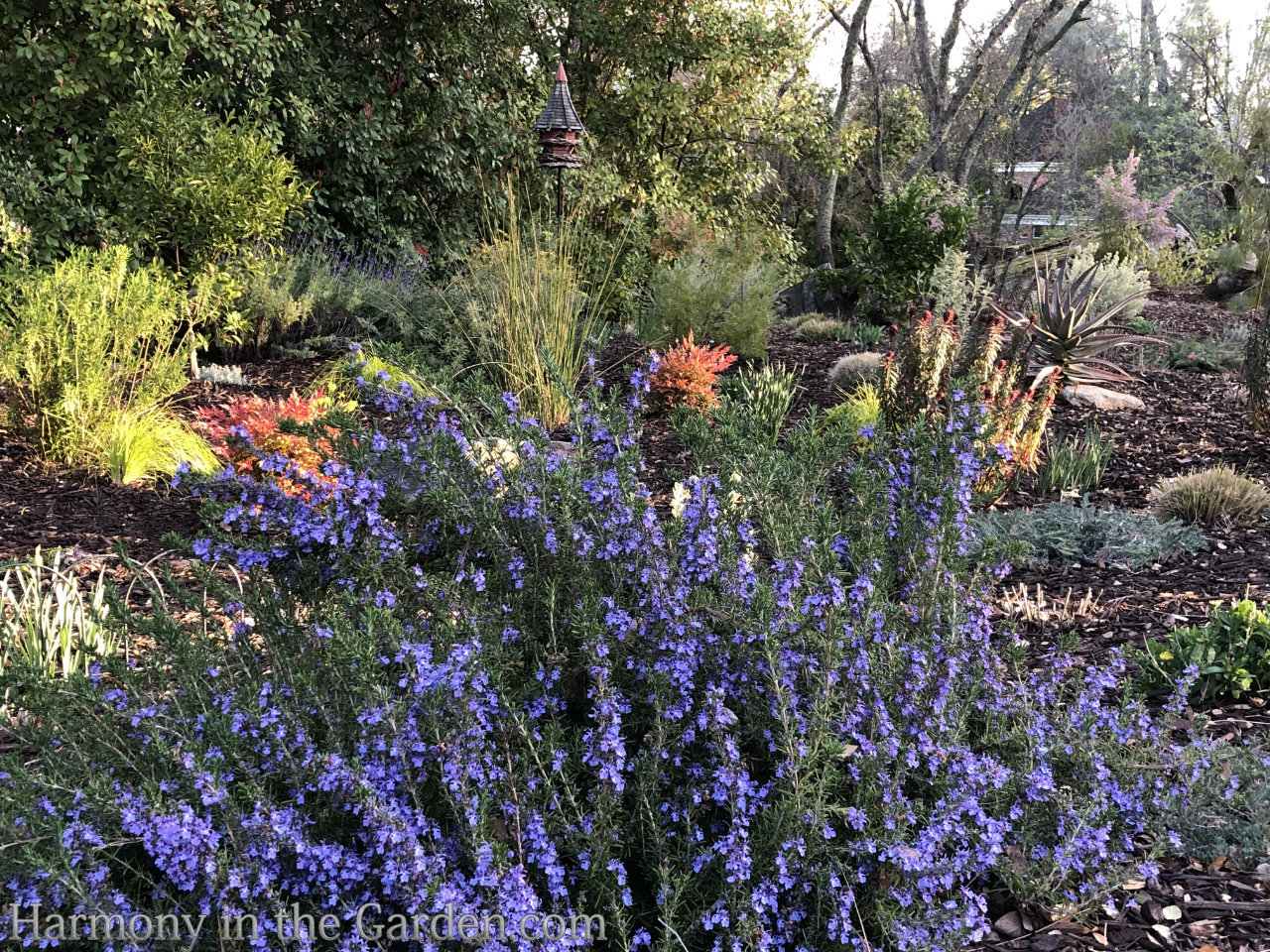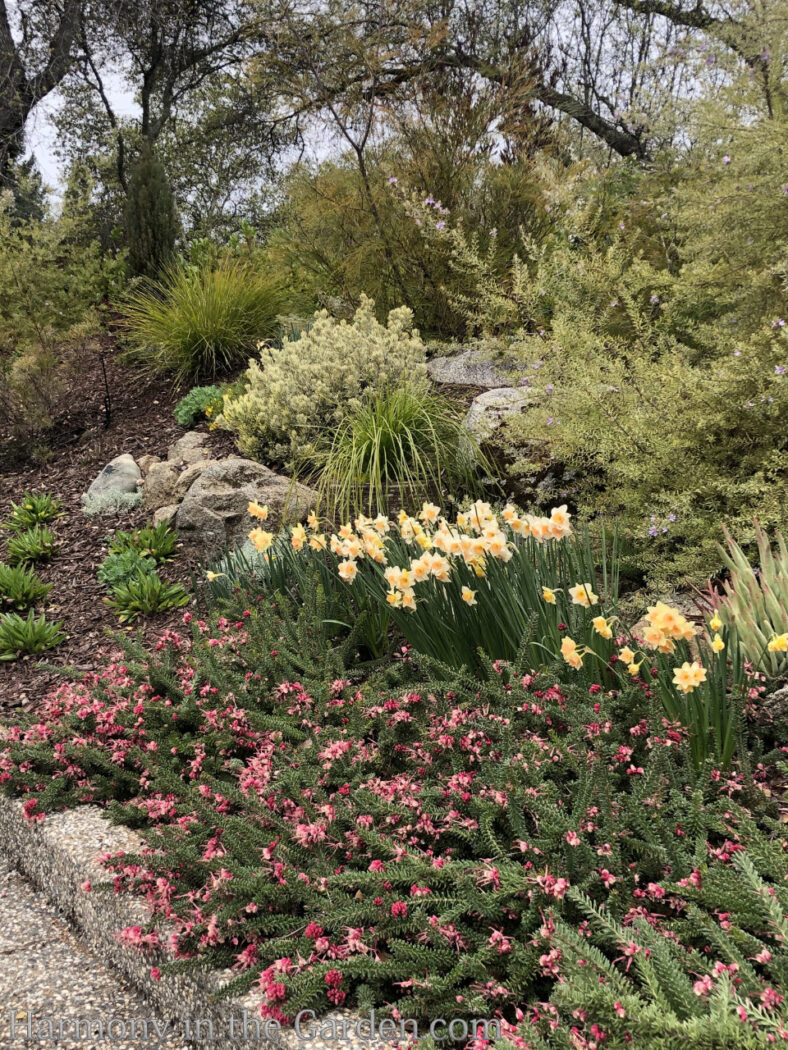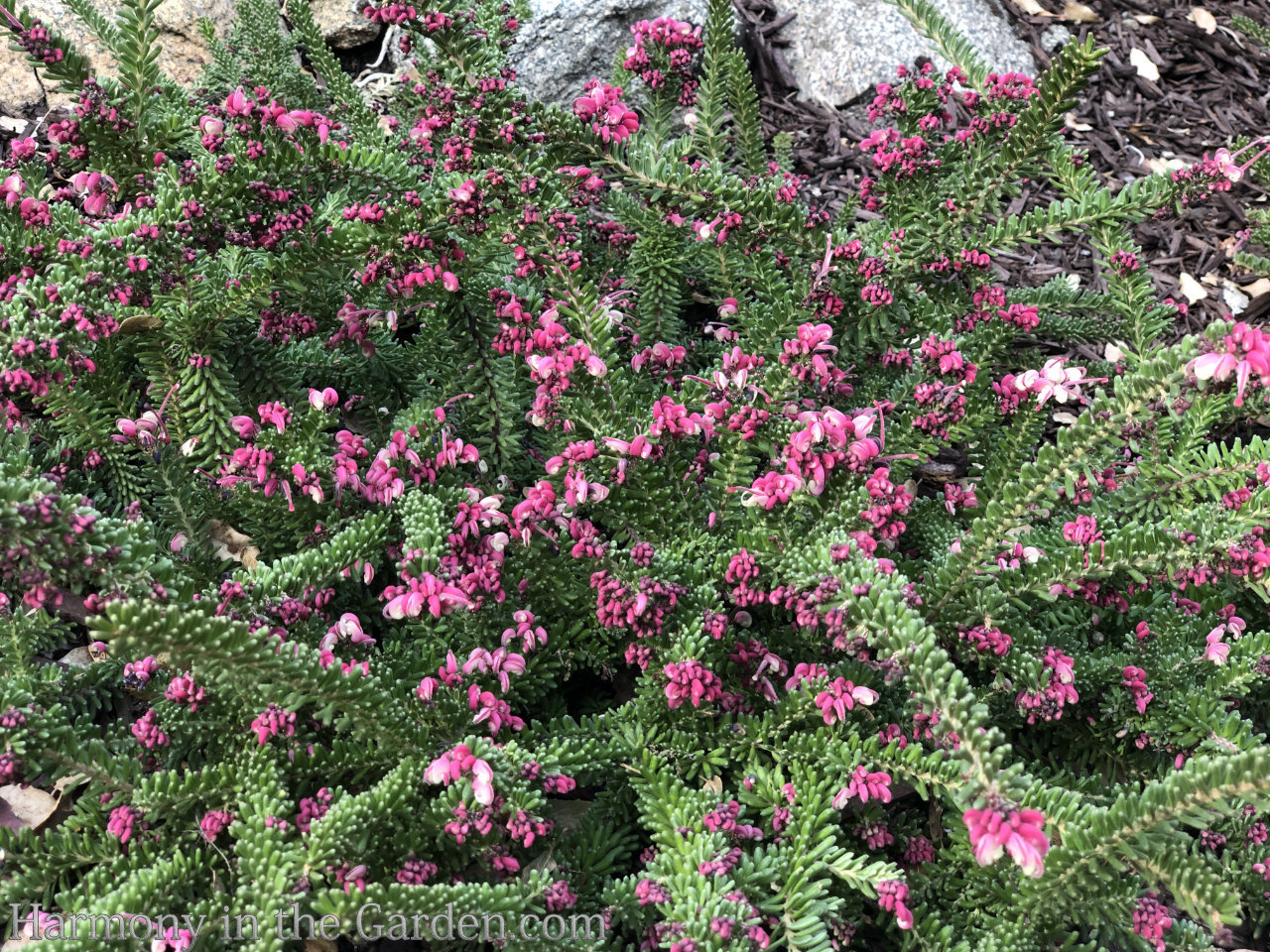 Thanks for joining me on this tour of my favorite part of the garden!   
Oh , I almost forgot!  Last summer I made this video which shows both the berm and the valley portion of my garden.  I hope you enjoy it!
Happy Gardening, everyone!