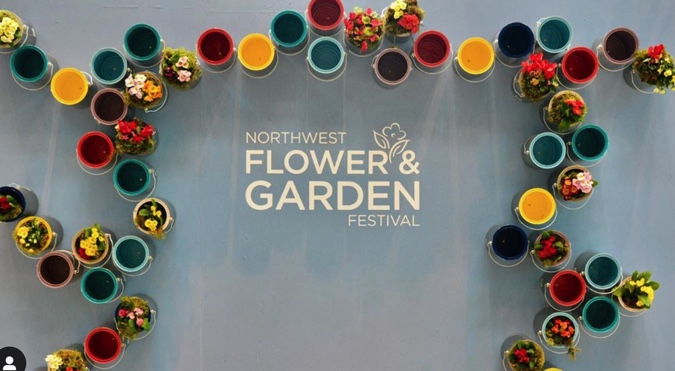 Hello again everyone!  I hope you're ready for some pretty fantastic small space gardens, and some pure FANTASY!
Here's Part 2 of my Northwest Flower & Garden Show Recap (click here for Part 1.)
Every year, I look forward to one of my favorite garden show displays – the City Living Patio Gardens. 
In this display, TEN tiny gardens are created.  And when I say tiny, I mean SUPER TINY – only 6'x12'!   
I can't even imagine how hard it is to create a magical oasis in a space this small.  The smallest garden I've created was 21'x27′ (click here to read more) and that was pretty challenging!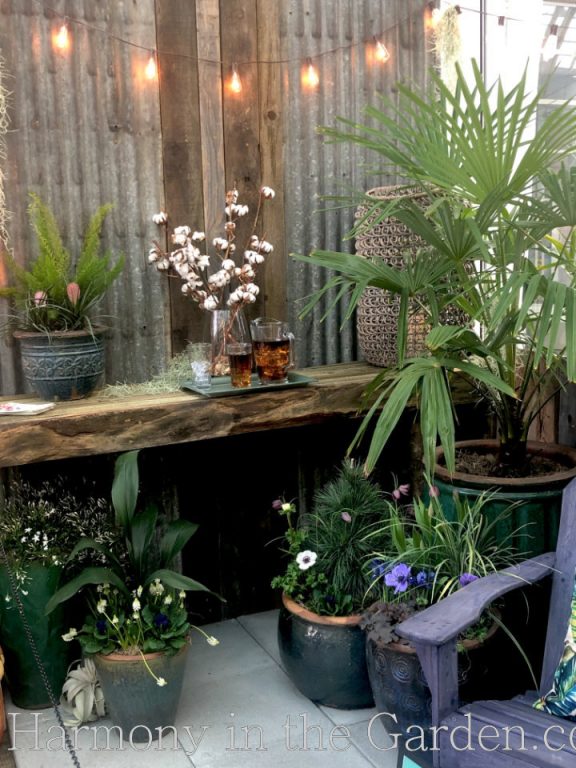 I loved the color palette of Blue Bayou garden, created by Ma Petite Gardens.  
The muted tones of purples, greens, and blues are subtle yet stunning, helping to create a relaxed atmosphere in this garden. 
One of the things I discussed in my presentation (titled the '7 Sins of Garden Design') was the importance of having enough contrast in a small space. 
If you have a small space that contains primarily delicate foliage and tiny flowers, the end result will be fussy (or 'fiddly', as my favorite UK designer, Monty Don, likes to say.)
In the small-space designs that I create, I tend to use a ratio of 75% delicate with 25% bold.
It might be counter-intuitive to use large scale items in a small space, but as you can see by the palm fronds and oversized green container in this garden, the result is stunning.
And speaking of using bold items in a small space – there's something alluring about the color black in a small space, isn't there?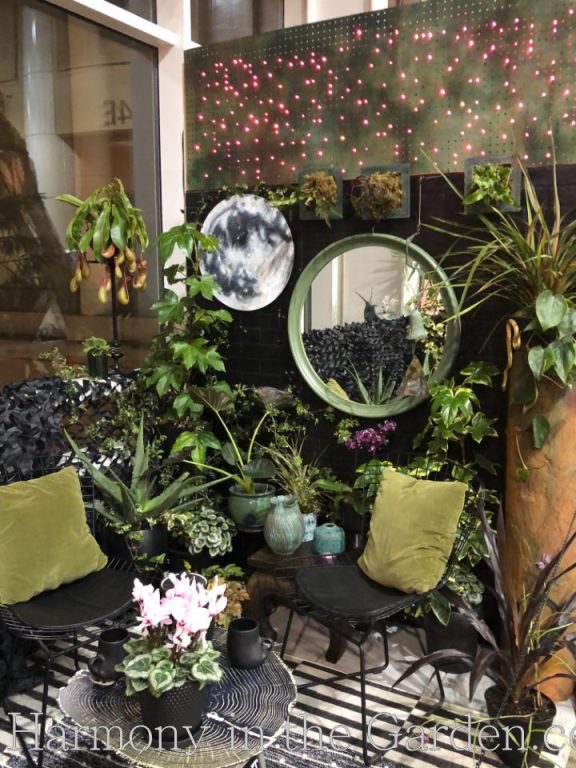 Midnight Jungalow, below, by Urban Soule, demonstrates just how powerful a small space can be by using bold color combinations. 
Not shying away from black, the color is used liberally throughout this garden, with pops of pink here and there.  
I especially like how the little pink fairy lights echo the colors of the various pink flowers.
And the use of oversized, bold mirrors to reflect light is a fantastic solution to helping a small space seem larger than it is.
The black and pink color-combo reminded me of last year's garden, 'Beneath the Jungle Sky', below, by Rocky Bay Garden Creations.
Don't you want to grab a book and kick back for awhile in this garden? 
Remember in last week's post, when I commented on the incredible attention to detail this year?  Well…..check THIS out!
For pure fantasy and inspiration, let me introduce you to Seattle's debut of Fleurs de Villes. 
To be honest, when I first heard this event was coming to the show, I thought it would be interesting enough, but it wasn't at the top of my must-see list.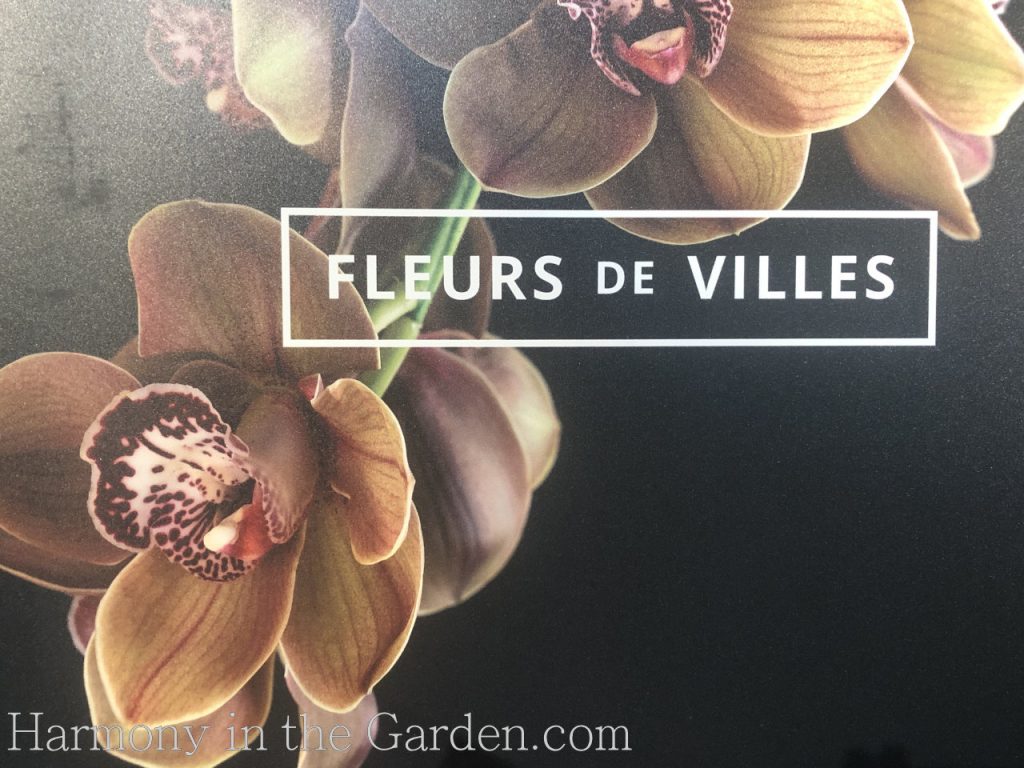 But upon seeing one of these creations up close, I realized these were AMAZING works of art and nothing to take lightly.  
The attention to detail is like none other I've ever seen.  Take a closer look at the cuffs of the robes, the handbags, the shoes. 
I can't imagine how much time these must've taken to create!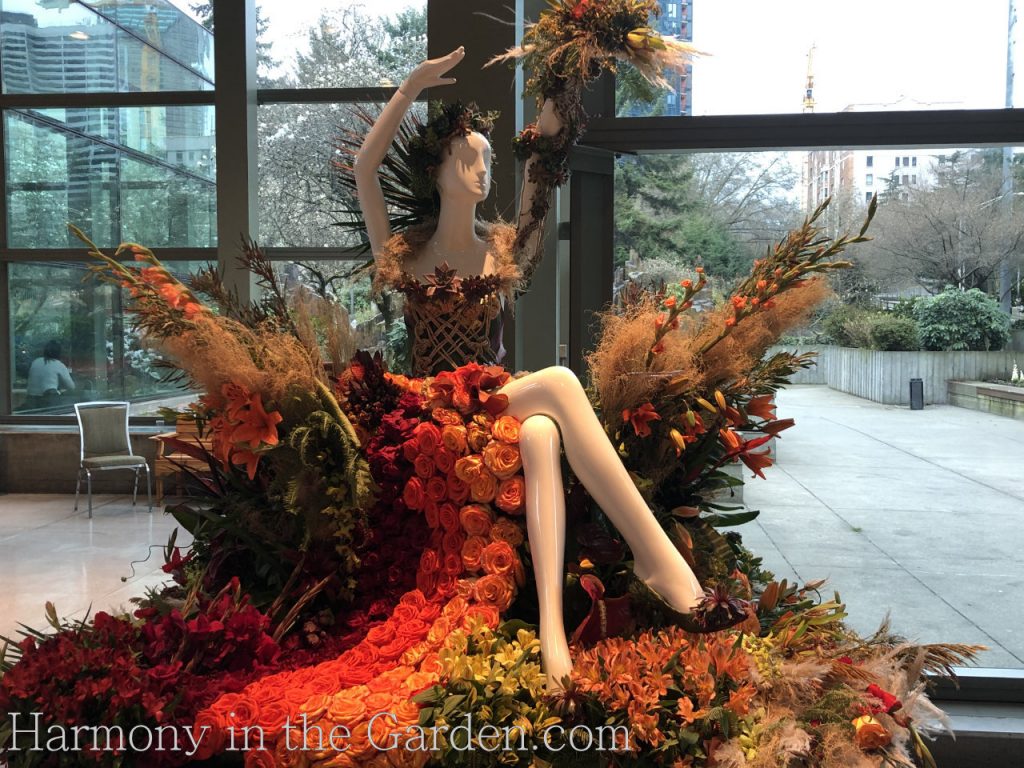 Their website describes it best:
'Fleurs de Villes combines the love of flowers, local design talent, and bespoke, utterly unique displays, for experiential events like none other.'
Our name speaks to that – Fleurs de Villes – flowers of the cities.
Connecting with each city we launch in, we work with top local florists, designers, growers and nurseries, to showcase that city's world-class talent and create stunning displays of art.'
 'Ondine,' below, is my very favorite mannequin of all.  Created as an homage to Botticelli, she rises from the sea, standing upon a seashell of palm fronds.
Her iridescent gown is made from pearlescent lunaria (aka: the money plant), with pressed hydrangea flowers appliqued throughout.
My second favorite is the more contemporary (and definitely flirty) 'Sassy Sonya.'
Her creators gave her the perfect description:  'Strolling through a modern garden on her way to a party, she's energized by the welcome radiance of this spring day.'     
Just look at the detail of her boots and stockings!
Next, take a close look at 'Floral's robe of ferns.   Representing the change from winter to spring, Floral emerges from the mossy forest, shedding her long cedar-frond coat .
She steps forth in a flouncy, tiered slip dress with spring flowers in her pockets.
I think my favorite touch of all is the velvety pussy willow cuffs at the end of her sleeves. 
There were so many more creations like the ones I've shown, but here's a few of my favorite details – shoes, handbags, the straps on dresses…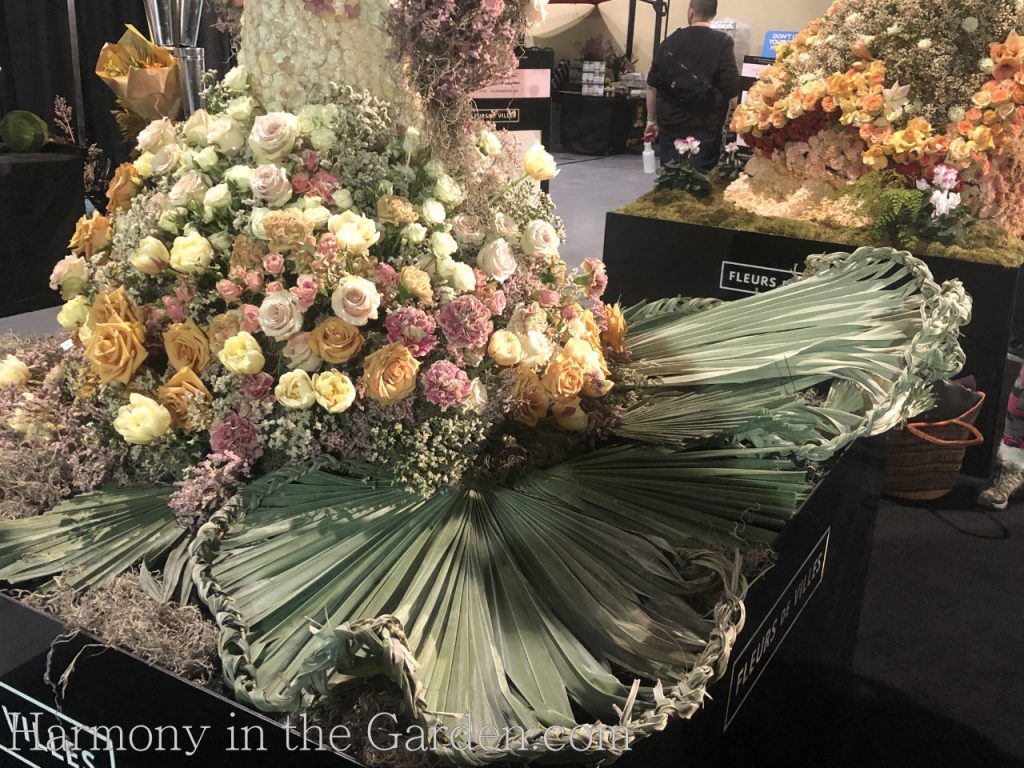 I hope you've all enjoyed these dreamy works of art as much as I have.
But now it's time to get back to work in the garden – spring is almost here and there's a LOT happening out there!
Stay tuned as I'll be discussing some of the earliest spring bloomers in my garden – camellias and warmer climate bulbs!